The Fifty Greatest Middleweights of All Time Part Three: 30-21
Great middleweights outrank great fighters on this list.
That's why the likes of Roy Jones and Billy Conn languish behind Gene Fullmer and Nino Benvenuti. A fighter's contribution at the fighting weight that was middleweight is all that really matters.
And what a weight. If it isn't clear by now, it will be at the end of this installment; middleweight is ridiculous, stacked to the gunnels with the type of fighting quality that just doesn't exist at either heavyweight or light-heavyweight.
For the casual fan – the life-blood of the sport – there will be one or two names here that you are not familiar with. I hope you come to love these fighters like I do. For The Sweet Science's more hardcore readership, I hope you enjoy seeing some of the less glamourous 160lb warriors receiving overdue credit.
#30 – NINO BENVENUTI (82-7-1)
In the end, Benvenuti was destroyed by Carlos Monzon, as was just about everyone unlucky enough to meet with the Argentine in the seventies, but in the sixties were kinder to him. Benvenuti lost just three times in that decade, once to Ki-Soo Kim at light-middleweight in '66; to Dick Tiger up at light-heavyweight in '69; and once at middleweight to Emile Griffith.
Griffith, one of the greatest welterweights, also carved out for himself a superb career at middleweight and it was he that welcomed Benvenuti, an Italian citizen who had been born in Slovenia, to America. If Benvenuti felt stage-fright he gave no sign of it in ripping the title from Griffith in what may have been the 1967 fight for the year; Benvenuti all but dominated Griffith with a career's best jab and the snaking straight-right which he was most famous for – but most often with a rare but beautiful counter-right-hand that hurt the champion repeatedly. A rematch followed five months later in which Griffith abandoned the rushing attack that had brought him to grief in the first fight in preference of a steady pressure and a beautiful left-handed attack; the strength of Griffith's jab was variety and Benvenuti was never allowed to settle. It brought Griffith the narrowest of majority decisions, a short right hand that flashed Benvenuti in the eighth the possible difference-maker.
Their third, fought the following year, was part clinic, part barroom brawl just as the first two had been but it was Benvenuti who emerged from the fight with the majority decision on this occasion after sending Griffith spinning across the ring and onto his backside in the ninth – and then surviving his brutal rally in the fifteenth. Benvenuti defended the title on four separate occasions including perhaps his best performance, an eleventh round knockout of the streaking wonder that was Luis Manuel Rodriguez, who he stopped with a single left hook while on the verge of being pulled with cuts. Other ranked men he disposed of in less spectacular fashion include Doyle Baird, Fraser Scott, Ferd Hernandez, Don Fullmer and Luis Folledo.
#29 – EMILE GRIFFITH (85-24-2)
The wonderful welterweight and light-middleweight champion Emile Griffith first elected to dip his toe into the choppier waters of middleweight not against soft-sell opposition designed to give him the feel for the bigger division but against ranked men, taking on and beating old foe Denny Moyer and the recently eliminated Don Fullmer back to back in August and October of 1962. Griffith couldn't quite dominate Moyer, who forced his way back into their third and final fight savagely in the eighth and ninth rounds, but Griffith was always better suited to the habitat Moyer favoured, up close where identifying punching opportunity and accuracy, Griffith's two greatest attributes, were at a premium. This was a problem hanging over Griffith, however, given that he was a natural light-middleweight moving up in search of glory and money; inside is the last place you want to be against a bigger opponent, on paper.
Griffith moved beautifully, too, and can be named among the most legitimate of polished all-rounders when fresh, but as soon as fatigue began to find him, it was to the inside that he went. This was fine in the early 1960s with the title passing merrily between Paul Pender and Terry Downes, both of whom Griffith likely could have out-boxed up close, but when the title started to move between Dick Tiger and Joey Giardello, Griffith seemed without hope of ever picking up the title. Boxing inside against Tiger, especially, was akin to surrender.
This is what Emile Griffith did, though, when his status as the welterweight champion of the world and his performances against borderline ranked fighters proved enough to get him into a Madison Square Garden ring with Tiger in 1965. Not for the first half of the fight, though. In the first half of the fight, Griffith worked to keep the fight at range where he did not, could not dominate against Tiger, very probably the superior technician. But he also, with generalship and mobility, prevented Tiger from dominating – his whole fight plan was one big interference with the great champion's own.
So it was that when Tiger started to dial his jab in, Griffith stepped inside on an apparent suicide mission. But legendary trainer Gil Clancy had gambled, and convinced an uncertain Griffith, that he had and even at welterweight had had, the strength of a middleweight. To his own surprise, Griffith was able to match Tiger for spells, even pushing him back in rounds seven, eight and eleven. Even though he was handled on occasions, it was Tiger, not he, who visited the canvas in round now. The knockdown was the very definition of flash but it was legitimate, Tiger's right knee buckling behind a one-two for the first visit to the canvas of his storied career.
Griffith got the decision in a fight that could have been scored any one of three ways and although it should be noted that most ringside reporters saw it for Tiger, film shows a desperately close encounter which I think can validly be given to Griffith (for full disclosure I should mention that I have never been able to source a copy of this fight that has round five – any readers who have and feel like sharing should feel free to email me at m.mcgrain@hotmail.co.uk!).
Meetingt with Joey Archer for his first defence, Griffith took the opposite attitude and attacked, bullied and handled his bigger opponent for a narrow decision deemed controversial in some quarters; so he re-matched Archer and beat him again; then began his three fight series with Benvenuti.
Griffith began to suffer up at middleweight and as the 1970s dawned, it would be Monzon who would be Griffith's chief-tormentor; but despite a certain inconsistency in his middleweight work that did not exist for him at welterweight, he continued to add to resume in the new decade, including men like Stanley Hayward (who also bested him once) and Bennie Briscoe.
A two-time world champion, he ranks here just above Benvenuti despite his losses to him based upon that narrow victory over Tiger; the top twenty is an impossibility for him due to the avalanche of a knockout he suffered at the hands of Rubin Carter very early in his middleweight career.
#28 – FRANK KLAUS (33-5-2; Newspaper Decisions 35-9-12)
Frank Klaus enjoyed an argument in the ring and he liked it up close, personal, sometimes using his head and elbows as reservists to his vicious infighting attack. It made him one of the most formidable middleweights of the post-Ketchel era and one of the few claimants to have lifted the legitimate title.
He is also a fighter that, like Jeff Smith (as discussed in Part One), inexplicably ranks in the top ten of many of the old time historians. On the one hand, Klaus was impressive over the six round distance, boxing a draw with Stanley Ketchel and posting a win over Billy Papke; on the other hand he lost twice to our #50, Hugo Kelly, who beat him once over the six round distance in 1909 and the twelve round distance in 1910. One the one hand he was, as noted, the lineal middleweight titleholder but on the other, he won it on a disqualification in a fight that he was reportedly edging with Billy Papke; furthermore, he had won his previous fight against Georges Carpentier – but also on a disqualification in a fight he was reportedly losing. Klaus's record is impressive, but needs qualifying in some respects.
Still, there is little to complain about so far as his series with the great Jack Dillon is concerned. Their first fight occurred in Pittsburgh in 1911 over six rounds; generally it is recorded as a draw (or no decision) with some secondary sources suggesting Dillon got the better of it. In 1912 they met over twenty rounds in a fight so foul as to be nondescript outside of this and the decision was awarded to the less flagrant of the two, which happened to be Klaus. They fought a rematch just three months later over ten and it was Klaus again who got the nod in a tamer affair that saw him outfight Dillon on the inside, a phenomenal achievement, for the second consecutive time. Dillon fled the middleweight division in his wake and Klaus went on to claim the title.
He holds other excellent wins at the weight including Jimmy Gardner, Leo Houck, Eddie McGoorty, Johnny Thompson and Jack Sullivan. Toss in Dillon and Papke and that draw with Ketchel and you are talking about a fighter who met an overwhelming majority of the best of his era and got the better of most of them.
#27 – BERT LYTELL (71-23-7)
"The Beast of Stillman's Gym", Bert Lytell, is probably the most underrated fighter on this list. Ranked here ahead of men who appear higher up on more traditional rankings, Lytell has built a resume so superior to that of the likes of Tony Zale or Marcel Cerdan I feel it reveals a bias in the old-time historians – to be respected, valued, cherished for their contributions to the sport which are enormous – to the champions. Simply put, Lytell did better work in the middleweight division than many of these men. His paper record is deceptive; most of his losses occurred past-prime up at light-heavyweight.
Matched tough early, things reached an absurd, almost surreal level of the impossible when, with his record by Boxrec standing at just 18-4-2, Lytell was matched with a prime Jake LaMotta. LaMotta, an absurdity of violence and pressure in the ring, is to be credited with his determination to match the best of the Black Murderer's row but one should be very careful about crediting him with a victory over the green Lytell as it is recorded in his record in April of 1945. Lytell seems to have duped the bull with a combination of aggression and patience that belied his tender beginnings as a professional, with two out of three officials seeing it to LaMotta, but with numerous ringside reports indicating that Lytell, a 10-1 underdog, deserved the decision; the AP report referred to LaMotta as "baffled" by the normally warlike Lytell's more subtle skills and only a late rally and some controversial judging spared history what might have been a very severe twist. Lytell spent years trying and failing to get LaMotta back into the ring.
Absurdly, Lytell then went out of his way to embark upon a series with one of the few middleweights of that incredible era more dangerous to a young prospect than LaMotta, Holman Williams. Williams was shortly to begin a final fade into mortality but when Lytell first met him just four months after his close encounter with LaMotta, he was coming off a victory over fellow great Charley Burley. Lytell, boxing in rarefied air visited without disaster by only a few men and perhaps none of such little experience, followed the probable loss by officiating against all-time great LaMotta with a draw against the all-time great Holman Williams.
A bizarre exchange of roles followed, with Lytell boxing long and Williams stepping inside to rescue the fight on the cards and then dominating the younger man with a body-attack in the rematch. Lytell persisted with this out-boxing style in their third encounter fought in 1946. The only men to have beaten Williams in the previous two years were a light-heavyweight Archie Moore; the Cocoa Kid, who Williams then avenged himself upon; Lloyd Marshall, with whom he went 1-1; and the wonderful Eddie Booker, with whom he also shared a pair. He had defeated Jack Chase, Charley Burley, Young Gene Buffalo, Kid Tunero, Aaron Wade and Joe Carter in that same period but Lytell blasted himself to a points victory. A meaningless fourth fight followed, the creaking Williams dropping a series to Lytell, who had become either the new rent-collector at the gates of the Row or the next Archie Moore.
It was to be the former. No man but Moore could produce both the longevity and resiliency to cope with long-term residency of that fistic underworld for more than a few years and things got no easier for Lytell; he went 1-1 with the incredible Burley; he went an outstanding 3-0 with Cocoa Kid and although this is tempered by his loss to Aaron Wade, his record against his fellow residents was an exceptional one. Ranked types from the other side of that demarcation line – guys like Major Jones, Sam Baroudi and Sylvester Perkins – were also matched and bettered.
Lytell is ranked third among the middleweights of the Murderer's Row, and this has surprised me; I expected Lloyd Marshall, but his inconsistencies in marriage with Lytell's unerring desire to be matched with the best see him scrape in ahead. If the two had met, perhaps that would have helped to settle matters between them, but it seems even on the Row there were those that eyed one-another warily from opposing street corners.
#26 – LES DARCY (46-4)
Les Darcy was but twenty-one years old when he died. His lofty ranking is one of the most incredible aspects of what might turn out to be the deepest of the top fifties for the traditional weight divisions. His presence in this slot is a miracle of potential and of youthful vibrancy. Still, it is a fact that for many, Darcy's position will be too low; for the Australian history buff, there is often only one middleweight that matters.
But it is unquestionably the fact that Darcy died before he could fulfil his potential, and also before he could be matched with the era's best middleweight, Mike Gibbons, or the best of the coming generation, Harry Greb. Nevertheless, the mark he made was significant, including an excellent performance against former world middleweight champion George Chip. Chip, coming off a ten round newspaper decision victory against a green Greb, was a former world champion and remained a significant scalp. Darcy followed his left inside or baited Chip to the same effect, before dominating exchanges in the pocket, finding creases and cracks for punches everywhere. He appears reasonably easy to find, as he did against the wonderful Indiana Wasp, Jimmy Clabby, another significant scalp, but equal to whatever his opponent could dish out and consistent in outlanding him where it mattered.
Dominant against world class opposition, Darcy went about 25-3 as a middle, avenging all losses and defeating in addition to Clabby and Chip the excellent Eddie McGoorty. He failed to build a resume of great meaning given his failure to make matches in the USA (then, as now, the hub of all things fistic) and far more pertinently his untimely death, but his excellence on film (reasoned comparisons to Jack Johnson have been made) and his clear superiority over the opposition he did meet in the final years of his life, in addition to the esteem in which he is held by those who saw him box, means a position in the twenties is warranted.
#25 – MIKE O'DOWD (51-7-3; Newspaper Decisions 42-10-3)
Mike O'Dowd had the face of a fighter. The nose hammered into an indeterminate feature; the thin lips; the shovel flat face rubbed indifferently onto a bullet-shaped head; the jaw vanishing into his skull; and the thousand-yard stare.
He held a punch like a fighter too, stopped just once in more than one-hundred contests. He went a superb 10-2-1 in middleweight title fights. With raw statistics like these the reader may reasonably ask: why is O'Dowd ranked no higher?
Evidence in support of a higher ranking is plentiful outside of O'Dowd's raw equipment and statistical achievements. First and foremost is his astonishing series victory over Mike Gibbons. Gibbons is an immortal of the middleweight division and I'm sure I give little away in saying he will appear very close to the pinnacle of this list, and O'Dowd was the only man to triumph in a series versus Gibbons. Their first fight was desperately close, with many ringsiders speaking in favour of a draw or a Gibbons win but a majority favouring O'Dowd according to reports. Their second fight, fought two years later, by which time the title had departed O'Dowd, was clear in favour of Gibbons; their rubber match fought in 1922 was the only meeting between the two in which an official decision was rendered, and that decision went to O'Dowd.
Another key win over the wonderful Jeff Smith (ranked at #43), all aggression and in part defined by the right hand to the body. This was typical of the type of performances O'Dowd turned in between 1917 and 1920 when he was the middleweight champion of the world although despite a hard-charging style he remained difficult to catch clean.
Two factors hurt O'Dowd and pull him up short. First of all, when he lost the title it was to one of the most underwhelming champions in middleweight history, Johnny Wilson, and despite the fact that he got two chances to undo that damage in rematches, he was always befuddled by Wilson's southpaw stylings and unable to overcome his jab. Secondly, O'Dowd struggled desperately with the two best welterweights of his era. Despite a big size advantage he actually lost a series to defensive genius Jack Britton and dropped two newspaper decisions to Britton's nemesis Ted Lewis. These black marks tug a top thirty resume back into the densely packed ranks of this section.
#24 – GENE FULLMER (55-6-3)
Slate-faced and bull-necked, Fullmer boxed with a tactical indifference to even the hardest of punches but such was his durability and determination that he became one of the four men to hold the middleweight title in the year of 1957. A cynic might argue that Fullmer, like Carmen Basilio, only picked up the title because of the inconsistencies of the late incarnation of Sugar Ray Robinson but Robinson remains Robinson and in slogging his way to the middleweight title, Fullmer became one of the definitive middleweight battletanks. Without the layered counter-punching abilities of someone like Dick Tiger or the full-blown work-rate of Jake LaMotta, Fullmer had to rely on durability and heart to perhaps an even greater degree than those two immovable legends. But what Fullmer did have was manoeuvrability, a certain lightness of feet that made his choice of style seem curious at times. Boxing is a rarity in sport in that the competitors are the men they are first and the athletes they are second, and so Fullmer neglected to use that surety of footwork to rescue him from pain and instead walked into fire and tried to out-maul his world class opposition.
Between 1956 and 1961 he out-mauled everybody, losing just once to Sugar Ray Robinson, whom he twice bested for a final ledger of 2-2-1. Robinson's series with Fullmer described his decline really, but on the eve of their first fight from January 1957 Robinson was in fine form having twice bested Bobo Olsen in world-title fights. Whatever his precise condition, dethroning the one and only Sugar Ray always carries with it a certain cachet and this Fullmer did, betting him reasonably clearer on the judge's scorecards in a fight made close to my eyes by a vicious uppercut to the body repeatedly employed by the defending champion; but Fullmer had the look of a fighter who could eat even these punches all night, and he did, lifting the world's middleweight title in the process. The second fight between them ended in devastating fashion in Robinson's favour as he knocked Fullmer out in the fifth with his famous "perfect left hook", all the more shocking for the fact that Fullmer looked so undisturbed by Robinson's best in that first fight. The two met again in 1960 in an unpopular draw making a fourth fight necessary; Robinson, by now over forty and broke, had nothing left to give and Fullmer rolled him over in fifteen.
Perched perfectly between Robinson and another great champion, Dick Tiger, no sooner had he seen of the first then he had to make war with the second – this was a contest he could not win as even his prestigious strength saw him out-matched by the monstrous Nigerian, who out-muscled and bulled the previously impervious Utah man. Still, Fullmer has a truly impressive ledger and took on and defeated multiple top five contenders, including Rocky Castellani, Ralph Jones, Spider Webb, Charles Humez and the superb Carmen Basilio, who he twice stopped in brutal encounters. He was unlucky not to get the nod over the superb Joey Giardello when they met in 1960, ten of eleven ringside reporters favouring Fullmer according to The Milwaukee Sentinel, but overall, Fullmer got far more out of his career than a fighter with his limitations had any business achieving.
He was a hard night's work for any man who ever weighed 160lbs.
#23 – BILLY PAPKE (37-11-5; Newspaper Decisions 3-6-1)
Speaking of a hard night's work: Billy Papke.
He had to shoot himself in the heart three times to end his torrid life on Thanksgiving Day 1936, finally succumbing to the terrible disarray of his personal life. Once upon a time, he had boxed with a savagery fitting of the man he would become, the man who would slay his ex-wife before taking his own life, a man so brutal that he was able to take the great Stanley Ketchel apart at the seams so completely that some wondered if he would ever be put back together again.
Ketchel had already defeated Papke once in a torrid ten rounds in April of 1908; the litany of excuses he laid at the door of pressmen as he relentlessly pursued a rematch is typical of those adopted by a fighter. Ketchel meanwhile was standing on tiptoe and peering past his seething nemesis at world heavyweight champion Billy Papke. Papke saw his chance, and if it was borne, as the legend holds, of a smash to Ketchel's throat before the bell was rung, this is not reflected in any of the ringside reports I have seen. Instead these reports describe a fighter possessed in out-fighting, out-slugging, and, yes, out-boxing the ultimate furnace-bound middleweight Stanley Ketchel. Ketchel dominated their series 3-1, but Papke tore a primed Ketchel into punch sized pieces in their second encounter to become the middleweight champion of the world.
He was not given the opportunity to make any successful defences as a rampant Ketchel vanished into the desert and re-emerged to exact a terrible revenge just months later and, I suspect, broke Papke in the way some thought Papke had broken him. But he still did some good work, beating the likes of Willie Lewis, out of New York and sporting an excellent record when Papke blasted him out in just three; Joe Thomas, who held a newspaper decision over Frank Klaus, but who Papke stopped in the sixteenth round of a savage encounter in 1910; the excellent Dave Smith, who was unbeaten and would go on to defeat Battling Levinksy and Jimmy Clabby; an easy decision over former pound-for-pounder Jack "Twin Sullivan", and many other worthies. He also went unbeaten in a four fight series with Hugo Kelly, and for all that he is defined by his other four fight series with Ketchel, achieved a superb resume. Despite a disastrous run in to his career – he lost twelve of his last eighteen fights – he's earned his spot in the twenties.
#22 – JOEY GIARDELLO (99-27-8)
Joey Giardello was one of the middleweight division's greatest survivors. After turning professional in the late forties, Giardello spent years slogging his way through a hellish apprenticeship that saw him turn out sixteen times in 1950 alone. Naturally there were losses; naturally, for a fighter of his quality he broke into the Ring rankings in 1952. He would remain there for most of the fifties and for much of the 1960s, including a spell as champion despite his sharing an era with the terrifying Dick Tiger, a fighter he had to face on no fewer than four occasions. Like Tiger, his long wrestle with contendership makes his eventual rise to the summit more and not less impressive.
Giardello's arrival looked to be anointed by his superb 1954 stoppage of the ranked puncher and favourite Willie Troy in a fight in which Giardello found the point of Troy's chin from the first, all the while taking the best the Virginian could dish out. Troy was saved by the bell in both the first and the second but Giardello slowly bricked him up with a scything, brutal right-hand and a cuffing, debilitating left all while giving ground. Troy was all in after seven and rightly plucked from danger by referee Al Berl.
Giardello came undone in his next fight with the fearless and often brilliant Frenchman Pierre Langlois but bounced back with a minor controversy in his win over Bobby Jones, also ranked, but tumbled down the rabbit hole of contendership once more after losing out to Charley Cotton; and so it went for a fighter who seemed perennially one fight away from a title shot.
In many ways, Giardello is the anti-Cerdan. He did not, like the Frenchman, go unbeaten, but nor was his middleweight journey tragically cut short. He fought there for years, meeting more ranked men and accruing losses. Where Giardello edges ahead for me is in the twilight of his career when, upon defeating an aged Sugar Ray Robinson, he found himself in the ring for a third time with Dick Tiger with whom he had previously gone 1-1; now the title was at stake.
Aged 33, a veritable pensioner for the era given his sixteen years as a professional behind him, he did not fail in his last best chance at a title; he boxed his way to a decision over Tiger and then cemented his reputation as fearless in matching the destructive Rubin Carter in his first defence. He could not manage another, losing out to a brilliant Tiger in a fourth and final contest in 1965, an astonishing ten years after his defeat of Willie Troy.
Giardello's career is simply too storied to recount here entirely but he can be surmised as being perhaps not among the greatest champions in middleweight history, but very much among the greatest contenders. I've nudged him in ahead of Gene Fullmer here, with whom he fought a savage draw in 1960, based upon his at least partial taming of Tiger.
#21 – KEN OVERLIN (135-19-9)
If Ken Overlin could punch he may very well have appeared in the final installment of this list. A veteran of more than 160 contests he lost just nineteen, but even more astonishing is that he won 135 while scoring just twenty-three knockouts.
This is a KO percentage rather less than that of Paul Malignaggi.
Despite this enormous handicap, Overlin defeated #2 contender Paul Pirrone, the coming George Black, ranked men Ben Brown and Al Quaill, Nate Bolden, strap-holder Ceferino Garcia, top five contender Steve Belloise, Al Hostak, the all-time great Ezzard Charles and the all-time great Fred Apostoli. Charles and Apostoli would both go on to get considerably better than they were when Overlin toyed with them, but the way he inflicted his left hand on two of the great boxers of that era was a fantastic endorsement for Overlin's jab, which rarely let him down.
A strapholder rather than a defining champion, Overlin had his belt taken from him in preposterous circumstances, dropping a home-state decision to Billy Soose in a non-title fight in 1940; this positioned Soose for a 1941 shot at Overlin, who was robbed for a second time in a fight that so defied expectations that it led The New York Times to label Soose as appearing "retarded." The political incorrectness of this remark aside, it was clear to most ringsiders that Overlin deserved the decision. The fact that many of his finest victories, including that schooling of Ezzard Charles, came after these apparent twin-robberies it is fair to speculate as to what sort of champion Overlin might have become if he had been allowed to obtain the type of seniority that comes with championship longevity; that it was not to be is perhaps one of middleweight history's greatest injustices.
Something of a nearly-man then, despite all his success; a fitting gatekeeper to the top twenty, perhaps.
Pico Rivera Summer Fights See Cruz, Vega and Flores Win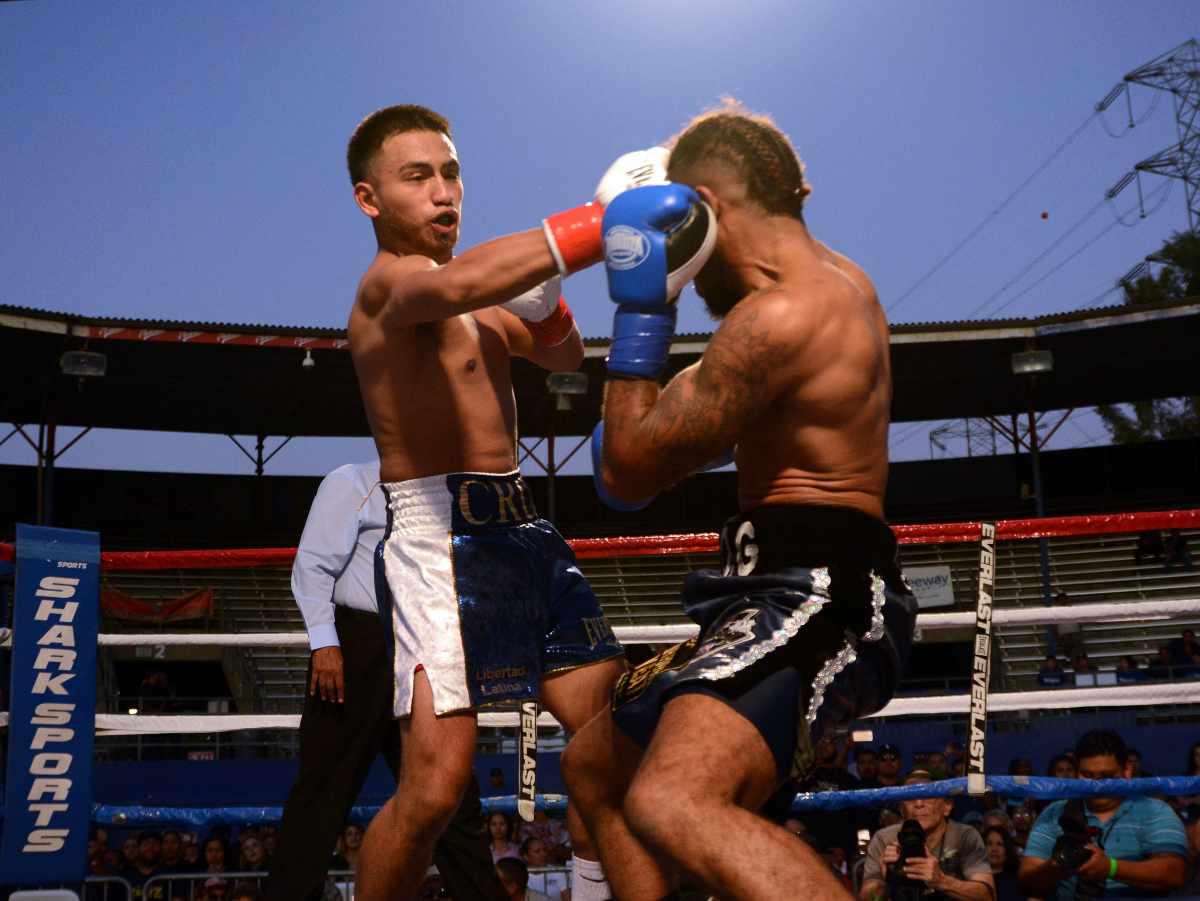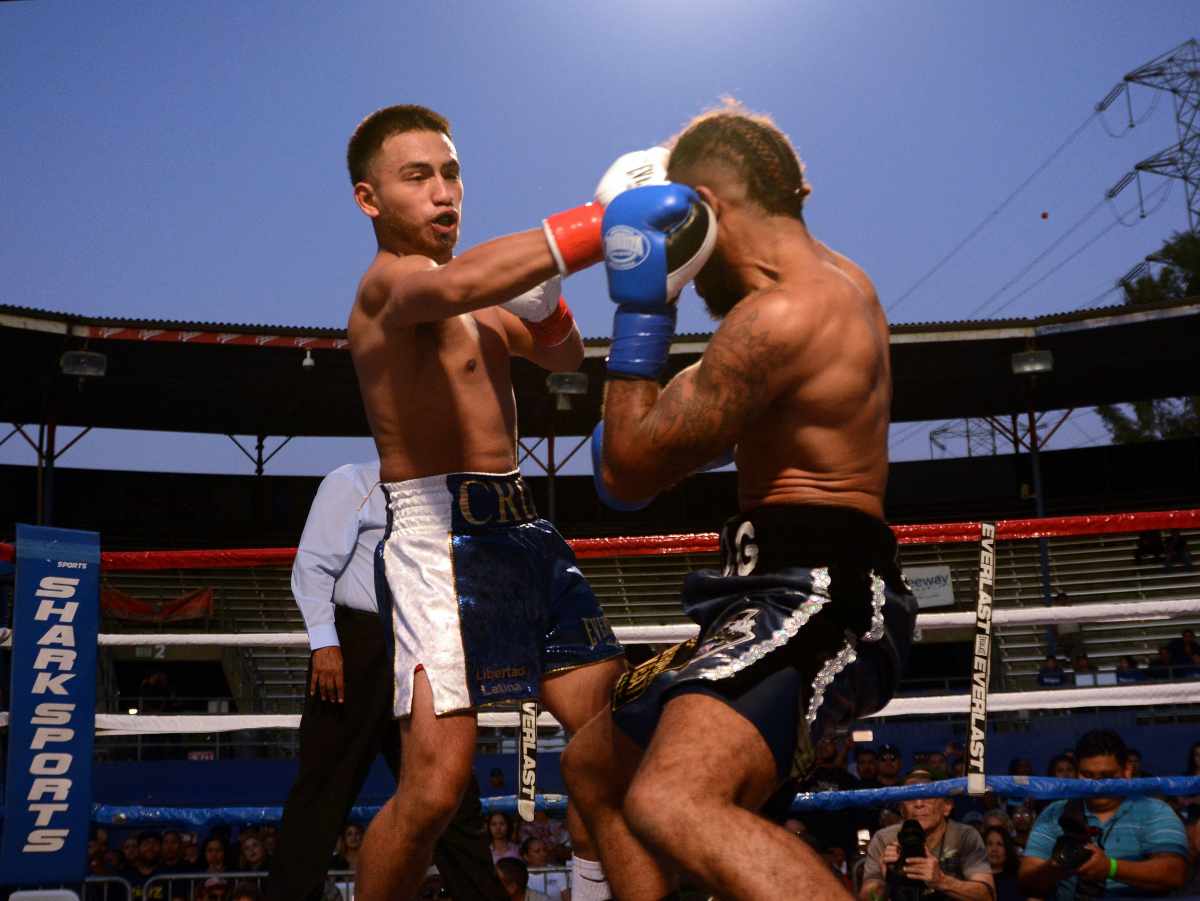 PICO RIVERA, Ca.-Along the San Gabriel River on a soft summer evening, Red Boxing Promotions brought another slew of hot local prospects to the forefront on Saturday.
Chino's Daniel "Cuetito" Cruz (3-0) burst into the fight like an energy bomb and simply overwhelmed southpaw Phillip Bounds (0-4) with lightning combinations to win by unanimous decision. More than 700 fans saw the Red Boxing fight card.
Though it was only his third pro fight, the high intensity prizefighter Cruz (pictured on the left) exhibited a level of confidence that allowed him to attack with impunity for the first two rounds.
Cruz switched to southpaw and had even more success against the lefty Bounds. The speed of Cruz proved too much to overcome for Bounds who tried different approaches but couldn't find an antidote for Cruz who won by unanimous decision 40-36 on all three cards in the super lightweight match.
"I'm excited, I wanted to put on a good show," said Cruz, 20. "I'm coming for all of the big names. Cuetito is here."
Andre Marquez (2-1) overwhelmed the much taller Alvin Brown (0-8) from Louisiana with a whirlwind style that ended in a knockout in the fourth and final round of their super featherweight match. A left hook caught Brown flush and Marquez followed up with four more blows, forcing Brown to take a knee at 1:41 of the fourth round. Marquez was ruled the winner by knockout by referee Sharon Sands.
"My plan was to work his body," said Marquez. "It worked out perfectly."
Welterweights Bradley Pena (0-0-1) and Ed Nunez (0-0-1) blasted each other for four rounds, with Pena starting fast and Nunez ending strong. No knockdowns were scored in the fight that started the night and ended in a draw.
Main Bouts
A light flyweight clash saw Axel Vega (13-2-1, 8 KOs) of Ensenada, Mexico knock out Tijuana's Giovanni Noriega (2-5-2) with a triple left hook in the second round. Vega, 19, trained out of Compton for this fight.
Welterweight prospect Steven Rodriguez (8-0) suffered a cut on his forehead due to a clash of heads but still managed to out-perform Las Vegas fighter Ryan Picou (3-12-1) after four rounds. All three judges scored the fight 40-36 in favor of Rodriguez. But Picou gave a stubborn defense against the constant rushes of Rodriguez and was able to score on occasion.
Santa Barbara's Angel Flores (6-0, 4 KOs) defeated Mexico's Roberto Almazan (9-12) by unanimous decision after six rounds in a super lightweight contest. Flores knocked down Almazan twice in the last round to clinch the win and get the victory by a landslide.
In the audience was former world champion Arturo Frias of East Los Angeles who won the WBA world lightweight title in 1982 and fought numerous times at LA's  fabled Olympic Auditorium. Also in attendance was current super flyweight contender Adelaida "La Cobra" Ruiz of Los Angeles who is scheduled to fight on October 12 at the same Pico Rivera Sports Arena. Red Boxing Promotions will be staging the event.
Photo credit: Al Applerose
Check out more boxing news on video at The Boxing Channel  
To comment on this story in The Fight Forum CLICK HERE
Fast Results from Russia: Kovalev KOs Yarde in the 11th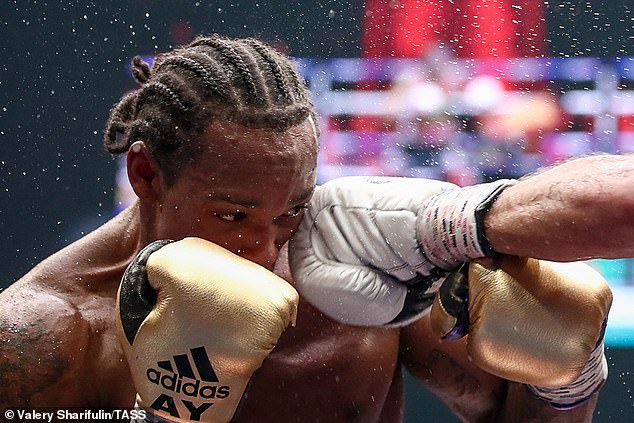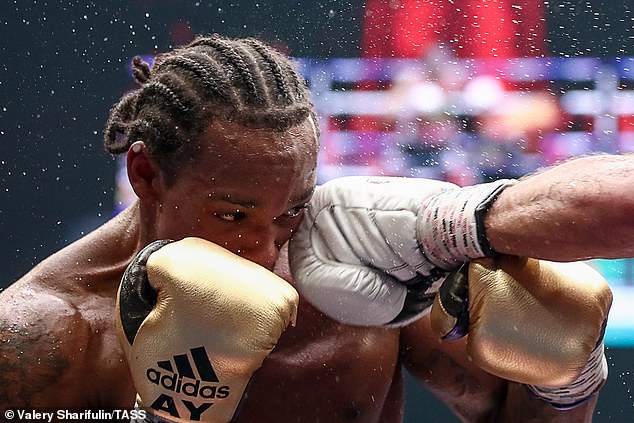 The consensus of opinion regarding tonight's fight at Chelyabinsk between Sergey Kovalev and Anthony Yarde was that….well, there was no consensus, save that it would not bode well for Yarde if both fighters were still standing at the final bell. Fighting in his hometown, and with a monster payday reportedly looming against Canelo Alvarez should he win, "Krusher" was unlikely to get the worst of it if the fight went to the scorecards. But there would be no controversial decision. In a fight that started slowly and then shifted Yarde's way, Kovalev stemmed the momentum, took charge in the 10th, and then closed the show in the next round with a scorching left hand that left Yarde flat on his back, gasping for air.
In handicapping the fight, Kovalev certainly had more check marks in the plus column. A former three belt champion and the reigning WBO 175-pound title-holder, Kovalev would be appearing in his 16th world title fight, his second with Hall of Fame trainer Buddy McGirt, with whom he had great rapport. By contrast, Yarde, although undefeated (18-0), had answered the bell for only 51 rounds and had defeated only nine fighters with winning records. Moreover, the Englishman had fought only 12 amateur fights before turning pro.
However, at age 36, Kovalev was getting long in the tooth and in some of his more recent fights he had stamina issues. Moreover, there was a school of thought that Yarde was a beast. In his 30 fights, amateur and pro, he had scored 28 knockouts.
Yarde's first good round was the seventh and he followed that up with a very strong eighth in which he hurt Kovalev and had the Krusher looking tired. But the assumption that he had paced himself brilliantly proved to be a mirage. As the bout moved into the home stretch, it was the younger man that was more fatigued.
Kovalev backed Yarde against the ropes and hurt him in the 10th. The Russian repeatedly had success with his hard left jab (shades of Larry Holmes) and it was a jab that ended it. Yarde was too exhausted to make it to his feet and was counted out.
Kovalev reportedly has already agreed to meet Canelo in November or December. Tonight he may have added an extra zero to his purse.
Kovalev vs. Canelo, likely at the T-Mobile Arena in Las Vegas, will be a blockbuster. Let the hype begin.
Co-Feature
The co-feature between knockout artists Aleksei Papin and Ilunga Makabu wasn't expected to last the distance, but it went the full 12 and was a highly entertaining affair climaxed by a great 12th round. When the smoke cleared, Ilunga, who went to post a slight favorite, improved to 26-2 (24) by dint of winning a majority decision. It was the second straight win on Russian soil for the Congolese southpaw who fights out of Johannesburg. In his previous go, he stopped Dmitry Kudryashov in the fifth round at Ekaterinburg.
Papin was 11-0 going in with 10 knockouts but the 31-year-old Russian, a former kickboxing champion, was moving up in class against Makabu, a former world title challenger. In the 12th, Makabu scored a knockdown with a straight left after buzzing Papin with a left-right combination, but Papin wasn't badly hurt and came back to rock him in the final seconds. The knockdown seemingly spelled the difference as two judges had it 115-113 with the third scoring it even (113-113).
Check out more boxing news on video at The Boxing Channel  
To comment on this story in The Fight Forum CLICK HERE
Tanaka and Hatanaka Stay Undefeated in Nagoya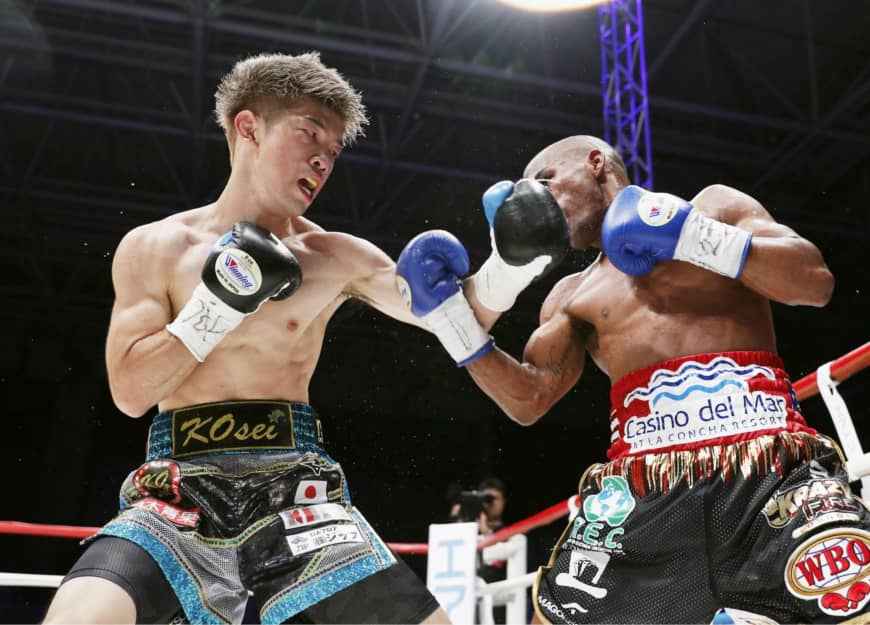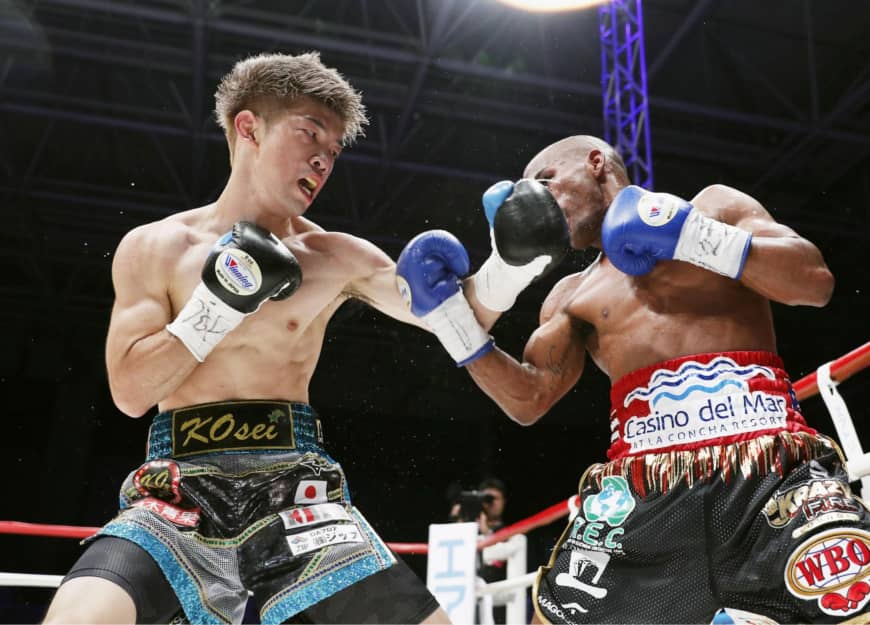 Kiyoshi Hatanaka, the former world super bantamweight champion, now runs a boxing gym and promotes fights in his hometown of Nagoya. The top fighters in his gym are 24-year-old Kosei Tanaka, who has already won world titles in three weight classes, and Kento Hatanaka, Kyoshi's 21-year-old son. Both were in action today and both were victorious, but not without anxious moments.
Tanaka, the reigning WBO 112-pound champion, improved to 14-0 (8 KOs) with a seventh-round TKO of Jonathan Gonzalez (22-3-1) in an action-packed bout. There were five knockdowns in all, four by Tanaka, before the referee waved it off with merely a second remaining in the seventh stanza.
Gonzalez took a knee after being hurt by a body punch in round three. But he returned the favor, knocking Tanaka down with a counterpunch in the next stanza, and seemingly had the fight in hand when he dominated the fifth. But Tanaka regained the momentum and scored three knockdowns in Round 7 to close the show.
Kosei Tanaka is overshadowed as a sports personality by countryman Naoya "Monster" Inoue, but is carving out quite a legacy. At age 19, in only his fifth pro fight, he defeated WBO minimumweight (105 pound) champion Julian Yadras of Mexico. He then gathered in titles at 108 and 112, accomplishing the hat trick in only his 12th pro fight, tying Vasiliy Lomachenko's record.
With only a few pounds separating each of the lowest weight classes, Tanaka likely isn't done jumping up in weight. There's already talk of a showdown with 115-pound title-holder Kazuto Ioka. But Tanaka has indicated that he wants to expand his opportunities overseas, following the example of Inoue. There are still holes in his defense, but that makes for exciting fights and a match between him and someone like "Chocolatito" Gonzalez would be worth the price of admission.
Jonathan Gonzalez, a southpaw with a good amateur pedigree, had fought his previous three fights in Kissimmee, Florida. When in his native Puerto Rico, he trains in the same gym as former super bantamweight and featherweight champion Juan Manuel Lopez. We certainly haven't seen the last of him.
The 10-round co-feature between super flyweights Kento Hatanaka and Jaysever Abcede was also a crowd pleaser that saw both combatants score knockdowns. Hatanaka improved to 10-0 but was extended the distance for the first time in his pro career. Abcede, a noted spoiler from the Philippines, saw his winning streak end at four and fell to 19-9. The scores were 95-93, 96-93, and 96-92.
Check out more boxing news on video at The Boxing Channel  
To comment on this story in The Fight Forum CLICK HERE