FROM BOSTON TO NY, To See Good Boy in Action
Saturday morning, 6am.
When the alarm bells went off bright and early in Boston to awaken me for my big day in the Big Apple, I'd already been yanked from my slumber just a few hours prior by a 2am "Amber Alert" that sent my iPhone into a buzzing frenzy. For some reason, I thought it was going off like that because I had some new Twitter followers.
After a quick shower and an even quicker breakfast (protein shake fruit smoothie) I logged onto my computer only to find that my popular KO Digest "friend page" on Facebook was being converted by the powers-that-be into a Facebook "like page", a virtual disaster for my ability to communicate with my loyal online audience.
As easy as it would have been to let this social media mishap spoil my pilgrimage to the Mecca of Boxing, I did my very best to not let it bother me too much; I began downloading a copy of the old page to my hard-drive and allowing the long process of conversion to begin. During this extended period while that was slowly taking place in cyber space, it was as if the KO Digest page on Facebook was in a strange state of pugilistic purgatory, technically knocked out before the fight even started. Are you serious?
When I arrived at the Amtrak station in Westwood, Mass after a short drive from Boston, I parked my 1997 Ford Taurus SHO (that stands for Super High Output) in the MBTA parking lot and took the short walk to the terminal. As I rounded a corner to have a seat in the lobby, who did I see but fellow Sweet Science boxing writer extraordinaire Springs Toledo. I told Springs about my Facebook situation (Toledo once referred to KO Digest as the "pied piper" of boxing) and he told me about the new boxing book he's writing, In The Cheap Seats. That's certainly a very appropriate name for his work in progress considering that Springs was traveling to the same fight card I was traveling to, but with a paid ticket in his pocket for the cheap seats and no press pass to speak of this time around. As my Acela Express train rolled into the station at 8:25am, we said our goodbyes and I took a quick selfie with the well dressed, award-winner from the Boxing Writers Association of America. As it turned out, Springs was taking the next train(8:55am) bound for Penn Station.
Yes, his seat was indeed a little bit cheaper. Holy Toledo, he even rode coach.
On the fly-by four hour train ride to midtown Manhattan, I sat with a young college student from Boston University named Jennifer. She was traveling to New York City for a student conference in the Capital District where she was planning to meet up with her new boyfriend Blake. I asked her if she knew anything about the Gennady Golovkin fight at MSG or if she'd even heard of the popular puncher known in boxing circles as Triple G. "Is he in the UFC?" she asked with a puzzled look on her face. Not surprisingly, Jennifer had no idea who or what I was talking about. Golovkin might very well be on the verge of becoming a crossover star in the larger sporting world, but he's still an unknown commodity among college freshmen and pretty girls with crushes on pretty boys.
During the second half of the trip, in between checking emails and working on this travel log, I continued to deal with my now suddenly defunct social media outlet in an effort to get the page up and running again for the busy day ahead. By 11am, there was still no KO Digest on Facebook and I was starting to get concerned messages from friends and readers in the boxing community wondering just what the hell was going on with their trusty KO Digest. I tried to explain as best I could but having to do so just reminded me of how frustrated I was with the whole situation. The timing could not have been worse for me but boxing is nothing if not a struggle for all involved.
After a pleasant ride that went by like no time at all, my train rolled into Penn Station right on time at 11:45am. When that first blast of New York City air hit me in the face during the escalator ride up and out of the underground station, I was immediately struck by how cold and windy it was outside. I was expecting brisk weather but not quite early winter conditions. I put on a light jacket and made a loop around the historic venue to have a look around. It was still a little early in the day for the big boxing crowds to start filling in around Penn Station but I did hear a few folks already talking about the middleweight title fight on tap tonight in the big room.
I have to say, no trip to New York City is complete for me without first going down to Ground Zero for a show of respect to all the lives lost and forever destroyed on September 11, 2001. As a disabled American Gulf War era veteran, I'll never forget 9/11. On that fateful morning fourteen years ago, I was proudly wearing the uniform of my country as a United States Army soldier. Seeing the site now turned into a squeaky clean memorial is meaningful but to also see how it's become commercialized and capitalized, well, that makes me feel dirty on the inside and even colder on the outside. I'm reminded of Bernard Hopkins and Felix Trinidad in the wake of unimaginable tragedy.
Fortunately, by 1:30pm, the sun was starting to warm up the day and my spirits along with it.
If the heart and soul of boxing is the art of talking about boxing, that's just what I managed to do for a few hours during the afternoon with a fellow named Art from Long Island. Art was enjoying his coffee and doing a little people watching when we struck up a conversation at the 7th Avenue Starbucks location. Before you knew it, others around us had jumped into the fray and we talked about everybody from Muhammad Ali to Hector Camacho to Rocky Marciano ("Rocky is Rocky!") to Floyd "Money" Mayweather. As the banter heated up, I heard a wiseguy wisely say, "If Mayweather is one of the guys in the ring tonight, you're not gonna see a fight." I assured them there would be no shortage of action in the Garden tonight before heading over to TGIF's for a last minute bite before the fights. Not surprisingly, more great conversations went down around me at the bar while I scarfed back a Pepsi and some overpriced tuna wontons. The bartender overheard our debate about Mike Tyson and piped in that he lives next-door to a guy in Brooklyn who was Big George Foreman's first professional opponent, Don Waldheim. In boxing, it's a small world. Everybody knows somebody. Waldheim was knocked out by Foreman in the third round in 1969. The rest is history.
From there, it was over to 31st & 8th to pick up my media credential at 5pm sharp. The line wasn't very long and it moved pretty quickly. As I was waiting outside to pass the security checkpoint, former heavyweight championship challenger Gerry Cooney emerged from the entrance and I couldn't help but shout out, "Gentleman Gerry, we loved ya!" Cooney counter-punched quick with, "I love you," before he asked me how I got so big. Cooney is 6'6. I'm 6'11. I told Gerry that I, like he, ate my spinach. Of course, that didn't help the big fella when he was poleaxed by "Big George" in 1990.
With my press pass in hand, I headed over to the media room where I was accompanied by Derek Bonnett and Jason Prilbila from the website Second Out. Derek could hardly contain his excitement over getting to cover his "favorite fighter" Roman "Chocolatito" Gonzalez. I was very happy to see "KO JO" Jack Obermayer in the house wearing a Panamanian paper hat and a plaid shirt. I asked Jack how he's feeling these days. Jack described himself as "weak" but for doing what he's still doing with what he's got, cancer, I'd say he's pretty damn strong. Keep punching Jack.
After a quick pow-wow with my esteemed editor-in-chief, Michael "Call Me Woodsy" Woods, popular referee Steve Willis made an unexpected pass through the media room and I told Willis how glad boxing fans were that he was assigned to cover the main event, Golovkin vs. David Lemieux. Willis is an intense (bug-eyed) third man in the ring. In any fight he works, the action is always written all over his wonderfully expressive face.
I could only envy the unique perspective he'd have of the fisticuffs in just a few short hours.
Unfortunately, my dream of sitting ringside in press row proper at Madison Square Garden for a big time prizefight was dashed when I took a closer look at my red media credential. Section 327, Row #2, Seat 6. That's "up there" but not a bad view at all in a dedicated media section stationed above the ring in the newly renovated MSG. That would be my point of view for the night ahead but by no means am I complaining. It's a privilege and an honor to cover professional boxing on its biggest stages and to do so for one of the most well written and well read boxing websites in the world, The Sweet Science. With nothing but gratitude, I made my way up to my seat at 7:30 by taking an escalator all the way to the ninth floor. The arena was not yet half-filled as undefeated Lamont Roach, 9-0, battled Jose "Flash" Bustos, a 7-6 junior lightweight from one of the most dangerous places on Earth, Ciudad Juárez, Mexico. Bustos lost a wide unanimous decision and nearly got knocked out in the final round but he held up like proud Mexican fighters tend to do.
At 9:30, the legendary Roberto Duran appeared on the jumbotron and the now near-capacity Garden gave the Panamanian icon a loud reception while the smiling "Hands of Stone" blew kisses to his adoring fans from ringside. Duran famously defeated New Yorker Davey Moore at this venue in 1983, destroying the young WBA junior middleweight champion with a cruel precision still talked about reverentially to this very day. In town during fight week, "Cholo" was asked about Golovkin and something apparently got lost in translation. Duran thought the reporter was asking him about Andrew Golota, the "Foul Pole" of boxing and scapegoat of the infamous 1996 riot that took place right here in the aftermath of Golota's foul-filled bout against New Yorker Riddick "Big Daddy" Bowe.
When the jumbotron showed American Presidential candidate Donald Trump in the locker room pressing the flesh with Pound-for-Pound candidate Gennady Golovkin, the reaction was mixed to say the least.
By 10:00, the heavyweights were in the ring. While undefeated Cuban Luis Ortiz and Argentine punching bag Matias Ariel Vidondo plodded around the ring like Tony "TNT" Tubbs and Francesco Damiani, I decided to take a quick walk around the upper levels of the building. I'm glad I did. It was there I ran into Chip Mitchell, a Facebook friend (and KO Digest reader) who crossed into my real world tonight with some kind words and an unexpected gift. Without warning, Mitchell gave me a silver necklace with a silver boxing glove on it. "Keep doing what you're doing sir," he told me as if he knew I needed to hear it. I thanked him and went back to my work station to watch Ortiz stop Vidondo with a straight left hand in the third round of a clumsy mismatch. To my immediate right, Stefan Oliva, a young deadline writer from an Argentine newspaper, scrambled around as he tried to file the disappointing story of his countryman's face first defeat.
In the co-main event, World Flyweight Champion Roman "Chocolatito" Gonzalez and Brian "Hawaiian Punch" Viloria didn't exactly light the joint on fire but they did put on a very high quality title fight with a definitive result. Viloria was knocked down early in the bout and was getting batted around at will by the smooth punching Nicaraguan. There's a good reason why Gonzalez, who draws comparisons to his idol Alexis Arguello, is seen as the number one pound for pound boxer in the world today following the recent retirement of Floyd Mayweather. Nobody out there today is as technically perfect in the ring as Gonzalez. To his credit, Viloria did his best to avoid a bad beating but he was catching one whenever Gonzalez let his hands go. In the ninth round, Gonzalez let them go and didn't stop until referee Benjy Esteves stepped in at 2:53 with Viloria on the ropes taking punches from all angles.
By 11:30, Golovkin and Lemieux were in the ring and the Garden was rocking with spontaneous chants of "Triple G, Triple G" ringing out to start the fight. Golovkin was patient in the first round, using his stiff left jab to spear Lemieux, keeping the Canadian honest and his vaunted left hook home. People talk all day about Golovkin's offense but his defense was good enough to easily avoid the wild power of Lemieux in the second round by just leaning back away from it. In the third, Golovkin landed a hard left hook to the liver, left hook to the head combo and he finished it up with another flush jab to the face of Lemieux. The pace picked up in the fourth and it looked like Golovkin might lower the boom but Lemieux stood in there like a champion and took the abuse while returning fire. Back on his heels in the fifth from more Golovkin jabs, Lemieux wasn't landing much and when he did, Golovkin walked through it. After a knockdown of Lemieux by Golovkin in the fifth, Lemieux showed his grit in the sixth as the blood began to pour from his nose and mouth. In the seventh, referee Steve Willis brought the bloody Lemieux to see the ringside physician and the fight resumed after a cursory look by the doctor. In fact, it was referee Willis that was taking the closest looks at Lemieux and as the IBF middleweight champion was getting smashed about the head by Golovkin, the horrified look on Willis' face told the story of the fight. In the eighth, Willis had seen enough carnage for the night and he jumped in to stop the one-sided fight at 1:32 of the frame.
With the win, Golovkin improved his record to 34-0 with 31 KOs. Golovkin now has 15 successful defenses of his WBA middleweight title, 21 consecutive stoppages in the ring, and of course, sole possession of the IBF 160 pound title that he won tonight from David Lemieux.
At the post-fight press conference, middleweight Tureano Johnson (unanimous decision winner over Eamonn O'Kane on the undercard) said he's the one to beat Golovkin in the future. "He can hit me with all he's got. I can knock him out, too, " the Bahamas-bred boxer claimed. "I have a cast iron chin," he told the press.
When the black and blue Lemieux hit the stage, he gave credit to Golovkin but the ex-champ did say he thought the stoppage was a little premature. Golovkin, smiling with four belts spread out before him, wrapped up his experience in the ring against Lemieux: "It was not an easy night but it was a good night."
At 2:05 am on Sunday morning, I filed this write-up with The Sweet Science and made my way back down to Penn Station for the long train ride back to Boston. In the end, Golovkin was right of course, it wasn't an easy night but it was a damn good night.
Gvozdyk vs. Beterbiev: Point Counterpoint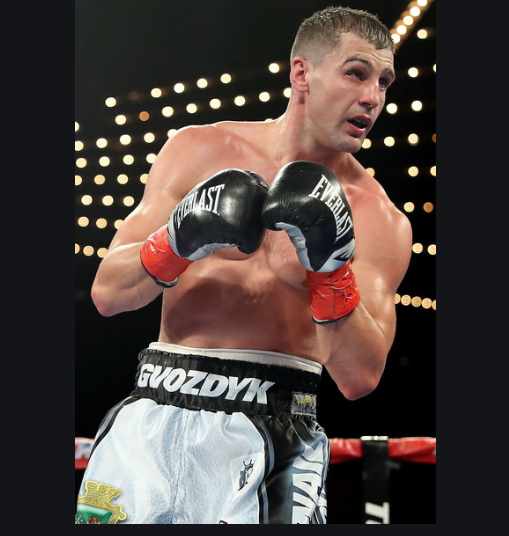 Gvozdyk vs. Beterbiev: Point Counterpoint
Putting pineapple on pizza is not a good idea but it IS an example of point counterpoint, and when these two boxers meet on Friday in Philadelphia with the WBC and IBF world light heavyweight titles at stake, it also will be a contrast—but not of tastes as much as styles..
There are, however, many similarities. Both are Eastern European boxers though one, Gvozdyk, is a Ukrainian and the other, Beterbiev, is a Russian and this particular regional difference has sparked a lot of conversation. (Interestingly, Beterbiev has never fought professionally in Russia, nor has the English-speaking Gvozdyk ever fought in the Ukraine.)
Both have superb amateur credentials but this has a flip side in that too many amateur fights can add to the wear and tear of these Eastern Euro warriors when they become professionals. Beterbiev is 34; Gvozdyk 32.
Both are undefeated with outstanding knockout percentages. Gvozdyk, aka The Nail, is 17-0 with 14 KOs. Beterbiev (14-0) has won all of his fights inside the distance.
Both are excellent finishers and when they have their man hurt, it's all over.
Both have excellent corners and handlers and will be fit and ready to rumble.
"This could very well be the fight of the year…These are two evenly matched, undefeated light heavyweight champions. There is nothing better in the sport of boxing," says promoter Bob Arum.
Styles
The 6'0" Beterbiev's style is one of a stalking aggressor and he is especially dangerous when his opponent engages him in a heated exchange as that allows him to land one of his heavy-handed bombs. To use an old cliché, Artur has "bricks in his fists." He also is dangerous when he is stunned as Callum Johnson discovered.
Some say Beterbiev's chin is a question mark but his style allows an opponent to nail him (no pun intended) as he moves in. That may well be more a function of his go-forward movement than it is any weakness in his chin.
Conversely, The Nail is a very accurate and powerful puncher and is technically (and defensively) more sound than the bludgeoning Russian. He uses a super-fast jab and counters with sharp stuff. This 6'2" slickster combines exceptional speed and deceptive power. He is patient, relaxed, and fluid.
Intangibles
Has Gvozdyk's psyche been altered by the events of his December 2018 fight with Adonis Stevenson wherein Adonis (thankfully now recovering) was severely injured? While The Nail was somewhat stymied by his last opponent, Doudou Ngumbu, the thinking here is that that had more to do with Ngumbu's awkwardness than anything else—and that the Stevenson matter is mostly in the past. In short, the Nail's focus on Friday should be right where it should be.
With a KO percentage of 100%, Beterbiev has answered the bell for very few rounds, only 52 to be exact. This could weigh against him.
Prediction: Gvozdyk's superior boxing skills should begin to bear fruit in the mid to late rounds when a frustrated Beterbiev is forced to take risks for which he will pay dearly. I see "The Nail" winning by late stoppage or by UD.
A Russian vs. a Ukrainian — one who lives in Canada and the other who lives in California.  Heck, it's the battle of ex-patriots. If ever a fight was much anticipated, this is the one.
Ted Sares can be reached at tedsares@roadrunner.com
Check out more boxing news on video at The Boxing Channel 
To comment on this story in The Fight Forum CLICK HERE
Terence Crawford is Bob Arum's Yuletide Gift to New York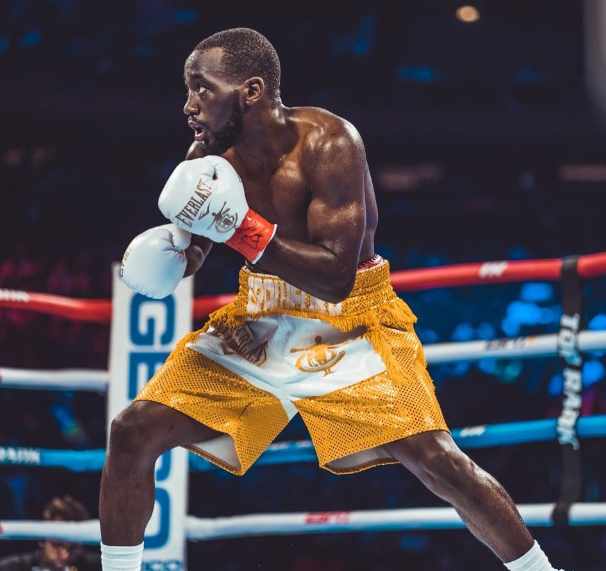 Terence Crawford is Bob Arum's Yuletide Gift to New York
Throughout history, boxing promoters have shunned the weeks before Christmas. The conventional wisdom is that the typical fight fan has little money at his disposal for a frivolity such as a night at the fights, having exhausted his funds buying Christmas presents. But don't tell that to Top Rank promoter Bob Arum who has flouted this dictum and profited handsomely.
Back in 1995, Arum secured Madison Square Garden for the night of Dec. 15 for a show that pitted Oscar De La Hoya against Jesse James Leija in the main event. The cynics said the date was all wrong, let alone the location for a match between two Mexican-Americans from out west, one from LA and the other from San Antonio. But lo and behold, the show was a big money-maker, attracting a crowd of 16,027, more than 15,000 paid.
Arum anticipates another box office bonanza on Dec. 14 when he plants an ESPN and ESPN Deportes tripleheader in America's most famous sports arena, an event headlined by Terence "Bud" Crawford's WBO title defense against Egidijus Kavaliauskas. Crawford, who turned 32 several weeks ago, moved up to welterweight after grabbing all the belts at 140 and will be making his fourth welterweight title defense.
The opening bout on the telecast pits featherweight Michael Conlan against former amateur rival Vladimir Nikitin. Conlan will be making his sixth appearance at the Garden. In the co-feature, Richard Commey defends his IBF world lightweight title against Teofimo Lopez.
Although many rate Terence Crawford the top pound-for-pound fighter in the world, he has been something of a forgotten man lately. Almost 10 full months have elapsed since he last fought. Oscar De La Hoya, who had a bitter break-up with Arum late in his boxing career, recently took a swipe at Arum for not keeping Crawford more active, suggesting Arum's "inertia" might be keeping Crawford out of the Hall of Fame.
The Crawford-Kavaliauskas match-up serves as Arum's retort as it will shine a bright spotlight on Crawford, the pride of Omaha, Nebraska, as Arum's show will air on ESPN directly following the Heisman Trophy presentation. Now it behooves Arum to pull some strings so that the Heisman Trophy show doesn't run too long as has happened in the past.
At the moment, parlaying Terence Crawford (35-0, 26 KOs) to Alabama quarterback Tua Tagovailoa seems like a safe bet, but Egidijus Kavaliauskas, a two-time Olympian who was profiled on these pages in July of 2016, is no slouch.
True enough, Kavaliauskas (21-0-1, 17 KOs) didn't look all that sharp in his last outing when he was held to a draw by Ray Robinson, but Philadelphia's Robinson had an awkward style (think former heavyweight contender Jimmy Young) and was fighting in his hometown.
If Kavaliauskas were a horse, we would say that he comes from a great barn. The 31-year-old Lithuanian is a stablemate of the Big Three in the barn of Egis Klimas: Vasiliy Lomachenko, Oleksandr Usyk, and Oleksandr Gvozdyk.
—
Richard Commey (29-2, 26 KOs) hails from Ghana but now hangs his hat in Brooklyn. His losses were both by split decision in back-to-back fights with Robert Easter and Denis Shafikov and he has won five straight since then, most recently an eighth-round stoppage of veteran Ray Beltran in the first defense of his IBF title.
Teofimo Lopez, 10 years younger than Commey at age 22, is moving up in class, but will yet go to post the favorite. In his last start, Lopez won a unanimous 12-round decision over Masoyoshi Nakatani, ending a skein of highlight reel knockouts. In December of last year, Lopez scored a one-punch knockout over Mason Menard in a bout that lasted all of 44 seconds. It was named the TSS Knockout of the Year.
Lopez (14-0, 11 KOs) grew up in Davie, Florida, but was born in Brooklyn and currently has a home there, giving the show even more of a local flavor. He and his Honduras-born father of the same name are not shy when it comes to boasting of his prowess and Teofimo's braggadocio has enhanced his appeal with young fans.
Michael Conlan (10-0, 7 KOs) and Vladimir Nikitin (3-0, all by decision) met in the quarterfinals of the 2016 Rio Olympics. Nikitin got the decision, a jaw-dropper that spawned the most indelible moment of the Games when an enraged Conlan gave the judges a two-middle-finger salute.
The rematch between them was hatched at that moment although it took awhile for Arum to rope the Russian into the fold. They were originally slated to fight on Aug. 3 at an outdoor show in Conlan's hometown of Belfast, but Nikitin suffered a torn bicep in training and had to pull out.
This is the kind of match that Bob Arum can really get his teeth in. The crusty octogenarian and former attorney would have it that all people of good character ought to be rooting for Conlan in the interest of seeing an injustice rectified.
Regardless, Arum's Dec. 14 show is a nice Christmas present for Big Apple boxing fans.
Check out more boxing news on video at The Boxing Channel 
To comment on this story in The Fight Forum CLICK HERE
Three Punch Combo: Gvozdyk-Beterbiev Thoughts and More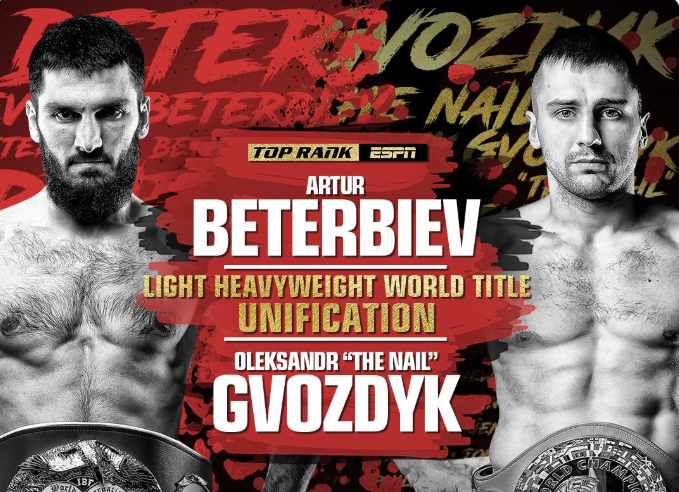 Three Punch Combo — For hardcore fans, one of the most attractive fights of the year takes place on Friday when undefeated light heavyweight champions Oleksandr Gvozdyk (17-0, 14 KO's) and Artur Beterbiev (14-0, 14 KO's) battle in a title unification bout. This contest will headline an ESPN televised card from the Liacouras Center in Philadelphia, PA. Here are a few subtle things that could play a factor in how this fight plays out.
A Tactical Fight?
Twenty years ago, Oscar De La Hoya and Felix Trinidad met in a welterweight title unification fight. It was a super fight between two explosive punchers. Everyone expected fireworks, but as we all know, it turned into an all-out chess match for twelve rounds.
When two big punchers meet, sometimes we get fireworks and sometimes each fighter respects the other's power so much that they both become somewhat tentative inside the ring.
Keep in mind we have seen in several Gvozdyk fights a somewhat cautious approach. He will take what is given and nothing more. As for Beterbiev, he has typically been a very aggressive fighter (more on that later) but has had his moments where caution has entered his mindset. Just take a look back at his 2017 fight with Enrico Koelling.
I know it is the unpopular opinion but we could certainly see a very tactical chess match between these two on Friday.
Beterbiev's Defense and Chin
Beterbiev, as noted, is a very aggressive fighter. But with that aggression comes an almost complete lack of focus on the defensive side of the game.
So far, Beterbiev's offense has been his best defense as many times his opponents have simply been too fearful of opening up. But at times the cracks have shown. Callum Johnson, for example, wasn't afraid to throw in spots and when he did, his punches landed.
In that fight, we saw Beterbiev get hurt and dropped. Beterbiev showed a ton of heart to come back from that moment and later stop Johnson, but his chin is certainly a question mark. And Gvozdyk, aside from carrying one-punch power, is a very sharp and accurate puncher who has shown excellent finishing skills thus far in his career.
Gvozdyk's Mindset
A little more than ten months ago, Gvozdyk wrested away the title from Adonis Stevenson. But on what was supposed to be the night where Gvozdyk's dream came true, things almost turned tragic as Stevenson suffered a brain bleed that nearly took his life.
Gvozdyk has had one fight since against journeyman Doudou Ngumbu. Though Gvozdyk won easily, there was something about his performance that just didn't feel right. Gvozdyk had a fighter in front of him who offered little resistance but seemingly didn't want to fully step on the gas.
In order to compete with Beterbiev, we have to see the same Gvozdyk that we saw against Stevenson. But has Gvozdyk's mindset permanently been altered by the events of that evening?
Under The Radar Fight
A pivotal crossroads bout in the welterweight division between Luis Collazo (39-7, 20 KO's) and Kudratillo Abdukakhorov (16-0, 9 KO's) is also on Friday's ESPN broadcast. The winner will be in prime position for a title shot in 2020.
Collazo, a world welterweight titlist back in 2005, is in the midst of yet another career resurrection. After getting stopped by defending WBA welterweight champion Keith Thurman in 2015, Collazo has won three straight. And these wins were not against subpar opposition. Two were against up-and-coming young fighters in Sammy Vasquez and Bryant Perrella; the other against fringe contender Samuel Vargas.
At age 38, Collazo has proven he still has plenty in the tank and has clawed back up the rankings in the welterweight division. But to get one more shot at a title, Collazo must find a way to get past another young up-and-comer in Uzbekistan's Abdukakhorov.
Abdukakhorov, 26, is coming off the biggest win of his pro career this past March when he won a 12-round unanimous decision over former 140-pound title challenger Keita Obara. That win boosted Abdukakhorov into the number one position in the IBF at welterweight and in line to one day be the mandatory challenger for current belt-holder Errol Spence Jr.
Stylistically, I love this matchup. Abdukakhorov is an aggressive boxer-puncher. He will look to press the attack and won't be afraid to lead looking to land his best punch which is the overhand right. Collazo is a southpaw who is a natural counterpuncher. He will look to make Abdukakhorov's aggression work against him and should find plenty of opportunities to do so.
I think we are going to get an action-packed, competitive fight. This should serve as an excellent appetizer to Gvozdyk-Beterbiev.
What's Next For Dmitry Bivol?
This past Saturday, Dmitry Bivol (17-0, 11 KO's) successfully defended his WBA light heavyweight title with a wide unanimous decision over Lenin Castillo (20-3-1, 15 KO's). Though it wasn't the most exciting performance, the win keeps Bivol in line for bigger opportunities down the road. So, what's next for him?
Saturday's title defense marked Bivol's second consecutive appearance on the streaming service DAZN. DAZN needs future opponents for its two biggest stars in Canelo Alvarez and Gennady Golovkin. Clearly part of the reason for DAZN showing interest in Bivol is geared toward him potentially getting one or the other down the road.
Though Alvarez is fighting at light heavyweight in November, this appears to be a one-time appearance for the Mexican superstar in that division. He is likely headed back to middleweight or the 168-pound weight class. As for Golovkin, he has fought his entire 13-year career at middleweight. A move at some point soon to 168 would not be a surprise.
Bivol and his team have made it very clear that he can get down to 168. With DAZN's two biggest stars hovering around that division, a move down to 168 seems likely.
The WBA champion at 168 is Callum Smith who is slated for a title defense in November against UK countryman John Ryder. Assuming Smith prevails, he would make a logical opponent for Bivol in the spring of 2020.
Smith-Bivol would be a big fight between two young undefeated fighters and the winner would then be in position for a mega fight later in 2020 against either Alvarez or Golovkin.
But what if Smith goes a different direction following the Ryder fight? If that is the case, Bivol may instead just look to dip his toes in the water at 168 with someone like Rocky Fielding.
Fielding is a tough, gritty competitor who is popular in the UK and has name recognition in the US based on his fight last December with Canelo. But as we saw in that fight, Fielding is very limited.
Fielding is just the type of opponent who could bring out the best in Bivol. A spectacular knockout would help erase some of Bivol's recent lackluster performances. And this would, of course, make Bivol much more marketable for a future date with Alvarez or Golovkin.
Check out more boxing news on video at The Boxing Channel 
To comment on this story in The Fight Forum CLICK HERE