FROM BOSTON TO NY, To See Good Boy in Action
Saturday morning, 6am.
When the alarm bells went off bright and early in Boston to awaken me for my big day in the Big Apple, I'd already been yanked from my slumber just a few hours prior by a 2am "Amber Alert" that sent my iPhone into a buzzing frenzy. For some reason, I thought it was going off like that because I had some new Twitter followers.
After a quick shower and an even quicker breakfast (protein shake fruit smoothie) I logged onto my computer only to find that my popular KO Digest "friend page" on Facebook was being converted by the powers-that-be into a Facebook "like page", a virtual disaster for my ability to communicate with my loyal online audience.
As easy as it would have been to let this social media mishap spoil my pilgrimage to the Mecca of Boxing, I did my very best to not let it bother me too much; I began downloading a copy of the old page to my hard-drive and allowing the long process of conversion to begin. During this extended period while that was slowly taking place in cyber space, it was as if the KO Digest page on Facebook was in a strange state of pugilistic purgatory, technically knocked out before the fight even started. Are you serious?
When I arrived at the Amtrak station in Westwood, Mass after a short drive from Boston, I parked my 1997 Ford Taurus SHO (that stands for Super High Output) in the MBTA parking lot and took the short walk to the terminal. As I rounded a corner to have a seat in the lobby, who did I see but fellow Sweet Science boxing writer extraordinaire Springs Toledo. I told Springs about my Facebook situation (Toledo once referred to KO Digest as the "pied piper" of boxing) and he told me about the new boxing book he's writing, In The Cheap Seats. That's certainly a very appropriate name for his work in progress considering that Springs was traveling to the same fight card I was traveling to, but with a paid ticket in his pocket for the cheap seats and no press pass to speak of this time around. As my Acela Express train rolled into the station at 8:25am, we said our goodbyes and I took a quick selfie with the well dressed, award-winner from the Boxing Writers Association of America. As it turned out, Springs was taking the next train(8:55am) bound for Penn Station.
Yes, his seat was indeed a little bit cheaper. Holy Toledo, he even rode coach.
On the fly-by four hour train ride to midtown Manhattan, I sat with a young college student from Boston University named Jennifer. She was traveling to New York City for a student conference in the Capital District where she was planning to meet up with her new boyfriend Blake. I asked her if she knew anything about the Gennady Golovkin fight at MSG or if she'd even heard of the popular puncher known in boxing circles as Triple G. "Is he in the UFC?" she asked with a puzzled look on her face. Not surprisingly, Jennifer had no idea who or what I was talking about. Golovkin might very well be on the verge of becoming a crossover star in the larger sporting world, but he's still an unknown commodity among college freshmen and pretty girls with crushes on pretty boys.
During the second half of the trip, in between checking emails and working on this travel log, I continued to deal with my now suddenly defunct social media outlet in an effort to get the page up and running again for the busy day ahead. By 11am, there was still no KO Digest on Facebook and I was starting to get concerned messages from friends and readers in the boxing community wondering just what the hell was going on with their trusty KO Digest. I tried to explain as best I could but having to do so just reminded me of how frustrated I was with the whole situation. The timing could not have been worse for me but boxing is nothing if not a struggle for all involved.
After a pleasant ride that went by like no time at all, my train rolled into Penn Station right on time at 11:45am. When that first blast of New York City air hit me in the face during the escalator ride up and out of the underground station, I was immediately struck by how cold and windy it was outside. I was expecting brisk weather but not quite early winter conditions. I put on a light jacket and made a loop around the historic venue to have a look around. It was still a little early in the day for the big boxing crowds to start filling in around Penn Station but I did hear a few folks already talking about the middleweight title fight on tap tonight in the big room.
I have to say, no trip to New York City is complete for me without first going down to Ground Zero for a show of respect to all the lives lost and forever destroyed on September 11, 2001. As a disabled American Gulf War era veteran, I'll never forget 9/11. On that fateful morning fourteen years ago, I was proudly wearing the uniform of my country as a United States Army soldier. Seeing the site now turned into a squeaky clean memorial is meaningful but to also see how it's become commercialized and capitalized, well, that makes me feel dirty on the inside and even colder on the outside. I'm reminded of Bernard Hopkins and Felix Trinidad in the wake of unimaginable tragedy.
Fortunately, by 1:30pm, the sun was starting to warm up the day and my spirits along with it.
If the heart and soul of boxing is the art of talking about boxing, that's just what I managed to do for a few hours during the afternoon with a fellow named Art from Long Island. Art was enjoying his coffee and doing a little people watching when we struck up a conversation at the 7th Avenue Starbucks location. Before you knew it, others around us had jumped into the fray and we talked about everybody from Muhammad Ali to Hector Camacho to Rocky Marciano ("Rocky is Rocky!") to Floyd "Money" Mayweather. As the banter heated up, I heard a wiseguy wisely say, "If Mayweather is one of the guys in the ring tonight, you're not gonna see a fight." I assured them there would be no shortage of action in the Garden tonight before heading over to TGIF's for a last minute bite before the fights. Not surprisingly, more great conversations went down around me at the bar while I scarfed back a Pepsi and some overpriced tuna wontons. The bartender overheard our debate about Mike Tyson and piped in that he lives next-door to a guy in Brooklyn who was Big George Foreman's first professional opponent, Don Waldheim. In boxing, it's a small world. Everybody knows somebody. Waldheim was knocked out by Foreman in the third round in 1969. The rest is history.
From there, it was over to 31st & 8th to pick up my media credential at 5pm sharp. The line wasn't very long and it moved pretty quickly. As I was waiting outside to pass the security checkpoint, former heavyweight championship challenger Gerry Cooney emerged from the entrance and I couldn't help but shout out, "Gentleman Gerry, we loved ya!" Cooney counter-punched quick with, "I love you," before he asked me how I got so big. Cooney is 6'6. I'm 6'11. I told Gerry that I, like he, ate my spinach. Of course, that didn't help the big fella when he was poleaxed by "Big George" in 1990.
With my press pass in hand, I headed over to the media room where I was accompanied by Derek Bonnett and Jason Prilbila from the website Second Out. Derek could hardly contain his excitement over getting to cover his "favorite fighter" Roman "Chocolatito" Gonzalez. I was very happy to see "KO JO" Jack Obermayer in the house wearing a Panamanian paper hat and a plaid shirt. I asked Jack how he's feeling these days. Jack described himself as "weak" but for doing what he's still doing with what he's got, cancer, I'd say he's pretty damn strong. Keep punching Jack.
After a quick pow-wow with my esteemed editor-in-chief, Michael "Call Me Woodsy" Woods, popular referee Steve Willis made an unexpected pass through the media room and I told Willis how glad boxing fans were that he was assigned to cover the main event, Golovkin vs. David Lemieux. Willis is an intense (bug-eyed) third man in the ring. In any fight he works, the action is always written all over his wonderfully expressive face.
I could only envy the unique perspective he'd have of the fisticuffs in just a few short hours.
Unfortunately, my dream of sitting ringside in press row proper at Madison Square Garden for a big time prizefight was dashed when I took a closer look at my red media credential. Section 327, Row #2, Seat 6. That's "up there" but not a bad view at all in a dedicated media section stationed above the ring in the newly renovated MSG. That would be my point of view for the night ahead but by no means am I complaining. It's a privilege and an honor to cover professional boxing on its biggest stages and to do so for one of the most well written and well read boxing websites in the world, The Sweet Science. With nothing but gratitude, I made my way up to my seat at 7:30 by taking an escalator all the way to the ninth floor. The arena was not yet half-filled as undefeated Lamont Roach, 9-0, battled Jose "Flash" Bustos, a 7-6 junior lightweight from one of the most dangerous places on Earth, Ciudad Juárez, Mexico. Bustos lost a wide unanimous decision and nearly got knocked out in the final round but he held up like proud Mexican fighters tend to do.
At 9:30, the legendary Roberto Duran appeared on the jumbotron and the now near-capacity Garden gave the Panamanian icon a loud reception while the smiling "Hands of Stone" blew kisses to his adoring fans from ringside. Duran famously defeated New Yorker Davey Moore at this venue in 1983, destroying the young WBA junior middleweight champion with a cruel precision still talked about reverentially to this very day. In town during fight week, "Cholo" was asked about Golovkin and something apparently got lost in translation. Duran thought the reporter was asking him about Andrew Golota, the "Foul Pole" of boxing and scapegoat of the infamous 1996 riot that took place right here in the aftermath of Golota's foul-filled bout against New Yorker Riddick "Big Daddy" Bowe.
When the jumbotron showed American Presidential candidate Donald Trump in the locker room pressing the flesh with Pound-for-Pound candidate Gennady Golovkin, the reaction was mixed to say the least.
By 10:00, the heavyweights were in the ring. While undefeated Cuban Luis Ortiz and Argentine punching bag Matias Ariel Vidondo plodded around the ring like Tony "TNT" Tubbs and Francesco Damiani, I decided to take a quick walk around the upper levels of the building. I'm glad I did. It was there I ran into Chip Mitchell, a Facebook friend (and KO Digest reader) who crossed into my real world tonight with some kind words and an unexpected gift. Without warning, Mitchell gave me a silver necklace with a silver boxing glove on it. "Keep doing what you're doing sir," he told me as if he knew I needed to hear it. I thanked him and went back to my work station to watch Ortiz stop Vidondo with a straight left hand in the third round of a clumsy mismatch. To my immediate right, Stefan Oliva, a young deadline writer from an Argentine newspaper, scrambled around as he tried to file the disappointing story of his countryman's face first defeat.
In the co-main event, World Flyweight Champion Roman "Chocolatito" Gonzalez and Brian "Hawaiian Punch" Viloria didn't exactly light the joint on fire but they did put on a very high quality title fight with a definitive result. Viloria was knocked down early in the bout and was getting batted around at will by the smooth punching Nicaraguan. There's a good reason why Gonzalez, who draws comparisons to his idol Alexis Arguello, is seen as the number one pound for pound boxer in the world today following the recent retirement of Floyd Mayweather. Nobody out there today is as technically perfect in the ring as Gonzalez. To his credit, Viloria did his best to avoid a bad beating but he was catching one whenever Gonzalez let his hands go. In the ninth round, Gonzalez let them go and didn't stop until referee Benjy Esteves stepped in at 2:53 with Viloria on the ropes taking punches from all angles.
By 11:30, Golovkin and Lemieux were in the ring and the Garden was rocking with spontaneous chants of "Triple G, Triple G" ringing out to start the fight. Golovkin was patient in the first round, using his stiff left jab to spear Lemieux, keeping the Canadian honest and his vaunted left hook home. People talk all day about Golovkin's offense but his defense was good enough to easily avoid the wild power of Lemieux in the second round by just leaning back away from it. In the third, Golovkin landed a hard left hook to the liver, left hook to the head combo and he finished it up with another flush jab to the face of Lemieux. The pace picked up in the fourth and it looked like Golovkin might lower the boom but Lemieux stood in there like a champion and took the abuse while returning fire. Back on his heels in the fifth from more Golovkin jabs, Lemieux wasn't landing much and when he did, Golovkin walked through it. After a knockdown of Lemieux by Golovkin in the fifth, Lemieux showed his grit in the sixth as the blood began to pour from his nose and mouth. In the seventh, referee Steve Willis brought the bloody Lemieux to see the ringside physician and the fight resumed after a cursory look by the doctor. In fact, it was referee Willis that was taking the closest looks at Lemieux and as the IBF middleweight champion was getting smashed about the head by Golovkin, the horrified look on Willis' face told the story of the fight. In the eighth, Willis had seen enough carnage for the night and he jumped in to stop the one-sided fight at 1:32 of the frame.
With the win, Golovkin improved his record to 34-0 with 31 KOs. Golovkin now has 15 successful defenses of his WBA middleweight title, 21 consecutive stoppages in the ring, and of course, sole possession of the IBF 160 pound title that he won tonight from David Lemieux.
At the post-fight press conference, middleweight Tureano Johnson (unanimous decision winner over Eamonn O'Kane on the undercard) said he's the one to beat Golovkin in the future. "He can hit me with all he's got. I can knock him out, too, " the Bahamas-bred boxer claimed. "I have a cast iron chin," he told the press.
When the black and blue Lemieux hit the stage, he gave credit to Golovkin but the ex-champ did say he thought the stoppage was a little premature. Golovkin, smiling with four belts spread out before him, wrapped up his experience in the ring against Lemieux: "It was not an easy night but it was a good night."
At 2:05 am on Sunday morning, I filed this write-up with The Sweet Science and made my way back down to Penn Station for the long train ride back to Boston. In the end, Golovkin was right of course, it wasn't an easy night but it was a damn good night.
Making Boxing Safer, A Call to Action: Part One, Weigh-in Reform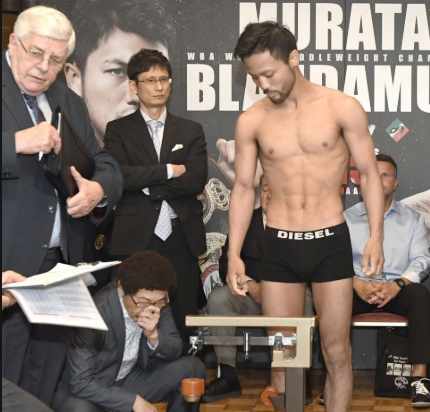 Promoters Lou DiBella and Eddie Hearn set the stage for this article with heartfelt and moving comments about the recent and tragic passing of Patrick Day.
It becomes very difficult to explain away or justify the dangers of boxing at a time like this…This is not a time where edicts or pronouncements are appropriate, or the answers are readily available. It is, however, a time for a call to action. While we don't have the answers, we certainly know many of the questions, have the means to answer them, and have the opportunity to respond responsibly and accordingly and make boxing safer for all who participate. — Lou DiBella
You can say 'it's boxing' but it's so hard to justify. We have to make sure as a sport we do better in this situation…We need to respect these fighters, we need to make sure that we make it as safe as possible for them and as fans of the business we've got to keep evolving. There's so much more we can do. — Eddie Hearn
In the spirit of the above, I reached out to a mix of trainers, ex-boxers, and writers for their suggestions, asking them what a call to action might include. The response was impressive. While the answers varied, there were several recurrent themes. Weigh-in reform was a common thread.
Weight Control Reforms
Las Vegas neurologist Dr. Margaret Goodman, the Founder, President, and Board Chairman of VADA (Voluntary Anti-Doping Association), offered up many suggestions but underlined weigh-in reform for added emphasis. "Move the weigh-in back to day of the fight or 24 hrs. before with the second weigh-in day of with percentage maximum weight gain," she wrote.
Max Kellerman of "Outside the Lions" concurs. "Weigh-ins should be the day of the fight," he says.
Hall of Famer Buddy McGirt, the noted trainer and former two-division world champion hit on this point in a recent conversation with Michael Rosenthal that ran in USA Today: "They should have the weigh-ins the day of the fight…listen, guys don't fight at their normal weight because they know they have 24 hours to put weight on. Make the weigh-ins the day of the fight. Then you would know that you can't really dry out and then have an IV and fight five, six hours later…I think you'd have less injuries. Say you're trying to make 140 when you should realistically be at 147. You weigh, say, 143 and think, 'I can get down to 140.' But you have to dehydrate yourself, and that's not good for your body or your brain. I'm not a doctor, but I'm not an idiot either."
Former world middleweight champion Dana Rosenblatt is in perfect accord: "Due to the fact that 100% of brain injuries in boxing being the result of dehydration from making weight, the most important thing that can be done to safeguard fighters is to make sure that our brothers in the ring never fight when they are not properly hydrated.
"Some of us can take punches better than others, this is obvious. None of us can take punches for too long when we are materially dehydrated without suffering in potentially life-threatening ways. If real care for the health of boxers is to be demonstrated, it will come in boxing commissions worldwide never allowing a fighter to enter the ring before being properly rehydrated after making weight. I am sure a hydration test can eventually be created and administered that would allow all boxers to compete in a healthy way."
Writer Paul Magno dealt with this issue brilliantly in a story that appeared in the Boxing Tribune back in 2013: "Fighters who routinely compete below their natural body weight are playing an ugly game with their insides, putting themselves at risk of serious injury by dehydrating themselves and then, in the day or so between weigh-in and the fight, quickly re-hydrating to a much higher weight. The primary danger to the fighter is in the increased vulnerability of the brain, slow to rebuild its jelly-like protective layer due to dehydration."
More recently, Magno made this observation: "Fighters fighting at artificially low weights may have short term advantages in strength and power, but weight manipulation drains life from fighters over the long haul. As a fighter ages, the less he has to battle at the scale, the fresher he'll enter the ring."
The Gatti Episode
We are reminded that Arturo Gatti nearly killed Joey Gamache in a 2000 junior welterweight bout when he entered the ring as a middleweight. He had gained 19 pounds between the weigh-in Friday afternoon and the fight on Saturday. Something was dangerously amiss and it resulted in altering Joey's life…
The Jacobs Episode
Similarly, but with a far better outcome, Gennady Golovkin weighed 159.6 lb. while his opponent, Danny Jacobs weighed 159.8 at the official weigh-in a day before their March 2017 fight. However, by skipping a fight-day weight check and thereby declining to compete for the IBF title, Danny seemed to have gained significantly coming into the ring and looked to be around 180 pounds. Max Kellerman suggested he was utilizing a "strategic plan." Others (myself included) thought he was also manipulating the system, thus causing the playing field to become uneven.
Historian and writer Harry Otty made an interesting point: "With boxers also trying to shoe-horn themselves into the 'closest' weight division it may be time to re-consider the 'Jnr' and/or 'super' weight divisions. While this may sound counter-intuitive as far as weight-making goes, it could make the difference between 1% or 5% dehydration."
"Travelin' Man" Lee Groves, author, writer and CompuBox punch counter, offered up a more nuanced point of view: "As far as returning to same-day weigh-ins, there are pros and cons. On the positive side, one can better control the dramatic rehydrations that now take place but on the negative side it would cause some fighters to drain themselves and be given less time to recover from the strain — the very reason today's protocols were adopted a generation ago. While reintroducing same-day weigh-ins could persuade some fighters to think twice about campaigning in a weight class too light for their bodies, others will choose to roll the dice and reap the benefits of scaling a certain weight for 30 seconds, then fighting at a much higher weight on fight night. In short, if a system can be gamed, it will be gamed."
And finally, let me throw out this point to ponder: Over the years, relatively fewer ring fatalities have occurred among the heavyweights. Whether that's because weight-cutting is, by definition, not as much an issue is something that warrants further study.
Ted Sares can be reached at tedsares@roadrunner.com
Check out more boxing news on video at The Boxing Channel 
To comment on this story in The Fight Forum CLICK HERE
Three Punch Combo: Two Under The Radar Fights on Saturday and More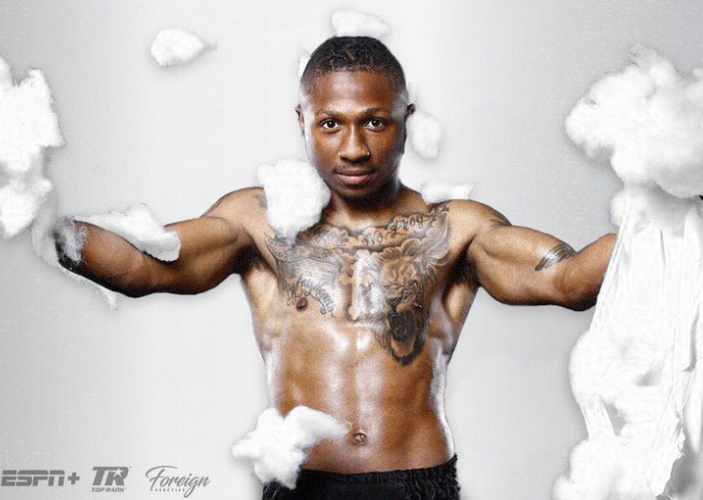 THREE PUNCH COMBO — We have another busy week in store with several events on the docket that will be available on various platforms. With so many fights on the schedule, some very intriguing contests inevitably fall under the radar.
On Saturday, ESPN+ will broadcast a card from Reno, NV that will be headlined by a contest between Shakur Stevenson (12-0, 7 KO's) and Joet Gonzalez (23-0, 14 KO's) for the vacant WBO featherweight title. While this main event is drawing almost all the press coverage, there is a very pivotal bantamweight bout on this card between Joshua Greer Jr. (21-1-1, 12 KO's) and Antonio Nieves (19-2-2, 11 KO's) that could very well steal the show.
Greer (pictured) exploded on the scene in March of 2017 with an electric knockout over James Smith in a bout televised on the popular ShoBox series. This was the beginning of a stretch of impressive outings for Greer in which he easily disposed of some very credible opponents. During this stretch, Greer landed a coveted promotional deal with Top Rank and seemed on the fast track toward big things in the bantamweight division.
However, in his last fight this past July, Greer's stock took a hit when he was fortunate to squeak out a close 12-round majority decision over Nikolai Potapov. In that fight, Greer appeared to be out-worked by Potapov in the majority of the rounds. Now to get his career back on track, Greer not only needs to win but bring back some of that explosiveness we saw in the past.
Similar to Greer, Nieves also finds himself at a career crossroads. In 2017, Nieves faced off against the aforementioned Potapov. In that fight, which was also shown on ShoBox, Nieves raised his game and got the better of Potapov, or so it appeared. But the judges saw things differently and Potapov won a controversial split decision.
Although he lost, Nieves parlayed that performance into a big fight with Naoya Inoue later that year. And though he fell short against Inoue, Nieves gave a good account of himself in defeat. Now after two knockout wins against lower level opponents, Nieves has a big chance to move up the rankings with a win over Greer.
These are just the type of crossroads fight I absolutely love in this sport. These two are evenly matched and stylistically should mesh well inside the ring.
Greer is a boxer-puncher with fast hands and possesses legitimate one-punch power in both fists. But he also has a tendency to fight in spots and not be very active with his hands.
Nieves is also a boxer-puncher. He lacks Greer's speed and power, but is a more active fighter and is technically proficient. He is a sharp accurate puncher and uses angles well to get in position to land clean shots.
We are going to see crisp back-and-forth action fight between these two on Saturday. This is a fight that should not be missed.
Under The Radar Fight, Part Two
Also on Saturday, Showtime will broadcast a tripleheader from the Santander Arena in Reading, PA. This card will be headlined by a fight between 154-pound contenders Erickson Lubin (21-1, 16 KO's) and Nathaniel Gallimore (21-3-1, 17 KO's). While I do like this main event and consider Gallimore a live underdog, the fight on this card that really piques my interest is the 140-pound co-feature between former lightweight champion Robert Easter Jr. (21-1-1, 14 KO's) and Adrian Granados (20-7-2, 14 KO's).
Easter, once a highly touted prospect, won his title in a rousing effort against current IBF lightweight champion Richard Commey in 2016. After three successful defenses, Easter found himself in a big unification fight against Mikey Garcia in 2018. While some thought Easter could rise to the occasion, he was underwhelming, dropping a wide 12-round decision.
In his bounce-back fight this past April, Easter fought former two-division champion Rances Barthelemy to a 12-round split draw. Anyone who unfortunately watched this fight knows that neither Easter nor Barthelemy put forth his best effort.
Granados was never a highly touted prospect. Instead, he was often the opponent. But he always gave an honest effort and occasionally would spring a surprise. And in 2015, he sprung a major surprise when he knocked out the then undefeated Amir Imam.
Following that win, Granados has had a mixed bag of results. He has tough competitive decision losses to Adrien Broner and Shawn Porter mixed in with some stay-busy knockout wins against overmatched foes.
And this past April, Granados was utterly out-classed by Danny Garcia and stopped for the first time in his career.
With both Easter and Granados coming off underwhelming performances, I understand why many are overlooking this fight. But the way I see it, both have a lot to prove and know they must make a statement in order to stay relevant in the sport. And in these instances, we sometimes get some really fun fights.
Easter is a classic boxer-puncher who likes to work combinations behind the left jab. He has quick hands and can be a sharp accurate puncher when unloading those combinations. Granados, for his part, is an aggressive pressure fighter. He will come forward and look to get inside the taller Easter. Granados, at his best, is a high volume puncher who is more than willing to eat some leather when pressing forward to create opportunities to do his own work.
Unlike Easter's last fight, this is not one to sleep on. Styles make fights and I am confident we see an entertaining and competitive fight.
Emanuel "Pinky" Colon
Most of the attention of the boxing community this past Friday was on the big light heavyweight title unification fight between Artur Beterbiev and Oleksandr Gvozdyk. But that wasn't the only televised show that night. Telemundo continued with its fall swing of events with a card from the Seneca Niagara Resort and Casino in Niagara Falls, NY. The card was headlined by a local fighter, Emanuel "Pinky" Colon (17-1-1, 16 KO's). And Colon, who fights at 140, did not disappoint in his national television debut as he dispatched his opponent, Richard Zamora (19-4, 12 KO's), in the very first round.
I recorded this show and watched it first thing Saturday morning. I hated not attending a live show in my backyard of upstate NY but could not miss Beterbiev-Gvozdyk. But I was very interested in seeing Colon as there wasn't much video available on him and he was getting a lot of local buzz (and from the look of the crowd, he sold quite a few tickets).
It is tough to handicap a fighter from about two and a half minutes of action. However, I really liked what I saw from Colon and think he can be a good local draw. Against Zamora, Colon came in clearly looking to put on a show and make a statement. And he certainly did just that.
Zamora had been stopped on three previous occasions, so the jury is still out on Colon's punching power, but he appears to put his punches together well and he appears to have heavy hands.
Can Colon become a top contender at 140? Maybe, but at the very least I think he has a chance with his offensive-minded style and his ability to sell tickets to revive the boxing scene somewhat up here in upstate New York.
Check out more boxing news on video at The Boxing Channel 
To comment on this story in The Fight Forum CLICK HERE
Jeff Fenech's Speedy Recovery from Heart Surgery Has His Doctors Baffled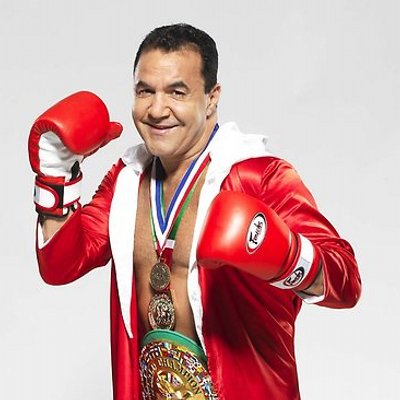 Jeff Fenech was training a team of young Australian fighters in Bangkok when he began spitting up blood and feeling chest pains. He was hospitalized on Oct. 4 and four days later underwent a delicate five-hour operation to replace a defective heart valve.
The timing meant that Fenech would be unable to walk his daughter Jessica down the aisle this past Saturday (Friday in the U.S.) at her wedding at Sydney's landmark St. Mary's Cathedral. His Thai doctors, it was reported, prohibited him from traveling; the risk of infection was too high (it's about a nine-hour plane ride from Bangkok to Sydney). Some reports said that Fenech might have to spend an entire month in the hospital before he was deemed fit to go home.
But Fenech, age 55, is one tough Aussie. He made it to the church on time. There he was walking Jessica down the aisle, wearing a black tuxedo and an incongruous black baseball hat. He looked haggard, but he was there.
Jessica has now been married twice, but to the same fellow in nuptials spaced roughly 10 days apart.
An Australian tabloid TV show, "A Current Affair," arranged for a secret wedding between Jessica and her beau at Fenech's bedside in Bangkok as he was recovering from the surgery.
In the modern era, no Australian fighter had a more avid following than Jeff Fenech who won the IBF world bantamweight title in his seventh pro fight and went on to capture world titles in two other weight classes. Fenech's second fight with Azumah Nelson in 1992 was a huge event in the Land Down Under, attracting more than 30,000 to a stadium dedicated to Australian rules football.
Here we are 27 years later and Jeff Fenech's fame in Australia is undiminished. Here he is with his glamorous wife Suzee during a day at the races in Hong Kong. They have been married for 23 years.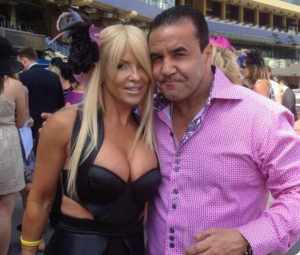 One of the fighters that Fenech was training in Bangkok was junior middleweight Jack Brubaker who has a high-profile fight coming up in December in Sydney against undefeated countryman Tim Tszyu. It isn't known if Fenech will be okay to work Brubaker's corner, but don't bet against it.
Errol Spence Jr
It's old news now, but WBC/IBF welterweight champion Errol Spence Jr was extremely fortunate to survive his recent car accident and it was a miracle that he emerged from it with no broken bones. His condition hasn't been recently updated, but various reports say that Spence suffered only facial lacerations and a few broken teeth.
In case you missed it, Spence was driving his Ferrari at a high rate of speed near downtown Dallas when he crossed the center divider and the vehicle flipped over several times. Spence, who wasn't wearing a seat belt, was ejected. The accident happened shortly before 3 am on the morning of Oct. 10.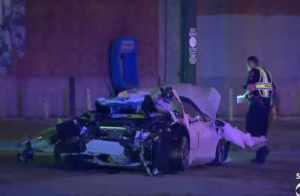 It came as no surprise when Dallas police charged Spence with driving while intoxicated. They filed the charge on Wednesday, Oct. 16, by which time Spence was out of the hospital.
Spence was widely considered one of the good guys in boxing, but that opinion has been tempered. Folks tend to have a very low opinion of people who drive drunk.
Spence's management was reportedly eyeing a fight with Danny Garcia for Jan. 23. We would be surprised if Spence was able to get back in the ring again so soon.
Check out more boxing news on video at The Boxing Channel 
To comment on this story in The Fight Forum CLICK HERE