HOLY HOLLY! "Holm" Run Showing From Ex Boxing Champ, Who Destroys Rousey
MONDAY UPDATE: Pockets of buzz were still ringing on Monday.
I walked by a local hospital, in Brooklyn, saw an EMT doing that kick, the one above, which sent Ronda Rousey to an unfamiliar place…La La land, and a zone of, maybe, self doubt.
The EMT and me chatted about the fight, and the strategy used by Rousey, who stood and banged with a woman whose specialty would be just that.
So, chatter about Saturday nights' UFC 193 resonated, and elements of the bout and the aftermath keep filling 140 character bursts on social.
We heard from Rousey, via Instagram, where she said, "I just wanted to thank everyone for the love and support. I appreciate the concerns about my health, but I'm fine." (Some speculated she dodged the post-fighter presser, because she's a poor sport. But in fact, she went to a hospital for observation, as is most often the case following KOs in UFC.) "As I had mentioned before, I'm going to take a little bit of time, but I'll be back."
Fans of good sportsmanship took issue with no public congrats being offered to her conqueror, Holly Holm…
The buzz ripples will continue to makes waves…Makes sense, being that the company set a live attendance record, drawing 56,214 payers in Melbourbe, beating UFC 129 in Canada. This promotion spurred interest galore…
One thing to ponder, from us on the pugilism side of the tracks,  does such a compelling and enduring spectacle and hubbub such as the Holm-Rosey battle have boxing deal-makers and power-brokers considering beefing up their effort to kickstart female talent in the realm. I'd guess yes..
————————————————————————————————————————-
SUNDAY UPDATE: The signs and signals and hints, now they are apparent, in that proverbial rear view mirror, after the unconquerable one got KTFO.
She seemed on edge, in a different way, like the excess media attention had slithered into her brain, lodged there, was a tumor of annoyance. Her impatience at handling difficult questions told us her temperment was what it often appeared to be, edgy, but now teetering towards edgy and untethered. What if, you ask now, knowing you should have been cognizant of that leading up to UFC 193, after Rondy Rousey got kicked into unconsciousness by a super-strong and committed athlete with just two-plus years of mixed martial arts training tucked into her belt, she is human, and can be bested?
If went out the Octagon door, and remaining tall and proud is Holm, a boxing ace thought to be past her pugilistic prime. Maybe so, but today is hers to savor.
She was the benificiary of a beyond-iffy—-sorry UFC boss Dana White, it's absolutely fair game to question Rousey's strategy— gameplan, which saw the grappling/judo ace Rousey look to prove that RING cover was not mistake.
She tried to be the boss standing up with someone who had years of experience on her, and ate 5-ounce serving of fist sandwiches for that hubris.
And in that rear view mirror, more puzzling information…Rousey looked out of sorts against a left-hander, who's rear hand kissed her lips and chin a few times. Yeah, no, choosing a left-hander to prove something is to be done only after lengthy contemplation and preparation. But maybe there was that…and maybe Ms. Holm is just all that..and while many think Rousey was EXPOSED, maybe it is Holm who is exposed…as being a magnificent physical and athletic specimen.
But of course, in that mirror, we can look and see and ponder the actions and reasons and behaviors which resulted in much euphoria when Rousey got punched and then kicked into a humbler place. She acted petulant and childish when refusing to touch gloves before the match with home, and Fate saw it, and interceded.
Now, now we will see if the gushy assessments are spot on. Now we see if Rousey has the stuff of legends..or maybe more so was a product of environment and skilled mystique building and being a big fish in a pond of guppies, in women's MMA, just in the nascent stage…Rousey will be given the chance to see if she can do better against Holm in a rematch..and if the ferocity and the bluster and the attitude was perhaps more of a front than a reality…This morning, she woke up, realized it was no bad dream, and Ronda Rousey faces an unconquerable certainty: she is faced with the most difficult physical challenge of her athletic arc.
Look in the mirror and see the resolution to that puzzle? I look and I see a haze…I see no hints which inform me..I see for Ronda Rousey a massive challenge and an athlete who may, or may not, be up to the task.
—————————————————————————————————————————
The rise of Ronda Rousey has been an improbable one, considering that not many years ago, the man running the promotion she fights in, UFC, said he'd never run womens' fights.
It's not so improbable when you watch her, see how she acts, note her charisma, see the obvious magnetism in her actions, and sense the less tangible pull you find yourself feeling when you see her perform.
The camera is interested in her, and not just for the fact that she eats arms for lunch, is a stone-cold tendon killer as she submits foe after foe in the Octagon.
The imprint of the 28-year-old is widening, and it's clear that her star will be enlargening, brightening; she's on the cover of the current RING magazine, a decision which has been debated heatedly, with purist boxing fans pointing out that it's insulting to accomplished female fighters that an 0-0 pugilist who merely aspires to try her hands at pugilism gets a RING cover.
But with more copious attention comes increased scrutiny, right Dr. Ben Carson?
The 12-0 Rousey headlines a UFC PPV event in Melbourne, Australia Saturday night, where she will look to deal with Holly Holm in her typical bloodlessly ruthless and abbreviated fashion.
Holm sports a 9-0 mark in MMA, which she's been doing since 2011, after going 33-2-3 as a pro boxer. Most expect that even if she hits the Octagon with barbed wire wrapping on her limbs, the Rousey armbar will be activated and have her surrendering in short order.
"Rowdy" Ronda yesterday drew an unwanted buzz burst when it was noted that she spoke of a violent encounter with her ex boyfriend in the autobiography she put out a few months ago. At the Thursday media day event to hype the Holm fight, the California resident was asked about the violent situation with the ex she doesn't name in the book, "My Fight/Your Fight."
"So if someone is blocking you into an apartment and won't let you leave, you're entitled to defend yourself and find a way out," she explained. "If you're trying to get into your car and leave and they're grabbing your steering wheel and saying you can't leave, technically you're being kidnapped, and you can defend yourself in any way that is necessary," she said, in order to paint the incident as self defense.
"I punched him in the face with a straight right, then a left hook," the former teen judo ace recounted in the book; to give context to the scuffle, she noted he took took nude pictures of her without asking, and then blocked her from leaving his apartment after she delved into the subject with him.
"He staggered back and fell against the door." She said he wanted to continue to debate. "I walked around the car, pulled him by the neck of the hoodie again, dragged him onto the sidewalk and left him writhing there as I sped away," Rousey wrote.
The publicizing of the scrap puzzled or enraged some folks who noted she's been a vocal critic of boxer Floyd Mayweather, who served 60 days of a 90 day sentence in jail in December 2011 after pleading guilty to a misdemeanor battery domestic violence charge for hitting the mother of his three children, in front of two said children.
Rousey's mocked him for that altercation, and persistently needed him for his lack of character.
The issue itself, athletes battering their partners, is an ultra-hot button matter, being that the NFL hierarchy is knee-deep in getting grilled on the matter of now Dallas Cowboys' player Greg Hardy. He was arrested after cops were called to his residence, and his then girlfriend said he assaulted her, in May 2014. Hardy denied that he entered the bathroom, the place where the woman said the then Carolina Panthers footballer threw her, where she hit a wall, and then fell into the tub.
Hardy said she fell in the tub; he was suspended for ten games, appealed, and that was dropped to four games. Hardy went to court to answer charges, was sentenced to 18 months and a 60-day jail term, suspended. But he appealed that verdict and charges were dropped, when the lady didn't attend the jury trial. He returned to the field of play on Oct. 11, but fans still debate whether he should be allowed to compete.
The NFL had the fire lit under their feet when Ray Rice in March 2014 was seen on video punching the woman he's now married to, knocking her out, while they were in an Atlantic City casino. He too was suspended, indefinitely, but he appealed, and can be signed and play in the league if a team so chooses to. The ex Baltimore Raven is not with a team now. Fans and media debated whether his off the field behavior should be held against him, or what he does away from the field is by and large not pertinent to him playing football.
Rousey was under the microscope, by extension, when it was last month revealed she was dating fellow fighter Travis Browne, a heavyweight in the UFC. He'd been accused by his ex wife of hitting her, with her posting pics on Instagram and presenting the marks on her as a result of domestic violence. He went on record saying his ex was serving up "false accusations." The Browne situation seems like it is a touchy one; on a conference call last week, Rousey was asked about dating Browne, and abruptly her line went dead. Her phone died, she explained, to eye rolls, but was terse and said "next question" when asked about Browne the next day.
Boyfriend drama has been a not infrequent theme in a life notable for the difficult terrain she's navigated. Rousey's father commited suicide in 1995, and she is, amateur shrinks theorize, working out some rage issues inside the cage, in her workplace.
In May, she explained that she decided to pose tastefully nude in the 2012 ESPN The Magazine "Body Issue" after she stumbled on nude pics taken by the ex she said she had that violent rumble with. They were stored on his hard drive, and she erased them. But, she said, she wanted to beat anyone else to the punch, by doing the nude thing before anyone else leaked possible pics. "I'm going to put them out there on my terms," Rousey explained.
I asked a UFC rep if boss Dana White has addressed the Rousey/domestic violence incident revelation, and would furnish a response.
"No, but Ronda addressed (it) in her media scrum yesterday that is available online," said Dave Sholler, a UFC VP of PR.
Difficult spot for White; he'd been asked when women would fight in his Octagon, in 2011. "Never!" the combustible deal maker replied.
Never went out the window, faster than you can say "depleted roster of name attractions," and she debuted in 2012 in the premier MMA league; now Rousey drives the front car in the MMA train. White wouldn't and couldn't, I don't think, throw her under any bus, as her aura grows, with ever more movie roles and forays into WWE, and other outside-MMA milieus. But the Rousey road he now has to drive through is rockier, littered with scrutinizers looking to snare her scalp, in the name of fairness, or principle, or political correctness, so the less he says on this book's revelation, maybe the better for him, and the company.
Anti Mayweather folks have enjoyed Rousey's jabs at "Money." She has zinged his supposed inability to read, and he's responded that he didn't even know who she was. He had to know, when she picked up the Best Fighter Award at the July ESPYs, and said, "I can't help but really say I wonder how Floyd feels being beat by a woman for once. I'd like to see him pretend to not know who I am now."
The Rousey altercation laid out in the book has spurred intense debate, and while it could translate into a beefier PPV buy rate, it makes for at least a thorny patch for the UFC officers.
Meanwhile, on social media, side-takers are weighing in; is she not being critiqued and held to the same standards as men who engaged in such an altercation? Is Rousey not that much different, in fact, than Mayweather, and should she not be, at the least, chided for hypocrisy?
Up for debate…how much, or little, should off the field or out of the cage missteps affect how we perceive the athletes we follow…and should they be seen as role models, or simply fallible human beings who shouldn't be expected to live up to our projected desires as more perfect models of humanity?
Meanwhile, through it all, the shows go on. The NFL serves up the organized mayhem which blows away church-going as the favored weekend distraction endeavor in our United States, while a small but growing and intellectually well-armed critics carve away at the mission of the league and the cultural worth of such brain-rattling competitive fare; and the UFC's visibility and brand strength continue to be impacted by Ronda Rousey, a compelling spitfire of combat, yet another athlete whose traits which aid her in overwhelming the body and will of foes may not serve her as well outside her workplace.
Brandon Figueroa KOs Nery and Danny Roman Wins Too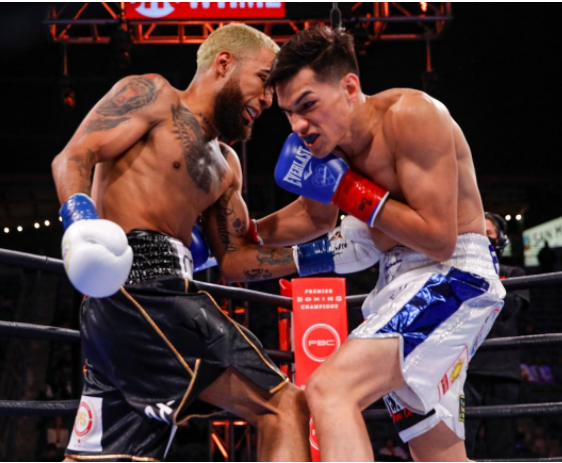 LOS ANGELES-Brandon Figueroa took the air out of Mexico's Luis Nery to win by knockout and unify the WBA and WBC super bantamweight titles on Saturday. It was a belly buster that did the job.
Texan Figueroa (22-0-1, 17 KOs) set out to prove that Tijuana's two-division world champion Nery (31-1, 24 KOs) could not endure a toe-to-toe battle with the bigger guys and he proved it before several thousand fans at the Dignity Health Sports Park.
It was a back-and-forth battle that saw Nery attack the body and head while Figueroa focused on winging big blows from a distance and in close. Many of the rounds were extremely close to score.
When Nery was able to battle from a distance and dive inside, he seemed the much more athletic between the two champions. But Figueroa just seemed stronger and unfazed by any of the Mexican fighter's blows.
Though Figueroa absorbed a lot of punishment, he never seemed in trouble. When Nery connected with a several combinations in the fifth round by landing five-punch and three-punch combinations, it looked like he was taking control.
He did not.
Figueroa opened the sixth round with two left hook blasts that reminded Nery that the taller Texan had a punch. When Nery tried to rally with his own blasts, Figueroa slipped under back-to-back left hooks. It seemed to change the tide.
"I knew he was getting tired," said Figueroa. "He was trying to box me."
In the seventh round Figueroa was able to connect with a left hook and followed up with a lead right. Nery countered with a three-punch combination that was met with Figueroa countering with a three-punch combination to the head and body. Then both fighters exchanged inside and Figueroa connected with a right to the chest and a left uppercut to the solar plexus and down went Nery.
Nery could not beat referee Tom Taylor's count and was counted out at 2:18 of the seventh round.
Figueroa is now the WBC and WBA super bantamweight unified champion.
"It feels amazing," said Figueroa. "I know everyone doubted me."
Roman Wins Super Bantam Eliminator
Los Angeles-based Danny Roman (29-3-1, 10 KOs) battered Mexico's Ricardo Espinoza (25-4, 21 KOs) to win convincingly by unanimous decision after 10 rounds in a super bantamweight fight.
After a slow start Roman began to out-maneuver the heavy-punching Espinoza and found openings for left uppercuts. Boy did he find openings.
"I concentrated on finding my distance," said Roman.
Roman snapped Espinoza's head back so many times it seemed that the Mexican fighter would not be able to last the full 10 rounds. But like most Mexican fighters he would not quit.
Espinoza tried every move in his catalogue but nothing worked against the superb technique used by Roman, who formerly held the IBF and WBA super bantamweight world titles. It was a perfect example of technical prowess defeating raw power.
The uppercut was the chosen weapon of choice and Roman exhibited how to throw it from various positions and angles. It landed perfectly every time as if targeted by a laser. Espinoza never could avoid the uppercut.
During the last three rounds Espinoza's face was bloody and battered while Roman looked as if he were merely sparring. The end seemed near but the fighter from Tijuana battled until the final bell.
"I thought he was going to go down," said Roman. "But he had a big heart."
All three judges scored it for Roman at 97-93 and 98-92 twice.
"It's a step closer to getting back my titles," said Roman who lost the titles to Murodjon Akhmadaliev a year ago by split decision. "I'm here to fight the best."
Martinez Beats Burgos
Sacramento's Xavier Martinez (16-0, 11 KOs) discovered that Tijuana's Juan Carlos Burgos (34-5-2, 21 KOs) still has plenty of fight remaining and showed it with a gutsy 10 rounds of back-and-forth battering. Still, Martinez won by unanimous decision though every round was competitive.
Boy was it competitive.
Martinez, 23, had a 10-year advantage in youth but was unable to convince Burgos. Every round saw savage combinations connect by each fighter, but the judges all felt that the Sacramento fighter was superior. All three scored it 99-91 for Martinez. The crowd booed the decision.
"I was landing the cleaner shots," said Martinez. "He's a tough competitor."
Other Results
A super lightweight match saw Jose Valenzuela (8-0) knock out Nelson Hampton (7-4) in the first round.
Gabriela Fundora (1-0) won her pro debut by unanimous decision over Jazmin Valverde (2-2) in a four round flyweight match. Fundora is the sister of super welterweight contender Sebastian Fundora.
A lightweight bout was won by Justin Cardona (5-0) by first round knockout of James De Herrera (4-7).
Check out more boxing news on video at the Boxing Channel
To comment on this story in the Fight Forum CLICK HERE
Buatsi Flattens Dos Santos in Manchester; Charr KOs Fraudulent Lovejoy in Cologne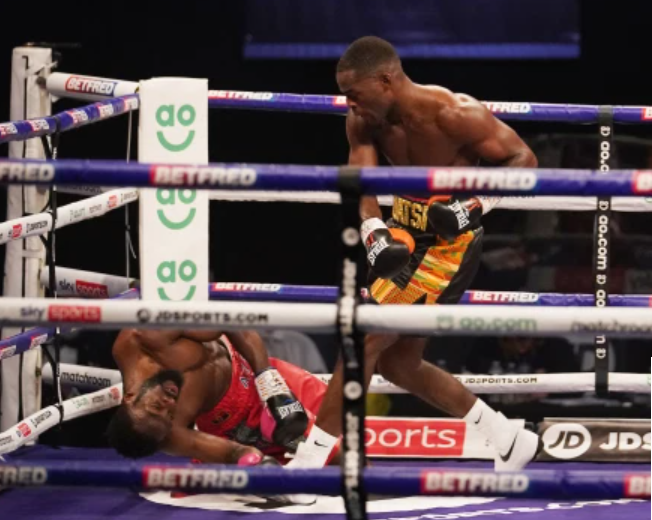 In a Knockout of the Year candidate, rising light heavyweight contender Joshua Buatsi (14-0, 12 KOs) leveled Daniel Blenda Dos Santos, an unheralded Frenchman, in the fourth round, closing the show with a pulverizing right hand – and for good measure, touching him with another right as he fell. A 2016 Olympic bronze medalist for England, the Ghana-born Buatsi trained for two months in the California Bay Area under his new trainer Virgil Hunter and his American sojourn paid dividends.
Dos Santos, who found his way to boxing after serving three-and-a-half years in prison, was undefeated (15-0, 8 KOs) coming in, but hadn't fought beyond six rounds. He was knocked down earlier in the fight with a chopping right hand. There were less than 20 seconds remaining in the fourth when Buatsi put Dos Santos to sleep, and to his credit he did not celebrate but consoled his distraught victim.
Other Bouts
In a shocker, 31-year-old southpaw Jason Cunningham improved to 29-6 (6) with a unanimous decision over Gamal Yafai (18-2) who was making the first defense of the European bantamweight title that he won in Milan.
Cunningham had Yafai on the canvas three times — knocking him down with left hands in the second, fourth and sixth rounds — but Yafai, the younger brother of former 115-pound world title-holder Kal Yafai — wasn't deterred and kept coming forward. In the end, however, Cunningham's lead was too big for Yafai to overcome. The judges had it 115-110 and 114-111 x2 for the southpaw who was a consensus 10/1 underdog.
Super middleweight Lerrone Richards breezed to a lopsided 12-round decision over Italian veteran Giovanni DeCarolis to snatch a vacant European title. Trained by Dave Coldwell, who previously handled Tony Bellew, Richards was content to rack up points and the one-dimensional DeCarolis, who was making his first start in 23 months, had no way to stop him.
The judges had it 120-108 and 119-109 twice. The London-born Richards, whose family roots are in Ghana, improved to 15-0 (3). This may have been the last rodeo for the 36-year-old DeCarolis who fell to 28-10-1.
Belfast's Tommy McCarthy (18-2, 9 KOs) was fed a softie for his first defense of his European cruiserweight title in the form of 36-year-old Romanian Alexandru Jur who brought a 19-4 record but had defeated only four men with winning records. Except for a few brief moments, Jur showed little inclination to mix it up. McCarthy put Jur down with a body punch in round four and finished him off two rounds later with another body punch. The official time was 2:09.
McCarthy, who is of Irish and Jamaican descent, moves on to a date with fellow Brit Chris Billam-Smith. Jur lost for the fourth time in his last six starts.
Cologne
Credit Christopher Lovejoy for having the gumption to defy Don King who threatened legal action if Lovejoy went ahead with his match today with WBA "champion in recess" Mahmoud (Manuel) Charr. But the 37-year-old Lovejoy, who arrived in Germany all by himself, traveled a long way to destroy whatever credibility he may have had. Fighting off the grid, he had rung up 19 fast knockouts in 19 fights against 19 presumptive Tijuana taxi drivers.
Carrying 306 ½-pounds, the six-foot-five Lovejoy lasted less than two full rounds against Charr who was making his first ring appearance in 42 months. Lovejoy was counted out after being dropped with a volley of punches in the second round.
Photo credit: Mark Robinson / Matchroom
Check out more boxing news on video at the Boxing Channel
To comment on this story in the Fight Forum CLICK HERE
Avila Perspective, Chap. 135: Danny Roman and Super Bantamweights Perform in L.A.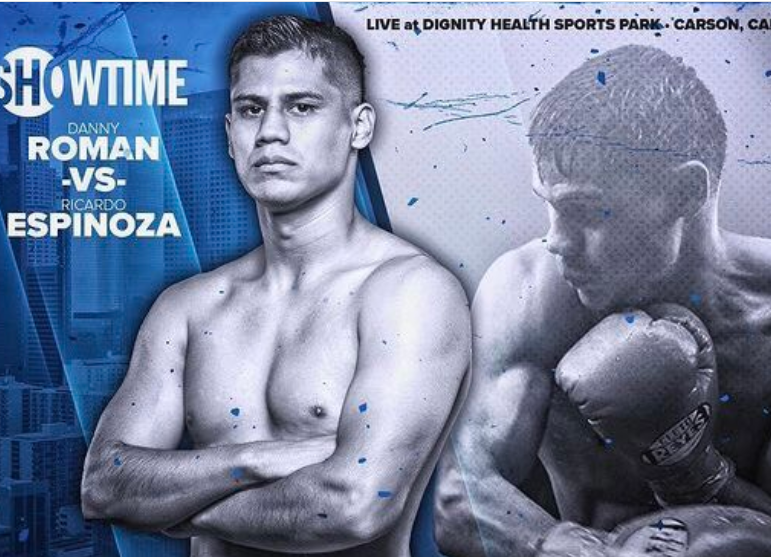 Avila Perspective, Chap. 135: Danny Roman and Super Bantamweights Perform in L.A.
The super bantamweight division was virtually unknown by most fans of prizefighting for the last decade.
Then Danny Roman arrived and re-booted the 122-pound division virtually by himself by challenging and defeating world champions from Japan and the United Kingdom.
Roman (28-3-1, 10 KOs) no longer holds the world titles but itches to regain his footing when he fights Ricardo Espinoza (25-3, 21 KOs) at Dignity Health Sports Park on Saturday May 15. Showtime will televise the battle on the Premier Boxing Champions card.
"Everything I do in boxing from here on out is to regain my status as a world champion," said the normally ultra-reserved Roman, 31.
Ironically, both Roman and Espinoza turned their careers around with numerous battles at boxing shows in Ontario, California. They entered as boys and emerged as battle-tested men.
For the last 20 years Thompson Boxing Promotions has been pumping out world champions and contenders at a furious rate despite their small size in Southern California. They do not pamper or cajole their prospects.
Both Roman and Espinoza suffered their first losses as professionals at Thompson Boxing's bloody battles at the Doubletree Hotel in Ontario. But despite losing, they continued to learn and evolve. Now they meet in Los Angeles on the big stage.
When Roman lost to Japan's Takashi Okada in 2011 and Juan Reyes in 2013, that could have derailed the Los Angeles-based fighter for good. Instead, he re-grouped and reloaded to become a unified world champion. Roman traveled to Japan and won the WBA super bantamweight world title by stoppage of Shun Kubo in 2017. A couple of years later after several defenses, he clashed with WBO super bantamweight titlist TJ Doheny to win an incredible battle by decision in Los Angeles. It was perhaps the Fight of the Year in 2019 and gained Roman the WBO belt.
Though Roman lost both the WBA and WBO titles to Murodjon Akhmadaliev, it was a disputed split decision. Many felt Roman was the true winner. So now he must battle back toward the top.
Espinoza also fought many bloody affairs at the Doubletree Hotel in Ontario including his first two losses. He lost to Sam Rodriguez in 2016 and Christian Nieto in 2017. Then the power-punching fighter from Tijuana, Mexico knocked out 12 of 13 of his opponents to gain a world title fight that he lost in April 2019. Since then, he has returned to his winning ways and upset undefeated Brandon Valdes last year.
"Danny Roman has fought some really quality opponents that are high in the rankings, but this is my time. This is when I show that I can step up in competition and prove that I belong with the best," said Espinoza who is very familiar with Roman.
The Tijuana fighter is a punching machine.
"This is not going to be an easy fight because I know my opponent is a tough fighter from Tijuana who is coming with everything he's got. He's got a lot of power, so I must be smart on how I throw my combinations," said Roman who lives within 10 miles of the event. "I believe my experience in big fights is going to be the difference on May 15. I'm expecting a rough fight and I'm ready for an intense battle."
Now the two veterans of the Ontario, California wars finally meet each other to see who advances toward a world title fight. They won't have to look far. The main event pits two titleholders against each other.
Unification Battle for Super Bantam Belts
Mexico's Luis Nery holds the WBC super bantamweight world title and faces Texan Brandon Figueroa who holds a version of the WBA super bantamweight title in the main event on the Dignity Health Sports Park card on Saturday. Showtime will televise.
Nery formerly held the bantamweight title too. But the Tijuana-based fighter had problems making weight and wisely moved up a weight division. So far, the extra pounds hasn't been a problem.
The problem facing Nery is Figueroa has a solid chin.
Figueroa may look like a pretty boy but he fights like he's ugly. The Weslaco, Texas native has firepower and a rock chin but does he have the skills to match Nery?
"I come forward. I bring the pressure and I'm definitely going to bring the power, the size and all the advantages I have to make sure that we give the fans a great show. I do respect him as a fighter but we're just going to have to find out Saturday," said Figueroa whose brother Omar Figueroa fought in the same venue two weeks ago.
Nery has quickness and agility to supplement his power. He also has experience in world class opposition and that's something Figueroa lacks.
"Brandon's style really fits with what I want to do in the ring," said Nery, a boxer-slugger. "This is going to be an all-out war from the first round on. People are going to be talking about it for a long time after."
The winner of this clash will hopefully meet the winner of Roman and Espinoza. That would really heat up the super bantamweight division to blue hot levels.
Some of my favorite fighters of the past occupied the super bantamweight division like Wilfredo "Bazooka" Gomez, Marco Antonio Barrera and Israel "Magnifico" Vazquez who twice fought in this same venue. His third fight with Rafael Marquez on March 1, 2008 was voted Fight of the Year for its brutal but spectacular display of super bantamweight power.
The winners of this quasi-super bantamweight tournament can equally achieve the same kind of greatness those former stars achieved. This is a good start.
Fights to Watch (All times are Pacific Coast)
Friday UFC Fight Pass 5:30 p.m. Heather Hardy (22-1) vs Jessica Camara (7-2); Melissa St. Vil (13-4-4) vs Olivia Gerula (18-18-4).
Friday Telemundo 11:30 p.m. Denilson Valtierra (14-0) vs Emanuel Lopez (30-12-1).
Sat. DAZN 10 a.m. Lerrone Richards (14-0) vs Giovanni De Carolis (28-9-1).
Sat. Showtime 7 p.m. Luis Nery (31-0) vs Brandon Figueroa (21-0-1); Danny Roman (28-3-1) vs Ricardo Espinoza (25-3).
Check out more boxing news on video at the Boxing Channel
To comment on this story in the Fight Forum CLICK HERE