Why is Roach Picking a Cat-fight With Bradley and Atlas?
By Frank Lotierzo
We've been hearing the back and forth banter and cat-fighting between Manny Pacquiao's head trainer, Freddie Roach and Timothy Bradley's head trainer, Teddy Atlas, since the bout between the two welterweights was first announced. Obviously Roach and Atlas loathe each other, and the guess here is, the problem they have with the other is they're so much alike. If there have ever been two more insecure high-profile boxing trainers in the fight game, I've never known of them. The fact is Freddie and Teddy are the two biggest "See me out there" guys in professional boxing. Going by the interaction and words between them…one could easily begin to think they are fighting each other on April 9th instead of Pacquiao and Bradley facing each other.
Maybe Roach has gone after Bradley and Atlas because no one really cares about Pacquiao and Bradley fighting for a third time. If the decision rendered in the first fight was legitimate, there would be no need for a rubber match. Perhaps Roach knows the fight hasn't really taken off with the public and he's taking one for the team by going after Atlas. But remember, this is the same trainer who thought his fighter Miguel Cotto was robbed when he fought Canelo Alvarez last year. And he also had the nerve to tell everyone prior to the Mayweather-Pacquiao showdown that Manny had a strong training camp and he wouldn't have been surprised if Manny stopped Mayweather inside the distance. Then he shamelessly admitted after the fight that Pacquiao sustained a shoulder injury during training and how he inadvertently checked the wrong box on the medical examination form the day before the bout.
Now Roach is dismissing Bradley's performance, his first with Atlas, against Brandon Rios in his last fight. "I don't think there's a new and improved Tim Bradley," Roach said. "I thought his last opponent [stunk]. The guy was out of shape. I don't think [Bradley] looked any better than he ever has." And when Atlas was mentioned as being an asset to Bradley, Roach responded: "So, who's he? An announcer? I won't give him credit until he beats a legit fighter. Let's face it, you look at the guy he beat — fat and out of shape and looked like he wanted to retire before the fight."
That's pretty harsh coming from a guy who has never taken a fighter that wasn't already a contender and brought him to the top. And for the record, Bradley stopped Rios and hurt him; Pacquiao never even had him shook or in trouble when they fought two years earlier. Granted, Pacquiao fought a better version of Rios, but Bradley is the only fighter to hurt Rios and push him to the point to where he obviously wanted out.
For five years we listened to Roach opine how Mayweather was made for Pacquiao stylistically and that Floyd wouldn't be Manny's toughest fight – yet it turned out to be the complete reverse. When they finally fought, Mayweather was under duress for all of two minutes of a 36 minute fight. Shortly after that we saw how Jean Pascal did worse in his rematch with Sergey Kovalev with Roach working his corner than he did the first time they fought without Roach.
"We had a strong camp in the Philippines and Manny, as usual, is way ahead of schedule in his conditioning, and very motivated. The real business begins for us on Monday at Wild Card. We have great sparring waiting for Manny. I know that ESPN announcer [Teddy Atlas] who is coaching Bradley is a good story teller and likes acting. Let's see how well they do when we go off script and hit them with a dose of reality TV. Playing 'fireman' isn't going to protect them from the nuclear assault Manny will be launching."
Boy, that sounds familiar; talk about a script! Notice how Roach says "we" instead of "he." It's almost as if Freddie is fighting and not Manny. And in case it's been forgotten, the last time anyone saw a nuclear assault authored by Pacquiao was back in 2009 against what many believe was a weight drained Miguel Cotto fighting at the 145 pound catch-weight stipulated by Team Pacquiao. It seems nobody gets a free pass by the media the way the team of Manny Pacquiao and Freddie Roach does. We've been hearing the "Manny had a great camp" story for years, yet he hasn't scored a knockout in over six years.
Roach recently said "if Atlas is plotting a fight plan intended to repeat Floyd Mayweather's boxing, speed and defensive performance that won him the fight in May over Pacquiao, he's pursuing a flawed scheme."
There's a revelation! No, Bradley is certainly no Mayweather, but that doesn't mean he can't out box Pacquiao. And the reason for that is Manny has been out-boxed by Erik Morales, and Juan Manuel Marquez, as he was by Bradley during stretches of their first bout. Manny has always been susceptible to fighters who use their feet and move and don't stand in front of him and trade one-for-one. Bradley, under the guidance of Atlas, will use his feet and lateral movement more in their upcoming fight than he did in either of their first two encounters. And that's smart because Manny is not a bell-to-bell non-stop attacker. Actually, I wouldn't be the least bit surprised if Bradley and Atlas try and replicate Mayweather's battle plan against Pacquiao. The only difference will be Bradley will have to use his legs more than Floyd did, simply because Mayweather bettered Pacquiao and won a lot of the exchanges without having to move or break them off, something I doubt Bradley has the offense to do.
Also, I believe Roach is overlooking something very important in regards to what Atlas gives Bradley psychologically. For some reason only known to Bradley, I get the feeling that he believes he can't be beat as long as he listens to what Atlas tells him. Of course we know that's not the case in actuality, but the point is Bradley believes it, and that is monumental and will carry Timothy when the heat is turned up during the fight.
I'm no fan of Teddy Atlas, but in this case it seems as though Roach is reading from a script. And it's a tired one that hasn't been close to being accurate in a long time. It's too early to make a pick as to who will win, but I can say with impunity, Bradley is a live underdog!
Frank Lotierzo can be contacted at GlovedFist@Gmail.com
Boxers Fighting the Best and Doing It Again for the First Time: Part Two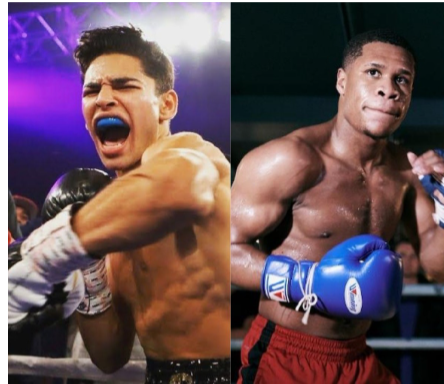 As mentioned in Part One, the phrase "cherry picking" gained meaningful traction during the time "Money" Mayweather was making his run. A new and very simple business model seemed to fuel it; namely, make the most money the quickest way with the least amount of risk and that translated into fewer fights. The change was almost imperceptible.
WBC featherweight champion Gary Russell Jr. (31-1) has fought once a year sine 2014. WBO middleweight king Demetrius Andrade (39-0) started out fast but then fell into a less active mode. Wlad Klitschko began to pick his spots with more caution as he met the likes of Francesco Pianeta and Alex Leapai. Shane Mosley slowed down towards the end and even Guillermo Rigondeaux (20-1) has faded from the headlines after being stopped by Vasyl Lomachenko.
Back to the Future
Suddenly, however, a twist has emerged that suggests a new model may well be in the offing; to wit: make the most money the quickest way but with lesser regard to risk. Perhaps Daniel Dubois fighting Joe Joyce last November was an example. Translated, it could mean that the best will fight the best as they did in days of yore. If so, Mega- possibilities await.
"I Want All The Belts, No Easy Fights, I Want To Face The Best." –Virgil Ortiz
Ryan "King Ry" Garcia (21-0) has called out everyone and anybody and it appears he might get his wish in Devin "The Dream" Haney (25-0) or maybe the exciting Gervonta "Tank" Davis (24-0).
The new breed of Davis, Garcia, Haney and Teofimo "The Takeover" Lopez is being is being compared to the "Four Kings" (Leonard, Hearns, Hagler, Duran) but a flattered Devin Haney wisely notes "those guys fought each other."
In this connection, writer James Slater nails it as follows: "Right now, in today's boxing world, Haney, Lopez, Davis and Garcia could all do well, they could win a title or two and they could pick up some huge paydays, without fighting each other. This is the state the sport is in these days. It's up to the fighters to really WANT to take take the risks, to take on their most dangerous rivals. The 'Four Kings' did it, time and again, and this is what added enormously to their greatness."
Teofimo Lopez did it. After shocking Richard Commey, he beat Vasyl Lomachenko in an even more shocking outcome and now wants George Kambosos, Jr. to step aside for a Devin Haney fight.
It doesn't get any better than the specter of Errol Spence Jr. (27-0) fighting "Bud" Crawford (37-0) unless it's Tyson Fury (30-0-1) meeting Anthony Joshua (24-1.) If Covid 19 is under control, they could do this one in front of 100,000 fans.
Josh Taylor has talked about challenging Lopez even if it means dropping down to lightweight, and then moving up to 147 to challenge Crawford or Spence.
Dillian Whyte rematching with Alexander Povetkin is another highly anticipated fray and has the added dimension of being a crossroads affair. Oleksandr Usyk will likely face off with Joe Joyce in Usyk's first real test as a heavyweight.
In late February there's a big domestic showdown in New Zealand between heavyweights Joseph Parker and Junior Fa. On that same date In London, Carl Frampton squares off with slick WBO 130-pound champion Jamel Herring.
And Juan Francisco Estrada rematching with a rejuvenated Roman "Chocolatito" Gonzalez has everyone's attention.
Super exciting Joe Smith Jr. meets Russia's Maxim Vlasov for the vacant WBA light heavyweight belt. What's not to like?
The showdown between Miguel Berchelt (38-1) and Oscar Valdez (28-0) is the best on the February docket and could end up being a FOTY.
Speaking of FOTY's, the prospect of Naoya "Monster" Inoue vs. Kazuto Ioka is as mouthwatering as it can get and has global appeal.
Meanwhile, Artur Beterbiev looms and it's not a question of opponents as much as it's a question of who wants to contend with his bludgeoning style of destruction.
Claressa Shields, Marie Eve Dicaire, Katie Taylor, Amanda Serrano, Delfine Persoon, Jessica McCaskill, and Layla McCarter are prepared to make female boxing sizzle. In the final analysis,  when Vasyl Lomachenko becomes an opponent, you know something is very different.
You can read Part One HERE
Ted Sares can be reached at tedsares@roadrunner.com
Check out more boxing news on video at the Boxing Channel 
To comment on this story in the Fight Forum CLICK HERE
Vic Pasillas: An East L.A. Fighter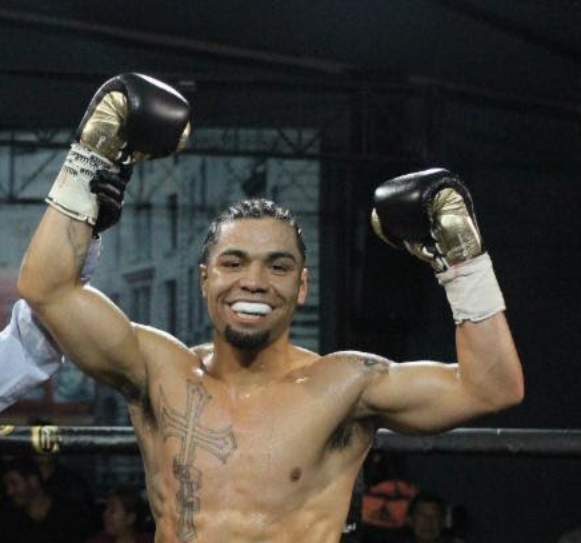 When East L.A.'s Vic Pasillas enters the prize ring this weekend he follows a path that many from his area have trod before. Not all were successful, but those that succeed become near legendary.
But it's definitely not easy being from East L.A.
Pasillas (16-0, 9 KOs) meets Michigan's Raeese Aleem (17-0, 11 KOs) for the vacant interim WBA featherweight title on Saturday Jan. 23, at Mohegan Sun Casino in Uncasville, Conn. Showtime will televise live.
Once again, a fighter from East L.A. stands pivoted for greatness. Can Pasillas go all the way?
For the past 130 years, prizefighters from East Los Angeles have developed into some of the best in the world if you can get them into the prize ring. Oscar De La Hoya and Leo Santa Cruz are two who were able to duck drugs, crime, street gangs and longtime allegiances that can often mislead aspiring boxers toward deadly endings.
One of the first featherweight champions in history lived in East L.A. Solly Garcia Smith won the world championship in 1893. He was the first Latino to ever win a world title.
There are many others from "East Los" who were talented prizefighters that were sidetracked into oblivion. Talented pugilists like brothers Panchito Bojado and Angel Bojado were derailed by mysterious obstacles that East Los Angeles presents. Others like Frankie Gomez and Julian Rodriguez showed dazzling promise but disappeared.
It's almost as if a curse hangs over East L.A. area like a blanket of smog.
Many were surefire champions. But for some reason East L.A. or East Los as it's called by those living in the 20 square mile radius, seems to have a dark lingering spell that makes it extra difficult for prizefighters to succeed.
Back in the 1950s a supremely talented fighter named Keeny Teran was skyrocketing to fame when heroin dropped him like an invisible left hook. Celebrities like Frank Sinatra and Danny Kaye were his biggest backers. Yet, not even they could help Teran.
Drugs almost took Pasillas too.
The fighter known as "Vicious" Vic Pasillas could have tripped into one of those sad stories from East L.A. you often hear about from your abuelitas. The streets can easily claim you if you let your guard down. Who is a friend and who is a foe are not often clear as the colors brown or white. It's a potholed journey to navigate the barrio streets that look tame during the day, but ominous when the darkness arrives.
Barrio Life
Growing up with parents who were incarcerated led Pasillas to find loyalty from the vatos on the street. They treated him well and gave him protection and a sense of family, but often led to being involved in petty and major crimes.
"I moved out of the neighborhood. I had to get away from my friends. No disrespect to them but I knew that I would end up in jail," said Pasillas who moved to Riverside, Calif. which is 60 miles east of East L.A. "Nobody knew where I was."
One thing certain: prizefighting was his gift. All that he encountered recognized his boxing ability.
"He was always a gifted fighter," said Joe Estrada, who would often take him to tournaments around California or in other states. "Every tournament he entered he won. He has always had speed, power, and defense. He's always been a great boxer, but trouble was always around him."
Gangs had always been a part of Pasillas life. He was born into gangs in South El Monte and even after moving to East L.A. it was not an escape. It was vatos locos that took him under their wing and showed him love and respect. They took care of him; some were also boxers.
East L.A. is an area much like a spider web. You can travel a quarter mile in one direction and suddenly you are in enemy turf. Gangs are everywhere. If you are an adult male you can't simply walk outside a door without looking in all directions. It makes you razor sharp in recognizing danger. You always look out for danger.
Pasillas loved boxing and loved his friends, the big homies, but cutting off one for the other was the most difficult decision. He would train, fight, and win but then hang with the homies and end up being arrested with the rest of them.
"The cops would come and everybody would run so I would run," said Pasillas. "I didn't do anything, but I would get busted with everybody else for trying to evade the police."
Things remained the same until he met his wife. The streets never had a chance. Once married he moved to the Riverside area. It was 2011 and newly married he needed to make a decision on whether to try and make the Olympic team or turn professional.
"I was ready to go to the Olympics. First, I was going to smash everybody but my wife got pregnant at 2011. It forced me to get a job at a warehouse. I was making 50 dollars a week. Pennies," said Pasillas. "I got a call from Cameron Dunkin and Top Rank. They offered me a fight on the third Manny Pacquiao and Juan Manuel Marquez fight. That was my pro debut."
Sadly, the streets reclaimed him again.
Reckoning
A move to northern California seemed to change things but the struggle to stay outside the grasp of the streets remained real even hundreds of miles away. Despite the dark times Pasillas still had friends and admirers.
Seniesa Estrada, who holds the interim WBA flyweight title and is poised to fight for a world title in March, remembers sparring with Pasillas when she could not find girls to spar.
"Vic was always very good. He would take it easy on me, of course, but I would learn so much from sparring with guys like him and Jojo Diaz and Frankie Gomez," said Estrada, who grew up and still lives in East L.A.
Pasillas, 28, had more than 300 amateur fights. He lost only eight times. Anyone who ever saw him fight immediately recognized his immense talent.
"Vic is one of the best fighters I ever saw," said Joe Estrada. "Everyone knew that when he's in shape he can't be beat. Just so much talent."
That talent will be tested on Saturday when he meets Michigan's undefeated Aleem. Whoever wins their battle will meet the winner between Angelo Leo and Stephen Fulton who fight for the WBO super bantamweight title.
"I want to fight the best now, and Pasillas is one of the best fighters in the division. I'm not ducking or dodging anyone. I'm going to be a world champion by all means necessary," said Aleem who now fights out of Las Vegas.
Pasillas doesn't doubt that Aleem has talent.
"I don't want to give up my game plan but best believe I'm going to do whatever it takes to win this fight. If he wants to bang, then we'll bang, if he wants to box, we'll box. I've seen so many different styles in the amateurs, there is nothing that he brings that I haven't seen. My power is what he's going to have to deal with," Pasillas said.
It's been an incredible up and down journey so far for Pasillas; a lifetime of dealing with hidden traps on East L.A. streets that have toppled many previous fighters now long forgotten.
Or will those same streets show the way to glittering success as former champions De La Hoya, Santa Cruz, Joey Olivo, Richie Lemos, Newsboy Brown and Solly Garcia Smith discovered.
One thing Pasillas already discovered was his own family.
"People invite me all the time to events and parties but I tell them I already have plans with my family," said Pasillas who has a wife and two elementary age children. "I never really had a family like other people."
Now he has his own family. Something he didn't have during his youth due to drugs and the streets.
"It's just a domino effect. I'm making sure I'm going to stop that s—t," says Pasillas. "It's going to be good for East Los. I'm a born and bred fighter from East Los."
Sometimes the streets can break you or make you.
Check out more boxing news on video at the Boxing Channel 
To comment on this story in the Fight Forum CLICK HERE
Hank Aaron and Muhammad Ali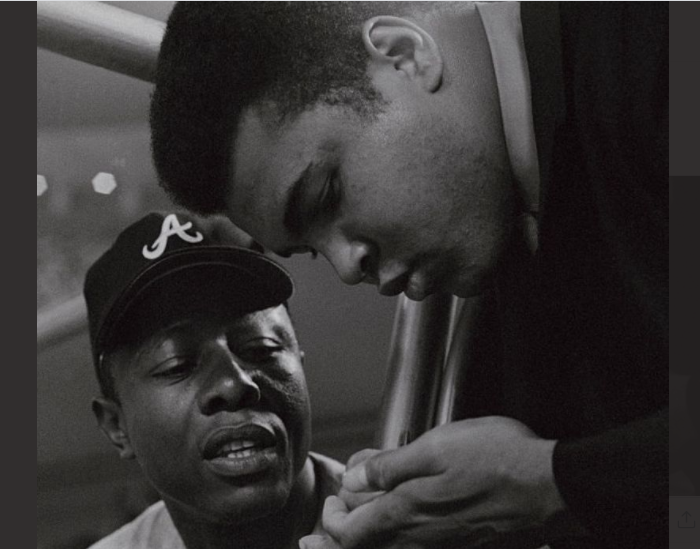 Hank Aaron, one of the greatest players in baseball history, died today (January 22) at age 86.
Aaron is best known for breaking Babe Ruth's mark of 714 career home runs. He finished his sojourn through baseball with 755 homers, a record that stood until 2007 when it was eclipsed by Barry Bonds. He still holds the MLB career records for most RBIs, most total bases, and most extra base hits while ranking third on the list for most hits and most games played and fourth in runs scored. He was a thoughtful gracious man who inspired a generation.
Decades ago, I was conducting research for the book that would become Muhammad Ali: His Life and Times. As part of this process, I interviewed many great athletes. Some, like Jim Brown, had played an important role in Ali's life. Others had interacted with Muhammad in a less significant manner. The people I spoke with included sports legends like Bill Russell, Kareem Abdul-Jabbar, Wilt Chamberlain, Ted Williams, Mickey Mantle, and Reggie Jackson. On September 5, 1989, I was privileged to talk with Aaron.
Aaron had broken Babe Ruth's record in 1974, the year that Ali dethroned George Foreman to reclaim the heavyweight championship of the world. The thoughts that Aaron shared with me – one great athlete talking about another – follow:
"I was born in Mobile, Alabama, in 1934. I came up with the Braves when I was twenty. And coming from Mobile, I was very shy. I wasn't satisfied with the way things were, but I felt like I had to do something special in baseball in order to get people to listen to me. By the time Ali came along, things were a little different but not that much. My first awareness of him was when he won the gold medal. And I saw greatness stamped all over him. How great, I didn't know. But I was impressed by his ability and his confidence.
"Being a gifted athlete, being one of the best in the world at what you do, is a great feeling. But sometimes it's kind of eerie because you wonder why you're blessed with so much ability. I'd go up to the plate to face a pitcher and I'd know that, before the night was over, I was going to hit one out of the ballpark. I felt that, and I'm sure Ali felt the same way. That no matter who he got in the ring with, he was better and he'd figure them out. He had all kinds of confidence. And I was the same way. The only thing that scared me was, when I was approaching Babe Ruth's record, I got a lot of threatening letters. I'm sure Ali went through the same thing with letters from people who didn't want him to be heavyweight champion. Most of that stuff is nothing but cranks. But one of them might be for real, and you never know which one.
"I don't think there'll ever be another fighter like Muhammad Ali. I'm not putting anybody else down. Maybe someone could have beaten Ali in his prime, but I'm not concerned about that. There's just no one who could possibly be as beautiful in the ring as he was. For a guy to be that big and move the way he did; it was like music, poetry, no question about it. And for what he did outside the ring, Ali will always be remembered. When you start talking about sports, when you start talking about history; you can't do it unless you mention Ali. Children in this country should be taught forever how he stood by his convictions and lived his life. He's someone that black people, white people, people all across the country whatever their color, can be proud of. I know, I'm glad I had the opportunity to live in his time and bear witness to what he accomplished. God gave Ali the gift, and Ali used it right."
I remember very clearly reading to Ali what Hank Aaron had said about him. And Muhammad responded, "Hank Aaron said that about me? I'm honored."
Thomas Hauser's email address is thomashauserwriter@gmail.com. His most recent book – Staredown: Another Year Inside Boxing – was published by the University of Arkansas Press. In 2004, the Boxing Writers Association of America honored Hauser with the Nat Fleischer Award for career excellence in boxing journalism. In 2019, Hauser was selected for induction into the International Boxing Hall of Fame.
Check out more boxing news on video at the Boxing Channel 
To comment on this story in the Fight Forum CLICK HERE