Don't Blame Broner For His Bad Behavior, He's Just Following A Successful Template
Washington, D.C. — Boxers engaging in morally questionable behavior is an occurrence as old as the sport itself. But while a tendency to challenge social norms hasn't changed much, the marketability and recognition of such actions certainly has.
Ten years ago one fighter made a bet that would have a profound impact on the boxing business. The most talented fighter at the time was far from a mainstream name and felt a lack of stardom was due to poor marketing by his promoter. The fighter paid to be released from his contract, effectively gambling $750,000 that he could make superior revenue by promoting his bouts himself.
Read "Broner-Theophane: April Fools Day in Washington DC" also at The Sweet Science by Thomas Hauser.
The fighter, Floyd Mayweather Jr, felt that Bob Arum's Top Rank was applying an outdated formula to their marketing, with the promoter trying to turn him into a matinee idol of the Ray Leonard and Oscar De La Hoya variety. Instead, Mayweather was convinced that embracing 21st century hip-hop culture would be necessary to attract notoriety, and with it more money.
"The [hip-hop and rap fan base] was an untapped market, a billion-dollar industry," Mayweather's business partner Leonard Ellerbe told the Las Vegas Review-Journal of the decision to start Mayweather Promotions. "We wanted to capture the urban market. But we also wanted to connect with the mainstream world."
With a moniker change from "Pretty Boy" to "Money", Mayweather's image transition involved an embracement of the villainous role whereby he would extol his superior abilities and denigrate opponents, in stark contrast to the portrayed innocence and bright smile during his early Top Rank days. The flaunting of wealth and habitual presence in nightclubs became other pillars of his new persona, while numerous encounters with the law added to the infamy.
Mayweather's embrace of hip-hop and ascension to the position of world's highest paid athlete has seen rappers such as Jay Z and 50 Cent enter the world of boxing promotion, and of course, fighters have tried to get in on the act. None are more notable than Adrien Broner. The 26-year-old has adhered to the Mayweather template, and in many ways surpassed the outrageous behavior of his acknowledged idol.
While Broner has won versions of world titles in four weight divisions, he is far from being the best fighter in the world, and is most synonymous with a litany of incidents that range from bizarre to heinous. What's more, Broner has been responsible for the release of the scandalous material through social media.
In 2013, Broner released a video in which he flushed $20 bills down the toilet. He later released another video in which he seemingly defecated into a toilet and subsequently flushed away more wads of money. Continuing with his social media activity, Broner posted a sex video showing him having intercourse with two women, and last month added a video in which he threw his change at a Walmart cashier.
And that's not mentioning his brushes with the law. As a teenager he spent more than a year in prison for aggravated robbery and battery. In 2013 he was charged with battery after allegedly biting a security guard, and in 2015 he was convicted of a DUI offence in which he bragged to arresting officers that he was rich, famous, and had made more than $100 million in his boxing career [a considerable overestimate].
Most recently, Broner was charged with felony assault and aggravated robbery following a January incident in which he is accused of assaulting a man and robbing him of $12,000 at gunpoint outside of a Cincinnati bowling alley. What's unusual with this incident for Broner, is that the arrest warrant is outstanding and he was licensed to fight in a title bout Friday night in Washington D.C. with an understanding that he will turn himself in on Monday.
To add another dollop of bad taste to the bout against Ashley Theophane, Broner failed to make the agreed 140 pound weight limit, thus forfeiting his WBA world title. Moreover, he refused to even try and shake off his extra 0.4 of a pound despite being given two hours to do so [shaving his bushy beard would have gone some way to making the limit].
Despite the distraction, Broner made relatively easy work of the limited Theophane, as expected, with the referee halting the main event contest in the ninth round to save the British fighter from further punishment. In the days leading up to the bout Broner understandably received copious criticism from boxing media commentators, with many expressing disgust at his behavior. Yet, if the wider general public felt disgust, it wasn't reflected in the interest generated for Friday's event. A sold out crowd of 8,172 packed the D.C. Armory arena for the Premier Boxing Champions fight card that was screened on Spike.
The attendance was almost double that of a HBO-televised event in the same arena last month that featured top heavyweight contender Luis Ortiz and a welterweight title fight between Jessie Vargas and Sadam Ali. Conversely, Friday's undercard lacked major names, with emerging prospect Robert Easter the standout. In another page from the Mayweather template, Broner has formed his own promotional outfit, AB Promotions, and has signed Easter to its stable.
As was the case with Mayweather, no matter how much Broner's outside-the-ring actions are reviled by media commentators, the fighter will continue to receive high-profile opportunities from event organizers and TV networks as long as the consumer keeps showing an interest. Unlike with most other sports, in boxing there is no universally recognized governing entity that can act as the moral police. And unless a marketable fighter is behind bars, his visibility will remain unaffected by his extracurricular conduct.
In an era when the human attention span appears to be dwindling by the second, Broner has managed to continually generate outrageous headlines and connect with a younger audience through a masterful use of social media. However, beyond the headlines there is a man with a compelling backstory. As his trainer Mike Stafford notes, "When Adrien was eight years old I'd drive the van out to his neighborhood and there'd be 20, 30 kids trying to get to the gym. Out of all those kids, there's only about four or five left. The rest are dead or in jail or running the streets. Adrien's one of the only ones left."
When in a rare reflective mood back in 2013, Broner recalled: "I know what it's like, to wake up in the middle of the night and say, 'I'm hungry,' and see what's to eat and say, 'F—, I got to eat syrup and bread again … and water. I know what that feels like." But playing the role of a likeable guy who overcame the odds didn't help Mayweather at the box office, and would not be much benefit to Broner, who lacks Mayweather's extraordinary natural talent.
Fittingly, with Broner's notoriety at its peak, Mayweather was at ringside on Friday. Broner has habitually called Mayweather his "big bro" after the two struck up a friendship several years ago. Yet on this night Mayweather was ostensibly supporting Theophane, who is part of the Mayweather Promotions stable.
Notably, in recent weeks the relationship between Mayweather and Broner has seemingly gone sour with the pair engaging in a war of words through the media. In an interview, Mayweather criticized the images of Broner throwing change in Walmart, while Broner later countered with a video in which he implied Mayweather was a hypocrite for doing similar actions in nightclubs.
The newfound acrimony between the pair was heightened in the immediate aftermath of Friday's bout when Broner attempted to jump over the ropes to seemingly confront Mayweather at ringside. Several minutes later during an in-ring interview, Broner challenged Mayweather to a physical confrontation. "I will never let a man disrespect me like [Mayweather did in the interview]," said Broner. "So he gotta see me. I don't care if we spar or we fight, let's get it on." The D.C. Armory crowd, which had earlier booed Broner's performance at stages in the bout, loudly cheered the braggadocio statement.
Of course, trash talk in boxing can never be taken at face value, and the friction between Mayweather and Broner only served to engender more hype about Friday's event, which was in the interest of both parties. Indications that the "heat" was manufactured came hours after the event had finished. Standing outside his dressing room, away from the bright lights and cheering crowd, Broner admitted that the dispute between the pair was a "misunderstanding" and that he had wanted to shake hands with Mayweather after the fight to "pay homage to a man I've learned so much from."
Broner has undoubtedly been the best student of Mayweather's self-promotion techniques and will surely find new ways to denigrate the sport and shock long-time observers before the year is over. He will probably also generate more articles, retweets, and shares than any fighter outside Mayweather and Manny Pacquiao.
As evidenced by the large, relatively youthful crowd that Broner attracted to the D.C. Armory, brashness sells. Broner is adhering to promotional techniques that work in the boxing business. Mayweather's former promoter, Bob Arum, is regarded as one of the best ever, but even he admitted to a failure in recognizing the potential for a new style of marketing.
"What did I, an old Jewish white guy, know about marketing to hip-hop?" Arum said last year in reference to his promotion of Mayweather. "I knew how to promote to African-Americans, but it was older African-Americans, not the young people. Floyd knew how to connect with the young people, and that was our mistake."
Ronan Keenan can be contacted at ronankeenan@yahoo.com or on Twitter @rokeenan
Check out The Boxing Channel's review of the show featuring former WBC World Light Heavyweight champion Montell Griffin, who attended the fights live.
Skavynskyi and Bustillos Win on a MarvNation Card in Long Beach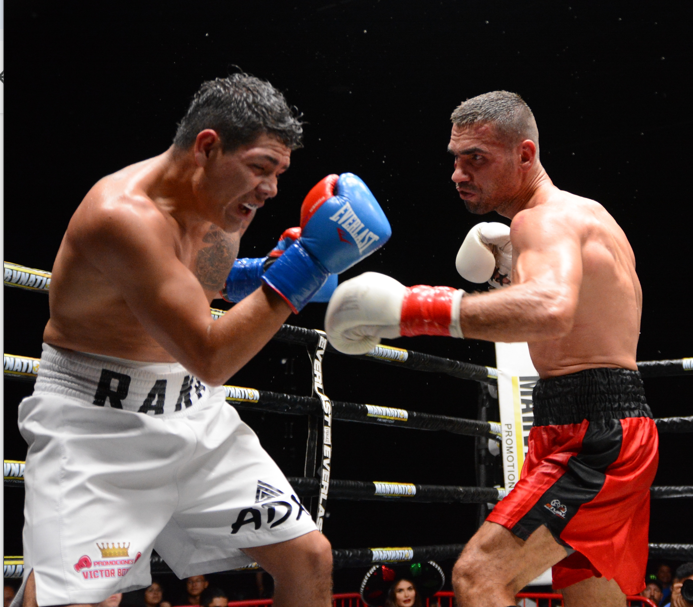 Skavynskyi and Bustillos Win on a MarvNation Card in Long Beach
LONG BEACH, Ca.-A cool autumn night saw welterweights and minimumweights share main events for a MarvNation fight card on Saturday.
Ukraine's Eduard Skavynskyi (15-0, 7 KOs) experienced a tangled mess against the awkward Alejandro Frias (14-10-2) but won by decision after eight rounds in a welterweight contest at the indoor furnace called the Thunder Studios.
It was hot in there for the more than 600 people inside.
Skavynskyi probably never fought someone like Mexico's Frias whose style was the opposite of the Ukrainian's fundamentally sound one-two style. But round after round the rough edges became more familiar.
Neither fighter was ever damaged but all three judges saw Skavynskyi the winner by unanimous decision 79-73 on all three cards. The Ukrainian fighter trains in Ventura.
Bustillo Wins Rematch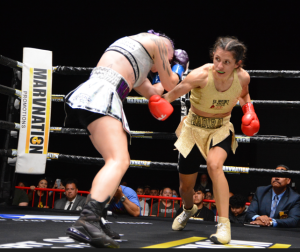 In the female main event Las Vegas' Yadira Bustillos (8-1) stepped into a rematch with Karen Lindenmuth (5-2) and immediately proved the lessons learned from their first encounter.
Bustillos connected solidly with an overhand right and staggered Lindenmuth but never came close to putting the pressure fighter down. Still, Bustillos kept turning the hard rushing Lindenmuth and snapping her head with overhand rights and check left hooks.
Lindenmuth usually overwhelms most opponents with a smothering attack that causes panic. But not against Bustillos who seemed quite comfortable all eight rounds in slipping blows and countering back.
After eight rounds all three judges scored the contest for Bustillos 78-74 and 80-72 twice. Body shots were especially effective for the Las Vegas fighter in the fifth round. Bustillos competes in the same division as IBF/WBO title-holder Yokasta Valle.
Other Bouts
In a middleweight clash, undefeated Victorville's Andrew Buchanan (3-0-1) used effective combination punching to defeat Mexico's Fredy Vargas (2-1-1) after six rounds. Two judges scored it 59-55 and a third 60-54 for Buchanan. No knockdowns were scored.
A super lightweight match saw Sergio Aldana win his pro debut by decision after four rounds versus Gerardo Fuentes (2-9-1).
Photos credit: Al Applerose
To comment on this story in the Fight Forum CLICK HERE
Tedious Fights and a Controversial Draw Smudge the Matchroom Boxing Card in Orlando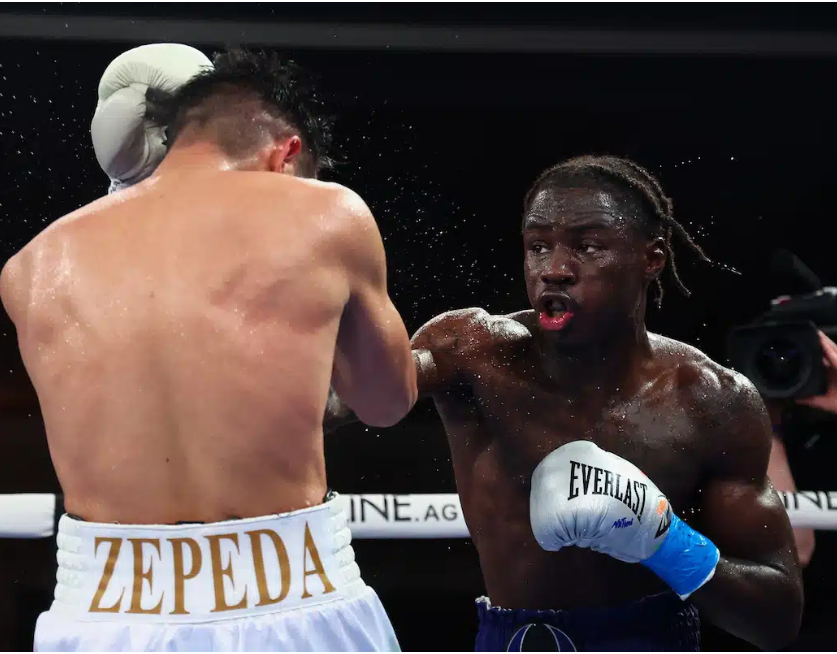 Matchroom Boxing was at the sprawling Royale Caribe Resort Hotel in Orlando, Florida tonight with a card that aired on DAZN. The main event was a ho-hum affair between super lightweights Richardson Hitchins and Jose Zepeda.
SoCal's Zepeda has been in some wars in the past, notably his savage tussle with Ivan Baranchyk, but tonight he brought little to the table and was outclassed by the lanky Hitchins who won all 12 rounds on two of the cards and 11 rounds on the other.  There were no knockdowns, but Zepeda suffered a cut on his forehead in round seven that was deemed to be the product of an accidental head butt and another clash in round ten forced a respite in the action although Hitchins suffered no apparent damage.
It was the sort of fight where each round was pretty much a carbon of the round preceding it. Brooklyn's Hitchins, who improved to 17-0 (7), was content to pepper Zepeda with his jab, and the 34-year-old SoCal southpaw, who brought a 37-3 record, was never able to penetrate his defense and land anything meaningful.
Hitchins signed with Floyd Mayweather Jr's promotional outfit coming out of the amateur ranks and his style is reminiscent in ways of his former mentor. Like Mayweather, he loses very few rounds. In his precious engagement, he pitched a shutout over previously undefeated John Bauza.
Co-Feature
In the co-feature, Conor Benn returned to the ring after an absence of 17 months and won a unanimous decision over Mexico's Rodolfo Orozco. It wasn't a bad showing by Benn who showed decent boxing skills, but more was expected of him after his name had been bandied about so often in the media. Two of the judges had it 99-91 and the other 96-94.
Benn (22-0, 14 KOs) was a late addition to the card although one suspects that promoter Eddie Hearn purposely kept him under wraps until the week of the fight so as not to deflect the spotlight from the other matches on his show. Benn lost a lucrative date with Chris Eubank Jr when he was suspended by the BBBofC when evidence of a banned substance was found in his system and it's understood that Hearn has designs on re-igniting the match-up with an eye on a date in December. For tonight's fight, Benn carried a career-high 153 ½ pounds. Mexico's Orozco, who was making his first appearance in a U.S. ring, declined to 32-4-3.
Other Bouts of Note
The welterweight title fight between WBA/WBC title-holder Jessica McCaskill (15-3-1) and WBO title-holder Sandy Ryan (6-1-1) ended in a draw and the ladies' retain their respective titles. Ryan worked the body effectively and the general feeling was that she got a raw deal, a sentiment shared by the crowd which booed the decision. There was a switch of favorites in the betting with the late money seemingly all on the Englishwoman who at age 30 was the younger boxer by nine years.
The judges had it 96-94 Ryan, 96-95, and a vilified 97-93 for Chicago's McCaskill.
In the opener of the main DAZN stream, Houston middleweight Austin "Ammo" Williams, 27, improved to 15-0 (10) with a 10-round unanimous decision over 39-year-old Toronto veteran Steve Rolls (22-3). All three judges had it 97-93. Rolls has been stopped only once, that by Gennady Golovkin.
Photo credit: Ed Mulholland / Matchroom Boxing
To comment on this story in the Fight Forum CLICK HERE
Zhilei Zhang KOs Joe Joyce; Calls Out Tyson Fury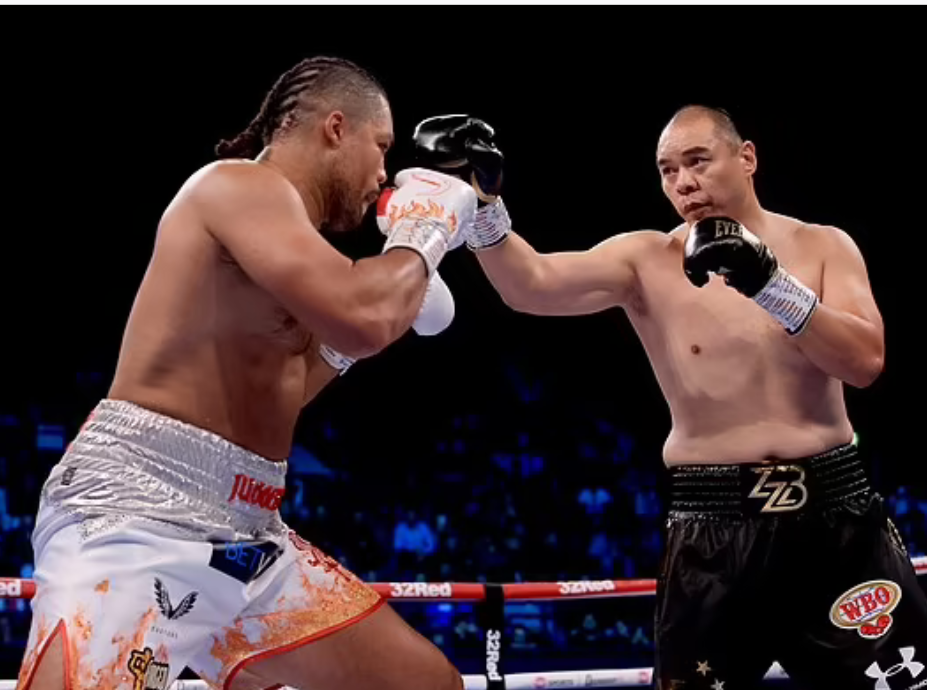 Joe Joyce activated his rematch clause after being stopped in the sixth frame by Zhilei Zhang in their first meeting. In hindsight, he may wish that he hadn't. Tonight at London's Wembley Stadium, Zhang stopped him again and far more conclusively than in their first encounter.
In the first meeting, Zhang, a southpaw, found a steady home for his stiff left jab. Targeting Joyce's right eye, he eventually damaged the optic to where the ring doctor wouldn't let Joyce continue. At the end, the fight was close on the cards and Joyce was confident that he would have pulled away if not for the issue with his eye.
In the rematch tonight, Zhang (26-1-1, 21 KOs) closed the curtain with his right hand. A thunderous right hook on the heels of a straight left pitched Joyce to the canvas where he landed face first. He appeared to beat the count by a whisker, but was seriously dazed and referee Steve Gray properly waived it off. The official time was 3:07 of round three.
Zhang, who lived up to his nickname, "Big Bang," was credited with landing 29 power punches compared with only six for Joyce (15-2) who came in 25 pounds heavier than in their first meeting while still looking properly conditioned. One would be inclined to say that age finally caught with the "Juggernaut" who turned 38 since their last encounter, but Zhang, 40, is actually the older man. In his post-fight interview in the ring, the New Jersey resident, a two-time Olympian for China, when asked who he wanted to fight next, turned to the audience and said, "Do you want to see me shut Tyson Fury up?"
He meant it as a rhetorical question.
Semi-Windup
Light heavyweight Anthony Yarde was matched soft against late sub Jorge Silva, a 40-year-old Portuguese journeyman, and barely broke a sweat while scoring a second-round stoppage. Yarde backed Silva against a corner post and put him on the deck with a short right hand. Silva's body language indicated that he had no interest in continuing and the referee accommodated him. The official time was 2:07 of round two.
A 30-year-old Londoner, Yarde (24-3, 23 KOs) was making his first start since being stopped in eight rounds by Artur Beterbiev in a bout that Yarde was winning on two of the scorecards. Silva, a late replacement for 19-3-1 Ricky Summers, falls to 22-9.
Also
Former leading super middleweight contender Zach Parker (23-1, 17 KOs) returned to the ring in a "shake-off-the-rust" fight against 40-year-old Frenchman Khalid Graidia and performed as expected. Graidia's corner pulled him out after seven one-sided rounds.
In his previous fight, Parker was matched against John Ryder who he was favored to beat. The carrot for the winner was a lucrative date with Canelo Alvarez. Unfortunately for Parker, he suffered a broken hand and was unable to continue after four frames. Tonight, he carried 174 pounds, a hint that he plans to compete as a light heavyweight going forward. Indeed, he has expressed an interest in fighting Anthony Yarde. Graidia declined to 10-13-4.
The Zhang-Joyce and Yarde-Silva fights were live-streamed in the U.S. on ESPN+.
To comment on this story in the Fight Forum CLICK HERE