Boxing's Catch-22: Can We Reform the Sport Without Destroying It?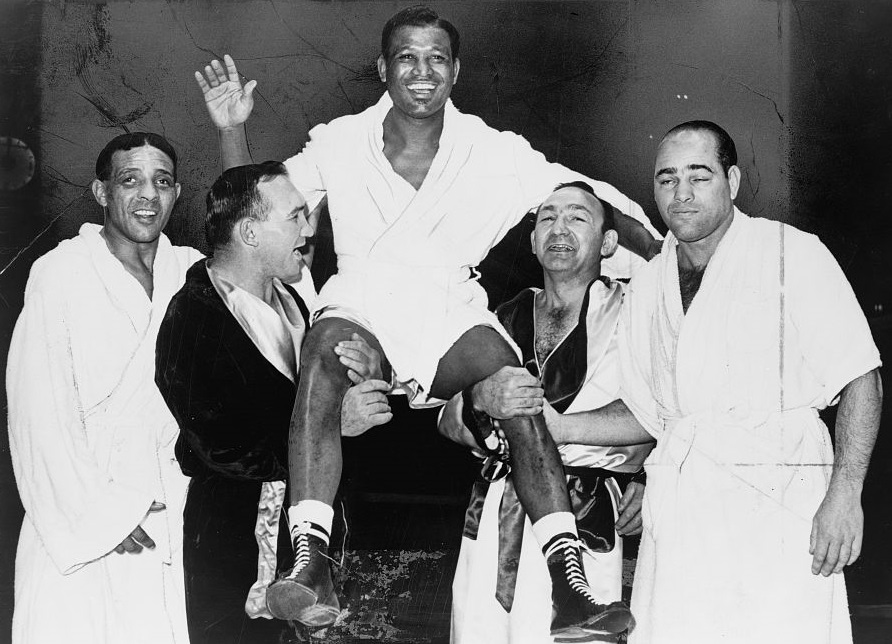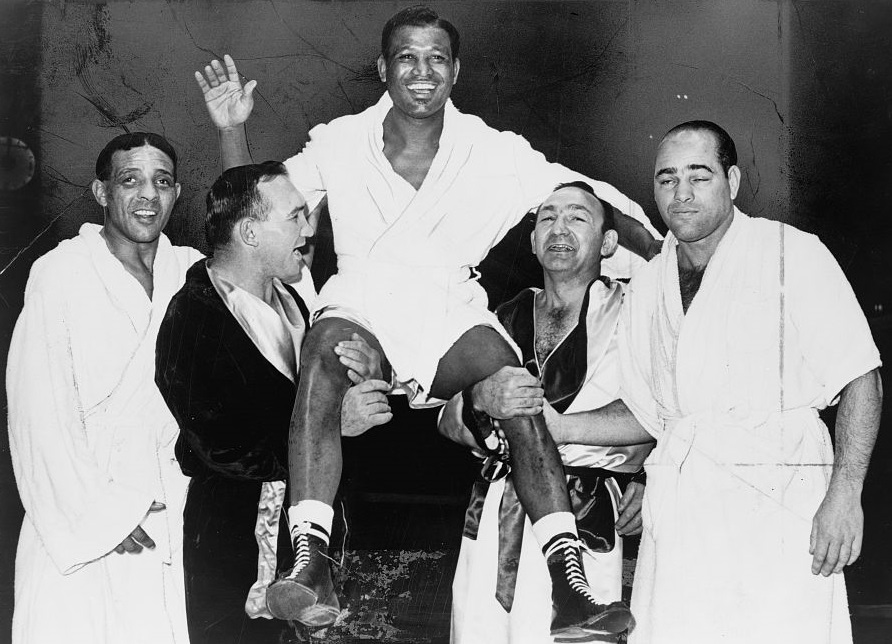 "I'm on the highway to hell
On the highway to hell…
…And I'm goin' down
All the way"   —Highway to Hell by AC/DC
You come in on your own
and you leave on your own– On Your Own by the Verve
"I was champion of the world and there are three things that go and that's how a fighter knows that he's all done. First, your legs go… The second thing is that your reflexes go, and the third thing is that your friends go, and you know you're all done when there's nobody hangin' 'round no more."—Willie Pep
When the fighters get to the place sometimes known rhetorically as Palookaville, they quickly find out that there are no gold watches handed out here. Oh no, this is a dreadful place from which there rarely is a way out. The fighters don't purchase the tickets; that's done for them. In most cases the punishment absorbed in the ring accomplishes it, although sometimes the propensity might be inherent. Adrian Broner might be speeding down that road in a modern-day example of uncontrollable self-destructiveness, but thankfully this isn't about Broner.
Picture: Perhaps the greatest of all-time Sugar Ray Robinson is seen hoisted on the shoulders of opponents Carmen Basilio and Gene Fullmer while Randy Turpin and "Bobo" Olson stand by. The picture above is from a December of 1965 ceremony honoring Robinson held at Madison Square Garden. On that night, Robinson was also given a trophy that turned out to be too heavy to put on any of the flimsy tables he had left. It was all gone.
Rocky Lockridge, a former champion, got there and remains homeless in Camden, NJ. Meldrick and Jermaine struggle. Leon Spinks seemed to have had the aforementioned innate propensity to get there. Without interdiction or intervention, others will get there just as sure as boxing is all about guilty pleasure. Larry Holmes and George Foreman are exceptions but for each exception, there are hundreds of ex-boxers who are struggling. For every De La Hoya, Froch and Mayweather, Jr., there are hundreds of Danny Williams's and Bobby Chacon's. Iran Barkley got there but thanks to many helping him to help himself, he got out and turned things around. Scores of others survive as best they can, sometimes getting help from the Retired Boxing Foundation or some of the Ring Associations.
The real tragedy is that the one sport that needs the tightest and sharpest regulations is the one with the poorest regulations. Money dictates exactly what goes on in boxing and like any other business endeavor; anything that can increase the gap between costs and revenue will be done including the neglect of the fighters. Medical insurance and pension plans narrow that gap. Thus, many fighters are booked for a one-way ticket without ever having access to counseling about viable options after they leave the fight game. Almost like meat, they are used up and then cast away to fend for themselves.
And for those who are damaged, the fate is far worse. Says neurologist Barry Jordan, M.D., director of the brain injury program at Burke Rehabilitation Hospital in White Plains, N.Y.: "The problem with chronic brain injury is that when boxers develop it, the horse is already out of the barn. If you could find preclinical markers [signs of injury before the onset of permanent symptoms], you could advise them to stop boxing." Thus, the best that can be done is to help them after the fact but that's where the oxymoronic behavior has already set in and welfare is nonexistent.
To paraphrase the late Jack Newfield, if this can happen to our best (Sugar Ray Robinson, Joe Louis, Willie Pep, Ali)—whether it be Parkinson's, early senility, dementia, or Alzheimer's—what does it mean for the rest? What does it mean for the lower end of boxing?
The Catch-22
The need to establish and enforce standards and uniformity without destroying boxing has been discussed ad nauseam. Fact is, boxing needs a Roto-Rooter.  The state of boxing has become more complex and more difficult to cleanse than ever and therein may rest the problem.  Unlike football, baseball, and basketball, the uniqueness of boxing and its lack of any structure or union create an inherent confusion that impedes reform.
It's a Catch 22 that favors the promoters, officials, and spineless political hacks that remain unmoved in their single-minded quest to make money and/or gain power from the sport without giving back to those who generated the money in the first place.  Nothing could be more incongruous or more unfair. However, boxer welfare has become a joke–an oxymoron.
Some have said that if the boxers themselves don't do anything to take care of themselves, why should reformers care? However, as Cesar Chavez said, "You are never strong enough that you don't need help.
Football players and their union –and even Rugby and Soccer players–are getting it.  Movies like Concussion spotlight the complex issue of Chronic Traumatic Encephalopathy (CTE) and the attendant class-action lawsuits from hundreds of former players regarding head trauma. Sooner or later, boxers are going to get it and when they do, the impact of the Catch-22 will begin to diminish. As Las Vegas Assemblyman Harvey Munford says:  "…Savvy lawyers one day will file lawsuits on behalf of boxers…."
Ted Sares is one of the world's oldest active power lifters and holds several records. He enjoys writing about boxing.
Pico Rivera Summer Fights See Cruz, Vega and Flores Win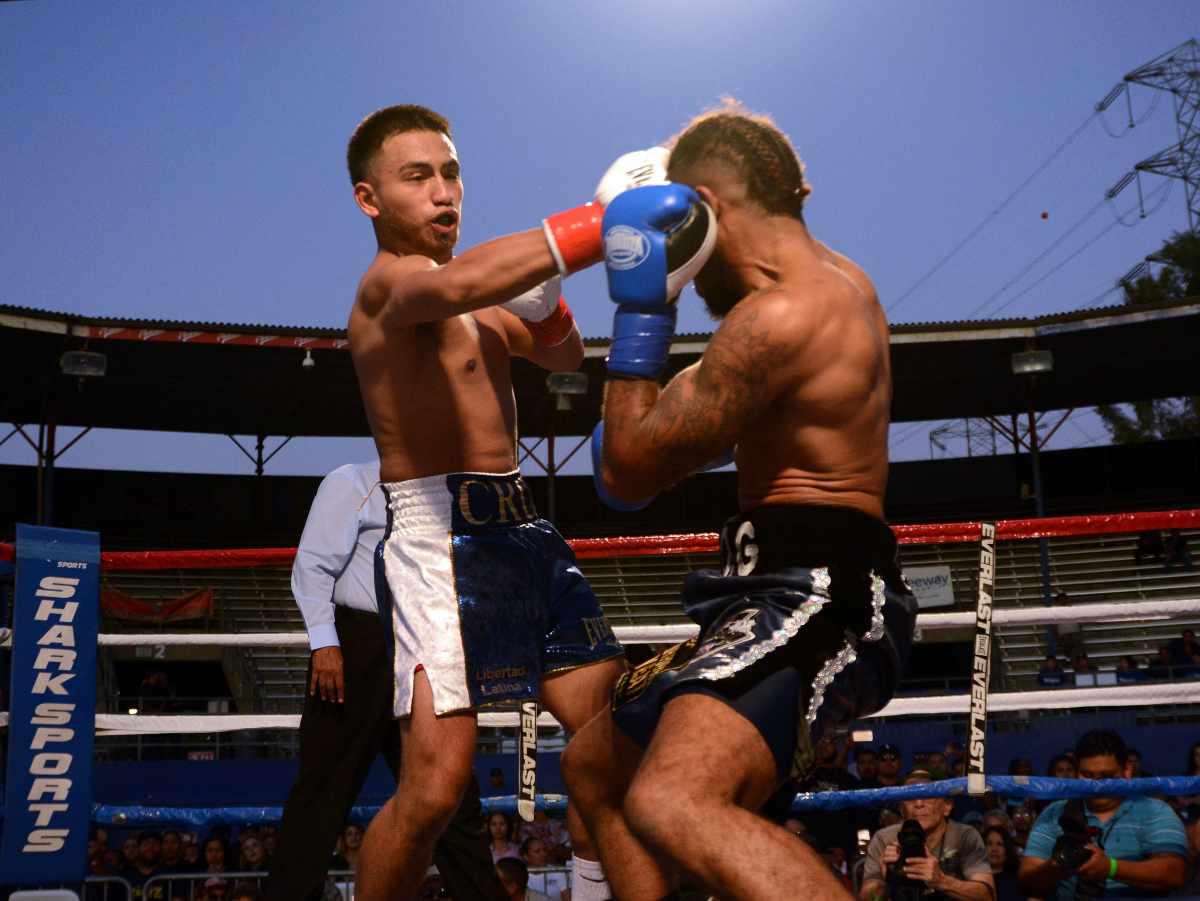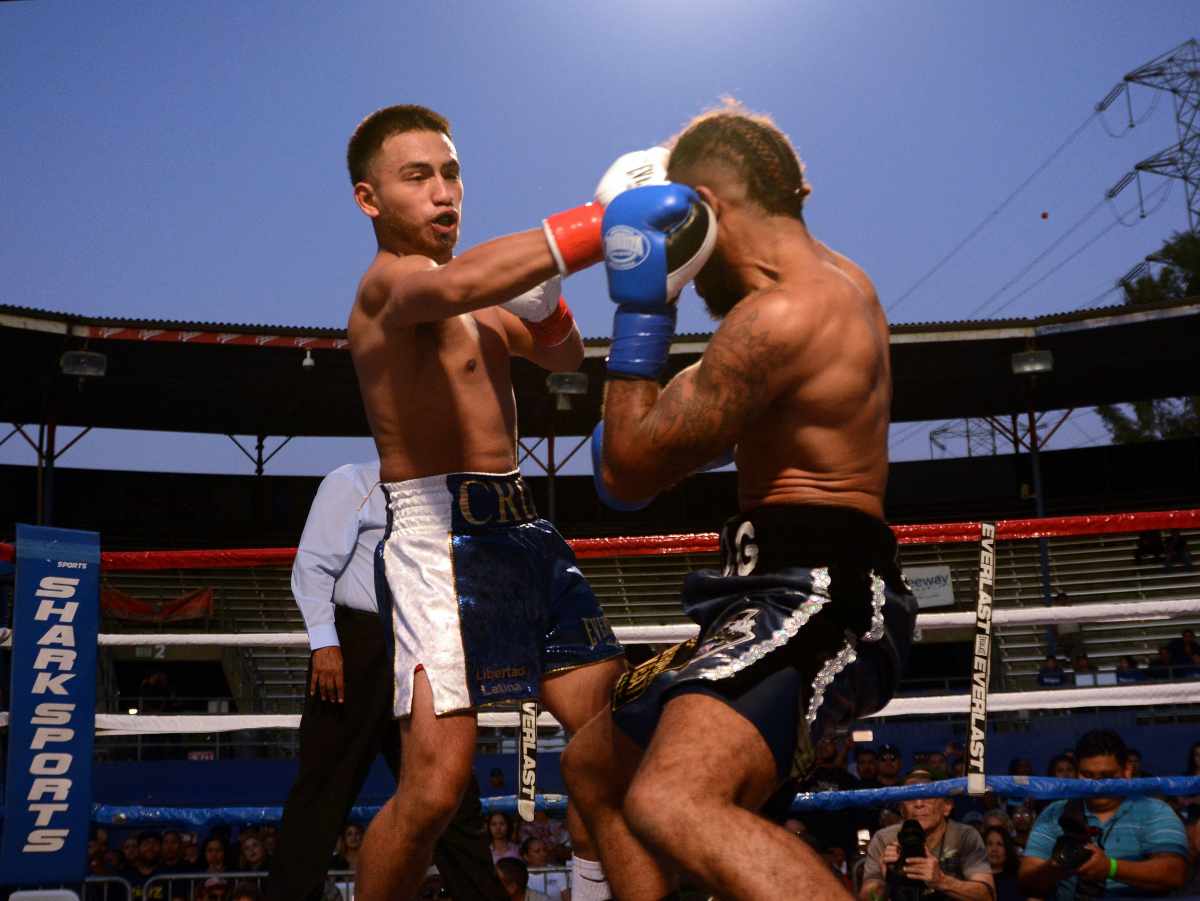 PICO RIVERA, Ca.-Along the San Gabriel River on a soft summer evening, Red Boxing Promotions brought another slew of hot local prospects to the forefront on Saturday.
Chino's Daniel "Cuetito" Cruz (3-0) burst into the fight like an energy bomb and simply overwhelmed southpaw Phillip Bounds (0-4) with lightning combinations to win by unanimous decision. More than 700 fans saw the Red Boxing fight card.
Though it was only his third pro fight, the high intensity prizefighter Cruz (pictured on the left) exhibited a level of confidence that allowed him to attack with impunity for the first two rounds.
Cruz switched to southpaw and had even more success against the lefty Bounds. The speed of Cruz proved too much to overcome for Bounds who tried different approaches but couldn't find an antidote for Cruz who won by unanimous decision 40-36 on all three cards in the super lightweight match.
"I'm excited, I wanted to put on a good show," said Cruz, 20. "I'm coming for all of the big names. Cuetito is here."
Andre Marquez (2-1) overwhelmed the much taller Alvin Brown (0-8) from Louisiana with a whirlwind style that ended in a knockout in the fourth and final round of their super featherweight match. A left hook caught Brown flush and Marquez followed up with four more blows, forcing Brown to take a knee at 1:41 of the fourth round. Marquez was ruled the winner by knockout by referee Sharon Sands.
"My plan was to work his body," said Marquez. "It worked out perfectly."
Welterweights Bradley Pena (0-0-1) and Ed Nunez (0-0-1) blasted each other for four rounds, with Pena starting fast and Nunez ending strong. No knockdowns were scored in the fight that started the night and ended in a draw.
Main Bouts
A light flyweight clash saw Axel Vega (13-2-1, 8 KOs) of Ensenada, Mexico knock out Tijuana's Giovanni Noriega (2-5-2) with a triple left hook in the second round. Vega, 19, trained out of Compton for this fight.
Welterweight prospect Steven Rodriguez (8-0) suffered a cut on his forehead due to a clash of heads but still managed to out-perform Las Vegas fighter Ryan Picou (3-12-1) after four rounds. All three judges scored the fight 40-36 in favor of Rodriguez. But Picou gave a stubborn defense against the constant rushes of Rodriguez and was able to score on occasion.
Santa Barbara's Angel Flores (6-0, 4 KOs) defeated Mexico's Roberto Almazan (9-12) by unanimous decision after six rounds in a super lightweight contest. Flores knocked down Almazan twice in the last round to clinch the win and get the victory by a landslide.
In the audience was former world champion Arturo Frias of East Los Angeles who won the WBA world lightweight title in 1982 and fought numerous times at LA's  fabled Olympic Auditorium. Also in attendance was current super flyweight contender Adelaida "La Cobra" Ruiz of Los Angeles who is scheduled to fight on October 12 at the same Pico Rivera Sports Arena. Red Boxing Promotions will be staging the event.
Photo credit: Al Applerose
Check out more boxing news on video at The Boxing Channel  
To comment on this story in The Fight Forum CLICK HERE
Fast Results from Russia: Kovalev KOs Yarde in the 11th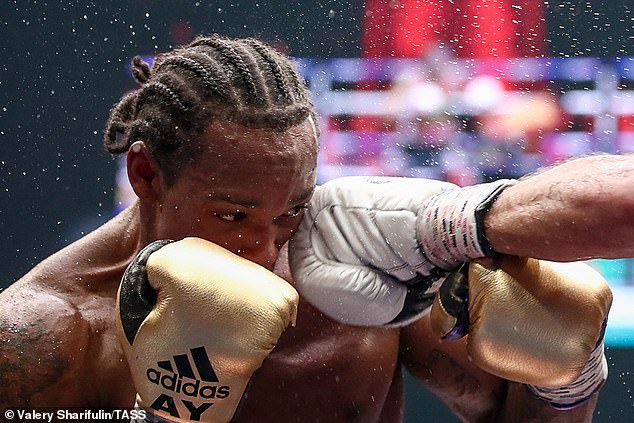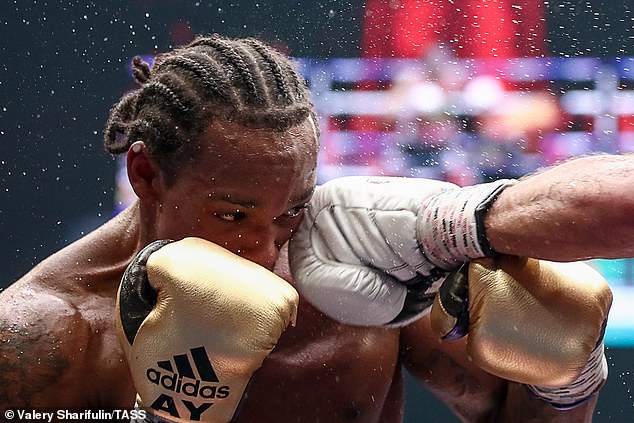 The consensus of opinion regarding tonight's fight at Chelyabinsk between Sergey Kovalev and Anthony Yarde was that….well, there was no consensus, save that it would not bode well for Yarde if both fighters were still standing at the final bell. Fighting in his hometown, and with a monster payday reportedly looming against Canelo Alvarez should he win, "Krusher" was unlikely to get the worst of it if the fight went to the scorecards. But there would be no controversial decision. In a fight that started slowly and then shifted Yarde's way, Kovalev stemmed the momentum, took charge in the 10th, and then closed the show in the next round with a scorching left hand that left Yarde flat on his back, gasping for air.
In handicapping the fight, Kovalev certainly had more check marks in the plus column. A former three belt champion and the reigning WBO 175-pound title-holder, Kovalev would be appearing in his 16th world title fight, his second with Hall of Fame trainer Buddy McGirt, with whom he had great rapport. By contrast, Yarde, although undefeated (18-0), had answered the bell for only 51 rounds and had defeated only nine fighters with winning records. Moreover, the Englishman had fought only 12 amateur fights before turning pro.
However, at age 36, Kovalev was getting long in the tooth and in some of his more recent fights he had stamina issues. Moreover, there was a school of thought that Yarde was a beast. In his 30 fights, amateur and pro, he had scored 28 knockouts.
Yarde's first good round was the seventh and he followed that up with a very strong eighth in which he hurt Kovalev and had the Krusher looking tired. But the assumption that he had paced himself brilliantly proved to be a mirage. As the bout moved into the home stretch, it was the younger man that was more fatigued.
Kovalev backed Yarde against the ropes and hurt him in the 10th. The Russian repeatedly had success with his hard left jab (shades of Larry Holmes) and it was a jab that ended it. Yarde was too exhausted to make it to his feet and was counted out.
Kovalev reportedly has already agreed to meet Canelo in November or December. Tonight he may have added an extra zero to his purse.
Kovalev vs. Canelo, likely at the T-Mobile Arena in Las Vegas, will be a blockbuster. Let the hype begin.
Co-Feature
The co-feature between knockout artists Aleksei Papin and Ilunga Makabu wasn't expected to last the distance, but it went the full 12 and was a highly entertaining affair climaxed by a great 12th round. When the smoke cleared, Ilunga, who went to post a slight favorite, improved to 26-2 (24) by dint of winning a majority decision. It was the second straight win on Russian soil for the Congolese southpaw who fights out of Johannesburg. In his previous go, he stopped Dmitry Kudryashov in the fifth round at Ekaterinburg.
Papin was 11-0 going in with 10 knockouts but the 31-year-old Russian, a former kickboxing champion, was moving up in class against Makabu, a former world title challenger. In the 12th, Makabu scored a knockdown with a straight left after buzzing Papin with a left-right combination, but Papin wasn't badly hurt and came back to rock him in the final seconds. The knockdown seemingly spelled the difference as two judges had it 115-113 with the third scoring it even (113-113).
Check out more boxing news on video at The Boxing Channel  
To comment on this story in The Fight Forum CLICK HERE
Tanaka and Hatanaka Stay Undefeated in Nagoya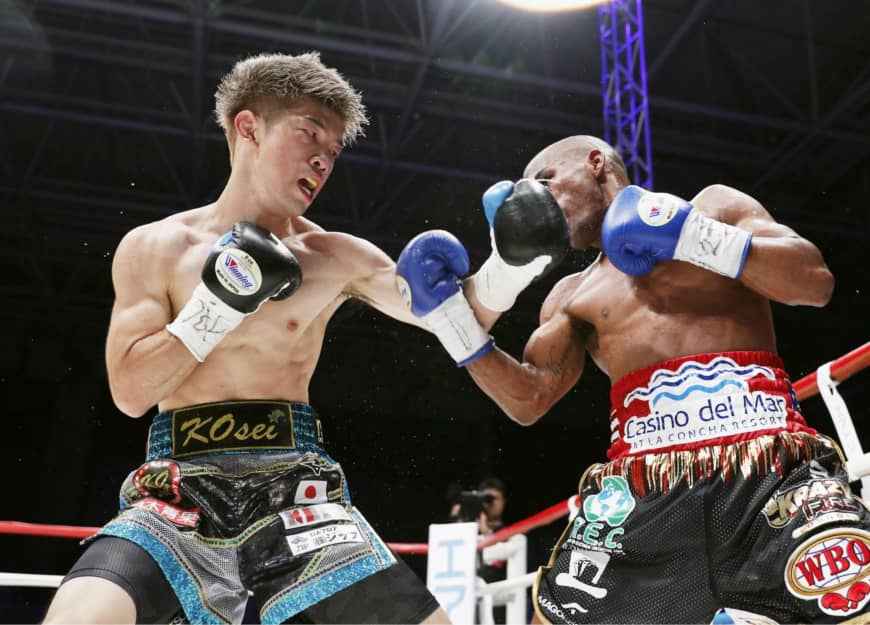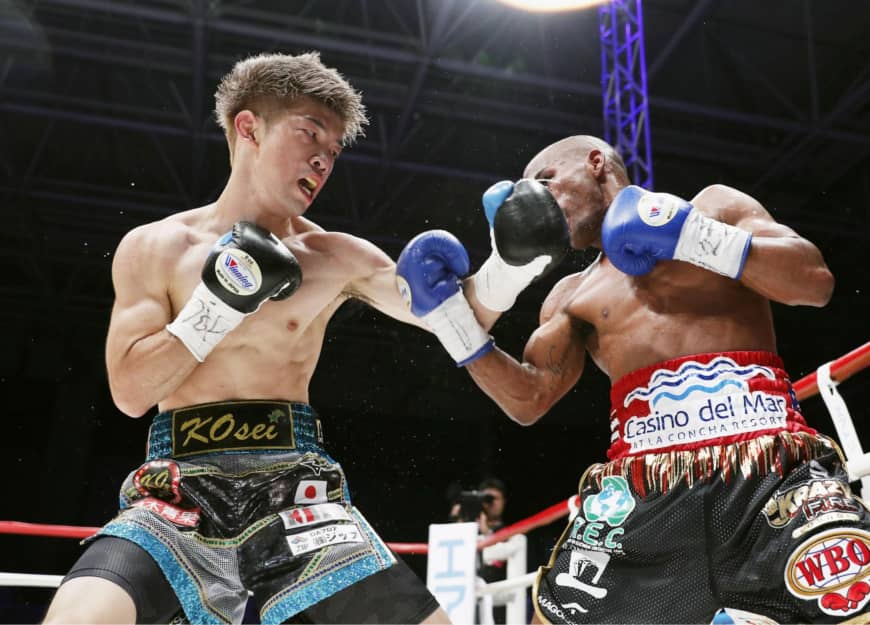 Kiyoshi Hatanaka, the former world super bantamweight champion, now runs a boxing gym and promotes fights in his hometown of Nagoya. The top fighters in his gym are 24-year-old Kosei Tanaka, who has already won world titles in three weight classes, and Kento Hatanaka, Kyoshi's 21-year-old son. Both were in action today and both were victorious, but not without anxious moments.
Tanaka, the reigning WBO 112-pound champion, improved to 14-0 (8 KOs) with a seventh-round TKO of Jonathan Gonzalez (22-3-1) in an action-packed bout. There were five knockdowns in all, four by Tanaka, before the referee waved it off with merely a second remaining in the seventh stanza.
Gonzalez took a knee after being hurt by a body punch in round three. But he returned the favor, knocking Tanaka down with a counterpunch in the next stanza, and seemingly had the fight in hand when he dominated the fifth. But Tanaka regained the momentum and scored three knockdowns in Round 7 to close the show.
Kosei Tanaka is overshadowed as a sports personality by countryman Naoya "Monster" Inoue, but is carving out quite a legacy. At age 19, in only his fifth pro fight, he defeated WBO minimumweight (105 pound) champion Julian Yadras of Mexico. He then gathered in titles at 108 and 112, accomplishing the hat trick in only his 12th pro fight, tying Vasiliy Lomachenko's record.
With only a few pounds separating each of the lowest weight classes, Tanaka likely isn't done jumping up in weight. There's already talk of a showdown with 115-pound title-holder Kazuto Ioka. But Tanaka has indicated that he wants to expand his opportunities overseas, following the example of Inoue. There are still holes in his defense, but that makes for exciting fights and a match between him and someone like "Chocolatito" Gonzalez would be worth the price of admission.
Jonathan Gonzalez, a southpaw with a good amateur pedigree, had fought his previous three fights in Kissimmee, Florida. When in his native Puerto Rico, he trains in the same gym as former super bantamweight and featherweight champion Juan Manuel Lopez. We certainly haven't seen the last of him.
The 10-round co-feature between super flyweights Kento Hatanaka and Jaysever Abcede was also a crowd pleaser that saw both combatants score knockdowns. Hatanaka improved to 10-0 but was extended the distance for the first time in his pro career. Abcede, a noted spoiler from the Philippines, saw his winning streak end at four and fell to 19-9. The scores were 95-93, 96-93, and 96-92.
Check out more boxing news on video at The Boxing Channel  
To comment on this story in The Fight Forum CLICK HERE