Book Review: Brian Kenny's "Ahead of the Curve"
Book Review – Boxing fans know Brian Kenny from his work on ESPN2 Friday Night Fights, Showtime Championship Boxing, and PBC Boxing on FOX. But his #1 area of sports expertise is baseball.
Kenny is an MLB Network host and anchors some of its most important studio programming: MLB Now and MLB Tonight. He's also an ardent proponent of sabermetrics: the use of cutting-edge statistical analysis as a key component of decision-making in virtually every aspect of the game.
Ahead of the Curve: Inside the Baseball Revolution (Simon & Schuster) is Kenny's presentation in support of sabermetrics. "Somewhere along the line," he writes, "we stopped thinking. In the most basic ways, a purposeful ignorance set in. We have received considerable baseball wisdom from the early days of childhood from our adult role models, our peers, the media, and the baseball industry itself. What is so fascinating is that all this nonsense survived. For nearly a century, no one even bothered to think about it deeply enough to give themselves an incredible competitive advantage. At a certain point – about the time we discovered penicillin – it was time to evolve past these 19th-century relics. Instead, our thinking calcified and then endured decades beyond its point of usefulness."
Book Review: Brian Kenny's "Ahead of the Curve"
With that as his starting point, Kenny challenges long held assumptions regarding baseball strategy.
He begins with the sacrifice bunt, studying how a simple scenario has played out over an 18-year study period.
Man on first base, nobody out. Your team needs a run. Sacrifice bunt, right?
That what most managers do. But look at the numbers.
With a man on first base and nobody out, a team can be expected to score .94 runs in that inning. With a man on second base and one out, a team can be expected to score .72 runs.
"So let's be clear," Kenny writes. "Even with a successful bunt, you score fewer runs."
But by bunting successfully, the manager has taken himself out of the line of fire and absolved himself of blame.
"He put the next two batters in the spotlight," Kenny continues. "There's a man on second waiting to be driven in. When he doesn't score, it's those two hitters that didn't get it done. Failure is there visually in the hitter slinking off the field, having left a man on base. The manager walks off scot-free, even though he is the one who traded three chances for two."
Then there's the matter of third-base coaches, who are reluctant to send a runner home on a fly ball to the outfield that's caught for the second out of an inning. The current success rate for attempts to score from third base in sacrifice fly situations is 90%. In other words, the coach only instructs the runner to go for it when the odds are overwhelmingly in his favor.
But if the fly ball is the second out of the inning, the runner's chance of being driven in by the next or a succeeding batter is roughly 30%. Thus, Kenny writes, "Third base coaches send runners only when it's obvious they will score. Getting a runner thrown out at the plate looks bad for both the third base coach and runner. But taking more risks will lead to more runs even with more runners being thrown out."
The manner in which today's managers deploy their pitching staff also mystifies Kenny. He starts by asking, "Why do all major league teams pitch the way they do?" And he arrives at the answer, "Because that's the way we always have done it."
But times change. In 1904, pitchers finished 88% of the games they started. In 2014, that number was down to 2%. "The only reason we still have starters," Kenny writes, "is because, once upon a time, one pitcher was all you used for the whole day."
Kenny advocates starting games, not just with long-inning pitchers but with short-inning hurlers as well. And he heaps scorn on the way managers use their closers.
"Today's relief aces," he writes, "are treated like rare exotic flowers to be taken out only in certain conditions. They work the ninth inning only, preferably with nobody on base, and they top out at seventy innings for the season. Take a step back. You've established one pitcher as the best on your staff, batter for batter. You then artificially restrict his innings [and] keep him from the most important parts of the game."
But isn't the ninth inning the most important part of the game?
"Any manager who is saving his closer/relief ace/fireman/stud for the ninth inning," Kenny notes, "is thinking the following: 'I'm saving him to seal this win when the game is most on the line.' And this is simply not the case. The game is frequently on the line in the ninth. But the act of saving your best pitcher for a situation that may not come (a one-run lead in the ninth) is not worth the exchange. A 4-1 lead with the bases loaded in the fifth? Run the numbers! You think there will be a bigger threat? The ninth-inning closer model has bolstered the myth that the game is on the line only in that final inning. It certainly is more obviously on the line at that point. But the fact is, most games are decided before then."
The nerve center for decision-making during a baseball game is the manager who, Kenny declares, typically stands on the top step of the dugout "like Washington crossing the Delaware." He then notes that 83% of the MLB managers who started the 2015 season had played previously in the major leagues. By contrast, only 19% of NFL head coaches and 50% of NBA head coaches had similar playing experience. That leads Kenny to ask the rhetorical question: "Do you think Major League Baseball requires some different level of understanding of its sport that the NBA and NFL don't?"
Then comes more sacrilege. Kenny states, "If you told me I would be an NFL head coach tomorrow – taking over on a Monday in the middle of the season – it would be a disaster. Same thing if you gave me an NBA team. Now tell me I'm managing the Cincinnati Reds tomorrow. You know what? I'd be fine. Understand the distinction. I'm not saying I could coach. I couldn't teach a cutter or even a good curve ball. I couldn't teach a hitter proper mechanics. But coaching isn't managing. The Reds would go along for days before you even knew I was there. It's not that hard."
He's probably right. A case study proves his point.
Game 5 of the 2015 World Series. The Kansas City Royals are leading the New York Mets three games to one. Mets ace Matt Harvey has thrown eight scoreless innings, giving his team a 2-to-0 lead. Mets manager Terry Collins tells Harvey he's done for the night. Harvey pleads to take the mound for the ninth inning. The crowd is chanting his name. Collins relents and sends Harvey to the mound to finish the game.
"So what's wrong with a manager letting his stud pitcher take the mound for three more outs?" Kenny asks.
Then he answers.
"Here's what's wrong: a mountain of evidence that pointed to Harvey fatiguing late in games. Harvey has a fairly clear fatigue point: 100 pitches. To that point in his career, in pitches 1-100, major league hitters hit an anemic .206 against Harvey. After Harvey reached 100 pitches, they hit a robust .373 with a Hall-of-Fame level .440 on-base percentage. Harvey, after eight innings against Kansas City, was at 102 pitches."
In the ninth inning, Harvey – predictably, to the sabermetrician's way of thinking – blew up. The Mets lost the game and, with it, the World Series.
"The mainstream media almost universally defended Collins for going with his heart," Kenny writes. "Nowhere that I can recall did anyone wonder where brains fit into this equation."
That leads to Kenny's next target: the media.
"It is a sportswriter's job." he states, "to help bring the game to a mass audience, to help the interested reader or listener understand the latest strategic innovations, explain the nuances, and keep them abreast of the ongoing revolution. During the sabermetric revolution, the sportswriting fraternity failed miserably."
And there are choice words for the self-important writers who are responsible for inducting players into baseball's Hall of Fame: "How hard is it to figure out that Bob Feller and Mickey Mantle are Hall of Famers? Most of the players voted into the hall by the writers would also have been voted in by a panel of fourth-grade baseball fans. The hard part for the baseball writers is at the border. This is where they continue to fail."
Kenny extols Babe Ruth as the greatest hitter of all-time. And he sets forth an intriguing theory (first advanced by Bill James) as to what enabled The Bambino to turn baseball upside down: "It happened only because he was a pitcher. No one much cared if he swung from the heels. His hitting was superfluous. The baseball culture therefore didn't pressure him into conforming. Ruth had the good fortune to break the single-season home run record while still a pitcher. By the time he was ready to convert to an outfielder, it was too late to stop him. He had already shown that swinging for the fences was a worthwhile risk."
Basic record-keeping also comes under Kenny's withering eye. He denounces what he calls "the tyranny of the batting average," noting, "In batting average, a single is as good as a home run and walks don't exist. Yet the very first stat cited in most baseball conversations for 120 years was the batting average."
He savages what he believes is an idiotic overemphasis on a pitcher's won-lost record, beginning with the question, "Do you care that Mariano Rivera, from 2001 to 2012, had an average [won-lost] record of 4-3?"
Then Kenny adds, "I'm sorry if I'm the one to break this to you, but the same goes for all pitchers." And he backs up his opinion with data showing that, between 1920 and 2014 (a 94-year data base), pitchers who threw eight innings in a game and gave up two earned runs were credited with a "win" only 33.6% of the time.
Further analyzing his data, Kenny calls Ted Williams the second best hitter of all-time, behind only Babe Ruth. Examining The Splendid Splinter's 1941 season (.406 batting average, .553 on-base percentage, and .735 slugging percentage), he writes, "Williams's numbers can barely be fathomed. Our minds aren't trained to see .553 as an on-base percentage. It's too high. No one does that past high school."
Kenny also notes that, while Joe DiMaggio set a major league record that still stands by hitting safely in 56 consecutive games, Williams owns three of the four longest streaks for getting on base in consecutive games, including a streak of 84 consecutive games in 1949. "In baseball," Kenny writes, "0-for-0 with three walks is likely better than 1-for-5 with a single."
Sabermetrics can be a daunting subject for those who grew up in a simpler time when batting average, RBIs, HRs, wins, losses, and ERA reigned. Old eyes tend to glaze over when faced with OPS, OPS+, WAR, DRS, and FIP. But Kenny ties snippets of data together in enlightening and entertaining ways and brings statistics to life with a non-stop parade of informative and entertaining anecdotes
There's a tip of the hat to Bill James, the patron saint of sabermetrics, who Kenny calls one of "the seven most influential figures in the history of baseball" along with the likes of Babe Ruth, Jackie Robinson, and Marvin Miller. Speaking first and foremost about James, Kenny writes, "The best thing about the sabermetric revolution is that the pioneers of the movement weren't looking to run teams. They were fans of the game who loved baseball and proved that we can see much more when we take a wider view."
Kenny also hails Billy Beane (who pioneered sabermetrics with the Oakland Athletics) and Theo Epstein, (who refined the art, first with the Boston Red Sox and now with the Chicago Cubs). The Houston Astros are lauded as today's team leader in sabermetrics.
And yes; in recent years, teams have been learning. By way of example; the defensive shift (realigning the traditional placement of fielders) began in 1946 with an experiment by Cleveland Indians manager Lou Boudreau when Ted Williams was at bat. It wasn't until the second decade of the 21st century that the shift became more than an oddity. In 2011, MLB teams employed a defensive shift on 2,358 occasions. In 2014, the number rose to more than 13,000.
"If you give it about thirty seconds of thought," Kenny observes, "you realize why, for about 130 years, professional baseball players stood where they did on the field. That's where they always stood. With this inability to evolve, it makes you wonder: how do we even survive as a species?"
"Athletes train hard for hours every day," Kenny writes in closing. "Managers plot and plan, losing sleep. Organizations pour money into resources. Given how hard every player, coach, manager, and executive works, wouldn't you think they would leap at the chance to gain a tactical edge using information? Each loss is crippling. Things do not have to even out. You need to fight and scrap and give yourself the best chance to win in every half-inning of every game. Burn this into your mind. You cannot give away a game."
Thomas Hauser can be reached by email at thauser@rcn.com. His most recent book (Muhammad Ali: a Tribute to the Greatest) was published by Pegasus Books. In 2004, the Boxing Writers Association of America honored Hauser with the Nat Fleischer Award for career excellence in boxing journalism.
Juan Francisco Estrada KOs Carlos Cuadras; Chocolatito Wins Too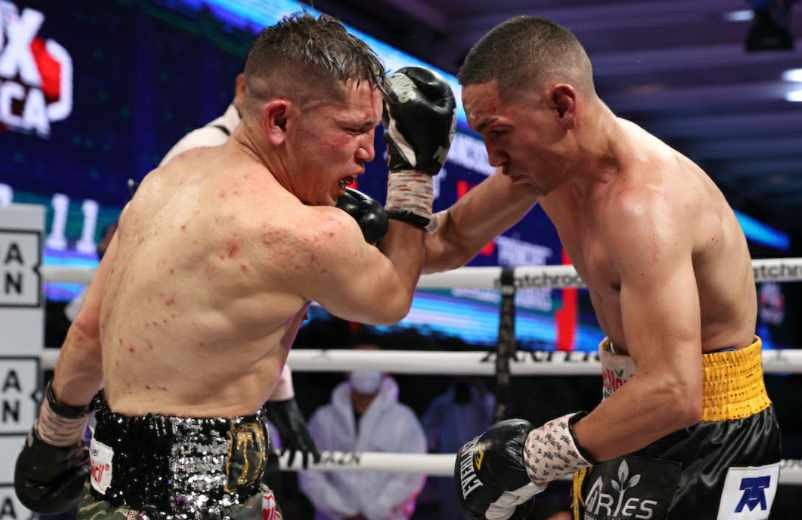 WBC super flyweight world titlist Juan Francisco Estrada led a triumvirate of world title fights with a sizzling knockout victory over Mexican rival Carlos Cuadras to retain the world title and set up a future clash with former foe Roman "Chocolatito" Gonzalez who won his bout in the co-feature.
In front of a small Mexico City crowd Estrada (41-3, 28 KOs) proved he could defeat Cuadras (39-4-1, 27 KOs) again and did it emphatically to retain his title by knockout. There was no squabbling about scorecards in this clash like their first encounter in 2017 that ended with Estrada by decision.
It did not begin well for Estrada who endured Cuadras imposing his strength and speed behind a very strong left jab in the first three rounds. And then a sneaky right uppercut followed by a left hook sent Estrada down for the count in the third round.
But that only proved to be a spark for the fighter known as "El Gallo."
Estrada realized he was falling behind, especially after the knockdown. Instead of counter-punching, the boxer from Sonora, Mexico began moving forward and became an aggressor. The dynamics of the fight changed suddenly.
Cuadras was hurt by a body shot in the sixth round and spent most of his time looking to avoid more contact. Estrada was in full control.
Despite the change in momentum no round was easy for either Mexican pugilist. Both exchanged freely always looking to end the fight with a big blow. Though each were hurt at times, neither showed signs of relenting.
From the eighth through the 10th round Cuadras seemed to find a second wind, or maybe it was desperation. The Mexico City native known as "Principe" fought possessed and managed to swing the momentum back toward his way for maybe two of those rounds.
In the 11th round both exchanged blows and Estrada connected with a left and right and down went Cuadras. The former world champion got up and was then floored with a counter right cross. He got up again a little shaky and Estrada attacked with a four-punch combination that forced referee Lupe Garcia to stop the fight for a technical knockout at 2:22 of the round.
Estrada retained the WBC super flyweight world title and will now meet Chocolatito.
Chocolatito
Nicaragua's Roman "Chocolatito" Gonzalez (50-2, 41 KOs) proved that an opponent like Mexico's Israel Gonzalez (25-3) can be faster, taller, longer and younger but the Nicaraguan will find a way to beat you. He did that with a convincing unanimous decision win after 12 rounds to retain the WBA super flyweight world title.
Chocolatito will now probably meet Juan Francisco Estrada for a long-expected rematch. In their first encounter back in 2012, the Nicaraguan won by decision in Los Angeles.
Chocolatito looked dominant in his ability to deflect the speedy combinations by the young Mexican fighter Gonzalez. Nothing worked against the Nicaraguan who skillfully manipulated his way through barrage after barrage and connected inside with body shots and uppercuts.
It was a masterful performance.
JC Martinez
Mexico City's Julio Cesar Martinez (17-1, 13 KOs) was defending his WBC flyweight world title against Moises Calleros (33-10-1) a virtual bantamweight weighing more than 7 pounds over the 112-pound flyweight limit. Even the extra weight could not help him.
In the first round, Martinez exploded with a blistering three-punch combination the sent Calleros to the floor dazed and confused. He beat the count and survived the round.
The second round wasn't too kind for Calleros who became the punching bag for the quick-fisted Martinez who opened up with a nine-punch salvo that forced the referee Cesar Castanon to end the slaughter at 2:42 of the second round.
Other Bouts
Diego Pacheco (10-0, 8 KOs) used his height and reach to score a knockout with a snapping right uppercut to the chin of Mexico's Juan Mendez (12-3-2) in a super middleweight fight. The end came at 2:02 of the second round with Mexican referee Rafael Saldana stopping the fight at the perfect moment.
Austin "Ammo" Williams (6-0, 5 KOs) powered through Esau Herrera (19-12-1) with body shots and combination punches to win by knockout in a middleweight battle. The end came at 1:36 of the fifth round.
Otha Jones III (5-0-1, 2 KOs) and Mexico City fighter Kevin Montiel (6-0-1) fought to a split draw after six rounds in a super featherweight clash. Both fighters started quickly with Jones having good rounds in the middle portion of the six-round fight, but he tired and allowed Montiel to rally from behind. The scores were split with 58-56 for Jones, 58-56 for Montiel and 57-57.
Photo credit: Ed Mulholland / Matchroom
Check out more boxing news on video at the Boxing Channel 
To comment on this story in the Fight Forum CLICK HERE
Boxing Odds and Ends: Fury's Next Opponent, Lomachenko Redux and More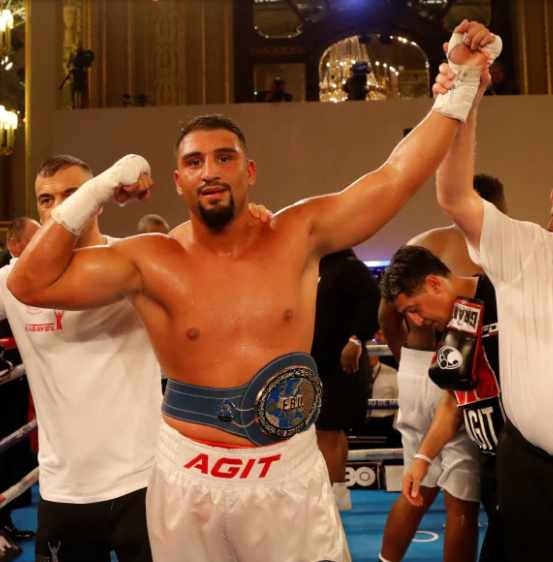 Boxing Odds and Ends: Fury's Next Opponent, Lomachenko Redux and More
It wasn't long ago that Bob Arum was talking about potting Fury-Wilder III at Las Vegas' new Allegiant Stadium in December. But Arum and his business partner Frank Warren have switched gears. Fury-Wilder III is on hold indefinitely.
According to Team Fury, Wilder invalidated the rematch clause in the Articles of Agreement for Wilder-Fury II by failing to activate it within the required time frame. That opened the door for Fury to choose a different opponent for his next fight. The frontrunners are reportedly Agit Kabayel and Carlos Takam. The fight is expected to come off in December in London.
Agit Kabayel, a 28-year-old German of Kurdish descent, is 20-0 (13 KOs). He came to the fore in November of 2017 when he upset dangerous but erratic Dereck Chisora, winning a 12-round decision at the Casino in Monte Carlo. In his most recent fight, in July of this year, he won a lopsided 10-round decision over an obscure opponent before a small gathering (per COVID policy) at a public park in Magdeburg.
Carlos Takam (39-5-1, 28 KOs) is best known for taking Anthony Joshua into the 10th frame before succumbing when they met three years ago this month at Principality Stadium in Wales. Takam was called in from the bullpen when Kubrat Pulev was forced to pull out with a shoulder injury.
In his most recent fight, the 39-year-old French-Cameroonian won a 10-round decision over unheralded Jerry Forrest at the MGM Bubble. As had been true when he was matched up against Joshua, Takam got the call when his opponent's original opponent fell out. Takam replaced Jarrell "Big Baby" Miller who failed his pre-fight drug test, as was his custom.
In the words of fight writer Kenneth Friedman, regardless of whether it's Kabayel (pictured) or Takam, "this will be a stay busy fight for Fury, and not one meant to be serious entertainment for the boxing public."
We appreciate boxing writers who refuse to sugarcoat, but this strikes us as a bit harsh. Kabayel can fight more than a little, and should he get the call he may prove to be as pesky as Otto Wallin.
Lomachenko
It has come out that Vasiliy Lomachenko was damaged goods heading into his bout with Teofimo Lopez. He had a shoulder ailment that forced him to miss a week of training in the gym. This past Monday, Oct. 20, the noted orthopedic surgeon Dr. Neal S. ElAttrache – the head team physician for the LA Dodgers and LA Rams – put Lomachenko under the knife.
Dr. ElAttrache told Yahoo! boxing writer Kevin Iole that Loma had a bruised rotator cuff and a chipped piece of cartilage and that the injury was in the same area in his right shoulder where Vasiliy suffered a torn labrum in his bout with Jorge Linares in May of 2018.
Lomachenko's promoter Bob Arum said he had no knowledge that the Ukrainian was less than 100 percent. Neither did the bettors. Had the word got out, the wiseguys would have "steamed" the underdog.
We're reminded of the 1995 fight at the Caesars Palace outdoor arena between Oscar De La Hoya and the late Genaro "Chicanito" Hernandez. It leaked out that Hernandez had suffered a broken nose in his final sparring session and the odds favoring De La Hoya zoomed from 4/1 to 17/2.
In the sixth round, a punch from Oscar broke Hernandez's fragile nose. The blood came down in torrents, Hernandez quit at the conclusion at the round, and the bookies took a bath.
From a betting standpoint, injuries are far more relevant in an individual sport such as boxing than in a team sport. A heavy sports gambler of our acquaintance, now deceased, invariably bet on an NFL team missing one or more key players. "The back-ups were All-Americans too," he said by way of explanation.
The contract for Lomachenko-Lopez did not include a rematch clause. Teofimo has no interest in a rematch and has earned the right to move on. However, we would bet that most fight fans would love to see them go at it again. Lomachenko is expected to be fit to resume his regular training regimen in January.
Davis vs. Santa Cruz
"In what is being billed as a 50/50 fight…." reads a SHOWTIME press release heralding the forthcoming match between Gervonta "Tank" Davis and Leo Santa Cruz.
What an interesting choice of words. Who exactly is it that is billing this as a 50/50 fight? Certainly not the bookies. As of Friday, Oct. 23, Davis was anywhere from a minus-460 to minus-680 favorite at prominent betting establishments offshore. (For the sake of convenience, let's just say that Gervonta is a 5/1 favorite.)
No, this is hardly a 50/50 fight, at least not in the view of the bet-takers who have no choice but to be transparent. But in defense of SHOWTIME, this is an intriguing contest between a brash upstart who has yet to taste defeat and a 32-year-old veteran who has suffered only one defeat in 39 starts, a defeat that he avenged.
Gervonta Davis (23-0, 22 KOs) will walk right through Leo Santa Cruz if he fights as well as he did against Jose Pedraza in 2017. But if "Tank" fights as he did later that year against Francisco Fonseca, Santa Cruz (37-1-1, 19 KOs) will make it warm for him.
Davis vs. Santa Cruz will play out on Halloween before a live audience in the San Antonio Alamodome. It is the main attraction of a PPV event with a suggested list price of $74.99. It will be interesting to see what numbers it draws since the show goes head-to-head against an ESPN+ card featuring the U.S. debut of Naoya "Monster" Inoue.
Leonard Ellerbe, the CEO of Mayweather Promotions, which handles Tank Davis, has predicted that Davis will someday command "Mayweather money." He bases this not merely on Davis's talent, but on his large social media following. The 25-year-old Baltimorean has a big presence among the hip-hop crowd.
At stake in the Davis vs. Santa Cruz fight are a pair of WBA titles hitched to different weight classes. One of the belts at stake is the WBA lightweight title.
Hey, wait a second, didn't Teofimo Lopez just win this very same title?
In Deadwood, South Dakota, one can visit the saloon where Wild Bill Hickock was shot dead while playing poker. Or one can walk down the street and visit a different saloon that claims to be the place where Hickock was shot dead while playing poker.
WBA president Gilberto Mendoza doesn't own those two saloons, but he could have.
Check out more boxing news on video at the Boxing Channel 
To comment on this story in the Fight Forum CLICK HERE
Avila Perspective, Chap. 110: Chocolatito, Lipinets and More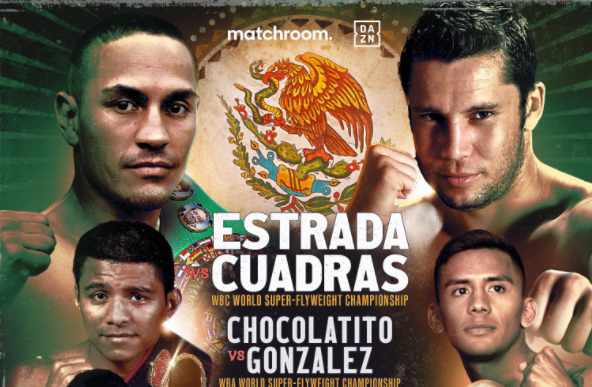 Avila Perspective, Chap. 110: Chocolatito, Lipinets and More
In the middle of the former Aztec Empire, now called Mexico City, a series of super flyweight world championships will be staged for the entire world to see on Friday.
If this were the 1500s there would be blood. This is 2000, there will be knockouts.
Leading the charge WBC super flyweight titlist Juan Francisco Estrada (40-3, 27 KOs) defends against former champion Carlos Cuadras (39-3-1, 27 KOs) at Gimnasio TV Azteca in Mexico City. Also joining will be Nicaragua's Roman "Chocolatito" Gonzalez, the WBA super flyweight world champ. DAZN will stream the card live.
Both Estrada and Cuadras want another crack at Chocolatito.
This is the second time around for the Mexican fighters. Estrada won their first encounter when they met at the StubHub Center in Carson, California. Cuadras just could not pull the trigger. Blame it on Estrada.
Cuadras, 33, has more to lose than just consciousness. The fighter known as "Principe" will be fighting in his hometown. That's bad for business to lose in from of your home boys especially if you talk as much smack as Cuadras.
Northern Mexico's Estrada, now 30, handily defeated Cuadras three years ago but views the Mexico City native as a stepping stone to his true target Chocolatito. The fighter known as "Gallo" wants revenge.
Back in 2012, in the city of Angels, "Chocolatito" Gonzalez and Estrada met at the old Los Angeles Memorial Sports Arena. That arena no longer exists but the memories of their encounter blazed its way to most fight fans brain cells. Although under-publicized, it was one of the best fights of that decade.
Nobody knew much about Estrada at that time, but Gonzalez was in the middle of a triumphant run toward becoming the best recognized fighter "pound for pound" in the world. He would reach it against Cuadras of all fighters. But against Estrada the Nicaraguan master fighter nearly was toppled.
The several thousand fans in attendance knew they had witnessed a classic. Many wanted to see a rematch. If both win on Friday, it's likely that rematch will take place early next year.
Chocolatito
Gonzalez (49-2, 41 KOs) meets Israel Gonzalez (25-3, 11 KOs) of Los Cabos, Mexico. Many fans thought Chocolatito was done when he lost twice to Thailand's Sor Rungvisai. It was the knockout loss that seemed to be the clincher. But he found a solution training in the desert sands of Coachella, California and now he's back stronger than ever.
Chocolatito ripped the WBA world title away from Khalid Yafai last February and that left fans speechless. But at 33 how much is left for this 115-pound warrior?
What better place than Mexico City to discover who emerges from the smoke?
It was here in Mexico City, formerly known as Tenochtitlan, that the Aztec empire ruled over much of North and Central America. Battles were held constantly just for practice. True story. The Aztecs would have practice wars to keep up their killing skills and lives would be lost. It still remains one of the world's greatest fight capitals.
Another bout features WBC flyweight world titlist Julio Cesar Martinez (16-1, 12 KOs) the fiery Mexican City fighter defending his throne against Moises Callero (33-9-1, 17 KOs).
The card on Friday night will be a strong one. Don't miss it. It all begins at 4 p.m. PT on DAZN.
Showtime
Former super lightweight titlist Sergey Lipinets (16-1, 12 KOs) moves up a weight division and battles Canada's Custio Clayton (18-0, 12 KOs) for the interim IBF welterweight title at the Mohegan Sun Casino in Uncasville, Conn. Showtime will televise.
Lipinets, who trains in Los Angeles, has long sought another title shot at super lightweight and now heads into the welterweight realm and finds himself facing a Canadian fighter. You never know how good these guys are until they step in the boxing ring.
Also, on the same card, undefeated Xavier Martinez (15-0, 11 KOs) meets former world champion Claudio Marrero (24-4, 17 KOs) in a 12-round super featherweight match. Martinez, 22, may not be ready for the super slick Marrero but the Californian hasn't had much trouble so far.
Fights to Watch
Thursday Oct. 22, UFC Fight Pass 7 p.m. Luis Torres (8-0) vs Orlando Zepeda (9-1).
Fri. Oct. 23, DAZN, 4 p.m. Roman Gonzalez (49-2) vs Israel Gonzalez (25-3); Juan Francisco Estrada (40-3) vs Carlos Cuadras (39-3-1); and Julio Cesar Martinez (16-1) vs Moises Calleros (33-9-1).
Fri. Oct. 23, Telemundo, 11:30 p.m. Belmar Preciado (20-3-1) vs Rodolfo Hernandez (30-9-1).
Sat. Oct. 24, Showtime 7 p.m. Sergey Lipinets (16-1) vs Custio Clayton (18-0).
Check out more boxing news on video at the Boxing Channel 
To comment on this story in the Fight Forum CLICK HERE