Book Review: Brian Kenny's "Ahead of the Curve"
Book Review – Boxing fans know Brian Kenny from his work on ESPN2 Friday Night Fights, Showtime Championship Boxing, and PBC Boxing on FOX. But his #1 area of sports expertise is baseball.
Kenny is an MLB Network host and anchors some of its most important studio programming: MLB Now and MLB Tonight. He's also an ardent proponent of sabermetrics: the use of cutting-edge statistical analysis as a key component of decision-making in virtually every aspect of the game.
Ahead of the Curve: Inside the Baseball Revolution (Simon & Schuster) is Kenny's presentation in support of sabermetrics. "Somewhere along the line," he writes, "we stopped thinking. In the most basic ways, a purposeful ignorance set in. We have received considerable baseball wisdom from the early days of childhood from our adult role models, our peers, the media, and the baseball industry itself. What is so fascinating is that all this nonsense survived. For nearly a century, no one even bothered to think about it deeply enough to give themselves an incredible competitive advantage. At a certain point – about the time we discovered penicillin – it was time to evolve past these 19th-century relics. Instead, our thinking calcified and then endured decades beyond its point of usefulness."
Book Review: Brian Kenny's "Ahead of the Curve"
With that as his starting point, Kenny challenges long held assumptions regarding baseball strategy.
He begins with the sacrifice bunt, studying how a simple scenario has played out over an 18-year study period.
Man on first base, nobody out. Your team needs a run. Sacrifice bunt, right?
That what most managers do. But look at the numbers.
With a man on first base and nobody out, a team can be expected to score .94 runs in that inning. With a man on second base and one out, a team can be expected to score .72 runs.
"So let's be clear," Kenny writes. "Even with a successful bunt, you score fewer runs."
But by bunting successfully, the manager has taken himself out of the line of fire and absolved himself of blame.
"He put the next two batters in the spotlight," Kenny continues. "There's a man on second waiting to be driven in. When he doesn't score, it's those two hitters that didn't get it done. Failure is there visually in the hitter slinking off the field, having left a man on base. The manager walks off scot-free, even though he is the one who traded three chances for two."
Then there's the matter of third-base coaches, who are reluctant to send a runner home on a fly ball to the outfield that's caught for the second out of an inning. The current success rate for attempts to score from third base in sacrifice fly situations is 90%. In other words, the coach only instructs the runner to go for it when the odds are overwhelmingly in his favor.
But if the fly ball is the second out of the inning, the runner's chance of being driven in by the next or a succeeding batter is roughly 30%. Thus, Kenny writes, "Third base coaches send runners only when it's obvious they will score. Getting a runner thrown out at the plate looks bad for both the third base coach and runner. But taking more risks will lead to more runs even with more runners being thrown out."
The manner in which today's managers deploy their pitching staff also mystifies Kenny. He starts by asking, "Why do all major league teams pitch the way they do?" And he arrives at the answer, "Because that's the way we always have done it."
But times change. In 1904, pitchers finished 88% of the games they started. In 2014, that number was down to 2%. "The only reason we still have starters," Kenny writes, "is because, once upon a time, one pitcher was all you used for the whole day."
Kenny advocates starting games, not just with long-inning pitchers but with short-inning hurlers as well. And he heaps scorn on the way managers use their closers.
"Today's relief aces," he writes, "are treated like rare exotic flowers to be taken out only in certain conditions. They work the ninth inning only, preferably with nobody on base, and they top out at seventy innings for the season. Take a step back. You've established one pitcher as the best on your staff, batter for batter. You then artificially restrict his innings [and] keep him from the most important parts of the game."
But isn't the ninth inning the most important part of the game?
"Any manager who is saving his closer/relief ace/fireman/stud for the ninth inning," Kenny notes, "is thinking the following: 'I'm saving him to seal this win when the game is most on the line.' And this is simply not the case. The game is frequently on the line in the ninth. But the act of saving your best pitcher for a situation that may not come (a one-run lead in the ninth) is not worth the exchange. A 4-1 lead with the bases loaded in the fifth? Run the numbers! You think there will be a bigger threat? The ninth-inning closer model has bolstered the myth that the game is on the line only in that final inning. It certainly is more obviously on the line at that point. But the fact is, most games are decided before then."
The nerve center for decision-making during a baseball game is the manager who, Kenny declares, typically stands on the top step of the dugout "like Washington crossing the Delaware." He then notes that 83% of the MLB managers who started the 2015 season had played previously in the major leagues. By contrast, only 19% of NFL head coaches and 50% of NBA head coaches had similar playing experience. That leads Kenny to ask the rhetorical question: "Do you think Major League Baseball requires some different level of understanding of its sport that the NBA and NFL don't?"
Then comes more sacrilege. Kenny states, "If you told me I would be an NFL head coach tomorrow – taking over on a Monday in the middle of the season – it would be a disaster. Same thing if you gave me an NBA team. Now tell me I'm managing the Cincinnati Reds tomorrow. You know what? I'd be fine. Understand the distinction. I'm not saying I could coach. I couldn't teach a cutter or even a good curve ball. I couldn't teach a hitter proper mechanics. But coaching isn't managing. The Reds would go along for days before you even knew I was there. It's not that hard."
He's probably right. A case study proves his point.
Game 5 of the 2015 World Series. The Kansas City Royals are leading the New York Mets three games to one. Mets ace Matt Harvey has thrown eight scoreless innings, giving his team a 2-to-0 lead. Mets manager Terry Collins tells Harvey he's done for the night. Harvey pleads to take the mound for the ninth inning. The crowd is chanting his name. Collins relents and sends Harvey to the mound to finish the game.
"So what's wrong with a manager letting his stud pitcher take the mound for three more outs?" Kenny asks.
Then he answers.
"Here's what's wrong: a mountain of evidence that pointed to Harvey fatiguing late in games. Harvey has a fairly clear fatigue point: 100 pitches. To that point in his career, in pitches 1-100, major league hitters hit an anemic .206 against Harvey. After Harvey reached 100 pitches, they hit a robust .373 with a Hall-of-Fame level .440 on-base percentage. Harvey, after eight innings against Kansas City, was at 102 pitches."
In the ninth inning, Harvey – predictably, to the sabermetrician's way of thinking – blew up. The Mets lost the game and, with it, the World Series.
"The mainstream media almost universally defended Collins for going with his heart," Kenny writes. "Nowhere that I can recall did anyone wonder where brains fit into this equation."
That leads to Kenny's next target: the media.
"It is a sportswriter's job." he states, "to help bring the game to a mass audience, to help the interested reader or listener understand the latest strategic innovations, explain the nuances, and keep them abreast of the ongoing revolution. During the sabermetric revolution, the sportswriting fraternity failed miserably."
And there are choice words for the self-important writers who are responsible for inducting players into baseball's Hall of Fame: "How hard is it to figure out that Bob Feller and Mickey Mantle are Hall of Famers? Most of the players voted into the hall by the writers would also have been voted in by a panel of fourth-grade baseball fans. The hard part for the baseball writers is at the border. This is where they continue to fail."
Kenny extols Babe Ruth as the greatest hitter of all-time. And he sets forth an intriguing theory (first advanced by Bill James) as to what enabled The Bambino to turn baseball upside down: "It happened only because he was a pitcher. No one much cared if he swung from the heels. His hitting was superfluous. The baseball culture therefore didn't pressure him into conforming. Ruth had the good fortune to break the single-season home run record while still a pitcher. By the time he was ready to convert to an outfielder, it was too late to stop him. He had already shown that swinging for the fences was a worthwhile risk."
Basic record-keeping also comes under Kenny's withering eye. He denounces what he calls "the tyranny of the batting average," noting, "In batting average, a single is as good as a home run and walks don't exist. Yet the very first stat cited in most baseball conversations for 120 years was the batting average."
He savages what he believes is an idiotic overemphasis on a pitcher's won-lost record, beginning with the question, "Do you care that Mariano Rivera, from 2001 to 2012, had an average [won-lost] record of 4-3?"
Then Kenny adds, "I'm sorry if I'm the one to break this to you, but the same goes for all pitchers." And he backs up his opinion with data showing that, between 1920 and 2014 (a 94-year data base), pitchers who threw eight innings in a game and gave up two earned runs were credited with a "win" only 33.6% of the time.
Further analyzing his data, Kenny calls Ted Williams the second best hitter of all-time, behind only Babe Ruth. Examining The Splendid Splinter's 1941 season (.406 batting average, .553 on-base percentage, and .735 slugging percentage), he writes, "Williams's numbers can barely be fathomed. Our minds aren't trained to see .553 as an on-base percentage. It's too high. No one does that past high school."
Kenny also notes that, while Joe DiMaggio set a major league record that still stands by hitting safely in 56 consecutive games, Williams owns three of the four longest streaks for getting on base in consecutive games, including a streak of 84 consecutive games in 1949. "In baseball," Kenny writes, "0-for-0 with three walks is likely better than 1-for-5 with a single."
Sabermetrics can be a daunting subject for those who grew up in a simpler time when batting average, RBIs, HRs, wins, losses, and ERA reigned. Old eyes tend to glaze over when faced with OPS, OPS+, WAR, DRS, and FIP. But Kenny ties snippets of data together in enlightening and entertaining ways and brings statistics to life with a non-stop parade of informative and entertaining anecdotes
There's a tip of the hat to Bill James, the patron saint of sabermetrics, who Kenny calls one of "the seven most influential figures in the history of baseball" along with the likes of Babe Ruth, Jackie Robinson, and Marvin Miller. Speaking first and foremost about James, Kenny writes, "The best thing about the sabermetric revolution is that the pioneers of the movement weren't looking to run teams. They were fans of the game who loved baseball and proved that we can see much more when we take a wider view."
Kenny also hails Billy Beane (who pioneered sabermetrics with the Oakland Athletics) and Theo Epstein, (who refined the art, first with the Boston Red Sox and now with the Chicago Cubs). The Houston Astros are lauded as today's team leader in sabermetrics.
And yes; in recent years, teams have been learning. By way of example; the defensive shift (realigning the traditional placement of fielders) began in 1946 with an experiment by Cleveland Indians manager Lou Boudreau when Ted Williams was at bat. It wasn't until the second decade of the 21st century that the shift became more than an oddity. In 2011, MLB teams employed a defensive shift on 2,358 occasions. In 2014, the number rose to more than 13,000.
"If you give it about thirty seconds of thought," Kenny observes, "you realize why, for about 130 years, professional baseball players stood where they did on the field. That's where they always stood. With this inability to evolve, it makes you wonder: how do we even survive as a species?"
"Athletes train hard for hours every day," Kenny writes in closing. "Managers plot and plan, losing sleep. Organizations pour money into resources. Given how hard every player, coach, manager, and executive works, wouldn't you think they would leap at the chance to gain a tactical edge using information? Each loss is crippling. Things do not have to even out. You need to fight and scrap and give yourself the best chance to win in every half-inning of every game. Burn this into your mind. You cannot give away a game."
Thomas Hauser can be reached by email at thauser@rcn.com. His most recent book (Muhammad Ali: a Tribute to the Greatest) was published by Pegasus Books. In 2004, the Boxing Writers Association of America honored Hauser with the Nat Fleischer Award for career excellence in boxing journalism.
Avila Perspective, Chap. 87: Vergil Ortiz and Company and More Fight Notes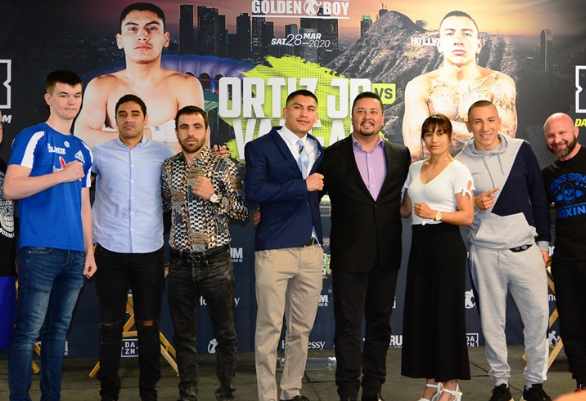 LOS ANGELES-Not long ago Vergil Ortiz Jr. and female prizefighter Seniesa Estrada were busting heads in a downtown theater that barely fit 400 people if the fire inspector looked the other way.
Next month, Ortiz and Estrada will be co-headlining a Golden Boy Promotions boxing card at the Inglewood Forum that seats more than 18,000.
A lot has changed for the two highly-ranked contenders.
Ortiz (15-0, 15 KOs) defends the WBA Gold welterweight title against Samuel Vargas (31-5-2, 14 KOs) in the main event on March 28 at the spacious arena built in the 1960s. In the female co-main East L.A.'s Estrada (18-0, 7 KOs) fights Mexico's Jackie Calvo (12-5-2) in defense of a regional title.
From prelims to world title chasers in a matter of two years, the ascent of the two highly-ranked contenders was mercurial.
It was less than two years ago the Dallas area product battered former world champion Juan Carlos Salgado at Belasco Theater. At the time few were certain that the slender built Ortiz was ready for the big tent. He was more than ready and blew out Salgado like Dollar Store candles.
Now it's merely a matter of time before he gets a crack at one of the welterweight world champions. It's a talent rich division with the likes of Terence Crawford, Danny Garcia, Shawn Porter and Errol Spence Jr.
"I don't think I'm the most talented fighter in the room, but I do know that I work the hardest in the game right now," said Ortiz, 21, who has never won by decision in his professional career. It's been pure knockouts.
Vargas, a veteran of 38 pro bouts, has faced many of the top welterweights in the world today including Errol Spence Jr. Amir Khan, and Danny Garcia.
"I've fought a lot of talented boxers and have had great experiences throughout the years," said Vargas who trains in Las Vegas with Clarence "Bones" Adams. "I'm confident and I'm ready."
It's a talent-rich boxing card featuring many prospects and contenders including super bantamweight Azat "Crazy A" Hovhannisyan (18-3, 15 KOs) who fights Colombia's Jose Sanmartin (30-5-1, 20 KOs).
"I'm as ready for any champion. I'm in the best shape and have the best trainer," said Hovhannisyan who is trained by Freddie Roach. "I can't wait to show everyone a wonderful fight on March 28."
Another prospect featured on the card, Aaron "The Silencer" McKenna (10-0, 6 KOs) of Ireland, meets Mexico's Christopher Degollado (13-6, 10 KOs) in a super welterweight clash set for eight rounds.
McKenna has adapted to the pro style after a successful amateur career and also adapted to Southern California living.
"I've been here a few years now," said McKenna who also trains with Freddie Roach. "I have an aggressive style that Mexican fans like."
Others on the card are Pablo Cano, Rashidi Ellis, Christopher Pearson, Chris Ousley and Raul Curiel. It's a pretty strong fight lineup.
"There's a lot of great boxing history at the forum. A lot of famous world champions have fought at this venue, including Oscar De La Hoya, who made his debut back in 1992," said Eric Gomez, the president of Golden Boy Promotions. "This is a great card and all these fights are going to be exciting, especially Vergil Ortiz Jr."
It's always fun to see prospects turn to contenders and then on to champions.
Showtime in Las Vegas
A hefty card in Las Vegas by Mayweather Promotions takes place on Friday Feb. 28, at Sam's Town Hotel and Gambling Hall in Las Vegas. Showtime will televise several of the main bouts.
Super lightweight prospect Keith Hunter (11-0, 7 KOs) meets Uzbekistan's Sanjarbek Rakhmanov (12-2, 6 KOs) in a rematch of a fight that ended in a split decision. Hunter won.
After the close win, Hunter then defeated always tough Cameron Krael by unanimous decision in a 10-round fight. Now he returns to face Rakhmanov again. It should be a firefight.
It's a very good boxing card that includes super middleweight Kevin Newman II, Ladarius Miller, and Lanell Bellows.
Burbank
This Saturday, Feb. 29, a boxing card called "Valley Fight Night" features a dozen bouts by Bash Boxing at the Burbank Marriott Events Center in Burbank, California.
Heading the boxing card will be popular welterweight Vlad Panin (7-0) facing Moises Fuentes (4-1). Several other undefeated prospects fill the event calendar including welterweight Aram Amirkhanyan.
Doors open at 6:30 p.m. For tickets and information go to www.Bashboxing.com
Fights to Watch
Fri. Showtime 10:45 p.m. – Keith Hunter (11-0) vs Sanjarbek Rakhmanov (12-2).
Fri. Telemundo 11:35 p.m. – Yomar Alamo (17-0-1) vs Kendo Castaneda (17-0).
Sat. DAZN  5 p.m. – Mikey Garcia (39-1) vs Jessie Vargas (29-2-2); Roman Gonzalez (48-2) vs Khalid Yafai (26-0); Julio Cesar Martinez (15-1) vs Jay Harris (17-0).
Photo credit: Al Applerose
Check out more boxing news on video at The Boxing Channel 
To comment on this story in The Fight Forum CLICK HERE
Final Takeaways from Wilder-Fury and a Doleful Dissertation on Riddick Bowe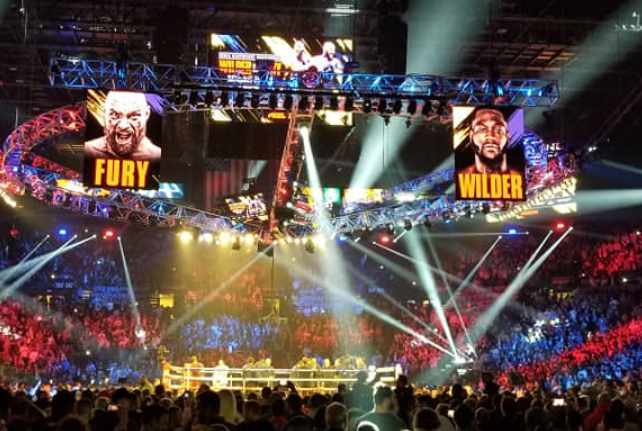 Final Takeaways from Wilder-Fury and a Doleful Dissertation on Riddick Bowe
I watched the Wilder-Fury fight from the cheap seats. Actually, I had no seat at all.
My press badge consigned me to the so-called auxiliary press section which was up in the rafters. One can't work in that environment. There's no table on which to plop one's laptop; no power strip to keep it plugged in. And so, I watched the full undercard on the big TV in the press room and then went into the arena to catch the main go and the hoopla that preceded it.
The corridors leading into the arena were jammed with people hoping to score a ticket at the last minute. They were out of luck. The fight was a sellout. It was gridlock and for a moment I feared that the main event would start without me, but I managed to push my way through in time for the ring walks.
The arena was dark and it seemed that every seat in my assigned area was taken. And so, I walked up to the very top of the stairs and stood with my back against the wall, wedged in between two other standees including a friendly guy from New Zealand who, like me, had a press badge dangling from a chain around his neck.
From a reporter's standpoint, there are certain benefits to being up in the rafters when the house is full. For one, you can get a better feel for the ambience. A boxing crowd skews younger and more boozed-up as one gets higher up in the stands and this translates into more exuberance. And that's especially true when there are a lot of Brits in the house. They chant and sing in unison. Us poor Yanks just don't know how to have so much fun.
I'm old school when it comes to ring walks. Spare me the razzmatazz. Mike Tyson didn't need it. No fancy robe for him, nor tasseled trunks, not even socks. And yet when he walked down the aisle with a simple white towel draped over his bare shoulders, he exuded charisma.
And then, on Saturday, Tyson Fury was carried into the ring on a throne, dressed like a king with a big crown on his head as the PA system played Patsy Cline's "Crazy," and, I'm forced to admit, it was magical. Talk about a tough act to follow.
I've seen boxers walk into the ring with fear unmistakably etched on their countenance as if they were walking to the gallows. Frank Bruno and Bruce Seldon could not mask that "tell" when they fought Mike Tyson. More often, a boxer's expression on his ring walk is inscrutable which I suspect is a way of compensating for his anxiety.
What struck me about Tyson Fury's ring entrance was that it betrayed no such apprehension; to the contrary, he oozed confidence as if this were nothing more than a tune-up fight. I swear, he looked like a chap who was headed off to a Halloween ball and had stopped for a few pints on the way to get a head start on the jollity. I couldn't pick a winner in this fight, tilted toward Wilder, but as I watched Tyson Fury's ring walk, I sensed that I had missed a great opportunity by failing to get down a wager on the Gypsy King.
Many years ago, when I was first credentialed for a fight (Larry Holmes vs. Tim Witherspoon was the headliner), they planted me in the third row. Since returning to boxing after a decade in which I busied myself writing college football annuals and such, it seems as if my career is in reverse gear. The next time there's a really big fight in town, I may be consigned to the corridor with all those folks effectively left out in the rain.
Oh, well, it's been a fun ride.
—-
Prior to the ring walks, three great heavyweight champions of recent vintage – Lennox Lewis, Evander Holyfield, and Mike Tyson – were honored in the ring. Conspicuous by his absence was Riddick "Big Daddy" Bowe, a 1990s-era contemporary.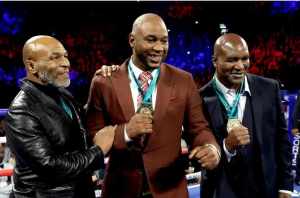 Granted, this ceremony was the handiwork of WBC president Mauricio Sulaiman who presented each of the honorees with a medal and Riddick Bowe was no friend of the WBC. In 1992, he famously dumped his WBC world title belt in the trash rather than comply with the organization's mandate that he fight top contender Lennox Lewis. But Bowe, whose lone setback in 45 pro fights came in chapter two of a storied trilogy with Holyfield, was no less formidable at his peak than the other three.
Having said that, it was better that he wasn't included. His presence would have put a damper on the proceedings.
At age 52, Riddick Bowe is younger than Tyson, Holyfield, or Lewis. But in terms of how far he has slipped since his fighting days, he's a lot older. Making his story more discouraging, he believes that he can still compete at a high level and actually has a manager out there banging the drums on his behalf.
Bowe's last meaningful fight was way back in 1996 when he fought the second of back-to-back fights with Andrew Golota. After those two unruly scrums, he was inactive for almost eight full years. During this period, he joined the U.S. Marines but was discharged after only 11 days and served 17 months in prison for interstate domestic violence and kidnapping after a bizarre attempt to repair his fractured relationship with his wife Judy and their five children.
Bowe returned to boxing after his long absence and had three more fights, the last of which transpired in December of 2008 when he won an 8-round decision over a third-rater in Germany. More recently, he tried his hand at Muay Thai. On June 14, 2013, carrying 300 pounds on his flabby frame, he was stopped in the second round on a show in Thailand in which he failed to land a single blow, whether a punch or a kick. ESPN's Dan Rafael, who watched the fight on YouTube, wrote that anyone who watched it "saw an old man with no remaining discernible skills."
Bowe never transcended the sport like Tyson or Holyfield in large part because of his limited vocabulary. Of course, he never had a chance to develop that vocabulary because his loquacious manager Rock Newman insisted on doing all the talking. And now it appears that history has repeated. By all accounts, Bowe's new manager is cut from the same mold. Meet Eli Karabell.
On his web site, Eli Karabell, a fellow in his early 20's, informs us that he is a "Businessman, Investor, Public Servant, Innovator, Community Leader, Entrepreneur, Politician, Social Activist and President and CEO of the American Boxing Association, a post to which he was appointed (presumably by himself). In his hometown of St. Louis, he is quite the gadfly. According to an article in the Jan. 20, 2018 issue of the St. Louis Post-Dispatch, Karabell antagonized former Missouri Governor Eric Greitens to such an extent that Greitens' press secretary had to block his calls.
Since Nov. 23, a certain web site that we won't name has run five 'EXCLUSIVE' stories quoting Karabell about Riddick Bowe's comeback. In an early story, Karabell said, "I believe Mr. Bowe is the best fighter in the heavyweight division right now, bare none." As for Bowe beginning his comeback with exhibitions, Karabell said that what he had in mind for him was proceeding directly into a series of 12-round fights.
More recently, Karabell expressed his frustration about failing to induce a top promoter into helping him facilitate Bowe's comeback. Regarding Eddie Hearn, he said, "He has not read the contract (we sent him), will not respond to our offer and we believe he is trying to obstruct the process."
Why wouldn't he? In the immediate aftermath of his second fight with Andrew Golota, Bowe was slurring his words. During the trial that sent him to prison, Bowe's attorneys argued that his conduct resulted from brain damage. A forensic psychiatrist, Dr. Neil Blumberg, testified that Bowe had suffered irreversible damage to the frontal lobe in his brain. More recently, a New York Times story by Alex Vadukul, published in 2015 – the year that Riddick Bowe was inducted into the International Boxing Hall of Fame – noted that his voice "had warped into a slur."
The nicest thing we can say about Eli Karabell is that he is pixilated. We have nothing nice to say about anyone in the boxing media who would give him a soapbox.
MGM Grand Garden photo compliments of Joe Santoliquito
Check out more boxing news on video at The Boxing Channel 
To comment on this story in The Fight Forum CLICK HERE
A Peek Inside Justin Fortune's Old-School LA Boxing Gym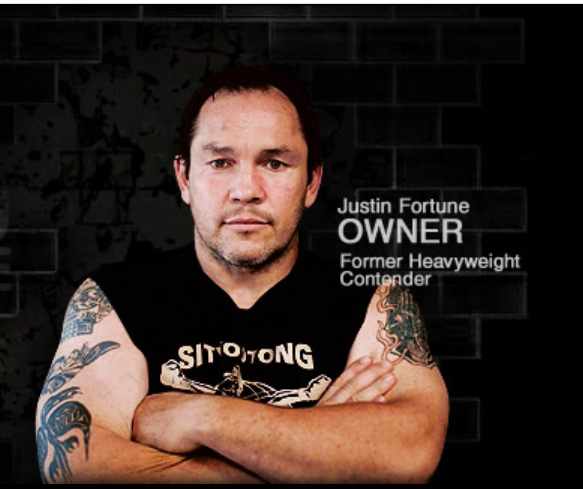 Stepping foot inside the Justin Fortune Boxing Gym is like taking a giant step back in time. Located in the Fairfax District of Los Angeles and situated across the street from Fairfax High, the gym could easily be confused for old-style gyms like Stillman's or Gleason's in New York City, the Fifth Street Gym in Miami or the Main Street Gym in Los Angeles. Because it's on the second floor, one must enter from the street level and then walk up a dozen or so steps, fit your way through a narrow hallway before meeting Tamara Frapasella, Justin's wife.
When I arrived at 9:30 a.m., the place was somewhat busy, but not overly so. There is one ring, but a bevy of heavy bags, a speed bag, a treadmill, several jump ropes, a shower and a steam room. A handful of professional personal trainers were working with eager students as sweat poured off their faces, arms and legs.
Over the course of the next five hours, the gym, which is adorned with old-time fight posters and signed pictures of ring legends like Muhammad Ali, Manny Pacquiao, Marvelous Marvin Hagler and Roberto Duran, would be fairly bursting with energy.
A few hours in, one professional heavyweight was working with Fortune in the ring as he prepared for an upcoming bout at the Barclays Center in Brooklyn. It's not uncommon to see celebrities at the Fortune Boxing Gym. On this day, a longtime actor, Frank Grillo, was there going through his paces with steely determination.
Fortune, originally from Perth, Australia, has been involved in a multitude of professions, including nearly two decades as a heavyweight boxer. "I'm a chef by trade so I never thought that I'd end up here," said Fortune, who has also owned a restaurant. "I was always interested in boxing. I was heavily involved in sport. They were all one-on-one sports. I wasn't much for team sports. Boxing I always enjoyed because it's the ultimate one-on-one combat. That's why I liked it so much." Fortune said he has always liked keeping active. "Then I was heavily into power lifting and from power lifting I switched to boxing. I'm an idiot," he said.
Fortune, who is 54 years old, knew the fight game isn't an easy way to make money and was smart enough to exit at the right time. "I set myself time and monetary goals," he noted. "And once I met them, whichever came first, I was out. I stuck to it. That's why I'm not punchy or broke. This sport sucks you in. It's really tough to get out of. You always want that one last fight."
Fortune began his professional boxing career in 1990 and ended it in 2009. Along the way, he carved out a 15-9-2 record with nine knockouts. Fortune's biggest fight came against future three-time world heavyweight titleholder and a two-time lineal champion Lennox Lewis in July 1995 in Dublin, Ireland, that concluded with a fourth-round stoppage. "Lennox is a very underrated fighter," said Fortune, who had 20 wins in 24 amateur fights in Australia that included participating in the Commonwealth Games. "At that stage, in my mind, it didn't matter. I only had 14 fights, but I would have gotten into the ring with anybody. I didn't care." Fortune said that he wanted the fight to continue. "I got screwed. I wouldn't have won the fight, but in England, the judge is the referee," he said. "I had only 14 fights, and I got hit with an uppercut, and that was it. The referee stopped it. It would have gone a lot longer."
Fortune opened his initial gym not too far away on Sunset Boulevard in 2008 and was in business until December 2019 when it was demolished. "This is what I originally wanted," Fortune said of the current site, reminiscent of the gyms in the 1940s and 1950s. "This style of gym. The wooden floors. The posters. The pictures. The old-time look." Fortune's clients range from Academy Award-winning actors to musicians and every day folks. "My clients are a good bunch of people," he said. "They respect the place and they like coming here. It's their gym." Fortune also noted that 65 percent of the people who populate the gym are women.
Frapasella, a former actress and film producer, does all the behind-the-scene work at the gym, but also finds time to be a personal trainer for primarily women and some men. "I think it took us a lot of years to build that," she said of the welcoming vibe that is clearly present. "We have every nationality you can think of. Everyone is fighting for whatever their reason, but we all get along. We built a family in here and at the end of the day, we're a family." Frapasella said the atmosphere and appearance are intentional. "This place is spotless," she pointed out. "I do have a staff that helps me. I don't do it all by myself. You want something that's clean and is welcoming."
Philadelphia-based heavyweight Joey Dawejko was there preparing for a fight with undefeated Frank Sanchez on March 7 at Barclays Center that will be televised on FOX. "My opponent is a prospect and 14-0," said Dawejko, who is 20-7-4 with 11 knockouts and nicknamed "The Tank." Dawejko is hoping to pull off a major upset against Sanchez, who has 11 knockouts. "This is a big opportunity for me because it jumpstarts this year, not only for more to come," he said. "I've gotta get this win and we go from there. Bigger and better things."
Jose Navarro is a retired World Boxing Council Continental Americas super flyweight champion and Olympian who capped his pro career 27-6 with 12 knockouts. Navarro is currently a personal trainer who works with roughly 50 clients. "It's the same sport, but you're on the outside," he said. "It's been different. Being in there you get to make your own choices. You see things from a different angle. I actually enjoy this a lot more because you're teaching what you learned your entire career. So now you're looking at it from a much different perspective." Navarro said he likes working at the Fortune Gym. "It's something you never stop learning," he said. "You learn something every day. That's why it's called the sweet science."
Joe La Russo is a onetime professional photographer whose specialty was shooting jazz legends such as Dizzy Gillespie and Miles Davis. La Russo has been taking boxing lessons for nearly two decades. "I just started coming here the first of the year. I was at another gym for 13 years," said La Russo, who comes to the Fortune Gym three times a week. "I started when I was 66 years old. In April, I'll be 80. I just got a nice vibe. I knew people. I knew trainers. I'm dropping down in weight, so I'm on a new program. I feel great." La Russo said he has always been fascinated with the manly art. "Boxing is all around," he said. "When I was 16 growing up in Brooklyn, I wanted to go into the Golden Gloves, but my mother wouldn't let me go," he said. "So, 50 years later I'm at the Wild Card Gym in Hollywood with Freddie Roach. But I came here for a change of pace. Different energy. Different vibe. It's what keeps me young."
Originally from South Africa, Vuyo Noyce, spent years in the fashion industry and is married and a mother of two. Noyce has been coming to the Fortune Gym for about four years and pays a visit two or three days a week for about two hours. "I like the environment here. It's super laid back," Noyce offered. "It's not pretentious. I think the trainers are good and Justin's fantastic. It's like going to a friend's house."
Kylie Fulmer is an Australian and the World Boxing Federation Women's Intercontinental super bantamweight champion who lives in Los Angeles and also calls the Fortune Gym home. "I spent five years out in Las Vegas, so I was training at TMT, the Floyd Mayweather Gym and Floyd Sr. was my coach for 14 months. Then I went over to [trainer] Dewey Cooper and I've been with him for three years," said Fulmer, who has pieced together a perfect 7-0 record with six knockouts. "The goal this year is to stay active and fight as much as we can. I decided to come out here for a few weeks and had a chat with Justin and I had to make the decision to move over here."
Fulmer said the decision to stay was fairly easy. "Justin being Australian, you know I've got a home away from home and a family," she said. When asked why she selected the Fortune Gym, Fulmer said that it would help her reach her goals and that she feels comfortable here. "I just really need to focus on the fundamentals of boxing and make those corrections I feel are going to take me to the next level to get these world class fights," she said.
Frankie Lopez is a 24-year-old cruiserweight, but will drop down in weight to super middleweight. Lopez can be found at the Fortune Gym because he's also a personal trainer. That day he left for several hours because he had a few clients at UCLA. "I like to be around what I do because I like to incorporate everything with the patients, with my clients, but also patients in the ring to allow myself to better myself and my craft," explained Lopez, who began as a kickboxer and owns a 12-1-1 mark with nine knockouts. "I used to be trained by Virgil Hill. He's a five-time world champion and a Hall of Famer, a silver medalist in the 1984 Olympics and his wife [Carla] as well. She's a four-time Olympian and they trained me for the longest time. But then I went on Google and this gym popped up out of nowhere. So, I came back the next day and I fell in love with it. They welcome you with open arms."
What takes place in a boxing gym is serious business because if one doesn't train properly there are consequences. What Fortune and Frapasella have constructed and designed at their gym is in some way atypical. "I make sure everybody's good," said Frapasella. "I'm like the gym mom. I want to make sure you have someone to talk to. You want to have a good experience."
Check out more boxing news on video at The Boxing Channel 
To comment on this story in The Fight Forum CLICK HERE