Book Review: Brian Kenny's "Ahead of the Curve"
Book Review – Boxing fans know Brian Kenny from his work on ESPN2 Friday Night Fights, Showtime Championship Boxing, and PBC Boxing on FOX. But his #1 area of sports expertise is baseball.
Kenny is an MLB Network host and anchors some of its most important studio programming: MLB Now and MLB Tonight. He's also an ardent proponent of sabermetrics: the use of cutting-edge statistical analysis as a key component of decision-making in virtually every aspect of the game.
Ahead of the Curve: Inside the Baseball Revolution (Simon & Schuster) is Kenny's presentation in support of sabermetrics. "Somewhere along the line," he writes, "we stopped thinking. In the most basic ways, a purposeful ignorance set in. We have received considerable baseball wisdom from the early days of childhood from our adult role models, our peers, the media, and the baseball industry itself. What is so fascinating is that all this nonsense survived. For nearly a century, no one even bothered to think about it deeply enough to give themselves an incredible competitive advantage. At a certain point – about the time we discovered penicillin – it was time to evolve past these 19th-century relics. Instead, our thinking calcified and then endured decades beyond its point of usefulness."
Book Review: Brian Kenny's "Ahead of the Curve"
With that as his starting point, Kenny challenges long held assumptions regarding baseball strategy.
He begins with the sacrifice bunt, studying how a simple scenario has played out over an 18-year study period.
Man on first base, nobody out. Your team needs a run. Sacrifice bunt, right?
That what most managers do. But look at the numbers.
With a man on first base and nobody out, a team can be expected to score .94 runs in that inning. With a man on second base and one out, a team can be expected to score .72 runs.
"So let's be clear," Kenny writes. "Even with a successful bunt, you score fewer runs."
But by bunting successfully, the manager has taken himself out of the line of fire and absolved himself of blame.
"He put the next two batters in the spotlight," Kenny continues. "There's a man on second waiting to be driven in. When he doesn't score, it's those two hitters that didn't get it done. Failure is there visually in the hitter slinking off the field, having left a man on base. The manager walks off scot-free, even though he is the one who traded three chances for two."
Then there's the matter of third-base coaches, who are reluctant to send a runner home on a fly ball to the outfield that's caught for the second out of an inning. The current success rate for attempts to score from third base in sacrifice fly situations is 90%. In other words, the coach only instructs the runner to go for it when the odds are overwhelmingly in his favor.
But if the fly ball is the second out of the inning, the runner's chance of being driven in by the next or a succeeding batter is roughly 30%. Thus, Kenny writes, "Third base coaches send runners only when it's obvious they will score. Getting a runner thrown out at the plate looks bad for both the third base coach and runner. But taking more risks will lead to more runs even with more runners being thrown out."
The manner in which today's managers deploy their pitching staff also mystifies Kenny. He starts by asking, "Why do all major league teams pitch the way they do?" And he arrives at the answer, "Because that's the way we always have done it."
But times change. In 1904, pitchers finished 88% of the games they started. In 2014, that number was down to 2%. "The only reason we still have starters," Kenny writes, "is because, once upon a time, one pitcher was all you used for the whole day."
Kenny advocates starting games, not just with long-inning pitchers but with short-inning hurlers as well. And he heaps scorn on the way managers use their closers.
"Today's relief aces," he writes, "are treated like rare exotic flowers to be taken out only in certain conditions. They work the ninth inning only, preferably with nobody on base, and they top out at seventy innings for the season. Take a step back. You've established one pitcher as the best on your staff, batter for batter. You then artificially restrict his innings [and] keep him from the most important parts of the game."
But isn't the ninth inning the most important part of the game?
"Any manager who is saving his closer/relief ace/fireman/stud for the ninth inning," Kenny notes, "is thinking the following: 'I'm saving him to seal this win when the game is most on the line.' And this is simply not the case. The game is frequently on the line in the ninth. But the act of saving your best pitcher for a situation that may not come (a one-run lead in the ninth) is not worth the exchange. A 4-1 lead with the bases loaded in the fifth? Run the numbers! You think there will be a bigger threat? The ninth-inning closer model has bolstered the myth that the game is on the line only in that final inning. It certainly is more obviously on the line at that point. But the fact is, most games are decided before then."
The nerve center for decision-making during a baseball game is the manager who, Kenny declares, typically stands on the top step of the dugout "like Washington crossing the Delaware." He then notes that 83% of the MLB managers who started the 2015 season had played previously in the major leagues. By contrast, only 19% of NFL head coaches and 50% of NBA head coaches had similar playing experience. That leads Kenny to ask the rhetorical question: "Do you think Major League Baseball requires some different level of understanding of its sport that the NBA and NFL don't?"
Then comes more sacrilege. Kenny states, "If you told me I would be an NFL head coach tomorrow – taking over on a Monday in the middle of the season – it would be a disaster. Same thing if you gave me an NBA team. Now tell me I'm managing the Cincinnati Reds tomorrow. You know what? I'd be fine. Understand the distinction. I'm not saying I could coach. I couldn't teach a cutter or even a good curve ball. I couldn't teach a hitter proper mechanics. But coaching isn't managing. The Reds would go along for days before you even knew I was there. It's not that hard."
He's probably right. A case study proves his point.
Game 5 of the 2015 World Series. The Kansas City Royals are leading the New York Mets three games to one. Mets ace Matt Harvey has thrown eight scoreless innings, giving his team a 2-to-0 lead. Mets manager Terry Collins tells Harvey he's done for the night. Harvey pleads to take the mound for the ninth inning. The crowd is chanting his name. Collins relents and sends Harvey to the mound to finish the game.
"So what's wrong with a manager letting his stud pitcher take the mound for three more outs?" Kenny asks.
Then he answers.
"Here's what's wrong: a mountain of evidence that pointed to Harvey fatiguing late in games. Harvey has a fairly clear fatigue point: 100 pitches. To that point in his career, in pitches 1-100, major league hitters hit an anemic .206 against Harvey. After Harvey reached 100 pitches, they hit a robust .373 with a Hall-of-Fame level .440 on-base percentage. Harvey, after eight innings against Kansas City, was at 102 pitches."
In the ninth inning, Harvey – predictably, to the sabermetrician's way of thinking – blew up. The Mets lost the game and, with it, the World Series.
"The mainstream media almost universally defended Collins for going with his heart," Kenny writes. "Nowhere that I can recall did anyone wonder where brains fit into this equation."
That leads to Kenny's next target: the media.
"It is a sportswriter's job." he states, "to help bring the game to a mass audience, to help the interested reader or listener understand the latest strategic innovations, explain the nuances, and keep them abreast of the ongoing revolution. During the sabermetric revolution, the sportswriting fraternity failed miserably."
And there are choice words for the self-important writers who are responsible for inducting players into baseball's Hall of Fame: "How hard is it to figure out that Bob Feller and Mickey Mantle are Hall of Famers? Most of the players voted into the hall by the writers would also have been voted in by a panel of fourth-grade baseball fans. The hard part for the baseball writers is at the border. This is where they continue to fail."
Kenny extols Babe Ruth as the greatest hitter of all-time. And he sets forth an intriguing theory (first advanced by Bill James) as to what enabled The Bambino to turn baseball upside down: "It happened only because he was a pitcher. No one much cared if he swung from the heels. His hitting was superfluous. The baseball culture therefore didn't pressure him into conforming. Ruth had the good fortune to break the single-season home run record while still a pitcher. By the time he was ready to convert to an outfielder, it was too late to stop him. He had already shown that swinging for the fences was a worthwhile risk."
Basic record-keeping also comes under Kenny's withering eye. He denounces what he calls "the tyranny of the batting average," noting, "In batting average, a single is as good as a home run and walks don't exist. Yet the very first stat cited in most baseball conversations for 120 years was the batting average."
He savages what he believes is an idiotic overemphasis on a pitcher's won-lost record, beginning with the question, "Do you care that Mariano Rivera, from 2001 to 2012, had an average [won-lost] record of 4-3?"
Then Kenny adds, "I'm sorry if I'm the one to break this to you, but the same goes for all pitchers." And he backs up his opinion with data showing that, between 1920 and 2014 (a 94-year data base), pitchers who threw eight innings in a game and gave up two earned runs were credited with a "win" only 33.6% of the time.
Further analyzing his data, Kenny calls Ted Williams the second best hitter of all-time, behind only Babe Ruth. Examining The Splendid Splinter's 1941 season (.406 batting average, .553 on-base percentage, and .735 slugging percentage), he writes, "Williams's numbers can barely be fathomed. Our minds aren't trained to see .553 as an on-base percentage. It's too high. No one does that past high school."
Kenny also notes that, while Joe DiMaggio set a major league record that still stands by hitting safely in 56 consecutive games, Williams owns three of the four longest streaks for getting on base in consecutive games, including a streak of 84 consecutive games in 1949. "In baseball," Kenny writes, "0-for-0 with three walks is likely better than 1-for-5 with a single."
Sabermetrics can be a daunting subject for those who grew up in a simpler time when batting average, RBIs, HRs, wins, losses, and ERA reigned. Old eyes tend to glaze over when faced with OPS, OPS+, WAR, DRS, and FIP. But Kenny ties snippets of data together in enlightening and entertaining ways and brings statistics to life with a non-stop parade of informative and entertaining anecdotes
There's a tip of the hat to Bill James, the patron saint of sabermetrics, who Kenny calls one of "the seven most influential figures in the history of baseball" along with the likes of Babe Ruth, Jackie Robinson, and Marvin Miller. Speaking first and foremost about James, Kenny writes, "The best thing about the sabermetric revolution is that the pioneers of the movement weren't looking to run teams. They were fans of the game who loved baseball and proved that we can see much more when we take a wider view."
Kenny also hails Billy Beane (who pioneered sabermetrics with the Oakland Athletics) and Theo Epstein, (who refined the art, first with the Boston Red Sox and now with the Chicago Cubs). The Houston Astros are lauded as today's team leader in sabermetrics.
And yes; in recent years, teams have been learning. By way of example; the defensive shift (realigning the traditional placement of fielders) began in 1946 with an experiment by Cleveland Indians manager Lou Boudreau when Ted Williams was at bat. It wasn't until the second decade of the 21st century that the shift became more than an oddity. In 2011, MLB teams employed a defensive shift on 2,358 occasions. In 2014, the number rose to more than 13,000.
"If you give it about thirty seconds of thought," Kenny observes, "you realize why, for about 130 years, professional baseball players stood where they did on the field. That's where they always stood. With this inability to evolve, it makes you wonder: how do we even survive as a species?"
"Athletes train hard for hours every day," Kenny writes in closing. "Managers plot and plan, losing sleep. Organizations pour money into resources. Given how hard every player, coach, manager, and executive works, wouldn't you think they would leap at the chance to gain a tactical edge using information? Each loss is crippling. Things do not have to even out. You need to fight and scrap and give yourself the best chance to win in every half-inning of every game. Burn this into your mind. You cannot give away a game."
Thomas Hauser can be reached by email at thauser@rcn.com. His most recent book (Muhammad Ali: a Tribute to the Greatest) was published by Pegasus Books. In 2004, the Boxing Writers Association of America honored Hauser with the Nat Fleischer Award for career excellence in boxing journalism.
Three Punch Combo: Gvozdyk-Beterbiev Thoughts and More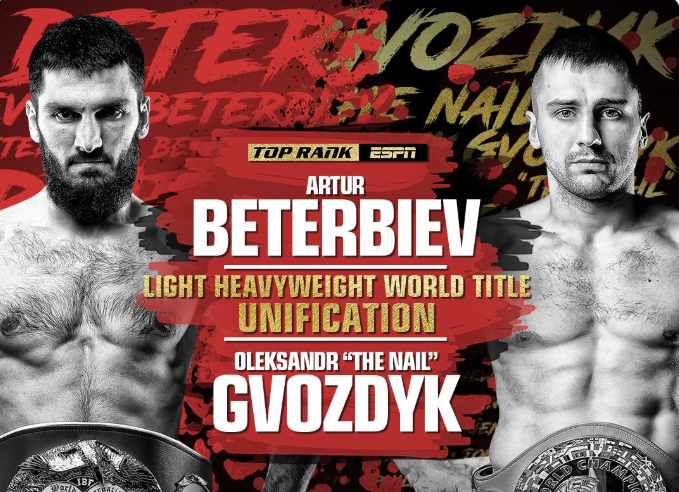 Three Punch Combo — For hardcore fans, one of the most attractive fights of the year takes place on Friday when undefeated light heavyweight champions Oleksandr Gvozdyk (17-0, 14 KO's) and Artur Beterbiev (14-0, 14 KO's) battle in a title unification bout. This contest will headline an ESPN televised card from the Liacouras Center in Philadelphia, PA. Here are a few subtle things that could play a factor in how this fight plays out.
A Tactical Fight?
Twenty years ago, Oscar De La Hoya and Felix Trinidad met in a welterweight title unification fight. It was a super fight between two explosive punchers. Everyone expected fireworks, but as we all know, it turned into an all-out chess match for twelve rounds.
When two big punchers meet, sometimes we get fireworks and sometimes each fighter respects the other's power so much that they both become somewhat tentative inside the ring.
Keep in mind we have seen in several Gvozdyk fights a somewhat cautious approach. He will take what is given and nothing more. As for Beterbiev, he has typically been a very aggressive fighter (more on that later) but has had his moments where caution has entered his mindset. Just take a look back at his 2017 fight with Enrico Koelling.
I know it is the unpopular opinion but we could certainly see a very tactical chess match between these two on Friday.
Beterbiev's Defense and Chin
Beterbiev, as noted, is a very aggressive fighter. But with that aggression comes an almost complete lack of focus on the defensive side of the game.
So far, Beterbiev's offense has been his best defense as many times his opponents have simply been too fearful of opening up. But at times the cracks have shown. Callum Johnson, for example, wasn't afraid to throw in spots and when he did, his punches landed.
In that fight, we saw Beterbiev get hurt and dropped. Beterbiev showed a ton of heart to come back from that moment and later stop Johnson, but his chin is certainly a question mark. And Gvozdyk, aside from carrying one-punch power, is a very sharp and accurate puncher who has shown excellent finishing skills thus far in his career.
Gvozdyk's Mindset
A little more than ten months ago, Gvozdyk wrested away the title from Adonis Stevenson. But on what was supposed to be the night where Gvozdyk's dream came true, things almost turned tragic as Stevenson suffered a brain bleed that nearly took his life.
Gvozdyk has had one fight since against journeyman Doudou Ngumbu. Though Gvozdyk won easily, there was something about his performance that just didn't feel right. Gvozdyk had a fighter in front of him who offered little resistance but seemingly didn't want to fully step on the gas.
In order to compete with Beterbiev, we have to see the same Gvozdyk that we saw against Stevenson. But has Gvozdyk's mindset permanently been altered by the events of that evening?
Under The Radar Fight
A pivotal crossroads bout in the welterweight division between Luis Collazo (39-7, 20 KO's) and Kudratillo Abdukakhorov (16-0, 9 KO's) is also on Friday's ESPN broadcast. The winner will be in prime position for a title shot in 2020.
Collazo, a world welterweight titlist back in 2005, is in the midst of yet another career resurrection. After getting stopped by defending WBA welterweight champion Keith Thurman in 2015, Collazo has won three straight. And these wins were not against subpar opposition. Two were against up-and-coming young fighters in Sammy Vasquez and Bryant Perrella; the other against fringe contender Samuel Vargas.
At age 38, Collazo has proven he still has plenty in the tank and has clawed back up the rankings in the welterweight division. But to get one more shot at a title, Collazo must find a way to get past another young up-and-comer in Uzbekistan's Abdukakhorov.
Abdukakhorov, 26, is coming off the biggest win of his pro career this past March when he won a 12-round unanimous decision over former 140-pound title challenger Keita Obara. That win boosted Abdukakhorov into the number one position in the IBF at welterweight and in line to one day be the mandatory challenger for current belt-holder Errol Spence Jr.
Stylistically, I love this matchup. Abdukakhorov is an aggressive boxer-puncher. He will look to press the attack and won't be afraid to lead looking to land his best punch which is the overhand right. Collazo is a southpaw who is a natural counterpuncher. He will look to make Abdukakhorov's aggression work against him and should find plenty of opportunities to do so.
I think we are going to get an action-packed, competitive fight. This should serve as an excellent appetizer to Gvozdyk-Beterbiev.
What's Next For Dmitry Bivol?
This past Saturday, Dmitry Bivol (17-0, 11 KO's) successfully defended his WBA light heavyweight title with a wide unanimous decision over Lenin Castillo (20-3-1, 15 KO's). Though it wasn't the most exciting performance, the win keeps Bivol in line for bigger opportunities down the road. So, what's next for him?
Saturday's title defense marked Bivol's second consecutive appearance on the streaming service DAZN. DAZN needs future opponents for its two biggest stars in Canelo Alvarez and Gennady Golovkin. Clearly part of the reason for DAZN showing interest in Bivol is geared toward him potentially getting one or the other down the road.
Though Alvarez is fighting at light heavyweight in November, this appears to be a one-time appearance for the Mexican superstar in that division. He is likely headed back to middleweight or the 168-pound weight class. As for Golovkin, he has fought his entire 13-year career at middleweight. A move at some point soon to 168 would not be a surprise.
Bivol and his team have made it very clear that he can get down to 168. With DAZN's two biggest stars hovering around that division, a move down to 168 seems likely.
The WBA champion at 168 is Callum Smith who is slated for a title defense in November against UK countryman John Ryder. Assuming Smith prevails, he would make a logical opponent for Bivol in the spring of 2020.
Smith-Bivol would be a big fight between two young undefeated fighters and the winner would then be in position for a mega fight later in 2020 against either Alvarez or Golovkin.
But what if Smith goes a different direction following the Ryder fight? If that is the case, Bivol may instead just look to dip his toes in the water at 168 with someone like Rocky Fielding.
Fielding is a tough, gritty competitor who is popular in the UK and has name recognition in the US based on his fight last December with Canelo. But as we saw in that fight, Fielding is very limited.
Fielding is just the type of opponent who could bring out the best in Bivol. A spectacular knockout would help erase some of Bivol's recent lackluster performances. And this would, of course, make Bivol much more marketable for a future date with Alvarez or Golovkin.
Check out more boxing news on video at The Boxing Channel 
To comment on this story in The Fight Forum CLICK HERE
The First Coming of George Foreman: A Retrospective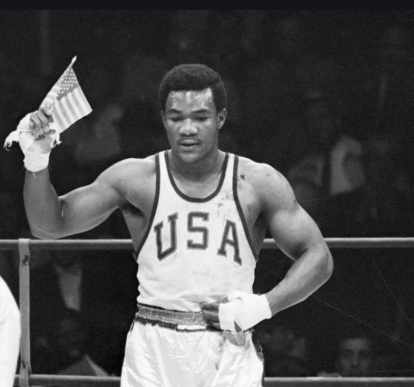 This coming Oct. 30 is the 45th anniversary of the Ali-Foreman fight. Boxing has had its fair share of memorable fights across the decades, but few have been more talked about than "The Rumble in the Jungle."

The 60,000 fans in attendance watching at the 20th of May Stadium in Kinshasa, Zaire and the record–setting one billion viewers taking it in around the globe, including 50 million who watched via pay-per-view on closed circuit television, will never forget what happened inside the ring.

Foreman, who was recognized as the world heavyweight champion by the World Boxing Association and World Boxing Council, the only sanctioning bodies that mattered, entered with a 40-0 record and 37 knockouts. Ali owned a 44-2 mark with 31 knockouts, but wasn't the same fighter after being stripped of his titles and missing three-and-a-half years between 1967 and 1970 after refusing induction into the military based on his religious convictions.

Both stood 6-feet-3. Foreman weighed 220 pounds and Ali 216, but the latter was giving away seven years in age, 32 to 25.

The fight commenced with Ali on the offensive, but Foreman, a 4-to-1 betting favorite, rallied to close the gap by the end of the opening frame.

In the second round, Ali allowed "Big George" to bang away at his arms and body, using what he later described as the "rope-a-dope," which helped tire Foreman out.

As the fight continued, Foreman's once fierce arsenal was reduced to half its potency and in the eighth round Ali eventually found his range.

Ali now threw punches at will, and when Ali buzzed Foreman with a quick right and knocked him to the canvas, Zack Clayton, the referee, had seen enough.

Having lost for the first time as a professional, Foreman was bitter and even claimed that his trainer and manager, Dick Sadler, put something in his water just minutes before the opening bell.

"It's not like the water beat me," Foreman said in writer Jonathan Eig's biography, "Ali." "Muhammad beat me. With a straight right hand. Fastest right hand I'd ever been hit with in my life. That's what beat me. But they put drugs in my water."

In time, though, Foreman would mellow, saying, "Before that, I had nothing but revenge and hate on my mind, but from then on, it was clear. I'll never be able to win that match, so I had to let it go. It just wasn't my night."

The Road to Zaire

Foreman's sweet and outgoing personality wasn't on display when he began his pro career shortly after winning a gold medal at the 1968 Summer Olympics in Mexico City.

To the contrary, Foreman was a mean and angry young man after spending his childhood in Houston's tough Fifth Ward.

Growing up with six siblings and without much on the table to eat will create a crusty exterior.

Everyone needs an escape. Football was that for Foreman, who idolized Jim Brown, arguably the NFL's greatest running back.

But it was boxing that saved him and helped turn his hardscrabble life around.

At 15, Foreman grew tired of high school and dropped out, joining the Job Corps.

This is where he was introduced to boxing and through hard work and dedication went on to earn a berth on the U.S. Olympic boxing team, going on to win a gold medal at the 1968 Summer Games.

This was a turbulent year. It was the year in which Dr. Martin Luther King Jr. and New York Senator Robert F. Kennedy, a Presidential hopeful, were assassinated. Blacks were rioting in many American cities over grievances including police harassment, the Viet Nam War was raging half a world away and college students were protesting our involvement in that very unpopular war.

This was the ugly backdrop against which the 1968 Olympic Games were being contested.

Two black American track stars, Tommie Smith and John Carlos, were front and center in Mexico City after placing first and third respectively in the 200-meter dash. At the medal stand, Smith and Carlos raised their clenched fists wrapped in black gloves skyward while the National Anthem played, which triggered a chorus of boos from those inside the stadium.

Foreman waltzed through each round of the heavyweight tournament and took the gold medal by stopping Lithuania's Jonas Cepulis, representing the Soviet Union, in the second round.

Foreman then pulled out a small American flag and walked around the ring, bowing to the crowd.

Many Americans fell in love with Foreman because of that simple gesture of waving the flag.

"I had a lot of flak," said Foreman years later of the flag-waving incident. "In those days, nobody was applauded for being patriotic. The whole world was protesting something. But if I had to do it all again, I'd have waved two flags."

Foreman's professional career began in grand fashion in June 1969 at New York's Madison Square Garden when he scored a third-round TKO over Don Waldhelm.

The next six fights concluded by knockout or TKO before Foreman triumphed over Peruvian trial horse Roberto Davila by unanimous decision at the Garden in October 1969.

Three more victories followed by knockout or TKO before Foreman registered a unanimous decision over journeyman Levi Forte in Miami Beach in December 1969.

With three more wins coming by knockout or TKO, Foreman was now 15-0.

In his next fight, Argentine veteran Gregorio Peralta extended him the 10-round distance, after which Foreman won 24 in a row inside the distance, including a 10th round TKO of Peralta in a rematch in May 1971 at the Oakland County Coliseum Arena where he grabbed his first championship belt, the North American Boxing Federation strap.

Ten victories followed including a second round TKO over undefeated Joe Frazier in Kingston, Jamaica, in January 1973, where he took away Frazier's WBA and WBC world title belts.

Foreman then knocked out Jose Roman in the first round in Tokyo, Japan in September 1973 and followed that up with a second round TKO of Ken Norton in Caracas, Venezuela in March 1974. Then it was off to Zaire to meet Ali with the unified title at stake.

Post-Ali

In January 1976 Foreman returned to the ring after a 16-month absence and knocked out Ron Lyle in the fifth round at Caesars Palace in Las Vegas in The Ring magazine Fight of the Year. Four more wins by TKO would follow before losing a 12-round unanimous decision to Jimmy Young in March 1977 in San Juan, Puerto Rico.

In the dressing room after the fight, Foreman, suffering from heatstroke and exhaustion, said he had a near-death experience in which he claimed to have been in a hellish place of nothingness and despair. Foreman pleaded with God to save him.

Foreman said God told him to change his ways and at that moment he became a born-again Christian, dedicating his life to his Lord.

Foreman stopped fighting and became a streetcorner evangelist before opening his own church, the Church of the Lord Jesus Christ in Houston.

Foreman focused his attention on his family and congregation and opened a youth center in his name

He was only 28 years old when he turned his back on boxing and a decade would pass before he would re-enter the sport.

Second Coming

In November of 1994, twenty years after he lost to Ali, Foreman, now 45 years old, upset Michael Moorer with a 10th round knockout at the MGM Grand Garden Arena and became the oldest fighter ever to win a championship.

Regaining the title was a byproduct of Foreman's desire to raise money for his congregation.

Today, Foreman is a bigger-than-life personality who draws people to him.

Young and old, black and white and everything in-between gravitate to the 70-year-old, two-time heavyweight champion like a magnet.

Boxing did indeed rescue George Foreman who concluded his Hall of Fame career with 76 wins, five losses and 68 knockouts.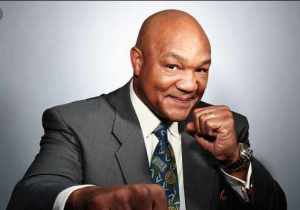 "If I hadn't found boxing, I wouldn't have been able to fulfill half of my dreams," he said. "In fact, I didn't know how to dream until I found boxing."
Very few fighters rise through the ranks and claim a world championship title. To replicate this achievement after being off for a decade is truly incredible.
Check out more boxing news on video at The Boxing Channel 
To comment on this story in The Fight Forum CLICK HERE
Life After DOOMSDAY: Assessing the Career of "Superman" Stevenson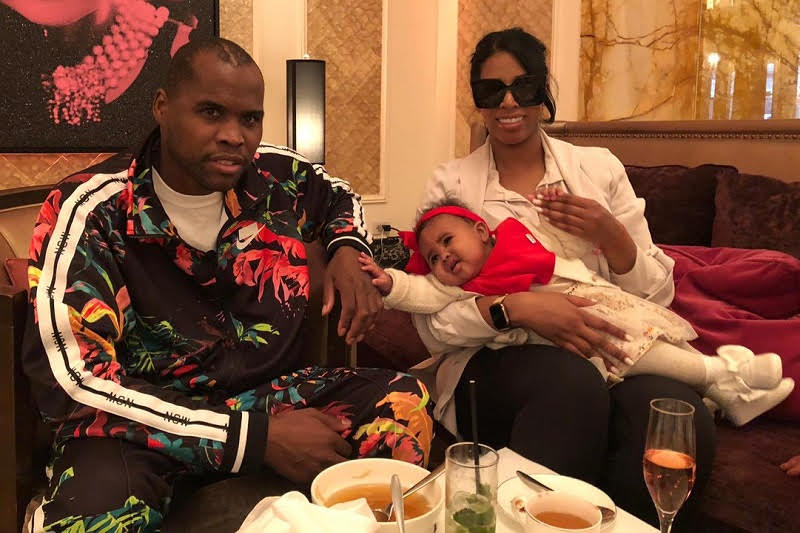 On December 1, 2018, the five-year reign of Adonis "Superman" Stevenson came to a violent end in the eleventh round of a WBC light heavyweight title fight in Quebec City, Canada. The 41-year-old defending champion was battling to make the tenth defense of the world championship he'd won in 2013 with a shocking first round knockout of "Bad" Chad Dawson in Montreal.
Hammered into defeat so severely by new champion Oleksandr "The Nail" Gvozdyk, Stevenson was hospitalized where he spent six weeks in an induced coma to save his life.
To his haters on Twitter and beyond, this was welcomed as overdue karma—poetic justice. To everyone else, it was seen as a great fight up for grabs before Gvozdyk grabbed the victory.
Support from within the global boxing community for the wounded pugilist has been positive and encouraging. That same dynamic is happening again on social media for Errol "The Truth" Spence Jr., the welterweight champion injured in a car wreck last Thursday in Dallas, Texas.
Now in long-term recovery while healing from a boxing-related brain injury, the boxing life of Adonis "Superman" Stevenson is officially over. His career is a closed book. Let's review it.
TRUTH AND JUSTICE
Born in Port-au-Prince, Haiti in 1977, Stevenson immigrated to Canada with his family in 1984. Writing last year for The Fight City online, author Ralph M. Semien illustrates what followed:
"By 14 he was out of control, spending time on the streets, and soon enough he was part of a violent gang and headed for disaster. Eventually he became involved in an organized sex-for-hire service in Montreal. Stevenson was arrested, tried, convicted and he served his jail time. When released from prison in 2001, he made a pact with himself to turn his back on the street gang lifestyle and everyone associated with it, that he would never again break the law."
GRAPHIC NOVEL
Five years later in 2006 after a successful campaign in the amateurs where he boxed at middleweight for Canada and won a pair of national titles for his new country, Stevenson turned professional at super middleweight under the promotional guidance of Yvon Michel. His was your typical boxing story of overcoming a troubled past to carve out a brighter, better future.
He ran his record to 13-0 against gradually increasing competition before a 2010 setback TKO against so-called journeyman Darnell Boone. Buzzed late in the opening frame by a sneaky right uppercut and a hard left hook, Stevenson was easy pickins for Boone early in the second round.
A year later, Stevenson returned to the ring; winning six fights and a few minor super middleweight title belts. Most importantly during this transitional period in his career, Stevenson avenged his upset loss to Boone, punishing "Deezol" before knocking him out cold in the sixth.
"He definitely got better and earned his spot," concedes Boone.
When an opportunity came to fight for the WBC light heavyweight title in 2013, Stevenson took full advantage, putting Chad Dawson down and out with a single, lethal left hook to the chin. The reign of Superman was up, up and away and boxing seemed to welcome its new action hero.
But not so fast, speeding bullet.
American fans and media never let Stevenson forget about his checkered past as a convicted street hustler. And if all that wasn't enough, soon they were labeling him a "ducker" and a "cherry picker" for his apparent refusal to fight Sergey Kovalev and/or Eleider Alvarez.
Despite the constant negative press painting him as the bad guy, he was actually a very likeable man with a huge smile. Stevenson was also wildly popular in Canada and his title fights were entertaining events where more often than not, he left opponents twitching in a mangled heap.
Unsatisfied with Stevenson's choice of title challengers, Oscar De La Hoya's The Ring magazine in 2015 officially withdrew (stripped) its recognition of Stevenson as the "real" World Light Heavyweight Champion. To the Bible of Boxing, Stevenson was an unrepentant sinner.
By that point, Stevenson had made six defenses of his WBC light heavyweight title with wins against Tavoris Cloud, Tony Bellew, Andrzej Fonfara, Dmitry Sukhotskiy, Sakio Bika and Tommy Karpency. That super-fight with "Krusher" Kovalev never happened and it never will.
Who'd have won?
Does it even matter anymore?
I'll give common opponent Darnell Boone the last word on it. "Kovalev. Because he's the more sound boxer. Adonis did the same thing in every fight. Paw with the jab, paw with the jab, left."
"He never really mixed it up," insists Boone. "Kovalev is throwing combinations. He's moving, punching off the angles. He knows exactly how to use his height and leverage with his punches. Kovalev keeps you on the outside, away from getting on the inside on him. He fights tall."
That's all true but was there more to Stevenson's game than just predictable one-punch power with the left hand? Trained by Javon "Sugar" Hill, Stevenson was a KRONK fighter. He improved as he got older and deeper into his profession. His southpaw offense was almost always good enough to be his defense. Trading with him was suicidal. And as a body puncher, he was underrated.
In 2016, he knocked out Thomas Williams Jr. with a viciously quick left hook. In 2017, he rematched Fonfara and blew him away in two rounds. In 2018, before the Doomsday loss to Gvozdyk, there was a grueling, disputed draw with super middleweight Badou Jack.
I had Stevenson up by a point in a war that should've garnered more consideration for Fight of the Year honors. Unfortunately, the anti-climactic draw took some of the shine off a classic.
If only the Al Haymon-handled fighter had been more willing to mix it up with the big names, critics would probably be more kind to him today, especially if he'd beaten Kovalev, something that doesn't exactly look like an impossibility when looking back at the proposed match-up.
Against Ward and Alvarez, Kovalev showed susceptibility to a determined attack, particularly to the body. In his penultimate fight against "The Ripper" Jack, Stevenson put the kind of hurt on Badou's body late in the fight that may have been very difficult for Kovalev to overcome.
THE ADVENTURES OF SUPERMAN
How should Stevenson be viewed in the light of light heavyweight history? Keep in mind that not everybody was so thrilled to get in the ring with him. Edwin "La Bomba" Rodriguez spoke for years of facing him "in the future" but in the end it was all just talk. After Rodriquez was knocked out by Williams Jr. in 2016, Williams Jr. was knocked out by Stevenson three months later.
Though he'll never be rated as one of the all-time greats in the weight class, Stevenson should be recognized for what he actually was. Not just a champion, Stevenson was THE champion.
He beat the man who beat Bernard Hopkins. He was a one-punch power puncher, an action fighter, a defending world champion until he could defend that world championship no more.
Along the way, Stevenson picked up a Fighter of the Year award in 2013 while many of his knockouts were considered Knockout of the Year candidates. He was the WBC light heavyweight champion for sixty-six months, an unusually long time in today's watered-down era of weight jumping and belt dumping. He retained his world title nine times, with only Bika, Fonfara, and Jack going the distance. Stevenson's final record is 29-2-1 with 24 KO's.
DOOMSDAY CLOCKED
And so with the Teddy Atlas trained Gvozdyk beating him senseless in the corner last December, boxing's ultimate kryptonite (time) finally caught up to Superman Stevenson but not before the Haitian sensation made his improbable impact on the modern boxing landscape.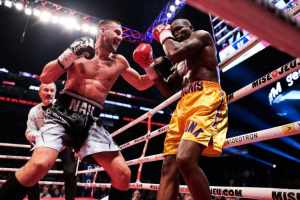 Stevenson's desire to become a boxing champion probably saved his life while his desire to remain a boxing champion nearly cost him his life. We don't yet know the final butcher's bill.
What we do know is that Stevenson has had to relearn how to walk and talk. That's how unpredictable and ironic this sport is: a PBC fighter supposedly protected by Al Haymon was nearly killed by an undefeated Ukrainian clearly up to the challenge of fighting (and beating) him.
Last week Stevenson uploaded a video on Instagram. He's seen in the gym, moving on his feet, wearing a pair of pink boxing gloves while lightly working over a heavy bag as fiance Simone God and their new daughter Adonia look on. "I love you," posted God to her miraculous man.
To review: Stevenson Adonis escaped his dying homeland before it imploded. He then crash-landed in Canada where he was adopted by the Canadian people. He did the crime(s) then he did the time; paying whatever debt he owed to society for his transgressions. He won and lost his battles by the power of his own fists. As a human being, he is truly transformed.
"Superman" Stevenson is dead.
Long live Adonis Stevenson…
EDITOR'S NOTE: After receiving this story, yet another boxer suffered a serious head injury. Patrick Day, a 27-year-old junior middleweight from Freeport, New York, was knocked out by Charles Conwell in the tenth-round last night on the Usyk-Witherspoon undercard and is now fighting for his life in a Chicago area hospital where he has been placed in a medically induced coma. On behalf of the entire editorial staff at The Sweet Science, I'd like to offer our thoughts and prayers for Day's full recovery.
Boxing Writer Jeffrey Freeman grew up in the City of Champions, Brockton, Massachusetts from 1973 to 1987, during the Marvelous career of Marvin Hagler. JFree then lived in Lowell, Mass during the best years of Irish Micky Ward's illustrious career. A new member of the Boxing Writers Association of America and a Bernie Award Winner in the Category of Feature Under 1500 Words, Freeman covers boxing for The Sweet Science in New England.
Check out more boxing news on video at The Boxing Channel 
To comment on this story in The Fight Forum CLICK HERE