The 50 Greatest Featherweights of all Time Part One: 50-41
The Featherweights were a maddening project.
Part of the fun for me in undertaking this project, which has already seen me run through the greatest heavyweights, light-heavyweights, middleweights, welterweights and lightweights of all time has been a cross-comparison of the weight divisions which, for the most part, has been very revealing.  Not so with the featherweights.  Need currency, will travel, and featherweight, more than any other division, is awash with fighters who departed for big fights at lightweight or arrived looking for big fights from bantamweight.
Very few careers were begun and then finished within the division's limits.
This makes for a fabulous mix, with pound-for-pound greats making visits in almost every installment.  It makes for excruciating comparative issues which have been difficult to resolve.  I hope I have resolved them and over the next five weeks, I would invite you to be the judge.
This is a featherweight list in the truest sense.  It is based upon the body of work performed by fighters within that weight range, almost exclusively.  It is not possible to identify a specific poundage because the limit in 1904 was different to that of 2004, but as a general rule, work done between the lower and upper weight range plus 2lbs has been the range under consideration.  So while we know Eder Jofre is one of the greatest fighters to have ever lived, here we are judging him only upon his brief stay at featherweight.
Who a fighter beat, and how, are the primary concerns then.  Secondary was an appraisal of a fighter's status in his given era; was he the lineal champion, the #1 contender, and for how long?  Lastly, skillset as it appears on film (where possible) and head-to-head considerations are considered.  These are the least of the criteria because they are the most speculative.  Ranking a fighter on who he might beat is comforting and simple but it is also pure conjecture, whatever the source.  Ranked contenders dispatched, wins accrued, losses suffered, these stand as facts and although their interpretation is subjective by nature the foundations are firmer.  Your favourite fighter might look a killer on film, but so did a host of failed prospects; only minimal prizes are handed out here for what a fighter "might have done."
Note, also, that in denoting a fight, the heavier man has the say.  A 134lb man fighting a 125lb man is a lightweight contest and was appraised as such.  Here, it is the turn of the featherweights.
I promise this will be the longest introduction of the series and I promise that most of the boring stuff is out of the way now.  But I do need this structure in order to make decisions about fighters separated by a single punch thrown a hundred years ago (and you need to understand them before you shout about your favorite featherweight being too low…).  With that out of the way, we can begin.
This is how I have them:
50 – Jose Legra (133-11-4)
Jose Legra, "The Pocket Muhammad Ali", was born in Cuba in 1943 and turned professional there seventeen years later. Castro ascended as his fledgling career sprouted wings; Mexico welcomed him with blood-soaked arms.
Mexico represented, until recently, the best apprenticeship in boxing for a smaller fighter. There were dozens of featherweights, all desperate to entertain the pugilistic immigrants pouring out of Cuba, matters of national pride as well as personal ambition seeing to Legra's early chin check. He emerged a fighter who knew how to win, as well as lose.
Legra made his home in Spain, fascinating in that he showed little interest in fighting in America. He boxed a single contest there upon his exile from Cuba, and traveling again to suffer defeat at the hands of Vicente Saldivar in 1969. He could be seen more often in Great Britain where he had perhaps his finest moment in 1968, smashing the excellent Howard Winstone to the canvas twice before stopping him on a cut. He then travelled to Mexico for what the Associated Press called "the most one-sided championship bout in history", yo-yoing Clemente Sanchez repeatedly off the canvas before putting a stop to the farce and lifting the world's featherweight title.
He lost it in his very next fight, a desperately close encounter with the legendary bantamweight Eder Jofre, who was coming out of retirement for a tilt at the featherweight crown. Beating the great Brazilian in Brazil in such circumstances was never going to be easy; worse was to come as he was knocked out in a round by Nicaraguan legend Alexis Arguello, in Nicaragua. At that point Legra hung them up, his career numbered among those of the greatest road-warriors.
49 – Jeff Fenech (29-3-1)
Jeff Fenech fought only a tiny handful of contests at featherweight – five by my count – but in those few contests he made his mark upon the division. Not the indelible mark he would make up at130lbs, nor the echo that rumbles back from the name Carlos Zarate, a part of the Fenech resume down at 122lbs, but a mark, nonetheless.
Fenech popped up at featherweight early in 1987, dominating Tony "Mad Dog" Miller with the Australian featherweight title on the line. Miller's absurd toughness carried him through to a lopsided decision loss and Fenech dropped back down to 122lbs. He emerged again at 126lbs a year later, strapping on the alphabet title earned against Victor Callejas. Fenech looked free at the poundage, perhaps having been a little tight at super-banatamweight; Callejas, after all, was a serious man riding a serious winning streak barracked by a very serious punch.
Fenech destroyed him. The fight was not even competitive. Callejas was at sea in a storm of pressure fostered by a fighter who was stonger, faster, harder and who did not give his opponent a moment's rest. Callejas tried everything; in the second he even landed a stiff head butt. Fenech shifted further inside and landed a harder one. But more than that, he was defensively superb, dipping his way in, ditching the deadly Callejas left-hook with head-movement and bumping him out of form with the shoulder. I think it was Jeff's very best performance, and the end, when it came in the tenth, was a mercy.
Fenech stopped the over-matched Tyrone Downes in his first defense, returning to the higher level with excellent victories over George Navarro and Marcos Villasana before departing for the division above, unbeaten.
Fenech was the closest thing we have seen to a reincarnation of Sandy Saddler in the featherweight division, a monstrous proposition for any 126lb fighter. That said, he just didn't tarry long enough in the division to nail down a higher ranking here and there is, perhaps, a case for leaving him out altogether – but head-to-head must have a place here. Simply put, Fenech would beat a lot of the fighters ranked above him.
48 – Earl Mastro (46-5-2; Newspaper Decisions 4-0)
Earl Mastro was a granite-jawed and clever boxer who, bereft of punch but not of heart, climbed to the top of the featherweight rankings in the late 1920s and early 1930s before running into the brutal Battling Battalino who kept him from championship honors.  Before that time Mastro earned himself a reputation as one of the era's finest featherweights by out-boxing some of the finest boxers of that time.
He failed his first audition for greatness, losing out to the brilliant Fidel LaBarba over ten in 1928, but the following year he reversed the decision in a narrow decision that reads like a fight which could have turned either way. Their 1930 contest was closer still, a draw, but splitting a three fight series with LaBarba is certainly no shame and it made him.
Three more standout victories shepherd Mastro in ahead of the likes of Tommy Watson and Lee Rodak, the first of these coming over Eddie Shea in Chicago Stadium. Both hometown boys, the fight was big in the city but there was only ever one man in it, Mastro getting across the line in style by distance. This may have been his most important win, coming, as it did, only weeks after a loss by disqualification in a fight he was dominating against Billy Shaw. Mastro pushed on, besting the wonderful former bantamweight champion Bud Taylor at the second time of asking after their original fight was ruled a draw. The fight ended raucously with both men piling through the ropes, Mastro named the winner when Taylor failed to regain the ring; Mastro rematched him once more and took a decision over ten.
Throw in two victories over the top-ranked Kid Francis and it is clear that Mastro built himself a most excellent resume at the poundage. Sinus trouble, difficult to treat at the time and not an uncommon ailment in busy fighters, even ones as clever as he, saw him retired in his mid-twenties; this was a great shame, but in conjunction with his loss to Battalino it limits his standing here.
47 – Solly Smith (27-14-19; Newspaper Decisions 1-0)
I am aware that the paper record of Solly Smith will send the modernist screaming for the hills while tearing his hair out, and I have a degree of sympathy. This list isn't really the place for fighters who have failed to win even fifty percent of their fights. But Smith makes the list based upon two things. First, there is the exquisite purple patch he boxed between 1895 and August of 1898 during which he went unbeaten, reigned as the featherweight champion of the world and bested one of the greatest fighting machines ever to step into the ring, at any weight, in a twenty round contest.
George Dixon was the reigning featherweight champion in 1897 and was as admired by his fistic peers as any fighter that would ever follow him. Ray Robinson, Muhammad Ali, Pernell Whitaker, name the man and he was no more respected than was George Dixon in the late 1890s. He was also a heavy favorite over Smith, and with good reason. He had lost just three contests in the previous ten years, one to the great Frank Erne, since avenged, one meaningless four-round contest (his third that month) and one early bout by disqualification. More, he had previously knocked Smith out back in 1893.
The San Francisco Call: "Instead of swinging wildly and recklessly, as he was wont to do in his early fighting days, Smith gauged his distance and timed his blows like a polished veteran."
Feinting for the lead, Smith threw enough to remain the aggressor, crackling the champion's body with punches while turning in an outstanding show of slipping the left and blocking the right as Dixon moved through his full repertoire of punches. In an era where fights that held the slightest appearance of closeness were often deemed draws, he did enough to lift the title.
Dave Sullivan took it from him the very next year and Smith's post-title collapse was extraordinary. He won just one of his last sixteen fights. But in the years leading up to his greatest night he defeated the experienced "Omaha Kid", Oscar Gardner, himself close to claiming a place on this list, former champion "Torpedo" Billy Murphy and the undefeated English champion Willie Smith. He also managed two title defenses before Sullivan got to him and the disastrous run-in to his career began.
Of the pioneer era champions he was second only to Dixon for my money, and is good for his spot despite all those losses and draws.
46 – Juan Manuel Marquez (56-7-1)
The wonderful Juan Manuel Marquez spent much of his career toiling in relative obscurity at and around featherweight, his style more cautious than the one he would master in the divisions above. Still, his premier boxing skills were as present then as they would always be and his more cautious style brought him a number of excellent wins at the poundage.
Ranking him any higher than he is seen here is made problematic by the loss of not one but two key fights at the weight. Way back in 1999 he had his first tilt at a strap against Freddie Norwood and dropped an inexplicably wide unanimous decision. I personally had a difficult, squabbling encounter a draw and see no issue with a card either way. Seven years later he travelled to Indonesia to take on hometown legend Chris John, another wide decision loss the result. Again, I scored this fight a draw in the light of two justifiable deductions to the Marquez score for low blows (I gave John 1,3,7,11 and 12), making, again, any ruling seem reasonable to me. The net result is two key featherweight contests going against the Mexican.
In the plus column is good longevity at the weight, which brought with it solid victories over ranked contenders such as Victor Polo, Derrick Gainer and Manuel Medina, enough to speak of a fine career; but Marquez was an unlucky featherweight. In addition to those two desperately close decision losses to John and Norwood, he boxed a wonderful draw with the great Manny Pacquiao, climbing off the canvas three times, a huge effort to obtain a result that can enhance his standing, but only marginally. Worse, he was ranked the WBO's number one contender to Naseem Hamed for two whole years without getting "The Prince" into the ring. Things only needed to be a little different in order that he might rank considerably higher.
A word here for Manny Pacquiao, a name synonymous with that of Juan Manuel Marquez; he does not make the list. His 2-0-1 ledger at the weight just doesn't provide enough depth for him to reach these heights.
45 – Percy Bassett (64-12-1)
Percy Bassett was the "interim" world featherweight champion back when that phrase actually meant something. During World War II any championships belonging to active servicemen were frozen for the duration of the conflict; an interim champion was named for that time in order that some semblance of business as usual could continue. The practice continued into peace time for a spell.
Bassett won that title in 1953 while the lethal Sandy Saddler served in the army, and he won it against a very legitimate opponent, #1 contender Ray Famechon. The two swapped withering body punches as a fully decked out Saddler looked on, but it was Bassett who found more room for his viciousness; his knockout of Famechon, for it was such despite the fact that Famechon was helped back to his corner at the end of the third, technically resulting in a corner retirement, was brutal.
Other key wins over Lulu Perez, who was stopped in eerily similar circumstances in the eleventh, and Charley Riley, who he struggled with but was able to master, sneak him in the back door of the top fifty.
44 – Kuniaki Shibata (47-6-3)
From the heavyweights through to the featherweights, one of the most difficult questions to present itself has been, "what do you do with a robbery?" If you see a fight where the official decision is indefensible, do you "over-rule" it for the purposes of the project? Or accept it as the decision on the ground under the rules of the day scored by people only feet away?
For me, there is no one answer, but I think most of all the extremity of the bad decision is the deciding factor. So for the purposes of this list, Kuniaki Shibata's 1971 draw with Ernesto Marcel is treated as a loss. Shibata no more drew that fight than I've been to the moon. He was clearly out-pointed.
He did show a huge heart in that fight though, walking through fire to keep the rounds competitive if not close. This is typical of Shibata and typical of a lot of other excellent Japanese featherweights for whom he is the standard bearer. Though I can't quite name him a lock for this list, he is a very strong contender based upon the fact that he is the man who unseated the great Vicente Saldivar
Saldivar was on his second run as featherweight king, having come out of retirement to rip the title back, and probably he was not the fighter he had been during his first run. But nor had he been defeated since a 1962 disqualification loss and he was favored to win his 1970 match up with Shibata. The Japanese didn't open like an underdog, charging Saldivar back to a neutral corner and lashing out.
A cursory glance might reveal a pressure fighter looking to land bombs, but in fact Shibata was a nuanced fighter and a clever one. He trusted himself enough to get close to a fighter like Saldivar, slip and counter; he baited leads then attacked in counter-rushes. It was a fine fight plan and it just wore the veteran down. By the tenth, he was bleeding heavily from a cut over the eye, and by the twelfth he looked like every one of those ring miles was right on him. Perhaps his decision to quit rather than face Shibata in the thirteenth can be forgiven.
It's a sensational featherweight victory and the only time in his career that Saldivar lost a title match. It's very much the peg upon which Shibata hangs his place on this list, his wider resume bereft of high quality once the Marcel draw is stripped from him. That said, his first round stoppage of the highly ranked Raul Cruz is nice and is well worth tracking down online. Cruz was as knocked out as any fighter ever was.
43 – Sal Bartolo
Sal Barolo was the contender affected most terribly by the birth in September of 1922 of one Gugliermo Papaleo, aka Willie Pep. Bartolo was ranked for half of the decade that Pep dominated, the 1940s, before throwing in the towel and fleeing for lightweight. In all, he met the defensive genius on three occasions, twice with Willie's pet title on the line.
But Bartolo's brush with immortality took place in a first, non-title fight with his nemesis. "One of the stiffest tests of [Pep's] brilliant career" according to the Associated Press, it saw the "pride of East Boston" match his aggression with the champion's wonderful skill and fall just a hair short of victory. Cut and battered early, he identified a clever shift to the right as he closed as the incitement to a withering body attack which peaked in the sixth round. He forced Pep from those famous feet, for all that a push and a slip was the culprit rather than a punch.
Bartolo dropped a split decision but was rewarded with a title match. With the championship on the line Pep delivered his glittering best and won a lop-sided decision over a deeply frustrated Bartolo who barely landed a glove after the second.
Probably Willie thought he was rid of the man who had troubled him so in that first fight, but Bartolo now went on a scintillating run of form winning a stunning twenty-six fights in three years. He also managed to gather up a strap, lifting the NBA version of the title in a knockout over Spider Armstrong. Rare are the contenders so consistent as to be able to force a dominant champion into the ring three times, and rarer still were men of such quality as to force Pep into a trilogy of fights but Bartolo earned his last chance.
An unusually spiteful Pep broke Bartolo's jaw in ninth; he battled on and into the twelfth when he was dropped for the count.
In addition to Armstrong, Bartolo defeated made men like Willie Roach, Maurice LaChance and most impressively of all Phil Terranova. He would have been the champion in many weaker eras.
42 – Eder Jofre (72-2-4)
Few men can claim to having actually mastered the art of pugilism. Eder Jofre, perhaps, is one such man.
He will be remembered as a bantamweight, principally, and that is as it should be but he made his mark too at 126lbs, a mark indelible in history for the fact that he lifted the lineal featherweight title of the world.
The leap between bantamweight and featherweight is perhaps not as difficult as that from featherweight to lightweight or lightweight to welterweight, but it is certainly no small matter. No small matter is his taking the title from one Jose Legra, then in his prime at thirty years old. Jofre was thirty-seven and it was expected that he would lose that fight.
He won it, sending Legra into a hell he often invited his opponent's to visit, defined by a clinical body attack, despite suffering multiple cuts, despite being dropped by a winging right hand that flew through his chin at the end of the third.
Nor did he stop there. Jofre added the not inconsiderable scalp of all-time great featherweight Vicente Saldivar, who came out of retirement to meet him in a 1973 superfight. Jofre stopped him in four, proving himself the only old man on the block who could still cut it with the young bucks. He proved it one more time while marching into his forties against the thirty year old Octavio Gomez, who was on the downside but still ranked.
Throw in Shig Fukuyama and Jose Antonio Jiminez and you have what amounts to a nice little resume at featherweight; delightfully, Jofre went unbeaten at this poundage which further barracks his position, although it must be weighed against an apparent reluctance to meet some of the more outstanding challengers, Alfredo Marcano chief among them.
41 – Eloy Rojas (40-5-2)
Eloy Rojas was the legitimate, lineal featherweight champion of the world between 1993, when he impressively defeated Yong-Kyun Park in South Korea, and 1996 when he was stopped by Wilfredo Vazquez. Between, he made several impressive defenses including another duel with Park on Korean soil and against former 122lb champion Samarat Payakaroon.
Rojas was soundly beaten in his first torrid contest with Park so the rematch was the sweetest of victories. Rojas is to be admired for taking the rubber match and even more admired for finding a way to defeat his old foe once more in a raucous foul-filled battle that stressed the limitations of Park's mauling style. Rojas found the footwork to grant him space in the early rounds and the accuracy and punch selection to pepper him with nasty uppercuts through the second half.
Rojas was one of three champions that spanned 1987 to 1996 and they all figure upon this list. Rojas ranks the lowest here, below Park despite edging that rubber. In part, this is because outside of Park, Rojas perhaps did the least, scoring that win over Payakaroon and defeating the capable Miguel Arroza, but otherwise treading water; also, of the three, Rojas managed the fewest lineal title defences and beat the fewest ranked contenders.
But he could easily have ranked at #40 or #39 based upon his victories over Park.   For a detailed accounting of the reasons for Park and Antonio Esparragoza ranking over him, join me for Part Two next week.
Fast Results from Brooklyn: No Surprises as Garcia and Hurd Win Lopsidedly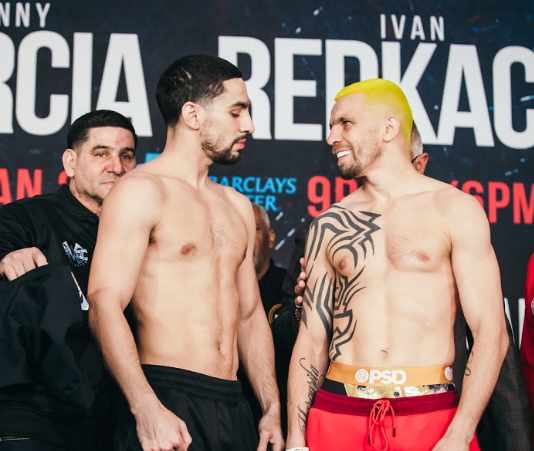 Tonight, Philadelphia's Danny Garcia made his eighth appearance at Barclays Center. Garcia's 2017 fight with Keith Thurman drew 16,533, the attendance high for a boxing show at the arena. A far smaller crowd was in attendance tonight to see Garcia take on Ivan Redkach in a non-title fight slated for 12 rounds.
Redkach, a 33-year-old LA-based Ukrainian, is a southpaw. That's no coincidence. Garcia hopes to land big-money fights with Errol Spence and/or Manny Pacquiao, both southpaws.
Redkach (23-4-1 coming in) turned his career around in his last fight with a career-best performance, a sixth-round stoppage of former two-division title-holder Devon Alexander, a 15-year pro who hadn't previously been stopped. But there was a class difference between he and Danny Garcia, a former WBA and WBC 140-pound world title-holder and former WBC 147-pound champion.
Garcia (35-2, 21 KOs) was simply sharper. His workrate slowed late in the fight, allowing the game Redkach to steal a few rounds, but at the final gun he was relatively unmarked whereas Redkach was conspicuously bruised. The scores were 118-110 and 117-111 twice. The crowd booed at intervals, understandable as they were subject to a drab 7-fight card that was even less interesting than it was on paper.
Co-Feature
In the 10-round co-feature, Jarrett Hurd, making his first start since losing his WBA/IBF super welterweight title to Julian Williams last May, went on cruise control from the opening bell and jabbed his way to a lopsided 10-round decision over Francisco Santana. Hurd, who improved to 24-1, finally let loose late in the 10th frame, putting Santana (25-8-1) on the canvas with a succession of left hooks, but by then many in the crowd had probably nodded off.
This was Hurd's first fight with new trainer Kay Koroma who has drawn raves for his work with America's elite amateurs. The scores were 97-92 and 99-90 twice. SoCal's Santana has now lost five of his last eight.
The opening bout on the main TV portion of the card was a 12-round super bantamweight contest between Philadelphia's Stephen Fulton and fellow unbeaten Arnold Khegai who currently trains in Philadelphia.
Fulton (18-0, 8 KOs) simply had too much class for Khegai (16-1-1), a Ukrainian of Korean heritage. Although Khegai frequently backed Fulton into the ropes, the Philadelphian had an air-tight defense and connected with many more punches. The fight went the full 12 with Fulton prevailing by scores of 116-112 and 117-111 twice.
If the WBO has its way, Fulton will proceed to a fight with Emanuel Navarrete, but don't hold your breath as Navarrete is promoted by Bob Arum who undoubtedly wants to extract more mileage from him before letting him risk his belt against a crafty fighter like Stephen Fulton.
Photo credit: Amanda Westcott / SHOWTIME
Check out more boxing news on video at The Boxing Channel 
To comment on this story in The Fight Forum CLICK HERE
Sacramento Honors Diego 'Chico' Corrales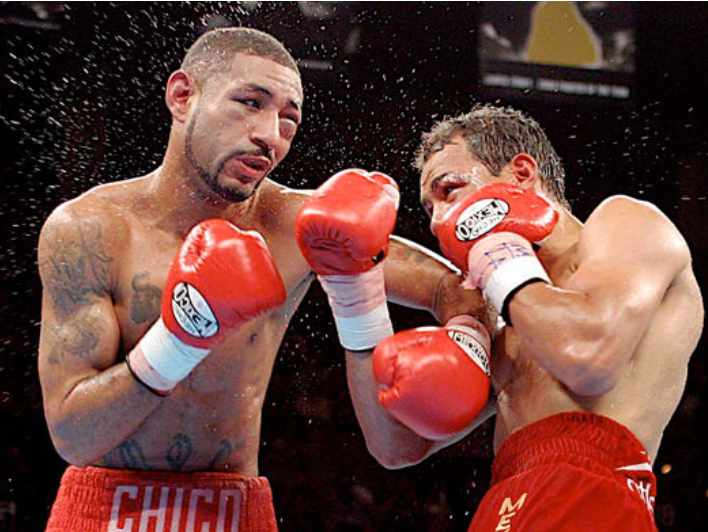 Tonight (Saturday, Jan. 25) former two-division world boxing champion Diego "Chico" Corrales will be posthumously inducted into the Sacramento Sports Hall of Fame at the organization's eighth annual induction ceremony at the Thunder Valley Casino Resort.
Corrales, who grew up in Sacramento, the son of a Columbian father and a Mexican mother, turned pro at age 18 and went on to compile a record of 40-5 (33 KOs). He won his first title in 1999 with a seventh-round stoppage of previously undefeated Robert Garcia. Now recognized as one of boxing's top trainers, Garcia was making the fourth defense of his IBF 130-pound title.
Five years later, Corrales won the WBO world lightweight title with a 10th-round stoppage of Brazil's previously undefeated Acelino Freitas. That set up a unification fight with the WBC belt-holder Jose Luis Castillo.
Corrales and Castillo met on May 7, 2005, at Mandalay Bay in Las Vegas. To say they put on a great fight would be an understatement. The boxing writers in attendance will tell you that this was the greatest fight of all time. It was named Fight of the Decade by The Ring magazine.
The final round, the 10th, was unbelievable. Heading into the round, Corrales was ahead on two of the three scorecards, but his left eye was swollen nearly shut and during the round he was knocked down twice. No one would have faulted referee Tony Weeks for stopping the fight after the second knockdown. But, somehow, Corrales was able to rally, pulling the fight out of the fire with a barrage of punches that had Castillo out on his feet when Weeks waived it off.
Two years to the very day of this iconic fight, Diego "Chico" Corrales died in a motorcycle accident in his adopted hometown of Las Vegas when he rear-ended a car while traveling at a high rate of speed. He was 29 years old.
Corrales was a thrill-seeker. In a 2006 profile, Las Vegas Review-Journal boxing writer Kevin Iole enumerated these among Castillo's hobbies: jumping out of planes from 14,000 feet, bungee jumping from 400 feet, snowboarding in treacherous terrain and scuba diving amid a school of sharks. "He lived his life the same way he fought," said his promoter Gary Shaw, "with reckless abandon."
It might seem odd that it took so long for Corrales to be recognized by the Sacramento Sports Hall of Fame, but there was a period when Corrales's name was mud in his hometown and perhaps the organization's founder, Las Vegas sports radio personality T.C. Martin, a Sacramento native, thought it appropriate to let old wounds heal.
In 2001, shortly after suffering his first pro loss at the hands of Floyd Mayweather, Corrales pled guilty to felony domestic violence in the beating of his first wife and would serve 14 months in prison. "The whole family has worn a black eye for it," Diego's brother Esteban Corrales told Sacramento Bee reporter Marcos Bretan.
For all his recklessness, the incident didn't jibe with his persona. In the company of Las Vegas sportswriters, the soft-spoken and well-spoken Corrales came across as polite and humble.
Corrales, one of five inductees in the 2020 class, joins three other boxers already installed in the Sacramento Hall: Pete Ranzany, Loreto Garza, and Tony "Tiger" Lopez.
Ranzany, a welterweight, fought four former or future world champions and was a fixture in Sacramento rings in the late 1970's. Garza wrested the WBA super lightweight title from Argentina's Juan Martin Coggi in France and successfully defended the belt here in Sacramento with a one-sided conquest of Vinny Pazienza. Lopez, Sacramento's most popular fighter ever, made the turnstiles hum at the city's largest arena where he fought eight of his 14 world title fights beginning with his 1988 humdinger with defending IBF 130-pound champion Rocky Lockridge.
Among the speakers at tonight's confab will be Kenny Adams. Perhaps best known as the head trainer for the 1988 U.S. Olympic team that won eight medals in Seoul, Adams currently trains Nonito Donaire. He was with Diego Corrales for 24 fights, during which Corrales was 23-1, avenging the lone defeat by Joel Casamayor. Festivities start at 7 pm.
Check out more boxing news on video at The Boxing Channel 
To comment on this story in The Fight Forum CLICK HERE
Boxing Odds and Ends: Ramirez-Postol, Taylor-Serrano and More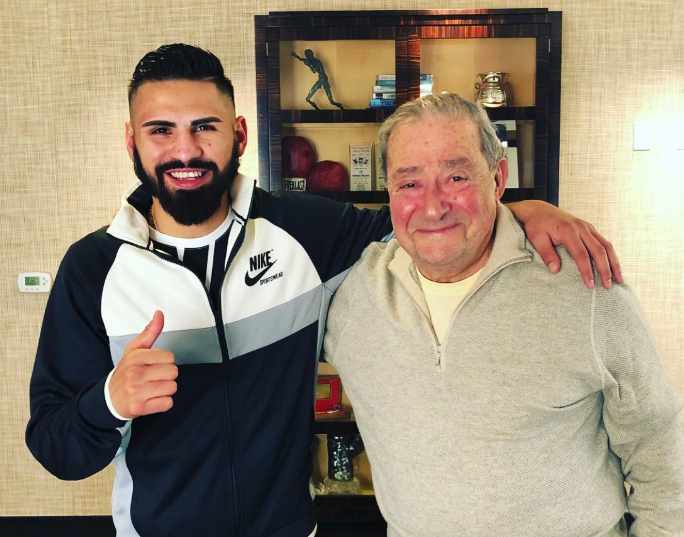 It takes a strong constitution to be a boxing promoter because things always go wrong. The only law that governs boxing is Murphy's Law.
Carl Frampton's first fight under the Top Rank banner was slated for Aug. 10 of last year in Philadelphia. With the fight five days away, Frampton suffered a freak injury while sitting in a hotel lobby. A boy playing behind a curtain knocked over a seven-foot pillar which fell on Frampton's left hand, fracturing it.
This was the second time that a Frampton fight was knocked out by a freak injury. Two years earlier, a homecoming fight in Belfast had to be scrapped when Frampton's opponent, Andres Gutierrez, slipped in the shower in his hotel on the eve of the battle and suffered severe facial injuries.
The latest bout to fall out because of an odd development is Jose Ramirez's Feb. 2 WBC/WBO lightweight title defense against Viktor Postol at a Chinese golf resort south of Hong Kong. The event fell victim to the coronavirus, more exactly the fear it has instilled.
The virus, which produces flu-like symptoms that are resistant to conventional antibiotics, apparently originated at an outdoor food market in the city of Wuhan where live animals are sold. The numbers vary with each new story, but according to one account there have been 444 confirmed cases in Hubei province, of which Wuhan is the capital city, and 653 cases worldwide including two in the United States, a man in his 30's living near Seattle and a Chicago woman in her 60's.
The fear of a pandemic (an epidemic becomes a pandemic when it spreads across multiple geographic regions of the world) has led to some drastic measures. The Chinese government has reportedly put 12 cities on lockdown, blocking traffic in and out. At many airports, visitors arriving from China are being screened. There are now thermal cameras than can record a person's body temperature remotely.
Jose Ramirez (pictured with his promoter Bob Arum) was scheduled to leave for China yesterday (Jan. 23) but was intercepted. Viktor Postol is already there and apparently stranded until an outgoing flight can be arranged.
The Ramirez-Postol fight was to air on ESPN. No make-up date has been set.
– – –
British promoter Eddie Hearn says he's close to finalizing a fight between Katie Taylor and Amanda Serrano. Hearn says the fight will take place in the U.S. in April. It figures that Madison Square Garden is the frontrunner.
If the fight comes off on schedule, this will be the biggest women's fight in history!
That's because the odds attached to the fight figure to be in the "pick-'em" range and that guarantees that boxing writers and others in the boxing community will be surveyed to get their picks – about which there figures to be considerable disagreement – and that will greatly enhance the pre-fight buzz.
Taylor, 33, last fought in November in Manchester, England, advancing her record to 15-0 (6 KOs) with a unanimous decision over Christina Linardatou, a fighter from Greece via the Dominican Republic. It was Taylor's first fight at 140 after previously unifying the lightweight title with a hard-fought decision over Belgium's Delfine Persoon.
Amanda Serrano, a 31-year-old southpaw, born in Puerto Rico and raised in Brooklyn, has won titles in five weight divisions. She last fought as a featherweight, turning away gritty Heather Hardy, but has competed as high as 140. Boasting a 37-1-1 record, she's won 23 straight, 18 by stoppage, 10 in the opening round
What sets women boxers apart from their male counterparts is that the women have a significantly lower knockout ratio. Amanda Serrano is the glaring exception.
Despite a less eye-catching record, Taylor has arguably fought the stiffer competition considering her extensive amateur background. As a pro, her victims include Cindy Serrano, Amanda's older sister by six years. Taylor whitewashed her in a match at Boston Garden, prompting the elder Serrano sister to call it a career.
– – –
The most bizarre (non)story to appear in a boxing web site this week involved former unified heavyweight champion Riddick Bowe. A man representing Bowe, identified as Eli Karabell, was frustrated because Eddie Hearn wasn't returning his calls. Karabell had offered Hearn the right of first refusal on Bowe's next fight.
Bowe, now 51 years old, last fought in a boxing ring in 2008 when he returned to the sport after a three-and-half year absence for an 8-round bout in Germany. In 2013, he appeared in a kickboxing fight in Thailand where he was stopped in the second round after being knocked down five times by leg kicks.
"Will there be another chapter to write for Bowe?" concluded the author of this piece.
Egads, let's hope not.
Check out more boxing news on video at The Boxing Channel 
To comment on this story in The Fight Forum CLICK HERE