Malfunctioning Radar: The Tragic Fate of Wilfred Benitez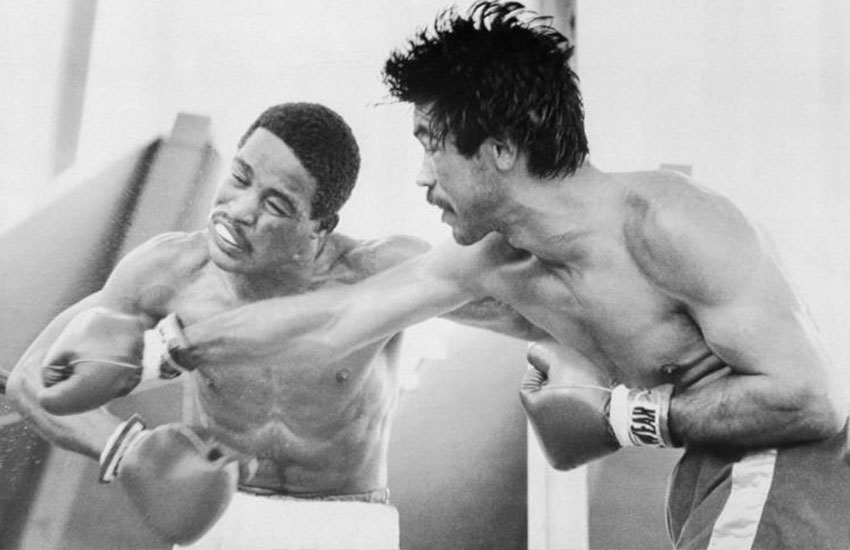 WILFRED BENITEZ, BOXING'S BOY WONDER — They said he possessed radar. The military uses radar to detect enemy aircraft and guided missiles. Air traffic controllers and pilots rely on radar during heavy fog and darkness to keep 300,000-ton 747s from landing anywhere other than the runway. Traffic court judges say it's infallible. Wilfred Benitez used his radar to slip the punches of some of the best fighters in history even while pinned against the ropes or trapped in any of the four 90-degree angles of the ring. Many of those who witnessed this ring marvel in the flesh say he was the greatest defensive fighter ever.
The same experts who witnessed from up-close the graceful sidesteps of a feinting-and-ducking Willie Pep, or the cobra-like reflexes of a young Muhammad Ali, or the silky-smooth slickness of boxers like Jose Napoles, Billy Graham, Willie Pastrano, and Georgie Benton, use words to describe Benitez that they didn't use for anyone else. Some of those experts, like Ray Arcel, went as far back as Benny Leonard in the 1920s and as far south as Buenos Aires, where Nicolino "The Untouchable" Locche thrilled sold out crowds with maneuvers that included cupping each knee with his gloved hands and making his opponents miss despite standing directly in front of them. None of those fighters were described as having radar. And no other boxer was said to possess another quality attributed to Benitez – the ability to anticipate punches that weren't yet thrown.
That he went on to become a defensive wizard is even more amazing considering Benitez started out as a stalking, power puncher. Born in the Morrisania section of the Bronx, Benitez was the last of eight children born to Gregorio and Clara Benitez. Before he turned eight, a typical summer weekend saw Benitez and his three brothers follow their father to the school yard of P.S. 124 on E 160th Street and Tinton Avenue carrying a pair of boxing gloves and a stick of chalk. Near the handball courts in the back, one of them would draw a square on the ground with the chalk large enough for them to box. Through the chain link fence, Gregorio challenged any boy who passed by to get in the "ring" and fight one of his boys. With some coaxing, and the promise of a piece of the "live gate," Gregorio had a bunch of kids in their street clothes eagerly swapping wild punches in a place where – on normal days – children played hopscotch or threw a Spalding ball. Benitez, who boxed without a protective headgear strapped over his little Afro, often fought twice on those days, sometimes against boys as old as 13. At the end of those afternoons, he would receive one dollar and a couple of lumps and bruises. That dollar was twice the amount Gregorio said he ever made when, as a youth, he "sparred" in the streets of Puerto Rico.
Gregorio was born on May 24, 1928 in Puerto Rico. Looking for better opportunities than those he found in the suppressed Puerto Rico of the 1940s, he left for the Bronx just months before the passing of Law 53. That law, also known as the Gag Order, made it illegal to write, or talk, negatively about the local government. The law also outlawed the Puerto Rican flag and anyone caught displaying or waving the five red-and-white stripes would end up behind bars. Less than three years after Gregorio left, a series of revolts erupted throughout the island and lasted until U.S. military bombers blanketed the citizens of Jayuya and Utuado with bombs and bullets while foot soldiers tossed grenades into backyards and living rooms.
Gregorio left just before Puerto Rico turned into a battlefield and settled into a routine of fixing brakes and tuning carburetors by day, and visiting boxing gyms by night. Gregorio, who wore his hair straightened like the singer James Brown, was a regular at gyms where Sugar Ray Robinson and Kid Gavilan trained. Though he never competed in organized matches, he had "boxed" for nickels and dimes on dirt fields as a child and sparred countless rounds in gyms. In the 1940s, when Puerto Rico was effectively turned into an island of sugar mills, boxing went through a lull. The sport had been legalized there in 1927 and less than ten years later, locals Pete Martin, Pedro Montanez and Sixto Escobar had become international stars while several others had risen to coveted spots in the top ten.
The first to break the ranks was Nero Chen, a fighter of whom little is known today except that he was dark complexioned and had epicanthic folds above his eyes. Because of that, he was called El Negro Chino, and later, Negro Chink, Nero Chink and, finally, Nero Chen. Another early contender was Escolastico Sotero Fortier, who gained famed as "Koli Kolo" – a childhood nickname derived from the mispronunciation of his first name. By the time Montanez and Escobar retired, the most notable Puerto Rican boxers, Cocoa Kid and Jose Basora, were campaigning off the island and were often billed as Cubans or "negroes."
Gregorio was familiar with each of those boxers and later, when living in the Bronx, he would closely study from afar the ascensions of Emile Griffith, Carlos Ortiz, Jose Torres, and Frankie Narvaez. When his sons were old enough to dress themselves – except the youngest, Wilfred, who hadn't yet learned to master making loops out of his shoe laces – Papa Gregorio decided that they would each become boxers and that he would train them.
He taught them to throw left hooks like Sugar Ray Robinson did and had them bruising rib cages with the same zest that Marcel Cerdan used to. The lessons learned during those school yard brawls by the handball court were absorbed more readily than any from inside any of the classrooms they attended inside of the three-story brick building that cast a shadow a few feet away from their cement boxing ring. Those school yard boxing sessions, however, ended abruptly.
1960s America saw many major cities in decay. The federally funded highway projects that began after World War II made the suburbs more attractive for middle class families, who loaded the backs and tops of their station wagons with their belongings and headed for the calm of the no-longer-hard-to-reach areas just outside of the big cities. In 1964, a series of riots broke out throughout the inner cities, the boiling point coming after a white superintendent in New York's Upper Eastside decided to "wash away" the teens gathered on the front stoop with his garden hose. The drenched youths fought back, protests and unrest followed and when it all ended, a 15-year-old was dead from one of the three rounds an off-duty cop unloaded into his torso. With racial tensions boiling, crime rising, and drug use rampant, Gregorio, looking for better opportunities than those he found in the suppressed Bronx of the 1960s, packed his suitcases and left for Puerto Rico.
Behind their home in Puerto Rico, where the driveway came to an end, in a spot a swimming pool would have fit nicely, Gregorio had a boxing ring built. Along the sides, a few punching bags were hung. One of the bags, held together by duct tape, still hangs today though the gym's roof was blown off by a hurricane. When the gym first opened, the recent successes of Carlos Ortiz and Jose Torres had the popularity of boxing on the island at the same levels they were in the 1930s when Montanez and Escobar were beating up future Hall of Famers. It wasn't long before kids on the other side of the Trujillo Alto Expressway joined Gregorio's four sons at the gym.
Alfredo Escalera, Esteban DeJesus, and Carlos DeLeon were soon training under Gregorio. The sparring sessions between Benitez and DeJesus, who was born in 1951, were especially violent. DeJesus's power was described by one Puerto Rican trainer as beastly and he said that though Benitez gave as good as he took during those sessions, there were days when what he took was severe. Rather than put a stop to those sessions, Gregorio told his son the more he got hit, the more he needed to spar. In backyard sparring sessions that many felt should never have taken place, Benitez developed his radar.
Exactly how old was Wilfred Benitez when Gregorio moved the family to Puerto Rico?
When Lou Duva of Garden Promotions sponsored the National AAU tournament between the US amateur team and the Puerto Rican national team at the Paterson Armory just before Christmas 1972, the bantamweight was reported as "16-year-old sensation, Wilfredo Benitez." When he boxed for the first time as a professional in New York in 1974, his reported age was 18. That would've made him 19 or 20, depending on his birth month, when he became champion after defeating Antonio Cervantes in 1976.
The story goes that the "Wilfred-o" Benitez who was billed as 16 in 1972 and 18 in 1974 really was Wilfred – without the "O" – and that he was born on September 12, 1958. Never mind that Gregorio called him Wilfredo and not Wilfred because, he said, it was easier for him to pronounce. Never mind too that the few available records from the now-closed PS 124 show a Wilfredo Benitez born in 1956 rather than a Wilfred born in 1958. September 12, 1958 is the date his family celebrates. It's the date that makes him 17 when he defeated Cervantes and justifies the sign in front of his home that reads, "Campeon Mas Joven 17" – the youngest champion. It was a fake baptismal certificate with the misspelled name that caused the confusion according to Gregorio. Those backyard sessions at whatever age Benitez was helped create a fighter Jose Torres wrote was "Willie Pep, Sugar Ray Robinson, and Joe Louis all in one." Those sessions undoubtedly contributed to the poor state of health he was in shortly after his career ended.
Gregorio's training methods were often criticized and his credentials as a trainer came into question numerous times. Because of that, Gregorio frequently sought fights outside of Puerto Rico. The Benitez brothers kept winning however, and with each win, the critics were silenced. Wilfred, the youngest, was the most impressive. His head was in constant motion when he boxed and switching between the righty and lefty stance was no problem for him. His biggest influences were Muhammad Ali and Bruce Lee. He would even call himself "The Dragon" in later years. Early in his career, Benitez was still knocking opponents out. Armed with a solid punch, fully functioning radar, and a baptismal certificate with a forged date and an extra letter at the end of his first name, Benitez out-maneuvered, out-thought, and out-boxed the street-fighter-turned-champion from Colombia, Antonio Cervantes in front of a crowd that included his screaming classmates.
After the win, at a time when Angelo Dundee, Gil Clancy, Freddie Brown, Jesus Rivero, Cus D'Amato, and Amilcar Brusar were active, Hall of Fame matchmaker Teddy Brenner called Gregorio the best trainer in boxing. Jose Torres said what impressed him as much as the flawless defense was the fact that when Benitez threw his punches, he didn't miss. On the day he beat Cervantes, Benitez was the best pure boxer in the sport. Slicker than Ali. Slicker than Miguel Canto. Slicker even than Philly junior lightweight, Tyrone Everett. With Ali past his prime, Canto stuck in that division of 110-pounders that never gets any credit, and Everett only a few months away from dying amid drugs, a transvestite, and a hail of bullets, Benitez was poised to become the star of the sport. As it turned out though, the Cervantes fight was the very beginning of the end for him.
Deprived of a normal childhood, once Benitez became a man, he started acting like a child. He purchased a new car and, if not for a pair of trees that stood strong along a winding road that wrapped around The Central Range, Benitez would have driven it off a cliff. With his new car wedged between the trunks of two trees, the fighter soon found himself wedged between managers, promoters, and people telling him how to spend his money. Gregorio sold the managerial rights to Bill Cayton and Jimmy Jacobs. The training duties went to Cus D'Amato, then to former boxing champion Emile Griffith, and Don King began dialing area code 787.
He stopped listening to his trainers and managers. Roadwork was something he used to do. Soon, money was something he used to have and the blame-game lasts until today. Papa Gregorio gets most of the blame. Benitez said his father would often point to a lot or a building and tell him that he had purchased that property for him and that he would get it when he retired. He never did. Gregorio's gambling woes were widely reported and the insinuations were that it was his son's money he was wasting away. Benitez's older sister says those allegations were false. Gregorio had no control over her brother's finances, she said. There was another reason, according to her.
In 1983 Benitez married the girl across the street. It was after the marriage that his money evaporated, his sister Yvonne says. Any rumors about his father wasting away Benitez's money are false. "People like to talk," she said. The stable of race horses his father kept were purchased with his own money and not that of his son's. The confusion, Yvonne felt, may have been caused by the fact that the stable bore the name of the champion boxer.
When Benitez and his wife moved to New York, Gregorio said the fighter had a six-figure amount in the bank. As proof, he showed a reporter a Chemical Bank statement showing over two hundred thousand in liquid assets. The losses – both in the ring and in his bank account – started shortly after the marriage, he said.
A fighter Sugar Ray Leonard called his mirror image was no longer a world class fighter by his mid-twenties. A fighter who once traded feints, jabs, and knockdowns with the destructive Thomas Hearns, and who turned Roberto Duran – a man Joe Frazier said reminded him of Charles Manson – into a passive and hesitant brawler, could no longer defeat even B-level fighters. Promoters began using him the way gardeners used stepping stones – something a prospect could easily walk over without getting scathed on his path to stardom.
Though he turned back one fighter with a pretty record in New York, he suffered a brutal loss to a legit prospect who was on the way to winning a belt. That fight in Montreal against Matthew Hilton was the first fight where Benitez was knocked out. Behind on the cards, Benitez was in the middle of a mini-rally and still trying to win when a series of wide hooks backed him into the ropes. A wide left hook crashed into his jaw and turned him into a bobble head doll just before his legs folded and he collapsed along with his career.
"I felt those punches too," his mother said of the Hilton fight. "I told him it was time to stop." She repeated her request months later when he was offered a match in Argentina. "But Mom," he said while grabbing her hand. "I want to visit the homeland of Carlos Monzon."
When Benitez arrived in Salta, Argentina, a place that, in some parts, looks like the Grand Canyon, he was expecting to fight Miguel Angel Arroyo and stay for a few weeks. Instead, he fought Carlos Herrera and stayed for more than a year. That he lost to Herrera was no surprise. Benitez needed help climbing into the ring. Local reporter Roberto Vitry attended the weigh-in and said Benitez was a shot fighter. In fact, he said Benitez failed the pre-fight physical. There was an equilibrium test before each fight where boxers are to form an "X" with their arms across their chest and stand on one leg. He couldn't do it. Everyone in the room looked at each other, perhaps waiting for someone else to speak up. No one did. On top of that, Vitry continued, his license to box in Puerto Rico was suspended. Normally, the local commission would honor any outstanding suspension. Despite the suspension and the failed physical, Benitez was cleared to box. How much training he did is unknown. What most people saw him doing leading up to the fight was feasting on large steaks and boiled vegetables and attending Evangelical mass. How much he got paid is another issue.
When Benitez failed to return to Puerto Rico with his two handlers, word spread like mange throughout St. Just and Trujillo Alto, then made its way up to the United States and then back to Argentina. Word was Benitez was never paid for his fight in Argentina and he was stranded there because the promoter stole his passport.
The promoter of the fight, Miguel Herrera, says that though he was paid late, Benitez eventually got every penny of the $14,000 he was due and more. He says Benitez stayed in Salta voluntarily because, Benitez said, he would be thrown in jail for an outstanding debt the moment he stepped foot again in Puerto Rico. In an interview from his home just before his death, Herrera said his mistake was giving Benitez money just to avoid dealing with him. Benitez would show up at his office asking for money and the promoter said he'd instruct his staff to hand him a few pesos and not let him in. He paid Benitez's hotel bill for months and his mother cooked meals for the fighter. When Herrera's father died, they held the wake in their living room and Benitez, as he did in the ring against Leonard and Hearns during the referee's instructions, stood in front of the casket, locked his eyes on it, and stared without flinching. For 24 hours, he stood without talking or sitting.
Benitez was smart in a hustler's kind of way, said the promoter. He charmed the locals despite not speaking their dialect. It was not the first time he was accused of having charm. When Antonio Cervantes called him late in his career and advised him he was fighting too long, Wilfred, his mom said, told his former rival that he wanted "to be great like you, Kid Pambele." And when Howard Cosell interviewed him in the ring after a match and asked him if the decision being split bothered him, Wilfred waved it off saying that, so long as he got the win, he didn't care and that he just wanted to shake Cosell's hand because Howard was a "great man."
The locals in Salta affectionately called him "El Morenito," which can be translated as, the cute little brown guy. He "pretended" he couldn't speak or understand Castilian, "but I know he did," Herrera said. Benitez spent his days like a vagabond, walking up and down the streets, telling anyone who would listen that he was waiting for his pay and that his passport was stolen. After a few months, the promoter said, he cut off Benitez. The fighter spent the rest of his days in Argentina crashing wherever he could, asking for handouts, and, at times, running at top speed throughout the streets until he collapsed on the ground from exhaustion. After resting, he would get up and run some more.
"One day, a man from Puerto Rico showed up," Herrera said. The man, Leonardo Gonzalez, told Herrera he was sent by the government to bring Benitez back and, showing him a check, asked, "What do we owe you Mr. Herrera for your troubles?"
Whether Benitez was ever paid and how much is still a mystery. Benitez's wife says she had a contract showing the amount offered was $25,000 and that the promoters never came close to matching that amount. It was also revealed that she had been communicating with Benitez while he was in Argentina and that she instructed him not to return until he collected the entire 25 grand.
Gonzalez said Benitez was underweight, malnourished, and incoherent when he found him. Upon returning home, the former champ was checked into a hospital where he remained for a couple of weeks. The local commission retired him. He was in no condition to box, they said. When he was released from the hospital, a 20-hour per week job training Olympic hopefuls that paid a salary of $800 per month awaited him.
Two years later, despite showing signs of suffering from post-traumatic encephalitis, Benitez awaited the opening bell in a ring at a Phoenix motel. His opponent was a fighter with zero wins in his career. Two months later, trained by Emanuel Steward, he fought in an indoor soccer arena on E 36th Street in Tucson. He lost. Before leaving Arizona, he filed for divorce. Then he headed north for his final two fights.
Five years after his final ring appearance, he was elected into the Hall of Fame. Four months after the induction ceremonies in Canastota, back home in Puerto Rico, he asked his mother for a piece of cake. Before she finished slicing it, Benitez was on the floor vomiting and in convulsions. He was taken to the Hospital Universitario in Rio Piedras and remained in a coma for about a week.
He never fully recovered and spent the following years under the alternating supervision of his mother, his sister Yvonne, and numerous medical professionals. While the family hoped for a miracle, his health deteriorated. He could no longer dress himself or tie his own shoes though, during lucid moments, he could still shadowbox when asked. After suffering a stroke years later, he rarely ventured much further than the front of his house. His daughter, who lived across the street, visited less frequently, according to his family. There were times few could understand what he was trying to say. During the few lucid days, he surprised those around him by singing Hector Lavoe songs and cheering for Miguel Cotto. More often were the sleepless days and nights and outbursts of tears.
"He told me to kill him," his sister said. "With a gun."
Gone was the perpetual smile that held up his thin mustache. Benitez was like a five-year-old cousin who greeted visitors at the door with a bright smile. In his eyes, everyone was great, everyone was beautiful. Whether they were good influences or bad, he was always glad to have people around him, his sister said. This man with no known enemies who once asked his sister to hold a gun to his head and pull the trigger because he didn't want to live anymore may soon have that wish. Today he lays immobile in a bed with almost no friends and few visitors. A paraplegic surrounded by medical equipment with failing vision and little to no memory. His body is shutting down. His radar is malfunctioning.
Editor's note: Jose Corpas' second book, a biography of Panama Al Brown, titled "BLACK INK: A Story of Boxing, Betrayal, Homophobia, and the First Latino Champion," is available now via Amazon and other leading online booksellers. He is currently at work on his next boxing book, tentatively titled "THE RIVALRY; Mexico vs. Puerto Rico."
Check out more boxing news on video at The Boxing Channel.
The BWAA Shames Veteran Referee Laurence Cole and Two Nebraska Judges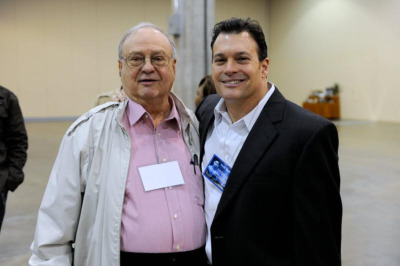 In an unprecedented development, the Boxing Writers Association of America has started a "watch list" to lift the curtain on ring officials who have "screwed up." Veteran Texas referee Laurence Cole and Nebraska judges Mike Contreras and Jeff Sinnett have the unwelcome distinction of being the first "honorees."
"Boxing is a sport where judges and referees are rarely held accountable for poor performances that unfairly change the course of a fighter's career and, in some instances, endanger lives," says the BWAA in a preamble to the new feature. Hence the watch list, which is designed to "call attention to 'egregious' errors in scoring by judges and unacceptable conduct by referees."
Contreras and Sinnett, residents of Omaha, were singled out for their scorecards in the match between lightweights Thomas Mattice and Zhora Hamazaryan, an eight round contest staged at the WinnaVegas Casino in Sloan, Iowa on July 20. They both scored the fight 76-75 for Mattice, enabling the Ohio fighter to keep his undefeated record intact via a split decision.
Although Mattice vs. Hamazaryan was a supporting bout, it aired live on ShoBox. Analyst Steve Farhood, who was been with ShoBox since the inception of the series in 2001, called it one of the worst decisions he had ever seen. Lead announcer Barry Tompkins went further, calling it the worst decision he has seen in his 40 years of covering the sport.
Laurence Cole (pictured alongside his father) was singled out for his behavior as the third man in the ring for the fight between Regis Prograis and Juan Jose Velasco at the Lakefront Arena in New Orleans on July 14. The bout was televised live on ESPN.
In his rationale for calling out Cole, BWAA prexy Joseph Santoliquito leaned heavily on Thomas Hauser's critique of Cole's performance in The Sweet Science. "Velasco fought courageously and as well as he could," noted Hauser. "But at the end of round seven he was a thoroughly beaten fighter."
His chief second bullied him into coming out for another round. Forty-five seconds into round eight, after being knocked down for a third time, Velasco spit out his mouthpiece and indicated to Cole that he was finished. But Cole insisted that the match continue and then, after another knockdown that he ruled a slip, let it continue for another 35 seconds before Velasco's corner mercifully threw in the towel.
Controversy has dogged Laurence Cole for well over a decade.
Cole was the third man in the ring for the Nov. 25, 2006 bout in Hildalgo, Texas, between Juan Manuel Marquez and Jimrex Jaca. In the fifth round, Marquez sustained a cut on his forehead from an accidental head butt. In round eight, another accidental head butt widened and deepened the gash. As Marquez was being examined by the ring doctor, Cole informed Marquez that he was ahead on the scorecards, volunteering this information while holding his hand over his HBO wireless mike. The inference was that Marquez was free to quit right then without tarnishing his record. (Marquez elected to continue and stopped Jaca in the next round.)
This was improper. For this indiscretion, Cole was prohibited from working a significant fight in Texas for the next six months.
More recently, Cole worked the 2014 fight between Vasyl Lomachenko and Orlando Salido at the San Antonio Alamodome. During the fight, Salido made a mockery of the Queensberry rules for which he received no point deductions and only one warning. Cole's performance, said Matt McGrain, was "astonishingly bad," an opinion echoed by many other boxing writers. And one could site numerous other incidents where Cole's performance came under scrutiny.
Laurence Cole is the son of Richard "Dickie" Cole. The elder Cole, now 87 years old, served 21 years as head of the Texas Department of Combat Sports Regulation before stepping down on April 30, 2014. At various times during his tenure, Dickie Cole held high executive posts with the World Boxing Council and North American Boxing Federation. He was the first and only inductee into the inaugural class of the Texas Boxing Hall of Fame, an organization founded by El Paso promoter Lester Bedford in 2015.
From an administrative standpoint, boxing in Texas during the reign of Dickie Cole was frequently described in terms befitting a banana republic. Whenever there was a big fight in the Lone Star State, his son was the favorite to draw the coveted refereeing assignment.
Boxing is a sideline for Laurence Cole who runs an independent insurance agency in Dallas. By law in Texas (and in most other states), a boxing promoter must purchase insurance to cover medical costs in the event that one or more of the fighters on his show is seriously injured. Cole's agency is purportedly in the top two nationally in writing these policies. Make of that what you will.
Complaints of ineptitude, says the WBAA, will be evaluated by a "rotating committee of select BWAA members and respected boxing experts." In subsequent years, says the press release, the watch list will be published quarterly in the months of April, August, and December (must be the new math).
Check out more boxing news on video at The Boxing Channel
Popo vs. "La Hiena": Blast From the Past – Episode Two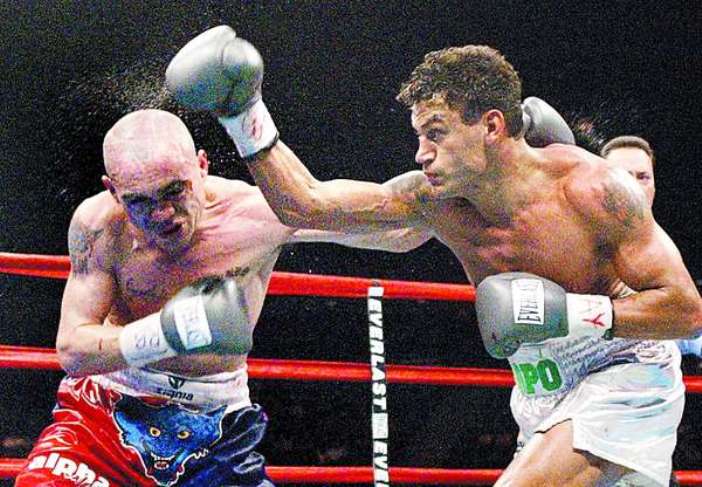 When WBA/WBO super featherweight champion Acelino "Popo" Freitas met Jorge Rodrigo "Il Hiena" Barrios in Miami on August 8, 2003, there was more on the line than just the titles. This was a roughhousing 39-1-1 Argentinian fighting an equally tough 33-0 Brazilian. The crowd was divided between Brazilian fans and those from Argentina. To them this was a Mega-Fight; this was BIG.
When Acelino Freitas turned professional in 1995, he streaked from the gate with 29 straight KOs, one of the longest knockout win streaks in boxing history. He was fan-friendly and idolized in Brazil. Barrios turned professional in 1996 and went 14-0 before a DQ loss after which he went 25-0-1 with 1 no decision.
The Fight
The wild swinging "Hyena" literally turned into one as he attacked from the beginning and did not let up until the last second of the eleventh round. Barrios wanted to turn the fight into a street fight and was reasonably successful with that strategy. It became a case of brawler vs. boxer/puncher and when the brawler caught the more athletic Popo—who could slip and duck skillfully—and decked him with a straight left in the eighth, the title suddenly was up for grabs.
The Brazilian fans urged their hero on but to no avail as Barrios rendered a pure beat down on Popo during virtually the entirety of the 11th round—one of the most exciting in boxing history. Freitas went down early from a straight right. He was hurt, and at this point it looked like it might be over. Barrios was like a madman pounding Popo with a variety of wild shots, but with exactly one half of one second to go before the bell ending the round, Freitas caught La Hiena with a monster right hand that caused the Hyena to do the South American version of the chicken dance before he went down with his face horribly bloodied. When he got up, he had no idea where he was but his corner worked furiously to get him ready for the final round. All he had to do was hang in there and the title would change hands on points.
The anonymous architect of "In Boxing We Trust," a web site that went dormant in 2010, wrote this description:
"Near the end of round 11, about a milli-second before the bell rang, Freitas landed a ROCK HARD right hand shot flush on Barrios' chin. Barrios stood dazed for a moment, frozen in time, and then down he went, WOW WOW WOW!!!! Barrios got up at the count of 4, he didn't know where he was as he looked around towards the crowd like a kid separated from his family at a theme park, but Barrios turned to the ref at the count of 8 and signaled that he was okay, SAVED BY THE BELL. It was panic time in the Barrios corner, as the blood continued to flow like lava, and he was bleeding from his ear (due to a ruptured ear drum). In the beginning of round 12, Freitas was able to score an early knockdown, and as Barrios stood up on wobbly legs and Freitas went straight at him and with a couple more shots, Barrios was clearly in bad shape and badly discombobulated and the fight was stopped. Freitas had won a TKO victory in round 12, amazing!!!!"
Later, Freitas tarnished his image with a "No Mas" against Diego Corrales, but he had gone down three times and knew there was no way out. He went on to claim the WBO world lightweight title with a split decision over Zahir Raheem, but that fight was a snoozefest and he lost the title in his first defense against Juan "Baby Bull" Diaz.
Freitas looked out of shape coming in to the Diaz fight and that proved to be the case as he was so gassed at the end of the eighth round that he quit on his stool. This was yet another shocker, but others (including Kostya Tszyu, Mike Tyson, Oscar De La Hoya and even Ali) had done so and the criticism this time seemed disproportionate.
Popo had grown old. It happens. Yet, against Barrios, he had proven without a doubt that he possessed the heart of a warrior.
The Brazilian boxing hero retired in 2007, but came back in 2012 and schooled and KOd the cocky Michael "The Brazilian Rocky" Oliveira. He won another fight in 2015 and though by now he was visibly paunchy, he still managed to go 10 rounds to beat Gabriel Martinez in 2017 with occasional flashes of his old explosive volleys. These later wins, though against lower level opposition, somewhat softened the memories of the Corrales and Diaz fights, both of which this writer attended at the Foxwoods Resort in Mashantucket, Connecticut. They would be his only defeats in 43 pro bouts.
Like Manny Pacquiao, Freitas had a difficult childhood but was determined to make a better life for himself and his family. And, like Manny, he did and he also pursued a career in politics. Whether he makes it into the Hall will depend on how much a 'No Mas' can count against one, but he warrants serious consideration when he becomes eligible.
As for the Hyena, on April 8, 2005, he won the WBO junior lightweight title with a fourth round stoppage of undefeated but overweight Mike Anchondo. In January 2010 he was involved in a hit and run accident in which a 20-year-old pregnant woman was killed. On April 4, 2012 Barrios was declared guilty of culpable homicide and sentenced to four years in prison. He served 27 months and never fought again, retiring with a record of 50-4-1.
Ted Sares is one of the oldest active full power lifters in the world. A member of Ring 10, and Ring 4's Boxing Hall of Fame, he was recently cited by Hannibal Boxing as one of three "Must-Read" boxing writers.
Check out more boxing news on video at The Boxing Channel
The Avila Perspective Chapter 6: Munguia, Cruiserweights and Pacman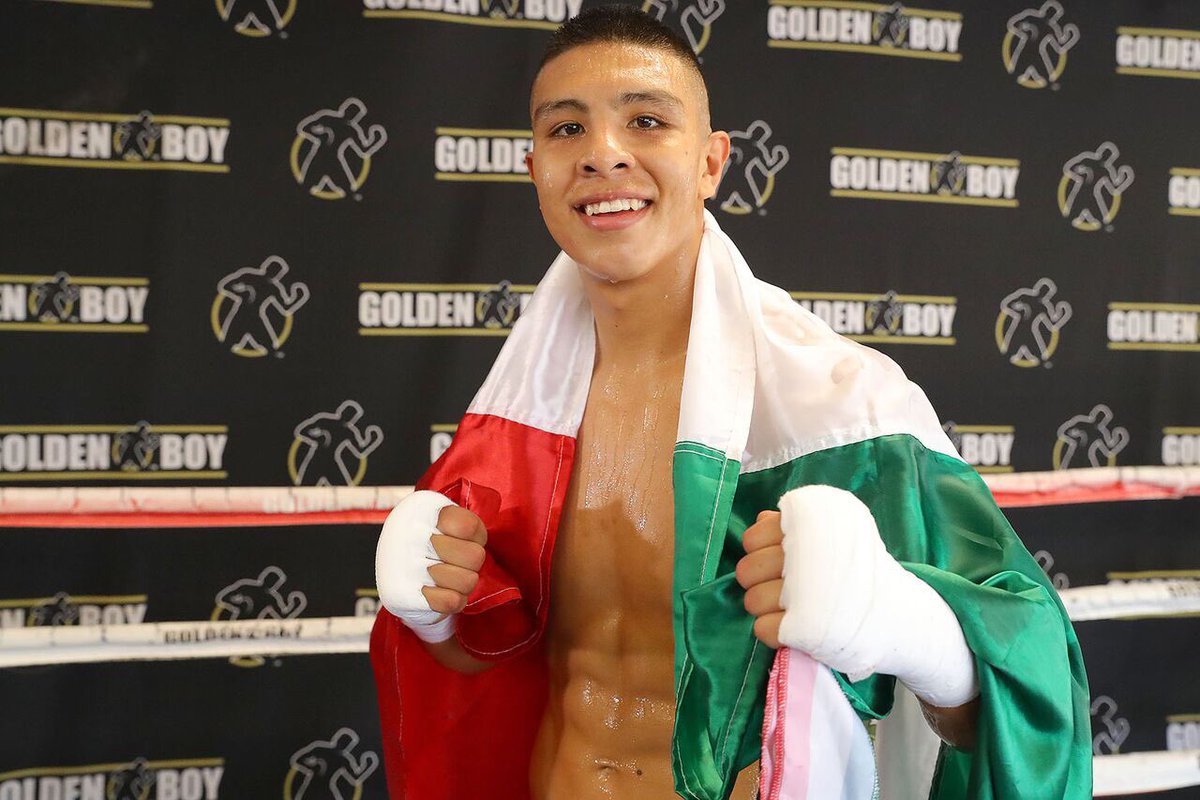 Adjoining states in the west host a number of boxing cards including a world title contest that features a newcomer who, before knocking out a world champion, was erroneously categorized by a Nevada official as unworthy of a title challenge.
Welcome to the world of Mexico's Jaime Munguia (29-0, 25 KOs) the WBO super welterweight world titlist who meets England's Liam Smith (26-1-1, 14 KOs) at the Hard Rock Hotel and Casino in Las Vegas on Saturday, July 21. HBO will televise
Back in April when middleweight titan Gennady "GGG" Golovkin was seeking an opponent to replace Saul "Canelo" Alvarez who was facing suspension for performance enhancement drug use, it was the 21-year-old from Tijuana who volunteered his services for a May 5th date in Las Vegas.
Bob Bennett, the Executive Director for Nevada State Athletic Commission, denied allowing Munguia an opportunity to fight Golovkin for the middleweight titles. Bennett claimed that the slender Mexican fighter had not proven worthy of contesting for the championship though the tall Mexican wielded an undefeated record of 28 wins with 24 coming by knockout.
To be fair, Bennett has seen many fighters in the past with undefeated records who were not up to challenges, especially against the likes of Golovkin. But on the other hand, how can an official involved in prizefighting deny any fighter the right to make a million dollar payday if both parties are willing?
That is the bigger question.
Munguia stopped by Los Angeles to meet with the media last week and spoke about Bennett and his upcoming first world title defense. He admitted to being in the middle of a whirlwind that is spinning beyond his expectations. But he likes it.
"I've never won any kind of award before in my life," said Munguia at the Westside Boxing Club in the western portion of Los Angeles. "I've always wanted to be a world champion since I was old enough to fight."
When asked how he felt about Nevada's denying him an attempt to fight Golovkin, a wide grin appeared on the Mexican youngster.
"I would like to thank him," said Munguia about Bennett's refusal to allow him to fight Golovkin. "Everything happens for a reason."
That reason is clear now.
Two months ago Munguia put on a frightening display of raw power in knocking down then WBO super welterweight titlist Sadam Ali numerous times in front of New York fans. It reminded me of George Foreman's obliteration of Joe Frazier back in the 1970s. World champions are not supposed get battered like that but when someone packs that kind of power those can be the terrifying results.
Still beaming over his newfound recognition, Munguia has grand plans for his future including challenging all of the other champions in his weight category and the next weight division.
"I want to be a great champion," said Munguia. "I want to make history."
The first step toward history begins on Saturday when he faces former world champion Smith who was dethroned by another Mexican named Canelo.
Cruiserweight championship
It's not getting a large amount of attention in my neighborhood but this unification clash between WBA and IBF cruiserweight titlist Murat Gassiev (26-0, 19 KOs) and WBC and WBO cruiserweight titlist Oleksandr Usyk (14-0, 11 KOs) has historic ramifications tagged all over it.
The first time I ever saw Russia's 24-year-old Gassiev was three years ago when he made his American debut at the Quiet Cannon in Montebello. It's a small venue near East L.A. and the fight was attended by numerous boxing celebrities such as James "Lights Out" Toney, Mauricio "El Maestro" Herrera and Gennady "GGG" Golovkin. One entire section was filled by Russian supporters and Gassiev did not disappoint in winning by stoppage that night. His opponent hung on for dear life.
Ukraine's Usyk, 31, made his American debut in late 2016 on a Golden Boy Promotions card that staged boxing great Bernard Hopkins' final prizefight. That night the cruiserweight southpaw Usyk bored audiences with his slap happy style until lowering the boom on South Africa's Thabiso Mchunu in round nine at the Inglewood Forum. The sudden result stunned the audience.
Now it's Gassiev versus Usyk and four world titles are at stake. The unification fight takes place in Moscow, Russia and will be streamed via Klowd TV at 12 p.m. PT/ 3 p.m. ET.
Seldom are cruiserweight matchups as enticing to watch as this one.
Another Look
A couple of significant fights took place last weekend, but Manny Pacquiao's knockout win over Lucas Matthysse for the WBO welterweight world title heads the list.
Neither fighter looked good in their fight in Malaysia but when Pacquiao floored Matthysse several times during the fight, it raised some red flags.
The last time Pacquiao knocked out a welterweight was in 2009 against Miguel Cotto in Las Vegas. Since then he had not stopped an opponent. What changed?
In this age of PEDs there was no mention of testing for the Pacquiao/Matthysse fight. For the curiosity of the media and the fans, someone should come forward with proof of testing. Otherwise any future fights for the Philippine great will not be forthcoming.
Check out more boxing news on video at The Boxing Channel