The Hauser Report: Canelo Alvarez vs. Julio Cesar Chavez Jr
THE HAUSER REPORT: Boxing is on the ropes in the United States. Self-inflicted wounds coupled with external forces have made it a niche sport. But there are places where the sweet science is healthy and has a fervent fan base.
In England, 90,000 fans gathered a little more than a week ago to watch Anthony Joshua defend his heavyweight title against Wladimir Klitschko.
Mexican boxing fans also exude a passion for the sport that transcends geographic boundaries. On May 6, Saul "Canelo" Alvarez of Guadalajara faced off against Julio Cesar Chavez Jr from Culiacan at the T-Mobile Arena in Las Vegas. The son of an ice cream vendor fought "The Son of the Legend" in one of the most anticipated intramural match-ups in Mexican boxing history.
Alvarez was a child prodigy who fought professionally for the first time at age 15. He's now 26 and a veteran of 51 fights with a 49-1-1 (34 KOs) record. The draw came in his fifth pro bout when he was 15 years old. The other blemish on his record was a 2013 loss by decision to Floyd Mayweather, who befuddled Canelo over the course of twelve long rounds.
The knock on Canelo, if there is one, is that he has beaten faded fighters (Shane Mosley and Miguel Cotto), smaller fighters (Liam Smith and Amir Khan), stylish boxers (Erislandy Lara and Austin Trout), and punchers (James Kirkland and Alfredo Angulo). But he has yet to beat a complete fighter in his prime. That said; he's a world-class fighter.
Julio Cesar Chavez Sr was more than a world-class fighter. He's widely regarded as Mexico's greatest champion. His son, Julio Jr, entered the ring for the first time at age 17, armed with his father's name and not much more.
Junior is now 31. Having begun boxing as a curiosity, he developed into a pretty good fighter but has regressed to being a curiosity again (albeit a less interesting curiosity than before). At one point, he won a faux 160-pound world title, courtesy of the World Boxing Council (which arranged for him to fight Sebastian Zbik for a belt in 2011 and then defend it against Peter Manfredo, Marco Rubio, and Andy Lee). That party came to an end on September 15, 2012, when legal maneuvering forced Chavez into the ring against Sergio Martinez.
Martinez treated Chavez like a heavy bag and dominated him for 11-1/2 rounds. The second half of round twelve was different. Writing soon after, I recounted the drama as follows:
"Chavez started slowly in round twelve, moving forward with his hands held high. His left eye was swollen shut. His right eye was ringed by abrasions and his lips were puffy. Martinez kept circling, jabbing. Twenty-eight seconds elapsed before Julio threw his first punch of the round, a tentative stay-away-from-me right hand. Ten seconds later, he offered a meaningless jab. Both punches missed. One minute into round twelve, Chavez had thrown three punches and landed none. Then with 1:28 left, Julio scored with a sharp left hook up top that hurt Sergio. Two more hooks landed flush. Suddenly, with 1:23 left in the fight, Martinez was on the canvas and in trouble. There was pandemonium in the arena. Martinez crawled to the ropes and lifted himself up at the count of six. Referee Tony Weeks beckoned Chavez in. Julio had seventy seconds to finish the job. Sergio, too dazed and weak to tie Chavez up and with his legs too unsteady to move out of danger, hurled punches back at his foe. With one minute left in the fight, Martinez tried to clinch and Julio dismissively threw him to the canvas. Sergio staggered to his feet. Weeks, appropriately, chose not to give him extra time to recover and ordered that the action resume immediately without wiping Sergio's gloves. Fifty-two seconds remained. But now, Chavez too was exhausted. At the final bell, both fighters knew that Martinez had won."
The last round of Martinez-Chavez saved Julio from being branded a fraud. But his reputation was soon in tatters.
Trainer Freddie Roach complained that Chavez had refused to train properly for the Martinez fight. WBC president Jose Sulaiman alleged that Julio had a serious gambling problem that had resulted in millions of dollars lost at the gaming tables. Then the Nevada State Athletic Commission announced that, in a post-fight drug test, Chavez had tested positive for marijuana.
Three years earlier, a Chavez victory over Troy Rowland had been changed to "no contest" because Julio tested positive for furosemide (a diuretic sometimes used as a masking agent). For that offense, the NSAC suspended Chavez for seven months and fined him $10,000. After the Martinez fight, the commission fined Julio $100,000.
Chavez's career foundered thereafter as he continued to slack off in training and struggled to make weight. The World Boxing Council jumped through so many hoops for him that it was suggested the sanctioning body establish a new weight division known as "Chavezweight." The Chavezweight championship would be awarded for whatever weight Julio could make at the weigh-in, and the WBC would present Julio with a special championship belt emblazoned with medallions honoring Burger King and McDonald's.
In the 58 months prior to facing Canelo, Chavez had only four wins (two over Brian Vera, and one each against Marcos Reyes and Dominik Britsch). He'd quit on his stool in a loss to Andrzej Fonfara. Putting matters in further perspective, Julio had fought only one round at an elite level (round twelve against Martinez) since beating Andy Lee in mid-2012.
It's hard being a professional fighter. Whatever his limitations – and there were many – Chavez did get in a boxing ring 53 times and had compiled a 50-2-1 (32 KOs) record. But he was dogged by the belief that he's more sizzle than steak and, worse, by the accusation that he lacks heart.
One gets the impression that Canelo fights because he likes to fight and the money is good. One gets the impression that Chavez fights because the money is good.
After considerable negotiation, Canelo-Chavez was made for a contract weight of 164.5 pounds. That was 9.5 pounds more than Alvarez had previously weighed in for a fight and less than Chavez had weighed in five years. The penalty for missing weight would be $1,000,000 for each pound or fraction thereof that a fighter weighed in over 164.5.
Chavez chose to train with Nacho Beristain. Once again, Canelo worked with Eddy and "Chepo" Reynoso.
The promotion had a buzz from the start and showed that boxing's sanctioning bodies are unnecessary at a certain level. Canelo-Chavez wasn't for an alphabet-soup belt. It was for bragging rights in Mexico. Among intramural Mexican rivalries, only the three fights between Erik Morales and Marco Antonio Barrera and, possibly, the four encounters between Israel Vazquez and Rafael Marquez engendered passions of this magnitude.
"Titles are very important to me," Canelo said. "But this goes above any title. It's for honor, for pride."
Tickets quickly sold out. Early pay-per-view numbers were encouraging. Canelo's previous three bouts had made it clear that he needs a dance partner to engender massive pay-per-view buys. Taken chronologically, the opponents in those fights had been Miguel Cotto (900,000 buys), Amir Khan (500,000), and Liam Smith (300,000).
Now Canelo had a marketable dance partner, albeit one that he disrespected.
"He was never a dignified representative for Mexico," Canelo said of Chavez. "I can't respect him because, for me personally, he hasn't done anything. He has shamed his country with what he has done with his career. My fans know that I started from nothing, from the bottom up, from zero, and have worked my way up with a lot of sweat and sacrifices. He has his fans, as well. But I think a lot of his fans are more his father's fans than his."
"I feel I've been over-criticized because I am Senior's son," Julio responded. "All the good I do, I feel it counts for half. And any of the bad is doubled."
In the days leading up to the fight, Alvarez seemed more confident and stronger at his core than Chavez. One got the sense that Canelo embraced the idea of his honor being tested before all of Mexico, while Chavez was a bit intimidated by it.
The prevailing view was that Canelo would go to the body, break Chavez down, and take away his heart.
But a case could be made for a Chavez victory.
Canelo is faster than Chavez. He's a better boxer. Everyone understood that Julio had been given this opportunity in large part because of his father's name. But Chavez is bigger than Canelo. Much bigger. And because of the size differential between them, some knowledgeable observers thought Julio had a good chance to win.
Canelo scoffed at that notion, saying, "I've been fighting professionally since I was 15 years old, so I've been fighting bigger and stronger guys."
But not lately. As Chavez noted, "He won the title, and then it was pick anybody. He picked smaller guys so he got used to being the bigger man. And now there's me."
There was also an emotional factor to consider.
The fight offered Chavez a chance for redemption. It was the equivalent of a life preserver being thrown to a drowning man. A victory over Canelo would wipe away every past failure on Julio's ring ledger.
"This fight has created a lot of passion in me, a lot of enthusiasm," Chavez told the media. "That's the difference in this. You're going to see a different Julio that's excited. I can lose to a lot of people. I cannot lose to Canelo."
Sean Gibbons has helped guide Chavez during his sojourn through boxing.
"People talk about Julio's past," Gibbons said. "But that's the past. For a long time, Julio wasn't interested in boxing the way a fighter has to be if he's going to be great or even very good. Then, for four years after he lost to Martinez, Julio hated boxing. But Julio is more into boxing for this fight than I've ever seen him before."
Two days before the fight, Canelo was a 6-to-1 betting favorite. There were questions as to whether Chavez would make the 164.5 pound weight limit before rehydrating. And if he did, would he be dead at the weight? Then Canelo and Chavez each weighed in at 164 pounds. A half pound under. By fight night, the odds had dropped to 4-to-1.
But an elite fighter isn't built in four months. It takes years of discipline, training, and hard work. Chavez simply wasn't up to the task.
It was hard to imagine Canelo-Chavez not being an entertaining fan-friendly fight. But it wasn't.
Both men fought cautiously in round one with Alvarez applying the greater pressure. Chavez could have forced exchanges but chose not to. In round two, Julio opened up a bit but seemed wary of Canelo's punching power. By round three, they were clearly hunter and prey, with Canelo stalking and landing hurting blows. Blood began dribbling from Chavez's nose. Whatever plan Julio might have had before the fight, he was now trying to outbox a man who was quicker, faster, and a better boxer.
From that point on, Canelo beat Chavez down. He was relentless, methodical, patient, and professional en route to a 228-to-71 advantage in punches landed.
In round five, Chavez's left eye began to close, and one began to wonder whether his spirit or body would break first.
In round six, Alvarez went to the ropes as he would do several times during the fight in the hope of drawing Chavez into a more vigorous exchange of punches. "But he wouldn't do it," Canelo said afterward. "I thought he was going to fight. He just wouldn't throw punches."
There were times when Chavez accepted Canelo's invitation to trade, but they were few and far between. Almost always, when Canelo fired back, Julio disengaged. He preferred to stay at as safe a distance as possible and never used his size in an effort to rough Canelo up on the inside.
One wondered what might happen if Chavez were able to land a hard overhand right flush on the jaw. But Canelo was boxing too well to find out. And Julio was largely in survival mode.
At the start of the proceedings, the 20,510 fans in attendance had been evenly divided. Whether Canelo won the Chavez fans over or Julio lost them is open to question. But there were fewer Chavez fans in the arena when the final bell sounded.
All three judges scored the bout 120-108. It would have been hard to arrive at a different tally.
"Canelo beat me," Chavez acknowledged afterward. "He is very good and he beat me. He's fast and he's consistent. The speed and the distance was the key."
Or as writer Tom Gerbasai noted, "The shoes were always going to be too big to fill. Maybe Julio Cesar Chavez Jr knew it from the start."
Meanwhile, Canelo's next fight is scheduled for September 16 against Gennady Golovkin and is the most anticipated fight of the year.
If Canelo beats Golovkin, it will elevate him to "Chavez-like" status in Mexico.
Check out more boxing news on video at The Boxing Channel.
Thomas Hauser can be reached by email at thauser@rcn.com. His most recent book – A Hard World: An Inside Look at Another Year in Boxing – was published by the University of Arkansas Press. In 2004, the Boxing Writers Association of America honored Hauser with the Nat Fleischer Award for career excellence in boxing journalism.
The BWAA Shames Veteran Referee Laurence Cole and Two Nebraska Judges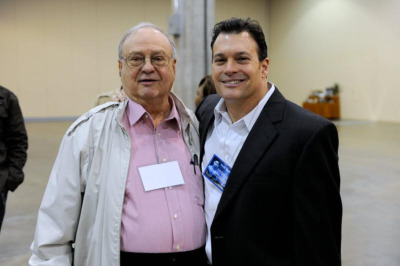 In an unprecedented development, the Boxing Writers Association of America has started a "watch list" to lift the curtain on ring officials who have "screwed up." Veteran Texas referee Laurence Cole and Nebraska judges Mike Contreras and Jeff Sinnett have the unwelcome distinction of being the first "honorees."
"Boxing is a sport where judges and referees are rarely held accountable for poor performances that unfairly change the course of a fighter's career and, in some instances, endanger lives," says the BWAA in a preamble to the new feature. Hence the watch list, which is designed to "call attention to 'egregious' errors in scoring by judges and unacceptable conduct by referees."
Contreras and Sinnett, residents of Omaha, were singled out for their scorecards in the match between lightweights Thomas Mattice and Zhora Hamazaryan, an eight round contest staged at the WinnaVegas Casino in Sloan, Iowa on July 20. They both scored the fight 76-75 for Mattice, enabling the Ohio fighter to keep his undefeated record intact via a split decision.
Although Mattice vs. Hamazaryan was a supporting bout, it aired live on ShoBox. Analyst Steve Farhood, who was been with ShoBox since the inception of the series in 2001, called it one of the worst decisions he had ever seen. Lead announcer Barry Tompkins went further, calling it the worst decision he has seen in his 40 years of covering the sport.
Laurence Cole (pictured alongside his father) was singled out for his behavior as the third man in the ring for the fight between Regis Prograis and Juan Jose Velasco at the Lakefront Arena in New Orleans on July 14. The bout was televised live on ESPN.
In his rationale for calling out Cole, BWAA prexy Joseph Santoliquito leaned heavily on Thomas Hauser's critique of Cole's performance in The Sweet Science. "Velasco fought courageously and as well as he could," noted Hauser. "But at the end of round seven he was a thoroughly beaten fighter."
His chief second bullied him into coming out for another round. Forty-five seconds into round eight, after being knocked down for a third time, Velasco spit out his mouthpiece and indicated to Cole that he was finished. But Cole insisted that the match continue and then, after another knockdown that he ruled a slip, let it continue for another 35 seconds before Velasco's corner mercifully threw in the towel.
Controversy has dogged Laurence Cole for well over a decade.
Cole was the third man in the ring for the Nov. 25, 2006 bout in Hildalgo, Texas, between Juan Manuel Marquez and Jimrex Jaca. In the fifth round, Marquez sustained a cut on his forehead from an accidental head butt. In round eight, another accidental head butt widened and deepened the gash. As Marquez was being examined by the ring doctor, Cole informed Marquez that he was ahead on the scorecards, volunteering this information while holding his hand over his HBO wireless mike. The inference was that Marquez was free to quit right then without tarnishing his record. (Marquez elected to continue and stopped Jaca in the next round.)
This was improper. For this indiscretion, Cole was prohibited from working a significant fight in Texas for the next six months.
More recently, Cole worked the 2014 fight between Vasyl Lomachenko and Orlando Salido at the San Antonio Alamodome. During the fight, Salido made a mockery of the Queensberry rules for which he received no point deductions and only one warning. Cole's performance, said Matt McGrain, was "astonishingly bad," an opinion echoed by many other boxing writers. And one could site numerous other incidents where Cole's performance came under scrutiny.
Laurence Cole is the son of Richard "Dickie" Cole. The elder Cole, now 87 years old, served 21 years as head of the Texas Department of Combat Sports Regulation before stepping down on April 30, 2014. At various times during his tenure, Dickie Cole held high executive posts with the World Boxing Council and North American Boxing Federation. He was the first and only inductee into the inaugural class of the Texas Boxing Hall of Fame, an organization founded by El Paso promoter Lester Bedford in 2015.
From an administrative standpoint, boxing in Texas during the reign of Dickie Cole was frequently described in terms befitting a banana republic. Whenever there was a big fight in the Lone Star State, his son was the favorite to draw the coveted refereeing assignment.
Boxing is a sideline for Laurence Cole who runs an independent insurance agency in Dallas. By law in Texas (and in most other states), a boxing promoter must purchase insurance to cover medical costs in the event that one or more of the fighters on his show is seriously injured. Cole's agency is purportedly in the top two nationally in writing these policies. Make of that what you will.
Complaints of ineptitude, says the WBAA, will be evaluated by a "rotating committee of select BWAA members and respected boxing experts." In subsequent years, says the press release, the watch list will be published quarterly in the months of April, August, and December (must be the new math).
Check out more boxing news on video at The Boxing Channel
Popo vs. "La Hiena": Blast From the Past – Episode Two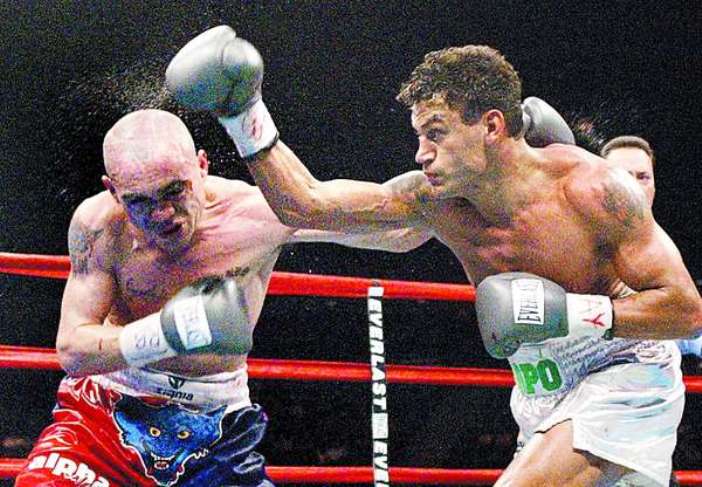 When WBA/WBO super featherweight champion Acelino "Popo" Freitas met Jorge Rodrigo "Il Hiena" Barrios in Miami on August 8, 2003, there was more on the line than just the titles. This was a roughhousing 39-1-1 Argentinian fighting an equally tough 33-0 Brazilian. The crowd was divided between Brazilian fans and those from Argentina. To them this was a Mega-Fight; this was BIG.
When Acelino Freitas turned professional in 1995, he streaked from the gate with 29 straight KOs, one of the longest knockout win streaks in boxing history. He was fan-friendly and idolized in Brazil. Barrios turned professional in 1996 and went 14-0 before a DQ loss after which he went 25-0-1 with 1 no decision.
The Fight
The wild swinging "Hyena" literally turned into one as he attacked from the beginning and did not let up until the last second of the eleventh round. Barrios wanted to turn the fight into a street fight and was reasonably successful with that strategy. It became a case of brawler vs. boxer/puncher and when the brawler caught the more athletic Popo—who could slip and duck skillfully—and decked him with a straight left in the eighth, the title suddenly was up for grabs.
The Brazilian fans urged their hero on but to no avail as Barrios rendered a pure beat down on Popo during virtually the entirety of the 11th round—one of the most exciting in boxing history. Freitas went down early from a straight right. He was hurt, and at this point it looked like it might be over. Barrios was like a madman pounding Popo with a variety of wild shots, but with exactly one half of one second to go before the bell ending the round, Freitas caught La Hiena with a monster right hand that caused the Hyena to do the South American version of the chicken dance before he went down with his face horribly bloodied. When he got up, he had no idea where he was but his corner worked furiously to get him ready for the final round. All he had to do was hang in there and the title would change hands on points.
The anonymous architect of "In Boxing We Trust," a web site that went dormant in 2010, wrote this description:
"Near the end of round 11, about a milli-second before the bell rang, Freitas landed a ROCK HARD right hand shot flush on Barrios' chin. Barrios stood dazed for a moment, frozen in time, and then down he went, WOW WOW WOW!!!! Barrios got up at the count of 4, he didn't know where he was as he looked around towards the crowd like a kid separated from his family at a theme park, but Barrios turned to the ref at the count of 8 and signaled that he was okay, SAVED BY THE BELL. It was panic time in the Barrios corner, as the blood continued to flow like lava, and he was bleeding from his ear (due to a ruptured ear drum). In the beginning of round 12, Freitas was able to score an early knockdown, and as Barrios stood up on wobbly legs and Freitas went straight at him and with a couple more shots, Barrios was clearly in bad shape and badly discombobulated and the fight was stopped. Freitas had won a TKO victory in round 12, amazing!!!!"
Later, Freitas tarnished his image with a "No Mas" against Diego Corrales, but he had gone down three times and knew there was no way out. He went on to claim the WBO world lightweight title with a split decision over Zahir Raheem, but that fight was a snoozefest and he lost the title in his first defense against Juan "Baby Bull" Diaz.
Freitas looked out of shape coming in to the Diaz fight and that proved to be the case as he was so gassed at the end of the eighth round that he quit on his stool. This was yet another shocker, but others (including Kostya Tszyu, Mike Tyson, Oscar De La Hoya and even Ali) had done so and the criticism this time seemed disproportionate.
Popo had grown old. It happens. Yet, against Barrios, he had proven without a doubt that he possessed the heart of a warrior.
The Brazilian boxing hero retired in 2007, but came back in 2012 and schooled and KOd the cocky Michael "The Brazilian Rocky" Oliveira. He won another fight in 2015 and though by now he was visibly paunchy, he still managed to go 10 rounds to beat Gabriel Martinez in 2017 with occasional flashes of his old explosive volleys. These later wins, though against lower level opposition, somewhat softened the memories of the Corrales and Diaz fights, both of which this writer attended at the Foxwoods Resort in Mashantucket, Connecticut. They would be his only defeats in 43 pro bouts.
Like Manny Pacquiao, Freitas had a difficult childhood but was determined to make a better life for himself and his family. And, like Manny, he did and he also pursued a career in politics. Whether he makes it into the Hall will depend on how much a 'No Mas' can count against one, but he warrants serious consideration when he becomes eligible.
As for the Hyena, on April 8, 2005, he won the WBO junior lightweight title with a fourth round stoppage of undefeated but overweight Mike Anchondo. In January 2010 he was involved in a hit and run accident in which a 20-year-old pregnant woman was killed. On April 4, 2012 Barrios was declared guilty of culpable homicide and sentenced to four years in prison. He served 27 months and never fought again, retiring with a record of 50-4-1.
Ted Sares is one of the oldest active full power lifters in the world. A member of Ring 10, and Ring 4's Boxing Hall of Fame, he was recently cited by Hannibal Boxing as one of three "Must-Read" boxing writers.
Check out more boxing news on video at The Boxing Channel
The Avila Perspective Chapter 6: Munguia, Cruiserweights and Pacman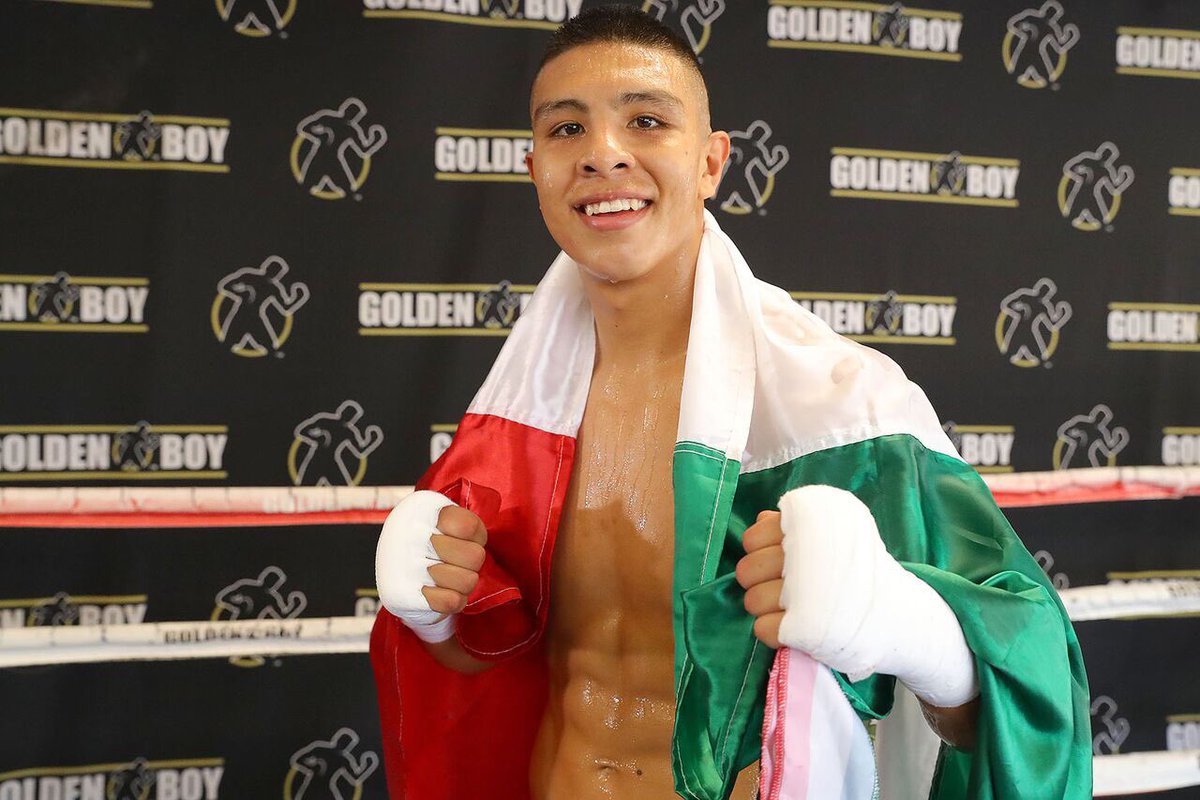 Adjoining states in the west host a number of boxing cards including a world title contest that features a newcomer who, before knocking out a world champion, was erroneously categorized by a Nevada official as unworthy of a title challenge.
Welcome to the world of Mexico's Jaime Munguia (29-0, 25 KOs) the WBO super welterweight world titlist who meets England's Liam Smith (26-1-1, 14 KOs) at the Hard Rock Hotel and Casino in Las Vegas on Saturday, July 21. HBO will televise
Back in April when middleweight titan Gennady "GGG" Golovkin was seeking an opponent to replace Saul "Canelo" Alvarez who was facing suspension for performance enhancement drug use, it was the 21-year-old from Tijuana who volunteered his services for a May 5th date in Las Vegas.
Bob Bennett, the Executive Director for Nevada State Athletic Commission, denied allowing Munguia an opportunity to fight Golovkin for the middleweight titles. Bennett claimed that the slender Mexican fighter had not proven worthy of contesting for the championship though the tall Mexican wielded an undefeated record of 28 wins with 24 coming by knockout.
To be fair, Bennett has seen many fighters in the past with undefeated records who were not up to challenges, especially against the likes of Golovkin. But on the other hand, how can an official involved in prizefighting deny any fighter the right to make a million dollar payday if both parties are willing?
That is the bigger question.
Munguia stopped by Los Angeles to meet with the media last week and spoke about Bennett and his upcoming first world title defense. He admitted to being in the middle of a whirlwind that is spinning beyond his expectations. But he likes it.
"I've never won any kind of award before in my life," said Munguia at the Westside Boxing Club in the western portion of Los Angeles. "I've always wanted to be a world champion since I was old enough to fight."
When asked how he felt about Nevada's denying him an attempt to fight Golovkin, a wide grin appeared on the Mexican youngster.
"I would like to thank him," said Munguia about Bennett's refusal to allow him to fight Golovkin. "Everything happens for a reason."
That reason is clear now.
Two months ago Munguia put on a frightening display of raw power in knocking down then WBO super welterweight titlist Sadam Ali numerous times in front of New York fans. It reminded me of George Foreman's obliteration of Joe Frazier back in the 1970s. World champions are not supposed get battered like that but when someone packs that kind of power those can be the terrifying results.
Still beaming over his newfound recognition, Munguia has grand plans for his future including challenging all of the other champions in his weight category and the next weight division.
"I want to be a great champion," said Munguia. "I want to make history."
The first step toward history begins on Saturday when he faces former world champion Smith who was dethroned by another Mexican named Canelo.
Cruiserweight championship
It's not getting a large amount of attention in my neighborhood but this unification clash between WBA and IBF cruiserweight titlist Murat Gassiev (26-0, 19 KOs) and WBC and WBO cruiserweight titlist Oleksandr Usyk (14-0, 11 KOs) has historic ramifications tagged all over it.
The first time I ever saw Russia's 24-year-old Gassiev was three years ago when he made his American debut at the Quiet Cannon in Montebello. It's a small venue near East L.A. and the fight was attended by numerous boxing celebrities such as James "Lights Out" Toney, Mauricio "El Maestro" Herrera and Gennady "GGG" Golovkin. One entire section was filled by Russian supporters and Gassiev did not disappoint in winning by stoppage that night. His opponent hung on for dear life.
Ukraine's Usyk, 31, made his American debut in late 2016 on a Golden Boy Promotions card that staged boxing great Bernard Hopkins' final prizefight. That night the cruiserweight southpaw Usyk bored audiences with his slap happy style until lowering the boom on South Africa's Thabiso Mchunu in round nine at the Inglewood Forum. The sudden result stunned the audience.
Now it's Gassiev versus Usyk and four world titles are at stake. The unification fight takes place in Moscow, Russia and will be streamed via Klowd TV at 12 p.m. PT/ 3 p.m. ET.
Seldom are cruiserweight matchups as enticing to watch as this one.
Another Look
A couple of significant fights took place last weekend, but Manny Pacquiao's knockout win over Lucas Matthysse for the WBO welterweight world title heads the list.
Neither fighter looked good in their fight in Malaysia but when Pacquiao floored Matthysse several times during the fight, it raised some red flags.
The last time Pacquiao knocked out a welterweight was in 2009 against Miguel Cotto in Las Vegas. Since then he had not stopped an opponent. What changed?
In this age of PEDs there was no mention of testing for the Pacquiao/Matthysse fight. For the curiosity of the media and the fans, someone should come forward with proof of testing. Otherwise any future fights for the Philippine great will not be forthcoming.
Check out more boxing news on video at The Boxing Channel