Looking back at the Topsy-Turvy Life of Mike Tyson Who Turns 51 This Week
With the possible exception of the immortal Muhammad Ali, it seems that more words have been written about Mike Tyson than any other boxer.
And that's saying a mouthful given the thousands upon thousands of young men with colorful stories and pasts that have stepped into the ring.
Tyson, who will celebrate his 51st birthday on June 30, has been on top of the mountain and in the basement during a professional career that spanned two decades.
At his very best, Tyson was one of the most feared and explosive punchers ever, reminiscent of such sluggers as Joe Louis, Rocky Marciano and George Foreman.
And he also reached the very lowest depths a man can face, including inner-doubt and self-loathing.
Tyson's nadir was being convicted of raping Desiree Washington, an 18-year-old beauty pageant contestant.
For his punishment, Tyson was handed a six-year prison sentence, but spent slightly less than three years incarcerated.
When asked recently on a sports talk radio show publicizing his latest book "Iron Ambition: My Life With Cus D'Amato" co-authored with Larry Sloman, what year stood out with regard to partying, Tyson quipped, "Nineteen eighty-nine was a really good year."
Everybody laughed. Tyson didn't explain, but didn't need to. We knew exactly what he meant. Early on, one could have predicted that Tyson's future wasn't going to be trading stocks and bonds on Wall Street.
For Tyson, the Brooklyn native, simply waking up every morning and still in one piece was an accomplishment.
From the very beginning, with little or no guidance from his delinquent father and overwrought mother, Tyson was a wayward kid, walking the tough and nasty streets of Brownsville, acting like a thug, always getting into trouble.
"I never saw my mother happy with me and proud of me for doing something," Tyson said of his late mother Lorna Mae. "She knew me as being a wild kid running in the streets, coming home with brand new clothes that she knew I didn't pay for. I never got a chance to talk to her or know her. Professionally, it has no affect, but it's crushing emotionally and personally."
Remarkably, before Tyson turned 13 years old, he had been arrested 38 times.
Once while driving around his old haunt in Brooklyn, he told his then wife, the actress, Robin Givens, "see that corner right over there? That's where I once beat up a guy."
To which Givens replied: "Mike, stop saying those awful things. Those were in the past. That's not you."
Only to have Tyson retort: "But it is me, only now I'm the heavyweight champion of the world."
Tyson would often brag about being a ruffian and even told stories about helping little "old ladies" carry their groceries to their apartments, only to knock the lady on her fanny and take the goods for himself.
Tyson was simply too much to handle and was sent to the Tryon School For Boys.
It was there that he met Bobby Stewart, a counselor and one-time boxer, who later introduced Tyson to the legendary trainer D'Amato.
D'Amato was at the same time a genius and also paranoid, helping build a shy and introverted Floyd Patterson into at the time the youngest heavyweight champion and turn Jose Torres into the light heavyweight title holder.
"If you don't learn to control fear, it'll destroy you and everything around," D'Amato famously said to Tyson and the others who came before him.
After seeing Tyson, with his powerful punches and perfect head movement, the old man predicted that he would someday be the heavyweight champion.
In time, D'Amato and his lady friend Camille Ewald, would take in Tyson and teach him table manners and instill the importance of getting good grades.
It was in Catskill, New York, that Tyson, in a training camp atmosphere would learn the tricks of the trade from D'Amato, Kevin Rooney and Teddy Atlas.
"Cus would give me confidence," said Tyson of his first trainer." I didn't know what he was talking about. You're going to be champion of the world. At first I thought he was crazy. But the more I thought about what he was saying, it made sense."
During Tyson's salad days, I had friends who were not fight fans per se, but after witnessing him set the heavyweight division on its proverbial ear, became fight fans.
Rather, Tyson fans, if only to see the 5-foot-10 bulldozer knock out whoever was placed in front of him.
Tyson, who had 58 professional fights, winning 50, losing six with two no contests and 44 knockouts, would indeed fulfill D'Amato's prophecy and become the youngest heavyweight champion ever.
It happened on November 22, 1986, at the Las Vegas Hilton when Tyson earned a technical knockout win over Trevor Berbick in the second round for the World Boxing Council belt.
Four months later, Tyson would add the World Boxing Association crown by defeating James "Bonecrusher" Smith in a unanimous decision and five months later outpoint Tony Tucker on all three judges' scorecards for the International Boxing Federation title.
Tyson seemingly had it all. The three heavyweight belts and all the money and fame he would ever need. Or so we thought.
While Tyson finally had something to be truly proud of, D'Amato never saw any of it because he passed away in November 1985.
These were exciting times for boxing and especially the heavyweight division in large part because of Tyson.
When Tyson reigned as the king of the division, he made it a throw-back era in which the gladiator came out of his dressing room as a stark figure, attired in black trunks, sock-less and in black high-top shoes.
There was more in store for Tyson, who reached his high-water mark on the night of June 27, 1988, at the Atlantic City Convention Hall.
It took all of 91 seconds for Tyson to knock out Michael Spinks.
Afterward, Spinks tried to explain what happened. "I'm a fighter. It's what I do," he told the assembled media that included the Newark Star-Ledger's Jerry Izenberg. "I tried to take a shot, but I came up short. Fear was knocking at my door big time."
Tyson's road to stardom started innocently after taking out Hector Mercedes in the opening round via TKO in Albany, New York, on March 6, 1985.
Over time, 36 others would also be found on the short end, including 17 whose evening ended in the initial frame.
Without the need to brag, Tyson was indeed, the "baddest man on the planet," and was feared by everyone in the division, except maybe one.
That was James "Buster" Douglas, who in February 1990, at the Tokyo Dome and a 42-1 underdog, unbelievably decked Tyson in the 10th round.
How could this have happened? To Tyson? The longtime boxing analyst Howard Cosell, who helped make Ali because of television, said Tyson could be beat. "You need to stick and move and keep away from him," Cosell intoned.
Well that's what the 6-foot-4 Douglas did. He kept his distance, jabbed when necessary and unleashed stinging rights.
After that debacle, Tyson righted the ship and reeled off eight straight victories before facing Evander Holyfield in November 1996 at the MGM Grand Garden Arena with the WBA, WBC and IBF belts on the line.
In a fierce battle, Holyfield earned a TKO victory in the 11th round. A rematch was needed and took place seven months later at the same venue.
But instead of it being remembered as a classic, it is known as the night Tyson lost his cool and bit a piece of Holyfield's ear off and was disqualified in the third round by Mills Lane, the referee.
Tyson was no longer feared, but was still extremely dangerous. In a lopsided loss against Lennox Lewis at The Pyramid, in Memphis, Tennessee, in June 2002, "Kid Dynamite," as Sports Illustrated once dubbed Tyson, was savagely pushed around by the much taller and better boxer that ended with an eighth-round knockout.
After earning a win, Tyson then closed out his time in the ring with consecutive setbacks to journeymen Danny Williams and Kevin McBride.
On one of my sojourns to Las Vegas a few years ago for a Saturday fight card at the MGM, I happened to be sitting ringside next to Harold Lederman for a Friday event at the Tropicana Hotel.
Early in the proceedings, I noticed a boy, probably 12 years old with boxing gloves and pen in hand walking toward Tyson and his wife Lakiha.
In short order, Tyson saw the boy, took the gloves, signed them and wished the youngster a good night. I leaned over and told Lederman that was a nice gesture and he agreed.
When Tyson began his storied career with Rooney in his corner, the Brownsville Bomber was practically unbeatable.
With the passing of D'Amato and Jimmy Jacobs, followed by Rooney and Atlas eventually cutting ties with the former undisputed heavyweight champion, Tyson's life was in shambles.
Tyson has done some nice projects since retiring in 2005 including a one-man show, had a documentary done on his life and has appeared on television.
All of this is fine, but for me, Tyson's last great gesture was being a pallbearer at Ali's funeral.
Because even if only for a few minutes, the "Iron Mike" we all knew was back on top.
Check out more boxing news on video at The Boxing Channel
What Next for Gabriel Rosado?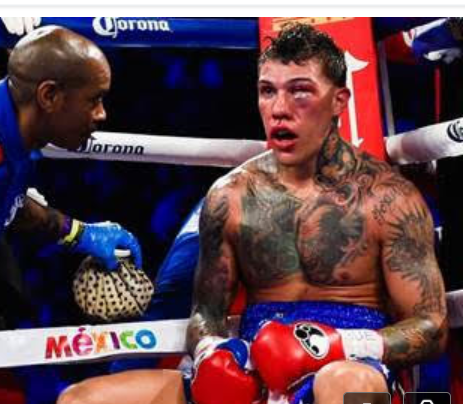 Bektemir Melikuziev, Freddie Roach, Edgar Berlanga, and Jaime Munguia are names that, one way or another, figured into Gabe Rosado's stunning KO last Saturday night in El Paso. It overshadowed the impressive showing by Noaya "Monster" Inoue later that night in Las Vegas.
Rosado (26-13-1) is a well-documented bleeder and just might start spurting during the walk-in, but he is never, ever in a dull fight. The tougher-than-tough Philadelphian won Top Gore honors for his blood and guts TKO loss to Canadian middleweight star David Lemieux in 2014. The year before, he bled aplenty in his game but losing effort against Gennady Golovkin.
This time against Melikuziev, the unbeaten Uzbek, the fight ended in round three when the 35-year-old underdog beat the Eastern Euro fighter to the punch during an exchange of rights with Gabe's landing first and sending the former amateur star into dreamland. The force of the blow was amplified by the younger and faster man coming forward with caution to the wind. And this time, there was no bloodletting.
The knockout should be a contender for KO of the Year. In fact, it was reminiscent of Juan Manuel Marquez's explosive knockout of Manny Pacquiao in their final match.
Once again, Rosado (who is now trained by Freddie Roach) has revived his career and can count on at least one last decent payday. While many think Jaime Munguia would be a solid next fight, the thinking here is that Rosado could get carved up by the undefeated Tijuana veteran who has won 30 of his 37 fights by KO. Munguia is just too good.
The Catch 22
Rosado is an all-action fighter but scar tissue and his propensity to bleed is his worst enemy. It has cost him in the past. For such an offensive-minded fighter as Gabe, he is trapped in a terrible catch-22. If he can get the lead early and the bleeding is stemmed within reasonable limits, he can be a force, but not against the likes of Munguia.
If not Munguia, then who?  Here is one suggestion: How about "The Chosen One," Edgar Berlanga (17-0) whose first round KO streak recently came to an end. Brooklyn vs. Philadelphia would be a nice added touch –not to mention the Puerto Rican factor. Could Rosado expose Berlanga as someone without enough experience, aka rounds? Would Gabe show that Berlanga is more Tyson Brunson that Edwin Valero?
Let's make it happen!
Ted Sares enjoys researching and writing about boxing. He also competes as a powerlifter in the Master-class. He can be reached at  tedsares@roadrunner.com
Check out more boxing news on video at the Boxing Channel
To comment on this story in the Fight Forum CLICK HERE
Fast Results from Las Vegas: Inoue Demolishes Dasmarinas; Mayer UD Farias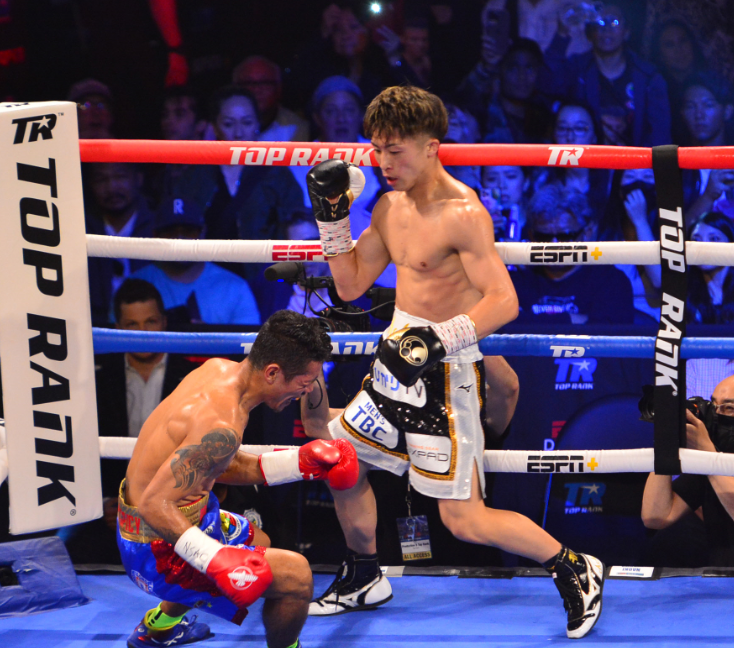 Fast Results from Las Vegas: Inoue Demolishes Dasmarinas; Mayer UD  Farias
LAS VEGAS — Top Rank was at the Virgin Hotels in Las Vegas on Saturday, June 19, for the second of their three June shows. In the headliner, WBA/IBF world bantamweight champion Naoya "Monster" Inoue lived up to his nickname with a vicious third round stoppage of Filipino import Michael Dasmarinas.
Inoue (21-0, 18 KOs) had his opponent fighting off his back foot from the opening bell. He knocked down Dasmarinas in the second with a left hook to the liver and twice more in the third round before referee Russell Mora waived it off. The official time was 2:45.
Dasmarinas brought a 30-2-1 record and hadn't lost since 2014. But he was no match for the "Monster" who looks younger than his 28 years. Those body shots landed with a thud that could be heard in the far reaches of the arena. This kid is really good.
Mikaela Mayer continues to improve as she showed tonight in the first defense of her WBO world super featherweight title. Mayer 15-0 (5) turned away Argentina's Erica Farias (26-5) with a 10-round unanimous decision in a fight that was frankly rather monotonous.
Mayer won by scores of 97-93 and 98-92 twice. Farias, who landed the best punch of the fight, didn't have the taller Mayer's physical equipment but yet landed the best punch of the fight. Her only setbacks have come on the road against elite opponents—Cecilia Braekhus, Delfine Person, Jessica McCaskill (twice) and now Mikaela Mayer.
The opener on the ESPN portion of the show was a lusty 10-round welterweight affair between Ghana native Isaac Dogboe and Glendale, California's Adam Lopez. Dogboe, whose only losses came at the hands of Emanuel Navarette in world title fights, improved to 22-2 by dint of a majority decision that could have easily gone the other way. Dave Moretti had it a draw but was overruled (97-93 and 96-94).
Lopez, one of two fighting sons of the late Hector Lopez, an Olympic silver medalist, did his best work late, particularly in the eighth round. With the loss, his record declines to 15-3.
Other Bouts
Monterrey, Mexico super lightweight Lindolfo Delgado, a 2016 Olympian, was extended the distance for the first time in his career but won a wide 8-round decision over Guadalajara's Salvador Briceno
Delgado won by scores of 80-72 and 79-73 twice while advancing his record to 12-0. Delgado's best round was the eighth, but Briceno (17-7) weathered the storm. Briceno is 5-6 in his last 11, but has been matched tough. The six fighters to beat him, including Delgado, were a combined 78-3 at the time that he fought them.
Vista, California lightweight Eric Puente has yet to score a KO but he is undefeated in six starts after winning a unanimous decision over Mexico's Antonio Meza (7-6). Puente, who is trained by Robert Garcia, knocked Meza down early into the fight with a sweeping left and was the aggressor throughout. The judges had it 57-56 and 58-55 twice.
Puerto Rican super lightweight Omar Rosario improved to 4-0 (2) with a fourth-round stoppage of Reno, Nevada's Wilfred "JJ" Moreno (3-1) The official time was 0:47.
Photo credit: Al Applerose
To comment on this story in the Fight Forum CLICK HERE
Munguia and Rosado Win by Stoppage in El Paso; Rosado in a Spectacular Fashion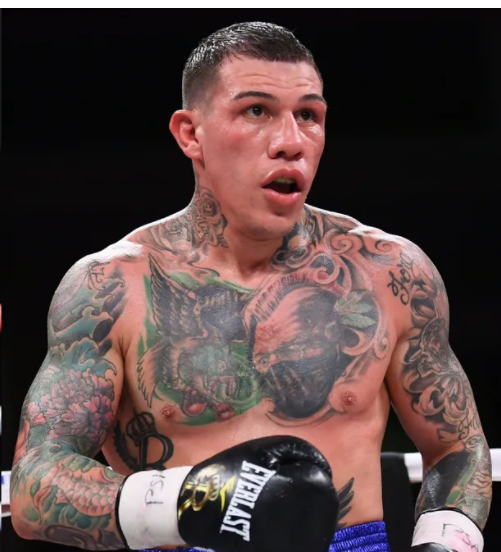 Munguia and Rosado Win by Stoppage in El Paso, Rosado in a Spectacular Fashion
Golden Boy Promotions and their broadcasting partner DAZN were at the Don Haskins Center on the campus of the University of Texas at El Paso today for a rare afternoon card. The honchos at GBP didn't want to go head-to-head with competing shows on ESPN, Showtime, and Triller, the latter of which fell out when headliner Teofimo Lopez tested positive for Covid-19.
There were 10 fights scheduled with the four main fights going first and the undercard bouts bundled into the posterior.
The main event was a 12-round middleweight contest between Tijuana's Jaime Munguia (37-0, 30 KOs), the former WBO 154-pound title-holder, and Poland's Kamil Szeremeta (21-2) who was stepping in for countryman Maciej Sulecki who pulled out of this fight twice. The Pole was making his first start since getting bushwacked by Gennadiy Golovkin in a bout on which he was on the deck four times before his corner pulled him out.
His corner stopped this fight as well, the end coming at the conclusion of the sixth frame. After a feeling-out round, Munguia, who is trained by his Tijuana homey Erik Morales, stepped it up. Knowing that Szeremeta was a light puncher, he had no worry about anything coming back at him. There were no knockdowns, but the fight turned progressively more one-sided and the stoppage was warranted.
Co-Feature
In the co-feature, slated for 12 in the 168-pound class, 35-year-old Philadelphia warhorse Gabe Rosado (pictured) stole the show with a spectacular one-punch knockout over previously undefeated Bektemir "Bec The Bully" Melikuziev.
A 2012 Olympic silver medalist for Uzbekistan, Melikuziev dominated the first two rounds, knocking down Rosado in the first with a combination of punches. He worked the body effectively for the first two rounds and it appeared that he was too strong for the Philadelphian. But Rosado (26-13, 15 KOs), blasted him out in the third, beating him to the punch with a right hook that landed flush on the Uzbek's jaw.
The referee didn't bother to count. Melikuziev was 7-0 (6) heading in. Jaime Munguia may be next for Rosado.
Other Bouts
In a good-action fight that was marred by questionable scoring, native Texan Marlen Esparza, a bronze medalist at the 2012 London Olympics, wrested the WBO world flyweight title from Mexico's Ibeth Zamora. Esparza (10-1, 1 KO) sprinted out of her corner at the opening bell only to suffer a knockdown before the fight was 90 seconds old. She fought her way back into the fight, winning the match in the eyes of the judges (97-92, 96-93, 95-94) but not in the eyes of the few fans in attendance who booed when the scores were announced.
It was a hard pill to swallow for the 32-year-old Zamora, now 32-7, who had won 17 of her last 18 heading in.
In his best showing to date, 31-year-old welterweight "prospect" Blair "The Flair" Cobbs scored a fifth-round stoppage over 38-year-old Georgia campaigner Brad Solomon. This was a fairly even fight through four rounds, but Solomon was showing signs of fatigue when Cobbs dropped him to his knees with a big left hand, leading the referee to call it off.
Blair the Flair, who has been training with Freddie Roach, improved to 15-0-1 (10). Solomon, who learned to fight in prison, declined to 29-4.
Check out more boxing news on video at the Boxing Channel
To comment on this story in the Fight Forum CLICK HERE