The New York State Athletic Commission is Still Courting Disaster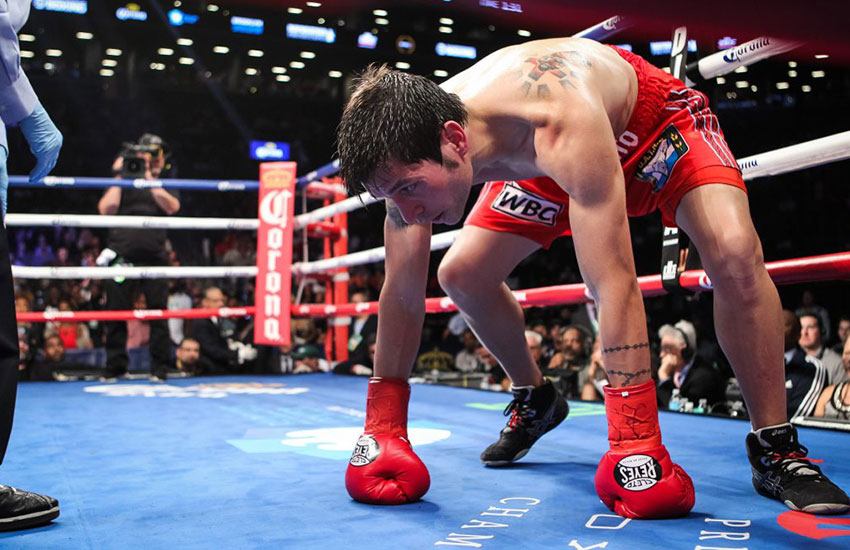 THE HAUSER REPORT — As the parties involved work to settle the various legal claims arising out of the horrific injuries suffered by Magomed Abdusalamov at Madison Square Garden on November 2, 2013, the New York State Athletic Commission is still playing Russian roulette with fighter safety.
Medical procedures and protocols have improved since the Abdusalamov tragedy. But there are still instances where the NYSAC is turning a blind eye toward the health and safety of fighters.
On April 14, 2016, Governor Andrew Cuomo's office issued a press release heralding the return of mixed martial arts to New York. In part, the press release read, "Mixed martial arts contests will be supervised either directly by the New York State Athletic Commission or by a sanctioning entity approved by the Commission."
On August 31, 2016, Jim Leary (counsel for the NYSAC at that time) elaborated on this third-party supervision of MMA, saying that it would apply only to certain amateur cards. In response, promoter Lou DiBella noted, "Right now, you have a situation where some small promoters are putting on MMA shows using unknown fighters, paying them under the table, and calling them amateur shows. That way, they can get around the state insurance regulations and a whole lot more."
Is this situation cause for concern? Absolutely.
The case of Gabriella Gulfin is in point. Gulfin is listed by Tapology.com as having had five MMA fights dating back to March 14, 2015, when she was placed on indefinite medical suspension by the New Jersey State Athletic Control Board after being knocked out by a punch on an amateur MMA card in Rahway. In mid-July, the Pennsylvania State Athletic Commission (which regulates both amateur and professional MMA bouts) refused to license Gulfin for an August 19 MMA card in Pennsylvania.
"I won't touch her unless she gets off medical suspension in New Jersey," Greg Sirb (executive director of the Pennsylvania State Athletic Commission) told this writer.
Here's the problem. While on medical suspension, Gulfin has fought four times on unregulated "amateur" MMA cards in New York. These fights were contested last year on July 18 and July 30 in Astoria, September 24 in Corona, and December 16 in Westbury.
So much for the high priority that the New York State Athletic Commission places on the health and safety of fighters.
On July 5, 2017, it was announced that NYSAC acting executive director Tony Giardina (who had served in that role since August 31, 2016) was leaving the commission to become one of three commissioners on the New York State Tax Appeals Tribunal.
Giardina leaves a mixed legacy. To his credit, he worked to improve medical procedures and protocols at the NYSAC. But by his own admission, he knew little about combat sports. And he helped lock in a system where political considerations take priority over performance, and employees who perform in mediocre fashion are given as much responsibility (sometimes more) as employees who are competent. He had an opportunity to change the culture at the NYSAC for the better and failed to do so.
Too many commission employees seem more concerned with moving into position to get their faces on television on fight night than in doing their job.
MMA project coordinator Kim Sumbler has succeeded Giardina as interim executive director and is likely to be given the job on a fulltime basis. Sources say that, with Giardina's departure, political directives are likely to be funneled to the NYSAC through Brendan Fitzgerald (first deputy secretary of state at the NYS Department of State).
Sumbler is entitled to a grace period to show what she can do in the job. Meanwhile, the best procedures and protocols in the world are of limited value if they're not properly implemented.
On May 13, 2017, the NYSAC held a training seminar for inspectors that focused on handwraps and the taking of urine samples. There was a time when trainers like Emanuel Steward were brought in to lecture commission personnel on handwraps. This year, recently-appointed deputy commissioner Tony Carrecia did the job. Dr. Louis Rotkowitz gave the lecture on the collection of urine samples and was corrected by Dr. Angela Gagliardi when he confused a woman's urethra with a woman's vagina.
More recently, on July 29, Jorge Sebastian Heiland (pictured) fought Jarmall Charlo at Barclays Center in Brooklyn.
Heiland is a southpaw. That means he plants his left foot to throw punches. Shortly before the fight, a commission employee (possibly deputy commissioner Robert Orlando) noticed that Heiland's left knee was heavily taped, which is a violation of NYSAC rules. The matter was brought to Kim Sumbler's attention, and the Heiland camp was ordered to remove the tape.
In round one, Heiland's footwork, to be polite, was "awkward." Commentating for Showtime, Paulie Malignaggi observed, "It's strange footwork. It's like his legs are too straight." In round two, Malignaggi added, "It's almost like his knees aren't bending at all."
Midway through the second stanza, Heiland's knee gave way and he slipped. As he was falling to the canvas, Charlo landed a solid right uppercut. The punch was legal since Heiland was not yet on the canvas. Referee Benjy Esteves, who had seen the slip but apparently not the uppercut, waved off the knockdown. Then, realizing that Heiland was hurt, he picked up the count at "five."
Put the puzzle pieces together. The commission had reason to believe before the fight began that Heiland's left knee was injured. He was obviously having trouble moving and planting his left foot to punch. He was being pounded around the ring like a one-legged punching bag. But Benjy Esteves, who also refereed the Magomed Abdusalamov fight in addition to having Arturo Gatti vs. Joey Gamache on his resume, let Heiland take a beating for two more rounds.
Things were worse in round three. Showtime blow-by-blow commentator Mauro Ranallo noted, "There appears to be something wrong with [Heiland's] left leg, although the doctors are allowing him to continue."
"It's weird," Malignaggi responded. "I don't know if he came into the fight like this. It's so strange. There's something wrong with this guy's leg."
"There's no question about that," veteran Showtime analyst Al Bernstein said.
The fight ended in round four, when Heiland was knocked down again and his knee couldn't support his weight anymore.
Where was the New York State Athletic Commission inspector assigned to Heiland's dressing room when Sebastian's knee was being illegally taped? What sort of pre-fight physicals did the NYSAC medical staff administer to Heiland at the weigh-in and in the dressing room prior to the fight? What did NYSAC commissioner Ndidi Massay, who was sitting in the first row at ringside during the fight, think she was watching?
Suppose Heiland had suffered a subdural hematoma as a consequence of the beating he endured against Charlo? The New York State Athletic Commission would be right back where it was with Magomed Abdusalamov.
Let's repeat that point so no one misses it. Suppose Sebastian Heiland suffered a subdural hematoma after being pounded in the head again and again by Jarmall Charlo? The result could have been a tragedy on the order of Magomed Abdusalamov.
Meanwhile, the NYSAC is in turmoil at the commissioner level.
Legislation enacted in April 2016 increased the number of NYSAC commissioners from three to five. However, at present, there are only three commissioners: Ndidi Massay, John Signorile, and Edwin Torres. Massay's term runs through January 1, 2019. Torres's term expired on January 1, 2014. Signorile's term expired on January 1, 2015. Both Signorile and Torres have been serving on a holdover basis.
It's not often that more than one NYSAC commissioner attends a commission seminar or fight card in New York. Too often, there are none.
On June 30, 2017, Michelle Nicoli-Rosales (Andrew Cuomo's deputy director of communications for economic development) confirmed that the governor had nominated three new NYSAC commissioners subject to approval by the State Senate. The nominees are (1) Dr. Philip Stieg, a New York City neurosurgeon; (2) Dr. James Vosswinkel, an East Setauket critical care surgeon; and (3) Donald Patterson, a Buffalo resident who has been involved with amateur boxing. None of the three has extensive experience in the world of professional combat sports. Moreover, the new commissioners can't be confirmed until the state legislature returns to Albany, most likely after the first of the year.
So the New York State Athletic Commission keeps lurching along.
The commission's July 11 open meeting was instructive. It began with a review of revised medical protocols formulated by the NYSAC's Medical Advisory Board under the leadership of Dr. Nitin Sethi.
Sethi, who is widely respected within the boxing community, presented the revised protocols to the commissioners. But the protocols are in a lengthy document that hadn't been sent to the commissioners until the previous night. It appeared as though none of the commissioners had read the revised protocols, let alone reflected on them.
The commissioners approved the revised protocols. But the discussion that preceded their vote did little to build confidence in the commission.
There was a discussion of whether fighters who are colorblind should be allowed to fight because, it was theorized, they might have trouble distinguishing between the red and blue corners. Sethi explained that colorblindness in and of itself should not disqualify a fighter from fighting.
In the past, fighters with breast implants have been barred from fighting in New York. But that policy was undermined when the NYSAC bowed to pressure and reinterpreted the rule, saying it applied only to boxing, not MMA. This allowed a fighter with breast implants to compete on a UFC card in Buffalo on April 8.
At the July 11 NYSAC meeting, it was announced that the Medical Advisory Board had determined that a ruptured breast implant is not life-threatening. Henceforth, breast implants will be allowed in all combat sports competitions in New York as long as the combatant signs a form acknowledging and accepting the risk of a rupture. In addition, there was discussion of the difference between saline and silicone breast implants (saline is safer) and how large an implant has to be in order to pose a health risk in the event of rupture.
The commissioners also agreed to consider a suggestion that the ring doctor be allowed to interrupt a fight in the middle of a round to determine if a fighter is concussed. As John McEnroe once raged, "You cannot be serious!!!"
Finally, John Signorile complained that the NYSAC had yet to ban flag poles from the ring and that this represents a safety hazard because, if there's a confrontation between the fighters' camps during the introductions, someone could use a flag pole as a weapon.
Commissioner Signorile also said that the conference room was too sterile and it would be a more inspiring setting within which to conduct business if there were New York State and American flags at the end of the room.
Author's Note: Don't put the flags in the NYSAC meeting room on poles. Someone might use them as weapons.
Photo credit: Tom Casino / SHOWTIME
Thomas Hauser can be reached by email at thauser@rcn.com. His most recent book – A Hard World: An Inside Look at Another Year in Boxing – was published by the University of Arkansas Press. In 2004, the Boxing Writers Association of America honored Hauser with the Nat Fleischer Award for career excellence in boxing journalism.
Check out more boxing news on video at The Boxing Channel.
To comment on this article at The Fight Forum, CLICK HERE.
Fast Results from Fort Worth Where Vergil Ortiz Jr Won His 19th Straight by KO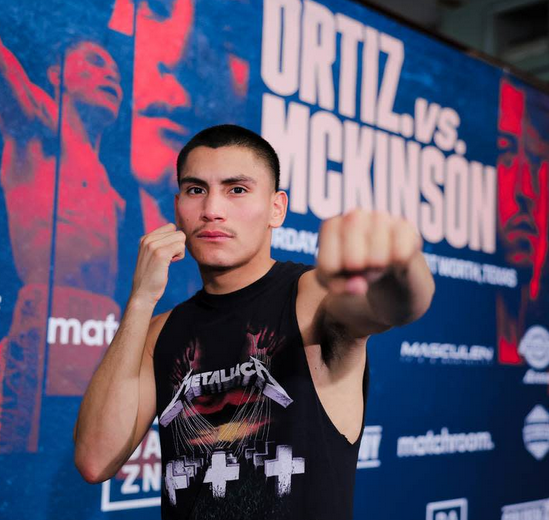 In a match pushed back from March 19, Vergil Ortiz Jr moved one step closer to a mega-fight with Terence "Bud" Crawford or Errol Spence Jr or Boots Ennis with a ninth-round stoppage of England's feather-fisted Michael McKinson. The end came 20 seconds into round nine when McKinson appeared to injure his knee as he fell to the canvas, an apparent residue of the body punch that put him on the deck late in the previous stanza. To that point, Ortiz had seemingly won every round.
It was the 19th win inside the distance in as many opportunities for Ortiz who resides in nearby Grand Prairie and was making his first start with new trainer Manny Robles. McKinson was undefeated heading in, but had scored only two knockouts while building his record to 22-0.
Ortiz, ranked #1 at welterweight by the WBA and the WBO, pulled out of the March 19 bout after being diagnosed with rhabdomyolysis, a muscle disorder associated with over-training.
Ortiz's promoter, Oscar De La Hoya, says that Ortiz will fight the winner of Errol Spence vs Terence Crawford next assuming that the fight gets made, and if doesn't get made, Ortiz's next fight will be with one or the other. The WBA, which stamped tonight's fight an eliminator, may push to have Ortiz fight their secondary title-holder, Eimantas Stanionis.
Co-Feature
Houston's Marlen Esparza (13-1, 1 KO) successfully defended her WBA/WBC world flyweight title with a unanimous decision over plucky 4'11 ½" Venezuelan southpaw Eva Guzman who had won 14 straight coming in, albeit against soft opposition. The judges had it 98-92 and 99-91 twice.
Guzman (19-2-1) was game, but just didn't have the physical tools to overcome Esparza whose lone defeat came at the hands of talented Seneisa Estrada.
Other Fights of Note
In a 10-round match contested at the catchweight of 150 pounds, Blair "The Flair" Cobbs rebounded from his first defeat with a career-best performance, a wide decision over former WBO 140-pound world titlist Maurice Hooker. It was the second straight loss for Hooker who returned to the ring after a 17-month hiatus and came out flat. Cobbs put him on the canvas in the opening frame with a combination and decked him twice more with straight lefts in round two.
Things got somewhat dicey for Cobbs in round five when he suffered a bad gash on his forehead from an accidental head butt, but Hooker, who had stablemate Bud Crawford in his corner, hesitated to let his hands go and couldn't reverse the tide. The judges had it 96-91 and 97-90 twice for the flamboyant Cobbs who improved to 16-1-1 (10). Hooker, a consensus 5/2 favorite, lost for the third time in his last five starts and slumped to 27-3-3.
In the opener to the main portion of the DAZN card, Uzbekistan's Bektimir Melikuziev (10-1, 8 KOs), a super middleweight growing into a light heavyweight, dominated and stopped overmatched Sladan Janjanin. Melikuziev put Janjanin down with a body punch in the opening minute of the fight and scored two more knockdowns before the bout was halted at the 2:18 mark of round three.
This was Melikuziev's third fight back after his shocking one-punch annihilation by Gabriel Rosado. Janjanin, a well-traveled Bosnian who fought three weeks ago in Massachusetts, declined to 32-12 and was stopped for the eighth time.
Also
Chicago welterweight Alex Martin (18-4, 6 KOs) overcame a first-round knockdown to win a unanimous decision over 38-year-old Philadelphia journeyman Henry Lundy. The judges had it an unexpectedly wide 98-91, 97-92, 97-92.
Martin was coming off a points loss to McKinson and this bout was his reward for taking that fight on short notice. Lundy (31-11-1) has lost five of his last seven.
Floyd "Austin Kid" Schofield, a lightweight who appears to have a big upside, advanced to 11-0 (9 KOs) at the expense of Mexican trial horse Rodrigo Guerrero whose corner wisely pulled him out after five one-sided rounds. It was the ninth straight loss for Guerrero (26-15).
To comment on this story in the Fight Forum CLICK HERE
Conlan Wins His Belfast Homecoming; Breezes Past Lackadaisical Marriaga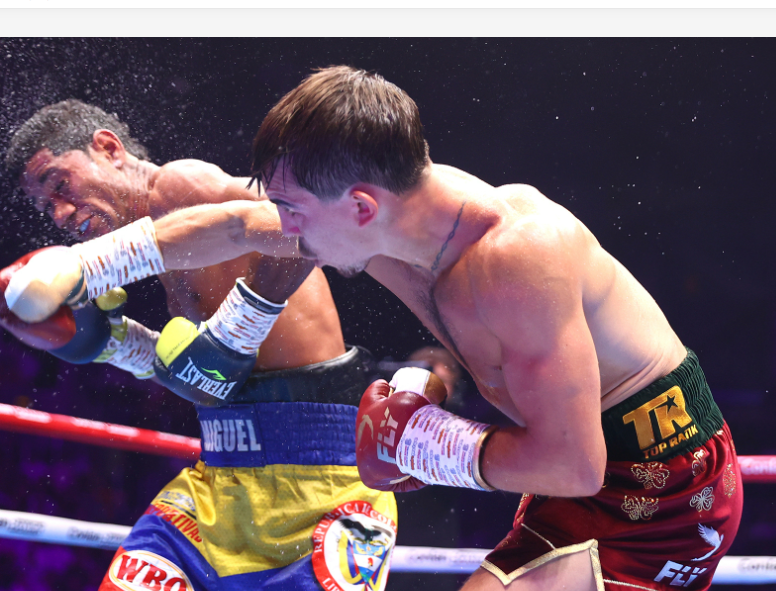 "The Return of the Mick" was the label attached to tonight's show at the SSE Arena in Belfast, Northern Ireland. The reference was to local fan favorite Michael "Mick" Conlan who returned to his hometown in hopes of jump-starting his career after suffering his first pro loss in a brutal encounter with Leigh Wood.
In that bout, a strong "Fight of the Year contender, Conlan was narrowly ahead on all three cards heading into the 12th and final round when the roof fell in. Wood, who was making the first defense of his WBA world featherweight title on his home turf in Nottingham, knocked the favored Conlan unconscious and clear out of the ring.
This was the sort of fight that can shorten a man's career. Hence the intrigue in Conlan's homecoming fight tonight against Miguel Marriaga. On paper, the Colombian, a three-time world title challenger, was a stern test considering the circumstances.
To the contrary, Marriaga had no fire in his belly until the final round when he hit Conlan with a shot that buckled his knees. But, by then Conlan was so far ahead without overly exerting himself that there was virtually no chance of another meltdown.
While Conlan won lopsidedly, the scores – 99-89 and 99-88 twice – were somewhat misleading. True, "Mick" had Marriaga on the deck in rounds 7, 8, and 9, but the punches that put him there did not look particularly hard.
Conlan, 30, improved to 17-1 (8). Marriaga, 35, declined to 30-6.
After the fight, Conlan expressed the hope that Leigh Wood would give him a rematch.
Other Bouts of Note
In an entertaining 10-round welterweight scrap that could have gone either way, Belfast's Tyrone McKenna (23-3-1, 6 KOs) rebounded from his defeat in Dubai to Regis Prograis (TKO by 6) with a hard-fought unanimous decision over 33-year-old Welshman Chris Jenkins (23-6-3). The judges favored the local fighter by scores of 97-94 and 96-95 twice.
Jenkins, a former British and Commonwealth title-holder, had the best of the early going, working the body effectively while frequently finding a home for his uppercut, but he could not sustain his advantage.
Thirty-four-year-old Belfast super middleweight Padraig McCrory who got a late start in boxing, scored the most important win of his career with a fifth-round stoppage of Marco Antonio Periban, a former world title challenger. McCrory had Periban on the deck three times – once in the second and twice in the fifth – before the bout was halted at the 2:14 mark of round five.
It was the fourth straight win inside the distance for McCrory who improved to 14-0 (8 KOs). Mexico's Periban, who returned to the sport in April after missing all of 2020 and 2021, fell to 26-6-1.
Highly-touted welterweight Paddy Donovan improved to 9-0 (6) with an 8-round unanimous decision over Yorkshireman Tom Hall (10-3). The referee scored every round for Donovan, an Irish Traveler trained by Tyson Fury's bosom buddy Andy Lee, the former world middleweight title-holder.
Photo credit: Mikey Williams / Top Rank via Getty Images
To comment on this story in the Fight Forum CLICK HERE
A Cornucopia of Accolades for Venerable Sportswriter Jerry Izenberg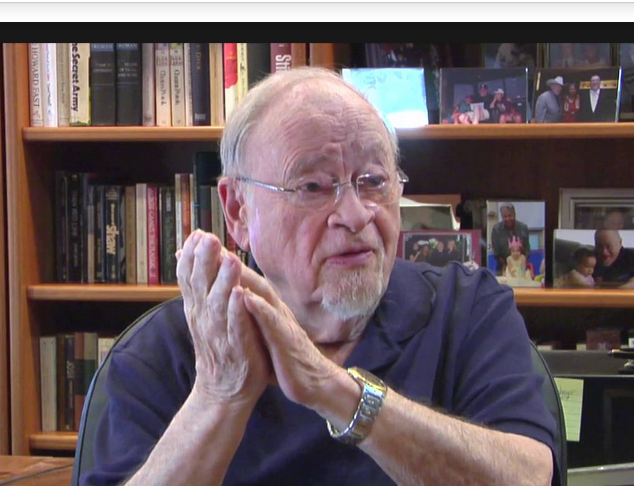 Ponder this for just a moment: Jerry Izenberg has written about sports for seventy-one years. No, this isn't a misprint.
Behind a righteous conscience, a clear mind and a cool hand, the 91-year-old New Jersey native and columnist emeritus for the Newark Star-Ledger has pounded out stories from every venue, both near and far, and on every major sport and that includes boxing which he holds near and dear and has been a great story-telling device.
"Most fans like it but don't understand it. Some writers take  advantage of the fact that because so many fans keep looking and waiting for a knockout. It's the easiest sport for a writer to fake," said Izenberg of the sweet science. "But for serious writers, it's the best…just three people inside the ring and a cut man and a trainer in each corner…when two great fighters meet, they produce at one and the same time the most brutal yet graceful ballet requiring skill, courage and the most determination in all of sports."
Izenberg, the author of more than a dozen books including "Once There Were Giants: The Golden Age of Heavyweight Boxing," has come across many interesting souls while traveling the globe dissecting the fight game, but one fighter in particular, a three-time heavyweight champion, caught his fancy.
"Muhammad Ali was someone I knew from the 1960 Olympics. He was my friend but he became my genuine friend the morning after he won the title from Sonny [Liston]. That was shortly after the press conference when as a world champion for just 24 hours, he announced his belief in a form of Islam then associated with Elijah Muhammad named the Lost Found Nation of Islam and colloquially known as the Black Muslims," he said.
"It was the first time most writers had been exposed to Ali's (then Cassius Clay) membership in the group. I may have been the first to defend his right to whatever religion he followed and whatever name he chose to be called. He respected the fact that I made it a priority to find out who the hell this guy was and that I would be writing about even after the day he died. We became close friends for about 50 years. Before that he had testified at a New York State Legislature hearing about boxing. A bunch of us were ticketed to return to Manhattan on the midnight train."
Izenberg explained how the friendship really took off:
"I was in my hotel room writing my column when he walked in at about 2 p.m."
"Man, I am so tired. Are there any empty rooms in this hotel?"
"Take my bed," I offered. "I promise to type quietly."
"After he beat Sonny, [February 1964], he started to tell everybody, 'This man, this man gave me shelter and his bed when I had no bed.' And I would say, 'that was only because I didn't know who the hell you were.'"
"And then we'd both laugh. It was a great friendship to the point where I still have trouble saying 'was' these days instead of 'is.' I miss him very much."
"I always wrote about the human condition which you would be wise to consider whether it is admirable or deplorable. When I was probably the first to defend Ali's constitutional rights, they broke out my car's windshield with sledge hammers and mailed me dog feces and alarm clocks disguised as bombs," he said. "When I explained the reasons behind [Colin] Kaepernick's Star Spangled Banner kneel we got hundreds of negative emails – none of which noted that I had carefully explained exactly what he said about why he was doing it and it had nothing to do with patriotism. I listened to exactly what he explained about a horrible wave of police brutality and I wrote what he said."
Izenberg, a graduate of Rutgers University Newark, shot back at the critics. "The trouble with these snap decisions by these knee-jerk detractors was that most of them wrapped their criticism in a tsunami of emotions but offered only a scintilla of facts," he said.
John Feinstein, a contributor to the Washington Post and Golf Digest and the author of two of the best-selling sports books of all time, added his two cents on Izenberg: "I think Jerry's done a remarkable job through the years of staying current, of remaining a REPORTER which many columnists – particularly older ones – fail to do," he said. "He rarely falls back on, 'back in the day, when I was a young reporter.' His work always feels as if it's fresh, not a rehash of material from years gone by."
The prolific Feinstein spoke about Izenberg's deft touch: "I always thought of Jerry as, 'the quiet columnist.' He never called attention to himself in press conferences or in the media room at big events," he said. "He'd just sit there, puffing on his pipe, and turn out something which would cause me to say, 'gee, I wish I'd thought of that,' when I read it. I've always said the guys who are the best at what they do don't have to tell you they're the best at what they do. Jerry falls into that category."
Izenberg reflected on his bar mitzvah at age 13, a rite of passage for Jewish boys. "My bar mitzvah ceremony was supervised nearly eight decades ago by a rabbi named Joachim Prinz. He had escaped Nazi Germany, rode a Freedom Bus during the beginning of the civil rights movement and introduced The Rev. Martin Luther King at the National Mall [in Washington, D.C.]," he said. "He was the one who called my attention to the Hebrew phrase "Tikkun Olam" – Hebrew translation: Repair the world." The most modern understanding of the phrase is that you fix the world through the individual human action of each person."
"So, I write what I believe, even if my soapbox is limited to a field of end zones and foul lines and ring posts," Izenberg added. "My work is the residue of my father, who set the standard, my teacher, Stanley Woodward, who gave me the tools and Dr. Prinz, the rabbi who kind of deputized me."
Former New York Times sports columnist Harvey Araton who wrote about the odd coupling of Ali-Liston II and Lewiston, Maine, in a story re-visited on these pages, noted that Izenberg, a longtime friend, wasn't swayed by popular opinion.
"He wrote what he thought. If that went with the wind, fine. If not, too damn bad. On his favorite topics (boxing, football, horse racing, baseball), he knew that he knew more than most and wrote with that level of authority," he said. "In other subjects, his eyes and ears were focused on what he could learn and report. He was old school all the way, not writing for clicks or retweets or to land a TV deal by manufacturing (fake) anger. Come to think of it, Jerry was one of the first crossover print sports guys when he appeared on Sports Extra on Sunday nights on Channel 5 in New York (if memory serves correct)."
"If you knew Jerry, you could actually hear his (cantankerous) voice in his column. When I was in college and grad school, working on the desk of the Staten Island Advance, a sister paper to Jerry's Newark Star-Ledger, we'd run his column," he said. "Much too brash and a  little stupid, I'd ready my editor's pen to see where I could make some changes and prove my worth. Whatever changes I'd make, my boss would undo. He'd tell me, "You don't f*** with a voice and style as distinctive as Izenberg, OK?" Jerry had his pet lines he would use, or overuse, like 'herniated snail' to describe a slow runner, or' Gomorrah-by-the-desert,' meaning Vegas. But you never knew what delightful turns of phrases would turn up in his copy, though seldom, if ever, did they obscure the message."
Araton noted Izenberg's affection for the Garden State: "Many may not remember that Jerry was not only a Jersey guy, though his love for the state in general and Newark in particular was indisputable," he said. "But in the late 70s, his columns were also picked up by the New York Post, in large part because of his friendship with Jerry Lisker, the Post sports editor, who was also a big boxing guy. So, in an era of many mega-bouts, Jerry's voice was heard in what was considered by many to be the city's best sports section."
"One last thing," said Araton. "About 9-10 years ago, I wrote a piece on the failure of the (now defunct) Newark Bears, or at least a remake of the team as an indie baseball team, to thrive despite a lovely little stadium the city and county had built," he said. "The story explores whether soccer was the more realistic pursuit. Jerry had championed the baseball cause in his columns. If you read Jerry's quote, you can see his irascible side but also his honesty; he says that people told him he was living in the past, thereby acknowledging that possibility."
Here is a link to that story.
https://www.nytimes.com/2011/08/22/sports/baseball/did-newark-bet-on-the-wrong-sport.html?smid=nytcore-ios-share
One of Izenberg's biggest fans is Japan Forward sports editor Ed Odeven who penned the well-received "Going 15 Rounds With Jerry Izenberg."
"Jerry's prose," said Odeven, "has never been saturated or bogged down with too many statistics or analytics…His stories are always anchored by human drama and a novella-like structure (with a beginning, middle and end)."
"Jerry was a progressive thinker decades ago in telling the plight of African American athletes and Historically Black Colleges and Universities (his visit to Grambling University, where he chronicled football coach Eddie Robinson's squad, which produced his groundbreaking story in True in 1967). He was far ahead of the curve in recognizing that Black and Latino athletes were rising stars and a significant part of the nation's sports culture," continued Odeven.
Ira Berkow, who spent countless hours ringside with Izenberg, echoed that observation.
"The aspect of the significance of race in sports was late in coming for many sportswriters," noted Berkow, the longtime sports columnist for the New York Times. "Not for Jerry. He was clearly in the forefront of the discussion."
Boxers are more open and introspective than other athletes according to Izenberg. And when the best of the best step into the ring, it can be magical.
Izenberg recounted two classics at which he sat ringside. One took place in 1975 in the Philippines and the other in 1985 at Caesars Palace in Las Vegas.
"I'm 91 now and I would like to say Cain-Abel but a camel died on the highway that day so I was late getting there," he said. "The best fight of any weight – Ali-[Joe] Frazier in Manila…15 rounds of hell.
The best way I can sum it up is with the lead I filed 20 minutes after the fight ended: "Muhammad Ali and Joe Frazier did not fight for the WBC heavyweight title here last night. Nor did they fight for the heavyweight title of the planet. They could have fought inside a telephone booth on a melting ice flow and had all the room they needed. "They fought, instead, for the championship of each other. And as far as I'm concerned, they could fight forever and the issue would never be settled."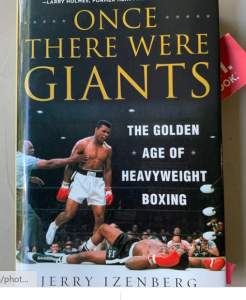 The second classic that stands out in his mind is Hagler-Hearns. "The best first round at any weight," Izenberg said. "Hearns won the explosive round, drawing blood from Marvin's forehead but when Hagler didn't take one step backward, he won the fight then and there."
For Izenberg, there have been some changes in boxing and not always for the good.
"Now when young boxers are told to hit the heavy bag by their trainers, the response is: 'Okay, but will I ever play the guitar
again?' Yes, we have a shortage of gifted fighters but so many of the ones we do have are in desperate need of gifted teachers," he said.
And with that, it appears the sport has also lost some of its shine. "Yes, because now it features more self-styled entertainers than fighters. The most exciting moment in all of sports used to be when a slight murmur began from the back of the arena and then a crescendo that grew louder and louder as they approached the ring," said Izenberg of the excitement of a big fight. "It was clear they had come to fight. Now we have smoke and mirrors, fake fog and an army of hangers-on for the walk to the ring large enough to double as extras in a cinematic re-creation of Exodus. The best fighters we have don't need the theatrics. I wish we had more of them."
Izenberg, who turns 92 on September 10, has been honored many times. Is there one that stands above the rest?
"I'm in 15 Halls of Fame but that's not it. I won the Red Smith Award and that's not it because when I was at the [New York] Herald Tribune my desk was next to his and I learned a lot and that was worth more than any award," he said.
"I was, for a time, fairly regular on Irish radio and one day the host interviewed me as what he called an important journalist. He said with all the awards, why is it you never won a Pulitzer? Nobody had ever asked me that.
"I told him that when the Star-Ledger was the eighth largest Sunday paper in the country, we had an audience of over one million. On weekdays it was around 600,000. So, if just one of every six readers read Jerry Izenberg during the week I had an extended family of 100,000. If they came back because they liked what I wrote, well, hell, the Pulitzer doesn't mean much when measured against that."
Hall of Fame boxing writer Thomas Hauser weighed in: "He should have won the Pulitzer Prize for Commentary long ago, but the jury that designates Pulitzer winners is journalism's answer to boxing's world sanctioning organizations with the New York Times playing the role of Don King."
"If we're lucky," said Hauser, "Izenberg will write his memoirs someday. But that would be the crib notes version. To fully appreciate his work, one has to have read his columns; day after day, week after week, year after year. Ten thousand columns crafted over the span of more than four decades," he said.
"Indeed, if the Newark Star-Ledger is interested in performing a true public service," continued Hauser, "it will assemble those columns in multi-volume sets, put the sets in major libraries across the country, and give Izenberg a set to take home with him."
To comment on this story in the Fight Forum CLICK HERE