The New York State Athletic Commission is Still Courting Disaster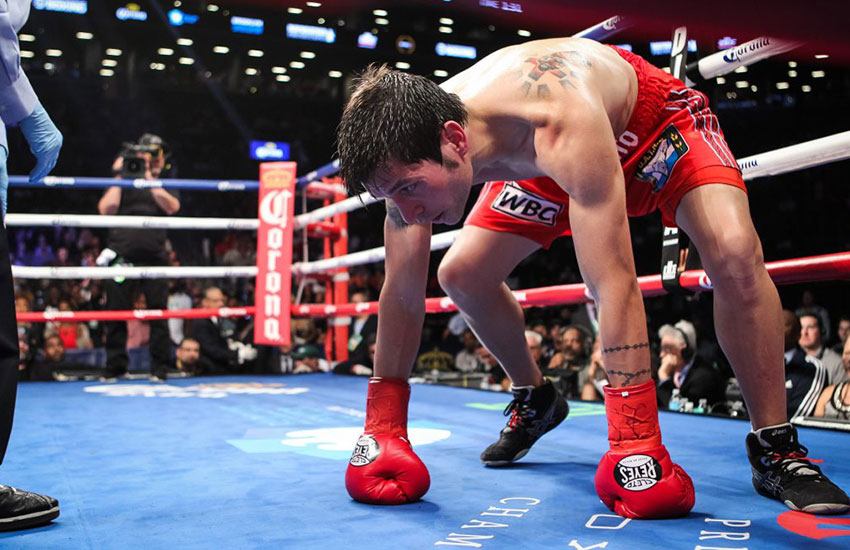 THE HAUSER REPORT — As the parties involved work to settle the various legal claims arising out of the horrific injuries suffered by Magomed Abdusalamov at Madison Square Garden on November 2, 2013, the New York State Athletic Commission is still playing Russian roulette with fighter safety.
Medical procedures and protocols have improved since the Abdusalamov tragedy. But there are still instances where the NYSAC is turning a blind eye toward the health and safety of fighters.
On April 14, 2016, Governor Andrew Cuomo's office issued a press release heralding the return of mixed martial arts to New York. In part, the press release read, "Mixed martial arts contests will be supervised either directly by the New York State Athletic Commission or by a sanctioning entity approved by the Commission."
On August 31, 2016, Jim Leary (counsel for the NYSAC at that time) elaborated on this third-party supervision of MMA, saying that it would apply only to certain amateur cards. In response, promoter Lou DiBella noted, "Right now, you have a situation where some small promoters are putting on MMA shows using unknown fighters, paying them under the table, and calling them amateur shows. That way, they can get around the state insurance regulations and a whole lot more."
Is this situation cause for concern? Absolutely.
The case of Gabriella Gulfin is in point. Gulfin is listed by Tapology.com as having had five MMA fights dating back to March 14, 2015, when she was placed on indefinite medical suspension by the New Jersey State Athletic Control Board after being knocked out by a punch on an amateur MMA card in Rahway. In mid-July, the Pennsylvania State Athletic Commission (which regulates both amateur and professional MMA bouts) refused to license Gulfin for an August 19 MMA card in Pennsylvania.
"I won't touch her unless she gets off medical suspension in New Jersey," Greg Sirb (executive director of the Pennsylvania State Athletic Commission) told this writer.
Here's the problem. While on medical suspension, Gulfin has fought four times on unregulated "amateur" MMA cards in New York. These fights were contested last year on July 18 and July 30 in Astoria, September 24 in Corona, and December 16 in Westbury.
So much for the high priority that the New York State Athletic Commission places on the health and safety of fighters.
On July 5, 2017, it was announced that NYSAC acting executive director Tony Giardina (who had served in that role since August 31, 2016) was leaving the commission to become one of three commissioners on the New York State Tax Appeals Tribunal.
Giardina leaves a mixed legacy. To his credit, he worked to improve medical procedures and protocols at the NYSAC. But by his own admission, he knew little about combat sports. And he helped lock in a system where political considerations take priority over performance, and employees who perform in mediocre fashion are given as much responsibility (sometimes more) as employees who are competent. He had an opportunity to change the culture at the NYSAC for the better and failed to do so.
Too many commission employees seem more concerned with moving into position to get their faces on television on fight night than in doing their job.
MMA project coordinator Kim Sumbler has succeeded Giardina as interim executive director and is likely to be given the job on a fulltime basis. Sources say that, with Giardina's departure, political directives are likely to be funneled to the NYSAC through Brendan Fitzgerald (first deputy secretary of state at the NYS Department of State).
Sumbler is entitled to a grace period to show what she can do in the job. Meanwhile, the best procedures and protocols in the world are of limited value if they're not properly implemented.
On May 13, 2017, the NYSAC held a training seminar for inspectors that focused on handwraps and the taking of urine samples. There was a time when trainers like Emanuel Steward were brought in to lecture commission personnel on handwraps. This year, recently-appointed deputy commissioner Tony Carrecia did the job. Dr. Louis Rotkowitz gave the lecture on the collection of urine samples and was corrected by Dr. Angela Gagliardi when he confused a woman's urethra with a woman's vagina.
More recently, on July 29, Jorge Sebastian Heiland (pictured) fought Jarmall Charlo at Barclays Center in Brooklyn.
Heiland is a southpaw. That means he plants his left foot to throw punches. Shortly before the fight, a commission employee (possibly deputy commissioner Robert Orlando) noticed that Heiland's left knee was heavily taped, which is a violation of NYSAC rules. The matter was brought to Kim Sumbler's attention, and the Heiland camp was ordered to remove the tape.
In round one, Heiland's footwork, to be polite, was "awkward." Commentating for Showtime, Paulie Malignaggi observed, "It's strange footwork. It's like his legs are too straight." In round two, Malignaggi added, "It's almost like his knees aren't bending at all."
Midway through the second stanza, Heiland's knee gave way and he slipped. As he was falling to the canvas, Charlo landed a solid right uppercut. The punch was legal since Heiland was not yet on the canvas. Referee Benjy Esteves, who had seen the slip but apparently not the uppercut, waved off the knockdown. Then, realizing that Heiland was hurt, he picked up the count at "five."
Put the puzzle pieces together. The commission had reason to believe before the fight began that Heiland's left knee was injured. He was obviously having trouble moving and planting his left foot to punch. He was being pounded around the ring like a one-legged punching bag. But Benjy Esteves, who also refereed the Magomed Abdusalamov fight in addition to having Arturo Gatti vs. Joey Gamache on his resume, let Heiland take a beating for two more rounds.
Things were worse in round three. Showtime blow-by-blow commentator Mauro Ranallo noted, "There appears to be something wrong with [Heiland's] left leg, although the doctors are allowing him to continue."
"It's weird," Malignaggi responded. "I don't know if he came into the fight like this. It's so strange. There's something wrong with this guy's leg."
"There's no question about that," veteran Showtime analyst Al Bernstein said.
The fight ended in round four, when Heiland was knocked down again and his knee couldn't support his weight anymore.
Where was the New York State Athletic Commission inspector assigned to Heiland's dressing room when Sebastian's knee was being illegally taped? What sort of pre-fight physicals did the NYSAC medical staff administer to Heiland at the weigh-in and in the dressing room prior to the fight? What did NYSAC commissioner Ndidi Massay, who was sitting in the first row at ringside during the fight, think she was watching?
Suppose Heiland had suffered a subdural hematoma as a consequence of the beating he endured against Charlo? The New York State Athletic Commission would be right back where it was with Magomed Abdusalamov.
Let's repeat that point so no one misses it. Suppose Sebastian Heiland suffered a subdural hematoma after being pounded in the head again and again by Jarmall Charlo? The result could have been a tragedy on the order of Magomed Abdusalamov.
Meanwhile, the NYSAC is in turmoil at the commissioner level.
Legislation enacted in April 2016 increased the number of NYSAC commissioners from three to five. However, at present, there are only three commissioners: Ndidi Massay, John Signorile, and Edwin Torres. Massay's term runs through January 1, 2019. Torres's term expired on January 1, 2014. Signorile's term expired on January 1, 2015. Both Signorile and Torres have been serving on a holdover basis.
It's not often that more than one NYSAC commissioner attends a commission seminar or fight card in New York. Too often, there are none.
On June 30, 2017, Michelle Nicoli-Rosales (Andrew Cuomo's deputy director of communications for economic development) confirmed that the governor had nominated three new NYSAC commissioners subject to approval by the State Senate. The nominees are (1) Dr. Philip Stieg, a New York City neurosurgeon; (2) Dr. James Vosswinkel, an East Setauket critical care surgeon; and (3) Donald Patterson, a Buffalo resident who has been involved with amateur boxing. None of the three has extensive experience in the world of professional combat sports. Moreover, the new commissioners can't be confirmed until the state legislature returns to Albany, most likely after the first of the year.
So the New York State Athletic Commission keeps lurching along.
The commission's July 11 open meeting was instructive. It began with a review of revised medical protocols formulated by the NYSAC's Medical Advisory Board under the leadership of Dr. Nitin Sethi.
Sethi, who is widely respected within the boxing community, presented the revised protocols to the commissioners. But the protocols are in a lengthy document that hadn't been sent to the commissioners until the previous night. It appeared as though none of the commissioners had read the revised protocols, let alone reflected on them.
The commissioners approved the revised protocols. But the discussion that preceded their vote did little to build confidence in the commission.
There was a discussion of whether fighters who are colorblind should be allowed to fight because, it was theorized, they might have trouble distinguishing between the red and blue corners. Sethi explained that colorblindness in and of itself should not disqualify a fighter from fighting.
In the past, fighters with breast implants have been barred from fighting in New York. But that policy was undermined when the NYSAC bowed to pressure and reinterpreted the rule, saying it applied only to boxing, not MMA. This allowed a fighter with breast implants to compete on a UFC card in Buffalo on April 8.
At the July 11 NYSAC meeting, it was announced that the Medical Advisory Board had determined that a ruptured breast implant is not life-threatening. Henceforth, breast implants will be allowed in all combat sports competitions in New York as long as the combatant signs a form acknowledging and accepting the risk of a rupture. In addition, there was discussion of the difference between saline and silicone breast implants (saline is safer) and how large an implant has to be in order to pose a health risk in the event of rupture.
The commissioners also agreed to consider a suggestion that the ring doctor be allowed to interrupt a fight in the middle of a round to determine if a fighter is concussed. As John McEnroe once raged, "You cannot be serious!!!"
Finally, John Signorile complained that the NYSAC had yet to ban flag poles from the ring and that this represents a safety hazard because, if there's a confrontation between the fighters' camps during the introductions, someone could use a flag pole as a weapon.
Commissioner Signorile also said that the conference room was too sterile and it would be a more inspiring setting within which to conduct business if there were New York State and American flags at the end of the room.
Author's Note: Don't put the flags in the NYSAC meeting room on poles. Someone might use them as weapons.
Photo credit: Tom Casino / SHOWTIME
Thomas Hauser can be reached by email at thauser@rcn.com. His most recent book – A Hard World: An Inside Look at Another Year in Boxing – was published by the University of Arkansas Press. In 2004, the Boxing Writers Association of America honored Hauser with the Nat Fleischer Award for career excellence in boxing journalism.
Check out more boxing news on video at The Boxing Channel.
To comment on this article at The Fight Forum, CLICK HERE.
Boxing Odds and Ends: Canelo-GGG III and a Gary Russell Sr Tribute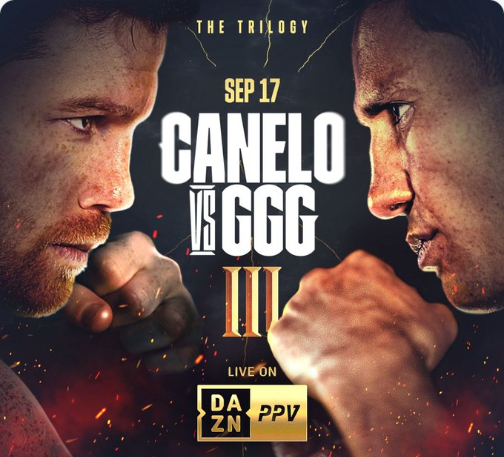 It's official. Saul "Canelo" Alvarez will bypass a rematch with Dmitry Bivol in favor of a third meeting with Gennadiy "Triple-G" Golovkin. They will renew acquaintances on Saturday, Sept. 17, Mexican Independence Day weekend, at a site to be determined, most likely the T-Mobile Arena in Las Vegas, the site of their first two battles, or AT&T Stadium in Arlington, TX (Jerry's World) where Canelo drew 51,420 for his 2016 match with Liam Smith and 73,126 for his 2021 match with Billy Joe Saunders, the latter a North American record for a boxing card at an indoor venue. At stake will be Canelo's undisputed (four-belt) super middleweight title. A career-long middleweight with one exception — his June 2019 fight with Steve Rolls was contested at the catchweight of 164 pounds — GGG will be making his first start at 168.
Canelo and Triple-G first fought on Sept. 16, 2017 and rematched a year later. The first meeting ended in a draw and Canelo won the second by a majority decision. Both outcomes were controversial.
Since then, Canelo is 7-1, adding world titles at 168 and 175. GGG, who left trainer Abel Sanchez after his second meeting with Canelo, replacing him with Emanuel Steward disciple Johnathan Banks, is 4-0, advancing his record to 42-1-1 (37). He was dominant against two soft opponents and against capable Ryota Murata, but had a very hard test with Sergiy Derevyanchenko. Of greater import from a handicapping standpoint, he turned 40, reaching that milestone on April 8. Canelo Alvarez (57-2-2, 39 KOs) is the younger man by eight years.
Pundits have criticized the powers that be for letting the trilogy fight languish until both men, but especially Golovkin, were theoretically past their prime. However, the first two encounters between these gladiators, both surefire first-ballot Hall of Famers, provided 24 rounds of white-knuckle entertainment and the third installment, a DAZN pay-per-view, is a guaranteed blockbuster.
R.I.P. Gary Russell Sr
Gary Russell Sr, the patriarch of a boxing dynasty, passed away Monday, May 23, at age 63 from complications of diabetes. Russell had been in and out of the hospital these last few months. He had his left foot amputated in December and was confined to a wheelchair.
Russell, who was raised in the crime-ridden Trinidad neighborhood of Washington DC, boxed as an amateur and passed his love of the sport on to his sons, all of whom, in the fashion of George Foreman, he named Gary. Under his tutelage, four of his sons were national amateur champions, two made the U.S. Olympic team, and three – Gary Russell Jr, Gary Antonio Russell, and Gary Antuanne Russell — are currently active professionals with a combined record of 65-2.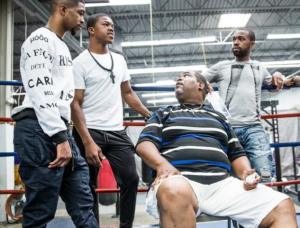 A featherweight, Gary Russell Jr, 33, is 31-2 (18). Both of his losses were by majority decision, the first to Vasyl Lomachenko and the second to Mark Magsayo in January of this year in the sixth defense of his WBC belt. He injured his shoulder during the Magsayo fight and was reduced to a one-armed boxer for most of the bout.
Gary Antonio Russell, 29, a bantamweight, last fought in November, out-pointing Alexandro Santiago to advance his record to 19-0 (12).
Gary Antuanne Russell, 25, a super lightweight, left the amateur ranks after losing a controversial decision to his Uzbekistani opponent in the 2016 Rio Olympics. As a pro he's undefeated, winning all 15 of his fights inside the distance. It is rumored that his next fight will come against former two-division world title-holder Rances Barthelemy.
Gary Russell Sr emphasized the cerebral component of boxing. "My father told me what creates a war is two fighters that didn't have a Plan B…That's what makes the difference between a good fighter and a great fighter, the level of intellect," said Gary Russell Jr. The elder Russell also encouraged his sons to invest their ring earnings in real estate.
The proudest moment for the Russell family came on May 20, 2017, the elder Russell's 58th birthday, when all three of his fighting sons appeared on the same card at the new MGM Inner Harbor in Oxon Hill, Maryland, roughly 15 minutes from the family home in Capitol Heights where the brothers first donned the mitts in a basement gym. Gary Russell Jr, Gary Antonio, and Gary Antuanne won their matches by stoppage. It was Gary Antuanne's pro debut.
As noted by award-winning writer Ronan Keenan, the event was a woolly affair marred by several brawls in the audience, but the Russell brothers brought honor to the family by their deportment, avoiding any hint of arrogance or bombast in their pre-fight and post-fight pronouncements.
Gary Russell Sr was no stranger to heartbreak. A son by a previous marriage, named Devaun, was murdered in 2004. Another of his sons, Gary Boosa Russell, died from cardiac arrest two months before Christmas in 2020.
We here at The Sweet Science send our condolences.
Arne K. Lang's latest book, titled "George Dixon, Terry McGovern and the Culture of Boxing in America, 1890-1910," will shortly roll off the press. The book, published by McFarland, can be pre-ordered directly from the publisher (https://mcfarlandbooks.com/product/clashof-the-little-giants) or via Amazon.
To comment on this story in the Fight Forum CLICK HERE
Harvey Araton Reflects on the Odd Coupling of Ali-Liston II and Lewiston, Maine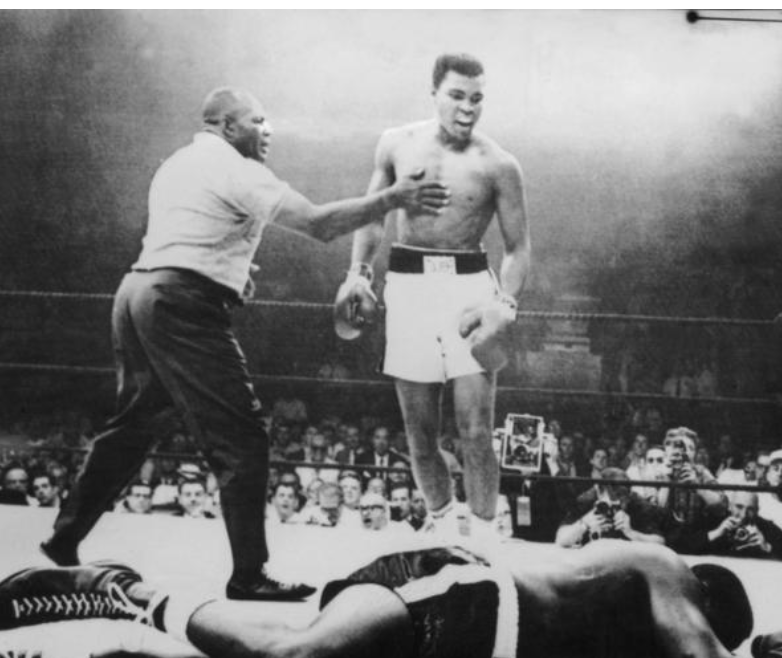 Harvey Araton Reflects on the Odd Coupling of Ali-Liston II and Lewiston, Maine
It's rarely the case, but in a few instances a heavyweight championship fight has been staged in a small town like Shelby, Montana, or Lewiston, Maine.
The latter was the case 57 years ago this week — May 25 to be exact — when Muhammad Ali faced Sonny Liston for the second time in 15 months.
In the initial meeting, Ali, then Cassius Clay, stunned the world by stopping and taking away the Big Bear's title with a sixth-round technical knockout in Miami Beach.
In the rematch, Ali's short right hand proved to be the knockout punch, but many called it the "Phantom Punch," because few in the throng of 2,434 inside Lewiston's St. Dominic's Arena actually saw the blow land.
Looking back, just how did a town of around 40,000 inhabitants and 142 miles north of Boston, actually host the second meeting?
Longtime New York City sportswriter Harvey Araton penned a feature that ran on May, 19, 2015 in the New York Times on just how that unlikely hamlet of Lewiston, at least for one night, became the boxing capital of the world.
"For the old timers in Lewiston, that fight is the equivalent of hosting an Olympics, an event that for decades has defined its identity, even more so after the city fell into disrepair following the decline of its textile industry and the closing of its mills," said Araton, who worked at the Staten Island Advance, the New York Post, and the New York Daily News preceding a 25-year stint at the New York Times including a decade and a half writing the "Sports of the Times" column.
"The filmmaker I met who talked about what Ali yelled at Liston as he lay on his back – "Get up and fight!" – and how it enhanced the fight's legacy in Lewiston as it struggled to revive itself was just perfect for my story. I'd like to think it has also come to reflect the rise of the Somali immigrant community, what it has had to go through in order to find a home and to overcome the standard fear and loathing of immigrants to share its restorative efforts in the city."
When Araton visited Lewiston on the fight's 50th anniversary, the townsfolk were proud.
"There certainly was a nostalgic quality to the city of Lewiston with the retention of its old, industrial feel, but especially in the arena where the fight took place. Beyond the facelift it was given several years ago, more to its facade than anything else, it still resembles what I described in the story as a cross between an old barn and an airplane hangar," he said. "And while I wouldn't say time is frozen inside, you didn't have to stretch your imagination too far to feel what fight night must have been like, all of it enhanced by the folks I found who actually attended. And who, 50 years after the fact, were surprisingly vivid in their recall."
While Ali was famous before this matchup, he became even more recognizable after it.
"To a degree, yes, this fight, more than the first one with Liston, arguably made the new champ more of a household name, for several reasons (though I would go easy on the global aspect of it, given the technological disconnectedness of the time). First and foremost, the chaotic and controversial nature of the fight was unavoidable," said Araton, the author, co-author or editor of nine books including "When The Garden Was Eden: Clyde, The Captain, Dollar Bill And the Glory Days Of The New York Knicks" and "Driving Mr. Yogi: Yogi Berra, Ron Guidry And Baseball's Greatest Gift."
"Two, with the name "Muhammad Ali" stitched onto his white robe, that was unquestionably more of an attention-grabber than Clay (even if much of the media refused to call him Ali). Finally, for those (including my dad Gilbert) who were turned off by Ali's brashness and preferred to think of the Miami bout as a fluke or even a setup to have Liston put him to sleep in the rematch, the quick work Ali made of Liston essentially suggested to fans everywhere (of what was then a far more popular sport than today) that they might want to get used to this mouthy showman. He was going to be around for a while."
Araton, who received the prestigious Curt Gowdy Award in 2017 (given annually to print/digital and broadcasting members of the media), said he had to talk his editors into letting him write the piece.
"This one was self-generated all the way. I even had to do a bit of a sales pitch for my editors, who weren't in love with retrospective pieces. By 2015, I knew I wasn't going to be a full-time sports journalist for much longer. I had tired of the traveling, the late-nights at live events, the calls for a deadline column that uprooted a dinner plan or a day with my family," he said. "There
wasn't for me a great sense of unfinished business, events I hadn't had the good fortune of covering. But I had always wondered about that fight – how the hell did it wind up in Lewiston, of all places? I mean, there were obvious details about the Boston situation, but I wanted to know the full story. More than that, I was dying to find out if I could interview anyone who actually attended the fight. I really thought I'd be lucky to locate one or two. But lo and behold, there were several – including the former Bates students – who were either at the fight or connected to it, one way or another. And, of course, the story ultimately evolved to being about Lewiston as much as it was about the fight. That's what I always loved about journalism: the idea is what merely gets you moving in the pursuit of a story."
Like so many at that time, Araton listened to the fight on the radio. "I mentioned my father earlier – he wasn't much of a sports fan but he grew up on the Lower East Side of Manhattan, had a cousin who was a boxer and loved a good boxing match. And as I also mentioned, he didn't care much for Ali, while I, like so many other kids, found him compelling, especially compared to the dour, menacing Liston," he noted. "So that night, he set up the radio on the kitchen table in our Staten Island housing projects apartment, as he typically did for a big fight that wasn't on TV. I had just turned 13, apparently old enough to be teased: "Liston's gonna give it to him good.
"Just as the start of the fight approached, I had to hit the bathroom, and after taking care of business in there, I emerged to see him pulling the plug from the socket and returning the radio to the shelf where he kept it. "Go to bed, it's over," he said. I was confused – "whaddaya mean, it's over?" He huffed, "Clay knocked him out." I went off to my room happily."
The fight lasted one round and some thought it was fixed. Jimmy Cannon, the legendary sportswriter sitting ringside said of the knockout punch: "It couldn't have squashed a grape."
"I asked that question to all I interviewed who'd attended the fight. Most told me they managed to miss the moment of the punch – looked away, or sipped a beer, or whatever," said Araton, "But one guy, a former IRS agent named Bob Pacios, insisted he'd had a clear and elevated line of vision from behind Ali and saw Liston step into the blow to the side of his face. He even diagrammed what he saw on a napkin. So, I'll go with what he testified, while also factoring in that Liston did get up and the fight sort of continued as the ref, Jersey Joe Walcott, went over to consult the timekeeper. Which, I suppose, could obfuscate the hardcore belief that he took a dive. Also, while Ali was no knockout artist, he certainly was a very large man with lightning-fast hands. In other words, the one-punch takeout was plausible."
Araton never covered any of Ali's fights, but he did see him up close on one occasion.
"I met him once at the baggage claim at one of the New York-area airports, can't remember which one, or the year, but it was well after he'd been afflicted by Parkinson's," he said. "I was waiting for my bag, minding my business, when I noticed him standing with his wife, Lonnie, at the carousel right next door – of course with people gawking all around him. I just had to go over and say something, anything. I introduced myself as a New York Times sports columnist, and a fan, and mentioned one of my mentors in the newspaper business – Vic Ziegel, who'd covered prime Ali for the New York Post. He smiled, made a fist and said something to the extent of, 'You tell him I'm looking for him!'"
Araton said he did see the three-time heavyweight champion from a distance.
"Having covered the Atlanta Summer Olympics in 1996, I was also in the stadium when he appeared with the torch, in what had to be the greatest ceremonial sports moment of our times," he said. "It takes no special insight to call Ali a great historical figure, incredibly courageous, transcendent of his sport, all sports and pretty much everything else. But also a man with some troubling contradictions – tough to stomach, for instance, how he demeaned Joe Frazier, even when rationalized for the purpose of selling the fights. And shame on the press for laughing along, or even portraying Frazier as a tool of the white establishment."
Araton went on: "When Ali died, I was wrapping up my 25 years at the Times (as I'd anticipated before doing the Lewiston piece the previous year) and was covering the NBA finals in the California Bay Area. My older son, Alex, was quite upset by the news. He was, after all, the son of a sports columnist who happened to be fascinated with the Ali legend. He kept texting me, encouraging me to write something, while I reminded him that the Times tributes had all been prepared well in advance of Ali's death, as almost all are for the truly great ones. But when he insisted, I finally relented, and stayed up into the wee hours to finish a piece that I posted on a blog site I had created but seldom used.
"Strangely enough, once posted to the blog site, it appeared on my Twitter feed and a media critic for Sports Illustrated included it on a list of Ali tributes he liked. That provided it with far more readers than I'd imagined it would get. Which gets back to my earlier point of how Ali as a phenomenon was much easier to propagate globally by 2016 than he was in 1965."
Harvey Araton's blog piece bore the title "Ali, Connector of Generations." Here's a link to it.
http://www.harveyaraton.com/the-araton-blog/ali-connector-of-generations
To comment on this story in the Fight Forum CLICK HERE
R.I.P. Les Bonano (1943-2022), Linchpin of Boxing in New Orleans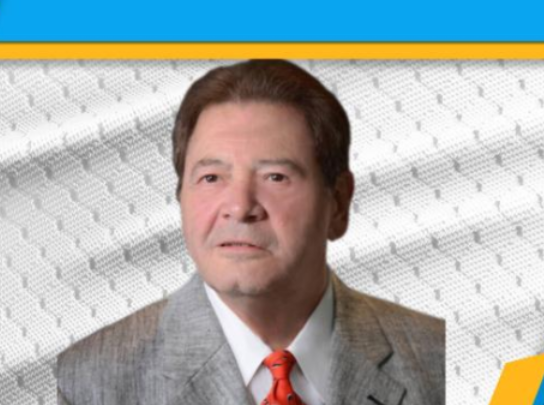 Les Bonano, a fixture on the New Orleans area boxing scene for 50 years, passed away on Saturday night, May 21, at his home in Slidell, Louisiana, surrounded by his wife of 60 years, Mary, his four children and his eight grandchildren. Bonano, who had been in and out of the hospital in recent months with kidney problems, was 79 years old.
Bonano joined the New Orleans Police Department in 1965 and patrolled the French Quarter, one of America's most harrowing beats. In 1974, while working for the New Orleans Parish Sheriff's Department, he was charged with starting an intramural sports program to relieve tensions at the parish prison. He began with basketball and then added boxing. Somewhat later, he opened a gym and took to training, managing, and promoting fighters. He retired from law enforcement in 1981 to give boxing his full attention.
Bonano was poised to seize the moment when neighboring Mississippi legalized gambling in 1990. He carved out arrangements with Gulf Coast casino resorts in Biloxi and Bay St. Louis to keep his fighters' busy. Many of the shows that he facilitated were mid-week shows that aired on the old USA cable network.
Bonano never had the satisfaction of managing a world champion, but he came awful close with Melvin Paul who lost a controversial decision to Charlie "Cho Choo" Brown in the inaugural IBF lightweight title fight. Others in Bonano's stable who went on to compete for world titles include Jerry Celestine, Anthony Stephens, and John Duplessis. Celestine, a light heavyweight who fought Michael Spinks, was an alumnus of Bonano's prison program.
More recently, Bonano promoted Jonathan Guidry, the Dulac, LA heavyweight who made a surprisingly strong showing against WBA (secondary) title-holder Trevor Bryan on a Don King promotion in Warren, Ohio.
In July of last year, Les Bonano was formally inducted into the Greater New Orleans Sports Hall of Fame with the class of 2021. "He is perhaps the final ruler of what remains of a fraying and depleted boxing kingdom in the formerly great fight city of New Orleans," wrote Hall of Fame boxing writer Bernard Fernandez, a New Orleans native, in a tribute that ran on these pages.
We here at The Sweet Science send our condolences to the Bonano family. May he rest in peace.
To comment on this story in the Fight Forum CLICK HERE