Wladimir Klitschko Embraced Al Davis's Mantra: "Just Win, Baby"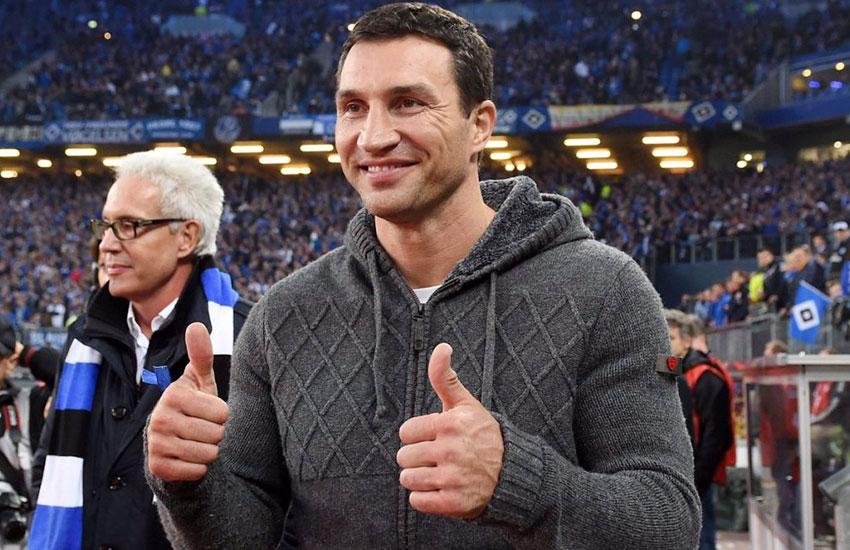 Having maintained a home in Los Angeles for several years, there is at least a chance now-retired two-time heavyweight champion Wladimir Klitschko has some knowledge of Al Davis, the maverick former coach, general manager and principal owner of the NFL's Raiders, in both their Oakland (twice) and L.A. residencies.
After the then-Los Angeles Raiders had hammered the Washington Redskins, 38-9, to win Super Bowl XVIII in Tampa, Fla., on Jan. 22, 1984, a smiling and self-satisfied Davis repeated to CBS interviewer Brent Musburger what already had become his and his team's enduring catchphrase: "Just win, baby."
If there is a difference between a just-win Klitschko – whose retirement announcement on Wednesday, depending upon one's point of view, was either shocking or very much expected – and Davis, it is in the manner in which they went about the victory process. Davis was always a proponent of the quick strike, forever fond of quarterbacks who could launch the long ball and often did. His prototypical passer was Daryle "The Mad Bomber" Lamonica, who would send receivers Warren Wells, Fred Biletnikoff and Raymond Chester sprinting downfield on go routes until they were totally gassed or hauled in a couple of touchdown throws, whichever came first. Thirty-three years after Lamonica retired from the Raiders in 1974, Davis used the first pick in the NFL draft to select LSU rocket-launcher JaMarcus Russell, who had Lamonica's big arm but was hardly a Tom Brady when it came to conditioning or the mental aspects of a complex game. Russell was out of the league after three hugely disappointing seasons, one of the most colossal busts in NFL history.
The 41-year-old Wladimir "Dr. Steelhammer" Klitschko – who received a Ph.D. in sports science from the University of Kiev and speaks four languages (Ukrainian, Russian, German and English) – always had been a dash of Lamonica and heavy doses of Frank Ryan, a fellow Ph.D. and former quarterback who is best known for leading the Cleveland Browns to their last NFL title (1964), far less for publishing two seminal papers in the Duke Mathematical Journal.
At 6-foot-6 and 245 or so pounds distributed on a chiseled physique reminiscent of Michelangelo's David, the younger of the highly educated heavyweight champion Klitschko brothers – former WBC titlist Vitali "Dr. Ironfist" Klitschko, now 46, retired in 2013 and is the mayor of Kiev – could, and did, win using whichever method he deemed to be the most logical in a particular situation. He could air it out, if that best suited his purpose, as evidenced by the 54 knockouts he registered in fashioning a 64-5 record during a 21-year professional journey that five years hence will result in first-ballot induction into the International Boxing Hall of Fame. But Wlad, whose fragile chin was never his strong suit, was wise enough to understand that always going for broke in the ring sometimes can break even a heavyweight wielding a figurative steel hammer. He lost title bouts inside the distance to Corrie Sanders and Lamon Brewster, neither of whom will ever have a plaque in the IBHOF, and even had to overcome three knockdowns en route to a points nod over Samuel Peter in the first of their two meetings. And when Wlad also was dropped three times in his most recent bout, an 11th-round TKO loss to huge (6-6, 250), young (27) and strong Anthony Joshua on April 29, in which Joshua retained his IBF title and also annexed the vacant WBA belt before a crowd of 90,000 in London's Wembley Stadium, a seed undoubtedly was planted in Klitschko's analytical mind that apparently blossomed with Wednesday's retirement announcement.
"… I've traveled the world, learned new languages, created businesses, built intellectual properties, helped people in need, became a scientist, entrepreneur, motivator, hotelier, trainer, investor and much else," the statement read. "I was and am still capable of doing all this because of the global appeal of boxing. At some point in our lives we need to, or just want to, switch our careers and get ourselves ready for the next chapter and chart new courses toward fresh challenges."
Reading the intelligently worded statement, I have no doubt it is factually correct and was actually composed by Wlad and not by a hired publicist, many of whom function as apologists for coarse practitioners of the pugilistic arts incapable of speaking complete sentences without a steady stream of vulgarities. Some fighters don't seem to need or want such functionaries; witness the f-bomb-congested, four-city press tour to hype the upcoming Floyd Mayweather Jr.-Conor McGregor carnival sideshow. Raise your hand, perhaps sheepishly, if you are drawn to that bizarre matchup because of its gutter-level lead-up rather than in spite of it.
Klitschko, on the other hand, referred to the exciting slugfest pitting Olympic super heavyweight gold medalists (Wlad got his in 1996, Joshua in 2012) as a confrontation of "gentlemen," staying classy despite the realization that he quite possibly was one big punch from career-rejuvenating success after he dropped the favored Briton in the sixth round, with over two minutes remaining to seal the deal. He didn't, but considering his relatively advanced age and career-long 17 months of inactivity between his uninspired dethronement on points by Tyson Fury and showdown with Joshua, it could be argued that Wlad had been involved in his most exciting fight in years, and maybe ever. He immediately announced his intention to exercise the rematch clause in his contract, but with his retirement announcement negotiations for a do-over – in which the Kazakhstan-born, Ukrainian-raised son of a Soviet Air Force colonel stood to make upwards of $20 million on Nov. 11 at Las Vegas' T-Mobile Center – ended.
Fight fans are left to debate whether Wlad could have or would have spanked Joshua prime-on-prime, but such exquisitely timed confrontations of elite boxers are relatively rare. Someone always is on the way up, someone always is on the way down. Having lost back-to-back scraps for the first time as a pro, and already affluent enough to consider the move into a rewarding next phase of his life, the erstwhile "Dr. Steelhammer" again chose the safe course. Who knows? Maybe he was influenced by last week's report issued by the American Medical Association that, of 111 deceased NFL players who had donated their brains for scientific research, 110 had varying degrees of Chronic Traumatic Encephalopathy (CTE). In boxing, the gradual and silent thief of mental faculties is pugilistica dementia, which can debilitate the body even as it wipes clean memories of boxing glory, and pretty much everything else. No one can fault Klitschko if he is stepping away to ensure more quality time in the long term with his fiancée, American actress Hayden Panettiere, and the couple's 2½-year-old daughter, Kara Evdokia Klitschko. If the child turns out to be anywhere near as smart as her pop, perhaps Wlad soon will be reading Dostoevsky bedtime passages to her instead of Mother Goose nursery rhymes.
Of course, book smarts and ring smarts are not mutually inclusive. Wlad always marched to the tune of his own drummer, even when doing so put him somewhat at odds with his late, great trainer, Emanuel Steward, who constantly preached the gospel of Al Davis-like aggression and often stood by, perplexed, as one of his most accomplished pupils formulated his own fight plans on the fly. Manny always wanted to see a little more of let 'er rip Thomas Hearns in Wlad, and sometimes got an XXL-sized version of master technician Willie Pep.
"For one-punch power, Wladimir tops them all," Steward, who was Klitschko's chief second for 17 bouts prior to his death, at 68, on Oct. 25, 2012, once said. "If he ever becomes more aggressive and just went after people, he could be the most devastating puncher ever. I've trained many fighters and Wladimir is one of the few who can turn out the lights without using the dimmer switch first."
Had Klitschko attempted to tailor his style to fit Steward's more action-packed specifications, there is at least a possibility he would have placed higher than No. 16 in a recent poll of 30 trainers, historians, matchmakers and media members conducted by The Ring magazine to determine the top 20 heavyweight champions of all time. He also might have been more often on the wrong end of knockouts, as was the case when he threw down with Sanders and Brewster. His stylistic choices make for a debate with no quantifiable resolution.
Before his April 25, 2015, title defense against Bryant Jennings in Madison Square Garden, with Steward disciple Johnathan Banks serving as his chief second, Klitschko – who would win by unanimous decision – explained that he never was one to adhere to strict dictums. Every fight is different and, well, it's like Al Davis declared. The first rule of athletic competition, be it boxing, football or whatever, is to just win, baby.
"I cannot make the fight by myself," Wlad explained. "I need somebody who wants to fight back. That's what makes an exciting fight. If somebody just doesn't want to get knocked out, it's very difficult because you have to chase him.
"There have been different fights I've had in the 25 years (including amateurs) of my career. I do have different qualities of boxing and punching and, if it's needed, of clinching. It doesn't matter. I know the game and I know how to win to have lasted this long."
Fighting primarily in Europe, most often Germany, during his extended heyday, Klitschko never felt the need to apologize for the 160-plus clinches in which he was engaged, many initiated by him, in a unanimous decision over Russia's Alexander Povetkin on Nov. 5, 2013, in Moscow. He would have been lustily booed for that performance in the U.S., but he did what he felt he had to do to win. End of story.
And now the end of the story, at least the boxing part of it, really is here. Some will dismiss his lengthy time upon the heavyweight throne – 29 title bouts spanning two reigns, breaking the record of 28 held by the legendary Joe Louis – as being too boring, too casually dominant in most instances. But guess what? Floyd Mayweather Jr. has followed more or less the same path, with far fewer knockouts and significantly more expletives uttered. Art appreciation is a matter of individual taste, whether the canvases being examined offer comparisons between Tyson and Ali or Monet and Picasso.
Now that Wladimir Klitschko has signalled his intention to take his leave, probably for keeps, an appreciation is in order. He utilized his superior power selectively, but with telling effect, and he called upon his myriad other skills as warranted. Most of all, though, he remained a bastion of honor and dignity in a profession that sometimes is bereft of both qualities.
To comment on this article at The Fight Forum, CLICK HERE.
Check out more boxing news on video at The Boxing Channel.
Boxing Promoter Michelle "Raging Babe" Rosado Pulls No Punches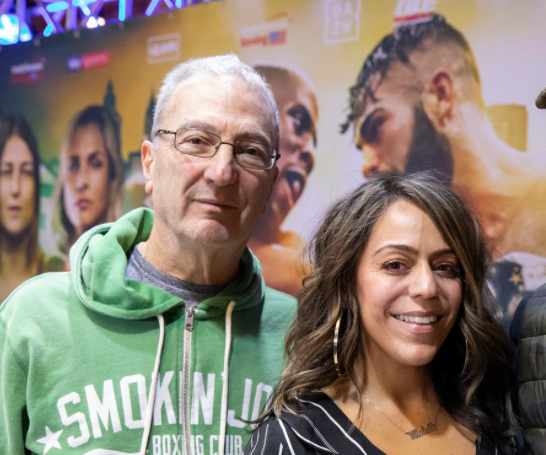 Michelle Rosado, the founder and CEO of Raging Babe Promotions, made her promotional debut on Feb. 8, 2019 with a show at South Philly's intimate 2300 Arena. The show drew an SRO crowd, a testament to Rosado's tireless work ethic, but ended on a sour note when local fan favorite Christian Carto – potentially the next big thing on the Philadelphia boxing scene – stepped up in class and was brutally knocked out by Mexican veteran Victor Ruiz. A protégé of Hall of Fame boxing promoter J Russell Peltz (pictured on the left), Rosado recently appeared on the "Last Stand Podcast with Brian Custer" to share her thoughts on some of the major issues in boxing. Here are excerpts from that interview compliments of publicist Keisha Williams.
ROSADO ON WHY CLUB SHOWS ARE IMPORTANT TO THE SPORT
"Club shows are where you are building those prospects, that's where you're developing those fighters you see the top promoters are pulling these opponents from. We're developing these guys from the ground up, we're almost like a farm system. Most of these guys you see on TV fighting for millions of dollars, and becoming world champions, a lot of them started at the club level."
ROSADO ON STATE OF WOMEN'S BOXING
"Women's boxing needs a platform, there's nowhere for these girls to fight, they deserve some fairness in our sport. I'm not trying to say they deserve to be paid the same as Canelo, but they shouldn't be paid 5 thousand dollars to defend their titles either, so in 2021
I'm going to get more involved in women's boxing and try and be a voice for them because they deserve better and a platform."
ROSADO ON HOW DIFFICULT IT IS BEING IT IS BEING A FEMALE PROMOTER IN BOXING
"I've been called every racial slur you can think of, I've had tickets thrown in my face, I've had my house vandalized, I've had a brick thrown threw my back window of my car. I've been called every kind of groupie you can imagine. She's slept with everybody in the business and every fighter. I've earned my stripes, I've worked hard, no handouts, it's just been all hard work and I've had to learn to turn the cheek. Most people know nine years in that I'm a hustler. You'll never find a fighter that says she stole from me, she didn't pay me, she lied to me, you'll never find a fighter that says that!"
RAGING BABE ON FEMALE BOXING PROMOTERS
"Yes we have a lot more women in boxing, yes it still a little more difficult for us, but we're there you hear us roaring. Behind every big promoter, he's got a woman either as his right hand man or running the operation. And I mean all of them!"
ROSADO ON HER ULTIMATE GOAL
"I want to continue to promote good fights, I want to make Philadelphia the legendary fight town that it once was, I want to develop those guys from the ground up, I want old school and new school boxing fans to come to my shows and fall in love with boxing again, and them become interested in the bigger boxing world again because we're losing that old school boxing fan. I want to uphold the reputation of real fights, real fighters, real fans that's my passion."
ROSADO'S TOP 5 POUND FOR POUND LIST
Terence Crawford
Canelo Alvarez
Errol Spence Jr.
Naoya Inoue
Teofimo Lopez
Rosado on who's boxing next big star and the best fighter out of Philly right now
"Boxing's next big star is Tank….We got a lot of really good fighters in Philly, but Jaron "Boots" Ennis is that dude!"
The full in-depth interview is now available on YouTube (Last Stand Podcast with Brian Custer) and all major podcast platforms (Apple Podcast, Google Podcast, Spotify, etc.)
Check out more boxing news on video at the Boxing Channel 
To comment on this story in the Fight Forum CLICK HERE
HITS and MISSES: Post-Thanksgiving Weekend Edition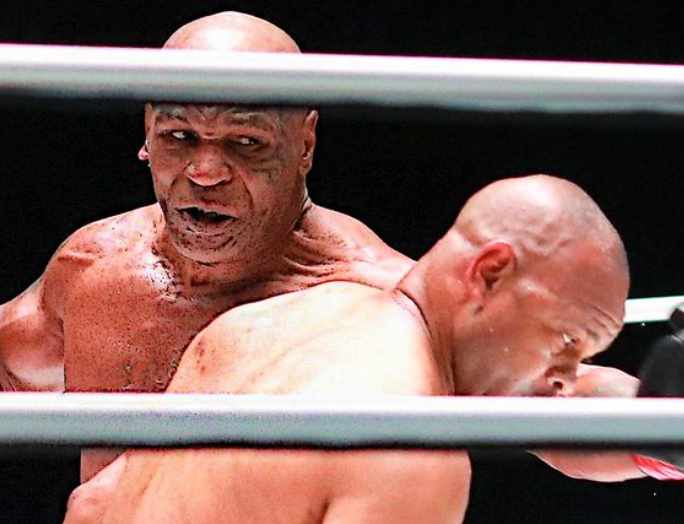 It was another massive weekend in boxing. There were big fights on pay-per-view that maybe shouldn't have been so big, and fights surrounded by lesser fanfare that will probably be looked back at as the more meaningful action by future historians.
Here are the biggest HITS and MISSES from another week on the boxing beat.
HIT: Mike Tyson, Roy Jones and the Unifying Power of Boxing
Whatever you think about the boxing exhibition bout between Mike Tyson and Roy Jones, Jr. on Saturday night, the most important aspect of the whole night (to this writer at least) was seeing how easily a big fight in boxing could still unify our culture.
No, it wasn't a legitimate prizefight, but people still wanted to see the 54-year-old Tyson go a few rounds with the 51-year-old Jones, and that's exactly what they got. It was a ride built mostly around the power of nostalgia, and it featured all sorts of present-day celebrities, too.
By the end of things, it seemed the general reaction to the event on social media was positive.
Tyson vs. Jones showed how big a reach boxing still has. Tyson retired over 15 years ago, but people from all over the planet were still willing to pay $50 to watch him climb inside the ropes for a sparring session.
Seeing that left me with two exciting questions.
What awesome power will boxing's next superstar have?
More importantly, where is he (or she) anyway?
MISS: Ring Announcer's Steve Harvey Moment 
In 2015, comedian Steve Harvey accidentally announced the wrong winner of the Miss Universe pageant. As humiliating as that event was for Harvey, just imagine how the two women felt after having their hearts filled and slashed by his error.
That same thing sort of happened on Friday night when Danny Jacobs beat Gabriel Rosado via split decision in a 168-pound stay-busy fight streamed by DAZN.
Ring announcer Jeremiah Gallegos accidentally said the winner hailed from Philadelphia (where Rosado is from) before quickly changing it back to Brooklyn (where Jacobs is from).
So momentarily, the hard-luck Rosado, who never has been the beneficiary of a close decision in any important fight, thought he had just pulled off the upset of the year.
Instead, Jacobs was corrected as the winner and that had to be an awful experience for both fighters, one that was completely avoidable.
HIT: Joe Joyce: An Actual Juggernaut?
Heavyweight prospect Joe Joyce is a popular fighter on the other side of the ocean because of his long and successful campaign as an amateur boxing star which culminated with Joyce winning the silver medal for Great Britain in the super heavyweight division at the 2016 Summer Olympics.
Still, as a professional prospect, there are lots of things not to like about Joyce. First, Joyce didn't start boxing until he was 22. Late bloomers come around now and then, but they're still a rarity in the sport. Second, Joyce is already 35, which means he's already just outside the confines of his theoretical physical prime, something that ends around 33 years old and only gets worse. Finally, Joyce is just plain slow as molasses.
Regardless, Joyce stopped fellow Brit Daniel Dubois on Saturday in London.
Unlike Joyce, Dubois, 23, possesses plenty of attributes one looks for in a future world champion. But none of those things helped Dubois win the fight.
All this to say Joyce just keeps winning fights. Sure, he might appear to be a boulder tumbling slowly down a hill when he fights, but that rock is starting to gain some real momentum.
HIT: 54-1
Thailand's Wanheng Menayothin finally lost a fight over the weekend, but it should be noted that at least the fighter finally knows his limits.
Menayothin (aka Chayaphon Moonsri) entered his fight against Petchmanee CP Freshmart (aka Panya Pradabsri) with a sterling record of 54-0. He left the contest 54-1 after judges rendered their verdict for the challenger.
Much was made of Menayothin's glossy win streak last year when he surpassed retired boxing superstar Floyd Mayweather's 50-0 mark. But a combat sports culture obsessed with suffering no blemishes on a record is only a relatively new phenomenon. Moreover, the very nature of that path through the sport never reveals the true limits of a fighter.
All this to say that Menayothin now gets a better sense of his limits, and the boxing world as a whole gets to know that same thing about him, too. That's wildly better than the alternative.
MISS: Nate Robinson Challenge
If you missed the Tyson vs. Jones pay-per-view event on Triller over the weekend, you didn't see social media star Jake Paul's viral knockout of ex-NBA star Nate Robinson.
It was clear from the start of the fight that Paul and Robinson weren't evenly matched. That kind of thing happens all the time in boxing, of course, but here was a case of a person (Robinson) who maybe had been so mismatched against Paul that it was too dangerous to have happened at all.
Regardless, Robinson did have the courage to train for the fight and step inside the ropes on fight night.
After he was knocked out, something called the "Nate Robinson Challenge" started trending on Twitter, and it was basically people from all over the world trolling the 3-time NBA dunking champ for getting knocked out in the fight.
Look, Robinson made his own bed by calling for the fight in the first place. But the Internet trolls that rag people for stepping outside their comfort zones probably would never dare to attempt that accomplishment themselves.
Robinson tried and failed. That's the real challenge.
Check out more boxing news on video at the Boxing Channel 
To comment on this story in the Fight Forum CLICK HERE
Tyson and Jones Box to an Unofficial Draw in a Predictable Stinker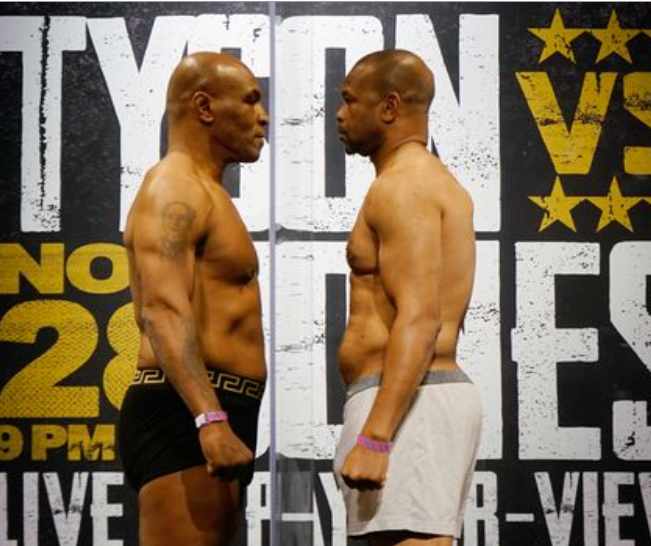 The Ringling Bros. and Barnum & Bailey Circus, an American institution, went belly-up in 2017, but a different kind of circus played to an empty house at the Staples Center in Los Angeles tonight. The main attraction wasn't Jumbo the elephant but Iron Mike Tyson in his first ring appearance in 15 years. In the opposite corner was Roy Jones Jr, who at age 51 was the younger man by three years.
Tyson vs. Jones was the main piece of a 4-hour boxing and music festival live-streamed in the U.S. on the TysononTriller.com app at a list price of $49.95. This was the first live event on "Triller" which allows people to create their own music videos and was designed as a rival to China-owned TikTok, one of the biggest recent success stories in the internet world.
The California State Athletic Commission, which sanctioned the match, insisted that Tyson vs. Jones would be an exhibition. They would fight 8 two-minute rounds with 12-ounce gloves and if there were a knockdown, the referee would not give a count and the bout would or would not continue at his discretion. The rounds would not be scored and no winner would be named.
Of course, the promoter chafed at these restraints and did his best to create the impression that this was a legitimate prizefight. Retired boxers Vinny Pazienza, Chad Dawson, and Christy Martin were lassoed to serve as judges, scoring the fight from a remote location, and the WBC commissioned an honorary belt to present to the winner.
The advance hype was enormous. A clickbait-obsessed media lapped it up including photoshop-enhanced images of Mike Tyson's physique.
In the second round, Tyson landed a double left hook and that was the only indelible moment in the match. By the third round, both looked and sounded tired and by the sixth round Jones was thoroughly gassed out and took to clinching to make it to the final bell.
For the record, the scores were 79-73 for Tyson (Martin), 80-76 for Jones (Pazienza), and 76-76 (Dawson). On the internet, the clear consensus was that Tyson had the best of it.
Mike Tyson, 50-6, 2 NC (44 KOs) last fought in June of 2005 when he was stopped by third-rater Kevin McBride. Roy Jones (66-9, 47 KOs) was active as recently as 2018 and won his last four, but against hand-picked opponents including a boxer making his pro debut. His last fight of significance came in 2011 when he was brutally KOed by Dennis Lebedev in Moscow.
Jones, who weighed 210 ½ tonight, weighed 157 when he made his pro debut in 1989. In his prime, he was pound-for-pound the best fighter in the world, but that was back in the previous century.
Both fighters were reportedly guaranteed $1 million with Tyson's take potentially reaching $10 million if certain financial targets were met.
Other Bouts
YouTube sensation Jake Paul, who we reluctantly concede has more than a modicum of talent in the fisticuffing department, knocked out Nate Robinson in the second round and it was a clean knockout with Robinson knocked out cold. The 36-year-old Robinson, the former NBA point guard who was a three-time slam dunk champion during his 11-year NBA career, is a well-rounded athlete, good enough to start as a cornerback in football during his freshman year at the University of Washington, but his athleticism didn't translate to the squared circle as he looked like a common bar brawler.
Former two-division belt-holder Badou Jack (22-3-4), who said he appeared on the card as a favor to his friend Mike Tyson, was a clear-cut winner over hard-trying but out-classed Blake McKernan in an 8-round cruiserweight match.
At age 37, Jack's career is winding down. He tipped the scales at 188 ¾, 14 pounds more than in his previous engagement vs. Jean Pascal. McKernan, a natural cruiserweight from Sacramento, was undefeated coming in (13-0), but was in over his head against Jack, a former Olympian and veteran of seven world title fights.
In a good action fight, Worcester, Massachusetts lightweight Jamaine Ortiz, a carpenter by trade, improved to 14-0 (8) with a seventh-round stoppage of Sulaiman Segawa (13-3-1), a Maryland-based Ugandan.
In the first bout on the program, Fort Worth featherweight Edward Vazquez improved to 9-0 (1) with an 8-round split decision over Jamaine Ortiz stablemate Irvin Gonzalez (14-3).
Heavyweight Juiseppe "Joe" Cusumano improved to 19-3 (17) with a sixth-round stoppage of late sub Gregory Corbin (15-4). It was the fourth straight loss for the 40-year-old Corbin who came in at a beefy 291 ¾ pounds.
Check out more boxing news on video at the Boxing Channel 
To comment on this story in the Fight Forum CLICK HERE