Bob Arum Takes Another Dip Into The Heavyweight Pond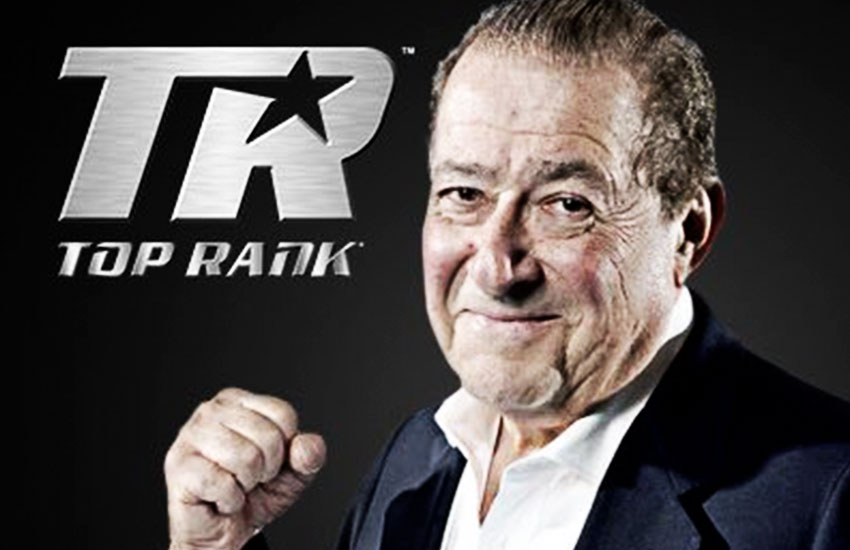 The secret of Bob Arum's incredible longevity in boxing, a voracious, cannibalistic sport that tends to devour its young and weak and casually gnaw on the remnants of its old and infirm, is the 85-year-old's ability to recognize and take advantage of coming changes before they happen, almost before anyone else knows those changes are needed.
It is that remarkable sense of intuition, perhaps more than anything else, that has enabled Arum – a Harvard Law School graduate and former member of U.S. Attorney General Bobby Kennedy's Justice Department in the 1960s – to outsmart and outlast a couple of generations of promotional competitors who made the mistake of assuming this old, or at least aging, dog was incapable of learning new tricks.
"Everybody looks for the easy money and the easy way out, including myself," the Top Rank founder and chairman said in the spring of 2007, when he still was a relatively spry pup of 75. "But I find it doesn't work anymore. You have to fish where the fish are."
This Saturday night, with the pond in Lincoln, Neb., stocked with trout eager to be hooked by another in-state appearance by Nebraska's own Terence Crawford, that particular bit of Arumesque sagacity again will be certified. Crawford (31-0, 22 KOs), the WBC and WBO super lightweight champion, will attempt to fully unify the 140-pound title against IBF and WBA ruler Julius Indongo (22-0, 11 KOs), and he figures to do so before a raucous, pro-Crawford sellout crowd of 15,500 in the Pinnacle Bank Arena. That the favored Crawford figures to make an even stronger case for himself as a superstar attraction with a TV audience in the millions, thanks to the scheduled 12-round bout being shown on basic-cable ESPN instead of HBO, is another testament to Arum's master plan of going back to the future. From 1980 to '95, 767 of the 2,000-plus fight cards staged by Arum's company were televised via Top Rank Boxing on ESPN, which served to make any number of his client-fighters primed and ready to graduate to premium-cable and pay-per-view.
But it is the presence of a non-televised, eight-round heavyweight bout on the undercard that signals another potentially bold move into a different but still somehow familiar direction by Arum, whose promotional career began with arguably the greatest of all heavyweights, Muhammad Ali, and featured a nice run with comebacking elder statesman George Foreman. While he has taken occasional fliers on other heavyweights (Ray Mercer, Hasim Rahman), Arum otherwise has been mostly known for his showcasing of fighters in lower weight classes (Sugar Ray Leonard, Manny Pacquiao, Thomas Hearns, Floyd Mayweather Jr., Marvelous Marvin Hagler, Oscar De La Hoya, Miguel Cotto and Michael Carbajal, among others). In recent years, the Top Rank lineup has been primarily dotted with Hispanic fighters, an acknowledgment of Arum's belief that that fan base is the deepest and most ardent in boxing.
No one is ready to pronounce the return to action, after a 20-month period of inactivity, of Arum's recent signee, Bryant Jennings, as a cannonball splash into the deep end of the heavyweight pool by a promoter who occasionally makes impetuous statements but does virtually nothing else without first assessing the risk-reward factor and possible down-the-road ramifications. Indeed, Arum isn't even Jennings' sole promoter; the 32-year-old Philadelphian, who is coming off two consecutive losses in addition to the long layoff, is co-promoted by Antonio Leonard. But should Jennings (19-2, 10 KOs) look good in dispatching journeyman Daniel Martz (15-4-1, 12 KOs), and follows that up with another tuneup victory in November or December … well, who knows? Arum also co-promotes (with Dean Lonergan and David Higgins of Duco Events) Joseph Parker (23-0, 18 KOs), the New Zealander who defends his WBO belt against Hughie Fury (20-0, 10 KOs) on Sept. 23 in Manchester, England.
It is no great stretch of the imagination to foresee a title bout between Parker and a resuscitated Jennings in the spring of 2018, or possibly even a rematch between Parker and Andy Ruiz Jr. (29-1, 19 KOs), an American of Mexican descent and third member of Top Rank's heavyweight troika who lost a majority decision for the vacant WBO crown on Dec. 10, 2016.
"You would think so," Jennings said of the possibility that a matchup of he and Parker could be done with minimum muss and fuss, barring the stubbing of a toe by either somewhere along the way. "Making that fight, to me, is very possible. Don't be surprised if you see that fight in the next six months to a year."
Arum, who sounded a bit under the weather during a telephone conversation last weekend, said between coughs that a Parker-Jennings pairing is or fairly soon could be on the drawing board.
"We were doing a fight in New York and Antonio and James Prince (who co-manages Jennings along with attorney Josh Dubin) brought Jennings to see me," Arum related. "I really took a liking to him. He's a very intelligent guy, a clean-living guy. We think that if he goes back on the board, he can develop into a real threat. There's four titles out there. We can make a run with Jennings in the short term for one of those titles.
"Of course, for (Parker-Jennings) to happen, Parker has to get past Hughie Fury. But if we're successful with Parker, and successful with Bryant, I would match them in the spring on ESPN."
One has to wonder if Top Rank's expanded foray back into the big-boy weight class (it should be noted that TR has promoted Ruiz for the duration of his eight-year pro career) owes, at least in part, to the Aug. 2 retirement announcement by 41-year-old Wladimir Klitschko, who joins older sibling Vitali on the sideline after 14 nearly unbroken years of their vise grip on the division. When Wlad was upset on a unanimous decision against Tyson Fury (Hughie's older brother) to end his second title reign, which had lasted a decade, on Nov. 28, 2015, one smart-alecky boxing writer (uh, that would be me) suggested that the barbarians no longer were pounding in frustration upon the gate, they had at last broken through to the throne room.
Sometimes palaces are just like an ordinary Joe's apartment in that a new look can be invigorating, even if it involves nothing more than moving the same furniture around. With the Klitschkos gone – the suspicion here is that they'll be more appreciated as time goes by – the immediate effect is to provide a jolt of energy and hope to a heavyweight division that always had been characterized as the locomotive that powered boxing's train.
"Maybe," Arum said when asked if the new heavyweight reality will be better than the one just past, and particularly for Top Rank. "It depends on the fighters we have. We're not adverse to promoting heavyweights.
"The center has moved from Europe and Germany with the Klitschkos to around the world – London with Anthony Joshua and into the United States and other English-speaking countries, like New Zealand. It's becoming more relevant and a lot easier to sell in those countries. There's also the difference in time. An English fighter like Joshua – who's still fighting exclusively in Europe, obviously, although he's supposed to do some fights here in the U.S. – is more accessible because the language is the same and the English have a tradition of accommodating American television.
"It's good to have some Americans out there (most notably WBC champion Deontay Wilder, but also Jennings, rising prospect Jarrell "Big Baby" Miller and several possibly recycled Klitschko victims). But, obviously, our best American (potential) heavyweights are playing in the NFL and the NBA."
Antonio Leonard, Jennings' co-promoter, understands why Arum could view the onetime high school football star as a lottery ticket that just might pay off. Leonard considers the heavyweight division to now be "wide-open," and, well, you can't win if you don't play.
"It was a collaboration with all of them," he said of Top Rank's decision to climb aboard the Jennings bandwagon, a consensus that involved not only Arum but TR president Todd duBoef, executive Carl Moretti and matchmaker Bruce Trampler. "With as little experience as he had (17 amateur bouts and 19 in the pros), Bryant was able to go the distance with (Wladimir) Klitschko and give a good account of himself. And Klitschko was on the verge of knocking Joshua out. That tells me Joshua can be beaten. They all can. I don't see any reason why Bryant can't win twice before the year is out. He's always in shape. He's a hell of an athlete, maybe the best athlete in the division."
And if the current heavyweight experiment flops? Make no mistake, Arum, who was inducted into the International Boxing Hall of Fame in 1999, has taken the requisite steps to ensure that the company he founded in 1973 survives in the long term. He has stayed ahead of the technological curve, for one thing (the Jennings-Martz bout will be streamed live via the Top Rank app) and he has delegated authority as the need arose to trusted and capable lieutenants, the failure to do so being a root cause for the decaying empire of his longtime arch-rival, Don King, whose rise and fall was marked by seat-of-the-pants immediacy. Arum still has an enemies' list – more recent irritants include Al Haymon and Richard Schaefer, and he remains insistent that fighters who are their own promoters serve neither their athletic nor business best-interests – but he has done it his way throughout a now-51-year promotional journey (the first fight he staged was Ali's wide, 15-round heavyweight title defense against rugged challenger George Chuvalo on March 29, 1966, in Toronto's Maple Leaf Gardens).
Arum is still having fun re-inventing the wheel. When some of his mainstays exited their respective primes or retired, and when De La Hoya and Mayweather bolted, he simply plugged in a Cotto or a Pacquiao and kept rolling. If that wheel that keeps going round and round again has come around to another go with heavyweights, so be it. It won't – can't — be like the good old days with the young Ali and the ancient Foreman, but so what?
The future always has belonged to the adventurous, even if the adventurer is an octogenarian.
Check out more boxing news on video at The Boxing Channel.
Daniel Jacobs Edges Past Gabe Rosado on a Matchroom card in Florida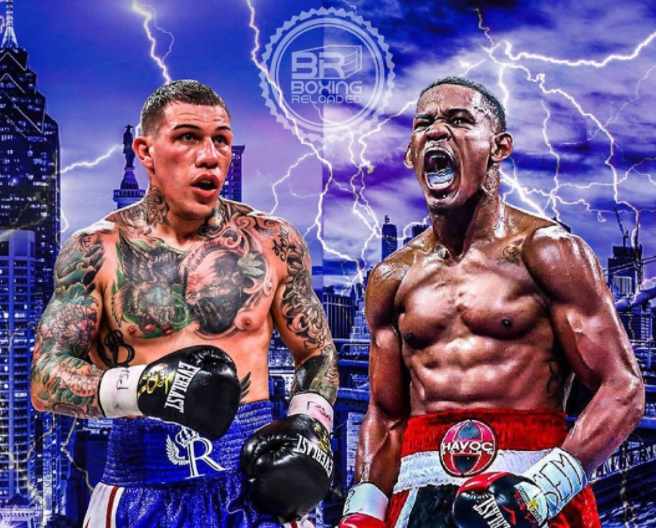 Former world champion Daniel Jacobs needed the last round to win by split decision against upset-minded Gabe Rosado and keep his place in line on Friday for lucrative super middleweight matchups.
But when the ring announcer erroneously announced the winner was from Philadelphia, confusion reigned for a moment until Jacobs was correctly called the winner.
Brooklyn's Jacobs (37-3, 30 KOs) jumped out ahead against Philly fighter Rosado (25-13-1, 14 KOs) and held on for the win in front of no fans at the Seminole Hard Rock Hotel and Casino in Hollywood, Florida. For a second, many thought Rosado had won.
Both were careful during the first three rounds measuring each other's distance and looking for openings to counter. There were very few.
It was the kind of fight expected by those who know boxing: two veterans with immense experience against top-flight world champions. Mistakes were few.
Jacobs, a former middleweight world champion, had fought Saul "Canelo" Alvarez and Gennady "GGG" Golovkin in close but losing efforts.
Rosado had battled Golovkin too, six years ago in a bloody affair that ended in a loss. He had also lost to other champions like Peter Quillin and Jermell Charlo. But none were able to knock him out.
Both were aware of each other's reputation. Bitter words had been exchanged for years and now they finally got their chance to prove their mettle and they did.
Though Jacobs was recognized as a knockout puncher, Rosado's resilience was just as well known. Both neutralized each other for most of the fight with their feints and jabs to the body. Neither was willing to leave openings for each other.
Jacobs scored big with a left uppercut at the end of the seventh round. While Rosado wowed viewers with a sizzling right cross in the 11th round.
It was 1950s style, boxing with intelligence. Each found it difficult to land combinations, let alone find openings to score knockout blows. Instead, they had to be satisfied with scoring enough to convince three judges the actual winner.
Neither was able to pull out ahead with any conviction.
After 12 rounds one judge saw Rosado the winner 115-113 while two others saw Jacobs the winner 115-113 to give him the win by split decision.
"It felt just a little weird. It felt like a sparring match," said Jacobs about fighting without fans in the audience. "This wasn't a valiant effort."
Rosado was certain he was the true winner.
"I thought I won the fight. I surprised him," said Rosado who trained with Freddie Roach for this fight. "I'm a veteran, I know how to fight."
Indeed, he does.
Jacobs now stands poised to fight one of many super middleweight champions in need of a marquee name.
"I live to see another day," he said honestly.
Other Bouts
Kazakhstan's Daniyar Yeleussinov (10-0, 6 KOs) proved he was not an easy touch and knocked out former world champion Julius Indongo (23-3, 12 KOs) to march forward in the welterweight division while grabbing the vacant IBF Inter-Continental title.
In a fight featuring southpaw versus southpaw Yeleussinov caught Indongo with a roundhouse left the first time they exchanged and down went the former super lightweight world champion. Indongo beat the count and survived the round.
Indongo wasn't as lucky in the second round as Yeleussinov again connected with a left and down went the fighter from Namibia again. He would not get up at 1:24 of round two giving the knockout win for Yeleussinov.
A battle between undefeated heavyweights saw Azerbaijan's Mahammadrasul Majidov (3-0, 3 KOs) use roundhouse rights to stagger the heavier Sahret Delgado (8-1) to win by knockout in the third round. Majidov actually helped Delgado get to his stool after knocking him out on his feet at 47 seconds of the third round.
Emmanuel Tagoe (32-1) defeated Mason Menard (36-5) by majority decision after a 10- round lightweight fight that saw a lot of clinching and leaning.
Nikita "White Chocolate" Ababiy (10-0) out-fought Detroit's Brandon Maddox (7-4-1) to win by unanimous decision after six rounds in a middleweight clash. Ababiy hurt Maddox with body shots but found Maddox more resilient than expected.
Check out more boxing news on video at the Boxing Channel 
To comment on this story in the Fight Forum CLICK HERE.
Pradabsri Upsets Menayothin, Ends the Longest Unbeaten Streak of Modern Times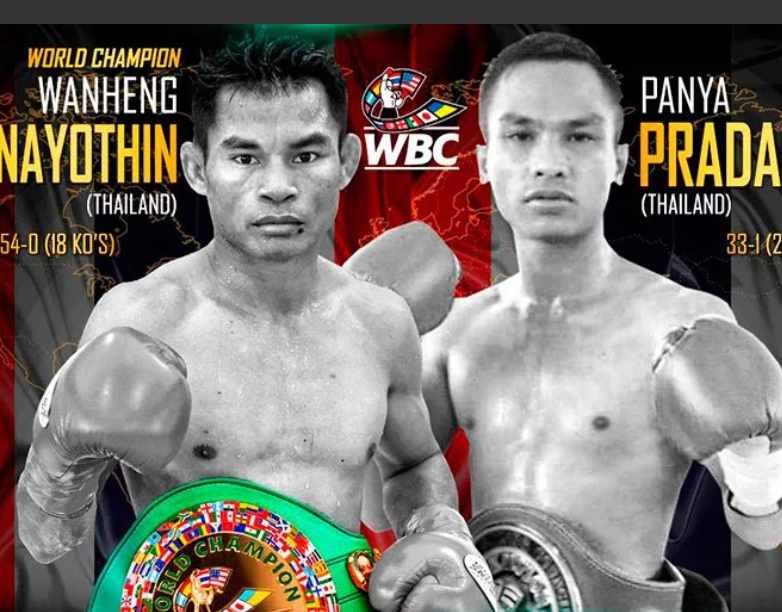 During the wee hours in the Americas, a big upset was brewing in Thailand. In Nakhon Sawan, a city roughly 150 miles north of Bangkok, Panya Pradabsri (aka Petchmanee CP Freshmart) out-pointed Wanheng Menayothin (aka Chayaphon Moonsri) in a domestic clash with international significance. Manayothin entered the bout with a 54-0 (18) record and was making the 13th defense of his WBC world minimumweight title.
Pradabsri had been defeated only once in 35 previous starts, but only 11 of his 34 victories had come against fighters with winning records. According to ringside reports, he kept Menayothin at bay with good fundamentals, a stiff jab, and good lateral movement. All three judges had it 115-113. The fight wasn't without controversy as Menayothin finished stronger and many folks scoring off the live video thought that he had done just enough to retain his title.
How good was/is Menayothin? That's a question that serious boxing fans will likely debate for decades.
In the summer of 2019, Menayothin signed a co-promotional deal with Oscar De La Hoya's Golden Boy Promotions. At time, GBP president Eric Gomez described him as one of the best fighters in the world. "We really want to bring him to the U.S. so people can see how talented he really is," Gomez told England's Sky Sports.
Menayothin was expected to make his U.S. debut in April of this year, but the pandemic ruined that plan. Earlier this year, he announced his retirement, but rescinded it after only two days.
Scottish boxing historian Matt McGrain, who has an exclusive arrangement with this web site, had lukewarm opinion of the Thai mighty-mite although he rated him the second-best 105-pound boxer of the decade, trailing only his countryman Thammanoon Niyomtrong (aka Knockout CP Freshmart).
"He is disciplined, strong, brings good pressure and is armed with a very decent range of punches," said McGrain, "(but his record) is comprised mostly of men any competent fighter would be expected to beat."
Although only one boxer from Thailand has been inducted into the International Boxing Hall of Fame (Khaosai Galaxy, class of 1999), the Southeast Asia nation has produced some outstanding boxers over the years – Chartchoi Chionoi, Sot Chitalada, Pongsaklek Wonjongkam, and Srisaket Sor Rungvisai to name just a few. The difference between these fighters and Wanheng Menayothin is that they all left the comfort zone of their homeland to score one or more important wins on foreign soil.
Menayothin may yet display his wares in a U.S. ring. But at age 35, an advanced age for small fighters in particular, we won't get to see him at his best and now that his bubble has been burst, disinviting further comparisons to Mayweather and Marciano, the curiosity factor has been tempered.
To comment on this story in the Fight Forum CLICK HERE
Yoka vs. Hammer Kicks Off the Thanksgiving Weekend Slate on ESPN+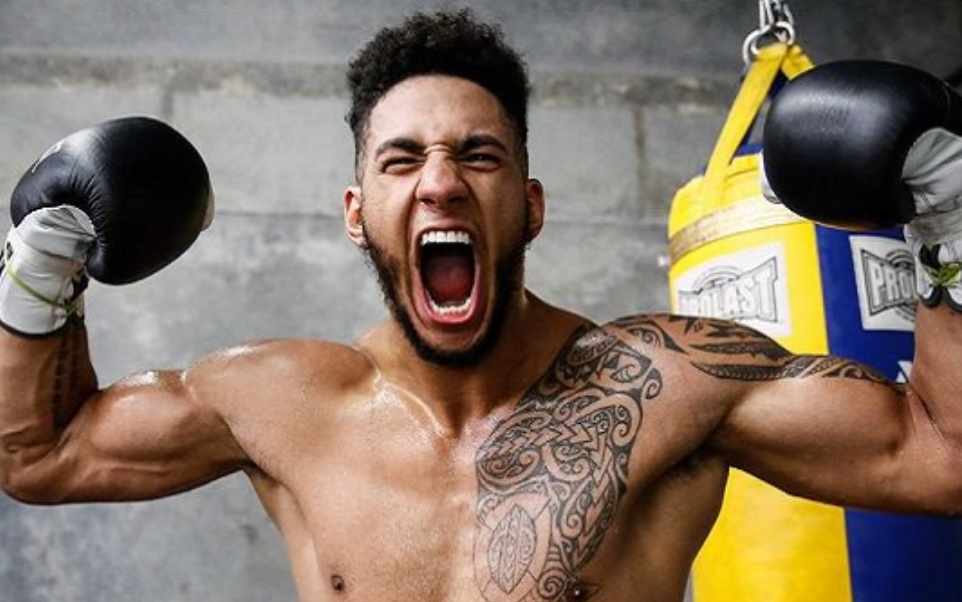 PRESS RELEASE— Tony Yoka, the dynamic heavyweight punching Parisian, aims to impress in his ESPN platform debut. Yoka, who won a super heavyweight gold medal for France at the 2016 Rio Olympics, will fight veteran Christian Hammer in a 10-rounder Friday at H Arena in Nantes, France.
Yoka-Hammer will stream live and exclusively this Friday, Nov. 27 in the United States on ESPN+ beginning at 2:55 p.m. ET/11:55 a.m. PT.
The ESPN+ stream will also include the return of unbeaten 2016 French Olympic gold medalist Estelle Yoka-Mossely against Pasa Malagic in an eight-round lightweight bout. Yoka and Yoka-Mossely, who have been married since 2018, welcomed their second child in May.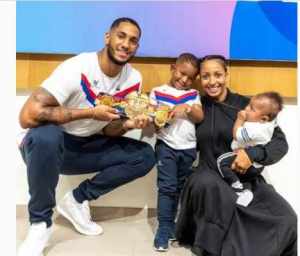 Earlier this year, Yoka inked a promotional agreement with Top Rank, which will co-promote him with Ringstar France.
"Tony Yoka's potential is limitless, and he is a grounded young man who is motivated to be a great professional fighter," said Top Rank chairman Bob Arum. "France has never had a world heavyweight champion, and I believe Tony is the one to bring the sport's biggest honor home."
The 28-year-old Yoka's stellar amateur run included a berth at the 2012 London Olympics and gold medals at the 2015 World Championships and 2010 Youth Olympic Games. Before his triumph in Rio, he'd already defeated the likes of former heavyweight world champion Joseph Parker and current undefeated prospects Joe Joyce and Ivan Dychko. At the Rio Olympics, he defeated Croatian standout Filip Hrgović in the semifinals and edged Joyce in the gold medal match.
As a professional, Yoka (8-0, 7 KOs) made his debut in June 2017 with a second-round stoppage over the previously undefeated Travis Clark. Apart from a decision win over Jonathan Rice in his second outing, Yoka has stopped every foe, including durable Englishman David "White Rhino" Allen and former European champion Alexander Dimitrenko. He made his 2020 debut Sept. 25 and stopped former world title challenger Johann Duhaupas in one round.
Hammer (25-6, 15 KOs) has fought many of the leading heavyweight names during his 12-year career, falling short against Tyson Fury, Luis Ortiz and Alexander Povetkin. He's notched myriad upset victories, including a highlight-reel knockout over David Price and a 2016 split decision over Erkan Teper for the WBO European belt. In March 2019, he went the 10-round distance against Ortiz and has not been stopped since Fury forced him to retire on his stool after eight rounds in their February 2015 clash.
Check out more boxing news on video at the Boxing Channel 
To comment on this story in the Fight Forum CLICK HERE