Random Thoughts on a Spectacle That Exceeded My (Modest) Expectations
I had promised myself, and TSS readers, that I absolutely would not spend one cent of my money on the "dog-and-pony show," as I had termed it, that Floyd Mayweather Jr.-Conor McGregor figured to be in the eyes of most knowledgeable boxing people. But there my nephew Jason and I were, each of us ponying up the $25 cover charge to watch the insanely hyped spectacle from a booth in Miller's Ale House, a neighborhood sports bar and grill in Springfield, Pa., a little more than a mile or so from my home in the Philadelphia suburb of Drexel Hill. Like a lot of people in America and around the world, curiosity got the better of me and I had to see for myself what all the fuss was about, and whether it was justified. It was, sort of. But even if it hadn't been, the wild-caught grilled salmon I had for dinner was quite tasty.
When McGregor won the first three rounds on my unofficial scorecard –- credit where credit is due, the UFC superstar was much better than I thought he'd be in his professional boxing debut – my fellow patrons, most of whom seemed to be pulling for the Irishman, buzzed as if they thought they were being served an upset along the lines of Buster Douglas over Mike Tyson.  Veteran Mayweather observers, however, figured he was simply collecting data on his opponent while probing for weaknesses that he could exploit at a time of his choosing. "Money" is one leopard that doesn't change its spots, and he didn't this time either, although he did come forward much more than usual before sealing the deal on a 10th-round stoppage, his first victory inside the distance since he knocked out Victor Ortiz on Sept. 17, 2011, thus ending a KO-less string of seven bouts over nearly six years.
"My game plan was to take my time, go to him, make him shoot all his huge shots early, and take him to the end, down the stretch," Mayweather said of his now-familiar waiting game. "Me and my dad (Floyd Mayweather Sr.) talked about it. We wanted him to fight real hard for 25 minutes. After 25 minutes, he started to slow down. I guaranteed everybody that this fight wouldn't go the distance. Boxing's reputation was on the line."
Said McGregor, who sported a mouse under his left eye: "(Mayweather is) composed. He's not that fast and he's not that powerful, but, boy, is he composed in there. He was patient with his shots."
As much as there was to admire about McGregor's competent performance, the startling power he so often had flashed in the Octagon was not evident on this night in Las Vegas. True, McGregor never landed any instant-snooze shots flush to the jaw of a renowned defensive genius, but even during those three rounds when everything seemed to be going his way he never connected with anything that caused Mayweather to wince or grimace. The Nevada State Athletic Commission's acquiescence in agreeing to switch from 10-ounce to eight-ounce gloves, which both fighters had petitioned for, did not prove as beneficial to McGregor as some had believed, or at least hoped.
Given the fact that he's 40 and hadn't fought in two years, Mayweather's punch statistics paint a picture of total domination in what should be his pugilistic dotage. He landed 58 percent of his power shots (and was over 70 percent in the ninth and 10th rounds) and 53 percent overall, while the 29-year-old McGregor found the target on only 25 percent of his tamped-down power punches and 26 percent overall. But remember, McGregor is as raw a boxing rookie as they come, and it should be apparent that time increasingly is not Mayweather's ally. He announced another retirement immediately after the bout, and it would seem prudent that he stick to this one. There's only so many times you can milk nine-figure paydays against the faded likes of Manny Pacquiao or a total neophyte like McGregor.
"I'm not the same fighter I was 21 years ago," said Mayweather in a rare concession to the natural laws of diminishing returns. "I'm not even the same fighter I was two years ago."
Veteran referee Robert Byrd got the plum assignment as third man in the ring for May-Mac, but he had an awful night. No, McGregor didn't lose his head and attempt any sidekicks or other MMA stuff when momentum shifted toward Mayweather, as it surely had to, but he kept punching to the back of the head and at least once on the break, clear violations which Byrd seemed disinclined to penalize or even to issue warnings. Try to imagine Mills Lane ignoring Tyson's munching of Evander Holyfield's ears because, hey, who wants a big fight to end in a disqualification?
But Byrd should have exercised more authority and made it clear in no uncertain terms to McGregor that some of his more dubious tactics, while acceptable in MMA, are not kosher in the ring. Then again, in the fight just before the main event, Gervonta Davis was awarded an eighth-round knockout victory over Francisco Fonseca, who went down from an illegal rabbit punch to the back of the head that referee Russell Mora either did not see or was disinclined to call. Fonseca stayed down on all fours for several minutes after being counted out, raising fears that he might have been seriously injured. Had Mayweather gone down as Fonseca – who, one wonders, might have been trying to cadge a DQ victory in a scrap he seemed destined to lose — did from a blow to the back of the head, would Byrd have reacted the same way Mora did?
It now seems certain that Mayweather-McGregor will do pay-per-view numbers that surpass and perhaps even shatter the records for PPV subscriptions (4.6 million) and gross revenue ($600 million) done by Mayweather-Pacquiao for their exercise in tedium on May 2, 2015. All of which would seem to prove two things.
One, the pay-per-view model for boxing, which has come under fire of late with bouts that either didn't rise to that level in terms of quality of public interest, is still alive and well, provided the featured attraction is compelling enough. May-Mac apparently fit the bill and then some.
Two, fight fans either have short memories or deep pockets. After the Mayweather-Pacquiao snooze-a-thon, angry PPV subscribers reacted like scalded dogs, yelping that they'd paid for filet mignon and been fed a bowl of Alpo. Hey, fool me once, shame on you; fool me twice, shame on me, right? Except that many of the disenchanted from May-Pac returned for May-Mac, which on paper didn't appear to be nearly as legitimate a matchup. There's another old saying that holds that there's no accounting for taste.
Still, you have to wonder what drew the masses to what by all rights seemed to be an apple against an orange. Was it all the f-bombs and crude gestures the principals so gleefully resorted to during their four-city, four-day, three-country media tour to hype the event? If so, what does that say about society in general? Was it the crossover aspect of an elite boxer going against an elite MMA fighter in the former's combat-sport discipline?  Or was it something more troubling, the racial-identity politics of a white guy, McGregor, on whom 90 percent of the wagers in Las Vegas sports books were reportedly placed, against a black guy who has long prospered in the role of villain? In the aftermath of the tragedy in Charlottesville, Va., and calls for Confederate monuments and symbols to be removed, is the fight's runaway financial success indicative of a darker purpose?
Another widely accepted truism is that timing is everything. Was it just a coincidence that Showtime PPV staged May-Mac just three weeks before the Gennady Golovkin-Canelo Alvarez megafight on HBO PPV at the same venue. Boxing purists – hey, there are still quite a few of us around – would argue that GGG-Canelo is the more traditionally appealing of the two events, but it will be interesting to see if the buy rate for the Sept. 16 showdown is adversely affected by the tidal wave of support lavished upon May-Mac. In a perfect world, both PPV telecasts would do monster numbers in what to date has been an exhilarating year for boxing, but even in an improving economy there are only so many disposable-income dollars to go around. In some ways, the corporate slugfest between Showtime – which is winning on points this year in its ongoing scrap with its premium-cable rival – is no less compelling than May-Mac vs. GGG-Canelo.
It's a good thing for Mayweather, and other fighters who have run afoul of the law, that NFL commissioner Roger Goodell is not the global czar of boxing. Goodell is the hanging judge who has issued swift and sometimes severe punishment for infractions ranging from domestic abuse to players not wearing articles of their uniforms in the prescribed manner. Among those who have been handed suspensions, fines or both from Goodell include running backs Ray Rice and Ezekiel Elliott and defensive end Greg Hardy, all of whom were found to have slapped around or even punched their wives or significant others. Professional athletes putting their hands on women in such a manner should not be tolerated, and in each instance the transgressors were quickly identified and publicly chastised.
But references to Mayweather's multiple arrests – and even a brief prison term – for battering the mother of his children were not part of Showtime's wall-to-wall coverage of May-Mac, which amounts to a blackout of journalistic integrity. The truth is ugly sometimes, but covering it up or ignoring it to protect financial interests is a dangerous omission and, frankly, unfair to potential consumers who might be making their decision to buy an event on the basis of incomplete information.
There are those who will claim that boxing and its practitioners should be granted far more slack than is accorded in baseball or football, with their more rigid standards of personal conduct. Among those inducted into the International Boxing Hall of Fame are Tyson, who once bragged that "the best punch I ever landed" was on first wife Robin Givens, and Jake LaMotta, who reasoned that he battered his wife, Vikki, because he "loved" her so much.
Floyd Mayweather Jr. is a marvelously gifted fighter, but hero worship should be reserved for those who actually have done heroic things. Winning 50 straight boxing matches is or should be only part of that complex equation.
ESPN Behaving Badly
Stealing a bit of the May-Mac thunder was the day-of-the-fight announcement that Top Rank had entered into a four-year agreement with ESPN for the promotional company's high-interest fights to be shown exclusively across ESPN's varied platforms. On the face of it, it's a deal beneficial to boxing as ESPN is available to many more boxing-interested viewers than is available with either HBO or Showtime. But one supposed detail of the arrangement is troubling, and rightly so. It calls for ESPN conduits to break all news involving fights that will be televised by ESPN.
There is such a thing as a "free press" in America, and if an enterprising reporter from TSS, the Los Angeles Times, The Ring, Deadspin or whatever gets a story first, that person should not be precluded from serving his or her readers or viewers with information in the most expedient manner because ESPN has contractually been guaranteed dibs. That is not how the system is meant to work, nor should it.
Photo credit: Esther Lin / Showtime
Check out more boxing news and features at The Boxing Channel.
To comment on this article at The Fight Forum, CLICK HERE.
The BWAA Shames Veteran Referee Laurence Cole and Two Nebraska Judges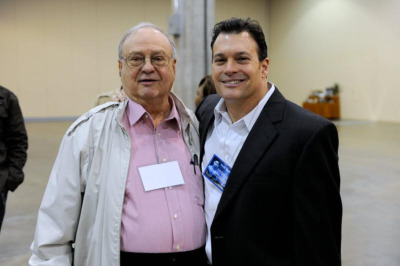 In an unprecedented development, the Boxing Writers Association of America has started a "watch list" to lift the curtain on ring officials who have "screwed up." Veteran Texas referee Laurence Cole and Nebraska judges Mike Contreras and Jeff Sinnett have the unwelcome distinction of being the first "honorees."
"Boxing is a sport where judges and referees are rarely held accountable for poor performances that unfairly change the course of a fighter's career and, in some instances, endanger lives," says the BWAA in a preamble to the new feature. Hence the watch list, which is designed to "call attention to 'egregious' errors in scoring by judges and unacceptable conduct by referees."
Contreras and Sinnett, residents of Omaha, were singled out for their scorecards in the match between lightweights Thomas Mattice and Zhora Hamazaryan, an eight round contest staged at the WinnaVegas Casino in Sloan, Iowa on July 20. They both scored the fight 76-75 for Mattice, enabling the Ohio fighter to keep his undefeated record intact via a split decision.
Although Mattice vs. Hamazaryan was a supporting bout, it aired live on ShoBox. Analyst Steve Farhood, who was been with ShoBox since the inception of the series in 2001, called it one of the worst decisions he had ever seen. Lead announcer Barry Tompkins went further, calling it the worst decision he has seen in his 40 years of covering the sport.
Laurence Cole (pictured alongside his father) was singled out for his behavior as the third man in the ring for the fight between Regis Prograis and Juan Jose Velasco at the Lakefront Arena in New Orleans on July 14. The bout was televised live on ESPN.
In his rationale for calling out Cole, BWAA prexy Joseph Santoliquito leaned heavily on Thomas Hauser's critique of Cole's performance in The Sweet Science. "Velasco fought courageously and as well as he could," noted Hauser. "But at the end of round seven he was a thoroughly beaten fighter."
His chief second bullied him into coming out for another round. Forty-five seconds into round eight, after being knocked down for a third time, Velasco spit out his mouthpiece and indicated to Cole that he was finished. But Cole insisted that the match continue and then, after another knockdown that he ruled a slip, let it continue for another 35 seconds before Velasco's corner mercifully threw in the towel.
Controversy has dogged Laurence Cole for well over a decade.
Cole was the third man in the ring for the Nov. 25, 2006 bout in Hildalgo, Texas, between Juan Manuel Marquez and Jimrex Jaca. In the fifth round, Marquez sustained a cut on his forehead from an accidental head butt. In round eight, another accidental head butt widened and deepened the gash. As Marquez was being examined by the ring doctor, Cole informed Marquez that he was ahead on the scorecards, volunteering this information while holding his hand over his HBO wireless mike. The inference was that Marquez was free to quit right then without tarnishing his record. (Marquez elected to continue and stopped Jaca in the next round.)
This was improper. For this indiscretion, Cole was prohibited from working a significant fight in Texas for the next six months.
More recently, Cole worked the 2014 fight between Vasyl Lomachenko and Orlando Salido at the San Antonio Alamodome. During the fight, Salido made a mockery of the Queensberry rules for which he received no point deductions and only one warning. Cole's performance, said Matt McGrain, was "astonishingly bad," an opinion echoed by many other boxing writers. And one could site numerous other incidents where Cole's performance came under scrutiny.
Laurence Cole is the son of Richard "Dickie" Cole. The elder Cole, now 87 years old, served 21 years as head of the Texas Department of Combat Sports Regulation before stepping down on April 30, 2014. At various times during his tenure, Dickie Cole held high executive posts with the World Boxing Council and North American Boxing Federation. He was the first and only inductee into the inaugural class of the Texas Boxing Hall of Fame, an organization founded by El Paso promoter Lester Bedford in 2015.
From an administrative standpoint, boxing in Texas during the reign of Dickie Cole was frequently described in terms befitting a banana republic. Whenever there was a big fight in the Lone Star State, his son was the favorite to draw the coveted refereeing assignment.
Boxing is a sideline for Laurence Cole who runs an independent insurance agency in Dallas. By law in Texas (and in most other states), a boxing promoter must purchase insurance to cover medical costs in the event that one or more of the fighters on his show is seriously injured. Cole's agency is purportedly in the top two nationally in writing these policies. Make of that what you will.
Complaints of ineptitude, says the WBAA, will be evaluated by a "rotating committee of select BWAA members and respected boxing experts." In subsequent years, says the press release, the watch list will be published quarterly in the months of April, August, and December (must be the new math).
Check out more boxing news on video at The Boxing Channel
In Boxing, the Last Weekend of July was Chock Full of Surprises
The first upset of last weekend occurred in an undercard bout on the big show at London's O2 Arena. David Allen, a journeyman with a 13-4-2 record, knocked out previously undefeated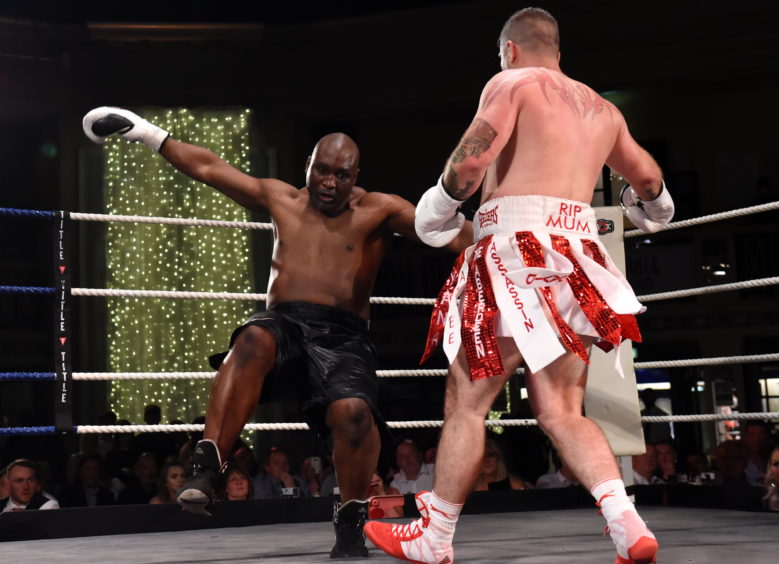 The first upset of last weekend occurred in an undercard bout on the big show at London's O2 Arena. David Allen, a journeyman with a 13-4-2 record, knocked out previously undefeated Nick Webb (12-0, 10 KOs) in the fourth round. Allen said that he intended this to be his final fight, but will now hang around awhile.
In hindsight, this was an omen. Before the show was over, upsets – albeit mild upsets – were registered in both featured bouts. Dereck Chisora, trailing on the scorecards, stopped Carlos Takam in the eighth. Dillian Whyte outpointed Joseph Parker. And later that same day, in Kissimmee, Florida, Japanese import Masayuki Ito made a big splash in his U.S. debut, beating up highly touted Christopher Diaz.
– – – –
Joseph Parker is quite the gentleman. Following his loss to Dillian Whyte, Parker was gracious in defeat: "I say congratulations to Dillian. I gave it my best. The better man won."
In case you missed it, Whyte survived a hoary moment in the final round to win a unanimous decision. Most everyone agreed that the decision was fair but there were a few dissenters. Well known U.K. boxing pundit Steve Bunce said, "I thought Parker deserved a draw." Bunce noted that the scribes sitting near him were in complete accord that the most lopsided score (115-110) was far too wide.
We've seen fighters grouse that they were robbed after fights that were far less competitive. Parker's post-fight amiability was all the more puzzling considering that he had a legitimate beef that referee Ian John Lewis was too lax, enabling Whyte to turn the contest into a street fight.
Parker's trainer Kevin Barry was all on board with the selection of Lewis. "He's a very highly qualified guy who I think is the best British referee," he said. But Barry changed his tune after the fight, saying that there were at least two occasions when Lewis should have deducted a point from Whyte.
Veteran Australian boxing writer Anthony Cocks said that going forward, Parker, a soft spoken, mild mannered man, needs to have more of a mongrel in him. Cocks noted that when Whyte transgressed, Parker's response was to look at the ref with a bemused expression. The first time that Whyte bent the rules, opined Cocks, Parker should have hit him in the balls.
– – – –
Top Rank hasn't had much luck with their Puerto Rican fighters lately. First there was Felix Verdejo. Hyped as the next Felix Trinidad, the 2012 Olympian was 22-0 when his career was interrupted by a motorcycle accident. He won his first fight back in Puerto Rico, but was then exposed by Tijuana's unheralded Antonio Lozada Jr. who stopped him in the 10th round at the Theater of Madison Square Garden on St. Patrick's Day, 2018.
More recently, Top Rank gave a big build-up to Christopher Diaz, but Diaz, the 2016 ESPN Deportes Prospect of The Year, also hit the skids after starting his pro career 23-0. Diaz was upset on Saturday by Masayuki Ito in a match sanctioned for the vacant WBO 130-pound title.
Unlike Verdejo, Diaz was still standing at the final bell, but he was taken to the cleaners by his Japanese opponent who won comfortably on the scorecards.
– – – –
Russia's Vladimir Nikitin made his pro debut on the Diaz-Ito undercard. Nikitin won every round of a 6-round contest.
If the name sounds vaguely familiar, this is the guy who defeated top seed Michael Conlan in a quarterfinal bantamweight match at the Rio Olympics. The decision, which Conlan greeted with a middle finger salute to the judges, was widely seen as a heist.
In signing new prospects, Top Rank honcho Bob Arum likes to gather up fighters who compete in the same weight class as fighters that he already controls. This sets up a scenario where he can double dip, extracting a commission from the purse of both principals.
The cluster is most pronounced in the lower weight classes. These fighters, listed alphabetically, are currently promoted or co-promoted by Top Rank: junior bantamweight Jerwin Ancajas (31-1-1), junior featherweight Michael Conlan (8-0), featherweight Christopher Diaz (23-1), super bantamweight Isaac Dogboe (19-0), super bantamweight Jessie Magdaleno (25-1), super bantamweight Jean Rivera (14-0), featherweight Genesis Servania (31-1), bantamweight Shakur Stevenson (7-0), bantamweight Antonio Vargas (7-0), featherweight Nicholas Walters (26-1-1).
The aforementioned Nikitin launched his pro career as a featherweight.
– – – –
In July of 2004, Danny Williams knocked out Mike Tyson in the fourth round at Louisville. Iron Mike had one more fight and then wisely called it quits. Williams had 48 more fights, the most recent coming last weekend in Aberdeen, Scotland.
Williams was stopped in the 10th round by a local man, 35-year-old Lee McAllister, whose last documented fight had come in 2013. In that bout, McAllister, carrying 140 pounds, outpointed a Slovakian slug in a 6-round fight. During his hiatus from boxing, McAllister (that's him in the red and white trunks), served a 9-month prison sentence for assaulting a patron while working in an Aberdeen kebab shop.
Danny Williams' weight wasn't announced, but in his three fights prior to fighting McAllister he came in a tad north of 270 pounds. He reportedly out-weighed McAllister by 4 stone (56 pounds), likely a loose approximation.
Williams is a product of Brixton, the hardscrabble Afro-Caribbean neighborhood in South London that also spawned Dillian Whyte. But he has no intention of going back there. After the McAllister fight, in which he was knocked down three times, he said he was retiring to Nigeria where he had a job waiting for him as a bodyguard.
– – – –
The ink was barely dry on the weekend's events when news arrived that Tyson Fury was close to signing for a December bout with WBC heavyweight titlist Deontay Wilder. On social media, Fury said the deal was almost done and Fury's promoter Frank Warren confirmed it while saying that it was conditional on Fury looking good when he opposes Francesco Pianeta on Aug. 18 at the Windsor Park soccer stadium in Belfast. Fury vs. Pianeta underpins Carl Frampton's WBO featherweight title defense against Luke Jackson.
As to whether he would be ready to defeat Wilder after only two comeback fights, Fury, who turns 30 this month, said he was ready to beat Wilder on the day he was born.
Deontay Wilder is disappointed that his dream match with Anthony Joshua won't happen until next spring at the earliest, but there are plenty of options out there for him and more of them for him to ponder after this past weekend's events.
Cuban southpaw Luis Ortiz looked good against Razvan Cojanu, dismissing his hapless Romanian adversary in the second round on the Garcia-Easter card in Los Angeles.
After the bout, WBC prexy Mauricio Suliaman gave Wilder his blessing to skirt his mandatory against Dominic Breazeale for a rematch with Ortiz.
Presumably that also applies if Wilder accepts promoter Eddie Hearn's offer for a match with Dillian Whyte. The WBC now lists Whyte as their "silver" champion and has bumped him ahead of Breazeale into the #1 slot in their rankings. And then there's Jarrell "Big Baby" Miller who has an Eddie Hearn connection and is a more interesting opponent than Breazeale.
If Wilder vs. Fury is a go, say Fury and Warren, it will be held in December in New York or Las Vegas. We make New York the favorite. The only good date in Las Vegas in December for an event of this magnitude is Dec. 1 and that's only because Thanksgiving arrives early this year. The National Finals Rodeo, a 10-day event which fills up the town, arrives on Dec. 6, eliminating the next two weekends. And when the rodeo leaves, Christmas is right around the corner. Historically, boxing promoters shy away from putting on a big show right before Christmas on the theory that fight fans have the "shorts," having exhausted their discretionary income on Christmas gifts.
There are some interesting fighters competing in the upper tier of the heavyweight division and a slew of intriguing prospects coming up the ladder. The division hasn't been this exciting since the Golden Age of Ali, Frazier, Foreman, et al. Enjoy.
Check out more boxing news on video at The Boxing Channel
Les Moonves, Hero of Mayweather-Pacquiao Deal, Now Cast as a Villain
"He refused to take 'no' for an answer."
That comment, offered in praise of Les Moonves for the pivotal role the chairman and CEO of CBS Corporation played in helping make the May 2, 2015, megafight pairing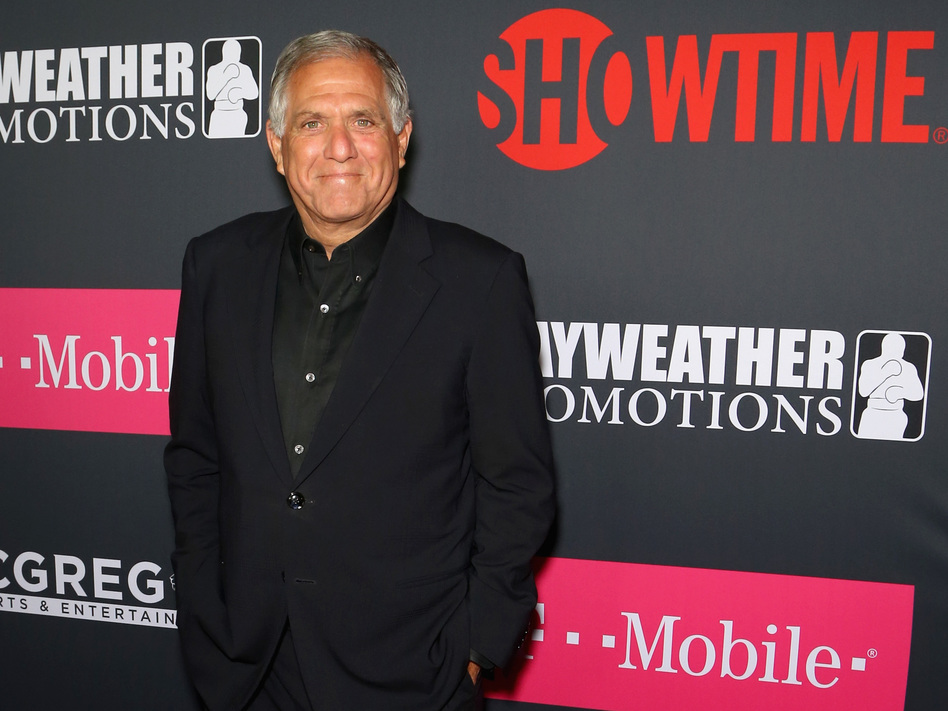 "He refused to take 'no' for an answer."
That comment, offered in praise of Les Moonves for the pivotal role the chairman and CEO of CBS Corporation played in helping make the May 2, 2015, megafight pairing Floyd Mayweather Jr. and Manny Pacquiao, has taken on a more sordid connotation in light of the avalanche of accusations of sexual impropriety that have thrust the 68-year-old Moonves into the unwelcome company of such accused high-visibility miscreants as Bill Cosby, Harvey Weinstein, Charlie Rose, Bill O'Reilly and Matt Lauer.
But while the other aforementioned power players have been fired or indicted, their reputations in tatters, Moonves remains on the job as one of the most influential and highest paid (a reported $70 million in 2017) media executives in the United States. Despite a damning article authored by Ronan Farrow in The New Yorker that details numerous instances of bad behavior ranging from merely dubious to criminally actionable, and to which Moonves himself has admitted to some extent, CBS on Monday issued a statement of support that seemed to catch the editors of Variety somewhat off-guard. The entertainment publication's opening paragraph reads thusly: "In a surprise move, CBS' board of directors is keeping Leslie Moonves as chairman-CEO even as it launches a probe of sexual assault allegations leveled against him by six women in a New Yorker expose."
Why should still another story of alleged sexual misconduct by an older man seeking to exert improper control over younger women be of any significance to a fight audience? Well, normally it wouldn't, except for Moonves' position, which includes a say in the direction of Showtime's increasingly important boxing operation if he so chooses. When negotiations for Mayweather-Pacquiao, a pay-per-view event which was to be co-produced by Showtime and HBO, hit a snag, Moonves insinuated himself into the discussion because it made financial and logistic sense for him to do so. CBS/Showtime had entered into a six-bout, $250 million deal with Mayweather, and three of the four fights held to that point had underperformed. Subsequently, the prevailing belief in CBS/Showtime's executive offices was that Mayweather's long-delayed showdown with Pacquiao was not only advisable, but absolutely necessary to stanch the flow of red ink.
"Without Les Moonves, this fight wouldn't have had a prayer of happening," Top Rank chairman and CEO Bob Arum, a longtime friend of Moonves, said after the last "i" had been dotted and the last "t" crossed. "The real hero in getting this done is Les Moonves."
And this from Stephen Espinoza, Showtime Sports' executive vice president and general manager, tossing another verbal bouquet to his boss: "One of the main reasons this deal got done, when maybe other ones didn't, was having Les Moonves as part of the process. He was deeply committed to making this deal. He is someone that all parties in this negotiation respected. He was really the catalyst for seeing this through. He refused to take `no' for an answer from any side. He was there making sure that the parties came together in a successful and cooperative manner."
But while the high-level wheeling and dealing to finalize Mayweather-Pacquiao was done behind closed doors, so too were those instances when Moonves was attempting to arrange a private deal with a female subordinate whose career he could either advance or stymie. One such occasion allegedly involved writer-actress Ileana Douglas, who was summoned to Moonves' office to discuss matters involving a television project in which she was to have starred. The New Yorker story quotes Douglas' heightening discomfort as Moonves made coarse and physical advances toward her.
"At that point, you're a trapped animal," Douglas said of the incident. "Your life is flashing before your eyes. It has stayed with me the rest of my life, that terror."
After The New Yorker story came out, Moonves apologized, sort of, to the six women who told Farrow that the CBS bigwig had sexually harassed them. All claimed he became cold and hostile after they rejected his advances, and that they believed their careers suffered as a result.
In a statement, Moonves said, "Throughout my time at CBS, we have promoted a culture of respect and opportunity for all employees, and have consistently found success elevating women to top executive positions across our company. I recognize that there were times decades ago when I may have made some women uncomfortable by making advances. Those were mistakes and I regret them immensely. But I always understood and respected – and abided by the principle – that `no' means `no,' and I have never misused my position to harm or hinder anyone's career … We at CBS are committed to being part of the solution."
What makes the furor that has suddenly swirled up around Moonves all the more curious is his prominent support for the #MeToo movement and other feminist causes. In December, he helped found the Commission on Eliminating Sexual Harassment and Advancing Equality in the Workplace. A month prior to that, at a conference in November, he said, "I think it's important that a company's culture will not allow for (sexual harassment). And that's the thing that's far-reaching. There's a lot we're learning. There's a lot we didn't know."
There's a lot we didn't know? Oh, for sure. We didn't know for a very long time that TV's favorite father figure, now-81-year-old Bill Cosby, would be classified as a sexually violent predator by a Pennsylvania court. Cosby is due to be sentenced Sept. 24 on three counts of aggravated indecent assault, and his alma mater, Temple University, rescinded the honorary Ph.D. it conferred upon him in 1991. The Cos resigned his spot on Temple's  Board of Trustees in 2014, after 32 years, amid accusations that he sexually assaulted dozens of women over decades.
We also didn't know that Harvey Weinstein, 66, the co-founder of Miramax, would be dismissed from the company and be expelled from the Academy of Motion Picture Arts and Sciences after the New York Times ran a story on Oct, 5, 2017, detailing decades of allegations against him by over 80 women. It would seem that the most important piece of furniture in Weinstein's office was not his desk, but the proverbial casting couch.
One of the more intriguing developments in the widening scandal involved TV newsmen Bill O'Reilly and Matt Lauer. In September 2017, O'Reilly, fired by Fox News for a series of alleged sexual improprieties, appeared as a guest on NBC's Today show, where he told host Matt Lauer that his dismissal was "a hit job – a political and financial hit job." Two months later, Lauer was canned by NBCUniversal after it was found he had an inappropriate sexual relationship with another much more junior NBC employee. Three additional women subsequently made complaints against Lauer.
Boxing is a physical sport, maybe the most physical there is, and in most cases the transgressions committed were by fighters who resorted to brute force, the fastest way to bring cops and attorneys into the equation. Think Tony Ayala Jr. spending 17 years behind bars for rape, a conviction that came on the heels of a previous incident in which he broke a teenage girl's jaw after he made unwanted advances toward her in the restroom of a drive-in theater. But it might be argued that those who seek to have their way with women by exercising a different kind of power are just as much or even more reprehensible, an affront not only to the females they view as disposable objects but to any man who would not want to see his mother, wife or daughter treated so shabbily.
According to CBS, there have been no misconduct claims and no settlements against Moonves during his 24 years at the network. He deserves, as everyone does under the American system of jurisprudence, the presumption of innocence. But given the current landscape befouled by others who apparently felt that they could do whatever they wanted because they always had gotten away with it, sticking with the status quo might send the wrong message.
Check out more boxing news on video at The Boxing Channel