This Title Shot is a Hart-to-Hart Production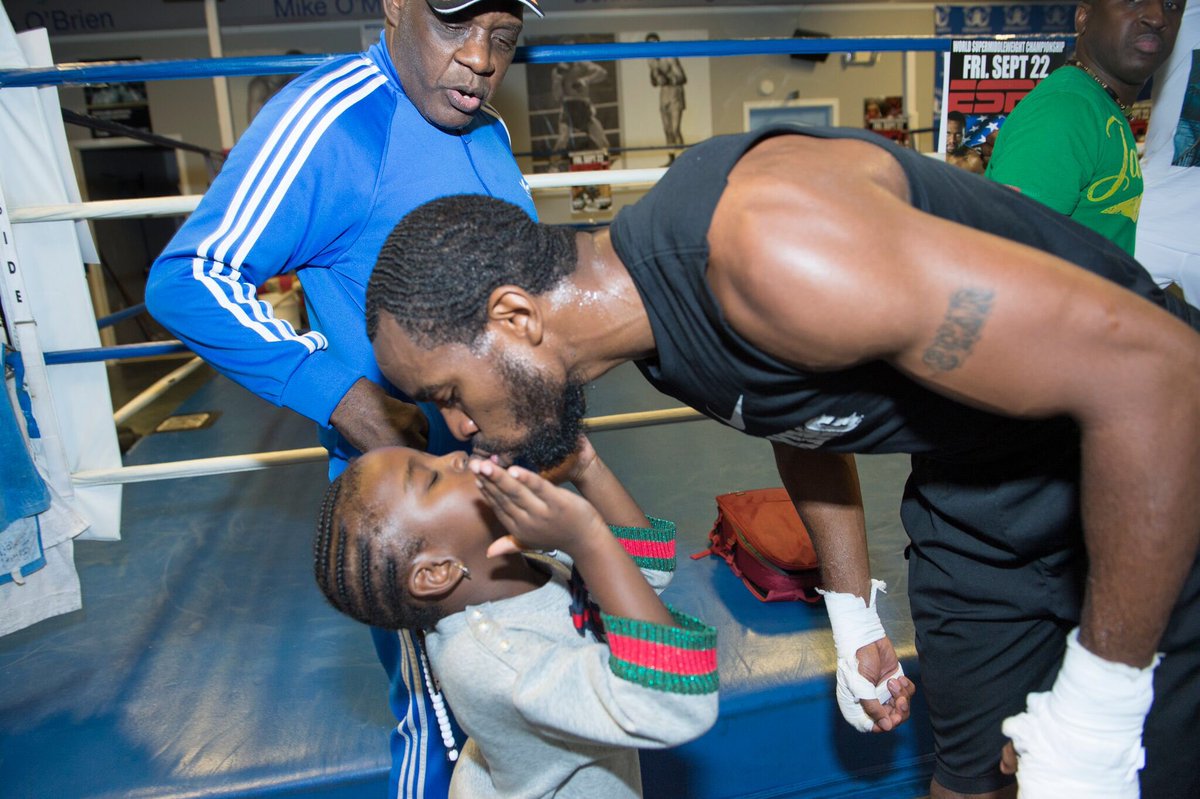 As much a political activist as a boxing promoter, Top Rank founder and chairman Bob Arum is providing 500 free tickets for Friday night's ESPN-televised fight card at the Tucson Convention Center to so-called "Dreamers," children of illegal immigrants, mostly from Mexico, whose status for remaining in the United States has been called into question by the Trump administration.
"They're as American as my grandchildren," says the Brooklyn-born Arum, who often finds ways to combine his business operation with his social-justice agenda.
In a manner of speaking, another dream may or not be fulfilled in the co-main event of the TV doubleheader, in which WBO super middleweight champion Gilberto "Zurdo" Ramirez (35-0, 24 KOs), of Mazatlan, Mexico, defends his title against Jesse "Hard Work" Hart (22-0, 18 KOs), the WBO's No. 1 contender from Philadelphia. But the dream team in this instance is not so much comprised of the Ramirez family as by the Harts, whose long, thus-far-fruitless quest to claim a world championship now rests on the wide shoulders of the 28-year-old Jesse, who has been raised almost since birth to achieve something that his once-world-rated middleweight contender father and trainer, Eugene "Cyclone" Hart, and other assorted relatives could not.
The other co-featured marquee bout pits WBO featherweight titlist Oscar Valdez (22-0, 19 KOs) against No. 4 contender Genesis Servania (29-0, 12 KOs), of Bacolod City, Philippines.
"My family, both sides of it, were brought up with boxing," noted Jesse, who is co-promoted by Top Rank and Peltz Boxing. "My dad, obviously, but also on my dad's side were my uncle (Alfred Lowery) and my dad's uncle (Jimmy Hart) as well as a cousin on my mom's side (Rick Williams).
"Now I have my own family (manager-wife Starletta and daughter Halo). To bring back that belt to my household would be something I almost can't describe. It would mean everything."
Perhaps, if Cyclone Hart had won a world title – or even been afforded the opportunity to fight for one – Jesse's sense of purpose might not be so clear and defined. But who's to say? Children born into the Wallenda family are raised from an early age to become high-wire walkers because … well, just because. Sometimes there is no escaping who we are meant to be in life.
"Mentally, I have been prepared for this (to fight for and win a world championship) since I was just a little kid," Jesse said. "My whole life has been directed toward this moment. My dad showed me tapes of all the great Philadelphia fighters, fighters that became champions of the world or could have been, from as far back as I can remember.
"Now that I'm so close to doing what I have so long prepared for, I can honestly say I'm ready. Of course there's going to be a little nervousness, but it's not going to overwhelm me or anything like that. Nothing can or will stop me from performing at my highest level. I'm not going to freeze up. How could I, when I've been groomed for this since I was six years old?"
At 6-foot-3 and 168 pounds, Jesse is not a carbon-copy of his 5-11½ father, either physically or even stylistically. He considers himself a boxer-puncher, more capable of winning with a varied attack than was his dad, a legendarily devastating puncher who went into every fight looking to score a knockout, as early and as emphatically as possible. It was a strategy that either worked well or didn't, as evidenced by Cyclone's 30-9-1 record, which included 28 knockout victories (18 coming in the first three rounds) and eight defeats inside the distance.  Cyclone's weapon of choice was that Philly favorite, the left hook.
"Jesse's a good puncher, but he's not in his father's league when it comes to pure punching power," said J Russell Peltz, who promoted Cyclone and now is involved with the son. "I'm just telling it like it is."
One of a quartet of Philadelphia middleweights who were all world-rated at the same time in the early 1970s – the others being Bobby "Boogaloo" Watts, Willie "The Worm" Monroe and the late Bennie Briscoe – Hart was being talked up as a possible  challenger to Argentine great Carlos Monzon when misfortune struck. During a fight with former junior middleweight titlist Denny Moyer on Sept. 21, 1971, at the Spectrum in Philly, both men tumbled through the ring ropes in the sixth round. Moyer suffered an injured ankle and Hart was knocked unconscious after striking his head on the floor, resulting in a no-contest.
Cyclone Hart did not fight again until Feb. 7 of 1972, a second-round knockout of Matt Donovan, but in his next bout after that he was stopped in eight rounds by Nate Collins and any hope of procuring a shot at Monzon vanished.
Might Cyclone have taken out the seemingly invincible Monzon had he landed that vaunted left hook just so? Possibly, although Peltz wonders if that proposed fight ever could have advanced beyond speculation.
"Teddy Brener (Madison Square Garden's esteemed matchmaker) was trying to get him a title shot late in 1971, but Monzon was not controlled by the Garden, despite of how powerful Teddy was," Peltz said. "I don't believe Monzon actually was going to fight Cyclone, who just wasn't a big enough name internationally. Anyway, that's as close as he ever got."
Ironically, the dream matchup that might have gone to Hart instead went to Moyer, who fell in five rounds to Monzon on March 4, 1972, in Rome.
Jesse was not around to witness his dad's rise nor his fall; he was born on June 26, 1989, 10 days before Cyclone's 38th birthday and nearly seven years after his final bout.  His not-inconsiderable power and some of his moves were passed along by his father, but some of his finer technical points came from another veteran Philadelphia cornerman, Fred Jenkins, the original trainer of 1996 Olympic gold medalist David Reid.
In addition to his dad, of course, Jesse lists Reid as a hero and role model. Jesse was not quite seven when he watched Reid, who was trailing on points, win the gold medal with a turn-out-the-lights overhand right in the final round against Cuba's Alfredo Duvergel. That punch instilled in Jesse a dream of his own, in which he would go to the 2012 London Olympics and win a gold medal. He admits to feeling crushed when, as the favorite, he missed out on a chance to represent his country by the narrowest of margins, losing on a controversial second tiebreaker in the U.S. National Championships against Cleveland's Terrell Gausha.
"That still haunts me," Jesse said. I wanted so much to go to the Olympics and win a gold medal like David Reid.  I was bitter about how that all ended for me. But it probably helped me get this far in the pros, and this fast. And besides, my father's dream for me wasn't so much about going to the Olympics as it was for me to win a world championship as a pro."
One thing Jesse apparently does better than his dad is talk. Peltz described him as "a marvelous self-promoter" who, should he get past Ramirez, a formidable southpaw, might stage his first title sometime in the first quarter of 2018 in Philadelphia. Asked for his thoughts on "Zurdo," Hart gave him short shrift.
"All due respect, but when I look at him I see a boy, not a man," Jesse said. "I don't see somebody who thinks on his own. He's always looking to his corner for instructions. His main weakness is his mind.  Everything he does, I'll have an answer for."
Ramirez has said Hart "must pay" for such remarks, and that his dream is to shut the challenger's mouth. Then again, that's the nature of dreams. Not everyone's gets to come true.
RIP David Bey
Sometimes the boxing gods dispense or withhold their favors with no particular sense of rhyme or reason. Fringe heavyweight contender Chuck Wepner wangled a dream if ultimately doomed shot at the great Muhammad Ali, registered a knockdown (or maybe it was a trip), thus inspiring Sylvester Stallone to launch the Rocky film franchise, and just this year was portrayed by Liev Schrieber in a movie, Chuck, based on his improbable life. Another fringe heavyweight contender, Buster Douglas, was served up as a sacrificial offering to Mike Tyson in Tokyo, but shocked the world in scoring the biggest upset in boxing history and was rewarded with a $24 million payday in his first and only title defense. Still another fringe heavyweight contender, Randall "Tex" Cobb, became something of a celebrity after losing every minute of every round to champion Larry Holmes and rode that notoriety to some nice movie credits as a craggy-faced tough guy.
Then there's David Bey, a Philadelphia native whose heavyweight ring career can be likened to, in one way or another, all of the aforementioned passers-by in boxing's more exclusive neighborhoods. But Bey, who was 60 when he died on Sept. 13 in a construction accident in Camden, N.J., reaped few residual benefits from his brief flirtation with fame and fortune, other than his induction earlier this year into the Pennsylvania Boxing Hall of Fame. Like Wepner, Douglas and Cobb, Bey was granted an opportunity to fight for the IBF heavyweight championship of the world, and he gave a credible account of himself in a 10th-round TKO loss to Larry Holmes on March 16, 1895.
Unbeaten at 14-0 with 11 KOs the night he entered the ring against Holmes, Bey's status as a fighter on the rise quickly flamed out as he lost five of his next six bouts, three inside the distance. There would be no calls from Hollywood, even though Bey had a face that leaned more to handsome than to hammered and he did briefly date Grammy Award-winning singer Natalie Cole, daughter of the legendary Nat "King" Cole.
Bey retired with an 18-11-1 (14) record after his final bout, an eighth-round stoppage of David Jaco on Sept. 17, 1994, in Macao, China, whereupon he returned to Philly and a blue-collar life. The guy who managed to get Holmes' attention with a crisp left hook in the second round of their title fight was a member of Local Carpenters 179, operating a pile driver, when he was involved in the fatal accident.
Informed of Bey's death, Holmes recalled him as "an awkward fighter" who "gave his all."
"He could fight. He hit me pretty good" (with that second-round left hook)," Holmes continued.
As for those parallels between himself and other fighters who got a brief taste of heavyweight nectar, the 6-foot-3, 240-pound Bey turned pro on Nov. 6, 1981, with a first-round TKO of, yes, Buster Douglas in Pittsburgh, thus making him a man who beat the man (Tyson), and his Philly roots gave him a kinship of sorts with Cobb, who relocated from his native Texas to Philly to advance his boxing career.
Rest in peace, David.
Check out more boxing news on video at The Boxing Channel.
Results from the Big Apple: Hunter Bombs Out Wilson; Algieri Wins Too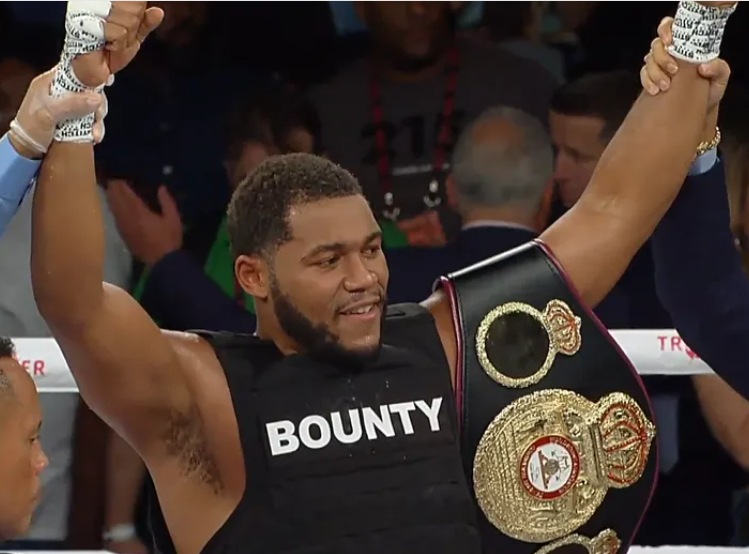 Results from the Big Apple: Hunter Bombs Out Wilson; Algieri Wins Too
TrillerVerz Fight Club, the new name for Triller, was at the Hulu Theater at Madison Square Garden tonight for what ostensibly was the first installment of a regular monthly series. A Lou DiBella-promoted boxing card was the appetizer for a battle-of-the-bands-type showdown between local rap groups The Lox and Dipsit, legendary groups according to the promotional material colliding in an iconic confrontation.
The first batch of tickets put on sale were reportedly gone in 15 minutes. The gate was reportedly the highest in the 53-year history of the room. But empty seats were visible during the boxing portion of the telecast informing us that the rap battle was the allurement.
The main event was a 10-round heavyweight contest between Michael "The Bounty" Hunter, son of the late heavyweight fringe contender of the same name, and Mike "White Delight" Wilson, the pride of Central Oregon. They were originally slated to fight on June 19 in Miami on the undercard of Teofimo Lopez''s mandatory title defense against George Kambobos Jr, but that card fell out when Lopez tested positive for Covid-19.
This was a rematch of sorts. They had met 14 years ago in the finals of an Olympic qualifying tournament and Hunter won a narrow decision. There was nothing narrow about tonight's fight. Hunter was dominant from the get-go and blasted Wilson out in the fourth round.
It didn't bode well for Wilson that he weighed a career-high 224 ¼. The 38-year-old Oregonian was soft in the belly and Hunter landed some hard shots there in the first two rounds. In Round Four, he snapped Wilson's head back with a harsh uppercut and followed up with a short overhand right. Wilson went down hard and when he arose, leaking blood from several facial cuts, referee Ricky Gonzalez rightly waived it off.
Hunter, 33, improved to 20-1-1 (14). He has expressed interest in meeting Dillian Whyte, but it appears more likely that his next opponent will be Trevor Bryan who has a seat at the table at the WBA heavyweight title buffet. Wilson, who hadn't previously been stopped, falls to 21-2.
P.S. – The sojourn back east worked out well for Las Vegas gym operator Bones Adams, the former WBA super bantamweight champion. Adams worked Jonnie Rice's corner on Saturday night in Newark. With Michael Hunter in attendance, Rice turned his floundering career around with a smashing upset of Michael Coffie. Tonight, Adams was the primary advice-giver in Hunter's corner.
Algieri – Les Pierre
In the chief undercard bout, Chris Algieri returned to the ring after an absence of more than two years and showed well in a 10-round welterweight contest with Brooklyn's Mikkel Les Pierre. At age 37, Algieri, the Stony Brook University grad and former 140-pound world title-holder, was superbly conditioned. He was credited with throwing 910 punches, out-landing his 36-year-old opponent while winning a wide decision: 99-91 and 100-90 twice. Algieri had Les Pierre almost out in the eighth round when he threw the kitchen sink at his adversary. But he lacked the power to finish the job.
Now 25-3 (9), Algieri believes that he can once again be a force. That's doubtful. He just doesn't punch hard enough. But based on tonight's showing, he earned the right to meet a more formidable opponent. Les Pierre, who is originally from Trinidad and Tobago, fell to 22-3-1.
Also
In off-TV bouts, welterweight Ivan Golub, a 32-year-old Brooklyn-based Ukrainian, improved to 19-1 with a wide 10-round decision over hard-trying Louisiana native Eric Walker (20-4) and light heavyweight Joe Ward, a highly decorated amateur from Moate, Ireland, won his fourth straight after a fluke loss in his pro debut with a 6-round decision over Louisiana's Tory Williams (5-1-1). Ward won every round on all three cards.
Check out more boxing news on video at the Boxing Channel
To comment on this story in the Fight Forum CLICK HERE
Late Sub Jonnie Rice Bursts Michael Coffie's Bubble on a PBC Card in Newark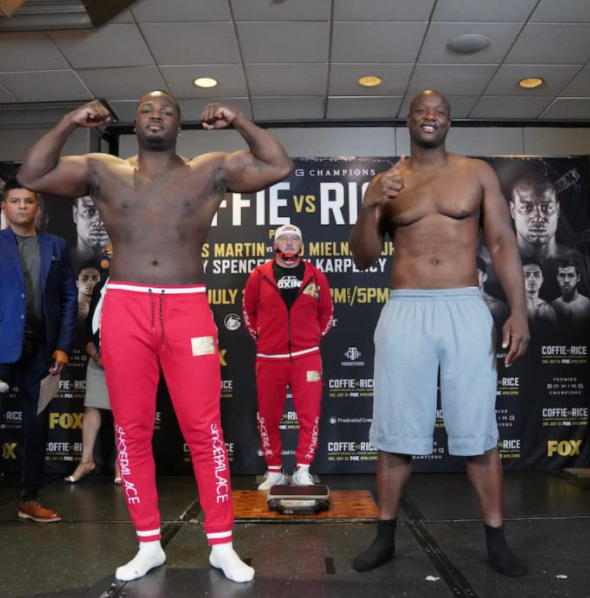 Every thing that could go wrong went wrong as promoter Al Haymon and his associates were patching together tonight's card at the Prudential Center in Newark, New Jersey. But it couldn't have worked out better for journeyman heavyweight Jonnie Rice who turned his career around with a smashing TKO of heavily favored and previously undefeated Michael Coffie.
Positive Covid tests scuttled two 10-round fights on the undercard. The main event had already been disheveled when Coffie's original opponent Gerald Washington flunked his Covid test. Enter Rice (pictured on the right) who was on standby and seized the moment.
Rice, a Columbia, South Carolina native who has been living and training in Las Vegas, came in sporting a 13-6-1 record but five of his wins had come against no-hopers in Tijuana and he had yet to defeat an opponent in a match where he was the "B" side. But these facts were misleading as five of his six losses had come against hot prospects with undefeated records and he had honed his craft sparring against the likes of Tyson Fury, Filip Hrgovic, and Michael Hunter.
Based on "strength of schedule," Rice, 34, had the edge over Coffie, the 35-year-old ex-Marine who brought a 12-0 record but was relatively untested. And Rice, who started fast, took the fight to Coffie and out-landed him. Coffie's left eye was swelling and he wasn't firing back when the referee waived it off in the fifth round.
Dirrell-Brooker
Tonight's PBC fare came in two helpings with appetizers and the main event on FOX preceding a club-level show on FOX's affiliate FS1. The main event of the nightcap was a 10-round light heavyweight bout between Andre Dirrell and Christopher Brooker.
Dirrell, who previously held an interim version of the IBF 168-pound world title, looked very sharp coming off a 19-month layoff, scoring three knockdowns before the fight was waived off in the third round. The Flint, Michigan native improved to 28-3 (18). Philadelphia's Brooker fell to 16-8.
More
Junior middleweight Joey Spencer (13-0, 9 KOs) scored an 8-round unanimous decision over James Martin (7-3). Spencer won comfortably on the scorecards – 80-72 and 79-73 twice – but was unimpressive.
Local fan favorite Vito "White Magic" Mielnicki Jr (9-1, 5 KOs) rebounded from his first pro loss with an impressive second-round stoppage of Noah Kidd (6-4-2).
Philadelphia welterweight Karl Dargan (20-1, 9 KOs), a former two-time national amateur champion, returned to the ring after a long absence and  stopped LA's Ivan Delgado (13-4-2) in the third round.
New Jersey heavyweight Norman Neely advanced to 9-0 (7) with a unanimous decision over rugged Texas brawler Juan Torres (6-4-1). Neely won all six rounds on all three cards.
Check out more boxing news on video at the Boxing Channel
To comment on this story in the Fight Forum CLICK HERE
Leigh Wood's Big Upset Spangles the Rebirth of Eddie Hearn's Garden Party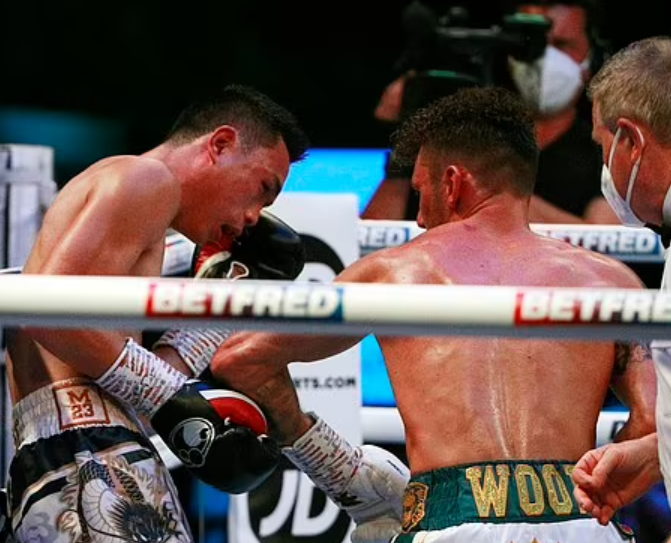 Last summer, hamstrung by the pandemic, Eddie Hearn hit upon the idea of holding boxing events outdoors in the expansive backyard of the family estate on the outskirts of London (now Matchroom Sport headquarters) where he grew up. Four shows were staged there.
The series has been revived. Today was "episode 1" of Season Two of Matchroom Fight Camp, otherwise known as Eddie Hearn's Garden Party. Two more shows are penciled in over the next two weekends.
The match-up getting the most buzz was the welterweight contest between fast-rising Conor Benn and battle-tested Adrian Granados. Unfortunately, Benn tested positive for Covid-19. But the main event, a WBA world featherweight title defense by Can Xu (aka Xu Can) against Nottingham's Leigh Wood stayed intact and produced a memorable upset.
Xu, who is co-promoted by Oscar De La Hoya, was installed a 4/1 favorite. Although he wasn't a big puncher with only three knockouts to his credit in 20 starts, he rode into Hearn's backyard riding a 15-fight winning streak for the third defense of his WBA "regular" title. But he started slow, perhaps the result of ring rust — it was his first fight of 2021 after missing all of 2020 – and he never did crank up the volume that had carried him to victory in his three title fights.
Wood, a stablemate of Josh Taylor who has made great gains since hooking up with Ben Davison and Lee Wylie, landed the heavier punches and was ahead on the cards when he took the fight out of the judges' hands in the final minute of the final round. He decked Xu with a hard right hand and then trapped him on the ropes, forcing the stoppage that came with only 17 seconds remaining.
The 32-year-old Wood improved to 25-2 (15). Xu falls to 18-3. The deposed champion has a rematch clause so we may have a sequel.
Other Bouts
Chris Billam-Smith, trained by Shane McGuigan, won a hard-fought 12-round split decision over Belfast's Tommy McCarthy in a cruiserweight scrap with three domestic titles at stake. The judges had it 116-112 and 115-114 for Billam-Smith, now 13-1, with the dissenter favoring McCarthy (18-3) by a 115-114 tally.
McCarthy wobbled Billam-Smith late in the first round with on overhand right, but could never land his Sunday punch on the Bournemouth fighter in a see-saw struggle with many close rounds. There were no knockdowns but McCarthy suffered a cut over his right eye near the end of round six from an apparent head butt.
McCarthy had Carl Frampton helping out in his corner which infused the contest with the aura of a grudge match. Frampton was the best man at Shane McGuigan's wedding, but their friendship dissolved in a bitter court fight. At the end of the grueling fight, Billam-Smith and McCarthy embraced in a show of mutual respect.
Liverpool super-welterweight Anthony Fowler whose lone setback came at the hands of Scott Fitzgerald (a split decision) won his sixth straight with an eighth-round stoppage of Germany's Rico Mueller whose cornerman was on the ring apron when the slow-acting referee waived it off at the 2:12 mark. Fowler, who is also trained by Shane McGuigan, improved to 15-1 (11). His next bout is expected to come against fellow Scouser Liam Smith in October. This was the second fight this month for the game but out-gunned 33-year-old Mueller (28-4-1) who was subbing for veteran Tex-Mex campaigner Roberto Garcia who pulled out with a back injury.
Also, Jack Cullen (20-2-1, 9 KOs) scored a 10-round unanimous decision over Avni Yildirim (21-4) in a 10-round super middleweight contest. Yildirim, from Turkey, was looking to atone for his hollow performance against Canelo Alvarez this past February. While he had his moments, he was out-worked by the lanky Lancashire man who won by scores of 100-90, 08-92, and 97-93.
Photo credit: Alan Walton / Matchroom Boxing
Check out more boxing news on video at the Boxing Channel
To comment on this story in the Fight Forum CLICK HERE