A New Book on Jack Dempsey is Worth a Look
But certain new arrivals sometimes are promptly moved to the front of the line, which was the case with The Million Dollar Man: Jack Dempsey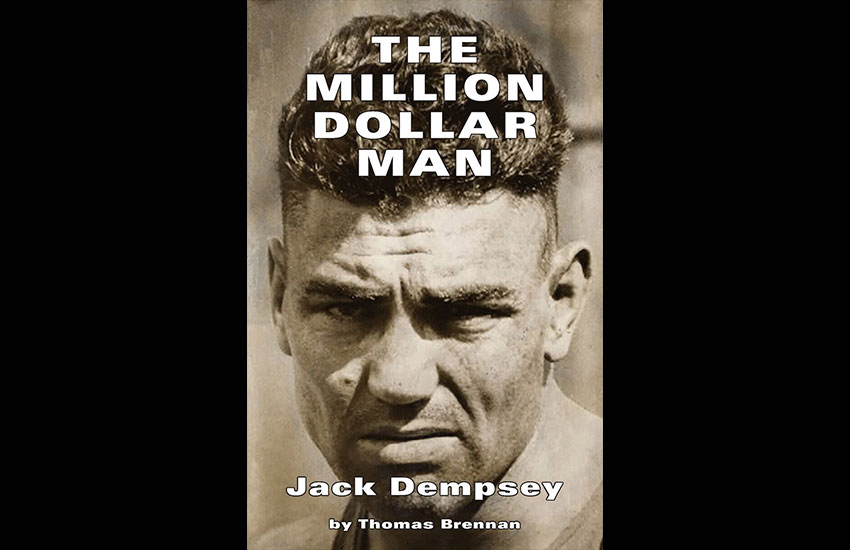 My personal library contains hundreds of books, dozens of which this voracious reader has yet to get around to. There is, after all, only so much time in any given day to spend large chunks of it curling up with a mystery novel or biography of a notable person. But certain new arrivals sometimes are promptly moved to the front of the line, which was the case with The Million Dollar Man: Jack Dempsey, authored by Thomas Brennan, which came in the mail recently with a written request from the publisher (Regent Press of Berkeley, CA) that I kindly review it for the edification of would-be purchasers.
Well, OK. The life and times of William Harrison Dempsey – the "Manassa Mauler's" birth name – is of such import that it has been covered at length in previous literary ventures, including Round by Round, Dempsey's autobiography written in conjunction with contributor Myron M. Stearns, and Dempsey, again written by the great man himself with input from Jack's stepdaughter, Barbara Piatelli Dempsey. There aren't wide swaths of untilled soil in The Million Dollar Man (a reference to Dempsey being the attraction in the first five fights to generate million-dollar live gates), and some of Brennan's prose tends to be excessively flowery, as was frequently the case with such legendary early-20th-century sports writers as Paul Gallico, Damon Runyan and Grantland Rice, inflatable garden slide whose ruminations on the most compelling sports superstar (along with New York Yankees slugger Babe Ruth) of the Roaring '20s include descriptions of the punches Jack delivered as "lusty cracks" and "wallops."  But a bit of excess is perhaps allowable if the lead character is larger than life, and the nearly century-old past from which Dempsey emerged serves as prologue. Bits and pieces of the enthralling road traveled by Dempsey were played out, in one form or another, by such later heroes of the ring (or anti-heroes, depending on one's point of view) as Muhammad Ali, Joe Frazier and Mike Tyson.
I admittedly remain a moth drawn to Dempsey's flame because of his connection, however tenuous, to my all-time favorite fighter, a quite unrenowned welterweight whose professional record was 4-1-1, with just one victory by knockout. But Jack Fernandez, like Jack Dempsey, came into this world with a different birth name. He departed this mortal coil at age 74 as Bernard J. Fernandez Sr. on March 4, 1994, my father's nickname having been conferred upon him as an amateur by someone who compared his boxing style – crouching, bobbing and weaving, always coming forward – to that of the infinitely more celebrated former heavyweight champion.  Some yellowed clippings of Dad's fighting days variously describe him as a "left hook specialist" and a "wild-hooking slugger." I wish I had video of him in action, but I do have a poster from 1944 in which his name appears right under that of main-eventer Archie Moore.
But I digress. Gallico once described Dempsey (and this particular passage is not in Brennan's book) thusly: "His weaving, shuffling style of approach suggested the stalking of a jungle animal. He had a smoldering truculence on his face and hatred in his eyes." Brennan supports the notion of Dempsey as predator, claiming that he "singlehandedly brought shock and awe to the sport of boxing like no one before or since … The Manassa Mauler backed down to no man in the ring. He stalked his opponents much the same way a tiger stalks his prey."
Many of the better fighters from every era arise from abject poverty, and Dempsey was no exception. He was the ninth of Hyrum and Celia Dempsey's 13 children, and perhaps the only one predestined to follow a particular career path. Before Jack was born, his mother had read and re-read a book given to her by an old peddler, Life of a 19th Century Gladiator, supposedly authored by John L. Sullivan but no doubt assisted in no small part by a ghost writer. Celia told Jack years later that, before he was born, she wanted her next male child to be the next John L. Sullivan.
In truth, Harry – which is what the rest of the family, which relocated often in search of better financial opportunities, called him – was preceded as a boxer by older brother Bernie, who for reasons unstated billed himself as Jack Dempsey. But Bernie had a liability, a glass jaw that precluded him from ever making it big as a fighter. In the hope of avoiding the pugilistic fate that had befallen Bernie, Harry – then going by the nom de guerre of "Kid Blackie" in mostly unsanctioned (and unrecorded for historical purposes) bouts – chewed rosin gum to strengthen his jaw muscles and soaked his face in beef brine to toughen his skin and make it less susceptible to cuts.
"Who knows how many fights I had between 1911 and 1916?" the former Kid Blackie said years later, after he had officially switched his ring (and legal) name to Jack Dempsey in tribute to the retired Bernie. "The record books don't contain them, and I couldn't name the number or identify all the faces today if my life depended on it. I'd guess a hundred. But that's still a guess. Whatever the number was, it wasn't enough to support me. To fill the gaps and my belly, I was a dishwasher, a miner or anything else you could dig up in Nevada, Utah, Colorado and Idaho – I dug potatoes and beets, punched cattle, shined shoes and was a porter in the Hotel Utah in Salt Lake City."
In search of more and better-paying fights, and to capture the attention of nationally influential sports writers, Dempsey relocated to New York City. He did have some spot success – Damon Runyon was the first columnist to refer to him as the "Manassa Mauler," a reference to the Colorado mining town in which he was born, and a sobriquet which eventually took root with the public – but the constant struggle for recognition wore on him and he moved back to his comfort zone out west.
Except that Dempsey's comfort zone wasn't any more comforting than New York. He was still scuffling along, considering quitting the ring, when a fortuitous turn of events – a barroom brawl – essentially turned his life around. He was having a drink in a saloon in Oakland, Calif., when he noticed several men attacking another bar patron, who was by far getting the worst of it. Jack went to the aid of the customer being pummeled, driving off the assailants. The guy he saved from taking a more severe thrashing was Jack "Doc" Kearns, a boxing manager, who figured anyone that handy with his fists had to have boxing potential. He immediately offered to take his accidental savior under his wing.
Kearns might have been many things, not all of them good – Dempsey later claimed Kearns had shortchanged him on several purses, and the two had a bitter falling-out that led to Kearns filing a lawsuit against his onetime meal ticket – but their association soon began to pay major dividends, with Jack rising to the position of the top-ranked heavyweight contender to champion Jess Willard after he starched the previous No. 1, Fred Fulton, in a mere 18 seconds on July 27, 1918.
But Willard, nicknamed "The Pottawatomie Giant" (for his hometown of Pottawatomie, Kan.) at 6-6½ and 245 pounds, dismissed Dempsey as too small to pose much of a threat. Kearns and Dempsey were obliged to embark on a nationwide tour in which Dempsey registered five consecutive first-round knockouts in early 1919 while constantly chirping for Willard to come out of hiding and face him. Given the immense size difference – the 6-foot-1 Dempsey was scarcely 180 pounds then – there was some concern that Willard might lethally dispose of the mouthy challenger, as he had six years earlier when another opponent, John "Bull" Young, died of a brain hemorrhage a day after he was knocked unconscious. Willard even asked Kearns to provide written assurance that no attempt would be made to file charges if he did unto Dempsey what he had done to Young.
America was still not that far from its frontier days when the Willard-Dempsey fight finally took place on July 4, 1919, in Toledo, Ohio. Legendary Old West lawmen Bat Masterson and Wyatt Earp, serving as human metal detectors, were charged with the responsibility of collecting guns and knives from armed fans before they could enter the outrageously hot stadium.
Willard was correct, in a sense; a slaughter did indeed take place. But it was not Dempsey's health and well-being that were in jeopardy, it was Willard's after the ferocious aspirant to the title – perhaps spurred on by the knowledge that Kearns had bet $10,000 of their money (at 10-to-1 odds) on him to win by first-round knockout – beat the champion bloody in the process of flooring him seven times in that opening stanza. Willard was counted out by referee Ollie Pecord after the last of those knockdowns, but the bell sounded just prior to the toll of 10, obliging the battered Willard to submit himself to more punishment while Kearns and Dempsey missed out by a couple of ticks on $100,000 additional income on the wager. Willard did not come out for the fourth round, having gone down twice more in round three.
Handsome in a rugged, outdoors kind of way with his chiseled physique, jet-black hair, bushy eyebrows, piercing eyes and mesmerizing air of malevolence, Dempsey, already on the way there, was instantly confirmed as the USA's new king of the ring following his beatdown of the favored Willard. Damon Runyon, ever the wordsmith, wrote that Willard's submission came "just as the bell was about to toss him into the fourth round of a mangling at the paws of Jack Dempsey, the young mountain lion in human form, from the Sangre de Cristo Hills of Colorado."
But those placed upon a pedestal learn fast that the fall from grace can be swift and damaging. Dempsey was soon thereafter denounced as a "slacker" after reporters learned he had not served in the U.S. military during World War I, prompting Grantland Rice of the New York Tribune to temper his praise of the new titlist's ferociousness inside the ropes with his presumed lack of patriotism outside of them.
"Let us have no illusions about our new heavyweight champion," Rice wrote. "He is a marvel in the ring, the greatest hitting machine even the old-timers have ever seen. But he isn't the world's champion fighter. Not by a margin of 50,000 men who either stood or were even ready to stand the test of cold steel and exploding shell for anything from six cents to a dollar a day."
By and by, Dempsey's undeniable charisma and crowd-pleasing savagery in plying his trade won over that portion of a nation, and the world, that would have preferred him to have included a Sergeant York chapter in his thickening book of pugilistic accomplishments. During a trip to Europe he literally had to fight off female admirers, and his popularity soared to a point that an envious Babe Ruth reportedly considered taking up boxing before coming to his senses and sticking with baseball.
A four-round destruction of France's Georges Carpentier was the first of five fights involving Dempsey to have generated million-dollar live gates, to be followed by those against Luis Angel Firpo, Jack Sharkey and the two losing matchups with Gene Tunney, his stylistic opposite.
Where Dempsey had always fought to win as quickly and emphatically as possible, a boiling pot of explosive energy always on the verge of eruption, Tunney, a former Marine, was a scholarly type who, despite a decent KO percentage, considered boxing to be something of a sweaty but nonetheless intellectual pursuit.
"I am here to train for a boxing contest, not a fight," Tunney said before the rematch with Dempsey on Sept. 22, 1927, the notorious "Long Count" bout. "I don't like fighting. Never did. But I'm free to admit that I like boxing."
Such comments by Tunney did not set well with fans that preferred Dempsey's familiar go-for-the-jugular aggression. Gallico claimed that Tunney's image was that of a "priggish, snobbish, bookish fellow, too proud to associate with common prizefighters."
By the time an aging Dempsey, by now accustomed to taking long breaks between fights, entered into his fire-and-ice meetings with Tunney, however, his internal blaze was already set to low flame. Even a jungle cat might be capable of fighting mad only so long. Even before his epic slugfest with the much larger Firpo, in which the Argentine went down nine times and Dempsey twice in two rounds, the champion spoke wistfully of the changes brought about when the desperation of poverty is replaced by the comfort of wealth and privilege.
"Maybe I can't take as much now as I took then," Dempsey said. "It's much easier you know and more fun fighting your way to the top and defending it. Being champion isn't as great as it seemed before I was champion. I have more money and softer living, but there are more worries and troubles and cares than I ever dreamed of before. The glory and even the money don't mean as much as they did in the days when you belonged only to yourself – not the public."
Now, regarding those parallels between Dempsey and those who would later fill his role and his shoes as elite heavyweight champions. That crouching, swarming, no-reverse-gear, left-hook-heavy attack? "Smokin" Joe Frazier fits the bill.
What about the controversy and loss of fan support that arose from Dempsey's lack of military service during wartime? Sounds a lot like Muhammad Ali staying on the sidelines during Vietnam, doesn't it?
Dempsey's bitter split with his longtime manager, Kearns? How about the unpleasant professional separation of Mike Tyson from his disliked co-manager Bill Cayton after the two father figures in Iron Mike's life, Cus D'Amato and Jimmy Jacobs, passed away?
Nor were Dempsey's marital difficulties lastingly unique. His first wife, Maxine, was a prostitute 16 years his senior. His second wife, Estelle Taylor, was a stunningly beautiful model and actress who detested her husband's boxing friends and considered them to be low-class and beneath her station. Tyson's first wife, Robin Givens, apparently didn't much care for anything about him except for the lavish lifestyle he was able to provide her.
Fortunately for Dempsey, his post-boxing life was as rich and fulfilling, in its own way, as had been his ring career. Not only did he enjoy a long and successful run as a New York restaurateur, but he served in the Coast Guard during World War II and was part of the American assault on Okinawa in 1945, when he was 49. Doing so mollified whatever holdovers were still resentful about his non-participation in the so-called war to end all wars.
If there is a lingering knock on Dempsey, it is the lack of black opponents on his otherwise sterling resume. He never did swap punches with such highly capable men of color as Sam Langford and Harry Wills, a taint that still clings in part to his legacy and is a shameful reminder of the bigotry prevalent in America in the early 20th century. It should be noted, however, that Dempsey urged promoter Tex Rickard to arrange a fight with Wills, but Rickard either was unwilling or unable to do so because of the tense racial politics of that time. Too many managers and promoters remembered the race riots that erupted throughout the country after Jack Johnson, a black man with swagger, conquered James J. Jeffries in 1910.
Dempsey was 87 when he died on May 31, 1983, but he remains a pivotal figure in the first golden age of American sports in the 1920s, a heyday also marked by Ruth, football's Red Grange, golf's Bobby Jones and tennis' Bill Tilden. If you think Tom Brady and LeBron James are big deals today, beamed into your living room or den in high-definition color with regularity by the miracle of satellite communications, imagine yourself and a dozen friends hunched around an upright radio, listening to an excited announcer describe the majesty of a Ruth home run or a Dempsey knockout.
The very inaccessibility of such athletes in the 1920s stamped them as wondrous, almost mystical individuals. Were they mortal men, hewn of flesh and bone? Or did some elixir of the gods course through their veins, enabling them to extend the boundaries of athletic capability to limits once thought unimaginable?
The Million Dollar Man might not be a long (262 pages) or classic read, but its subject matter will grab anyone who wants to know more about one of the fight game's most enduring and cherished legends. It might make a nice Christmas present for any fight fan willing to open an important portal to boxing's past.
Check out more boxing news on video at The Boxing Channel
Canelo vs. BJ Saunders: Predictions and Analyses from the TSS Faculty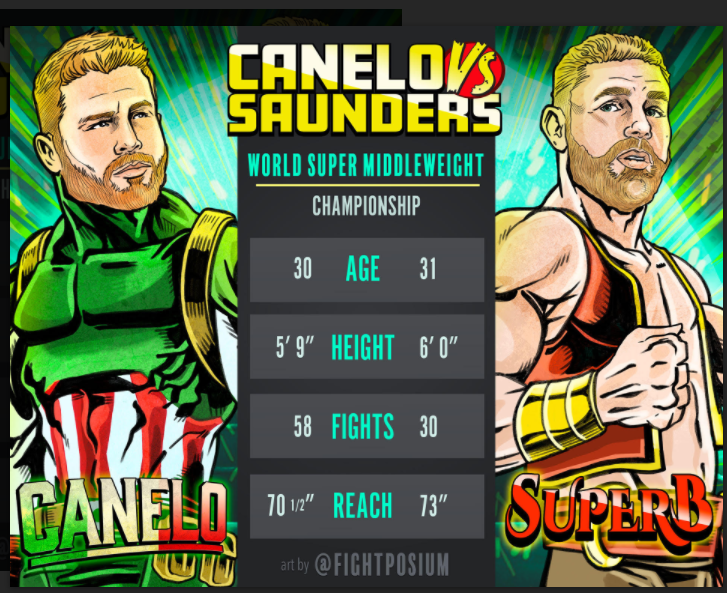 More than 60,000 fight fans are expected to gather at AT&T Stadium, home of the Dallas Cowboys, on Saturday. The turnout for the fight between Saul "Canelo" Alvarez and Billy Joe Saunders represents a turning point in the COVID-19 era. Boxing has been pretty much walled-off to the general public since a sellout crowd of 15,816 witnessed the second encounter between Tyson Fury and Deontay Wilder on Feb. 20, 2020 in Las Vegas.
Canelo Alvarez (55-1-2, 37 KOs) holds the WBC and WBA world titles at 168 pounds. Billy Joe Saunders (30-0, 14 KOs) owns the WBO belt. However, the hardware is largely immaterial whenever Canelo steps in the ring as he is widely considered the best pound-for-pound fighter in the world. In Saunders he is meeting a slick southpaw bidding to become the second member of the Traveling community to hold multiple title belts simultaneously, joining his friend Tyson Fury. The bout headlines a 7-bout card that will air on DAZN in 200+ countries and territories worldwide and on TV Azteca in Mexico.
Whenever a fight of this magnitude comes down the pike, we invite members of our editorial staff to provide a quick analysis of the match and forecast the outcome. Their prognostications appear below with the respondents listed in alphabetical order.
The graphic is by Colorado comic book cover artist ROB AYALA, an honored guest whenever we perform this kind of exercise. Check out more of Rob's cool illustrations at his web site fight posium.
PICKS and ANALYSIS
No gimme for Canelo here, as Saunders is a southpaw who can box, has a bit of pop in his punch, as well as a knack for making his opponents look not quite as impressive as they normally are. Still, Canelo is at the top of the boxing food chain for a reason. It's all right for him to win some fights and not be spectacular in doing so. Figure the Mexican icon on scoring a knockdown or two along the way, but he may have to be satisfied with a win on points this time out. – BERNARD FERNANDEZ
I no longer pick against Canelo Alvarez. And certainly not against a boxing basket case like Billy Joe Saunders. There's a huge difference in the level of maturity between these two fighters and that will be seen in the ring when Canelo becomes the first to corner the fleet-footed Saunders and put him on his back. Canelo KO in 10. – JEFFREY FREEMAN
Canelo by decision. He does everything better than Saunders, who will fight well enough to survive but not win. – THOMAS HAUSER
Billy Joe is formidable. You don't lock in an Olympic berth at age 18 without natural talent. You don't run circles around a big puncher like David Lemieux without a high ring IQ. But Saunders, despite his undefeated record, has been inconsistent. Canelo, as Kevin Iole noted in a recent column, doesn't do one thing great, but he does everything well. How does one formulate a smart game plan for a boxer with no flaws to exploit? Canelo UD. – ARNE LANG
Much has been made by Saunders' camp this week about the size of the ring that will be used in the fight. While it seems strange and even unruly that there can be such vast disparities in how large the boxing ring is or how spongy the mat can be for any professional fight card in our sport, the truth of the matter is that Saunders probably doesn't have much hope in beating Alvarez no matter how those other factors play out. They could fight on a basketball court, and I'd still pick Alvarez. The best the cagey UK fighter will be able to muster is trying to go the distance with the Mexican. Callum Smith pulled it off back in December, but Saunders won't quite get there. CANELO via 9th-round stoppage. – KELSEY McCARSON
There was a time, not that long ago, when I would have favoured Saunders to beat Canelo and stylistically I still feel Saunders holds all the aces. Canelo's improvements in the last 30 months have astonished, though. He has found a meaningful fourth and fifth punch for his combinations and his strength, for whatever reason, is prestigious at whatever weight he fights. Saunders, something of a persona-non-grata here in his home country after a series of public relations disasters, is very much a man out of time.  Canelo, bodyshots, between the eighth and the tenth. – MATT McGRAIN
There is a case to be made that Canelo Alvarez has not faced a pure boxer on the level of Billy Joe Saunders since his do-si-do with Erislandy Lara in 2014, in a fight that still has some screaming robbery (Alvarez won by split decision). Of course, that was nearly seven years ago, back when Alvarez was still trading on his telenovela bonafides. Since then, he has gone on to distinguish himself as arguably the best boxer in the sport today. The same cannot be said for the erratic and self-sabotaging Saunders, who has squandered his impressive showing against David Lemieux in 2017 with consecutive lackluster outings against mostly middling opposition. The southpaw will find ways to frustrate Alvarez at times, to be sure, but expect Alvarez to slow down the jittery motions of the Brit by punishing him to the body en route to a mostly clear win on the cards. Canelo by majority decision. – SEAN NAM
I see a feeling-out type fight in the first two rounds and then Canelo begins the stalk. Saunders will be more elusive and more savvy than most of Canelo's opponents, occasionally getting in some sharp counters. However, he will begin to tire late from an accumulation of Canelo's body work and from backing up. This will allow the Mexican to increase the tempo looking for a way to close the show. The Traveler will survive. But Canelo will win with a dominating UD. – TED SARES
Two names come to mind for me when deciding how this fight will play out. First, Erislandy Lara, who I saw outbox but not outfight Alvarez. Second is Alexander Povetkin, whose horrible performance against Dillian Whyte was reportedly due to coronavirus residue, which Alvarez also claims to have been afflicted by. Can Saunders, another left-hander with a bit more of a reach advantage than Lara, take advantage of a possibly weakened Canelo? Don't bet on it unless Cinco de Mayo weekend gets cancelled and nobody from Texas or Mexico shows up for the fight. Saunders seems capable of making it interesting, but Alvarez wins by wide decision or late TKO.  – PHIL WOOLEVER
To comment on this story in the Fight Forum CLICK HERE
A Heinous Crime Will Likely Land Felix Verdejo in Prison for the Rest of His Life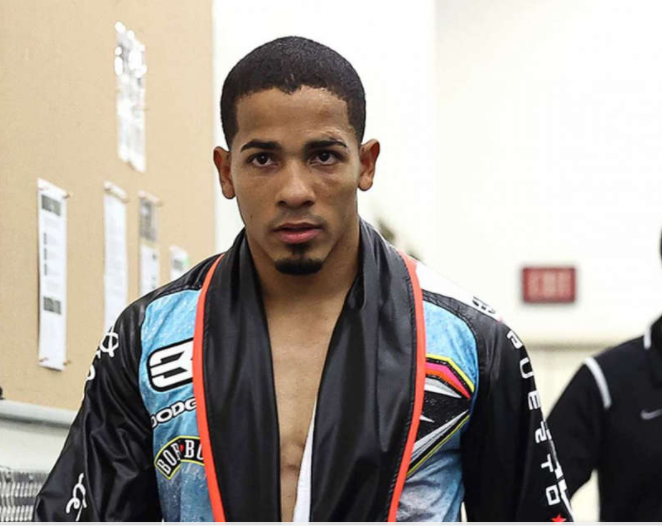 "Felix has a sparkling personality, a flashy fighting style, and he's good. He's also f-a-s-t." The quote is from Thomas Hauser who wrote those words in June of 2015 after Verdejo improved his record to 18-0 with a near-shutout of fellow unbeaten Ivan Nejara on an HBO card from the Theater at Madison Square Garden.
At this juncture it appeared that Verdejo, a former Olympian, was destined to become the next icon of Puerto Rican fight fans, the heir-apparent to Felix Trinidad and Miguel Cotto.
Today, news stories about Verdejo make no reference to his sparkling personality. It's an attribute inconsistent with the portrait of a monster.
This past Saturday, as hardcore fight fans were glued to the telecast of a show in Manchester, England, it came to light that authorities in San Juan, Puerto Rico, had found the body of a young woman who had been reported missing after failing to turn up at her job at a dog grooming salon on Thursday morning, that the decedent was plainly the victim of foul play, that Verdejo was the primary suspect in her murder, and that he wasn't cooperating with the authorities.
When the corpse of the missing woman was fished from a lagoon, her body was reportedly so mangled that forensic examiners had to consult dental records to confirm that the decedent was indeed Keishla Marlen Rodriguez Ortiz, the 27-year-old woman they were looking for. The boxer and Ms. Rodriguez had reportedly known each other since middle school. According to Rodriguez's family members, she was pregnant with Verdejo's child and the boxer, who was married with a 2-year-old daughter, wasn't happy about it.
With each new detail, the story became more sordid.
It is alleged that the victim was thrown off a bridge after being punched in the face and injected with a syringe filled with an unidentified substance. Verdejo and an accomplice – who hasn't been charged and is identified only as a witness – then tied her hands and feet with wire and weighed the body down with a cinderblock before tossing it into the water. When the body was slow to sink, Verdejo allegedly fired a bullet at it. A shell casing was found on the bridge and the authorities have corroborating evidence from toll booth cameras.
As first reported by veteran boxing writer Jake Donovan, the boxer surrendered to FBI agents yesterday evening (Sunday). He appeared this morning via zoom before federal magistrate Camille Velez Rive who ordered him returned to prison and held without bail.
Many of the headlines in the tabloids say that Verdejo is facing the death penalty. That's technically true. The three crimes for which he has been charged — carjacking resulting in death, kidnapping resulting in death, and intentionally killing an unborn child – are federal crimes. As a commonwealth of the United States, Puerto Rico is subject to U.S. federal laws. However, Puerto Rico abolished capitol punishment in 1929. The country hasn't executed anyone since 1927 when a man named Pascual Ramos was hanged for killing his boss.
It's doubtful that prosecutors would pursue the death penalty unless the trial were moved to the mainland. However, domestic violence has become a hot-button issue in Puerto Rico and the national mood toward crimes of this nature is trending toward harsher retribution. Yesterday, according to the Daily Mail, hundreds of people, mostly women, including Rodriguez's sister, gathered at the bridge that spans the lagoon to pay their respects and demand justice for the victims of domestic violence.
Felix Verdejo turned pro  at age 19 after representing Puerto Rico in the 2012 London Olympics. He rose to #1 in the WBO lightweight rankings after defeating Oliver Flores in February of 2017, but was demoted for inactivity. There were extenuating circumstances including fights that fell out and a 6-day stay in a hospital following a motorcycle accident.
He returned to the ring after a 13 ½ month absence and suffered his first pro defeat. An unheralded Mexican, Antonio Lozada, stopped him in the final round, the 10th. Verdejo was ahead on two of the scorecards through the nine completed rounds. There were 23 seconds remaining in the contest when the bout was stopped.
Verdejo's most recent fight came in December of last year. He was stopped in the ninth round by Masayoshi Nakatani at the MGM Bubble in Las Vegas, reducing his pro record to 27-2. As happened against Lozada, Verdejo faded late, squandering a big lead.
Verdejo photo credit: Mikey Williams / Top Rank via Getty Images
Check out more boxing news on video at the Boxing Channel
To comment on this story in the Fight Forum CLICK HERE
In Boxing, a Quadrilogy is Rare. Going 2-2 Against Butterbean Even More So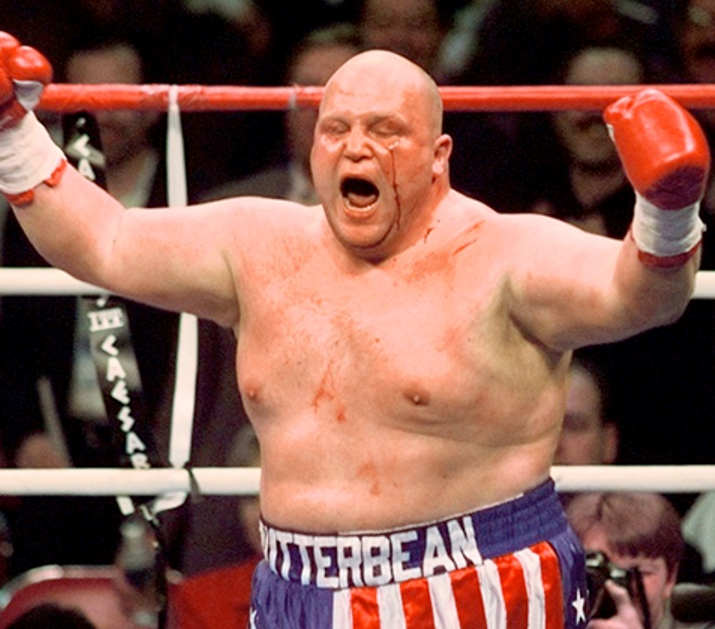 The late heavyweight Mitch Rose could not translate his Golden Gloves amateur skills to the pro ranks. He retired with an underwhelming 2-11-1 mark, but he did enough quirky things to put his life story in a book and one of the most memorable parts of it involved his being the first fighter to stop Eric "Butterbean" Esch, the legendary knockout machine who was trumpeted as the King of the Four Rounders. Rose did it on an undercard bout at Madison Square Garden on a show with Oscar De La Hoya and Arturo Gatti in the featured bouts.
"… Rose was a tried and true New Yorker. As loud and funny as he was, he never seemed to take himself too seriously. He had a big heart, a lot of dreams, and an emotional honesty that was extremely refreshing." — Robert Mladinich, NYFIGHTS
As Bernard Fernandez noted, Eric Esch, aka Butterbean, rebounded nicely. "(He) went on to continue his unlikely advance to stardom of sorts as a bald and blubbery blaster."
Butterbean, who also competed in MMA and in Tough Man competitions, developed a cult following and retired with a boxing record of 77-10-4. But Butterbean's last three losses as a boxer came between 2009-2013, long after he should have left the boxing scene.
Enter Kenny "The Raven" Craven (here's a recent picture).
 "Wherever you find yourself in time… Please remember to do the right thing." — Kenny Craven
A soulful and righteous man who believes in equality and walks the walk, Craven, a Mississippian from tiny Ellisville, is a follower of the teachings of Desmond Tutu. He is pro-people and pro-underdog and will not bypass injustice.
"I wrote a post yesterday on Facebook that expanded my view of the power of the people. All of us know we have this power but we have no idea how to use it. Well, we do know how it is used but we make a conscious decision not to. Why? We the people have supreme authority but we give this gift to just a few people who do not even like us." — Craven
Kenny Craven finished his pro boxing career with a 28-20 record. He won 23 by knockout BUT all of his 20 losses came by knockout and that made him an exciting fighter, if nothing else. Kenny was a fan favorite on the southern circuit and if his opponent didn't get him, he usually got his opponent and the fans could anticipate with near 100 percent accuracy that someone was getting knocked down.
The other thing about Kenny was that he fought a Who's Who of elite fighters. They included Henry Akinwande (37-1-1 coming in), Michael Nunn (55-4), Vaughn Bean (41-2 and no relation to Butterbean), Attila Levin (27-1), Albert Sosnowski (33-1), Clifford Etienne (28-2-2), Calvin Brock (25-0), Timur Ibragimov (20-0-1), Oliver McCall (46-8), Vassiliy Jirov (36-3-1), and Ezra Sellers (28-7).
In 1999, "The Raven" was stopped by Butterbean (48-1-2) in the second round on the undercard of the De La Hoya vs Trinidad fight at the Mandalay Bay Resort and Casino in Las Vegas. It was Alabama vs Mississippi. However, in the first round, Craven displayed the blueprint on how to beat the 'King of Four Rounders" by using a stick and run approach.
In 2005, Kenny lasted until the third round before the Bean (then 71-3-4) overwhelmed him.
 But just three months later in Jackson, Mississippi, Kenny finally figured out Esch and utilized the blueprint by jabbing and moving laterally, and won a majority decision over the heavily favored Bean in front of a small but howling and disbelieving crowd. The fact that Tonya Harding was on the undercard added to the circus-like atmosphere.
Then, three months later in Bejing, China, Kenny did it again. Yes, in China!!? This time he had his way with Eric and cruised to an easy win.
In a rare Quadrilogy, Kenny Craven went 2-2 with Eric Esch who never managed to knock Kenny down or even hurt him. No mean feat.
Mitch Rose had his moment. Kenny Craven had two. As Kenny says, "I did the best I could for a guy with three amateur fights and growing up in rural Mississippi. I loved every second, the good and the bad."
Ted Sares can be reached at tedsares@roadrunner.com
Check out more boxing news on video at the Boxing Channel
To comment on this story in the Fight Forum CLICK HERE