Sunday Report Card: The Ultimate Weekend Wrap-Up (Nov. 12 edition)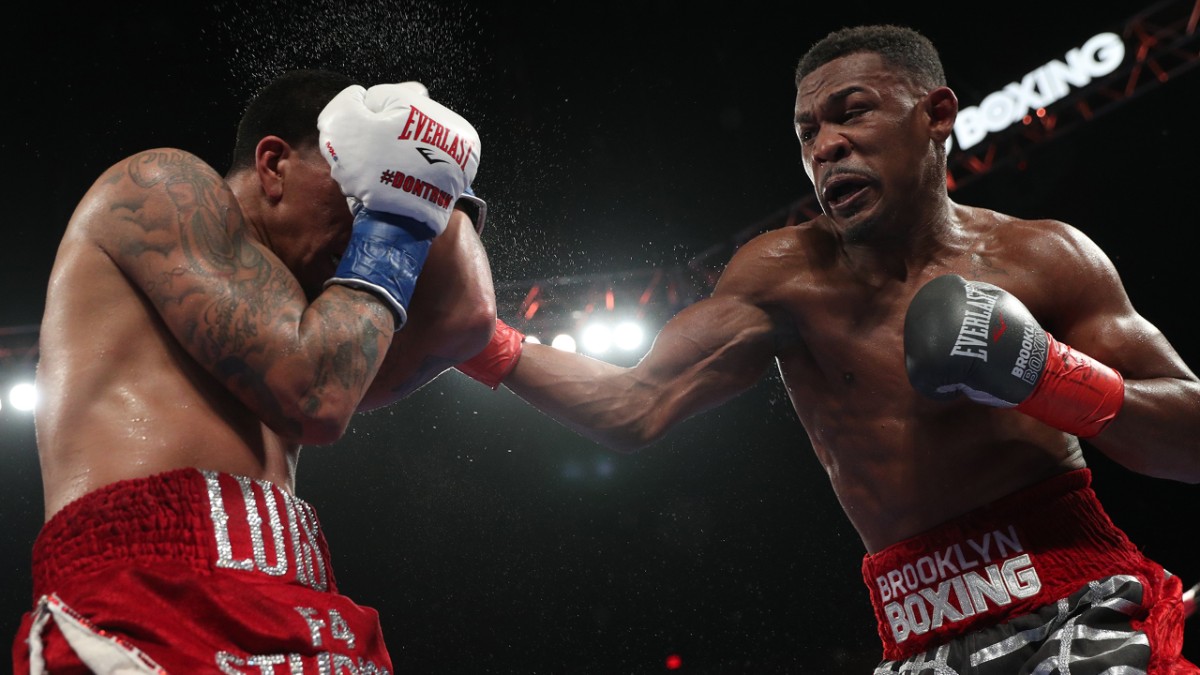 Sunday Report Card – The Sweet Science's Diego Morilla compiles a full weekend wrap-up of the most relevant boxing events in the worldwide scene with short recaps, links to videos and other articles, and all the info you need to keep up with the week's most important results. Every fight that matters is right here, in one place, and at one click away. Follow us every Sunday on Twitter at #SRC @TheSweetScience @MorillaBoxing
Uniondale, N.Y., Saturday, November 11
Daniel Jacobs UD 12 Luis Arias, middleweights
"The Miracle Man" is back, indeed. But his performance was not the spectacular return that we all hoped for after his career-best performance in his fight against Gennady Golovkin back in March. This time, he started with a bang by putting Arias (18-1, 9 KOs) in trouble early on, keeping the Cuban-Nicaraguan fighter in check and forcing him to clinch and avoid an early knockdown, and that recipe was repeated for pretty much the entire fight, with Arias in survival mode and Jacobs exploding in bursts of frustration occasionally, trying desperately to inflatable slide score a stoppage that never came. Jacobs was credited with a flash knockdown in the eleventh, but never really had the previously unbeaten Arias in danger as he cruised to a 118-109, 120-107 and 119-108 decision win that puts his record at 33-2 with 29 knockouts.
The winner goes on to: It shouldn't be hard to lure a top contender into the ring with Jacobs after such a not-so-explosive performance, but his sights are set on an eventual bout with the winner of GGG-Canelo II, so I guess an interim bout with a David Lemieux type would be the advisable move.
Read a full recap of this fight here at TheSweetScience.com.
Jarrell Miller TKO 9 Mariusz Wach, heavyweights
"Big Baby" Miller (20-0, 18 KO) stayed unbeaten with this entertaining (OK, I had very low expectations and they were almost fulfilled, OK?) bout against the towering Wach (33-3, 17 KOs), a former world title challenger from Poland who never showed any arguments to dispute Miller's aggressiveness in the ring. Apparently, Wach broke his hand sometime during the fight, and therefore lost all the limited pop that he had, so my guess is that Miller sensed that deficiency and went all-out knowing that he couldn't be hurt by Wach, bobbing and weaving his way in and exposing himself to Wach's now harmless punches until the inevitable stoppage happened.
The winner goes on to: Not a bad performance by Miller, but the "next level" should be considerably more difficult for him. Even someone as limited as Dominic Breazeale could be too big a hurdle for him.
Cletus Seldin TKO 3 Roberto Ortiz, junior welterweights
Well, I guess "The Hebrew Hammer" proved us all wrong, didn't he? Seldin (21-0, 17 KOs) was seen as a largely unproven fighter, but he dismissed those thoughts with an impressive annihilation of Ortiz (35-2-2, 26 KOs), a tough hombre who had only been stopped by Lucas Matthysse. A mere 30 seconds into the bout, Seldin dropped Ortiz with a right hand and sent him down a second time a short time later, continuing his assault in the following round and opening a cut over Ortiz's left eye. Finally, the referee considered he had seen enough and stopped the carnage towards the end of the third round.
Fresno, California, Saturday, November 11
Jose Ramirez TKO 2 Mike Reed, 10 rounds, junior welterweights
The "Fight for Water" had us all gasping for air in the end, instead. Ramirez (21-0, 16 KOs), local hero, unbeaten, 2012 Olympian, and community activist in this agricultural area of California, labeled the bout as "Fight for Water" to honor the area's complaints about water usage in the region. And he then honored his pledge to give his hometown fans a huge victory by destroying then-unbeaten Reed (23-1, 12 KOs) in just two rounds in front of a huge crowd. A demolishing knockdown in the second round set the tone for the stoppage, which came midway through the round amid pointless protests by the seriously outgunned Reed.
Artur Beterbiev TKO 12 Enrico Koelling, vacant IBF light heavyweight title
Beterbiev (12-0, 12 KOs) is making his case to become the next big KO artist from the former Soviet block, and he took a major step in this title-winning performance against a game but outgunned Koelling (23-2, 6 KOs) to claim the vacant IBF world title left behind by Andre Ward. True to his nature, Beterbiev moved in for the kill from the very beginning while Germany's Koelling tried to hold him off and outbox him, to no avail. The Russian powerhouse then decided to pick his spots and turn the fight into a progressive destruction effort, and he had his reward when there were less than 30 seconds left on the clock to finally lift his first title belt and initiate a championship run that could turn him into one of the most attractive fighters in the heavier divisions in the near future.
Also on this card:
Amir Imam TKO 4 Johnny Garcia, junior welterweights
Alex  Saucedo KO 3 Gustavo Vittori, junior welterweights 
Edinburgh, Scotland, Saturday, November 11
Josh Taylor KO 9 Miguel Vazquez, 12 rounds, junior welterweights
Nice win for the 26-year old Taylor (11-0, 10 KOs), who became the first man to stop the superbly technical and extraordinarily boring Vazquez in his 45-fight career (39-6, 15 KOs) with a right hook to the body. Vazquez, a veteran of many a Top Rank undercard during his four-year reign of tedium, still has all the technical ability that drove him to the championship but he is now in fringe contender/steppingstone territory, in stark contrast with Taylor's young march towards higher ground.
The winner goes on to: Taylor, trained by Shane McGuigan, has his work cut out for him in one of the toughest divisions in boxing, but if he can continue luring top names into his hunting grounds in the Highlands he is in good shape to build a resume strong enough to secure a title shot within two years or less.
Newcastle, England, Saturday, November 11
Liam Smith UD 12 Liam Williams, junior middleweights
Not so much controversy this time, huh? Their first "Battle of the Liams" ended in controversy after a clash of heads caused Williams to withdraw and thus forfeit the fight to Smith, renewing a bitter feud between both fighters that promised to end in this rematch, which was also a WBO title eliminator to boot. In the end, it was Smith (26-1-1, 14 KOs) who was able to settle the score, this time with a majority decision over Williams (16-2-1, 11 KOs) by scores of 117-111, 116-112 and 114-114, in a fight that clamors for a third episode – perhaps with a world title belt on the line next time.
Bilbao, Spain, Saturday, November 11
Kerman Lejarraga UD 10 Jose del Río, Spanish welterweight title
At first look, a Spanish welterweight title shouldn't be something to write home about, right? Well, this time it kinda is. Lejarraga (24-0, 19 KOs) is a legitimate blue chip prospect generating lots of interest in the Spanish peninsula, and this fight is a testimony of that since it was the main event of Spain's first-ever Pay-Per-View card. That was also in part thanks to Del Rio´s popularity as well, but it is clear that Lejarraga is the man to follow here. The card was called the "Night of the Million" in reference to the amount of people who were expected to tune in and probably the amount of money expected to be collected, and over 10,000 souls packed the local arena to witness the event. It is time to make Lejarraga move his act stateside and start putting new numbers in his record. The final ones for this night were given by the three scorecards of 99-90, 98-92 and 99-91 in favor of the "Revolver of Morga" over Del Rio (26-6, 7 KOs).
Cleveland, Ohio, Friday, November 10
Yuandale Evans SD 10 Luis Rosa, featherweights
We're talking real fights here. Beautiful stuff by Evans (20-1, 14 KOs), who did everything he could to avoid being the only once-beaten fighter in the ring that night and handed Rosa (23-1, 11 KOs) his first career loss after 10 stupendous rounds of action. The fight went back and forth and both fighters seemed on the verge of scoring a stoppage at certain points of the fight, with Rosa being closer to that goal in the fateful 8th where he rocked Evans into a corner. The tenth and final round was as emotional as it could get, with both fighters continuing to trade unpleasantries well after the final bell sounded as an early call for a rematch, which given the close scorecards  (96-94 and 96-93 for Evans, 96-94 for Rosa) is very possible.
Read a full recap of this fight here at TheSweetScience.com
Radzhab Butaev UD 8 Janer Gonzalez, welterweights
Not a very emotional fight, but a great display of boxing skills by Butaev (8-0, 6 KOs), who continued his unbeaten march at the expense of Gonzalez's (19-1-1, 15 KOs). The Russian former amateur star was wise enough to put rounds in the bank early on and then tough enough to weather the late surge from his Colombian foe, finishing ahead by scores of 80-72, 79-73, 77-75.
Photo credit: HBO Boxing
Sunday Report Card / Check out more boxing newson video at The Boxing Channel.
Pradabsri Upsets Menayothin, Ends the Longest Unbeaten Streak of Modern Times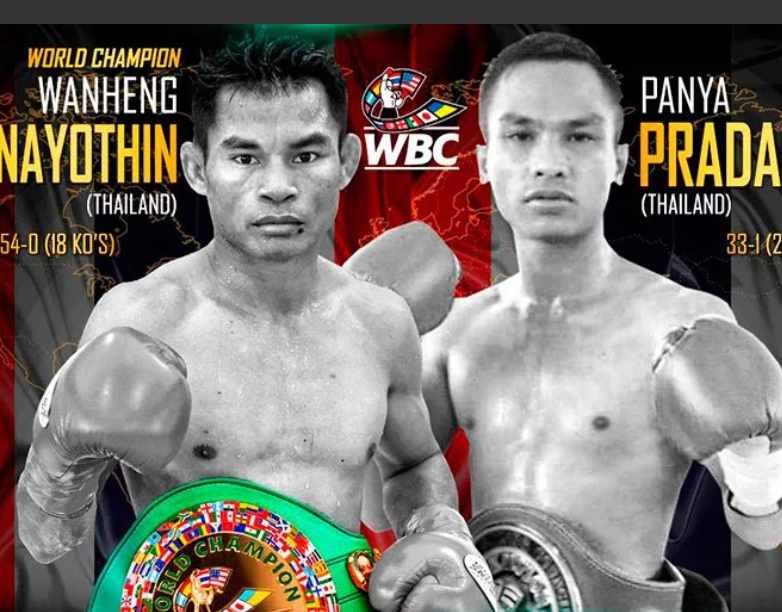 During the wee hours in the Americas, a big upset was brewing in Thailand. In Nakhon Sawan, a city roughly 150 miles north of Bangkok, Panya Pradabsri (aka Petchmanee CP Freshmart) out-pointed Wanheng Menayothin (aka Chayaphon Moonsri) in a domestic clash with international significance. Manayothin entered the bout with a 54-0 (18) record and was making the 13th defense of his WBC world minimumweight title.
Pradabsri had been defeated only once in 35 previous starts, but only 11 of his 34 victories had come against fighters with winning records. According to ringside reports, he kept Menayothin at bay with good fundamentals, a stiff jab, and good lateral movement. All three judges had it 115-113. The fight wasn't without controversy as Menayothin finished stronger and many folks scoring off the live video thought that he had done just enough to retain his title.
How good was/is Menayothin? That's a question that serious boxing fans will likely debate for decades.
In the summer of 2019, Menayothin signed a co-promotional deal with Oscar De La Hoya's Golden Boy Promotions. At time, GBP president Eric Gomez described him as one of the best fighters in the world. "We really want to bring him to the U.S. so people can see how talented he really is," Gomez told England's Sky Sports.
Menayothin was expected to make his U.S. debut in April of this year, but the pandemic ruined that plan. Earlier this year, he announced his retirement, but rescinded it after only two days.
Scottish boxing historian Matt McGrain, who has an exclusive arrangement with this web site, had lukewarm opinion of the Thai mighty-mite although he rated him the second-best 105-pound boxer of the decade, trailing only his countryman Thammanoon Niyomtrong (aka Knockout CP Freshmart).
"He is disciplined, strong, brings good pressure and is armed with a very decent range of punches," said McGrain, "(but his record) is comprised mostly of men any competent fighter would be expected to beat."
Although only one boxer from Thailand has been inducted into the International Boxing Hall of Fame (Khaosai Galaxy, class of 1999), the Southeast Asia nation has produced some outstanding boxers over the years – Chartchoi Chionoi, Sot Chitalada, Pongsaklek Wonjongkam, and Srisaket Sor Rungvisai to name just a few. The difference between these fighters and Wanheng Menayothin is that they all left the comfort zone of their homeland to score one or more important wins on foreign soil.
Menayothin may yet display his wares in a U.S. ring. But at age 35, an advanced age for small fighters in particular, we won't get to see him at his best and now that his bubble has been burst, disinviting further comparisons to Mayweather and Marciano, the curiosity factor has been tempered.
To comment on this story in the Fight Forum CLICK HERE
Yoka vs. Hammer Kicks Off the Thanksgiving Weekend Slate on ESPN+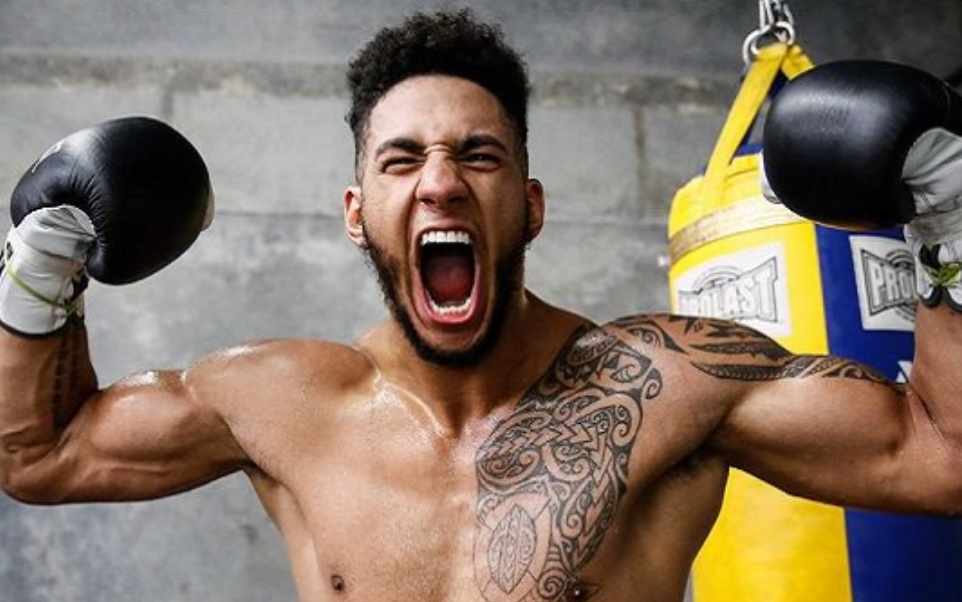 PRESS RELEASE— Tony Yoka, the dynamic heavyweight punching Parisian, aims to impress in his ESPN platform debut. Yoka, who won a super heavyweight gold medal for France at the 2016 Rio Olympics, will fight veteran Christian Hammer in a 10-rounder Friday at H Arena in Nantes, France.
Yoka-Hammer will stream live and exclusively this Friday, Nov. 27 in the United States on ESPN+ beginning at 2:55 p.m. ET/11:55 a.m. PT.
The ESPN+ stream will also include the return of unbeaten 2016 French Olympic gold medalist Estelle Yoka-Mossely against Pasa Malagic in an eight-round lightweight bout. Yoka and Yoka-Mossely, who have been married since 2018, welcomed their second child in May.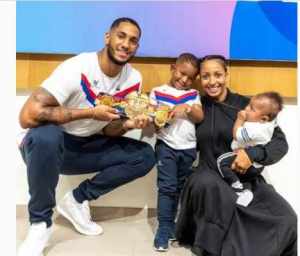 Earlier this year, Yoka inked a promotional agreement with Top Rank, which will co-promote him with Ringstar France.
"Tony Yoka's potential is limitless, and he is a grounded young man who is motivated to be a great professional fighter," said Top Rank chairman Bob Arum. "France has never had a world heavyweight champion, and I believe Tony is the one to bring the sport's biggest honor home."
The 28-year-old Yoka's stellar amateur run included a berth at the 2012 London Olympics and gold medals at the 2015 World Championships and 2010 Youth Olympic Games. Before his triumph in Rio, he'd already defeated the likes of former heavyweight world champion Joseph Parker and current undefeated prospects Joe Joyce and Ivan Dychko. At the Rio Olympics, he defeated Croatian standout Filip Hrgović in the semifinals and edged Joyce in the gold medal match.
As a professional, Yoka (8-0, 7 KOs) made his debut in June 2017 with a second-round stoppage over the previously undefeated Travis Clark. Apart from a decision win over Jonathan Rice in his second outing, Yoka has stopped every foe, including durable Englishman David "White Rhino" Allen and former European champion Alexander Dimitrenko. He made his 2020 debut Sept. 25 and stopped former world title challenger Johann Duhaupas in one round.
Hammer (25-6, 15 KOs) has fought many of the leading heavyweight names during his 12-year career, falling short against Tyson Fury, Luis Ortiz and Alexander Povetkin. He's notched myriad upset victories, including a highlight-reel knockout over David Price and a 2016 split decision over Erkan Teper for the WBO European belt. In March 2019, he went the 10-round distance against Ortiz and has not been stopped since Fury forced him to retire on his stool after eight rounds in their February 2015 clash.
Check out more boxing news on video at the Boxing Channel 
To comment on this story in the Fight Forum CLICK HERE
Avila Perspective, Chap. 115: Macho, Freddie and More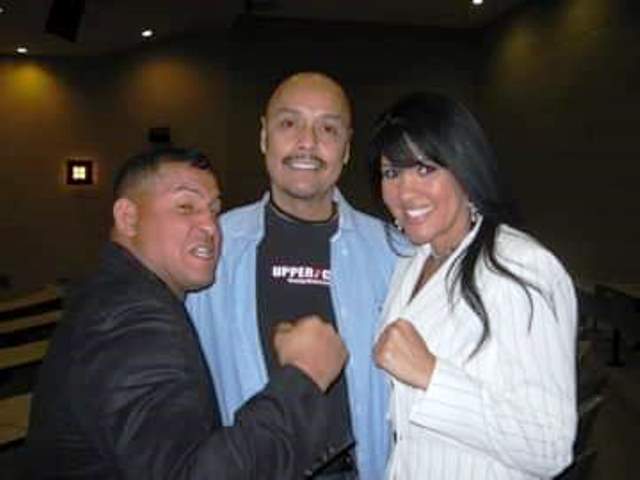 "Macho."
That single word is how Hector Camacho presented himself when introduced. It was the only word needed for the three-division world champion from Puerto Rico who was raised in Harlem, New York.
The first time I met Camacho was in a dark and packed Las Vegas nightclub in the MGM where he was a guest of Oscar De La Hoya back in March 2001. Though it was difficult to see, when Camacho was introduced, I could see the large gold medallion with the word "Macho" in letters six inches high.
Showtime network will be presenting a documentary called "Macho: The Hector Camacho Story" on Friday, December 4 at 9 p.m. on Showtime. It sparks memories of how a fighter in the lower weight classes grabbed the attention of the boxing world.
Camacho was more than flash or words, he was an electrifying boxer who stood out in the 1980s, an era dominated by the "Four Kings" Marvin Hagler, Tommy Hearns, Roberto Duran and Sugar Ray Leonard. Oh, and also a guy named Mike Tyson.
The fast-talking Camacho was a phenomenal fighter who swept aside opponents with his blinding speed and shocking power. It was against Los Angeles-based fighters like Refugio Rojas and Louie Loy that I first read about his exploits. Both were knocked out.
A third Southern California fighter John "Huero" Montes was thought to be the one to give Camacho a real challenge. The fight was televised to a national audience in February 1983. At the time I was watching it on a tiny black and white television and at 1:13 into the first round Camacho unleashed one of those lethal uppercuts and Montes was out-for-the-count.
Camacho arrived that day.
From that point on few could withstand the speedy southpaw's blinding charges. Six months later he stopped Mexico's "Bazooka" Limon to win the vacant super featherweight title.
One fighter who heard the final bell was Freddie Roach who could take a punch and knew a thing or two about fighting southpaws.
"I liked fighting southpaws," said Roach via telephone. "My dad taught me early to keep my foot on the outside and lead with right hands."
Roach had never lost to a southpaw. The winner that day between Camacho and Roach in Sacramento, on December 1985, was supposedly going to fight Puerto Rico's heavy-handed Edwin Rosario.
Using his surefire method of fighting southpaws, Roach managed a knockdown of Camacho with the help of his foot. But it was not enough.
"He was very difficult. Lot of people raved about how fast his speed was. You didn't really realize until you got into the ring with him," said Roach. "I wasn't the slowest, but wasn't the fastest. I just couldn't keep up."
Despite using roughhouse tactics against the lefty speedster, Roach said that Camacho invited him to dinner after the fight.
That pretty much explains Camacho, a talented and big-hearted guy.
Last Stages
The last time I ran into Camacho was at the Pechanga Resort and Casino when he and Mia St. John were about to fight on the same boxing card in 2009. He was much heavier but still able to defeat middleweights.
How good was Camacho?
He defeated two of the Four Kings when he beat Roberto Duran twice and stopped Sugar Ray Leonard by knockout when they fought in 1997. Yes, Leonard was 41 and had not fought in six years, but this was Sugar Ray Leonard.
"I didn't think he would ever beat Leonard," said Roach.
Neither did Leonard.
"I just felt that I was a bigger man. I was smarter, stronger, all those things, but the first time he threw a punch, it was like, Pow! And I said, 'Wow, that hurt,'" said Leonard about their encounter. "I tried the best I could to just go the distance. When he was at his best, he was a thing of beauty."
What I remember after Camacho beat Leonard was how sincerely apologetic he was after the victory. He could talk the talk and walk the walk but inside he remained the kid from Harlem who was given extraordinary talent. And he was humbled by it.
Roach remembers their dinner together after their fight.
"That night he took me out to dinner with his friends and said you fought a good fight," said Roach adding that Camacho was a very likeable guy. "I saw him along the way in his career."
Roach, who would later train another astoundingly fast southpaw named Manny Pacquiao, said he never fought anyone again as talented as Camacho.
"You hear rumors of drug problems and training problems. But when he fought me, he was in for 10 and I tried every trick in the book but it didn't work. He was in a higher class than I was," Roach said. "He was one of the best fighters in the world."
Don't miss this Showtime documentary next week.
Jacobs and Rosado
Speaking of Roach, the famous trainer will be working the corner of Gabe Rosado (25-12-1, 14 KOs) when he meets Daniel Jacobs (36-3, 30 KOs) on Friday, Nov. 27, at the Seminole Hard Rock Hotel and Casino in Florida. DAZN will stream the Matchroom Boxing card.
It's Philly versus Brooklyn.
Rosado has long proven to be a real professional who keeps adding elements to his fight game. Paired with Roach he has further developed under the guidance of the Southern California-based trainer. Plus, Rosado can plain fight.
Jacobs, a former world champion, has proven to be an elite middleweight and looks just as comfortable as a super middleweight.
Expect the kind of prize fight they used to show in the Golden Age of boxing in the 1950s when you had guys like Johnny Saxton fighting Denny Moyer. It should be that kind of battle of wits and skill. I'm looking forward to it.
Photo: Hector Camacho, David Avila, and Mia St. John. Photo credit: Al Applerose
Check out more boxing news on video at the Boxing Channel 
To comment on this story in the Fight Forum CLICK HERE