Sunday Report Card: The Ultimate Weekend Wrap-Up (Nov. 12 edition)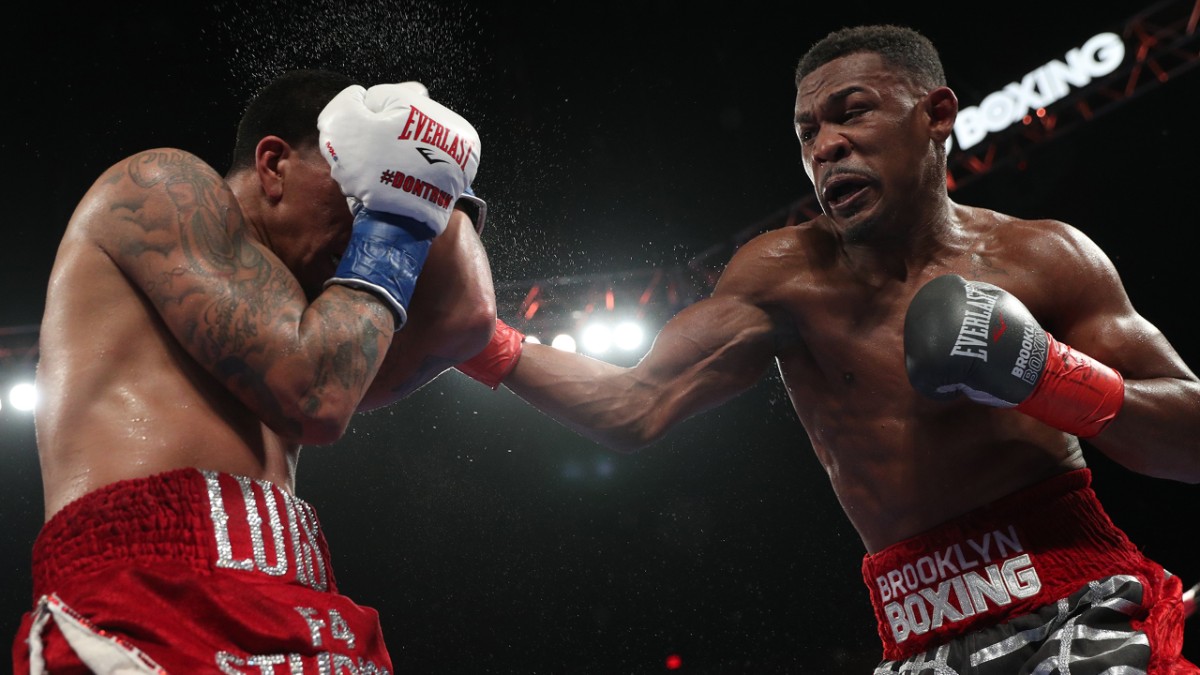 Sunday Report Card – The Sweet Science's Diego Morilla compiles a full weekend wrap-up of the most relevant boxing events in the worldwide scene with short recaps, links to videos and other articles, and all the info you need to keep up with the week's most important results. Every fight that matters is right here, in one place, and at one click away. Follow us every Sunday on Twitter at #SRC @TheSweetScience @MorillaBoxing
Uniondale, N.Y., Saturday, November 11
Daniel Jacobs UD 12 Luis Arias, middleweights
"The Miracle Man" is back, indeed. But his performance was not the spectacular return that we all hoped for after his career-best performance in his fight against Gennady Golovkin back in March. This time, he started with a bang by putting Arias (18-1, 9 KOs) in trouble early on, keeping the Cuban-Nicaraguan fighter in check and forcing him to clinch and avoid an early knockdown, and that recipe was repeated for pretty much the entire fight, with Arias in survival mode and Jacobs exploding in bursts of frustration occasionally, trying desperately to inflatable slide score a stoppage that never came. Jacobs was credited with a flash knockdown in the eleventh, but never really had the previously unbeaten Arias in danger as he cruised to a 118-109, 120-107 and 119-108 decision win that puts his record at 33-2 with 29 knockouts.
The winner goes on to: It shouldn't be hard to lure a top contender into the ring with Jacobs after such a not-so-explosive performance, but his sights are set on an eventual bout with the winner of GGG-Canelo II, so I guess an interim bout with a David Lemieux type would be the advisable move.
Read a full recap of this fight here at TheSweetScience.com.
Jarrell Miller TKO 9 Mariusz Wach, heavyweights
"Big Baby" Miller (20-0, 18 KO) stayed unbeaten with this entertaining (OK, I had very low expectations and they were almost fulfilled, OK?) bout against the towering Wach (33-3, 17 KOs), a former world title challenger from Poland who never showed any arguments to dispute Miller's aggressiveness in the ring. Apparently, Wach broke his hand sometime during the fight, and therefore lost all the limited pop that he had, so my guess is that Miller sensed that deficiency and went all-out knowing that he couldn't be hurt by Wach, bobbing and weaving his way in and exposing himself to Wach's now harmless punches until the inevitable stoppage happened.
The winner goes on to: Not a bad performance by Miller, but the "next level" should be considerably more difficult for him. Even someone as limited as Dominic Breazeale could be too big a hurdle for him.
Cletus Seldin TKO 3 Roberto Ortiz, junior welterweights
Well, I guess "The Hebrew Hammer" proved us all wrong, didn't he? Seldin (21-0, 17 KOs) was seen as a largely unproven fighter, but he dismissed those thoughts with an impressive annihilation of Ortiz (35-2-2, 26 KOs), a tough hombre who had only been stopped by Lucas Matthysse. A mere 30 seconds into the bout, Seldin dropped Ortiz with a right hand and sent him down a second time a short time later, continuing his assault in the following round and opening a cut over Ortiz's left eye. Finally, the referee considered he had seen enough and stopped the carnage towards the end of the third round.
Fresno, California, Saturday, November 11
Jose Ramirez TKO 2 Mike Reed, 10 rounds, junior welterweights
The "Fight for Water" had us all gasping for air in the end, instead. Ramirez (21-0, 16 KOs), local hero, unbeaten, 2012 Olympian, and community activist in this agricultural area of California, labeled the bout as "Fight for Water" to honor the area's complaints about water usage in the region. And he then honored his pledge to give his hometown fans a huge victory by destroying then-unbeaten Reed (23-1, 12 KOs) in just two rounds in front of a huge crowd. A demolishing knockdown in the second round set the tone for the stoppage, which came midway through the round amid pointless protests by the seriously outgunned Reed.
Artur Beterbiev TKO 12 Enrico Koelling, vacant IBF light heavyweight title
Beterbiev (12-0, 12 KOs) is making his case to become the next big KO artist from the former Soviet block, and he took a major step in this title-winning performance against a game but outgunned Koelling (23-2, 6 KOs) to claim the vacant IBF world title left behind by Andre Ward. True to his nature, Beterbiev moved in for the kill from the very beginning while Germany's Koelling tried to hold him off and outbox him, to no avail. The Russian powerhouse then decided to pick his spots and turn the fight into a progressive destruction effort, and he had his reward when there were less than 30 seconds left on the clock to finally lift his first title belt and initiate a championship run that could turn him into one of the most attractive fighters in the heavier divisions in the near future.
Also on this card:
Amir Imam TKO 4 Johnny Garcia, junior welterweights
Alex  Saucedo KO 3 Gustavo Vittori, junior welterweights 
Edinburgh, Scotland, Saturday, November 11
Josh Taylor KO 9 Miguel Vazquez, 12 rounds, junior welterweights
Nice win for the 26-year old Taylor (11-0, 10 KOs), who became the first man to stop the superbly technical and extraordinarily boring Vazquez in his 45-fight career (39-6, 15 KOs) with a right hook to the body. Vazquez, a veteran of many a Top Rank undercard during his four-year reign of tedium, still has all the technical ability that drove him to the championship but he is now in fringe contender/steppingstone territory, in stark contrast with Taylor's young march towards higher ground.
The winner goes on to: Taylor, trained by Shane McGuigan, has his work cut out for him in one of the toughest divisions in boxing, but if he can continue luring top names into his hunting grounds in the Highlands he is in good shape to build a resume strong enough to secure a title shot within two years or less.
Newcastle, England, Saturday, November 11
Liam Smith UD 12 Liam Williams, junior middleweights
Not so much controversy this time, huh? Their first "Battle of the Liams" ended in controversy after a clash of heads caused Williams to withdraw and thus forfeit the fight to Smith, renewing a bitter feud between both fighters that promised to end in this rematch, which was also a WBO title eliminator to boot. In the end, it was Smith (26-1-1, 14 KOs) who was able to settle the score, this time with a majority decision over Williams (16-2-1, 11 KOs) by scores of 117-111, 116-112 and 114-114, in a fight that clamors for a third episode – perhaps with a world title belt on the line next time.
Bilbao, Spain, Saturday, November 11
Kerman Lejarraga UD 10 Jose del Río, Spanish welterweight title
At first look, a Spanish welterweight title shouldn't be something to write home about, right? Well, this time it kinda is. Lejarraga (24-0, 19 KOs) is a legitimate blue chip prospect generating lots of interest in the Spanish peninsula, and this fight is a testimony of that since it was the main event of Spain's first-ever Pay-Per-View card. That was also in part thanks to Del Rio´s popularity as well, but it is clear that Lejarraga is the man to follow here. The card was called the "Night of the Million" in reference to the amount of people who were expected to tune in and probably the amount of money expected to be collected, and over 10,000 souls packed the local arena to witness the event. It is time to make Lejarraga move his act stateside and start putting new numbers in his record. The final ones for this night were given by the three scorecards of 99-90, 98-92 and 99-91 in favor of the "Revolver of Morga" over Del Rio (26-6, 7 KOs).
Cleveland, Ohio, Friday, November 10
Yuandale Evans SD 10 Luis Rosa, featherweights
We're talking real fights here. Beautiful stuff by Evans (20-1, 14 KOs), who did everything he could to avoid being the only once-beaten fighter in the ring that night and handed Rosa (23-1, 11 KOs) his first career loss after 10 stupendous rounds of action. The fight went back and forth and both fighters seemed on the verge of scoring a stoppage at certain points of the fight, with Rosa being closer to that goal in the fateful 8th where he rocked Evans into a corner. The tenth and final round was as emotional as it could get, with both fighters continuing to trade unpleasantries well after the final bell sounded as an early call for a rematch, which given the close scorecards  (96-94 and 96-93 for Evans, 96-94 for Rosa) is very possible.
Read a full recap of this fight here at TheSweetScience.com
Radzhab Butaev UD 8 Janer Gonzalez, welterweights
Not a very emotional fight, but a great display of boxing skills by Butaev (8-0, 6 KOs), who continued his unbeaten march at the expense of Gonzalez's (19-1-1, 15 KOs). The Russian former amateur star was wise enough to put rounds in the bank early on and then tough enough to weather the late surge from his Colombian foe, finishing ahead by scores of 80-72, 79-73, 77-75.
Photo credit: HBO Boxing
Sunday Report Card / Check out more boxing newson video at The Boxing Channel.
Jamal James Out-Punches Thomas Dulorme and Other Results from L.A.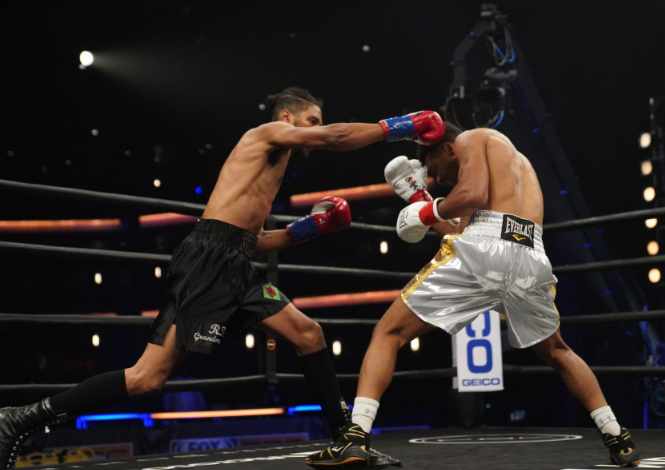 In a night of frustration Jamal James handily defeated Thomas Dulorme to win a version of a welterweight title by unanimous decision in the middle of Los Angeles without a single fan present on Saturday.
At the Microsoft Theater at LA Live, James (27-1, 12 KOs) out-punched Puerto Rico's Dulorme (25-4-1, 16 KOs) to win the interim WBA welterweight belt. Usually on a Saturday night the area would be packed with people.
In one of prizefighting's most talented divisions, the angular figure of James showed off his boxing prowess with an unneeded touch of illegal defense to boot. Dulorme, a rugged, heavy-handed Boricua never could figure out the solution against the taller fighter.
James showed off quick feet and quick hands and more surprisingly showed off the ability to fight inside. Instead of taking advantage of the inside war, Dulorme often held instead of punched. It was frustrating to watch.
Another frustrating tactic was James turning his back to his foe as a means of defense. He continued to use the same tactic until referee Tom Taylor warned him of the trick. A fighter is never supposed to turn his back. It can be seen as a form of submission.
Once James stopped turning his back, he went on full attack and used his jabs and combinations to befuddle the slower and unsure Dulorme. After 12 rounds the judges were sure James was the winner and gave him the decision by scores 115-113, 116-112, 117-111.
Jamal James now enters the upper realm of welterweight contenders.
In another welterweight clash, Luke Santamaria (11-1-1, 7 KOs) scored a first round knockdown over the much taller Mykal Fox (22-2) and from there on it was all-out war.
Santamaria was able to fight inside against Fox who decided to forsake his reach advantage and entered trench warfare. Though the action was fierce Santamaria was able to slip and counter more than Fox. That was enough to convince the judges that Santamaria was the winner in this spirited fight 96-93, 97-92 and 99-90,
The knockdown scored by Santamaria came early when the Southern California fighter connected with five consecutive blows and downed Fox in the corner. The fighter out of Maryland recovered and refrained from using his height and range and instead fought nose-to-nose. Though he fought gallantly the early knockdown gained Santamaria an advantage he would never lose.
Super Middleweights
In only his third pro fight David Morrell (3-0, 2 KOs) defeated experienced veteran Lennox Allen (22-1-1, 14 KOs) in a battle of southpaws to win the interim WBA super middleweight title. Morrell, 22, was a Cuban amateur star and looked strong. But it wasn't an easy fight against 35-year-old Allen who set numerous traps against the Cuban fighter and landed. But not enough to hurt the youngster who won by decision 118-110, 119-109, 120-108.
Super Lightweights
Texas fighter Omar Juarez (8-0, 4 KOs) had the better skill but found it tough to find the very athletic Willie Shaw (12-2, 8 KOs) in winning by unanimous decision after six rounds. Juarez, 21, was more precise in his punching but was hit here and there by the long quick hands of Shaw. No knockdowns as judges scored in favor of Juarez 59-55, 58-56, 60-54.
Other Bouts
Brooklyn's Michael Coffie (10-0, 7 KOs) was too big and strong for Oxnard's Luis Pena (6-1, 6 KOs) and won by knockout at 1:35 of the fifth round. A counter left hook dropped Pena in the third round. Coffie also connected in the fifth and floored Pena during a furious exchange. Pena beat the count but was clobbered by a few more punches, forcing referee Tom Taylor to end the fight.
Vito Mielnicki (6-0, 4 KOs) knocked out the taller Chris Rollins (3-2, 2 KOs) to win their welterweight bout in the second round. Mielnicki connected during a lapse in defense by MMA fighter Rollins and dropped him. Though he beat the count he was under attack when referee Jerry Cantu stopped the fight at 2:19 of the second round. Rollins protested at the stoppage. Mielnicki, 18, had a rough year as he missed high school graduation due to the pandemic.
Photo credit: Sean Michael Ham / TGB Promotions
Check out more boxing news on video at The Boxing Channel 
To comment on this story in the Fight Forum CLICK HERE
COVID-19 Has Combat Sports on the Ropes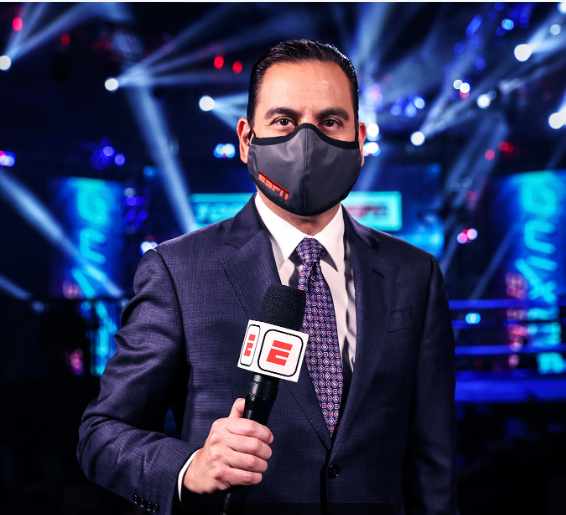 By Special Correspondent Ryan Sakacs — After months of sparring between players unions and league executives, the major American sports have finally overcome the legal and logistical hurdles delaying the restart of stalled seasons. While empty stadiums and shortened schedules will be this year's hallmark, the financial burden associated with COVID-19 protocols will present a lasting challenge for many combat sports promoters.
State athletic commissions – charged with protecting the health and safety of fighters and promoting the integrity of competition – will play a critical role in shaping the post-pandemic future of boxing and mixed martial arts. Without a unified governing body, rules and regulations can vary significantly from state-to-state – from trivial topics, such as ring attire and facial hair, to more meaningful matters, including the selection of officials, the use of instant replay, and medical standards for licensing (i.e., neurological and PED testing). Coronavirus testing and distancing policies will also differ considerably.
Some athletic commissions and promotional companies have taken the lead in developing effective, albeit costly, measures. The UFC was the first major American sport to return to live competition in early May when it held three full fight cards in eight days – an ambitious feat even in a pre-pandemic world. According to UFC President Dana White, the company coordinated with the Florida State Boxing Commission to administer over 1,100 tests to every fighter, second, and staff member at a cost of $150,000 per event.
Despite the fiscal challenges, the UFC hosted four events at its Las Vegas headquarters in June.  Under the supervision of the Nevada State Athletic Commission, the UFC reportedly conducted more than 2,500 tests and implemented strict rules requiring fighters and seconds to self-isolate upon arriving at the facility until Friday's official weigh-in. The UFC continued to bolster its regulations during its four-event campaign on "Fight Island" in Abu Dhabi, which featured extensive testing, a "safe zone" off limits to the general public, nightly temperature screenings, and ample on-site medical personnel.
Top Rank led boxing's return in June with twice-weekly cards in Las Vegas. According to CEO Bob Arum, the undertaking has been an expensive one – increased testing will cost the company at least $25,000 per event, in addition to the price of extra security, hotel rooms, and specialized dining arrangements.
While heavyweights like the UFC and Top Rank (with substantial financial resources and lucrative broadcasting deals) can overcome higher overhead costs and reduced revenues, live events may be cost prohibitive for the foreseeable future for local promoters operating on more modest budgets.
Joe DeGuardia, President and CEO of Star Boxing, expects exponential harm for the sport and beyond. "Even before COVID, club shows in New York were hanging on by a thread.  The cost was already increasing. Under these circumstances, with the added expense of testing and no fans, it's impossible.  Losing club shows for a significant period will kill boxing. They're the lifeblood of the sport. People don't realize that the local shows fuel the major events.  Many of those fighters end up on major cards at Madison Square Garden and Barclays."
It's a story DeGuardia has seen play out with his own stable of fighters. Chris Algieri and Joe Smith Jr. both rose to regional renown in the Paramount Theatre in Huntington, Long Island before achieving major success on the international level. Algieri went on to face some of the sport's biggest stars in Manny Pacquiao, Amir Khan, and Errol Spence after winning the WBO International junior welterweight title in 2014. Smith, Jr., of course, retained the WBC International light heavyweight title in 2016 with a devastating knockout of all-time-great Bernard Hopkins.
DeGuardia also laments broader economic effects due to COVID-19 restrictions. "We would pack New York Avenue in Huntington for our shows at the Paramount. Those local restaurants, bars, and hotels will also lose out on money. Before COVID, we had events planned for months in advance.  Now there's nothing."
The downturn has already hit the industry hard. For instance, referees, judges, and athletic commission staff in every state have and will continue to lose out on income because of the lack of events – In 2019, California regulated more than 120 boxing and MMA cards, compared to 18 so far in 2020.
Furthermore, some states also stand to lose considerable revenue." Last year, Governor Andrew Cuomo announced, "Combat sports industry has produced unprecedented revenue and economic activity for New York since the introduction of Mixed Martial Arts two years ago." This year, however, the state has only held three events to date.
The coronavirus presents another existential crisis for combat sports. The demise of boxing has been touted for years, and its battle for relevance is ongoing. Just a generation ago, boxing was one of the world's most popular sports, and its stars were some of the most recognizable athletes. Sadly, it now resembles a niche sport, like thoroughbred racing, with casual viewers only tuning in for mega-fights. Meanwhile, MMA withstood intense political pressure and public outcry for two decades before establishing itself as a legitimate international attraction. However, if club shows fall victim to the "new normal," professional fighting could permanently lose its standing as a main event.
—
Ryan Sakacs is the former chief of the Prescription Drug Investigation Unit with the New York City's Special Narcotics Prosecutor. During his 12-year career as an assistant district attorney, he founded the country's most prolific prosecutorial unit dedicated to combating the surge in prescription drug diversion, addiction, and fatal overdoses. Sakacs has also served as counsel to the New York State Athletic Commission.
Pictured: Bernardo Osuna at the MGM/Top Rank "Bubble"— Photo credit: Mikey Williams
Check out more boxing news on video at The Boxing Channel 
To comment on this story in the Fight Forum CLICK HERE
Harper and Jonas Battle to a Draw in Episode 2 of 'Matchroom Fight Camp'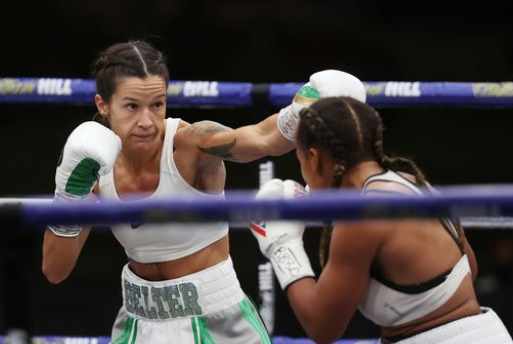 The second edition of Eddie Hearn's "Fight Camp" summer series unfolded today in the backyard of the mansion that serves as the Matchroom Sport headquarters in Brentwood, Essex, England. The main event was ostensibly the 12-round bout for the Commonwealth cruiserweight title between Chris Billam-Smith and Nathan Thorley, but most of the pre-event talk was about the women's match between Terri Harper and Natasha Jonas which went last in the program. Harper was making the first defense of the WBC world super featherweight title that she took from long-reigning title-holder Ewa Wahlstrom in February.
Harper vs. Jonas, originally scheduled for April 24, was the first-ever female world title fight between two Brits and it proved to be a very entertaining scuffle, building on the momentum of the inaugural Fight Camp offering last Saturday when Ted Cheeseman and Sam Eggington put on a splendid show.
When the smoke cleared, Terri Harper retained her belt by virtue of earning a draw, but the question of which English boxer was superior remained unanswered.
At age 23, Harper was younger by 13 years, but Liverpool's Jonas, a 2012 Olympian, had the stronger amateur pedigree. Jonas started fast but Harper had the edge plus youth on her side as the bout wended into the final furlongs. In round eight, however, Jonas rocked her with a left-right combination and she hurt her again in the next round.
Harper had to dig deep in the final round to arrest the momentum and she rose to the occasion, staving off defeat. The judges had it 96-94 for Harper, 96-95 for Jonas, and 95-95.
Harper remained undefeated at 11-0. It was the second loss for Jonas in 11 pro fights.
Terri Harper is a good human interest story. Before she was coaxed out of retirement in 2017, she was peeling potatoes in a fish and chips shop in her hometown of Denaby in County Yorkshire. As for her next fight, she now has three apparent options: a unification fight with Poland's Ewa Brodnicka, the WBO belt-holder and a recent Matchroom signee, a match with Mikaela Mayer (Brodnicka's "mandatory"), or a rematch with Natasha Jonas. Whatever develops, her next match will be eagerly anticipated.
Other Bouts
The fight between Chris Billam-Smith and Nathan Thorley, which actually went second in the bout order, was a soft defense for Billam-Smith. Trained by Shane McGuigan, Billam-Smith (11-1, 10 KOs) blasted out Thorley in the second round. He ended the one-sided scrap with a short right hand as Thorley was boring in, knocking him to his knees. Thorley beat the count, but his legs were unsteady and the referee properly stopped it.
A 27-year-old Welshman, Thorley came in undefeated (14-0), but he had been feasting on slop – his previous opponents were collectively 106-549 – and the result wasn't unexpected. The official time was 2:05.
In a 10-round contest in the super-welterweight division, Liverpool's Anthony Fowler, another Shane McGuigan protégé, improved to 13-1 (10) with a seventh-round stoppage of game but out-gunned Adam Harper (9-2). Fowler, a gold medal winner at the 2014 Commonwealth Games as a middleweight, had no fear of the light-punching Harper and was in full control from the get-go. His lone defeat came by split decision to rising contender Scott Fitzgerald.
In a featherweight contest, 20-year-old Leeds southpaw Ivan "Hopey" Price improved to 3-0 with a 6-round shutout over Jonny Phillips (5-5).
A fifth fight, a scheduled 8-round clash between lightweights Kane Baker and Aqib Fiaz, was canceled when Fiaz took ill.
Check out more boxing news on video at The Boxing Channel 
To comment on this story in the Fight Forum CLICK HERE