Sunday Report Card: The Ultimate Weekend Wrap-Up (Nov. 12 edition)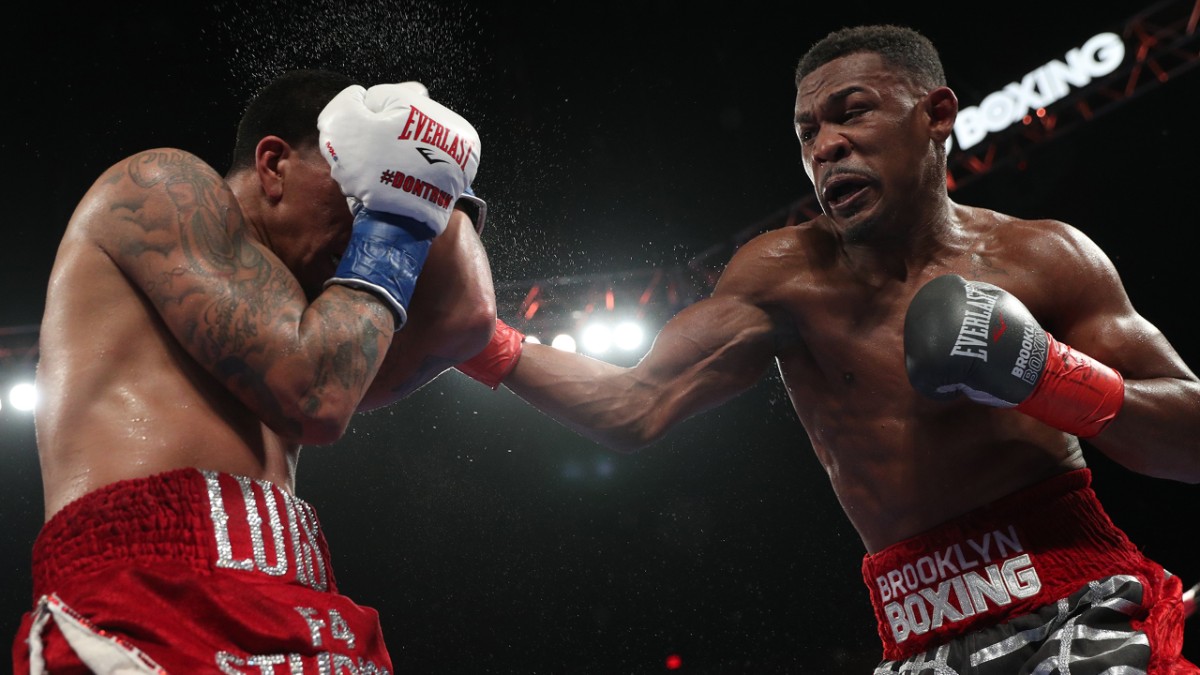 Sunday Report Card – The Sweet Science's Diego Morilla compiles a full weekend wrap-up of the most relevant boxing events in the worldwide scene with short recaps, links to videos and other articles, and all the info you need to keep up with the week's most important results. Every fight that matters is right here, in one place, and at one click away. Follow us every Sunday on Twitter at #SRC @TheSweetScience @MorillaBoxing
Uniondale, N.Y., Saturday, November 11
Daniel Jacobs UD 12 Luis Arias, middleweights
"The Miracle Man" is back, indeed. But his performance was not the spectacular return that we all hoped for after his career-best performance in his fight against Gennady Golovkin back in March. This time, he started with a bang by putting Arias (18-1, 9 KOs) in trouble early on, keeping the Cuban-Nicaraguan fighter in check and forcing him to clinch and avoid an early knockdown, and that recipe was repeated for pretty much the entire fight, with Arias in survival mode and Jacobs exploding in bursts of frustration occasionally, trying desperately to inflatable slide score a stoppage that never came. Jacobs was credited with a flash knockdown in the eleventh, but never really had the previously unbeaten Arias in danger as he cruised to a 118-109, 120-107 and 119-108 decision win that puts his record at 33-2 with 29 knockouts.
The winner goes on to: It shouldn't be hard to lure a top contender into the ring with Jacobs after such a not-so-explosive performance, but his sights are set on an eventual bout with the winner of GGG-Canelo II, so I guess an interim bout with a David Lemieux type would be the advisable move.
Read a full recap of this fight here at TheSweetScience.com.
Jarrell Miller TKO 9 Mariusz Wach, heavyweights
"Big Baby" Miller (20-0, 18 KO) stayed unbeaten with this entertaining (OK, I had very low expectations and they were almost fulfilled, OK?) bout against the towering Wach (33-3, 17 KOs), a former world title challenger from Poland who never showed any arguments to dispute Miller's aggressiveness in the ring. Apparently, Wach broke his hand sometime during the fight, and therefore lost all the limited pop that he had, so my guess is that Miller sensed that deficiency and went all-out knowing that he couldn't be hurt by Wach, bobbing and weaving his way in and exposing himself to Wach's now harmless punches until the inevitable stoppage happened.
The winner goes on to: Not a bad performance by Miller, but the "next level" should be considerably more difficult for him. Even someone as limited as Dominic Breazeale could be too big a hurdle for him.
Cletus Seldin TKO 3 Roberto Ortiz, junior welterweights
Well, I guess "The Hebrew Hammer" proved us all wrong, didn't he? Seldin (21-0, 17 KOs) was seen as a largely unproven fighter, but he dismissed those thoughts with an impressive annihilation of Ortiz (35-2-2, 26 KOs), a tough hombre who had only been stopped by Lucas Matthysse. A mere 30 seconds into the bout, Seldin dropped Ortiz with a right hand and sent him down a second time a short time later, continuing his assault in the following round and opening a cut over Ortiz's left eye. Finally, the referee considered he had seen enough and stopped the carnage towards the end of the third round.
Fresno, California, Saturday, November 11
Jose Ramirez TKO 2 Mike Reed, 10 rounds, junior welterweights
The "Fight for Water" had us all gasping for air in the end, instead. Ramirez (21-0, 16 KOs), local hero, unbeaten, 2012 Olympian, and community activist in this agricultural area of California, labeled the bout as "Fight for Water" to honor the area's complaints about water usage in the region. And he then honored his pledge to give his hometown fans a huge victory by destroying then-unbeaten Reed (23-1, 12 KOs) in just two rounds in front of a huge crowd. A demolishing knockdown in the second round set the tone for the stoppage, which came midway through the round amid pointless protests by the seriously outgunned Reed.
Artur Beterbiev TKO 12 Enrico Koelling, vacant IBF light heavyweight title
Beterbiev (12-0, 12 KOs) is making his case to become the next big KO artist from the former Soviet block, and he took a major step in this title-winning performance against a game but outgunned Koelling (23-2, 6 KOs) to claim the vacant IBF world title left behind by Andre Ward. True to his nature, Beterbiev moved in for the kill from the very beginning while Germany's Koelling tried to hold him off and outbox him, to no avail. The Russian powerhouse then decided to pick his spots and turn the fight into a progressive destruction effort, and he had his reward when there were less than 30 seconds left on the clock to finally lift his first title belt and initiate a championship run that could turn him into one of the most attractive fighters in the heavier divisions in the near future.
Also on this card:
Amir Imam TKO 4 Johnny Garcia, junior welterweights
Alex  Saucedo KO 3 Gustavo Vittori, junior welterweights 
Edinburgh, Scotland, Saturday, November 11
Josh Taylor KO 9 Miguel Vazquez, 12 rounds, junior welterweights
Nice win for the 26-year old Taylor (11-0, 10 KOs), who became the first man to stop the superbly technical and extraordinarily boring Vazquez in his 45-fight career (39-6, 15 KOs) with a right hook to the body. Vazquez, a veteran of many a Top Rank undercard during his four-year reign of tedium, still has all the technical ability that drove him to the championship but he is now in fringe contender/steppingstone territory, in stark contrast with Taylor's young march towards higher ground.
The winner goes on to: Taylor, trained by Shane McGuigan, has his work cut out for him in one of the toughest divisions in boxing, but if he can continue luring top names into his hunting grounds in the Highlands he is in good shape to build a resume strong enough to secure a title shot within two years or less.
Newcastle, England, Saturday, November 11
Liam Smith UD 12 Liam Williams, junior middleweights
Not so much controversy this time, huh? Their first "Battle of the Liams" ended in controversy after a clash of heads caused Williams to withdraw and thus forfeit the fight to Smith, renewing a bitter feud between both fighters that promised to end in this rematch, which was also a WBO title eliminator to boot. In the end, it was Smith (26-1-1, 14 KOs) who was able to settle the score, this time with a majority decision over Williams (16-2-1, 11 KOs) by scores of 117-111, 116-112 and 114-114, in a fight that clamors for a third episode – perhaps with a world title belt on the line next time.
Bilbao, Spain, Saturday, November 11
Kerman Lejarraga UD 10 Jose del Río, Spanish welterweight title
At first look, a Spanish welterweight title shouldn't be something to write home about, right? Well, this time it kinda is. Lejarraga (24-0, 19 KOs) is a legitimate blue chip prospect generating lots of interest in the Spanish peninsula, and this fight is a testimony of that since it was the main event of Spain's first-ever Pay-Per-View card. That was also in part thanks to Del Rio´s popularity as well, but it is clear that Lejarraga is the man to follow here. The card was called the "Night of the Million" in reference to the amount of people who were expected to tune in and probably the amount of money expected to be collected, and over 10,000 souls packed the local arena to witness the event. It is time to make Lejarraga move his act stateside and start putting new numbers in his record. The final ones for this night were given by the three scorecards of 99-90, 98-92 and 99-91 in favor of the "Revolver of Morga" over Del Rio (26-6, 7 KOs).
Cleveland, Ohio, Friday, November 10
Yuandale Evans SD 10 Luis Rosa, featherweights
We're talking real fights here. Beautiful stuff by Evans (20-1, 14 KOs), who did everything he could to avoid being the only once-beaten fighter in the ring that night and handed Rosa (23-1, 11 KOs) his first career loss after 10 stupendous rounds of action. The fight went back and forth and both fighters seemed on the verge of scoring a stoppage at certain points of the fight, with Rosa being closer to that goal in the fateful 8th where he rocked Evans into a corner. The tenth and final round was as emotional as it could get, with both fighters continuing to trade unpleasantries well after the final bell sounded as an early call for a rematch, which given the close scorecards  (96-94 and 96-93 for Evans, 96-94 for Rosa) is very possible.
Read a full recap of this fight here at TheSweetScience.com
Radzhab Butaev UD 8 Janer Gonzalez, welterweights
Not a very emotional fight, but a great display of boxing skills by Butaev (8-0, 6 KOs), who continued his unbeaten march at the expense of Gonzalez's (19-1-1, 15 KOs). The Russian former amateur star was wise enough to put rounds in the bank early on and then tough enough to weather the late surge from his Colombian foe, finishing ahead by scores of 80-72, 79-73, 77-75.
Photo credit: HBO Boxing
Sunday Report Card / Check out more boxing newson video at The Boxing Channel.
Mercito Gesta Victorious Over Jojo Diaz at the Long Beach Pyramid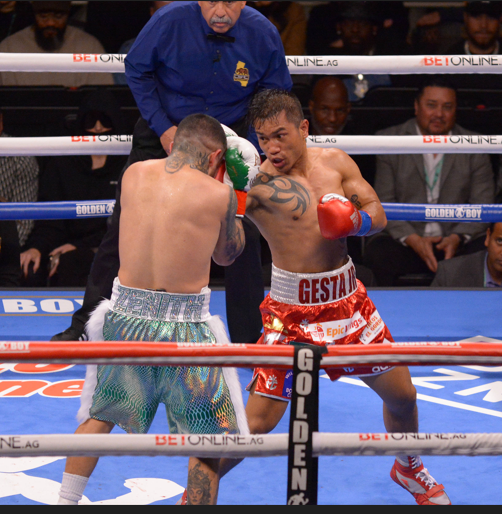 LONG BEACH, CA.-Those in the know knew Mercito Gesta and Jojo Diaz would be a fight to watch and they delivered.
Gesta emerged the winner in a super lightweight clash between southpaws that saw the judges favor his busier style over Diaz's body attack and bigger shots and win by split decision on Saturday.
Despite losing the main event because the star was overweight, Gesta (34-3-3, 17 KOs) used an outside method of tactic to edge past former world champion Diaz (32-4-1, 15 KOs) in front of more than 5,000 fans at the Pyramid.
The speedy Gesta opened up the fight with combination punching up and down against the peek-a-boo style of Diaz. For the first two rounds the San Diego fighter overwhelmed Diaz though none of the blows were impactful.
In the third round Diaz finally began unloading his own combinations and displaying the fast hands that helped him win world titles in two divisions. Gesta seemed stunned by the blows, but his chin held up. The counter right hook was Diaz's best weapon and snapped Gesta's head back several times.
Gesta regained control in the fifth round after absorbing big blows from Diaz. He seemed to get angry that he was hurt and opened up with even more blows to send Diaz backpedaling.
Diaz targeted his attack to Gesta's body and that seemed to slow down Gesta. But only for a round.
From the seventh until the 10th each fighter tried to impose their style with Gesta opening up with fast flurries and Diaz using right hooks to connect with solid shots. They continued their method of attack until the final bell. All that mattered was what the judges preferred.
After 10 rounds one judge saw Diaz the winner 97-93 but two others saw Gesta the winner 99-91, 98-92. It was a close and interesting fight.
"I was expecting nothing. I was the victor in this fight and we gave a good fight," said Gesta. "It's not an easy fight and Jojo gave his best."
Diaz was surprised by the outcome but accepted the verdict.
Everything was going good. I thought I was landing good body shots," said Diaz. "I was pretty comfortable."
Other Bouts
Mexico's Oscar Duarte (25-1-1, 20 KOs) knocked out Chicago's Alex Martin (18-5, 6 KOs) with a counter right hand after dropping him earlier in the fourth round. The super lightweight fight was stopped at 1:14 of the round.
A battle between undefeated super welterweights saw Florida's Eric Tudor (8-0, 6 KOs) emerge the winner by unanimous decision after eight rounds versus Oakland's Damoni Cato-Cain.
The taller Tudor showed polished skill and was not bothered by a large cut on his forehead caused by an accidental clash of heads. He used his jab and lead rights to defuse the attacks of the quick-fisted southpaw Cato-Cain. The judges scored the fight 80-72 and 78-74 twice for Tudor.
San Diego's Jorge Chavez (5-0, 4 KOs) needed less than one round to figure out Nicaragua's Bryan Perez (12-17-1, 11 KOs) and send him into dreamland with a three-punch combination. No need to count as referee Ray Corona waved the fight over. Perez shot a vicious right followed by another right and then a see-you-later left hook at 3.00 of the first round of the super featherweight match.
Photo credit: Al Applerose
Jojo Diaz's Slump Continues; Mercito Gesta Prevails on a Split Decision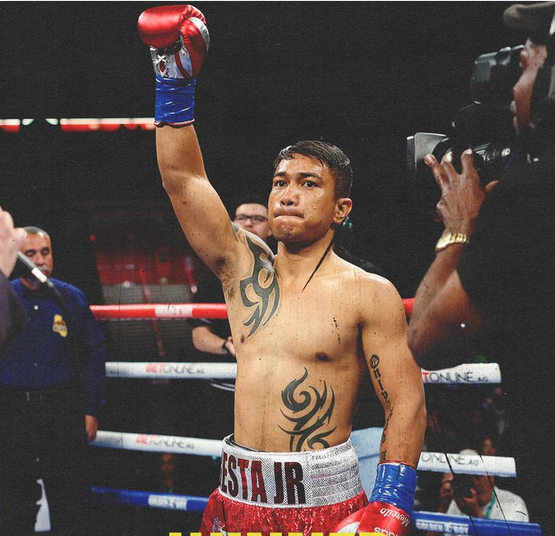 At age 30, Jojo Diaz's career is on the skids. The 2012 U.S. Olympian, a former world title holder at 126 and 130 pounds and an interim title holder at 135, Diaz suffered his third straight loss tonight, upset by Mercito Gesta who won a split decision at the Walter Pyramid in Long Beach, CA.. The scoring was strange with Gesta winning nine of the 10 rounds on one of the cards and only three rounds on another. The tie-breaker, as it were, was a 98-92 tally for Gesta and even that didn't capture the flavor of what was a closely-contested fight.
Originally listed as a 12-rounder, the match was reduced to 10 and that, it turned out, did Diaz no favors. However, it's hard to feel sorry for the former Olympian as he came in overweight once again, having lost his 130-pound title on the scales in February of 2021.
Diaz also has issues outside the ropes. Best elucidated by prominent boxing writer Jake Donovan, they include a cluster of legal problems stemming from an arrest for drunk driving on Feb. 27 in the LA suburb of Claremont.
With the defeat, Diaz's ledger declined to 32-4-1. His prior losses came at the hands of Gary Russell Jr, Devin Haney, and William Zepeda, boxers who are collectively 83-2. Mercito Gesta, a 35-year-old San Diego-based Filipino, improved to 34-3-3.
Co-Feature
Chihuahua, Mexico super lightweight Oscar Duarte has now won nine straight inside the distance after stopping 33-year-old Chicago southpaw Alex Martin in the eighth frame. Duarte, the busier fighter, had Martin on the deck twice in round eight before the fight was waived off.
Duarte improved to 25-1-1 (20). Martin, who reportedly won six national titles as an amateur and was once looked upon as a promising prospect, declined to 18-5.
Other Bouts of Note
New Golden Boy signee Eric Tudor, a 21-year-old super welterweight from Fort Lauderdale, overcame a bad laceration over his right eye, the result of an accidental clash of heads in round four, to stay unbeaten, advancing to 8-0 (6) with a hard-fought unanimous 8-round decision over Oakland's Damoni Cato-Cain. The judges had it 80-72 and 78-74 twice. It was the first pro loss for Cato-Cain (7-1-1) who had his first five fights in Tijuana.
In the DAZN opener, lanky Hawaian lightweight Dalis Kaleiopu went the distance for the first time in his young career, improving to 4-0 (3) with a unanimous decision over 36-year-old Colombian trial horse Jonathan Perez (40-35). The scores were 60-52 across the board. There were no knockdowns, but Perez, who gave up almost six inches in height, had a point deducted for a rabbit punch and another point for deducted for holding.
To comment on this story in the Fight Forum CLICK HERE
'Big Baby' Wins the Battle of Behemoths; TKOs 'Big Daddy' in 6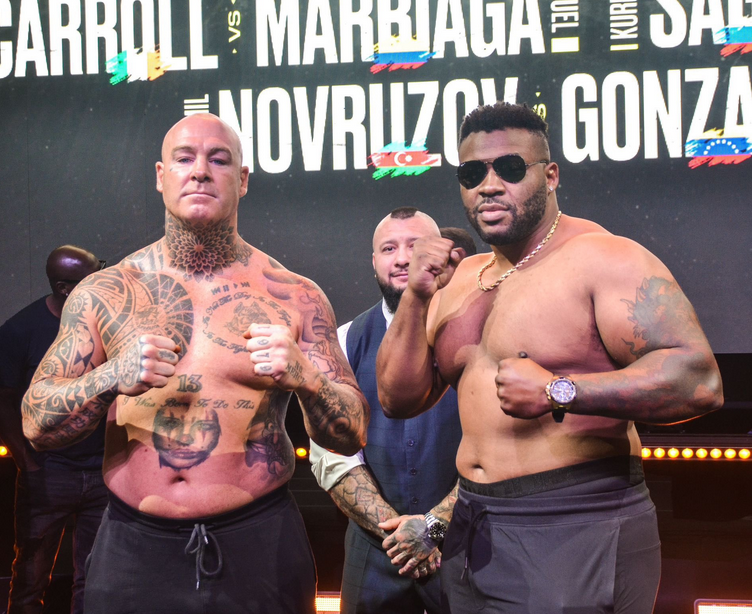 Lucas "Big Daddy" Browne weighed in at a career-high 277 pounds for today's battle in Dubai with Jarrell "Big Baby" Miller, but he was the lighter man by 56 pounds. It figured that one or both would gas out if the bout lasted more than a few stanzas.
It was a war of attrition with both men looking exhausted at times, and when the end came it was Miller, at age 34 the younger man by nine years, who had his hand raised.
Browne was the busier man, but Miller, whose physique invites comparison with a rhinoceros, hardly blinked as he was tattooed with an assortment of punches. He hurt 'Bid Daddy' in round four, but the Aussie held his own in the next frame, perhaps even forging ahead on the cards, but only postponing the inevitable.
In round six, a succession of right hands knocked Browne on the seat of his pants. He beat the count, but another barrage from Miller impelled the referee to intervene. The official time was 2:33. It was the 21st straight win for Miller (26-0-1, 22 KOs). Browne declined to 31-4 and, for his own sake, ought not fight again. All four of his losses have come inside the distance, some brutally.
The consensus of those that caught the livestream was that Floyd Mayweather Jr's commentary was an annoying distraction that marred what was otherwise an entertaining show.
As for what's next for "Big Baby" Miller, that's hard to decipher as he has burned his bridges with the sport's most powerful promoters. One possibility is Mahmoud Charr who, like Miller, has a big gap in his boxing timeline. Now 38 years old, Charr – who has a tenuous claim on a WBA world title (don't we all?) —  has reportedly taken up residence in Dubai.
Other Bouts of Note
In a 10-round cruiserweight affair, Suslan Asbarov, a 30-year-old Russian, advanced to 4-0 (1) with a hard-fought majority decision over Brandon Glanton. The judges had it 98-92, 97-93, and a more reasonable 95-95.
Asbarov was 12-9 in documented amateur fights and 1-0 in a sanctioned bare-knuckle fight, all in Moscow, entering this match. He bears watching, however, as Glanton (18-2) would be a tough out for almost anyone in his weight class. In his previous fight, at Plant City, Florida, Glanton lost a controversial decision to David Light, an undefeated Australian who challenges WBO world title-holder Lawrence Okolie at Manchester, England next week.
A 10-round super featherweight match between former world title challengers Jono Carroll and Miguel Marriaga preceded the semi-windup. Carroll, a 30-year-old Dublin southpaw, overcame a cut over his left eye suffered in the second round to win a wide unanimous decision in a fairly entertaining fight.
It was the sixth straight win for Carroll (24-2-1, 7 KOs) who elevated his game after serving as a sparring partner for Devin Haney. Marriaga, a 36-year-old Colombian, lost for the fourth time in his last five outings, declining to 30-7.
To comment on this story in the Fight Forum CLICK HERE