A Final 10-Count For Boxing Notables Who Left Us In 2017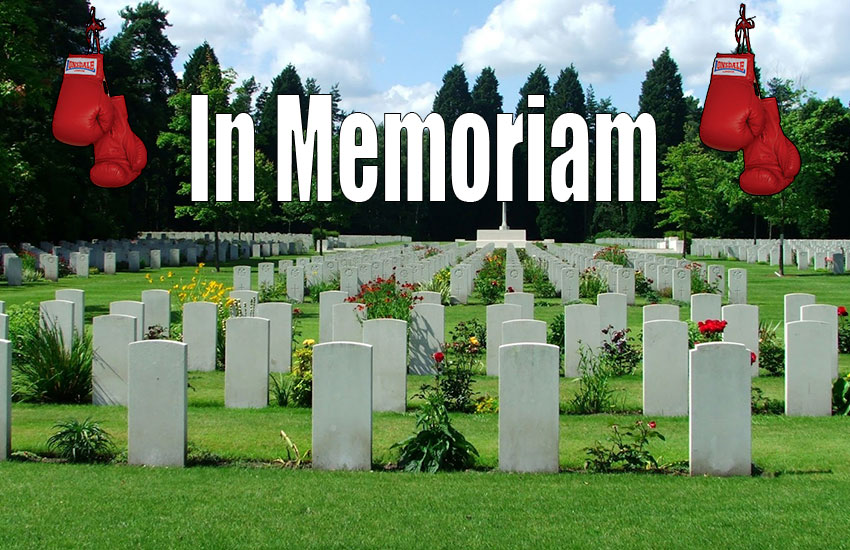 For all the undeniably positive things that have happened in boxing in 2017, one of the best years for the sport in recent memory, there also were corresponding moments of sad reflection. The Grim Reaper is the one opponent that even the toughest and most resilient practitioners of the pugilistic arts cannot stave off forever, and his scythe cut down several legendary figures whose lives and careers are apt to be commemorated well into the future.
Others who have passed from the scene this year also had their shining moments, but the spotlight dimmed more quickly and their hold on history proved to be less enduring. For every Hall of Famer or world champion who took their final 10-count in 2017 – Jake LaMotta, Lou Duva, Sugar Ramos, Rodrigo Valdez and Terry Downes – there were others who made their mark in pencil rather than in indelible ink. Which is not to say that those passers-by, with names like Jozef Grudziev, Dieter Kottysch and Tony Madigan, were any less deserving of our admiration as they permanently left this mortal coil. Those who have sipped from boxing's chalice of spilled blood are and shall forever disney princess bouncy castle be part of a fraternity, if you will, whose membership must be earned in the crucible of the ring and whose entrance requirements can only be imagined by those who merely observe from arena seats or on television.
So let us acknowledge the life of times of those who gave so much of themselves, beginning with the most recent departees:
Dick Enberg: Died Dec. 21 at age 82. A sportscasting legend, Enberg won 13 Sports Emmy awards during a career that began in 1956 at a radio station in Mount Pleasant, Michigan. The astoundingly versatile Enberg covered all manner of sports and that included boxing. In 1980 he was hired by NBC as the lead anchor for a series of "Friday Night Fights." Fifteen years earlier he was the blow-by-blow man when LA powerhouse KTLA Channel 5 launched a series of weekly shows from the Olympic Auditorium.
David "Tornado" Sanchez: Died Nov. 19 at the too-young age of 25. The Mexican super flyweight had posted a 31-4-2 record with 23 KO victories when he and his brother Jonathan perished in a car crash in northern Mexico. For a time in 2015, Sanchez was the WBA interim 115-pound champion.
Ferdie Pacheco: Died Nov. 16 at 89. The "Fight Doctor" was the personal physician of Muhammad Ali for many years, and after the two amicably parted ways following Ali's fight with Earnie Shavers he kept his hand in boxing as a television boxing analyst for NBC, Univision and Showtime. A true renaissance man, Pacheco also was an accomplished artist and spent much of his post-boxing life painting.
Doug Jones: Died Nov. 14 at 80. A onetime contender at both light heavyweight and heavyweight, Jones is best known for the scare he threw into an up-and-coming Cassius Clay on March 13, 1963, a bout which was witnessed by 18,732 spectators in Madison Square Garden and on closed-circuit TV at 40 theaters around the country. Although Jones lost a close 10-round unanimous decision, he did beat Clay – that would be Philadelphia's Von Clay, a pretty fair fighter in his own right – three times. At light heavy or heavy, Jones – who posted a 30-10-1 (20) career mark – was nobody's pushover. He defeated among others, the illustrious likes of Zora Folley and a still-developing Bob Foster, but lost both of his shots at world titles, to light heavyweight and future Hall of Famer Harold Johnson and WBA heavyweight titlist Ernie Terrell.
Rafael Garcia: Died Nov. 13 at 88 of complications of leukemia. A fixture on the Las Vegas boxing scene for decades, Garcia was best known as Floyd Mayweather Jr.'s cut man and hand wrapper. Instantly recognizable by his pin-festooned beret, Garcia, born in Mexico, worked with 35 world champions in all, including Roberto Duran, Alexis Arguello, Wilfredo Gomez and Rafael Marquez.
Tony Madigan: Died Oct. 29 at 89. An Australian boxer and rugby player, Madison represented his homeland in three Olympiads: 1952 in Helsinki, Finland, 1956 in Melbourne, Australia, and 1960 in Rome. After twice finishing fifth on the Olympic stage, Madigan finally made it into the medal round on his third attempt, taking a bronze in Rome after losing to a brash young American light heavyweight named Cassius Clay in the semifinals. A 2010 inductee into the Australian National Boxing Hall of Fame in the Veterans category, the strikingly handsome Madigan, who never turned pro, later had a successful modeling career in London and New York City.
Terry Downes: Died Oct. 6 at 81. The United Kingdom's oldest world champion at the time of his passing, the London native, who posted a 35-9  record with 28 KOs as a pro, was the middleweight titlist – at least the version recognized by Europe, the states of New York and Massachusetts and The Ring magazine – for 10 months, from July 11, 1961, to April 7, 1963. In the second segment of his three-bout championship series with American Paul Pender (he lost the other two), Downes scored a 10th-round TKO victory when referee Ike Powell waved things off with Pender bleeding badly from cuts above his eyes. In his final bout, Downes, who had moved up to light heavyweight, was stopped in 11 rounds by Willie Pastrano. He later became an actor, appearing in a number of British films, often cast in the role of a villain, from 1965 to 1990.
Jake LaMotta: Died of complications of pneumonia on Sept. 19 at the ripe old age of 95. There have been middleweight champions more accomplished than the "Bronx Bull," but many more who weren't nearly as good. Blessed with an indomitable spirit and cast-iron chin, LaMotta was forever immortalized in arguably the best boxing movie ever, 1980's Raging Bull, with Robert DeNiro earning the Academy Award for Best Actor in the lead role. LaMotta, who was 83-19-4 with 30 wins inside the distance, is best known for his six bouts with Sugar Ray Robinson and, although he only won their second meeting, a 10-round unanimous decision on Feb. 5, 1943, it marked the first loss for Robinson, who went in 40-0 (29), disproving the notion of the magnificent Sugar Ray's invincibility. LaMotta, a 1990 charter inductee into the International Boxing Hall of Fame, also took seven wives, a matrimonial marathon of ups and downs to rival his legendary rivalry with Robinson.
Benny Alperstein: Died Sept. 16 at 102. A two-time NCAA champion, during a time when college boxing was a big deal, Alperstein took the lightweight title in 1937 and the featherweight title in 1938 while representing the University of Maryland, and was named the tournament's Outstanding Boxer in '38. An Army Air Corps major during World War II, he served 30 years on the Maryland State Athletic Commission and for a time was the chairman of the Washington, D.C., commission.
David Bey: Died Sept. 13 at 60 after being struck by a steel sheet while on a construction job in Camden, N.J. The Philadelphia native began his pro career with a heady run, going 14-0 with 11 KOs, including victories over future world champions Buster Douglas and Greg Page, to earn a shot at IBF champ Larry Holmes on March 16, 1985. Floored twice and stopped in the 10th round by the "Easton Assassin," Bey lost confidence and career momentum, never regaining contender status. He retired from the ring in 1994 with an 18-11-1 (14) record, but continued putting his hands to good use by working 37 years in the construction trades as a pile driver for the Local Carpenters 179 union.
Joe DeNucci: Died Sept. 8 at 78. A star attraction in the Boston area with 23 appearances at the fabled Boston Garden, DeNucci, particularly popular with Italian-American fans, was a Massachusetts Golden Gloves champion at 16. He turned pro while still in high school and defeated such notables as Ralph "Tiger" Jones, Joey Giambra and Denny Moyer en route to a 54-15-4 (27) career mark.
Sugar Ramos:  Died Sept. 3 at 75, from cancer. A 2001 inductee into the International Boxing Hall of Fame, Ramos might not have been quite as sweet as that other Sugar, Robinson, but his ring nom de guerre tripped off the tongue much easier and fit him better than his given name at birth, Ultiminio. Born in Cuba, Ramos fled to Mexico City when Fidel Castro seized power in 1959. With an exciting style, he quickly became a fan favorite in his adopted country as well as the United States, winning the featherweight title with an 11th-round knockout of Davey Moore on March 21, 1963, in Los Angeles. He retired in 1972 with a 55-7-4 (40) record.
Danny McAloon: Died Aug. 2 at 74 at a hospice in Portland, Maine, where he was battling Alzheimer's disease. A sound technical boxer with negligible punching power, "Irish" Danny retired in 1981 with a 29-15-1 record that included just six wins inside the distance. He was clever enough, however, to have gone the distance with four former or future world champions – John H. Stracey, Emile Griffith, Vito Antuofermo and Billy Backus.
Eddie "The Animal" Lopez: Died July 14; age unknown, but believed to be in his early 60s. A heavyweight of some repute who never quite broke through to the top tier, Lopez, a Los Angeles native, posted a 25-4-2 record with 17 KOs. He fought Gerry Cooney to an eight-round draw in 1979 and had a 10-round draw against Leon Spinks, three fights after "Neon Leon's" rematch with Muhammad Ali, a bout Lopez would have won had he not been docked a penalty point for a head butt.
Marlon B. Wright: Died July 6 at 51 from melanoma (skin cancer). A promising welterweight who won 10 of his 11 pro bouts, the Jamaica-born, Montreal-based Wright was recognized as one of Canada's best referees, serving two decades-plus as the third man in the ring for world title bouts in Europe, Asia and North America. One of his more notable assignments came in London, where he worked middleweight champion Gennady Golovin's fifth-round TKO of Kell Brook on Sept. 10, 2016.
Tim Hague: Died June 18 at 34. A former MMA fighter who switched to boxing, Hague succumbed to a brain injury suffered in his hometown of Edmonton in his fourth professional bout. Edmonton city fathers subsequently imposed a one-year moratorium on combat sports in the Canadian city.
Jozef Grudziev: Died June 17 at 78. A two-time Olympic medalist (taking gold as a lightweight in Tokyo in 1964 and silver in the same weight class in Mexico City in 1968), Poland's Grudziev is another might-have-been case of a boxer trapped behind the Iron Curtain during the Cold War who never had the opportunity to demonstrate what he might have been able to do as a pro. He did, however, live long enough to see several later Polish fighters claim world titles in the punch-for-pay ranks.
Errol Christie: Died June 11 at 53 from lung cancer. One of seven brothers, Christie took up boxing at eight and was soon identified in his native England as something of a prodigy. In 1982 the Guinness Book of World Records noted that he was the first British boxer to win all 10 of the United Kingdom's national amateur titles. Christie, a middleweight, turned pro that same year and won his first 13 fights, 12 inside the distance, but he could not fulfill all of his early promise and finished 32-8-1 (26), later working as a stand-up comedian, stock broker and white-collar boxing trainer.
Rene Monse: Died June 8 at 48 after a lengthy illness. A southpaw in the super heavyweight weight class, the German placed third at the 1995 World Amateur Championships in Berlin, losing to some guy from Ukraine named Vitali Klitschko. Monse represented Germany at the 1996 Atlanta Olympics, but failed to advance to the medal round. As a pro, he was 14-2 with seven KO victories, both losses coming to Kosovo-born, German-based Luan Krasniqi in bouts for the European Boxing Union heavyweight title.
Herbert Nkabita: Died April 29 at 36, a day after suffering a head injury in his bout with South Africa's Willers Baloyi. The possibility of a disabling, or even lethal injury, is always there in boxing, despite ongoing efforts to safeguard its participants. Nkabit, a super lightweight from Botswana, brought a 10-3-1 record into his fight with Baloyi in Carnival City, South Africa. But Baloyi – who did not have a reputation as a fearsome puncher with a 5-7-2 (3) record going in – floored Nkabita with a crushing uppercut. Rushed to the hospital, he died the next day.
Angel Espinosa: Died April 12 at 50. How good was the Cuban southpaw as an amateur? Good enough to knock out Meldrick Taylor at the 1983 World Junior Championships and to win the junior welterweight division at the 1986 World Amateur Championships. Olympic stardom seemingly awaited him, but he did not compete in 1984 in Los Angeles or in 1988 in Seoul, South Korea, Games which were boycotted by his country. Espinosa – who also had three amateur victories over future world professional champion, Henry Maske of Germany – eventually defected and he made his Olympic debut as a light heavyweight in 1992 in Barcelona, Spain. Never a pro, he was found dead under mysterious circumstances at a gym in Miami.
Dieter Kottysch: Died April 9 at 73. The West German middleweight competed in two Olympics, failing to place in 1968 in Mexico City and taking gold in his home country in 1972 in Munich, the tragedy-marred Games in which 11 Israeli athletes were killed by Black September terrorists.
Rodrigo Valdez: Died March 14 at 70 of a massive heart attack. In 2003, The Ring magazine had the two-time middleweight champion from Colombia at No. 29 on its list of the 100 greatest punchers of all time. Those who saw him register 42 knockouts, many of the devastating variety, in his 63-8-2 professional career are apt to agree as to his worthiness for such a ranking among boxing's biggest hitters. Valdez won the vacant WBC 160-pound title on a seventh-round KO of Bennie Briscoe on May 25, 1974, lost a close decision in a unification bout with Argentine great and WBA titlist Carlos Monzon on July 30, 1977, and won both vacant crowns following Monzon's retirement with another victory over Briscoe on Nov. 5, 1977, this time on a unanimous decision.  More than a few Valdez supporters find it perplexing that their man has yet to be enshrined in the IBHOF.
Lou Duva: Died March 8 at 94 after a lengthy illness. One of the fight game's most colorful characters, the patriarch of one of boxing's most  illustrious families often was compared to cartoon caveman Fred Flintstone (because of his rotund shape and sense of humor) and baseball legend Yogi Berra (because of his many malaprops). "He had a funny line for just about every situation," recalled Shelly Finkel, a longtime Duva associate who managed many of Main Events' fighters, including the bumper crop of 1984 U.S. Olympians that included Evander Holyfield, Pernell Whitaker, Meldrick Taylor, Mark Breland and Tyrell Biggs. Not much of a fighter in his youth – he was 6-10-1 with no knockouts as a welterweight – Duva was inducted into the IBHOF in 1998 in the Non-Participant category for his work as a trainer and peerless raconteur.
Ricardo Dominguez: Died Feb. 22 at 31 of colon cancer. A world-rated Mexican lightweight who twice fought for world titles (losing to WBC champion Humberto Soto and IBF titlist Miguel Vazquez), Dominguez fell victim to the dread disease that was detected too late to save his life.
Jan Szczepanski: Died Jan. 15 at 77 after a long illness.  The Polish lightweight, who never turned pro, took the gold medal at the ill-fated 1972 Munich Olympics.
Jeffrey Freeman contributed to this story.
Check out more boxing news on video at The Boxing Channel.
The BWAA Shames Veteran Referee Laurence Cole and Two Nebraska Judges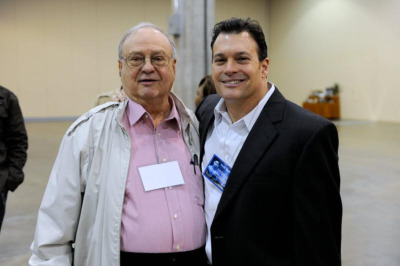 In an unprecedented development, the Boxing Writers Association of America has started a "watch list" to lift the curtain on ring officials who have "screwed up." Veteran Texas referee Laurence Cole and Nebraska judges Mike Contreras and Jeff Sinnett have the unwelcome distinction of being the first "honorees."
"Boxing is a sport where judges and referees are rarely held accountable for poor performances that unfairly change the course of a fighter's career and, in some instances, endanger lives," says the BWAA in a preamble to the new feature. Hence the watch list, which is designed to "call attention to 'egregious' errors in scoring by judges and unacceptable conduct by referees."
Contreras and Sinnett, residents of Omaha, were singled out for their scorecards in the match between lightweights Thomas Mattice and Zhora Hamazaryan, an eight round contest staged at the WinnaVegas Casino in Sloan, Iowa on July 20. They both scored the fight 76-75 for Mattice, enabling the Ohio fighter to keep his undefeated record intact via a split decision.
Although Mattice vs. Hamazaryan was a supporting bout, it aired live on ShoBox. Analyst Steve Farhood, who was been with ShoBox since the inception of the series in 2001, called it one of the worst decisions he had ever seen. Lead announcer Barry Tompkins went further, calling it the worst decision he has seen in his 40 years of covering the sport.
Laurence Cole (pictured alongside his father) was singled out for his behavior as the third man in the ring for the fight between Regis Prograis and Juan Jose Velasco at the Lakefront Arena in New Orleans on July 14. The bout was televised live on ESPN.
In his rationale for calling out Cole, BWAA prexy Joseph Santoliquito leaned heavily on Thomas Hauser's critique of Cole's performance in The Sweet Science. "Velasco fought courageously and as well as he could," noted Hauser. "But at the end of round seven he was a thoroughly beaten fighter."
His chief second bullied him into coming out for another round. Forty-five seconds into round eight, after being knocked down for a third time, Velasco spit out his mouthpiece and indicated to Cole that he was finished. But Cole insisted that the match continue and then, after another knockdown that he ruled a slip, let it continue for another 35 seconds before Velasco's corner mercifully threw in the towel.
Controversy has dogged Laurence Cole for well over a decade.
Cole was the third man in the ring for the Nov. 25, 2006 bout in Hildalgo, Texas, between Juan Manuel Marquez and Jimrex Jaca. In the fifth round, Marquez sustained a cut on his forehead from an accidental head butt. In round eight, another accidental head butt widened and deepened the gash. As Marquez was being examined by the ring doctor, Cole informed Marquez that he was ahead on the scorecards, volunteering this information while holding his hand over his HBO wireless mike. The inference was that Marquez was free to quit right then without tarnishing his record. (Marquez elected to continue and stopped Jaca in the next round.)
This was improper. For this indiscretion, Cole was prohibited from working a significant fight in Texas for the next six months.
More recently, Cole worked the 2014 fight between Vasyl Lomachenko and Orlando Salido at the San Antonio Alamodome. During the fight, Salido made a mockery of the Queensberry rules for which he received no point deductions and only one warning. Cole's performance, said Matt McGrain, was "astonishingly bad," an opinion echoed by many other boxing writers. And one could site numerous other incidents where Cole's performance came under scrutiny.
Laurence Cole is the son of Richard "Dickie" Cole. The elder Cole, now 87 years old, served 21 years as head of the Texas Department of Combat Sports Regulation before stepping down on April 30, 2014. At various times during his tenure, Dickie Cole held high executive posts with the World Boxing Council and North American Boxing Federation. He was the first and only inductee into the inaugural class of the Texas Boxing Hall of Fame, an organization founded by El Paso promoter Lester Bedford in 2015.
From an administrative standpoint, boxing in Texas during the reign of Dickie Cole was frequently described in terms befitting a banana republic. Whenever there was a big fight in the Lone Star State, his son was the favorite to draw the coveted refereeing assignment.
Boxing is a sideline for Laurence Cole who runs an independent insurance agency in Dallas. By law in Texas (and in most other states), a boxing promoter must purchase insurance to cover medical costs in the event that one or more of the fighters on his show is seriously injured. Cole's agency is purportedly in the top two nationally in writing these policies. Make of that what you will.
Complaints of ineptitude, says the WBAA, will be evaluated by a "rotating committee of select BWAA members and respected boxing experts." In subsequent years, says the press release, the watch list will be published quarterly in the months of April, August, and December (must be the new math).
Check out more boxing news on video at The Boxing Channel
The Avila Perspective, Chapter 8: Competing Cards in N.Y. and L.A.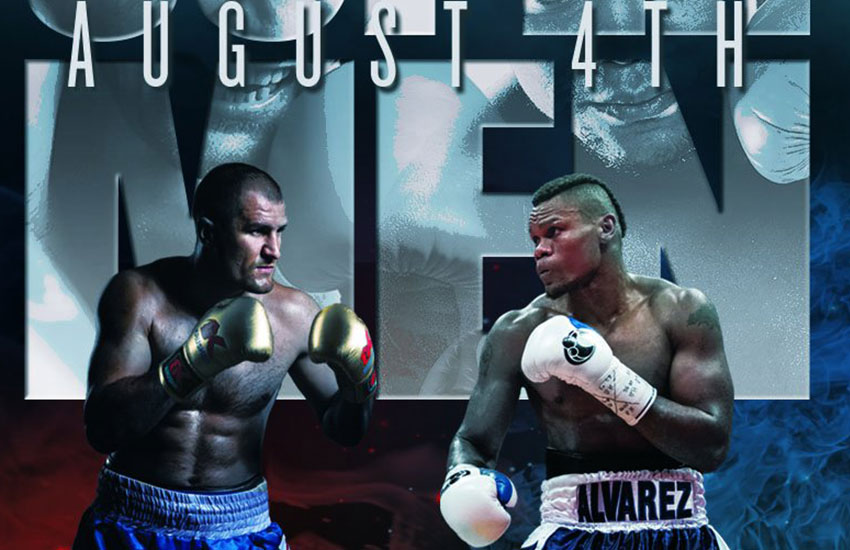 Rival boxing shows compete this Saturday as light heavyweight world titlists are featured in New Jersey while former world champion welterweights and middleweights tangle in New York.
A mere 150 miles separate the two fight cards staged in Uniondale, N.Y. and Atlantic City.
But there's no mercy inside the boxing ring and certainly no mercy between boxing promotions. While Main Events stages WBO light heavyweight titlist Sergey Kovalev and WBA light heavyweight titlist Dmitry Bivol in separate bouts, DiBella Entertainment stacks former champs Andre Berto against Devon Alexander in a welterweight clash.
Take your pick.
Russia's Kovalev (32-2-1, 28 KOs) has lost some luster and hopes to reboot his popularity with a win against Canada's Eleider Alvarez (23-0, 11 KOs). But he will be directly competing against WBA champ Bivol (13-0, 11 KOs), also of Russia, who defends against Isaac Chilemba (25-5-2) of South Africa.
HBO will televise both light heavyweight title fights.
Bivol, 27, has slowly, almost glacier-like slow, picked up fans along the way by training in Southern California. The quiet unassuming fighter with a conservative style and cobra-like quickness appeals to the fans.
"I do not think that now I am the best light heavyweight, but I am now one of the best. One of four guys," said Bivol during a press conference call. "But I hope in not the far future, we will know who is the best."
That, of course, would mean a date with Kovalev should both fighters win on Saturday. Nothing is certain.
Kovalev, now 35, has lost some of that fear factor aura since losing back-to-back fights to now retired Andre Ward. Though he's cracked two opponents in succession by knockout, many are pointing to the potential showdown with Bivol as the moment of truth.
"Most likely this fight is gonna happen since both Sergey and I are HBO boxers and as long as that's what the people want, most likely the fight will happen," said Bivol. "Me and Sergey will make sure to give this fight to the people."
It's time for the build-up and it starts on Saturday Aug. 4, on HBO.
"That's certainly a goal of Sergey's and he's made it very clear to me that that's what he wants to do," said promoter Kathy Duva, CEO of Main Events. "He wants to do unification fights if he is successful with Eleider Alvarez. That's what he wants to do next; he's been very clear about that."
DiBella
Five former world champions stack the fight card at Nassau Coliseum in Uniondale, New York.
Former welterweight world champs Andre Berto (31-5, 24 KOs) and Devon Alexander (27-4-1, 14 KOs) lead the charge in a 12-round clash. FOX will televise the main event and others at 4 p.m. PT/7 p.m. ET.
Berto, 34, has been fighting once a year so it's difficult to determine if age has crept into his reflexes. When he knocked out Victor Ortiz in a rematch two years ago Berto looked sharp and dangerous. But against Shawn Porter a year ago, the crispness seemed gone and he quickly lost by knockout.
Alexander, 31, has the advantage of being a southpaw. But he always seems to do the minimum when he fights. Last February he slowed down and allowed Victor Ortiz to steal the fight. All the commotion by the announcers was for naught. Defense does not win fights, it allows you to win fights. The lack of offense in the latter rounds cost Alexander a win in a match that entered the books as a majority draw.
It's a curious matchup of former world champions.
Peter "Kid Chocolate" Quillin (33-1-1, 23 KOs) the former WBO middleweight titlist meets J'Leon Love (24-1-1, 13 KOs) in a super middleweight bout set for 10 rounds. It's another intriguing fight especially between two fighters with great personalities.
Quillin, 35, was ambushed by Daniel Jacobs in the first round a year ago in losing the title. Was it bad luck, age or both? As a fighter the Brooklyn-based prizefighter has a ton of followers who like him as a person. Few are as classy as Quillin.
Love, 30, has long been a mainstay in Las Vegas and since his amateur days his abilities have been touted. Throughout the years Love has shown that charm and friendliness can go a long ways, even in the bitter wars of prizefighting. But the time has come to see if he belongs in the prizefighting world. Quillin will present an immense challenge for Love.
A number of other interesting fights are slated to take place among former world champions including Sergey Lipinets who lost the super lightweight title to Mikey Garcia this past winter. There's also Luis Collazo in a welterweight match.
One world title fight does take place on the card.
Female WBA super middleweight titlist Alicia Napoleon (9-1) makes the first defense of her title against Scotland's Hannah Rankin (5-1). It's a 10 round bout and the first time Napoleon defends the title since winning it last March against Germany's Femke Hermans. Ironically, Hermans now has the WBO super middleweight title after defeating former champ Nikki Adler by decision this past May.
L.A. Congestion
Next week the city of Angels will be packed with three fight cards in four days.
First, on Wednesday Aug. 8, 360 Promotions stages Abraham Lopez (9-1-1, 3 KOs) versus Gloferson Ortizo (12-0-1, 6 KOs) in the main event at the Avalon Theater in Hollywood, Calif. This is Filipino fighter Ortizo's ninth fight this year. You read that correctly.
All of Ortizo's fights have taken place across the border in Tijuana. The 32-year-old now returns to California against another Californian in Lopez. He'll be looking for his fourth consecutive knockout, but Lopez, 22, has not lost a fight since his pro debut. Inactivity might come into play for Lopez who hasn't stepped in the boxing ring in over a year.
New York's Brian Ceballo (3-0) returns in a six round welterweight bout against local fighter Tavorus Teague (5-20-4). Ceballo, who is promoted by 360 Promotions, looked good in his last appearance. The amateurish punches seen in his first two bouts were gone by his third pro fight. His opponent Teague has ability and can give problems if Ceballo takes his foot off the pedal.
One of Gennady "GGG" Golovkin's training partners Ali Akhmedov (11-0, 8 KOs) makes his California debut when he meets Jorge Escalante (9-1-1, 6 KOs) in a light heavyweight match.
Female super lightweight Elvina White (2-0) is also slated to compete. The entire fight card will be streamed at www.360promotions.us and on the 360 Promotions page on Facebook. First bell rings at 6:15 p.m.
Belasco Theater in downtown L.A. is the site of Golden Boy Promotions fight card on Friday Aug. 10. A pair of young prospects will be severely tested.
San Diego's Genaro Gamez (8-0, 5 KOs) meets Filipino fighter Recky Dulay (10-3, 7 KOs) for the vacant NABF super featherweight title. For Dulay it's always kill or be killed. Five of his last fights have ended in knockout wins or losses.
Gamez, 23, seems to thrive under pressure and broke down two veterans in back-to-back fights at Fantasy Springs Casino. Now he returns to the Belasco, a venue where he has struggled in the past. But this time he's the main event.
Another being severely tested will be Emilio Sanchez (15-1, 10 KOs) facing veteran Christopher Martin (30-10-3, 10 KOs) who is capable of beating anyone.
Sanchez, 24, lost by knockout in his last fight this past March. He's talented and fearless and one mistake cost him his first loss as a pro. He's not getting a break against Martin, a cagey fighter who has upset many young rising prospects in the past. Martin also has experience against world champions. It's an extremely tough matchup for Sanchez.
The fight card will be televised by Estrella TV beginning at 6 p.m.
World Title Fight
On Saturday, boxing returns to the Avalon Theater in Hollywood.
The main event is a good one as Puerto Rico's Jesus Rojas (26-1-2, 19 KOs) defends the WBA featherweight world title against Southern California's Jojo Diaz (26-1) in a 12 round clash. It's power versus speed.
Rojas, 31, is one tough customer. When he took the interim title against Claudia Marrero last year he chased down the speedy southpaw Dominican and blasted him out in the seventh round. Several months earlier he obliterated another Golden Boy prospect, Abraham Lopez (not the same Abraham Lopez that is fighting on the 360 Promotions card), in eight rounds. Now he has the title and defends against the speedy southpaw Diaz.
Diaz, 25, just recently lost a bid for the WBC featherweight title against Gary Russell Jr. Though he lost by decision three months ago, that fight might be easy in comparison to this challenge against Rojas.
The former Olympian won't be able to take a breath against the Puerto Rican slugger who is about as rough as they come.
Two more undefeated Golden Boy prospects get a chance to eliminate each other when Philadelphia's Damon Allen (15-0-1) meets East L.A.'s Jonathan Navarro (14-0, 7 KOs) in a super lightweight fight set for 10 rounds.
Phillie versus East LA is like fire versus fire in the boxing ring. Boxers originating from those two hard-bitten areas usually have go-for-broke styles that result in pure action. Allen versus Navarro should not disappoint.
Allen, 25, is not a hard puncher but he's aggressive and like most Philadelphia fighters, he's not afraid to mix it up.
Navarro, 21, lives in East L.A. but trains in Riverside under Robert Garcia. He's slowly finding his timing and will be facing the fastest fighter since his pro debut in 2015.
Others featured on the card will be Hector Tanajara, Aaron McKenna and Ferdinand Kerobyan.
The card will be streamed on the Golden Boy Fight Night page on Facebook beginning at 6 p.m.
Check out more boxing news on video at The Boxing Channel
What's Next for Manny Pacquiao?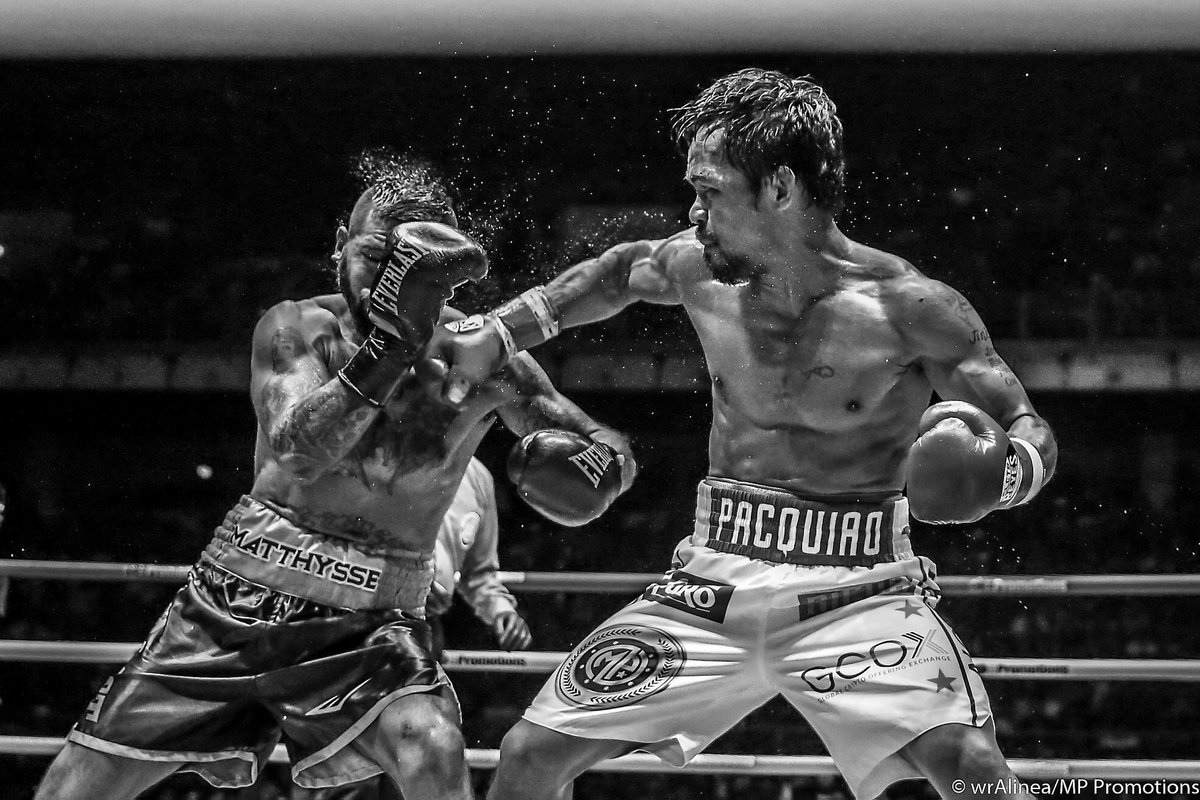 Manny Pacquiao isn't quite ready to retire, and more big-money fights against high-level competition seem to be on the 39-year-old's way.
"I feel like I'm a 27-year-old," Pacquiao told GMAnetwork.com's Jamil Santos last week. "Expect more fights to come."
Pacquiao (60-7-2, 39 KOs) looked exceptionally sharp in his seventh-round knockout win over former junior welterweight titleholder Lucas Matthysse on July 15 at Axiata Arena in Kuala Lumpur, Malaysia. It was Pacquiao's best performance in at least four years, netting Pacquiao a secondary world title at welterweight along with a slew of renewed public interest in the boxing superstar's career.
But what comes next for the only fighter in the history of boxing to capture world titles in eight different weight classes? TSS takes a detailed look at the potential opponents for one of the sport's most celebrated stars.
Cream of the Crop
Pacquiao looked good enough against Matthysse to suggest he'd make a viable candidate to face either Terence Crawford or Vasyl Lomachenko next. Crawford is ranked No. 2 on the Transnational Boxing Rankings Board's pound-for-pound list while Lomachenko slots at No. 1.
While Pacquiao is no longer under contract with longtime promoter Bob Arum at Top Rank, most industry insiders expect he will continue working with Arum's team in some capacity so long as his career keeps moving forward. Pacquiao started his own promotional venture, MP Promotions, to co-promote the Matthysse bout with Oscar De La Hoya, but Top Rank was still involved in the fight which is why the bout ended up streaming on ESPN+.
Top Rank's two hottest commodities at the present are Ring Magazine and WBA lightweight champ Lomachenko and welterweight titlist Crawford. Both are highly-regarded, multi-division world titleholders in the primes of their careers who are universally considered the top fighters in boxing.
Lomachenko and Crawford would each present a unique set of problems for Pacquiao stylistically. Of the two, Pacquiao probably matches up best with Lomachenko at this point in his career. Crawford (33-0, 24 KOs) is much larger and heavier than both Pacquiao and Lomachenko, and unless Pacquiao just really wants to test himself against someone incredibly dangerous, it'd probably be best for Team Pacquiao to avoid fighting Crawford at all costs. Crawford would be a heavy favorite against Pacquiao and most boxing insiders don't believe this version of Pacquiao could compete with Crawford.
Lomachenko (11-1, 9 KOs) is naturally smaller than Pacquiao and has never fought above 135 pounds. If Pacquiao could lure Lomachenko to 140 pounds or above, he'd find himself in a winnable fight against a top-notch opponent. Lomachenko would probably be the slight favorite based on age alone but Pacquiao's power and athleticism would give him a realistic chance to pull the upset.
Other Notable Possibilities
Former junior welterweight titleholder Amir Khan has long been angling for a bout against Pacquiao. Khan faces Samuel Vargas on Sept. 8 in another comeback bout against lower level competition. Khan (32-4, 20 KOs) bravely moved up to middleweight to fight Canelo Alvarez in 2016 but was knocked out in the sixth round. He left the sport for a spell but returned to boxing in February as a welterweight with a sensational first round knockout win over Phil Lo Greco. A win over Vargas puts Khan in good position to secure a bout with Pacquiao, and the fight is a reasonable move by both camps. Pacquiao would probably be the heavy favorite, but Khan's speed and long reach give him a decent chance to pull the upset.
Former welterweight titleholder Jeff Horn won a controversial decision over Pacquiao last year in Australia. The bout grabbed huge ratings for ESPN and there have been many debates since it happened as to which fighter truly deserved the nod from the judges. Horn (18-1-1, 12 KOs) doesn't possess elite level talent, but he's huge compared to Pacquiao and fights with such ferocity that the two can't help but make an aesthetically pleasing fight together. Pacquiao would be the heavy favorite to defeat Horn if the two fight again.
Pacquiao vs. PBC fighters?
Boxing's current political climate and the ongoing battle of promoters and television networks for the hearts and minds of boxing fans usually leaves many compelling fights between top level stars off the table. Fighters promoted by Top Rank and Golden Boy are almost never able to secure bouts with fighters signed to Al Haymon to appear under the Premier Boxing Champions banner and vice versa. But Pacquiao's free agent status opens up new and interesting possibilities for the fighter to pursue noteworthy PBC fighters.
There had been lots of chatter about Pacquiao facing Mikey Garcia next. Garcia (39-0, 30 KOs) has been decimating competition at both lightweight and junior welterweight. Garcia is considered by most experts to be one of the top 10 pound-for-pound fighters in the sport. He's the TBRB junior welterweight champion and a unified lightweight titleholder (WBC, IBF). While Garcia is hoping to land a big money bout against IBF welterweight titleholder Errol Spence, most boxing experts believe the jump up to 147 pounds would be too much for the diminutive Garcia who began his career at featherweight. A better welterweight target for Garcia would be Pacquiao who also began his career in a much lower weight class.
Spence (24-0, 21 KOs) is probably the best of the PBC welterweights. He's considered by many to be on par with Crawford at 147 so it would be an incredibly dangerous bout for Pacquiao to go after at this point in his career. But Spence is aggressive and fights in a style that Pacquiao traditionally matches up very well against. Spence would be the favorite based on size, age and skill.
Slightly less dangerous to Pacquiao would be facing the winner of the Sept. 8 battle between Danny Garcia and Shawn Porter. Garcia (34-1, 20 KOs) and Porter (28-2-1, 17 KOs) are fighting for the vacant WBC welterweight title and the possibility of capturing another world title in his career could sway Pacquiao to seek out the winner. Pacquiao could find himself a slight favorite or underdog depending on which of the two fighters he would face, but both would be winnable fights.
The WBA welterweight champion is Keith Thurman. Thurman (28-0, 22 KOs) is a good boxer with tremendous power but Pacquiao's speed and athleticism would probably give him the leg up in that potential matchup. Thurman hasn't fought in over 16 months though and recent pictures suggest he's not in fighting shape at the moment, so the likelihood of a Pacquiao vs. Thurman fight is pretty much nil.
Some fans want Pacquiao to face Adrien Broner. Broner (33-3-1, 24 KOs) is a solid contender at 147 but probably doesn't have the skill to seriously compete with Pacquiao. Pacquiao would be a significant favorite and would likely stop Broner if the two were able to meet in a boxing ring.
Mayweather-Pacquiao 2?
Pacquiao lost a unanimous decision to Floyd Mayweather Jr. in 2015, but the circumstances surrounding the fight, and the fact it was the biggest box office bash in the history of the sport, have led many to suspect the two fighters would meet again in a rematch.
Yes, Mayweather (50-0, 27 KOs) is retired, but he's unretired several times in his career for big money fights including last year's crossover megafight with UFC star Conor McGregor. While it seems unlikely to happen, Mayweather-Pacquiao 2 would still be a huge worldwide event worth millions of dollars to both fighters so those following the sport can never say never to the idea of it happening again.
While Mayweather is 41, he'd still get the nod as the betting favorite should he fight Pacquiao again based on what happened in the first fight as well as his stylistic advantage over Pacquiao.
Pacquiao vs. McGregor?
McGregor's bout against Mayweather last year was such a financial success and the MMA star made so much more money in the boxing ring than he did as a UFC fighter that the idea of him returning to the sport to face Pacquiao isn't as far-fetched as one might think.
Pacquiao vs. McGregor would be an easy sell to the general public. According to CompuBox, McGregor landed more punches against Mayweather than did Pacquiao, and the general consensus is that Mayweather-McGregor was more fun to watch than Mayweather-Pacquiao.
The size difference between the two would lead to an easy promotion. McGregor is a junior middleweight and Pacquiao has only competed at the weight once back in 2010. Despite all that, Pacquiao would be a significant favorite to defeat McGregor and rightly so. He's too fast and too good a boxer, and his aggressive style would likely lead to a stoppage win.
Pacquiao's Top Targets
Pacquiao's top targets should be Mayweather, McGregor and Lomachenko. Pacquiao would stand to make the most money facing either Mayweather or McGregor. Pacquiao's reportedly injured shoulder heading into 2015 bout left many wondering how the fight might be different had the Filipino gone into things at his best, and Mayweather's age might play more of a factor in the second fight than it did in the first. A Pacquiao-McGregor fight would be a worldwide spectacle, one Pacquiao would be heavily favored to win. Besides, it'd be interesting to see if Pacquiao could stop McGregor sooner than historical rival Mayweather. Finally, Lomachenko might be trying to climb up weight classes too fast, and Pacquiao would certainly be fit to test the validity of that theory. It'd be one of the biggest fights in boxing and a win for Pacquiao would be another huge feather in the cap of one of boxing's true historically great champions.
Check out more boxing news on video at The Boxing Channel