Fast Results – Carl Frampton & Amir Khan Win U.K. Homecomings
On a very busy international weekend for the Sweet Science, popular former two-division world champion Carl Frampton​ paid his immense respect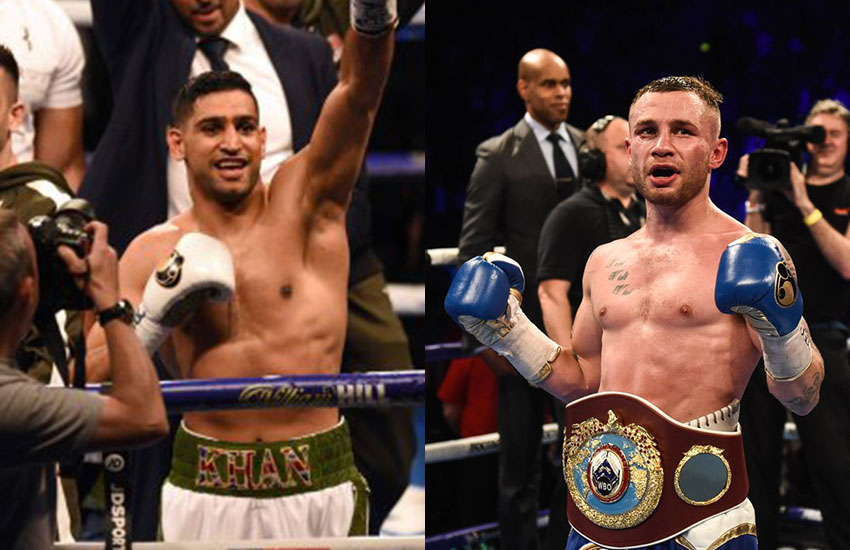 On a very busy international weekend for the Sweet Science, popular former two-division world champion Carl Frampton​ paid his immense respect to 35 -year-old Nonito Donaire​ by conclusively defeating the former four-division world champion via unanimous decision on Saturday night at the packed SSE Arena in his hometown of Belfast, Northern Ireland. There were no knockdowns. All three official judges' scores in favor of Frampton were 117-111.
"I stuck to the game plan," said the winner.
After a feel-out first, swelling began to appear under the left eye of Donaire in the second, a result of Frampton's stutter-step right hands. By the third, Frampton was boxing very well and working in the left hook to Nonito's now nicked nose. As the fight continued, Frampton never stood in range of Donaire long enough to get caught with anything too serious. The aging Donaire was always a step behind his opponent; failing to let his hands go often enough.
In the fifth round, Donaire landed a trio of clean left uppercuts with his own back on the ropes. Unfazed, Frampton returned fire in the sixth with more flush right hands to the damaged left eye of Donaire. In the seventh, Donaire suddenly turned his back for a flash and then nearly turned the tables on Frampton with another strong (right) uppercut that buzzed the Irishman good.
Television replay revealed it was an accidental head clash that caused Donaire to turn away from Frampton, pawing at a fresh slice over his right eye. Nonito's face was a frightful mess.
Frampton then went on cruise control for the remainder of the fight. A Donaire left hook in the eleventh did hurt Frampton (he admitted it afterwards) but it was too little too late. The festive arena atmosphere in Belfast was electric with approximately nine thousand fans of Frampton singing in a "Frampton Wonderland" for a return to the top for their once beaten Irish "Jackal."
With the victory, Frampton, a prime 31 and peaking as a professional, won the interim WBO featherweight championship and he moves a step closer to a full-on world title tilt with Oscar Valdez at the 18K seat capacity Windsor Park in Belfast and/or a rubber match with Mexican arch rival Leo Santa Cruz, holder of the WBA featherweight title belt briefly worn by Frampton.
Frampton improves to 25-1 (14) while Donaire sees his record slip to 38-5 (24). It was Frampton's first fight with new trainer Jamie Moore after splitting with the McGuigan clan.
Donaire, Fighter of the Year in 2012 with four wins in twelve months, lost his "Next Manny Pacquiao" mojo in 2013 to Guillermo Rigondeaux. He was then brutally stopped in 2014 by Nicholas Walters. In 2016, Jessie Magdaleno handed him a unanimous decision loss to defend his WBO 122 lb. title. "Donaire is a still dangerous mofo," Frampton let slip of the Filipino Flash.
Retirement now looks likely for Donaire.
Promoter Frank Warren announced that he is indeed taking Frampton to Windsor Park in August, a dream come true for Frampton. "I can't wait to get there," he said of the venue.
Aired on BT Sport in the U.K. and on the Showtime's YouTube channel in the U.S., Frampton weighed in at 125 1⁄4 while Donaire tipped the scales at 125 1⁄2.
On the Belfast undercard Zolani Tete ​successfully defended his WBO bantamweight championship, defeating a badly faded Omar Narvaez​ by unanimous shutout decision. All three judges saw it 120-108 for Tete. At 42, the Argentine Narvaez is a dozen years older than his peaking South African conqueror. Narvaez offered little more than a strong survival instinct.
In Liverpool, Amir Khan​ won his first match in nearly two years, scoring an easy homecoming TKO in one round of Canadian invader Phil Lo Greco a​t the sold-out Echo Arena. Exactly 9,351 fans spent exactly 39 seconds watching Khan thrown combinations at his overmatched target.
The bout was contested at a 150 lb. catchweight which both boxers made with ease. A bone dry Lo Greco was knocked down 15 seconds into the bout from a solid right hand to the head. Khan then pounced on his wounded opponent and a fast flurry from the Bolton native sent Lo Greco down again into the ropes where referee Victor Loughlin stopped it at :39 of the opening round.
It was Khan's first bout in the United Kingdom since 2013. With substitute trainer Joe Goossen in his corner, Khan made a statement, free of mistakes and chin checks. Before the comeback bout, Amir promised to "beat Phil and beat him well." Mission accomplished. Back to business.
In the fight buildup, Khan stated he couldn't see anything going wrong against Lo Greco and it didn't. Khan was barely touched, if at all. Aired on Sky Sports in the U.K. and Top Rank ESPN+ in the U.S., Khan improves his ring record to 32-4 (19) while Lo Greco fell to 28-4 (15).
"I didn't want it to go the distance," said Khan during the post-fight interview. "I came in to do a clinical job. I saw the opening, right hand, left hook combination, and I finished him off. I want to give the fans in England the best fights. I want to fight the best welterweights out there. I will fight and beat Kell Brook if it ever comes down to that," he promised.
"Amir Khan is back with a big bang!"
"I love a Khan-Brook fight," said premier promoter Eddie Hearn. "It's what the British public wants and we should deliver what the British public want."
Check out more boxing news on video at The Boxing Channel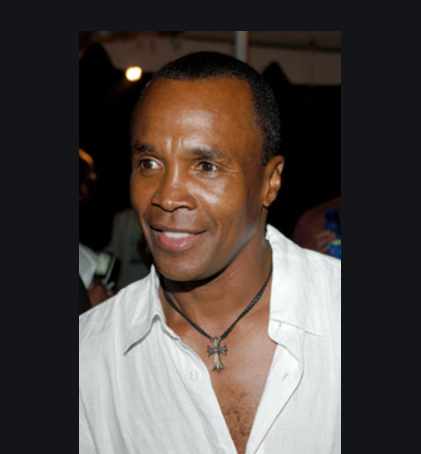 Monday, April 6, marks the 33rd anniversary of the storied fight between Sugar Ray Leonard and Marvin Hagler. In 2007, in conjunction with the 20th anniversary, Philadelphia Daily News boxing writer Bernard Fernandez looked back at that event through the eyes of Sugar Ray Leonard with whom he had arranged an exclusive interview. Fernandez's feature-length story ran under the title "A Ray to Remember."
With Bernard's permission, we are re-printing that story in its entirety. A 2020 International Boxing Hall of Fame inductee, the multi-decorated Fernandez is the author of "Championship Rounds," a soon-to-be-published anthology.
A Ray to Remember
The image is one of eternal youth, the impossibly gifted and charismatic young father smiling and cutting up with his giggling tyke of a son.
But the popular soft-drink commercial in which Ray Leonard Sr. and Ray Jr. appeared together aired in 1980, when certain boxers, if not boxing itself, were still seen as having broad enough appeal to sell products to America.
The 2007 vintage Ray Leonard Sr., better known to his many fans as Sugar Ray, remains handsome and charismatic. But, at 50, his working attire now runs more toward tailored suits and tasseled, Italian-made loafers than to satin trunks and tasseled boxing shoes. It has been more than 10 years since he attempted to summon the old magic in a final, futile comeback bid.
But during a luminescent prime in which he transcended his sport as few have, the quick-handed, steel-willed kid from suburban Washington, D.C., gave the public more than a few moments that are indelibly burned into the pages of boxing history. There was the gold medal he won at the 1976 Montreal Olympics; his stirring, late-round comeback in his first showdown with Thomas Hearns; the night he so dominated the great Roberto Duran in their first rematch that the "Hands of Stone" up and quit in the eighth round.
For all those peaks in a Himalayan career, however, perhaps the most towering accomplishment occurred on April 6, 1987, in a temporary outdoor stadium erected on the tennis courts at Caesars Palace in Las Vegas. That's when Leonard emerged from one of several retirements to shock undisputed middleweight champion Marvelous Marvin Hagler, who was widely regarded as near-invincible. In the Vegas sports books, the odds against Leonard were incredibly long for someone of his stature. More than a few members of the media even expressed concern for his immediate and long-term health.
Today is the 20th anniversary of Hagler-Leonard, a prizefight that seized the attention of the entire world, but the years always melt away in the mind of the man who manufactured one of boxing's most unforgettable upsets. All Leonard has to do is close his eyes for the memories to come flooding back, as warm and vivid as ever.
"I swear, I look at my kids and wonder where the time went," Leonard said in an exclusive interview with the Daily News recently. "Can it really have been 20 years? One day, you look at your son and he's a little boy. Before you know it, he's sprouting facial hair and is three or four inches taller than you. You're, like, `Wow.' Ray Jr. is 33 now.
"It's funny how the good memories stick with you longer. Human nature, I suppose. I could always tell in the dressing room, when I was warming up, if it was going to be a good night or a long night. If you don't feel like you have it that night, it is the most frightening thing for a fighter. I felt that way against Hector (Camacho, who stopped Leonard in five rounds on March 3, 1997, in Atlantic City Boardwalk Hall, his final bout). I felt the same thing before the first Duran fight, before the second Hearns fight, before the fight with Terry Norris.
"Fighters know when they have it. They know. When I was younger and I had those little moments of doubt, which were rare, I was usually able to overcome them. After Camacho, I knew I never wanted to experience a moment like that again. It's like you have a vision you're about to die and you can't do anything about it.
"But against Hagler, I just felt like I was as ready as I possibly could be."
Hagler-Leonard, like the first matchup of Mike Tyson and Evander Holyfield that was delayed for years, was a long time coming. Leonard had spent a sizable chunk of his career at welterweight, moving up to junior middleweight at around the same time Hagler was establishing himself as one of the finest 160-pound champions of all time. Everyone assumed that Leonard would move up to middleweight and challenge Hagler, probably sooner rather than later.
In the spring of 1982, however, Leonard was inadvertently poked in the left eye by the gloved thumb of a sparring partner The eye immediately reddened and his vision became blurred. The blurring cleared up after a short time, but the spots in his line of vision did not.
A detached retina was diagnosed, and Dr. Ron Michels operated on Leonard's eye to repair the damage. Although advances in laser technology have made the reattachment of retinas a common surgical procedure, back then the injury was serious enough to end careers.
Although Michels assured him that his left eye was fully healed, Leonard, who had impulsively retired and unretired twice, wrestled with the fear that continuation of his career might leave him sightless. That, and the urging of his first wife, Juanita, edged him toward a momentous decision.
Ever the showman, Leonard rented the Baltimore Civic Center on November 9, 1982, for a black-tie gala attended by 10,000 fans and special guests. Among those on hand was Hagler, who also wore a tuxedo for what he presumed would be the announcement that the fight everyone wanted to see finally was going to be made.
In a ring that had been set up for the occasion, Leonard looked at Hagler and addressed the crowd. "A fight with this great man, with this great champion, would be one of the greatest fights in history," Leonard said. "Unfortunately, it'll never happen."
There was a gasp, followed by stunned silence. Hagler felt, with some justification, he had been sandbagged. This is not what he came to hear.
But even as he was saying the words, Leonard had doubts about their validity in the long term.
"Yeah," I said, `This is it. I'm done,' but I'm not sure in my heart I believed it," Leonard said. "I think I realized I might change my mind later, but I felt pressured to do the logical thing, which was to retire.
"I was, what, 26 years old then? I was a young guy still at the top of my game. But I guess I just wanted to put an end to the questions. My mind told me what to say, but in my heart my competitive fire was still burning."
The flame might have been set on low, but it never went out. Leonard accepted a position as a boxing analyst for HBO, which allowed him to be at ringside for a number of Hagler's title defenses.
"Marvin became my friend," Leonard said. "We'd talk. There was no barrier between us because I was out of it; he didn't consider me a threat to him. So he told me things that I mentally stored away.
"When he came for the grand opening of a restaurant in Bethesda, Maryland, I had a little piece of, we were drinking champagne. He said, `Yeah, man, I'm not motivated. I'm starting to get cut easily.' It didn't seem like he was into boxing that much anymore.
"I don't know how significant that conversation was, but it was one of a lot of factors in my decision to come back."
Perhaps the most crucial of those factors was Hagler's performance in a tougher-than-expected, 11th-round knockout of John "The Beast" Mugabi on March 10, 1986.
"It was a cold night in Vegas," Leonard recalled. "I saw Mugabi outjabbing and outboxing Hagler. It was a bad, bad night for Marvin, even though he won. It took a toll on him physically. It also seemed to me that he wasn't focused."
Leonard – who had had only one bout since February 1982, a ninth-round stoppage of Philadelphia journeyman Kevin Howard on May 11, 1984, in which Leonard was floored himself – made another announcement. He was back, and he was going after Hagler.
"When I said I was coming out of retirement, the reporters wanted to know who my tuneup fight was going to be against," Leonard said. "I said, `No tuneup. I'm going straight to Marvin.' Even my brother Roger thought I had lost it. There was no one, besides my father, who believed I had a prayer.
"Well, there was my father and Mike Trainer (Leonard's longtime attorney/adviser). I talked to Mike after I came back from watching Hagler-Mugabi. I said, `Michael, me and Hagler, who wins?' He looked me right in the eye and said, `Ray Leonard can't beat Hagler. But Sugar Ray Leonard can.'
"When he said that, I didn't understand at first. Looking back at it now, it made sense. He was saying Ray Leonard – the civilian, the businessman, the media personality – couldn't win a fight like that. But if I could get back to being Sugar Ray, I could win."
The buildup to the fight was of Super Bowl proportions. Hundreds of media from around the world converged on Las Vegas, not so much to cover a competitive event as to chronicle Leonard's seemingly doomed quest.
But Leonard soaked up the skepticism and fed off it, all the while employing every psychological ploy he could think of.
"I worked Hagler from Day 1, even before I had the slightest imagination of fighting him," Leonard said. "I studied this man day in and day out. I guess I did it subconsciously, when I was commentating for HBO. I'd study his mannerisms.
"Then, when Mike Trainer and I were negotiating (with Hagler's manager-trainers, Goody and Pat Petronelli), we played angles. We'd give them this, take back that. To Hagler and his people,  none of it was relevant. All they saw was the dollar signs. They never even considered the possibility that Hagler might lose.
"Look, Hagler made a ton of money. I made a ton, too. Both parties were satisfied. It wasn't until after the fact that they were dissatisfied. They complained that we got to pick the brand of gloves that were used, the number of rounds the fight was scheduled for."
As was the case with Muhammad Ali's "Rope-a-Dope" strategy against George Foreman,  Leonard concocted a plan to steal rounds with flurries in the last half-minute of close ones. It proved a stroke of genius.
"I told (cornerman) Ollie Dunlap in the dressing room, `30 seconds before the end of the round, yell. Let me know," Leonard said. "He did that, and I'd flurry. It won rounds for me, no question."
It also helped that Hagler, a southpaw, came out in an orthodox posture for the first two rounds.
"When the bell rang for the first round, I was all nervous energy," Leonard said. "I might have talked the trash, but now it was time to put up or shut up. I really didn't know if I still had it. I hoped it was there. But when Hagler came out fighting righthanded, it gave me an opportunity to get settled."
Hagler, who maintains to this day that he deserved to win, was so enraged by the split decision against him – judges JoJo Guerra and Dave Moretti scored it 118-110 and 115-113 for Leonard, while Lou Fillippo had Hagler ahead, 115-113 – that he never fought again. The Brockton, Massachusetts, native lives in Milan, Italy, where he is a part-time actor.
"Hagler didn't want to be around me for a while, which I can understand," Leonard said. "But when we see each other now we're cordial. I was in Vegas for Oscar (De La Hoya) and Felix (Trinidad). Marvin was there. He asked to see me. We shook hands and spoke.
"After the fight, which Oscar lost, I saw Marvin the next morning before I went to the airport. I said, `Can you believe that decision? No way Oscar lost.' He said, `Yeah, I believe it. It happened to me.'"
Leonard was 2-2-1 in his five fights after Hagler, retiring at the age of 40. These days he enjoys the company of his second wife, Bernadette, and the youngest of his four children, Camille, 10, and Daniel, 6. He plays some golf, skis and has a prominent role with The Contender reality boxing series on ESPN.
"There's no void that needs to be filled," Leonard insisted. "There's a fullness, a direction, to what I do. I am not in a hurry to go anywhere or do anything. I just want to stay creative and stimulated. I'm reconnecting with my older kids (including son Jerrell, 23). I feel good about where I've been, who I am now and where I'm going.
"Hagler and I had great, illustrious careers. We're living our lives. You can't hold onto the past forever. You have to move on."
Check out more boxing news on video at The Boxing Channel 
To comment on this story in The Fight Forum CLICK HERE
Scoring the Hagler-Leonard Fight With Fresh Eyes: More Fuel for the Fire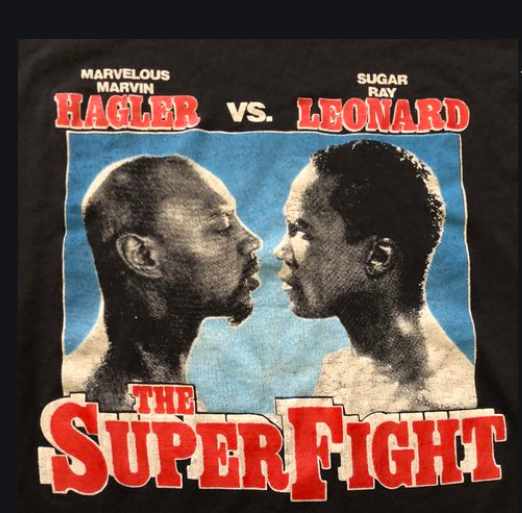 Monday, April 6, marks the 33rd anniversary of one of the most famous fights in boxing history. On that date in 1987, Sugar Ray Leonard upset Marvelous Marvin Hagler at Caesars Palace in Las Vegas, ending Hagler's 36-fight unbeaten streak. The Marvelous One never fought again.
It wasn't a great fight, but it was a great spectacle. The split decision favoring Sugar Ray was highly controversial and remains a bone of contention to this very day. The only thing that everyone seems to agree on is that the score turned in by Mexican judge Jo Jo Guerra – he had it 118-110 for Leonard – was ridiculous.
TSS New England correspondent Jeffrey Freeman re-visited that fight in an article published on this site in April of 2017. Freeman went back and meticulously studied the tape, re-scoring the fight round-by-round. His conclusion may surprise you.
Here we go, a blast from the past. (Click here to read Jeffrey Freeman's full 2017 article.)
ROUND ONE: Leonard is on his bicycle immediately, dancing in circles around an orthodox Hagler. Immediate first impressions are that Leonard looks a little bigger than Hagler, not unlike Danny Jacobs last month against Gennady Golovkin. Leonard does not stop to punch very often but the first time he does strike, he unleashes a fast combination from which a left hand clips Hagler on the chin. Marvin smiled and Sugar Ray went back to dancing but the message was received loud and clear. Leonard was for real.  And now he was taunting Hagler by sticking out his chin. More combination punching from Leonard outscores Hagler's initial body attack.
Leonard wins the first round 10-9.
ROUND TWO: Still fighting orthodox, Hagler is looking to close the distance quicker and punch more. A wide left hook grazes Leonard early in the round. Leonard is boxing well and showing flashes of the defense he's well known for. Leonard grabs on for the first time after punching while Hagler pounds the body with his free right hand. A whipping right from the outside catches Hagler high on the head. Leonard places a nice left to the body under the elbow. Leonard clinches. With thirty seconds left in the round, Leonard connects with a clean right hand to the side of Hagler's head. Another left to the body from Leonard at the bell.
Leonard wins the second round 10-9.
ROUND THREE: Fighting southpaw for the first time, Hagler is bobbing and weaving but he's having a hard time keeping Leonard in one place long enough to punch at him. Lead right hands from Leonard are actually landing cleaner than anything Hagler is throwing in the challenger's direction. Hagler cannot land his right jab effectively and his uppercut is not breaking up and through the guard of a very defensive minded Leonard. With less than thirty seconds to go, a pair of one-twos from Leonard connects.
Leonard wins the third round 10-9.
ROUND FOUR: Hagler is boxing southpaw and trying unsuccessfully to catch up to Leonard. The challenger is sliding around the ring while Hagler swings and misses. A lead right hand from Leonard connects before a quick clinch. While tied up, Hagler worked the body a few times with his free hand. Leonard landed a clean right to the head on the break, a sign that he is neither intimidated by nor respectful of Hagler. Leonard confirms this fact later in the round when he winds up a showboat bolo punch that lands directly on Hagler's groin. Referee Richard Steele warns Leonard but Sugar Ray is doing what he wants in there when he wants to do it.
Leonard wins the fourth round, 10-9.
ROUND FIVE: Leonard starts the round strong with a pair of one-twos that connect as Hagler tries to get inside. Leonard is still moving well, beating Hagler to the punch. It looks at times like Hagler's feet are stuck in mud, while Leonard looks to have wings on his tasseled heels. With less than thirty seconds in the round, Hagler lands a right uppercut on the inside and Leonard is knocked back wobbly from the impact of the punch. Hagler hammers Leonard on the ropes at the bell. Hagler was out-landed this round, but Leonard was hurt.
Hagler wins the fifth round 10-9.
ROUND SIX: The fight is being fought at a familiar pace. Hagler is pressing forward trying to connect. Leonard is boxing from the outside, potshotting Hagler off the jab. Hagler's stance switches don't seem to bother Leonard at all. From the southpaw or orthodox position, Hagler misses wildly while Leonard glides away to safety or stands right in front of Hagler; bending back and away from the champion's wide punches. The objective reality is that Leonard is landing more than Hagler and Hagler is missing more than Leonard.
Leonard wins the sixth round 10-9.
ROUND SEVEN: With Leonard beginning to show his first signs of weariness, Hagler takes advantage to close the gap, landing well with the southpaw jab. Leonard is still countering more effectively but Hagler's power is starting to find the target. A left uppercut on the ropes from Hagler distorts the pretty face of Sugar Ray. As the round times out, Leonard reverts to shoeshine punches from the outside while Hagler deters his movement and puts Leonard on the ropes for some much needed body punches. This was a very close round.
Hagler wins the seventh round, 10-9.
ROUND EIGHT: Despite Leonard using every inch of an unusually large boxing ring, Hagler's long right jab lands clean in the first minute of the round. Hagler is starting to look marvelous for the first time in the bout. Leonard is not so tired yet that he can't keep moving but he is fading to the point where his punches lack the hard snap of earlier. Hagler makes Leonard pay when he opens up and exposes himself to counters. Leonard stands and fights on semi-even terms with Hagler to close out a good round for the defending champion.
Hagler wins the eighth round 10-9.
ROUND NINE: Before the bell to start the round, Leonard's trainer Angelo Dundee can be heard begging Ray to "just box" and not stand toe-to-toe. By contrast, in the opposite corner, the Petronellis are very calm and collected. Almost too calm. Like an "IBM board meeting" kind of calm. When the action resumed, both Hagler and Leonard went back to what they found effective earlier, Leonard boxing on the outside and Hagler trying to get close with the jab to rough Ray up inside. At the halfway point in the round, Hagler finally has Ray on the ropes, standing straight in front of him. Hagler does great work with his more powerful punches. Under fire in the corner, Leonard shoots off a lightning fast combination as he spins away from danger. It's clear that Leonard can hit Hagler. It's not so clear that he can hurt him. Hagler is walking through Leonard's punches to land harder shots of his own in a great ninth round.
Hagler wins the ninth round, 10-9.
ROUND TEN: With nine minutes left to go in the career of Marvin Hagler, the champion comes out to start the round with a wild right hand that misses. While both fighters are showing some signs of fatigue, it is Hagler who is landing the harder punches as Leonard's ability to move diminishes. Hagler is the more aggressive fighter in this round, although not always the more effective boxer. Leonard is still scoring points with basic boxing as Hagler wades in head first. Another extremely close round to call.
Leonard wins the tenth round, 10-9.
ROUND ELEVEN: The pace is slow to start the first minute of the championship rounds. Leonard is still finding Hagler's chrome dome with left-right combinations. Leonard starts to showboat again, taunting Hagler; then unloading with slashing punches. The majority of Leonard's punches miss but he is now more active than Hagler. Showing his first signs of desperation, Hagler lunges in with wide punches that Leonard is able to deftly avoid by leaning back at the waist. A clean left to the body, then upstairs, lands for Leonard.
Leonard wins the eleventh round, 10-9.
ROUND TWELVE: With three minutes left in the fight, Leonard is ecstatic in the corner before the bell. Both he and Dundee feel they have the fight won as Dundee yells out "new champion" over and over again.  Leonard beckons Hagler to the center of the ring where Steele makes them touch gloves. Hagler goes on the attack immediately, perhaps sensing the seriousness of the situation. Pinned on the ropes in a corner, Leonard again impresses the crowd with a flashy combination to Hagler's head before dancing away to circle the ring. With ninety seconds left to go, Leonard looks content to run and grab. Hagler misses with a left and a right over the top of a crouching Leonard with a minute to go. Both boxers begin to acknowledge the crowd by raising a fist. Leonard again holds and Hagler punches him repeatedly in the side of his body. They trade inside with Leonard's back to the ropes to close out the fight.
Hagler wins the twelfth round, 10-9.
I scored the fight 115-113 for Leonard, the same as on the night I first saw the fight live in 1987. Judge Lou Filippo scored it 115-113 for Hagler. Judge Dave Moretti scored it 115-113 for Leonard. And Judge Jo Jo, well, you know what he did.  The A.P. scored for Hagler. The Boston Globe scored for Leonard. HBO's Harold Lederman had it 115-113 Leonard.
Larry Merchant?  He had it a draw.
Ultimately, Leonard was much better than anyone could have realistically expected. And Hagler was much farther past his prime than anyone truly realized. Quite naturally, it was the perfect time for Leonard to have come out of retirement for a fight with the aging Hagler. So there you have it folks.  I've thrown down the gauntlet.  Feel free to pick it up and tell me where I'm wrong.
How did YOU score the fight?
Who REALLY won?
Was it Hagler?  Was it Leonard?
The debate rages on…
Boxing Writer Jeffrey Freeman grew up in the City of Champions, Brockton, Massachusetts from 1973 to 1987, during the Marvelous career of Marvin Hagler. JFree then lived in Lowell, Mass during the best years of Irish Micky Ward's illustrious career. A new member of the Boxing Writers Association of America and a Bernie Award Winner in the Category of Feature Under 1500 Words, Freeman covers boxing for The Sweet Science in New England.
Check out more boxing news on video at The Boxing Channel 
To comment on this story in The Fight Forum CLICK HERE
Art of Boxing Series: Tim "Desert Storm" Bradley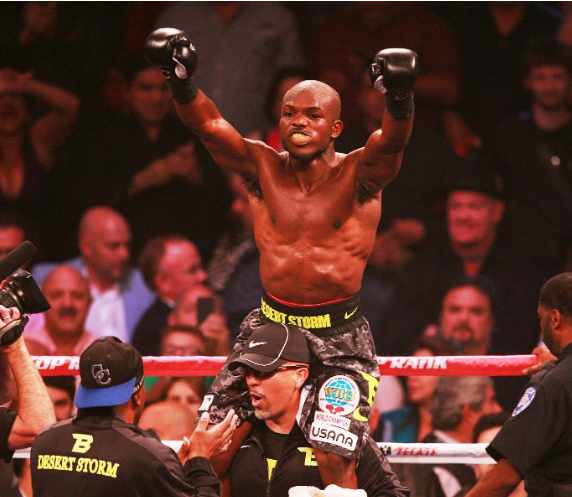 Few things compare to watching the rise of a virtual unknown boxer to world champion status and that's what transpired in the amazing career of Tim "Desert Storm" Bradley Jr.
From the first day Bradley stepped into the outdoor prize ring in Corona until his final clash against a super star almost exactly four years ago in Las Vegas, it was like watching a classic painting in the works, a Rembrandt, a Picasso, a Renoir – layer by layer of clashing colors and resistance to opposing forces.
Not all prizefighters are the same.
Bradley, though tough as they come and as fast as a zephyr, was forced to rely on limited physical tools and a mental aptitude for studying the opposition the way a Nobel prize winning physicist might study molecules.
He is a member of a limited few who mastered the art of boxing.
It all began in the starched and heated area of Palm Springs where temperatures soar above 115 degrees on a regular basis in the summer. It can also dip below 30 on a winter night. It was around 1994 that Bradley found boxing.
Always short for his age, others picked on Bradley and he quickly retaliated with flashing fists. He was expelled twice and nearly booted from an entire school district. But he found a loophole when a friend told him about a boxing gym.
"A friend of mine was doing it. His name was Julio and we was always slap boxing around in school, just kidding around trying to hit each other in the face," said Bradley recounting his elementary school days. "I was quick and very athletic and was always able to get to him before he was able to get to me. And he was boxing. So I begged my dad for almost two months to take me to the boxing gym."
Bradley's father worked across the street from a Palm Springs boxing gym and it coincidentally was the same gym his friend Julio attended. Father and son visited the gym one day. Bradley was 10 years old.
"I felt like I was walking into my heaven. I remember it was a blue heavy bag when we walked in the door to my right. I saw the ring, it was off to the right in the corner. And the speed bags were directly in front of me and they had these platforms if you were short so you could reach the speed bags. And I remember seeing all these different pictures on the wall of fighters and trainers and champions," Bradley recalls.
After signing waivers and getting weighed, the older gentleman, a husky caretaker named OJ Kutcher from Boston, took a good look at young Bradley and tapped him lightly on the chest.
"He looked at me and said 'oh, you're different. There is something about you kid. You are going to be a champion' and my dad started laughing," said Bradley about what the old trainer said in his Bostonian accent.  "My father said we just want to box. Don't fill my son's head up. You don't got to sell us on this man. We just started laughing."
It wasn't a laughing matter once actual training commenced. Immediately Bradley excelled and surpassed the others in his ability to do more push-ups, run faster and train harder. In two weeks he got his first fight. Shortly after, he was pit against a youngster who would be a future amateur legend.
"I remember fighting Panchito Bojado in my second fight. He beat me. I fought hard as I can but I didn't really know a lot. Then I met him again in my fourth fight in the tournament," said Bradley chuckling at the memory. "So then I went to the junior golden gloves and he beat me again. He started boxing early, early. I fought hard but he had some experience on me. I never fought him again."
Bradley quickly became the best fighter in the desert region. Now he set his goals on bigger game.
National Recognition
Though small in stature, Bradley was making a big impact on the amateur boxing world. Stars like Andre Ward, Andre Berto, Andre Dirrell were all future foes and obstacles for Bradley who fought at 147 and 152 pounds as he got older.
His favorite amateur fight took place in the early 2000s.
"My favorite fight was against Edgar Sanchez. He was from Arizona. He's a lefty. He had just beaten Andre Ward in the Blue and Gold Tournament. I remember watching that fight. I fought Andre Ward in the same tournament. Andre ward beat me 2 to 1, and then Edgar Sanchez beat Andre next day. And that was the last time I saw Andre Ward lose actually," said Bradley about his favorite amateur win. "That guy, I fought him in the Silver Gloves regionals in the finals and I remember him beating Andre Ward and he beat a couple of other guys that were top-notch from California. I remember getting in the ring with him and I ended up beating him."
Bradley said he carefully watched Sanchez defeat Ward with an intense pressure style. He devised his own plan to defuse the aggressive boxer and when they met, he emerged the winner.
"I was able to out-box him. Set traps and just let him run into punches. I ended up beating him," said Bradley remembering the victory. "That was probably my favorite amateur fight."
Around this same period Bradley was trying to make his long-sought dream of making the US Olympic boxing team. He had two more opportunities when he fought in the Police Athletic League Nationals.
"I fought in the PAL Nationals semi-finals and I fought someone from the Army team. It was tied up 10-10 I think. Then, in the last round, I went straight at him pinned him on the ropes, drilled him and no doubt in my mind I won the fight. After the fight I put my hands up because I had no doubt in my mind I won," Bradley said of the fight held at 152 pounds. "But they raised his hand instead. That's just crushed me when I lost. My dream was to go to the Olympics at 152."
Despite severe height disadvantages at the 152-pound weight class, Bradley felt he was capable of still making the Olympic team.
"I had one more chance and lost the challenge to Vanes (Martirosyan). I had never seen him before. He was tall and long and had good power and skill, he surprised me. He shook me. I was like wow, who is this kid," said Bradley at the memory. "I fought against the Dirrell brothers, Andre Berto, Andre Ward, I fought all of them. But yeah, I ended up losing and that crushed me. I thought about quitting boxing."
Enter Thompson Boxing
Months passed by and Bradley decided to partake in teen activities like partying and partying.
"I was finally doing things a teen-ager does," said Bradley. "I had always been so disciplined and did nothing but train. But with no boxing, I started partying."
Then one day, at a Palms Spring golf course, Bradley was attending a party when he saw a group of people with shirts that had Thompson Boxing emblems. He asked a man wearing a Thompson Boxing shirt about the company and also informed him that he was a boxer.
"This guy said put your hands up and then he slapped me in the face. Then he slapped me in the face again and we got into a little tussle. I started coming after him. I was furious. Then Ken Thompson's son Steve ran over to help. I was trying to kill that dude. Steve (Thompson) said, I like your spirit."
Thompson Boxing agreed to give Bradley an audition fight. But first, Bradley sought out a trainer to make the transition from amateur to professional boxing.
He found Joel Diaz and his brother Antonio Diaz in Indio.
"The Diaz brothers had a big reputation in the Valley. Julio won two world titles, Antonio fought Shane Mosley and Joel fought as well. I just trusted those guys. I knew I had to learn how to really step into the jab. Growing up in boxing you know the lingo," said Bradley about making the transition in six months. "It was mentally draining, I had to learn distance."
Finally, on August 20, 2004, Bradley made his pro debut at Omega Products International at Corona, California. It was an outdoor event and facing him was a guy named Francisco Martinez who was also making a pro debut.
"I fought a kid who had just turned pro too and the first jab he hit me with was like getting hit in the face with a brick. Oh my goodness. He's not hitting me no more," said Bradley about his first prize fight. "I knew I had more skill than he had. Joel taught me how to break down guys to the body. You got to take something out of them by beating them to the body."
Bradley won by second round technical knockout.
To be continued…….
Photo credit: Al Applerose
Check out more boxing news on video at The Boxing Channel 
To comment on this story in The Fight Forum CLICK HERE