Ernest Hemingway, Boxing, and "Fifty Grand"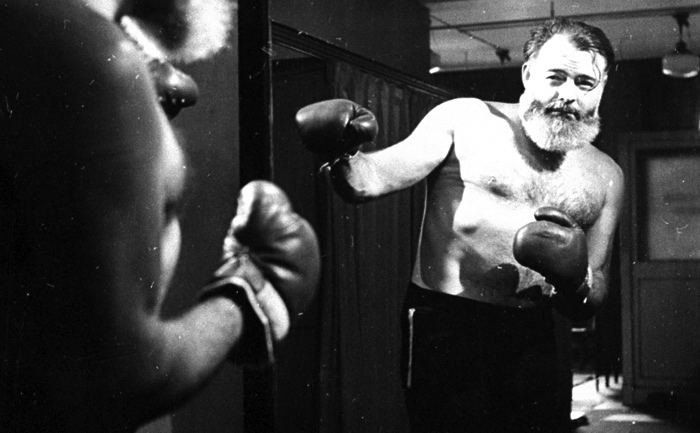 Ernest Hemingway referenced boxing from time to time in his writing. But one of his works was devoted entirely to the sweet science.
Hemingway's great novels were far in the future when he wrote "Fifty Grand." He was a 27-year-old journalist and short story writer. The Atlantic Monthly published the 8,000-word piece in 1927.
Fifty Grand is told in the first person by Jerry Doyle, the trainer for welterweight champion Jack Brennan. There was a time when Brennan was a very good fighter. "He certainly did used to make the fellows he fought hate boxing," Doyle notes. But Brennan is now tired and old. He has looked awful in training camp. In Doyle's words, "He just hasn't got anything inside any more."
The odds are 2-to-1 against Brennan on the eve of his title defense at Madison Square Garden against challenger Jimmy Walcott. Two nights before the fight, Brennan tells Doyle that he has bet $50,000 on Walcott.
"It ain't crooked," Jack says to his trainer. "You know I can't win anyway. How can I beat him? I'm through after this fight. I got to take a beating. Why shouldn't I make money on it? I'll give them a good show. It's just business."
The fight itself is dramatically told, as one would expect. After all, this is Ernest Hemingway.
Brennan controls the early rounds with his jab.
"Walcott was after him," Hemingway writes, "going forward all the time with his chin on his chest. All he knows is to get in there and sock. But every time he gets in there close, Jack has the left hand in his face. That left-hand is just automatic. It's just like it was connected with Walcott's face. After about four rounds, Jack has him bleeding bad and his face all cut up. But every time Walcott's got in close, he's socked so hard he's [put] two big red patches on both sides just below Jack's ribs. Every time he gets in close, he socks Jack in the body so they can hear it outside in the street."
By the middle rounds, Walcott is dominating the fight. Jack's left arm is getting heavy. His strength is gone. His legs have deserted him. He's taking a terrible beating, especially to the body. All he wants now is to avoid the indignity of a knockout, finish on his feet, and collect his purse plus the $25,000 profit on his bet.
"It was going just the way he thought it would," Doyle recounts. "He knew he couldn't beat Walcott."
Round eleven.
"The gong rang and we pushed him out. He went out slow. Walcott came right out after him. Jack put the left in his face and Walcott took it, came in under it, and started working on Jack's body. Jack tried to tie him up and it was just like trying to hold on to a buzz-saw. Jack broke away from it and missed with the right. Walcott clipped him with a left-hook and Jack went down. He went down on his hands and knees and looked at us. The referee started counting. Jack was watching us and shaking his head. At eight, Jack got up. The referee had been holding Walcott back with one arm while he counted. When Jack was on his feet Walcott started toward him."
Then the plot becomes a bit contrived.
"Walcott came up to Jack looking at him. He backed Jack up against the ropes, measured him, and then hooked the left very light to the side of Jack's head and socked the right into the body as hard as he could sock, just as low as he could get it. He must have hit him five inches below the belt. I thought the eyes would come out of Jack's head. They stuck way out. His mouth come open. The referee grabbed Walcott. Jack stepped forward. If he went down, there went fifty thousand bucks. He walked as though all his insides were going to fall out."
Now the dilemma. If Jack collapses from the low blow, he'll win by disqualification and be $75,000 poorer than if he'd lost. He struggles to maintain his feet and assures the referee that he can continue.
"It wasn't low," Jack says. "It was a accident. I'm all right,"
"Come on and fight," Jack says to Walcott.
The referee waves Walcott in.
"Jack's face was the worst thing I ever saw, the look on it. He was holding himself and all his body together and it all showed on his face. All the time he was thinking and holding his body in where it was busted. Then he started to sock. Walcott covered up and Jack was swinging wild at Walcott's head. Then he swung the left and it hit Walcott in the groin and the right hit Walcott right bang where he'd hit Jack. Way low below the belt. Walcott went down and grabbed himself there and rolled and twisted around. The referee grabbed Jack and pushed him toward his corner. There was all this yelling going on. The referee was talking with the judges and then the announcer got into the ring with the megaphone and says, 'Walcott on a foul.'"
Walcott has been unable to rise and thus been declared the winner by disqualification. Did he have a fix of his own in mind when he deliberately went low on Jack? From Hemingway's point on view, that's secondary to the belief that Jack Brennan fought like a champion by continuing to fight after the low blow even though his goal was to deliberately lose.
But Hemingway didn't just write about boxing. He considered himself a boxer.
How good was he? Not very.
Hemingway's most notable ring encounter came at The American Club in Paris in 1925 when he sparred against a Canadian writer named Morley Callaghan. The two men had squared off on several previous occasions. Callaghan, in an account corroborated by third parties who were present, wrote about the experience in a book entitled That Summer in Paris.
"Ernest was big and heavy," Callaghan recalled. "Over six feet, and I was only five-foot-eight and fat. Whatever skill I had in boxing had to do with avoiding getting hit. I was a little afraid of Ernest. All of the lore and legend of the pros seemed to be in his stance and in the way he held his hands. His chin down a little to his shoulder, he made an impressive picture. Watching him warily, I could only think, 'Try and make him miss, then slip away from him.' All I did for the first three-minute round was slip away."
Then, between rounds, Callaghan realized, "I'm not trying to box with him. I'm trying to defend myself against the wild legends I've heard."
The Canadian was more competitive for the rest of that first sparring session.
Hemingway and Callaghan sparred together several times thereafter.
"The truth," Callaghan reminisced, "was that we were two amateur boxers. The difference between us was that he had given time and imagination to boxing. I had actually worked out a lot with good fast college boxers. He was a big rough tough clumsy unscientific man. In a small bar or in an alley where he could have cornered me in a rough-and-tumble brawl, he might have broken my back; he was so much bigger. But with gloves on and in a space big enough for me to move around, I could be confident. I could see that, while he may have thought about boxing, dreamed about it, consorted with old fighters and hung around gyms, I had done more actual boxing with men who could box a little and weren't just taking exercise or fooling around."
Their final sparring session was particularly intense.
"Ernest had become rougher," Callaghan recounted, "His heavy punches, if they had landed, would have stunned me. I had to punch faster and harder myself to keep away from him. It bothered me that he was taking the punches on the face like a man telling himself he only needed to land one punch himself. Then Ernest came leaping in at me. Stepping in, I beat him to the punch. The timing must have been just right. I caught him on the jaw. Spinning, he went down, sprawled out on his back."
The fly in the ointment was that F. Scott Fitzgerald, who was serving as timekeeper, had become so engrossed in the proceedings that he'd let the round run a minute long. Hemingway reportedly never spoke to Fitzgerald again.
Who else did Hemingway spar with? Well, at least one man wouldn't spar with him.
Jack Dempsey visited Paris while heavyweight champion and later recalled, "There were a lot of Americans in Paris, and I sparred with a couple, just to be obliging. But there was one fellow I wouldn't mix it with. That was Ernest Hemingway. He was about twenty-five or so and in good shape, and I was getting so I could read people, or anyway men, pretty well. I had this sense that Hemingway, who really thought he could box, would come out of the corner like a madman. To stop him, I would have to hurt him badly, I didn't want to do that to Hemingway. That's why I never sparred with him."
Then, years later, Hemingway engaged in a sparring session of sorts with Dempsey's conqueror, Gene Tunney. George Plimpton told the tale as follows:
"It happened at Hemingway's home outside Havana, where Hemingway was always trying to get Tunney, whenever he came to visit, to spar bare-fisted. Tunney would grumble and get up on occasion to do it, though mostly he looked up at Hemingway from his armchair and said no. On this occasion, the two men began shuffling around the big living room, and Hemingway did what Tunney half-expected. He threw a low punch, perhaps out of clumsiness, but it hurt. It outraged Tunney. He feinted his opponent's guard down and then threw a whistling punch, bringing it up just a millimeter short of Hemingway's face so that the fist and the ridge of bare knuckles completely filled the other's field of vision, the punch arriving there almost instantaneously so that immutable evidence was provided that, if Tunney had let it continue its course, Hemingway's facial structure – nose, cheekbones, front teeth, and the rest – would have snapped and collapsed inwardly. And Tunney looked down the length of his arm into Hemingway's eyes and said, 'Don't you ever do that again!'"
Thomas Hauser can be reached by email at thauser@rcn.com. His most recent book – There Will Always Be Boxing – was published by the University of Arkansas Press. In 2004, the Boxing Writers Association of America honored Hauser with the Nat Fleischer Award for career excellence in boxing journalism.
Check out more boxing news on video at The Boxing Channel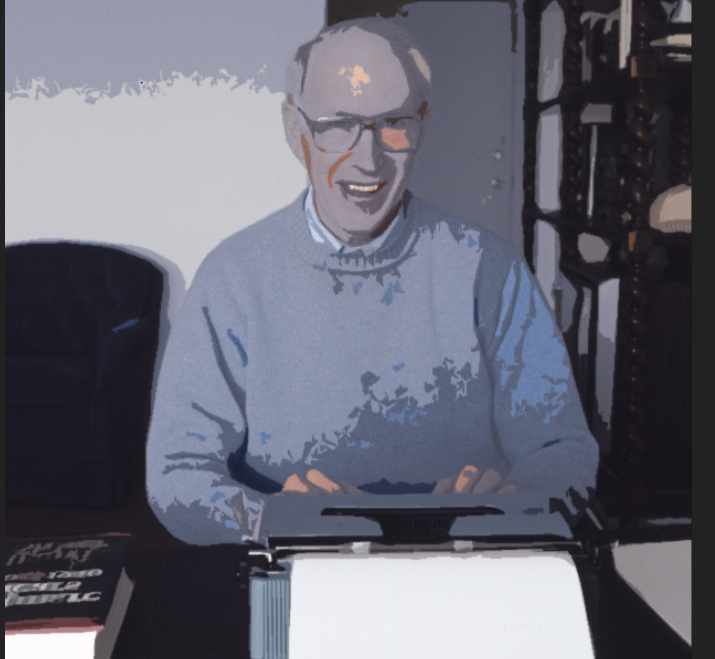 A Review of When Pittsburgh Was a Fight Town (2019)
Roy McHugh never met Harry Greb. He was eleven when the Pittsburgh Pandemonium passed away on a rainy day in 1926, and it's fair to say he just missed him. He was, however, pals with Greb's pal and sparring partner Cuddy DeMarco, which means he has one degree of separation to my fifteen from the greatest fighter of the last hundred years. As if that wasn't enough, he also shook the hand of Mike Gibbons, whose hands had been bouncing off Greb's head just a few years earlier at Forbes Field. McHugh was a child then and still wiping the stars out of his eyes when a package arrived at his door. Inside was a pair of boxing gloves and a handwritten note by Gibbons himself:
Put on these gloves and do your stuff,
Prepare for the days when the roads are rough;
You'll get a little groggy, but just give life an uppercut.
Those gloves and that note sparked a lifelong passion for fighting and writing. "Some of the other neighborhood kids helped me wear out the boxing gloves," he told me. His last bout was a "bare-knuckle affair" on a thoroughfare in Alexandria, Louisiana in the summer of 1945. McHugh was stationed there with his company where he served as a machine gun instructor. Did he win? "I thought I was leading on points when the M.P.s broke it up after a minute or so," he said. "They took both me and the other guy to the city slammer."
He was already in print by then. His first byline appeared in Iowa's Coe College Cosmos in the mid-1930s and when the war came, he was on staff at the Cedar Rapids Gazette. In 1947, he was hired by The Pittsburgh Press and spent more hours than anyone else crafting three columns a week for decades. His writing, the work of a perfectionist, is pressed gold. Elegant, economical, and yet rich with little-known facts and wry humor, it appears in a dozen anthologies, among them the 1969, 1970, 1971, 1972, 1973, 1985, and 1986 editions of Best Sports Stories.
McHugh's career opened during the Depression and didn't close for seventy years give or take. He could write about any subject, though his favorite—the sweet science—was never in question. No boxing writer saw so much for so long or can exceed his talent for transforming a backward glance into living color. And his purpose was plain; he sought to reintroduce his heroes to successive generations, to remind a city increasingly infatuated with ball throwers in black and yellow about the radical individualists whose fists fanned the smoke and whose feats once dominated sports pages.
He tried retirement in 1983. "What are you going to do?" The Press sports editor asked him at the time.
"Nothing," said McHugh. "Oh, I don't know. Maybe I'll become the biggest bum on Shiloh Street."
"Would you consider writing a book—?"
Over the past dozen years, McHugh's vision deteriorated and his fingers stiffened with arthritis; his typewriter quieted, but was never quite put away. Meanwhile, Pittsburgh's major dailies did no more than mention Greb's name a handful of times. They needed reminding. In 2008 a full-page feature discussing Greb alongside Billy Conn appeared in the Post-Gazette. McHugh wrote it. He was 92.
Pittsburgh has since forgotten about Harry Greb. It hardly ever knew him.
Only weeks after he was buried at Calvary Cemetery, a delegation of citizens won the mayor's support to erect a statue in his memory in Friendship Park, not far from where he was born. It ran into opposition when a few members of city council scoffed at the idea of honoring "a pugilist." "No proper thinking person would be for it," griped one of them, "a great majority of the people would be against it." The plan was forwarded to the art commission, and stalled out.
In August 2018 a petition appeared online to memorialize Greb by renaming the Highland Park Bridge in his honor. The goal was modest—1,000 signatures. It stalled out at 359. Pittsburgh's population is 301,048. I was downtown in the lobby at the Marriott City Center that summer, leafing through a travel guide book and scoffing aloud about who was not included in either the "Famous Pittsburghers" or "City of Champions" sections. Greb was not mentioned, nor was Conn, Charley Burley, Fritzie Zivic, Teddy Yarosz, or Frank Klaus. The councilman, it seems, was right.
On February 25, 2019 I got a message from Douglas Cavanaugh. "Roy passed today," it said. He was 103. An introvert averse to accolades, he asked for no ceremony. His ashes are buried at Calvary Cemetery, near Greb and Conn.
Much—too much—was buried with him.
Four months later, he spoke.
When Pittsburgh Was a Fight Town is a 115,000-word monument to those pugilists he idolized during his living years. Much of it was written while he was in his eighties and nineties, which strongly suggests that McHugh had the longest literary prime on record. His mastery is evident immediately, in the preface, where he launches into a treatise of his adopted city's history as a warm up.
Writing about history is more of a hardship than reading it but McHugh shows us how it's done. He moves quickly to ward off narcolepsy, brushing aside widely-accepted inaccuracies one after another as if loosening his tie, ushering the reader back to a time when smoke and soot hung heavily in the air and only fools and tourists wore white shirts. "The very atmosphere affected behavior," he remembers, and taps a spell on his typewriter to conjure up streetlights piercing the gloomy noon, open sewers, and rubbish in vacant lots. And he's full of surprises. Outsiders complained, he said, not the natives. "They liked the lurid red glow of the steel mills at night. They liked the smoke, because smoke meant jobs." He speaks with the authority of one who was there, and sets you on a sidewalk or at ringside and lets you eavesdrop on conversations—often one of his own.
You leave these encounters edified. Was Greb really the light puncher of internet boxing forums? Jack Henry, who carried Greb's spit bucket, said his relative dearth of knockouts is better attributed to sadism. "He'd beat the hell out of guys," he said. "When they'd start to fall, he'd grab them and hold them up." Another insider confirmed this. He told McHugh that Greb "never showed mercy to anybody he trained with."
Did you know that Conn never wore a mouthpiece until Fred Apostoli persuaded him in gruntspeak while socking his jaw during a brutal bout in 1939? Me neither.
Did you know that Burley was offered a shot at Zivic's welterweight crown? The terms are on page 151, which happens to be what Burley weighed when he stopped a heavyweight in 1942. How did he manage that? McHugh asked him for you. He met the great uncrowned champion when he was a novice filling in for The Press's regular boxing writer before Burley faced an up-and-comer at the Aragon Gardens. McHugh dismissed Burley as over the hill and then Burley sent the up-and-comer into a slumber in the first round. "I apologized to him," McHugh admits. "Get me a fight with [middleweight contender Lee] Sala and we'll be friends," said Burley. McHugh tried and saw first-hand what the problem was.
If you were watching TCM's Noir Alley in May, you'll remember Joan Blondell in Nightmare Alley. McHugh tells us that she wrote letters to Billy Soose "almost every week" after he enlisted in the Navy. If you watched WWF wrestling in the 1970s and 80s, then you're familiar with Bruno Sammartino. In the 1950s, he was showing promise as a boxer in Pittsburgh and so was hooked up with Whitey Bimstein in New York. "And then one day," (McHugh again) Sammartino was told to lace 'em up to spar with a scowling hulk fresh out of the clink. Sammartino went five rounds with Sonny Liston at Stillman's Gym.
Curious about what happened? Buy McHugh's book. Boxing history buffs be advised, there is much in it you don't know. Read it and be humbled. I know I was.
The book ends with McHugh in the presence of Muhammad Ali in the early 1960s and in 1980—at the bookends. He stands unblinking in the brilliance, bemused as the twenty-year-old contender introduces himself in his hotel room by rolling out from under a bed; bemused and out of place as he accompanies him on a date to a Louisville bowling alley. We see McHugh looking up when beckoned ("You ready to write?") and meticulously writing down lyrics.
They all knew when he stopped in town
Cassius Clay was the greatest around…
"Pretty good, ain't it?" said the poet, eagerly.
(It wasn't, yet, though McHugh was too polite to tell him so.)
When he met Ali again twenty years later, the ex-champion was at his Deer Lake training camp, 250 miles east of Pittsburgh and sporting an ill-advised mustache during an ill-advised comeback. He was overweight and slurring his words between gulps of grapefruit juice. But he recognized the diligent little man with the pen and pad.
"He never wanted to be the star of his work," writes Cavanaugh, his friend and the book's copy editor, "and remained a humble scribe from the beginning of his career until the end of his life." Even so, McHugh reveals his worth, despite himself, in the early prints of his posthumously-published book. He did it in a most unexpected way. While reading, I noted double commas and rogue colons appearing here and there on the pages. "His original manuscript had absolutely no mistakes," Cavanaugh told me. "I was mortified to get the report that there are a bunch of typos in there." It wasn't his fault. It wasn't McHugh's either, not really. "Apparently, Roy went back and tinkered a bit," Cavanaugh continued, "but I didn't know it. His eyesight had been so bad at that point that it allowed for typos." At that point, he was a hundred years old.
When Pittsburgh Was a Fight Town is his monument—a monument that carries names forward, names that must never be allowed to recede beyond reach and recognition, names that now include Roy McHugh.
______________________
Original photograph (1984) courtesy of The Pittsburgh Press.
Springs Toledo is the author of Smokestack Lightning: Harry Greb, 1919 (2019).
Check out more boxing news on video at The Boxing Channel 
To comment on this story in The Fight Forum CLICK HERE
Robert DeArment's Book on Bat Masterson Will Delight Boxing History Buffs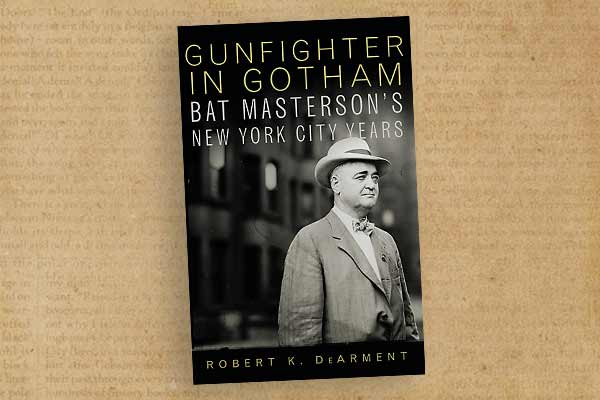 One of the best boxing history books that I have ever read has been around since 2005 and I just stumbled on it. You wouldn't guess from the title but Robert K. DeArment's "Broadway Bat: Gunfighter in Gotham" is a book that ought to be on the bookshelf of every serious boxing history buff.
DeArment, a World War II veteran, is recognized as one of America's leading authorities on life in the Old West, in particular the lives of famous lawmen and outlaws. His 1979 book, "Bat Masterson: The Man and the Legend" (University of Oklahoma Press) is considered one of the best books of the genre.
At various times, Bat Masterson was a County Sheriff and U.S. Marshall in several western hot spots, most famously Dodge City, Kansas, where his legend was born. Dodge City back then, circa 1875, was a wild and wooly town where cattlemen brought their herds and then sowed their wild oats like sailors on shore leave. When Bat said "get out of Dodge," he did it while pointing his trusty six-shooter at the miscreant.
In truth, however, during his days out west Masterson occupied more of his time as a professional gambler than a peace officer. He ran gambling saloons, invested many hours at faro and poker, and backed other professional gamblers. DeArment's 1979 book debunked many of the myths about Bat Masterson that were set down in magazine articles and in books aimed at young readers.
Bat Masterson's life had a second act and the second act could not have been more different than the first. He lived the last 19 years of his life in New York City, spending the first four of those years residing with his wife, a former chorus girl, in a Times Square hotel. He hired on as a sports columnist for The New York Morning Telegraph, rose to the position of sports editor, and had the added duty of handling the accounts of racing tipsters who comprised a good portion of the paper's advertisers.
The Morning Telegraph, the third oldest daily in New York when it folded in 1972, was part Daily Racing Form, part Variety, part Wall Street Journal, and part scandal sheet. Clergymen denounced the paper from their pulpits which, if anything, was a circulation-booster. Several notable journalists (e.g. Heywood Broun, Louella Parsons) earned theirs spurs at the Morning Telegraph but Masterson never left. He died at his desk in 1921 at age 67.
Masterson cranked out three columns a week that eventually appeared under the heading "Masterson's Views on Timely Topics." He had the freedom to write whatever struck his fancy but his forte was boxing, a sport with which he was associated before he arrived in New York. He didn't like baseball or collegiate sports and had no interest in the new sport of auto racing. As for thoroughbred horse racing, he tended to ignore the subject except during his yearly pilgrimages to Saratoga and Hot Springs. He was particularly fond of Hot Springs, a wide-open town in Arkansas until the reformers clamped down on gambling.
This reporter knew the general particulars of Bat Masterson's days in New York, but had never seen more than a few snippets of columns he had written. With the help of friends in New York, author DeArment was able to access the full catalog of Masterson's newspaper stories and present a fuller picture of the man. He was a cantankerous SOB, constantly at war with boxing writers from rival papers and with certain members of the boxing establishment. Fight managers in general, he once wrote, were "a low conniving set of unprincipled cheats."
A common theme in Bat's writings was a defense of pugilism. Boxers, he argued, were in less danger than jockeys, professional bicyclists, and football players. But boxing in Masterson's day was rife with fixed fights and Bat took it upon himself to act as something of an ombudsman for the fans. Exposing the underbelly of boxing was his way of defending the sport which, he wrote, was "a most desirable sport enjoyed by all wholesome and virile men."
One would have thought that Bat would have supported those empowered to reform the sport, but just the opposite. Masterson, notes DeArment, repeatedly directed his ire at "onerous state laws regulating boxing, the politicians who enacted the laws and the commissioners appointed to administer them."
This was in character as Masterson detested reformers in general. He viewed the self-appointed guardians of public virtue as mischief-makers who created more problems than they solved. In a column about boxing he might digress to take a swipe at the famous evangelist Billy Sunday or at a well-known feminist stumping for the right to vote. After a convention of suffragettes left Saratoga's United States Hotel, Bat wrote that the hotel had to be thoroughly fumigated.
Masterson thought the fighters of his day were inferior to their antecedents, an opinion that hardened during the White Hope craze. Although Bat was no fan of Jack Johnson the man, he came to Johnson's defense when Johnson was found guilty of violating the Mann Act, forcefully expressing the very unpopular opinion that Johnson was railroaded. He came down hard on the New York boxing commission when it banned interracial fights in 1913, likely hastening the fast turnabout; the edict was lifted in 1916. But Bat, like many of his fellow scribes, was guilty of using racial and ethnic epithets in his columns.
Masterson refused to join the Sporting Writers' Association of Greater New York which was probably a good thing as his presence at its get-togethers would have discomfited a lot of the members. Although he didn't name names, he was forever using his poison pen to barb boxing writers that took money from promoters and managers in return for favorable write-ups, a practice that was rampant in his day.
Masterson bumped into a lot of these writers, or at least writers that he presumed fit the profile, at the 1919 Dempsey-Willard fight in Toledo where promoter Tex Rickard had set up a free bar at the writers' hotel. "Some of them got drunk as soon as they hit Toledo and remained in that condition until they left it. And all the time they were sending out their maudlin inventions to the papers they represented."
Masterson bet big on Willard. For all his knowledge of the Sweet Science, he was a terrible handicapper, going back to the days of John L. Sullivan. He allowed his personal opinion of a fighter's character to cloud his judgment.
Masterson had no need to take money under the table because he was well-heeled thanks to his friend President Theodore Roosevelt who gifted him with a juicy sinecure shortly after Bat moved to New York, a well-paying post as a federal marshal that didn't require any work; Bat merely showed up on payday to collect his check. And so, when Masterson attacked corruption, he was a man throwing bricks in a glass house. "While he viciously attacked hypocrites and greedy public servants," says DeArment, "he himself hypocritically held a no-show, grossly overpaid, taxpayer funded, patronage position for more than four years."
Masterson's best friend in New York was Damon Runyon who would immortalize him as the Sky Masterson character in "Guys and Dolls." Runyon took money from boxing promoter Tex Rickard, but Masterson was fond of both and looked the other way. Likewise, he never railed against the racing tipster industry. As has always been true, those that marketed their product most aggressively were running a scam, but their advertising dollars helped keep his paper afloat.
Masterson was working on his next column when he slumped over his typewriter and died. Just before drawing his final breath, he was inspired to make a snarky observation about social inequality: "The rich and the poor get the same amount of ice in this world. The rich get theirs in the summer and the poor get theirs in the winter." (In actuality, as DeArment notes, this isn't word-for-word what Masterson wrote; his cerebration — his most famous line — would be edited to make it punchier.)
Masterson's protégé, Sam Taub, succeeded him as the Morning Telegraph sports editor. Taub went on to achieve fame as a blow-by-blow man on radio, calling an estimated 1700 fights.
In 1982, the Boxing Writers Association of America created the Sam Taub Award to recognize excellence in boxing journalism. Twelve years later, Taub was inducted into the International Boxing Hall of Fame. Perhaps Bat Masterson will join him there some day.
—
"Broadway Bat: Gunfighter in Gotham," was released in 2005 by a publishing house in Hawaii that specialized in Western Americana and reissued in 2013 under a slightly different title  (as shown in the graphic accompanying this story) by the University of Oklahoma Press. The book, copiously footnoted, has 30 pages of illustrations. It's a fun read and essential reading for serious students of the sweet science.
Check out more boxing news on video at The Boxing Channel
To comment on this article in The Fight Forum CLICK HERE
Literary Notes: Rocky Marciano and More
John Jarrett has been writing about boxing since 1951 when his first article, a piece about Rocky Marciano, was published in Boxing News. Since then, he has been involved with the sweet science in myriad ways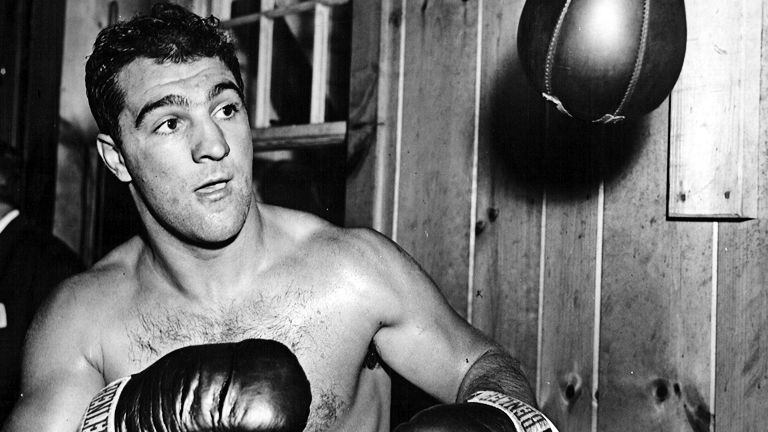 John Jarrett has been writing about boxing since 1951 when his first article, a piece about Rocky Marciano, was published in Boxing News. Since then, he has been involved with the sweet science in myriad ways including ongoing service as Northern Area Secretary for the British Boxing Board of Control for forty years. During that time, he has written nine books, he most recent of which (Rocky Marciano published by Pitch Publishing) brings Jarrett back to his creative roots.
All biographies of Marciano are written in the shadow of Russell Sullivan's definitive work, Rocky Marciano: The Rock of His Times (University of Illinois Press, 2002). But Marciano is a subject who continues to inspire writers to write.
Rocco Francis Marchegiano was born into a struggling working-class family in Brockton, Massachusetts. The first time that he auditioned in the gym for trainer Charlie Goldman (who would ultimately sculpt the rough-hewn block of marble into greatness) Goldman told him, "If you done anything right, I didn't see it."
Shirley Povich of the Washington Post later quoted an unnamed observer of the boxing scene as saying, "Rocky Marciano can't box a lick. His footwork is what you'd expect from two left feet. He throws his right hand in a clumsy circle and knows nothing of orderly retreat. All he can do is blast the breath from your lungs or knock your head off."
No fighter trained harder than Marciano. That was one of the keys to his success. Asked to elaborate on his training regimen, he noted, "After a while, you get to hate all the guys around you. You get to hate the sight of their faces and the sound of their voices."
Marciano lost four of the twelve amateur fights that he engaged in. Three decades later, Bob Girard (one of the men who beat him) reminisced, "I beat him because it was three rounds. There were a hundred guys who might have stayed three rounds with Rocco. But no man in the world was gonna beat Rocco in fifteen rounds."
Jarrett offers an extensive recounting of Marciano's ring career. There's a particularly good retelling of the September 23, 1952, fight between Marciano and Jersey Joe Walcott when Marciano, trailing on all three scorecards at the start of round thirteen, seized the heavyweight throne with a highlight-reel knockout.
But as is often the case in this book, the most compelling writing with regard to Marciano-Walcott I comes from Jarrett's judicious choice of quotes rather than his own prose. Here, the choice verbiage originated with Peter Wilson of the Daily Express, who wrote, "Then, like the car you never see on the dark road, the shell which you never hear, shocking, irrevocable, came that tremendous horrifying right. It left Walcott looking down his own spine with eyes that could not see. He crumpled forward, clutching for a rope, knees grayed by the resin dust. A brown paper bag burst by a thoughtless child. A headless, thoughtless, sightless, senseless, paralyzed man. Style, skill, pacing of the fight and good punching, all had availed nothing. Youth and strength are invincible."
In his dressing room after the fight, Walcott was asked about the knockout punch and acknowledged, "I don't remember anything. He caught me open and that was it. I don't know if it was a right or left. I just don't remember anything."
Jarrett has done a great deal of research regarding Marciano's fights. But there's no new scholarship in his book, nor does he do much to place Marciano in the political and social context of his times. Also, when it comes to Marciano's personal life, Jarrett tends to view him through rose-colored glasses, painting the portrait of a man who felt ambiguous about boxing because "he hated the time it took away from his family in Brockton."
In truth, the historical record developed by Sullivan and others suggests that Marciano was more interested in whoring around than in being a good husband and father.
That said; Jarrett's writing flows nicely and he's passionate about his subject. Fans of Rocky Marciano will enjoy the book.
*     *     *
Never Stop by Simba Sana (Bolden Books) isn't a boxing book. It's a coming-of-age memoir written by a man who grew up in inner-city poverty, escaped, and then had to navigate the world outside it. But boxing keeps popping up in his life.
There's a warning flag of sorts in an "author's note" at the beginning of Never Stop that states, "This is a work of creative nonfiction. The events are portrayed to the best of Simba Sana's memory. While all the stories in this book are true, some names and identifying details have been changed to protect the privacy of the people involved."
Changing names to protect privacy is understandable. And memory is what it is. The phrase "creative fiction" might leave readers a bit wary.
But Sana writes well and his work demands attention from the start. The opening paragraph reads, "My mother never told me anything about her past – not one thing. This may be hard to believe, but she talked to herself more than she ever actually spoke to me. I grew accustomed to this at home. But as I got older, I became keenly aware that her habit of engaging in intense conversations with herself was not ordinary behavior."
As Sana (then named Bernard Sutton) moved through adolescence, he trained at several boxing gyms and developed an affinity for the sweet science. Later, he earned master's degrees from Howard University and St. John's College and moved into the corporate world.
The most intriguing portion of Never Stop insofar as boxing is concerned deals with the period of time that Sana managed Beethaeven Scottland.
During his sojourn through various gyms, Sana had established a rapport with Scottland. By 1997, "Bee" had fallen out with his manager and walked away from boxing with an 11-4-2 record. In 1998, Simba began managing him on a handshake agreement. Scottland won his first fight back and, by late-2000, had a 20-6-2 record. Meanwhile, Sana was roughly $5,000 in the hole, not having cut Bee's purses for most fights and having advanced the money for various expenses.
In November 2000, Scottland dumped him. It hurt.
"All the work I'd put in with Bee," Sana recalls, "and then bam! Just like that. I was no longer Bee's manager. It was like all my work meant nothing. Bee avoided me, and I didn't go out of my way to find him either."
On June 26, 2001, Scottland fought his first fight under new management against unbeaten George Khalid Jones and was knocked out in the tenth round. Sana watched it unfold on ESPN2 and acknowledges, "As Bee lay on the canvas, I felt vindicated. I had been wronged and part of me wanted him to pay for what he did to me."
That's impressive honesty given what soon turned Sana's "sense of satisfaction" to concern. Scottland was carried from the ring on a stretcher and died six days later.
Never Stop is a good book.
Thomas Hauser can be reached by email at thauser@rcn.com. His most recent book – There Will Always Be Boxing – was published by the University of Arkansas Press. In 2004, the Boxing Writers Association of America honored Hauser with the Nat Fleischer Award for career excellence in boxing journalism.
Check out more boxing news on video at The Boxing Channel