Book Review: "Latino Boxing in Southern California"
Modern boxing has existed for more or less 160 years after the Marquis of Queensbury rules were adopted. Since that time hundreds and perhaps tens of thousands of pages have been quilled or typed depicting the sport's torrid and colorful history.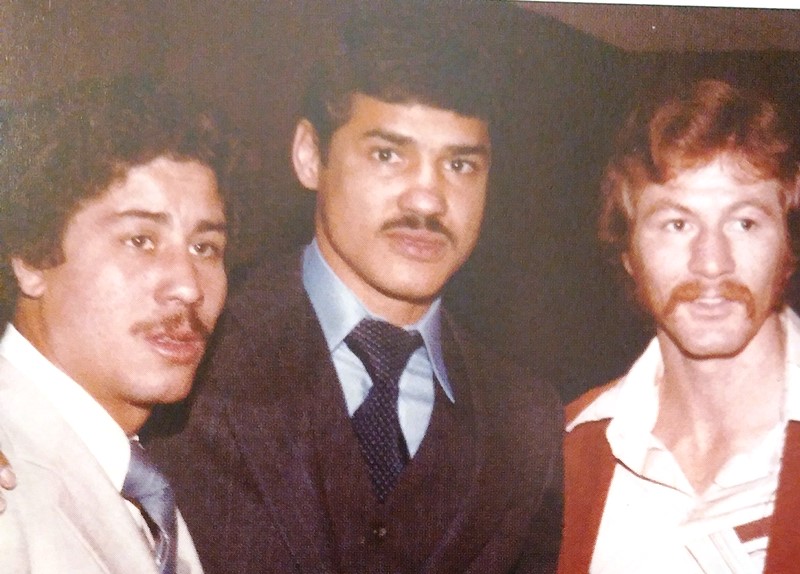 Modern boxing has existed for more or less 160 years after the Marquis of Queensbury rules were adopted. Since that time hundreds and perhaps tens of thousands of pages have been quilled or typed depicting the sport's torrid and colorful history.
Prizefighters such as John L. Sullivan, Harry Greb and Georges Carpentier have had numerous novels written about their worthy exploits. Yet, though Southern California can match historic boxing footsteps with any region in the country, the heroes from Bakersfield to San Diego scarcely have been touched.
That's where author Gene Aguilera steps forward.
Raised in East L.A. during the 1950s and 60s, the author saw firsthand many classic fights that took place in venues such as the Olympic Auditorium, Inglewood Forum and L.A. Sports Arena. And with his own eyes he saw the rise of Salvador Sanchez, Julio Cesar Chavez and Oscar De La Hoya.
Now he's writing about the other heroes that fall into the cracks of forgotten exploits. Those pugilists who were not only of Mexican roots, but Latino fighters from areas like Nicaragua, Cuba and Panama.
Aguilera wrote a previous book Mexican-American Boxing in Los Angeles published in 2014. In Latino Boxing in Southern California, the subject matter parallels his previous work with many of the same heroes mentioned again and with the new heroes described and their contributions to fistic lore.
Los Angeles has always been a vibrant center for prizefighting. Even in the days when it was illegal and boxers were forced to fight outside the city limits in places like Burbank, Vernon and San Bernardino, the boxing scene was red hot.
The author chooses to write about the era that he actually lived from the 1950s to the present. In the first book and in this book he fills the mind and eyes with stories of the past when black and white newspaper photos were the norm and television fights had most of the population entranced with heroes like Sugar Ray Robinson and Kid Gavilan. In the Los Angeles area weekly shows had been going on for decades and continued even when Major League Baseball, the National Football League, and the National Basketball Association arrived. The sport of boxing thrived and held its fans captive with its own heroes such as Manuel Ortiz, Art Aragon and Keeny Teran. Then came a wave of Mexican fighters like Raul "Raton" Macias, Jose Becerra and Gaspar Ortega.
Wave after wave of Latin American fighters followed and still continue to venture north to the magnetic lure of fame, fortune and glory in the U.S.A.
Aguilera has seen these waves many times over. First as a child attending the fights with his parents, then as a youth taking one bus after another from his East L.A. neighborhood to the now closed Olympic Auditorium where prizefighting had been a staple since the late 1920s. He also was a regular patron at the Inglewood Forum that saw boxing first arrive in the late 1960s and at the L.A. Sports Arena that just recently was demolished in favor of a soccer stadium.
Today, a sort of renaissance is taking place with new venues replacing old but it's important to realize that boxing has remained part of the fabric of Los Angeles and the rest of Southern California through its population explosion.
Each page written by Aguilera describes that former era with the names of fighters who have mostly passed away, but some remain.
One of the author's former heroes is Ruben "El Puas" Olivares who has become his close friend. The pair make annual treks to Canastota, New York for the International Boxing Hall of Fame ceremonies. Olivares was involved in one of the biggest fights that ever took place in Los Angeles when he met Nicaragua's legendary Alexis Arguello at the Inglewood Forum in 1974 for the featherweight world title. It remains one of the classic battles of all time in the City of Angels.
It's just one of the memorable fights that Aguilera talks about. It's not a thick book, but with its numerous photos, posters and quotes gathered throughout the decades it provides a marvelous companion for anyone who loves boxing history.
Truthfully, it's one of the most important books ever written because it describes an era that is seldom touched regarding the Southern California region.
Why is it important?
Today, Southern California has become the heart and soul of boxing for the entire world, not just the U.S. Fighters arrive from almost every country in the world to practice the art of boxing in one of the more than 100 boxing gyms existing in the Golden State.
Latino Boxing in Southern California in essence, describes those early waves of prizefighters that continue today. This book helps explain why Southern California has become a hub for many elite boxers seeking fame and world titles. Perhaps soon Aguilera will write a book about this International flood of prizefighters that is taking place.
Latino Boxing in Southern California is rich in information and one of the most important works to ever touch the subject of pro boxing in the greater Los Angeles area.
The book is available at www.arcadiapublishing.com or via Amazon or at book stores.
Pictured left to right: Wilfredo Gomez, Alexis Arguello, and Danny "Little Red" Lopez
Check out more boxing news on video at The Boxing Channel
Book Review: Bernard Fernandez's "Championship Rounds"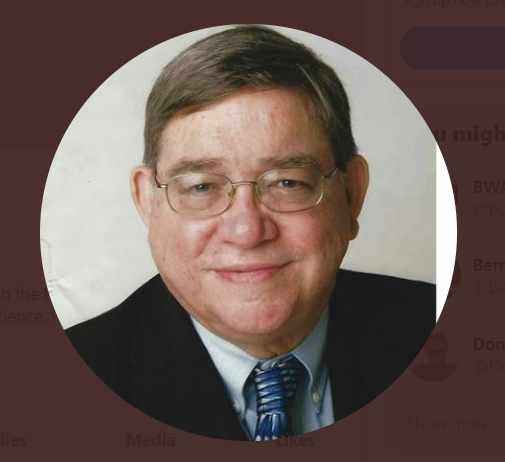 When a man retires after a lengthy career in an interesting occupation, he feels a tug to write his memoir. If he happened to be a journalist, the memoir can take the form of an anthology. Bernard Fernandez's "Championship Rounds," released this month, is an anthology – a compendium of previously published material – but it also veers off at times into a memoir, which is a very good thing. It could not be otherwise as Fernandez had a front row seat at the circus and the permit to poke around behind the scenes.
For the uninitiated, Bernard Fernandez spent 43 years as a sportswriter, the last 28 with the Philadelphia Daily News before retiring in 2012. Although he was occasionally assigned to other beats, he was foremost the paper's boxing guy. When he started with the Daily News, many established papers had a full-time boxing writer. Today they are as scarce as professional typewriter repairmen.
Various honors came Fernandez's way during his newspaper career, the most recent of which, for a boxing writer, is the ultimate, enshrinement in the International Boxing Hall of Fame. Fernandez was voted into the Hall in the Observer category last year.
There are 35 stories in "Championship Rounds" sorted into six sections. Eighteen of these stories appeared at The Sweet Science. Among the boxers profiled are Ali and Frazier, Jake LaMotta (who Fernandez interviewed for the second time when Jake was 94 years old), Archie Moore, Tex Cobb, Arturo Gatti ("the boxing franchise in Atlantic City"), and the Spinks brothers – Michael, who "wrung every ounce from his considerable boxing gifts," and Leon, his mirror opposite, "perpetually distracted."
Many of the giants of the modern era turn up in "Championship Rounds," but also some cult figures and even Jack Obermayer, somewhat less than a cult figure save among his peers who were awed by his stamina and cherished his friendship. A familiar face at diners up and down the east coast, Obermayer likely attended more boxing shows than any man ever born, 3,514 in total scattered across 400-plus cities in 49 states, all but Alaska. He devoted himself, says Fernandez, "to the proposition that every fight card, no matter how unimportant or seemingly insignificant, required his presence at ringside to be fully validated."
The best boxing writers understand that boxing is an ecosystem and that some of the best stories are found outside the ropes.
Fernandez was writing about women's boxing before it was fashionable to write about women's boxing. It's doubtful the name Jackie Tonawanda rings a bell, but she was a trailblazer in women's boxing and Fernandez brings her to life in a story that appeared in these pages back in 2009. I had no clue that the fight between Laila Ali and Jackie Frazier-Lyde created such a stir until I read "Ali-Frazier IV." Held at the Turning Stone Casino and Resort in Verona, a little town in upstate New York, the event attracted a media throng of 300-plus from around the world.
Bernard Fernandez is a big movie buff. "I've frequently imagined that, were I not covering boxing matches and football and basketball games for my weekly recompense, I'd be a movie reviewer," he writes.
The big screen and the lowbrow amusement of celebrity boxing intersect in "I Tanya…," a 2019 story inspired by the Tonya Harding biopic starring Margot Robbie and Alison Janney. The movie transported Fernandez back to Portland, Oregon, and the maddeningly unfruitful scrums that bespattered "the worst week of my newspaper career."
Being a newspaper reporter who racks up frequent flyer miles isn't all that glamorous as Fernandez showed in that story, but even the most unpleasant episodes can be fun in the re-telling. And sometimes the hassle of getting somewhere is redeemed by a surprising turn of events at the destination. Fernandez's trip to Tokyo in 1990 was grueling at both ends of the continuum — from the Eastern seaboard, one crosses 14 time zones – but he would be one of the few American scribes to witness live and in color, as they say, the most famous upset in the annals of boxing.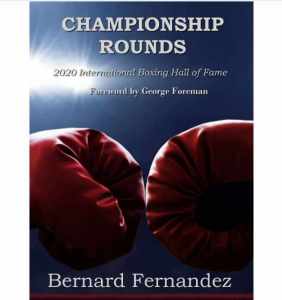 Mike Tyson's 2002 match with Lennox Lewis wasn't nearly as momentous – at least not after the bell rang – but Fernandez's excursion to Memphis, the host city, yielded a story too good to be left on the cutting room floor. The highlight for me was his interview with a tourist from Switzerland as they watched the city's oddest must-see attraction, the march of the ducks in the ornate lobby of the Peabody Hotel.
Of the 35 entries in the book, my personal favorites are the two that are the most poignant. Bernard Hopkins' truth-is-stranger-than-fiction life story has been well-documented, but one acquires a greater appreciation of B-Hop while reading about the special bond that he forged with a terminally ill teenage fan. In the book's final entry, Fernandez pays homage to his late father who instilled within him his love of boxing. Bernard Fernandez Sr., who had a brief pro career under the name Jack Fernandez, was a much-decorated New Orleans police captain who passed away in 1994 at age 75. "It is said that an honest man's pillow is his peace of mind," writes Fernandez, "and my father never spent a conflicted night."
Bernard Fernandez is a friend of mine, something I probably should have acknowledged earlier. Moreover, for the past several years, I have been his editor here at The Sweet Science.
Editors, many of whom exemplify the Peter Principle, are faultfinders by temperament and tutelage, and I would be remiss if I didn't find something to quibble about.
When writing a feature story about a boxer or boxing personality, Fernandez will sometimes open with a parallelism. For example, a certain boxer may summon up the name of a historical figure with whom he shares characteristics in common. The parallel in a piece about Wladimir Klitschko is Al Davis, the former owner of the Oakland Raiders whose mantra, "Just win, baby," became the enduring catchphrase of Raider Nation.
I thought the comparison was labored and that Fernandez exhausted too many words about Davis and his team before getting to the gist of his story.
With that nitpicking yammer, I likely just got on the wrong side of George Foreman which is never a smart thing to do. "Writers come and go," says Foreman in the foreword to the book, "but the special ones (like Bernard Fernandez) stand the test of time."
On this matter, Big George and me are in perfect accord.
Bravo, Bernard, it was a most enjoyable read and if there is a sequel in the hopper, please don't let it languish.
For more information about "Championship Rounds" including where to purchase the book CLICK HERE.
Check out more boxing news on video at The Boxing Channel 
To comment on this story in The Fight Forum CLICK HERE
Close Encounters of the Trump Kind: Reviewing 'Scoop' Malinowski's Latest Book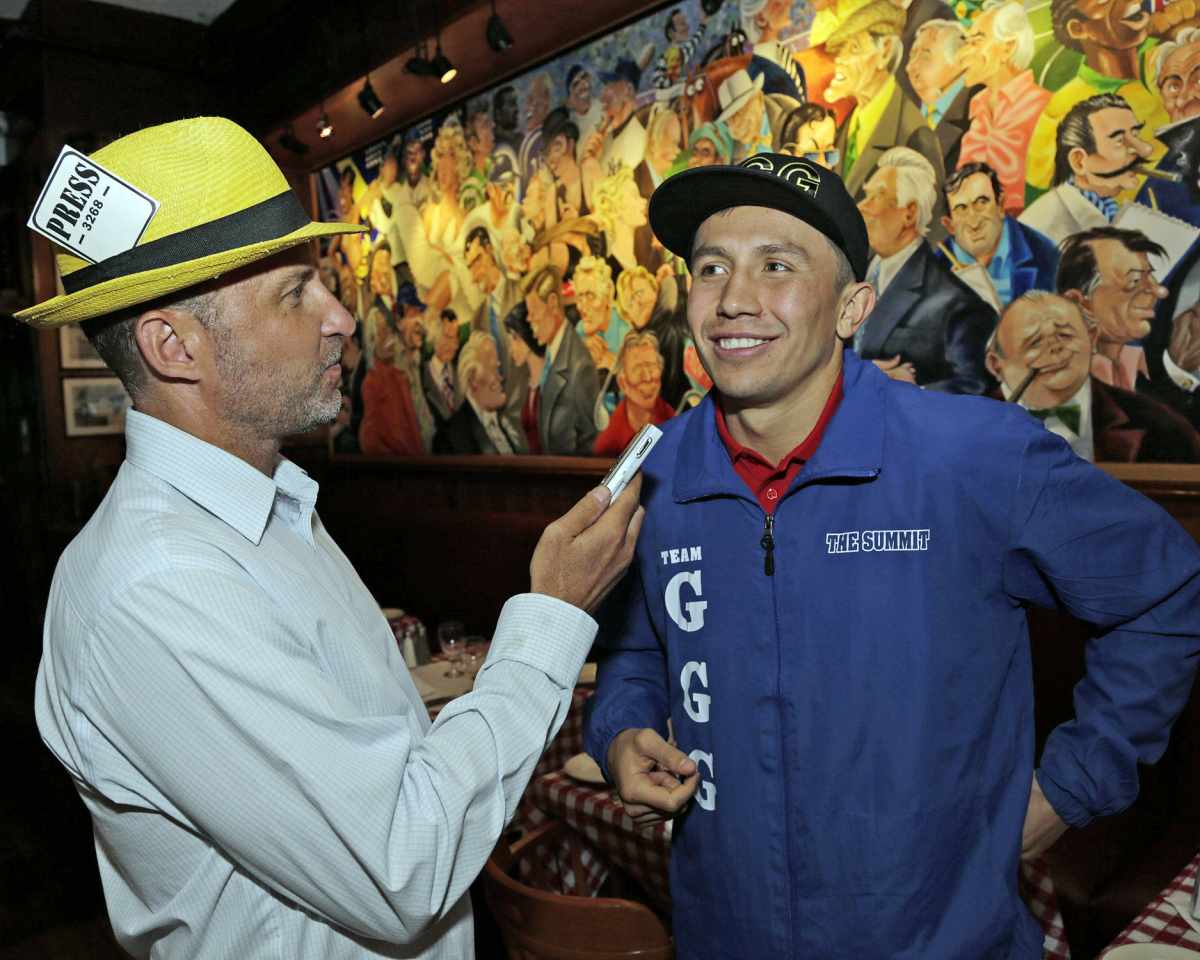 If you happen to follow boxing or tennis closely, you might know who reporter Mark "Scoop" Malinowski is. Author and editor of fourteen books, Malinowski made his name (and earned his media moniker) by writing informative Biofile write-ups about sports and entertainment stars.
Over time, Scoop's lost track of how many he's done. Or who his rookie subject was. His first ever published Biofile (in the Morris County Daily Record) was the NJ Nets' Derrick Coleman.
His Biofile of Boxing Hall of Famer James Toney was published in a 1992 issue of The Ring. Malinowski remembers Toney had an affinity for the stylish suits of sharp-dressed men like Ray Robinson and Thomas Hearns. "He loved their class. How they conducted themselves."
For most folks familiar with Malinowski, it is these popular Biofiles that readers fondly remember. According to TSS editor-in-chief Arne K. Lang, Scoop's Biofiles also ran in Boxing Update and Flash, a pair of well circulated pre-internet newsletters he once subscribed to.
Malinowski gained infamy in 2002 when a close encounter with Mike Tyson resulted in a scary press conference brouhaha where the maddest man on the planet threatened bodily harm to Malinowski and his mother. That's right, it was Scoop who yelled, "Get him a straightjacket!"
Don't worry, they're good buds now.
And Scoop's next book, Facing Guillermo Vilas, will be for sale on Amazon next week. It's a tennis book but Scoop tells me that Vilas is a "huge boxing fan" and was friends with the late great Carlos Monzon. "Vilas," says Malinowski, "shares some fascinating Monzon stories."
But before we get to my review of Malinowski's new self-published book, "Close Encounters With Donald Trump," a boxing-centric collection of Trump recollections told by more than 50 contributors (available on Amazon in paperback and kindle editions), I thought I'd have the colorful writer give TSS readers his first ever Biofile—done on himself.
Biofile "Scoop" Malinowski
Born: Philadelphia, PA Status: Reporter, author. Resides: Teaneck, NJ, Bradenton Beach, FL
Childhood Dream: I just wanted to get involved in professional sports somehow, to be a part of the scene. To contribute my own unique original work and make a positive impact. My visions became clearer later. To write books, do Biofile interviews for newspapers and magazines.
First Journalism Memory: Creating homemade boxing programs and a magazine for our neighborhood boxing cards in junior high school.
Why You Love Boxing: It's man at his best. A great fight is inspiring on many levels.
Favorite Boxing Movies: "Rocky" and "Gentleman Jim." When Apollo Creed decks Balboa and he somehow gets up and wants to continue. The look Creed gives him, of pity, respect and awe. I get chills and a tear every time. In "Gentleman Jim," the scene where Sullivan goes to meet Corbett after their fight at the hotel. The class and respect they show each other.
Favorite Artist: Raoul Dufy, LeRoy Neiman.
Childhood Heroes: Roberto Duran, Carl Kolchak.
First Famous Person You Met or Encountered: Alex Ramos drove by us on the Garden State Parkway, me and my friend Mike Pinto were going with his parents to the Jersey Shore for the weekend in junior high in the 80s. Ramos was driving a white Buick with Yankee pinstripes. He waved to us too! He told me two decades later when we met that the Yankees gifted it to him.
First Car: 1979 Toyota Corolla.
Funniest Boxer: Andrew Golota – great sense of humor, but you have to know him. I've been to his house, got him tickets for a week at the 2017 US Open. He drove all night from Chicago to watch the US Open the next day. Huge tennis fan. Also, Lennox – subtle. Very smart, sharp. Maybe the greatest of all time. Joel Casamayor told me he eats rocks and nails for breakfast.
Favorite TV Show: Columbo, Honeymooners.
Embarrassing Career Memory: Misspelling Ross Greenburg's name for his Biofile in the Boxing Update newsletter. I spelled it Greenberg. He was totally cool about it.
Funny Boxing Memory: I had lunch with Jack Dempsey's wife Deanna and we did a Biofile in NYC. She told me how she first met Jack. She had a little boutique in a hotel in Manhattan and Jack used to visit her there. That was how the courtship started and evolved. She said when he first told her his name, he didn't say he was Jack Dempsey. He told her he was John L. Sullivan.
Favorite Movies: Citizen Kane, Three Days of the Condor, Dial M For Murder, Camille.
Greatest Career Moments: Doing hundreds of Biofiles with great boxers like Holmes, Lewis, Klitschkos, Pacquiao, Duran, Hearns, Archie Moore, Jake LaMotta, Holyfield, Bowe, Toney. Meeting artist Leroy Neiman at the Toney-Tiberi fight in 1992 at the Trump Taj Mahal in Atlantic City, NJ. We became close friends. The friendship lasted until his death at age 91 in 2012.
Musical Tastes: 70s and 80s. Steely Dan, Wham, Olivia Newton John, Abba, Bee Gees.
Most Painful Moment: My Muhammad Ali Biofile was aborted after one question. It was at an NBA All-Star function in NYC in the mid-90s. I asked him the first question, his childhood hero. He answered Willie Pastrano. But he motioned with his hand to turn off the tape recorder.
Ali didn't want to be recorded as his speaking was not strong. So, I ran over to my table to get a pen and paper. But the bodyguard blocked me and wouldn't let me continue the interview. I should have just done it with no pen or paper, I would have remembered everything!
Favorite Sport Outside Boxing: Tennis. Tracy Austin said it's "a fistfight without the fists."
Favorite Fights: I like masterpieces. Duran vs Leonard in Montreal. That fight took over my life. Hopkins vs Trinidad. Lennox Lewis vs Tyson, Rahman 2, Ruddock. The revenge of Vitali vs Corrie Sanders. Tarver KO Jones in two. Klitschko vs Joshua was incredible. Duran's redemption vs Davey Moore. Pacquiao vs Cotto was magic. Toney vs Jirov was incredible. They embraced each other three different times after that fight in the ring! Major respect. Nunn vs Kalambay. Leonard vs Hearns. Dempsey vs Willard. Ali vs Foreman. Holmes vs Norton. Tyson vs Spinks and Berbick. Tyson could have beaten any man in history on those nights.
***
Fortunately for Scoop, Tyson didn't beat him for his senseless outburst. The pair now share a friendship that could only have been brokered in boxing. Both are also admirers of President Trump and Tyson's quotes about Trump are prominent in Close Encounters With Donald Trump.
The book also contains contributions from George Foreman, Larry Holmes, Chuck Wepner, Jackie Kallen, Randy Gordon, Andrew Golota, Michael Marley, Iran Barkley, Randy Neumann, Vinny Pazienza, Bobby Czyz, Montell Griffin, Steve Lott, John Scully, and Paul Vaden.
Oh, and yours truly.
Yes, that's right, I had my own close encounter with Donald Trump to share in Malinowski's new book. You'll have to read it for the whole story but what I can tell you is that it's published with a photo I snapped of then boxing promoter Trump backstage at Holyfield-Stewart II in 1993.
Almost to a man, the many boxing personalities polled had nothing but respectful and insightful things to say about the human lightning rod who today runs America. Malinowski begins by making it clear his 156-page Trump book has nothing whatsoever to do with a political agenda.
Explains Malinowski: "It is simply a collection of memories and anecdotes from a wide range of people who have had close encounters with the current President of the United States of America, Donald Trump. That is all this book is about, nothing more, nothing less."
The truth is that Malinowski loves Trump and Close Encounters With Donald Trump reflects that. After his obligatory political disclaimer, Malinowski recalls his own close encounters with Trump in 1988 (at an Azumah Nelson fight he was covering live from press row at Trump Plaza) and again at the 1998 US Open being held at the Louis Armstrong Stadium in New York City.
LITERAL REVIEW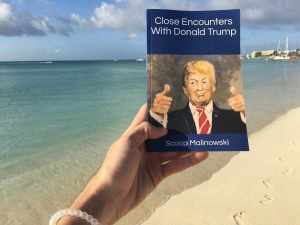 The opening quote presented in the book doesn't come from one of the fifty-two contributors but from former two-term President Ronald Reagan. "For the life of me, and I'll never know how to explain it, but when I met that man, I felt like I was the one shaking hands with the President."
How novel in the age of coronavirus.
California born super-welterweight Paul Vaden recalls that Trump was seated at ringside in 1999 the night he fought Stephan Johnson at the Trump Taj Mahal in Atlantic City. Tragically, Johnson passed away from injuries suffered in the bout. Vaden's memories are foggy but he states: "In the hallway of my dressing room after the Stephan fight is where we talked. Trump complimented me on my boxing skills and hand speed. That individual was a huge boxing fan."
Rocky Balboa inspiration and current Trump supporter Chuck Wepner recalls that Trump really enjoyed the company of fighters and that he once invited him to Mar-A-Lago in Florida. "He was interested in promoting a cage fight, me with Tex Cobb. But it never happened." Known as the "Bayonne Bleeder" in boxing circles, Wepner laments that Bayonne is a "Democrat town."
New York City boxing icon Randy "The Commish" Gordon tells for the first time how in 1984 he came to be pushed out of his post at The Ring. "As editor-in-chief, I was interviewing Trump for the cover story in the following month's Ring. I had intended to put Trump on the cover."
But the publishers were clearing house.
And editorial heads would roll.
"Doing a great job of saving his job," Gordon matter-of-factly recalls, "Nigel Collins said it should be me who should be fired, as I was going out of town nearly every week for TV assignments. He didn't tell them I was interviewing Donald Trump for the next month's cover and they bought his story. My days at The Ring ended that day with Collins going on to run the magazine."
Gordon's Trump feature never ran.
BIG George Foreman isn't shy about his respect and appreciation for Trump. "'I will always be grateful to entrepreneur Donald Trump. And now President Donald Trump. A lot of people don't like him but evidently more do, because he was elected President of the United States."
Because I'm seven feet tall, I enjoyed heavyweight Randy Neumann's input. "I met Trump in Atlantic City. He's pretty tall. I remember being in the elevator with him. He's bigger than me."
Donald Trump is 6-foot-3.
One-time welterweight title challenger Larry Barnes keeps it simple: "I never had a problem with Mr. Trump. He always gave me what I needed. I met him at a press conference in Atlantic City. He was a very nice gentleman. I wish him the best because I care about Donald Trump."
A bitter Larry Holmes veered into "Rocky couldn't carry my jockstrap" territory in his description of trying to meet Trump at one of his hotels. "I walked up to him (and said), 'Hey Donald. How are you?' He looked at me like I was a piece of shit. So I don't care for Donald Trump. That's Donald Trump. He's the man. It's all about him. If it's not about him, it isn't about nothing."
Blaming Trump for Mike Tyson's breakup with manager Bill Cayton, trainer Steve Lott alleges that Trump basically conspired with Robin Givens to steal Mike's money before Don King could get to it. "Trump is a great con man," he says. "He quickly realized Robin was a con artist too."
Judicious boxing manager Jackie Kallen has many memories of Trump. She first met him in 1988 at the Tyson-Spinks fight. Kallen was impressed by his ability to throw a party. "The room was packed with A-listers including Jesse Jackson, Oprah Winfrey, Jack Nicholson, Warren Beatty, Billy Crystal, Herschel Walker, and so many others that you didn't know where to look."
Kallen also remembers the day in 1992 that her fighter, James Toney, received a gift decision at the Trump Taj Mahal against underdog Dave Tiberi. "Trump thought it was an outrage and went straight to Tiberi's locker room to console him," says Kallen. "I remember him looking at me in the ring as the referee held Toney's hand in the air. He shook his head in disgust. Even though I had nothing to do with the decision, I could tell he was upset with me, and I did not know why."
Manager Mario Costa shared a poignant story about the night Matthew Hilton was upset by Robert Hines in 1988. Hilton was hurtin at the Hilton. But guess who else was there in Vegas?
You guessed it. The future American President. Costa remembers that Hilton was in a dressing room trailer in the back lot of the hotel. Hilton was rightly devastated. Then somebody knocked on the door. "Trump came to the trailer and wanted to talk to Matthew," explains Costa. "Matthew said, 'Okay, let him in.' He came in. Trump kneeled down on one knee to talk with Matthew."
John Scully still has a memento of Trump he gained in the dressing room with Derrick "Smoke" Gainer in 1995 at Convention Hall in Atlantic City. "Trump came in after the fight to congratulate Smoke. I saw that and I took a picture of it as it was happening. I thought it was pretty cool at that moment that he came back to the dressing room to congratulate an undercard fighter."
The photo is in the book.
Andrew Golota is sure that Trump came to his dressing room before his brawl with Michael Grant in 1999 at the Trump Taj Mahal. But not surprisingly, Golota can't recall what was said during the meeting. Golota also couldn't remember to keep his punches up. He lost two points for low blows against Grant and then told the referee he couldn't continue after a knockdown.
Sports writer Michael Marley (incorrectly spelled Micheal in the book) recalls meeting 'The Donald' several times in the 80s during his years of covering boxing for the New York Post. Marley says that Trump and then wife Ivana always told him the same thing, "Enjoy yourself."
Bobby Czyz reveals he almost retired in 1989 to work for Donald Trump as a representative in one of his casinos but it never happened because Czyz kept on fighting until 1998. His love for the President is clear. "I didn't think he had a chance to win the Presidency because of the Clinton conspiracy. Look, I know they're all crooked. So many people died under the Clinton regime that it doesn't make sense. But Donald beat her. I love the guy. I think he's incredible."
Rhode Island's "Pazmanian Devil" Vinny Pazienza hilariously insists that Trump loves HIM for the millions of dollars he made for Trump. "I fought a lot of fights with Trump. Hector Camacho, Greg Haugen, Roberto Duran, Roy Jones, so many fights. I fought in Atlantic City a lot."
***
For readers looking for less than positive recollections of Trump, there are some in the book, they're just not told, with the exception of Larry Holmes and Steve Lott, by the boxing people.
A lawyer named Pat English contends that Trump gleefully defaulted on his casino contracts and killed every mom and pop shop from there to Washington DC. Attorney Benjamin Clarke prosecutes Trump for his hair, saying he's only sure of one thing—that it's not of this Earth.
For nearly everyone else heard from, from tennis players to golf pros to hockey legends, the general themes expressed in Close Encounters With Donald Trump are those of special memories with a special person. I enjoyed my copy last month on the beach in Aruba.
I'll never forget my close encounter with Trump.
Boxing Writer Jeffrey Freeman grew up in the City of Champions, Brockton, Massachusetts from 1973 to 1987, during the Marvelous career of Marvin Hagler. JFree then lived in Lowell, Mass during the best years of Irish Micky Ward's illustrious career. A new member of the Boxing Writers Association of America and a Bernie Award Winner in the Category of Feature Under 1500 Words, Freeman covers boxing for The Sweet Science in New England.
Check out more boxing news on video at The Boxing Channel 
To comment on this story in The Fight Forum CLICK HERE
"12 Rounds in Lo's Gym" by Todd D. Synder: Book Review by Thomas Hauser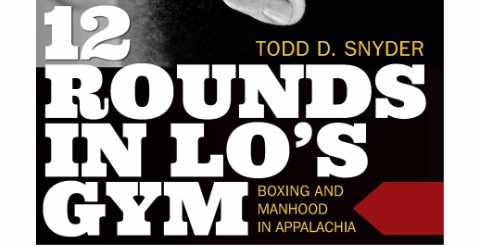 12 Rounds in Lo's Gym by Todd D. Snyder (West Virginia University Press) is a memoir about Snyder, his father, Appalachia, and boxing in coal country.
Snyder grew up in Cowen, West Virginia, and paints a grim picture of life there.
"There is only one stoplight in the entire county," he writes. "And that stoplight isn't even necessary. Nothing much happens and when something happens that looks like something, everyone talks about it. To be a man, for the younger version of myself, was to dunk basketballs, catch touchdowns, score knockouts, and have sex with beautiful women, all before finding your place in the coal mines."
The coal mines.
"When economic times get tough," Snyder recounts, "so do the coal company lawyers. They'd shut down the mine, file bankruptcy, and cheat the workers out of their retirement money." In 2015, Patriot Coal Corporation unfolded a plan to divert money that had been set aside for health care benefits for 969 retired coal miners to pay bankruptcy lawyers and other costs. "Now you see them, now you don't," Snyder writes. "No more health care benefits. Life in Cowen is no fair fight. You work till you die, be it in the early or late rounds of life. Folks know the judges aren't gonna give them a fair shake when it goes to the scorecards. They know a fixed fight when they see one."
And there's one thing more to know about life in Cowen.
"Our heroes are defined by their ability to take punishment, their willingness to grit their teeth through pain. Even Jesus Christ with all his talk of peace, love, and forgiveness would have never made it big in my town if not for that long ring walk to Calvary. He had to prove that he was one tough son-of-a-bitch or nobody in Cowen would have taken him seriously."
Todd's father was Mike "Lo" Snyder. The nickname "Lo" came from his penchant as a star running back in high school to run low to the ground to hit holes that the offensive line opened for him and, when need be, open holes on his own.
"You can be a big fish in a small pond in a town like Cowen, West Virginia," Todd notes. "You can be the prettiest girl in school or the richest kid in town or the toughest guy on the block. That's what my father was – a big fish in a small trailer park."
After graduating from Webster County High School, Mike Snyder exchanged his helmet and shoulder pads for a miner's accessories.
"For years," Todd continues, "he and my grandfather worked side by side at the Smooth Coal Company. Most young men from Cowen dream of becoming something better than their fathers, but their fathers are what they eventually become. That's how cyclical poverty works."
The cycle gnawed at Mike Snyder's insides.
"My father was the kind of fellow who was always much happier in retrospect," Todd remembers. "Never quite enjoying the moment itself. By the time he turned thirty-five years old, my father resigned himself to the fact that he'd accomplished all that he was ever going to accomplish. Those touchdowns hadn't gotten him anywhere but right back to the place where folks had always told him he'd end up."
"My only fear of death," Mike Snyder once said, "is that hell might be coal powered. The devil will have a coal mine down there in hell heating things up, and I'll have to be a damn coal miner the rest of eternity."
Within that milieu, boxing was an important part of Mike Snyder's life.
"My father's childhood dream," Todd recounts, "was to climb through the ropes at Madison Square Garden to beat the hell out of some poor fellow on national television and score a symbolic victory for the town of Cowen, for all of Appalachia perhaps."
Several months after starting work at the Smooth Coal Company, Mike took up boxing. He had five amateur fights, winning all of them by knockout. Then marriage and the demands of coal mining ended his sojourn as a fighter. "If the right person would'a come along and paid some attention to me," he later lamented, "I could'a made something out of this boxing shit."
In 2000, Mike set up a makeshift boxing ring in a small room in the back of the Classic Curl Beauty Shop (a business run by his wife). It would be a ray of sunshine in an otherwise dreary life, he thought, to teach a few young men how to box. Four years later, the First Baptist Church of Cowen opened a community center and gave Mike the upstairs portion of the building for a gym as a way of enticing young men at risk into the church family. Then, in 2009 when it became clear that young men were coming to the gym to learn to box but not coming to Jesus, the church elders shut the gym down. Thereafter, Mike erected a small training facility in the yard behind his house.
"The second [Baptist church] reincarnation of Lo's Gym was a big deal in our small town," Todd recalls. "My father found himself with a gym full of thirty to forty kids a night, mostly teenagers. He'd work each kid three rounds on the hand pads, sometimes doing fifteen or twenty rounds in a row before taking a break. This after working a 4:00 a.m. to 5:00 p.m. shift in the coal mines each day."
Mike Snyder had to convince his charges that conditioning and technique were as important as strength and toughness.
He was cautious about sparring.
"A bad sparring match," Todd explains, "would run a kid off. He'd get whipped and you'd never see him again. My father wasn't in the business of running kids off or getting them hurt. He mostly viewed the gym as a safe haven for poor and troubled kids. He didn't care if any of the guys competed. Rarely would he let fighters take part in what trainers call live sparring."
"One of my father's biggest flaws as a trainer," Todd continues, "was that he almost completely focused on the positives, rarely getting on a kid and telling him what he was doing wrong. My father's formula was to build a kid up, give him as much confidence and self-respect as possible, occasionally nudging him about minor flaws in his technique."
"Fighters from West Virginia don't have many hometown heroes," Todd acknowledges. "West Virginia fight towns have never been fortunate enough to have a working-class champion, at least not in the same way Youngstown, Ohio, celebrates Ray Mancini. Our boys were always in the tune-up fights, the last-minute replacements, the underdogs. A few ol' boys from the Mountain State had the opportunity to get in the ring with boxing's elite. Our boys always came out on the wrong end of it. When you turn eighteen years old, you get to chew stuff, buy lottery tickets, and sign up for your first Toughman Contest. But the working-class man-boys from my town always had their carriages turned back into pumpkins. Everyone thinks they can box until they give it a try."
For the young men training in Lo's Gym, a "champion" was a fighter who won a minor regional amateur title. Or maybe a local toughman contest.
The three gyms saved Mike Snyder's life as much as they enhanced the lives of the young men who learned to box there. They gave him purpose. And ultimately, they brought him recognition. As word of "Lo's Gym:" spread, he was honored by the Jefferson Awards Foundation in a ceremony at the state capital and later invited to attend the national awards ceremony in Washington DC.
The Jefferson awards, Todd explains, were designed "to highlight the accomplishments of ordinary folks who did exceptional things in their communities without expectation of recognition. My father had never been to our nation's capital. I'm not sure if he had ever been to West Virginia's state capital. He hadn't been much of anywhere outside of the Tri-State Boxing Association. My grandmother bought my father a J.C. Penny suit for the award ceremony. It was probably the first suit he'd owned in his life."
Meanwhile, Todd's life had taken him away from Appalachia. Writing of his early years, he recalls, "I didn't fish. I didn't hunt. No turkey season. No deer camp. No tree stand. I didn't ride four-wheelers. I didn't drive a jacked-up Ford truck with a lift kit. I didn't chew Skoal or score touchdowns. I didn't fit."
Thus, the move away from home.
"My decision to ship off to college required a new identity, a new understanding of my own Appalachian manhood. We are born into communities and family work histories that demonstrate a very rigid pathway to becoming men. If we earn college degrees, we become The Other. We'll never be able to come back home."
He's now an associate professor of English at Siena College in Albany, New York, far removed from the coal mines of Appalachia.
Snyder is a good writer. He crafts well-drawn portraits and moving vignettes about the dozens of young men and the occasional woman who filtered in and out of Lo's gym and became, however briefly, boxers.
"Stereotyped and stigmatized," he says in summary," Appalachian folks are easy prey, socioeconomically bullied by privileged society, the by-product of a uniquely Appalachian socioeconomic system, one that lacks access to both economic and educational opportunity. Our stories are tragic and beautiful. In these parables of Lo's Gym's, I write the story of Appalachia. This is who we are – fighters. We fight like hell, knowing the other fellow has the advantage."
12 Rounds in Lo's Gym is as much about brawling in a boxing ring as boxing. It's about gym fights, toughman contests, and amateur bouts with a few low-level professional encounters thrown in. And it's a reminder of what boxing can do to lift up young men and women who have gone through life without much hope or self-esteem and have little else to celebrate in their lives.
Thomas Hauser's email address is thomashauserwriter@gmail.com. His most recent book – A Dangerous Journey: Another Year Inside Boxing  – was published this autumn by the University of Arkansas Press. In 2004, the Boxing Writers Association of America honored Hauser with the Nat Fleischer Award for career excellence in boxing journalism.
Check out more boxing news on video at The Boxing Channel  
To comment on this story in The Fight Forum CLICK HERE