Literary Notes: Rocky Marciano and More
John Jarrett has been writing about boxing since 1951 when his first article, a piece about Rocky Marciano, was published in Boxing News. Since then, he has been involved with the sweet science in myriad ways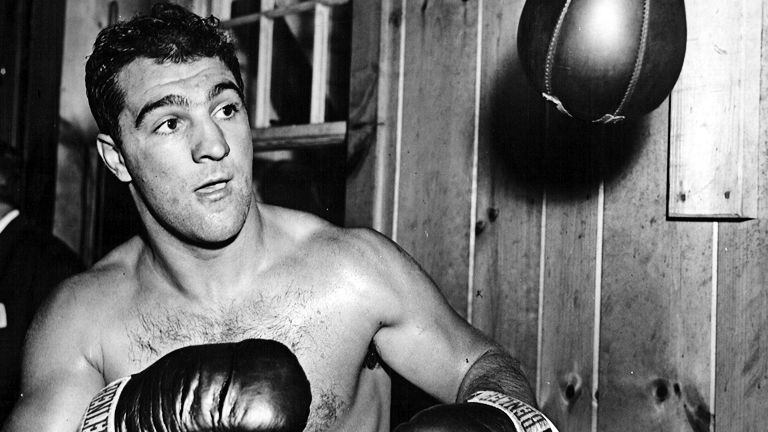 John Jarrett has been writing about boxing since 1951 when his first article, a piece about Rocky Marciano, was published in Boxing News. Since then, he has been involved with the sweet science in myriad ways including ongoing service as Northern Area Secretary for the British Boxing Board of Control for forty years. During that time, he has written nine books, he most recent of which (Rocky Marciano published by Pitch Publishing) brings Jarrett back to his creative roots.
All biographies of Marciano are written in the shadow of Russell Sullivan's definitive work, Rocky Marciano: The Rock of His Times (University of Illinois Press, 2002). But Marciano is a subject who continues to inspire writers to write.
Rocco Francis Marchegiano was born into a struggling working-class family in Brockton, Massachusetts. The first time that he auditioned in the gym for trainer Charlie Goldman (who would ultimately sculpt the rough-hewn block of marble into greatness) Goldman told him, "If you done anything right, I didn't see it."
Shirley Povich of the Washington Post later quoted an unnamed observer of the boxing scene as saying, "Rocky Marciano can't box a lick. His footwork is what you'd expect from two left feet. He throws his right hand in a clumsy circle and knows nothing of orderly retreat. All he can do is blast the breath from your lungs or knock your head off."
No fighter trained harder than Marciano. That was one of the keys to his success. Asked to elaborate on his training regimen, he noted, "After a while, you get to hate all the guys around you. You get to hate the sight of their faces and the sound of their voices."
Marciano lost four of the twelve amateur fights that he engaged in. Three decades later, Bob Girard (one of the men who beat him) reminisced, "I beat him because it was three rounds. There were a hundred guys who might have stayed three rounds with Rocco. But no man in the world was gonna beat Rocco in fifteen rounds."
Jarrett offers an extensive recounting of Marciano's ring career. There's a particularly good retelling of the September 23, 1952, fight between Marciano and Jersey Joe Walcott when Marciano, trailing on all three scorecards at the start of round thirteen, seized the heavyweight throne with a highlight-reel knockout.
But as is often the case in this book, the most compelling writing with regard to Marciano-Walcott I comes from Jarrett's judicious choice of quotes rather than his own prose. Here, the choice verbiage originated with Peter Wilson of the Daily Express, who wrote, "Then, like the car you never see on the dark road, the shell which you never hear, shocking, irrevocable, came that tremendous horrifying right. It left Walcott looking down his own spine with eyes that could not see. He crumpled forward, clutching for a rope, knees grayed by the resin dust. A brown paper bag burst by a thoughtless child. A headless, thoughtless, sightless, senseless, paralyzed man. Style, skill, pacing of the fight and good punching, all had availed nothing. Youth and strength are invincible."
In his dressing room after the fight, Walcott was asked about the knockout punch and acknowledged, "I don't remember anything. He caught me open and that was it. I don't know if it was a right or left. I just don't remember anything."
Jarrett has done a great deal of research regarding Marciano's fights. But there's no new scholarship in his book, nor does he do much to place Marciano in the political and social context of his times. Also, when it comes to Marciano's personal life, Jarrett tends to view him through rose-colored glasses, painting the portrait of a man who felt ambiguous about boxing because "he hated the time it took away from his family in Brockton."
In truth, the historical record developed by Sullivan and others suggests that Marciano was more interested in whoring around than in being a good husband and father.
That said; Jarrett's writing flows nicely and he's passionate about his subject. Fans of Rocky Marciano will enjoy the book.
*     *     *
Never Stop by Simba Sana (Bolden Books) isn't a boxing book. It's a coming-of-age memoir written by a man who grew up in inner-city poverty, escaped, and then had to navigate the world outside it. But boxing keeps popping up in his life.
There's a warning flag of sorts in an "author's note" at the beginning of Never Stop that states, "This is a work of creative nonfiction. The events are portrayed to the best of Simba Sana's memory. While all the stories in this book are true, some names and identifying details have been changed to protect the privacy of the people involved."
Changing names to protect privacy is understandable. And memory is what it is. The phrase "creative fiction" might leave readers a bit wary.
But Sana writes well and his work demands attention from the start. The opening paragraph reads, "My mother never told me anything about her past – not one thing. This may be hard to believe, but she talked to herself more than she ever actually spoke to me. I grew accustomed to this at home. But as I got older, I became keenly aware that her habit of engaging in intense conversations with herself was not ordinary behavior."
As Sana (then named Bernard Sutton) moved through adolescence, he trained at several boxing gyms and developed an affinity for the sweet science. Later, he earned master's degrees from Howard University and St. John's College and moved into the corporate world.
The most intriguing portion of Never Stop insofar as boxing is concerned deals with the period of time that Sana managed Beethaeven Scottland.
During his sojourn through various gyms, Sana had established a rapport with Scottland. By 1997, "Bee" had fallen out with his manager and walked away from boxing with an 11-4-2 record. In 1998, Simba began managing him on a handshake agreement. Scottland won his first fight back and, by late-2000, had a 20-6-2 record. Meanwhile, Sana was roughly $5,000 in the hole, not having cut Bee's purses for most fights and having advanced the money for various expenses.
In November 2000, Scottland dumped him. It hurt.
"All the work I'd put in with Bee," Sana recalls, "and then bam! Just like that. I was no longer Bee's manager. It was like all my work meant nothing. Bee avoided me, and I didn't go out of my way to find him either."
On June 26, 2001, Scottland fought his first fight under new management against unbeaten George Khalid Jones and was knocked out in the tenth round. Sana watched it unfold on ESPN2 and acknowledges, "As Bee lay on the canvas, I felt vindicated. I had been wronged and part of me wanted him to pay for what he did to me."
That's impressive honesty given what soon turned Sana's "sense of satisfaction" to concern. Scottland was carried from the ring on a stretcher and died six days later.
Never Stop is a good book.
Thomas Hauser can be reached by email at thauser@rcn.com. His most recent book – There Will Always Be Boxing – was published by the University of Arkansas Press. In 2004, the Boxing Writers Association of America honored Hauser with the Nat Fleischer Award for career excellence in boxing journalism.
Check out more boxing news on video at The Boxing Channel
Book Report: Jim Tully's 'The Bruiser,' an American Classic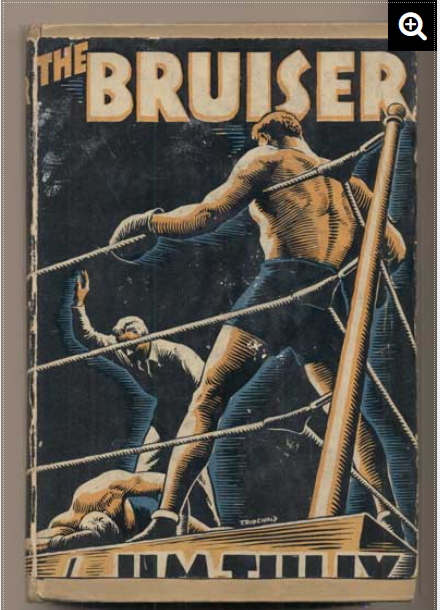 Summertime is reading season. In olden days when the leading Sunday papers had a separate book review section and vacationers carried books in their carry-ons, the advent of summer unleashed a flurry of enthusiastic book reviews. In this spirit, let us submit Jim Tullys' novel "The Bruiser" for your consideration. It's an old book, first published in 1936, but as a panorama of the prize ring — warts and all – it stands up well if you like your fiction with a lot of pulp.
The protagonist is Shane "Wildcat" Rory who claws his way out of hobo jungles to become the heavyweight champion of the world. True, that sounds like a hackneyed Hollywood "B" movie and the comparison is fair, but the book is also chock-full of insights that could have only come from the pen of a man that had been immersed in the prizefighting subculture.
About The Author
The son of a ditchdigger who came from Ireland at the age of 10, Jim Tully was born in 1886 in St. Marys, a former Indian trading post in Western Ohio. Jim's mother died when he was five and he was sent to a Catholic orphanage in Cincinnati. He left there at the age of 11 to work on a farm and then, while still in his mid-teens, he took to wandering about the country, picking up odd jobs here and there. When he hopped a freight, whatever money he had was sewed into different parts of his clothing. In the hobo jungles, his pals called him Cincinnati Red.
Tully's formal education stopped when he left the orphanage, but he was an inveterate reader who spent many hours in public libraries. He was never comfortable with the term "hobo" — folks used it interchangeably with the word "bum" – and in his reminiscences of those days insisted on identifying himself as a "road-kid," his term for an adventurous vagabond.
In Kent, Ohio, where Tully set down roots for a while, he found employment working over a blast furnace in a factory that made chains of the sort that one might find attached to the anchor of a boat. Kent is near Akron where Tully had his first documented prizefight. Lore has it that he heeded the call for a volunteer when one of the boxers on the card was a no-show. Many professional boxing careers actually started this way.
An article in the Philadelphia Inquirer said Tully had 30 pro fights. Boxrec has been able to document only three, the first in 1909 on a card that featured future Hall of Famer Johnny Kilbane, and the last in 1914. The true count is probably somewhere in the middle. In those days, outside the biggest cities, many papers didn't publish on Sundays and, if they did, the paper was put to bed early. A Saturday night boxing show went off too late to make the cut and by Monday, unless one or more of the combatants had a big local following, it had lost its news-worthiness. Fights in the hinterland that made the national news wire rarely included anything about the undercard.
The hero of "The Bruiser" matures into a heavyweight, but Jim Tully, five-foot-three and stocky, was likely in the junior lightweight class. With a mound of red hair straggled in all directions, he looked like many fighters of the period when the great majority of white boxers were Irish. Photographs of Tully as a young man call to mind Mickey Walker, the original Toy Bulldog.
The Book
"The Bruiser" opens on a miserably wet night in a railroad yard. Rory, then eighteen years old, crosses paths with a black boy of about the same age who has just competed in a battle royal. They repair to a saloon before going their separate ways. The boy has adopted the ring name Torpedo Jones and he turns up again later in the book as an opponent that Rory must defeat to earn a shot at the champion.
Shane Rory's manager, Silent Tim Haney, is a stock character in boxing fiction, a wizened ex-pugilist who knows all the tricks of the trade. Silent Tim's great ambition is to take a raw fighter and build him into a heavyweight champion. He had been close on two previous occasions, near-misses that taught him that maneuvering a fighter into a world title is a process "more delicate than assembling a watch."
In an earlier day, Silent Tim had managed Jerry Wayne. In his prime, Wayne had been a great ring artist: "He'd move in the ring like he had wings on his shoulders and ball bearings on his feet." But he had taken too many punches and gone "slug-nutty." (The Jerry Wayne character is plainly based on former lightweight champion Ad Wolgast with whom author Tully purportedly sparred. Wolgast was in and out of sanitariums before he had his final fight and spent the last twenty-eight years of his life locked up in a California insane asylum where he spent his waking hours plotting his comeback.)
When Rory visits Jerry Wayne in the institution where he has been locked away, it preys on his mind and it impacts his performance in his next fight, a loss that sends him back to the drawing board. The fear of winding up like Wayne or like Gunner Maley, another character in the book – "walking on his heels up and down North Clark Street, punchin' shadows" – impels Rory to eventually walk away from boxing in the fashion of Gene Tunney, at the pinnacle of his hard trade with a wholesome girl by his side and with all of his faculties intact. (Tully reportedly wanted a grittier, less formulaic ending but was overruled by his publisher.)
"The Bruiser," Tully's eleventh book, was dedicated to "my fellow road-kid Jack Dempsey." Tully, who wrote dozens of profiles of famous people for serious publications and for cheap Hollywood fan magazines, had written a profile of Dempsey for a 1933 issue of American Mercury and would include a profile of the Manassa Mauler in his final book, "A Dozen of One," portraits of 13 well-known people including the boxer Henry Armstrong and the fabulous raconteur Wilson Mizner who once owned a piece of Stanley Ketchel, the fabled Michigan Assassin.
Tully wrote for the masses but his admirers included many writers whose bent was more highbrow, notably H.L. Mencken, the sage of Baltimore, but also Langston Hughes who introduced Tully to "Hammerin'" Henry Armstrong, and Gerald Early whose 1994 book, "The Culture of Bruising: Essays on Prizefighting, Literature, and Modern American Culture," received a National Book Award.
Early wrote the foreword to the 2010 reissue of "The Bruiser" from Kent University Press. He had this to say regarding Jim Tully: "Few novelists captured the contradictions of his country so simply or so honestly in the metaphor of the pure, fatalistic, and merciless community of bruising. His work deserves to be rediscovered."
The reissue was the handiwork of Mark Dawidziak, a TV critic for the Cleveland Plain Dealer, and Paul J. Bauer, a Kent, Ohio, book dealer who were busy co-authoring a biography of Tully. The book, titled "Jim Tully: American Writer, Irish Rover, and Hollywood Brawler," also published by Kent University Press and with a foreword by Ken Burns, was released in 2011.
Jim Tully had developed Parkinson's disease when he died in 1947 at Cedars of Lebanon Hospital in Los Angeles at age sixty-one.
Arne K. Lang's latest book, titled "George Dixon, Terry McGovern and the Culture of Boxing in America, 1890-1910," will shortly roll off the press. The book, published by McFarland, can be pre-ordered directly from the publisher (https://mcfarlandbooks.com/product/clashof-the-little-giants) or via Amazon.
To comment on this story in the Fight Forum CLICK HERE
Book Review — "The Duke: The Life and Lies of Tommy Morrison"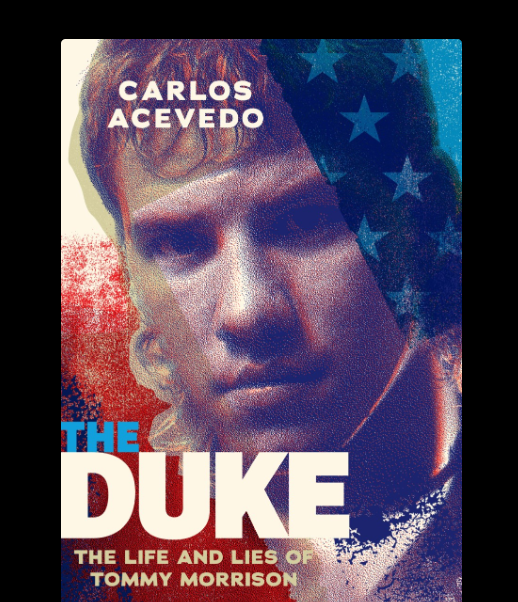 Tommy Morrison was born in Gravette, Arkansas, on January 2, 1969, and lived in Oklahoma for most of his life. He fought in countless toughman contests, had three organized amateur bouts, and turned pro in 1988. Over the next seven years, he compiled a 45-3-1 (39 KOs, 3 KOs by) ring record, the high point of which was a 118-109, 117-110, 117-110 decision over George Foreman in 1993 to claim the vacant WBO heavyweight throne.
In Foreman's next fight, he knocked out Michael Moorer to annex the WBA, IBF, and lineal heavyweight titles. In Morrison's next fight, he was knocked out by Michael Bentt in the first round.
Morrison's other losses were brutal "KOs by" at the hands of Ray Mercer and Lennox Lewis. During the course of his career, he knocked out faded versions of James Tillis, Pinklon Thomas, Joe Hipp, Carl Williams, and Razor Ruddock. As a postscript, between 1996 and 2008, he scored stoppages over three particularly inept opponents after having been diagnosed as HIV-positive. He died in 2013 at age 44.
The Duke: The Life and Lies of Tommy Morrison by Carlos Acevedo (Hamilcar Publications) chronicles Morrison's life.
"Morrison," Acevedo writes, "came from a broken home. He was a secondhand son, passed from here to there, from nowhere to nowhere bound, wherever he would stick. His father was abusive. His mother once beat a murder charge. His brother would spend fifteen years in prison for rape. And Tommy? His mother first made him use his fists when he was five years old."
"I was the guy your parents warned you about in high school," Morrison cautioned.
The Duke is divided into two parts. Part I deals with Morrison as a fighter. His early ring record was fashioned against a collection of hopeless opponents. Then Bill Cayton took over as lead manager and Tommy graduated to a higher grade of stiff. Cayton built Morrison brilliantly as an attraction. He propagated the deceit that Tommy was a distant relative of movie star John Wayne and was instrumental in landing Morrison the role of Tommy Gunn in Rocky V. Cayton also used his skill and economic power to ensure that Morrison was featured on high-profile boxing telecasts.
At times, Morrison struggled in the ring. "He was," Acevedo writes, "especially susceptible to right hands. And when he opened fire, he often did so squared-up to his opponent which made him a big target and left him exposed to counterpunches." Moreover, Morrison trained less rigorously than he should have and burned the candle at both ends. "Let's put it this way," Cayton said. "Tommy Morrison makes Mike Tyson look like a monk."
But as Acevedo notes, "Morrison worked the body with zeal, often doubling up hooks with either hand after landing to the rib cage. His signature right-to-the-body-right-uppercut combination was both lethal and often unexpected. In close, Morrison could surprise an opponent from either side with damaging shots. There was also the undeniable potency of his left hook. And Morrison showed the kind of heart often lacking among his peers. Morrison was someone who had to be nailed to the canvas before he lost."
It was inevitable that Morrison would come to be spoken of as a "Great White Hope." To his credit, he did his best to avoid making race an issue. "It's kind of sad," he told the Kansas City Star. "To be honest, it's a big advantage being white. There aren't that many white fighters around. But I'd prefer to stay away from that because it's racist."
By 1991, Morrison had run his record to 28-0 with 24 knockouts. Then Cayton matched him against Ray Mercer for the WBO heavyweight title. It was a mistake. For three rounds, Morrison dominated the action, pounding the granite-chinned Mercer with sledgehammer blows. Then Tommy ran out of gas and, in round five, was knocked unconscious.
Undeterred, Cayton rebuilt Morrison's credibility, matching him in fights that resulted in seven wins and a draw over the next seventeen months. That led to a two-million-dollar payday against George Foreman in a 1993 bout for the WBO heavyweight title that Mercer had vacated after beating Morrison. Fighting against Foreman with uncharacteristic caution and in excellent condition for one of the few times in his career, Tommy emerged victorious.
The world was now Morrison's oyster. He had a belt and was a big name in the heavyweight division. A deal was made for a title unification bout against Lennox Lewis that would pay Tommy a minimum purse of $7.5 million. But first, Morrison wanted an interim fight against a walkover opponent in Oklahoma. The walkover opponent was Michael Bentt.
KO by 1.
"All fighters reach a peak," Acevedo writes. "A point at which the rigors of training and the punishment received in the ring combine to break them down. For some fighters, particularly aggressive ones such as Morrison, short peaks are the rule. [After the Bentt fight], it was clear that Morrison was beyond his best days. Over the span of two years, from October 1993 to October 1995, he was knocked down ten times. And Morrison compounded these issues with a torrid nightlife, a lax attitude toward training, and a dependency on steroids that likely had an adverse physical effect on him."
Ah, yes. Morrison's night life.
Part II of The Duke deals with Tommy's life outside the ring. In his later years, he would use cocaine, crystal meth, Adderall, and Special K. In the early-1990s, he was a drinker. And alcohol fueled his temper.
"Morrison," Acevedo writes, "was the kind of drunk who would pick fights in public and reject outright the concept of a designated driver. He could also become violent when under the influence."
A drunk Morrison slashed an exotic dancer with a broken beer bottle in Kansas City. She sued. According to John Brown (Morrison's co-manager), the case was settled for $100,000.
Morrison pled guilty to simple assault and public intoxication in conjunction with another incident and was fined $310. He was also arrested and pled no contest to two misdemeanor counts of assault and battery stemming from an altercation at a party given by Tammy Witt (the mother of his son, Trey). In that instance, Morrison received a suspended sentence, was fined $600, and ordered to perform thirty hours of community service.
But the drinking was nothing compared to the women.
"In the wake of Rocky V," Acevedo recounts, "Morrison had become what John Brown called a 'Bimbo Magnet.' At the peak of his stardom, between the premiere of Rocky V and his upset loss to Michael Bentt, he lived out an adolescent fantasy that might have been the rudimentary plot of a teen sexploitation film. His life was truly a wild one. Wherever Morrison went, he trailed yearning women behind him. They shadowed him at personal appearances, before fights, after fights, in lobbies, restaurants, bars, and clubs. Few celebrities, even minor ones, spend their nights partying in Kansas City or Jay [Oklahoma] or Iowa. But Morrison had little interest in the bright lights of New York City or Los Angeles. The local whirlwind he created in small towns was more than enough for him."
"His attraction to women was more than anything you can imagine," Bill Cayton told a reporter for the Vancouver Sun. "He was a womanizer beyond anything I've ever known."
"It was unbelievable," Morrison said to Sports Illustrated. "It was all right there. You could feed yourself as fast and as much as you wanted."
Then everything changed. For the worse.
Much worse.
On February 10, 1996, Nevada State Athletic Commission executive director Marc Ratner announced that, for medical reasons, Morrison had been scratched from a fight card scheduled for the MGM Grand Hotel & Casino that night. Ratner declined to specify what the medical issue was. Five days later, at a press conference held at the Southern Hills Marriot Hotel in Tulsa, Oklahoma, Morrison addressed the issue with candor and grace.
"First of all, I'd like to thank everybody for being here today," Morrison said. "I'm sorry that I couldn't be here in person on Monday when Tony [promoter Tony Holden] informed you of what the present situation was. At that time, I felt it was more important to be with my family. Since that time, I've taken action to have more extensive tests run. I was informed just a little while ago that those tests do in fact confirm that I have tested positive for the HIV virus. There was a certain point and time in my life that I lived a very permissive, fast, reckless lifestyle. I knew that the HIV virus is something that anyone could get, but I also believed the chances were very, very slim. I thought that the real danger of contracting this rests in the arms of those who subject themselves to certain types of lifestyles – addicts who share needles, people who practice a homosexual lifestyle. I honestly believed that I had a better chance of winning the lottery than contracting this disease. I have never been so wrong in my life. To all my young fans out there, I'd ask that you no longer see me as a role model but see me as an individual who had an opportunity to be a role model and blew it. Blew it with irresponsible, irrational, immature decisions; decisions that one day could cost me my life."
That was laudable. But within seven months, Morrison had pivoted 180 degrees. He had come to believe that HIV was a hoax and that the drugs developed to fight it were, in fact, designed to kill patients. In Acevedo's words, "like so many other fanatics, [Morrison] ignored facts and substituted intuition for verifiable science."
Now Morrison had a different view of his own medical condition. "I don't have a lot of confidence in all this medication," he said. "I've chosen not to take it. See, I don't think that HIV causes AIDS. Some of the research I've read and some of the doctors I've talked to – there are still a lot of unanswered questions. It hasn't been proven scientifically to my satisfaction that HIV leads to AIDS. It's the medication that's killing people. You unravel the little piece of paper in the bottle and you read about the side effects and they match identical with the symptoms of AIDS. HIV's never been proven to cause AIDS. HIV ain't never killed anybody."
Thereafter, Morrison repeatedly denied that he was HIV-positive. But as Acevedo notes, "A lawsuit [instituted after Morrison's death] brought to light dozens of documents revealing medical records that repeat over and over the fact that Tommy Morrison had HIV. These records include prescriptions, credit card statements, test results, memos from physicians, expert testimony, even psychiatric intake notes. The evidence that Morrison had been living with HIV for years is overwhelming."
The end game for Morrison was long and ugly, marked by alcoholism, drug abuse, and uncontrolled aggression. But as Acevedo states, "Nothing about his carnal lifestyle – reckless, aimless, remorseless, seemingly bottomless – is as shocking as the willingness of dozens of women to risk a potential death sentence by sleeping with the most famous carrier of HIV outside of Magic Johnson."
In Acevedo's eyes, Morrison was now a menace to society.
He was also a bigamist, having married two different women (Dawn Freeman and Dawn Gilbert) in 1996. He would marry for a third time in 2011, two years before he died.
Meanwhile, again and again, Morrison was getting arrested. Twice in 1997 on charges ranging from driving under the influence to carrying a loaded firearm while under the influence of intoxicants, On December 20, 1997, he was sentenced to six months in prison (later reduced to thirty days). The following year, he was arrested again; this time for driving under the influence, destruction of private property, running a red light, and driving with a revoked license. In 2000, he pled guilty to myriad charges and was sentenced to ten years in prison with eight years suspended. He was released after fourteen months.
Morrison also subjected himself to cosmetic surgery that amounted to self-mutilation. As recounted by Acevedo, "In June 1999, Morrison underwent a series of surgeries for chest and biceps implants in Tulsa with nightmarish results. When the last procedure was over, Morrison and Landon [a friend] checked into a motel for a brief recovery period. That was where Dawn Gilbert found Morrison, looking like the creation of a Hollywood-style mad scientist."
Landon told Gilbert that the doctor had used implants for the biceps rebuild that appeared to be shin guards bought from a sporting goods store. "As disturbing as his new implants were," Acevedo notes, "the most shocking part of his appearance was the multiple tubes that now protruded from his body, each attached to one of the four bags surrounding him. Tubes came from each armpit and each bicep, and the bags contained a yellowish gunk and blood."
Yet bizarrely, Morrison continued to fight. On November 3, 1996 (less than nine month after first testing HIV-positive), he'd been allowed to enter the ring in Tokyo and scored a first-round knockout over Marcus Rhode. Then, after a decade-long absence, he returned to boxing and stopped two no-hope opponents in West Virginia (2007) and Mexico (2008).
And all the while, his mind was rotting away.
"When he was only in his mid-thirties," Acevedo writes, "Morrison was already exhibiting classic signs of pugilistic dementia. Slurred speech, forgetfulness, scattered thoughts, a scanty attention span. He increasingly suffered from paranoia. His IQ was measured at 78, which placed Morrison on the borderline for mental disability. Anyone who had heard Morrison speak after fights or read his interviews knew that he was an eloquent young man capable of expressing himself in complex sentences. By the time he hit rock bottom, that was no longer the case."
Morrison, Acevedo continues, "also suffered from the burnout effect of methamphetamines. And in the early 2000s, he was diagnosed with HIV-related encephalopathy. Combined with his career as a prizefighter, these afflictions left him with a tenuous grip on reality. ESPN interviewed Morrison in 2000 while he was serving out a term in a Texarkana lockup for a variety of drug-related charges. In his orange prison garb, Morrison looked like he had just returned from a week-long crank binge in Arkansas swampland. He was heavy-lidded; some of his teeth were missing; he spoke haltingly; many of his answers were rote; his hair had thinned into a wispy comb-over. And he seemed delusional."
Fast-forward to 2011. Morrison was arrested twice more on charges that included felony possession of controlled substances and misdemeanor possession of paraphernalia for use. Acevedo recreates what followed:
"The sports world is shocked to see the latest mug shot of Tommy Morrison, an image that seems to foreshadow death. Only forty-two years old, Morrison resembles a vagrant who has just returned from a harrowing ordeal. A video of his court appearance is even more disturbing. Morrison looks like a cross between a confused little boy and a senile old man. He is haggard, ashen, bewildered."
At that point, the criminal justice system applied what Acevedo calls "pragmatic mercy."
"Simply put," he writes, "Morrison is unfit for prison. He is, by then, unfit for anything. In less than two years, he will be dead."
In evaluating The Duke, one should begin with a thought from Acevedo himself who cautions, "Any biographical narrative is bound to raise questions of veracity. The life of Tommy Morrison more so, perhaps, because of how much of it took place in half-light. Toughman contests, club fights in Wichita and Great Falls, orgies in rattletrap motels, stints in jail and prison, and night crawling with tweakers from crash pad to crash pad across the Southeast. By nature, Morrison seemed drawn to subterranean pursuits."
That said, Acevedo writes well. His tale moves briskly through Morrison's life from his hardscrabble origins to his self-destructive end. The recounting of Morrison's ring career doesn't have the depth and nuance of some of Acevedo's earlier writing about boxing. And there are times when he gives Morrison less credit than Tommy might deserve as a fighter.
But The Duke comes to life in Part Two. The material dealing with Morrison's spiral into oblivion outside the ring is powerfully written and informative. Acevedo shows here that he's a very good writer.
Thomas Hauser's email address is thomashauserwriter@gmail.com. His most recent book – Broken Dreams: Another Year Inside Boxing – was published by the University of Arkansas Press. In 2004, the Boxing Writers Association of America honored Hauser with the Nat Fleischer Award for career excellence in boxing journalism. In 2019, Hauser was selected for boxing's highest honor – induction into the International Boxing Hall of Fame.
To comment on this story in the Fight Forum CLICK HERE
Marc Ratner Reflects on his Life in Boxing and MMA in his Newly Published Memoir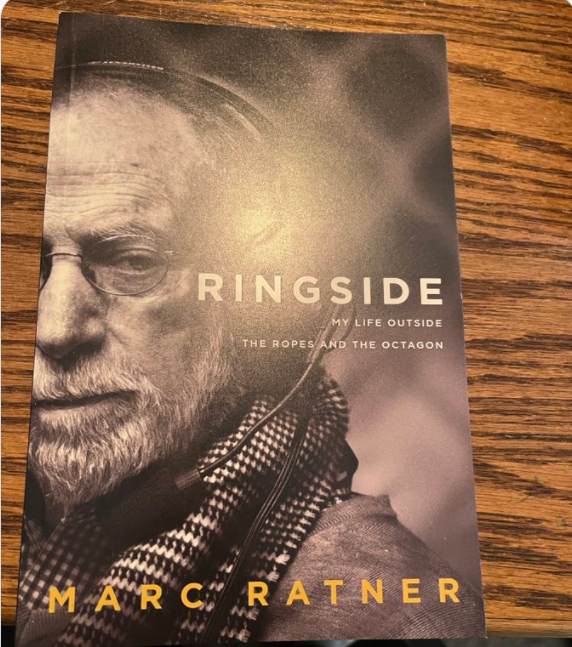 There is a nationwide shortage of high school sports officials. It's a problem that was brewing before the pandemic drove many longtime officials to leave the fold, perhaps out of COVID concerns, perhaps because it was harder to do what they do while wearing a surgical mask. Some believe that the root of the problem lay with the parents of high school athletes; their ranks had become saturated with too many "a-holes." And that is why last week's meet-up with longtime friend Marc Ratner had to be pushed back. Ratner had a more important item on his agenda, a recruiting trip to the local air force base where he hoped to boat some new high school sports officials.
Ah, but I digress.
Ratner is Southern Nevada's longest-tenured Commissioner of Officials for high school and middle school sports, a post he has held for four decades, but when one begins to list his accomplishments, one usually doesn't start there. Among other things, the amiable Ratner, a youthful 77, is the only person to be named to the International Boxing Hall of Fame and the UFC Hall of Fame. And now he has yielded to the blandishments of his family and co-workers and set down his memories in a book. It's called "Ringside," sub-titled "My Life Outside the Ropes and the Octagon."
Ratner's career as a sports official began with Pop Warner football and city league basketball, the lowest rungs of the ladder. But out of respect to his readers – those that have never met him — his book doesn't begin at the beginning. It opens with the 2017 fight between Floyd Mayweather Jr and Conor McGregor, an event that Ratner returns to in the final chapter. "The fight," writes Marc, "represented a culmination of my career up to that point, the merging of my two worlds, the marriage of my past and future. Boxing was my older child who had grown up and left home, and MMA was my new child who I was still raising."
Several days before the event, Marc was approached by Conor McGregor's manager who had a favor to ask: Would Marc go into Floyd Mayweather's dressing room to observe Floyd getting his hands wrapped? There are specific rules as to how much tape and how much gauze a fighter may use, and it's standard procedure to have an inspector on hand to make sure that the rules are followed.
Marc agreed and although he wouldn't be there in an official capacity, for him it was deju vu.
In 1987, he was named Sugar Ray Leonard's inspector for Sugar Ray's "Superfight" with Marvin Hagler. He delivered the gloves to Leonard's dressing room, watched the boxer get his hands wrapped, and then hovered over Leonard's corner between rounds to make certain that there was no hanky-panky. To this day, Marc considers that one of his most thrilling moments in sports.
Leonard-Hagler was staged at Caesars Palace on April 6, 1987. Four months later, Ratner's best buddy Chuck Minker was appointed executive director of the Nevada State Athletic Commission, the overseer of boxing. The two had often worked in tandem at high school and junior high athletic events. They had even coached a women's softball team. In fact, they were seen together so often that one wag dubbed them the "Gold Dust Twins."
One of Minker's first decisions was to elevate Ratner to his former post, that of chief inspector. Ratner never aspired to move up any higher in the hierarchy of the NSAC but in 1991 Minker was diagnosed with a rare form of lung cancer and he died the next year at age 42. Ratner succeeded him after serving as the de facto director for more than a year, a period when the position was vacant because of budgetary constraints.
Thus began Ratner's 14-year run as the executive director of what would come to be widely regarded as the best-run boxing commission in the country. Three of the 13 chapters in Marc's memoir focus on these days with special emphasis on the two strangest episodes of his tenure, the Fan Man Fight and the Bite Fight.
The most surreal moment in any major athletic contest happened on Nov. 6, 1993 at the outdoor arena at Caesars Palace when a paraglider identified as James Miller swooped out of the sky and crash landed in the ring during the seventh round of the world heavyweight championship fight between Riddick Bowe and Evander Holyfield, the middle match of their celebrated trilogy. From the first bell to the last, the seventh round consumed almost 24 minutes.
Marc kept his wits about him during the pandemonium, communicating with the judges and timekeeper so that the fight could be resumed as if nothing had happened. (In hindsight, he faults himself for not sending Bowe and Holyfield back to their respective dressing rooms on a night when there was a chill in the air.)
The Bite Fight on June 28, 1997 at the MGM Grand was actually the Bites Fight. Mike Tyson was a serial offender that night, returning for a second helping after taking a bite out of Evander Holyfield's ear.
Marc was in his customary seat on the ring apron when Tyson went ballistic in round three, but like everyone in the arena other than referee Mills Lane and the combatants, it wasn't immediately clear to him why Lane had a called a "time out." It took a while to process.
When Lane told Ratner that he was disqualifying Tyson, Ratner replied, "Are you sure?" It was Marc's way of slowing things down. "It was just my instincts kicking in from years of being an official," he writes. "In all sports, it's a big decision to eject someone."
Team Holyfield wanted the fight to continue and when ring physician Flip Homansky deemed Evander fit to go, the fight was resumed. But Mills Lane wasn't going to tolerate another bite and the third round would be the final round of the contest.
Ratner didn't unilaterally overrule Lane when Lane first wanted to disqualify Tyson, but it would have seemed that way if, per chance, Tyson had gone on to win the fight. Ratner would have been raked over the coals in the press and he surmises that Bob Miller, who was then Governor of Nevada, would have had little recourse but to fire him.
In March of 2006, Ratner resigned from the commission to join the Ultimate Fighting Championship. The UFC had been around since 1993, but was hemorrhaging money when the Fertitta brothers, Lorenzo and Frank, second-generation Las Vegas casino operators, purchased the organization in 2001. At the time of their purchase, MMA, specifically the UFC alloy of it, was regulated in only one state; New Jersey. The late U.S. Senator and future Presidential Candidate John McCain had famously likened MMA to human cockfighting (which in its original incarnation wasn't far from the truth).
The UFC brand of combat, although renovated by an expanded rulebook, was still verboten in most places when Marc hired on as the Vice President of Regulatory and Governmental Affairs. Through his efforts, the formerly rogue sport is now legal in all 50 states. Getting New York on board was a big get.
Ratner estimates that he made 30 trips to Albany to meet with legislators and lobbyists before New York finally acquiesced. (The roadblock there, State Assembly leader Sheldon Silver, wasn't opposed to the sport per se but was acting on behalf of the Culinary Workers Union whose Las Vegas affiliate, the union's largest branch, was at loggerheads with the Fertittas over union representation at their casino properties. The UFC was home free when Silver was convicted on federal corruption charges that ultimately sent him to prison where he died this past January at age 77.)
As they were locking in one state after another, the UFC simultaneously expanded its global presence with the result that Marc has become quite the world traveler. His favorite cities are Stockholm and Sydney and, as these words are being written, he's on his way home from London where UFC Fight Night 204 at the jam-packed O2 Arena reportedly attracted an arena record gate of $4.5 million.
There were many that thought that Ratner was foolish to leave his dream job at the athletic commission to join the fledgling UFC, a potential flash-in-the-pan. Dana White, a longtime friend and business partner of the Fertitta brothers, said that he envisioned UFC becoming as big as the National Football League which struck many as the ravings of a man with delusions of grandeur.
The irascible White, who quickly became the face of the organization, had the last laugh. In 2017, the USC opened a massive, two-story state-of-the-art training center for active and retired UFC fighters and their coaches, a building that doubles as the company's corporate headquarters.  Called the Performance Institute, it sits on a 15-acre parcel that now includes the adjacent APEX, a 130,000 square foot production facility for live MMA events and reality shows. The two buildings house approximately 200 full-time employees which is more than the combined full-time employees of the top boxing promotional entities in the world!
Born in Phoenix, Ratner grew up in Las Vegas when the city was a lot smaller (his high school was one of only six in the entire county with enough students to field a football team).  Now a grandfather, he keeps a schedule that would exhaust a younger man.
In addition to being the Commissioner of Officials, he operates the shot clock at UNLV basketball games, something he has been doing since 1983. And when Las Vegas acquired an NFL franchise last year, snatching the Raiders from Oakland, Marc added a new entry to his long resume. At Raiders home games, he is the Coach-to-Player-Cut-Off-Operator (yes, that's the official title), controlling the microphone that allows coaches to communicate with players between plays from the time the ball is ruled dead until there are 15 seconds left on the play clock.
His hectic schedule doesn't leave him much time to promote his memoir, a collaboration with professional ghostwriter Jon Sternfeld, but he never intended to. Indeed, anything that smacked of self-promotion would be out of character. As a sports official and administrator, Marc took pains to stay in the background, careful not to steal the spotlight from the athletes under his purview.
"I don't know if I will make a dollar a book out of this and it doesn't matter to me. I don't plan on any book signings," he says, while noting that Sternfeld wasn't the first ghostwriter to whom he was latched. The first fellow wanted a "tell-all" book and Marc wasn't interested in airing anyone's dirty laundry.
It is been an amazing ride for Marc Ratner who was fresh out of college and working in his father's beauty supply business when he answered a newspaper ad for football officials, begetting a career in sports that would take him from the sandlots of Las Vegas to the International Boxing Hall of Fame and beyond.
Clocking in at 143 pages, "Ringside" with its breezy conversational style, is a fast and fun read. It currently retails for $14.99 at Amazon.
To comment on this story in the Fight Forum, CLICK HERE
Arne K. Lang's latest book, titled "George Dixon, Terry McGovern and the Culture of Boxing in America, 1890-1910," will shortly roll off the press. The book, published by McFarland, can be pre-ordered directly from the publisher (https://mcfarlandbooks.com/product/clashof-the-little-giants) or via Amazon.