The Most Underrated and Most Overrated Boxers: Part Two of Our Survey
In this month's survey, we asked our regular cast of noted boxing buffs to identify the fighters — active or retired, living or dead — who in their estimation were most underrated and/or most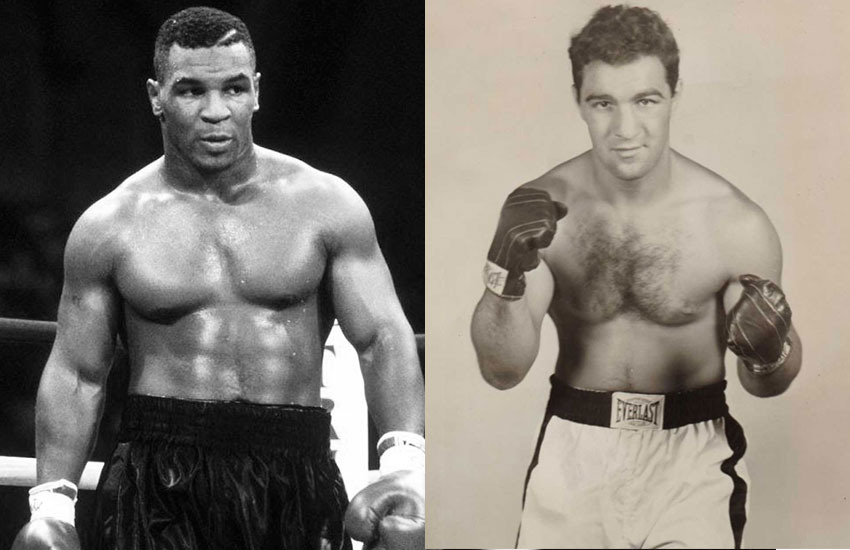 In this month's survey, we asked our regular cast of noted boxing buffs to identify the fighters — active or retired, living or dead — who in their estimation were most underrated and/or most overrated. The story yielded by the survey is running in two parts with respondents listed alphabetically. Here's Part Two.
JIM LAMPLEY- linchpin of the HBO announcing team and 2009 Hall of Fame inductee: This is another premise which is so broad and elemental that the range of possible responses is almost overwhelming. Take the underrated category: how many modern fans even know who Barney Ross was? How many are aware there is a case to be made (not by me, but by others I respect) for Harry Greb ahead of Sugar Ray Robinson as number one all-time? We could go on ad nauseum, so to make this categorical I'll just select two ultra-recognizable relatively recent names from the most visible division.
Underrated:  This is counter-intuitive in that he got overwhelming acclaim, but I am not sure to this day enough fans and followers truly understand and appreciate what George Foreman did. To win the legitimate heavyweight crown twice, twenty years apart, as two entirely different fighters and two even more entirely different human beings, is not just one of the greatest accomplishments in the history of boxing, it is one of the greatest accomplishments in the history of competitive sports. He is not the greatest of all heavyweight kings — take your pick between Ali and Louis — but he is to me clearly the most underrated, because his awesome physicality obscures the fact he beat Michael Moorer with his mind. I can never give him too much credit for that.
Overrated: This choice actually hurts, because I regard the fighter as a dear friend, and covering him was the pedestal on which I built my boxing commentary career. But many fans think of Mike Tyson almost exclusively in images of his early career knockout string against mostly deficient opponents, and ignore what happened when he reached the point of going in against live ammunition. His best win was over a blown-up light heavyweight. His supposed colossal upset loss to Buster Douglas was actually an on-merit style loss, foreshadowed by his route-going decisions against Mitch Green, Tony Tucker, Bonecrusher Smith, and his last round knockout of Jose Ribalta. And against his Hall of Fame contemporaries Evander Holyfield and Lennox Lewis, more style problems, zero and three, and in my view the likelihood he would never have been able to beat either one. Mike was a sensational talent but with certain limitations, and the extreme glamour of his early genesis ultimately makes him the most overrated heavyweight. Doesn't mean I don't love him, because I do. But only honest answers really count.
ARNE LANG – TSS editor in chief: At the risk of being branded a moron, Henry Armstrong doesn't make my all-time Top Ten. True, he held three title belts simultaneously in an era when there were only eight weight classes. Jim Murray wrote that fighting Hammering' Hank was like fighting a rock slide. But my goodness, he fought a lot of stiffs. During one stretch in 1939, he successfully defended his welterweight title five times in a span of 21 days. That boggles the imagination until one examines his opposition. Howard Scott, the second victim, had lost 10 of his last 11. Bobby Pacho, the fifth victim, finished his career with 70 losses. As for the most underrated, too many names jump to mind to single out just one guy.
RON LIPTON – world class boxing referee, former fighter, boxing historian, retired police officer: One of the toughest men I ever knew and sparred with many times, Jose Monon Gonzalez, came from an era where only real Lions and Tigers prowled the middleweight division. To me he was the toughest fighter to ever come out of Puerto Rico. The great boxing writer Mario Rivera also told me that. Jose was not the greatest but the roughest and most fearless fighter who fought you in the pocket all night long.  He beat Rubin Carter, Joey Archer, Florentino Fernandez, Rocky Rivero, Luis Rodriguez, Ted Wright, Cyclone Hart, Vicente Rondon, Don Fullmer and so many others. He had losses but usually went the distance trying to tear your guts out in the pocket all night long. He was like a Shawn Porter, all over you, making you fight hard or go down. He was always underrated and people who did that left the ring sadder and wiser most of the time.
Overrated? I take a pass on this one out of respect for all boxers.
PAUL MAGNO – author, writer, and boxing official in Mexico: "The Body Snatcher" Mike McCallum is vastly underrated by modern day boxing fans and even many old timers. He reached his prime at the tail end of the "Four Kings'" era and none of these guys (Leonard, Hearns, Duran, and Hagler) thought about even trying to engage the talented old-school boxer. McCallum's phenomenal talent and immense skill were never tested against true ATG-level fighters until he was well past his prime and a division above his optimal weight– and, even then, he managed to hold his own.
As for overrated, I'll incur the wrath of all Welsh fight fans here, but Joe Calzaghe was overrated during his career and is especially overrated now, at the cringe-worthy level, as the realities of his career fade into the past. Sure, he was a talented guy, but any honest assessment of his resume has to take note of the fact that he was, almost exclusively, hand-fed soft touches for 95 percent of his career. High-water mark wins against Mikkel Kessler, a deeply overrated Jeff Lacy, and past-their-primes Roy Jones and Bernard Hopkins over the course of a 15-year, 22-world title fight career do not fit the bill of legend-level accomplishment, And, yep, I still don't think he really beat Hopkins.
ADEYINKA MAKINDE – boxing writer, law school lecturer, author: The most overrated boxer among the elite fighters of today I'd say is Sergey Kovalev. He is formidable with good balance and heavy-hitting power. Fight him at mid-range at your peril. But his fights with Isaac Chilemba and Andre Ward exposed his shortcomings: poor stamina, non-existent inside-fighting skills and vulnerability to body shots. (Editor's note: this was written before Kovalev's fight with Eleider Alvarez.)
The most underrated boxer from the past I would offer as Ezzard Charles. His losses to Jersey Joe Walcott and Rocky Marciano as well as the reluctance of the public to embrace him after the end of the Joe Louis era all served to detract from his sublime boxing skills.
MARK "SCOOP" MALINOWSKI – the "biofile" man: To pick the most underrated boxers present and past is very difficult because there are so many talents who didn't get their just due or the big super fights they earned and deserved. The ones who spring to mind for me are prime Paul Williams and Antonio Margarito who I strongly believe would have both devoured Floyd at 147 but were denied their opportunities to become superstars. The boxing establishment was set up back then to protect Floyd, who was the installed and protected "face of boxing." I also feel Buster Douglas is underrated by history. He boxed a masterpiece vs Tyson and could have beaten just about anyone from history that night. Today, the most underrated are Terence Crawford and Gennady Golovkin. Both are all time greats but have been avoided by their top name competition. One of the flaws of boxing today is that there are many very underrated talents out there who don't get the TV exposure and big fights they deserve.
DAVID MARTINEZ – boxing historian and boxing site manager: Most underrated is Jerry Quarry with Randy Shields a close second. Most overrated is Chuck Davey with Sean O'Grady a close second.
LARRY MERCHANT – most underrated boxer: Riddick Bowe; most overrated ring commentator: me
ERNESTO MORALES (aka GENO FEBUS) – boxing writer and former fighter:  Wow, a tough one but I have to go with Ezzard Charles. He was only a natural middleweight beefed up to light heavy because his manager knew at 160 he'd never get a break. Then he was forced to move up again for the same reasons. Could you expect Zale's Graziano's, Cerdan's, LaMotta's ,Lesnevich's, Mills', Maxim's managers risking their titles vs Charles?? Or Blinky Palermo and gang for that matter?? He would've had to pawn the rest of his career to get his deserved opportunities!! He wasn't a light heavy when he moved up and was never a true heavy even in his best years in that division. Greatest LH of all time without ever winning that division's title.
J RUSSELL PELTZ – the face of boxing in Philadelphia; 2004 IBHOF inductee: I believe Rocky Marciano was the most underrated and most overrated fighter of all time. Think about that!
FREDERICK ROMANO – author and former HBO researcher: For my money the most underrated is Ezzard Charles. Forget about his run as a heavyweight. After cutting his teeth on a host of top middleweights in his early years he went on to become an all-time great 175lb fighter. Ask Archie Moore. His race, style and disposition hindered him. Even a fading Charles was able to give Marciano his toughest title defense. As for the most overrated it is so tough to say because almost always an overrated fighter eventually becomes exposed and does not maintain that status. People are starting to talk about Floyd Mayweather Jr. as if he is up there with Ali and the like. No dice. A really talented fighter in his prime and at his best weight but he has become glaringly overrated. So, I will go with Floyd.
DANA ROSENBLATT – former world middleweight champion: Most underrated is Yaqui Lopez…….hands down!
TED SARES – TSS writer: most overrated is Cecilia Braekhus, the "First Lady of Boxing." She is a knockout waiting to happen and Layla McCarter or Amanda Serrano   will oblige her. Most underrated is a tie between Ezzard Charles and Gene Tunney. The only loss Tunney (65-1-1) suffered was to Harry Greb in the first of their five meetings and he also beat Dempsey twice. Enough said. In my view, the super skilled Ezzard Charles fought the highest level of opposition of any fighter in boxing history.
"ICEMAN" JOHN SCULLY- former boxer, trainer, commentator; he's done it all: In my opinion Rocky Marciano is both the most underrated and the most overrated boxer in history. His detractors have him as an easy to hit guy who beat nothing but senior citizens to achieve his status in the game. His supporters have him beating everyone in history by brutal knockout, including Godzilla and King Kong. In my opinion he is somewhere in the middle. Limited to a certain degree, of course, but he possessed one of the greatest wills of all time and he got the job done 49 times in a row, most of which were by crushing knockouts.
MIKE SILVER – author, writer, historian: How many heavyweights would get up time and again after absorbing the best shots of Joe Louis and Max Baer? My vote for most underrated goes to Primo Carnera. Despite the fixed fights and phony build-up he was a gutsy hard-working fighter who eventually absorbed enough skill and technique to defeat some decent boxers. Developed a good jab and footwork. Da Preem would be in the mix of top heavyweight contenders today and a good bet to win a belt.
The most overrated boxer was Roy Jones Jr. This terrific athlete was "great" for his time but when people began ranking him on a par with Sugar Ray Robinson (one well known authority even said he was better!), I had to draw the line. Roy's athleticism and power dazzled but it covered up mediocre boxing skills and a glass jaw. In his prime these flaws could not be exposed by a middleweight and light heavy division that lacked depth. Roy's innate gifts would have made him a stand out in any era but he was certainly no Sugar Ray Robinson.
ALAN SWYER- documentary filmmaker, writer, and producer of "El Boxeo": The most underrated fighter in my estimation is Ricardo "Finito" Lopez. That he is not fully appreciated owes to two factors. First, he fought primarily as a strawweight, a division that's often overlooked. Second, with the exception of two fights (against Alex Sanchez and Zolani Petolo), he did not box in New York, with the bulk of his matches fought in Mexico and Las Vegas. However, what more needs to be said about someone who retired undefeated as both an amateur and a pro, had 51 professional wins (38 by knockout), and tied Joe Louis and Floyd Mayweather for the most consecutive title bouts without a loss.
The most overrated boxer in my estimation is Saul Alvarez. Though clearly gifted, Canelo was anointed early on more for his red hair than for his talent. Promoted shrewdly by Golden Boy, fighting big names already on the downside of their career. Still, his fight against Alfredo Angulo featured a questionable stoppage, the scorecard for his bout against Erislandy Lara was controversial, and his effort against Floyd Mayweather was lackluster. Then came Alvarez-Golovkin, in which hype superseded the action in the ring.
GARY "DIGITAL" WILLIAMS- voice of "Boxing Along the Beltway": My most underrated boxer is Simon Brown. He accomplished a lot in his career and I think the knockout loss to Vincent Pettway may have hurt his legacy. Brown won three world titles and pulled off one of the biggest upsets in history when he knocked out Terry Norris. I've always thought that Brown should be in the Hall of Fame.
My most overrated boxer actually is Mike Tyson. I give a lot of credit to Tyson for the excitement he brought to the sport. However, if you look objectively at his career, he was more successful with smaller heavyweights. When he went up against tall heavy's like James "Bonecrusher" Smith and Lennox Lewis, he really did not perform well. Yes, he had a lot of issues outside the ring but he is not in my all-time greatest heavyweight list.
PETER WOOD – author, writer, and former fighter: The most underrated fighter is…Michael Spinks. Unfortunately, "The Spinks Jinx" is more remembered for his first-round KO loss to Mike Tyson and his unwarranted win over Larry Holmes. However, his ring achievements are too often overlooked. His ring record is almost perfect at 31-1…The Ring magazine named Spinks "the third greatest light heavyweight of all time" in 2002…He had a record of 14-1 (9 KO) in world title fights…He was 7-1 against former world titlists…He defeated Murray Sutherland (twice), Marvin Johnson, Eddie Mustafa Muhammad, Dwight Muhammad Qawi, Larry Holmes (twice).
The most overrated fighter is…Saul "Canelo" Alvarez. He's too slow-of-foot, too juiced-up, and too protected.
Ted Sares is one of the oldest active full power lifters in the world and is currently competing on the New England circuit. A member of Ring 10, and Ring 4's Boxing Hall of Fame, he was recently cited by Hannibal Boxing as one of three "Must-Read" boxing writers.
Check out more boxing news on video at The Boxing Channel
Tyson and Jones Box to an Unofficial Draw in a Predictable Stinker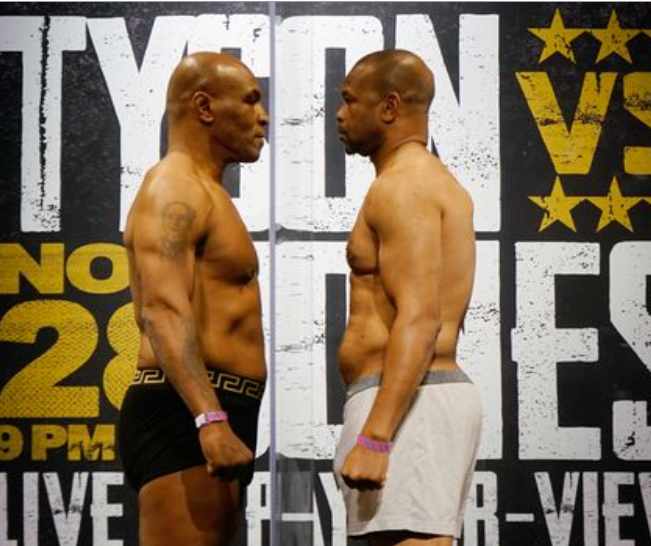 The Ringling Bros. and Barnum & Bailey Circus, an American institution, went belly-up in 2017, but a different kind of circus played to an empty house at the Staples Center in Los Angeles tonight. The main attraction wasn't Jumbo the elephant but Iron Mike Tyson in his first ring appearance in 15 years. In the opposite corner was Roy Jones Jr, who at age 51 was the younger man by three years.
Tyson vs. Jones was the main piece of a 4-hour boxing and music festival live-streamed in the U.S. on the TysononTriller.com app at a list price of $49.95. This was the first live event on "Triller" which allows people to create their own music videos and was designed as a rival to China-owned TikTok, one of the biggest recent success stories in the internet world.
The California State Athletic Commission, which sanctioned the match, insisted that Tyson vs. Jones would be an exhibition. They would fight 8 two-minute rounds with 12-ounce gloves and if there were a knockdown, the referee would not give a count and the bout would or would not continue at his discretion. The rounds would not be scored and no winner would be named.
Of course, the promoter chafed at these restraints and did his best to create the impression that this was a legitimate prizefight. Retired boxers Vinny Pazienza, Chad Dawson, and Christy Martin were lassoed to serve as judges, scoring the fight from a remote location, and the WBC commissioned an honorary belt to present to the winner.
The advance hype was enormous. A clickbait-obsessed media lapped it up including photoshop-enhanced images of Mike Tyson's physique.
In the second round, Tyson landed a double left hook and that was the only indelible moment in the match. By the third round, both looked and sounded tired and by the sixth round Jones was thoroughly gassed out and took to clinching to make it to the final bell.
For the record, the scores were 79-73 for Tyson (Martin), 80-76 for Jones (Pazienza), and 76-76 (Dawson). On the internet, the clear consensus was that Tyson had the best of it.
Mike Tyson, 50-6, 2 NC (44 KOs) last fought in June of 2005 when he was stopped by third-rater Kevin McBride. Roy Jones (66-9, 47 KOs) was active as recently as 2018 and won his last four, but against hand-picked opponents including a boxer making his pro debut. His last fight of significance came in 2011 when he was brutally KOed by Dennis Lebedev in Moscow.
Jones, who weighed 210 ½ tonight, weighed 157 when he made his pro debut in 1989. In his prime, he was pound-for-pound the best fighter in the world, but that was back in the previous century.
Both fighters were reportedly guaranteed $1 million with Tyson's take potentially reaching $10 million if certain financial targets were met.
Other Bouts
YouTube sensation Jake Paul, who we reluctantly concede has more than a modicum of talent in the fisticuffing department, knocked out Nate Robinson in the second round and it was a clean knockout with Robinson knocked out cold. The 36-year-old Robinson, the former NBA point guard who was a three-time slam dunk champion during his 11-year NBA career, is a well-rounded athlete, good enough to start as a cornerback in football during his freshman year at the University of Washington, but his athleticism didn't translate to the squared circle as he looked like a common bar brawler.
Former two-division belt-holder Badou Jack (22-3-4), who said he appeared on the card as a favor to his friend Mike Tyson, was a clear-cut winner over hard-trying but out-classed Blake McKernan in an 8-round cruiserweight match.
At age 37, Jack's career is winding down. He tipped the scales at 188 ¾, 14 pounds more than in his previous engagement vs. Jean Pascal. McKernan, a natural cruiserweight from Sacramento, was undefeated coming in (13-0), but was in over his head against Jack, a former Olympian and veteran of seven world title fights.
In a good action fight, Worcester, Massachusetts lightweight Jamaine Ortiz, a carpenter by trade, improved to 14-0 (8) with a seventh-round stoppage of Sulaiman Segawa (13-3-1), a Maryland-based Ugandan.
In the first bout on the program, Fort Worth featherweight Edward Vazquez improved to 9-0 (1) with an 8-round split decision over Jamaine Ortiz stablemate Irvin Gonzalez (14-3).
Heavyweight Juiseppe "Joe" Cusumano improved to 19-3 (17) with a sixth-round stoppage of late sub Gregory Corbin (15-4). It was the fourth straight loss for the 40-year-old Corbin who came in at a beefy 291 ¾ pounds.
Check out more boxing news on video at the Boxing Channel 
To comment on this story in the Fight Forum CLICK HERE
Fast Results from London: Joe Joyce Stops Daniel Dubois in the 10th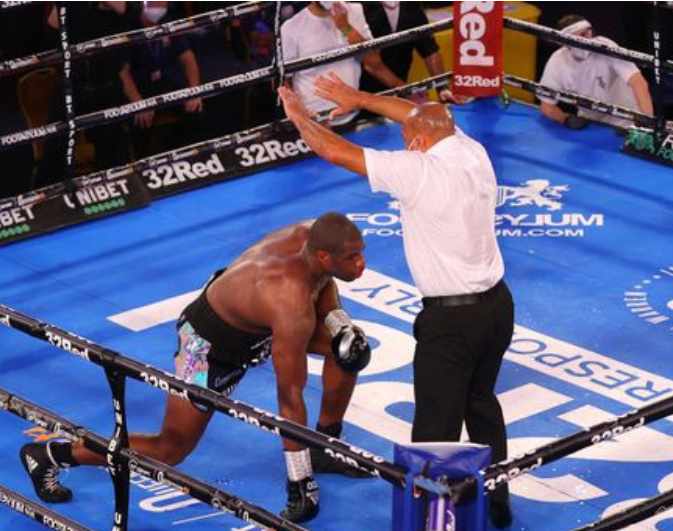 The historic Church House which sits in the shadow of Westminster Abbey was the site of tonight's clash in London between unbeaten heavyweights Daniel Dubois and Joe Joyce. The bout lacked the gloss of a world title fight, but didn't need it. The oft-postponed match, originally slated for the 02 Arena in London on April 11 with promoter Frank Warren anticipating a sellout, was fairly hyped as the most anticipated fight since Fury-Wilder II which was the last big fight before the coronavirus clampdown.
Dubois, 15-0 with 14 KOs heading in, was a consensus 7/2 favorite in man-to-man betting, He was younger, faster and punched harder, but ultimately it would be his "O" that had to go. Joe Joyce, an inch taller at six-foot-six and 15 pounds heavier at 259, emerged victorious with a 10th-round stoppage in what was a good back-and-forth fight with a divided opinion as to who had the edge through the completed rounds.
Joyce really didn't do much but throw a jab, but he landed that jab consistently and it was a hard, thudding jab that caused Dubois's left eye to start swelling during the mid-rounds of the fight. The damaged eye eventually shut and when Joyce reached it with another hard jab in the 10th, Dubois surrendered by taking a knee. The presumption was that he had suffered a broken orbital bone.
The 35-year-old Joyce, nicknamed Juggernaut, is of Scotch-Irish and Nigerian descent. He lost by split decision to Tony Yoka in the semifinals of the 2016 Olympics and had to settle for a silver medal. Prior to turning pro, he was 12-1 in the semi-pro World Series of Boxing with his lone defeat coming at the hands of Oleksandr Usyk. With today's career-defining win, he upped his pro ledger to 12-0 (11).
Other Bouts
Top-rated WBC super lightweight contender Jack Catterall (26-0) won a predictably one-sided 10-round triumph over 33-year-old Tunisian Abderrazak Houya (14-3). Catterall scored two knockdowns en route to winning by a 99-90 score. This was a stay-busy fight for the Lancashire man who was the mandatory challenger for title-holder Jose Carlos Ramirez and accepted step-aside money with the promise that he would meet the winner of the unification fight between Ramirez and Josh Taylor which is expected to come off in February.
The lead-in fight was a 10-round contest in the super welterweight division between 21-year-old Hamzah Sheeraz and 33-year-old Guido Nicolas Pitto. The fight was monotonous until Sheeraz (12-0, 8 KOs) kicked it into a higher career in the final stanza and brought about the stoppage. Pitto, from Spain by way of Argentina, declined to 26-8-2. The official time was 1:11 of round 10.
In an 8-round cruiserweight bout, Jack Massey improved to 17-1 (8) with a 79-74 referee's decision over Mohammad Ali Farid (16-2-1). Massey was making his first start since losing a close 12-round decision to Richard Raikporhe in December of 2019 for the vacant BBBofC title. The well-traveled, one-dimensional Farid had scored 16 knockouts in his previous 18 fights while answering the bell for only 33 rounds.
Check out more boxing news on video at the Boxing Channel 
To comment on this story in the Fight Forum CLICK HERE
Daniel Jacobs Edges Past Gabe Rosado on a Matchroom card in Florida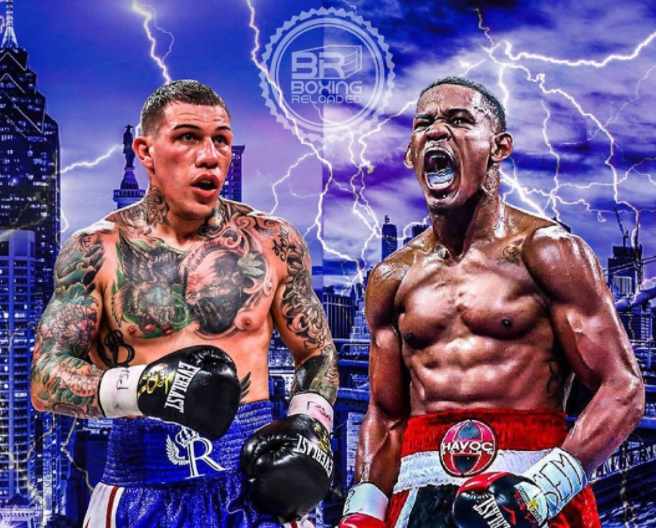 Former world champion Daniel Jacobs needed the last round to win by split decision against upset-minded Gabe Rosado and keep his place in line on Friday for lucrative super middleweight matchups.
But when the ring announcer erroneously announced the winner was from Philadelphia, confusion reigned for a moment until Jacobs was correctly called the winner.
Brooklyn's Jacobs (37-3, 30 KOs) jumped out ahead against Philly fighter Rosado (25-13-1, 14 KOs) and held on for the win in front of no fans at the Seminole Hard Rock Hotel and Casino in Hollywood, Florida. For a second, many thought Rosado had won.
Both were careful during the first three rounds measuring each other's distance and looking for openings to counter. There were very few.
It was the kind of fight expected by those who know boxing: two veterans with immense experience against top-flight world champions. Mistakes were few.
Jacobs, a former middleweight world champion, had fought Saul "Canelo" Alvarez and Gennady "GGG" Golovkin in close but losing efforts.
Rosado had battled Golovkin too, six years ago in a bloody affair that ended in a loss. He had also lost to other champions like Peter Quillin and Jermell Charlo. But none were able to knock him out.
Both were aware of each other's reputation. Bitter words had been exchanged for years and now they finally got their chance to prove their mettle and they did.
Though Jacobs was recognized as a knockout puncher, Rosado's resilience was just as well known. Both neutralized each other for most of the fight with their feints and jabs to the body. Neither was willing to leave openings for each other.
Jacobs scored big with a left uppercut at the end of the seventh round. While Rosado wowed viewers with a sizzling right cross in the 11th round.
It was 1950s style, boxing with intelligence. Each found it difficult to land combinations, let alone find openings to score knockout blows. Instead, they had to be satisfied with scoring enough to convince three judges the actual winner.
Neither was able to pull out ahead with any conviction.
After 12 rounds one judge saw Rosado the winner 115-113 while two others saw Jacobs the winner 115-113 to give him the win by split decision.
"It felt just a little weird. It felt like a sparring match," said Jacobs about fighting without fans in the audience. "This wasn't a valiant effort."
Rosado was certain he was the true winner.
"I thought I won the fight. I surprised him," said Rosado who trained with Freddie Roach for this fight. "I'm a veteran, I know how to fight."
Indeed, he does.
Jacobs now stands poised to fight one of many super middleweight champions in need of a marquee name.
"I live to see another day," he said honestly.
Other Bouts
Kazakhstan's Daniyar Yeleussinov (10-0, 6 KOs) proved he was not an easy touch and knocked out former world champion Julius Indongo (23-3, 12 KOs) to march forward in the welterweight division while grabbing the vacant IBF Inter-Continental title.
In a fight featuring southpaw versus southpaw Yeleussinov caught Indongo with a roundhouse left the first time they exchanged and down went the former super lightweight world champion. Indongo beat the count and survived the round.
Indongo wasn't as lucky in the second round as Yeleussinov again connected with a left and down went the fighter from Namibia again. He would not get up at 1:24 of round two giving the knockout win for Yeleussinov.
A battle between undefeated heavyweights saw Azerbaijan's Mahammadrasul Majidov (3-0, 3 KOs) use roundhouse rights to stagger the heavier Sahret Delgado (8-1) to win by knockout in the third round. Majidov actually helped Delgado get to his stool after knocking him out on his feet at 47 seconds of the third round.
Emmanuel Tagoe (32-1) defeated Mason Menard (36-5) by majority decision after a 10- round lightweight fight that saw a lot of clinching and leaning.
Nikita "White Chocolate" Ababiy (10-0) out-fought Detroit's Brandon Maddox (7-4-1) to win by unanimous decision after six rounds in a middleweight clash. Ababiy hurt Maddox with body shots but found Maddox more resilient than expected.
Check out more boxing news on video at the Boxing Channel 
To comment on this story in the Fight Forum CLICK HERE.