Wladimir Klitschko's Astounding Comeback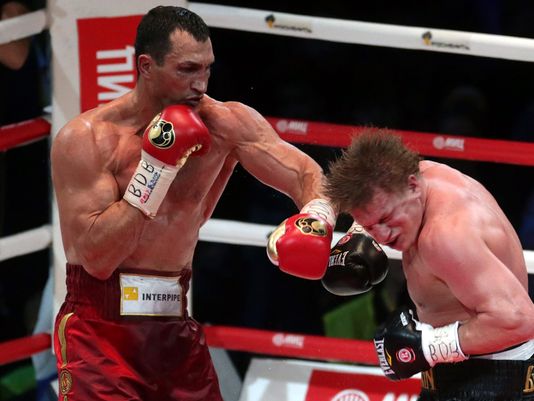 George Foreman fashioned the most noteworthy comeback in boxing – perhaps in all of sports – when he returned after a 10-year absence and went on to regain the world heavyweight title. But Wladimir Klitschko also forged a remarkable comeback. The difference is that he did it without ever saying goodbye. There was no interregnum in his timeline; no second act.
Now that his career has come fully into focus, it's plain that Klitschko will follow in the footsteps of his older brother and enter the Hall of Fame in his first year of eligibility. And it's easy to forget that there was a time when many pundits thought he was something of a tomato can.
Former Las Vegas Review-Journal sports editor Joe Hawk said this about Klitschko following his loss to Lamon Brewster: "Wladimir Klitschko joins the likes of John Ruiz and David Tua as purported boxers who should never again have their names appear on a sports page. We should've known about Klitschko, though. The Ukrainian-to-English converter on our computer says his full name translates to 'Big Slow Stiff With Glass Chin.'" Associated Press sports columnist Tim Dahlberg was less snarky, but basically echoed that sentiment: "Wladimir Klitschko better get used to working in his brother's corner during fights," said Dahlberg in 2005. "It might be the only future he has left in boxing."
Although he was reportedly 134-6 as an amateur and won a gold medal at the 1996 Olympics, Wladimir Klitschko (henceforth WK) wasn't highly thought-of when he turned pro. He had two strikes against him. He didn't look like a future heavyweight champion. The last lineal heavyweight champion that shared his pigmentation was one-trick pony Ingemar Johansson who captured the title in 1959 which was back in the Stone Age in the eyes of some young sportswriters. And WK was European, hailing from a part of the world once lampooned as the land of horizontal heavyweights.
And then, while he was still something of a mystery fighter, WK's reputation was stained by losses to three fighters dismissed as second-raters: Ross Puritty, Corrie Sanders, and Lamon Brewster. Each of those fights ended inside the distance. Against Puritty and Brewster, WK simply ran out of gas. He was leading both fights comfortably on the scorecards. Against Sanders, who knocked him out clean in the second round, he simply forgot to duck.
Let's look a little more closely at those three fights.
Ross Puritty could fairly be classified as a journeyman, but his record (24-13-1 going in) was very deceiving. The former UTEP defensive lineman had gone the distance with future heavyweight title-holder Chris Byrd, had knocked out former heavyweight title challengers Joe Hipp and Jose Luis Gonzalez, and had boxed a draw with fearsome Tommy Morrison…all this despite a very limited amateur background.
WK fought Puritty on Dec. 5, 1998, in Kiev. The match was assembled in a hurry. Wladimir had fought three weeks earlier and this was his ninth start of the year. The bout was for a minor title so it was scheduled for 12 rounds rather than ten. When the big Ukrainian fell in the 10th round, it was from sheer exhaustion. His corner stopped the fight moments into the 11th.
The fight wasn't big news in the U.S., warranting only a paragraph or two in most papers. What most took from the story was simply that another undefeated European heavyweight had been exposed by an American boxer. Ho hum; what else is new?
WK won 16 straight after this mishap. During this skein he won the WBO title, outpointing Chris Byrd, and successfully defended it six times. But the WBO, the newest of the four major sanctioning bodies, had little cachet. Lennox Lewis and Evander Holyfield ruled other roosts and were considered more legitimate.
In his title-winning match against Byrd, WK went to post the favorite, but only because he was the bigger man. The presumption was that if the fight went the full 12, Byrd, a slick southpaw, might steal the decision.
Hardly anyone out-boxed Chris Byrd, but WK put on the clinic, pitching a near-shutout. In fact, one of the judges did award Wladimir every round. He didn't merely out-box Byrd, he punished him. When the fight was over, one of Byrd's eyes was completely closed and the other was barely half-open. But the fight was held in Cologne, Germany, and didn't receive the media attention it would have received if it had been held in the United States.
WK's WBO title reign ended with a loud thud in Hanover, Germany, when he was annihilated by the aforementioned Sanders, a 37-year-old South African who boasted a 38-2 record but whose best sport was actually golf. With 33 seconds remaining in the opening stanza, Sanders, a southpaw, caught WK napping and put him on the canvas. Three more knockdowns would follow before the bout was stopped in the following round, but the other knockdowns were extensions of the first. And then, three fights later, Waldimir suffered another mortifying defeat, this coming at the hands of Lamon Brewster.
The Brewster fight was a repeat of WK's match with Ross Puritty, only shorter. Wladimir won the first four rounds on all three scorecards. Brewster barely made it back to his corner at the end of the fourth. But then WK suffered a mysterious meltdown. He was knocked down twice in the fifth, the second coming just as the bell sounded to end the round. Ascertaining that he was in no condition to continue, even with a 60-second respite, referee Robert Byrd waived the fight off.
Wladimir was of the opinion that he had been drugged and, according to one post-fight story, his blood sugar level was discovered to be abnormally high. But when his attorney went to the press and demanded an investigation, important boxing writers, in the main, dismissed it as sour grapes. Where once they had questioned his chin, they now questioned his chin and his heart and his integrity.
Having been upset twice in a span of four fights, WK had a lot of making up to do to win back the affection of his fans and the respect of the media. Seventeen months after his loss to Brewster, with two more fights under his belt, he dispelled any questions about his heart, rallying to defeat Samuel Peter in a match in which he suffered three knockdowns. Wladimir was in distress in round five and again in round 10, but he won the last two rounds and prevailed by three points on all three scorecards.
Peter, a New Jersey-based Nigerian, trained by future Hall of Famer Lou Duva, was undefeated coming in with 22 knockouts among his 24 wins. With the fight being staged at Atlantic City's Boardwalk Hall, he was chalked the favorite – the only time that WK was cast in an underdog role by the bookies until the final fight of his career.
The victory set up a rematch with Chris Byrd who now owned the IBF title. The second meeting was a carbon of the first through the first six rounds, but this time Byrd wouldn't still be standing at the final bell. WK finished him off with a right hook in the seventh.
WK's second world title reign lasted nine years and seven months. During his tenure he made 18 successful defenses and acquired the other two meaningful belts. He avenged his loss to Brewster (TKO 6), repeated his triumph over Samuel Peter (KO 10), comprehensively out-boxed former unified cruiserweight champion David Haye and, in a match between two former Olympic gold medalists, thoroughly outclassed previously undefeated Alexander Povetkin (that's Povetkin eating a left hook in the photo).
WK would have pitched a shutout if not for having a point deducted after shoving Povetkin to the canvas. As it was, he won by 15 points on all three cards. The fight, however, was a stinker and there were precedents for it.
Wladimir was too dominant during his title reign. When he won lopsidedly, as was usually the case, it was said that he was too robotic. And the emphasis shifted away from him to his opponent who was seen as just another mediocrity plumbed from the wreckage of a weak division.
Yes, the heavyweight division was inferior relative to the days of Ali and Frazier and the young George Foreman. However, that was the Golden Era of Heavyweights and WK's opposition stands up fairly well when juxtaposed against the heavyweight class of other eras. Overall, he opposed a more worthy cast of challengers than Joe Louis who was carefully steered away from good black fighters until he was deep into his 13-year title reign.
Klitschko vs. Povetkin was marred by excessive clinching. In hindsight it was precursor of the match that marked the end of WK's title reign, his November of 2015 contest with Tyson Fury in Dusseldorf. That was an ugly fight, a poor effort by both contestants, although a few pixilated British scribes credited Fury with painting a masterpiece.
There was a rematch clause that to Wladimir's dismay was never activated. If Tyson Fury had been fit to honor it, perhaps WK would have left the sport on a winning note. But from the standpoint of his legacy, perhaps it was better that his career ended as it did.
His farewell fight with young gun Anthony Joshua was a see-saw thriller contested under a clear sky before a great multitude at London's venerated Wembley Stadium. And when it was over, folks that previously knocked him were forced to concede that he may have actually been pretty darn good. He was still pretty good, just not good enough to overcome Anthony Joshua but by then he was 41 years old!
If I were to ask you if WK ranked among the greatest heavyweights of all time, you should take that as a rhetorical question. Wladimir Klitschko was special.
Check out more boxing news on video at The Boxing Channel
Hot Prospect Ruben Torres Blasts Out Gabino Cota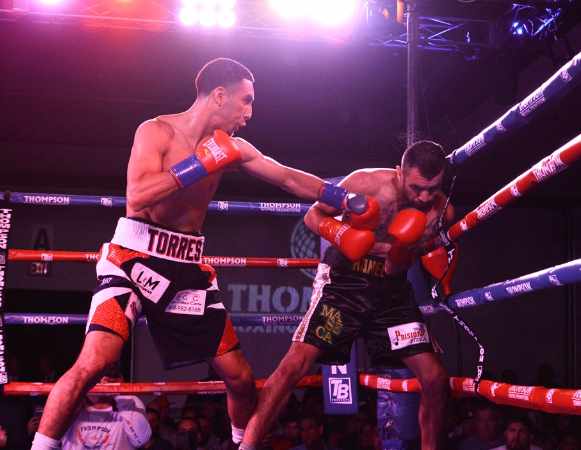 ONTARIO, Calif.-Those heavy hands of Ruben "Ace" Torres showed up again as he steamrolled by Gabino Cota to win their lightweight clash by knockout on Friday.
Backed by a large fan base Torres (12-0, 10 KOs) rewarded them with a one-sided shellacking of Tijuana's Cota (19-11-2, 17 KOs) at the Doubletree Hotel. There was never any doubt who packed the heavier firepower on the Thompson Boxing Promotions main event.
Torres opened up the fight behind a solid stiff jab that must have given Cota a quick indication of the power behind it, because the Mexican veteran seldom tried to engage early in the fight. A left hook followed by five blows wobbled Cota who leaned on the ropes in a kneeling position.
It was not ruled a knockdown but easily could have been.
In the next round Torres once again connected with a sweeping left hook and it was visible the blow hurt Cota. It seemed every time the taller Torres connected with the left hook a shock of pain crossed the Tijuana fighters face, but he would not go down.
Everything changed in the fourth round. As Cota waited to avoid the left hook, Torres shot a right cross to the body that took a second for the Mexican to register the pain and down he went. He could not get up and was counted out at 52 seconds of the fourth round.
Torres was ruled the winner by knockout.
"I know I could have stopped him a little earlier but his experience," said Torres who attended school in Santa Fe Springs. "He was tough. I was definitely waiting for him in the later rounds. I saw he was reacting to the punches that they were hurting him. I'm glad I came out victorious."
The Santa Fe Springs lightweight has been steadily impressing everyone with his heavy-handed power.
"Line them up and I'm going to do my best to knock them down," Torres said.
Other Bouts
George Acosta (9-1) defeated Ivan Benitez (14-4) by unanimous decision after six rounds in a fight featuring tall lanky lightweights. Acosta was the busier fighter through most of the match. Scores were 60-54, 59-55, 58-54 for Acosta whose only loss was to Ruben Torres last year.
A bantamweight clash saw Saul Sanchez (13-1, 7 KOs) out-hustle Mexico's Victor Trejo (17-12-2, 8 KOs) to win by decision after six white-hot rounds. Fans were pleased by the nonstop action fight and it was Sanchez first return to the boxing ring after suffering his first loss last August.
Cathedral City's Jose "Tito" Sanchez (6-0, 4 KOs) defeated the taller Luis Montellano (1-7-2) of Tijuana by unanimous decision after four rounds in a featherweight match-up. Despite the poor record Montellano proved to be a very capable fighter and used his height well until Sanchez took the fight inside and turned it into trench warfare. Sanchez was adept at smothering Montellano's blows inside while shooting uppercuts. Scores were 40-36 for Sanchez on all three cards.
Rancho Cucamonga's Richard Brewart (7-0, 3 KOs) won by knockout over Mexico's Erick Martinez (14-16-1, 8 KOs) in a battle fought at super middleweight. Brewart, who scored a sensational one-punch knockout here in February of last year, weighed only 157 pounds but fought Martinez who weighed 164 pounds and whittled him down to size with a blistering body attack from the opening bell. Finally, at 1:36 of the third round, Brewart sneaked a right uppercut to Martinez's chin and down he went for good. Referee Rudy Barragan counted out Martinez.
Ivan Zarate (2-0) proved too strong for Mexico's southpaw Ulises Gabriel (0-2) to win by unanimous decision after four rounds in a super bantamweight fight.
Photo credit: Al Applerose
Check out more boxing news on video at The Boxing Channel 
To comment on this story in The Fight Forum CLICK HERE
Wilder – Fury 2: Points to Ponder (Plus Official Weights)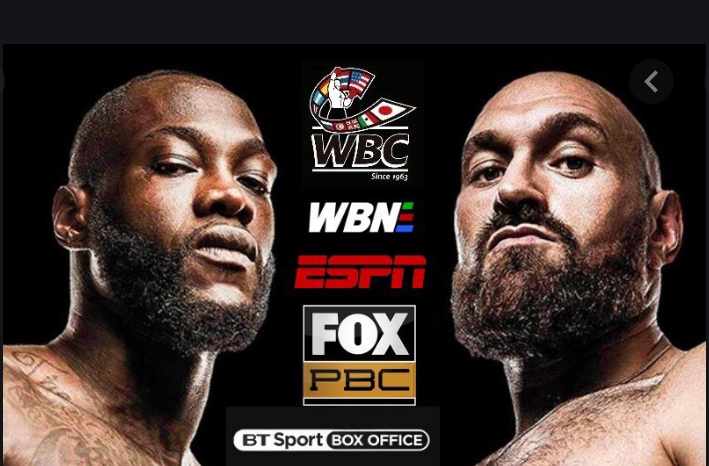 This afternoon's weigh-in, scheduled for 6 PM ET, will be closely monitored by gamblers who want to inspect the merchandise before making a wager. Tyson Fury has indicated that he will likely tip the scales at about 270 pounds, which would be 13 ½-pounds more than he carried in their first meeting and 15 ½-pounds more than what he carried in his last engagement vs Otto Wallin this past September. Deontay Wilder has also indicated that he plans to carry more weight for the rematch.
Andre Ward, for one, thinks that the added weight will be a detriment to Fury. "250 pounds is plenty big enough to push Wilder around," said Ward at a media confab yesterday where the former two-division world champion shared the dais with the other talking heads from the networks that will be showing the fight. The implication is that any gains that Fury achieves in strength would be offset by less mobility.
For the record, back in 2009, in his first scheduled 10-rounder, Tyson Fury carried 247 pounds for his match with British countryman John McDermott. That was a difficult fight for the Gypsy King with many in attendance believing he earned no better than a draw. Nine months later he met McDermott again, this time carrying 270 pounds, and Fury dominated en route to a ninth-round stoppage. So, putting on more weight for a rematch worked to his advantage.
Interestingly, Andre Ward doesn't believe that Deontay Wilder has reached his peak in terms of his ring IQ. Wilder, 34, is a former Olympic bronze medalist but had a very brief amateur career, a "small sample size," as Ward put it. The Bronze Bomber, he said, "is still learning on the job."
But he's still one-dimensional, noted former heavyweight champion Lennox Lewis. Asked which fighter he would prefer to fight if he were still in his prime, Lewis opted for Deontay Wilder, saying that Wilder would cause him fewer problems than Fury because Fury "gives you more looks."
Not once during yesterday's media confab did anyone address the cut that Fury suffered against Wallin. It was a wicked gash that required 47 stitches. The view from here, and it's a widely shared opinion, is that the fight would have been stopped if the stakes hadn't been so high.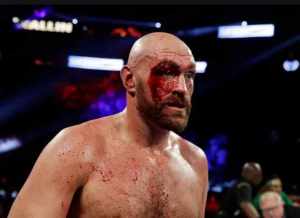 Wilder has 36 minutes to land the punch that would turn the tide in his favor and thus far only two of his 43 opponents has lasted until the final bell. But the possibly of the cut re-opening, say several reporters with whom I brain-stormed, is just as likely as the fight ending via one of Wilder's patented one-punch knockouts.
A shade over five months has elapsed since Fury suffered that bad cut. Was that a sufficient length of time for the cut to heal properly? And with this fight packaged as Chapter Two of a trilogy, a loss on cuts by Fury wouldn't necessarily damage his pocketbook which may factor into the ring doctor's decision of whether or not to stop it if this issue rears its head again.
If there is a third fight – and it's supposedly a done deal – there's virtually no chance that it will be staged in England. So says co-promoter Bob Arum. That's because the PPV receipts for a mega-fight are far and away the biggest piece of the revenue pie.
If Wilder-Fury III were to be held in the UK, the fight would start in the late afternoon throughout most of North America. "The pay-per-view disappears when you hold a fight in England," says Arum. "It's true that you would pick up more subscribers in Europe, but that's a little number compared to the big number you would lose."
"What the heavyweight division has lacked in recent years," said Mark Kriegel at yesterday's confab, "has been a great rivalry." Kriegel alluded to the three-fight series between Riddick Bowe and Evander Holyfield.
Will the Wilder-Fury rivalry become as celebrated as that intense rivalry or, more ambitiously, become as celebrated as the hallowed rivalry between Muhammad Ali and Joe Frazier? That's asking an awful lot but stay tuned.
UPDATE: Tyson Fury tipped the scales at 273 (he weighed in with his shirt and shoes on)
Deontay Wilder came in at 231.
Check out more boxing news on video at The Boxing Channel 
To comment on this story in The Fight Forum CLICK HERE
Avila Perspective, Chap. 86: Heavyweight Impact, Thompson Boxing and More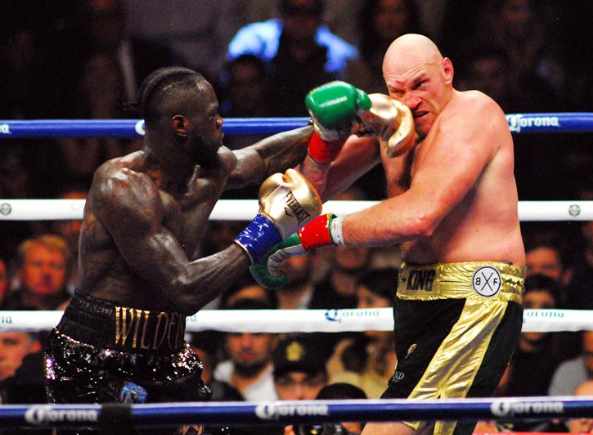 Avila Perspective, Chap. 86: Heavyweight Impact, Thompson Boxing and More
Any time Yanks fight Brits, expect a battle of epic proportions, but when you add rival networks, well now it's getting downright nasty.
When undefeated WBC heavyweight titlist Deontay Wilder (42-0-1, 41 KOs) steps in to face lineal champion face Tyson Fury (29-0-1, 20 KOs) on Saturday Feb. 22, at the MGM Grand in Las Vegas, it pits not only PBC versus Top Rank, but FOX versus ESPN pay-per-views.
These are all good things.
Aside from bragging rights for the winner's side, the absolute winners could be boxing fans especially those waiting for other potential fights between PBC and Top Rank. This heavyweight clash could be the foot-in-the-door needed for boxing.
Think: welterweight showdowns between Top Rank's Terence Crawford and PBC's Errol Spence Jr. as a follow up. There are many other potential matchups.
All this could be the next step after this repeat heavyweight showdown.
Wilder brings his explosiveness against Fury's tactical and incredible agility for this return match. Can they match their first encounter?
Back in December 2018, in Los Angeles, the two heavyweights boxed and slugged their way to history with the best heavyweight world championship fight of the 21st century, even topping 2003's Lennox Lewis versus Vitali Klitschko that also took place in Los Angeles.
Great heavyweight battles are not as common as one would think. They don't throw as many blows as welterweights and usually they are as slow as glaciers. They can lull you to sleep with their slowness.
"I'm the hardest hitting heavyweight of all time," said Wilder when in Los Angeles.
Wilder and Fury mesmerized the public with their clash of styles especially after the tall Brit with the clever lines was dropped in the ninth and 12th rounds. How he got up to fight remains a mystery to me and many others.
"He put me down twice and here I am," said Fury who twice beat the count after knockdowns in their first encounter at the Staples Center.
Very few heavyweight title fights can equal Fury-Wilder's first meeting.
Memorable Heavyweight Battles of the Past
Here are a few heavyweight world title fights I saw that I actually think measure up:
Riddick Bowe versus Evander Holyfield 2 in Las Vegas on November 6, 1993.
Larry Holmes versus Ken Norton in Las Vegas on June 9, 1978.
Muhammad Ali versus Joe Frazier 3 in Quezon City, Philippines Oct. 1, 1975.
Wilder and Fury 2 should be similar to their first encounter but expect the fight to end in less than 12 rounds. They know each other's tendencies, strengths, and definitely know each other's weaknesses. Expect a knockout but it remains to be seen who gets the knockout.
Yes, we know Wilder has the power but does he have the chin?
This time Fury will be willing to test Wilder's chin with a full-out attack and that should come early in the fight. This fight should not go past five rounds. Either Wilder goes down and out or Fury goes to sleep. Someone's not beating the count.
I truly don't know who wins this rematch.
20th Anniversary for Thompson
It doesn't seem that long ago that I attended Thompson Boxing Promotion's first boxing event at the very same Doubletree Hotel in Ontario, California back on March 5, 2001. Carlos "El Elegante" Bojorquez was the headliner on that card and the super welterweight fight ended in a technical draw due to a clash of heads opening a cut on Bojorquez.
That was the first Thompson Boxing card and here we are on Friday February 21, 2020 with the Orange County-based company showcasing another gem in Ruben Torres.
One thing about Thompson Boxing they know how to discover talent and have a string of world champions and contenders in its 20 years of existence. Torres could be the next. They still have Danny Roman who recently lost the WBA and IBF super bantamweight titles by a narrow decision. But regaining a world title remains a reality.
Torres (11-0, 9 KOs) faces Gabino Cota (19-10-2, 17 KOs) in an eight-round lightweight clash that will probably not go the distance.
I've seen all of Torres' fights and through this three-year journey the 5'11" tall lightweight has been honed into a precision fighting machine by trainer Danny Zamora in Santa Fe Springs, California.
Zamora rarely gets credit for his ability to develop boxers into world class prizefighters but he has an extensive history of success. From Yonnhy Perez to Torres the Santa Fe Springs trainer has quietly produced multiple elite pugilists for just as long as Thompson Boxing has existed. Catch his act.
Doors open at 6:30 p.m. For tickets or information call (714) 935-0900.
Ryan's World
It's been nearly one week since Ryan "The Flash" Garcia knocked out Francisco Fonseca in the first round of their regional title fight at the Honda Center in Anaheim. If you haven't seen the highlight, go ahead and take a look. The entire fight lasted only 1:20 and it seemed shorter.
Garcia was not fighting a low caliber fighter. Let's get that straight. Fonseca gave both Tevin Farmer and Gervonta Davis a difficult time. He couldn't do the same against Garcia.
Fonseca has a lot of talent and a good chin. In fact, the day after losing to Tank Davis by illegal blows behind the head, the fighter who lived in Costa Rica visited my home in Southern California and seemed more than healthy despite the fouls committed against him and allowed by the referee and Nevada State Athletic Commission. Though Fonseca's team took their complaint to the Commission – with extensive footage showing the hits behind the head – the loss was not overturned.
Over the years I've seen Garcia fight both as an amateur and professional and it was obvious to me and almost every major promoter in America that he has talent. All were interested in signing Garcia once he turned 18.
Well, Golden Boy signed him and here he is on the precipice of a world title challenge. It's not a surprise to those in the boxing game. It's only a surprise to those that truly don't know prizefighting. This kid is for real.
Oxnard
On open workout for the public will be held by Diego Magdaleno at La Colonia Gym in Oxnard, California on Friday, Feb. 21. The workout begins at 5 p.m. and equipment will be donated to the boxing club by Shannon Torres Gilman.
Magdaleno, a lightweight contender who scored a big win on national television last weekend on the Plant-Feigenbutz card, is the older brother of former world champion Jessie Magdaleno. He is also training and managing former female world champion, Crystal Morales, who is scheduled to fight on March 27 in Aguascalientes, Mexico.
Fights to Watch
Fri. 8 p.m. Thompsonboxing.com – Ruben Torres (11-0) vs Gabino Cota (19-10-2).
Fri. 11:30 p.m. Telemundo – Saul Juarez (25-10-2) vs Jonathan Gonzalez (22-3-1).
Sat. 6 p.m. FOX or ESPN pay-per-view – Deontay Wilder (42-0-1) vs Tyson Fury (29-0-1); Emanuel Navarrete (30-1) vs Jeo Santisima (19-2); Charles Martin (27-2-1) vs Gerald Washington (20-3-1); Javier Molina (21-2) vs. Amir Imam (22-2).
Photo credit: Al Applerose
Check out more boxing news on video at The Boxing Channel 
To comment on this story in The Fight Forum CLICK HERE