Wladimir Klitschko's Astounding Comeback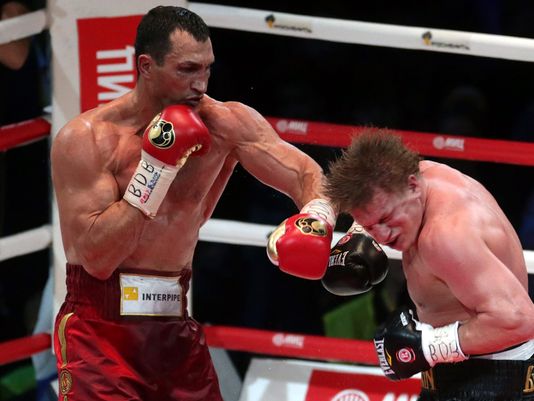 George Foreman fashioned the most noteworthy comeback in boxing – perhaps in all of sports – when he returned after a 10-year absence and went on to regain the world heavyweight title. But Wladimir Klitschko also forged a remarkable comeback. The difference is that he did it without ever saying goodbye. There was no interregnum in his timeline; no second act.
Now that his career has come fully into focus, it's plain that Klitschko will follow in the footsteps of his older brother and enter the Hall of Fame in his first year of eligibility. And it's easy to forget that there was a time when many pundits thought he was something of a tomato can.
Former Las Vegas Review-Journal sports editor Joe Hawk said this about Klitschko following his loss to Lamon Brewster: "Wladimir Klitschko joins the likes of John Ruiz and David Tua as purported boxers who should never again have their names appear on a sports page. We should've known about Klitschko, though. The Ukrainian-to-English converter on our computer says his full name translates to 'Big Slow Stiff With Glass Chin.'" Associated Press sports columnist Tim Dahlberg was less snarky, but basically echoed that sentiment: "Wladimir Klitschko better get used to working in his brother's corner during fights," said Dahlberg in 2005. "It might be the only future he has left in boxing."
Although he was reportedly 134-6 as an amateur and won a gold medal at the 1996 Olympics, Wladimir Klitschko (henceforth WK) wasn't highly thought-of when he turned pro. He had two strikes against him. He didn't look like a future heavyweight champion. The last lineal heavyweight champion that shared his pigmentation was one-trick pony Ingemar Johansson who captured the title in 1959 which was back in the Stone Age in the eyes of some young sportswriters. And WK was European, hailing from a part of the world once lampooned as the land of horizontal heavyweights.
And then, while he was still something of a mystery fighter, WK's reputation was stained by losses to three fighters dismissed as second-raters: Ross Puritty, Corrie Sanders, and Lamon Brewster. Each of those fights ended inside the distance. Against Puritty and Brewster, WK simply ran out of gas. He was leading both fights comfortably on the scorecards. Against Sanders, who knocked him out clean in the second round, he simply forgot to duck.
Let's look a little more closely at those three fights.
Ross Puritty could fairly be classified as a journeyman, but his record (24-13-1 going in) was very deceiving. The former UTEP defensive lineman had gone the distance with future heavyweight title-holder Chris Byrd, had knocked out former heavyweight title challengers Joe Hipp and Jose Luis Gonzalez, and had boxed a draw with fearsome Tommy Morrison…all this despite a very limited amateur background.
WK fought Puritty on Dec. 5, 1998, in Kiev. The match was assembled in a hurry. Wladimir had fought three weeks earlier and this was his ninth start of the year. The bout was for a minor title so it was scheduled for 12 rounds rather than ten. When the big Ukrainian fell in the 10th round, it was from sheer exhaustion. His corner stopped the fight moments into the 11th.
The fight wasn't big news in the U.S., warranting only a paragraph or two in most papers. What most took from the story was simply that another undefeated European heavyweight had been exposed by an American boxer. Ho hum; what else is new?
WK won 16 straight after this mishap. During this skein he won the WBO title, outpointing Chris Byrd, and successfully defended it six times. But the WBO, the newest of the four major sanctioning bodies, had little cachet. Lennox Lewis and Evander Holyfield ruled other roosts and were considered more legitimate.
In his title-winning match against Byrd, WK went to post the favorite, but only because he was the bigger man. The presumption was that if the fight went the full 12, Byrd, a slick southpaw, might steal the decision.
Hardly anyone out-boxed Chris Byrd, but WK put on the clinic, pitching a near-shutout. In fact, one of the judges did award Wladimir every round. He didn't merely out-box Byrd, he punished him. When the fight was over, one of Byrd's eyes was completely closed and the other was barely half-open. But the fight was held in Cologne, Germany, and didn't receive the media attention it would have received if it had been held in the United States.
WK's WBO title reign ended with a loud thud in Hanover, Germany, when he was annihilated by the aforementioned Sanders, a 37-year-old South African who boasted a 38-2 record but whose best sport was actually golf. With 33 seconds remaining in the opening stanza, Sanders, a southpaw, caught WK napping and put him on the canvas. Three more knockdowns would follow before the bout was stopped in the following round, but the other knockdowns were extensions of the first. And then, three fights later, Waldimir suffered another mortifying defeat, this coming at the hands of Lamon Brewster.
The Brewster fight was a repeat of WK's match with Ross Puritty, only shorter. Wladimir won the first four rounds on all three scorecards. Brewster barely made it back to his corner at the end of the fourth. But then WK suffered a mysterious meltdown. He was knocked down twice in the fifth, the second coming just as the bell sounded to end the round. Ascertaining that he was in no condition to continue, even with a 60-second respite, referee Robert Byrd waived the fight off.
Wladimir was of the opinion that he had been drugged and, according to one post-fight story, his blood sugar level was discovered to be abnormally high. But when his attorney went to the press and demanded an investigation, important boxing writers, in the main, dismissed it as sour grapes. Where once they had questioned his chin, they now questioned his chin and his heart and his integrity.
Having been upset twice in a span of four fights, WK had a lot of making up to do to win back the affection of his fans and the respect of the media. Seventeen months after his loss to Brewster, with two more fights under his belt, he dispelled any questions about his heart, rallying to defeat Samuel Peter in a match in which he suffered three knockdowns. Wladimir was in distress in round five and again in round 10, but he won the last two rounds and prevailed by three points on all three scorecards.
Peter, a New Jersey-based Nigerian, trained by future Hall of Famer Lou Duva, was undefeated coming in with 22 knockouts among his 24 wins. With the fight being staged at Atlantic City's Boardwalk Hall, he was chalked the favorite – the only time that WK was cast in an underdog role by the bookies until the final fight of his career.
The victory set up a rematch with Chris Byrd who now owned the IBF title. The second meeting was a carbon of the first through the first six rounds, but this time Byrd wouldn't still be standing at the final bell. WK finished him off with a right hook in the seventh.
WK's second world title reign lasted nine years and seven months. During his tenure he made 18 successful defenses and acquired the other two meaningful belts. He avenged his loss to Brewster (TKO 6), repeated his triumph over Samuel Peter (KO 10), comprehensively out-boxed former unified cruiserweight champion David Haye and, in a match between two former Olympic gold medalists, thoroughly outclassed previously undefeated Alexander Povetkin (that's Povetkin eating a left hook in the photo).
WK would have pitched a shutout if not for having a point deducted after shoving Povetkin to the canvas. As it was, he won by 15 points on all three cards. The fight, however, was a stinker and there were precedents for it.
Wladimir was too dominant during his title reign. When he won lopsidedly, as was usually the case, it was said that he was too robotic. And the emphasis shifted away from him to his opponent who was seen as just another mediocrity plumbed from the wreckage of a weak division.
Yes, the heavyweight division was inferior relative to the days of Ali and Frazier and the young George Foreman. However, that was the Golden Era of Heavyweights and WK's opposition stands up fairly well when juxtaposed against the heavyweight class of other eras. Overall, he opposed a more worthy cast of challengers than Joe Louis who was carefully steered away from good black fighters until he was deep into his 13-year title reign.
Klitschko vs. Povetkin was marred by excessive clinching. In hindsight it was precursor of the match that marked the end of WK's title reign, his November of 2015 contest with Tyson Fury in Dusseldorf. That was an ugly fight, a poor effort by both contestants, although a few pixilated British scribes credited Fury with painting a masterpiece.
There was a rematch clause that to Wladimir's dismay was never activated. If Tyson Fury had been fit to honor it, perhaps WK would have left the sport on a winning note. But from the standpoint of his legacy, perhaps it was better that his career ended as it did.
His farewell fight with young gun Anthony Joshua was a see-saw thriller contested under a clear sky before a great multitude at London's venerated Wembley Stadium. And when it was over, folks that previously knocked him were forced to concede that he may have actually been pretty darn good. He was still pretty good, just not good enough to overcome Anthony Joshua but by then he was 41 years old!
If I were to ask you if WK ranked among the greatest heavyweights of all time, you should take that as a rhetorical question. Wladimir Klitschko was special.
Check out more boxing news on video at The Boxing Channel
Mercito Gesta Victorious Over Jojo Diaz at the Long Beach Pyramid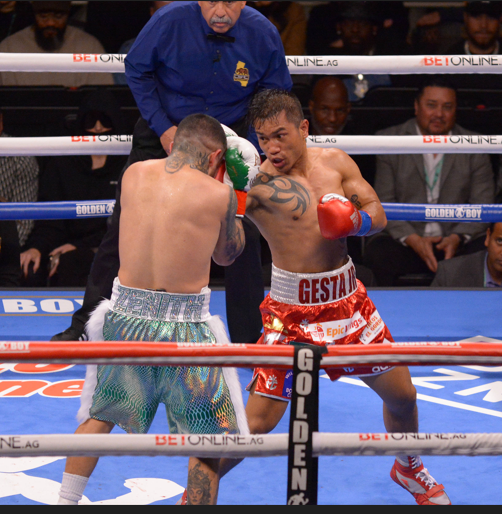 LONG BEACH, CA.-Those in the know knew Mercito Gesta and Jojo Diaz would be a fight to watch and they delivered.
Gesta emerged the winner in a super lightweight clash between southpaws that saw the judges favor his busier style over Diaz's body attack and bigger shots and win by split decision on Saturday.
Despite losing the main event because the star was overweight, Gesta (34-3-3, 17 KOs) used an outside method of tactic to edge past former world champion Diaz (32-4-1, 15 KOs) in front of more than 5,000 fans at the Pyramid.
The speedy Gesta opened up the fight with combination punching up and down against the peek-a-boo style of Diaz. For the first two rounds the San Diego fighter overwhelmed Diaz though none of the blows were impactful.
In the third round Diaz finally began unloading his own combinations and displaying the fast hands that helped him win world titles in two divisions. Gesta seemed stunned by the blows, but his chin held up. The counter right hook was Diaz's best weapon and snapped Gesta's head back several times.
Gesta regained control in the fifth round after absorbing big blows from Diaz. He seemed to get angry that he was hurt and opened up with even more blows to send Diaz backpedaling.
Diaz targeted his attack to Gesta's body and that seemed to slow down Gesta. But only for a round.
From the seventh until the 10th each fighter tried to impose their style with Gesta opening up with fast flurries and Diaz using right hooks to connect with solid shots. They continued their method of attack until the final bell. All that mattered was what the judges preferred.
After 10 rounds one judge saw Diaz the winner 97-93 but two others saw Gesta the winner 99-91, 98-92. It was a close and interesting fight.
"I was expecting nothing. I was the victor in this fight and we gave a good fight," said Gesta. "It's not an easy fight and Jojo gave his best."
Diaz was surprised by the outcome but accepted the verdict.
Everything was going good. I thought I was landing good body shots," said Diaz. "I was pretty comfortable."
Other Bouts
Mexico's Oscar Duarte (25-1-1, 20 KOs) knocked out Chicago's Alex Martin (18-5, 6 KOs) with a counter right hand after dropping him earlier in the fourth round. The super lightweight fight was stopped at 1:14 of the round.
A battle between undefeated super welterweights saw Florida's Eric Tudor (8-0, 6 KOs) emerge the winner by unanimous decision after eight rounds versus Oakland's Damoni Cato-Cain.
The taller Tudor showed polished skill and was not bothered by a large cut on his forehead caused by an accidental clash of heads. He used his jab and lead rights to defuse the attacks of the quick-fisted southpaw Cato-Cain. The judges scored the fight 80-72 and 78-74 twice for Tudor.
San Diego's Jorge Chavez (5-0, 4 KOs) needed less than one round to figure out Nicaragua's Bryan Perez (12-17-1, 11 KOs) and send him into dreamland with a three-punch combination. No need to count as referee Ray Corona waved the fight over. Perez shot a vicious right followed by another right and then a see-you-later left hook at 3.00 of the first round of the super featherweight match.
Photo credit: Al Applerose
Jojo Diaz's Slump Continues; Mercito Gesta Prevails on a Split Decision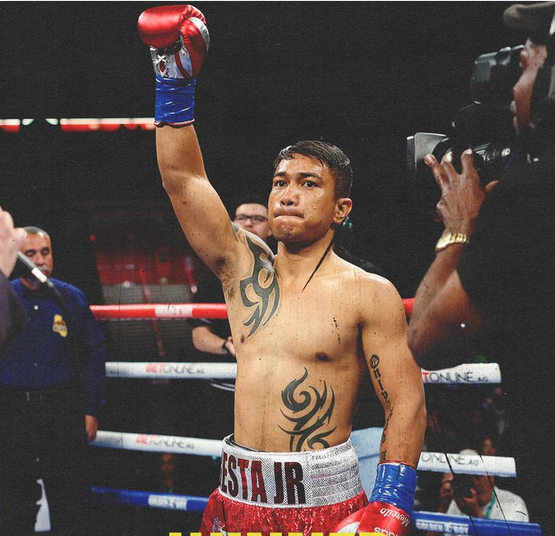 At age 30, Jojo Diaz's career is on the skids. The 2012 U.S. Olympian, a former world title holder at 126 and 130 pounds and an interim title holder at 135, Diaz suffered his third straight loss tonight, upset by Mercito Gesta who won a split decision at the Walter Pyramid in Long Beach, CA.. The scoring was strange with Gesta winning nine of the 10 rounds on one of the cards and only three rounds on another. The tie-breaker, as it were, was a 98-92 tally for Gesta and even that didn't capture the flavor of what was a closely-contested fight.
Originally listed as a 12-rounder, the match was reduced to 10 and that, it turned out, did Diaz no favors. However, it's hard to feel sorry for the former Olympian as he came in overweight once again, having lost his 130-pound title on the scales in February of 2021.
Diaz also has issues outside the ropes. Best elucidated by prominent boxing writer Jake Donovan, they include a cluster of legal problems stemming from an arrest for drunk driving on Feb. 27 in the LA suburb of Claremont.
With the defeat, Diaz's ledger declined to 32-4-1. His prior losses came at the hands of Gary Russell Jr, Devin Haney, and William Zepeda, boxers who are collectively 83-2. Mercito Gesta, a 35-year-old San Diego-based Filipino, improved to 34-3-3.
Co-Feature
Chihuahua, Mexico super lightweight Oscar Duarte has now won nine straight inside the distance after stopping 33-year-old Chicago southpaw Alex Martin in the eighth frame. Duarte, the busier fighter, had Martin on the deck twice in round eight before the fight was waived off.
Duarte improved to 25-1-1 (20). Martin, who reportedly won six national titles as an amateur and was once looked upon as a promising prospect, declined to 18-5.
Other Bouts of Note
New Golden Boy signee Eric Tudor, a 21-year-old super welterweight from Fort Lauderdale, overcame a bad laceration over his right eye, the result of an accidental clash of heads in round four, to stay unbeaten, advancing to 8-0 (6) with a hard-fought unanimous 8-round decision over Oakland's Damoni Cato-Cain. The judges had it 80-72 and 78-74 twice. It was the first pro loss for Cato-Cain (7-1-1) who had his first five fights in Tijuana.
In the DAZN opener, lanky Hawaian lightweight Dalis Kaleiopu went the distance for the first time in his young career, improving to 4-0 (3) with a unanimous decision over 36-year-old Colombian trial horse Jonathan Perez (40-35). The scores were 60-52 across the board. There were no knockdowns, but Perez, who gave up almost six inches in height, had a point deducted for a rabbit punch and another point for deducted for holding.
To comment on this story in the Fight Forum CLICK HERE
'Big Baby' Wins the Battle of Behemoths; TKOs 'Big Daddy' in 6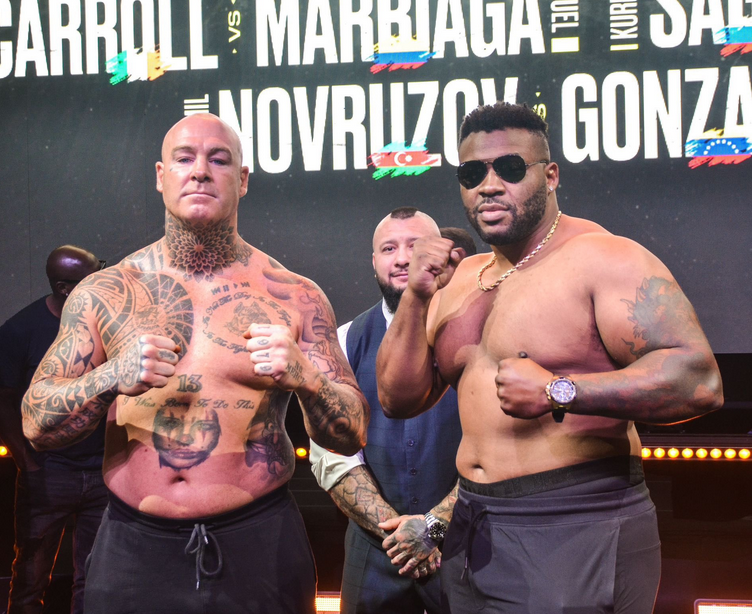 Lucas "Big Daddy" Browne weighed in at a career-high 277 pounds for today's battle in Dubai with Jarrell "Big Baby" Miller, but he was the lighter man by 56 pounds. It figured that one or both would gas out if the bout lasted more than a few stanzas.
It was a war of attrition with both men looking exhausted at times, and when the end came it was Miller, at age 34 the younger man by nine years, who had his hand raised.
Browne was the busier man, but Miller, whose physique invites comparison with a rhinoceros, hardly blinked as he was tattooed with an assortment of punches. He hurt 'Bid Daddy' in round four, but the Aussie held his own in the next frame, perhaps even forging ahead on the cards, but only postponing the inevitable.
In round six, a succession of right hands knocked Browne on the seat of his pants. He beat the count, but another barrage from Miller impelled the referee to intervene. The official time was 2:33. It was the 21st straight win for Miller (26-0-1, 22 KOs). Browne declined to 31-4 and, for his own sake, ought not fight again. All four of his losses have come inside the distance, some brutally.
The consensus of those that caught the livestream was that Floyd Mayweather Jr's commentary was an annoying distraction that marred what was otherwise an entertaining show.
As for what's next for "Big Baby" Miller, that's hard to decipher as he has burned his bridges with the sport's most powerful promoters. One possibility is Mahmoud Charr who, like Miller, has a big gap in his boxing timeline. Now 38 years old, Charr – who has a tenuous claim on a WBA world title (don't we all?) —  has reportedly taken up residence in Dubai.
Other Bouts of Note
In a 10-round cruiserweight affair, Suslan Asbarov, a 30-year-old Russian, advanced to 4-0 (1) with a hard-fought majority decision over Brandon Glanton. The judges had it 98-92, 97-93, and a more reasonable 95-95.
Asbarov was 12-9 in documented amateur fights and 1-0 in a sanctioned bare-knuckle fight, all in Moscow, entering this match. He bears watching, however, as Glanton (18-2) would be a tough out for almost anyone in his weight class. In his previous fight, at Plant City, Florida, Glanton lost a controversial decision to David Light, an undefeated Australian who challenges WBO world title-holder Lawrence Okolie at Manchester, England next week.
A 10-round super featherweight match between former world title challengers Jono Carroll and Miguel Marriaga preceded the semi-windup. Carroll, a 30-year-old Dublin southpaw, overcame a cut over his left eye suffered in the second round to win a wide unanimous decision in a fairly entertaining fight.
It was the sixth straight win for Carroll (24-2-1, 7 KOs) who elevated his game after serving as a sparring partner for Devin Haney. Marriaga, a 36-year-old Colombian, lost for the fourth time in his last five outings, declining to 30-7.
To comment on this story in the Fight Forum CLICK HERE