One Punch Meant World of Difference to Pazienza, Rosenblatt
There are very few things on which Vinny Paz, who used to be known as Vinny Pazienza until he had his last name legally changed some years back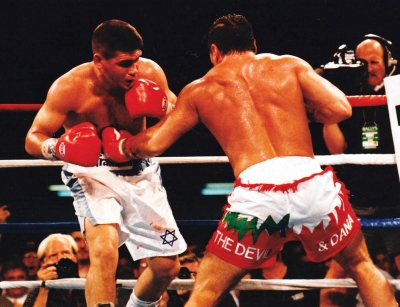 There are very few things on which Vinny Paz, who used to be known as Vinny Pazienza until he had his last name legally changed some years back, and Dana Rosenblatt are apt to agree. Perhaps the only common ground to which the polar-opposite former archrivals from New England are willing to admit is this: both of their lives irreversibly changed the night of Aug. 23, 1996, in Atlantic City's Boardwalk Hall, with the landing of a single punch in  the fourth round of the first of their two bouts.
That punch, a looping overhand right launched by a bleeding, vision-impaired Paz (as he will be referred to for the remainder of this look-back story), landed flush on Rosenblatt's jaw, drastically altering a crossroads fight that Rosenblatt was winning easily to that point. Although Rosenblatt, the younger (24 years of age to Pazienza's 33), seemingly hotter growth property, lurched to his feet and beat referee Tony Orlando's count, he clearly was in deep distress and the instantly revitalized "Pazmanian Devil" swarmed in to release as much of the pent-up aggression his ominous nickname suggested. So intent on his finishing purpose was Paz that, when Orlando jumped in moments later to end the battering and protect the out-on-his-feet Rosenblatt, he also was floored by a wild shot flung by the underdog victor. For that bit of overexuberance, a semi-penitent Paz was socked with a 90-day suspension and $5,000 fine by the New Jersey State Athletic Control Board.
"I called Tony's room later that night," Paz, now 55, recalled when contacted for his remembrances of a fight that is inarguably one of his career highlights. "I said, `Tony, I want to tell you I'm really sorry. I didn't mean to do that.' He said, `Vinny, don't worry about it. But can I get a rematch?'"
There would be a rematch, but not one pitting Paz against Orlando. Rosenblatt would get revenge of sorts on Paz when they squared off a second time, on Nov. 5, 1999, in Mashantucket, Conn., coming away with a disputed, 12-round split decision (it was disputed at least by Paz, who insists he was screwed by the judging) for the fringe IBO super middleweight title. But that didn't – couldn't – even the score for Rosenblatt for the punch that changed the arc of both fighters' lives and careers 1,069 days earlier.
Now, about that jolting right that pumped new vitality into what had been Paz's seemingly sagging fortunes while simultaneously sucking the momentum out of what had been Rosenblatt's predicted ascendance to superstardom. Was it a purely lucky punch, as Rosenblatt contended then and still does, or the anticipated product of intense preparation, as Paz believes?
Depends on whom you ask.
"If you watch a tape of that fight and see him land that punch, he's not looking at me at all," said Rosenblatt, now 46. "His face is down. His eyes are closed. If that's not a lucky punch, I don't know what is."
Paz, of course, begs to differ. "I had worked on that punch all through 10 weeks of training camp," he said. "After the third round, I went back to the corner and told Rooney (trainer Kevin Rooney), `Kevin, I'm going to knock this f—— kid out.' He said, `So go do it!' I know you can do it, so go do it!' And I did it. After I knocked him down and went to the neutral corner, I was thinking, `Please, please, Tony, let me go.' I wanted to murder the guy. I wanted to take his head right off his shoulders.'"
So whose version of The Punch is the more accurate? Ron Borges, then the boxing writer for the Boston Globe, qualifies as an objective observer, having extensively covered both Pazienza, the wrong-side-of-the-tracks kid from Cranston, R.I., and Rosenblatt, the erudite southpaw from Malden, Mass., whose promoter, Top Rank founder and CEO Bob Arum, already had begun to hype as an updated version of such legendary Jewish fighters as Benny Leonard and Barney Ross. On this one question, however, Borges sides squarely with Paz.
"Vinny knew Dana would be open to being hit with that punch," Borges recalled. "Those first three rounds, Dana was just beating the crap out of Vinny, who was already pretty busted up. After the third round, Dana, who was always this serious, self-contained guy, did something that was pretty uncharacteristic for him. He put one hand up and kind of dismissively twisted his glove around. I remember thinking, `He's in trouble, because he actually thinks this fight is over.' I knew that was the time when Vinny was most dangerous. In the very next round Vinny knocked his ass out with that overhand right.
"A few hours after the fight I was walking through the casino and ran into Dana's dad, who was a very nice man. I told him, `I'm sorry for what happened to Dana, but I got to tell you something. I have no inside information, but I'm pretty sure that right now up in Dana's room, his trainer, Joe Lake, is telling him he got hit with a lucky punch. But Mr. Rosenblatt, let me tell you something. Vinny spent a lot of time getting himself ready to throw that punch because he's a professional. And that's what your boy needs to know."
Opinions will vary, of course. Perhaps the more pertinent consideration is not whether The Punch was the result of blind luck or meticulous planning, but all the circumstances that both preceded and followed it.
For Paz, the Rosenblatt bout, for the mostly insignificant and vacant WBU super middleweight title, had the earmarks of a last, possibly futile chance for redemption. He had not fought in 14 months, his most recent ring appearance having been an absolute beatdown at the hands of the luminously talented Roy Jones Jr. on June 24, 1995, also in Boardwalk Hall and, coincidentally, also with Tony Orlando as the referee. More than a few knowledgeable observers were ready to write off Paz, a former IBF super lightweight and WBA super welterweight champion, as past his prime and possibly as damaged goods. Remember, five years earlier Paz had been involved in a serious automobile accident that left him with two broken vertebrae in his spine and another that was dislocated. Doctors told him he would never box again, but, if his rehabilitation went well enough, he might someday be able to walk "with limited movement." Fourteen months later, and after having had a metal device called a halo attached to his skull by screws, miracle man Paz resumed his career.
Contrast the foreboding sense of pessimism about Paz's long-term prospects with the most optimistic projections for stylish southpaw Rosenblatt. In the September 1995 issue of The Ring, Arum predicted that the day would come, a few years down the road, when fight fans would want nothing so much as a matchup of Oscar De La Hoya, by then filled out to a robust 160 pounds and well on his way to his stated goal of world championships in six weight divisions, and Rosenblatt. The two had appeared on the same card at Caesars Palace in Las Vegas on May 6, 1995, with De La Hoya stopping Rafael Ruelas in two rounds of a lightweight unification showdown and Rosenblatt retaining his minor WBC Continental Americas middleweight title on a first-round knockout of Chad Parker.
"The dream fight for the biggest money of all time is Oscar and Rosenblatt," Arum was quoted as saying. "That's what I think of when I go to sleep at night."
Arum's master plan presumably still was on the drawing board with Paz penciled in as a big-name steppingstone for Rosenblatt in what was billed as "The Neighborhood War" for New England supremacy on the 3-to-1 favorite's way to bigger and better things. But Paz had his own ideas of how matters would play out. To his way of thinking, it was he who had lured Rosenblatt into the trap he had set, not the other way around.
"I had watched him a couple of times before he fought me and I knew I was gonna knock the kid out," Paz said. "I picked him out. He didn't pick me. I picked an undefeated young kid because I wanted people to know that the way it went down with Jones wasn't the end of my career."
Not surprisingly, Paz – who'd be a charter inductee into the trash-talking hall of fame, were there such a thing – began a campaign of verbal disparagement that he insists wasn't just to help sell the show. Nor was it just insulting words Paz hurled at Rosenblatt, but other forms of intended intimidation aimed at getting under the younger man's skin like a progressively irritating rash.
"Vinny sent a dozen black roses to Rosenblatt's mother before the fight," Borges said. "That was pure Vinny. Then, on the night of the fight, Vinny stopped walking toward his dressing room and peeled off in a different direction. The security guard who was accompanying him said, `Hey, Vinny, that's the wrong way.' Vinny  said, `Yeah, I know, I just got to do something first.' Then he burst into Rosenblatt's dressing room and told him, `Tonight's going to be your worst f—— nightmare. I'm going to kick your f—— ass,' at which point he got pushed out the door. But it was just a continuation of the mind games Vinny had been playing from the time the fight was announced."
For his part, the polite Rosenblatt could not understand what he had done to incite Paz's hatred of him. "I had no animosity toward him," Rosenblatt said. "It was all on his end. His attitude was kind of like, `Yeah, I'm kind of a lowlife and this is my shtick. I'm going to make fun of this kid, then I'm going to beat him up.' It was arrogance on his part, but I didn't take it seriously.
"But before the second fight, maybe because I had beaten him up in the first one – up to the point he hit me with a punch I didn't see, and praise to him for sticking around long enough to land that shot – it got even nastier on his end. A lot of the stuff he was saying was personal. I couldn't believe some of the stupid s— he said."
What Rosenblatt can't dispute is the terrible toll The Punch took on him, in ways that likely would not have happened had he won as expected, very likely by stoppage had Paz's badly swollen left eye and bleeding, busted nose worsened to the point where Orlando or the ring doctor would have had no choice but to call things off.
"My whole life would have been different," Rosenblatt said of how his career, which went well for the most part but never reached the threshold of greatness, would now be regarded were it not for The Punch. "I'll take boxing first. After Pazienza, I probably would have fought (Sugar Ray) Leonard, before Leonard fought (Hector) Camacho. Bob was promising Leonard. I would have made some money, maybe a million bucks, and, really, that wasn't the Sugar Ray we all remember. Camacho proved that. I would have knocked out Leonard because he was done.
"After that, who knows? Now, all of a sudden, I'm a `name.' Certainly my name would have resonated more than it does now. My life would be exponentially different, exponentially better."
How so, he was asked.
"In my first fight after Pazienza (a 10-round unanimous decision over Glenwood Brown on Jan. 5, 1997, in Boston), I busted my (right) hand in the first round and I really mangled it by hitting him with it for nine more rounds. That was my power hand, since I'm naturally right-handed. Maybe I shouldn't have kept going, but I knew if I lost twice in a row, I'd be done. But then I was out because of the hand injury for 15 months, and that really set me back.
"Why did I kind of fade away after the (first Paz) fight? It wasn't just that I lost. It wasn't the manner of how I lost. It was that I was off so long after I beat Glenwood Brown. Out of sight, out of mind, right? It was like I was yesterday's news. And it wasn't the same when I was able to fight again. I wasn't with Bob anymore.
"I probably wouldn't have fought Glenwood, where I busted my hand, were it not for that one punch from Pazienza. That was the beginning of the end for me, the start of a bunch of injuries to my hands and shoulders. That's why I stopped fighting. But, hey, maybe I wouldn't be doing mortgages now. So I don't regret what happened then. Aw, that's a lie. I do regret what happened."
Rosenblatt retired from the ring after a three-round technical draw with Juan Carlos Viloria on June 28, 2002, a bout Rosenblatt almost certainly would have won were it not for the bad cut he sustained from what was ruled an unintentional head-butt. He finished with a 37-1-2 record with 23 victories inside the distance, but he never fought for a widely recognized world championship and the megafight with De La Hoya never became anything other than Arum's temporary pipe dream.
But Rosenblatt hasn't done badly in his post-boxing life. "I do residential mortgages," he noted. "I was with a small bank up here, which is gone now, but I'm still in the business. I've been doing this since November 2001. I got in at a great time. Rates were going down, down, down, and I developed a lot of contacts.
"In my third month, I made $35,000. By the end of 10 months, I think I made about $1.5 million. I mean, do the math. I got, like, $15,000 for that final fight with Viloria. In 10 years after I stopped boxing and started doing mortgages, I made about $8 million and I invested it well.
"Over a five-year period I never made less than $800,000, and in my best year of 2005 I made $955,000. I was just killing it. But let me tell you, there were times when I would have given it all up to go back and finish my boxing career the right way."
How good was Rosenblatt or, more to the point, how good might he have been? That, too, is a matter of conjecture. Teddy Atlas, who did color commentary for ESPN2's telecast of Paz-Rosenblatt II, weighed in on the matter during his prefight analysis.
"He was never as good as his record before he got knocked out, and he never was as bad as they said after," Atlas said. "He goes in and he's fighting the right fight against Vinny (in their first matchup). He's pot-shotting him when (Paz) rushed in and all of a sudden Rosenblatt gets caught with one of those looping punches, many of which missed before, and he's out. After that night, the confidence left him like air from a punctured balloon. He's a kid who never fully regained that confidence he once had in the ring. When he fights now, it's like he's waiting for something bad to happen."
Paz, meanwhile, is still waiting for one more good thing to happen. He finished with a 50-10 record and 30 wins inside the distance, an accomplished enough career to get him inducted into the Atlantic City Boxing Hall of Fame on June 3 of this year and a life notable enough to have been the subject of a critically acclaimed 2016 movie, Bleed For This, with Miles Teller in the lead role. But there is a widespread belief that Paz bulked up through the use of performance-enhancing drugs, and even some of his more ardent admirers are hesitant to endorse him for induction into the International Boxing Hall of Fame for that and other reasons.
"No doubt he was juicing," said Borges. "His face took on the same sort of shape as Lyle Alzado's. I've known Vinny since he was a skinny amateur. But, really, it's partially the Duvas' fault. He was much more of a boxer when he was an amateur and early into his pro career. He wasn't looking to take two or three to land one. They kind of convinced him that if he was going to become popular and sell tickets, he had to be more than a boxer. He had to take people out. In that first fight against Rosenblatt it worked out. Other nights, not so much.
"And as far as the (IBHOF), I never say never because some of the guys who have gotten in there probably don't deserve to be. I'm kind of a stickler. I think it should be a lot more exclusive than it is."
Maybe more has been made of The Punch than needs to be, in terms of overall historical impact. But for two men so alike in some ways, so vastly different in others, the effects of it will forever stand as a touchstone for how a fleeting moment in time can have such a profound and lasting effect.
Check out more boxing news on video at The Boxing Channel
Mercito Gesta Victorious Over Jojo Diaz at the Long Beach Pyramid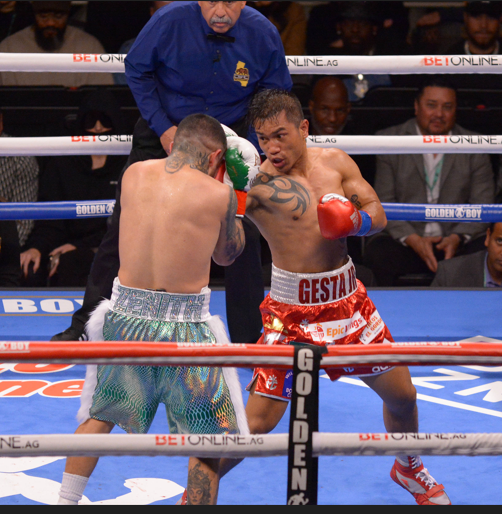 LONG BEACH, CA.-Those in the know knew Mercito Gesta and Jojo Diaz would be a fight to watch and they delivered.
Gesta emerged the winner in a super lightweight clash between southpaws that saw the judges favor his busier style over Diaz's body attack and bigger shots and win by split decision on Saturday.
Despite losing the main event because the star was overweight, Gesta (34-3-3, 17 KOs) used an outside method of tactic to edge past former world champion Diaz (32-4-1, 15 KOs) in front of more than 5,000 fans at the Pyramid.
The speedy Gesta opened up the fight with combination punching up and down against the peek-a-boo style of Diaz. For the first two rounds the San Diego fighter overwhelmed Diaz though none of the blows were impactful.
In the third round Diaz finally began unloading his own combinations and displaying the fast hands that helped him win world titles in two divisions. Gesta seemed stunned by the blows, but his chin held up. The counter right hook was Diaz's best weapon and snapped Gesta's head back several times.
Gesta regained control in the fifth round after absorbing big blows from Diaz. He seemed to get angry that he was hurt and opened up with even more blows to send Diaz backpedaling.
Diaz targeted his attack to Gesta's body and that seemed to slow down Gesta. But only for a round.
From the seventh until the 10th each fighter tried to impose their style with Gesta opening up with fast flurries and Diaz using right hooks to connect with solid shots. They continued their method of attack until the final bell. All that mattered was what the judges preferred.
After 10 rounds one judge saw Diaz the winner 97-93 but two others saw Gesta the winner 99-91, 98-92. It was a close and interesting fight.
"I was expecting nothing. I was the victor in this fight and we gave a good fight," said Gesta. "It's not an easy fight and Jojo gave his best."
Diaz was surprised by the outcome but accepted the verdict.
Everything was going good. I thought I was landing good body shots," said Diaz. "I was pretty comfortable."
Other Bouts
Mexico's Oscar Duarte (25-1-1, 20 KOs) knocked out Chicago's Alex Martin (18-5, 6 KOs) with a counter right hand after dropping him earlier in the fourth round. The super lightweight fight was stopped at 1:14 of the round.
A battle between undefeated super welterweights saw Florida's Eric Tudor (8-0, 6 KOs) emerge the winner by unanimous decision after eight rounds versus Oakland's Damoni Cato-Cain.
The taller Tudor showed polished skill and was not bothered by a large cut on his forehead caused by an accidental clash of heads. He used his jab and lead rights to defuse the attacks of the quick-fisted southpaw Cato-Cain. The judges scored the fight 80-72 and 78-74 twice for Tudor.
San Diego's Jorge Chavez (5-0, 4 KOs) needed less than one round to figure out Nicaragua's Bryan Perez (12-17-1, 11 KOs) and send him into dreamland with a three-punch combination. No need to count as referee Ray Corona waved the fight over. Perez shot a vicious right followed by another right and then a see-you-later left hook at 3.00 of the first round of the super featherweight match.
Photo credit: Al Applerose
Jojo Diaz's Slump Continues; Mercito Gesta Prevails on a Split Decision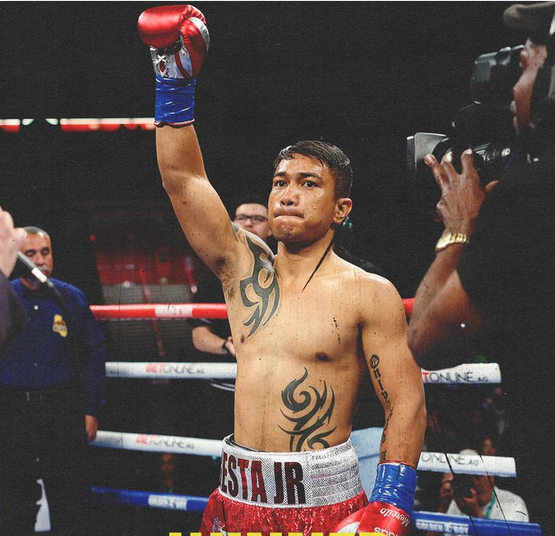 At age 30, Jojo Diaz's career is on the skids. The 2012 U.S. Olympian, a former world title holder at 126 and 130 pounds and an interim title holder at 135, Diaz suffered his third straight loss tonight, upset by Mercito Gesta who won a split decision at the Walter Pyramid in Long Beach, CA.. The scoring was strange with Gesta winning nine of the 10 rounds on one of the cards and only three rounds on another. The tie-breaker, as it were, was a 98-92 tally for Gesta and even that didn't capture the flavor of what was a closely-contested fight.
Originally listed as a 12-rounder, the match was reduced to 10 and that, it turned out, did Diaz no favors. However, it's hard to feel sorry for the former Olympian as he came in overweight once again, having lost his 130-pound title on the scales in February of 2021.
Diaz also has issues outside the ropes. Best elucidated by prominent boxing writer Jake Donovan, they include a cluster of legal problems stemming from an arrest for drunk driving on Feb. 27 in the LA suburb of Claremont.
With the defeat, Diaz's ledger declined to 32-4-1. His prior losses came at the hands of Gary Russell Jr, Devin Haney, and William Zepeda, boxers who are collectively 83-2. Mercito Gesta, a 35-year-old San Diego-based Filipino, improved to 34-3-3.
Co-Feature
Chihuahua, Mexico super lightweight Oscar Duarte has now won nine straight inside the distance after stopping 33-year-old Chicago southpaw Alex Martin in the eighth frame. Duarte, the busier fighter, had Martin on the deck twice in round eight before the fight was waived off.
Duarte improved to 25-1-1 (20). Martin, who reportedly won six national titles as an amateur and was once looked upon as a promising prospect, declined to 18-5.
Other Bouts of Note
New Golden Boy signee Eric Tudor, a 21-year-old super welterweight from Fort Lauderdale, overcame a bad laceration over his right eye, the result of an accidental clash of heads in round four, to stay unbeaten, advancing to 8-0 (6) with a hard-fought unanimous 8-round decision over Oakland's Damoni Cato-Cain. The judges had it 80-72 and 78-74 twice. It was the first pro loss for Cato-Cain (7-1-1) who had his first five fights in Tijuana.
In the DAZN opener, lanky Hawaian lightweight Dalis Kaleiopu went the distance for the first time in his young career, improving to 4-0 (3) with a unanimous decision over 36-year-old Colombian trial horse Jonathan Perez (40-35). The scores were 60-52 across the board. There were no knockdowns, but Perez, who gave up almost six inches in height, had a point deducted for a rabbit punch and another point for deducted for holding.
To comment on this story in the Fight Forum CLICK HERE
'Big Baby' Wins the Battle of Behemoths; TKOs 'Big Daddy' in 6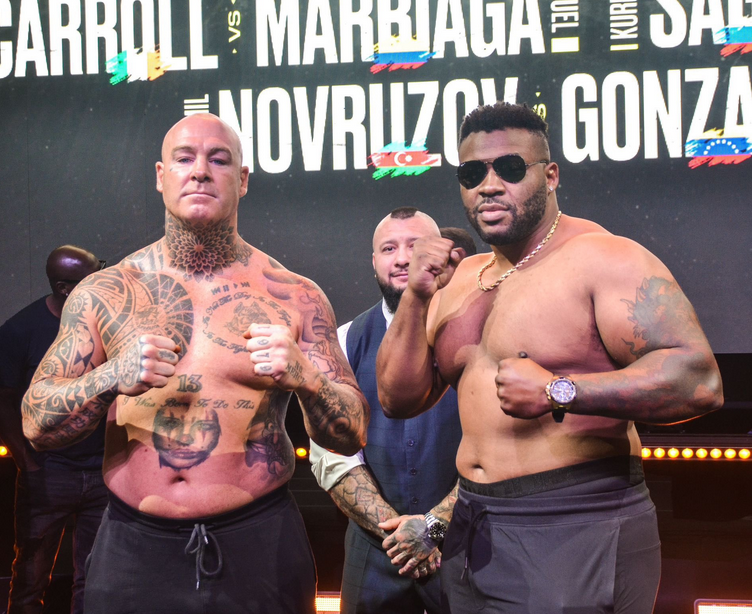 Lucas "Big Daddy" Browne weighed in at a career-high 277 pounds for today's battle in Dubai with Jarrell "Big Baby" Miller, but he was the lighter man by 56 pounds. It figured that one or both would gas out if the bout lasted more than a few stanzas.
It was a war of attrition with both men looking exhausted at times, and when the end came it was Miller, at age 34 the younger man by nine years, who had his hand raised.
Browne was the busier man, but Miller, whose physique invites comparison with a rhinoceros, hardly blinked as he was tattooed with an assortment of punches. He hurt 'Bid Daddy' in round four, but the Aussie held his own in the next frame, perhaps even forging ahead on the cards, but only postponing the inevitable.
In round six, a succession of right hands knocked Browne on the seat of his pants. He beat the count, but another barrage from Miller impelled the referee to intervene. The official time was 2:33. It was the 21st straight win for Miller (26-0-1, 22 KOs). Browne declined to 31-4 and, for his own sake, ought not fight again. All four of his losses have come inside the distance, some brutally.
The consensus of those that caught the livestream was that Floyd Mayweather Jr's commentary was an annoying distraction that marred what was otherwise an entertaining show.
As for what's next for "Big Baby" Miller, that's hard to decipher as he has burned his bridges with the sport's most powerful promoters. One possibility is Mahmoud Charr who, like Miller, has a big gap in his boxing timeline. Now 38 years old, Charr – who has a tenuous claim on a WBA world title (don't we all?) —  has reportedly taken up residence in Dubai.
Other Bouts of Note
In a 10-round cruiserweight affair, Suslan Asbarov, a 30-year-old Russian, advanced to 4-0 (1) with a hard-fought majority decision over Brandon Glanton. The judges had it 98-92, 97-93, and a more reasonable 95-95.
Asbarov was 12-9 in documented amateur fights and 1-0 in a sanctioned bare-knuckle fight, all in Moscow, entering this match. He bears watching, however, as Glanton (18-2) would be a tough out for almost anyone in his weight class. In his previous fight, at Plant City, Florida, Glanton lost a controversial decision to David Light, an undefeated Australian who challenges WBO world title-holder Lawrence Okolie at Manchester, England next week.
A 10-round super featherweight match between former world title challengers Jono Carroll and Miguel Marriaga preceded the semi-windup. Carroll, a 30-year-old Dublin southpaw, overcame a cut over his left eye suffered in the second round to win a wide unanimous decision in a fairly entertaining fight.
It was the sixth straight win for Carroll (24-2-1, 7 KOs) who elevated his game after serving as a sparring partner for Devin Haney. Marriaga, a 36-year-old Colombian, lost for the fourth time in his last five outings, declining to 30-7.
To comment on this story in the Fight Forum CLICK HERE