One Punch Meant World of Difference to Pazienza, Rosenblatt
There are very few things on which Vinny Paz, who used to be known as Vinny Pazienza until he had his last name legally changed some years back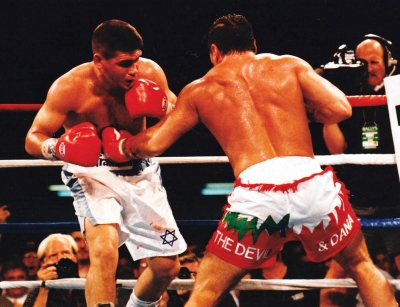 There are very few things on which Vinny Paz, who used to be known as Vinny Pazienza until he had his last name legally changed some years back, and Dana Rosenblatt are apt to agree. Perhaps the only common ground to which the polar-opposite former archrivals from New England are willing to admit is this: both of their lives irreversibly changed the night of Aug. 23, 1996, in Atlantic City's Boardwalk Hall, with the landing of a single punch in  the fourth round of the first of their two bouts.
That punch, a looping overhand right launched by a bleeding, vision-impaired Paz (as he will be referred to for the remainder of this look-back story), landed flush on Rosenblatt's jaw, drastically altering a crossroads fight that Rosenblatt was winning easily to that point. Although Rosenblatt, the younger (24 years of age to Pazienza's 33), seemingly hotter growth property, lurched to his feet and beat referee Tony Orlando's count, he clearly was in deep distress and the instantly revitalized "Pazmanian Devil" swarmed in to release as much of the pent-up aggression his ominous nickname suggested. So intent on his finishing purpose was Paz that, when Orlando jumped in moments later to end the battering and protect the out-on-his-feet Rosenblatt, he also was floored by a wild shot flung by the underdog victor. For that bit of overexuberance, a semi-penitent Paz was socked with a 90-day suspension and $5,000 fine by the New Jersey State Athletic Control Board.
"I called Tony's room later that night," Paz, now 55, recalled when contacted for his remembrances of a fight that is inarguably one of his career highlights. "I said, `Tony, I want to tell you I'm really sorry. I didn't mean to do that.' He said, `Vinny, don't worry about it. But can I get a rematch?'"
There would be a rematch, but not one pitting Paz against Orlando. Rosenblatt would get revenge of sorts on Paz when they squared off a second time, on Nov. 5, 1999, in Mashantucket, Conn., coming away with a disputed, 12-round split decision (it was disputed at least by Paz, who insists he was screwed by the judging) for the fringe IBO super middleweight title. But that didn't – couldn't – even the score for Rosenblatt for the punch that changed the arc of both fighters' lives and careers 1,069 days earlier.
Now, about that jolting right that pumped new vitality into what had been Paz's seemingly sagging fortunes while simultaneously sucking the momentum out of what had been Rosenblatt's predicted ascendance to superstardom. Was it a purely lucky punch, as Rosenblatt contended then and still does, or the anticipated product of intense preparation, as Paz believes?
Depends on whom you ask.
"If you watch a tape of that fight and see him land that punch, he's not looking at me at all," said Rosenblatt, now 46. "His face is down. His eyes are closed. If that's not a lucky punch, I don't know what is."
Paz, of course, begs to differ. "I had worked on that punch all through 10 weeks of training camp," he said. "After the third round, I went back to the corner and told Rooney (trainer Kevin Rooney), `Kevin, I'm going to knock this f—— kid out.' He said, `So go do it!' I know you can do it, so go do it!' And I did it. After I knocked him down and went to the neutral corner, I was thinking, `Please, please, Tony, let me go.' I wanted to murder the guy. I wanted to take his head right off his shoulders.'"
So whose version of The Punch is the more accurate? Ron Borges, then the boxing writer for the Boston Globe, qualifies as an objective observer, having extensively covered both Pazienza, the wrong-side-of-the-tracks kid from Cranston, R.I., and Rosenblatt, the erudite southpaw from Malden, Mass., whose promoter, Top Rank founder and CEO Bob Arum, already had begun to hype as an updated version of such legendary Jewish fighters as Benny Leonard and Barney Ross. On this one question, however, Borges sides squarely with Paz.
"Vinny knew Dana would be open to being hit with that punch," Borges recalled. "Those first three rounds, Dana was just beating the crap out of Vinny, who was already pretty busted up. After the third round, Dana, who was always this serious, self-contained guy, did something that was pretty uncharacteristic for him. He put one hand up and kind of dismissively twisted his glove around. I remember thinking, `He's in trouble, because he actually thinks this fight is over.' I knew that was the time when Vinny was most dangerous. In the very next round Vinny knocked his ass out with that overhand right.
"A few hours after the fight I was walking through the casino and ran into Dana's dad, who was a very nice man. I told him, `I'm sorry for what happened to Dana, but I got to tell you something. I have no inside information, but I'm pretty sure that right now up in Dana's room, his trainer, Joe Lake, is telling him he got hit with a lucky punch. But Mr. Rosenblatt, let me tell you something. Vinny spent a lot of time getting himself ready to throw that punch because he's a professional. And that's what your boy needs to know."
Opinions will vary, of course. Perhaps the more pertinent consideration is not whether The Punch was the result of blind luck or meticulous planning, but all the circumstances that both preceded and followed it.
For Paz, the Rosenblatt bout, for the mostly insignificant and vacant WBU super middleweight title, had the earmarks of a last, possibly futile chance for redemption. He had not fought in 14 months, his most recent ring appearance having been an absolute beatdown at the hands of the luminously talented Roy Jones Jr. on June 24, 1995, also in Boardwalk Hall and, coincidentally, also with Tony Orlando as the referee. More than a few knowledgeable observers were ready to write off Paz, a former IBF super lightweight and WBA super welterweight champion, as past his prime and possibly as damaged goods. Remember, five years earlier Paz had been involved in a serious automobile accident that left him with two broken vertebrae in his spine and another that was dislocated. Doctors told him he would never box again, but, if his rehabilitation went well enough, he might someday be able to walk "with limited movement." Fourteen months later, and after having had a metal device called a halo attached to his skull by screws, miracle man Paz resumed his career.
Contrast the foreboding sense of pessimism about Paz's long-term prospects with the most optimistic projections for stylish southpaw Rosenblatt. In the September 1995 issue of The Ring, Arum predicted that the day would come, a few years down the road, when fight fans would want nothing so much as a matchup of Oscar De La Hoya, by then filled out to a robust 160 pounds and well on his way to his stated goal of world championships in six weight divisions, and Rosenblatt. The two had appeared on the same card at Caesars Palace in Las Vegas on May 6, 1995, with De La Hoya stopping Rafael Ruelas in two rounds of a lightweight unification showdown and Rosenblatt retaining his minor WBC Continental Americas middleweight title on a first-round knockout of Chad Parker.
"The dream fight for the biggest money of all time is Oscar and Rosenblatt," Arum was quoted as saying. "That's what I think of when I go to sleep at night."
Arum's master plan presumably still was on the drawing board with Paz penciled in as a big-name steppingstone for Rosenblatt in what was billed as "The Neighborhood War" for New England supremacy on the 3-to-1 favorite's way to bigger and better things. But Paz had his own ideas of how matters would play out. To his way of thinking, it was he who had lured Rosenblatt into the trap he had set, not the other way around.
"I had watched him a couple of times before he fought me and I knew I was gonna knock the kid out," Paz said. "I picked him out. He didn't pick me. I picked an undefeated young kid because I wanted people to know that the way it went down with Jones wasn't the end of my career."
Not surprisingly, Paz – who'd be a charter inductee into the trash-talking hall of fame, were there such a thing – began a campaign of verbal disparagement that he insists wasn't just to help sell the show. Nor was it just insulting words Paz hurled at Rosenblatt, but other forms of intended intimidation aimed at getting under the younger man's skin like a progressively irritating rash.
"Vinny sent a dozen black roses to Rosenblatt's mother before the fight," Borges said. "That was pure Vinny. Then, on the night of the fight, Vinny stopped walking toward his dressing room and peeled off in a different direction. The security guard who was accompanying him said, `Hey, Vinny, that's the wrong way.' Vinny  said, `Yeah, I know, I just got to do something first.' Then he burst into Rosenblatt's dressing room and told him, `Tonight's going to be your worst f—— nightmare. I'm going to kick your f—— ass,' at which point he got pushed out the door. But it was just a continuation of the mind games Vinny had been playing from the time the fight was announced."
For his part, the polite Rosenblatt could not understand what he had done to incite Paz's hatred of him. "I had no animosity toward him," Rosenblatt said. "It was all on his end. His attitude was kind of like, `Yeah, I'm kind of a lowlife and this is my shtick. I'm going to make fun of this kid, then I'm going to beat him up.' It was arrogance on his part, but I didn't take it seriously.
"But before the second fight, maybe because I had beaten him up in the first one – up to the point he hit me with a punch I didn't see, and praise to him for sticking around long enough to land that shot – it got even nastier on his end. A lot of the stuff he was saying was personal. I couldn't believe some of the stupid s— he said."
What Rosenblatt can't dispute is the terrible toll The Punch took on him, in ways that likely would not have happened had he won as expected, very likely by stoppage had Paz's badly swollen left eye and bleeding, busted nose worsened to the point where Orlando or the ring doctor would have had no choice but to call things off.
"My whole life would have been different," Rosenblatt said of how his career, which went well for the most part but never reached the threshold of greatness, would now be regarded were it not for The Punch. "I'll take boxing first. After Pazienza, I probably would have fought (Sugar Ray) Leonard, before Leonard fought (Hector) Camacho. Bob was promising Leonard. I would have made some money, maybe a million bucks, and, really, that wasn't the Sugar Ray we all remember. Camacho proved that. I would have knocked out Leonard because he was done.
"After that, who knows? Now, all of a sudden, I'm a `name.' Certainly my name would have resonated more than it does now. My life would be exponentially different, exponentially better."
How so, he was asked.
"In my first fight after Pazienza (a 10-round unanimous decision over Glenwood Brown on Jan. 5, 1997, in Boston), I busted my (right) hand in the first round and I really mangled it by hitting him with it for nine more rounds. That was my power hand, since I'm naturally right-handed. Maybe I shouldn't have kept going, but I knew if I lost twice in a row, I'd be done. But then I was out because of the hand injury for 15 months, and that really set me back.
"Why did I kind of fade away after the (first Paz) fight? It wasn't just that I lost. It wasn't the manner of how I lost. It was that I was off so long after I beat Glenwood Brown. Out of sight, out of mind, right? It was like I was yesterday's news. And it wasn't the same when I was able to fight again. I wasn't with Bob anymore.
"I probably wouldn't have fought Glenwood, where I busted my hand, were it not for that one punch from Pazienza. That was the beginning of the end for me, the start of a bunch of injuries to my hands and shoulders. That's why I stopped fighting. But, hey, maybe I wouldn't be doing mortgages now. So I don't regret what happened then. Aw, that's a lie. I do regret what happened."
Rosenblatt retired from the ring after a three-round technical draw with Juan Carlos Viloria on June 28, 2002, a bout Rosenblatt almost certainly would have won were it not for the bad cut he sustained from what was ruled an unintentional head-butt. He finished with a 37-1-2 record with 23 victories inside the distance, but he never fought for a widely recognized world championship and the megafight with De La Hoya never became anything other than Arum's temporary pipe dream.
But Rosenblatt hasn't done badly in his post-boxing life. "I do residential mortgages," he noted. "I was with a small bank up here, which is gone now, but I'm still in the business. I've been doing this since November 2001. I got in at a great time. Rates were going down, down, down, and I developed a lot of contacts.
"In my third month, I made $35,000. By the end of 10 months, I think I made about $1.5 million. I mean, do the math. I got, like, $15,000 for that final fight with Viloria. In 10 years after I stopped boxing and started doing mortgages, I made about $8 million and I invested it well.
"Over a five-year period I never made less than $800,000, and in my best year of 2005 I made $955,000. I was just killing it. But let me tell you, there were times when I would have given it all up to go back and finish my boxing career the right way."
How good was Rosenblatt or, more to the point, how good might he have been? That, too, is a matter of conjecture. Teddy Atlas, who did color commentary for ESPN2's telecast of Paz-Rosenblatt II, weighed in on the matter during his prefight analysis.
"He was never as good as his record before he got knocked out, and he never was as bad as they said after," Atlas said. "He goes in and he's fighting the right fight against Vinny (in their first matchup). He's pot-shotting him when (Paz) rushed in and all of a sudden Rosenblatt gets caught with one of those looping punches, many of which missed before, and he's out. After that night, the confidence left him like air from a punctured balloon. He's a kid who never fully regained that confidence he once had in the ring. When he fights now, it's like he's waiting for something bad to happen."
Paz, meanwhile, is still waiting for one more good thing to happen. He finished with a 50-10 record and 30 wins inside the distance, an accomplished enough career to get him inducted into the Atlantic City Boxing Hall of Fame on June 3 of this year and a life notable enough to have been the subject of a critically acclaimed 2016 movie, Bleed For This, with Miles Teller in the lead role. But there is a widespread belief that Paz bulked up through the use of performance-enhancing drugs, and even some of his more ardent admirers are hesitant to endorse him for induction into the International Boxing Hall of Fame for that and other reasons.
"No doubt he was juicing," said Borges. "His face took on the same sort of shape as Lyle Alzado's. I've known Vinny since he was a skinny amateur. But, really, it's partially the Duvas' fault. He was much more of a boxer when he was an amateur and early into his pro career. He wasn't looking to take two or three to land one. They kind of convinced him that if he was going to become popular and sell tickets, he had to be more than a boxer. He had to take people out. In that first fight against Rosenblatt it worked out. Other nights, not so much.
"And as far as the (IBHOF), I never say never because some of the guys who have gotten in there probably don't deserve to be. I'm kind of a stickler. I think it should be a lot more exclusive than it is."
Maybe more has been made of The Punch than needs to be, in terms of overall historical impact. But for two men so alike in some ways, so vastly different in others, the effects of it will forever stand as a touchstone for how a fleeting moment in time can have such a profound and lasting effect.
Check out more boxing news on video at The Boxing Channel
Boxing Promoter Michelle "Raging Babe" Rosado Pulls No Punches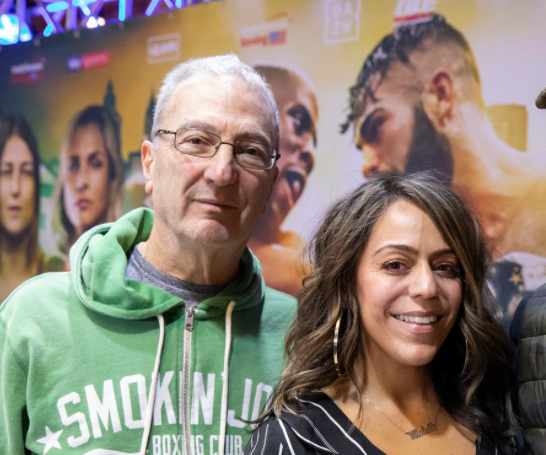 Michelle Rosado, the founder and CEO of Raging Babe Promotions, made her promotional debut on Feb. 8, 2019 with a show at South Philly's intimate 2300 Arena. The show drew an SRO crowd, a testament to Rosado's tireless work ethic, but ended on a sour note when local fan favorite Christian Carto – potentially the next big thing on the Philadelphia boxing scene – stepped up in class and was brutally knocked out by Mexican veteran Victor Ruiz. A protégé of Hall of Fame boxing promoter J Russell Peltz (pictured on the left), Rosado recently appeared on the "Last Stand Podcast with Brian Custer" to share her thoughts on some of the major issues in boxing. Here are excerpts from that interview compliments of publicist Keisha Williams.
ROSADO ON WHY CLUB SHOWS ARE IMPORTANT TO THE SPORT
"Club shows are where you are building those prospects, that's where you're developing those fighters you see the top promoters are pulling these opponents from. We're developing these guys from the ground up, we're almost like a farm system. Most of these guys you see on TV fighting for millions of dollars, and becoming world champions, a lot of them started at the club level."
ROSADO ON STATE OF WOMEN'S BOXING
"Women's boxing needs a platform, there's nowhere for these girls to fight, they deserve some fairness in our sport. I'm not trying to say they deserve to be paid the same as Canelo, but they shouldn't be paid 5 thousand dollars to defend their titles either, so in 2021
I'm going to get more involved in women's boxing and try and be a voice for them because they deserve better and a platform."
ROSADO ON HOW DIFFICULT IT IS BEING IT IS BEING A FEMALE PROMOTER IN BOXING
"I've been called every racial slur you can think of, I've had tickets thrown in my face, I've had my house vandalized, I've had a brick thrown threw my back window of my car. I've been called every kind of groupie you can imagine. She's slept with everybody in the business and every fighter. I've earned my stripes, I've worked hard, no handouts, it's just been all hard work and I've had to learn to turn the cheek. Most people know nine years in that I'm a hustler. You'll never find a fighter that says she stole from me, she didn't pay me, she lied to me, you'll never find a fighter that says that!"
RAGING BABE ON FEMALE BOXING PROMOTERS
"Yes we have a lot more women in boxing, yes it still a little more difficult for us, but we're there you hear us roaring. Behind every big promoter, he's got a woman either as his right hand man or running the operation. And I mean all of them!"
ROSADO ON HER ULTIMATE GOAL
"I want to continue to promote good fights, I want to make Philadelphia the legendary fight town that it once was, I want to develop those guys from the ground up, I want old school and new school boxing fans to come to my shows and fall in love with boxing again, and them become interested in the bigger boxing world again because we're losing that old school boxing fan. I want to uphold the reputation of real fights, real fighters, real fans that's my passion."
ROSADO'S TOP 5 POUND FOR POUND LIST
Terence Crawford
Canelo Alvarez
Errol Spence Jr.
Naoya Inoue
Teofimo Lopez
Rosado on who's boxing next big star and the best fighter out of Philly right now
"Boxing's next big star is Tank….We got a lot of really good fighters in Philly, but Jaron "Boots" Ennis is that dude!"
The full in-depth interview is now available on YouTube (Last Stand Podcast with Brian Custer) and all major podcast platforms (Apple Podcast, Google Podcast, Spotify, etc.)
Check out more boxing news on video at the Boxing Channel 
To comment on this story in the Fight Forum CLICK HERE
HITS and MISSES: Post-Thanksgiving Weekend Edition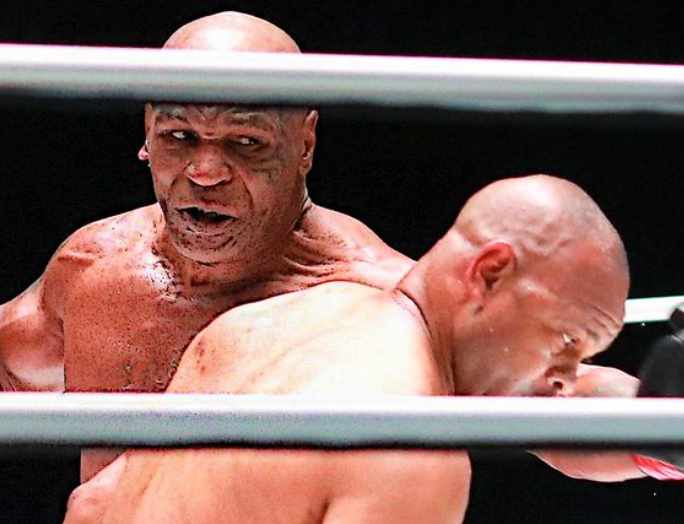 It was another massive weekend in boxing. There were big fights on pay-per-view that maybe shouldn't have been so big, and fights surrounded by lesser fanfare that will probably be looked back at as the more meaningful action by future historians.
Here are the biggest HITS and MISSES from another week on the boxing beat.
HIT: Mike Tyson, Roy Jones and the Unifying Power of Boxing
Whatever you think about the boxing exhibition bout between Mike Tyson and Roy Jones, Jr. on Saturday night, the most important aspect of the whole night (to this writer at least) was seeing how easily a big fight in boxing could still unify our culture.
No, it wasn't a legitimate prizefight, but people still wanted to see the 54-year-old Tyson go a few rounds with the 51-year-old Jones, and that's exactly what they got. It was a ride built mostly around the power of nostalgia, and it featured all sorts of present-day celebrities, too.
By the end of things, it seemed the general reaction to the event on social media was positive.
Tyson vs. Jones showed how big a reach boxing still has. Tyson retired over 15 years ago, but people from all over the planet were still willing to pay $50 to watch him climb inside the ropes for a sparring session.
Seeing that left me with two exciting questions.
What awesome power will boxing's next superstar have?
More importantly, where is he (or she) anyway?
MISS: Ring Announcer's Steve Harvey Moment 
In 2015, comedian Steve Harvey accidentally announced the wrong winner of the Miss Universe pageant. As humiliating as that event was for Harvey, just imagine how the two women felt after having their hearts filled and slashed by his error.
That same thing sort of happened on Friday night when Danny Jacobs beat Gabriel Rosado via split decision in a 168-pound stay-busy fight streamed by DAZN.
Ring announcer Jeremiah Gallegos accidentally said the winner hailed from Philadelphia (where Rosado is from) before quickly changing it back to Brooklyn (where Jacobs is from).
So momentarily, the hard-luck Rosado, who never has been the beneficiary of a close decision in any important fight, thought he had just pulled off the upset of the year.
Instead, Jacobs was corrected as the winner and that had to be an awful experience for both fighters, one that was completely avoidable.
HIT: Joe Joyce: An Actual Juggernaut?
Heavyweight prospect Joe Joyce is a popular fighter on the other side of the ocean because of his long and successful campaign as an amateur boxing star which culminated with Joyce winning the silver medal for Great Britain in the super heavyweight division at the 2016 Summer Olympics.
Still, as a professional prospect, there are lots of things not to like about Joyce. First, Joyce didn't start boxing until he was 22. Late bloomers come around now and then, but they're still a rarity in the sport. Second, Joyce is already 35, which means he's already just outside the confines of his theoretical physical prime, something that ends around 33 years old and only gets worse. Finally, Joyce is just plain slow as molasses.
Regardless, Joyce stopped fellow Brit Daniel Dubois on Saturday in London.
Unlike Joyce, Dubois, 23, possesses plenty of attributes one looks for in a future world champion. But none of those things helped Dubois win the fight.
All this to say Joyce just keeps winning fights. Sure, he might appear to be a boulder tumbling slowly down a hill when he fights, but that rock is starting to gain some real momentum.
HIT: 54-1
Thailand's Wanheng Menayothin finally lost a fight over the weekend, but it should be noted that at least the fighter finally knows his limits.
Menayothin (aka Chayaphon Moonsri) entered his fight against Petchmanee CP Freshmart (aka Panya Pradabsri) with a sterling record of 54-0. He left the contest 54-1 after judges rendered their verdict for the challenger.
Much was made of Menayothin's glossy win streak last year when he surpassed retired boxing superstar Floyd Mayweather's 50-0 mark. But a combat sports culture obsessed with suffering no blemishes on a record is only a relatively new phenomenon. Moreover, the very nature of that path through the sport never reveals the true limits of a fighter.
All this to say that Menayothin now gets a better sense of his limits, and the boxing world as a whole gets to know that same thing about him, too. That's wildly better than the alternative.
MISS: Nate Robinson Challenge
If you missed the Tyson vs. Jones pay-per-view event on Triller over the weekend, you didn't see social media star Jake Paul's viral knockout of ex-NBA star Nate Robinson.
It was clear from the start of the fight that Paul and Robinson weren't evenly matched. That kind of thing happens all the time in boxing, of course, but here was a case of a person (Robinson) who maybe had been so mismatched against Paul that it was too dangerous to have happened at all.
Regardless, Robinson did have the courage to train for the fight and step inside the ropes on fight night.
After he was knocked out, something called the "Nate Robinson Challenge" started trending on Twitter, and it was basically people from all over the world trolling the 3-time NBA dunking champ for getting knocked out in the fight.
Look, Robinson made his own bed by calling for the fight in the first place. But the Internet trolls that rag people for stepping outside their comfort zones probably would never dare to attempt that accomplishment themselves.
Robinson tried and failed. That's the real challenge.
Check out more boxing news on video at the Boxing Channel 
To comment on this story in the Fight Forum CLICK HERE
Tyson and Jones Box to an Unofficial Draw in a Predictable Stinker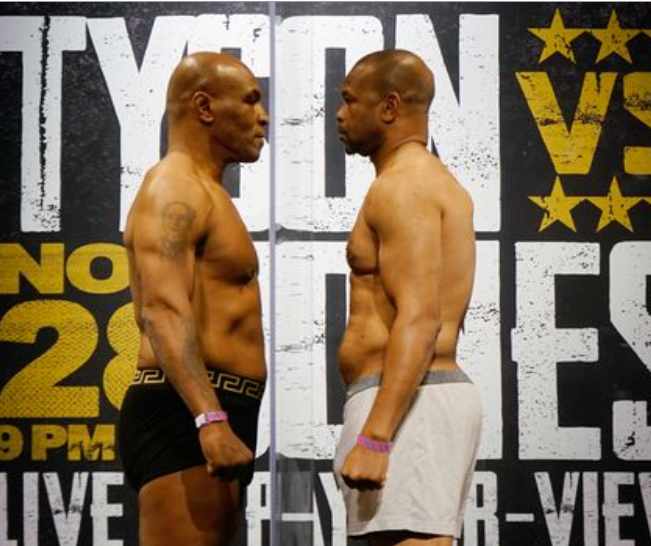 The Ringling Bros. and Barnum & Bailey Circus, an American institution, went belly-up in 2017, but a different kind of circus played to an empty house at the Staples Center in Los Angeles tonight. The main attraction wasn't Jumbo the elephant but Iron Mike Tyson in his first ring appearance in 15 years. In the opposite corner was Roy Jones Jr, who at age 51 was the younger man by three years.
Tyson vs. Jones was the main piece of a 4-hour boxing and music festival live-streamed in the U.S. on the TysononTriller.com app at a list price of $49.95. This was the first live event on "Triller" which allows people to create their own music videos and was designed as a rival to China-owned TikTok, one of the biggest recent success stories in the internet world.
The California State Athletic Commission, which sanctioned the match, insisted that Tyson vs. Jones would be an exhibition. They would fight 8 two-minute rounds with 12-ounce gloves and if there were a knockdown, the referee would not give a count and the bout would or would not continue at his discretion. The rounds would not be scored and no winner would be named.
Of course, the promoter chafed at these restraints and did his best to create the impression that this was a legitimate prizefight. Retired boxers Vinny Pazienza, Chad Dawson, and Christy Martin were lassoed to serve as judges, scoring the fight from a remote location, and the WBC commissioned an honorary belt to present to the winner.
The advance hype was enormous. A clickbait-obsessed media lapped it up including photoshop-enhanced images of Mike Tyson's physique.
In the second round, Tyson landed a double left hook and that was the only indelible moment in the match. By the third round, both looked and sounded tired and by the sixth round Jones was thoroughly gassed out and took to clinching to make it to the final bell.
For the record, the scores were 79-73 for Tyson (Martin), 80-76 for Jones (Pazienza), and 76-76 (Dawson). On the internet, the clear consensus was that Tyson had the best of it.
Mike Tyson, 50-6, 2 NC (44 KOs) last fought in June of 2005 when he was stopped by third-rater Kevin McBride. Roy Jones (66-9, 47 KOs) was active as recently as 2018 and won his last four, but against hand-picked opponents including a boxer making his pro debut. His last fight of significance came in 2011 when he was brutally KOed by Dennis Lebedev in Moscow.
Jones, who weighed 210 ½ tonight, weighed 157 when he made his pro debut in 1989. In his prime, he was pound-for-pound the best fighter in the world, but that was back in the previous century.
Both fighters were reportedly guaranteed $1 million with Tyson's take potentially reaching $10 million if certain financial targets were met.
Other Bouts
YouTube sensation Jake Paul, who we reluctantly concede has more than a modicum of talent in the fisticuffing department, knocked out Nate Robinson in the second round and it was a clean knockout with Robinson knocked out cold. The 36-year-old Robinson, the former NBA point guard who was a three-time slam dunk champion during his 11-year NBA career, is a well-rounded athlete, good enough to start as a cornerback in football during his freshman year at the University of Washington, but his athleticism didn't translate to the squared circle as he looked like a common bar brawler.
Former two-division belt-holder Badou Jack (22-3-4), who said he appeared on the card as a favor to his friend Mike Tyson, was a clear-cut winner over hard-trying but out-classed Blake McKernan in an 8-round cruiserweight match.
At age 37, Jack's career is winding down. He tipped the scales at 188 ¾, 14 pounds more than in his previous engagement vs. Jean Pascal. McKernan, a natural cruiserweight from Sacramento, was undefeated coming in (13-0), but was in over his head against Jack, a former Olympian and veteran of seven world title fights.
In a good action fight, Worcester, Massachusetts lightweight Jamaine Ortiz, a carpenter by trade, improved to 14-0 (8) with a seventh-round stoppage of Sulaiman Segawa (13-3-1), a Maryland-based Ugandan.
In the first bout on the program, Fort Worth featherweight Edward Vazquez improved to 9-0 (1) with an 8-round split decision over Jamaine Ortiz stablemate Irvin Gonzalez (14-3).
Heavyweight Juiseppe "Joe" Cusumano improved to 19-3 (17) with a sixth-round stoppage of late sub Gregory Corbin (15-4). It was the fourth straight loss for the 40-year-old Corbin who came in at a beefy 291 ¾ pounds.
Check out more boxing news on video at the Boxing Channel 
To comment on this story in the Fight Forum CLICK HERE