Politics Aside, Passionate Boxing Fan John McCain was an American Hero
Definition of a "hero," from the Merriam-Webster dictionary: "A person admired for achievements and noble qualities; one who shows great courage."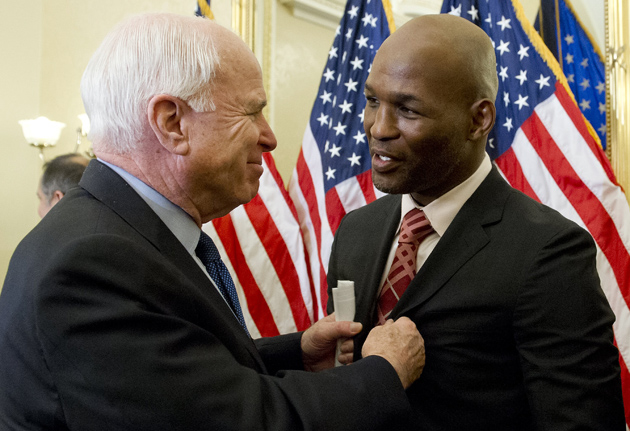 Definition of a "hero," from the Merriam-Webster dictionary: "A person admired for achievements and noble qualities; one who shows great courage."
Sen. John McCain, the difficult-to-categorize, at least in a political sense, Republican senator from Arizona, was four days shy of his 82nd birthday when on Aug. 25 he finally succumbed to the ravishing effects of gliobastoma, a rare form of brain cancer he was first diagnosed as having on July 14, 2017. Those with aggressive GBM, as it is known in its shortened form, have a median survival period of 14 months, meaning the combative former Navy pilot did not outlive normal projections for those similarly stricken. For those familiar with the incredible true story of a genuine American hero, Sen. McCain's adherence to any kind of norm must seem odd. His admirers – and they are many, including those who often opposed his positions as a two-time presidential candidate, two-term congressman and six-term senator – can be excused for somehow believing that a man who had survived as much as John Sidney McCain III had could somehow do it again if only through the force of his will and, maybe, his genetic makeup. Among his surviving family members is his 106-year-old mother, Roberta.
"It's been quite a ride," McCain, acknowledging the inevitability of his latest confrontation with the specter of death, wrote in a memoir published in May. "I've known great passions, seen amazing wonders, fought in a war, and helped make peace. I've lived very well and I've been deprived of all comforts. I've been as lonely as a person can be and I've enjoyed the company of heroes. I've suffered the deepest despair and experienced the highest exultation.
"I made a small place for myself in the story of America and the history of my times."
A small place in the multifaceted story of John McCain, one that almost surely will not be mentioned this week by former presidents George W. Bush and Barack Obama, among those expected to speak at McCain's Thursday funeral service at Washington National Cathedral (a private funeral is planned for Sunday at the U.S. Naval Academy in Annapolis, Md.), is the former USNA boxer's unabashed love of the sport, and his relentless championing of its participants.
McCain co-authored, along with Sen. Richard Bryan (D-Nev.), the Professional Boxing Safety Act, which became law on July 1, 1997, and he also sponsored the Muhammad Ali Boxing Reform Act, which became law on May 26, 2000. He would have preferred to go even further, but his vision of providing pension and unionized protections for professional boxers ran into the sort of legislative roadblocks that have become all too common in a political landscape marked by increasing partisanship. The biggest impediment to a boxers' union and pension plan is the international aspect of boxing, with two of the four major world sanctioning bodies headquartered abroad: the WBA in Venezuela and the WBC in Mexico. It can be argued that the WBO, based in Puerto Rico, also is under "foreign" purview, although the Caribbean island is a territory of the United States.
"As long as there is not a pension plan or a union – and I say that as a conservative Republican – I don't believe you in any way can compare what the fighters receive to that of other professional sports," McCain said in 2000, during his first presidential run that ended with his party's nomination going to George W. Bush. "Every other major professional sport in this country has unions and pension plans."
McCain's failed push for unionization in pro boxing ran contrary to the prevailing mood of the Republican hierarchy, and so was his advocacy for a bill that would have created the formation of a three-person commission within the Commerce Department to regulate the sport in America. On Nov. 16, 2005, the U.S. House of Representatives voted, 233-190, against the proposed bill. Interestingly, Democrats voted for the proposed legislation by 146-50, but the GOP shot it down by a 183-43 margin. It is one of several instances where McCain, considered something of a political maverick, reached across the aisle on matters he considered to be of enough importance to transcend party orthodoxy.
But if Americans at large paid little heed to McCain's hit-or-miss boxing crusades, the fighters whose circumstances he strove to improve took notice. Among those who lauded him was IBF middleweight champion Bernard Hopkins.
"Sen. McCain is a true hero in my eyes," Hopkins said in July 2000. "I know his history. You have to know who you're dealing with, right? This is a man who was in a prison camp and could have been released early, but he didn't want to leave his friends. That tells me something."
The son and grandson of Navy admirals also named John McCain, there is a strong likelihood John III (one of his sons, John IV, is a fourth-generation Naval Academy graduate now serving as a Navy helicopter pilot) would have remained in the military until he reached mandatory retirement age and risen in rank to join his distinguished forebears were it not for the events of Oct. 26, 1967, when a surface-to-air missile struck his Skyhawk dive bomber on a mission over Hanoi. Its right wing destroyed, the crippled aircraft hurtled toward Truc Bach Lake when McCain parachuted to … well, not exactly safety. The force of his ejection from the plane broke his right leg and both arms, knocking him unconscious. Sinking to the depths of what might have been his watery grave, McCain came to, ignoring the pain as best he could, and somehow was able to kick his way to the surface with his good leg and activate his life preserver with his teeth.
Pulled ashore by some North Vietnamese, one of his captors slammed a rifle butt into his right shoulder, shattering it. Another bayoneted him in the abdomen and foot.
The severely injured McCain was then transported to Ho Loa Prison, which was derisively nicknamed the "Hanoi Hilton" by its 500 or so prisoners of war. At first denied medical attention, McCain, who by that time was also suffering from dysentery, was described by one of his fellow POWs, Air Force Major George "Bud" Day, as looking "like he absolutely was on the verge of death." His tale might have ended there, in that squalid setting, had not prison officials learned of his two-admiral lineage. The North Vietnamese, hoping to score a propaganda victory, not only provided him delayed if substandard medical attention – he underwent surgery on his broken leg, but several ligaments were damaged in the process – but offered him early release. Adhering to the military code of "first in, first out," McCain said he would only accept if every man captured before him was released as well.
McCain's refusal to take the accelerated release, as well as his steadfast refusal to give interrogators any more information than his name, rank, serial number and date of birth, so infuriated prison officials that they moved him into solitary confinement in March 1968, several months before his father was named commander in chief of all U.S. Pacific forces. Thus began the systematic torture he was to endure beginning in August 1968, during which time his once-dark-brown hair turned snowy white and his body weight dropped alarmingly, the result of being put on a diet of stale bread and thin pumpkin soup. But, he said, the torture ended around October of 1969 and his solitary confinement concluded in March 1970. After the signing of the Paris Peace Accords on Jan. 27, 1973, putting an end to the Vietnam War, McCain was released on March 14, 1973.
He came home with a body so irretrievably broken that he would walk with a limp for the rest of his days, and unable to raise his arms above his shoulders. There would be personal recriminations as well, with McCain, at the point of suicide and after four days of prolonged torture during the worst stretch of his incarceration, agreeing to write a confession of his "crimes" against the North Vietnamese people.
"I felt just terrible about it," he recalled. "Every man has his breaking point. I had reached mine."
Perhaps it was the forced signing of that confession that prompted Republican nominee Donald J. Trump, of whom Sen. McCain was not a fan, to take an egregiously distasteful shot at his tormentor from Arizona during an appearance at the Family Leadership Summit in Ames, Iowa, during the 2016 presidential campaign. Asked about McCain's service to his country while in the Navy, Trump responded, "He's not a war hero. He was a war hero because he was captured. I like people who aren't captured."
Although Trump — who never served in the military and received four deferments from 1964 to '67 — quickly recanted, he was widely criticized by Democrats and Republicans alike for comments so seemingly inappropriate for someone aspiring to become Commander in Chief of all U.S. military forces. While it is not obligatory for a sitting president to have donned a uniform in defense of his country, to have done so would appear to be more beneficial than a deterrent; of the 45 individuals who have held the nation's highest elected office, 22 saw combat or served in combat zones while another eight served in other capacities.
Although a frequent critic of Trump, McCain considered the late Ronald Reagan his hero and political role model. Thus was McCain paradoxical in many ways, forever, in the words of Winston Churchill, a riddle wrapped in a mystery inside an enigma. To left-leaning boxing promoter Bob Arum, McCain was a "great American" and "terrific boxing fan" whose politics were a bit too conservative for his own taste, while to Trump backers he was a gadfly who too often strayed left of their preferred right-of-center moorings. He was in his own way that rarest of politicians, true to his own sometimes alterable beliefs, a fighter for the constituents who kept him in office and a steadfast proponent for that most under-represented minority, the boxers with whom he so readily identified.
"There are some issues that need to be tackled simply because it's the right thing to do," he once said of his obsession with eliminating or at least minimizing some of the ills linked to professional boxing. "I'm very proud to be involved in the movement to effect some real change in the boxing industry. I believe that boxers are the most exploited of all professional athletes. They come from the lowest rung, and generally are the least educated. They're the only major sport that's not unionized.
"I can't force boxers to invest their money, but I sure think I can prevent them from being exploited by unscrupulous outsiders."
Perhaps my most enduring memory of Sen. McCain is the one time I had a chance to speak to him, in a brief interview that was more like two fight fans having a chat, despite the fact I was holding a tape recorder. It was Aug. 25, 1998, and the senator and Pennsylvania's Republican governor, Tom Ridge, were part of a capacity-plus, sweat-soaked crowd of 1,350 at Philadelphia's Blue Horizon for a sort-of notable event, the final USA Tuesday Night Fights telecast, which ended the cable network's 17-year run. In the main event, heavyweight novelty attraction Eric "Butterbean" Esch blasted out journeyman Tim Pollard in the first round of a, natch, scheduled four-rounder.
It didn't take long for the two politicians, who arrived wearing suits and ties, to doff their jackets and ties and to loosen their collars. But they nonetheless appeared to be enjoying themselves immensely; for Sen. McCain especially, this suffocatingly hot night was a chance to let his hair down and indulge his not-so-secret passion.
"It's my first time here, but I've seen the place on television a hundred times," he said. "I'd heard about the incredible atmosphere and everything I heard is true. This is one of the great, classic places for boxing."
Rest in peace, Sen. McCain. The symbolic 10-count has sounded and you take your earthly leave having scored a couple of victories on points in the ongoing quest to make things better for fighters and those who care about them.
Check out more boxing news on video at The Boxing Channel
Daniel Jacobs Edges Past Gabe Rosado on a Matchroom card in Florida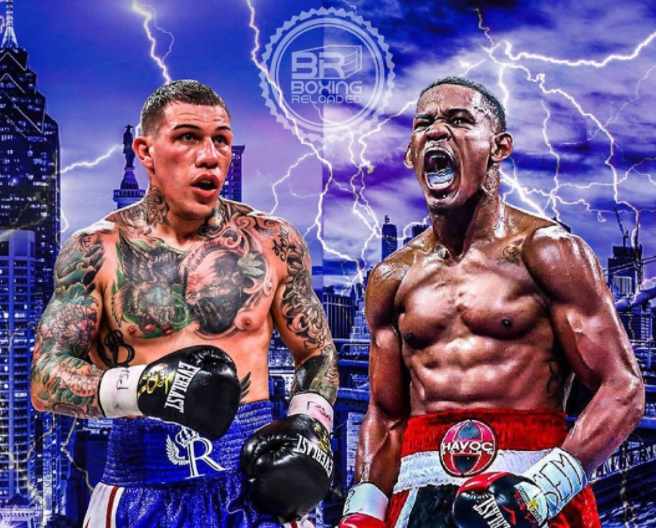 Former world champion Daniel Jacobs needed the last round to win by split decision against upset-minded Gabe Rosado and keep his place in line on Friday for lucrative super middleweight matchups.
But when the ring announcer erroneously announced the winner was from Philadelphia, confusion reigned for a moment until Jacobs was correctly called the winner.
Brooklyn's Jacobs (37-3, 30 KOs) jumped out ahead against Philly fighter Rosado (25-13-1, 14 KOs) and held on for the win in front of no fans at the Seminole Hard Rock Hotel and Casino in Hollywood, Florida. For a second, many thought Rosado had won.
Both were careful during the first three rounds measuring each other's distance and looking for openings to counter. There were very few.
It was the kind of fight expected by those who know boxing: two veterans with immense experience against top-flight world champions. Mistakes were few.
Jacobs, a former middleweight world champion, had fought Saul "Canelo" Alvarez and Gennady "GGG" Golovkin in close but losing efforts.
Rosado had battled Golovkin too, six years ago in a bloody affair that ended in a loss. He had also lost to other champions like Peter Quillin and Jermell Charlo. But none were able to knock him out.
Both were aware of each other's reputation. Bitter words had been exchanged for years and now they finally got their chance to prove their mettle and they did.
Though Jacobs was recognized as a knockout puncher, Rosado's resilience was just as well known. Both neutralized each other for most of the fight with their feints and jabs to the body. Neither was willing to leave openings for each other.
Jacobs scored big with a left uppercut at the end of the seventh round. While Rosado wowed viewers with a sizzling right cross in the 11th round.
It was 1950s style, boxing with intelligence. Each found it difficult to land combinations, let alone find openings to score knockout blows. Instead, they had to be satisfied with scoring enough to convince three judges the actual winner.
Neither was able to pull out ahead with any conviction.
After 12 rounds one judge saw Rosado the winner 115-113 while two others saw Jacobs the winner 115-113 to give him the win by split decision.
"It felt just a little weird. It felt like a sparring match," said Jacobs about fighting without fans in the audience. "This wasn't a valiant effort."
Rosado was certain he was the true winner.
"I thought I won the fight. I surprised him," said Rosado who trained with Freddie Roach for this fight. "I'm a veteran, I know how to fight."
Indeed, he does.
Jacobs now stands poised to fight one of many super middleweight champions in need of a marquee name.
"I live to see another day," he said honestly.
Other Bouts
Kazakhstan's Daniyar Yeleussinov (10-0, 6 KOs) proved he was not an easy touch and knocked out former world champion Julius Indongo (23-3, 12 KOs) to march forward in the welterweight division while grabbing the vacant IBF Inter-Continental title.
In a fight featuring southpaw versus southpaw Yeleussinov caught Indongo with a roundhouse left the first time they exchanged and down went the former super lightweight world champion. Indongo beat the count and survived the round.
Indongo wasn't as lucky in the second round as Yeleussinov again connected with a left and down went the fighter from Namibia again. He would not get up at 1:24 of round two giving the knockout win for Yeleussinov.
A battle between undefeated heavyweights saw Azerbaijan's Mahammadrasul Majidov (3-0, 3 KOs) use roundhouse rights to stagger the heavier Sahret Delgado (8-1) to win by knockout in the third round. Majidov actually helped Delgado get to his stool after knocking him out on his feet at 47 seconds of the third round.
Emmanuel Tagoe (32-1) defeated Mason Menard (36-5) by majority decision after a 10- round lightweight fight that saw a lot of clinching and leaning.
Nikita "White Chocolate" Ababiy (10-0) out-fought Detroit's Brandon Maddox (7-4-1) to win by unanimous decision after six rounds in a middleweight clash. Ababiy hurt Maddox with body shots but found Maddox more resilient than expected.
Check out more boxing news on video at the Boxing Channel 
To comment on this story in the Fight Forum CLICK HERE.
Pradabsri Upsets Menayothin, Ends the Longest Unbeaten Streak of Modern Times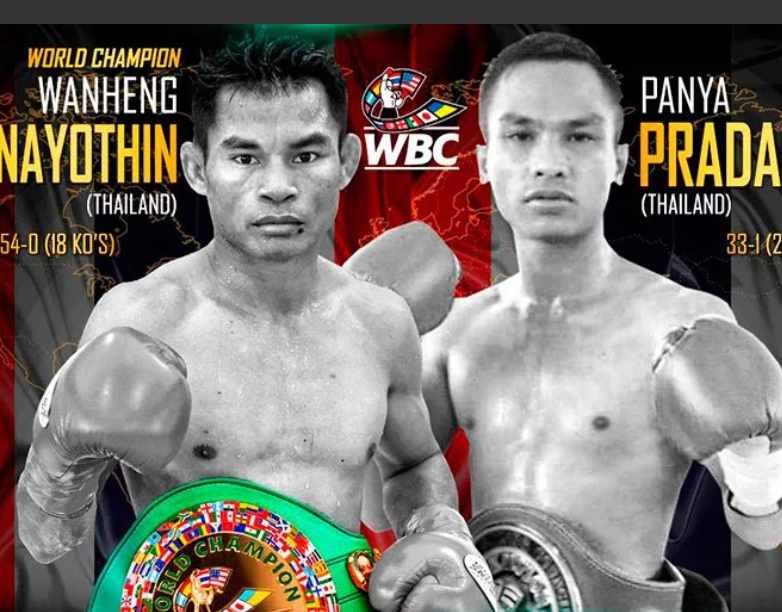 During the wee hours in the Americas, a big upset was brewing in Thailand. In Nakhon Sawan, a city roughly 150 miles north of Bangkok, Panya Pradabsri (aka Petchmanee CP Freshmart) out-pointed Wanheng Menayothin (aka Chayaphon Moonsri) in a domestic clash with international significance. Manayothin entered the bout with a 54-0 (18) record and was making the 13th defense of his WBC world minimumweight title.
Pradabsri had been defeated only once in 35 previous starts, but only 11 of his 34 victories had come against fighters with winning records. According to ringside reports, he kept Menayothin at bay with good fundamentals, a stiff jab, and good lateral movement. All three judges had it 115-113. The fight wasn't without controversy as Menayothin finished stronger and many folks scoring off the live video thought that he had done just enough to retain his title.
How good was/is Menayothin? That's a question that serious boxing fans will likely debate for decades.
In the summer of 2019, Menayothin signed a co-promotional deal with Oscar De La Hoya's Golden Boy Promotions. At time, GBP president Eric Gomez described him as one of the best fighters in the world. "We really want to bring him to the U.S. so people can see how talented he really is," Gomez told England's Sky Sports.
Menayothin was expected to make his U.S. debut in April of this year, but the pandemic ruined that plan. Earlier this year, he announced his retirement, but rescinded it after only two days.
Scottish boxing historian Matt McGrain, who has an exclusive arrangement with this web site, had lukewarm opinion of the Thai mighty-mite although he rated him the second-best 105-pound boxer of the decade, trailing only his countryman Thammanoon Niyomtrong (aka Knockout CP Freshmart).
"He is disciplined, strong, brings good pressure and is armed with a very decent range of punches," said McGrain, "(but his record) is comprised mostly of men any competent fighter would be expected to beat."
Although only one boxer from Thailand has been inducted into the International Boxing Hall of Fame (Khaosai Galaxy, class of 1999), the Southeast Asia nation has produced some outstanding boxers over the years – Chartchoi Chionoi, Sot Chitalada, Pongsaklek Wonjongkam, and Srisaket Sor Rungvisai to name just a few. The difference between these fighters and Wanheng Menayothin is that they all left the comfort zone of their homeland to score one or more important wins on foreign soil.
Menayothin may yet display his wares in a U.S. ring. But at age 35, an advanced age for small fighters in particular, we won't get to see him at his best and now that his bubble has been burst, disinviting further comparisons to Mayweather and Marciano, the curiosity factor has been tempered.
To comment on this story in the Fight Forum CLICK HERE
Yoka vs. Hammer Kicks Off the Thanksgiving Weekend Slate on ESPN+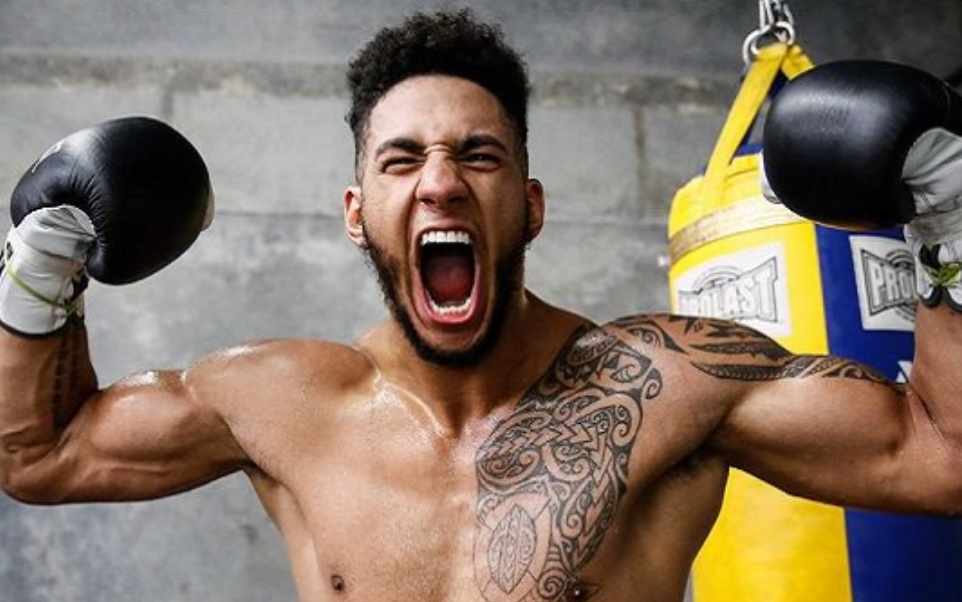 PRESS RELEASE— Tony Yoka, the dynamic heavyweight punching Parisian, aims to impress in his ESPN platform debut. Yoka, who won a super heavyweight gold medal for France at the 2016 Rio Olympics, will fight veteran Christian Hammer in a 10-rounder Friday at H Arena in Nantes, France.
Yoka-Hammer will stream live and exclusively this Friday, Nov. 27 in the United States on ESPN+ beginning at 2:55 p.m. ET/11:55 a.m. PT.
The ESPN+ stream will also include the return of unbeaten 2016 French Olympic gold medalist Estelle Yoka-Mossely against Pasa Malagic in an eight-round lightweight bout. Yoka and Yoka-Mossely, who have been married since 2018, welcomed their second child in May.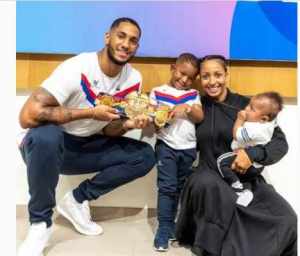 Earlier this year, Yoka inked a promotional agreement with Top Rank, which will co-promote him with Ringstar France.
"Tony Yoka's potential is limitless, and he is a grounded young man who is motivated to be a great professional fighter," said Top Rank chairman Bob Arum. "France has never had a world heavyweight champion, and I believe Tony is the one to bring the sport's biggest honor home."
The 28-year-old Yoka's stellar amateur run included a berth at the 2012 London Olympics and gold medals at the 2015 World Championships and 2010 Youth Olympic Games. Before his triumph in Rio, he'd already defeated the likes of former heavyweight world champion Joseph Parker and current undefeated prospects Joe Joyce and Ivan Dychko. At the Rio Olympics, he defeated Croatian standout Filip Hrgović in the semifinals and edged Joyce in the gold medal match.
As a professional, Yoka (8-0, 7 KOs) made his debut in June 2017 with a second-round stoppage over the previously undefeated Travis Clark. Apart from a decision win over Jonathan Rice in his second outing, Yoka has stopped every foe, including durable Englishman David "White Rhino" Allen and former European champion Alexander Dimitrenko. He made his 2020 debut Sept. 25 and stopped former world title challenger Johann Duhaupas in one round.
Hammer (25-6, 15 KOs) has fought many of the leading heavyweight names during his 12-year career, falling short against Tyson Fury, Luis Ortiz and Alexander Povetkin. He's notched myriad upset victories, including a highlight-reel knockout over David Price and a 2016 split decision over Erkan Teper for the WBO European belt. In March 2019, he went the 10-round distance against Ortiz and has not been stopped since Fury forced him to retire on his stool after eight rounds in their February 2015 clash.
Check out more boxing news on video at the Boxing Channel 
To comment on this story in the Fight Forum CLICK HERE