The Trash Talk Stoking the GGG-Canelo Rumble: Is at least some of it Strategic?
The subject was trash talk, its truthful origins in some cases and its usage as a strategic tool in others. Sometimes it's a combination of both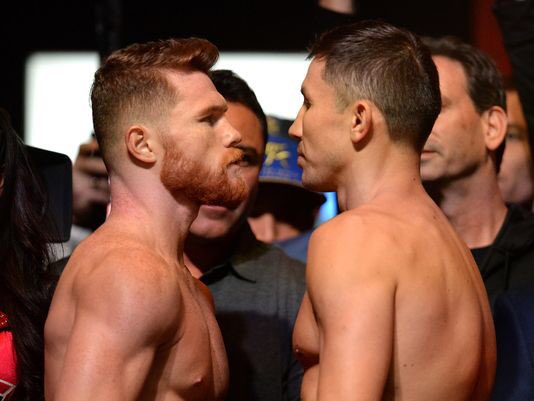 The subject was trash talk, its truthful origins in some cases and its usage as a strategic tool in others. Sometimes it's a combination of both. But separating fact from fiction beforehand can be difficult for those on the outside, so it made sense to consult an expert on the subject to weigh in on the increasingly nasty dialogue between the respective camps before Gennady Golovkin and Canelo Alvarez exchange verbal jabs for actual punches in Saturday night's HBO Pay for View rematch at Las Vegas' T-Mobile Arena.
So how about it, Bernard Hopkins? As the old commercials once advised us, is it live or is it Memorex? Great taste or less filling?
"It's real, all right. It's real on both sides," said Hopkins, who can't be described as a strictly neutral observer given his position as an executive with Golden Boy Promotions, for whom Alvarez is the principal cash cow.
But regardless of whether the charges and counter-charges, most of which are fairly dripping with venom, are 100 percent genuine hardly seems to matter at this point. The perception of bad blood between Fighter A and Fighter B can stoke wildfires of interest in a particular bout, and the methods employed for igniting the conflagration can range from clever, comical, profane and legitimate animosity. Selecting just the right format to throw a particular opponent off his game is something of an art form.
During a 28-year professional boxing career that will result in a first-ballot induction into the International Boxing Hall of Fame, Hopkins spiced his physical skills, superior conditioning and ring smarts with a tart tongue and occasional props, the most obvious being the Puerto Rican flag he twice threw down at press conferences in advance of his Sept. 29, 2001, showdown with that island's favorite son, Felix Trinidad. The gestures of disrespect so infuriated Trinidad that he boiled over with anger, wanting nothing so much as to put a beat-down on B-Hop. And while a more civil Hopkins might have won anyway, in legend and lore his signature, 12th-round technical knockout victory in a fight he was handily winning to that point is suspected by many to have been somewhat aided by his getting into Trinidad's head and making him, well, a little bit crazy.
But the insult route in the prefight mental warfare can backfire sometimes. Prior to the first installment in the classic Muhammad Ali-Joe Frazier trilogy, on March 8, 1971, Ali — whose previously preferred method of annoying the other guy was to compose trite poems predicting the exact round of that fighter's impending defeat — resorted to cruel and personal taunts, as well as portraying himself as black America's champion while holding another proud black man up to ridicule. On one televised talk show, Ali said, "The only people rooting for Joe Frazier are white people in suits, Alabama sheriffs and members of the Ku Klux Klan."
While that kind of incendiary rhetoric hyped interest in the "Fight of the Century" to a fever pitch, Ali – who later admitted he didn't really mean much of what he said, that it was just a means of making a big event even bigger – did not count on the motivational effect it had on Smokin' Joe. "Before we fought, the words hurt me more than the punches," Frazier is quoted as saying in Muhammad Ali: His Life and Times, by author Thomas Hauser.  Not nearly as verbose as Ali, Frazier exacted his revenge the only way he knew how, with a barrage of left hooks, one of which dropped his tormentor in the 15th round and served as the exclamation point for the Philadelphia slugger's unanimous decision victory. But that was one of the few instances in which Ali's trash talk didn't produce the desired result.
"When it came to mental warfare," Hopkins said, "I always won that hands down against the guys I fought. I was right behind Muhammad Ali."
A contender for Hopkins' runner-up status to Ali as the trash-talking GOAT is the now-retired (but maybe not for long) Floyd Mayweather Jr., whose curious matchup with UFC superstar Conor McGregor on Aug. 26, 2017, whom "Money" stopped in 10 rounds, was presaged by a bizarre four-city promotional tour in which the participants tried to outdo one another in the dropping of globally televised f-bombs. The slew of shouted expletives no doubt helped produce the 4.3 million pay-per-view buys and $600 million in total revenues that made the novelty bout a financial bonanza, but there were more than a few horrified onlookers who probably wished the fighters' mamas could have come on stage to wash their sons' mouths out with soap.
Nor is the often-coarse repartee restricted to boxing. Before the NFL took steps to eliminate some of the cruder stuff, it was not uncommon for homophobic slurs, verbal attacks on girlfriends and wives, even questioning the paternity of an opponent's child to be used to irritate players wearing the other team's uniform. "I love to be annoying; I'm going to do stuff that will get on your nerves," Philadelphia Eagles safety Malcom Jenkins told Joseph Santoliquito in a story that was published by PhillyVoice in March 2017. "The talk is more sanitized today than when I first got into the league (in 2009). There is a new generation of players where everybody is buddy-buddy, trading jerseys after games."
It remains to be seen how GGG-Canelo II is influenced by the relentless innuendos and flat-out accusations of impropriety. While there was grudging respect between the two in the lead-up to their first meeting on Sept. 16 of last year, which ended in a split draw, whatever goodwill that once existed between them and their camps appears to have dissipated. Golovkin and his trainer, Abel Sanchez, believed GGG had done enough to get the decision, but they hinted at darker forces behind judge Adalaide Byrd's incomprehensible 118-110 scorecard for Canelo.
Tensions would continue to mount after the originally scheduled date for the do-over, on May 5 of this year, was postponed when Canelo tested positive – twice – for the banned substance Clenbuterol. Although Alvarez and Golden Boy CEO Oscar De La Hoya claimed the failed drug tests owed to his fighter inadvertently having ingested tainted beef while training in Mexico, Golovkin has maintained that they serve as proof that the vastly popular Mexican fighter is a purposeful cheater, and probably was before his suspension that has now been lifted.
GGG, on the scoring of the first fight: "It was terrible. It was terrible for the people and, of course, it was terrible for the sport of boxing because statistics showed I landed more punches. The fans saw I wanted to fight and Canelo did not want to fight. The fans who watched it live saw the judges bringing crazy scorecards. When the decision was announced, everyone was saying, `Oh, come on! This is not real! This is not true!' Everybody was mad because those judges killed the sport that night."
Abel Sanchez, on the subject of Canelo's failed drug tests: "They (Alvarez, De La Hoya and Alvarez cornermen Eddy Reynoso and Jose "Chepo" Reynoso) keep accusing us of insulting them. There have been no insults from our side. What I've stated has been facts. Golovkin gets bothered when people try to sweep the two positive tests under the rug like nothing ever happened and it's business as usual. Canelo is the one that tested positive, twice. He's the one that created that. It wasn't us."
Sanchez, on Chepo Reynoso's claim that GGG fights "like a donkey": "Chepo Reynoso has never had an Olympian. Chepo Reynoso has never had a silver medalist. Chepo Reynoso has never had 18 world champions, as I've had. Chepo Reynoso just talks about Canelo. When he gets to my level, maybe he can speak in an intelligent manner. To hear somebody talk like that is ridiculous. It shows a lack of class, a lack of intelligence."
Sanchez, on what he thinks of Canelo as a person and as a fighter: "I don't think he's a man of honor, a man of character. I think he will run like a scared rabbit, like he did the first time."
Would you care to respond, Team Canelo?
Canelo: "What little respect we had (for Golovkin and his handlers), it's been lost. Is it personal now? Yes, absolutely. It's totally changed. They disrespected me. Everything they've been saying, everything they've been doing, their actions … now it's different. It's personal."
De La Hoya on Alvarez's motivation to punish GGG: "That's exactly what a fighter needs, and that's exactly why this is going to be a great fight. When you're a fighter and you have no respect for your opponent, magic happens. You train harder in the gym. You run extra miles. More importantly, it's mental. The mental aspect of it is at its highest level."
Eddy Reynoso: "Canelo has more talent. He's more versatile. He knows how to walk in the ring, how to make you miss, how to counterpunch. He's the total package. He is a thinking fighter, an intelligent fighter. Come Sept. 15, I can assure you two things: not only is Saul going to take away GGG's undefeated record, he's also going to shut up Mr. Abel Sanchez."
From the sound of it, Hopkins would appear to be correct. The two-way rancor is real, not mere hyperbole. Ah, but how to use that pent-up hostility to one fighter or another's best advantage?
It is Sanchez who has been constantly sniping at Canelo, claiming he fought "scared" the first time, tactics unbefitting a true Mexican warrior. Meanwhile, Sanchez keeps saying, Kazakhstan's Golovkin more closely adheres to the "Mexican Style" of fighting, which is to come forward and constantly go for the knockout.
"I remember how Canelo boasted, how Bernard boasted that Canelo was so great he was going to knock out Golovkin in the 10th round," Sanchez recalled. "I just hope he's true to his word this time. The fans are expecting the Canelo that they've seen in the past, not the Canelo they saw last year. If he's true to his words, that'll give us the kind of classic fight that we expected the first time – two guys that want to win, not one guy that wants to win and the other guy just looking to survive."
Although Alvarez has vowed to knock out GGG, he is dropping hints that he will not be lured into a toe-to-toe slugfest. "It's one thing to be coming forward like a donkey and it's another thing to be moving, dodging punches, counterpunching, even staying on the ropes without being hit," he said. "I hope (GGG) goes back to his house afterward and realizes what I've been saying about him: that he's a dumbass."
To Hopkins' trained ear, Sanchez's suggestions of a frightened Canelo's reluctance to engage at close quarters is the equivalent of the Puerto Rican flags he threw down to incite Trinidad into fighting the fight that played into B-Hop's hands. He insisted Alvarez is too savvy to fall into that trap.
"Why do you think Abel Sanchez is talking so much about why Canelo needs to fight Mexican Style?'" Hopkins asked. "It's a way of getting people to forget that Golovkin can fight only one way.
"I told Oscar a long time ago, when Canelo fought (James) Kirkland, that all that talk about Golovkin fighting `Mexican Style' was just a way to camouflage his lack of ring generalship. How do you finesse this dangerous guy, who can get you out of there at any moment of any round? You make his power work against him, like Ali did with George Foreman."
It's a given that GGG and Canelo don't much care for one another. But the outcome of their bitter feud, fueled by a desire for each to impose his will upon the other, may well hinge on which of these splendid fighters can keep a portion of his emotional need to dominate with enough mental discipline to perform under control. It is that inner struggle – the one within yourself, as well as the one as against your opponent – that often determines who survives big fights otherwise drenched in raw emotion.
Bernard Fernandez is the retired boxing writer for the Philadelphia Daily News. He is a five-term former president of the Boxing Writers Association of America, an inductee into the Pennsylvania, New Jersey and Atlantic City Boxing Halls of Fame and the recipient of the Nat Fleischer Award for Excellence in Boxing Journalism and the Barney Nagler Award for Long and Meritorious Service to Boxing.
Check out more boxing news on video at The Boxing Channel
Bazinyan Improves to 29-0, but Gollaz and Gaumont Steal the Show in Montreal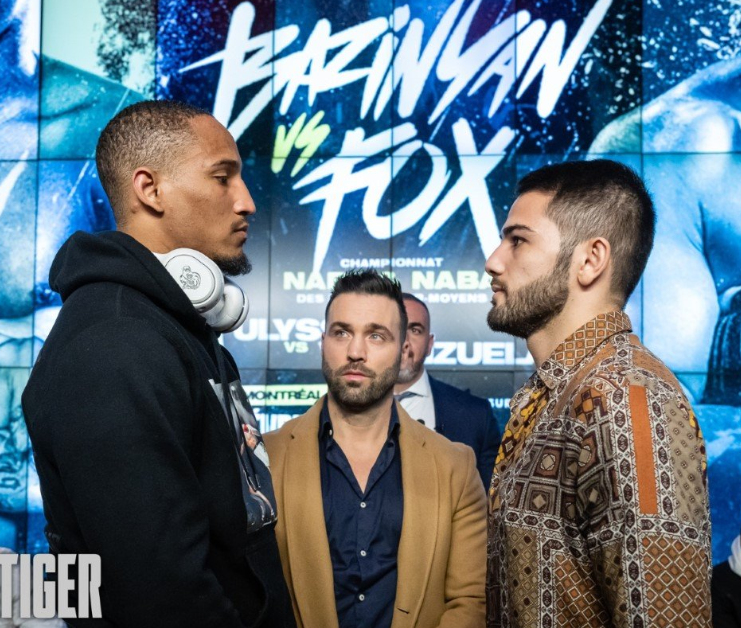 Super middleweight Erik Bazinyan, ranked #3 by the WBA and the WB0 and #4 by the WBC, advanced his record to 29-0 (21) on Thursday night at the Casino de Montreal with a hard-earned majority decision over Alantex Fox. The judges had it 95-95 and 98-92 twice.
A member of the National Team in Armenia before moving with his parents to Quebec at age 16, Bazinyan was moving up in class while making the first defense of two North American titles. In Fox, one of two fighting brothers from Upper Marlboro, Maryland, he was meeting a 12-year pro who brought a 28-3-1 record.
The fight was messy at times as was often the case with the six-foot-four Fox who tends to tie up his opponents when they happen to borrow inside his long arms. The fight was fairly even through the first six frames, but Bazinyan forged ahead as Fox's workrate declined.
There were two brutal upsets on the undercard, both of which ended in the opening round.
In a super lightweight match slated for 10, Guadalajara's Gabriel Gollaz, who was billed for this fight under his mother's maiden name, Valenzuela, solidified his reputation as a treacherous spoiler with a first round blast-out of Yves Ulysse Jr. The Mexican, who improved to 26-3-1 with his 16th knockout, caught Ulysses leaning in and crumpled him with a brutal uppercut. Ulysse, who hadn't previously been stopped, appeared to suffer a leg injury as he fell and was carried from the ring.
In 2021, Gollaz went to London and upset former British Commonwealth champion Robbie Davies Jr. More recently, he came within a shade of upsetting Matchroom signee Montana Love, losing a 12-round decision.
A 34-year-old Montreal native of Haitian ancestry, Ulysse (22-3) was considered a bright prospect after taking Cletus Seldin to school in 2017. After tonight's match, which lasted all of 52 seconds, he indicated that he would retire.
Another Mexican import, middleweight Carlos Gallego, wasn't as fortunate. Gallego, 8-4 heading in, was knocked out in the opening round by local fan favorite Alexandre Gaumont (7-0, 5 KOs).
Gaumont forced the stoppage with a barrage of punches after snapping Gallego's head back with a vicious uppercut. Gallego tried to rise and then fell back to his knees as the bout was being waived off. The official time was 2:26.
Gaumont, 27, knocked out 12 of his 21 opponents as an amateur. He bears watching.
Presented by Camille Estephan's Eye of the Tiger Promotions, tonight's card aired in the U.S. on ESPN+.
To comment on this story in the Fight Forum CLICK HERE
Alycia Baumgardner vs Elhem Mekhaled: Female Splendor at MSG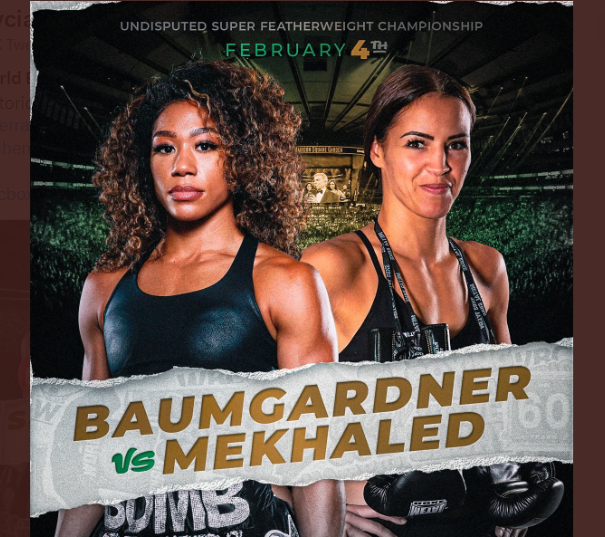 Alycia Baumgardner vs Elhem Mekhaled: Female Splendor at MSG
Two bouts between women, which will turn the winners into undisputed champions in the featherweight and super featherweight divisions, will create an electrifying atmosphere this Saturday, February 4th at Madison Square Garden.
In the duel between the two southpaws, Puerto Rican Amanda Serrano (43-2-1, 30 KOs), based in Brooklyn), will defend her 126-pound WBC, IBF and WBO titles, while Mexican Erika Cruz (15-1, 3 KOs) will defend her WBA title.
Also, of great interest will be the fight between American Baumgardner (13-1, 7 KOs), 130-pound WBC, IBF and WBO champion and her opponent, French challenger Elhem Mekhaled (15-1, 3 KOs), who will try to snatch Baumgardner's titles and get the vacant WBA title, which belonged to the undefeated Korean Choi Hyun-Mi (20-1, 5 KOs).
Choi, who was born in Pyongyang, North Korea but left the country with her family at the age of 14 and settled in Seoul, South Korea, was declared "Champion in Recess", as she suffers from a medical condition that prevents her from fighting. Once she fully recovers, she will have the possibility of facing, as a mandatory challenger, the winner between Baumgardner and Mekhaled.
For Baumgardner, who was born 28 years ago in Ohio, but now lives and trains in Michigan, the fight in New York will once again allow her to showcase her skills in the United States after three consecutive fights in the United Kingdom.
In her most recent bout, Baumgardner defeated her compatriot Mikaela Mayer (17-1, 5 KOs) in a difficult brawl, from whom she snatched the IBF and WBO belts, while retaining the WBC belt. The bout was October 15th of last year at the O2 Arena in London. Two of the officials, Steve Gray and John Latham, scored the fight 96-95 in favor of Baumgardner, but Terry O'Connor saw it 97-93 for Mayer.
Four days later, Choi unanimously defeated Canada's Vanessa Bradford (6-4-2, 0 KOs) in Seoul, earning the Asian her ninth successful defense of the WBA super featherweight crown, which she has held since May 2014, when she anesthetized the now retired Thai, Siriwan Thongmanit.
The following month, in November, the WBA ordered Choi to defend her belt in a mandatory duel against Baumgardner, making the winner the undisputed queen of 130 pounds.
ELHEM MEKHALED FILLS THE VACANCY OF SOUTH KOREAN CHOI
To fill the vacancy of the South Korean Choi, the IBF Committee awarded the position to Mekhaled who ranks third in the women's 130-pound rankings.
Former interim WBC titleholder, Mekhaled, 31 years old and born in Paris, has recently lost by unanimous decision to Belgian Delfine Persoon (47-3, 19 KOs) at the Etihad Arena in Abu Dhabi where they disputed the vacant WBC silver belt.
The duel against Baumgardner not only allows Mekhaled to debut in the United States, but also provides her the opportunity to become the undisputed champion at 130 pounds.
Mekhaled emphasized that the February 4th event has great significance for women fighters and that this is a sign that the discipline is growing, with more and more fight cards in which women exhibit the leading role.
The French boxer said that after winning the interim title in 2015, she waited a long time for the opportunity to fight for the regular belt, but unfortunately it never materialized.
Mekhaled explained that after a long period of focusing on her personal life and not really training, she accepted the duel with Delfine Persoon with only two weeks of preparation, which led to the setback against the Belgian boxer.
"Since my WBC interim 2019 title, I've been waiting for this moment," said Mekhaled. "Maybe fate has played well; instead of one belt, they're all on the line. I am super excited to fight on February 4th at the legendary MSG in New York. God knows how determined I am! It's my time to shine. Thank you to my advisor Sarah Fina."
Article submitted by Jorge Juan Álvarez in Spanish.
Please note any adjustments made were for clarification purposes and any errors in translation were unintentional.
To comment on this story in the Fight Forum CLICK HERE
How good is Jake Paul? Shane Mosley's Answer May Surprise You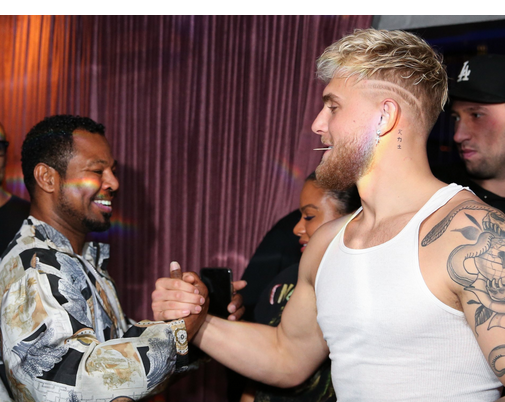 Few celebrities in the world today are as polarizing as Jake Paul. The 26-year-old Cleveland native who fights Tommy Fury in an 8-round match on Feb. 26 in Riyadh, Saudi Arabia, has fervent fans and equally fervent detractors. To long-time aficionados of boxing, especially those born before the arrival of the internet, Jake Paul and his ilk are widely looked upon as a scourge.
Paul first entered the squared circle on Aug. 25, 2018, at the Manchester Arena in England. He fought fellow YouTube star Deji Olatunji in the co-feature to a match between their respective older brothers, Logan Paul and the "influencer" known as KSI. The combatants promoted the event on their social media platforms
These were exhibitions fought with headgear. Jake Paul stopped Olatunji whose corner pulled him out after five rounds. However, the results wouldn't appear on boxrec, the sport's official record-keeper.
No serious boxing fan paid this curious event any heed, but the folks that profit from the sport without taking any punches stood up and took notice. The on-site gate reportedly exceeded $3 million. The event reportedly generated 1.3 million pay-per-view buys worldwide (youtube charged $10 a pop) with nearly as many beholders catching a free ride on a pirate stream. A new era was born, or at least a new sub-set of a heretofore calcified sport.
Jake Paul had his first professional fight on Jan. 30, 2020, in Miami. In the opposite corner was a British social media personality of Saudi Arabian lineage who took the name AnEsonGib. Paul stopped him in the opening round.
Paul fought once more that year, knocking out former NBA star Nate Robinson, and three times in 2021, opposing Ben Askren and then Tyron Woodley twice. Askren and Woodley were former MMA champions who had fabled careers as U.S. collegiate wrestlers, but both were newcomers to boxing.
According to Forbes, Jake Paul made $31 million from boxing in 2021. And therein lies the rub. While thousands of would-be future champions, many with deep amateur backgrounds, toiled away in boxing gyms honing their craft while hoping to attract the eye of an important promoter, a guy like Jake Paul came along and jumped the queue. It just ain't fair.
In preparation for his pro debut against AnEson Gib, Paul spent time in Big Bear, California, training at the compound of Shane Mosley. A first ballot Hall of Famer (class of 2020), Mr. Mosley needs no introduction to readers of this web site. And when he says that Jake Paul is legit, one is inclined to give him the benefit of the doubt.
"I taught him the fundamentals," says Mosley, "but Jake was a good listener and a hard worker. He's a good athlete and he has a boxer's mentality. We took him down the street to Abel Sanchez's gym and had him spar with real professional fighters. He would spar with anybody and when he got caught with a hard punch he wouldn't back down. He loves the sport and he relished the competition."
Mosley stops short of saying that Jake Paul could hold his own with Canelo Alvarez – Paul preposterously called out Canelo after out-pointing 47-year-old MMA legend Anderson Silva in his most recent fight – but with so many titles up for grabs in this balkanized sport, it wouldn't   surprise Mosely if the self-styled "Problem Child" latched hold of one before this phase of his life was over.
A three-time national amateur champion and a world champion at 135, 147, and 154 pounds as a pro, Shane Mosley put Pomona, California on the boxing map. He represented that city in LA county throughout his illustrious career. His son of the same name was born there.
Mosley fought twice in his hometown as he was coming up the ladder and will be back there again on Feb. 18 when Shane Mosley Jr appears on the undercard of a Golden Boy Promotions card at Pomona's historic Fox Theater. It's not official yet so we won't divulge the name of Shane's opponent, but the main event will pit Luis Nery against Azat Hovhannisyan in a WBC Super Bantamweight Eliminator, a match that shapes up as an entertaining skirmish as both have fan-friendly styles.
Shane Mosley Jr, who turned 31 in December, will never replicate his father's fistic accomplishments; his dad set the bar too high. But the younger Mosley is a solid pro who is on a pretty nice roll, having won five of his last six since losing a 10-round decision to Brandon Adams in the finals of season 5 of The Contender series. In his last outing, he out-slicked rugged Gabriel Rosado to win a regional super middleweight title.
The elder Mosley has been working with his son at Bones Adams gym in Las Vegas and will be in junior's corner on Feb. 18. It will be a double-homecoming for Pomona's favorite sons.
To comment on this story in the Fight Forum CLICK HERE
Arne K. Lang's third boxing book, titled "George Dixon, Terry McGovern and the Culture of Boxing in America, 1890-1910," has rolled off the press. Published by McFarland, the book can be ordered directly from the publisher or via Amazon.