The Trash Talk Stoking the GGG-Canelo Rumble: Is at least some of it Strategic?
The subject was trash talk, its truthful origins in some cases and its usage as a strategic tool in others. Sometimes it's a combination of both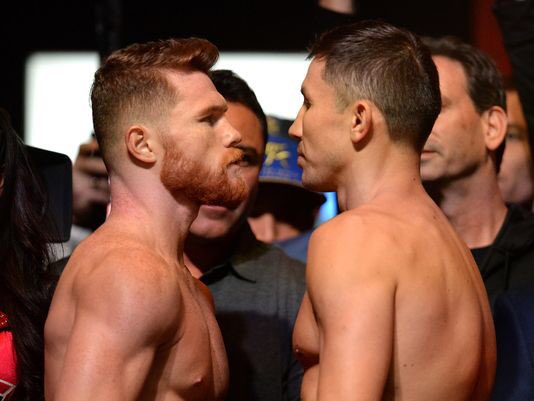 The subject was trash talk, its truthful origins in some cases and its usage as a strategic tool in others. Sometimes it's a combination of both. But separating fact from fiction beforehand can be difficult for those on the outside, so it made sense to consult an expert on the subject to weigh in on the increasingly nasty dialogue between the respective camps before Gennady Golovkin and Canelo Alvarez exchange verbal jabs for actual punches in Saturday night's HBO Pay for View rematch at Las Vegas' T-Mobile Arena.
So how about it, Bernard Hopkins? As the old commercials once advised us, is it live or is it Memorex? Great taste or less filling?
"It's real, all right. It's real on both sides," said Hopkins, who can't be described as a strictly neutral observer given his position as an executive with Golden Boy Promotions, for whom Alvarez is the principal cash cow.
But regardless of whether the charges and counter-charges, most of which are fairly dripping with venom, are 100 percent genuine hardly seems to matter at this point. The perception of bad blood between Fighter A and Fighter B can stoke wildfires of interest in a particular bout, and the methods employed for igniting the conflagration can range from clever, comical, profane and legitimate animosity. Selecting just the right format to throw a particular opponent off his game is something of an art form.
During a 28-year professional boxing career that will result in a first-ballot induction into the International Boxing Hall of Fame, Hopkins spiced his physical skills, superior conditioning and ring smarts with a tart tongue and occasional props, the most obvious being the Puerto Rican flag he twice threw down at press conferences in advance of his Sept. 29, 2001, showdown with that island's favorite son, Felix Trinidad. The gestures of disrespect so infuriated Trinidad that he boiled over with anger, wanting nothing so much as to put a beat-down on B-Hop. And while a more civil Hopkins might have won anyway, in legend and lore his signature, 12th-round technical knockout victory in a fight he was handily winning to that point is suspected by many to have been somewhat aided by his getting into Trinidad's head and making him, well, a little bit crazy.
But the insult route in the prefight mental warfare can backfire sometimes. Prior to the first installment in the classic Muhammad Ali-Joe Frazier trilogy, on March 8, 1971, Ali — whose previously preferred method of annoying the other guy was to compose trite poems predicting the exact round of that fighter's impending defeat — resorted to cruel and personal taunts, as well as portraying himself as black America's champion while holding another proud black man up to ridicule. On one televised talk show, Ali said, "The only people rooting for Joe Frazier are white people in suits, Alabama sheriffs and members of the Ku Klux Klan."
While that kind of incendiary rhetoric hyped interest in the "Fight of the Century" to a fever pitch, Ali – who later admitted he didn't really mean much of what he said, that it was just a means of making a big event even bigger – did not count on the motivational effect it had on Smokin' Joe. "Before we fought, the words hurt me more than the punches," Frazier is quoted as saying in Muhammad Ali: His Life and Times, by author Thomas Hauser.  Not nearly as verbose as Ali, Frazier exacted his revenge the only way he knew how, with a barrage of left hooks, one of which dropped his tormentor in the 15th round and served as the exclamation point for the Philadelphia slugger's unanimous decision victory. But that was one of the few instances in which Ali's trash talk didn't produce the desired result.
"When it came to mental warfare," Hopkins said, "I always won that hands down against the guys I fought. I was right behind Muhammad Ali."
A contender for Hopkins' runner-up status to Ali as the trash-talking GOAT is the now-retired (but maybe not for long) Floyd Mayweather Jr., whose curious matchup with UFC superstar Conor McGregor on Aug. 26, 2017, whom "Money" stopped in 10 rounds, was presaged by a bizarre four-city promotional tour in which the participants tried to outdo one another in the dropping of globally televised f-bombs. The slew of shouted expletives no doubt helped produce the 4.3 million pay-per-view buys and $600 million in total revenues that made the novelty bout a financial bonanza, but there were more than a few horrified onlookers who probably wished the fighters' mamas could have come on stage to wash their sons' mouths out with soap.
Nor is the often-coarse repartee restricted to boxing. Before the NFL took steps to eliminate some of the cruder stuff, it was not uncommon for homophobic slurs, verbal attacks on girlfriends and wives, even questioning the paternity of an opponent's child to be used to irritate players wearing the other team's uniform. "I love to be annoying; I'm going to do stuff that will get on your nerves," Philadelphia Eagles safety Malcom Jenkins told Joseph Santoliquito in a story that was published by PhillyVoice in March 2017. "The talk is more sanitized today than when I first got into the league (in 2009). There is a new generation of players where everybody is buddy-buddy, trading jerseys after games."
It remains to be seen how GGG-Canelo II is influenced by the relentless innuendos and flat-out accusations of impropriety. While there was grudging respect between the two in the lead-up to their first meeting on Sept. 16 of last year, which ended in a split draw, whatever goodwill that once existed between them and their camps appears to have dissipated. Golovkin and his trainer, Abel Sanchez, believed GGG had done enough to get the decision, but they hinted at darker forces behind judge Adalaide Byrd's incomprehensible 118-110 scorecard for Canelo.
Tensions would continue to mount after the originally scheduled date for the do-over, on May 5 of this year, was postponed when Canelo tested positive – twice – for the banned substance Clenbuterol. Although Alvarez and Golden Boy CEO Oscar De La Hoya claimed the failed drug tests owed to his fighter inadvertently having ingested tainted beef while training in Mexico, Golovkin has maintained that they serve as proof that the vastly popular Mexican fighter is a purposeful cheater, and probably was before his suspension that has now been lifted.
GGG, on the scoring of the first fight: "It was terrible. It was terrible for the people and, of course, it was terrible for the sport of boxing because statistics showed I landed more punches. The fans saw I wanted to fight and Canelo did not want to fight. The fans who watched it live saw the judges bringing crazy scorecards. When the decision was announced, everyone was saying, `Oh, come on! This is not real! This is not true!' Everybody was mad because those judges killed the sport that night."
Abel Sanchez, on the subject of Canelo's failed drug tests: "They (Alvarez, De La Hoya and Alvarez cornermen Eddy Reynoso and Jose "Chepo" Reynoso) keep accusing us of insulting them. There have been no insults from our side. What I've stated has been facts. Golovkin gets bothered when people try to sweep the two positive tests under the rug like nothing ever happened and it's business as usual. Canelo is the one that tested positive, twice. He's the one that created that. It wasn't us."
Sanchez, on Chepo Reynoso's claim that GGG fights "like a donkey": "Chepo Reynoso has never had an Olympian. Chepo Reynoso has never had a silver medalist. Chepo Reynoso has never had 18 world champions, as I've had. Chepo Reynoso just talks about Canelo. When he gets to my level, maybe he can speak in an intelligent manner. To hear somebody talk like that is ridiculous. It shows a lack of class, a lack of intelligence."
Sanchez, on what he thinks of Canelo as a person and as a fighter: "I don't think he's a man of honor, a man of character. I think he will run like a scared rabbit, like he did the first time."
Would you care to respond, Team Canelo?
Canelo: "What little respect we had (for Golovkin and his handlers), it's been lost. Is it personal now? Yes, absolutely. It's totally changed. They disrespected me. Everything they've been saying, everything they've been doing, their actions … now it's different. It's personal."
De La Hoya on Alvarez's motivation to punish GGG: "That's exactly what a fighter needs, and that's exactly why this is going to be a great fight. When you're a fighter and you have no respect for your opponent, magic happens. You train harder in the gym. You run extra miles. More importantly, it's mental. The mental aspect of it is at its highest level."
Eddy Reynoso: "Canelo has more talent. He's more versatile. He knows how to walk in the ring, how to make you miss, how to counterpunch. He's the total package. He is a thinking fighter, an intelligent fighter. Come Sept. 15, I can assure you two things: not only is Saul going to take away GGG's undefeated record, he's also going to shut up Mr. Abel Sanchez."
From the sound of it, Hopkins would appear to be correct. The two-way rancor is real, not mere hyperbole. Ah, but how to use that pent-up hostility to one fighter or another's best advantage?
It is Sanchez who has been constantly sniping at Canelo, claiming he fought "scared" the first time, tactics unbefitting a true Mexican warrior. Meanwhile, Sanchez keeps saying, Kazakhstan's Golovkin more closely adheres to the "Mexican Style" of fighting, which is to come forward and constantly go for the knockout.
"I remember how Canelo boasted, how Bernard boasted that Canelo was so great he was going to knock out Golovkin in the 10th round," Sanchez recalled. "I just hope he's true to his word this time. The fans are expecting the Canelo that they've seen in the past, not the Canelo they saw last year. If he's true to his words, that'll give us the kind of classic fight that we expected the first time – two guys that want to win, not one guy that wants to win and the other guy just looking to survive."
Although Alvarez has vowed to knock out GGG, he is dropping hints that he will not be lured into a toe-to-toe slugfest. "It's one thing to be coming forward like a donkey and it's another thing to be moving, dodging punches, counterpunching, even staying on the ropes without being hit," he said. "I hope (GGG) goes back to his house afterward and realizes what I've been saying about him: that he's a dumbass."
To Hopkins' trained ear, Sanchez's suggestions of a frightened Canelo's reluctance to engage at close quarters is the equivalent of the Puerto Rican flags he threw down to incite Trinidad into fighting the fight that played into B-Hop's hands. He insisted Alvarez is too savvy to fall into that trap.
"Why do you think Abel Sanchez is talking so much about why Canelo needs to fight Mexican Style?'" Hopkins asked. "It's a way of getting people to forget that Golovkin can fight only one way.
"I told Oscar a long time ago, when Canelo fought (James) Kirkland, that all that talk about Golovkin fighting `Mexican Style' was just a way to camouflage his lack of ring generalship. How do you finesse this dangerous guy, who can get you out of there at any moment of any round? You make his power work against him, like Ali did with George Foreman."
It's a given that GGG and Canelo don't much care for one another. But the outcome of their bitter feud, fueled by a desire for each to impose his will upon the other, may well hinge on which of these splendid fighters can keep a portion of his emotional need to dominate with enough mental discipline to perform under control. It is that inner struggle – the one within yourself, as well as the one as against your opponent – that often determines who survives big fights otherwise drenched in raw emotion.
Bernard Fernandez is the retired boxing writer for the Philadelphia Daily News. He is a five-term former president of the Boxing Writers Association of America, an inductee into the Pennsylvania, New Jersey and Atlantic City Boxing Halls of Fame and the recipient of the Nat Fleischer Award for Excellence in Boxing Journalism and the Barney Nagler Award for Long and Meritorious Service to Boxing.
Check out more boxing news on video at The Boxing Channel
Fast Results from London: Joe Joyce Stops Daniel Dubois in the 10th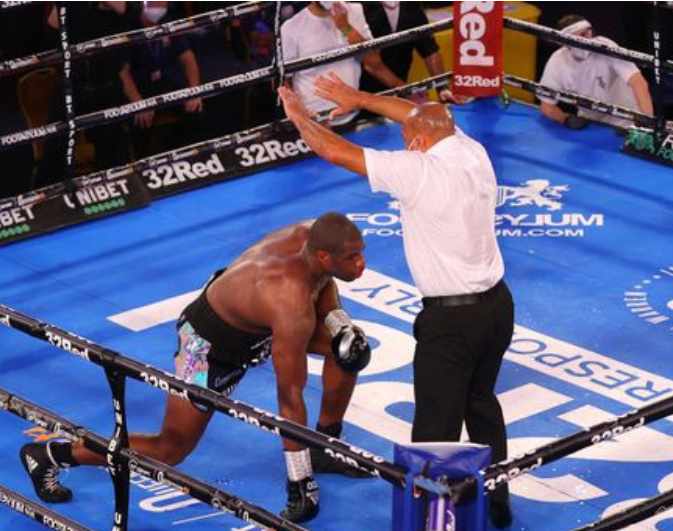 The historic Church House which sits in the shadow of Westminster Abbey was the site of tonight's clash in London between unbeaten heavyweights Daniel Dubois and Joe Joyce. The bout lacked the gloss of a world title fight, but didn't need it. The oft-postponed match, originally slated for the 02 Arena in London on April 11 with promoter Frank Warren anticipating a sellout, was fairly hyped as the most anticipated fight since Fury-Wilder II which was the last big fight before the coronavirus clampdown.
Dubois, 15-0 with 14 KOs heading in, was a consensus 7/2 favorite in man-to-man betting, He was younger, faster and punched harder, but ultimately it would be his "O" that had to go. Joe Joyce, an inch taller at six-foot-six and 15 pounds heavier at 259, emerged victorious with a 10th-round stoppage in what was a good back-and-forth fight with a divided opinion as to who had the edge through the completed rounds.
Joyce really didn't do much but throw a jab, but he landed that jab consistently and it was a hard, thudding jab that caused Dubois's left eye to start swelling during the mid-rounds of the fight. The damaged eye eventually shut and when Joyce reached it with another hard jab in the 10th, Dubois surrendered by taking a knee. The presumption was that he had suffered a broken orbital bone.
The 35-year-old Joyce, nicknamed Juggernaut, is of Scotch-Irish and Nigerian descent. He lost by split decision to Tony Yoka in the semifinals of the 2016 Olympics and had to settle for a silver medal. Prior to turning pro, he was 12-1 in the semi-pro World Series of Boxing with his lone defeat coming at the hands of Oleksandr Usyk. With today's career-defining win, he upped his pro ledger to 12-0 (11).
Other Bouts
Top-rated WBC super lightweight contender Jack Catterall (26-0) won a predictably one-sided 10-round triumph over 33-year-old Tunisian Abderrazak Houya (14-3). Catterall scored two knockdowns en route to winning by a 99-90 score. This was a stay-busy fight for the Lancashire man who was the mandatory challenger for title-holder Jose Carlos Ramirez and accepted step-aside money with the promise that he would meet the winner of the unification fight between Ramirez and Josh Taylor which is expected to come off in February.
The lead-in fight was a 10-round contest in the super welterweight division between 21-year-old Hamzah Sheeraz and 33-year-old Guido Nicolas Pitto. The fight was monotonous until Sheeraz (12-0, 8 KOs) kicked it into a higher career in the final stanza and brought about the stoppage. Pitto, from Spain by way of Argentina, declined to 26-8-2. The official time was 1:11 of round 10.
In an 8-round cruiserweight bout, Jack Massey improved to 17-1 (8) with a 79-74 referee's decision over Mohammad Ali Farid (16-2-1). Massey was making his first start since losing a close 12-round decision to Richard Raikporhe in December of 2019 for the vacant BBBofC title. The well-traveled, one-dimensional Farid had scored 16 knockouts in his previous 18 fights while answering the bell for only 33 rounds.
Check out more boxing news on video at the Boxing Channel 
To comment on this story in the Fight Forum CLICK HERE
Daniel Jacobs Edges Past Gabe Rosado on a Matchroom card in Florida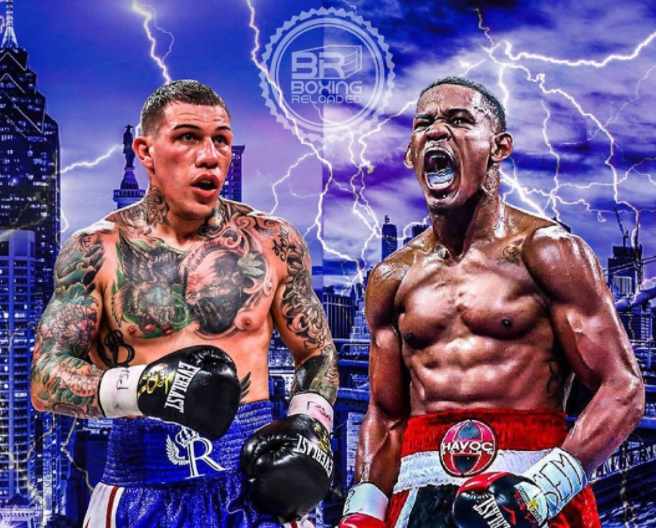 Former world champion Daniel Jacobs needed the last round to win by split decision against upset-minded Gabe Rosado and keep his place in line on Friday for lucrative super middleweight matchups.
But when the ring announcer erroneously announced the winner was from Philadelphia, confusion reigned for a moment until Jacobs was correctly called the winner.
Brooklyn's Jacobs (37-3, 30 KOs) jumped out ahead against Philly fighter Rosado (25-13-1, 14 KOs) and held on for the win in front of no fans at the Seminole Hard Rock Hotel and Casino in Hollywood, Florida. For a second, many thought Rosado had won.
Both were careful during the first three rounds measuring each other's distance and looking for openings to counter. There were very few.
It was the kind of fight expected by those who know boxing: two veterans with immense experience against top-flight world champions. Mistakes were few.
Jacobs, a former middleweight world champion, had fought Saul "Canelo" Alvarez and Gennady "GGG" Golovkin in close but losing efforts.
Rosado had battled Golovkin too, six years ago in a bloody affair that ended in a loss. He had also lost to other champions like Peter Quillin and Jermell Charlo. But none were able to knock him out.
Both were aware of each other's reputation. Bitter words had been exchanged for years and now they finally got their chance to prove their mettle and they did.
Though Jacobs was recognized as a knockout puncher, Rosado's resilience was just as well known. Both neutralized each other for most of the fight with their feints and jabs to the body. Neither was willing to leave openings for each other.
Jacobs scored big with a left uppercut at the end of the seventh round. While Rosado wowed viewers with a sizzling right cross in the 11th round.
It was 1950s style, boxing with intelligence. Each found it difficult to land combinations, let alone find openings to score knockout blows. Instead, they had to be satisfied with scoring enough to convince three judges the actual winner.
Neither was able to pull out ahead with any conviction.
After 12 rounds one judge saw Rosado the winner 115-113 while two others saw Jacobs the winner 115-113 to give him the win by split decision.
"It felt just a little weird. It felt like a sparring match," said Jacobs about fighting without fans in the audience. "This wasn't a valiant effort."
Rosado was certain he was the true winner.
"I thought I won the fight. I surprised him," said Rosado who trained with Freddie Roach for this fight. "I'm a veteran, I know how to fight."
Indeed, he does.
Jacobs now stands poised to fight one of many super middleweight champions in need of a marquee name.
"I live to see another day," he said honestly.
Other Bouts
Kazakhstan's Daniyar Yeleussinov (10-0, 6 KOs) proved he was not an easy touch and knocked out former world champion Julius Indongo (23-3, 12 KOs) to march forward in the welterweight division while grabbing the vacant IBF Inter-Continental title.
In a fight featuring southpaw versus southpaw Yeleussinov caught Indongo with a roundhouse left the first time they exchanged and down went the former super lightweight world champion. Indongo beat the count and survived the round.
Indongo wasn't as lucky in the second round as Yeleussinov again connected with a left and down went the fighter from Namibia again. He would not get up at 1:24 of round two giving the knockout win for Yeleussinov.
A battle between undefeated heavyweights saw Azerbaijan's Mahammadrasul Majidov (3-0, 3 KOs) use roundhouse rights to stagger the heavier Sahret Delgado (8-1) to win by knockout in the third round. Majidov actually helped Delgado get to his stool after knocking him out on his feet at 47 seconds of the third round.
Emmanuel Tagoe (32-1) defeated Mason Menard (36-5) by majority decision after a 10- round lightweight fight that saw a lot of clinching and leaning.
Nikita "White Chocolate" Ababiy (10-0) out-fought Detroit's Brandon Maddox (7-4-1) to win by unanimous decision after six rounds in a middleweight clash. Ababiy hurt Maddox with body shots but found Maddox more resilient than expected.
Check out more boxing news on video at the Boxing Channel 
To comment on this story in the Fight Forum CLICK HERE.
Pradabsri Upsets Menayothin, Ends the Longest Unbeaten Streak of Modern Times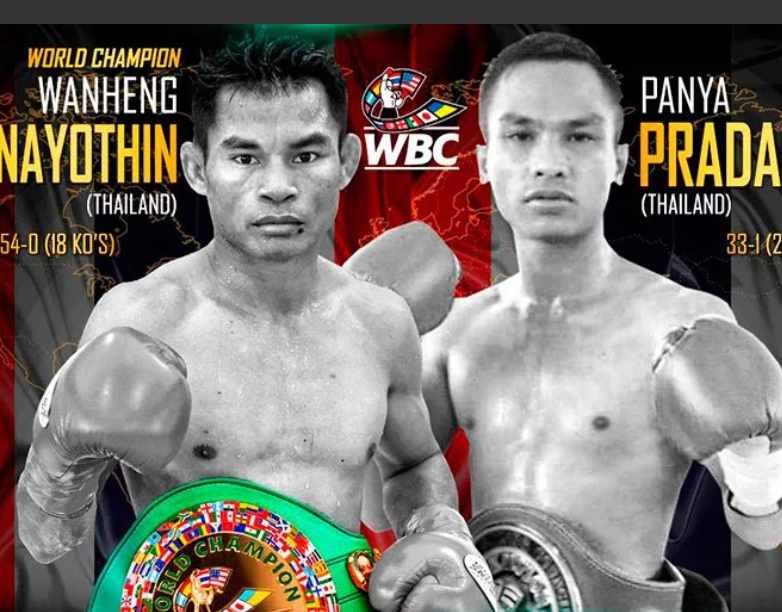 During the wee hours in the Americas, a big upset was brewing in Thailand. In Nakhon Sawan, a city roughly 150 miles north of Bangkok, Panya Pradabsri (aka Petchmanee CP Freshmart) out-pointed Wanheng Menayothin (aka Chayaphon Moonsri) in a domestic clash with international significance. Manayothin entered the bout with a 54-0 (18) record and was making the 13th defense of his WBC world minimumweight title.
Pradabsri had been defeated only once in 35 previous starts, but only 11 of his 34 victories had come against fighters with winning records. According to ringside reports, he kept Menayothin at bay with good fundamentals, a stiff jab, and good lateral movement. All three judges had it 115-113. The fight wasn't without controversy as Menayothin finished stronger and many folks scoring off the live video thought that he had done just enough to retain his title.
How good was/is Menayothin? That's a question that serious boxing fans will likely debate for decades.
In the summer of 2019, Menayothin signed a co-promotional deal with Oscar De La Hoya's Golden Boy Promotions. At time, GBP president Eric Gomez described him as one of the best fighters in the world. "We really want to bring him to the U.S. so people can see how talented he really is," Gomez told England's Sky Sports.
Menayothin was expected to make his U.S. debut in April of this year, but the pandemic ruined that plan. Earlier this year, he announced his retirement, but rescinded it after only two days.
Scottish boxing historian Matt McGrain, who has an exclusive arrangement with this web site, had lukewarm opinion of the Thai mighty-mite although he rated him the second-best 105-pound boxer of the decade, trailing only his countryman Thammanoon Niyomtrong (aka Knockout CP Freshmart).
"He is disciplined, strong, brings good pressure and is armed with a very decent range of punches," said McGrain, "(but his record) is comprised mostly of men any competent fighter would be expected to beat."
Although only one boxer from Thailand has been inducted into the International Boxing Hall of Fame (Khaosai Galaxy, class of 1999), the Southeast Asia nation has produced some outstanding boxers over the years – Chartchoi Chionoi, Sot Chitalada, Pongsaklek Wonjongkam, and Srisaket Sor Rungvisai to name just a few. The difference between these fighters and Wanheng Menayothin is that they all left the comfort zone of their homeland to score one or more important wins on foreign soil.
Menayothin may yet display his wares in a U.S. ring. But at age 35, an advanced age for small fighters in particular, we won't get to see him at his best and now that his bubble has been burst, disinviting further comparisons to Mayweather and Marciano, the curiosity factor has been tempered.
To comment on this story in the Fight Forum CLICK HERE