A Tactical Change Paid Dividends for Canelo Alvarez vs. GGG
This past Saturday night Canelo Alvarez 50-1-2 (34) won a majority decision (114-114 and 115-113 twice) over Gennady Golovkin 38-1-1 (33) to capture Golovkin's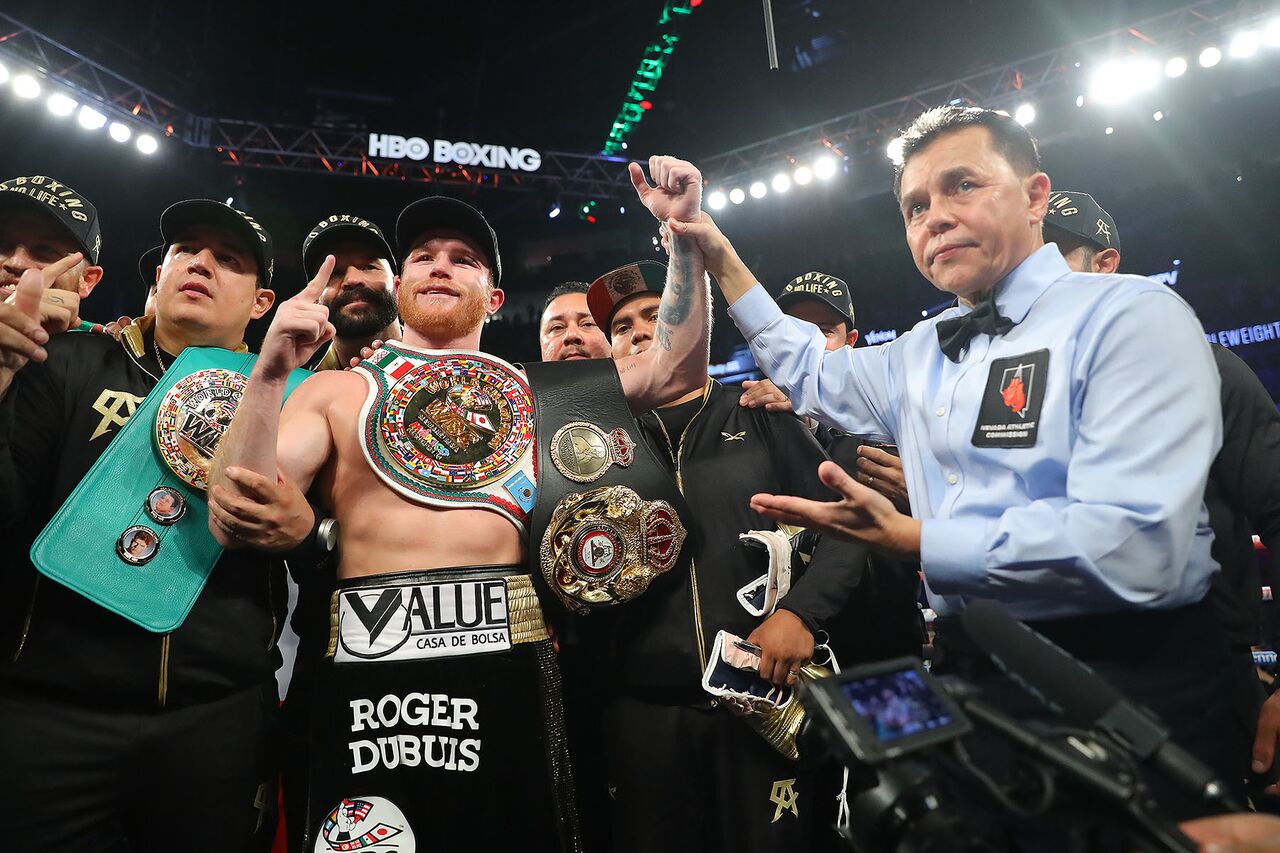 This past Saturday night Canelo Alvarez 50-1-2 (34) won a majority decision (114-114 and 115-113 twice) over Gennady Golovkin 38-1-1 (33) to capture Golovkin's three middleweight title belts at the T-Mobile Arena in Las Vegas. And like their first fight last September that ended in a majority draw, the decision has provoked controversy.
The amazing thing about Canelo and GGG is how evenly they're matched and difficult their fights are to score. I scored the rematch 6-5-1 Canelo, (after seeing the first meeting 8-4 GGG) but it was so close that it could as easily gone to Golovkin by a point. But let's get one thing clear: This fight was too close to be considered a robbery regardless of who had their hand raised. And when you take into account that Canelo forced Golovkin to fight in retreat, landed the more eye-catching shots, worked his body from the onset, and that Golovkin's face was much more puffed up and lumpy at the end (although Canelo was cut), no way was the decision in favor of Canelo an injustice.
Stylistically, GGG is an attacker and Canelo is a counter-puncher. However, Canelo answered Golovkin's trainer Abel Sanchez's call and didn't run. No, he didn't run in the first fight either, but in this fight, unlike the first, Canelo moved forward and initiated the exchanges. Golovkin's jab, which is always reliable, worked overtime and kept Canelo from owning the exchanges, but like most attackers, GGG can't hit as hard or be as effective if forced back. And because of that Canelo had no reservation in regards to forcing the fight. So when looking at what stood out the most, it was Canelo's more imaginative offense and body punching, thus forcing Golovkin to go away from what he's done best and in every other fight of his career, and that no doubt influenced the judges. Moreover, Golovkin noticeably flinched a few times at feints and was unwilling to pay the price of going to the body entailed to win.
Prior to the rematch it was said in this space how two things would unfold when they met the second time. Quoting from the June 20th TSS preview:
Based on the strategic options for both, Canelo has more room to be better and change things up to level the fight. And then there's the business side of the equation and I've been around too long to fathom that if it's closer this time GGG will get the decision. A Canelo win sets the rubber match up perfectly because in the eyes of boxing fans and PPV buyers they'll view them as being 1-1. For the reasons stated above, as much as I'd like to be wrong (and there's no fun pouring cold water on something so widely anticipated), I don't think that will be the case. It's a monumental reach for me to think GGG can win a decision unless he beats Canelo beyond recognition – which I don't believe he can. Therefore Canelo-GGG goes the distance and Alvarez, being more competitive this time, gets the decision and that sets up the rubber match for Cinco De Mayo weekend 2019.
The fact is, Canelo being the more versatile fighter completely flipped the script after fighting mostly in retreat and with his back to the ropes during most of their first encounter. His aggression and willingness to stand his ground the way GGG did the first time, projected that Canelo was the more willing fighter and he was obviously rewarded for that. Granted, Golovkin really dug down and showed his strong constitution during the second half of the fight after being told by his corner he was losing. He fought a terrific fight, as did Canelo, but it wasn't enough for GGG because he left too many rounds up for grabs, which was suicide with Canelo forcing the fight.
The result shouldn't have come as a surprise to anyone, especially since the fight was so close and could come down to whose style you liked better or who you were rooting for. There was no definitive winner of this fight. Sure, a draw would've been a fair call. The problem with that, however, is that Team Golovkin knew they had to be more assertive and erase any semblance of doubt this time, due to GGG being excoriated in some circles for not getting off enough in the last bout and never slamming the door to prevent Canelo from tightening the fight with a rally, the way he did down the stretch. This time GGG got off a little more, but that was because he was mostly fighting to prevent Canelo from overwhelming him with his aggression. In a way it's ironic how Canelo accepted the challenge and fought Golovkin in a more macho way and it knocked Golovkin off his game.
One tries not to be redundant, but like the NFL, NBA, NHL and MLB…..boxing is a business and is star driven. Saul "Canelo" Alvarez is a superstar fighter in the eyes of the boxing establishment and many fans. There's no guesswork needed to grasp that it's good for business for him to keep winning. His determination, skill and toughness exhibited against a monster like Golovkin might endear him to fans more than ever. Canelo fought a better fight than the first time and put to rest the rumor that he was aided by PEDS.
The net result is exactly what the boxing establishment, not the fans, needed. And that was a win for Canelo in a fight where it was tough to pick the winner with Canelo acting as more the predator than the prey. By forcing GGG to break more exchanges, working both the body and head, along with never appearing tired or overwhelmed, it was just enough to win the borderline rounds in the eyes of the judges and tilt the fight in his favor. In fact, Golovkin, over Canelo's protest, had Dave Moretti as a judge for the fight. He was the only judge who scored the first clash for Gennady. And this time he scored it for Canelo and may have tipped his hand when he gave the 12th round to Canelo, perhaps knowing it could swing the fight in his favor….and it did.
This decision cannot be lambasted like others we've seen. GGG didn't suffer a loss of esteem in losing and Canelo finally has a statement win over a marque fighter. They'll fight a third time and it will be perceived as a rubber match. Golovkin will be almost another year older and less than what he was this past weekend and Canelo will win more conclusively while avoiding the young lions nipping at his heels named Charlo, Saunders and Andrade.
Because boxing is and always has been star driven, Gennady just can't put enough separation between he and Canelo to get the decision. Their rematch is one of the few fights I've seen that really could've gone either way – it's just that a push usually goes to the combatant who is better for business.
The next time there's a real close fight on paper, and it's unlikely to end in a knockout or stoppage, you must ask what result better sets up the next big bout. The formula isn't fool proof. De La Hoya-Trinidad and Pacquiao-Bradley I are glaring exceptions, but more often than not you'll cash your ticket. In this case a Canelo win sets up fight three more than a Golovkin win would've….and knowing GGG won't walk away from the fortune at stake, he'll go for it.
Photo credit: Tom Hogan / Hoganphotos / Golden Boy Promotions
Between 1977 and 1982, Frank Lotierzo had over 50 fights in the middleweight division. He trained at Joe Frazier's gym in Philadelphia under the tutelage of the legendary George Benton. Before joining The Sweet Science his work appeared in several prominent newsstand and digital boxing magazines and he hosted "Toe-to-Toe" on ESPN Radio. Lotierzo can be contacted at GlovedFist@gmail.com
Check out more boxing news on video at The Boxing Channel
What Path will Yokasta Valle Choose Next?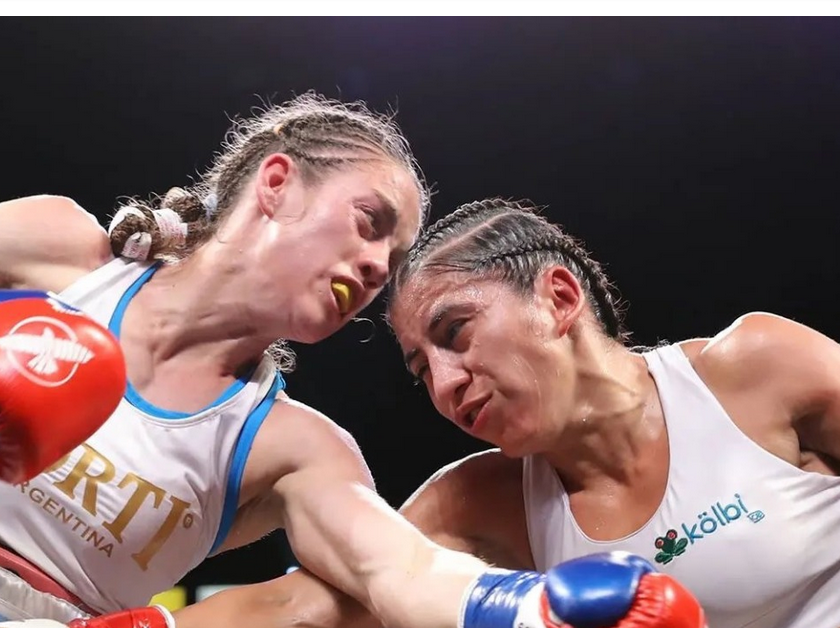 After the recent controversial ruling that made her a world champion in three different divisions, the fans of the Costa Rican Yokasta Valle are wondering: What path will the successful boxer choose next?
On Saturday, November 26th, in a fight of continuous exchanges with the then undefeated Argentine Evelyn Bermúdez (17-1-1, 6 KOs), "Yoka" Valle (27-2, 9 KOs) came out with her arm raised at the Dignity Health Sports Park in Carson, California, where she won the IBF and WBO belts, which Bermúdez was defending for the seventh and second time, respectively.
Although the Costa Rican fighter (pictured on the right) went on the attack for practically the entire 10 rounds, the exchanges were even, give and take, with good moments for both fighters, which made it difficult to evaluate each round. Hence the discomfort of many fans, especially in the Bermúdez camp, with the card of judge Adalaide Byrd (99-91), which apparently had Bermúdez prevailing in only one round. Neither did Judge Daniel Sandoval's card (97-93) represent what transpired in the ring, while Zachary Young's score of 95-95 was more accurate, distributing five rounds for each combatant.
In the case of Byrd, she also received innumerable criticism in the first fight between Saúl "Canelo" Álvarez and Gennady "GGG" Golovkin, which was held in September 2017 at the T-Mobile Arena in Las Vegas and which ended with a favorable scorecard for each boxer and another of 114-114.
At that time, Byrd had judged more than 400 fights over a 20-year span, and her discordant scorecard of 118-110 reflected Canelo winning 10 rounds and GGG only two (the fourth and the seventh). Dave Moretti leaned towards Golovkin (115-113), while Don Trella (114-114) saw it even.
CHAMPION IN THREE CATEGORIES
Born in Matagalpa, Nicaragua on August 28, 1992 and living in Costa Rica since her childhood, Valle made her boxing debut at the age of 22 in the light flyweight category. In that first experience at the pro level, she defeated Mexican María Guadalupe Gómez by unanimous decision in four rounds, on July 26, 2014, in Alajuela, Costa Rica.
Two years later, in her twelfth fight, she conquered the IBF title at 102 pounds by split decision against Ana Victoria Polo in San José, Costa Rica. In December 2017, Valle suffered her first professional failure against the local Naoko Fujioka, who won by unanimous decision at Korakuén Hall in Tokyo where they fought for the vacant WBO light flyweight belt.
Six months later, on June 16, 2018, Valle lost again by unanimous decision against German Christina Rupprecht (11-0-1, 3 KOs) in Munich, a duel that was for the WBO strawweight interim belt. Rupprecht maintains that belt and is again in Valle's sights.
Following those two setbacks, "Yoka" Valle compiled 14 victories, including the one she obtained in Marbella against Spaniard Joana Pastrana in August 2019, which she won by split decision securing the IBF 105-pound belt.
More recently, on September 8th in Costa Rica, Valle became a two-division champion at 105 pounds, by unanimously prevailing (the three judges scored the fight 100-90) over Vietnamese Thi Thu Nhi Nguyen, who ceded the WBO title. And then with her success against Bermúdez last weekend, Valle made history in Costa Rican boxing by adding her third crown in three different divisions (102, 105 and 108 pounds).
WHERE WILL YOKASTA VALLE GO NEXT?
Valle, who now owns two light flyweight titles (IBF and WBO) could next go in search of unification with Mexican Jéssica Nery (WBA super champion) or with Canadian Kim Clavel, who holds the WBC title. (Clavel and Nery collide on Thursday in Laval, Quebec.)
However, a more viable option would be to return to 105 pounds and seek a fight with American Seniesa Estrada (23-0, 9 KOs), who maintains the WBA belt, or with Rupprecht, who remains unbeaten. That seemed to be Valle's immediate objective, as she affirmed it in the ring after defeating Nguyen. In an indirect reference to Seniesa Estrada and Tina Rupprecht, Valle said "I want the belts. I've been saying it from the beginning, I want the WBC and WBA next, whoever has 'em."
At Friday's weigh-in for her fight with Bermúdez, Valle stated "I want to fight the best. I want to be undisputed. When Tina (Rupprecht) and Seniesa (Estrada) were not available, my team and I made the decision to move up in weight and challenge Evelyn for her world title belts. I have to fight. [MarvNation CEO] Marvin Rodriguez presented this fight to me. This is the type of fight I want. It is champion versus champion. I want to give the fans these types of fights."
Photo credit: Tom Hogan / Hogan Photos
Article submitted by Jorge Juan Alvarez in Spanish
Please note any adjustments made for clarification purposes and any errors in translation were unintentional.
To comment on this story in the Fight Forum CLICK HERE
Regis Prograis Knocks Out José Zepeda and Clears the Way for José Ramírez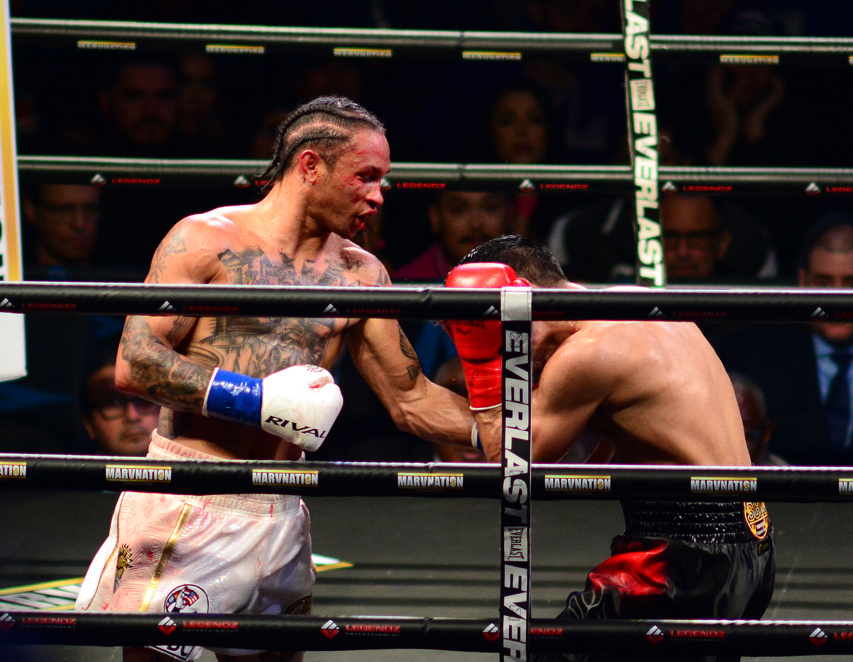 American Regis Prograis had to wait three years and a month for the opportunity to hold a world crown once again. On Saturday, November 26, at the Dignity Health Sports Park, in Carson, California, Prograis faced José Zepeda for the vacant WBC junior welterweight belt. Prograis was victorious by applying chloroform to Zepeda in the eleventh round.
Previously, on October 26, 2019, Prograis (28-1, 24 KOs) had lost the WBA junior welterweight belt by majority decision to Scotsman Josh Taylor at the 02 Arena in England.
Since then, the thirty-three-year-old Prograis who is based in Houston, Texas has obtained four wins (including vs Zepeda), all before the limit, as proof of the devilish power of his powerful fists, especially the left one.
Prior to the duel with Zepeda (35-2, 27 KOs), most experts favored Prograis, who after winning the intense battle, recognized that it was the most demanding fight of his career. "That dude is tough, tough, tough. He came to fight, he probably gave me one of my hardest fights, I'm not even gonna lie," said Prograis. "This dude is tough, bro. I've got so much respect for you. You prepared me to get this belt and hold this belt. I congratulate you. All the best to you, bro. Don't stop, I feel like you can still be a world champion."
Almost from the very beginning of the fight, Prograis showed greater speed with his hands and legs, and a general sense of technical superiority over Zepeda, who in the second round opened up a wound above his left eye with a legal blow.
From then on, Prograis's strong impacts gradually undermined Zepeda's resistance. Zepeda arrived totally exhausted in the eleventh round, where he received a straight left to the face, putting him in poor condition. A run with both fists from Prograis knocked him down and referee Ray Corona called the match with 59 seconds remaining in the round. This is the first setback that Zepeda has suffered by knockout in professional boxing.
On several occasions, Prograis has stated that he wants revenge against the undefeated Taylor (19-0, 13 KOs), but now, by order of the WBC, he must face American José Carlos Ramírez (27-1, 17 KOs).
Ramírez, 30 years old, is currently ranked second by the WBC. In February of 2019, in his second defense of his 140-pound belt, he defeated Zepeda by majority decision.
Twenty-five months later, Ramírez succumbed by unanimous decision to Taylor at the Virgin Hotels in Las Vegas, enabling the Scotsman to become the undisputed king of the category by winning the four most prestigious belts (WBA, WBC, WBO, IBF).
Recently, Ramírez expressed an interest in dueling with the main 140-pound contenders, including a second fight with Zepeda; although he did not rule out clashing with Prograis or Taylor. "Every fighter has the same amount of risk," said Ramirez. "We're a little under-promoted compared to other weight classes but I think that the best fights are at 140. You see guys fighting twice or three times, doing a trilogy. Honestly, I would love to face Regis, because I've never faced him. I would love to make the rematch with Zepeda, because he's such a good fighter. Obviously I want Josh Taylor, man. I want Josh Taylor bad."
Photo credit: Al Applerose
Article submitted by Jorge Juan Alvarez in Spanish.
Please note any adjustments made were for clarification purposes and any errors in translation were unintentional.
To comment on this story in the Fight Forum CLICK HERE
Regis Prograis and Fabio Wardley Excelled on the last Saturday of November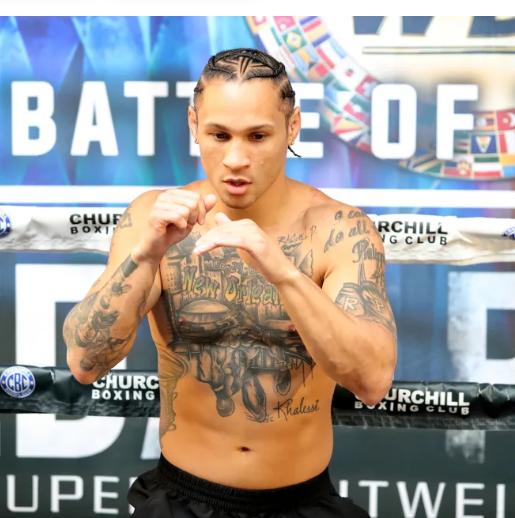 Two fighters at different stages of development – Regis Prograis and Fabio Wardley – made great gains this past weekend. Prograis, a junior welterweight, was already recognized as one of the top fighters in his weight class, but had become something of a forgotten man. Wardley stepped up in class and collapsed Nathan Gorman in the third round, registering his fourteenth straight knockout.
Prograis got a lot of ink as he was climbing the ladder, partly because of his back story. Uprooted from New Orleans by Hurricane Katrina — the awful storm demolished his family's home — Prograis found refuge in Houston but his tie to the city of his birth remained strong. The tattoos that cover his chest pay homage to NOLA, the city where he spent the first sixteen years of his life.
Then there was that colorful nickname, Rougarou, a mythical creature in Cajun folklore, similar to a werewolf. In a sport littered with hackneyed nicknames, Prograis had one that stood out from the pack.
Of course, boxing writers would not have become enamored of him if he wasn't also charismatic inside the ropes. "Prograis is a true rarity in boxing, a pressure fighting southpaw who slips and parries punches while moving forward in a patiently destructive way that might even make the great Roberto Duran feel proud," wrote Kelsey McCarson in an article that appeared on these pages.
This story ran as Prograis was preparing for his first world title fight, a match with Kiryl Relikh for the WBA 140-pound belt. Prograis won every round before stopping Relikh in the sixth. In the process, Rougarou became the first New Orleans fighter to win a major world title since Willie Pastrano controversially out-pointed Harold Johnson in 1963.
Prograis vs. Relikh was also a semifinal contest in the 140-pound division of the World Boxing Super Series, an 8-man invitational tournament. It boosted Prograis into a match with IBF belt-holder Josh Taylor, an undefeated Scotsman. They met in London on Oct. 20, 2019.
Heading into this match, there was a raging debate about whether Prograis belonged on the pound-for-pound list. That talk quieted after Taylor won a majority decision in a bruising skirmish so spirited it was named the TSS Fight of the Year.
After this tiff, Prograis receded into the shadows. His last three fights preceding his match this past Saturday with Jose Zepeda were against Juan Heraldez, Ivan Redkach, and Tyrone McKenna, none of whom offered much in the way of name recognition.
The fight with Heraldez was buried on a show anchored by a match between Gervonta "Tank" Davis and Leo Santa Cruz. His match with the uninspired Redkach played second fiddle to a fight between youtuber Jake Paul and Ben Askren. He fought Northern Ireland's McKenna on a card in Dubai that got very little attention in the United States.
Prograis was favored to defeat Jose Zepeda when they met this past Saturday at a sports park in the Los Angeles County city of Carson, but Zepeda, an LA-area native, represented his strongest test since he went overseas to fight Josh Taylor. Zepeda's only losses had come on the road in title fights with Terry Flanagan and Jose Carlos Ramirez. He dislocated his shoulder against Flanagan, forcing him to retire after two frames, and lost a majority decision to Ramirez in Fresno where Ramirez had a big following. His 35-2 (27) record included a stoppage of Ivan Baranchyk in a wild slugfest at the MGM Bubble in Las Vegas, a runaway pick for the 2020 Fight of the Year.
Zepeda edged the first round, a feeling-out round for Prograis, and held his own in round two, but from that point on until the fight was stopped in the 11th round, it was all Prograis. Indeed, his performance called to mind Vasiliy Lomachenko on one of Lomachenko's best nights.
The 140-pound weight class is top-heavy with talent. In addition to Prograis, Taylor, and Ramirez, there's Teofino Lopez plus Gervonta Davis and Devin Haney, both of whom appear poised to move up in weight. Prograis wants a rematch with Taylor, but the best guess is that he will fight Ramirez next. Regardless, he has emerged from the shadows at age 33 and figures to finally cash in on his immense talent.
Wardley
Fabio Wardley's bout this past Saturday in London with Nathan Gorman attracted more buzz than the main event (Dillian Whyte vs Jermaine Franklin) and delivered more entertainment, notwithstanding the fact that it lasted less than three full rounds.
Wardley, who turns 28 next month, hails from the historic English port city of Ipswich, near the North Sea. He was 14-0 heading in and had stopped his last 13 opponents, but there were a lot of doubts about him. His amateur experience, as it were, consisted of only four white-collar bouts and as a pro he had answered the bell for only 35 rounds. Gorman, Tyson Fury's cousin, had come up short in his first crossroads fight, getting blitzed by former amateur rival Daniel Dubois, but that was his only setback in 20 pro fights.
Gorman had all the best of it in the opening round, repeatedly finding a home for his right uppercut, and in the second frame he busted Wardley's nose wide open. But the site of his own blood emboldened the Ipswich man who decked Gorman twice before the round was over and then, in the next frame, decked Gorman again, bringing forth the white towel from Gorman's corner.
Fabio Wardley, who carried 240 pounds on his six-foot-five frame, remains very much a work in progress – foremost, he needs to tighten up his defense – but with the victory he claimed the British heavyweight title vacated by Joe Joyce and stamped himself as arguably the best of the next generation of British heavyweights.
To that list one can add the name of Johnny Fisher, the Rumford Bull, who is built along the same lines as Wardley. A hot ticket-seller with a rugby background, Fisher, 7-0 (6 KOs) is also very much a work in progress, but a fight between him and Wardley, even at this juncture of their young careers, would be a box-office bonanza.
Regis Prograis photo credit: Tom Hogan / Hogan photos
Arne K. Lang's latest book, titled "George Dixon, Terry McGovern and the Culture of Boxing in America, 1890-1910," has rolled off the press. Published by McFarland, the book can be ordered directly from the publisher (https://mcfarlandbooks.com/product/clash-of-the-little-giants) or via Amazon.
To comment on this story in the Fight Forum CLICK HERE