An Unofficial Judge Scored 9 Rounds for Canelo; Feel Free to Hoot and Holler
The auxiliary press section at the T-Mobile Arena is quite a distance from the boxing ring. I've been in auxiliary press sections before, but never one that was up so high. It was here that I found myself on Saturday night, peering down on the ring far below and like everyone else checking out the big screen between rounds for a closer look at key moments.
From this vantage point, the ring is both smaller and bigger. It's bigger in the sense that it opens things up a bit. Your eyes see more space between the fighters and you are better able to judge which fighter is controlling the distance. Think of the picture from the overhead cam in a football game. Looking straight down, the playing field doesn't look as congested. The holes that open for a North-South running back bursting into the secondary get wider and from this panorama you are better able to judge the work of the offensive line.
Having said that, this is really no place to adequately judge a boxing match, so I can be forgiven for scoring the fight 9-3 for Canelo. For what it's worth, however, the fellow on my right had it the same. The fellow on my left had it somewhat tighter, but also scored it for Canelo. And for the record, neither of these guys were Hispanic so they weren't blinded by tribal loyalty.
At the T-Mobile, when the main event ends, the scribes in the auxiliary press section are literally held hostage. They are prevented from going down to the post-fight press conference until the arena has thinned out.
This reporter couldn't get his laptop to function properly and had no patience. I'm not comfortable working on my cellphone, so it was imperative that I get home in a jiff and be there when David Avila's ringside report turned up in my e-mail. On a fight of this magnitude, the boss wants the bread-and-butter post-fight story up on the site in a hurry.
Aware of the hostage situation, and my own technological limitations, I had the foresight to scope out the arena for an escape route just in case I needed to get away fast. And so, before a hostage-taker could rope me in, I was off and running, scurrying down a little used staircase. I had my car parked in the right spot for a quick getaway, traffic was light, and I was home at my work desk in less than 30 minutes.
I didn't wait around to hear the scores. To me it was a foregone conclusion that Canelo would have his hand raised. Heading home, I had the car radio tuned to an all-sports station. And when the scores came across the radio, I thought to myself, well, I was wrong and I was right. I thought GGG would win and I was wrong about that, but I was right, I thought to myself, that the judges would be disposed to give GGG the close rounds. In my mind, the scores (114-114 and 115-113 twice) gave GGG the best of it. Granted, several rounds were tough to score, but yet the fight wasn't that close.
Au contraire !
To my amazement, the vast majority of those seated in the ringside press section scored the fight a draw or had it shaded toward Triple-G. In fact, according to one survey, which included those in the building and a select few watching at home or in a TV studio, only two of the 59 people that were polled had it for Canelo with 17 scoring it even. The most cantankerous of the GGG faction was ESPN analyst Teddy Atlas who apparently had it 117-112 and labeled the decision a robbery.
No I won't defend my scoring. Let me see the fight on TV (and with the sound off, natch), and I'll get back to you. But I'm still flabbergasted that my score was so out of whack with the consensus.
Odds and Ends
Although the fight was announced as a sellout, there were empty seats scattered around the arena. The announced attendance was 21,965, roughly 1,400 less than for the first encounter last September.
The first Canelo-GGG bout set the attendance record for an indoor fight in Nevada and came in third all-time in gate receipts, surpassed only by Mayweather-Pacquiao in 2015 and Mayweather-McGregor in August of last year. But that's a distant third to the leader. The gross gate for Canelo-GGG I ($27,059,850) was far below Mayweather-Pacquiao which raked in an astounding $72,198,500.
Although there's more money in circulation each year and more fat cats willing to pay an enormous sum to attend a mega-fight, I doubt the Mayweather-Pacquiao record for gate receipts will be broken any time soon.
The crowd, needless to say, was skewed heavily toward Mexicans and Mexican-Americans. And while it's often said that members of this ethnic group are true fight fans, the reality is that when they come to Las Vegas they act just like the Anglo high rollers, which is to say that they arrive at a big fight fashionably late.
When the first of the four PPV fights started, the arena was not more than 15 percent full. When the semi-main started, the arena was perhaps one-third full, notwithstanding the fact that it was a title fight featuring a boxer from Tijuana.
The old outdoor fights at Caesars Palace were thick with celebrities who were acknowledged by the ring announcer. Saturday's fight at the T-Mobile was something of a throwback. The roll call included movie stars Denzel Washington, Will Smith, and Mark Wahlberg, comedians Dave Chappelle and Cedric the Entertainer, and sports personalities Lebron James, Charles Barkley, Dale Earnhardt Jr., and Triple H – to name just a few.
Standing in the ring as GGG and Canelo made their way from their dressing rooms was a fashionably dressed woman wearing a dress that one would associate with a Latin country. I assumed she was there to sing the Mexican National Anthem. In my younger days, the Mexican National Anthem was sung so often at big fights in Las Vegas that I could eventually mouth the words.
But no, there was no National Anthem whatsoever, neither U.S., nor Mexican, nor Kazakhstani. I was told that they did do anthems before the first of the preliminary fights. This would have been about 3:00 in the afternoon when there were not more than a few hundred people in the joint.
Was this a reaction to the brouhaha set in motion by Colin Kaepernick? That's a fair assumption.
Not only were the anthems missing, but so also was Michael Buffer, a fixture at HBO shows for decades. I'm told that he now works exclusively for Eddie Hearn. He'll be back on the job this coming Saturday at Wembley Stadium in London.
Joe Martinez, Buffer's replacement, did a solid job, as did referee Benjy Estevez who was working his first big fight in Nevada. Of course, Canelo and GGG made it easy for him. No matter your opinion of the scoring, I think we can all agree that these two great warriors engaged in a very clean fight.
By all accounts, this was a very good fight for the bookies. The expectation that there would be late Canelo money in Las Vegas on Mexican Independence Day weekend wasn't born out. At one establishment, the odds favoring GGG rose from 7/5 to 9/5 (minus-180) in the last few hours of betting. I'm told that it nicked above 2/1 at a few places offshore.
Check out more boxing news on video at The Boxing Channel
Carlos Morales and Mercito Gesta Fight to a Technical Draw in L.A.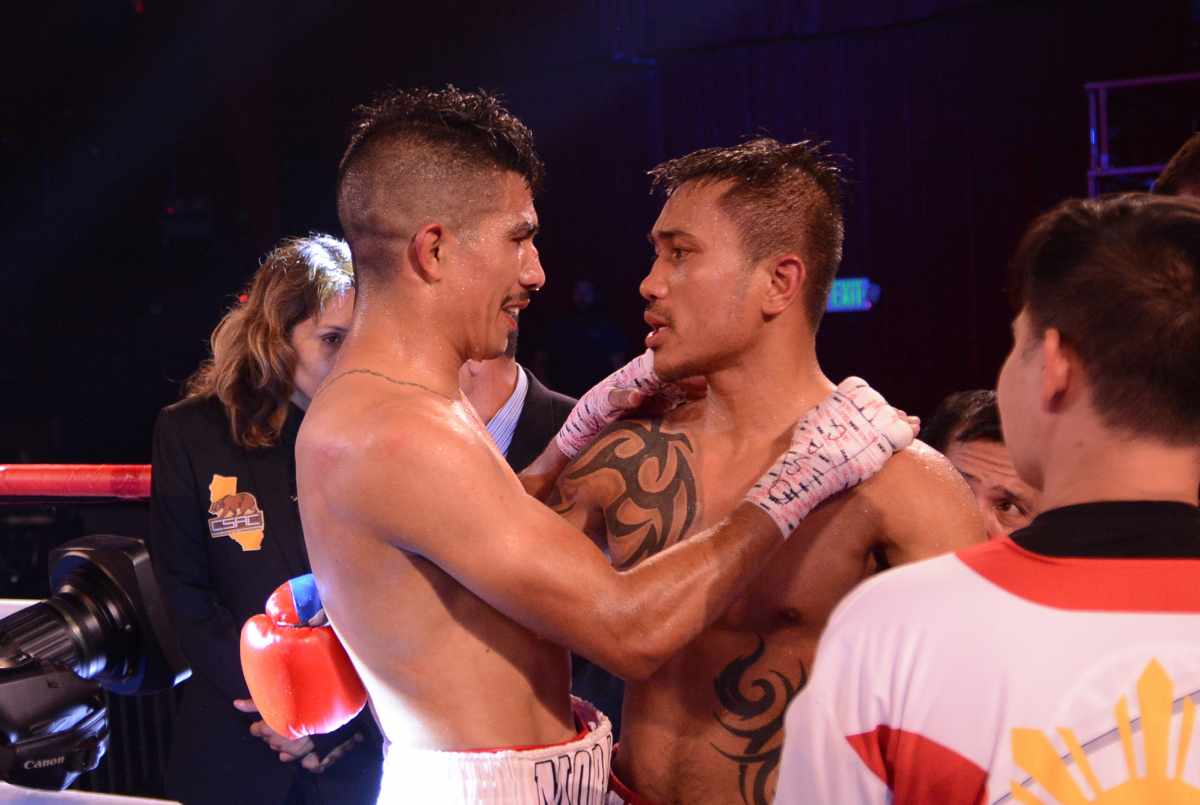 LOS ANGELES-Two of L.A.'s most popular prizefighters collided with Mercito "No Mercy" Gesta and Carlos "The Solution" Morales matching wits and crowds before an accidental clash of heads ended the lightweight fight in a technical draw on Thursday night.
It was fun while it lasted.
Gesta (32-3-3, 17 KOs) and Morales (19-4-4, 8 KOs) tested each other before a sold out crowd at Belasco Theater. Both combatants brought their small armies of supporters to the downtown entertainment venue. It was colorful and it was loud.
Behind a small coterie of fans carrying blue, white and red flags, Gesta walked into the boxing ring with a well-known resume that includes two world title challenges. Morales walked with banda music playing loudly as he trotted into confidently to meet the classy Filipino fighter. The crowd was anxious.
Both fighters found it tough to connect against each other. Their defense was tight and their punches tighter. But soon Morales began finding the range and began shooting rights to the body and head.
Gesta, 32, a southpaw who moves smoothly on his toes, needed a little time before he began finding the range with body shots and shorter punches. In the third round, as the fight was heating up, a clash of heads occurred during an exchange of blows. Morales emerged with a small cut above his left eye. It would not go away.
For three more tense rounds the two popular fighters tested each other's defense and neither could surge ahead to any definitive advantage. At the end of the sixth round the ringside physician looked at Morales and ruled he could not continue. According to California State Athletic Commission rules the fight was stopped because of an accidental cut and would go to the scorecards.
"The ref said the cut was too deep. I had trouble seeing out of my left eye. The medicine kept getting in my eye, and I kept trying to get it out," said Morales, 29.
One judge saw Morales winning 58-56, but two others saw it 57-57 to make it a technical majority draw.
"I wanted to keep going, and I know he wanted to keep going," said Gesta. "But that's the way it is. This is boxing, and it happens. We can definitely do this again if the fans want it."
Other Bouts 
Puerto Rico's Jonathan Oquendo (31-6, 19 KOs) shut out Charles Huerta (21-7, 12 KOs) a local fighter by winning every round in their 10 round super featherweight showdown fought mainly in the trenches.
After a close opening round that saw Oquendo barge in and hold, Huerta seemed to be unable to match the Puerto Rican fighter's energy. He was always a step behind in every round as Oquendo barreled his way inside and simply out-hustled Huerta. It was a surprising display for the local fighter from Paramount who has a large fan base.
All three judges correctly scored it the same 100-90 for Oquendo.
"I knew he was the kind of fighter who likes to trade and I think I used that to my advantage," said Oquendo.
Texas super welterweight Travell Mazion (16-0, 12 KOs) won a hard fought 10 round bruising battle by unanimous decision over Mexico City's Diego Cruz (19-8-2, 15 KOs). Both landed crushing blows against each other from the opening bell but it was the taller Mazion who was able to use his skills and size to his advantage. Surprisingly there were no knockdowns despite crushing blows from Cruz left hooks and Mazion right hand scud missiles.
Cruz had never been knocked out and though Mazion clobbered him with some bombs he also took a few himself to show he also has a pretty good chin. After 10 rounds one judge saw it 98-91 and two others 99-90 all for Mazion. Both hugged it out after the war.
"He was really tough. I knew he was going to come in with some hell of a shots, and he did, but I knew I was going to come up top," said Mazion who fights out of Austin.
A battle between southpaws saw Evan Sanchez (6-0, 5 KOs) blast out Mexico's Hector Hernandez (2-2, 1 KO) in a mere 23 seconds of their welterweight clash. If you blinked it was over as California's Sanchez and Hernandez immediately exchanged and the undefeated lefty landed a crisp right hook and left cross combination that delivered Durango's Hernandez to the floor. Though he beat the count, referee Raul Caiz saw that Hernandez was unsteady on his feet and stopped the contest giving Sanchez the win by knockout.
Undefeated lightweight Oscar Acevedo (6-0), a southpaw, had a little trouble with Darel Harris (3-18-1) but was able to pull out the win by landing the stronger punches. Harris gave problems with his skittish movements but only landed touch punches and seldom connected with any power. It works in the amateurs but not in the pros with judges that are looking for punches with force. After four rounds one judge scored it 39-37 and the other two 40-36 all for Acevedo who hails from Kansas.
Photo credit: Al Applerose
Check out more boxing news on video at The Boxing Channel 
To comment on this story in The Fight Forum CLICK HERE
New Zealand Heavyweights Fa and Ahio Have a Home Field Advantage in Utah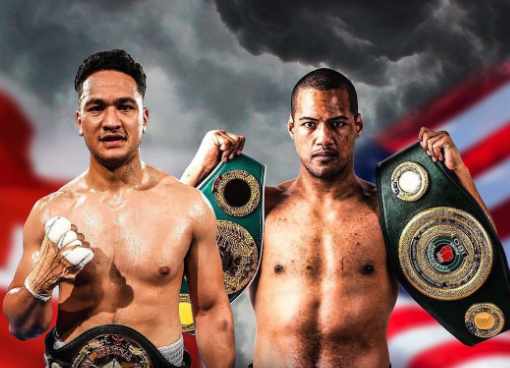 "Go West, young man," said Andrew Greeley, a New Hampshire man by birth best remembered as the founder and publisher of the New York Tribune. Boxing promoter Lou DiBella, a hard-shell New Yorker, is the latest to heed Greeley's famous admonition. This Friday, Nov. 15, DiBella is anchoring his long-running Broadway Boxing series in Salt Lake City.
With heavyweights Junior Fa and Hemi Ahio appearing in the main bouts, the Utah city was a natural destination. Fa (18-0, 10 KOs) and Ahio (15-0, 10 KOs) are New Zealanders, but their family roots are in the kingdom of Tonga.
Approximately one in every four Tongan-Americans resides in Utah. There are more than 9,000 Tongans in Salt Lake County, roughly a third of whom reside in Salt Lake City proper.
The presence of a large body of Tongans in Utah is a residue of the work of Mormon missionaries in Polynesia in the late 19th century. The population of Tonga is now about 60 percent Mormon. As a percentage of the population, Tonga ranks #1 in Mormons (more formally members of the Church of Jesus Christ of Latter Day Saints). Regional rival Samoa is #2.
It figured that when land became hard to acquire in Tonga, an agricultural nation, many emigrants would choose to settle in Utah where they knew they would be welcome.
In Utah, Tongan and Samoan males are noted for their prowess on the football field. The best high school players in the Beehive State are disproportionately Polynesian, and overwhelmingly Polynesian in the offensive and defensive lines. There's now a fierce tug-of-war for their services between Utah's two major universities and out-of-state schools, particularly schools in Washington, Oregon, and California. The head football coach at BYU, Kalani Sitake, was born in Tonga, but even he has had limited success in slaking the scattering of standout Polynesian players to out-of-state schools.
Tonga is a small country, so it's no surprise that few Tongans have made their mark in professional boxing. Paea Wolfgramm was an Olympic silver medalist whose pro career never did gain traction. He retired with a pro record of 20-4 after getting stopped by Corrie Sanders. Samson Po'uha, who fought out of St. George, Utah, was a great prospect who lacked the discipline to maximize his potential. He was stopped by journeymen Jesse Ferguson and Craig Payne and by Andrew Golota.
As weird as it sounds, if Junior Fa and Hemi Ahio are looking for a former boxer to serve as a role model, we would suggest Vai Sikahema. Yes, the same Vai Sikahema who set NCAA records for punt returns at BYU, was a great special teams player in the NFL and, in retirement, settled into a nice career as a TV personality in Philadelphia.
Sikahema, who was born in Tonga, boxed in the amateurs. In 2008, 15 years after he left the NFL, Sikahema was matched against former baseball star Jose Canseco in a celebrity fight in Atlantic City. Sikahema gave away seven inches in height and 40 pounds, but he blew right through Canseco, knocking him down twice before the bout was stopped in the very first round.
Of the two Kiwi heavyweights on DiBella's Salt Lake City show, Junior Fa is the most advanced. As an amateur, Fa, now 30 years old, split four fights with fellow New Zealander Joseph Parker who went on to win the WBO version of the world heavyweight title. He twice represented Tonga in the Commonwealth Games and had eight bouts in the semi-pro World Series of Boxing where he defeated highly touted Arslanbek Makhmudov and lost a 5-round decision to Oleksandr Usyk.
In his last two starts, Fa knocked out Neufel Ouatah, a hapless Frenchman, in the opening round and was extended the full 10 by ancient Dominic Guinn. For the Guinn fight, he carried 259 ½ pounds on his six-foot-five frame.
On Friday, Fa is matched against Toledo's Devin Vargas, a former U.S. Olympian. As a pro, Vargas's career was moving along smoothly until he was stopped in the sixth round by Kevin Johnson. By all appearances, Vargas then lost his passion for boxing. Fighting sporadically, he's 4-4 since then with all four losses coming inside the distance. But in his last fight in August in Massachusetts, Vargas stopped house fighter Niall Kennedy so perhaps his enthusiasm for boxing has been re-kindled.
Hemi Ahio, 29, kas fought once previously in the United States, stopping unnoteworthy Ed Fountain on a DiBella show in Columbus, Ohio. His last start was in Saudi Arabia where he knocked out an undefeated (7-0) fighter from Germany who had previously fought only cadavers.
Short for a modern era heavyweight at 6'0", Hemi's torso coupled with his aggressive style of fighting has led some to anoint him the Tongan Tyson. He's matched against fluffy Joshua Tufte (19-3, 9 KOs) who hails from Kernersville, North Carolina, and probably would have no stronger chance of winning if the fight were being held in Kernersville.
The Nov. 15 edition of Broadway Boxing will be live streamed on UFC Fight Pass starting at 8 pm PST/11 pm EST. Topping the undercard is a 10-round welterweight contest between Brooklyn-based-Ukrainian Ivan Golub (17-1, 13 KOs) and Columbia's Janer Gonzalez (19-2-1, 15 KOs).
There's something intrinsically magnetic about an undefeated heavyweight who may have a big upside, even if he's being thrust against an opponent with scant chance of causing a derailment. On Friday we get two for the money and considering the venue, it's a safe bet that both will bring their "A" game.
Check out more boxing news on video at The Boxing Channel 
To comment on this story in The Fight Forum CLICK HERE
Avila Perspective, Chap 73: Gesta vs Morales, Celebrity Boxing, Liston and More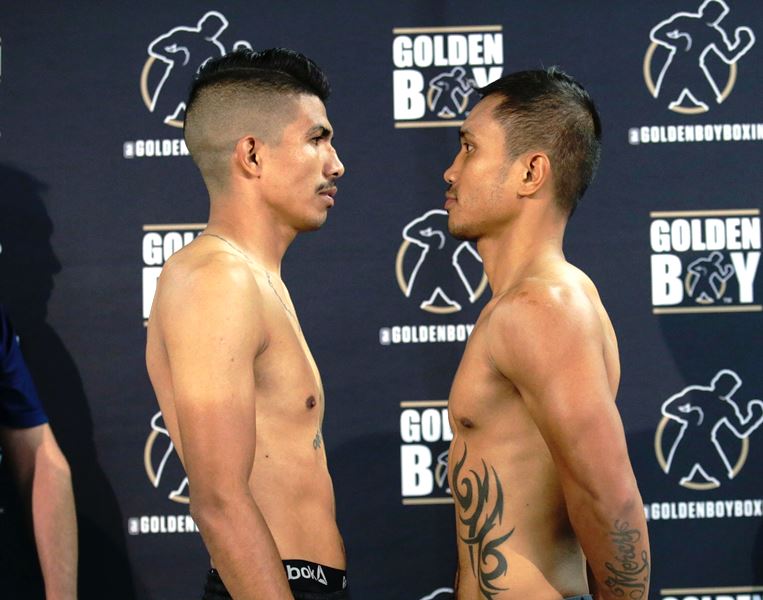 One of the rewards for journalists following smaller boxing cards is watching new talent emerge. Every so often you spot the gold nuggets among the heap.
Some fighters stand out immediately before even stepping in the prize ring. Others walk in hesitantly with dirty towels wrapped around their shoulders.
On Thursday, Carlos "The Solution" Morales (19-4-3, 8 KOs) and Mercito "No Mercy" Gesta (32-3-2, 17 KOs), who arrived on the hard road of boxing, meet in a lightweight match set for 10 rounds at Belasco Theater in downtown L.A. DAZN will stream live.
Two classier guys you will never meet than Gesta and Morales.
Gesta, a southpaw from Cebu, Philippines, arrived in 2007 and immediately found work on casino fight cards in Arizona, California and Nevada. His athleticism was obvious and he raced through competition till he met Mexico's Miguel Vazquez for the IBF lightweight world title.
In that first loss, fans learned what Gesta was all about. He was gracious in defeat and fans loved his character. From that point on more people wanted to see the Filipino lefty perform. After Top Rank let him go, Golden Boy Promotions picked up his contract and he became a staple on the Southern California fight scene.
Win or lose, fans adore Gesta who was trained by Freddie Roach at the Wild Card Boxing club in Hollywood but now works with Marvin Sonorio. A decision loss to WBA lightweight titlist Jorge Linares at the Inglewood Forum did nothing to diminish Gesta's fan base.
"I need challenges and I like challenges," said Gesta during an interview with Beto Duran on Golden Boy's Ring Side show. "I still feel great and still feel in the game."
How could you not like a fighter like Gesta?
On the opposite corner at Belasco Theater will be "The Solution" Morales.
When Morales first entered the professional fight scene he stumbled a bit with a loss then three consecutive draws. I saw all four fights in person. The Mexican-born fighter needed about two years to figure out what worked for him.
He's found it.
Morales, a gym rat if I ever saw one, purchased his own gym in the Alhambra area. He's a family man, worker and businessman all rolled into one. The Mexican fighter needed time to discover his assets in the ring and use them in a productive manner.
Though he's lost three of his last six fights they all came against top competition such as world champion Alberto Machado, ranked contender Rene Alvarado and current star Ryan Garcia. In each and every one of those fights Morales was up to his neck in battle.
"I definitely need a win over a name like Mercito Gesta," said Morales. "He's been in the game a long time."
In local gyms he spars with many of the best and on occasion they understand what "the Solution" is all about.
"He is very, very good," said one visiting Japanese fighter who witnessed Morales knock out a sparring partner in one particular session. "A very professional style."
Both Gesta and Morales represent the side of Los Angeles most fans don't get to see. Once upon a time, matchups like these were common in the L.A. area. Golden Boy Promotions has been slowly building up these local fighters and if you have paid attention you know this will be a firecracker of a show.
This is a 1930s kind of match you used to see at the old Olympic Auditorium or Hollywood Legion Stadium when guys like Speedy Dado, Baby Arizmendi, Chalky Wright and Newsboy Brown would fight each other and fill the arena. Dado would bring the Filipino crowd, Arizmendi the Mexican crowd, Wright the African- American fans, Newsboy Brown the Jewish fans and so on.
Gesta versus Morales has that 1930s flavor. If you close your eyes you might expect a ghost or two from boxing's past to be in attendance at Belasco Theater. It's an old venue where famous bandleaders like Duke Ellington once played. It's got a lot of history and this fight was tailor-made for the old stylish building.
Celebrity Boxing
Nowadays celebrities come from different directions.
Last week, celebrities who gained fame via social media avenues like YouTube.com, Twitter and Instagram, arrived at the Staples Center in Los Angeles with hands wrapped, gloves on and a license to box professionally.
Their names were not familiar to regular boxing fans, but to millions of youngsters and young adults who do not normally follow boxing, these guys named Logan Paul, KSI and Joshua Brueckner were super stars.
It was a massive hit according to DAZN and Matchroom Boxing, the promoters.
I walked around the arena to take a look at the people arriving to see the boxing card. What I saw were moms and their sons and daughters, groups of girls in their early teens, and pale boys who normally don't see much sun because they're usually planted behind a computer playing video games. They all had a blast.
Most of these fans had never seen live boxing and got their first glimpse of prizefighting at a high level when Ronny Rios defended his WBA Gold super bantamweight title against Colombia's Hugo Berrio. The Santa Ana fighter Rios came out firing thudding body shots that echoed in the arena. You could hear the responses from the new fans who openly expressed their amazement with a roar of applause at the display of power.
It's one thing to see a fight but a whole new thing to hear power shots bouncing off another human being. Rios pummeled Berrio up and down and eventually knocked out the Colombian with a three-punch combination in the fourth round. Fans were awestruck.
You never forget your first live prizefight. It burns in your memory forever. All of these new fans will never forget watching a live boxing card.
Watching the responses of the new kind of crowd was an experience in itself. Many of these fans will return for more. Their excitement was pure and untainted.
Showtime
A feature documentary visiting the life of Sonny Liston called "Pariah: The Lives and Deaths of Sonny Liston" makes its debut on Friday Nov. 15 on Showtime at 9 p.m. (PT).
Liston was one of the most mysterious and feared heavyweight champions of all time. Read the story by Bernard Fernandez to get a preview of what to expect from the documentary. It's riveting stuff: https://tss.ib.tv/boxing/featured-boxing-articles-boxing-news-videos-rankings-and-results/61445-from-womb-to-tomb-the-fate-of-sonny-liston-was-seemingly-preordained
Though Liston died 49 years ago in December 1970, he's still discussed by boxing people especially in Las Vegas where he lived and died.
Fights to Watch (all times Pacific Coast time)
Thurs. DAZN 7 p.m. Mercito Gesta (32-3-2) vs Carlos Morales (19-4-3).
Fri. ESPN+ 12 p.m. Rocky Fielding (27-2) vs Abdallah Paziwapazi (26-6-1).
Fri. Showtime 7:30 p.m. Erik Ortiz (16-0) vs Alberto Palmetta (12-1).
Sat. ESPN+ 12 p.m. Lee McGregor (7-0) vs Kash Farooq (13-0).
Photo credit: Kyte Monroe
Check out more boxing news on video at The Boxing Channel 
To comment on this story in The Fight Forum CLICK HERE