Avila Perspective, Chapter 15: Las Vegas Boxing Journal
Usually the world of boxing has two massive fight weekends, but this year it was down to one. All of that pent-up energy had to be released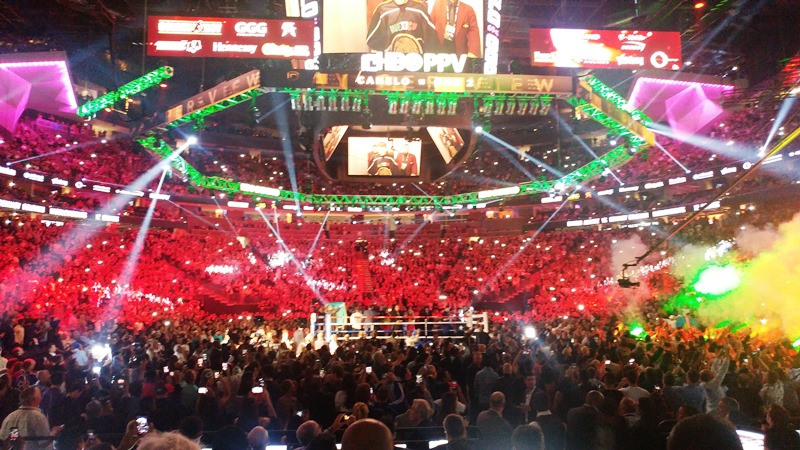 Usually the world of boxing has two massive fight weekends, but this year it was down to one. All of that pent-up energy had to be released and this past weekend, for Mexican Independence Day, it all came pouring out.
Las Vegas was my destination once again.
In the last four years the Nevada gambling capital has seen fewer and fewer boxing cards as other destinations like New York, Texas and California have gobbled up fight dates. What used to be almost a monthly journey has been whittled down to twice a year.
When it comes to staging a mega event, you just can't beat Las Vegas. Saul "Canelo" Alvarez meeting Gennady "GGG" Golovkin for the second time definitely qualifies.
I was supposed to drive up Thursday morning with photographer Al Applerose but we could not coordinate our schedules. It was important to leave early to reach the Hard Rock Hotel and Casino where the Golden Boy Promotions card featuring Maricela Cornejo versus Franchon Crews for a world title was being held. Starting time for the fight card was 2 p.m. because of ESPN.
By the time I checked into my hotel and drove over to the Hard Rock, it was already 3 p.m. Surprisingly, a decent crowd was there mostly to see Cornejo vs. Crews. ESPN televised the event and despite the early start time fans and celebrities were in the house.
It had been 14 years since that network had televised a female world championship bout. I remember because I saw that fight in 2004 and it was a doozy.
Finally, another female world title fight and it was great to see two female warriors finally get their day under the spotlight. After 10 rounds Crews won by majority decision and the green WBC belt was wrapped around her waist. Watching the joy on her face was priceless.
If you have followed me as a reader then you know female boxing has been a favorite passion. I truly believe it will rival male prizefighting one day, maybe soon. The world of MMA has proven it can be done as Ronda Rousey so emphatically showed.
Women prizefighters will get their day.
After the fight we headed to the Pink Taco mainly because they serve decent margaritas. I'm kind of a connoisseur of the drink. The first one I received was passable, but that second one was pretty good. Our group consisted of two reporters from Japan and Applerose, the photographer. Tacos and margaritas for everyone.
Friday
No fights were scheduled for Friday but the weigh-ins and press conferences were stacked together. I moved from my hotel and drove to Summerlin where a friend of mine has a place. He had invited me to stay and was insistent.
My friend is known as "Mr. Las Vegas." It's a name given to him the great Fernando "El Feroz" Vargas who now lives in Vegas. He gave him this nickname because no one knows Las Vegas like this guy (that I won't name unless he gives approval). This 40-something year old gentleman was born and raised in the casino city and has been involved in boxing, MMA and personally knows the high rollers and political powers of the city and state.
Mr. Las Vegas invited me months ago but he's always on the go and sometimes it slips his mind so I booked a room just in case. But, he was adamant about me staying with him and we go back a ways.
He's also a big proponent of women's boxing.
I headed back to the Strip to the MGM media center where a press conference for Tito Ortiz and Chuck Liddell was taking place. The media was in force. Easily 200 were already in the David Copperfield Theater at 10 a.m.
Maybe it was the free breakfast that enticed reporters and photographers to get up early. It was amazing to see so many media members on a Friday morning. It was a mad scramble.
The theater is fairly large and from a distance I could spot many friends and colleagues. During the face-off Liddell and Ortiz squared off and Oscar De La Hoya looked like a midget between the two. They will be fighting at the Inglewood Forum on Nov. 24. Golden Boy Promotions is the promoter for the pay-per-view event. It will be the third time the MMA stars clash.
So while Dana White delves into boxing, De La Hoya delves into MMA. Strange happenings.
Later that Friday a press conference for Yuri Gamboa was staged by the Cuban fighter himself at Gonzalez Gonzalez restaurant in the New York, New York Hotel and Casino.
Gamboa briefly had a contract with Golden Boy, and had been connected to Top Rank and Fifty Cent. The slick southpaw (is there any other kind of lefty?) seeks another chance to hit a jackpot in the boxing ring.
About two dozen reporters met at the Mexican restaurant eatery. Gamboa was busy speaking to each reporter one-by-one and helped by a small group of publicists including New York sharp Ed Keenan. Food and drinks were great.
Last year Gamboa was quite busy and had four prizefights. His lone loss was against Mexico's extremely dangerous Robinson Castellanos who stopped the Cuban at the end of the seventh round in Las Vegas.
So far this year, no fights. It's a primary reason he's doing it himself on a risky pay-per-view show.
"I can't depend on anyone else," said Gamboa. "If I want to advance. I feel I should do it myself. I have experience and knowledge in professional boxing."
Gamboa, 36, will fight Mexico's Miguel Beltran on Nov. 20, in Miami, Florida. He will be the main event. The co-main event will be Puerto Rico's Juan Manuel Lopez meeting Jesse Rodriguez. If all goes well, the two former world champions will meet each other sometime next year.
"I still have goals to accomplish," said Gamboa.
Super Lightweight Title Clash
While sitting around eating and drinking at the Mexican restaurant, the ESPN fight card featured Jose Carlos Ramirez and Antonio Orozco fighting for the WBC super lightweight world title. It was body puncher versus body puncher and that means fireworks.
Ramirez had not faced anyone who could match punch output with him until that Friday night. I expected Orozco to fire all his guns and that's exactly what he did.
For 12 volatile rounds the two 140-pounders fought at 100 miles an hour and though Ramirez won the majority of the rounds according to the judges, each round in itself was a battle.
Orozco, 30, is a very mild-mannered gentleman outside the ropes, but inside he's one of the most fierce body punchers in the business. He has fought for Golden Boy Promotions for a number of years and may have passed his peak two years ago.
Ramirez, 26, was making his second defense of the world title he won almost a year ago and fights under the Top Rank banner. Whenever these two promotion companies go against each other it's like the Dodgers and the Giants. No mercy.
The titleholder Ramirez was fighting in front of the adopted hometown of Fresno and floored Orozco twice with body shots and head shots. You would have expected Orozco to wilt but every time he was dropped he came back with a ferocious attack.
It was a gripping fight to watch.
As I sat at the bar in the Mexican restaurant with photographer Applerose, we couldn't help but admire the spirit that both fighters showed for 12 rounds. Crowds gathered around the bar to watch the final three or four rounds. A few had noticed us watching and stopped to see what had us glued to the television screen perched above the various liquors.
We had a few beers after that incredible title fight.
Ramirez won the fight and retained the world title but Orozco had won the hearts of everyone watching with his tremendous heart. Both fighters congratulated each other and showed sincere respect. If you haven't seen it, watch the replay. You won't be sorry.
Saturday
The schedule for Saturday started early with two press conferences staged in the morning.
WBC super featherweight titlist Miguel Berchelt and challenger Mickey Roman met with media at Wolfgang Puck at 12 noon to talk about their pending clash on HBO. It's another meeting between a Top Rank affiliated fighter and Golden Boy affiliated fighter.
Can it match Ramirez-Orozco?
Berchelt is a heavy-hitting but skilled fighter from the Yucatan area. Roman is a hard-nosed heavy hitter from Juarez, Mexico. Its North versus South in this Mexican battle that takes place on Nov. 3 in El Paso, Texas.
This could be extremely explosive.
Immediately after the Top Rank press conference, and a few feet away, another media luncheon took place for interim WBC super lightweight titlist Regis Prograis.
Prograis, 29, is an interesting cat.
Raised in New Orleans and Houston, the extremely strong Prograis will participate in the World Boxing Super Series that begins in late October. He faces former lightweight world champion Terry Flanagan of England.
"I chose to fight Terry Flanagan because he's a former world champion," said Prograis whose last fight was a knockout win over Argentina's Juan Jose Velasco in New Orleans. "I'm trying to prove I'm the best. I don't want an easy fight. It's a waste of time."
Of course he would love a match with current WBC titlist Jose Carlos Ramirez but he can wait.
"We'll meet one day in the ring," Prograis said.
The Rematch
After the pair of press luncheons we headed to the T-Mobile Arena for the Alvarez-Golovkin mega fight. It was an early 2 p.m. start so we missed a couple of early fights. I always try to watch every bout. It's my duty as a reporter to cover all the fights that take place. Not just the headliners, but the afternoon press conferences held me up.
The best of the undercard saw Vergil Ortiz Jr. annihilate his former sparring partner Roberto Ortiz in two rounds.
Vergil Ortiz trains in Riverside, Calif. with Robert Garcia. He formerly was based in Indio, Calif. with Joel Diaz. Both trainers have excellent troops.
Ortiz, 20, has long limbs and fights long too. He's buzzed through 11 straight opponents and kind of resembles late actor Jack Palance in the movie Shane. Vergil is a likeable guy who seems nothing like a feared monster in a boxing ring.
Golden Boy keeps stepping up the competition a notch and he keeps rendering them unconscious. The promoter doesn't want to overstep the process with Ortiz so they are doing things de-li-cate-ly.
So far Ortiz has treated everyone who steps in the ring with him like fragile china. He touches them and they fall to pieces. Technically he is very sound. But the Golden Boy crew sees something very special in the kid from Dallas. He is one to watch.
Boycott?
After several fights including the main event that saw Alvarez win by majority decision, it's important to note that the entire "ringside" media group was placed more than 50 yards away from the boxing ring. No one from the media had a sufficient view to analyze the fight that has been very disputed by fans and others.
But my question is: why did the promoters place the media a ridiculous 50 yards away?
Sadly, it's a move that says to the media "we don't need you."
Maybe it's time to organize.
Regis Prograis photo by Al Applerose
Check out more boxing news on video at The Boxing Channel
What Next for Gabriel Rosado?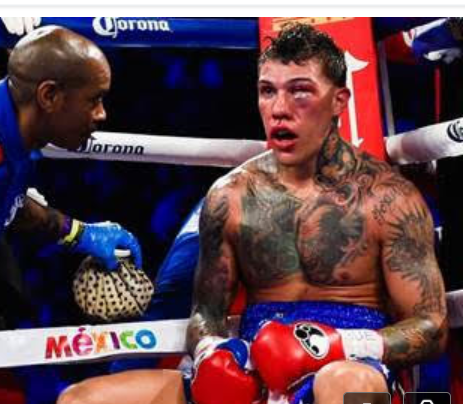 Bektemir Melikuziev, Freddie Roach, Edgar Berlanga, and Jaime Munguia are names that, one way or another, figured into Gabe Rosado's stunning KO last Saturday night in El Paso. It overshadowed the impressive showing by Noaya "Monster" Inoue later that night in Las Vegas.
Rosado (26-13-1) is a well-documented bleeder and just might start spurting during the walk-in, but he is never, ever in a dull fight. The tougher-than-tough Philadelphian won Top Gore honors for his blood and guts TKO loss to Canadian middleweight star David Lemieux in 2014. The year before, he bled aplenty in his game but losing effort against Gennady Golovkin.
This time against Melikuziev, the unbeaten Uzbek, the fight ended in round three when the 35-year-old underdog beat the Eastern Euro fighter to the punch during an exchange of rights with Gabe's landing first and sending the former amateur star into dreamland. The force of the blow was amplified by the younger and faster man coming forward with caution to the wind. And this time, there was no bloodletting.
The knockout should be a contender for KO of the Year. In fact, it was reminiscent of Juan Manuel Marquez's explosive knockout of Manny Pacquiao in their final match.
Once again, Rosado (who is now trained by Freddie Roach) has revived his career and can count on at least one last decent payday. While many think Jaime Munguia would be a solid next fight, the thinking here is that Rosado could get carved up by the undefeated Tijuana veteran who has won 30 of his 37 fights by KO. Munguia is just too good.
The Catch 22
Rosado is an all-action fighter but scar tissue and his propensity to bleed is his worst enemy. It has cost him in the past. For such an offensive-minded fighter as Gabe, he is trapped in a terrible catch-22. If he can get the lead early and the bleeding is stemmed within reasonable limits, he can be a force, but not against the likes of Munguia.
If not Munguia, then who?  Here is one suggestion: How about "The Chosen One," Edgar Berlanga (17-0) whose first round KO streak recently came to an end. Brooklyn vs. Philadelphia would be a nice added touch –not to mention the Puerto Rican factor. Could Rosado expose Berlanga as someone without enough experience, aka rounds? Would Gabe show that Berlanga is more Tyson Brunson that Edwin Valero?
Let's make it happen!
Ted Sares enjoys researching and writing about boxing. He also competes as a powerlifter in the Master-class. He can be reached at  tedsares@roadrunner.com
Check out more boxing news on video at the Boxing Channel
To comment on this story in the Fight Forum CLICK HERE
Fast Results from Las Vegas: Inoue Demolishes Dasmarinas; Mayer UD Farias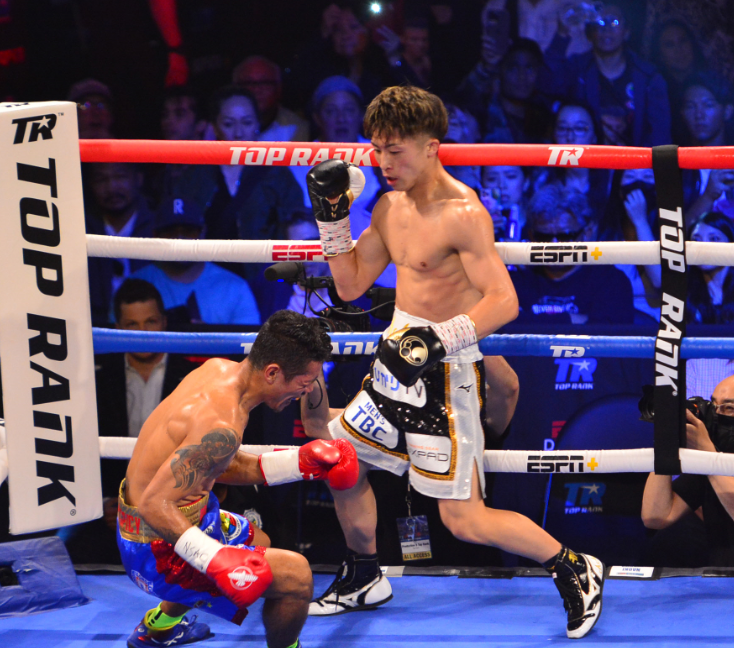 Fast Results from Las Vegas: Inoue Demolishes Dasmarinas; Mayer UD  Farias
LAS VEGAS — Top Rank was at the Virgin Hotels in Las Vegas on Saturday, June 19, for the second of their three June shows. In the headliner, WBA/IBF world bantamweight champion Naoya "Monster" Inoue lived up to his nickname with a vicious third round stoppage of Filipino import Michael Dasmarinas.
Inoue (21-0, 18 KOs) had his opponent fighting off his back foot from the opening bell. He knocked down Dasmarinas in the second with a left hook to the liver and twice more in the third round before referee Russell Mora waived it off. The official time was 2:45.
Dasmarinas brought a 30-2-1 record and hadn't lost since 2014. But he was no match for the "Monster" who looks younger than his 28 years. Those body shots landed with a thud that could be heard in the far reaches of the arena. This kid is really good.
Mikaela Mayer continues to improve as she showed tonight in the first defense of her WBO world super featherweight title. Mayer 15-0 (5) turned away Argentina's Erica Farias (26-5) with a 10-round unanimous decision in a fight that was frankly rather monotonous.
Mayer won by scores of 97-93 and 98-92 twice. Farias, who landed the best punch of the fight, didn't have the taller Mayer's physical equipment but yet landed the best punch of the fight. Her only setbacks have come on the road against elite opponents—Cecilia Braekhus, Delfine Person, Jessica McCaskill (twice) and now Mikaela Mayer.
The opener on the ESPN portion of the show was a lusty 10-round welterweight affair between Ghana native Isaac Dogboe and Glendale, California's Adam Lopez. Dogboe, whose only losses came at the hands of Emanuel Navarette in world title fights, improved to 22-2 by dint of a majority decision that could have easily gone the other way. Dave Moretti had it a draw but was overruled (97-93 and 96-94).
Lopez, one of two fighting sons of the late Hector Lopez, an Olympic silver medalist, did his best work late, particularly in the eighth round. With the loss, his record declines to 15-3.
Other Bouts
Monterrey, Mexico super lightweight Lindolfo Delgado, a 2016 Olympian, was extended the distance for the first time in his career but won a wide 8-round decision over Guadalajara's Salvador Briceno
Delgado won by scores of 80-72 and 79-73 twice while advancing his record to 12-0. Delgado's best round was the eighth, but Briceno (17-7) weathered the storm. Briceno is 5-6 in his last 11, but has been matched tough. The six fighters to beat him, including Delgado, were a combined 78-3 at the time that he fought them.
Vista, California lightweight Eric Puente has yet to score a KO but he is undefeated in six starts after winning a unanimous decision over Mexico's Antonio Meza (7-6). Puente, who is trained by Robert Garcia, knocked Meza down early into the fight with a sweeping left and was the aggressor throughout. The judges had it 57-56 and 58-55 twice.
Puerto Rican super lightweight Omar Rosario improved to 4-0 (2) with a fourth-round stoppage of Reno, Nevada's Wilfred "JJ" Moreno (3-1) The official time was 0:47.
Photo credit: Al Applerose
To comment on this story in the Fight Forum CLICK HERE
Munguia and Rosado Win by Stoppage in El Paso; Rosado in a Spectacular Fashion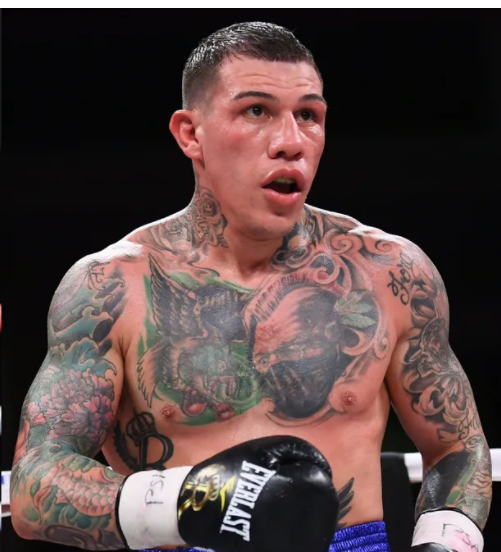 Munguia and Rosado Win by Stoppage in El Paso, Rosado in a Spectacular Fashion
Golden Boy Promotions and their broadcasting partner DAZN were at the Don Haskins Center on the campus of the University of Texas at El Paso today for a rare afternoon card. The honchos at GBP didn't want to go head-to-head with competing shows on ESPN, Showtime, and Triller, the latter of which fell out when headliner Teofimo Lopez tested positive for Covid-19.
There were 10 fights scheduled with the four main fights going first and the undercard bouts bundled into the posterior.
The main event was a 12-round middleweight contest between Tijuana's Jaime Munguia (37-0, 30 KOs), the former WBO 154-pound title-holder, and Poland's Kamil Szeremeta (21-2) who was stepping in for countryman Maciej Sulecki who pulled out of this fight twice. The Pole was making his first start since getting bushwacked by Gennadiy Golovkin in a bout on which he was on the deck four times before his corner pulled him out.
His corner stopped this fight as well, the end coming at the conclusion of the sixth frame. After a feeling-out round, Munguia, who is trained by his Tijuana homey Erik Morales, stepped it up. Knowing that Szeremeta was a light puncher, he had no worry about anything coming back at him. There were no knockdowns, but the fight turned progressively more one-sided and the stoppage was warranted.
Co-Feature
In the co-feature, slated for 12 in the 168-pound class, 35-year-old Philadelphia warhorse Gabe Rosado (pictured) stole the show with a spectacular one-punch knockout over previously undefeated Bektemir "Bec The Bully" Melikuziev.
A 2012 Olympic silver medalist for Uzbekistan, Melikuziev dominated the first two rounds, knocking down Rosado in the first with a combination of punches. He worked the body effectively for the first two rounds and it appeared that he was too strong for the Philadelphian. But Rosado (26-13, 15 KOs), blasted him out in the third, beating him to the punch with a right hook that landed flush on the Uzbek's jaw.
The referee didn't bother to count. Melikuziev was 7-0 (6) heading in. Jaime Munguia may be next for Rosado.
Other Bouts
In a good-action fight that was marred by questionable scoring, native Texan Marlen Esparza, a bronze medalist at the 2012 London Olympics, wrested the WBO world flyweight title from Mexico's Ibeth Zamora. Esparza (10-1, 1 KO) sprinted out of her corner at the opening bell only to suffer a knockdown before the fight was 90 seconds old. She fought her way back into the fight, winning the match in the eyes of the judges (97-92, 96-93, 95-94) but not in the eyes of the few fans in attendance who booed when the scores were announced.
It was a hard pill to swallow for the 32-year-old Zamora, now 32-7, who had won 17 of her last 18 heading in.
In his best showing to date, 31-year-old welterweight "prospect" Blair "The Flair" Cobbs scored a fifth-round stoppage over 38-year-old Georgia campaigner Brad Solomon. This was a fairly even fight through four rounds, but Solomon was showing signs of fatigue when Cobbs dropped him to his knees with a big left hand, leading the referee to call it off.
Blair the Flair, who has been training with Freddie Roach, improved to 15-0-1 (10). Solomon, who learned to fight in prison, declined to 29-4.
Check out more boxing news on video at the Boxing Channel
To comment on this story in the Fight Forum CLICK HERE