A Kaleidoscope of Boxers Guaranteed to Provide Action: Past and Present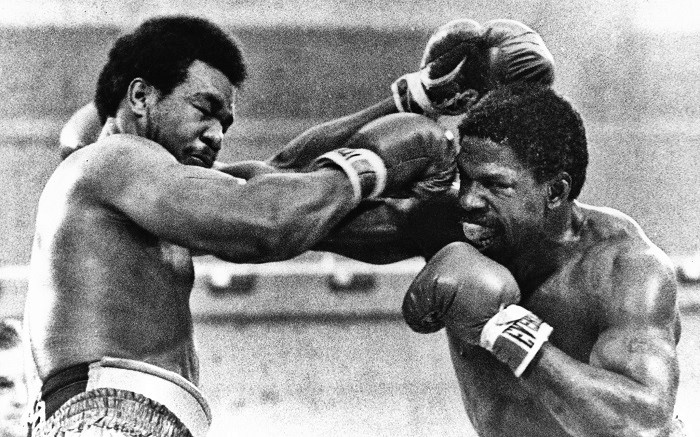 To set the tone for this article, one needs only to watch the way in which Thomas Hearns came out in the first round against Marvelous Marvin Hagler. He was ready to rock and roll as was his fearsome looking opponent. The ensuing unmitigated savagery was the quintessential illustration of full-tilt boogie.
For most boxing fans, the anticipation of an all-out action bout gets the chills running down spines faster than anything else. But not all, as some prefer a tactical or clinical fight that someone like Mikey Garcia can orchestrate and others –but not many—enjoy a defensive gem via a Willie Pep, Nicolino Locche, or Pernell Whitaker. A few love a genuine blood fest that a Gabe Rosado-type can provide, and who doesn't like seeing something special as in Sugar Ray Leonard, Kostya Tszyu, Terence Crawford or Vasiliy Lomachenko?
Chill-or-be-chilled types like Bob Satterfield and Tommy Morrison were super exciting. In this connection—a certain cadre of warriors, past and present, would come out charging and stalking as soon as the bell rang. Many demonstrated a marked disdain for defense and used a non-stop, no let-up pressure that discouraged their opponents, especially in the late rounds. The anticipation from the crowd was palpable because it sensed some form of destruction was on its way. The cheering would start during the instructions and sometimes did not let up until the concussive end.
This cadre included Rocky Marciano, Tony Ayala, Vicious Victor Galindez, Jeff Fenech, Roberto Duran, and Julio Cesar Chavez (who sapped the spirit of his opponents by ripping away at their mid-section). Also, Carl "The Cat"  Thompson , chill-or-be-chilled Ricardo "Pajarito" Moreno (60-12-1 with 59 KOs),  Ron Lyle, the ultra-violent Edwin Valero, the appropriately nicknamed Julian "Mr KO" Letterlough, James "The Outlaw" Hughes and his mindboggling ability to snatch victory from certain defeat, Thai stalking monster Khaosai Galaxy (47-1),  the first version of George Foreman (pictured with the aforementioned Lyle), Ji-Hoon "Volcano" Kim, Ruslan  Provodnikov, Orlando "Siri" Salido, Marcos Maidana, Lenny Z, Alfredo "Perro" Angulo, Mike Alvarado, Brandon Rios, and Mickey Roman (the later four are still fighting but past their primes).
Others who presently incite the anticipation of something special include (but are not limited to) Naoya "Monster" Inoue (16-0), Errol "The Truth" Spence Jr (24-0), Srisaket Sor Rungvisai (46-4-1), Alex Saucedo (27-0), and, of course, Gennady "GGG" Golovkin (38-1-1) who now has become slightly more tactical like his nemesis, Canelo Alvarez (50-1-1).
These stand out as representative.
Past
A prime Mike Tyson—and the emphasis is on prime– was the epitome of a boxer who guaranteed action. One simply would not leave his or her seat when "Iron Mike" was doing his highlight reel thing, and his blowout of Michael Spinks punctuated his standing at the top of all-action type fighters, even if the action was usually non-mutual.
Joe Frazier came out smokin' and would not let up until either he or his opponent were done. For the most part, decisions were not in Joe's DNA and his left hook was as malicious as a hook can be. With Joe, you just sat back and enjoyed the action. Frazier, wrote boxing historian Tracy Callis,  "was a strong, 'swarmer' style boxer who applied great pressure on his opponent and dealt out tremendous punishment with a relentless attack of lefts and rights; His left hook was especially stiff and quick when delivered during his bob-and-weave perpetual attack; he fought three minutes per round and never seemed to tire."
Carlos "Escopeta" (Shotgun) Monzon (87-3-9) was a powerful and rangy Argentinean killing machine, built like an iron rod. Some said he pushed his punches. Well if he did, he pushed 87 opponents to defeat. He also became only the second man to stop former three-time world champion Emile Griffith, turning the trick in the 14th round. Blessed with great and deceptive stamina and a solid chin, he seemingly was an irresistible force. He was unbeaten over the last 81 bouts of his career, a span of 13 years, and defended his title 14 times. "One would need to write a book in order to do justice to comparing a fighter of Carlos Monzon's calibre to his fellow all-time greats," wrote Mike Casey.
Arturo Gatti and Irish Micky Ward were the quintessential action fighters. One is gone amidst controversy, and hopefully the other will not pay a price for his many ring wars. With these two, just count up the Fights-of-the-Year and the rest is history. Suffice it to say that Gatti and Ward will be forever linked in boxing lore.
Until his fateful fight with Nigel Benn (another all-action fighter), Gerald McClellan was absolutely, positively, a stalking monster with dynamite in his gloves. It was ferocity and fury at its highest level and it was something to behold. Sadly, his fight with Benn left him permanently disabled; his story remains a dark stain on boxing. As Ian McNeilly notes, "one man's finest hour was the end of another man's life as he knew it."
Michael "The Great" Katsidis's all-action style made thrilling fights a lock. The Kat" was willing to take three to deliver one. It was blood and guts to the last drop. Whether he too exacted a heavy price for this style remains to be seen.
Lucia Rijker, AKA "The Dutch Destroyer," lived up to her moniker and destroyed everyone in her path. Again, it wasn't "if," it was "when."
Christy Martin (49-7-3) put female boxing on the map in the '90s and she did it by going undefeated in 36 straight encounters, running roughshod over her opponents as evidenced by her 25 wins by stoppage during this run. She also managed to steal the show from a Mike Tyson main event in 1996 during her memorable and bloody battle with Deirdre Gogarty.
Present
Deontay Wilder, aka "The Bronze Bomber," has a record of 40-0.  With 39 wins coming by KO—many in spectacular fashion, The "Bomber" brings with him that same sense of anticipation that Tyson did. It's not if; it's when and "when" can occur at any time. But unlike Tyson, there is a vulnerability that Luis Ortiz exposed that makes the excitement index go even higher.
Dillian Whyte (24-1) has seldom been in a dull affair. His vulnerability combined with his mode of attack ensures thrilling action and the possibility of a stoppage at any time. Unlike Dereck "Del-Boy" Chisora, Whyte is consistently aggressive and dangerous.
Manny Pacquiao (60-7-2) has slowed down considerably but his recent stoppage win over Lucas Matthysse offers hope that he can still conjure up his exciting whirlwind style of fast in-an-out movements that allowed him to win multiple titles over several future Hall of Fame opponents between 2005 and 2011. A rematch with Floyd Mayweather Jr., if rumors are true, would allow Pac Man an opportunity to accomplish a number of extraordinary things including avenging a prior defeat and ruining Mayweather's undefeated record. Time will tell.
Though he appears to have shot his wad, a prime Antonio Margarito was the classic stalk, stun, and kill fighter. Heck, he belonged on the Discovery Channel. His two blowouts of Kermit Cintron showed the "Tijuana Tornado" at his most brutal. His come-from-behind demolition of Miguel Cotto stands out for its drama and bloodletting—and subsequent speculative controversy.
David Lemieux (39-4) always brings the heat. His fights seldom end as scheduled. With KO power in both hands and a propensity to rehydrate by 20 pounds, he is the essence of danger and attendant excitement. "With the sheer power he carries, Lemieux will always have a shot at beating any middleweight, and he is almost always involved in good action fights," says James Slater.
Amanda Serrano (35-1-1) is the only women's boxer to win world titles in six divisions. The "Real Deal" is unique in that she has a high KO percentage (74 percent) which is rare for female boxers. Amanda is 120 seconds of guaranteed action for each round.
                                                         **********
While Iron Mike Tyson is THE MAN, Matthew Saad Muhammad also warrants special billing as he embodied what this article is all about. Steve Farhood summed up the essence of Saad Muhammad with an observation that would be appropriate for his tombstone: "Eddie Gregory (Mustafa Muhammad) has a better jab, Marvin Johnson wields more power, James Scott does more sit ups. But, Muhammad's heart is the size of a turnbuckle, and it anchors his title reign."
Who did I leave out? Whose name or names would you add to this list?
Check out more boxing news on video at The Boxing Channel
Mercito Gesta Victorious Over Jojo Diaz at the Long Beach Pyramid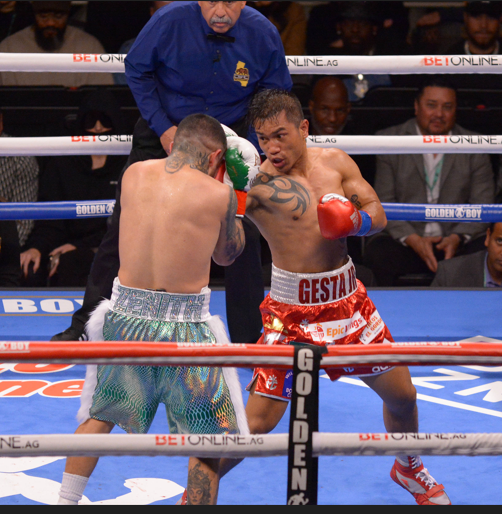 LONG BEACH, CA.-Those in the know knew Mercito Gesta and Jojo Diaz would be a fight to watch and they delivered.
Gesta emerged the winner in a super lightweight clash between southpaws that saw the judges favor his busier style over Diaz's body attack and bigger shots and win by split decision on Saturday.
Despite losing the main event because the star was overweight, Gesta (34-3-3, 17 KOs) used an outside method of tactic to edge past former world champion Diaz (32-4-1, 15 KOs) in front of more than 5,000 fans at the Pyramid.
The speedy Gesta opened up the fight with combination punching up and down against the peek-a-boo style of Diaz. For the first two rounds the San Diego fighter overwhelmed Diaz though none of the blows were impactful.
In the third round Diaz finally began unloading his own combinations and displaying the fast hands that helped him win world titles in two divisions. Gesta seemed stunned by the blows, but his chin held up. The counter right hook was Diaz's best weapon and snapped Gesta's head back several times.
Gesta regained control in the fifth round after absorbing big blows from Diaz. He seemed to get angry that he was hurt and opened up with even more blows to send Diaz backpedaling.
Diaz targeted his attack to Gesta's body and that seemed to slow down Gesta. But only for a round.
From the seventh until the 10th each fighter tried to impose their style with Gesta opening up with fast flurries and Diaz using right hooks to connect with solid shots. They continued their method of attack until the final bell. All that mattered was what the judges preferred.
After 10 rounds one judge saw Diaz the winner 97-93 but two others saw Gesta the winner 99-91, 98-92. It was a close and interesting fight.
"I was expecting nothing. I was the victor in this fight and we gave a good fight," said Gesta. "It's not an easy fight and Jojo gave his best."
Diaz was surprised by the outcome but accepted the verdict.
Everything was going good. I thought I was landing good body shots," said Diaz. "I was pretty comfortable."
Other Bouts
Mexico's Oscar Duarte (25-1-1, 20 KOs) knocked out Chicago's Alex Martin (18-5, 6 KOs) with a counter right hand after dropping him earlier in the fourth round. The super lightweight fight was stopped at 1:14 of the round.
A battle between undefeated super welterweights saw Florida's Eric Tudor (8-0, 6 KOs) emerge the winner by unanimous decision after eight rounds versus Oakland's Damoni Cato-Cain.
The taller Tudor showed polished skill and was not bothered by a large cut on his forehead caused by an accidental clash of heads. He used his jab and lead rights to defuse the attacks of the quick-fisted southpaw Cato-Cain. The judges scored the fight 80-72 and 78-74 twice for Tudor.
San Diego's Jorge Chavez (5-0, 4 KOs) needed less than one round to figure out Nicaragua's Bryan Perez (12-17-1, 11 KOs) and send him into dreamland with a three-punch combination. No need to count as referee Ray Corona waved the fight over. Perez shot a vicious right followed by another right and then a see-you-later left hook at 3.00 of the first round of the super featherweight match.
Photo credit: Al Applerose
Jojo Diaz's Slump Continues; Mercito Gesta Prevails on a Split Decision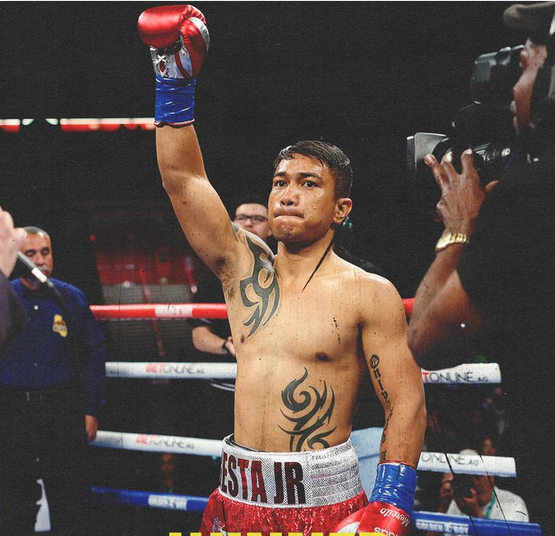 At age 30, Jojo Diaz's career is on the skids. The 2012 U.S. Olympian, a former world title holder at 126 and 130 pounds and an interim title holder at 135, Diaz suffered his third straight loss tonight, upset by Mercito Gesta who won a split decision at the Walter Pyramid in Long Beach, CA.. The scoring was strange with Gesta winning nine of the 10 rounds on one of the cards and only three rounds on another. The tie-breaker, as it were, was a 98-92 tally for Gesta and even that didn't capture the flavor of what was a closely-contested fight.
Originally listed as a 12-rounder, the match was reduced to 10 and that, it turned out, did Diaz no favors. However, it's hard to feel sorry for the former Olympian as he came in overweight once again, having lost his 130-pound title on the scales in February of 2021.
Diaz also has issues outside the ropes. Best elucidated by prominent boxing writer Jake Donovan, they include a cluster of legal problems stemming from an arrest for drunk driving on Feb. 27 in the LA suburb of Claremont.
With the defeat, Diaz's ledger declined to 32-4-1. His prior losses came at the hands of Gary Russell Jr, Devin Haney, and William Zepeda, boxers who are collectively 83-2. Mercito Gesta, a 35-year-old San Diego-based Filipino, improved to 34-3-3.
Co-Feature
Chihuahua, Mexico super lightweight Oscar Duarte has now won nine straight inside the distance after stopping 33-year-old Chicago southpaw Alex Martin in the eighth frame. Duarte, the busier fighter, had Martin on the deck twice in round eight before the fight was waived off.
Duarte improved to 25-1-1 (20). Martin, who reportedly won six national titles as an amateur and was once looked upon as a promising prospect, declined to 18-5.
Other Bouts of Note
New Golden Boy signee Eric Tudor, a 21-year-old super welterweight from Fort Lauderdale, overcame a bad laceration over his right eye, the result of an accidental clash of heads in round four, to stay unbeaten, advancing to 8-0 (6) with a hard-fought unanimous 8-round decision over Oakland's Damoni Cato-Cain. The judges had it 80-72 and 78-74 twice. It was the first pro loss for Cato-Cain (7-1-1) who had his first five fights in Tijuana.
In the DAZN opener, lanky Hawaian lightweight Dalis Kaleiopu went the distance for the first time in his young career, improving to 4-0 (3) with a unanimous decision over 36-year-old Colombian trial horse Jonathan Perez (40-35). The scores were 60-52 across the board. There were no knockdowns, but Perez, who gave up almost six inches in height, had a point deducted for a rabbit punch and another point for deducted for holding.
To comment on this story in the Fight Forum CLICK HERE
'Big Baby' Wins the Battle of Behemoths; TKOs 'Big Daddy' in 6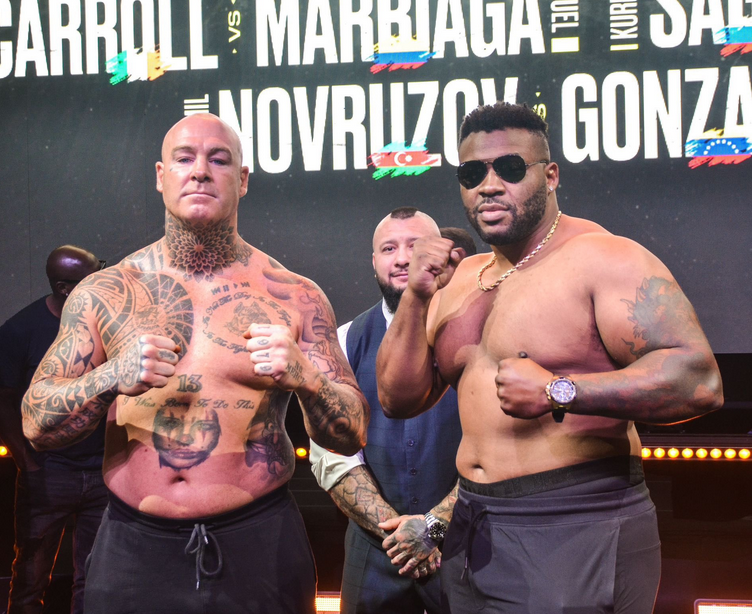 Lucas "Big Daddy" Browne weighed in at a career-high 277 pounds for today's battle in Dubai with Jarrell "Big Baby" Miller, but he was the lighter man by 56 pounds. It figured that one or both would gas out if the bout lasted more than a few stanzas.
It was a war of attrition with both men looking exhausted at times, and when the end came it was Miller, at age 34 the younger man by nine years, who had his hand raised.
Browne was the busier man, but Miller, whose physique invites comparison with a rhinoceros, hardly blinked as he was tattooed with an assortment of punches. He hurt 'Bid Daddy' in round four, but the Aussie held his own in the next frame, perhaps even forging ahead on the cards, but only postponing the inevitable.
In round six, a succession of right hands knocked Browne on the seat of his pants. He beat the count, but another barrage from Miller impelled the referee to intervene. The official time was 2:33. It was the 21st straight win for Miller (26-0-1, 22 KOs). Browne declined to 31-4 and, for his own sake, ought not fight again. All four of his losses have come inside the distance, some brutally.
The consensus of those that caught the livestream was that Floyd Mayweather Jr's commentary was an annoying distraction that marred what was otherwise an entertaining show.
As for what's next for "Big Baby" Miller, that's hard to decipher as he has burned his bridges with the sport's most powerful promoters. One possibility is Mahmoud Charr who, like Miller, has a big gap in his boxing timeline. Now 38 years old, Charr – who has a tenuous claim on a WBA world title (don't we all?) —  has reportedly taken up residence in Dubai.
Other Bouts of Note
In a 10-round cruiserweight affair, Suslan Asbarov, a 30-year-old Russian, advanced to 4-0 (1) with a hard-fought majority decision over Brandon Glanton. The judges had it 98-92, 97-93, and a more reasonable 95-95.
Asbarov was 12-9 in documented amateur fights and 1-0 in a sanctioned bare-knuckle fight, all in Moscow, entering this match. He bears watching, however, as Glanton (18-2) would be a tough out for almost anyone in his weight class. In his previous fight, at Plant City, Florida, Glanton lost a controversial decision to David Light, an undefeated Australian who challenges WBO world title-holder Lawrence Okolie at Manchester, England next week.
A 10-round super featherweight match between former world title challengers Jono Carroll and Miguel Marriaga preceded the semi-windup. Carroll, a 30-year-old Dublin southpaw, overcame a cut over his left eye suffered in the second round to win a wide unanimous decision in a fairly entertaining fight.
It was the sixth straight win for Carroll (24-2-1, 7 KOs) who elevated his game after serving as a sparring partner for Devin Haney. Marriaga, a 36-year-old Colombian, lost for the fourth time in his last five outings, declining to 30-7.
To comment on this story in the Fight Forum CLICK HERE