George Groves and Callum Smith Finally Meet in the WBSS Capstone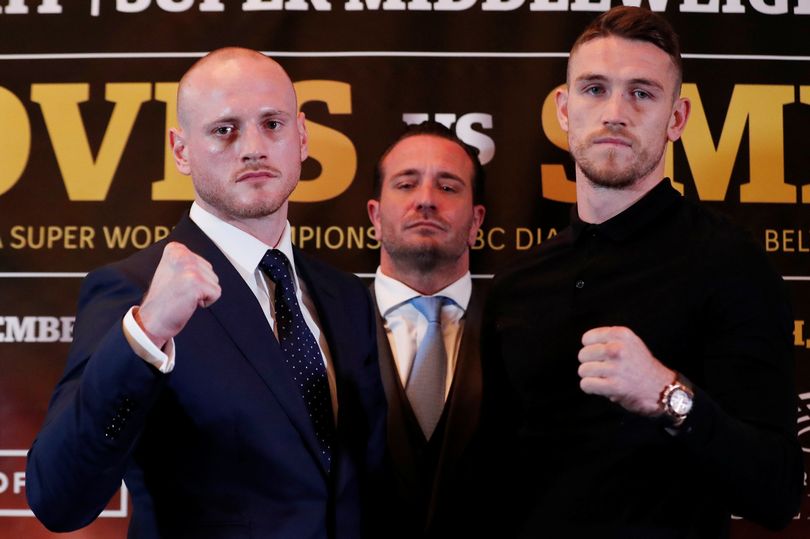 The 168-pound tournament of the inaugural World Boxing Super Series, an 8-man invitational, kicked off on Sept. 16 of last year with a match between Callum Smith and Erik Skoglund at Liverpool, England. Tournaments of this nature in boxing almost never play out as planned and this tourney was no exception. But on Friday we will finally crown a winner when Smith meets George Groves at Jeddah, Saudi Arabia, of all places. At stake will be the coveted Muhammad Ali Trophy and the bundle of cash that comes with it and Groves' WBA "super" world super middleweight title.
Despite the odd location, this is a domestic affair. Groves, the top seed, and Smith, the #2 seed, are both Englishmen. And if the fight were on British soil, it would have certainly drawn well. In the UK, Groves is enormously popular. His second fight with Carl Froch attracted a crowd of 80,000 at Wembley Stadium, a British post-war record eventually broken by Joshua-Klitschko.
Groves (28-3, 20 KOs) suffered his lone defeats at the hands of Froch, who defeated him twice, and Badou Jack, and there's no shame there. Carl Froch, in the minds of many, has a plaque waiting for him at the International Boxing Hall of Fame. Jack, a title-holder in two weight classes, is currently ranked #1 as a light heavyweight by the WBA and WBC.
Although both fights with Froch ended inside the distance, both were nip-and-tuck until Froch closed the curtain. Badou Jack defeated Groves by split decision in Las Vegas.
Groves has a high boxing IQ as he demonstrated on Feb 17 in Manchester where he scored a 12-round unanimous decision over Chris Eubank Jr. Groves, observed ringside reporter Gareth Davies, "was just a step too far, too strong and ultimately too technical and experienced in the championship rounds." Eubank's father and trainer Chris Eubank Sr. saluted Groves for fighting the perfect fight.
The victory was bittersweet as Groves dislocated his left shoulder in the final round. It required surgery, pushing back the finale until this Friday, a full two months after the conclusion of the other WBSS tourney, for cruiserweights, the finale of which was also pushed back from the originally scheduled date. For a time the promoters seriously considered bumping Eubank into the finals in place of the incapacitated Groves but eventually thought better of it. (Eubank will appear on the undercard in a stay-busy fight against Ireland's J.J. McDonagh.)
Callum Smith (24-0, 18 KOs) is the youngest of four fighting brothers, each of whom captured one or more regional titles. In the family, the relationship between talent and birth order is inverse, which is to say that Paul Smith, the oldest of the foursome, wasn't as good as his younger brother Stephen and Stephen wasn't as good as younger brother Liam.
Liam "Beefy" Smith accomplished what his two older brothers could not, winning a world title. He won the WBO 154-pound diadem in his twenty-second fight and successfully defended the belt twice before it was sheared from him by Canelo Alvarez who knocked him out in the ninth round.
If Callum Smith wins on Friday, he will be recognized by hardcore fans as a more legitimate champion than was the case with his brother Liam. That's because Callum, who stands six-foot-three (none of his brothers is taller than 5'11"), was touted from the very onset of his career as the most gifted of the fighting Smith brothers. He solidified that opinion in November of 2015 when he knocked out Liverpool rival Rocky Fielding in the opening round. Fielding went on to win the "regular" version of the WBA 168-pound title and that remains the only blemish on his record.
In recent bouts, however, Smith hasn't looked that sharp. His last two opponents, the aforementioned Skoglund and Neiky Holzken, lasted the full 12 rounds. The obscure Holzken, a converted kickboxer from the Netherlands, was a late sub for Juergen Braehmer who was forced to bow out of the tournament with an illness.
George Groves was a slight underdog to Eubank. On Friday, the odds favor him, but only slightly. At last look it was 13/10 which portends a very close fight. Groves has the edge in experience and in ring savvy and has fought tougher opposition, but Smith will have a three-and-a-half inch height advantage and is judged to be the harder puncher.
Fight fans in the U.S. can access the fight on the new DAZN app. Keep in mind that Saudi Arabia is seven hours ahead of New York and other precincts in the Eastern Time Zone and adjust accordingly.
Check out more boxing news on video at The Boxing Channel
NEWS FLASH: Leon Spinks Hospitalized; Reportedly Fighting for His Life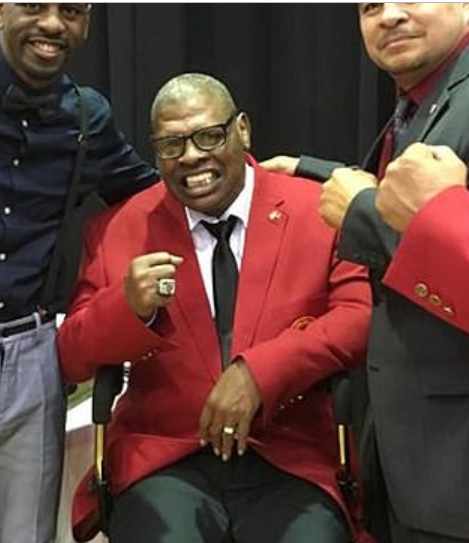 The gossip site TMZ is reporting that Leon Spinks is hospitalized in Las Vegas and is fighting for his life. TMZ acquired this information from Spinks' wife Brenda Glur Spinks after spying her social media post. "It's been a tough year for us," she wrote. "Leon has endured a lot of medical problems. I'm reaching to ask that you pray for my Beautiful Husband Leon. So that he may overcome the obstacles that crossed his path."
Her sentiment was echoed by Leon's son Leon Spinks III who posted this message on his facebook page: "My Dad isn't doing so good now and his wife Brenda Glur Spinks and I ask that u pray that he weather's this storm. My dad is all I have left and I really appreciate it if yall let God know that he is not in this battle alone."
A gold medal winner at the 1976 Olympics, Spinks, 66, is best remembered for upsetting Muhammad Ali in 1978 to win the world heavyweight title. He lost the title back to Ali in his next fight.
This is a developing story. As new details emerge, we will share them with you.
To comment on this story in The Fight Forum CLICK HERE
Crawford-Kavaliauskas is the Main Go, but 'The Takeover' is the Stronger Allurement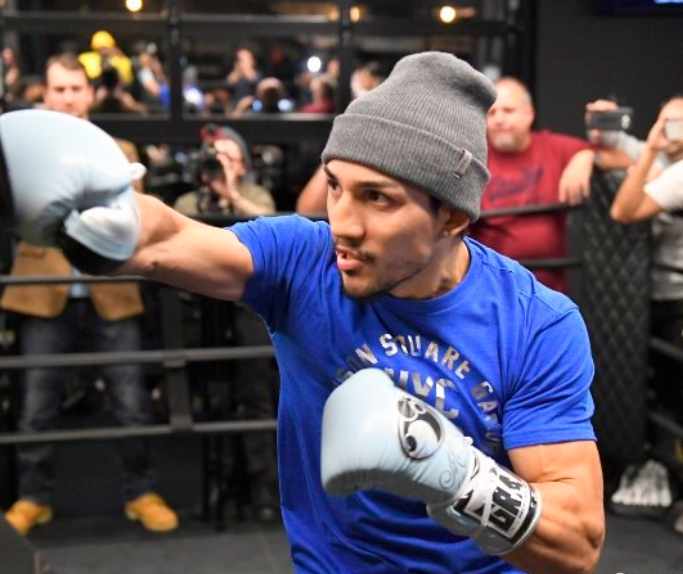 Crawford-Kavaliauskas is the Main Go, but 'The Takeover' is the Stronger Allurement
Terence Crawford puts his undefeated record and his WBO welterweight title on the line Saturday when he opposes Egidijus Kavaliauskas at Madison Square Garden on ESPN. Kavaliauskas is no slouch. The two-time Olympian for Lithuania is also undefeated (21-0-1, 17 KOs), but Crawford is so highly regarded that he is a massive favorite.
If one were arranging the bouts according to the degree of intrigue, using the odds as the barometer, Crawford vs Kavaliauskas wouldn't sit atop the marquee. That honor would go the IBF lightweight title fight between Richard Commey and Teofimo Lopez. Moreover, it's a fair guess that if this fight were to fall out (perish the thought) it would result in more refunds than if Crawford were a late scratch.
The challenger, Lopez, is favored, currently in the vicinity of 9/4, but this is a price that usually translates into a very competitive fight and the stakes are high. The winner will almost assuredly advance to a rich engagement with Vasiliy Lomachenko who holds the other three meaningful 135-pound title belts
Commey (29-2, 26 KOs) won the IBF lightweight title – it was conveniently vacant – with a second-round stoppage of Russia's Isa Chaniev and stopped Raymundo Beltran in eight rounds in his first title defense. Commey dominated both fights, scoring seven knockdowns in all, but the Russian was a sad excuse for a world title challenger and Beltran, although a solid pro, was past his prime at age 38.
Commey's two losses came in back-to-back fights in 2016 and both were by split decision. He lost to Robert Easter Jr in Reading, Pennsylvania, and then, eight weeks later, was upended by Denis Shafikov before a tiny crowd at an actual boxing gym in Moscow.
There was nothing controversial about those losses, but in both instances Commey was in hostile territory. Toledo's Easter brought a large delegation of fans to Reading and Shafikov was fighting on his home turf. The crowd on Saturday will almost assuredly be skewed against Commey again, but it won't be as pronounced. Commey, born and raised in Ghana, has a home in the Bronx. Lopez was born in Brooklyn, a bond that his Brooklyn-born promoter Bob Arum likes to emphasize, but grew up in Davie, Florida.
Teofimo
At age 22, Teofimo Lopez (14-0, 11 KOs) is almost 10 years younger than Richard Commey. A year ago, at this very venue, he scored his most memorable triumph, a highlight-reel, 44-second, one-punch knockout of Mason Menard that was named the TSS Knockout of the Year. He has won three fights in the interim, most recently a 12-round decision over Masayoshi Nakatani.
Teofimo won comfortably on the scorecards, but his performance left much to be desired. The Japanese was a tall, rangy fighter. In Richard Commey, he is meeting a man of similar height. Both are listed at five-foot-eight.
Lopez has developed a large following in a short time and his in-ring heroics are only part of the story. He's quite the showman. After each win he adds an exclamation point with a celebratory back-flip and outside the ring his brash persona has enhanced his notoriety.
When a fighter has a common surname, it helps to have a unique first name. The reality is that Lopez would not have built his brand as fast if his first name had been, say, Miguel, or Carlos, or Juan. And he had the foresight to supplement his unique first name with a unique nickname: The Takeover.
The nickname, says Lopez, doesn't just refer to taking over a specific weight division (he'll move up to 140 before the year 2020 is over) but, rather, taking over the whole sport in the sense of becoming boxing's biggest pay-per-view attraction. Early into his pro career, he began calling out Lomachenko.
Teofimo's biggest cheerleader is his Honduras-born father and trainer of the same name and the elder Lopez has even more hubris than his son. "My son is too strong for Lomachenko….he would walk through anything that Lomechenko throws at him," Teofimo Sr. told veteran boxing writer Bill Tibbs prior to his son's match with Mason Menard. "Liston, he has God-given gifts and he's simply the best out there. (My son) has the best parts of Tyson, Sugar Ray Leonard, GGG, Floyd, Andre Ward, all the best of them in him."
The Lopez that defeated Nakatani would not have defeated Vasiliy Lomachenko. And there are those that think he won't beat Richard Commey unless he brings his "A' game. It's an interesting fight.
—–
The main fights on Saturday's Top Rank boxing card will air on ESPN's flagship station. The boxing card, which opens with the rematch between Michael Conlan and Vladimir Nikitin, follows the show in which the Heisman Trophy is presented to LSU quarterback Joe Burrow. The Heisman telecast will begin at 8 pm EST.
The same situation prevailed last year when Top Rank's Madison Square Garden card was headlined by the fight between Vasiliy Lomachenko and Jose Pedraza. To the consternation of diehard boxing fans, the Heisman presentation show ran late. Don't be surprised if it happens again.
Photo credit: Stacy Verbeek
Check out more boxing news on video at The Boxing Channel 
To comment on this story in The Fight Forum CLICK HERE
Will U.S. Olympic Boxers Fare Better in Tokyo Thanks to Yesterday's Ruling?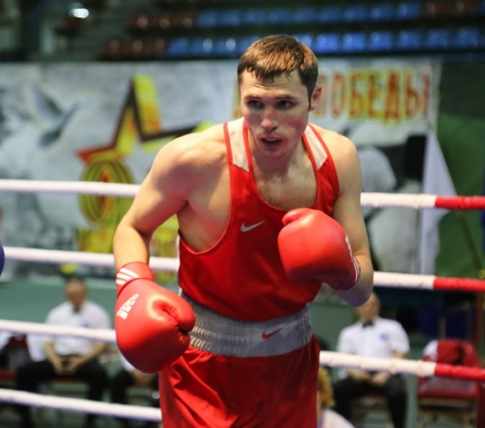 The road to the medal round for U.S. boxers at the forthcoming Tokyo Olympics just got easier. But maybe not.
"Russia Banned From The Tokyo Olympics" screamed yesterday's headline, but reading between the lines there's more to the story. A more carefully worded headline would have read "Russian Olympic Athletes in Limbo."
We have been down this road before. WADA, the World Anti-Doping Agency, recommended banning Russia from the 2016 Summer Olympics in Rio de Janeiro. The agency accused Russian authorities of a massive cover-up that erased hundreds of positive test samples.
WADA then did something of an about-face and decided to evaluate each case individually. Ultimately, 278 Russian athletes were approved to compete in Rio; 111 were denied. All 11 Russian boxers who survived the various qualifying events made the cut.
This new ban (which will be appealed) also emanates from WADA which alleges that the Russian authorities continued the massive cover-up using the "disappearance methodology." But, if upheld, it's a more severe penalty in that it bans Russia from major international sporting events for the next four years. That would include the World Cup, the biggest sporting event in the world by far. The next edition of the World Cup is slated for 2022 in Qatar.
"There's still…the possibility of clean athletes to compete in the Games," Svetlana Romashina, a five-time Olympic gold medalist in synchronized swimming, told Moscow correspondent Andrew Roth of The Guardian. "I believe the punishment of clean athletes to be unacceptable," continued Romashina. "We have done nothing wrong."
The reality, as it now stands, is that Russian boxers and other Russian athletes, if deemed clean, will be able to compete in Tokyo, just not under the Russian banner. As is common in some wrestling tournaments, their affiliation will be "unattached." And Russian President Vladimir Putin, who is a big fan of amateur boxing and other combat sports, won't be there. The ban prohibits Russian officials from attending major international sporting events if their team has been expelled.
—–
Historically, the U.S. Olympic Boxing Team has excelled in the Summer Games. But that's yesterday's news. In the last three Olympics, U.S. male boxers won only three medals, one silver and two bronze. By contrast, during the same period, Russian boxers walked off with 10 medals including three gold.
The prognosis for the 2020 U.S. team looked dim once again when the U.S. contingent earned only one medal (a silver by lightweight Keyshawn Davis) at the recent AIBA men's World Championships in Ekaterinburg, Russia. The host team garnered four medals, including three gold. If one conjoined the Russian squad with former Soviet Union satellites Uzbekistan and Kazakhstan, the count grows to seven gold medals (of a possible eight) and 15 medals overall.
Russia's gold medalists at the World Championships were welterweight Andrey Zamkovoy (pictured), middleweight Gleb Bakshi, and heavyweight Muslim Gadzhimagomedov. Zamkovoy and the heavyweight (who will badly need a new name if he ever turns pro) are outstanding amateurs and may have been favored to win their divisions in Tokyo.
Zamkovoy, 32, represented Russia in the 2012 and 2016 Games and medaled in 2012 where he defeated Errol Spence Jr en route to the semi-finals. The heavyweight (a cruiserweight by pro standards) is an ever-improving, 22-year-old, six-foot-four southpaw who has already amassed an amateur record of 60-5.
The competition for the U.S. team at overseas tournaments has gotten a lot tougher in the last two decades as several Eastern European countries have become more like Cuba, investing state resources into their amateur boxing programs with an eye to building a powerhouse. Perhaps the WADA edict will aid the U.S. boxing team in shaking the doldrums in 2020, but that assumption seems premature.
Check out more boxing news on video at The Boxing Channel 
To comment on this story in The Fight Forum CLICK HERE