Are You in Favor or Against Open Scoring in Boxing? Results of a TSS Survey
(PART ONE: A-L): It's time for the Quarterly TSS Survey and this time we asked our panel of noted boxing buffs how they felt about open scoring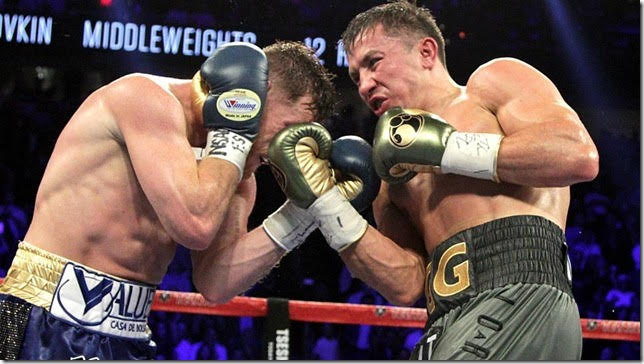 (PART ONE: A-L): It's time for the Quarterly TSS Survey and this time we asked our panel of noted boxing buffs how they felt about open scoring. Specifically, they were asked, "Are you in favor of open scoring whereby the scores of the judges would be revealed after each round or at one or more intervals during the fight? If so, why? If not, why not?" Based on the large number who weighed in, our findings are being published in two parts.
While it was anticipated that most would be against open scoring, there were some interesting inputs that favored it. And some who were against it left no doubt as to their feelings. This will be expanded upon in the Observations Section of Part Two.
The respondents are listed in alphabetical order:
JAMES AMATO–author, writer, collector and historian: I'm not a fan of open scoring. I like the element of surprise at the end of a bout. Who won? Then hearing the decision of the judges. Then followed by shock, disappointment and sometimes sheer rage.
RUSS ANBER–elite cornerman and owner of Rival Sports Equipment: My gut reaction would be to NOT reveal the scores to the fans. Having said that, however, I think in a perfect world the scores could be revealed to the corners. This allows the corners to know the status of their fighter in the heat of the action, yet allows the fans to still watch the fight in a certain amount of excitement, suspense and tradition.
MATT ANDRZEJEWSKI–TSS writer: I used to staunchly oppose any type of open scoring. However, watching the first round of the WBC welterweight tournament earlier this year where scores were revealed one time, halfway through the fight, I began to become more open to the concept. The scores revealed at the halfway point did not take away from any suspense or cause fighters to extremely alter their strategy as we have seen in the past with certain types of open scoring. I think this concept could be beneficial in that cornermen sometimes have a distorted view of how a fight is going but if they hear their fighter is way down may be more apt to pull the plug later on, saving their fighter from unnecessary punishment.
DAVID AVILA—TSS West Coast Bureau Chief: It's a perplexing question. Open scoring could lead to better scoring by judges. But it could lead to more running by boxers who know they are ahead on the scorecards. I'm leaning toward open scoring because it has not been tried 100 percent.
BOB BENOIT–former pro fighter and current referee:  NO I am not in favor of it. Thirty years ago I tried it at a pro show and it took all the 'mystery' away. It ruined the show. It sucks. Try it and see. I did.
JOE BRUNO—former New York City sportswriter; prolific author: Bad idea. Then fighters will know when to coast; knowing they are ahead in the scoring. Plus, the mystery that leads to bad decisions makes them more upsetting when they happen. I don't want to know who's winning until the fight is over. And if it's a bad decision, that's my cue to get pissed.
STEVE CANTON—author, historian, and President of Florida Boxing Hall of Fame: I am not in favor of open scoring and never have been. In fact, in my opinion, most rule changes in boxing in the last several years have had a major negative impact such as day before weigh-ins and going from 15 rounds to 12 in world title fights. I am "Old School" and will remain that way, good or bad. If a fighter knew he was way ahead with a few rounds to go he could conceivably stay away, not take chances and not fight at all knowing he (or she) will win the decision anyway. If a fighter was behind in a fight he might become reckless trying for a knockout and get knocked out himself. What if the fighter who was behind kept boxing and didn't get reckless and the fighter who was winning either got tired or injured? The outcome of the fight might have been decided because the fighters knew the scorecards rather than by the natural flow of the fight. What if a strong local fight crowd started rioting during the fight when they heard scorecards they didn't agree with and the fight couldn't be completed? Leave things alone with our sport and go back to some of things that were changed when our sport was good.
BILL CAPLAN–legendary boxing publicist: I'm in favor of the WBC plan of having open scoring after the 4th and 8th rounds."
CHARLIE DWYER—former fighter and pro referee: I'm against open scoring simply because it takes away the suspense of waiting for the decision. Also it may cause a boxer to ease up or opt out of a bout once he realizes he's ahead.
STEVE FARHOOD— Showtime announcer, former editor of The Ring magazine and 2017 IBHOF inductee: I am not, nor have I ever been, in favor of open scoring. I believe it places undue pressure on the judges and eliminates one of the most dramatic moments in boxing–when the ring announcer reads the final scores in a close fight.
BERNARD FERNANDEZ—lifetime member of BWAA and TSS mainstay: Open scoring is something that sounds sort-of feasible to those unfamiliar with boxers and boxing. Communism also sounds sort-of feasible to some people, too. But if history tells us anything, it is that neither concept works. If a world-class fighter believes he has banked enough early rounds to build enough of a lead, he might decide to play keep-away in the "championship" rounds, cheating the fans and possibly himself. (Think Oscar De La Hoya's failed strategy against Felix Trinidad.) If two fighters have an inadvertent clash of heads in the third or fourth round, and the one who presumably is ahead on the scorecards is leery of the other fighter's potential to close the gap or score a KO, he might instruct his corner to open the cut wider instead of closing it, in the hope of winning an abbreviated technical decision. Bad decisions will always be a part of boxing, but open scoring can only make things worse.
PEDRO "PETE" FERNANDEZ—former boxer and manager of Ring Talk: You can't lay the base for a revolution because a close fight is just that. As for posting the scores, I've seen guys dog it with that system down the stretch. Just get better judges. I'm an ABC approved judge; if more people sat through a seminar with esteemed Judge Steve Weisfeld, they, the masses, would be in a better position to complain. Posting scores is hokey.
JEFFREY FREEMAN–(aka KO Digest): Open scoring has never worked and it never will. What I'd be more in favor of though is giving the judges a chance to review the fight on tape and to make use of a legitimate, virtual reality-based punch counting device before making their final judgments on who really earned the decision
JERRY FORTE–former Massachusetts Chief Deputy Boxing Commissioner; active amateur and professional judge: NO! We had that system in place here in Massachusetts in the early 90s. We had a red and a blue corner with lights attached. At the end of each round the light would turn on for the fighter that won that particular round. Well, it turned out to be a nightmare If the crowd did not agree with a judge's decision, they would yell and make threats and in some cases it got physical. Finally the commission ended that way of scoring within a year.
CLARENCE GEORGE–boxing writer and historian: Open scoring adversely affects the quality of fights. If a fighter knows, for instance, that the judges have him ahead, he may very well take his foot off the gas. Two thumbs down (which is my curmudgeonly reaction to most so-called innovations).
LEE GROVES–author, writer and CompuBox wizard: I'm generally not in favor of it because there have been cases where the course of a fight has been changed by that knowledge. Fighters who knew they were so far ahead that they couldn't lose a decision went into the four-corners defense and fighters who were so far behind have opted to quit in the corner. Such scenarios cheat the audiences that have paid to see the event live, both in the arena and on pay-per-view. I may be portraying old-school thinking, but I'd rather keep the mystery for these reasons.
HENRY HASCUP–historian; President of the New Jersey Boxing Hall of Fame: I was for it once, but I think it would take away from the drama of the fight if we knew what the score was before the end. Another reason is that if fighter A was winning by several points he might coast the rest of the way. Finally, the judges would have more pressure on them as everyone would be looking at their scores and the reaction of the fans might not be too nice!
BRUCE KIELTY–boxing matchmaker, manager, and historian: Open scoring is perhaps the most moronic idea ever advanced by the sanctioning body scumbums. It is similar to showing the end of a movie before the beginning of a movie. If a boxer knows that he is way ahead on points, he simply coasts for three or four rounds to avoid being knocked out. It takes all of the drama out of an event. The answer is hiring quality judges, not incompetent ones or those "on the take." On the level of stupidity, I would compare this to rules (like in California) where a boxer can be knocked unconscious at 2:51 of the last round and still win the decision
STUART KIRSCHENBAUM—boxing commission emeritus, state of Michigan: I am not in favor of open scoring. The old argument that boxing is the only sport where one does not know the score does not hold any weight. Boxing is the only subjective sport, other than gymnastics and diving to name some, where scores are not earned as runs, baskets, goals, touchdowns and can be objectively calculated. Having been a professional boxing judge, I understand firsthand the pressures and influences this would have on officials and boxers. If an official notes that he is "watching another fight" than the other two judges there might be pressure for him to tighten up his score not to be on the other side of a split decision. In addition, having judged many world championships, there exists the sucking up to promoters and world boxing organization officials to gain their favor to be assigned for expensive trips and lucrative paydays and open scoring would cause further manipulation.
The other negative aspect would occur with the boxers and cornermen. If a boxer knew he was ahead on points he could coast and be virtually non-competitive for as long as needed. The losing boxer, if he knew he was so far behind on points and did not have the ability to knock out his opponent, could either quit or fake a knockdown and this would be considered "throwing a fight".
As a commissioner, it is our job to weed out bad officials, stop favoritism among officials and understand that professionalism, honesty, integrity of judges would be the most important safeguard to non-open scoring.
JIM LAMPLEY–linchpin of the HBO announcing team; 2009 IBHOF inductee: Opposed. Always have been. Kills suspense for fans, places fighters at risk if they fall behind and take risks not warranted by their abilities, encourages leading fighter to take fewer risks—-and risk is the heart of the sport—-just think it is a bad idea in virtually every way possible.
ARNE LANG–TSS editor-in-chief, author, historian: I'm a traditionalist, so I'm perfectly okay with the current system. If I was watching a fight and to my eyes it was very close, I wouldn't want to know the scores heading into the final round. The judges might not be seeing it my way and that would spoil it for me — like giving away the "whodunit" before I had the chance to read the last chapter of the mystery novel.
RON LIPTON–world class referee: I have an opinion on this but have to refrain as I am still an active official. (Note: a number of officials responded this way and I included Ron's as being representative.)
CHECK BACK FOR PART TWO (M-W)
 Ted Sares is one of the oldest active power lifters and is the oldest Strongman competitor in the United States. He recently won the Maine State Championship in his class. He is a member of Ring 4 and its Boxing Hall of Fame.
Check out more boxing news on video at The Boxing Channel
HITS and MISSES: Post-Thanksgiving Weekend Edition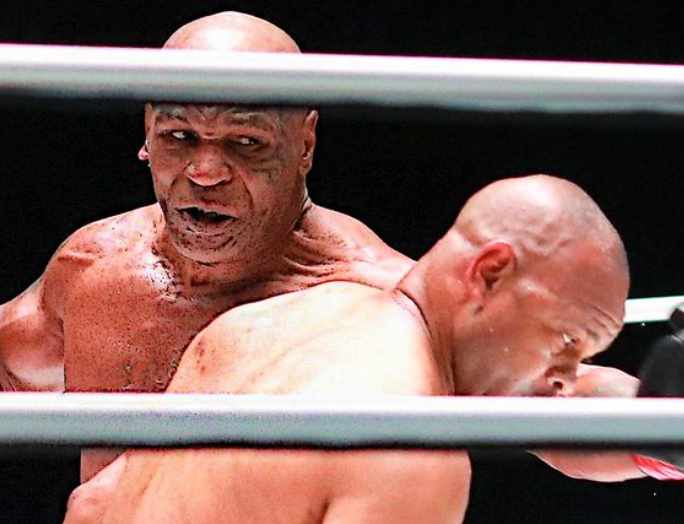 It was another massive weekend in boxing. There were big fights on pay-per-view that maybe shouldn't have been so big, and fights surrounded by lesser fanfare that will probably be looked back at as the more meaningful action by future historians.
Here are the biggest HITS and MISSES from another week on the boxing beat.
HIT: Mike Tyson, Roy Jones and the Unifying Power of Boxing
Whatever you think about the boxing exhibition bout between Mike Tyson and Roy Jones, Jr. on Saturday night, the most important aspect of the whole night (to this writer at least) was seeing how easily a big fight in boxing could still unify our culture.
No, it wasn't a legitimate prizefight, but people still wanted to see the 54-year-old Tyson go a few rounds with the 51-year-old Jones, and that's exactly what they got. It was a ride built mostly around the power of nostalgia, and it featured all sorts of present-day celebrities, too.
By the end of things, it seemed the general reaction to the event on social media was positive.
Tyson vs. Jones showed how big a reach boxing still has. Tyson retired over 15 years ago, but people from all over the planet were still willing to pay $50 to watch him climb inside the ropes for a sparring session.
Seeing that left me with two exciting questions.
What awesome power will boxing's next superstar have?
More importantly, where is he (or she) anyway?
MISS: Ring Announcer's Steve Harvey Moment 
In 2015, comedian Steve Harvey accidentally announced the wrong winner of the Miss Universe pageant. As humiliating as that event was for Harvey, just imagine how the two women felt after having their hearts filled and slashed by his error.
That same thing sort of happened on Friday night when Danny Jacobs beat Gabriel Rosado via split decision in a 168-pound stay-busy fight streamed by DAZN.
Ring announcer Jeremiah Gallegos accidentally said the winner hailed from Philadelphia (where Rosado is from) before quickly changing it back to Brooklyn (where Jacobs is from).
So momentarily, the hard-luck Rosado, who never has been the beneficiary of a close decision in any important fight, thought he had just pulled off the upset of the year.
Instead, Jacobs was corrected as the winner and that had to be an awful experience for both fighters, one that was completely avoidable.
HIT: Joe Joyce: An Actual Juggernaut?
Heavyweight prospect Joe Joyce is a popular fighter on the other side of the ocean because of his long and successful campaign as an amateur boxing star which culminated with Joyce winning the silver medal for Great Britain in the super heavyweight division at the 2016 Summer Olympics.
Still, as a professional prospect, there are lots of things not to like about Joyce. First, Joyce didn't start boxing until he was 22. Late bloomers come around now and then, but they're still a rarity in the sport. Second, Joyce is already 35, which means he's already just outside the confines of his theoretical physical prime, something that ends around 33 years old and only gets worse. Finally, Joyce is just plain slow as molasses.
Regardless, Joyce stopped fellow Brit Daniel Dubois on Saturday in London.
Unlike Joyce, Dubois, 23, possesses plenty of attributes one looks for in a future world champion. But none of those things helped Dubois win the fight.
All this to say Joyce just keeps winning fights. Sure, he might appear to be a boulder tumbling slowly down a hill when he fights, but that rock is starting to gain some real momentum.
HIT: 54-1
Thailand's Wanheng Menayothin finally lost a fight over the weekend, but it should be noted that at least the fighter finally knows his limits.
Menayothin (aka Chayaphon Moonsri) entered his fight against Petchmanee CP Freshmart (aka Panya Pradabsri) with a sterling record of 54-0. He left the contest 54-1 after judges rendered their verdict for the challenger.
Much was made of Menayothin's glossy win streak last year when he surpassed retired boxing superstar Floyd Mayweather's 50-0 mark. But a combat sports culture obsessed with suffering no blemishes on a record is only a relatively new phenomenon. Moreover, the very nature of that path through the sport never reveals the true limits of a fighter.
All this to say that Menayothin now gets a better sense of his limits, and the boxing world as a whole gets to know that same thing about him, too. That's wildly better than the alternative.
MISS: Nate Robinson Challenge
If you missed the Tyson vs. Jones pay-per-view event on Triller over the weekend, you didn't see social media star Jake Paul's viral knockout of ex-NBA star Nate Robinson.
It was clear from the start of the fight that Paul and Robinson weren't evenly matched. That kind of thing happens all the time in boxing, of course, but here was a case of a person (Robinson) who maybe had been so mismatched against Paul that it was too dangerous to have happened at all.
Regardless, Robinson did have the courage to train for the fight and step inside the ropes on fight night.
After he was knocked out, something called the "Nate Robinson Challenge" started trending on Twitter, and it was basically people from all over the world trolling the 3-time NBA dunking champ for getting knocked out in the fight.
Look, Robinson made his own bed by calling for the fight in the first place. But the Internet trolls that rag people for stepping outside their comfort zones probably would never dare to attempt that accomplishment themselves.
Robinson tried and failed. That's the real challenge.
Check out more boxing news on video at the Boxing Channel 
To comment on this story in the Fight Forum CLICK HERE
Tyson and Jones Box to an Unofficial Draw in a Predictable Stinker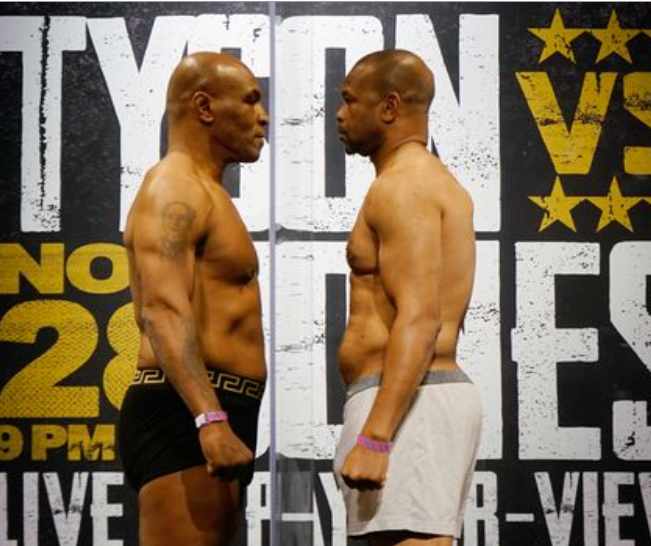 The Ringling Bros. and Barnum & Bailey Circus, an American institution, went belly-up in 2017, but a different kind of circus played to an empty house at the Staples Center in Los Angeles tonight. The main attraction wasn't Jumbo the elephant but Iron Mike Tyson in his first ring appearance in 15 years. In the opposite corner was Roy Jones Jr, who at age 51 was the younger man by three years.
Tyson vs. Jones was the main piece of a 4-hour boxing and music festival live-streamed in the U.S. on the TysononTriller.com app at a list price of $49.95. This was the first live event on "Triller" which allows people to create their own music videos and was designed as a rival to China-owned TikTok, one of the biggest recent success stories in the internet world.
The California State Athletic Commission, which sanctioned the match, insisted that Tyson vs. Jones would be an exhibition. They would fight 8 two-minute rounds with 12-ounce gloves and if there were a knockdown, the referee would not give a count and the bout would or would not continue at his discretion. The rounds would not be scored and no winner would be named.
Of course, the promoter chafed at these restraints and did his best to create the impression that this was a legitimate prizefight. Retired boxers Vinny Pazienza, Chad Dawson, and Christy Martin were lassoed to serve as judges, scoring the fight from a remote location, and the WBC commissioned an honorary belt to present to the winner.
The advance hype was enormous. A clickbait-obsessed media lapped it up including photoshop-enhanced images of Mike Tyson's physique.
In the second round, Tyson landed a double left hook and that was the only indelible moment in the match. By the third round, both looked and sounded tired and by the sixth round Jones was thoroughly gassed out and took to clinching to make it to the final bell.
For the record, the scores were 79-73 for Tyson (Martin), 80-76 for Jones (Pazienza), and 76-76 (Dawson). On the internet, the clear consensus was that Tyson had the best of it.
Mike Tyson, 50-6, 2 NC (44 KOs) last fought in June of 2005 when he was stopped by third-rater Kevin McBride. Roy Jones (66-9, 47 KOs) was active as recently as 2018 and won his last four, but against hand-picked opponents including a boxer making his pro debut. His last fight of significance came in 2011 when he was brutally KOed by Dennis Lebedev in Moscow.
Jones, who weighed 210 ½ tonight, weighed 157 when he made his pro debut in 1989. In his prime, he was pound-for-pound the best fighter in the world, but that was back in the previous century.
Both fighters were reportedly guaranteed $1 million with Tyson's take potentially reaching $10 million if certain financial targets were met.
Other Bouts
YouTube sensation Jake Paul, who we reluctantly concede has more than a modicum of talent in the fisticuffing department, knocked out Nate Robinson in the second round and it was a clean knockout with Robinson knocked out cold. The 36-year-old Robinson, the former NBA point guard who was a three-time slam dunk champion during his 11-year NBA career, is a well-rounded athlete, good enough to start as a cornerback in football during his freshman year at the University of Washington, but his athleticism didn't translate to the squared circle as he looked like a common bar brawler.
Former two-division belt-holder Badou Jack (22-3-4), who said he appeared on the card as a favor to his friend Mike Tyson, was a clear-cut winner over hard-trying but out-classed Blake McKernan in an 8-round cruiserweight match.
At age 37, Jack's career is winding down. He tipped the scales at 188 ¾, 14 pounds more than in his previous engagement vs. Jean Pascal. McKernan, a natural cruiserweight from Sacramento, was undefeated coming in (13-0), but was in over his head against Jack, a former Olympian and veteran of seven world title fights.
In a good action fight, Worcester, Massachusetts lightweight Jamaine Ortiz, a carpenter by trade, improved to 14-0 (8) with a seventh-round stoppage of Sulaiman Segawa (13-3-1), a Maryland-based Ugandan.
In the first bout on the program, Fort Worth featherweight Edward Vazquez improved to 9-0 (1) with an 8-round split decision over Jamaine Ortiz stablemate Irvin Gonzalez (14-3).
Heavyweight Juiseppe "Joe" Cusumano improved to 19-3 (17) with a sixth-round stoppage of late sub Gregory Corbin (15-4). It was the fourth straight loss for the 40-year-old Corbin who came in at a beefy 291 ¾ pounds.
Check out more boxing news on video at the Boxing Channel 
To comment on this story in the Fight Forum CLICK HERE
Fast Results from London: Joe Joyce Stops Daniel Dubois in the 10th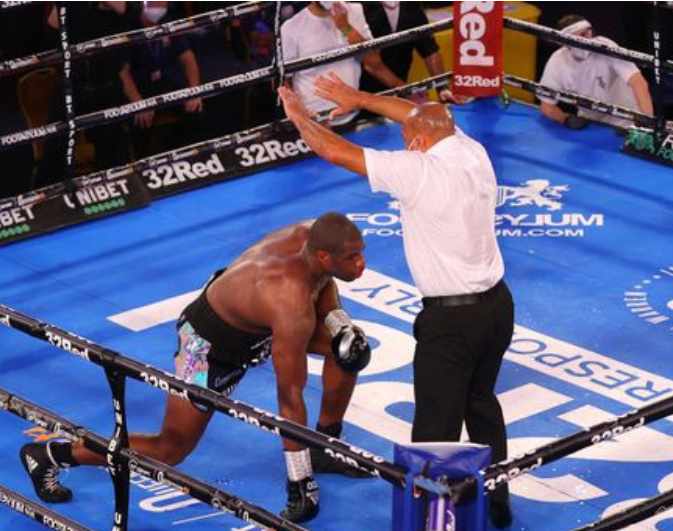 The historic Church House which sits in the shadow of Westminster Abbey was the site of tonight's clash in London between unbeaten heavyweights Daniel Dubois and Joe Joyce. The bout lacked the gloss of a world title fight, but didn't need it. The oft-postponed match, originally slated for the 02 Arena in London on April 11 with promoter Frank Warren anticipating a sellout, was fairly hyped as the most anticipated fight since Fury-Wilder II which was the last big fight before the coronavirus clampdown.
Dubois, 15-0 with 14 KOs heading in, was a consensus 7/2 favorite in man-to-man betting, He was younger, faster and punched harder, but ultimately it would be his "O" that had to go. Joe Joyce, an inch taller at six-foot-six and 15 pounds heavier at 259, emerged victorious with a 10th-round stoppage in what was a good back-and-forth fight with a divided opinion as to who had the edge through the completed rounds.
Joyce really didn't do much but throw a jab, but he landed that jab consistently and it was a hard, thudding jab that caused Dubois's left eye to start swelling during the mid-rounds of the fight. The damaged eye eventually shut and when Joyce reached it with another hard jab in the 10th, Dubois surrendered by taking a knee. The presumption was that he had suffered a broken orbital bone.
The 35-year-old Joyce, nicknamed Juggernaut, is of Scotch-Irish and Nigerian descent. He lost by split decision to Tony Yoka in the semifinals of the 2016 Olympics and had to settle for a silver medal. Prior to turning pro, he was 12-1 in the semi-pro World Series of Boxing with his lone defeat coming at the hands of Oleksandr Usyk. With today's career-defining win, he upped his pro ledger to 12-0 (11).
Other Bouts
Top-rated WBC super lightweight contender Jack Catterall (26-0) won a predictably one-sided 10-round triumph over 33-year-old Tunisian Abderrazak Houya (14-3). Catterall scored two knockdowns en route to winning by a 99-90 score. This was a stay-busy fight for the Lancashire man who was the mandatory challenger for title-holder Jose Carlos Ramirez and accepted step-aside money with the promise that he would meet the winner of the unification fight between Ramirez and Josh Taylor which is expected to come off in February.
The lead-in fight was a 10-round contest in the super welterweight division between 21-year-old Hamzah Sheeraz and 33-year-old Guido Nicolas Pitto. The fight was monotonous until Sheeraz (12-0, 8 KOs) kicked it into a higher career in the final stanza and brought about the stoppage. Pitto, from Spain by way of Argentina, declined to 26-8-2. The official time was 1:11 of round 10.
In an 8-round cruiserweight bout, Jack Massey improved to 17-1 (8) with a 79-74 referee's decision over Mohammad Ali Farid (16-2-1). Massey was making his first start since losing a close 12-round decision to Richard Raikporhe in December of 2019 for the vacant BBBofC title. The well-traveled, one-dimensional Farid had scored 16 knockouts in his previous 18 fights while answering the bell for only 33 rounds.
Check out more boxing news on video at the Boxing Channel 
To comment on this story in the Fight Forum CLICK HERE