Are You in Favor or Against Open Scoring in Boxing? Results of a TSS Survey
(PART ONE: A-L): It's time for the Quarterly TSS Survey and this time we asked our panel of noted boxing buffs how they felt about open scoring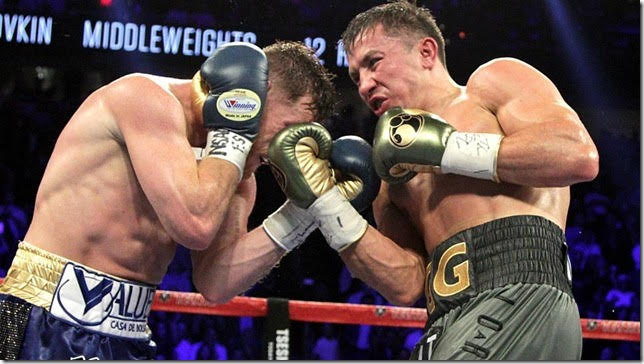 (PART ONE: A-L): It's time for the Quarterly TSS Survey and this time we asked our panel of noted boxing buffs how they felt about open scoring. Specifically, they were asked, "Are you in favor of open scoring whereby the scores of the judges would be revealed after each round or at one or more intervals during the fight? If so, why? If not, why not?" Based on the large number who weighed in, our findings are being published in two parts.
While it was anticipated that most would be against open scoring, there were some interesting inputs that favored it. And some who were against it left no doubt as to their feelings. This will be expanded upon in the Observations Section of Part Two.
The respondents are listed in alphabetical order:
JAMES AMATO–author, writer, collector and historian: I'm not a fan of open scoring. I like the element of surprise at the end of a bout. Who won? Then hearing the decision of the judges. Then followed by shock, disappointment and sometimes sheer rage.
RUSS ANBER–elite cornerman and owner of Rival Sports Equipment: My gut reaction would be to NOT reveal the scores to the fans. Having said that, however, I think in a perfect world the scores could be revealed to the corners. This allows the corners to know the status of their fighter in the heat of the action, yet allows the fans to still watch the fight in a certain amount of excitement, suspense and tradition.
MATT ANDRZEJEWSKI–TSS writer: I used to staunchly oppose any type of open scoring. However, watching the first round of the WBC welterweight tournament earlier this year where scores were revealed one time, halfway through the fight, I began to become more open to the concept. The scores revealed at the halfway point did not take away from any suspense or cause fighters to extremely alter their strategy as we have seen in the past with certain types of open scoring. I think this concept could be beneficial in that cornermen sometimes have a distorted view of how a fight is going but if they hear their fighter is way down may be more apt to pull the plug later on, saving their fighter from unnecessary punishment.
DAVID AVILA—TSS West Coast Bureau Chief: It's a perplexing question. Open scoring could lead to better scoring by judges. But it could lead to more running by boxers who know they are ahead on the scorecards. I'm leaning toward open scoring because it has not been tried 100 percent.
BOB BENOIT–former pro fighter and current referee:  NO I am not in favor of it. Thirty years ago I tried it at a pro show and it took all the 'mystery' away. It ruined the show. It sucks. Try it and see. I did.
JOE BRUNO—former New York City sportswriter; prolific author: Bad idea. Then fighters will know when to coast; knowing they are ahead in the scoring. Plus, the mystery that leads to bad decisions makes them more upsetting when they happen. I don't want to know who's winning until the fight is over. And if it's a bad decision, that's my cue to get pissed.
STEVE CANTON—author, historian, and President of Florida Boxing Hall of Fame: I am not in favor of open scoring and never have been. In fact, in my opinion, most rule changes in boxing in the last several years have had a major negative impact such as day before weigh-ins and going from 15 rounds to 12 in world title fights. I am "Old School" and will remain that way, good or bad. If a fighter knew he was way ahead with a few rounds to go he could conceivably stay away, not take chances and not fight at all knowing he (or she) will win the decision anyway. If a fighter was behind in a fight he might become reckless trying for a knockout and get knocked out himself. What if the fighter who was behind kept boxing and didn't get reckless and the fighter who was winning either got tired or injured? The outcome of the fight might have been decided because the fighters knew the scorecards rather than by the natural flow of the fight. What if a strong local fight crowd started rioting during the fight when they heard scorecards they didn't agree with and the fight couldn't be completed? Leave things alone with our sport and go back to some of things that were changed when our sport was good.
BILL CAPLAN–legendary boxing publicist: I'm in favor of the WBC plan of having open scoring after the 4th and 8th rounds."
CHARLIE DWYER—former fighter and pro referee: I'm against open scoring simply because it takes away the suspense of waiting for the decision. Also it may cause a boxer to ease up or opt out of a bout once he realizes he's ahead.
STEVE FARHOOD— Showtime announcer, former editor of The Ring magazine and 2017 IBHOF inductee: I am not, nor have I ever been, in favor of open scoring. I believe it places undue pressure on the judges and eliminates one of the most dramatic moments in boxing–when the ring announcer reads the final scores in a close fight.
BERNARD FERNANDEZ—lifetime member of BWAA and TSS mainstay: Open scoring is something that sounds sort-of feasible to those unfamiliar with boxers and boxing. Communism also sounds sort-of feasible to some people, too. But if history tells us anything, it is that neither concept works. If a world-class fighter believes he has banked enough early rounds to build enough of a lead, he might decide to play keep-away in the "championship" rounds, cheating the fans and possibly himself. (Think Oscar De La Hoya's failed strategy against Felix Trinidad.) If two fighters have an inadvertent clash of heads in the third or fourth round, and the one who presumably is ahead on the scorecards is leery of the other fighter's potential to close the gap or score a KO, he might instruct his corner to open the cut wider instead of closing it, in the hope of winning an abbreviated technical decision. Bad decisions will always be a part of boxing, but open scoring can only make things worse.
PEDRO "PETE" FERNANDEZ—former boxer and manager of Ring Talk: You can't lay the base for a revolution because a close fight is just that. As for posting the scores, I've seen guys dog it with that system down the stretch. Just get better judges. I'm an ABC approved judge; if more people sat through a seminar with esteemed Judge Steve Weisfeld, they, the masses, would be in a better position to complain. Posting scores is hokey.
JEFFREY FREEMAN–(aka KO Digest): Open scoring has never worked and it never will. What I'd be more in favor of though is giving the judges a chance to review the fight on tape and to make use of a legitimate, virtual reality-based punch counting device before making their final judgments on who really earned the decision
JERRY FORTE–former Massachusetts Chief Deputy Boxing Commissioner; active amateur and professional judge: NO! We had that system in place here in Massachusetts in the early 90s. We had a red and a blue corner with lights attached. At the end of each round the light would turn on for the fighter that won that particular round. Well, it turned out to be a nightmare If the crowd did not agree with a judge's decision, they would yell and make threats and in some cases it got physical. Finally the commission ended that way of scoring within a year.
CLARENCE GEORGE–boxing writer and historian: Open scoring adversely affects the quality of fights. If a fighter knows, for instance, that the judges have him ahead, he may very well take his foot off the gas. Two thumbs down (which is my curmudgeonly reaction to most so-called innovations).
LEE GROVES–author, writer and CompuBox wizard: I'm generally not in favor of it because there have been cases where the course of a fight has been changed by that knowledge. Fighters who knew they were so far ahead that they couldn't lose a decision went into the four-corners defense and fighters who were so far behind have opted to quit in the corner. Such scenarios cheat the audiences that have paid to see the event live, both in the arena and on pay-per-view. I may be portraying old-school thinking, but I'd rather keep the mystery for these reasons.
HENRY HASCUP–historian; President of the New Jersey Boxing Hall of Fame: I was for it once, but I think it would take away from the drama of the fight if we knew what the score was before the end. Another reason is that if fighter A was winning by several points he might coast the rest of the way. Finally, the judges would have more pressure on them as everyone would be looking at their scores and the reaction of the fans might not be too nice!
BRUCE KIELTY–boxing matchmaker, manager, and historian: Open scoring is perhaps the most moronic idea ever advanced by the sanctioning body scumbums. It is similar to showing the end of a movie before the beginning of a movie. If a boxer knows that he is way ahead on points, he simply coasts for three or four rounds to avoid being knocked out. It takes all of the drama out of an event. The answer is hiring quality judges, not incompetent ones or those "on the take." On the level of stupidity, I would compare this to rules (like in California) where a boxer can be knocked unconscious at 2:51 of the last round and still win the decision
STUART KIRSCHENBAUM—boxing commission emeritus, state of Michigan: I am not in favor of open scoring. The old argument that boxing is the only sport where one does not know the score does not hold any weight. Boxing is the only subjective sport, other than gymnastics and diving to name some, where scores are not earned as runs, baskets, goals, touchdowns and can be objectively calculated. Having been a professional boxing judge, I understand firsthand the pressures and influences this would have on officials and boxers. If an official notes that he is "watching another fight" than the other two judges there might be pressure for him to tighten up his score not to be on the other side of a split decision. In addition, having judged many world championships, there exists the sucking up to promoters and world boxing organization officials to gain their favor to be assigned for expensive trips and lucrative paydays and open scoring would cause further manipulation.
The other negative aspect would occur with the boxers and cornermen. If a boxer knew he was ahead on points he could coast and be virtually non-competitive for as long as needed. The losing boxer, if he knew he was so far behind on points and did not have the ability to knock out his opponent, could either quit or fake a knockdown and this would be considered "throwing a fight".
As a commissioner, it is our job to weed out bad officials, stop favoritism among officials and understand that professionalism, honesty, integrity of judges would be the most important safeguard to non-open scoring.
JIM LAMPLEY–linchpin of the HBO announcing team; 2009 IBHOF inductee: Opposed. Always have been. Kills suspense for fans, places fighters at risk if they fall behind and take risks not warranted by their abilities, encourages leading fighter to take fewer risks—-and risk is the heart of the sport—-just think it is a bad idea in virtually every way possible.
ARNE LANG–TSS editor-in-chief, author, historian: I'm a traditionalist, so I'm perfectly okay with the current system. If I was watching a fight and to my eyes it was very close, I wouldn't want to know the scores heading into the final round. The judges might not be seeing it my way and that would spoil it for me — like giving away the "whodunit" before I had the chance to read the last chapter of the mystery novel.
RON LIPTON–world class referee: I have an opinion on this but have to refrain as I am still an active official. (Note: a number of officials responded this way and I included Ron's as being representative.)
CHECK BACK FOR PART TWO (M-W)
 Ted Sares is one of the oldest active power lifters and is the oldest Strongman competitor in the United States. He recently won the Maine State Championship in his class. He is a member of Ring 4 and its Boxing Hall of Fame.
Check out more boxing news on video at The Boxing Channel
Mercito Gesta Victorious Over Jojo Diaz at the Long Beach Pyramid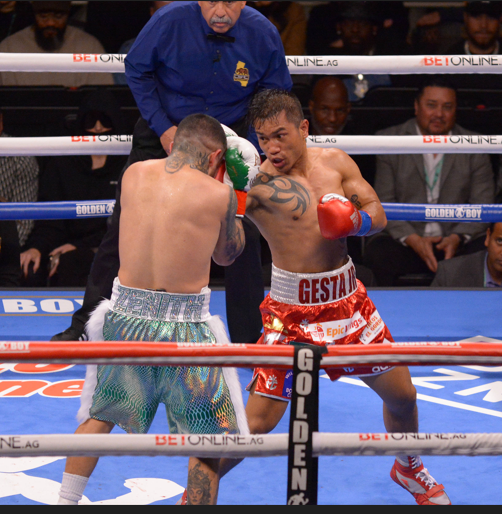 LONG BEACH, CA.-Those in the know knew Mercito Gesta and Jojo Diaz would be a fight to watch and they delivered.
Gesta emerged the winner in a super lightweight clash between southpaws that saw the judges favor his busier style over Diaz's body attack and bigger shots and win by split decision on Saturday.
Despite losing the main event because the star was overweight, Gesta (34-3-3, 17 KOs) used an outside method of tactic to edge past former world champion Diaz (32-4-1, 15 KOs) in front of more than 5,000 fans at the Pyramid.
The speedy Gesta opened up the fight with combination punching up and down against the peek-a-boo style of Diaz. For the first two rounds the San Diego fighter overwhelmed Diaz though none of the blows were impactful.
In the third round Diaz finally began unloading his own combinations and displaying the fast hands that helped him win world titles in two divisions. Gesta seemed stunned by the blows, but his chin held up. The counter right hook was Diaz's best weapon and snapped Gesta's head back several times.
Gesta regained control in the fifth round after absorbing big blows from Diaz. He seemed to get angry that he was hurt and opened up with even more blows to send Diaz backpedaling.
Diaz targeted his attack to Gesta's body and that seemed to slow down Gesta. But only for a round.
From the seventh until the 10th each fighter tried to impose their style with Gesta opening up with fast flurries and Diaz using right hooks to connect with solid shots. They continued their method of attack until the final bell. All that mattered was what the judges preferred.
After 10 rounds one judge saw Diaz the winner 97-93 but two others saw Gesta the winner 99-91, 98-92. It was a close and interesting fight.
"I was expecting nothing. I was the victor in this fight and we gave a good fight," said Gesta. "It's not an easy fight and Jojo gave his best."
Diaz was surprised by the outcome but accepted the verdict.
Everything was going good. I thought I was landing good body shots," said Diaz. "I was pretty comfortable."
Other Bouts
Mexico's Oscar Duarte (25-1-1, 20 KOs) knocked out Chicago's Alex Martin (18-5, 6 KOs) with a counter right hand after dropping him earlier in the fourth round. The super lightweight fight was stopped at 1:14 of the round.
A battle between undefeated super welterweights saw Florida's Eric Tudor (8-0, 6 KOs) emerge the winner by unanimous decision after eight rounds versus Oakland's Damoni Cato-Cain.
The taller Tudor showed polished skill and was not bothered by a large cut on his forehead caused by an accidental clash of heads. He used his jab and lead rights to defuse the attacks of the quick-fisted southpaw Cato-Cain. The judges scored the fight 80-72 and 78-74 twice for Tudor.
San Diego's Jorge Chavez (5-0, 4 KOs) needed less than one round to figure out Nicaragua's Bryan Perez (12-17-1, 11 KOs) and send him into dreamland with a three-punch combination. No need to count as referee Ray Corona waved the fight over. Perez shot a vicious right followed by another right and then a see-you-later left hook at 3.00 of the first round of the super featherweight match.
Photo credit: Al Applerose
Jojo Diaz's Slump Continues; Mercito Gesta Prevails on a Split Decision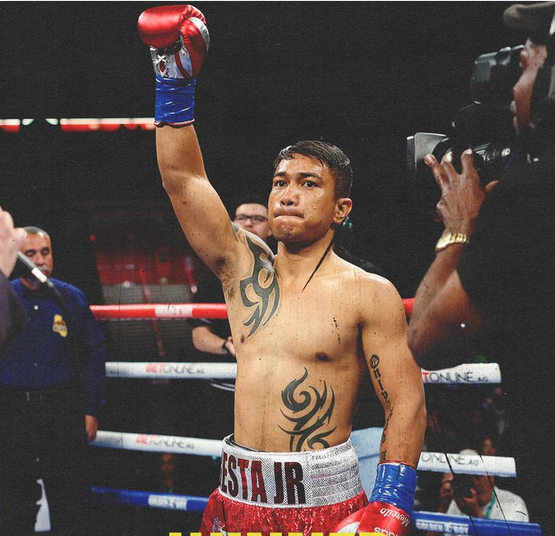 At age 30, Jojo Diaz's career is on the skids. The 2012 U.S. Olympian, a former world title holder at 126 and 130 pounds and an interim title holder at 135, Diaz suffered his third straight loss tonight, upset by Mercito Gesta who won a split decision at the Walter Pyramid in Long Beach, CA.. The scoring was strange with Gesta winning nine of the 10 rounds on one of the cards and only three rounds on another. The tie-breaker, as it were, was a 98-92 tally for Gesta and even that didn't capture the flavor of what was a closely-contested fight.
Originally listed as a 12-rounder, the match was reduced to 10 and that, it turned out, did Diaz no favors. However, it's hard to feel sorry for the former Olympian as he came in overweight once again, having lost his 130-pound title on the scales in February of 2021.
Diaz also has issues outside the ropes. Best elucidated by prominent boxing writer Jake Donovan, they include a cluster of legal problems stemming from an arrest for drunk driving on Feb. 27 in the LA suburb of Claremont.
With the defeat, Diaz's ledger declined to 32-4-1. His prior losses came at the hands of Gary Russell Jr, Devin Haney, and William Zepeda, boxers who are collectively 83-2. Mercito Gesta, a 35-year-old San Diego-based Filipino, improved to 34-3-3.
Co-Feature
Chihuahua, Mexico super lightweight Oscar Duarte has now won nine straight inside the distance after stopping 33-year-old Chicago southpaw Alex Martin in the eighth frame. Duarte, the busier fighter, had Martin on the deck twice in round eight before the fight was waived off.
Duarte improved to 25-1-1 (20). Martin, who reportedly won six national titles as an amateur and was once looked upon as a promising prospect, declined to 18-5.
Other Bouts of Note
New Golden Boy signee Eric Tudor, a 21-year-old super welterweight from Fort Lauderdale, overcame a bad laceration over his right eye, the result of an accidental clash of heads in round four, to stay unbeaten, advancing to 8-0 (6) with a hard-fought unanimous 8-round decision over Oakland's Damoni Cato-Cain. The judges had it 80-72 and 78-74 twice. It was the first pro loss for Cato-Cain (7-1-1) who had his first five fights in Tijuana.
In the DAZN opener, lanky Hawaian lightweight Dalis Kaleiopu went the distance for the first time in his young career, improving to 4-0 (3) with a unanimous decision over 36-year-old Colombian trial horse Jonathan Perez (40-35). The scores were 60-52 across the board. There were no knockdowns, but Perez, who gave up almost six inches in height, had a point deducted for a rabbit punch and another point for deducted for holding.
To comment on this story in the Fight Forum CLICK HERE
'Big Baby' Wins the Battle of Behemoths; TKOs 'Big Daddy' in 6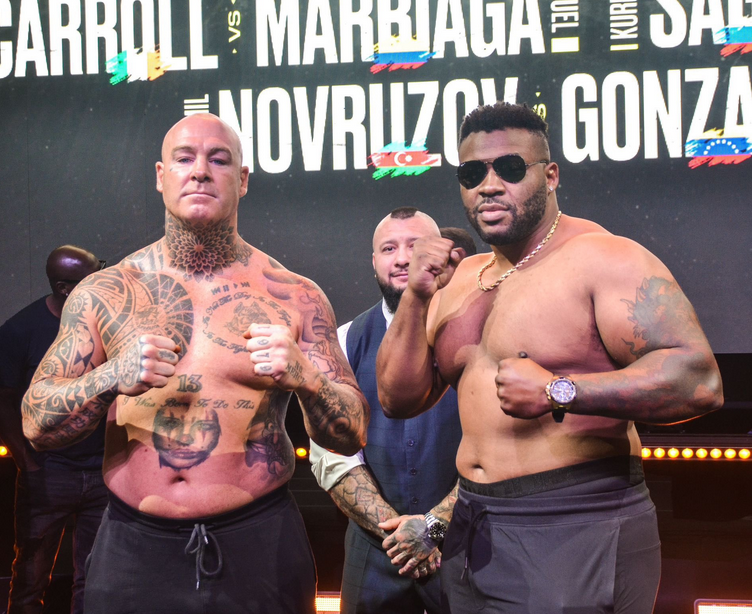 Lucas "Big Daddy" Browne weighed in at a career-high 277 pounds for today's battle in Dubai with Jarrell "Big Baby" Miller, but he was the lighter man by 56 pounds. It figured that one or both would gas out if the bout lasted more than a few stanzas.
It was a war of attrition with both men looking exhausted at times, and when the end came it was Miller, at age 34 the younger man by nine years, who had his hand raised.
Browne was the busier man, but Miller, whose physique invites comparison with a rhinoceros, hardly blinked as he was tattooed with an assortment of punches. He hurt 'Bid Daddy' in round four, but the Aussie held his own in the next frame, perhaps even forging ahead on the cards, but only postponing the inevitable.
In round six, a succession of right hands knocked Browne on the seat of his pants. He beat the count, but another barrage from Miller impelled the referee to intervene. The official time was 2:33. It was the 21st straight win for Miller (26-0-1, 22 KOs). Browne declined to 31-4 and, for his own sake, ought not fight again. All four of his losses have come inside the distance, some brutally.
The consensus of those that caught the livestream was that Floyd Mayweather Jr's commentary was an annoying distraction that marred what was otherwise an entertaining show.
As for what's next for "Big Baby" Miller, that's hard to decipher as he has burned his bridges with the sport's most powerful promoters. One possibility is Mahmoud Charr who, like Miller, has a big gap in his boxing timeline. Now 38 years old, Charr – who has a tenuous claim on a WBA world title (don't we all?) —  has reportedly taken up residence in Dubai.
Other Bouts of Note
In a 10-round cruiserweight affair, Suslan Asbarov, a 30-year-old Russian, advanced to 4-0 (1) with a hard-fought majority decision over Brandon Glanton. The judges had it 98-92, 97-93, and a more reasonable 95-95.
Asbarov was 12-9 in documented amateur fights and 1-0 in a sanctioned bare-knuckle fight, all in Moscow, entering this match. He bears watching, however, as Glanton (18-2) would be a tough out for almost anyone in his weight class. In his previous fight, at Plant City, Florida, Glanton lost a controversial decision to David Light, an undefeated Australian who challenges WBO world title-holder Lawrence Okolie at Manchester, England next week.
A 10-round super featherweight match between former world title challengers Jono Carroll and Miguel Marriaga preceded the semi-windup. Carroll, a 30-year-old Dublin southpaw, overcame a cut over his left eye suffered in the second round to win a wide unanimous decision in a fairly entertaining fight.
It was the sixth straight win for Carroll (24-2-1, 7 KOs) who elevated his game after serving as a sparring partner for Devin Haney. Marriaga, a 36-year-old Colombian, lost for the fourth time in his last five outings, declining to 30-7.
To comment on this story in the Fight Forum CLICK HERE