Terence Crawford Hopes to Embellish His Case for No. 1 on Oct. 13 on ESPN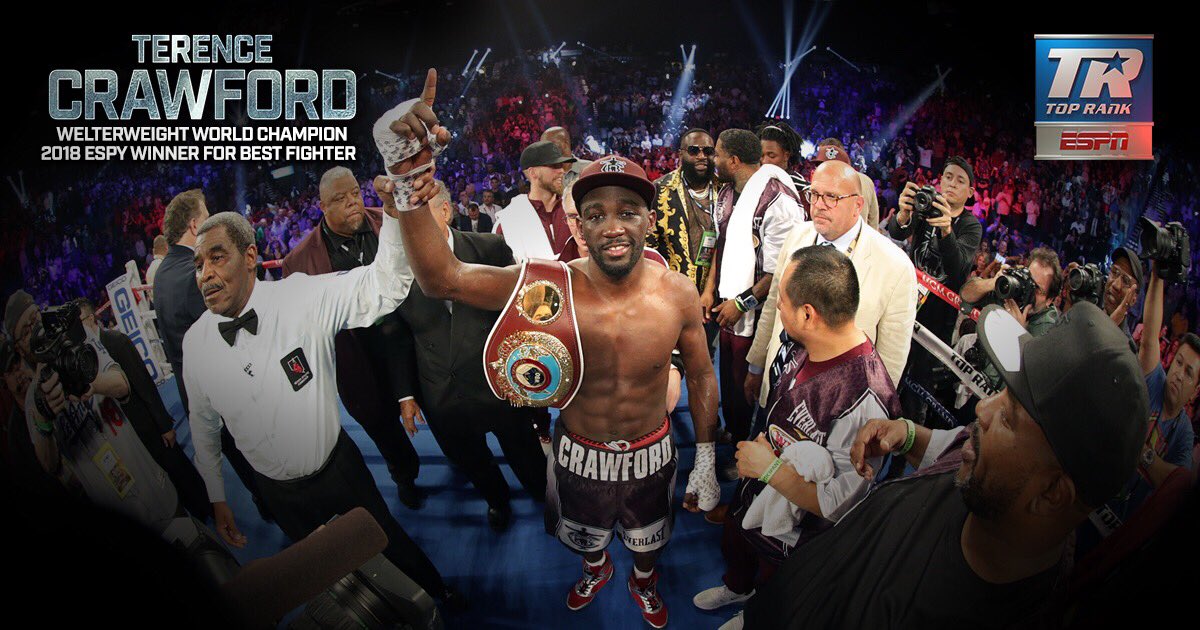 Upon the conclusion of the College Football Playoff championship game on Jan. 7 in Santa Clara, Calif., one thing you won't see is the losing team excitedly running around the Levi's Stadium field, smiling players and coaches on the wrong side of the score thrusting a pair of fingers skyward and shouting, "We're No. 2!"
Maybe even more so than in team sports, boxing isn't big on the horseshoes-and-hand grenades premise that getting close sometimes is good enough. Going home with the consolation prize is never good enough for Super Bowl and World Series runners-up, and it damn sure isn't enough for elite, championship-level fighters who don't have to share the glory of victory, or the disappointment of defeat, with teammates. While promoters, managers and trainers provide a measure of group support, in the ring every fighter succeeds or falters on his own. The boxer on fight night, stripped down to shoes, trunks and padded gloves, is as nearly naked and isolated as any athlete can be.
WBO welterweight champion Terence Crawford (33-0, 24 KOs) defends his title against that sanctioning body's 14th-ranked contender, Jose Benavidez Jr. (27-0, 18 KOs), in the ESPN-televised main event on Oct. 13 at the CHI Health Center in Crawford's hometown of Omaha, Neb. It isn't exactly a mismatch on the level of, say, Christians vs. lions in the Roman Colosseum, but it would be quite the stunner if the challenger were to upset someone who is regarded in some quarters (but not as many as he would like) as the finest pound-for-pound fighter in the world, and by most everyone else as a highly qualified aspirant to that designation.
Crawford is 30, still in the most productive phase of his prime, and although he saying all the right things – he is focusing solely on Benavidez, yada, yada, yada – there is a part of him that realizes he is and likely will continue to be embroiled in an ongoing quest with Top Rank stablemate Vasiliy Lomachenko for recognition of a higher sort than some alphabet organization's bejeweled belt. He staunchly believes he is A-No. 1, king of the hill, top of the heap, and summarily dismissing the more than competent Benavidez is not apt to move the needle much toward his universal acceptance as the best of the best.
When the matchup with Benavidez was announced, Crawford said the intramural rivalry with Lomachenko, which is not apt to ever be settled inside the ropes, given their weight differences (Loma, the WBA lightweight champ, already has moved up two divisions and might not have the frame to go much higher), is only a figment of other people's imagination.
"I am the best fighter in the world, hands down. If I have a vote, I vote for myself," Crawford said with the finality of someone who is cocksure of his own ability and brooks no dissent.
During a conference call with the media on Thursday to discuss his first defense of the 147-pound title he gained with an almost perfunctory ninth-round stoppage of Australia's Jeff Horn on June 9, Crawford did little to camouflage his feelings about the matter, even if he did sort of dance around it a bit in a nod toward false modesty and political correctness.
Asked about who should be the consensus pick for that coveted No. 1 spot, Crawford said, "It depends on who you ask. Some people rate me No. 1, some people rate me No. 2. I can't complain if I'm in the top two in almost everybody's ratings."
From the perspective of Top Rank executives, however, the polls have closed and fight fans should pledge fealty to the company's preferred candidate, Crawford, to assume the role previously held by such legendary pound-for-pound monarchs as Sugar Ray Robinson, Muhammad Ali and Roy Jones Jr.
"Terence `Bud' Crawford is the world's best boxer," Top Rank founder and CEO Bob Arum, who was not on the conference call, said some weeks back, a reversal of his previous endorsement of Ukrainian sensation as numero uno.
Top Rank president Todd duBoef, who was on the conference call, also cast his ballot for the Omaha, Neb., fighter, whom he described as "the gold standard in boxing" who has "just electrified everybody with both boxing skill and power. When Terence Crawford gets in the ring, it's like Alabama in football. He is that dominant."
The question of "Who's really No. 1?" is, of course, always a matter of opinion. Maybe Lomachenko simply doesn't concern himself with an unofficial and arbitrary title, even if he has already been awarded it on several fronts. Perhaps Top Rank is especially sensitive to stroking Crawford's ego, which might be a sound business decision in light of the fact that there potentially are a raft of better and more profitable fights to be made in a deep welterweight division than for Lomachenko at 135 pounds.
Going to the scorecards, as it were, it would appear that Lomachenko is slightly ahead in the chase for No. 1. He has the top spot to Crawford's No. 2 in the Boxing Writers Association of America P4P ratings, as well as those listed by The Ring magazine, ESPN and Boxing News. Boxingscene.com has Crawford at No. 1 and Lomachenko second, with the outliers being World Boxing News, which has Loma first and Crawford an almost-unfathomable fifth, and Newsday, which places Loma first and Crawford third.
Moving forward, Crawford would appear to have the better chance of enhancing his claim to No. 1 if – and it's a big if – Top Rank is able to tear down some of the barricades that presently separate the Nebraskan and fellow welter champs Errol Spence Jr. (IBF), Keith Thurman (WBA "super") and Shawn Porter Jr. (WBC).
Porter claimed the vacant WBC title with a close unanimous decision over Danny Garcia on Sept. 9 in Brooklyn, whereupon Spence, who appeared at the postfight press conference, said it was "unlikely" he would ever swap punches with Crawford because, being affiliated with Premier Boxing Champions honcho Al Haymon, who deals almost exclusively with Fox and Showtime, he was "on the other side of the street" from Crawford, who is under contract to ESPN. Thurman is now with British promoter Eddie Hearn and Matchroom Boxing and Porter with PBC, making for an obstacle-strewn path to making bouts that a lot of fight fans would want to see. Compounding matters is the fact that Arum has cast Haymon as his newest arch-rival, sliding into the spot previously occupied by Don King and then Richard Schaefer.
But duBoef said that where there's a will, there probably is a way to get a deal done. He said he and Top Rank are ready to storm all enemy battlements if by doing so it would gain Crawford the sort of marquee opponents that would make him as big a star as his obvious skills suggest.
"I want to make this crystal-clear," duBoef said. "With our re-signing of Terence, regardless of (any other fighter's affiliation), we will take on all comers. That's it. We don't care where you are, what you do, we will take on all comers.
"Terence is an elite fighter. When there was a nice welterweight fight in early September (Porter-Garcia), all they did was talk about Terence Crawford. Terence wants to fight the biggest; we want to provide him with the biggest. We're going after all those (other welterweight champions). If they want to do it and we want to do it, let's just get it done. We'll figure out a solution."
Step one involves Crawford, who has become his home state's best feel-good sports story when measured against the utter collapse of the University of Nebraska's proud football tradition, which looks and smells like No. 2 of another sort, getting past Benavidez. It should be a relative gimme, but if history means anything there is this to consider.
The path to No. 1, like that to love, never runs smooth.
Bernard Fernandez is the retired boxing writer for the Philadelphia Daily News. He is a five-term former president of the Boxing Writers Association of America, an inductee into the Pennsylvania, New Jersey and Atlantic City Boxing Halls of Fame and the recipient of the Nat Fleischer Award for Excellence in Boxing Journalism and the Barney Nagler Award for Long and Meritorious Service to Boxing.
Check out more boxing news on video at The Boxing Channel
NEWS FLASH: Leon Spinks Hospitalized; Reportedly Fighting for His Life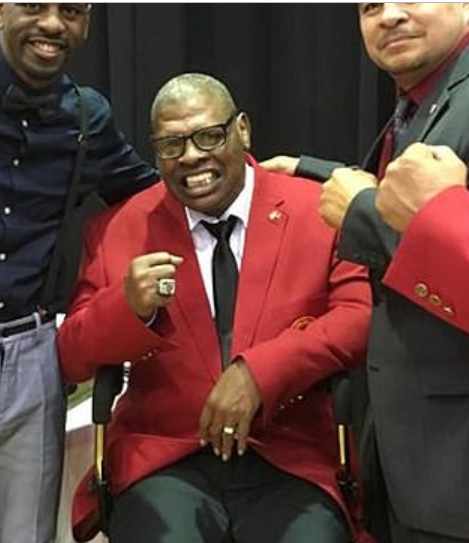 The gossip site TMZ is reporting that Leon Spinks is hospitalized in Las Vegas and is fighting for his life. TMZ acquired this information from Spinks' wife Brenda Glur Spinks after spying her social media post. "It's been a tough year for us," she wrote. "Leon has endured a lot of medical problems. I'm reaching to ask that you pray for my Beautiful Husband Leon. So that he may overcome the obstacles that crossed his path."
Her sentiment was echoed by Leon's son Leon Spinks III who posted this message on his facebook page: "My Dad isn't doing so good now and his wife Brenda Glur Spinks and I ask that u pray that he weather's this storm. My dad is all I have left and I really appreciate it if yall let God know that he is not in this battle alone."
A gold medal winner at the 1976 Olympics, Spinks, 66, is best remembered for upsetting Muhammad Ali in 1978 to win the world heavyweight title. He lost the title back to Ali in his next fight.
This is a developing story. As new details emerge, we will share them with you.
To comment on this story in The Fight Forum CLICK HERE
Crawford-Kavaliauskas is the Main Go, but 'The Takeover' is the Stronger Allurement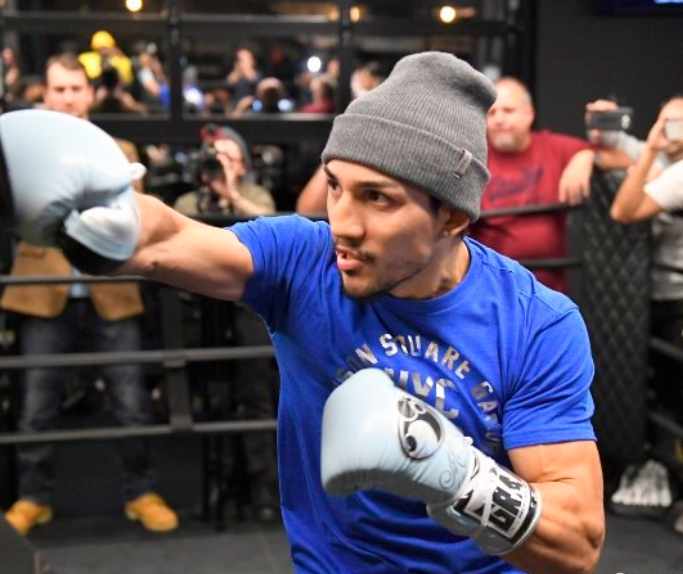 Crawford-Kavaliauskas is the Main Go, but 'The Takeover' is the Stronger Allurement
Terence Crawford puts his undefeated record and his WBO welterweight title on the line Saturday when he opposes Egidijus Kavaliauskas at Madison Square Garden on ESPN. Kavaliauskas is no slouch. The two-time Olympian for Lithuania is also undefeated (21-0-1, 17 KOs), but Crawford is so highly regarded that he is a massive favorite.
If one were arranging the bouts according to the degree of intrigue, using the odds as the barometer, Crawford vs Kavaliauskas wouldn't sit atop the marquee. That honor would go the IBF lightweight title fight between Richard Commey and Teofimo Lopez. Moreover, it's a fair guess that if this fight were to fall out (perish the thought) it would result in more refunds than if Crawford were a late scratch.
The challenger, Lopez, is favored, currently in the vicinity of 9/4, but this is a price that usually translates into a very competitive fight and the stakes are high. The winner will almost assuredly advance to a rich engagement with Vasiliy Lomachenko who holds the other three meaningful 135-pound title belts
Commey (29-2, 26 KOs) won the IBF lightweight title – it was conveniently vacant – with a second-round stoppage of Russia's Isa Chaniev and stopped Raymundo Beltran in eight rounds in his first title defense. Commey dominated both fights, scoring seven knockdowns in all, but the Russian was a sad excuse for a world title challenger and Beltran, although a solid pro, was past his prime at age 38.
Commey's two losses came in back-to-back fights in 2016 and both were by split decision. He lost to Robert Easter Jr in Reading, Pennsylvania, and then, eight weeks later, was upended by Denis Shafikov before a tiny crowd at an actual boxing gym in Moscow.
There was nothing controversial about those losses, but in both instances Commey was in hostile territory. Toledo's Easter brought a large delegation of fans to Reading and Shafikov was fighting on his home turf. The crowd on Saturday will almost assuredly be skewed against Commey again, but it won't be as pronounced. Commey, born and raised in Ghana, has a home in the Bronx. Lopez was born in Brooklyn, a bond that his Brooklyn-born promoter Bob Arum likes to emphasize, but grew up in Davie, Florida.
Teofimo
At age 22, Teofimo Lopez (14-0, 11 KOs) is almost 10 years younger than Richard Commey. A year ago, at this very venue, he scored his most memorable triumph, a highlight-reel, 44-second, one-punch knockout of Mason Menard that was named the TSS Knockout of the Year. He has won three fights in the interim, most recently a 12-round decision over Masayoshi Nakatani.
Teofimo won comfortably on the scorecards, but his performance left much to be desired. The Japanese was a tall, rangy fighter. In Richard Commey, he is meeting a man of similar height. Both are listed at five-foot-eight.
Lopez has developed a large following in a short time and his in-ring heroics are only part of the story. He's quite the showman. After each win he adds an exclamation point with a celebratory back-flip and outside the ring his brash persona has enhanced his notoriety.
When a fighter has a common surname, it helps to have a unique first name. The reality is that Lopez would not have built his brand as fast if his first name had been, say, Miguel, or Carlos, or Juan. And he had the foresight to supplement his unique first name with a unique nickname: The Takeover.
The nickname, says Lopez, doesn't just refer to taking over a specific weight division (he'll move up to 140 before the year 2020 is over) but, rather, taking over the whole sport in the sense of becoming boxing's biggest pay-per-view attraction. Early into his pro career, he began calling out Lomachenko.
Teofimo's biggest cheerleader is his Honduras-born father and trainer of the same name and the elder Lopez has even more hubris than his son. "My son is too strong for Lomachenko….he would walk through anything that Lomechenko throws at him," Teofimo Sr. told veteran boxing writer Bill Tibbs prior to his son's match with Mason Menard. "Liston, he has God-given gifts and he's simply the best out there. (My son) has the best parts of Tyson, Sugar Ray Leonard, GGG, Floyd, Andre Ward, all the best of them in him."
The Lopez that defeated Nakatani would not have defeated Vasiliy Lomachenko. And there are those that think he won't beat Richard Commey unless he brings his "A' game. It's an interesting fight.
—–
The main fights on Saturday's Top Rank boxing card will air on ESPN's flagship station. The boxing card, which opens with the rematch between Michael Conlan and Vladimir Nikitin, follows the show in which the Heisman Trophy is presented to LSU quarterback Joe Burrow. The Heisman telecast will begin at 8 pm EST.
The same situation prevailed last year when Top Rank's Madison Square Garden card was headlined by the fight between Vasiliy Lomachenko and Jose Pedraza. To the consternation of diehard boxing fans, the Heisman presentation show ran late. Don't be surprised if it happens again.
Photo credit: Stacy Verbeek
Check out more boxing news on video at The Boxing Channel 
To comment on this story in The Fight Forum CLICK HERE
Will U.S. Olympic Boxers Fare Better in Tokyo Thanks to Yesterday's Ruling?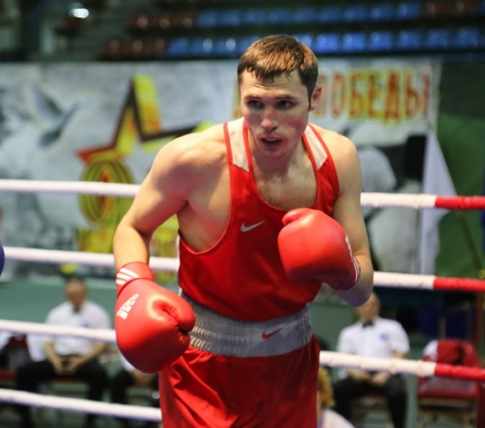 The road to the medal round for U.S. boxers at the forthcoming Tokyo Olympics just got easier. But maybe not.
"Russia Banned From The Tokyo Olympics" screamed yesterday's headline, but reading between the lines there's more to the story. A more carefully worded headline would have read "Russian Olympic Athletes in Limbo."
We have been down this road before. WADA, the World Anti-Doping Agency, recommended banning Russia from the 2016 Summer Olympics in Rio de Janeiro. The agency accused Russian authorities of a massive cover-up that erased hundreds of positive test samples.
WADA then did something of an about-face and decided to evaluate each case individually. Ultimately, 278 Russian athletes were approved to compete in Rio; 111 were denied. All 11 Russian boxers who survived the various qualifying events made the cut.
This new ban (which will be appealed) also emanates from WADA which alleges that the Russian authorities continued the massive cover-up using the "disappearance methodology." But, if upheld, it's a more severe penalty in that it bans Russia from major international sporting events for the next four years. That would include the World Cup, the biggest sporting event in the world by far. The next edition of the World Cup is slated for 2022 in Qatar.
"There's still…the possibility of clean athletes to compete in the Games," Svetlana Romashina, a five-time Olympic gold medalist in synchronized swimming, told Moscow correspondent Andrew Roth of The Guardian. "I believe the punishment of clean athletes to be unacceptable," continued Romashina. "We have done nothing wrong."
The reality, as it now stands, is that Russian boxers and other Russian athletes, if deemed clean, will be able to compete in Tokyo, just not under the Russian banner. As is common in some wrestling tournaments, their affiliation will be "unattached." And Russian President Vladimir Putin, who is a big fan of amateur boxing and other combat sports, won't be there. The ban prohibits Russian officials from attending major international sporting events if their team has been expelled.
—–
Historically, the U.S. Olympic Boxing Team has excelled in the Summer Games. But that's yesterday's news. In the last three Olympics, U.S. male boxers won only three medals, one silver and two bronze. By contrast, during the same period, Russian boxers walked off with 10 medals including three gold.
The prognosis for the 2020 U.S. team looked dim once again when the U.S. contingent earned only one medal (a silver by lightweight Keyshawn Davis) at the recent AIBA men's World Championships in Ekaterinburg, Russia. The host team garnered four medals, including three gold. If one conjoined the Russian squad with former Soviet Union satellites Uzbekistan and Kazakhstan, the count grows to seven gold medals (of a possible eight) and 15 medals overall.
Russia's gold medalists at the World Championships were welterweight Andrey Zamkovoy (pictured), middleweight Gleb Bakshi, and heavyweight Muslim Gadzhimagomedov. Zamkovoy and the heavyweight (who will badly need a new name if he ever turns pro) are outstanding amateurs and may have been favored to win their divisions in Tokyo.
Zamkovoy, 32, represented Russia in the 2012 and 2016 Games and medaled in 2012 where he defeated Errol Spence Jr en route to the semi-finals. The heavyweight (a cruiserweight by pro standards) is an ever-improving, 22-year-old, six-foot-four southpaw who has already amassed an amateur record of 60-5.
The competition for the U.S. team at overseas tournaments has gotten a lot tougher in the last two decades as several Eastern European countries have become more like Cuba, investing state resources into their amateur boxing programs with an eye to building a powerhouse. Perhaps the WADA edict will aid the U.S. boxing team in shaking the doldrums in 2020, but that assumption seems premature.
Check out more boxing news on video at The Boxing Channel 
To comment on this story in The Fight Forum CLICK HERE