Regis Prograis Shows He Can Serve Up Some Moves as Well as Power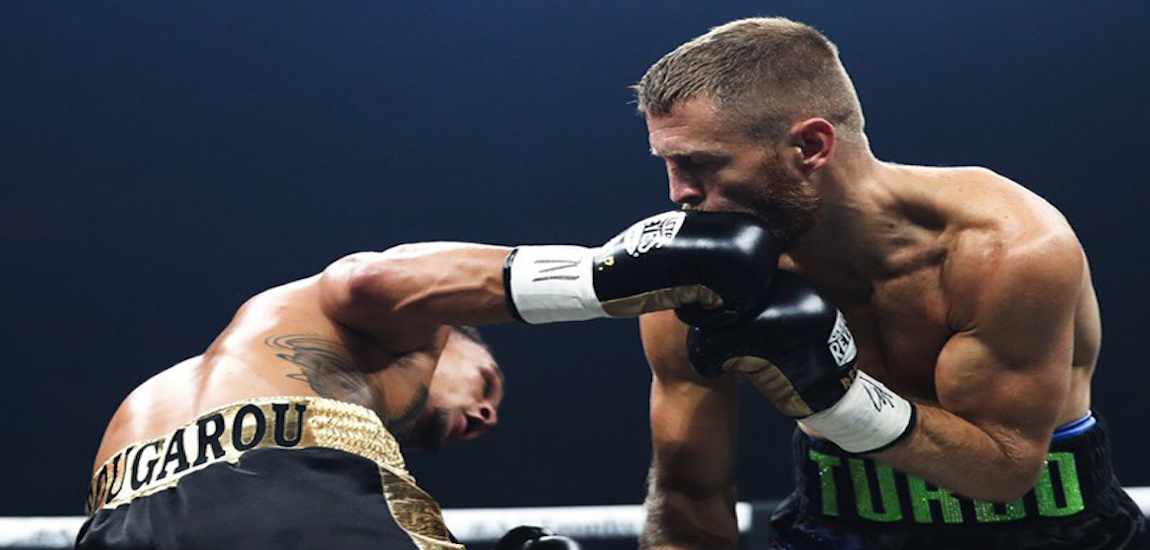 Former WBO lightweight champion "Turbo" Terry Flanagan had predicted he would give Regis "Rougarou" Prograis a "boxing lesson."  Prograis, the top-seeded entrant in the eight-fighter World Boxing Super Series for 140-pounders, had vowed that he would "definitely win by knockout." No surprise there; the big hitting southpaw from New Orleans had won his last eight bouts and 16 of his most recent 17 ring appearances inside the distance.
Turns out both men's crystal balls were just a bit fogged. No, Prograis (23-0, 19 KOs) did not deliver the emphatic stoppage he had promised his hometown fans in the University of New Orleans' Lakefront Arena, but he did become the first fighter to floor Flanagan (33-2, 13 KOs) when he landed an overhand left that sent the Englishman to the canvas in the eighth round. Although Prograis could not close the show then or in the subsequent four rounds with another exclamation point, it was he, not Flanagan, who served up a masterful boxing performance to come away with a wide unanimous decision  and advance to the WBSS semifinals, where he will face WBA champion Kiryl Relikh (23-2) of Belarus. Relikh won his quarterfinal on a 12-round unanimous decision over Russia's Eduard Troyanovsky (27-2, 24 KOs) on Oct. 19 in Yokahama, Japan.
"It was super-special," Prograis proclaimed after he had schooled fellow lefthander Flanagan in the DAZN-televised main event Saturday night by yawning margins of 119-108, 118-109 and 117-111 on the official scorecards. "Just like I always say, I want to bring big-time boxing back to New Orleans. And guess what? I did it. And look, we gonna do it again! The WBSS, we're going to bring it back, right? We're coming right back to New Orleans again!"
While it is Relikh who figures to be served up Prograis' special recipe for pugilistic gumbo at some yet-to-be-determined date in the Big Easy, Prograis' opponent in the finale, should both fighters advance that far, might have been on display in Saturday's co-feature bout, which also was a WBSS quarterfinal. Strong but rough-around-the-edges Ivan "The Beast" Baranchyk (19-0, 12 KOs) was awarded a seventh-TKO victory over Sweden's Anthony "Can You Dig It" Yigit (21-1-1, 7 KOs) at the conclusion of the seventh round when referee Phil Edwards, acting on the advice of the ring physician, called a halt to the proceedings because of the severity of the hematoma that had turned Yigit's completely closed left eye into an ugly, purple mass of swollen flesh. Baranchyk, who claimed the vacant IBF junior welterweight championship, advances to the other semifinal, where he will face the winner of the Nov. 3 matchup of Josh Taylor (13-0, 11 KOs) and Cleveland's Ryan Martin (22-0, 12 KOs) in Taylor's hometown of Glasgow, Scotland. Taylor is favored to get past Martin, and then probably against Baranchyk, but likely would not be, were he to square off against Prograis.
Tournaments such as the WBSS are increasingly gaining favor as a means of thinning the herd of contenders in a particular weight class, bringing some semblance of order to a sport where chaos is normally the rule rather than the exception. The concept was launched with great success in the cruiserweight division in 2017, when Ukraine's Oleksandr Usyk fully unified the titles by defeating three quality opponents, including Russia's Murat Gassiev in the July 21, 2018, finale, in the process announcing himself as a factor in any pound-for-pound conversations. The companion super middleweight tournament, which also began in 2017, ended with England's Callum Smith surviving a three-bout gauntlet to take top honors.
The WBSS' super lightweight – or junior welterweight, if you prefer – tourney can't be as conclusive as was the case with the cruiserweights, because WBC champion Jose Carlos Ramirez (23-0, 16 KOs) is not involved. Because Ramirez holds the "real" WBC 140-pound title, Prograis was reduced to defending his secondary WBC Diamond, or interim, belt against Flanagan. But like Usyk, Prograis sees the WBSS as an express lane to possible superstardom and a  place at the pound-for-pound table, and he did no disservice to his quest by being required to go beyond eight rounds as a pro for the first time in his career.
Flanagan, who had defended his WBO lightweight championship five times before stepping up to super lightweight and dropping a split decision to Maurice Hooker in Flanagan's hometown of Manchester, is a savvy veteran who incorrectly had pegged Prograis as a mostly one-dimensional slugger who would get frustrated were he to find himself in the kind of tactical bout the New Orleanian usually tries to avoid. But Prograis showed himself to be more polished than he is generally given credit for.
"He's a beast. He likes to mix it up," Prograis' trainer, Bobby Benton, had said of his charge's preference for getting down 'n' dirty. But all boxing matches do not present the same challenges, and Prograis seemed pleased to reveal another side of himself.
Was Prograis surprised, and maybe a little disappointed, when he couldn't get Flanagan out of there after he floored and hurt him in the eighth round?
"I wasn't really surprised," he said in his distinctive N'Awlins patois. "(But) I really wasn't worried about it. When you drop somebody and they're hurt, they are even more dangerous. I knew he was still gonna be dangerous. He had a little power.
"I went out there and I wanted to box. I boxed my ass off. Most people say I can't box, I can't do this, I can't do that, I only got power. Now I showed you I can go 12 rounds with a world-class fighter. I had fun. I'm in there havin' fun. It was all fun to me."
The good times should continue for Prograis – who has the kind of back story, as a literal orphan of the storm, having hurriedly relocated from New Orleans to Houston with his family as a 16-year-old to escape 2005's Hurricane Katrina – should he defeat Relikh and whomever makes it to the WBSS title bout. His confidence is rising faster than had the floodwaters of Katrina, which submerged large swaths of New Orleans, which he always will call home even though he continues to reside in Houston.
"I'm fast. I'm strong. I hit real hard. I don't see nobody beating me," he said. "It don't matter who the hell I fight. I'm gonna win the whole thing. The Muhammad Ali Trophy (which goes to the WBSS winner) mine."
Check out more boxing news on video at The Boxing Channel
Avila Perspective, Chap. 100: Global Impact of Prizefighting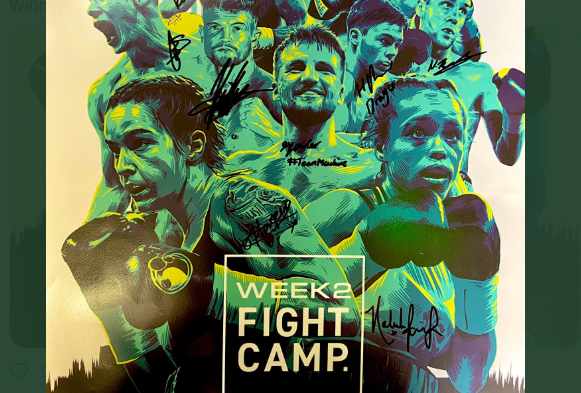 Boxing is huge.
Unknown to many, professional prizefighting extends to almost every country on this planet. Only soccer exceeds it in appeal.
Prizefighting could very well be the very first professional sport ever established in history. Scholars of history concur.
This weekend you can get a taste of boxing's reach to other parts of the world.
London, England will be boxing central on Friday Aug. 7.
DAZN will be streaming a Matchroom Boxing fight card that features cruiserweights Chris Billiam-Smith (10-1) and Nathan Thorley (14-0) battling for the Commonwealth cruiserweight title. It's an eight-hour time difference between London and Los Angeles. California where start time will be 11 a.m.
The main feature, however, pits WBC super featherweight titlist Terri Harper (10-0) against Olympian Natasha Jonas (9-1) in a 10-round bout. Both of these fights take place at Fight Camp, the home of promoter Eddie Hearn.
If the set up looks familiar, years ago America's Hugh Hefner used to stage boxing cards at his home the Playboy Mansion in Beverly Hills, California. The late magazine mogul loved the sport and invited many of his friends in the entertainment industry to watch prizefighting. People watching from their living rooms saw via television the rich enjoying their riches.
It's the closest I will ever come to being rich.
One of the first events I ever saw at the Playboy Mansion showcased female fighters. Hefner was a true believer in female boxing and always included a female bout if possible. It was one of his stipulations.
Daytime Boxing
This Friday morning on the West Coast, boxing fans get an opportunity to re-visit an outdoor setting similar to the Playboy Mansion fights. DAZN will be streaming the card live from England.
If Americans think they are the only boxing fans in the world, well, they definitely are not.
When it comes to boxing, the Brits, Irish, Scots, Welsh and neighboring countries all love boxing more than Americans do. Even when you go further east into Poland, Romania, Ukraine, Russia and all the other countries that used to be part of the defunct Soviet Union, they all love boxing. Let me reiterate, they love boxing.
In America, we're accustomed to acknowledging that Mexicans love boxing as well as the Cubans and Puerto Ricans. But when it comes down to it, all of Latin America loves boxing. It comes second to soccer but that's it. Boxing is a staple in Latin America.
In the good ole U.S. of A. the majority of people – including newspaper editors – favor team sports. Individual sports like tennis, track and field, and prizefighting take a back seat on newspapers or television network sports news.
But when boxing or MMA comes on a television screen or is scheduled for an arena the American fans of those sports come out rain or shine.
Pacific Ocean and Other Areas
Across the Pacific, in the Australia and Asian continents, boxing also has a firm grip. Smaller weight classes have been dominated by Japanese, Korean and Philippine fighters for years.
They love boxing too.
A dream of mine has always been to see a fight card at Tokyo's Korakuen Hall. Japanese boxing fans are able to watch boxing almost every week at the legendary fight palace.
Asia has always produced great fighters in the lower weight classes.
Manny Pacquiao arrived more than 20 years ago barely a blip on the boxing radar. Who would have guessed he would be revered as one of the greatest fighters of his generation?
Can American fight fans imagine what the boxing world would be like without fighters from other countries?
Imagine boxing without Saul "Canelo" Alvarez, Gennady "GGG" Golovkin, Tyson Fury, Anthony Joshua, Vasyl Lomachenko, Naoya Inoue or Roman Gonzalez. It's easy to forget that all of these fighters mentioned are not from the USA. Each has fought many times in front of American audiences.
In America, we fail to realize we don't have a monopoly on talent.
Last week, both DAZN and Showtime placed fight cards on the same day. DAZN started early and brought a thoroughly entertaining boxing card including a possible Fight of the Year between super welterweights that saw Ted Cheeseman win over Sam Eggington after 12 raucous rounds of action.
Later, on the same night, Showtime brought super bantamweights and boxing fans got a look at new WBO super bantamweight title winner Angelo Leo win by decision over last-minute entry Tramaine Williams. The replacement fighter accepted the challenge after scheduled fighter Stephen Fulton tested positive for the coronavirus.
Saturday Expectations
On Saturday night, Showtime returns with super tall welterweight Jamal James (26-1, 12 KOs) meeting Thomas Dulorme (25-3-1, 16 KOs) at the Microsoft Theater in downtown Los Angeles.
Both James and Dulorme suffered losses to Yordenis Ugas.
It's a shame that the virus has shut down audiences throughout the world. Los Angeles would have been eager to watch this event, especially in the heart of downtown. Rumors spreading are that one or two major fight cards will be held in L.A. later in the year.
Fans can watch on television as Dulorme and James battle to see who can crack that top 10 tier of welterweights. Dulorme miraculously salvaged a draw against Jessie Vargas when they fought by scoring a knockdown late in their fight. James has beaten solid competition but no one convincingly. This is an opportunity for either fighter to prove worth.
To comment in this story in the Fight Forum CLICK HERE
Pete Hamill Was Much More Than a Boxing Writer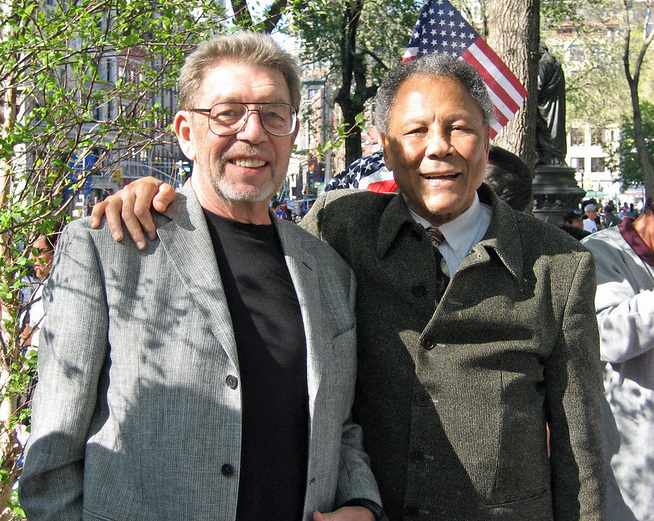 Pete Hamill was one of my heroes. It pains me to write that the legendary journalist died today, Aug. 5, at age 85.
Hamill grew up in the Park Slope section of Brooklyn, the oldest of seven children of an immigrant from Belfast who lost a leg to an injury suffered in a semi-pro soccer game. Like much of gentrified Brooklyn, Park Slope is a trendy neighborhood, but that certainly wasn't true during Hamill's boyhood when the air was ripe with the scent of the heavily polluted Gowanus Canal.
In one of his early non-fiction books, Hamill recollected the time during his adolescence when he called an acquaintance a kike while the Hamill family was gathered around the dinner table. This angered his father who reached over and slapped him. "Benny Leonard was a kike," snarled the elder Hamill, referencing the esteemed 1920s-era lightweight champion. Awkward language aside, the old man was teaching his son something about the importance of respecting people of all backgrounds – and indirectly something about the nobility of prizefighters.
Hamill would write that in his blue-collar Brooklyn neighborhood in the years after World War II, there were only two sports that mattered: baseball and boxing. The institutions in his community, he wrote, were the factory, the church, the police station, the saloon, and the boxing gym. "There were fights in old dance halls, in bankrupt skating rinks, in National Guard armories, all of them serving as farm clubs for the big arena: Madison Square Garden."
In his teens, Hamill took to hanging around boxing gyms. He befriended Jose Torres (pictured with Hamill in their later years) before Torres turned pro. Once he became established as a journalist, Hamill encouraged Jose's literary ambitions and Torres, who won the world light heavyweight title under the tutelage of Cus D'Amato, went on to become a writer of considerable repute, "Boxing's Renaissance Man."
In a 1996 piece for Esquire, Hamill wrote, "I came to believe that fighters themselves were among the best human beings I knew. They were mercifully free of the macho bull**** that stains so many professional athletes. They were gentle in a manly way." But by then Hamill had become disillusioned with boxing, viewing it as the detritus of a less advanced age. The tipping point was a dinner he attended where everybody tried to avoid looking directly at the guest of honor, Muhammad Ali, whose tremors were so bad that he was unable to lift a piece of chicken to his mouth. But Hamill continued to turn up at some of the big fights.
A high school dropout, Hamill briefly occupied the top editor's chair at New York's two major dailies, the Post and the Daily News. His published works include ten novels, more than a hundred magazine stories, two memoirs (one of which, "Downtown: My Manhattan," serves as an excellent travel guide for anyone visiting New York), and several teleplays including the boxing-themed "Flesh and Blood" which was adapted by CBS into a two-part, four-hour telecast with a young Denzell Washington in a supporting role.
I once had the privilege having lunch with Pete Hamill. The invitation came from my friend Harvey Rothman, rest his soul. Harvey had been the entertainment director at Caesars Palace when the Miami mob ran the joint and was unceremoniously dumped and left to his own wiles when the mob was kicked out. Hamill was in town to research "The Neon Empire," a crime drama about Las Vegas commissioned by Showtime. The three of us had lunch at Caesars Palace and, if memory serves, Pete and I covered the tab as Harvey's comping privileges had been revoked.
At the time, I didn't know much about Hamill. My only recollection of him was seeing him on the David Susskind Show, a TV talk show in New York that dealt with current affairs. I don't remember much of what was said at our luncheon other than we reminisced about New Orleans where we had both hung our hat for a spell. He was disappointed to learn that Sidney's News Stand on Decatur Street was gone and the property had morphed into a seedy liquor store.
I would later learn that we had much in common other than the fact we were both born in Brooklyn (I grew up on Long Island so I wasn't an authentic Brooklynite). During our early teen years, we both discovered the world of books through the novels of James T. Farrell, the great Chicago writer (long out of vogue) whose masterwork was the "Studs Lonigan Trilogy."
Pete and I met up again when I hosted a late-night sports talk radio show in the Sportsbook of the old Stardust Hotel. My guest that night was the fabled boxing press agent Harold Conrad (purportedly the inspiration for the Humphrey Bogart character in the movie "The Harder They Fall"), who was then working for Don King. To my great surprise, Conrad arrived with Pete Hamill. Harold was then in his seventies and his memory was starting to fail him. Hamill could foresee that there would be some pregnant moments during the show if I didn't have someone else to bounce questions off.
When someone dies at a ripe old age, it's normal to say that he led a full life. But it's hard to imagine anyone leading a life as full as the life that Pete Hamill led.
He was there marching along and taking notes as Dr. Martin Luther King led a march from Memphis to Jackson. He was there in Belfast at the height of "the troubles." He was there when Bobby Kennedy was assassinated and helped subdue the attacker. He was on assignment in lower Manhattan when terrorists took down the World Trade Center and then spent the next 11 days documenting the recovery efforts. He dated Shirley MacLaine and Jackie Onassis. And, of course, he was ringside for the Fight of the Century, the first meeting between Muhammad Ali and Joe Frazier. Writing for Harper's Bazaar, he called it the most spectacular event in sports history and no one who was there that night would disagree.
Pete Hamill was Forrest Gump. At the moments that define the timeline of my generation, he was seemingly always there.
Pete Hamill is survived by his second wife, journalist Fukiko Aoki, two daughters and a grandson. His eldest daughter Deirdre, a travel photojournalist based in Arizona, worked for a brief time at the Las Vegas Sun where she honed her craft covering the club fights. Pete's brother Denis Hamill, younger than Pete by 17 years, is also a noted journalist.
Hamill, who was suffering from diabetes and using a walker, died in his bed at New York Presbyterian / Brooklyn Methodist hospital where he had gone after breaking his hip in a fall. The hospital is located in Park Slope. The well-traveled Pete Hamill had come full circle.
To comment on this story in The Fight Forum CLICK HERE
George Kimball Remembers Budd Schulberg: A TSS Classic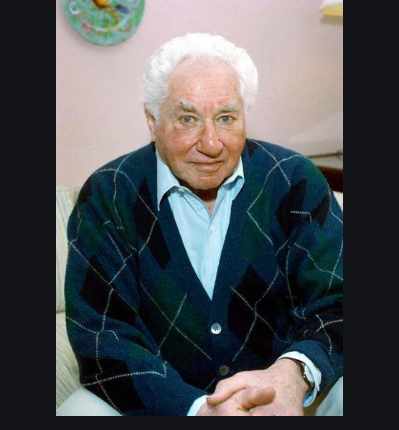 On this day in boxing history, Aug. 5, 2009, the great screenwriter, novelist, and essayist Budd Schulberg passed away at age 95. His passing inspired this tribute from his friend George Kimball, the longtime boxing writer for the Boston Herald who was then retired as a full-time newspaperman and writing extensively for this web site.
—
NEW YORK — I could tell from the choking sound on the other end of the line that the news wasn't going to be good.  It took him awhile, and when he finally got it out, the best his son could manage was "He's gone…"
Budd Schulberg was 95 years old and had been in ill health for several months, so it was hardly unexpected, but the unsettling moment arrived late Wednesday afternoon when Benn phoned to tell me his father had passed away an hour earlier. Budd was a giant in our field, and a giant in many others as well. He was the only man ever to have both won an Oscar and been inducted into the International Boxing Hall of Fame, but he was also my dear friend of many years, and I miss him already.
*  *  *
Budd Schulberg was 15 years old in 1929 when he sailed to England with his father, the Hollywood mogul B.P. Schulberg.  On that crossing the Schulbergs made the acquaintance of a fellow passenger on the Ile de France, a Georgia boxer named William Lawrence Stribling, who boxed under the nomme de guerre Young Stribling.
Upon learning that both Schulbergs were enthusiastic boxing fans, Stribling promised them a pair of ringside tickets for his upcoming bout at the Royal Albert Hall, where he was to fight an ungainly Italian giant named Primo Carnera.
If watching his father drop what he described as "a casually reckless wager" of 1,000 pounds when Carnera won by disqualification wasn't enough to inspire a healthy skepticism in the younger Schulberg, the result of the return match certainly did. In what appeared to have been a pre-arranged scenario, Carnera and Stribling  met again in Paris three weeks later, and this time Carnera returned the favor by getting himself disqualified in the seventh round.  The episode made an indelible impression on Schulberg, who years later would base his cautionary boxing novel "The Harder They Fall" on the illusory rise and inglorious fall of Carnera, the heavyweight champion known as "The Ambling Alp."
Now, think about this.
Eighty years later, this time by more modern contrivance, Budd returned to London again. This past February he flew over for the premier of "On the Waterfront," a stage adaptation of his Academy Award-winning 1954 screenplay, at the Theatre Royal in Haymarket. Perhaps determined to reprise all facets of that 1929 rite of passage, he and his wife Betsy went from London to Paris, where they spent a week in the city that had hosted Stribling-Carnera II. They returned to London, where they attended yet another performance of On the Waterfront.
Afterward Budd repaired to a nearby pub with the cast of the London production, and spent the night celebrating with the cast. When he became ill on the flight back to New York the next day the initial assumption was that the partying was to blame, but what it really was was the onset of old age. This was particularly unsettling for Budd, because he was a month shy of his 95th birthday, and he had never before felt — or seemed — particularly old. Not to himself, not to any of us.
Benn Schulberg and I were at Madison Square Garden that night, at the Cotto-Jennings fight, when he got the phone call telling him that his dad had been taken off the plane at Kennedy Airport in a stretcher and rushed to the emergency room at Jamaica Hospital. Somewhere over the Atlantic his blood pressure had dropped alarmingly, and he barely had a pulse.
Budd improved enough over the next few days to be moved to Mt. Sinai in New York, where he could be under the care of his cardiologist, and eventually he was allowed to be home, but he remained in a weakened state. He had been in congestive heart failure for some time, and he had a chronic lung condition, the result of having sucked down some toxic fumes in a home kitchen fire several decades earlier, and then a couple of months ago he was well enough to undergo what was supposed to be routine surgery to repair a hernia. That's when they found the cancer in his belly
There were several phone calls over the next few weeks while Budd and Betsy deliberated the various options, and since I'd had to make similar choices in the past, they consulted me on the matter. I'm not sure how helpful I was, other than to recommend an insistence on getting a full recitation of the potential benefits and consequences from whichever specialist had their ear at the moment, but in the end Budd opted for treatment. In June he came straight from a chemo appointment to attend the Boxing Writers dinner (where he received a standing ovation), and then just a few weeks ago he attended a staged reading of On the Waterfront in Hoboken. The event, by the New Artists Theatre, featured some cast members of "The Sopranos," on the turf Schulberg's play had immortalized, and the aura of corruption of the 50's era had just been revived when the FBI took town a bunch of New Jersey mayors (and rabbis) a few days earlier.
"He probably shouldn't have, but at the last minute he told me he wanted to go," reported Benn. "He was in pretty bad shape, and I think everyone could tell that."
"I certainly could," said Lou di Bella, who was also in attendance that night. "I knew then that it was probably the last time I'd see him."
*   *   *
I find myself thinking about the better times, and they weren't so very long ago at that.  Budd and Betsy had dinner with us at our place here in New York several times over the past few years, and when it finally became apparent that climbing the stairs of an old brownstone built before the age of elevators was a burden, we met for dinner in more nonogenarian-friendly locales. A year ago March we'd attended his 94th birthday party at an Upper West Side restaurant, along with his family and a few friends, including the artist LeRoy Neiman and the actress Patricia Neal, who'd starred in the film of Budd's "A Face in the Crowd" half a century earlier.
Even though he could doubtless feel it closing in on him over those last few years he refused to make the normal concessions to age. A couple of years ago when we were in Vegas for the Mayweather-De La Hoya fight there was a late lunch with myself, Budd and Benn, and Michael Katz. We had to find a place with a television set so we could monitor the progress of the Kentucky Derby bets we'd placed at the sports book earlier in the day. During football season, especially come playoff time, and for a big fight we'd decided not to attend in person, we'd often gather at Benn's apartment, order up obscene quantities of food and beer, and then try to stick one another with the tab through an intricate series of wagers, usually devised by Budd.
I'm 65, and at these gatherings I was often the second-youngest person in attendance. Budd didn't hang out with many people his own age, mainly because people his own age were mostly dead. But any father will tell you he'd rather have no better friend than his own son, and Benn, who didn't even come along until Budd was 67, was unquestionably Budd's best friend, his constant companion at ringside.
* *  *
I'd read Budd in my youth, long before I met him, beginning, as most do, with "What Makes Sammy Run," without even understanding at the time the bedrock of personal experience underlying that book, or that its publication would, as his father had warned him it might, severely retard what had been a promising Hollywood career. It didn't kill it altogether, of course. Budd was assigned to co-write a script with another member of the newly-fallen, F. Scott Fitzgerald, and while that project turned into a disaster, it did provide the basis for another splendid book based on the experience, "The Disenchanted."
He straddled the worlds of literature and pugilism throughout his life, but unlike some of his more boastful contemporaries he was not a dilettante when it came to either. He sparred regularly with Mushy Callahan well beyond middle age. The night of the Frazier-Ali fight of the century Budd started to the arena in Muhammad Ali's limousine, and then when the traffic got heavy, got out and walked to Madison Square Garden with Ali. A year before Jose Torres died, Budd and Betsy flew to Puerto Rico and spent several days with Jose and Ramona at their home in Ponce. Art Aragon was the best man at his wedding. And when push came to shove, he put on the gloves with both Ernest Hemingway and Norman Mailer and kicked both of their asses, though not, as some would now claim, on the same night.
*   *    *
Budd and I had sat together at another Boxing Writers Dinner at least a quarter century earlier. I remember being pretty full of myself, because I'd just come back from a fight in Vegas where I'd had a pretty good week at the tables as well. I'd not only won what seemed to me a ton of money but had spent enough time at the tables that Gene Kilroy had gotten the casino to comp my room — after they'd already issued me a receipt that would satisfy the bean counters at the newspaper.
As I was remarking on the delicious irony of it all, Budd punctured my reverie long enough to ask "Let me ask you this, George. Could you have afforded to lose $5,000?"
He knew I had two small children, and that of course I couldn't. He then proceeded to tell me the cautionary tale of his own father, whose gambling Jones put his family at the brink of bankruptcy a couple of times. That night told me the story that would later appear in Moving Pictures, the biography of his early days in Hollywood, of the floating poker game that convened at the Schulberg manse just before young Budd was sent to his room to do his homework. When he came downstairs for breakfast eight hours later, his father was still at the table, where he was writing out a check for $20,000 to Chico Marx.
He was afflicted with a lifelong stammer that seemed to grow worse when he became excited or impatient, which wasn't often. It has occurred to me more than once over the years that this probably evolved into an asset to his writing and his unerring ear for dialogue, because most conversations were so essentially one-sided that he became a very good listener.
*   *   *
In World War II he served in the OSS, and in the war's aftermath was part of the prosecution team at the Nuremburg Trials, where his job was assembling photographic and film evidence for use against the Nazis on trial for war crimes.
He had been a Communist Party member in the late1930s, but had long since repudiated his ties after he had seen firsthand the evils of Stalinism. Although unlike many former CP members he retained a leftist stance on social and political issues throughout his life, he was tarred by his agreement to testify before the House Un-American Activities Committee in 1947. Many of his colleagues who refused were blacklisted, and lives were ruined. Budd was branded a pariah in some circles, but in his own mind his politics hadn't wavered.
The episode did make him fair game on another front, particularly when On The Waterfront, directed by another former party member-turned-friendly witness, Elia Kazan, emerged in 1954. Kazan had earlier worked on another waterfront-themed project called "The Hook" with the playwright Arthur Miller. The biographer Jeffrey Meyers would later claim that "Miller had refused to turn the gangsters into communists, as the Columbia Pictures mogul Harry Cohn and the Hollywood union bosses wanted him to. The film was later written that way by Budd Schulberg (another self-serving friendly witness') as On The Waterfront."
As preposterous as the allegation seems — there are no more any bad-guy communists in On the Waterfront than there were in "A View from the Bridge," the play Miller eventually wrote from "The Hook." Moreover, Budd had purchased the rights to a New York Sun series about the Jersey docks as early as 1947, years before Miller's brief flirtation with Kazan.
"When I was working on 'On the Waterfront,' I didn't know about Arthur Miller," Budd told an English newspaper in London back in February. "They were absolutely two separate, if overlapping, projects."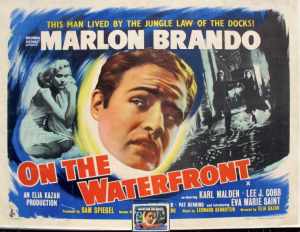 Budd said at the time he resented the accusation "because it made me seem like I was trying to imitate Arthur Miller and walk in his footsteps. I didn't like it."
Miller died without the two men ever discussing the subject. This summer I was invited to read at a literary festival, the Listowel Writers Week in Ireland. Another of the invitees was the novelist and director Rebecca Miller, who in addition to being Daniel Day-Lewis' wife is also Arthur Miller's daughter. One morning at our hotel there I read her the offending passage from Meyers' book.
"That's absurd," she said. "I'm sure my father never believed that. A View from the Bridge and On the Waterfont were always going to be two separate plays. One had nothing to do with the other."
I know I told Benn about that conversation when I returned from Europe. But now it occurs to me that I never got a chance to tell Budd, who would have, I suspect, found it comforting.
*  *  *
Over the past few weeks Pete Hamill and I had spoken often of going out to Westhampton to visit Budd, but between our travel schedules and his medical issues the timing never seemed right. Benn was with him last weekend and reported that even then he was plainly struggling to breathe, in considerable discomfort. He seemed to sense that it was time to go, and as it turned out it was their final goodbye. When Benn got the news that his father had been taken to the hospital in Riverhead Wednesday afternoon he jumped straight into his car. By the time he got there Budd was already dead.
"But," said his son as he choked back the tears, "he had a pretty good run, didn't he?"
Yes, he did.
EDITOR'S NOTE: George Kimball died on July 6, 2011, after a six-year battle with esophageal cancer. In the last years of his life he was highly productive, authoring the widely acclaimed "Four Kings: Leonard, Hagler, Hearns, Duran, and the Last Great Era of Boxing," and two boxing anthologies in collaboration with John Schulian.
Check out more boxing news on video at The Boxing Channel 
To comment on this story in the Fight Forum CLICK HERE