Oleksandr Usyk Continues to Replicate Evander Holyfield's Career Blueprint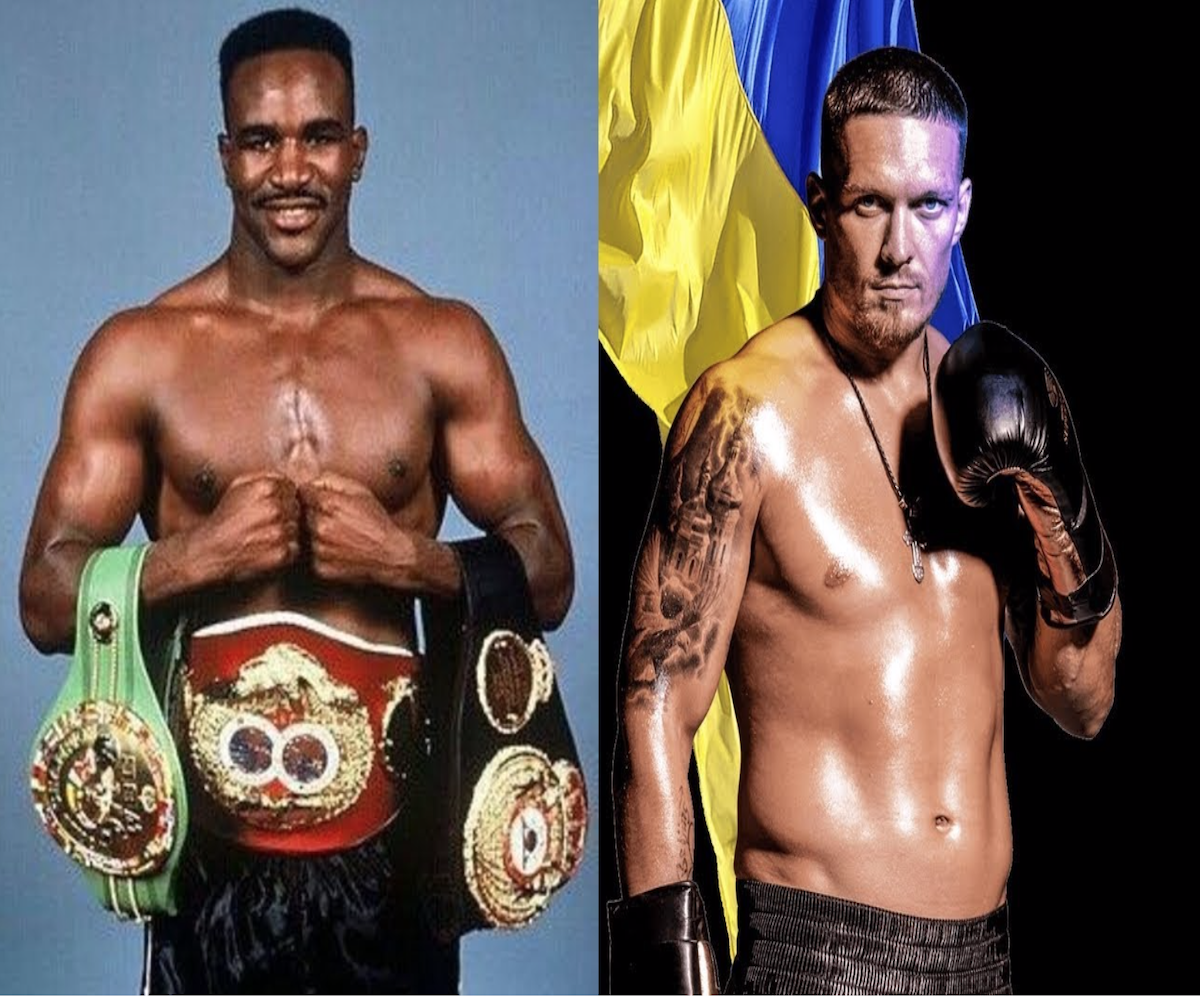 They are, by consensus, the two greatest fighters in the 39-year history of the largely ignored cruiserweight division. Evander Holyfield, who already held the IBF and WBA versions of the title, fully unified the then-190-pound division when he summarily dismissed WBC champion Carlos "Sugar" DeLeon on an eighth-round stoppage at the Caesars Sports Pavilion in Las Vegas on April 9, 1988, savoring the accomplishment for only a moment before confirming his intention to move up to heavyweight and target WBC/WBA/IBF champ Mike Tyson.
Thirty years and change later, Ukraine's Oleksandr Usyk, so different from Holyfield in some ways and yet so alike in others, has torn another page from the Holyfield career playbook. Already holder of all four widely recognized cruiserweight championship belts (the WBO did not exist in 1988) as the result of his three-victory run through the first World Boxing Super Series, the stylish southpaw, behind on two of the three official scorecards, defended his collection of 200-pound titles a final time when he knocked out Tony Bellew with a ripping left cross in the eighth round on Nov. 10 in Bellew's hometown of Manchester, England. He savored the accomplishment for only a moment before confirming his intention to move up to heavyweight and target IBF/WBA/WBO champion Anthony Joshua, or possibly the winner of the Dec. 1 matchup of WBC titlist Deontay Wilder and former unified champ Tyson Fury, should that fellow aspirant get to and take down Joshua beforehand.
"I'm on the way to Anthony Joshua," Usyk said of his farewell to the cruisers in the hope of attaining bigger and better objectives. "It'll definitely happen. People just need to wait a little bit."
Sound familiar? Listen to what Holyfield said after his thrashing of DeLeon, which took place with Tyson, already anticipating what the future might hold for each, sitting at ringside on an ostensible scouting mission. "The heavyweight champion is king of the hill," Holyfield said, an assertion as true then as it is now. "That's a motivating factor for me because I want to be king of the hill."
Although separated by three decades and 10 pounds, Holyfield and Usyk are representative of the sort of tunnel vision that has led so many elite cruiserweights to test the waters at heavyweight. True heavyweight champions – at least those more recognized as such than passing-through holders of splintered alphabet titles – are regal monarchs of their sport, all right. Cruiserweight titlists, fairly or not, might not even qualify as crown princes. Until recently consigned by body size to a weight class that generally has been regarded as a sort of purgatory between light heavyweight and heavyweight, they are more like dukes or earls in the royal pecking order.
Most fight fans are far more likely to recognize and celebrate Holyfield, a 2017 inductee into the International Boxing Hall of Fame, as the only four-time heavyweight champion than for his relatively brief reign as a cruiserweight when he was younger, lighter and less-affluent. The "Real Deal" was paid $300,000 for his unification showdown with DeLeon, and don't think for a moment that he and his promoter, Dan Duva, weren't aware of the fact that Tyson was set to receive $17 million and Michael Spinks $13.5 million for their megafight 2½ months later in Atlantic City.
The gulf between cruiserweight and heavyweight, at least financially, has narrowed somewhat, at least in Europe where the division is much more popular than it is in the United States. But Usyk, at 31, no doubt is aware that his window of opportunity for striking it rich in the land of the really big boys is tighter than it was for the then-25-year-old Holyfield. A potential matchup with Joshua, Wilder or Fury, especially were he to win, would yield far more in terms of pay and prestige than any cruiserweight fight could.
It is a gamble Usyk, like Holyfield, believes must be taken, but make no mistake, it is a gamble. Since Marvin Camel became the first cruiserweight champion (in a division only recently created by the WBC) when he scored a 15-round unanimous decision over Mate Parlov on March 31, 1980, there have been 64 men who have held some version of the title. Only two, Holyfield and England's David Haye, have gone on to enjoy the view from the heavyweight summit.
So who deserves the top spot as the finest cruiserweight of all time? Is it Holyfield, still a work in progress when he established himself as the best of his or any succeeding era until Usyk arrived on the scene? Or is it Usyk, older, more polished and the beneficiary of having come along when the division was deeper and more competitive? It's a matter of opinion and cause for some debate.
ESPN boxing writer Dan Rafael has weighed in on the subject, and he casts his ballot for Usyk, on the basis of the Ukrainian being in the division longer and having accomplished more while there. Rafael wrote that Usyk, as a cruiser, has "trumped Holyfield time and again" by virtue of his winning his first title in his 10th pro bout to 12 for Holyfield, and having defended or unified six times to four for Evander. He also notes, correctly, that the opposition Usyk has faced in cruiser title bouts – Krzysztof Glowacki, Thabiso Mchunu, Michael Hunter, Marco Huck, Mairis Briedis, Murat Gassiev and Bellew – for the most part is a cut above Holyfield's lineup of Dwight Muhammad Qawi (twice), Henry Tillman, Ricky Parkey, Ossie Ocasio and DeLeon. Bonus points, however, should be awarded for Holyfield's 15-round split decision over then-WBA champ and future International Boxing Hall of Famer Qawi in their first meeting on July 12, 1986, which many still consider to be the best cruiserweight scrap ever.
Mere statistics, however, never tell the full story of any fight, or fighter. There is the eye test and individual gut reaction that influence any discussion as to who would or would not fare better in a hypothetical matchup. For the purpose of comparing the cruiserweight credentials of Holyfield vis-à-vis Usyk, I contacted four knowledgeable observers – Showtime's Steve Farhood, ESPN's Mark Kriegel, HBO's Jim Lampley and Holyfield himself – to blend their thoughts into the bubbling cauldron.
Farhood: "They so clearly are the best two cruiserweights ever. Until now, with cruiserweights, it's always been Holyfield, Holyfield, Holyfield. For the first time, I think there's a challenger to Evander for that designation. A mythical matchup of Holyfield and Usyk is very interesting to me because of their very different styles. It's not the kind of fight where most people would say that one guy would win easily. I see a very competitive fight, and a very tough fight for Evander. Usyk would use his height and reach to try to keep the fight on the outside. Evander would have to wear him down. Remember, Evander was fighting 15-round championship fights at cruiserweight for the most part. (The DeLeon fight was scheduled for 12.) A fight at 12 rounds, I think, would favor Usyk. A 15-round fight probably would serve Evander better because he would have been the pressure fighter, and pressure fighters generally have things their way in the later rounds. I think it'd probably be a distance fight and very close at 12 rounds. I'd have trouble picking a winner. My tendency is to lean toward Evander, but I think the reason for that is we all know how great a fighter he was on the basis of his whole career. It's hard to separate what he did as a heavyweight from what he did as a cruiserweight. He's one of the greatest fighters of all time. Usyk has a lot of career in front of him and we don't know yet what he'll do."
Kriegel: "To me, Holyfield represents the triumph of the heart. I can't recall a big guy who fought regularly whose heart was so often on full display. He was a very valiant fighter. Usyk, to me, would represent a triumph of technique. I've heard it said that he's a larger Lomachenko, which is pretty accurate. He's a southpaw, he's Ukrainian, he trains with Loma and they have a lot of the same boxing characteristics. Against Holyfield, it'd be a perfect matchup of the violence of one fighter vs. the mathematical precision of the other. So who would win? I wouldn't bet against Evander, especially against someone who's about his size. I could see him losing to Bowe and I could see him losing to Lennox Lewis, but against a guy more or less his own size, like Usyk, I can't see Evander losing."
Lampley: "That's a tough one. It's a pick 'em fight. But if I have to choose between the Evander the night he beat DeLeon and the Usyk who beat Bellew, I'd have to go with Usyk by 51-49, something like that. The sort of parallel equation that I have settled on in my mind as a way of judging it is, assuming for a moment there isn't a significant size differential, would be Crawford against Lomachenko. I see considerable commonality between Crawford and Lomachenko in terms of their athletic qualities, their competitiveness, their mean streaks and late-fight punching power. All those things were there with Holyfield, and they're there with Crawford. Usyk clearly has benefited from his exposure to Lomachenko's father (Anatoly) and therefore fights in a style that we haven't really seen in that weight class, with the same kind of technical brilliance and creativity that Lomachenko shows you. So would I take Crawford or would I take Lomachenko? It's an extremely difficult choice, just as it is with Usyk vs. Holyfield. But Usyk is a more finished product at this stage. He has settled into the upper range of what you'd expect him to be."
Holyfield: "I only seen Usyk fight once (against Bellew). You have to see a guy fight against different styles to get a better feel for what he's all about. Seeing him one time, I can't say for sure that's the way he is. But if he ain't got a short game, he'd have trouble with me. I have very quick hands, so I could fight inside as well as outside. I tried to take things from the people that came before me. I took some things from Muhammad Ali, but I took more things from what Joe Frazier did because I was the shorter guy a lot of times and I had to get inside. I don't know how good of a short game Usyk has because he didn't show one against (Bellew), and I don't know how he'd do against a guy who fights on the inside because the guy he beat didn't really try to work inside."
It should be noted that Holyfield had four heavyweight fights before he fought for the title, winning it on a third-round knockout of Tyson conqueror Buster Douglas on Oct. 25, 1990. Lampley, for one, thinks Usyk might require only two heavyweight bouts for familiarization purposes before he goes for the title, his timetable moved up by the fact he's six years older than Holyfield was when Evander decided to swim with the sharks instead of the barracudas.
As cruisers, Holyfield and Usyk's resumes are impeccable. After Holyfield disassembled DeLeon, who would hold versions of the cruiser title on three separate occasions, the impressed Puerto Rican said, "He is so strong. There is no question he will make a great heavyweight."
Bellew was no less complimentary toward Usyk, saying "Oleksandr Usyk is a great, great champion. He's fantastic, an amazing fighter and the greatest man I've ever shared the ring with. Anyone who faces him is in a lot of trouble. He's tactically brilliant. Strong. He has everything."
So what say you, TSS nation? In a dream matchup for cruiserweight supremacy, do you go with the 1988 Holyfield? Or the 2018 Usyk?
Bernard Fernandez is the retired boxing writer for the Philadelphia Daily News. He is a five-term former president of the Boxing Writers Association of America, an inductee into the Pennsylvania, New Jersey and Atlantic City Boxing Halls of Fame and the recipient of the Nat Fleischer Award for Excellence in Boxing Journalism and the Barney Nagler Award for Long and Meritorious Service to Boxing.
 Check out more boxing news on video at The Boxing Channel
Mercito Gesta Victorious Over Jojo Diaz at the Long Beach Pyramid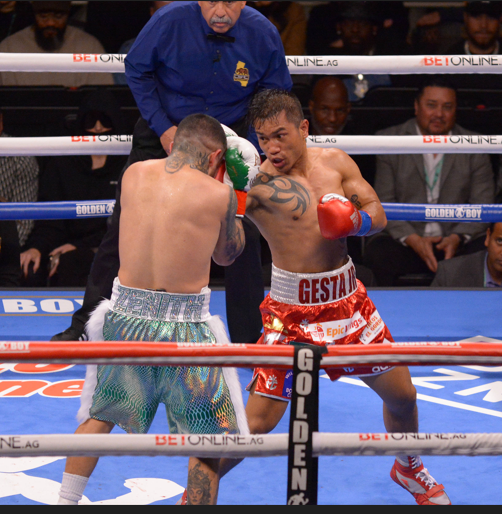 LONG BEACH, CA.-Those in the know knew Mercito Gesta and Jojo Diaz would be a fight to watch and they delivered.
Gesta emerged the winner in a super lightweight clash between southpaws that saw the judges favor his busier style over Diaz's body attack and bigger shots and win by split decision on Saturday.
Despite losing the main event because the star was overweight, Gesta (34-3-3, 17 KOs) used an outside method of tactic to edge past former world champion Diaz (32-4-1, 15 KOs) in front of more than 5,000 fans at the Pyramid.
The speedy Gesta opened up the fight with combination punching up and down against the peek-a-boo style of Diaz. For the first two rounds the San Diego fighter overwhelmed Diaz though none of the blows were impactful.
In the third round Diaz finally began unloading his own combinations and displaying the fast hands that helped him win world titles in two divisions. Gesta seemed stunned by the blows, but his chin held up. The counter right hook was Diaz's best weapon and snapped Gesta's head back several times.
Gesta regained control in the fifth round after absorbing big blows from Diaz. He seemed to get angry that he was hurt and opened up with even more blows to send Diaz backpedaling.
Diaz targeted his attack to Gesta's body and that seemed to slow down Gesta. But only for a round.
From the seventh until the 10th each fighter tried to impose their style with Gesta opening up with fast flurries and Diaz using right hooks to connect with solid shots. They continued their method of attack until the final bell. All that mattered was what the judges preferred.
After 10 rounds one judge saw Diaz the winner 97-93 but two others saw Gesta the winner 99-91, 98-92. It was a close and interesting fight.
"I was expecting nothing. I was the victor in this fight and we gave a good fight," said Gesta. "It's not an easy fight and Jojo gave his best."
Diaz was surprised by the outcome but accepted the verdict.
Everything was going good. I thought I was landing good body shots," said Diaz. "I was pretty comfortable."
Other Bouts
Mexico's Oscar Duarte (25-1-1, 20 KOs) knocked out Chicago's Alex Martin (18-5, 6 KOs) with a counter right hand after dropping him earlier in the fourth round. The super lightweight fight was stopped at 1:14 of the round.
A battle between undefeated super welterweights saw Florida's Eric Tudor (8-0, 6 KOs) emerge the winner by unanimous decision after eight rounds versus Oakland's Damoni Cato-Cain.
The taller Tudor showed polished skill and was not bothered by a large cut on his forehead caused by an accidental clash of heads. He used his jab and lead rights to defuse the attacks of the quick-fisted southpaw Cato-Cain. The judges scored the fight 80-72 and 78-74 twice for Tudor.
San Diego's Jorge Chavez (5-0, 4 KOs) needed less than one round to figure out Nicaragua's Bryan Perez (12-17-1, 11 KOs) and send him into dreamland with a three-punch combination. No need to count as referee Ray Corona waved the fight over. Perez shot a vicious right followed by another right and then a see-you-later left hook at 3.00 of the first round of the super featherweight match.
Photo credit: Al Applerose
Jojo Diaz's Slump Continues; Mercito Gesta Prevails on a Split Decision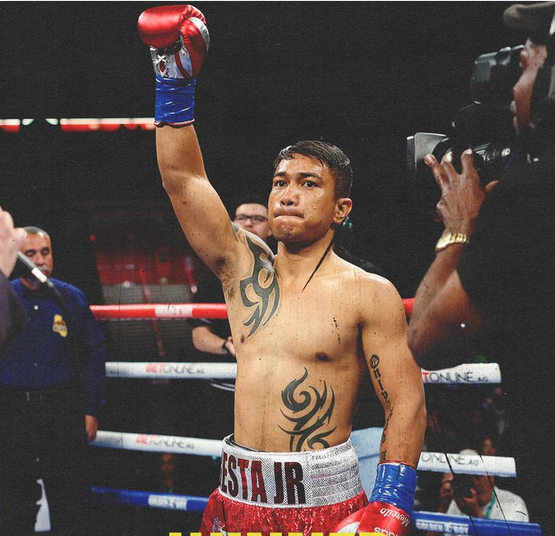 At age 30, Jojo Diaz's career is on the skids. The 2012 U.S. Olympian, a former world title holder at 126 and 130 pounds and an interim title holder at 135, Diaz suffered his third straight loss tonight, upset by Mercito Gesta who won a split decision at the Walter Pyramid in Long Beach, CA.. The scoring was strange with Gesta winning nine of the 10 rounds on one of the cards and only three rounds on another. The tie-breaker, as it were, was a 98-92 tally for Gesta and even that didn't capture the flavor of what was a closely-contested fight.
Originally listed as a 12-rounder, the match was reduced to 10 and that, it turned out, did Diaz no favors. However, it's hard to feel sorry for the former Olympian as he came in overweight once again, having lost his 130-pound title on the scales in February of 2021.
Diaz also has issues outside the ropes. Best elucidated by prominent boxing writer Jake Donovan, they include a cluster of legal problems stemming from an arrest for drunk driving on Feb. 27 in the LA suburb of Claremont.
With the defeat, Diaz's ledger declined to 32-4-1. His prior losses came at the hands of Gary Russell Jr, Devin Haney, and William Zepeda, boxers who are collectively 83-2. Mercito Gesta, a 35-year-old San Diego-based Filipino, improved to 34-3-3.
Co-Feature
Chihuahua, Mexico super lightweight Oscar Duarte has now won nine straight inside the distance after stopping 33-year-old Chicago southpaw Alex Martin in the eighth frame. Duarte, the busier fighter, had Martin on the deck twice in round eight before the fight was waived off.
Duarte improved to 25-1-1 (20). Martin, who reportedly won six national titles as an amateur and was once looked upon as a promising prospect, declined to 18-5.
Other Bouts of Note
New Golden Boy signee Eric Tudor, a 21-year-old super welterweight from Fort Lauderdale, overcame a bad laceration over his right eye, the result of an accidental clash of heads in round four, to stay unbeaten, advancing to 8-0 (6) with a hard-fought unanimous 8-round decision over Oakland's Damoni Cato-Cain. The judges had it 80-72 and 78-74 twice. It was the first pro loss for Cato-Cain (7-1-1) who had his first five fights in Tijuana.
In the DAZN opener, lanky Hawaian lightweight Dalis Kaleiopu went the distance for the first time in his young career, improving to 4-0 (3) with a unanimous decision over 36-year-old Colombian trial horse Jonathan Perez (40-35). The scores were 60-52 across the board. There were no knockdowns, but Perez, who gave up almost six inches in height, had a point deducted for a rabbit punch and another point for deducted for holding.
To comment on this story in the Fight Forum CLICK HERE
'Big Baby' Wins the Battle of Behemoths; TKOs 'Big Daddy' in 6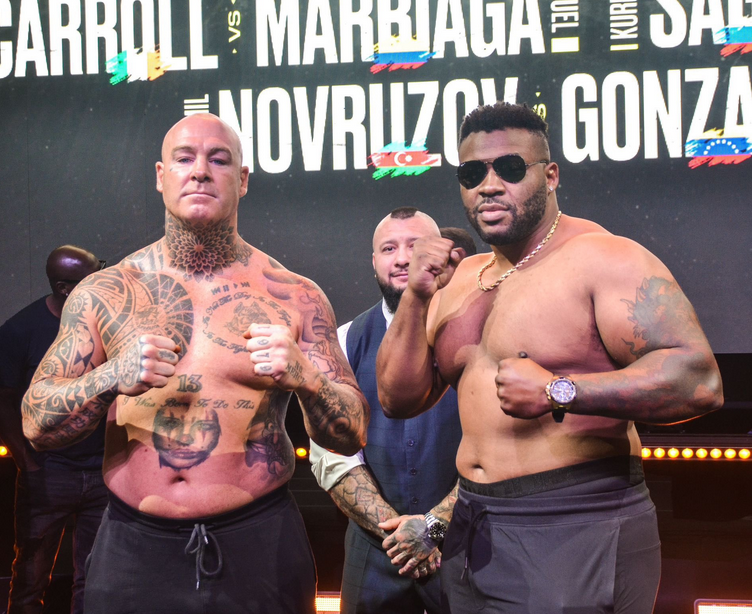 Lucas "Big Daddy" Browne weighed in at a career-high 277 pounds for today's battle in Dubai with Jarrell "Big Baby" Miller, but he was the lighter man by 56 pounds. It figured that one or both would gas out if the bout lasted more than a few stanzas.
It was a war of attrition with both men looking exhausted at times, and when the end came it was Miller, at age 34 the younger man by nine years, who had his hand raised.
Browne was the busier man, but Miller, whose physique invites comparison with a rhinoceros, hardly blinked as he was tattooed with an assortment of punches. He hurt 'Bid Daddy' in round four, but the Aussie held his own in the next frame, perhaps even forging ahead on the cards, but only postponing the inevitable.
In round six, a succession of right hands knocked Browne on the seat of his pants. He beat the count, but another barrage from Miller impelled the referee to intervene. The official time was 2:33. It was the 21st straight win for Miller (26-0-1, 22 KOs). Browne declined to 31-4 and, for his own sake, ought not fight again. All four of his losses have come inside the distance, some brutally.
The consensus of those that caught the livestream was that Floyd Mayweather Jr's commentary was an annoying distraction that marred what was otherwise an entertaining show.
As for what's next for "Big Baby" Miller, that's hard to decipher as he has burned his bridges with the sport's most powerful promoters. One possibility is Mahmoud Charr who, like Miller, has a big gap in his boxing timeline. Now 38 years old, Charr – who has a tenuous claim on a WBA world title (don't we all?) —  has reportedly taken up residence in Dubai.
Other Bouts of Note
In a 10-round cruiserweight affair, Suslan Asbarov, a 30-year-old Russian, advanced to 4-0 (1) with a hard-fought majority decision over Brandon Glanton. The judges had it 98-92, 97-93, and a more reasonable 95-95.
Asbarov was 12-9 in documented amateur fights and 1-0 in a sanctioned bare-knuckle fight, all in Moscow, entering this match. He bears watching, however, as Glanton (18-2) would be a tough out for almost anyone in his weight class. In his previous fight, at Plant City, Florida, Glanton lost a controversial decision to David Light, an undefeated Australian who challenges WBO world title-holder Lawrence Okolie at Manchester, England next week.
A 10-round super featherweight match between former world title challengers Jono Carroll and Miguel Marriaga preceded the semi-windup. Carroll, a 30-year-old Dublin southpaw, overcame a cut over his left eye suffered in the second round to win a wide unanimous decision in a fairly entertaining fight.
It was the sixth straight win for Carroll (24-2-1, 7 KOs) who elevated his game after serving as a sparring partner for Devin Haney. Marriaga, a 36-year-old Colombian, lost for the fourth time in his last five outings, declining to 30-7.
To comment on this story in the Fight Forum CLICK HERE