Oleksandr Usyk Continues to Replicate Evander Holyfield's Career Blueprint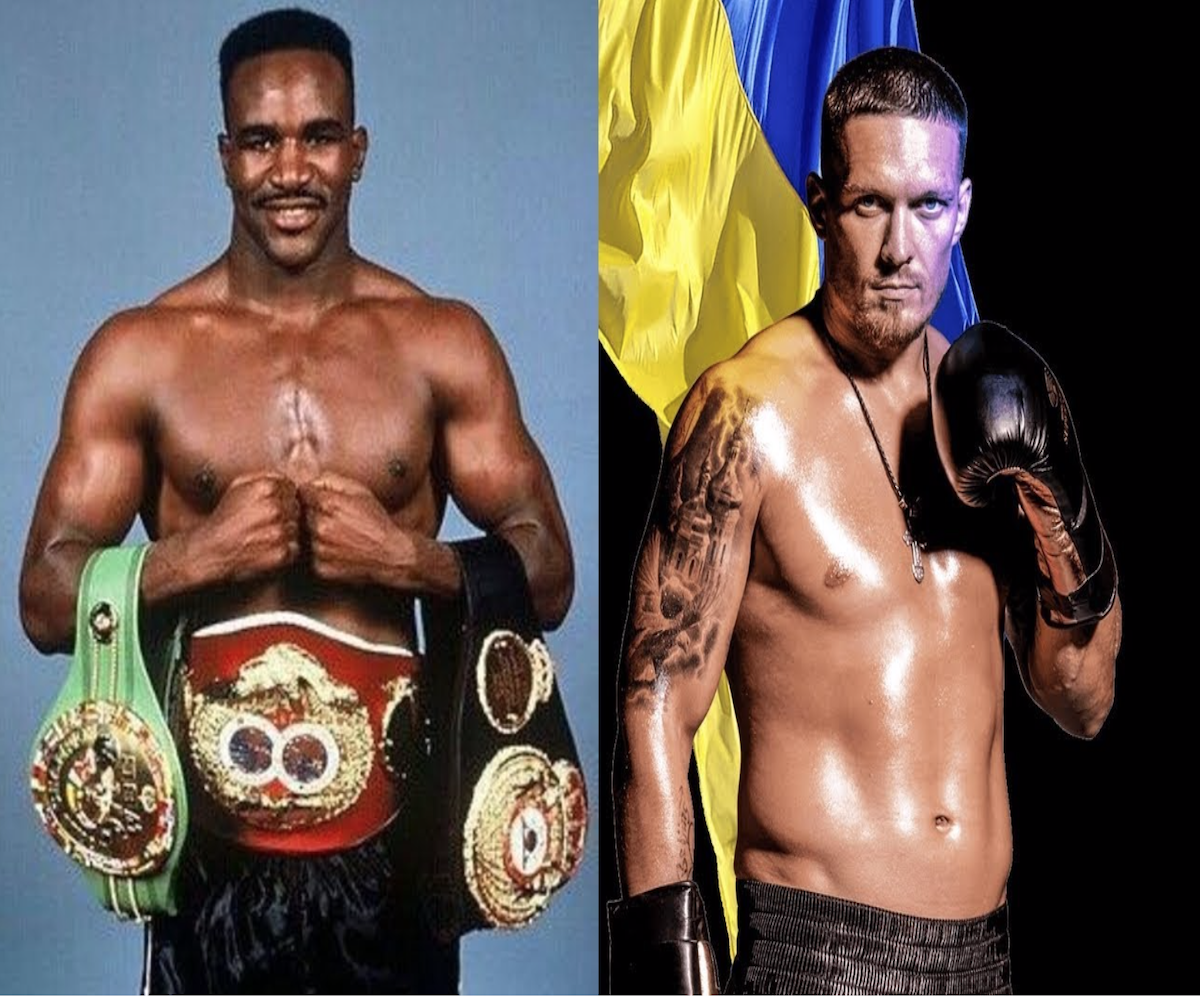 They are, by consensus, the two greatest fighters in the 39-year history of the largely ignored cruiserweight division. Evander Holyfield, who already held the IBF and WBA versions of the title, fully unified the then-190-pound division when he summarily dismissed WBC champion Carlos "Sugar" DeLeon on an eighth-round stoppage at the Caesars Sports Pavilion in Las Vegas on April 9, 1988, savoring the accomplishment for only a moment before confirming his intention to move up to heavyweight and target WBC/WBA/IBF champ Mike Tyson.
Thirty years and change later, Ukraine's Oleksandr Usyk, so different from Holyfield in some ways and yet so alike in others, has torn another page from the Holyfield career playbook. Already holder of all four widely recognized cruiserweight championship belts (the WBO did not exist in 1988) as the result of his three-victory run through the first World Boxing Super Series, the stylish southpaw, behind on two of the three official scorecards, defended his collection of 200-pound titles a final time when he knocked out Tony Bellew with a ripping left cross in the eighth round on Nov. 10 in Bellew's hometown of Manchester, England. He savored the accomplishment for only a moment before confirming his intention to move up to heavyweight and target IBF/WBA/WBO champion Anthony Joshua, or possibly the winner of the Dec. 1 matchup of WBC titlist Deontay Wilder and former unified champ Tyson Fury, should that fellow aspirant get to and take down Joshua beforehand.
"I'm on the way to Anthony Joshua," Usyk said of his farewell to the cruisers in the hope of attaining bigger and better objectives. "It'll definitely happen. People just need to wait a little bit."
Sound familiar? Listen to what Holyfield said after his thrashing of DeLeon, which took place with Tyson, already anticipating what the future might hold for each, sitting at ringside on an ostensible scouting mission. "The heavyweight champion is king of the hill," Holyfield said, an assertion as true then as it is now. "That's a motivating factor for me because I want to be king of the hill."
Although separated by three decades and 10 pounds, Holyfield and Usyk are representative of the sort of tunnel vision that has led so many elite cruiserweights to test the waters at heavyweight. True heavyweight champions – at least those more recognized as such than passing-through holders of splintered alphabet titles – are regal monarchs of their sport, all right. Cruiserweight titlists, fairly or not, might not even qualify as crown princes. Until recently consigned by body size to a weight class that generally has been regarded as a sort of purgatory between light heavyweight and heavyweight, they are more like dukes or earls in the royal pecking order.
Most fight fans are far more likely to recognize and celebrate Holyfield, a 2017 inductee into the International Boxing Hall of Fame, as the only four-time heavyweight champion than for his relatively brief reign as a cruiserweight when he was younger, lighter and less-affluent. The "Real Deal" was paid $300,000 for his unification showdown with DeLeon, and don't think for a moment that he and his promoter, Dan Duva, weren't aware of the fact that Tyson was set to receive $17 million and Michael Spinks $13.5 million for their megafight 2½ months later in Atlantic City.
The gulf between cruiserweight and heavyweight, at least financially, has narrowed somewhat, at least in Europe where the division is much more popular than it is in the United States. But Usyk, at 31, no doubt is aware that his window of opportunity for striking it rich in the land of the really big boys is tighter than it was for the then-25-year-old Holyfield. A potential matchup with Joshua, Wilder or Fury, especially were he to win, would yield far more in terms of pay and prestige than any cruiserweight fight could.
It is a gamble Usyk, like Holyfield, believes must be taken, but make no mistake, it is a gamble. Since Marvin Camel became the first cruiserweight champion (in a division only recently created by the WBC) when he scored a 15-round unanimous decision over Mate Parlov on March 31, 1980, there have been 64 men who have held some version of the title. Only two, Holyfield and England's David Haye, have gone on to enjoy the view from the heavyweight summit.
So who deserves the top spot as the finest cruiserweight of all time? Is it Holyfield, still a work in progress when he established himself as the best of his or any succeeding era until Usyk arrived on the scene? Or is it Usyk, older, more polished and the beneficiary of having come along when the division was deeper and more competitive? It's a matter of opinion and cause for some debate.
ESPN boxing writer Dan Rafael has weighed in on the subject, and he casts his ballot for Usyk, on the basis of the Ukrainian being in the division longer and having accomplished more while there. Rafael wrote that Usyk, as a cruiser, has "trumped Holyfield time and again" by virtue of his winning his first title in his 10th pro bout to 12 for Holyfield, and having defended or unified six times to four for Evander. He also notes, correctly, that the opposition Usyk has faced in cruiser title bouts – Krzysztof Glowacki, Thabiso Mchunu, Michael Hunter, Marco Huck, Mairis Briedis, Murat Gassiev and Bellew – for the most part is a cut above Holyfield's lineup of Dwight Muhammad Qawi (twice), Henry Tillman, Ricky Parkey, Ossie Ocasio and DeLeon. Bonus points, however, should be awarded for Holyfield's 15-round split decision over then-WBA champ and future International Boxing Hall of Famer Qawi in their first meeting on July 12, 1986, which many still consider to be the best cruiserweight scrap ever.
Mere statistics, however, never tell the full story of any fight, or fighter. There is the eye test and individual gut reaction that influence any discussion as to who would or would not fare better in a hypothetical matchup. For the purpose of comparing the cruiserweight credentials of Holyfield vis-à-vis Usyk, I contacted four knowledgeable observers – Showtime's Steve Farhood, ESPN's Mark Kriegel, HBO's Jim Lampley and Holyfield himself – to blend their thoughts into the bubbling cauldron.
Farhood: "They so clearly are the best two cruiserweights ever. Until now, with cruiserweights, it's always been Holyfield, Holyfield, Holyfield. For the first time, I think there's a challenger to Evander for that designation. A mythical matchup of Holyfield and Usyk is very interesting to me because of their very different styles. It's not the kind of fight where most people would say that one guy would win easily. I see a very competitive fight, and a very tough fight for Evander. Usyk would use his height and reach to try to keep the fight on the outside. Evander would have to wear him down. Remember, Evander was fighting 15-round championship fights at cruiserweight for the most part. (The DeLeon fight was scheduled for 12.) A fight at 12 rounds, I think, would favor Usyk. A 15-round fight probably would serve Evander better because he would have been the pressure fighter, and pressure fighters generally have things their way in the later rounds. I think it'd probably be a distance fight and very close at 12 rounds. I'd have trouble picking a winner. My tendency is to lean toward Evander, but I think the reason for that is we all know how great a fighter he was on the basis of his whole career. It's hard to separate what he did as a heavyweight from what he did as a cruiserweight. He's one of the greatest fighters of all time. Usyk has a lot of career in front of him and we don't know yet what he'll do."
Kriegel: "To me, Holyfield represents the triumph of the heart. I can't recall a big guy who fought regularly whose heart was so often on full display. He was a very valiant fighter. Usyk, to me, would represent a triumph of technique. I've heard it said that he's a larger Lomachenko, which is pretty accurate. He's a southpaw, he's Ukrainian, he trains with Loma and they have a lot of the same boxing characteristics. Against Holyfield, it'd be a perfect matchup of the violence of one fighter vs. the mathematical precision of the other. So who would win? I wouldn't bet against Evander, especially against someone who's about his size. I could see him losing to Bowe and I could see him losing to Lennox Lewis, but against a guy more or less his own size, like Usyk, I can't see Evander losing."
Lampley: "That's a tough one. It's a pick 'em fight. But if I have to choose between the Evander the night he beat DeLeon and the Usyk who beat Bellew, I'd have to go with Usyk by 51-49, something like that. The sort of parallel equation that I have settled on in my mind as a way of judging it is, assuming for a moment there isn't a significant size differential, would be Crawford against Lomachenko. I see considerable commonality between Crawford and Lomachenko in terms of their athletic qualities, their competitiveness, their mean streaks and late-fight punching power. All those things were there with Holyfield, and they're there with Crawford. Usyk clearly has benefited from his exposure to Lomachenko's father (Anatoly) and therefore fights in a style that we haven't really seen in that weight class, with the same kind of technical brilliance and creativity that Lomachenko shows you. So would I take Crawford or would I take Lomachenko? It's an extremely difficult choice, just as it is with Usyk vs. Holyfield. But Usyk is a more finished product at this stage. He has settled into the upper range of what you'd expect him to be."
Holyfield: "I only seen Usyk fight once (against Bellew). You have to see a guy fight against different styles to get a better feel for what he's all about. Seeing him one time, I can't say for sure that's the way he is. But if he ain't got a short game, he'd have trouble with me. I have very quick hands, so I could fight inside as well as outside. I tried to take things from the people that came before me. I took some things from Muhammad Ali, but I took more things from what Joe Frazier did because I was the shorter guy a lot of times and I had to get inside. I don't know how good of a short game Usyk has because he didn't show one against (Bellew), and I don't know how he'd do against a guy who fights on the inside because the guy he beat didn't really try to work inside."
It should be noted that Holyfield had four heavyweight fights before he fought for the title, winning it on a third-round knockout of Tyson conqueror Buster Douglas on Oct. 25, 1990. Lampley, for one, thinks Usyk might require only two heavyweight bouts for familiarization purposes before he goes for the title, his timetable moved up by the fact he's six years older than Holyfield was when Evander decided to swim with the sharks instead of the barracudas.
As cruisers, Holyfield and Usyk's resumes are impeccable. After Holyfield disassembled DeLeon, who would hold versions of the cruiser title on three separate occasions, the impressed Puerto Rican said, "He is so strong. There is no question he will make a great heavyweight."
Bellew was no less complimentary toward Usyk, saying "Oleksandr Usyk is a great, great champion. He's fantastic, an amazing fighter and the greatest man I've ever shared the ring with. Anyone who faces him is in a lot of trouble. He's tactically brilliant. Strong. He has everything."
So what say you, TSS nation? In a dream matchup for cruiserweight supremacy, do you go with the 1988 Holyfield? Or the 2018 Usyk?
Bernard Fernandez is the retired boxing writer for the Philadelphia Daily News. He is a five-term former president of the Boxing Writers Association of America, an inductee into the Pennsylvania, New Jersey and Atlantic City Boxing Halls of Fame and the recipient of the Nat Fleischer Award for Excellence in Boxing Journalism and the Barney Nagler Award for Long and Meritorious Service to Boxing.
 Check out more boxing news on video at The Boxing Channel
Sacramento Honors Diego 'Chico' Corrales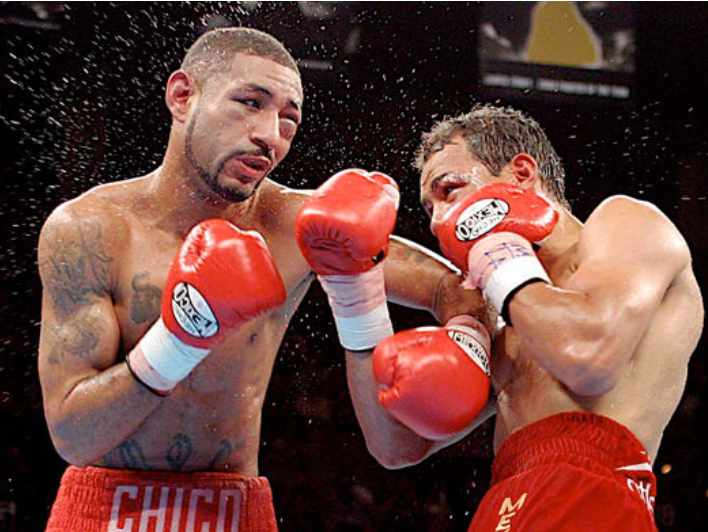 Tonight (Saturday, Jan. 25) former two-division world boxing champion Diego "Chico" Corrales will be posthumously inducted into the Sacramento Sports Hall of Fame at the organization's eighth annual induction ceremony at the Thunder Valley Casino Resort.
Corrales, who grew up in Sacramento, the son of a Columbian father and a Mexican mother, turned pro at age 18 and went on to compile a record of 40-5 (33 KOs). He won his first title in 1999 with a seventh-round stoppage of previously undefeated Robert Garcia. Now recognized as one of boxing's top trainers, Garcia was making the fourth defense of his IBF 130-pound title.
Five years later, Corrales won the WBO world lightweight title with a 10th-round stoppage of Brazil's previously undefeated Acelino Freitas. That set up a unification fight with the WBC belt-holder Jose Luis Castillo.
Corrales and Castillo met on May 7, 2005, at Mandalay Bay in Las Vegas. To say they put on a great fight would be an understatement. The boxing writers in attendance will tell you that this was the greatest fight of all time. It was named Fight of the Decade by The Ring magazine.
The final round, the 10th, was unbelievable. Heading into the round, Corrales was ahead on two of the three scorecards, but his left eye was swollen nearly shut and during the round he was knocked down twice. No one would have faulted referee Tony Weeks for stopping the fight after the second knockdown. But, somehow, Corrales was able to rally, pulling the fight out of the fire with a barrage of punches that had Castillo out on his feet when Weeks waived it off.
Two years to the very day of this iconic fight, Diego "Chico" Corrales died in a motorcycle accident in his adopted hometown of Las Vegas when he rear-ended a car while traveling at a high rate of speed. He was 29 years old.
Corrales was a thrill-seeker. In a 2006 profile, Las Vegas Review-Journal boxing writer Kevin Iole enumerated these among Castillo's hobbies: jumping out of planes from 14,000 feet, bungee jumping from 400 feet, snowboarding in treacherous terrain and scuba diving amid a school of sharks. "He lived his life the same way he fought," said his promoter Gary Shaw, "with reckless abandon."
It might seem odd that it took so long for Corrales to be recognized by the Sacramento Sports Hall of Fame, but there was a period when Corrales's name was mud in his hometown and perhaps the organization's founder, Las Vegas sports radio personality T.C. Martin, a Sacramento native, thought it appropriate to let old wounds heal.
In 2001, shortly after suffering his first pro loss at the hands of Floyd Mayweather, Corrales pled guilty to felony domestic violence in the beating of his first wife and would serve 14 months in prison. "The whole family has worn a black eye for it," Diego's brother Esteban Corrales told Sacramento Bee reporter Marcos Bretan.
For all his recklessness, the incident didn't jibe with his persona. In the company of Las Vegas sportswriters, the soft-spoken and well-spoken Corrales came across as polite and humble.
Corrales, one of five inductees in the 2020 class, joins three other boxers already installed in the Sacramento Hall: Pete Ranzany, Loreto Garza, and Tony "Tiger" Lopez.
Ranzany, a welterweight, fought four former or future world champions and was a fixture in Sacramento rings in the late 1970's. Garza wrested the WBA super lightweight title from Argentina's Juan Martin Coggi in France and successfully defended the belt here in Sacramento with a one-sided conquest of Vinny Pazienza. Lopez, Sacramento's most popular fighter ever, made the turnstiles hum at the city's largest arena where he fought eight of his 14 world title fights beginning with his 1988 humdinger with defending IBF 130-pound champion Rocky Lockridge.
Among the speakers at tonight's confab will be Kenny Adams. Perhaps best known as the head trainer for the 1988 U.S. Olympic team that won eight medals in Seoul, Adams currently trains Nonito Donaire. He was with Diego Corrales for 24 fights, during which Corrales was 23-1, avenging the lone defeat by Joel Casamayor. Festivities start at 7 pm.
Check out more boxing news on video at The Boxing Channel 
To comment on this story in The Fight Forum CLICK HERE
Boxing Odds and Ends: Ramirez-Postol, Taylor-Serrano and More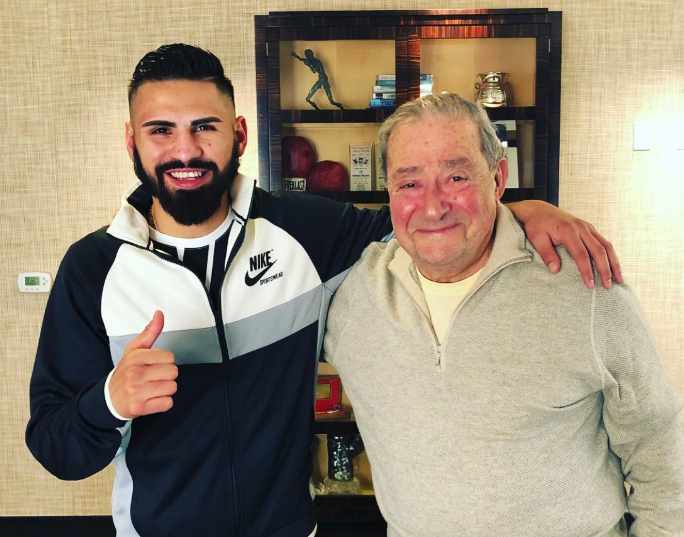 It takes a strong constitution to be a boxing promoter because things always go wrong. The only law that governs boxing is Murphy's Law.
Carl Frampton's first fight under the Top Rank banner was slated for Aug. 10 of last year in Philadelphia. With the fight five days away, Frampton suffered a freak injury while sitting in a hotel lobby. A boy playing behind a curtain knocked over a seven-foot pillar which fell on Frampton's left hand, fracturing it.
This was the second time that a Frampton fight was knocked out by a freak injury. Two years earlier, a homecoming fight in Belfast had to be scrapped when Frampton's opponent, Andres Gutierrez, slipped in the shower in his hotel on the eve of the battle and suffered severe facial injuries.
The latest bout to fall out because of an odd development is Jose Ramirez's Feb. 2 WBC/WBO lightweight title defense against Viktor Postol at a Chinese golf resort south of Hong Kong. The event fell victim to the coronavirus, more exactly the fear it has instilled.
The virus, which produces flu-like symptoms that are resistant to conventional antibiotics, apparently originated at an outdoor food market in the city of Wuhan where live animals are sold. The numbers vary with each new story, but according to one account there have been 444 confirmed cases in Hubei province, of which Wuhan is the capital city, and 653 cases worldwide including two in the United States, a man in his 30's living near Seattle and a Chicago woman in her 60's.
The fear of a pandemic (an epidemic becomes a pandemic when it spreads across multiple geographic regions of the world) has led to some drastic measures. The Chinese government has reportedly put 12 cities on lockdown, blocking traffic in and out. At many airports, visitors arriving from China are being screened. There are now thermal cameras than can record a person's body temperature remotely.
Jose Ramirez (pictured with his promoter Bob Arum) was scheduled to leave for China yesterday (Jan. 23) but was intercepted. Viktor Postol is already there and apparently stranded until an outgoing flight can be arranged.
The Ramirez-Postol fight was to air on ESPN. No make-up date has been set.
– – –
British promoter Eddie Hearn says he's close to finalizing a fight between Katie Taylor and Amanda Serrano. Hearn says the fight will take place in the U.S. in April. It figures that Madison Square Garden is the frontrunner.
If the fight comes off on schedule, this will be the biggest women's fight in history!
That's because the odds attached to the fight figure to be in the "pick-'em" range and that guarantees that boxing writers and others in the boxing community will be surveyed to get their picks – about which there figures to be considerable disagreement – and that will greatly enhance the pre-fight buzz.
Taylor, 33, last fought in November in Manchester, England, advancing her record to 15-0 (6 KOs) with a unanimous decision over Christina Linardatou, a fighter from Greece via the Dominican Republic. It was Taylor's first fight at 140 after previously unifying the lightweight title with a hard-fought decision over Belgium's Delfine Persoon.
Amanda Serrano, a 31-year-old southpaw, born in Puerto Rico and raised in Brooklyn, has won titles in five weight divisions. She last fought as a featherweight, turning away gritty Heather Hardy, but has competed as high as 140. Boasting a 37-1-1 record, she's won 23 straight, 18 by stoppage, 10 in the opening round
What sets women boxers apart from their male counterparts is that the women have a significantly lower knockout ratio. Amanda Serrano is the glaring exception.
Despite a less eye-catching record, Taylor has arguably fought the stiffer competition considering her extensive amateur background. As a pro, her victims include Cindy Serrano, Amanda's older sister by six years. Taylor whitewashed her in a match at Boston Garden, prompting the elder Serrano sister to call it a career.
– – –
The most bizarre (non)story to appear in a boxing web site this week involved former unified heavyweight champion Riddick Bowe. A man representing Bowe, identified as Eli Karabell, was frustrated because Eddie Hearn wasn't returning his calls. Karabell had offered Hearn the right of first refusal on Bowe's next fight.
Bowe, now 51 years old, last fought in a boxing ring in 2008 when he returned to the sport after a three-and-half year absence for an 8-round bout in Germany. In 2013, he appeared in a kickboxing fight in Thailand where he was stopped in the second round after being knocked down five times by leg kicks.
"Will there be another chapter to write for Bowe?" concluded the author of this piece.
Egads, let's hope not.
Check out more boxing news on video at The Boxing Channel 
To comment on this story in The Fight Forum CLICK HERE
Boxing Odds and Ends: Crawford, Canelo, Caleb Plant and More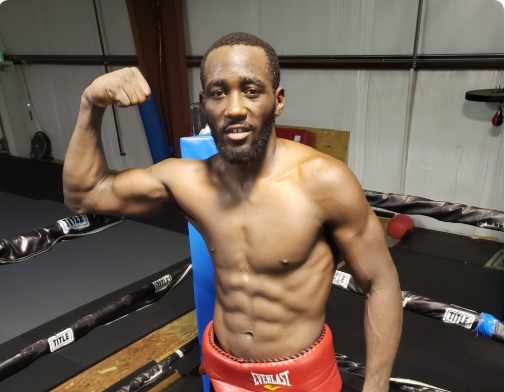 Boxing Odds and Ends: Crawford, Canelo, Caleb Plant and More
Although a lot of disinformation comes out of the mouths of boxing promoters, Bob Arum was apparently serious when he broached the idea of a two-fight series between Terence Crawford and Conor McGregor, the first fight to be conducted under MMA rules and the second under boxing rules.
Crawford is amenable. "I just have to have the proper time to prepare myself," he told ESPN's Dan Rafael. "…I haven't been in that (wrestling) environment in a long time, but most definitely I feel I can compete with anyone given the proper time to train on the MMA side, being that I have a wrestling background."
Crawford, 32, last wrestled in middle school so he would certainly need a refresher course. However, he would have a better chance of defeating Conor McGregor in an MMA match than McGregor would have of defeating him in a boxing match. So, if Arum's proposed two-fight series ever comes off, the tailpiece may be unnecessary.
– – –
As first reported by ESPN's Steve Kim, Andy Ruiz Jr. has dumped trainer Manny Robles. According to Kim's report, Ruiz's father informed Robles of the decision and said it was Al Haymon's idea.
Andy Ruiz appears to be one of those people that can gain weight just looking at food. He weighed 297 ½ pounds for his pro debut at age 19, carried 268 pounds for his first meeting with Anthony Joshua, and ballooned up to 283 ½ for the rematch after leading reporters to believe that he had actually slimmed down for the sequel.
Ruiz, noted Kim, went from a feel-good story to a cautionary tale in just six months.
– – –
Who ya' gonna believe?
A certain disreputable web site, bragging that it had an exclusive, told its readers that Canelo Alvarez had settled on Billy Joe Saunders as his next opponent and that they would meet on Cinco de Mayo in Las Vegas. The next day, Sports Illustrated's Chris Mannix, a far more trustworthy source, reported that Ryota Murata had emerged as the frontrunner and that negotiations were underway to stage the fight in Japan.
Perhaps it makes sense for Canelo to promote his brand in a new market. However, if he fights Murata, who holds a WBA belt, he would reportedly be dropping back to 160 and at age 29 he appears to have outgrown the weight class.
Stay tuned.
– – –
If Caleb Plant were an NBA player, his name would be Kevin Love. Plant, who recently married FOX/PBC reporter Jordan Hardy, is the only U.S.-born, non-Hispanic white person among the various champions in the 17 weight divisions.
Plant, who hails from tiny Ashland City, Tenn. (23 miles from Nashville) defends his IBF super middleweight title on Feb. 15 at Nashville's 20,000-seat Bridgestone Arena. In the opposite corner will be Germany's Vincent Feigenbutz who will be making his U.S. debut.
The 24-year-old Feigenbutz, who turned pro at age 16, has won 10 straight and 30 of his last 31. He represents a big step up in class from Plant's last opponent, Mike Lee, who was in way over his head.
– – –
A sad note from South Africa: Five days after the death of trailblazer Peter Mathebula, his widow, Emma Gabaitsiwe Mathebula, died suddenly of an apparent heart attack. Peter Mathebula's funeral, originally set for Saturday, has been pushed back until Tuesday and will now be a joint funeral.
Mathebula, who won the WBA world flyweight title in 1980, basically died a pauper, having sold all of  his boxing memorabilia to keep his head above water. His heirs had reached out to the government for assistance in defraying the costs of his burial.
Check out more boxing news on video at The Boxing Channel 
To comment on this story in The Fight Forum CLICK HERE