Tyson Fury Must Hope to Avoid Same Pitfalls That Bedeviled His Namesake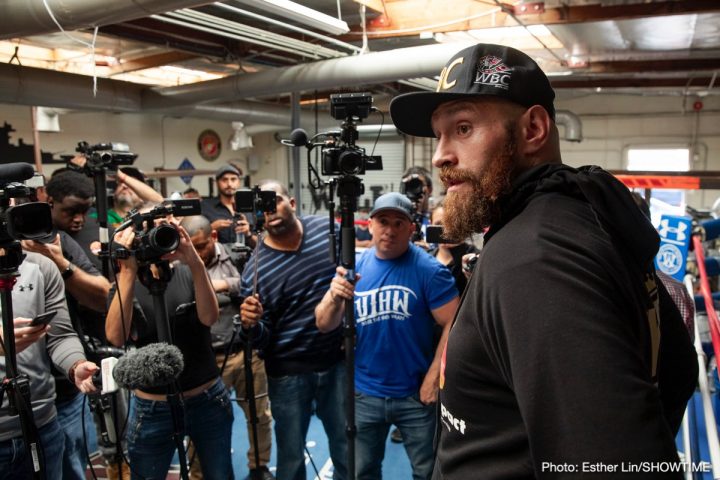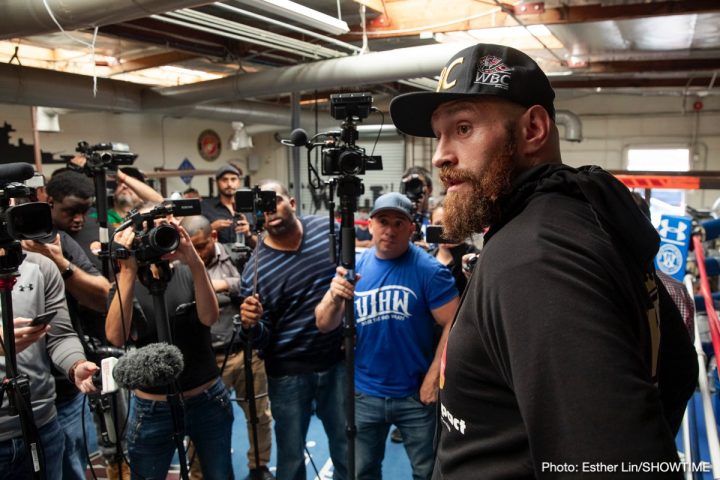 It is eerily prophetic that when former boxer John Fury's tiny son came into the world on Aug. 12, 1988, in Manchester, England, three months prematurely and weighing just one pound, the father nonetheless determined that he should be named Tyson Luke Fury, after then-heavyweight champion Mike Tyson.
The baby, who was hardly assured of surviving an expectedly difficult infancy, not only made it to adulthood, he sprouted into a veritable giant of a man at 6-foot-9 and 260-plus pounds. Even more stunning is the fact that Tyson "The Gypsy King" Fury became, like his famous namesake, heavyweight champion of the world, completing a circle of improbability the odds of which had to be Powerball Lottery-winning long.
His immense size alone separates Tyson Fury from that other Tyson, a much more compact fighter who topped out at 5-foot-10 and was at his best at an optimum fighting weight of 217 or so pounds. In terms of their boxing styles, the two Tysons are just as dissimilar, the hulking Fury a dancing bear of a man with decent but not particularly devastating punching power, in stark contrast to the magnificently muscled "Iron Mike," who in his prime was arguably the hardest hitter in the history of the heavyweight division.
But it is other, less laudatory links between the two Tysons that have raised questions about whether the now-30-year-old Fury (27-0, 19 KOs) can survive a potential crisis of another sort when he challenges WBC heavyweight titlist Deontay Wilder (40-0, 39 KOs) in the Showtime Pay Per View main event Saturday night at the Staples Center in Los Angeles. Like that other Tyson, whose spectacular rise to the top of his profession was derailed by a host of physical, emotional, legal and societal issues, the comebacking Briton of Irish descent must demonstrate – if he can – that he has moved past the litany of problems that took down Mike Tyson, the youngest heavyweight champion ever at 20, well before the onetime Brooklyn bad boy's mesmerizing promise should have reached its expiration date. Just as the baby Fury had a premature beginning, so too did the mid-30s Mike Tyson have a premature and disappointing ending to a career that was as spectacular in its flameout as was his too-brief reign as a regal successor to the legendary likes of Joe Louis and Muhammad Ali.
As of now, Mike Tyson, now 52, is not among the celebrities who have confirmed they will be at the Staples Center to witness what many are calling the most important heavyweight matchup since Lennox Lewis knocked out, yes, a severely diminished Tyson in eight one-sided rounds on June 8, 2002, in Memphis.
Tyson lost two of his final three bouts, shocking stoppages at the hands of Danny Williams and Kevin McBride, after the last vestiges of his former aura of invincibility were smashed to smithereens by Lewis. Quitting on his stool before the start of the seventh round against the relatively pedestrian McBride on June 8, 2005, Tyson wearily said, "I don't have the stomach for this. I don't have that ferocity. I'm not an animal anymore."
An acknowledgment of depleted commitment to a sport that demands total dedication was particularly noteworthy coming as it did from Tyson, the snarling beast of yore who, before his watershed, one-round destruction of Michael Spinks on June 27, 1988, in Atlantic City had boasted, "I'll break Spinks. I'll break them all. When I fight someone, I want to break his will. I want to take his manhood. I want to rip out his heart and show it to him."
Such pronouncements of savage, violent domination are more common to knockout artist Wilder, too long and lean to be a physical prototype to Tyson, than to Fury, but the expressions of supreme confidence are more or less the same. Fury has had only two fights over the last three years, a fourth-round stoppage of the relatively unknown and much smaller Sefer Sefari on June 9 of this year and a 10-round decision over the somewhat more formidable Francesco Pianeta on Aug. 18, but to hear him tell it he is as good if not better than he was in his career-defining victory, a unanimous-decision dethronement of long-reigning champion Wladimir Klitschko on Nov. 28, 2015.
"I will stand and prove what I'm going to do to this idiot (Wilder)," Fury said at the London stop of a three-city, two-country media tour to hype the event. "I will punch his face right in for him. Not a problem. Seven days a week and twice on Sunday. If we fought 30 times, I'd win 30 times. That's how confident I am of beating Deontay Wilder."
And this, in New York: "He's a big swinger. OK, he's knocked a few bums out. He's had 40 fights and 35 of them have been against total tomato cans who can't fight back. If he thinks he can land one of those big swinging windmills on my chin, he should think again. After he feels a bit of power and a few stiff jabs in the face, his ass is going to fall out. Around (rounds) eight, nine, 10, welcome to my world. How am I going to let this little, skinny spaghetti hoot beat me?"
There are those who are convinced that Fury's impressive mobility for such a large man, coupled with the height and heft that has enabled him to wear down opponents by putting his weight on them in strength-sapping clinches, will enable him to flummox the favored Wilder, as he had Klitschko. After that fight in Dusseldorf, Germany, future Hall of Famer Klitschko – who landed just 52 of 231 punches, a puny average of 4.3 per round (and an incredibly low 1.5 power shots), was almost sheepish in saying that "I couldn't find the right distance to land those shots. Tyson was quick with his hands and his body movement and his head movement. I couldn't land the right punches."
But instead of capitalizing on his sudden notoriety and acclaim, Fury appeared to have a mental meltdown that very publicly dragged on for over two years. Not only did he go on an epic cocaine binge and ballooned to nearly 400 pounds ("I got fat as a pig," he admitted), but he rattled off a series of politically incorrect statements that smacked of sexism ("I believe a woman's best place is in the kitchen and on her back"), LGBT bias ("It's like you're a freak of nature if you're normal") and anti-Semitism ("I won't be brainwashed by all the Zionist, Jewish people who own all the banks, all the papers, all the TV stations").
All those missteps were reminiscent of the Mike Tyson who, after having amassed the kind of fortune and fame most fighters can only dream of, lost everything, or close to it, in a downward spiral of self-destruction. That Tyson did two prison stretches, one for rape, consumed copious amounts of cocaine and alcohol, and gorged his way to nearly 300 pounds, which is as unsightly on a 5-foot-10 guy as 400 pounds are on a 6-9 guy. He was fined and suspended by various commissions and sanctioning bodies, and left without a title after the second of his two heavyweight championship reigns ended on an 11th-round stoppage by Evander Holyfield on Nov. 9, 1996. The Mike Tyson of our memories was terrific for a time, but not as terrific as he could have been, and maybe should have been.
It remains to be seen if a victorious Wilder, as a heavyweight with aspirations of greatness, is a reasonable replication of the vintage Tyson – or of Holyfield or Lewis, for that matter – but it's highly likely that Fury can at least temporarily reclaim much of what he frittered away should he pull off the upset against the Tuscaloosa, Ala., resident with the crushing overhand right that thus far has paid such major dividends. While lost in a stupor of drugs and gluttony, he was first stripped of his IBF title for agreeing to a rematch with Klitschko instead of facing IBF mandatory challenger Vyacheslav Glazkov. A bit further down the line he twice tested positive for cocaine, leading to a pair of postponements for the second Klitscho fight that never came off, resulting in his voluntary relinquishment of his WBA, WBO and IBO titles before those organizations could also strip him. His long period of inactivity also led to his being stripped of his lineal and The Ring magazine championships.
To his credit, Fury has sought and received treatment, as did Mike Tyson, from mental health professionals who understand that the line separating preening egomaniacs and manic depressives is thin and easily crossed, depending on circumstances. Although they come from decidedly different worlds, the prejudices and rejection both men faced while growing up shaped them in ways that no amount of success inside the ropes could permanently alter.
For Mike Tyson, much of who he was, is and forever shall be is the result of his upbringing in the blighted Brownsville section of Brooklyn, N.Y., where the poor black child with the lisp found himself an object of derision, finding a measure of solace only in his membership with a street gang, the Jolly Stompers, that hewed to the proposition that if its members couldn't afford to get what they wanted, it was better to take it by force than to do without. It was a lifestyle that frequently landed Tyson in juvenile hall until boxing offered him a reprieve that never fully removed him from his roots.
Fury's Jolly Stompers equivalent is his heritage as an Irish Traveller, some 40,000 nomadic people in the United Kingdom and Ireland who never stay long in any one place, moving about as tightly knit caravan communities. But wherever they go, the Travellers are apt to find hostility and hatred. Even after his defeat of Klitschko, Fury was reminded of the taint he presumably bears and might never be able to completely erase. Denied service at a UK restaurant for himself, wife Paris and their three children, Fury complained that "I'm the heavyweight champion of the world and I've been told, `Sorry, mate, you can't come in. No Travellers allowed."
Whether Mike Tyson is in the Staples Center audience on Saturday night remains to be seen, but he has weighed in on the bout and seemingly is leaning toward the "Gypsy King."
"Although Wilder's punch is strong, nothing can compare to the mental strength Fury has shown both in and out of the ring," Tyson said. "It'll be a close call, but I think Fury's got a true fighting chance."
Check out more boxing news on video at The Boxing Channel
The Bones Adams Story (Part Two)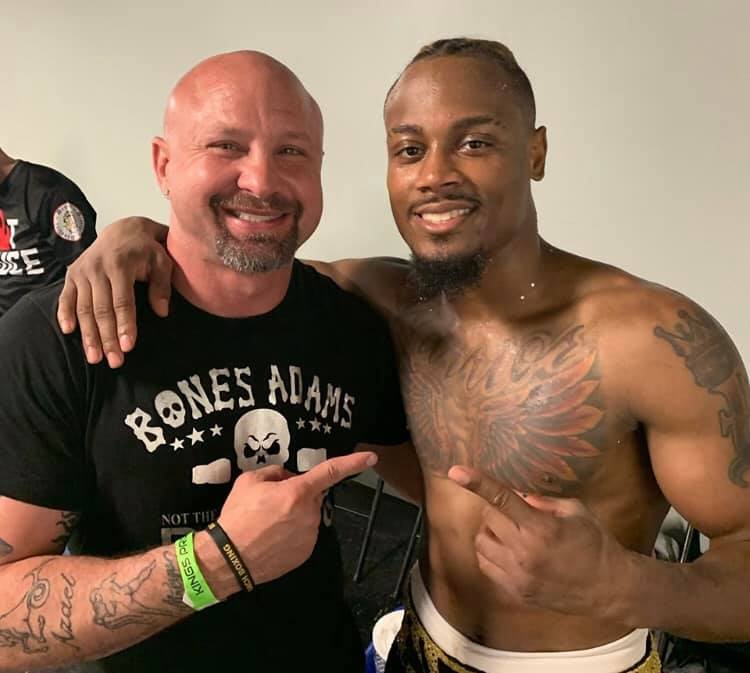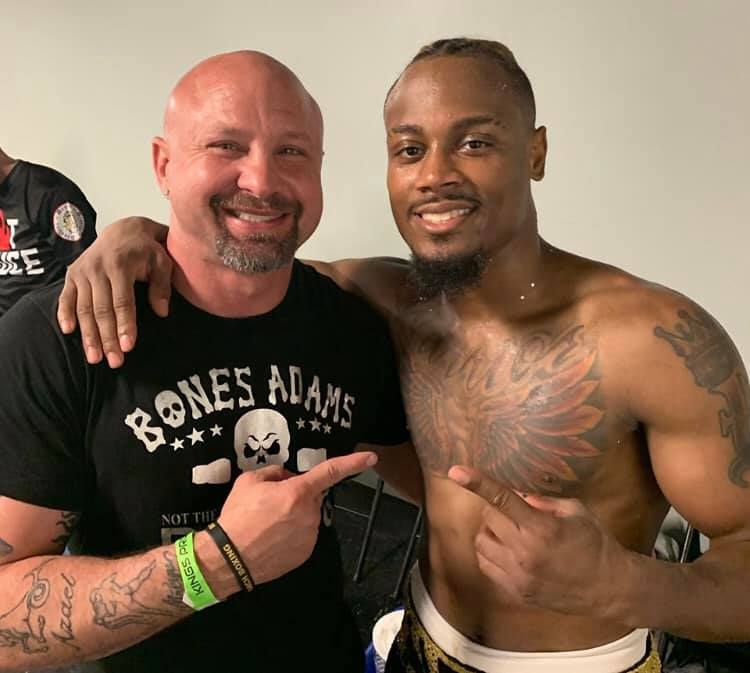 When Bones Adams retired from boxing, he was still in his mid-twenties. The kid from Henderson, Kentucky, now lived in Henderson, Nevada, a suburb of Las Vegas, and before leaving the sport he had made enough money to go on a home-buying spree.
Real estate in the form of rental homes was a sound investment, or so everyone told him. But that was before the Great Recession, a scourge that clobbered real estate speculators and new homeowners, hitting Las Vegas especially hard.
"Suddenly," says Bones, looking back, "a house next door to one of my mine, a house that looked a lot like mine," was on the market for half the price that I paid for mine. I didn't have the equity to ride out the storm."
One of Bones' best friends worked as a limousine driver for Charles Horky. The friend suggested that Bones join the team. Horky, a big fight fan, hired him in a flash.
Horky was an American success story. Starting with one limousine, he built a mini-empire. His fleet serviced the MGM Grand properties, of which there were eight on the Las Vegas Strip. Many of his regular clients were celebrities.
A town like Las Vegas attracts a lot of predators. Charles Horky fit right in. The FBI would allege that he didn't merely turn a blind eye when his drivers supplied hookers and drugs – cocaine, meth, Ecstasy – to his customers, but that he encouraged it and demanded a cut of the action. Then there was the little matter of unauthorized charges on credit cards, a common scam in Vegas, particularly in "gentleman's" clubs. "What happens in Las Vegas, stays in Las Vegas," goes the slogan, and what often stays is a lot more money than a visitor remembers spending.
On Dec. 13, 2012, the FBI arrested Charles Horky and eight of his employees or associates, including four limousine drivers, on racketeering charges. Clarence "Bones" Adams, identified in the papers as one of the limousine drivers, was caught up in the sting.
"I did some stuff I shouldn't have," Bones acknowledged when this reporter broached the subject. But he says he wasn't a limousine driver except on his first day of work because Horky thought he was more valuable out in the field working as a starter, a person that works with the concierge at a hotel. (In Las Vegas, a taxi driver is prohibited from carrying more than five passengers. For larger parties, it's often cheaper to hire a limo than taking multiple cabs.)
At his initial hearing, Bones pleaded not guilty. The attorney he hired, confident that he would receive only a slap on the wrist, got him to change his plea. Indeed, probation was what the prosecutors recommended. But the judge thought otherwise and Bones would serve six months at the federal correctional institution in Taft, California.
– – –
When we caught up with Bones Adams last week, he had just returned from shepherding his three youngest children to school (Bones has a daughter, Alexa, from a previous marriage). It entailed three stops – a high school, a middle school, and an elementary school. The school buses don't service his neighborhood, an upper-middle-class neighborhood in the southwest part of Las Vegas.
The home that Adams shares with Millette, his wife of 14 years, and their children has a very deep back yard. Situated at the end of the long driveway is a 3,200-square foot building that houses a two-car garage and the boxing gym. The previous owner was a custom glass maker. This was his workshop.
Bones Adams doesn't speak well of his former manager Cameron Dunkin, but Bones concedes that Dunkin did him a big favor when he sold his contract to James Prince. The change-over was made shortly after Bones' first match with Paulie Ayala.
Prince, the Houston-based rap music mogul, was previously involved in the careers of Floyd Mayweather Jr, with whom he had a big falling out, and Andre Ward, among others. Today he is connected to a stable of boxers in Las Vegas who compete under the Prince Ranch insignia, the most notable of whom is former U.S. Olympian Michael Hunter who meets undefeated Sergey Kuzmin at Madison Square Garden on Sept. 13 in a match that will leave the winner well-positioned for a shot at a world heavyweight title.  Undefeated super bantamweight Raeese Aleem (pictured with Bones) is one of several rising contenders.
The gym that sits in Bones' backyard was designed for Prince Ranch fighters but isn't exclusively for them. "Basically," says Bones, "whenever there is a really big fight in town, one of the fighters comes here." Amir Khan used the gym to put the final touches on his preparation for Canelo Alvarez. Daniel Jacobs did likewise. More recently, Manny Pacquiao and his trainer Freddie Roach were here during the final days preceding PacMan's fight with Keith Thurman. Tucked away in a quiet residential neighborhood, the gym offers a marquee fighter a level of privacy he is unlikely to find elsewhere.
When Khan was here in May of 2016, Bones Adams wasn't yet immersed in the daily routine of a trainer. It would be more accurate to say that he was the facility's caretaker. But he and Khan forged a relationship and when Khan was in the market for a new trainer – having left Virgil Hunter, who trained him for his bout with Terence Crawford — he thought of his new buddy back in Las Vegas.
Amir Khan is no longer an "A side" fighter in the United States. Canelo Alvarez starched him with one punch and he was flayed on social media for his weak showing against Crawford. But Khan, an Olympic silver medalist for England at age 17, remains one of the most well-known sporting personalities in the U.K. His supposedly tempestuous relationship with his attractive American-born wife has been a steady source of fodder for the tabloids.
Bones spent two-and-a-half weeks with Khan in Khan's hometown of Bolton and another two-and-a-half weeks in Jeddah, Saudi Arabia, where Khan finished his training for his fight with Billy Dib, a late sub for India's Neeraj Gorat who had to pull out after being injured in a car crash. The fight was hyped as a landmark event that would pave the way to a succession of bigger fights in Saudi Arabia.
The Arab nation has been in the news lately and we asked Bones for a few tips on the unlikely chance that we would ever go there. "I was told that I shouldn't strike up a conversation with a woman I didn't know, but what I found was that things had loosened up," he said. "However, 'no touching' is still the rule (a no-no that covers everything from a handshake to a hug). The people over there were very warm. We were treated very well."
Late in his boxing career, Bones' hairline began to recede. The recession has now completed its journey, perhaps with a little assistance from a barber, and Bones is fashionably bald. But he looks younger than his age; the muscles in his arms are taut, fittingly so for a man who preaches that a boxing-themed workout is the best workout of all for a man that wants to stay physically fit.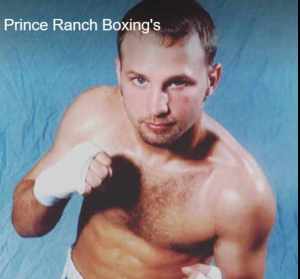 When Bones looks back on his boxing career, he thinks about what might have been if those that had influence over his career had done a better job of looking out for his interests and if the deck hadn't been rigged against him in several of his most important fights. But the bitterness has long since dissipated, usurped by an understanding that there were times when his life could have spiraled completely out of control and an appreciation for those that reeled him back in. Foremost is his wife Millette, whose name Bones spells out to make certain the reporter gets it right.
It's been a bumpy ride for Clarence "Bones" Adams, but he is now in a good place. Back in the day, the WBA stripped him of his title for no good reason other than they could, but looking back Bones can see that owning all the title belts in the world wouldn't have amounted to a hill of beans if he hadn't met Millette who has stood by his side through thick and thin.
Check out more boxing news on video at The Boxing Channel  
To comment on this story in The Fight Forum CLICK HERE
Mexican Stalwarts Navarrete and Magdaleno Break-in the Banc of California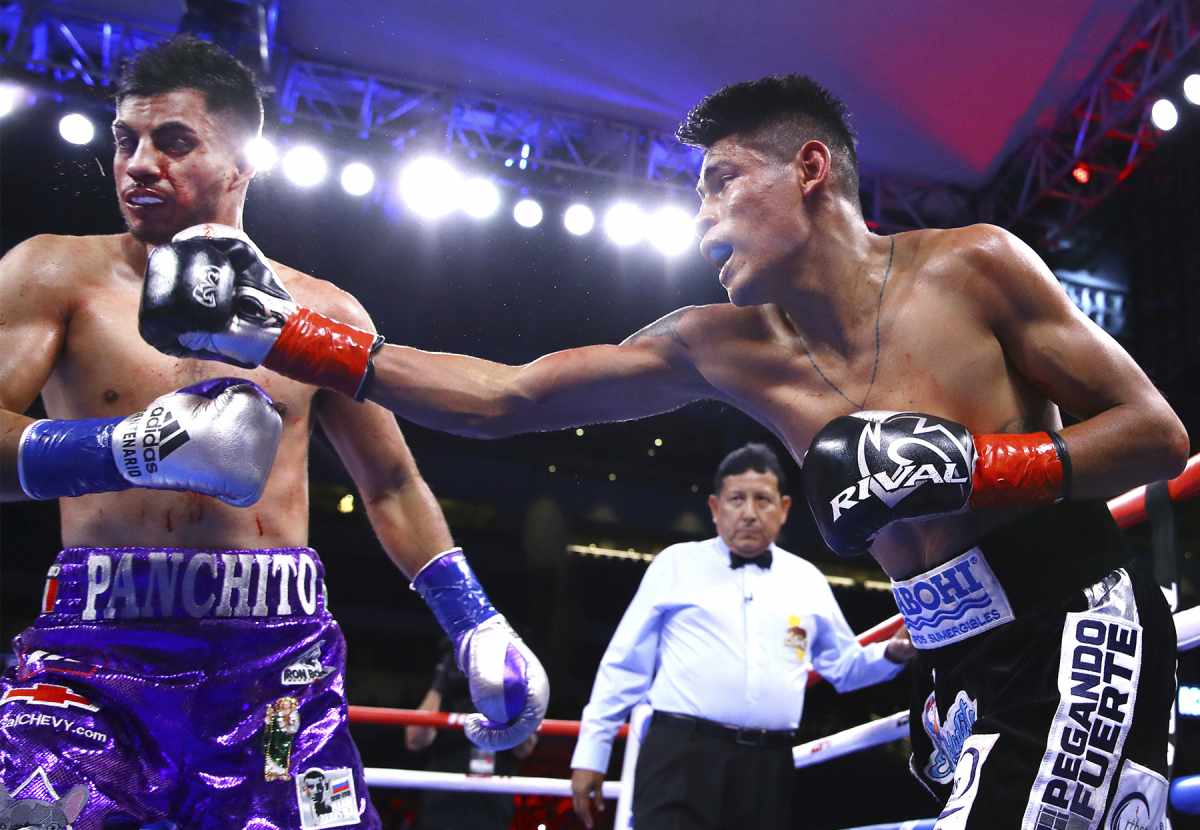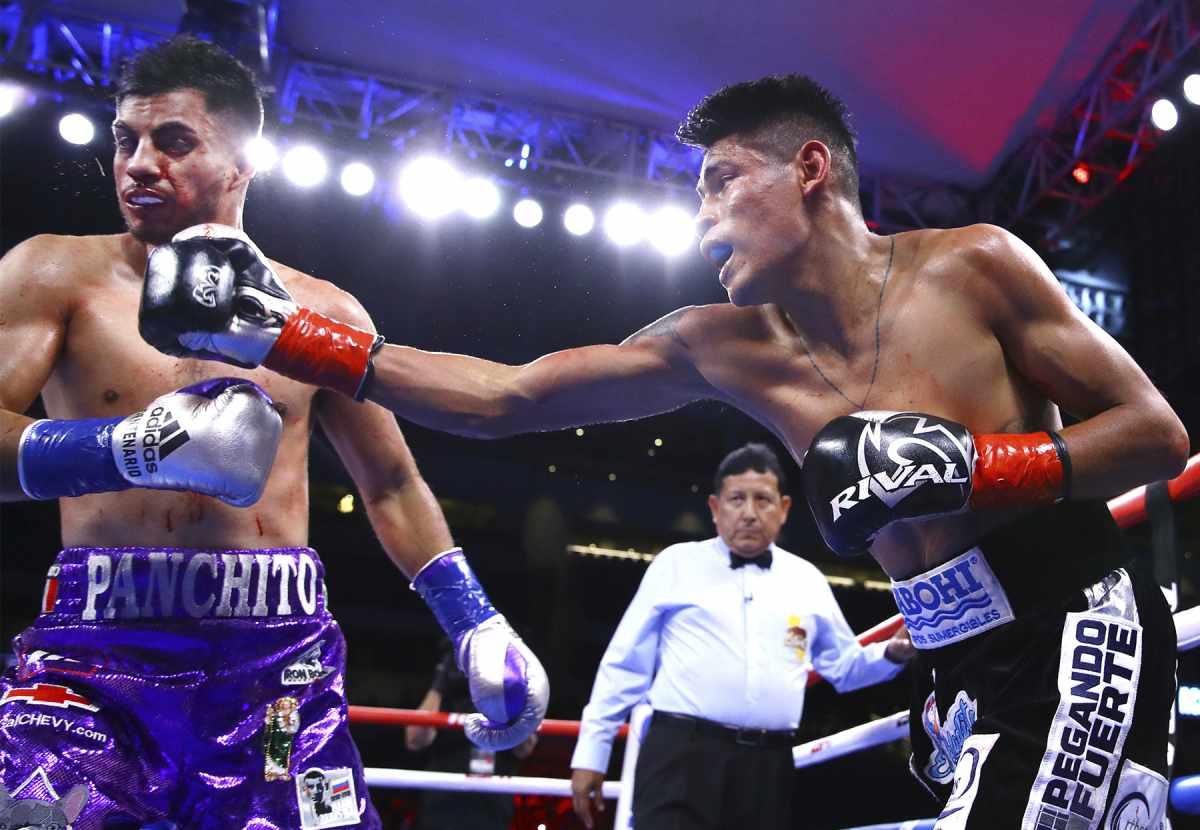 Mexican Stalwarts Navarrete and Magdaleno Break-in the Banc of California
LOS ANGELES-A new stadium got its boxing baptismal with two brutal Mexican wars to re-introduce Los Angeles fans to international prizefighting on Saturday evening.
WBO titlist Emanuel "El Vaquero" Navarrete of Mexico City retained the world title by knockout and former champion Jessie Magdaleno proved pure violence still prevails in Mexican style boxing in front of 3,944 fans at Banc of California Stadium.
Soccer took a back seat on Saturday.
It was baptism under fire as Navarrete (28-1, 24 KOs) roasted fellow Mexican Francisco "Panchito" De Vaca (20-1, 6 KOs) who was willing to jump into the flames but found it too hot to withstand. However, he did try.
De Vaca arrived with only six knockout wins in 20 fights but that didn't stop him from exchanging with the slightly taller and aggressive Navarrete. From the opening sound of the bell each traded blows, with Navarrete landing two vicious left uppercuts to punctuate the first round.
Though Navarrete won the round, De Vaca proved to have a sturdy chin.
The challenger from Phoenix erupted in the second round with a more aggressive attitude, but quickly discovered he was on the floor looking up after absorbing a sidewinder right cross from Navarrete. He got up and renewed the attack.
De Vaca never wavered from exchanging blows with the champion but it proved to be futile as the harder hitting Navarrete seemed to move the challenger back with each connected blow. De Vaca was hurt but refused to submit as Navarrete pummeled him with blows from multiple angles. After what seemed like a minute filled with machine-like blows, referee Raul Caiz stopped the fight though De Vaca never went down at 1:54 of round three to give Navarrete the win by knockout.
"De Vaca showed his fighting heart. He gave 100 percent in the ring tonight," said Navarrete, who hopes to return to Los Angeles. "I want to continue the tradition of Mexican boxing in Los Angeles. I want to fill arenas and follow in the footsteps of Mexican legends."
Top Rank's Bob Arum said Navarrete will be returning to the boxing ring next month in Las Vegas on the same fight card as lineal heavyweight champion Tyson Fury on Sept. 14.
Magdaleno
Former super bantamweight world champion Jessie Magdaleno (27-1, 18 KOs) won by technical decision over Tijuana's Rafael Rivera (27-4-2, 18 KOs) in a fight stopped due to an accidental elbow slicing a cut on the Las Vegas fighter.
"He's an aggressive fighter, he's a warrior as we say in boxing," said Magdaleno, who did not think it was an intentional elbow.
Magdaleno, a southpaw, breezed through three rounds with his slick boxing and power shots to the body. Rivera found it difficult to find openings until a clash of heads caused a cut on Magdaleno's nose. Rivera was able to capitalize on the former super bantamweight world champion's concern over the blood running down his nose.
In the next three rounds Magdaleno began targeting the body with strong lefts and rights. It seemed to visibly slow down Rivera. A left cross in the seventh round staggered Rivera who was barely able to stay on his feet.
Rivera gutted out the pain and battled back in the eighth round with renewed vigor. It looked like he was willing to go down swinging.
Magdaleno expected Rivera to come out smoking in the ninth round and he did not disappoint. Both slugged it out in the corner, with Magdaleno decking Rivera with a short left cross but the Tijuana fighter beat the count and returned to the battle. During another exchange, an inadvertent elbow by the Mexican fighter sliced the side of Magdaleno's right eye. Blood spewed out and referee Tom Taylor, on the advice of the ringside physician, stopped the fight at 2:55 of the ninth round.
The fight was decided by the score cards with two judges at 89-81 and a third at 88-82, all for Magdaleno.
"It felt great, I felt strong, better than ever," said Magdaleno about fighting in the 126-pound featherweight division. "I took off the ring rust. We fought smart. We put on our boxing shoes and out-boxed him."
The former WBO super bantamweight who lost the title to Isaac Dogboe last year, now feels his victory over Rivera should open the door to a world title fight in the featherweight division.
When asked who he would like?
"I want them all, it don't matter," Magdaleno said.
Other Bouts
Super lightweight prospect Arnold Barboza (22-0, 9 KOs) was too big and too strong for Filipino Ricky Sismundo (35-15-3, 17 KOs) and battered the willing fighter for all four rounds. A three-punch combination by South El Monte's Barboza dropped Sismundo in the third round who beat the count and tried battling back. In the fourth round, Barboza continued the attack and at the end of the fourth round referee Ray Corona stopped the fight as Sismundo dropped to a knee at the end of the stanza.
Barboza was coming off a knockout win over former world champion Mike Alvarado and may be ready for a world title shot.
Kazakhstan's Janibek Alimkhanuly floored Canada's Stuart McLellan twice before ending the fight with a flourish of blows that forced referee Rudy Barragan to end the fight at 2:51 of the fifth round.
Alimkhanuly retains the WBO Global and WBC Continental America's middleweight belts. He fights out of Los Angeles and is trained by Buddy McGirt.
A welterweight clash saw South Africa's Chris Van Heerden (28-2-1, 12 KOs) win by unanimous decision over Russia's Aslanbek Kozaev (33-3-1, 8 KOs) in a bloody eight round war. The fight started slowly with Van Heerden hitting and moving but after cuts suffered by both fighters, the two began exchanging heavy blows to the delight of the crowd. Both bled heavily for the last four rounds but let loose with everything just in case the fight was stopped. After eight rounds two judges saw it 79-73 and a third 78-74 for Van Heerden.
After a close two rounds, Javier Molina (20-2, 8 KOs) put some distance between himself and Manuel Mendez (16-6-3, 11 KOs) to win by unanimous decision in a super lightweight match. Molina was able to take control with some nifty counter punches that caught Mendez walking in. It was never an easy fight as Mendez battled through each round. But after eight rounds two judges scored it 79-73 and a third 78-74 all for Molina.
"I moved down to 140 pounds and it felt comfortable," said Molina, a former 2008 US Olympian who fights out of Norwalk, Calif. "It felt good to be back in the ring.
Dominican southpaw Elvis Rodriguez dropped lefty Jesus Gonzalez with a short right hook in the first round of their super lightweight bout. The Texan got up and was caught with a jab left cross and down he went again. Referee Rudy Barragan halted the fight at 1:40 of the first round. Rodriguez is trained by Freddy Roach.
Russian lightweight Dmitry Yun (2-0) survived two knockdowns to win by decision over Austin's Javier Martinez (4-7, 3 KOs). The Texan floored Yun with the first blow he landed –a right cross – in the opening round, then repeated it with a counter right cross in the third round. But problems with his mouthpiece and lack of footwork kept Martinez from gaining ground on the fleet but light punching Yun. Two judges scored it 57-54 and a third 56-54, all for Yun.
New Mexico's Brian Mendoza (18-0, 13 KOs) brutalized Miami's Rosemberg Gomez (20-8-1, 16 KOs) with body shots and eventually ended the fight at 2:12 of the first round in their welterweight clash.
Photo credit: Mikey Williams for Top Rank
Check out more boxing news on video at The Boxing Channel  
To comment on this story in The Fight Forum CLICK HERE
WBO Title-holder Emanuel Navarrete Defends at Banc of California Stadium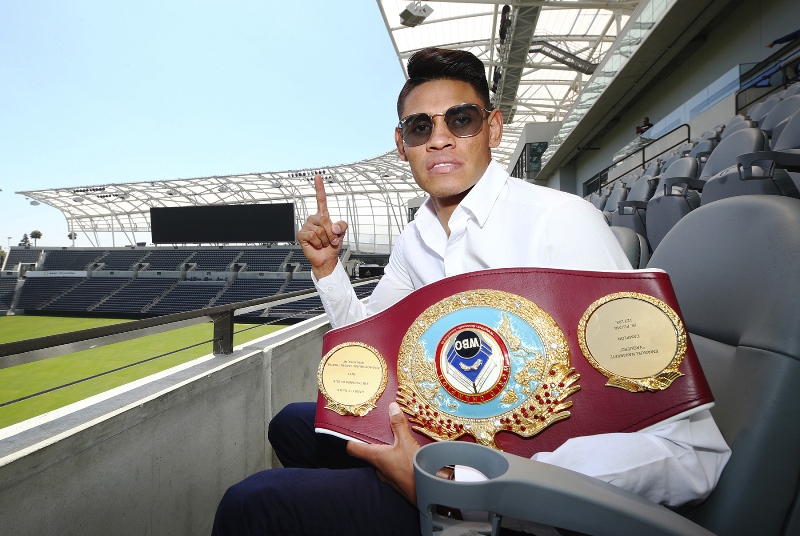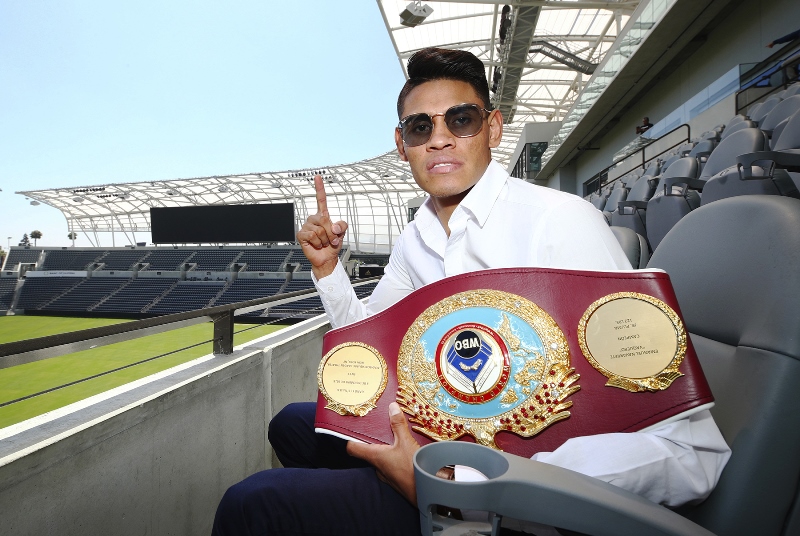 WBO Title-holder Emanuel Navarrete Defends at Banc of California Stadium
LOS ANGELES-World champions are gathering at a busy street corner of Los Angeles that has been the site of numerous heroic, villainous and emotional moments in the history of the second largest city in the USA.
Two full scale riots erupted and flamed out on that corner of Martin Luther King Boulevard and Figueroa Avenue in the 60s and 90s.
A presidential debate took place between John F. Kennedy and Richard M. Nixon on those same grounds when they were running in 1960.
NBA superstars Jerry West, Elgin Baylor and Michael Jordan performed their magic on that corner too.
On Saturday, WBO super bantamweight titlist Emanuel Navarrete (27-1, 23 KOs) defends against Arizona's Francisco De Vaca (20-0, 5 KOs) in the main event at the sparkling new Banc of California Stadium. ESPN will show the Top Rank fight card.
The stadium stands on the same location where the LA Memorial Sports Arena once stood proudly until it fell into disarray and was torn down several years back.
Sixty years ago, the first world championship boxing match was held on these same grounds and fans saw France's Alphonse Halimi lose to Mexico's Jose Becerra by fifth round knockout at the LA Memorial Sports Arena. Seven months later they fought again next door at the LA Coliseum and Becerra won by knockout again.
That was only the beginning, others like Muhammad Ali, Archie Moore, Sugar Ray Robinson, Bobby Chacon, Jerry Quarry, Danny "Lil Red" Lopez, Ruben Olivares, Roman "Chocolatito" Gonzalez and Amir Khan all fought on those same grounds.
Imagine, when Navarrete (pictured above) rises from his corner to fight Phoenix's De Vaca on Saturday, he will be continuing the ever-growing streak of civil and professional fights that took place on that same historic street corner.
WBO Super Bantamweight Title
Navarrete erupted on the fight scene like a ghost when he first defeated Isaac Dogboe last December at Madison Square Garden. It was supposed to be a Broadway opening for Dogboe, but instead turned into a horror story as those long arms of the Mexican fighter proved perplexing. The rematch was even more horrific for Dogboe.
Now the Mexico City fighter meets little known challenger De Vaca, who comes from an area that has recently been developing boxing talent in the desert city of Phoenix.
"The truth is that it doesn't matter who is my opponent. I always prepare 100 percent for each of my fights, and this was no exception," said Navarrete, 24, who is making his second defense of the WBO title. "We already did the hard work in the gym, and we are ready for a great fight. If De Vaca comes to fight hard, I am prepared to go even harder. I'm ready to give a great battle to all the fans."
Can De Vaca do what Navarrete did to Dogboe last year?
"I wanted to fight for a world title since I was 5 years old, and now that we have the opportunity, we are going to make our dream come true this Saturday," said De Vaca, 24, who fought once in Southern California back in 2016. "Come Saturday, there will be a new world champ for Phoenix and Michoacán. I'm coming for that world title."
Co-Main
Former super bantamweight titlist Jessie Magdaleno (26-1, 18 KOs) meets Rafael Rivera (27-3-2, 18 KOs) in a featherweight match set for 10 rounds. After struggling to make the 122-pound super bantamweight limit, the Las Vegas southpaw now fights at 126 pounds. It's made a difference.
"He's a totally different person at 126 pounds," said Frank Espinoza who manages Magdaleno. "Even the way he talks and thinks is different. Who would have thought four pounds would make such a difference."
Magdaleno, the former WBO super bantamweight titlist, now meets Tijuana's Rivera who never fails to provide high intensity fisticuffs.
"I don't take none of these guys lightly. Every opponent is difficult. He's fought great fighters. He's been in there with great fighters and done a hell of a job. I can't overlook him because he's here to put on a great show as well," said Magdaleno, 27. "He throws a lot of punches, and he's quick. That's what I am, and that's what is going to make a hell of a fight for this fight card."
Rivera fought featherweight champion Leo Santa Cruz earlier this year. Though he lost by decision, he gained fans for his ferocity.
"I've been fighting against top-level fighters for a long time, so I feel confident and secure that whether it's against a world champion or a former champion, I'll put up a good fight," said Rivera, 25. "Jessie is a good fighter. I've seen him fight before. He's an aggressive fighter, but I'm just here to do my work."
It's a rather strong and lengthy fight card to baptize the new stadium into the world of prizefighting. Expect a lengthy line of fans on the same corner where many historic events have taken place.
Boxing has returned to the same street corner where legends like Ali, Sugar Ray, Quarry and Schoolboy Chacon previously performed. It's a corner with many memories, both pleasant and notorious.
Photo credit: Hector De La Cruz
Check out more boxing news on video at The Boxing Channel  
To comment on this story in The Fight Forum CLICK HERE