Deontay Wilder vs Tyson Fury: Train Crash in Los Angeles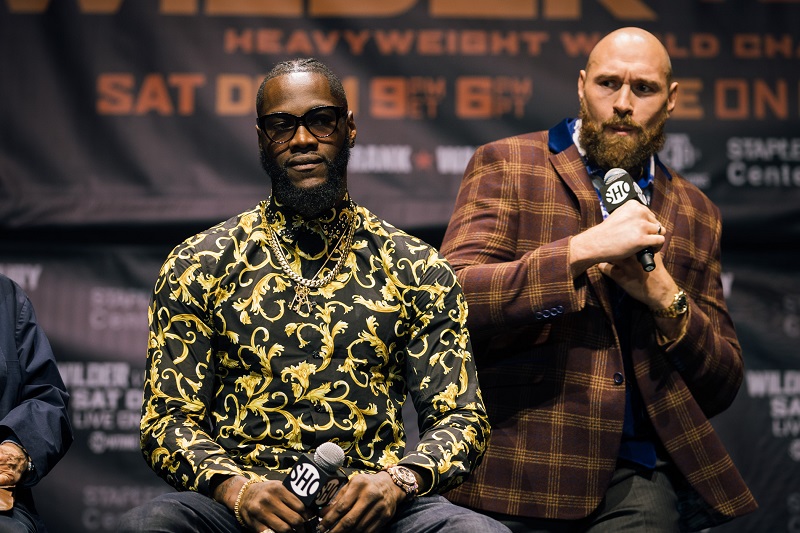 Even though both the American World Champion Deontay Wilder and the British challenger Tyson Fury possess anatomies that could be compared to enormous mastodons, their fighting styles are complete opposites, which creates the opportunity for this bout on Dec. 1st at the Staples Center in Los Angeles to be one of the best fights of the year.
Thanks to his incredible power, which has been endured until the finish line by only one man in all of his 40 victories, "The Bronze Bomber" Wilder is the favorite to defeat "The Gypsy King" Fury (27-0-0, 19 KO's) by knockout, thus retaining the WBC World Heavyweight Title, which he has held since 2015 and successfully defended seven times.
What Could Happen
As we previously stated, Wilder and Fury possess drastically different boxing styles, leaving the stage open for this fight to become an absolute war. However, it wouldn't be surprising either if both were to be excessively cautious in order to avoid getting knocked out, a situation that would leave the crowd displeased, similar to what happened in the Fury vs Klitschko fight in November of 2015.
"The Gypsy King" was declared winner by unanimous decision in a fight of few punches, immeasurable clinching, and lack of technique, which led the referee to give warnings to both of them. Fury even had a point taken away in the 11th round due to landing an illegal "Rabbit Punch". In that fight, Klitschko only landed 52 punches for an extremely low average of 4.3 punches per round, one of the lowest in title fight history. Fury was slightly better, landing 86 strikes with an average of 7.3 per round.
Wilder Did Not Look Good in the Open Media Workout
Like the popular saying "a picture is worth a thousand words", Wilder should be worried, because regardless of his optimism, the performance he displayed in front of the California media left many unconvinced.
"I feel like I'm at my very best right now. Mentally, physically and emotionally I'm ready to go. Everything is perfect. I just want to get in the ring and show action. Tyson Fury doesn't know what he's gotten himself into", said Wilder, after concluding a session on the mitts with his trainer Jay Deas at the Churchill Boxing Club in Santa Monica.
In reality, Wilder was inaccurate with his powerful right hand when he tried to strike the mitts and similarly, his movements and footwork lacked coordination. In a general sense, he lacked rhythm, regardless of his previous eloquence.
"As a true champion, I know how to adjust to any fighter that's in front of me. My experience facing fighters of all styles has prepared me for this special fight", stated Wilder, still covered in sweat from his training.
Born in Tuscaloosa, Alabama, Wilder will be defending his WBC World Heavyweight Title for the 8th time, which he acquired after unanimously defeating the Haitian-Canadian Bermane "B-Ware" Stiverne in January of 2015 in Stiverne's first title defense.
In his most recent bout, Wilder defeated the Cuban southpaw Luis "King Kong" Ortíz, by TKO in the 10th round on March 3rd of this year at the Barclays Center in Brooklyn, New York. But even though he knocked down Ortíz in the 5th and a few times in the 10th, the North American was on the edge of defeat in the 7th, when the Cuban rocked him during the final seconds of the round. The champion was saved by the bell, and in the next round, Ortíz lacked the killer instinct that could have made him the first Cuban Heavyweight champion in the history of boxing. "King Kong's" lack of aggression allowed Wilder to recover and take control of the fight. After the Cuban had been knocked down a few times, referee David Fields called a stop to the contest with 55 seconds remaining in the 10th round.
Wilder has stated that he has had excellent sparring sessions and is constantly making technical adjustments with Deas in order to be in optimal condition when he faces Fury, a fighter who lacks technique and constantly clinches, creating boring fights. This is how things transpired against the Ukrainian Klitschko exactly three years ago, when Fury won the IBF, WBA, WBO and fringe IBO title in a bout that took place in the German city of Dusseldorf.
In the weeks leading up to the fight, Jay Deas hasn't missed an opportunity to praise the "Gypsy King", born in the city of Manchester, a 30-year-old mastodon with an extraordinary reach of 85 inches. "Tyson Fury is kind of like a Rubik's cube. But a Rubik's cube can be solved. Fury is a very versatile fighter who can move, he can box and fight from lots of distances. He's the total package as a fighter and on top of that he's strong-willed mentally," stated Deas.
Wilder conquered Stiverne for the title on January 12th of 2015 and during the following months and years both of them proceeded to compete several times, awaiting a second confrontation, a rematch which finally took place November 4th of 2017, in New York. Wilder quickly demolished the Haitian, knocking him down 3 times in the first round.
Fury Comes Back With Two Victories
After a long 30 months away from the sport, Fury came back, meanwhile losing more than 100lbs and recovering from drug addiction and alcoholism. Fury also confessed that he suffered from depression. One of the three titles that he acquired through defeating Klistchsko was stripped from him for having accepted a rematch with the Ukrainian, instead of his mandatory. The other two titles were immediately stripped when he tested positive for cocaine, leading to the cancelation of the rematch with Klitschko.
Fury returned victorious when he defeated the Macedonian Sefer Seferi by RTD in the 4th round on June 9th of this year at the Manchester Arena in England. Regardless of accomplishing the main objective, Fury looked very bad against Seferi due to such a long period of inactivity.
Two months later, on July 18th in Belfast, Northern Ireland, the "Gypsy King" outpointed the Italian Francesco Pianetta in a 10 round match.
Fury looked better than he did against Seferi, but still punched erratically and with minimal movement, although he did use the jab more effectively. At the end of the fight, Fury invigorated the more than 25 thousand fans present at Windsor Park, by announcing that he had accepted the offer to fight Wilder for the WBC Heavyweight World Title.
"They called, I answered. I said send me the contract. I said 'yes'. Now he gets his chance to fight the lineal heavyweight champion of the world. Believe me, I will go to Las Vegas and I will bring home the belt. I will knock this man out." Said Fury, causing the crowd to roar in excitement.
Who Will Win Wilder or Fury?
My opinion is that if both giants decide to make it a slugfest from the very beginning, Wilder, 6'7" in height, will be the winner within no more than 2 thirds of the fight. His devastating right hand, lethal and effective, and his superior physical condition will be enough to put Fury to sleep, a fighter who was away from the ring for two years and seven months following the fight with Klitschko. Fury's only true advantage will be his weight, carrying approximately 40 pounds more than his opponent on the day of the fight.
Add the fact that the "Gypsy King" Fury, 6'9" in height, is a clumsy fighter with predictable movements, who lacks defense, and he will be forced to go all out in the opening rounds, using the clinch as his main weapon, in order to avoid falling victim to one of the powerful punches of the Tuscaloosa-born fighter with dynamite in his right hand.
Only tactical errors on Wilder's side (lowering his hands, not using the jab to maintain distance and avoiding falling into the clinch) will lead to Fury's victory. In conclusion, the American will emerge victorious by knockout before the beginning of the 8th round.
Translated by E.G. for J.J. Alvarez of Boxeo.tv
Photo credit: Amanda Westcott / SHOWTIME
Check out more boxing news on video at The Boxing Channel
To comment on this article at The Fight Forum, CLICK HERE
Mikey Garcia's Second Welterweight Assault Happens Saturday in Texas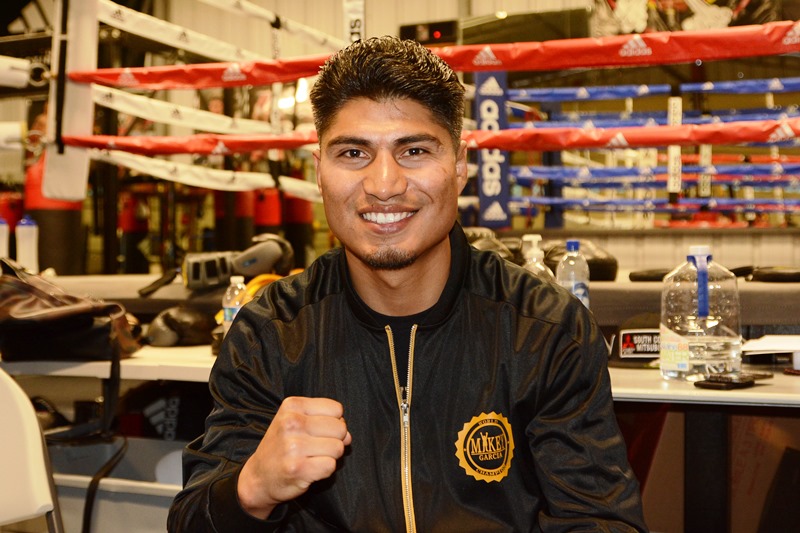 Imagine if the Corleone Family of the fictional film "The Godfather" were involved in the prizefighting world. That's kind of what you get with the Garcias.
Eduardo Garcia heads the Riverside-based boxing family but retired years ago. The day-to-day leadership role now lies in the hands of Robert "Grandpa" Garcia.
Just like the Corleone family the Garcias have their own compound and its army of fighters are geared toward preparing Mikey Garcia (39-1, 30 KOs) for his welterweight assault against Jessie Vargas (29-2-2, 11 KOs) on Saturday, Feb. 29. DAZN will stream the Matchroom Boxing card from The Ford Center in Frisco, Texas.
The Robert Garcia Boxing Academy functions like a daily boot camp with prizefighters arriving and departing Monday through Saturday.
It's a grinding human factory of fistic proportions that never stops.
It all started in Oxnard, California back in the 1980s when older brother Daniel Garcia became a professional. He was followed by Robert "Grandpa" Garcia who was the first to win a world title in 1998 against Harold Warren. After two defenses he met with Diego Corrales and for seven rounds the two battled as if their life depended on it. It was brutal yet beautiful in its intensity.
After that fight, Corrales, who passed away in May 2007, said to this writer "wasn't that a great fight?" And then quickly added: "I need a soda pop."
Years after that fight with "Grandpa" Garcia, the always cheerful Corrales claimed that was his favorite fight.
Mikey
Reluctantly, Mikey Garcia followed into the family business and now serves as the leader of the pugilists and third member of his family to lace up professionally for the Garcia family.
He's kind of like a Michael Corleone in that it wasn't his lifetime plan.
"I wanted to become a police officer," said Mikey Garcia who participated in the police academy. "I wasn't really sure about boxing."
Now the third brother of the Garcia clan seeks another division world title to add to his glowing collection. He already captured world titles in the featherweight, super featherweight, lightweight and super lightweight divisions.
It's an incredible feat that goes unnoticed.
A year ago, the four-division champion was blocked from gaining a fifth division world title by welterweight kingpin Errol Spence Jr.
Mikey refuses to stop now.
"I learned a lot from that fight," said Garcia, who lost by unanimous decision after 12 rounds to the southpaw Texan. "You always learn from every fight even a loss."
Despite his father's slight opposition, Mikey Garcia intends to enter combat with yet another tall welterweight in Vargas.
"I like a challenge," says Mikey Garcia. "I think I have the ring intelligence to do what I need to get the win."
The Godfather of the Garcia's does not agree 100 percent.
"They are too big and too long," said Eduardo Garcia the father to Ruben, Robert and Mikey Garcia. "I don't like him at this weight. It's too big."
But the father realizes that his son hungers for challenges and is willing to take chances to obtain greater rewards and recognition.
Riverside Stronghold
Ever since the Garcias arrived on February 2010, the family has gained a strong foothold in Riverside, California and become a powerhouse in the boxing world. Mikey Garcia serves as the recognized leader of the more than two dozen prizefighters who train at the hilltop compound daily.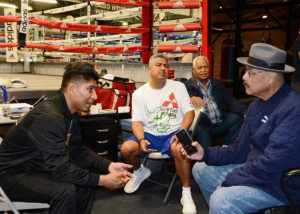 Ten years ago the patriarch Eduardo Garcia ventured to find a new home and one by one his sons followed – first Mikey, then Robert. Daniel still lives in the Oxnard area.
"It started with my dad who was looking at retirement. My career wasn't anywhere near what it is today. Not knowing I would continue, I had just graduated from the police academy in 2010. I was looking at coming over here and maybe working law enforcement. But I came to follow my dad. He offered me a home."
"We were already professional fighters and no apparent future and didn't know where boxing was going for us," said Mikey Garcia, 32. "I didn't have much going for me in Oxnard either."
The Garcias found a local gym that was being used by heavyweight contender Chris "The Nightmare" Arreola and Josesito Lopez. It was brand new and built on a hillside with a spectacular view of Jurupa Valley.
"We started with Indian Willie (Schunke) and later went to P-Town with Angel. At first we were trying to see where boxing would take us. It wasn't my choice, it was my dad's. I just followed him and I decided to stick around."
Indian Willie Schunke was a mainstay in Riverside boxing as a cut man and built the gym with his own finances. But the popular corner man passed away in 2015. The Garcias needed to find another gym and by this time older brother Robert Garcia decided to sell the Oxnard gym and move to Riverside too.
"There was always boxing here with Chris Arreola, Artemio Reyes Jr. was up and coming. So boxing was already here," said Mikey Garcia. "But now that my brother is based here, we really pushed boxing in the area."
RGBA, as it is known, has a list of top contenders and prospects that are the envy of almost every gym in the West Coast. Fighters like Vergil Ortiz Jr. Josesito Lopez, Juan Carlos Ramirez, Saul "Neno" Rodriguez, Genaro Gamez and many others exchange punches in sparring and are polished and honed to fight-ready status.
"We rarely spar at other gyms," said Vergil Ortiz Jr. "They usually come to us."
All have contributed to Mikey Garcia's second assault on the welterweight elite.
Jessie Vargas
Though originally raised in Los Angeles, the former super lightweight and welterweight world titlist Vargas lives and trains in Las Vegas, Nevada. Since his first days as a professional he's always been considered a tough nut to crack.
In the beginning he worked with Roger Mayweather who never wasted time on so-so fighters. Vargas was always seen as a "sure thing." Now, 12 years later and after impressive outings against Tim "Desert Storm" Bradley, Manny Pacquiao, Humberto Soto and others, the tall and lean fighter faces a much smaller but potent foe in Garcia.
"Mikey Garcia is a talented fighter and a warrior as am I," said Vargas, 30, who has a five-inch height advantage. "I'm excited. I'm stoked. Can't wait to get into the ring."
Garcia realizes you can't teach height and Vargas indeed has an advantage physically with his reach as well. But that's the fun of it.
"I think it's a big challenge for me, a great challenge to compete at welter, but I think I have enough skills and talent to do it," said Garcia. "I already got a taste and I learned and want to make sure I improve my legacy."
It's a legacy that started more than 30 years ago and now Mikey Garcia stands ready to expand the Garcia Empire.
I think I saw this movie before.
Photo credit: Al Applerose
Check out more boxing news on video at The Boxing Channel 
To comment on this story in The Fight Forum CLICK HERE
Khalid Yafai and Roman Gonzalez Meet at the Crossroads in Texas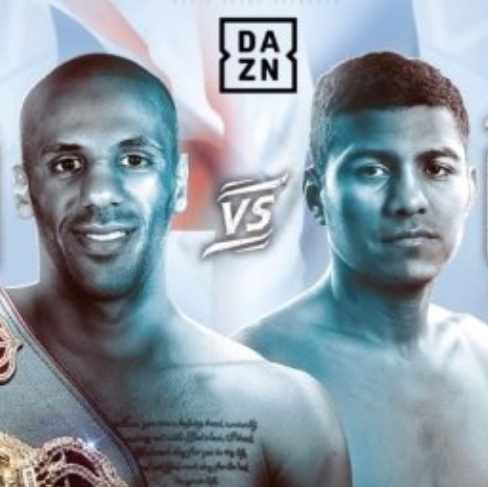 While the big sell from this weekend's Texas card is unquestionably the Mikey Garcia-Jessie Vargas fight, it is the chief support from the undercard that most intrigues. The veteran and former pound-for-pound king Roman "Chocolatito" Gonzalez, unquestionably sliding down from a very high peak, meets Kal Yafai, a belt-holder but one who treads the foothills. It is as clearly defined as a crossroads fight can be.
Yafai, a good-looking and clear-spoken British fighter of Yemeni extraction, came to prominence in a genuinely exceptional performance against another veteran in Luis Concepcion, a storied and seasoned fighter who he completely outclassed over twelve in late 2016. Since, he has taken the traditional path of an inexperienced fighter who has come by an alphabet trinket, meeting a series of fringe and borderline contenders in mandatory contests against opponents of moderate status. And to be fair to him, for the most part he has looked the part.
For the most part.
Fleet-footed and armed with a very fine jab, Yafai has added, at contendership level, a whistling lead right that complements a rather lovely left hook to the body. On Saturday he is to be presented with something a little different.
Roman Gonzalez has made a living out of forcing tactical errors and overwhelming ignoring tactical acumen both, punishing opposition planning, whether good or bad. There has been perhaps nobody in my lifetime in boxing so adept at turning a fighter's own style against him. When fighters ran from him, he bulldozed them with momentum. When fighters stood with him, he out-hit them with some of the most succinct and brutal combination punching in the sport; he kept company, at his absolute apex, with Manny Pacquiao. When fighters box-punched or mixed styles it was he who suddenly seemed fluid rather than wrought.
Roman, for a spell, was the best fighter in the world, one of the finest sportsmen on his continent and a national hero to his Nicaraguan people. Then, and very nearly all at once, it all came clattering down.
I'm aware it's irritating when boxing writers congratulate themselves on their own predictions, but this one is worth it I think: years before Roman was thought of by what we'll call the mainstream boxing press, I predicted that he would be a future pound-for-pound number one, but I also predicted that his eventual downfall would be at the hands of an aggressive southpaw, perhaps up at 115lbs. A decade later, Roman's fantastic multi-divisional reign was brought to a juddering halt by aggressive southpaw superfly Wisaksil Wangek (aka Srisaket Sor Rungvisai).
Another thing I predicted at that time: for Roman Gonzalez, there would be no meaningful second act.
All these years later that sense has deepened as Roman began to find himself rendered upon the wrong side of history. Nicaraguan politics has and will remain beyond the auspices of The Sweet Science – for all that I credit our readership with an attention span above and beyond the 2020 median, there is a limit. Suffice to say that his personal problems have rather dwarfed his professional ones.
He did come back though, a whole year after his loss to Wangek and looked competent if a little puffy at what is a heavy weight division for him, ten pounds north of the 105lbs he cut his teeth in.  The victim was Moises Fuentes and I wrote of that fight that while Roman was "perhaps not quite back, [he was] certainly warming up…and if the division isn't trembling, it can at least be said to have thrown a quick look over its shoulder."
If the division did look, and then looked again, it eventually just went about its business as Roman's fight camp was once again enveloped in silence. A year passed and after a brief tune-up in a glorified exhibition it was announced that he would duel old foe and world champion Juan Francisco Estrada who gave Roman perhaps his toughest fight of his prime years. It was a thrilling proposition, so when Estrada withdrew with an injury, I was miserable. Then Kal Yafai stepped in.
Yafai, ranked the #4 superfly (behind a devastating line up of kingpin Estrada, Wangek, Kazuto Ioka and Jerwin Ancajas), has always been the fight I most wanted Roman, who is ranked #5, to take. It's a winnable contest for both with a fascinating undertone of the generational clash despite the fact that Yafai, at thirty, is actually only two years younger than Roman. Their respective records of 26-0 and 48-2 tell the true story.
History says we favor the fresher man in this situation, but there are other factors at play here. As stated, Yafai, who himself names this the fight he most desires, has mostly looked the part against ostensibly weaker opposition, and he has. But in late 2018 he had a scare, against Israel Gonzalez out in Monte Carlo. Israel was underrated by the WBA who named him the #14 contender to Yafai's title making him both a valid defense and a supposed soft touch, an interesting insight into both the failings of an alphabet ranking organization and the complacency such failings can bring. Yafai, perhaps, did not pay Israel the respect he deserved.
What most struck about Yafai's performance in the first half of that fight, in an underwhelming venue before a small, underwhelmed audience, is how it drifted. He "did boxing". He moved; he threw his hands; but he appeared to have no underpinning strategy with which to carve out his victory.
He looked more purposeful in the middle to late rounds but continued to absorb punches to the body at a surprising rate though at least in support of a concrete plan, using his jab to bring him inside. Watching this fight of two halves, I felt sure Roman would have his number if ever the two should meet.
Boxing without a concrete plan against Roman Gonzalez is like sitting on your front lawn in a deckchair during clement weather and waiting for lightning to strike: both stupid and pointless.  Even men who have arrived in his ring with detailed accountancy for what they want to do in every minute of the round, world class fighters like Akira Yaegashi and Francisco Rodriguez, have struggled. Men who approach the fight seeking to riff adaptions have been mercilessly butchered.
There is no question of Yafai approaching Roman Gonzalez as casually as he approached Israel Gonzalez but watching him follow Israel around the ring I was struck by his lack of a defining identity, something denied him, perhaps, by a defining fight. This clash is a defining fight but is it possible it comes too soon for Yafai?
This is arguable, though in honesty it is only arguable due to the stage of his career at which Roman finds himself. He's older now and has suffered at the hands both of savage southpaws, and life. He wears both markers on his face. He is a hangdog version of the youthful warrior that crashed through four divisions in the past fifteen years; still dangerous, still strong, but notably smaller than his natural superfly opponent and notably slower than his 2010 self.  Yafai, meanwhile, is faster of jab (if not of combination) than Gonzalez ever was and has the feet to at least survive the juggernaut that was "Chocolatitito" best-for-best.
A Yafai victory would be best for boxing. That is undeniable. Even if Gonzalez winds it back, he can't go on much longer.
And I don't think he will wind it back; but I will predict he will win, not in a stretching of the years but in a straight-up mugging of a marginally superior opponent. Worn-down fighters have been worn by punches. Those punches teach hard lessons. I don't think Roman has the power at the poundage to deliver a knockout, but I think he has the experience to steal enough rounds on the scorecards to poach a decision.
A late fade might exclude him, but a victory for the older, smaller, slower man is this slower, older writer's prediction.
Check out more boxing news on video at The Boxing Channel 
To comment on this story in The Fight Forum CLICK HERE
Avila Perspective, Chap. 87: Vergil Ortiz and Company and More Fight Notes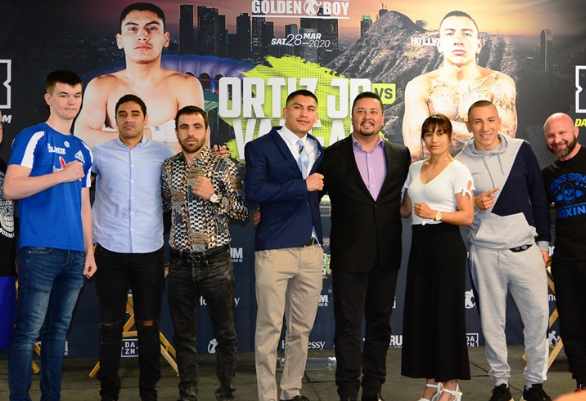 LOS ANGELES-Not long ago Vergil Ortiz Jr. and female prizefighter Seniesa Estrada were busting heads in a downtown theater that barely fit 400 people if the fire inspector looked the other way.
Next month, Ortiz and Estrada will be co-headlining a Golden Boy Promotions boxing card at the Inglewood Forum that seats more than 18,000.
A lot has changed for the two highly-ranked contenders.
Ortiz (15-0, 15 KOs) defends the WBA Gold welterweight title against Samuel Vargas (31-5-2, 14 KOs) in the main event on March 28 at the spacious arena built in the 1960s. In the female co-main East L.A.'s Estrada (18-0, 7 KOs) fights Mexico's Jackie Calvo (12-5-2) in defense of a regional title.
From prelims to world title chasers in a matter of two years, the ascent of the two highly-ranked contenders was mercurial.
It was less than two years ago the Dallas area product battered former world champion Juan Carlos Salgado at Belasco Theater. At the time few were certain that the slender built Ortiz was ready for the big tent. He was more than ready and blew out Salgado like Dollar Store candles.
Now it's merely a matter of time before he gets a crack at one of the welterweight world champions. It's a talent rich division with the likes of Terence Crawford, Danny Garcia, Shawn Porter and Errol Spence Jr.
"I don't think I'm the most talented fighter in the room, but I do know that I work the hardest in the game right now," said Ortiz, 21, who has never won by decision in his professional career. It's been pure knockouts.
Vargas, a veteran of 38 pro bouts, has faced many of the top welterweights in the world today including Errol Spence Jr. Amir Khan, and Danny Garcia.
"I've fought a lot of talented boxers and have had great experiences throughout the years," said Vargas who trains in Las Vegas with Clarence "Bones" Adams. "I'm confident and I'm ready."
It's a talent-rich boxing card featuring many prospects and contenders including super bantamweight Azat "Crazy A" Hovhannisyan (18-3, 15 KOs) who fights Colombia's Jose Sanmartin (30-5-1, 20 KOs).
"I'm as ready for any champion. I'm in the best shape and have the best trainer," said Hovhannisyan who is trained by Freddie Roach. "I can't wait to show everyone a wonderful fight on March 28."
Another prospect featured on the card, Aaron "The Silencer" McKenna (10-0, 6 KOs) of Ireland, meets Mexico's Christopher Degollado (13-6, 10 KOs) in a super welterweight clash set for eight rounds.
McKenna has adapted to the pro style after a successful amateur career and also adapted to Southern California living.
"I've been here a few years now," said McKenna who also trains with Freddie Roach. "I have an aggressive style that Mexican fans like."
Others on the card are Pablo Cano, Rashidi Ellis, Christopher Pearson, Chris Ousley and Raul Curiel. It's a pretty strong fight lineup.
"There's a lot of great boxing history at the forum. A lot of famous world champions have fought at this venue, including Oscar De La Hoya, who made his debut back in 1992," said Eric Gomez, the president of Golden Boy Promotions. "This is a great card and all these fights are going to be exciting, especially Vergil Ortiz Jr."
It's always fun to see prospects turn to contenders and then on to champions.
Showtime in Las Vegas
A hefty card in Las Vegas by Mayweather Promotions takes place on Friday Feb. 28, at Sam's Town Hotel and Gambling Hall in Las Vegas. Showtime will televise several of the main bouts.
Super lightweight prospect Keith Hunter (11-0, 7 KOs) meets Uzbekistan's Sanjarbek Rakhmanov (12-2, 6 KOs) in a rematch of a fight that ended in a split decision. Hunter won.
After the close win, Hunter then defeated always tough Cameron Krael by unanimous decision in a 10-round fight. Now he returns to face Rakhmanov again. It should be a firefight.
It's a very good boxing card that includes super middleweight Kevin Newman II, Ladarius Miller, and Lanell Bellows.
Burbank
This Saturday, Feb. 29, a boxing card called "Valley Fight Night" features a dozen bouts by Bash Boxing at the Burbank Marriott Events Center in Burbank, California.
Heading the boxing card will be popular welterweight Vlad Panin (7-0) facing Moises Fuentes (4-1). Several other undefeated prospects fill the event calendar including welterweight Aram Amirkhanyan.
Doors open at 6:30 p.m. For tickets and information go to www.Bashboxing.com
Fights to Watch
Fri. Showtime 10:45 p.m. – Keith Hunter (11-0) vs Sanjarbek Rakhmanov (12-2).
Fri. Telemundo 11:35 p.m. – Yomar Alamo (17-0-1) vs Kendo Castaneda (17-0).
Sat. DAZN  5 p.m. – Mikey Garcia (39-1) vs Jessie Vargas (29-2-2); Roman Gonzalez (48-2) vs Khalid Yafai (26-0); Julio Cesar Martinez (15-1) vs Jay Harris (17-0).
Photo credit: Al Applerose
Check out more boxing news on video at The Boxing Channel 
To comment on this story in The Fight Forum CLICK HERE