Wilder Puts 'Irrelevant' Joshua on the Back Burner Until Further Notice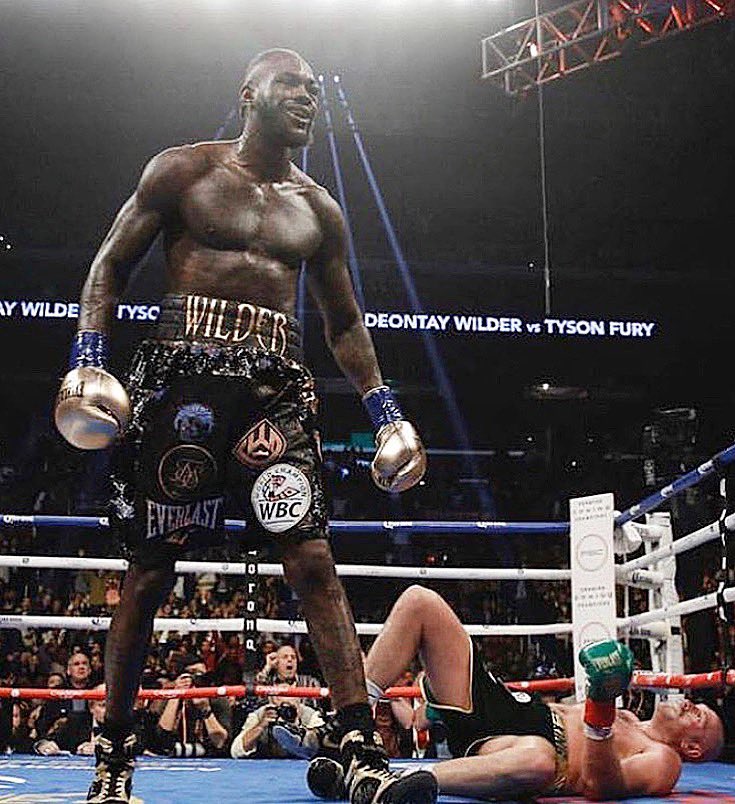 It's funny what a devastating 12th-round knockdown, a Lazarus-like rising from that knockdown and a controversial split draw can do to alter the current landscape of the heavyweight division, or at least some people's perception of it.
Until late Saturday night – or very early Sunday morning for Showtime Pay Per View subscribers on the East Coast – WBA/IBF/WBO heavyweight champion Anthony Joshua was the pivotal figure in heavyweight boxing, holder of three of the four widely recognized alphabet titles, the biggest box-office draw and the guy all the wannabe poachers of what Joshua possesses hoped to fight for pride, popularity and profit.
But that was before the mesmerizing standoff at Los Angeles' Staples Center that changed everything, at least for the moment. A strident minority of on-site spectators and Showtime viewers came away believing that WBC champion Deontay Wilder, who registered the fight's only two knockdowns, including the one in the final round that has become the stuff of instant legend, had done enough to come away with a come-from-behind victory. A just-as-argumentative majority supporting challenger and still-lineal-champ Tyson Fury is convinced that the massive Briton had built enough of a lead through the early and middle rounds to be rewarded with the decision. (Respondents to a Showtime viewer poll favored Fury by 65 percent to 35 percent.) But regardless of which side of the dividing line fans are on, apparently all of them, as well as the principals, now demand a final resolution to a conflict that produced no winner, but a raging tsunami of dispute.
An outcome that could and maybe should have been determined by the judges (Alejandro Rochin favored Wilder by 115-111, Robert Tapper had Fury by 114-112 and swing judge Phil Edwards saw it at 113-113) ultimately hinged on referee Jack Reiss' allowing Fury, on the wrong end of that devastating 12th-round knockdown, to fight on after he somehow made it to his feet at the count of nine, seemingly with enough time remaining for the bull-rushing Wilder to finish him off. But Fury, amazingly, not only evaded the champion's follow-up assault, but launched an improbable counter-attack that blunted Wilder's momentum and had him holding on at the final bell.
It all made for high drama, as well as raising several questions. Was Reiss – a veteran whose work throughout the bout was praised by the Showtime broadcast crew – a bit slow on his count, as Wilder contends? And even if he wasn't, would he have been justified in stopping a bout which more than a few other refs would have called then and there, what with a semi-conscious Fury laying on his back, unmoving, seemingly more in need of an ambulance than a reprieve?
"I don't know how this man got up," an incredulous Wilder said during a teleconference with the media on Tuesday. "(Fury) don't even know how he got up. I feel that God got this man up, for the rematch."
References to Lazarus and The Undertaker – that would be the WWE headliner, not a mortician, known for his dramatic rallies from the specter of imminent defeat – were rife from all concerned during the 50-minute session with the media, during which it was made clear that Wilder-Fury II will happen next, sometime in the spring of 2019 or possibly early summer, with Wilder-Joshua or Fury-Joshua, depending on the survivor of the rematch, moving to the back burner until further notice. Joshua (22-0, 21 KOs), who seemingly had been holding a pat hand, would seem to have been dealt out of any immediate discussions involving highly lucrative matchups with Wilder (40-0-1, 39 KOs) or Fury (27-0-1, 19 KOs). To Wilder, making Joshua wait constitutes justice of a sort, a penalty for arrogance that salves the disappointment of having had to settle for a draw, which usually leaves no one satisfied.
"I haven't even thought about Joshua," Wilder said when asked about the 800-pound gorilla in the room that apparently has been shunted to a corner. "They're (Joshua and his promoter, Matchroom Boxing's Eddie Hearn) getting what they deserve. They felt like they were the only people in the heavyweight division that people cared about. They felt like they were running this sport. We had to show them they're not the only ones. Me and Fury came together to show the world what it looks like for the best to fight the best. Look at the outcome. No one has talked about Joshua in I don't know how long. And we plan on keeping it that way.
"They had the opportunity. For four months they had their opportunity (to negotiate a full-unification showdown with Wilder). They led people on. It could have been me and Joshua to have this excitement going on. He could have had (Luis) Ortiz, he could have had Fury, he could have had me. But their egos got the best of them. So let them continue to fight the second-tier fighters. Who knows? We don't care about them no more."
To be fair, Joshua hasn't spent 2018 sifting through the discard bin of possible opponents. His first fight this year was a unification with then-WBO champ Joseph Parker, whose title Joshua claimed on a 12-round unanimous decision on March 31 in Cardiff, Wales. He followed that up with a seventh-round stoppage of highly regarded Russian Alexander Povetkin on Sept. 22 in London. But with Wilder and Fury both seemingly unavailable for now, Joshua might have to settle on Jarrell "Big Baby" Miller (23-0-1, 20 KOs) as his first opponent of 2019. It'll draw a big crowd somewhere in the United Kingdom, to be sure, but it won't be as significant as Joshua-Wilder or Joshua-Fury would have been, or Wilder-Fury II will be.
"For us, the overriding priority is the health of the fighters," Stephen Espinoza, president of Showtime Sports, said when asked for a possible date for the do-over. "That was a tough, tough fight. So we're not going to rush anything to fit anything into a specific timetable. Both of those guys earned a long rest.
"May would be great. June would be great. April sounds a little quick to me. But it will happen, and it will happen at its natural time."
Truth be told, Wilder-Fury was not without its faults. First and foremost was Wilder's unshakable belief that he could blast Fury out of there as he had blasted almost everyone else out of there previously. As round after round tolled by, with Fury putting them into his account the way squirrels store acorns in preparation for winter, the "Bronze Bomber" seemed oblivious to the entreaties of trainers Mark Breland and Jay Deas to compose himself and diversify his one-note tactics.
"I definitely got overanxious to knock Tyson Fury out," Wilder said. "I said I would do it, and I got very anxious to see the response and know I had the world's attention. I didn't know what to expect. This was my first time on pay-per-view. I know I had a lot of stuff going on. This was the moment and it got the best of me. I wanted to end it on a great note. I wanted to end it on a devastating knockout, and I pressed too much. I think I applied more pressure on myself than anything and it allowed me to get out of character, to just abandon the game plan.
"I was fighting against Tyson Fury and I was fighting against myself."
Wilder broke through Fury's commendable defense and his own obstinance in the ninth round, when he landed a chopping right hand to the back of the ear to floor the challenger for a nine-count. Fury regrouped to win the 10th and 11th rounds, setting the stage for the 12th round drama that elevated what had been a good heavyweight fight into something more meaningful and special. That pulverizing right hand landed first, augmented by a follow-up left hook, with the hulking Fury – all 6-foot-9 and 256½ pounds of him – falling hard, with the force of Wilder's 1-2 supplemented by the way the back of Fury's head struck the canvas. At that moment, Wilder had every reason to believe he had done exactly what he had been attempting to do all along, only later than he expected.
But Fury, the "Gypsy King," made it to his feet before Reiss had completed the 10-count, maybe the most stunning turnaround from such an emphatic knockdown since Larry Holmes arose after having been decked by Earnie Shavers in the seventh round of their WBC heavyweight title fight on Sept. 28, 1979. Holmes went on to retain his title on an 11th-round stoppage.
"I've been having a recurring thought in my head since Saturday night about the commercials for the next fight," said Wilder's promoter, Lou DiBella, who also was on the call. "You know, truth is sometimes stranger than fiction. A giant 6-foot-9 man went down like a tree and slammed into the canvas. And then popped up like The Undertaker! The look on Deontay's face at that moment was like one of those scripted looks that you'd see in a WWE Wrestlemania match. He just saw a guy get up, and had no idea how that was possible. That's a million buys for the next pay-per-view."
The lead-up to Wilder-Fury II presumably will feature less trash-talking and more mutual respect, but the quotes should still be entertaining. Both men have outsized personalities that make for nifty sound bites and Internet click-bait. Wilder's back story as an outcast Irish Traveller who rose to the top of his profession, plunged to the bottom in a morass of gluttony, cocaine bingeing and mental issues before righting himself, is as compelling as ever. And now we have both guys seeking to prove what they contended in the first place, that each is better than the other and only a definitive ending can bring the kind of closure that no draw ever can.
"We are the best in the division," Wilder said of himself and Fury. "We wanted to prove to each other who is the best in the heavyweight division. We did that, and it was amazing. I'm ready to do it again. The fact that he did survive makes it better for the rematch. It's an even playing ground. When I do knock him out the next time, then I want my full credit.
"Who knows? We might even have a trilogy."
Bernard Fernandez is the retired boxing writer for the Philadelphia Daily News. He is a five-term former president of the Boxing Writers Association of America, an inductee into the Pennsylvania, New Jersey and Atlantic City Boxing Halls of Fame and the recipient of the Nat Fleischer Award for Excellence in Boxing Journalism and the Barney Nagler Award for Long and Meritorious Service to Boxing.
Check out more boxing news on video at The Boxing Channel
To comment on this article at The Fight Forum, CLICK HERE
Dickens and Bolotniks Victorious in Golden Contract Finales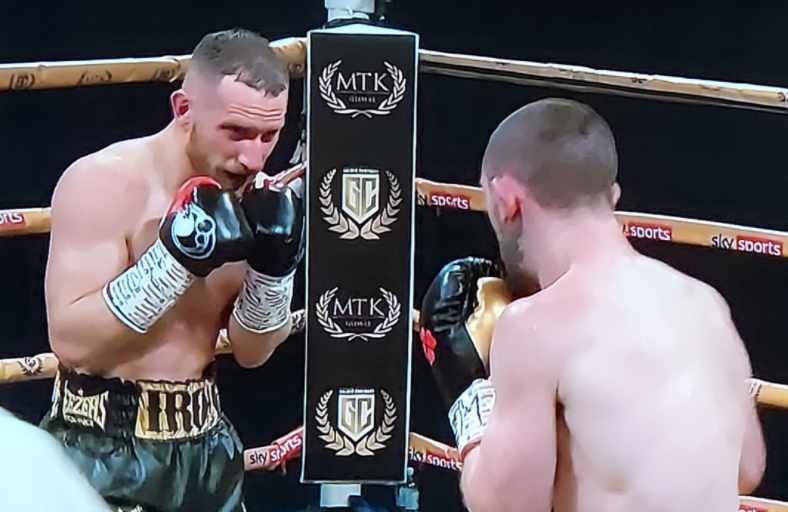 The finals of two Golden Contract tournaments played out tonight at a TV studio in an industrial park in West Yorkshire, England. The 8-man tournaments, organized by the controversial boxing management company MTK Global, were similar in structure to the World Boxing Super Series. The winner of each tournament was promised a two-year five-fight deal with a guaranteed six-figure purse in each of the five fights going forward. The fights were televised in the UK on Sky Sports and in the US on ESPN+ in association with Top Rank.
Both finales were 50/50 fights as measured by the betting odds, a rarity in this sport.
James "Jazza" Dickens, a 29-year-old Liverpudlian, won the 126-pound tournament with a 10-round unanimous decision over former British featherweight champion Ryan Walsh. It was the eighth straight win for Dickens, now 30-3 (11), who was stopped in the second round by Guillermo Rigondeaux during his days as a super bantamweight.
This was a tactical fight, heavy on head feints. It was fairly even through the first four rounds, but Dickens pulled away to win by scores of 98-93, 97-94, and 96-94. One of three fighting brothers, Walsh, 34, falls to 26-3-2. He has never been stopped.
Dickens vs. Walsh was originally scheduled for Sept. 30, but pushed back when Dickens and his trainer tested positive for COVID-19. The Golden Contract 140-pound tournament concluded on that date with Ohara Davies winning a controversial decision over Tyrone McKenna.
Light Heavyweight
The light heavyweight finale, as expected, was an entertaining scrap. Ricards Bolotniks, a late bloomer from Latvia, wore down and ultimately stopped Serge Michel whose corner tossed in the towel with seconds remaining in the 10th and final round.
Bolotniks, 30, has a pedestrian record, now 18-5-1 (8), and is rough around the edges, but he has a winning down-to-earth personality and a lot of grit. He got here with a pair of upsets, most recently over Tyson Fury's cousin Hosea Burton who was 25-1 going in.
Bolotniks knocked Michel into the ropes in round five – it was scored a knockdown — and knocked him down in the 10th with a barrage of punches. He was too strong for Michel (11-2) who represented Germany in the 2016 Olympics.
After the fight, Bolotniks called out Anthony Yarde. A fight between he and Yarde – whose lone defeat came at the hands of Sergey Kovalev in Russia – would almost certainly provide great entertainment.
More
In another fight of note, junior welterweight Harlem Eubank outpointed Daniel "Danny Darko" Egbunike to advance his record to 11-0 (6). The referee scored it 97-94 which was giving Egbunike (6-1) a shade the best of it. Eubank's previous opponents had 212 losses between them, so this was a step-up fight for him despite Egbunike's inexperience.
The 26-year-old Eubank is the nephew of former two-division title-holder Chris Eubank Sr. He is trained by Adam Booth who currently trains Michael Conlan, among others, and formerly trained David Haye, Andy Lee, and George Groves, among others. Egbunike, a 31-year-old Londoner who spent nearly three years in prison on drug charges, was making his first start in 13 months.
Check out more boxing news on video at the Boxing Channel 
To comment on this story in the Fight Forum CLICK HERE
Avila Perspective, Chap. 116: Three Days of the Condor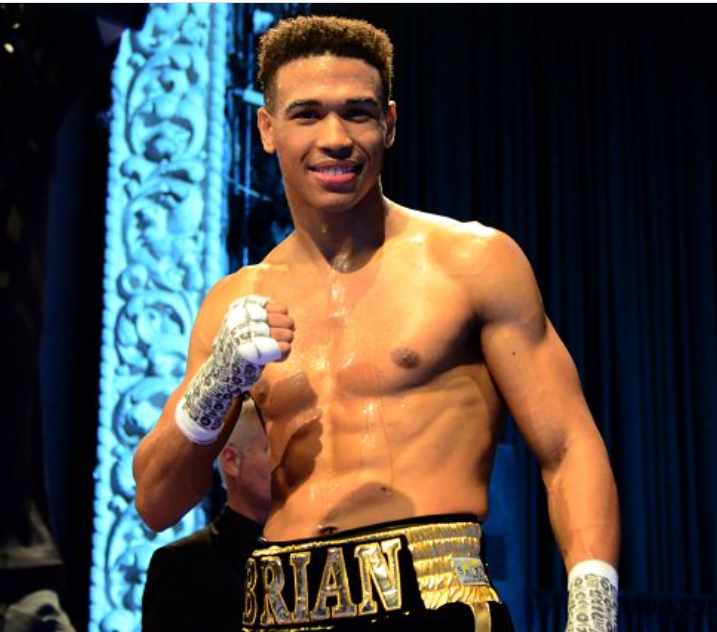 Every year it happens.
Some of the best fights are made at the end of the year.
Three consecutive days of high-level prizefighting begin in Los Angeles, move to London and return to Dallas, Texas. I tagged it Three Days of the Condor in honor of the great spy movie of the 70s starring Robert Redford.
Here's what is coming:
New York welterweight prospect Brian Ceballo (11-0, 6 KOs) meets Utah's Larry Gomez (10-1, 8 KOs) 10 rounds on Thursday Dec. 3, at the Wild Card Gym parking lot in Hollywood, California. NBC SN will televise the Ring City Fight card beginning at 6 p.m. Pacific Coast Time.
It was supposed to be Brandon Adams versus Serhii Bohachuk in a super welterweight clash that had fans salivating who are familiar with the two. But the Ukrainian fighter who trains in Southern California fell ill with the coronavirus. Now Adams fights late replacement Sanny Duversonne in an eight-round bout. Poor Bohachuk.
"It is with regret that I have to announce that I've contracted the COVID virus and have to withdraw from the fight on Dec. 3," Bohachuck said. "I want to thank Ring City and NBC Sports for the opportunity, and I look forward to fighting Adams in the future. I'm feeling fine and look forward to resuming my training as soon as I'm cleared."
Ceballo (pictured) and Gomez are now the true main event and both have not fought in over a year. That should make it even. This also makes the second boxing card for the Ring City fight group. Two weeks ago, Ring City opened with a doozy of a boxing card. This should equal their opener in terms of even matchups.
British Action
Early Friday morning a boxing card features WBO super middleweight titlist Billy Joe Saunders (29-0, 14 KOs) defending against veteran contender Martin Murray (39-5-1, 17 KOs) at London, England. DAZN will stream the Matchroom fight card beginning at 11 a.m. PT.
Saunders is a chatty sort who loves to discombobulate opponents in a variety of ways. Whether attacking their physical appearance or lack of skills, he is not shy about voicing his opinion.
But he does have respect for Murray.
"He's challenged for the world title four times. He should have been world champion in two of those fights. I've promised him a chance," said Saunders who is making his second defense of the WBO title and is a former middleweight world titlist.
The left-handed Saunders has long sought a match with Saul "Canelo" Alvarez who has held super welterweight, middleweight, super middleweight and light heavyweight world titles.
"The Canelo fight fell through in May," said Saunders. "On Friday we'll rock and roll."
Murray is anxious for what could be his final world title shot.
"He's not fought the opposition I've had," said Murray who lost to Gennady Golovkin, Sergio Martinez and Felix Sturm. "If I'd had fought the people he's fought, I'd have a world title. I've done it the hard way."
PPV Welterweight Showdown
Errol Spence Jr. returns and the world will see if the championship caliber fighter still carries all of his weaponry.
He will be tested.
Spence (26-0, 21 K0s) returns to the prize ring after one year following a horrific automobile crash. He meets former two-division world champ Danny "Swift" Garcia (36-2, 21 KOs) on Saturday Dec. 5, at AT&T Stadium in Arlington, Texas. The PBC card will be televised on FOX pay-per-view.
Back in September 2019, the speedy Spence lit up the boxing ring at Los Angeles in an electrifying battle with Shawn Porter. He barely emerged victorious and then allegedly celebrated in Texas by going more than 100 mph in a Ferrari 488 Spyder and flipping the expensive car end over end. The horrific crash was captured on video and despite the ugliness of the accident, Spence did not suffer any broken bones. But there was internal damage.
Just how severe were his injuries?
This marks the first time back in the prize ring and Garcia is a very rugged test. All Philadelphia fighters are tough, and he just might be the toughest of them all.
Garcia has only two losses in his career and both were very close decision defeats: First, against Shawn Porter and second against Keith Thurman. The counter-puncher has never been stopped or dropped and packs a wallop.
"He's not much of a volume puncher so it will be more tactical. It probably won't be like the Shawn Porter fight, an all-out brawl/fight. I think this will be more tactical, and pinpoint type of fight between me and him," Spence told Brian Custer on The Last Stand Podcast.
This will be a true test for Spence who has mentioned many times desiring a match with Manny Pacquiao and WBO titlist Terence Crawford.
One interesting bout on the same pay-per-view card pits Josesito Lopez (37-8) versus Francisco Santana (25-8-1) in a 10-round welterweight mash-up. This fight is not for the squeamish. Both these guys are bruisers and have fought the best. It's amazing that the two California fighters have not faced each other before. They have fought everyone else. Now its Lopez against Santana.
It will be brutal while it lasts.
Macho film
Showtime debuts its sports documentary on "Macho: The Hector Camacho Story" on Friday night December 4, at 9 p.m. ET/PT.
If you love boxing don't miss this important film on Camacho, one of the most scintillating boxers of the 1980s and 1990s. His presence in the boxing scene now seems to be overlooked by the great welterweights and Mike Tyson who dominated the boxing landscape.
Camacho was the lone prizefighter in the lower weight classes who could match their allure. The Puerto Rican fighter from Spanish Harlem fought and beat Roberto Duran and Sugar Ray Leonard. How many fighters can claim that?
It's a very well-made documentary that delves into the flamboyant fighter's life.
Check out more boxing news on video at the Boxing Channel 
To comment on this story in the Fight Forum CLICK HERE
Boxing Promoter Michelle "Raging Babe" Rosado Pulls No Punches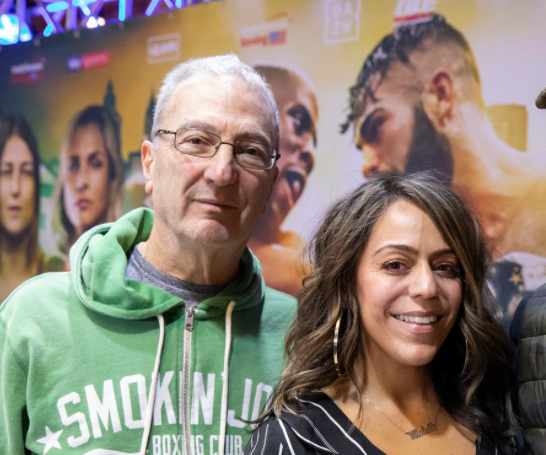 Michelle Rosado, the founder and CEO of Raging Babe Promotions, made her promotional debut on Feb. 8, 2019 with a show at South Philly's intimate 2300 Arena. The show drew an SRO crowd, a testament to Rosado's tireless work ethic, but ended on a sour note when local fan favorite Christian Carto – potentially the next big thing on the Philadelphia boxing scene – stepped up in class and was brutally knocked out by Mexican veteran Victor Ruiz. A protégé of Hall of Fame boxing promoter J Russell Peltz (pictured on the left), Rosado recently appeared on the "Last Stand Podcast with Brian Custer" to share her thoughts on some of the major issues in boxing. Here are excerpts from that interview compliments of publicist Keisha Williams.
ROSADO ON WHY CLUB SHOWS ARE IMPORTANT TO THE SPORT
"Club shows are where you are building those prospects, that's where you're developing those fighters you see the top promoters are pulling these opponents from. We're developing these guys from the ground up, we're almost like a farm system. Most of these guys you see on TV fighting for millions of dollars, and becoming world champions, a lot of them started at the club level."
ROSADO ON STATE OF WOMEN'S BOXING
"Women's boxing needs a platform, there's nowhere for these girls to fight, they deserve some fairness in our sport. I'm not trying to say they deserve to be paid the same as Canelo, but they shouldn't be paid 5 thousand dollars to defend their titles either, so in 2021
I'm going to get more involved in women's boxing and try and be a voice for them because they deserve better and a platform."
ROSADO ON HOW DIFFICULT IT IS BEING IT IS BEING A FEMALE PROMOTER IN BOXING
"I've been called every racial slur you can think of, I've had tickets thrown in my face, I've had my house vandalized, I've had a brick thrown threw my back window of my car. I've been called every kind of groupie you can imagine. She's slept with everybody in the business and every fighter. I've earned my stripes, I've worked hard, no handouts, it's just been all hard work and I've had to learn to turn the cheek. Most people know nine years in that I'm a hustler. You'll never find a fighter that says she stole from me, she didn't pay me, she lied to me, you'll never find a fighter that says that!"
RAGING BABE ON FEMALE BOXING PROMOTERS
"Yes we have a lot more women in boxing, yes it still a little more difficult for us, but we're there you hear us roaring. Behind every big promoter, he's got a woman either as his right hand man or running the operation. And I mean all of them!"
ROSADO ON HER ULTIMATE GOAL
"I want to continue to promote good fights, I want to make Philadelphia the legendary fight town that it once was, I want to develop those guys from the ground up, I want old school and new school boxing fans to come to my shows and fall in love with boxing again, and them become interested in the bigger boxing world again because we're losing that old school boxing fan. I want to uphold the reputation of real fights, real fighters, real fans that's my passion."
ROSADO'S TOP 5 POUND FOR POUND LIST
Terence Crawford
Canelo Alvarez
Errol Spence Jr.
Naoya Inoue
Teofimo Lopez
Rosado on who's boxing next big star and the best fighter out of Philly right now
"Boxing's next big star is Tank….We got a lot of really good fighters in Philly, but Jaron "Boots" Ennis is that dude!"
The full in-depth interview is now available on YouTube (Last Stand Podcast with Brian Custer) and all major podcast platforms (Apple Podcast, Google Podcast, Spotify, etc.)
Check out more boxing news on video at the Boxing Channel 
To comment on this story in the Fight Forum CLICK HERE