Wilder Puts 'Irrelevant' Joshua on the Back Burner Until Further Notice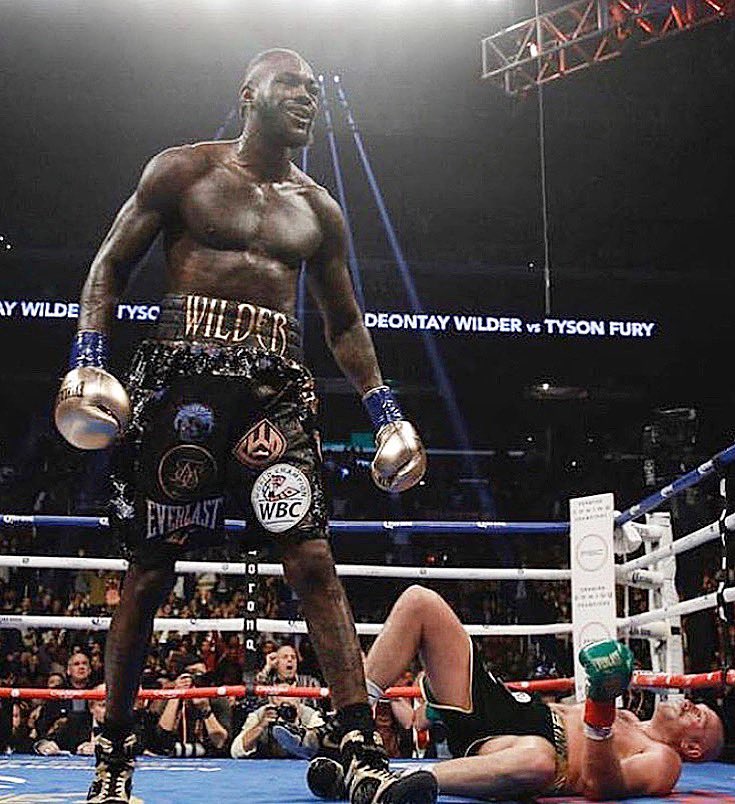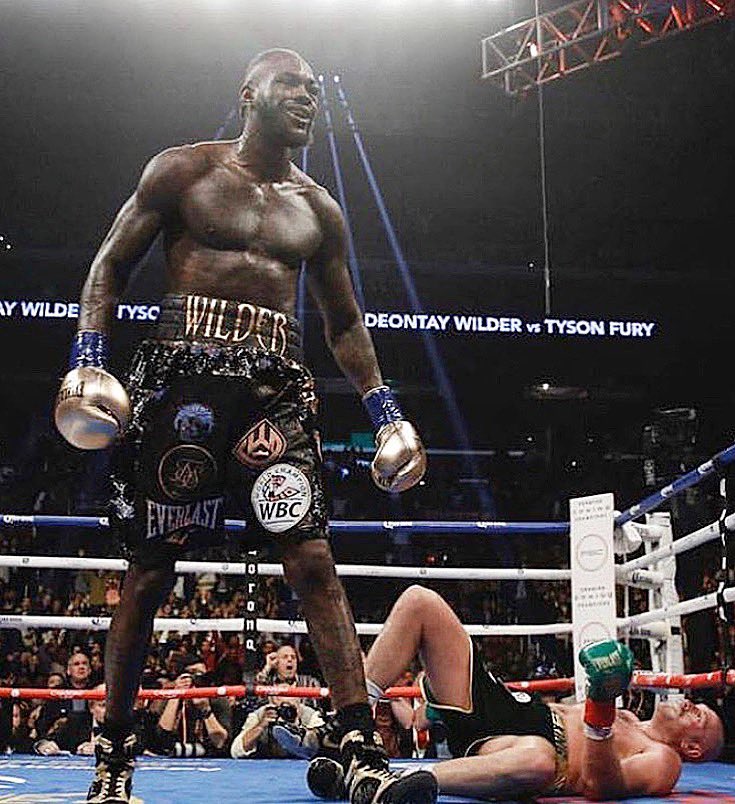 It's funny what a devastating 12th-round knockdown, a Lazarus-like rising from that knockdown and a controversial split draw can do to alter the current landscape of the heavyweight division, or at least some people's perception of it.
Until late Saturday night – or very early Sunday morning for Showtime Pay Per View subscribers on the East Coast – WBA/IBF/WBO heavyweight champion Anthony Joshua was the pivotal figure in heavyweight boxing, holder of three of the four widely recognized alphabet titles, the biggest box-office draw and the guy all the wannabe poachers of what Joshua possesses hoped to fight for pride, popularity and profit.
But that was before the mesmerizing standoff at Los Angeles' Staples Center that changed everything, at least for the moment. A strident minority of on-site spectators and Showtime viewers came away believing that WBC champion Deontay Wilder, who registered the fight's only two knockdowns, including the one in the final round that has become the stuff of instant legend, had done enough to come away with a come-from-behind victory. A just-as-argumentative majority supporting challenger and still-lineal-champ Tyson Fury is convinced that the massive Briton had built enough of a lead through the early and middle rounds to be rewarded with the decision. (Respondents to a Showtime viewer poll favored Fury by 65 percent to 35 percent.) But regardless of which side of the dividing line fans are on, apparently all of them, as well as the principals, now demand a final resolution to a conflict that produced no winner, but a raging tsunami of dispute.
An outcome that could and maybe should have been determined by the judges (Alejandro Rochin favored Wilder by 115-111, Robert Tapper had Fury by 114-112 and swing judge Phil Edwards saw it at 113-113) ultimately hinged on referee Jack Reiss' allowing Fury, on the wrong end of that devastating 12th-round knockdown, to fight on after he somehow made it to his feet at the count of nine, seemingly with enough time remaining for the bull-rushing Wilder to finish him off. But Fury, amazingly, not only evaded the champion's follow-up assault, but launched an improbable counter-attack that blunted Wilder's momentum and had him holding on at the final bell.
It all made for high drama, as well as raising several questions. Was Reiss – a veteran whose work throughout the bout was praised by the Showtime broadcast crew – a bit slow on his count, as Wilder contends? And even if he wasn't, would he have been justified in stopping a bout which more than a few other refs would have called then and there, what with a semi-conscious Fury laying on his back, unmoving, seemingly more in need of an ambulance than a reprieve?
"I don't know how this man got up," an incredulous Wilder said during a teleconference with the media on Tuesday. "(Fury) don't even know how he got up. I feel that God got this man up, for the rematch."
References to Lazarus and The Undertaker – that would be the WWE headliner, not a mortician, known for his dramatic rallies from the specter of imminent defeat – were rife from all concerned during the 50-minute session with the media, during which it was made clear that Wilder-Fury II will happen next, sometime in the spring of 2019 or possibly early summer, with Wilder-Joshua or Fury-Joshua, depending on the survivor of the rematch, moving to the back burner until further notice. Joshua (22-0, 21 KOs), who seemingly had been holding a pat hand, would seem to have been dealt out of any immediate discussions involving highly lucrative matchups with Wilder (40-0-1, 39 KOs) or Fury (27-0-1, 19 KOs). To Wilder, making Joshua wait constitutes justice of a sort, a penalty for arrogance that salves the disappointment of having had to settle for a draw, which usually leaves no one satisfied.
"I haven't even thought about Joshua," Wilder said when asked about the 800-pound gorilla in the room that apparently has been shunted to a corner. "They're (Joshua and his promoter, Matchroom Boxing's Eddie Hearn) getting what they deserve. They felt like they were the only people in the heavyweight division that people cared about. They felt like they were running this sport. We had to show them they're not the only ones. Me and Fury came together to show the world what it looks like for the best to fight the best. Look at the outcome. No one has talked about Joshua in I don't know how long. And we plan on keeping it that way.
"They had the opportunity. For four months they had their opportunity (to negotiate a full-unification showdown with Wilder). They led people on. It could have been me and Joshua to have this excitement going on. He could have had (Luis) Ortiz, he could have had Fury, he could have had me. But their egos got the best of them. So let them continue to fight the second-tier fighters. Who knows? We don't care about them no more."
To be fair, Joshua hasn't spent 2018 sifting through the discard bin of possible opponents. His first fight this year was a unification with then-WBO champ Joseph Parker, whose title Joshua claimed on a 12-round unanimous decision on March 31 in Cardiff, Wales. He followed that up with a seventh-round stoppage of highly regarded Russian Alexander Povetkin on Sept. 22 in London. But with Wilder and Fury both seemingly unavailable for now, Joshua might have to settle on Jarrell "Big Baby" Miller (23-0-1, 20 KOs) as his first opponent of 2019. It'll draw a big crowd somewhere in the United Kingdom, to be sure, but it won't be as significant as Joshua-Wilder or Joshua-Fury would have been, or Wilder-Fury II will be.
"For us, the overriding priority is the health of the fighters," Stephen Espinoza, president of Showtime Sports, said when asked for a possible date for the do-over. "That was a tough, tough fight. So we're not going to rush anything to fit anything into a specific timetable. Both of those guys earned a long rest.
"May would be great. June would be great. April sounds a little quick to me. But it will happen, and it will happen at its natural time."
Truth be told, Wilder-Fury was not without its faults. First and foremost was Wilder's unshakable belief that he could blast Fury out of there as he had blasted almost everyone else out of there previously. As round after round tolled by, with Fury putting them into his account the way squirrels store acorns in preparation for winter, the "Bronze Bomber" seemed oblivious to the entreaties of trainers Mark Breland and Jay Deas to compose himself and diversify his one-note tactics.
"I definitely got overanxious to knock Tyson Fury out," Wilder said. "I said I would do it, and I got very anxious to see the response and know I had the world's attention. I didn't know what to expect. This was my first time on pay-per-view. I know I had a lot of stuff going on. This was the moment and it got the best of me. I wanted to end it on a great note. I wanted to end it on a devastating knockout, and I pressed too much. I think I applied more pressure on myself than anything and it allowed me to get out of character, to just abandon the game plan.
"I was fighting against Tyson Fury and I was fighting against myself."
Wilder broke through Fury's commendable defense and his own obstinance in the ninth round, when he landed a chopping right hand to the back of the ear to floor the challenger for a nine-count. Fury regrouped to win the 10th and 11th rounds, setting the stage for the 12th round drama that elevated what had been a good heavyweight fight into something more meaningful and special. That pulverizing right hand landed first, augmented by a follow-up left hook, with the hulking Fury – all 6-foot-9 and 256½ pounds of him – falling hard, with the force of Wilder's 1-2 supplemented by the way the back of Fury's head struck the canvas. At that moment, Wilder had every reason to believe he had done exactly what he had been attempting to do all along, only later than he expected.
But Fury, the "Gypsy King," made it to his feet before Reiss had completed the 10-count, maybe the most stunning turnaround from such an emphatic knockdown since Larry Holmes arose after having been decked by Earnie Shavers in the seventh round of their WBC heavyweight title fight on Sept. 28, 1979. Holmes went on to retain his title on an 11th-round stoppage.
"I've been having a recurring thought in my head since Saturday night about the commercials for the next fight," said Wilder's promoter, Lou DiBella, who also was on the call. "You know, truth is sometimes stranger than fiction. A giant 6-foot-9 man went down like a tree and slammed into the canvas. And then popped up like The Undertaker! The look on Deontay's face at that moment was like one of those scripted looks that you'd see in a WWE Wrestlemania match. He just saw a guy get up, and had no idea how that was possible. That's a million buys for the next pay-per-view."
The lead-up to Wilder-Fury II presumably will feature less trash-talking and more mutual respect, but the quotes should still be entertaining. Both men have outsized personalities that make for nifty sound bites and Internet click-bait. Wilder's back story as an outcast Irish Traveller who rose to the top of his profession, plunged to the bottom in a morass of gluttony, cocaine bingeing and mental issues before righting himself, is as compelling as ever. And now we have both guys seeking to prove what they contended in the first place, that each is better than the other and only a definitive ending can bring the kind of closure that no draw ever can.
"We are the best in the division," Wilder said of himself and Fury. "We wanted to prove to each other who is the best in the heavyweight division. We did that, and it was amazing. I'm ready to do it again. The fact that he did survive makes it better for the rematch. It's an even playing ground. When I do knock him out the next time, then I want my full credit.
"Who knows? We might even have a trilogy."
Bernard Fernandez is the retired boxing writer for the Philadelphia Daily News. He is a five-term former president of the Boxing Writers Association of America, an inductee into the Pennsylvania, New Jersey and Atlantic City Boxing Halls of Fame and the recipient of the Nat Fleischer Award for Excellence in Boxing Journalism and the Barney Nagler Award for Long and Meritorious Service to Boxing.
Check out more boxing news on video at The Boxing Channel
To comment on this article at The Fight Forum, CLICK HERE
Pico Rivera Summer Fights See Cruz, Vega and Flores Win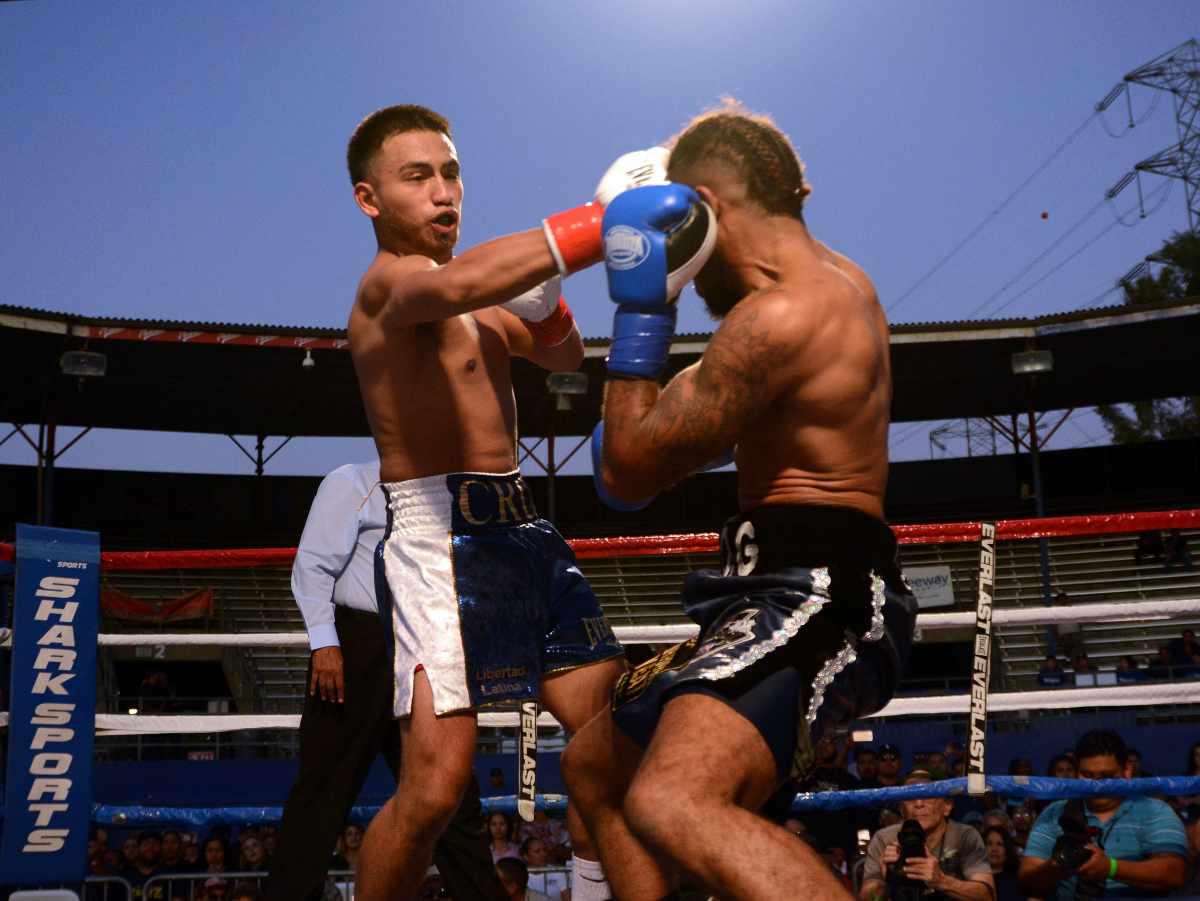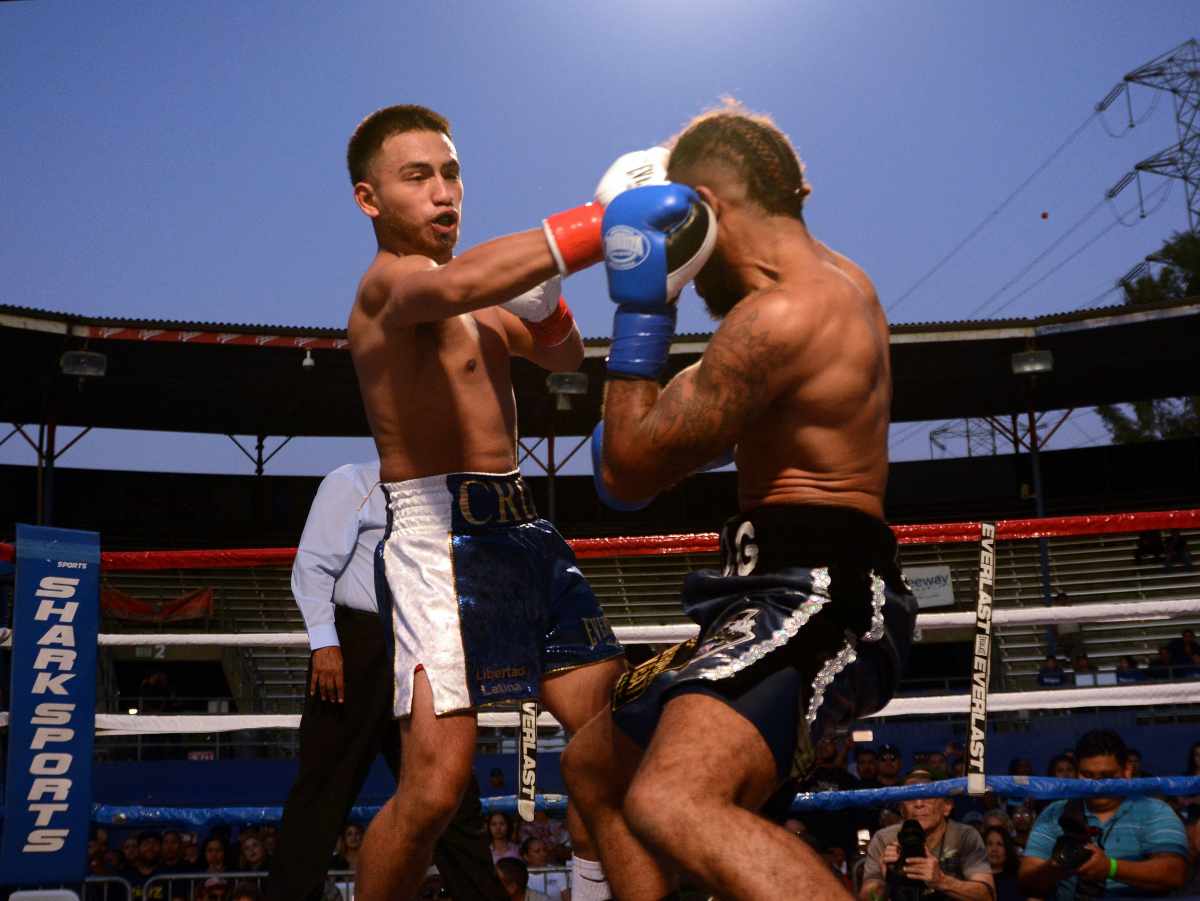 PICO RIVERA, Ca.-Along the San Gabriel River on a soft summer evening, Red Boxing Promotions brought another slew of hot local prospects to the forefront on Saturday.
Chino's Daniel "Cuetito" Cruz (3-0) burst into the fight like an energy bomb and simply overwhelmed southpaw Phillip Bounds (0-4) with lightning combinations to win by unanimous decision. More than 700 fans saw the Red Boxing fight card.
Though it was only his third pro fight, the high intensity prizefighter Cruz (pictured on the left) exhibited a level of confidence that allowed him to attack with impunity for the first two rounds.
Cruz switched to southpaw and had even more success against the lefty Bounds. The speed of Cruz proved too much to overcome for Bounds who tried different approaches but couldn't find an antidote for Cruz who won by unanimous decision 40-36 on all three cards in the super lightweight match.
"I'm excited, I wanted to put on a good show," said Cruz, 20. "I'm coming for all of the big names. Cuetito is here."
Andre Marquez (2-1) overwhelmed the much taller Alvin Brown (0-8) from Louisiana with a whirlwind style that ended in a knockout in the fourth and final round of their super featherweight match. A left hook caught Brown flush and Marquez followed up with four more blows, forcing Brown to take a knee at 1:41 of the fourth round. Marquez was ruled the winner by knockout by referee Sharon Sands.
"My plan was to work his body," said Marquez. "It worked out perfectly."
Welterweights Bradley Pena (0-0-1) and Ed Nunez (0-0-1) blasted each other for four rounds, with Pena starting fast and Nunez ending strong. No knockdowns were scored in the fight that started the night and ended in a draw.
Main Bouts
A light flyweight clash saw Axel Vega (13-2-1, 8 KOs) of Ensenada, Mexico knock out Tijuana's Giovanni Noriega (2-5-2) with a triple left hook in the second round. Vega, 19, trained out of Compton for this fight.
Welterweight prospect Steven Rodriguez (8-0) suffered a cut on his forehead due to a clash of heads but still managed to out-perform Las Vegas fighter Ryan Picou (3-12-1) after four rounds. All three judges scored the fight 40-36 in favor of Rodriguez. But Picou gave a stubborn defense against the constant rushes of Rodriguez and was able to score on occasion.
Santa Barbara's Angel Flores (6-0, 4 KOs) defeated Mexico's Roberto Almazan (9-12) by unanimous decision after six rounds in a super lightweight contest. Flores knocked down Almazan twice in the last round to clinch the win and get the victory by a landslide.
In the audience was former world champion Arturo Frias of East Los Angeles who won the WBA world lightweight title in 1982 and fought numerous times at LA's  fabled Olympic Auditorium. Also in attendance was current super flyweight contender Adelaida "La Cobra" Ruiz of Los Angeles who is scheduled to fight on October 12 at the same Pico Rivera Sports Arena. Red Boxing Promotions will be staging the event.
Photo credit: Al Applerose
Check out more boxing news on video at The Boxing Channel  
To comment on this story in The Fight Forum CLICK HERE
Fast Results from Russia: Kovalev KOs Yarde in the 11th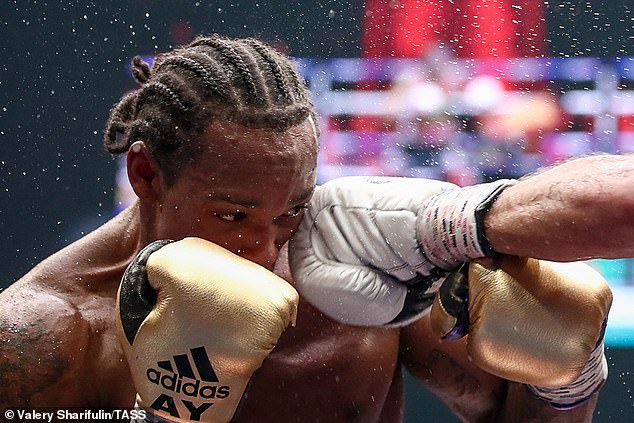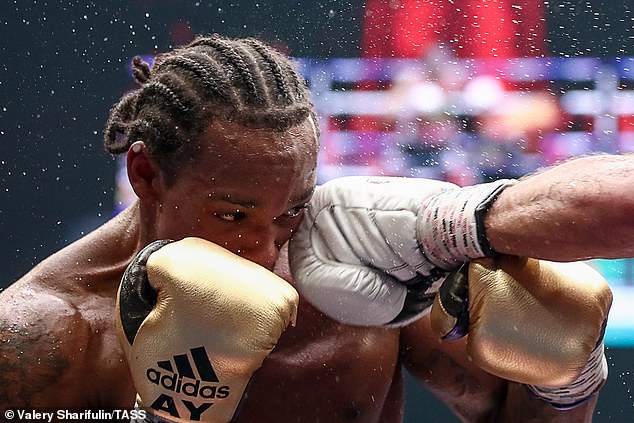 The consensus of opinion regarding tonight's fight at Chelyabinsk between Sergey Kovalev and Anthony Yarde was that….well, there was no consensus, save that it would not bode well for Yarde if both fighters were still standing at the final bell. Fighting in his hometown, and with a monster payday reportedly looming against Canelo Alvarez should he win, "Krusher" was unlikely to get the worst of it if the fight went to the scorecards. But there would be no controversial decision. In a fight that started slowly and then shifted Yarde's way, Kovalev stemmed the momentum, took charge in the 10th, and then closed the show in the next round with a scorching left hand that left Yarde flat on his back, gasping for air.
In handicapping the fight, Kovalev certainly had more check marks in the plus column. A former three belt champion and the reigning WBO 175-pound title-holder, Kovalev would be appearing in his 16th world title fight, his second with Hall of Fame trainer Buddy McGirt, with whom he had great rapport. By contrast, Yarde, although undefeated (18-0), had answered the bell for only 51 rounds and had defeated only nine fighters with winning records. Moreover, the Englishman had fought only 12 amateur fights before turning pro.
However, at age 36, Kovalev was getting long in the tooth and in some of his more recent fights he had stamina issues. Moreover, there was a school of thought that Yarde was a beast. In his 30 fights, amateur and pro, he had scored 28 knockouts.
Yarde's first good round was the seventh and he followed that up with a very strong eighth in which he hurt Kovalev and had the Krusher looking tired. But the assumption that he had paced himself brilliantly proved to be a mirage. As the bout moved into the home stretch, it was the younger man that was more fatigued.
Kovalev backed Yarde against the ropes and hurt him in the 10th. The Russian repeatedly had success with his hard left jab (shades of Larry Holmes) and it was a jab that ended it. Yarde was too exhausted to make it to his feet and was counted out.
Kovalev reportedly has already agreed to meet Canelo in November or December. Tonight he may have added an extra zero to his purse.
Kovalev vs. Canelo, likely at the T-Mobile Arena in Las Vegas, will be a blockbuster. Let the hype begin.
Co-Feature
The co-feature between knockout artists Aleksei Papin and Ilunga Makabu wasn't expected to last the distance, but it went the full 12 and was a highly entertaining affair climaxed by a great 12th round. When the smoke cleared, Ilunga, who went to post a slight favorite, improved to 26-2 (24) by dint of winning a majority decision. It was the second straight win on Russian soil for the Congolese southpaw who fights out of Johannesburg. In his previous go, he stopped Dmitry Kudryashov in the fifth round at Ekaterinburg.
Papin was 11-0 going in with 10 knockouts but the 31-year-old Russian, a former kickboxing champion, was moving up in class against Makabu, a former world title challenger. In the 12th, Makabu scored a knockdown with a straight left after buzzing Papin with a left-right combination, but Papin wasn't badly hurt and came back to rock him in the final seconds. The knockdown seemingly spelled the difference as two judges had it 115-113 with the third scoring it even (113-113).
Check out more boxing news on video at The Boxing Channel  
To comment on this story in The Fight Forum CLICK HERE
Tanaka and Hatanaka Stay Undefeated in Nagoya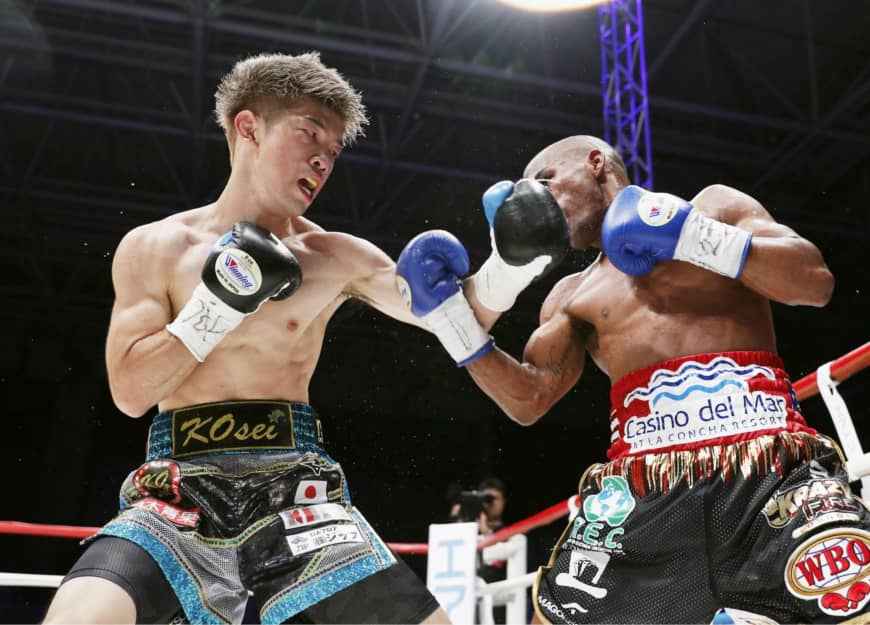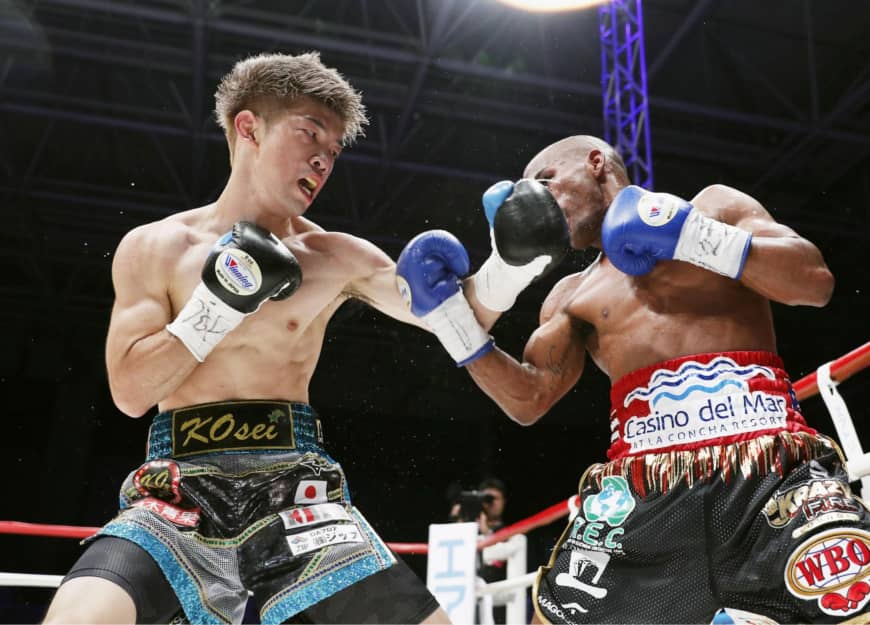 Kiyoshi Hatanaka, the former world super bantamweight champion, now runs a boxing gym and promotes fights in his hometown of Nagoya. The top fighters in his gym are 24-year-old Kosei Tanaka, who has already won world titles in three weight classes, and Kento Hatanaka, Kyoshi's 21-year-old son. Both were in action today and both were victorious, but not without anxious moments.
Tanaka, the reigning WBO 112-pound champion, improved to 14-0 (8 KOs) with a seventh-round TKO of Jonathan Gonzalez (22-3-1) in an action-packed bout. There were five knockdowns in all, four by Tanaka, before the referee waved it off with merely a second remaining in the seventh stanza.
Gonzalez took a knee after being hurt by a body punch in round three. But he returned the favor, knocking Tanaka down with a counterpunch in the next stanza, and seemingly had the fight in hand when he dominated the fifth. But Tanaka regained the momentum and scored three knockdowns in Round 7 to close the show.
Kosei Tanaka is overshadowed as a sports personality by countryman Naoya "Monster" Inoue, but is carving out quite a legacy. At age 19, in only his fifth pro fight, he defeated WBO minimumweight (105 pound) champion Julian Yadras of Mexico. He then gathered in titles at 108 and 112, accomplishing the hat trick in only his 12th pro fight, tying Vasiliy Lomachenko's record.
With only a few pounds separating each of the lowest weight classes, Tanaka likely isn't done jumping up in weight. There's already talk of a showdown with 115-pound title-holder Kazuto Ioka. But Tanaka has indicated that he wants to expand his opportunities overseas, following the example of Inoue. There are still holes in his defense, but that makes for exciting fights and a match between him and someone like "Chocolatito" Gonzalez would be worth the price of admission.
Jonathan Gonzalez, a southpaw with a good amateur pedigree, had fought his previous three fights in Kissimmee, Florida. When in his native Puerto Rico, he trains in the same gym as former super bantamweight and featherweight champion Juan Manuel Lopez. We certainly haven't seen the last of him.
The 10-round co-feature between super flyweights Kento Hatanaka and Jaysever Abcede was also a crowd pleaser that saw both combatants score knockdowns. Hatanaka improved to 10-0 but was extended the distance for the first time in his pro career. Abcede, a noted spoiler from the Philippines, saw his winning streak end at four and fell to 19-9. The scores were 95-93, 96-93, and 96-92.
Check out more boxing news on video at The Boxing Channel  
To comment on this story in The Fight Forum CLICK HERE