The Avila Perspective, Chap. 24: Remembering Marty Denkin plus Upcoming Fights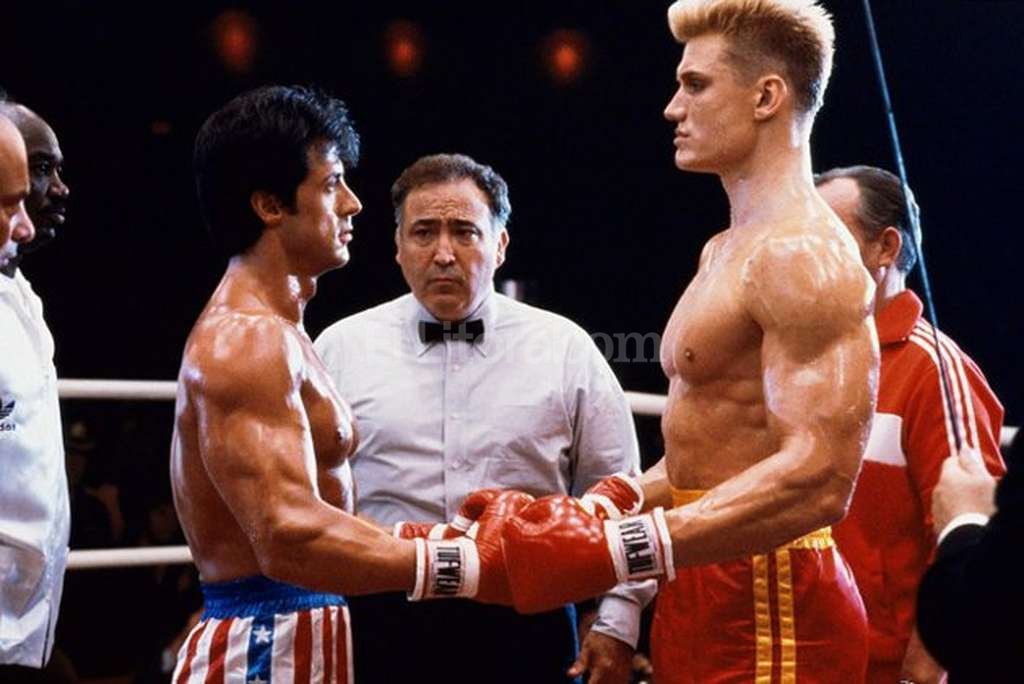 Prizefighting in the state of California lost one of its senior members over the weekend as long-time referee and judge Marty Denkin passed away.
It was fitting that Denkin's departure took place before one of the biggest fights of the last three years. Announcer Jimmy Lennon Jr. honored the late official at the heavyweight world championship between Deontay Wilder and Tyson Fury on Saturday. All paid their respects with a moment of silence and a 10-count.
Denkin, 84, was a former Los Angeles County Sheriff Deputy and though born in New York, spent most of his life in California. Boxing was thoroughly in his blood.
Many who follow the boxing world knew Denkin as one of the long-serving officials of the California State Athletic Commission. He was the senior member and had served in many capacities including assistant executive officer in the Los Angeles office.
Others remember Denkin for his parts in movies like Raging Bull, Rocky III and Rocky IV. Of course he played the part of a boxing referee and is known as the official who counted out Rocky Balboa after getting floored by Clubber Lang the role played by Mr. T.
The last time I saw Denkin was just two weeks ago at a Thompson Boxing Promotions show in Ontario, Calif. He was wheeled to ringside by his daughter at the November 16 show. He had recently judged at a prior Thompson card in Ontario.
Denkin loved boxing.
He was always looking for ways to help the sport that at times can be rife with politics and sabotage. He had his supporters and opponents.
The first time I actually spoke to Marty Denkin was at a CSAC meeting in downtown L.A. around 2000. I had been covering the sport as a boxing writer for about seven years and he walked up to me and told me matter-of-factly "I heard you're a straight-shooter and want to talk to you about a few things." He became my introduction into the governing portion of the boxing world. I told Mr. Denkin that I don't take sides but merely write the facts. From that point on he would let me know about his views on judging and scoring a fight. We would often compare scores right after a fight. He would hand over his scorecard to the referee and then look my way and silently ask what score I had. We usually had the same scores.
Once after a televised James Toney fight he was given a lot of criticism for his scoring. Any time Toney fought, especially in a close struggle, the Michigan prizefighter would display his high boxing IQ and score in ways that most ignore like hitting while being held. Denkin pointed this out after the fight and explained why he scored in favor of Toney. He willingly gave out his boxing wisdom.
Pat Russell, one of the best referees of all time, said years ago he once allowed a brutal fight to continue and one of the participants was taken to the hospital. He visited the hospital to see the fallen boxer who would survive. But the event left him shaken and distraught that evening.
"It was about four in the morning when I got a phone call and it was Marty Denkin," said Russell, who retired as a referee a couple of years ago but still judges fights. "He told me that I had done everything right and not to worry."
Russell further explained that Denkin's call truly helped him through the event and he sincerely appreciated the thoughtfulness by the act.
"I never forgot it," said Russell.
The boxing community in California will never forget Marty Denkin.
California Tsunami
Three large fight cards are spread out across Southern California this Saturday. This is a sign of the times.
Boxing is exploding.
Golden Boy
In the Coachella desert area Golden Boy Promotions stages a fight card led by Carlos "The Solution" Morales (17-3-3) who faces Nicaragua's super tough Rene Alvarado (29-8) in the main event Saturday Dec. 8, at Fantasy Springs Casino in Indio. For Morales this is a big test. Alvarado has become a genuine gatekeeper for the featherweight and super featherweight divisions. If you don't have the goods, well, Alvarado will let you know.
Two other rising prospects Joet Gonzalez and Hector Tanajara are also on the card in separate bouts.
Tanajara (15-0, 5 KOs) has a tough lightweight matchup against Robert Manzanarez (36-2, 29 KOs) on the semi-main event. It's rare when Tanajara, 21, fights someone taller than him and to make things more difficult Manzanarez is a southpaw. It's a pick'em fight.
The fight card can be seen free on Facebook Watch.
360 Promotions
The StubHub Center in Carson hosts the 360 Promotions card featuring elite three female bouts including the woman considered by many the pound for pound best Cecilia Braekhus.
Braekhus (34-0) defends the WBA, WBC, WBO, IBF and IBO welterweight world titles against Poland's Aleksandra Lopes-Magdziak (18-4-3) on Saturday Dec. 8. HBO will televise the showdown.
Add undefeated Claressa Shields (7-0) fighting Germany's Femke Hermans (9-1) and you have a pair of the best female fighters in the world.
Expect to see many other great female fighters in attendance including Layla McCarter, Cyborg, Kali Reis, Christina Hammer, Jelena Mrdjenovich, and Laila Ali among others.
The male portion of the card showcases Juan Francisco Estrada (37-3, 25 KOs) versus Victor Mendez (28-3-2, 20 KOs) in a super flyweight clash. Both fighters hail from Hermosillo, Mexico so they are familiar with each other. Estrada has long been one of the best fighters out of Mexico that many people do not know. He's an all-around boxer and puncher. Elite stuff.
Another female fight offered is Aussie Louisa "Bang Bang" Lawton (8-2) who always entertains with her go-for-broke style. She's fighting local pugilist Lorraine Villalobos who despite only three pro bouts is talented.
The StubHub always delivers great fights. Always. It seems to have a magic aura that produces memorable battles. All total there are nine bouts planned.
Tickets are still available at Ticketmaster.com.
Red Boxing
In the city of Industry, Red Boxing International has a nine-bout fight card at Industry Hills Expo Center.
The boxing card is filled with young prospects and features a heavyweight clash pitting Rodney Hernandez (11-7-2) against Nick Jones (7-1) in the main event. Hernandez upset LaRon Mitchell who was undefeated last June.
For tickets and information call (323) 769-9696.
Top Rank show in NYC
WBO and WBA lightweight titlist Vasyl Lomachenko (11-1) meets Puerto Rico's Jose Pedraza (25-1) in the main event at The Theater in Madison Square Garden on Saturday Dec. 8. ESPN will televise.
Lomachenko is fresh from a broken arm but is ready for his clash against Pedraza who vanquished Ray Beltran to get to this point.
WBO super bantamweight titlist Isaac Dogboe (20-0) defends against Mexico's Emanuel Navarrete (25-1) who hasn't fought top tier fighters yet.
Another on the card is lightweight sensation Teofimo Lopez (10-0) fighting Mason Menard (34-3) for the vacant NABF lightweight title. This is Menard's third shot at a regional title and he doesn't get a break facing the talented Lopez.
Check out more boxing news on video at The Boxing Channel
To comment on this article at The Fight Forum, CLICK HERE
The Canelo-Yildirim Travesty was Another Smudge on 'Mandatory' Title Defenses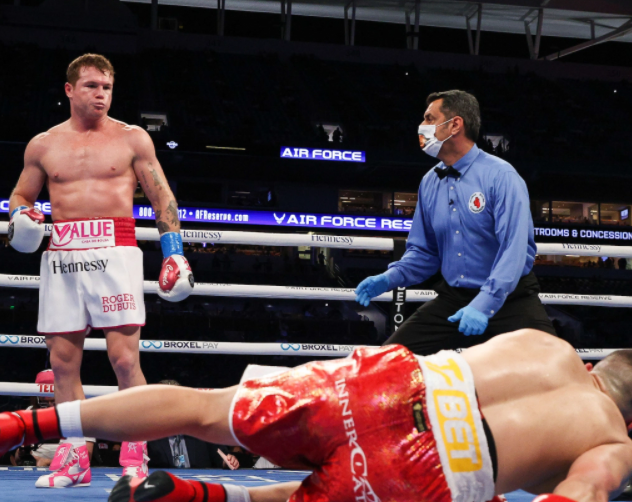 Canelo Alvarez's rout of grossly overmatched Avni Yildirim has once again cast a harsh light on the "mandatory challenger" gambit employed by the sport's world sanctioning bodies. Canelo successfully defended his WBC 168-pound belt this past Saturday in Miami when Yildirim's corner pulled him out after only three rounds.
During the nine minutes of actual fighting, Yildirim was credited with landing only 11 punches, none of which appeared to have been launched with bad intentions. A person posting on a rival web site likened Yildirim's woeful performance to that of Nate Robinson's showing against Jake Paul. Another snarky poster said that faint-hearted Adrien Broner, by comparison, had the heart of a lion. True, the 29-year-old Turk was sent in against a beast, but one yet has a right to expect more from a contest packaged as a world title fight.
Yildirim was coming off a loss. In his previous fight, he lost a split decision to Anthony Dirrell in a bout that was stopped in the 10th round by the ringside physician because of a bad cut over Dirrell's left eye that resulted from an accidental head butt. He hadn't won a fight in three-and-a-half years, not since out-pointing 46-year-old Lolenga Mock who predictably faded late in the 12-round fight, enabling Yildirim to win a narrow decision. Earlier in his career, he was stopped in the third round by Chris Eubank Jr in a fight that was one-sided from the get-go.
So, how exactly did Avni Yildirim build himself into position to become the mandatory opponent for the sport's top pound-for-pound fighter? Did he "earn" this opportunity and the rich payday that came with it by submitting the winning bid in an auction? Is that a rhetorical question?
In an ESPN Q & A, the award-winning writer Mark Kriegel said that Canelo-Yildirim was payback for certain favors that were granted to Canelo by the WBC, citing the organization's new "Franchise Champion" category and to their decision to countenance Canelo's fight with Callum Smith for their vacant 168-pound title. But this doesn't answer the question as to how Yildirim ascended to the role of a mandatory challenger; it merely informs us why Canelo agreed to take the fight.
This was the second great mismatch in 10 weeks involving a mandatory challenger. On Dec. 18, Gennadiy Golovkin opposed Poland's Kamil Szeremeta in the first defense of the IBF middleweight title that he won with a hard-earned decision over Sergiy Derevyanchenko. The feather-fisted Szeremeta was undefeated (21-0, 5 KOs) but hadn't defeated an opponent with a recognizable name.
This was a stroll in the park for GGG. Szeremeta was a glutton for punishment – he lasted into the seventh round — but at no point in the fight did he pose a threat to the 38-year-old Kazakh. Golovkin knocked him down four times before the plug was pulled.
In theory, the "mandatory challenger" ruling forestalls the very abuses with which it has become identified. It prevents a champion from fighting a series of hapless opponents while a more worthy challenger is left out in the cold. One could say that it stands as an example of the law of unforeseen consequences, save that it would be naïve to think that the heads of the sanctioning bodies didn't foresee this versatility and venally embrace it.
Historians will likely lump Avni Yildirim with such fighters of the past as Patrick Charpentier and Morrade Hakker who were accorded mandatory contender status by the WBC so that they could be fodder for a title-holder in a stay-busy fight. Charpentier was rucked into retirement by Oscar De La Hoya who dismissed the overmatched Frenchman in three one-sided rounds at El Paso in 1998. Hakker was thrown in against Bernard Hopkins at Philadelphia in 2003. He brought his bicycle with him, so to speak, and thus lasted into the eighth.
In common with Yildirim and a slew of other mandatory challengers (Vaughn Bean comes quickly to mind), Charpentier and Hakker had misleading records. Steve Kim, in an article for this publication, said that Hakker's record was more inflated than the Goodyear blimp.
A mandatory title defense isn't always a rip-off. One wonders where Tyson Fury would be career-wise today if the WBO hadn't established the Gypsy King as the mandatory challenger to Wladimir Klitschko, setting the wheels in motion for a changing of the guard. That worked out well for the good of the sport as Fury, after some disconcerting speed bumps, would prove to be a breath of fresh air.
But a mandatory title defense between evenly-matched opponents remains a rarity and there's no end in sight to the charade.
Photo credit: Ed Mulholland / Matchroom
Check out more boxing news on video at the Boxing Channel
To comment on this story in the Fight Forum CLICK HERE
Canelo Pummels Yildirin Into Submission in Three One-Sided Frames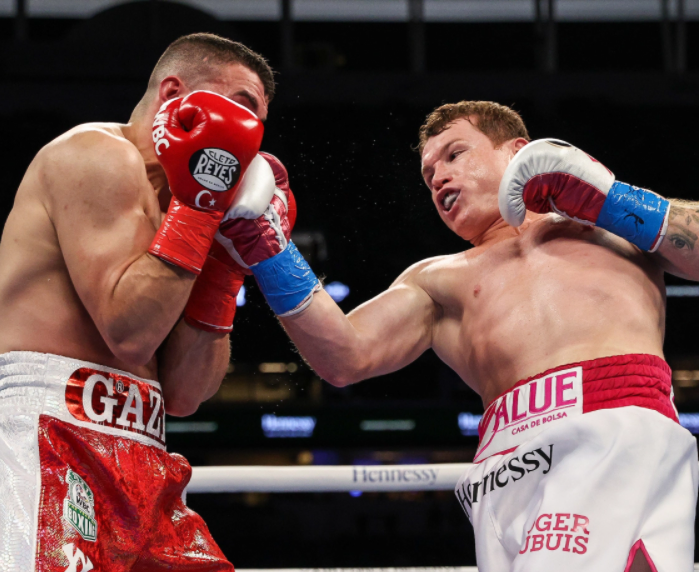 Mexico's Saul "Canelo" Alvarez dismissed Avni Yildirim like a bothersome fly to retain the WBA and WBC super middleweight titles by technical knockout in a mandatory fight on Saturday.
Challenge completed.
After less than three months from his last victory, Canelo (55-1-2, 37 KOs) returned to the boxing ring and battered Turkey's Yildirim (21-3, 12 KOs) to submission at the Hard Rock Stadium in Miami, Florida. Callum Smith or Yildirim please take your seat.
It was just 70 days ago that Alvarez took the WBA title away from England's Smith but the Mexican redhead was eager to return to the ring and dominated Yildirim like the former sparring partner he was.
It was hardly a contest.
Yildirim spent most of 2020 working with Southern California's famed trainer Joel Diaz, but there is only so much a teacher can teach. Regardless of the expertise given to the Turkish fighter the trainer can't jump in the boxing ring. Despite repeated admonishments by Diaz, his fighter just could not pull the trigger.
"It doesn't matter who trains him I just do my work and listen to my corner," said Alvarez "I feel very strong at this weight."
Alvarez pummeled Yildirim like a punching bag early and often during the first two rounds. Left and right uppercuts pierced through Yildirim's guard and body shots pummeled the body. Return fire was seldom exchanged.
After two rounds of sustaining punishment to the head and body, Yildirim attempted to fire back. He paid for his gamble with a counter right fired through the guard by Canelo and down went the challenger.
Though Yildirim survived the third-round knockdown, as he returned to the corner his trainer Diaz warned that another round like the third would force a stoppage. Diaz decided after further inspection to end the fight then and there at the end of the third round.
"I said I would get the knockout and I got the knockout," said Alvarez.
The win sets up a showdown with England's Billy Joe Saunders who holds the WBO super middleweight world title.
"This year it's going to be very special against BJ Saunders," said Matchroom Boxing promoter Eddie Hearn who is planning their encounter for May 8. "It's going to be one of the biggest fights of the year."
Canelo said he is eager for the pending encounter.
"He's a difficult fighter. He has the WBO title and we need to go for him," said Alvarez.
Alvarez said his plans are to continue making history as a Latino fighter winning undisputed world titles in the super middleweight division.
"In Latin America it hasn't been done," Alvarez said. "I want to make history."
Other Bouts
McWilliams Arroyo walked through Abraham Rodriguez's punches and won by technical knockout in the fifth round to win the interim WBC flyweight title.
Despite a change of opponents within the last week Arroyo (21-4, 15 KOs) was able to adapt to last-minute opponent Rodriguez (27-3, 13 KOs) and work the body and head until the Mexican fighter's corner tossed in the white towel to end the fight at 1:41 of the fifth round.
A battle of heavyweights between China's Zhilei Zhang (22-0-1, 17 KOs) and America's Jerry Forrest (26-4-1) ended in a majority draw after 10 rounds. Despite three early knockdowns scored by Zhang, the momentum changed after Forrest attacked the body inside. The scores were 95-93 Forrest and 93-93 twice for a majority draw.
In a super middleweight fight between two extremely tall prospects Diego Pacheco (11-0, 8 KOs) won by unanimous decision over Rodolfo Gomez Jr. after eight rounds. No knockdowns were scored between the two fighters who each towered at 6-feet 4-inches.
Photo credit: Ed Mulholland / Matchroom
Check out more boxing news on video at the Boxing Channel
To comment on this story in the Fight Forum CLICK HERE
Results from Auckland: Parker UD 12 Fa; Ahio KO 7 Long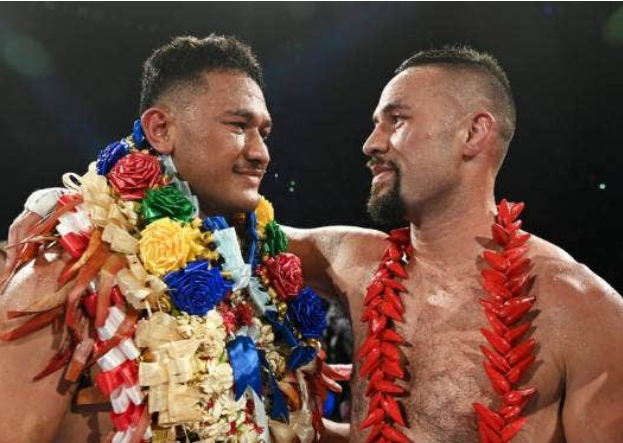 New Zealand heavyweights Joseph Parker and Junior Fa met four times as amateurs and each man won twice. On Saturday night in Auckland, they met for the first time as professionals and the heavily favored Parker broke the deadlock with a 12-round unanimous decision.
The bout beat the clock, in a fashion. During the match the crowd at the waterfront arena, estimated at 8,500, was informed that Auckland was reverting to Phase Three effective at 6:00 in the morning, following the discovery of a new Covid-19 infection. That meant, among other things, that public gatherings would be restricted to 10 people and schools would be open only to the children of essential workers.
The fight was a rather drab affair in which both men had trouble landing clean punches, perhaps owing partly to ring rust. Parker (28-2, 21 KOs) was making his first start in 12 months; Fa (19-1, 10 KOs) had been inactive since November of 2019.
Parker, the former world title challenger who went the distance with Anthony Joshua, had the upper hand in the early rounds and opened a small cut over Fa's left eye in the seventh round, perhaps the result of an errant elbow. The cut became larger and bled profusely as the bout continued but it was never in danger of being stopped.
Parker had a worried look on his face as he awaited the reading of the scores, but he had nothing to fear. The judges had it 115-113, 117-111, and a head-scratching 119-109.
After the fight, Parker said, "It was a lot closer than we expected."
Ahio vs. Long
The undercard was rubbish, but the Ahio-Long fight warrants a mention. A stablemate of Junior Fa, Hemi Ahio improved to 17-0 (12) with a wicked seventh-round knockout of Julius Long who was thoroughly gassed when Ahio caught him against the ropes and landed his haymaker. They had previously met in a 6-round affair that went the distance.
If the name Julius Long sounds vaguely familiar, that's because he's been around since 2001. Listed at seven-foot-one but likely an inch or two shorter, the boxer nicknamed the Towering Inferno came to New Zealand in 2013 to serve as a sparring partner for David Tua and never left.
Nearly 15 full years have elapsed since Long was whacked out in the opening round by Samuel Peter on a Duva Promotions card at Connecticut's Mohegan Sun Casino.
George Kimball was ringside for TSS and described the scene: "The overmatched Long had already been down once when Peter smashed him with a left-right combination…(Long) hit the ropes with such force that he shot back off them like he was bouncing from a trampoline. Unfortunately for Long, the slingshot effect propelled him straight into the path of the right hand Peter had dispatched toward his head, effectively doubling the force of the blow. Long went down as if he had been whacked with a sledgehammer and lay motionless on the canvas. Referee Arthur Mercante Jr waved it off without a count, but he could have counted to 100."
Long is now 43 years old. Since his crushing defeat by Samuel Peter, he is 4-17-1 and counting his defeat last night has been stopped seven more times. For his rematch with Akio, he weighed in at 326 ¾ pounds, more than 100 pounds more than his opponent.
In his adopted home, Julius Long, who grew up in Detroit, is a qualified chef, an occupation that requires an apprenticeship and many hours of training. He supplements his income moonlighting as a freelance prizefighter. By all accounts, he's a very likeable man, but someone needs to take away his boxing gloves and burn them.
Check out more boxing news on video at the Boxing Channel
To comment on this story in the Fight Forum CLICK HERE