Likely No Landslides in IBHOF Class of 2019, But Honorees Happy to Make the Cut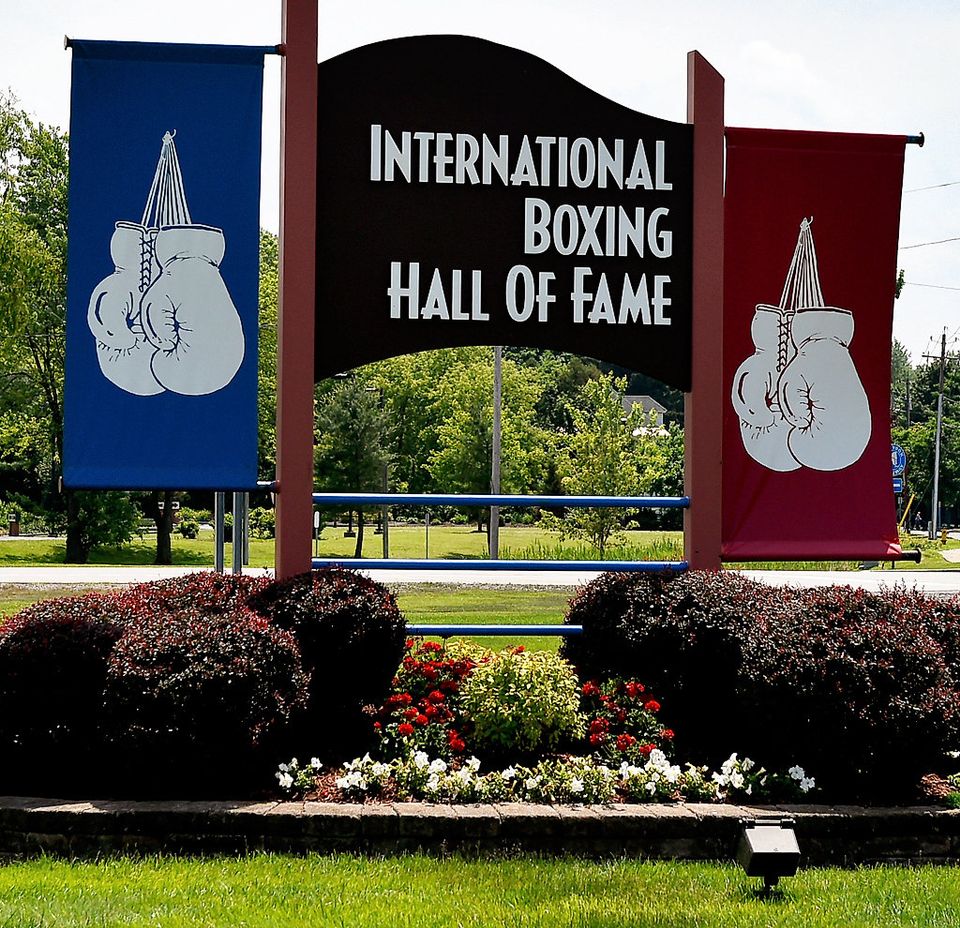 Halls of Fame ostensibly exist to honor exceptionally high achievers, but some would say their secondary purpose is to at least occasionally generate debate. And the International Boxing Hall of Fame in Canastota, N.Y., is no different.
Given the IBHOF's requirement that three new inductees be enshrined every year, there is no guarantee that there are three annual slam-dunks in the most prestigious Modern category for fighters. Sometimes the field of candidates in a given year appears to offer no sure things. When someone who has been on the ballot for several years finally makes the cut, and even if a certain candidate's election – the voting pool consists of full members of the Boxing Writers Association of America and an international panel of boxing historians — comes in his first year of eligibility (fighters must not have fought for five years to be considered for induction), there is apt to be some grumbling from naysayers who say a hall of fame should be the exclusive preserve of the indisputably great, not merely the very good. Among the Hall of Famers whose election met with some resistance are Ingemar Johansson, Arturo Gatti and Ray Mancini.
But as is the case with politics and, really, boxing matches that go to the scorecards as well, it really doesn't matter if a winner is swept into office by landslide or the thinnest of margins. The difference with halls of fame is that once you're in, you're in forever; you can't ever be voted out of office. How close, or not, the latest tabulations were in a crowded field of 32 Modern candidates was not revealed as the IBHOF, as is its policy, does not announce vote totals.
So all hail to the Class of 2019, the headliners, announced on Dec. 5, being Donald Curry, Julian Jackson and James "Buddy" McGirt. All of the former world champions had been bypassed in previous elections, snubs that didn't seem to matter to any of them once they received word of their call to the hall from the IBHOF's executive director, Ed Brophy. Sometimes all good things really do come to those who wait.
In addition to the Big Three, other members of the nine-member induction class include Old-Timer Tony DeMarco, Non-Participants Don Elbaum, Lee Samuels and Guy Jutras, and Observers Teddy Atlas and the late Mario Rivera Martino.
The 57-year-old Curry (34-6, 25 KOs), a native of Fort Worth, Texas, known as "The Lone Star Cobra," arguably is the most talented of the Modern inductees. At his peak, he was a classic boxer-puncher who did not so much defeat his opponents as to overwhelm them with a compendium of ring skills that seemingly preordained him for all-time great status. The puzzle pieces fit perfectly for Curry on Dec. 6, 1985, in a welterweight unification showdown with Milton McCrory at the Las Vegas Hilton. Before Curry, who went in as the WBA and IBF champion, snatched McCrory's WBC title in two one-sided rounds, HBO analyst Larry Merchant foresaw the outcome. "McCrory is regarded as a good fighter," Merchant opined. "Curry is regarded as possibly a great fighter."
Curry was then 24, and there were those who were ready to proclaim him as the finest pound-for-pound fighter on the planet. He was 26-0-1 with 21 KOs at the time, and while he did not know it then, his prime would soon be shortened by the kind of arrogance that comes when a fighter – really, any inordinately gifted athlete – begins to believe in the myth of his own invincibility and thus takes shortcuts. The first crack in that glittering veneer appeared on Sept. 27, 1986, when the heavily favored Curry did not come out for the seventh round for his title defense against England's Lloyd Honeyghan.
"All I know is that he was named Honey something," Curry – who was so dismissive of the challenger that he had to lose 11 pounds in three days just to make weight — told me for a TSS story that appeared in February of this year. "I didn't really know who he was. I wasn't mentally prepared that night. If I had been, beating that Honey guy would have been no problem."
Although Curry regrouped enough to take the WBC super welterweight belt from Italy's Gianfranco Rosi, he relinquished that title on an even bigger upset than had come against Honeyghan when he traveled to France and dropped a listless unanimous decision to Rene Jacquot.
But memories of the Curry that once had been compared to the likes of Sugar Ray Leonard, Thomas Hearns and Aaron Pryor apparently were enough to convince enough IBHOF voters to finally reward him for his abbreviated prime, which was clearly Hall of Fame-worthy if lacking the sort of longevity that would have made him a no-brainer.
"All right! Now we're talking!" an ecstatic Curry said upon getting the call he had begun to think he might never receive from Brophy. "What an honor. This is the greatest day of my life. I'm overwhelmed to get the call from the Hall of Fame. It's a dream come true."
Jackson (55-6, 49 KOs) was known as "The Hawk," and the former junior middleweight and middleweight champion from the U.S. Virgin Islands, now 58, was certainly a bird of prey inside the ropes. He was a consummate knockout artist, capable of getting his man out of there with a single shot. In 2003 The Ring magazine had him at No. 25 on its list of the "100 Greatest Punchers of All time," but that formidable power came with a caveat. He was nearly as susceptible of being the starchee as the starcher, as evidenced by the fact that all six of his losses also came inside the distance.
"He's got to be one of the top 10 punchers ever, at least in his weight class," said former IBF super welterweight champ Buster Drayton, who didn't make it out of the second round against Jackson in their July 30, 1988, title bout in Atlantic City, adding that Jackson's fragile chin was no secret to those bold enough to stand in there and trade haymakers with him. "I knew (he could be knocked out). He knew it, too."
"I tell you, I'm speechless," Jackson said upon being informed of that he would enshrined by the IBHOF. "This is a tremendous honor. Thank God for His grace and mercy. Wow! It's amazing! I really don't have words for this, but eventually they will come."
McGirt (73-6-1, 48), from Brentwood, N.Y., is the youngster of the group at 54, a former junior welterweight and welterweight titlist who fashioned a long and distinguished career despite being hampered by chronic shoulder injuries. After stepping away from the ring as an active fighter in 1997, he fashioned an exemplary second career as a trainer, and was the winner of the 2002 Eddie Futch Trainer of the Year Award from the Boxing Writers Association of America, primarily for his work in transforming Arturo Gatti from a one-dimensional brawler into a somewhat more well-rounded version of his former self. He also worked the corner for, among others, Vernon Forrest, Antonio Tarver and Laila Ali, and has recently taken on the assignment of preparing two-time former light heavyweight champion Sergey Kovalev for his rematch against Eleider Alvarez.
"To be honest, I can't even talk right now," McGirt said when informed of his selection by the IBHOF electorate. "This shows you're appreciated by the boxing world and that all the hard work and dedication pay off."
DeMarco (58-12-1, 33 KOs) is 86 and the former welterweight champ, a Boston resident, can be excused for believing that call from the hall would never come. Maybe that's because DeMarco, for all his successes, is best known for his two classic but losing wars with Carmen Basilio, the second of which, a 12th-round knockout in 1955, was named Fight of the Year by The Ring.
With no mortal locks slated to make first appearances on the IBHOF ballot for the Class of 2020, several holdovers whose credentials for ring immortality, or what passes for it, were vying for the three available slots that were just filled by Curry, Jackson and McGirt. Presumably at or near that magic threshold are Michael Moorer, Nigel Benn, Ivan Calderon, Vinny Pazienza, Ricky Hatton, Meldrick Taylor, Fernando Vargas, Darius Michalczewski, Sven Ottke and the late Genaro Hernandez, among others. Taylor, another special fighter who did not enjoy the benefit of longevity, might be move up in the pecking order in light of the consideration given to Curry for being truly exceptional for even a relatively short period.
But whoever does not get the nod in 2020 will face even stiffer competition in succeeding years, with gimmes like Bernard Hopkins (2021), Wladimir Klitschko, Shane Mosley, James Toney, Miguel Cotto and Juan Manuel Marquez (2022) and Roy Jones Jr., Floyd Mayweather Jr. and Andre Ward (2023) all edging closer to their first appearances on the ballot.
While the Moderns always command the most attention during the four-day induction festivities, other honorees will be celebrated for their long and meritorious service to the sport. It immensely pleases me to be a friend of three of them.
Atlas, 62, will be inducted in the Observer category, a nod toward his long tenure as an analyst for ESPN and for NBC, for whom he worked four Olympiads . But Atlas, whose distinctive Staten Island inflections are as familiar to viewers as the late Howard Cosell's nasal pomposity, always thought he would be recognized for his work as a trainer, which he considers his first calling. He added another world champion to the list of upper-tier fighters he has worked with when, on Dec. 1 in Quebec City, he was the chief second for Ukraine's Oleksandr Gvozdyk, who dethroned WBC titlist Adonis Stevenson on an 11th-round knockout.
"I thought I'd go in as a trainer, to be honest," Atlas said. "But that wasn't my decision. I'm grateful and appreciative to be considered either way by the Hall of Fame. It's definitely a privilege."
As a trainer, Atlas has always been a my-way-or-the-highway kind of guy and he has walked away from more than a few successful fighters who did not hew to his dictums. One was Michael Moorer, whom an exasperated Atlas did not feel was giving his all in what proved to be his majority-decision victory over WBA/IBF heavyweight champion Evander Holyfield on April 22, 1994, in Las Vegas. After the eighth round, Atlas told Moorer, "If you don't want to do what it takes to become champion, let me go out there. We could trade places." I made him answer me. I said, `Do you want to do that?' And he said, `No, I don't.'
"The thing that bothered me is that there were times when it seemed like he was letting Evander back into the fight. That's why I stayed on him and I didn't want him to be satisfied that he was doing well." A reinvigorated Moorer won the 12th round to become the first southpaw to win a heavyweight title; had he lost that round he would have also lost a split decision.
Of Gvozdyk, with whom he was working for the first time, Atlas said, "It feels good to have another world champion. You feel like you're still able to accomplish your goals and to help somebody get to the next level. I feel like I lived up to his trust and took care of my responsibility."
Elbaum, whose age is a carefully guarded secret, is affectionately known as "The Bum" to those who know and like him. He jokes that he was the matchmaker for Cain vs. Abel, which might be a slight exaggeration. He also notes that he is the person who introduced another Don, last name King, to the fight game, something for which he is uncertain whether he should take credit or blame.
But Elbaum, who has worked the sport's trenches in nearly every capacity, including as a fill-in fighter a couple of times in his younger days, takes only credit for being involved in a fight card he promoted that took place on Oct. 1, 1965, in Johnstown, Pa., and featured aging all-time greats Sugar Ray Robinson and Willie Pep in separate bouts.
"Ray Robinson was my idol," Elbaum said. "He was the greatest fighter that ever lived, in my opinion. And he fought his last three fights for me, which is something no one can ever take away from me. I was operating out of Pittsburgh when Ray called me to come to New York. He asked me, `Don, who can you get me who you think I can beat to get another crack at a world title?' I immediately said, `Joey Archer.' He asked me if I could make that fight. I said, `Absolutely.'
I made the fight for Pittsburgh. I told him I really wanted to build it up by first putting him in Johnstown, two months before the fight in Pittsburgh and then in Steubenville, Ohio, one month before. I was promoting the Johnstown fight as the biggest event in that town since the flood, and I was getting great press. About 10 days before the fight I got a call from Willie Pep. Willie said, `Don, I need a fight. I need money desperately.' I said, `Willie, why?' And – this is one of the great lines of all time – Willie said, `Don I got five ex-wives.'
"So now I got Ray Robinson (then 45) and Willie Pep (42), two of the greatest fighters ever, on the same card. That always stuck with me."
Alas, the grand scheme hatched by Elbaum came a cropper when Robinson lost a 10-round unanimous decision to Archer on Nov. 10, 1965, and immediately retired.
Samuels, 71, came to boxing first as a sports writer, covering a couple of Muhammad Ali fights for the now-defunct Philadelphia Bulletin, which shut down in 1983. It was a relatively easy transition into the next phase of his journey, as a publicist for Bob Arum's Top Rank, a three-decade association that is ongoing. Samuels is known for his unflappability and inexhaustible patience under pressurized conditions that would drive many sane individuals bonkers. He insists that he has never met anyone in the sport he hasn't liked, which for most people would be a stretch but fits the personable nature of someone widely considered to be the nicest person not only in boxing, but maybe anywhere.
"It's great to be reunited with Irving Rudd," Samuels said of his becoming a Hall of Famer alongside his legendary mentor at Top Rank, who was 82 when he passed away on June 2, 2000. And it was Rudd, Samuels said, who taught him the value of getting writers what they need, which is a little one-on-one face time with fighters whenever possible instead of group scrums where  harried reporters shout questions in the hope of getting a usable quote or two.
"When you work for a newspaper, you have to get a story that day," Samuels said. "I remember getting off a plane (when he was at The Bulletin) and telling Irving, "I have to speak to Ali. I'm on deadline.' He said, `He wants to speak to you, too. He knows you're here. Oh, and Angelo (Dundee) is with him.'"
Jutras is a Canadian judge and referee who has been involved in boxing for 30 years, and the late Rivera Martino, a Puerto Rican journalist who covered boxing for a number of publications, including The Ring, for nearly 60 years, beginning in the 1940s.
Bernard Fernandez is the retired boxing writer for the Philadelphia Daily News. He is a five-term former president of the Boxing Writers Association of America, an inductee into the Pennsylvania, New Jersey and Atlantic City Boxing Halls of Fame and the recipient of the Nat Fleischer Award for Excellence in Boxing Journalism and the Barney Nagler Award for Long and Meritorious Service to Boxing.
Check out more boxing news on video at The Boxing Channel
To comment on this article at The Fight Forum, CLICK HERE
South African Trailblazer Peter Mathebula Dead at Age 67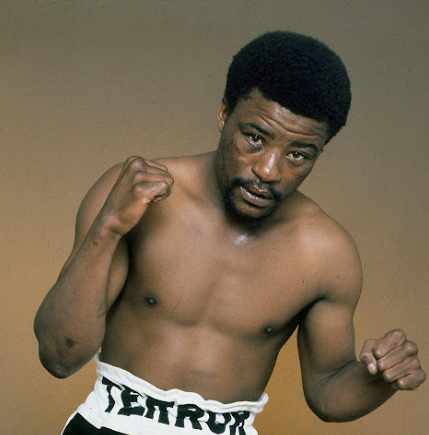 Peter Mathebula wasn't a great fighter. He suffered nine losses during his 45-bout career. He was stopped five times. But Mathebula, who died yesterday (Jan. 18) at age 67, was a historically important fighter. He was the first black South African to win a world title. He was the first South African boxer of any color to win a world title on foreign soil. His predecessors, bantamweights Vic Toweel and Arnold Taylor, won their titles in Johannesburg. Mathebula won his in Los Angeles.
Mathebula took the WBA flyweight title on a split decision from Korea's Tae-Shik Kim on Dec. 12, 1980 at LA's Olympic Auditorium. The fight was originally headed to Seoul but Mathebula was denied a visa.
In those days, South Korea barred tourists from South Africa as a protest against that country's policy of apartheid. Mathebula was a victim of apartheid, but that made no difference as the ban was a blanket ban, covering all South Africans, regardless of color.
Olympic Auditorium matchmaker Don Fraser acquired the orphanded fight. Southern California had a large Korean population and Fraser thought the fight would go over big with this demographic.
The fabled Olympic Auditorium was noted for raucous SRO crowds. But not on this particular night. The crowd was overwhelmingly Korean-American, but there weren't more than 3,000 in attendance. Kim vs. Mathebula didn't resonate with the Olympic Auditorium regulars.
The fight was very close but most thought the decision was fair. The Korean started fast, wrote LA Times ringside reporter Mark Heisler, but Mathebula fought his way back into the fight in the middle rounds and won the 14th and 15th stanzas on his card, sufficient he thought to secure the win.
The victory made Mathebula a big star in South Africa. His purse for the fight with Tae-Shik Kim was only $7,500 (approximately $23,500 in today's dollars) but he made up for it in endorsements. He appeared in ads for automobiles, Old Buck Gin, Bostonian shoes and a line of splashy clothes according to Joseph Lelyveld, the New York Times man on the scene.
Mathebula's celebrityhood crossed racial lines. Newspapers that took little cognizance of goings-on in the black community showered Mathebula with a copious amount of ink. When he defended his title against Argentina's Santos Laciar, it was front page news in white and black newspapers.
Mathebula opposed Laciar a mere 13 weeks after winning his title in Los Angeles. The match was held in Soweto's Orlando Stadium, a facility built to house the Pirates, Soweto's all-black soccer team. Three years earlier, South Africa had legalized interracial sporting events but few whites dared venture into Soweto which was ground zero for anti-apartheid demonstrations.
Despite the great esteem in which Mathebula was held, the fight wasn't a sellout. A local black nationalist organization launched a campaign to boycott the fight on the grounds that the government, which paid to set up Mathebula in a fancy hotel and paid for his motorcades, was using international mixed-race sporting events as a propaganda tool, an early illustration of what has come to be called "sportswashing."
Peter Mathebula couldn't catch a break and that may have impacted his performance against the Argentine. It was woeful. Laciar knocked him down in the fifth and then bull-rushed him out of the ring (the ref called it a push) and the bout was stopped in the eighth with Mathebula complaining that his vision was compromised.
Before the year was out, Mathebula lost twice more. Fighting on hostile turf in Venezuela, he was stopped twice by Betulio Gonzalez, first in the 10th and then in the sixth. A three-time world title-holder, Gonzalez had a great career but he was approaching his 32nd birthday, old for a flyweight, and his best days were behind him.
In the span of less than 10 full months, Peter Mathebula went from the penthouse to the proverbial outhouse, but with the passage of time his people remembered his historic achievement in Los Angeles and pretty much forgot the slew of disappointments that quickly followed. The word "legend" suffuses reports of his death in South African papers.
Mathebula reportedly had multiple health issues and spent the last three weeks of his life in Leratong Hospital in the province of Gauteng, not far from the all-black township where he was born. May he rest in rest in peace.
Check out more boxing news on video at The Boxing Channel 
To comment on this story in The Fight Forum CLICK HERE
Ringside in Verona: Alvarez Capsizes Seals Plus Undercard Results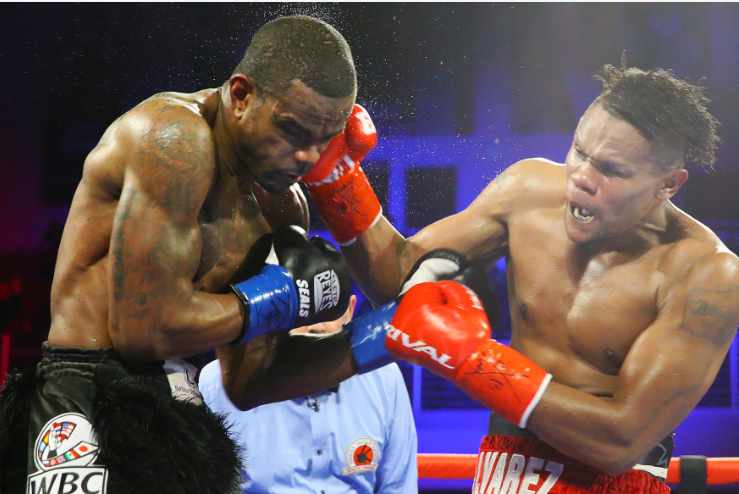 VERONA, NY — The main event of an ESPN televised card at the Turning Stone Resort Casino in Verona, NY between light heavyweight contenders Eleider Alvarez (25-1, 13 KO's) and Michael Seals (24-3, 18 KO's) started with a whimper but ended with a bang. After six-plus rounds of lackadaisical action, Alvarez scored a stunning sensational one punch knockout just before the end of the seventh round of their scheduled ten round fight.
The first three rounds saw more clinches than punches landed. Seals seemed to be looking to land one perfect punch and in doing so barely unleashed any punches. Alvarez, for his part, was not very active in these rounds but certainly moved his hands more and landed more than Seals.
In round four, Seals came out much more aggressive and had his best round of the fight. But in the fifth, Seals went back to looking for that one punch and Alvarez took back control of the action. Toward the end of the round, Alvarez staggered Seals with a right hand.
Alvarez continued to be in control of the fight in rounds six and seven by simply moving his hands more. And then towards the end of round seven, Alvarez connected with a picture perfect overhand right that sent Seals crashing to the canvas. Referee Danny Schiavone did not reach a full 10-count before waiving the fight off.
For Alvarez, this was a big bounce-back win after his loss to Sergey Kovalev in their light heavyweight title rematch last February. With the light heavyweight division flush with talent, it seems Alvarez is in prime position to get a big opportunity his next time out.
In the co-feature, lightweight contender Felix Verdejo (26-1, 16 KO's) put on a workmanlike effort in winning a wide ten round unanimous decision against Manuel Rey Rojas (18-4, 5 KO's). While Verdejo was in complete control of the contest from the opening bell, the performance certainly lacked sizzle and may raise even more questions on the potential of the once can't-miss prospect.
Verdejo utilized a very patient approach throughout the night working behind the left jab. While the jab was effective, Verdejo only occasionally looked to unleash power punches behind that jab. Reyes, for his part, played mostly defense keeping a very tight guard and looking to selectively counter Verdejo's jab.
Verdejo's defense, which had been criticized in the past, looked better but still showed some leaks. In the fifth round, Reyes landed a sharp right hand flush on the jaw of Verdejo that seemed to momentarily get Verdejo's attention. And in the ninth, Reyes landed a hard right that snapped Verdejo's head back. If Reyes could punch harder, either of those two rights may have altered the course of the fight.
But aside from those brief moments from Reyes, Verdejo dictated all the action. He easily out-worked and out-landed the mostly defensive minded Reyes. In the end it is a win for Verdejo and he can proceed forward towards what he hopes will be an eventual title shot in the lightweight division.
In a bizarre heavyweight fight between two former 2004 Olympians, Devin Vargas (22-6, 9 KO's) was awarded a disqualification victory in the eighth and final round against Victor Bisbal (23-5, 17 KO's). Bisbal scored a knockdown in round two with a left hook but was deducted two points in round four for various infractions.  Aside from the knockdown round, Vargas seemed to out-hustle and out-land Bisbal. Ahead on all three scorecards (67-63 twice and 66 -64) entering the final round, Vargas absorbed a low blow from Bisbal. At this point, referee Michael Ortega decided to disqualify Bisbal.
Abraham Nova (18-0, 14 KO's) scored a one-sided fourth-round TKO of tough veteran Pedro Navarette (30-25-3, 19 KO's) in a lightweight contest that was scheduled for eight rounds. Nova scored knockdowns in rounds two, three and four before the fight was waived off.
Knockout out artist Jonathan Guzman (24-1, 23 KO's) rose from the canvas to score a fourth-round knockout of Rodolfo Hernandez (30-10-1, 28 KO's) in a 122-pound slugfest. The heavily favored Guzman scored two knockdowns with body shots in the opening stanza and appeared on his way to an easy win. But Hernandez flipped the script in round three with a hard right hand just before the bell sounded that put Guzman on the canvas and nearly out. The two went toe to toe in the fourth when a vicious left hook to the body from Guzman put Hernandez down and this time out for good.
In a battle of former world title challengers, Freddie Roach trained Christopher Diaz (25-2, 16 KO's) scored a wide eight round unanimous against Adeilson Dos Santos (19-8, 15 KO's) in a featherweight contest. Diaz dominated the fight from the opening bell and hurt Dos Santos on a few occasions but ultimately had to settle for the decision victory.
The opening fight of the night saw heavyweight prospect Jared Anderson (3-0, 3 KO's) easily dispatch Andrew Satterfield (5-4, 3 KO's) in the first round of their scheduled four round fight. Anderson scored two knockdowns in what was a dominant performance.
Photo credit: Mikey Williams for Top Rank
Check out more boxing news on video at The Boxing Channel 
To comment on this story in The Fight Forum CLICK HERE
Fast Results from Philadelphia: Rosario TKOs 'J-Rock' in a Shocker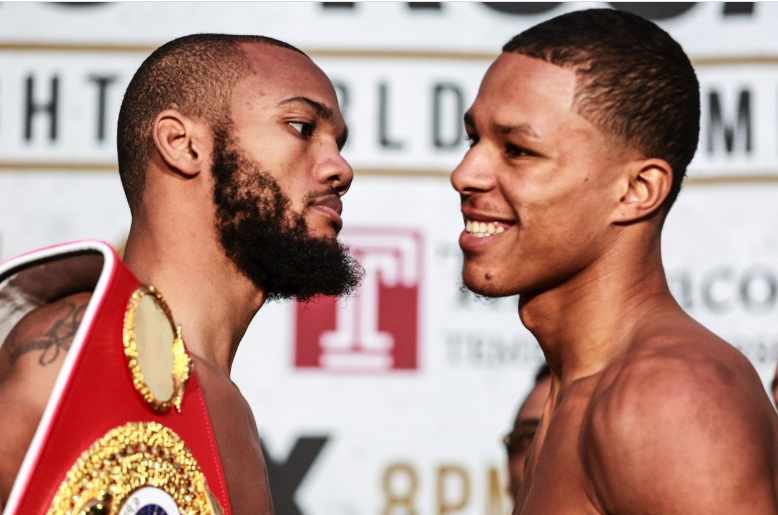 Born and bred in Philadelphia, Julian "J-Rock" Williams had fought only twice in his hometown prior to this evening, most recently back in 2011 when he was still a 6-round fighter. Tonight he topped the marquee, defending his WBA/IBF super welterweight titles at the 10,000-seat Liacouras Center on the campus of Temple University.
A successful homecoming for Williams, who was making the first defense of the titles he won last May with a hard but well-deserved unanimous decision over Jarrett Hurd, seemed like a foregone conclusion, but in a shocker Jeison Rosario of the Dominican Republic spoiled the soup, taking away Williams' titles with a fifth round stoppage.
It was a mammoth upset.
In round two, Rosario (20-1-1, 14 KOs) caught Williams with a punch that left a cut over his left eyelid. In the fifth, the challenger, ahead on the scorecards after a slow start, stunned "J-Rock" with a volley of punches starting with a hard right hand and then, after Williams lost his balance, followed up with several hard punches, notably a wicked uppercut that left Williams (27-2-1) all at sea. The stoppage by referee Benjy Estevez met with the disapproval of the pro-Williams crowd, but it was clearly the right call. The official time was 1:17 of round five.
After the fight, Williams indicated that there was a rematch clause in the contract that he intends to activate.
Co-Feature
In a fight billed for the WBA interim super featherweight title, Brooklyn's Chris Colbert (14-0, 5 KOs) stepped up in class and won a clear-cut 12-round decision over Panamanian southpaw Jezreel Corrales (23-4), a former WBA 130-pound title-holder. The cat-quick Colbert, 23, scored the bout's lone knockdown, sending Corrales to the canvas in the 10th round with a short overhand right. The scores were 116-111 and 117-110 twice.
Kiddie Corps
In a humdrum fight slated for six rounds, 19-year-old super welterweight Joey Spencer (who is rapidly out-growing the division), won every round against Erik Spring, a 35-year-old champion kickboxer from Reading, PA. Spencer, whose style and body type has drawn comparisons to a young Canelo Alvarez, didn't fight with his usual aggression, but advanced his record to 10-0. A southpaw, Spring (13-4-2) brought little to the table but maintained his distinction of having never been stopped.
In a four-round welterweight match, 17-year-old high school senior Vito "White Magic" Mielnicki Jr advanced to 4-0 but was extended the distance for the first time by overmatched but brave Preston Wilson (6-4-1), a boxer from Parkersburg, W. Va. In his first three pro fights, Mielnicki had answered the bell for only four rounds.
Also
In a super welterweight contest slated for 10 rounds, Mexican veteran Jorge Cota (30-4, 17 KOs) had too much firepower for Thomas "Cornflake" LaManna. There were no knockdowns, but LaManna ate a lot of leather before the referee intervened at 1:22 of the fifth. The crowd thought the stoppage was premature, but it met with the approval of LaManna's cornermen.
In an all-Philadelphia affair between super welterweights, Paul Kroll (7-0, 6 KOs) scored a fourth-round stoppage of Marcel Rivers. (7-3). Kroll knocked Rivers down in the third and twice more in the fourth, but Rivers was on his feet when the referee thought it prudent to call it off. Kroll, 25, made the 2016 U.S. Olympic team but was eliminated at an international qualifying tournament and the U.S. competed in Rio without a representative in his weight class.
Check out more boxing news on video at The Boxing Channel 
To comment on this story in The Fight Forum CLICK HERE
Photo credit: Stephanie Trapp / TGB Promotions