Likely No Landslides in IBHOF Class of 2019, But Honorees Happy to Make the Cut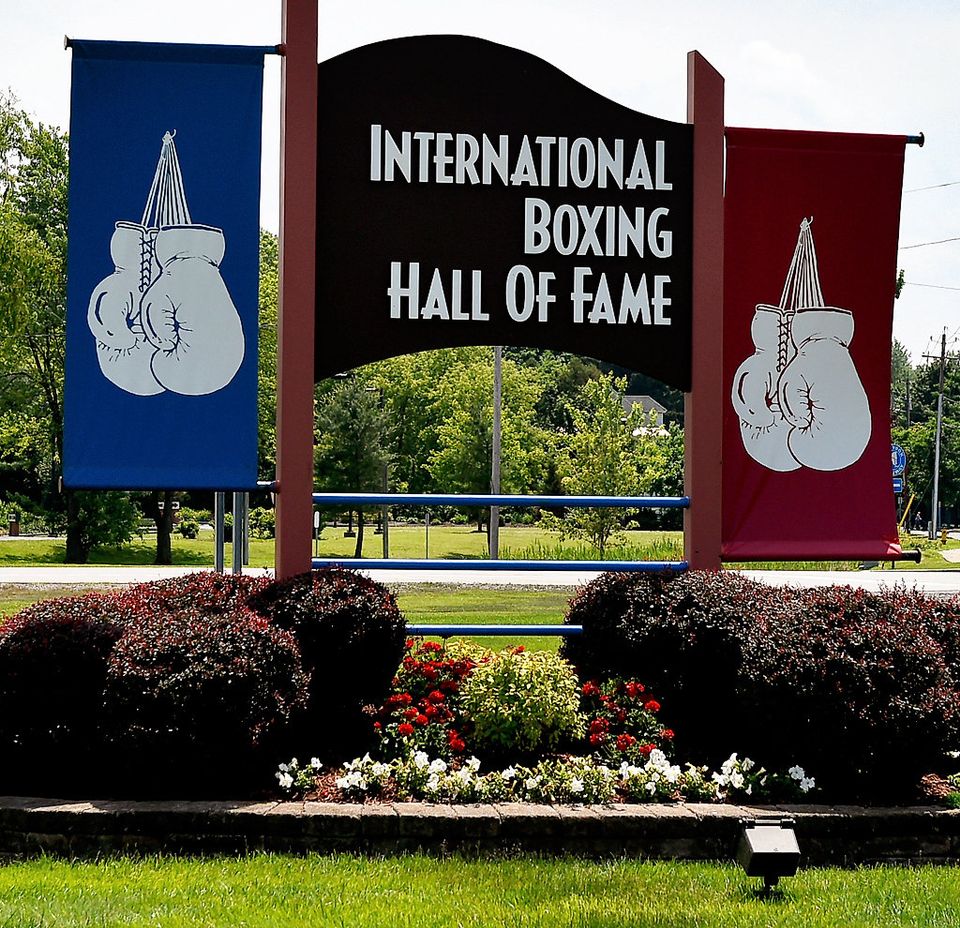 Halls of Fame ostensibly exist to honor exceptionally high achievers, but some would say their secondary purpose is to at least occasionally generate debate. And the International Boxing Hall of Fame in Canastota, N.Y., is no different.
Given the IBHOF's requirement that three new inductees be enshrined every year, there is no guarantee that there are three annual slam-dunks in the most prestigious Modern category for fighters. Sometimes the field of candidates in a given year appears to offer no sure things. When someone who has been on the ballot for several years finally makes the cut, and even if a certain candidate's election – the voting pool consists of full members of the Boxing Writers Association of America and an international panel of boxing historians — comes in his first year of eligibility (fighters must not have fought for five years to be considered for induction), there is apt to be some grumbling from naysayers who say a hall of fame should be the exclusive preserve of the indisputably great, not merely the very good. Among the Hall of Famers whose election met with some resistance are Ingemar Johansson, Arturo Gatti and Ray Mancini.
But as is the case with politics and, really, boxing matches that go to the scorecards as well, it really doesn't matter if a winner is swept into office by landslide or the thinnest of margins. The difference with halls of fame is that once you're in, you're in forever; you can't ever be voted out of office. How close, or not, the latest tabulations were in a crowded field of 32 Modern candidates was not revealed as the IBHOF, as is its policy, does not announce vote totals.
So all hail to the Class of 2019, the headliners, announced on Dec. 5, being Donald Curry, Julian Jackson and James "Buddy" McGirt. All of the former world champions had been bypassed in previous elections, snubs that didn't seem to matter to any of them once they received word of their call to the hall from the IBHOF's executive director, Ed Brophy. Sometimes all good things really do come to those who wait.
In addition to the Big Three, other members of the nine-member induction class include Old-Timer Tony DeMarco, Non-Participants Don Elbaum, Lee Samuels and Guy Jutras, and Observers Teddy Atlas and the late Mario Rivera Martino.
The 57-year-old Curry (34-6, 25 KOs), a native of Fort Worth, Texas, known as "The Lone Star Cobra," arguably is the most talented of the Modern inductees. At his peak, he was a classic boxer-puncher who did not so much defeat his opponents as to overwhelm them with a compendium of ring skills that seemingly preordained him for all-time great status. The puzzle pieces fit perfectly for Curry on Dec. 6, 1985, in a welterweight unification showdown with Milton McCrory at the Las Vegas Hilton. Before Curry, who went in as the WBA and IBF champion, snatched McCrory's WBC title in two one-sided rounds, HBO analyst Larry Merchant foresaw the outcome. "McCrory is regarded as a good fighter," Merchant opined. "Curry is regarded as possibly a great fighter."
Curry was then 24, and there were those who were ready to proclaim him as the finest pound-for-pound fighter on the planet. He was 26-0-1 with 21 KOs at the time, and while he did not know it then, his prime would soon be shortened by the kind of arrogance that comes when a fighter – really, any inordinately gifted athlete – begins to believe in the myth of his own invincibility and thus takes shortcuts. The first crack in that glittering veneer appeared on Sept. 27, 1986, when the heavily favored Curry did not come out for the seventh round for his title defense against England's Lloyd Honeyghan.
"All I know is that he was named Honey something," Curry – who was so dismissive of the challenger that he had to lose 11 pounds in three days just to make weight — told me for a TSS story that appeared in February of this year. "I didn't really know who he was. I wasn't mentally prepared that night. If I had been, beating that Honey guy would have been no problem."
Although Curry regrouped enough to take the WBC super welterweight belt from Italy's Gianfranco Rosi, he relinquished that title on an even bigger upset than had come against Honeyghan when he traveled to France and dropped a listless unanimous decision to Rene Jacquot.
But memories of the Curry that once had been compared to the likes of Sugar Ray Leonard, Thomas Hearns and Aaron Pryor apparently were enough to convince enough IBHOF voters to finally reward him for his abbreviated prime, which was clearly Hall of Fame-worthy if lacking the sort of longevity that would have made him a no-brainer.
"All right! Now we're talking!" an ecstatic Curry said upon getting the call he had begun to think he might never receive from Brophy. "What an honor. This is the greatest day of my life. I'm overwhelmed to get the call from the Hall of Fame. It's a dream come true."
Jackson (55-6, 49 KOs) was known as "The Hawk," and the former junior middleweight and middleweight champion from the U.S. Virgin Islands, now 58, was certainly a bird of prey inside the ropes. He was a consummate knockout artist, capable of getting his man out of there with a single shot. In 2003 The Ring magazine had him at No. 25 on its list of the "100 Greatest Punchers of All time," but that formidable power came with a caveat. He was nearly as susceptible of being the starchee as the starcher, as evidenced by the fact that all six of his losses also came inside the distance.
"He's got to be one of the top 10 punchers ever, at least in his weight class," said former IBF super welterweight champ Buster Drayton, who didn't make it out of the second round against Jackson in their July 30, 1988, title bout in Atlantic City, adding that Jackson's fragile chin was no secret to those bold enough to stand in there and trade haymakers with him. "I knew (he could be knocked out). He knew it, too."
"I tell you, I'm speechless," Jackson said upon being informed of that he would enshrined by the IBHOF. "This is a tremendous honor. Thank God for His grace and mercy. Wow! It's amazing! I really don't have words for this, but eventually they will come."
McGirt (73-6-1, 48), from Brentwood, N.Y., is the youngster of the group at 54, a former junior welterweight and welterweight titlist who fashioned a long and distinguished career despite being hampered by chronic shoulder injuries. After stepping away from the ring as an active fighter in 1997, he fashioned an exemplary second career as a trainer, and was the winner of the 2002 Eddie Futch Trainer of the Year Award from the Boxing Writers Association of America, primarily for his work in transforming Arturo Gatti from a one-dimensional brawler into a somewhat more well-rounded version of his former self. He also worked the corner for, among others, Vernon Forrest, Antonio Tarver and Laila Ali, and has recently taken on the assignment of preparing two-time former light heavyweight champion Sergey Kovalev for his rematch against Eleider Alvarez.
"To be honest, I can't even talk right now," McGirt said when informed of his selection by the IBHOF electorate. "This shows you're appreciated by the boxing world and that all the hard work and dedication pay off."
DeMarco (58-12-1, 33 KOs) is 86 and the former welterweight champ, a Boston resident, can be excused for believing that call from the hall would never come. Maybe that's because DeMarco, for all his successes, is best known for his two classic but losing wars with Carmen Basilio, the second of which, a 12th-round knockout in 1955, was named Fight of the Year by The Ring.
With no mortal locks slated to make first appearances on the IBHOF ballot for the Class of 2020, several holdovers whose credentials for ring immortality, or what passes for it, were vying for the three available slots that were just filled by Curry, Jackson and McGirt. Presumably at or near that magic threshold are Michael Moorer, Nigel Benn, Ivan Calderon, Vinny Pazienza, Ricky Hatton, Meldrick Taylor, Fernando Vargas, Darius Michalczewski, Sven Ottke and the late Genaro Hernandez, among others. Taylor, another special fighter who did not enjoy the benefit of longevity, might be move up in the pecking order in light of the consideration given to Curry for being truly exceptional for even a relatively short period.
But whoever does not get the nod in 2020 will face even stiffer competition in succeeding years, with gimmes like Bernard Hopkins (2021), Wladimir Klitschko, Shane Mosley, James Toney, Miguel Cotto and Juan Manuel Marquez (2022) and Roy Jones Jr., Floyd Mayweather Jr. and Andre Ward (2023) all edging closer to their first appearances on the ballot.
While the Moderns always command the most attention during the four-day induction festivities, other honorees will be celebrated for their long and meritorious service to the sport. It immensely pleases me to be a friend of three of them.
Atlas, 62, will be inducted in the Observer category, a nod toward his long tenure as an analyst for ESPN and for NBC, for whom he worked four Olympiads . But Atlas, whose distinctive Staten Island inflections are as familiar to viewers as the late Howard Cosell's nasal pomposity, always thought he would be recognized for his work as a trainer, which he considers his first calling. He added another world champion to the list of upper-tier fighters he has worked with when, on Dec. 1 in Quebec City, he was the chief second for Ukraine's Oleksandr Gvozdyk, who dethroned WBC titlist Adonis Stevenson on an 11th-round knockout.
"I thought I'd go in as a trainer, to be honest," Atlas said. "But that wasn't my decision. I'm grateful and appreciative to be considered either way by the Hall of Fame. It's definitely a privilege."
As a trainer, Atlas has always been a my-way-or-the-highway kind of guy and he has walked away from more than a few successful fighters who did not hew to his dictums. One was Michael Moorer, whom an exasperated Atlas did not feel was giving his all in what proved to be his majority-decision victory over WBA/IBF heavyweight champion Evander Holyfield on April 22, 1994, in Las Vegas. After the eighth round, Atlas told Moorer, "If you don't want to do what it takes to become champion, let me go out there. We could trade places." I made him answer me. I said, `Do you want to do that?' And he said, `No, I don't.'
"The thing that bothered me is that there were times when it seemed like he was letting Evander back into the fight. That's why I stayed on him and I didn't want him to be satisfied that he was doing well." A reinvigorated Moorer won the 12th round to become the first southpaw to win a heavyweight title; had he lost that round he would have also lost a split decision.
Of Gvozdyk, with whom he was working for the first time, Atlas said, "It feels good to have another world champion. You feel like you're still able to accomplish your goals and to help somebody get to the next level. I feel like I lived up to his trust and took care of my responsibility."
Elbaum, whose age is a carefully guarded secret, is affectionately known as "The Bum" to those who know and like him. He jokes that he was the matchmaker for Cain vs. Abel, which might be a slight exaggeration. He also notes that he is the person who introduced another Don, last name King, to the fight game, something for which he is uncertain whether he should take credit or blame.
But Elbaum, who has worked the sport's trenches in nearly every capacity, including as a fill-in fighter a couple of times in his younger days, takes only credit for being involved in a fight card he promoted that took place on Oct. 1, 1965, in Johnstown, Pa., and featured aging all-time greats Sugar Ray Robinson and Willie Pep in separate bouts.
"Ray Robinson was my idol," Elbaum said. "He was the greatest fighter that ever lived, in my opinion. And he fought his last three fights for me, which is something no one can ever take away from me. I was operating out of Pittsburgh when Ray called me to come to New York. He asked me, `Don, who can you get me who you think I can beat to get another crack at a world title?' I immediately said, `Joey Archer.' He asked me if I could make that fight. I said, `Absolutely.'
I made the fight for Pittsburgh. I told him I really wanted to build it up by first putting him in Johnstown, two months before the fight in Pittsburgh and then in Steubenville, Ohio, one month before. I was promoting the Johnstown fight as the biggest event in that town since the flood, and I was getting great press. About 10 days before the fight I got a call from Willie Pep. Willie said, `Don, I need a fight. I need money desperately.' I said, `Willie, why?' And – this is one of the great lines of all time – Willie said, `Don I got five ex-wives.'
"So now I got Ray Robinson (then 45) and Willie Pep (42), two of the greatest fighters ever, on the same card. That always stuck with me."
Alas, the grand scheme hatched by Elbaum came a cropper when Robinson lost a 10-round unanimous decision to Archer on Nov. 10, 1965, and immediately retired.
Samuels, 71, came to boxing first as a sports writer, covering a couple of Muhammad Ali fights for the now-defunct Philadelphia Bulletin, which shut down in 1983. It was a relatively easy transition into the next phase of his journey, as a publicist for Bob Arum's Top Rank, a three-decade association that is ongoing. Samuels is known for his unflappability and inexhaustible patience under pressurized conditions that would drive many sane individuals bonkers. He insists that he has never met anyone in the sport he hasn't liked, which for most people would be a stretch but fits the personable nature of someone widely considered to be the nicest person not only in boxing, but maybe anywhere.
"It's great to be reunited with Irving Rudd," Samuels said of his becoming a Hall of Famer alongside his legendary mentor at Top Rank, who was 82 when he passed away on June 2, 2000. And it was Rudd, Samuels said, who taught him the value of getting writers what they need, which is a little one-on-one face time with fighters whenever possible instead of group scrums where  harried reporters shout questions in the hope of getting a usable quote or two.
"When you work for a newspaper, you have to get a story that day," Samuels said. "I remember getting off a plane (when he was at The Bulletin) and telling Irving, "I have to speak to Ali. I'm on deadline.' He said, `He wants to speak to you, too. He knows you're here. Oh, and Angelo (Dundee) is with him.'"
Jutras is a Canadian judge and referee who has been involved in boxing for 30 years, and the late Rivera Martino, a Puerto Rican journalist who covered boxing for a number of publications, including The Ring, for nearly 60 years, beginning in the 1940s.
Bernard Fernandez is the retired boxing writer for the Philadelphia Daily News. He is a five-term former president of the Boxing Writers Association of America, an inductee into the Pennsylvania, New Jersey and Atlantic City Boxing Halls of Fame and the recipient of the Nat Fleischer Award for Excellence in Boxing Journalism and the Barney Nagler Award for Long and Meritorious Service to Boxing.
Check out more boxing news on video at The Boxing Channel
To comment on this article at The Fight Forum, CLICK HERE
The Sweet Science Rankings: Week of June 5th, 2023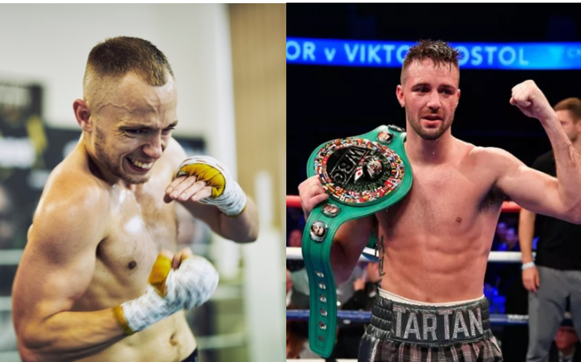 The Sweet Science Rankings: Week of June 5th, 2023
For the first time there are no changes in this week's TSS Rankings. Two fighters ranked #1 in their weight class are in action this Saturday. Sunny Edwards, the top dog at 112 pounds, defends his belt against Chile's Andres Campos at Wembley Arena in London. In a match with far more intrigue, Josh Taylor, the topmost fighter at 140, meets Teofimo Lopez at Madison Square Garden.
Pound-for-Pound
01 – Naoya Inoue
02 – Oleksandr Usyk
03 – Juan Francisco Estrada
04 – Dmitry Bivol
05 – Terence Crawford
06 – Errol Spence Jnr.
07 – Tyson Fury
08 – Saul Alvarez
09 – Artur Beterbiev
10 – Shakur Stevenson
105lbs
1            Knockout CP Freshmart (Thailand)
2            Petchmanee CP Freshmart (Thailand)
3            Oscar Collazo (USA)*
4            Ginjiro Shigeoka (Japan)
5            Wanheng Menayothin (Thailand)
6            Daniel Valladares (Mexico)
7            Yudai Shigeoka (Japan)
8            Melvin Jerusalem (Philippines)
9            Masataka Taniguchi (Japan)
10          Rene Mark Cuarto (Philippines)
108lbs
1            Kenshiro Teraji (Japan)
2            Jonathan Gonzalez (Puerto Rico)
3            Masamichi Yabuki (Japan)
4            Hekkie Budler (South Africa)
5            Sivenathi Nontshinga (South Africa)
6            Elwin Soto (Mexico)
7            Daniel Matellon (Cuba)
8            Reggie Suganob (Philippines)
9            Shokichi Iwata (Japan)
10          Esteban Bermudez (Mexico)
112lbs
1            Sunny Edwards (England)
2            Artem Dalakian (Ukraine)
3            Julio Cesar Martinez (Mexico)
4            Angel Ayala Lardizabal (Mexico)
5            David Jimenez (Costa Rica)
6            Jesse Rodriguez (USA)
7            Ricardo Sandoval (USA)
8            Felix Alvarado (Nicaragua)
9            Seigo Yuri Akui (Japan)
10          Cristofer Rosales (Nicaragua)
115lbs
1            Juan Francisco Estrada (Mexico)
2            Roman Gonzalez (Nicaragua)
3            Jesse Rodriguez (USA)
4            Kazuto Ioka (Japan)
5            Joshua Franco (USA)
6            Junto Nakatani (Japan)
7            Fernando Martinez (Argentina)
8            Srisaket Sor Rungvisai (Thailand)
9            Kosei Tanaka (Japan)
10          Andrew Moloney (Australia)
118lbs
1            Emmanuel Rodriguez (Puerto Rico)
2            Jason Moloney (Australia)
3            Nonito Donaire (Philippines)
4            Vincent Astrolabio (Philippines)
5            Gary Antonio Russell (USA)
6            Takuma Inoue (Japan)
7            Alexandro Santiago (Mexico)
8           Ryosuke Nishida (Japan)
9            Keita Kurihara (Japan)
10          Paul Butler (England)
122lbs
1            Stephen Fulton (USA)
2            Marlon Tapales (Philippines)
3            Luis Nery (Mexico)
4            Murodjon Akhmadaliev (Uzbekistan)
5            Ra'eese Aleem (USA)
6            Azat Hovhannisyan (Armenia)
7            Kevin Gonzalez (Mexico)
8            Takuma Inoue (Japan)
9            John Riel Casimero (Philippines)
10          Fillipus Nghitumbwa (Namibia)
 126lbs
1            Luis Alberto Lopez (Mexico)
2           Leigh Wood (England)
3            Brandon Figueroa (USA)
4            Rey Vargas (Mexico)
5            Mauricio Lara (Mexico)
6            Mark Magsayo (Philippines)
7            Josh Warrington (England)
8            Robeisy Ramirez (Cuba)
9            Reiya Abe (Japan)
10          Otabek Kholmatov (Uzbekistan)
 130lbs
1            Joe Cordina (Wales)
2            Oscar Valdez (Mexico)
3            Hector Garcia (Dominican Republic)
4            O'Shaquie Foster (USA)
5            Shavkatdzhon Rakhimov (Tajikistan)
6            Roger Gutierrez (Venezuela)
7            Lamont Roach (USA)
8            Eduardo Ramirez (Mexico)
9            Kenichi Ogawa (Japan)
10          Robson Conceicao (Brazil)
135lbs
1            Devin Haney (USA)
2            Gervonta Davis (USA)
3            Vasily Lomachenko (Ukraine)
4            Isaac Cruz (Mexico)
5            William Zepeda Segura (Mexico)
6            Frank Martin (USA)
7            George Kambosos Jnr (Australia)
8            Shakur Stevenson (USA)
9            Raymond Muratalla (USA)
10          Keyshawn Davis (USA)
140lbs
1            Josh Taylor (Scotland)
2            Regis Prograis (USA)
3            Jose Ramirez (USA)
4            Jose Zepeda (USA)
5            Jack Catterall (England)
6            Subriel Matias (Puerto Rico)
7            Arnold Barboza Jr. (USA)
8            Gary Antuanne Russell (USA)
9            Zhankosh Turarov (Kazakhstan)
10          Shohjahon Ergashev (Uzbekistan)
 147lbs
1            Errol Spence (USA)
2            Terence Crawford (USA)
3            Yordenis Ugas (Cuba)
4            Vergil Ortiz Jr. (USA)
5            Jaron Ennis (USA)
6            Eimantas Stanionis (Lithuania)
7            David Avanesyan (Russia)
8            Cody Crowley (Canada)
9            Roiman Villa (Columbia)
10          Alexis Rocha (USA)
 154lbs
1            Jermell Charlo (USA)
2           Tim Tszyu (Australia)
3            Brian Castano (Argentina)
4            Brian Mendoza (USA)
5            Liam Smith (England)
6            Jesus Alejandro Ramos (USA)
7            Sebastian Fundora (USA)
8            Michel Soro (Ivory Coast)
9            Erickson Lubin (USA)
10          Magomed Kurbanov (Russia)
 160lbs
1            Gennady Golovkin (Kazakhstan)
2            Jaime Munguia (Mexico)
3            Carlos Adames (Dominican Republic)
4            Janibek Alimkhanuly (Kazakhstan)
5            Liam Smith (England)
6            Erislandy Lara (USA)
7            Sergiy Derevyanchenko (Ukraine)
8            Felix Cash (England)
9            Esquiva Falcao (Brazil)
10          Chris Eubank Jnr. (Poland)
168lbs
1            Canelo Alvarez (Mexico)
2            David Benavidez (USA)
3            Caleb Plant (USA)
4            Christian Mbilli (France)
5            David Morrell (Cuba)
6            John Ryder (England)
7            Pavel Silyagin (Russia)
8            Vladimir Shishkin (Russia)
9            Carlos Gongora (Ecuador)
10          Demetrius Andrade (USA)
175lbs
1            Dmitry Bivol (Russia)
2            Artur Beterbiev (Canada)
3            Joshua Buatsi (England)
4            Callum Smith (England)
5            Joe Smith Jr. (USA)
6            Gilberto Ramirez (Mexico)
7            Anthony Yarde (England)
8           Dan Azeez (England)
9            Craig Richards (England)
10          Michael Eifert (Germany)
200lbs
1            Jai Opetaia (Australia)
2            Mairis Breidis (Latvia)
3            Chris Billam-Smith (England)
4            Richard Riakporhe (England)
5            Aleksei Papin (Russia)
6            Badou Jack (Sweden)
7            Arsen Goulamirian (France)
8            Lawrence Okolie (England)
9            Yuniel Dorticos (Cuba)
10          Mateusz Masternak (Poland)
Unlimited
1            Tyson Fury (England)
2            Oleksandr Usyk (Ukraine)
3            Zhilei Zhang (China)
4            Deontay Wilder (USA)
5            Anthony Joshua (England)
6            Andy Ruiz (USA)
7            Filip Hrgovic (Croatia)
8            Joe Joyce (England)
9            Dillian Whyte (England)
10          Frank Sanchez (Cuba)
To comment on this story in the Fight Forum CLICK HERE
The Follies of Gervonta Davis: They Gave Him the Key to the City and Now He's in the Slammer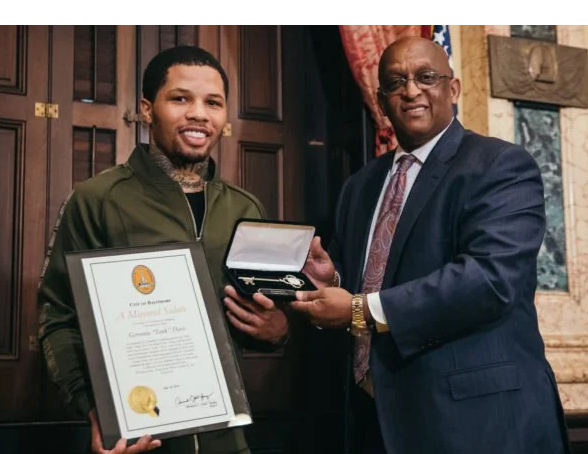 One surmises that Baltimore City Circuit Court judge Althea Handy has a lot of guts. When the 65-year-old jurist rescinded her decision to allow Gervonta "Tank" Davis to serve his 90-day sentence at the home of his trainer Calvin Ford and remanded him to the jailhouse, that undoubtedly didn't sit well with some of the poobahs in Maryland's largest city. After all, it wasn't that long ago that Davis was presented with a key to the city and a parade was held in his honor.
Davis appeared before Judge Handy on May 5. He had already pleaded guilty to each of four counts stemming from a hit-and-run accident that happened shortly before 2 a.m. on the morning of Nov. 5, 2020. After running a red light, Davis crashed his Lamborghini into another vehicle before crashing into the fence of a 7-eleven. The four occupants of the other vehicle, including a pregnant woman, required medical attention. Gervonta and his two passengers fled the scene in another car.
The four charges to which he pled guilty, eschewing a jury trial, included driving on a revoked license. Had Judge Handy thrown the book at him, she could have packed him off to prison for a term of four years and two months. Instead, she sentenced him to 90 days home detention, three years' probation, and 200 hours of community service.
Davis owns a home in tony Broward County in South Florida. If it had been his decision, that's where he would have served his 90 days. But Handy had visions of the boxer lounging by the pool and wouldn't allow it. She insisted that he serve out his sentence in his native Baltimore.
It was agreed that Davis would be confined to the home of his longtime coach Calvin Ford for the duration of his sentence. The head trainer at the Upton Boxing Center in impoverished West Baltimore and the inspiration for the Dennis "Cutty" Wise character in the HBO series "The Wire," Coach Calvin, as he is called, has been a father figure to Gervonta Davis and countless other boys. Gervonta was living with his grandmother after bouncing around between foster homes when he wandered into Upton at the age of seven. The boxer credits his coach with instilling within him the discipline needed to stay off the streets.
There was one small problem. Calvin Ford's home had only one bedroom. It was far too small for the boxer and his entourage.
Davis needed to find a new crash pad. Being the resourceful type, he moved his tack to Baltimore's luxurious Four Seasons Hotel before plunking down a reported $3.4 million on a 5,000-square-foot high-rise penthouse. When informed that the boxer had taken it upon himself to recalibrate his "punishment," Judge Handy said, "not on my watch" or words to this effect, and had the boxer hauled off to the slammer.
—
Gervonta Davis was boxing's youngest American-born world champion when he won his first title in 2017. On July 24, 2019, three days before his homecoming fight with Ricardo Nunez – his fifth 130-pound world title defense – he was presented the keys to the city by then mayor Bernard C. "Jack" Young in a ceremony at City Hall. "Welcome Home….We're so proud of you!", read the proclamation. Later that year, on Oct. 26, the boxer was feted with a parade in his old neighborhood.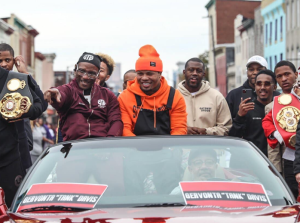 In his most recent bout, a non-title affair contested at the catch-weight of 136 pounds, Davis stopped Ryan Garcia in the seventh round to advance his record to 29-0. The fight played out before an SRO crowd of 20,000-plus at the T-Mobile Arena in Las Vegas. In his four fights prior to that, Davis drew capacity or near-capacity crowds to NBA arenas in Atlanta, Los Angeles, Brooklyn, and Washington, DC. When it comes to putting asses in seats, no other American boxer can match him.
—-
Davis turned pro under Floyd Mayweather Jr's "Money Team" banner. As recounted in a previous story, Mayweather's influence was pervasive. Gervonta came to mimicking Floyd's lifestyle, reflected in what normal people would see as reckless spending, manifested in bling and in his growing collection of rare and expensive automobiles. The parallels are striking and to that list we can now add one more. When Gervonta emerges from his current abode he will have spent almost exactly as many days behind bars as his former promoter. Mayweather was sentenced to 90 days for domestic battery in 2012 and with time off for good behavior was out of jail in two months.
When Davis gets out, will his boxing tools be as sharp as ever? Based on Mayweather's experience, his fans have nothing to worry about.
During Mayweather's incarceration, his lawyer and personal physician submitted a document to the court in hopes of securing an early release. "Jail food and water," it said, "didn't meet Mayweather's dietary needs and lack of exercise space in a cramped cell of fewer than 98 square feet threatened his health and fitness."
Not to worry. Floyd had some of his best moments after he was set free, although it may be worth noting that he stopped knocking people out.
Floyd was 35 years old when he regained his freedom. Gervonta Davis will be 28. There's no reason to think that he won't be as good as ever, but that's assuming that he keeps his nose clean. He doesn't need any more of these kinds of distractions.
To comment on this story in the Fight Forum CLICK HERE
Claressa Shields Defeats Maricela Cornejo in Detroit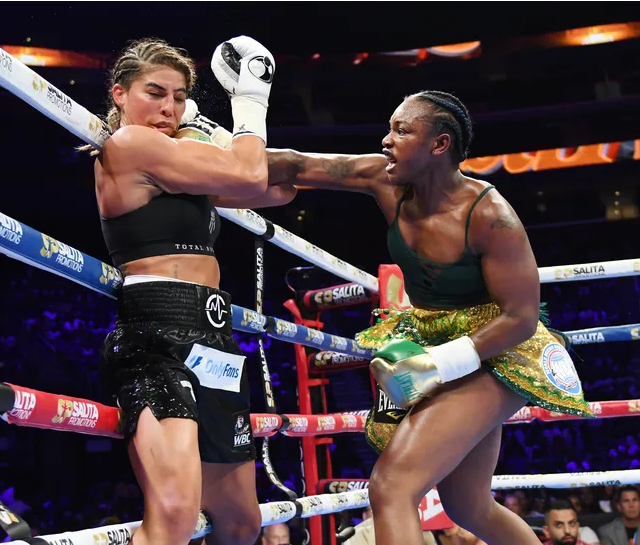 In front of a Detroit crowd familiar with boxing legends, Claressa Shields demonstrated her place among the legends with a start-to-finish win over number one contender Maricela Cornejo to retain her middleweight world championship on Saturday.
"Maricela is just super tough. She was just in shape and knew how to get away from shots," said Shields
More than 10,000 fans entered Little Caesars Arena and witnessed the fight.
Despite last-minute changes in opposition, Shields (14-0, 2 KOs) accepted always strong Cornejo (16-6, 6 KOs) and proved that former Detroit boxing legends such as Sugar Ray Robinson, Joe Louis and Tommy Hearns need to move over.
The champion wasted little time in opening-up with looping overhand rights that barely missed the mark. Cornejo was careful to avoid the bombs. Though few punches landed it was clear that Shields was on the attack.
Cornejo was scheduled to fight another foe and had been preparing in Las Vegas with famed trainer Ismael Salas. She was fully prepared to face anyone, but Shields is not anyone. Her defense was on point but the speed ratio of Shields punches is almost impossible to practice.
Still, Cornejo did enough by connecting with a strong right cross that kept Shields from overwhelming her.
"Just stay smart and not get hit with her big right hand," said Shields about her battle plan against Cornejo who replaced Hanna Gabriels who failed a PED test.
Though Cornejo had two inches height advantage, Shields had faced others that were taller before such as Christina Hammer and Savannah Marshall. Shields adjusted well.
"Height don't matter, power don't matter," Shields said. "It's all about skills and wills and I always have more."
Over the years Shields has carefully added more ammunition to her offensive arsenal and fighting a taller opponent with power has become second nature. Shields kept a perfect distance at all times and made it difficult for Cornejo to time her attacks with a big right cross.
Cornejo jabbed her way trying to close the distance, but Shields agility and reflexes kept the taller fighter from her goal. Shields snapped Cornejo's head back numerous times during the fight, but the Mexican-American fighter from the state of Washington has always shown to have one of the best chins in women's boxing. No one has ever knocked her down.
Shields came close, especially in the seventh round. Cornejo opened the frame with a strong right lead that seemed to awaken the gates. Shields unleashed the blinding combinations that have bewildered every foe she's ever faced since childhood. The speed and fury of the blows forced Cornejo to hold and maneuver out of range. She survived the onslaught but if it had been a three-minute round the fight might have been over. Instead, after the two-minute round expired, Cornejo had survived.
Shields had expended a lot of energy attempting the knockout. It takes a lot of to fire off dozens of blows with blinding speed and accuracy. Most of the eighth round was fought by both at a much slower tempo, until the last 20 seconds when Shields and Cornejo opened up the guns.
After saving energy in the prior round, Shields stunned Cornejo with a strong one-two that snapped the head of the challenger. Shields kept on the attack but in measured tones. Though she won every round it was evident that Cornejo was looking for one big counter shot that could turn the momentum.
It did not happen. Shields kept control of the fight until the very end. After 10 rounds both hugged each other in respect and the judges gave their verdict 100-89, 100-90 twice for Shields who keeps the middleweight world championship.
"I felt great. I won every round like I knew I could," said Shields. "I tried for the KO, but Maricela was tough, had a strong right hand."
For Shields it was her sixth defense of the middleweight championship.
"I thought I looked really, really good," said a very content Shields. "Thank you for coming out."
Other Bouts
Local fighter Ardreal Holmes (14-0) defeated Haiti's Wendy Toussaint (14-2) by technical split decision after the fight was stopped early due to a bad cut following a clash of heads in the super welterweight match.
Toussaint was the aggressor through most of the fight but when a savage cut opened up above his forehead the referee stopped the fight though the ringside physician had given approval to continue.
The fight was stopped at 1:54 of the eighth round and Holmes won 76-75, 77-74, 74-77. The Detroit crowd booed the decision loudly.
A middleweight contest saw Michigan's Joseph Hicks (7-0, 5 KOs) use his height and reach to dominate Atlanta's Antonio Todd (14-8) from the outside. All three judges scored it 80-72 for Hicks.
To comment on this story in the Fight Forum CLICK HERE