The ESPN special '42 to 1' Opened a Portal Back Into a Special Time For Me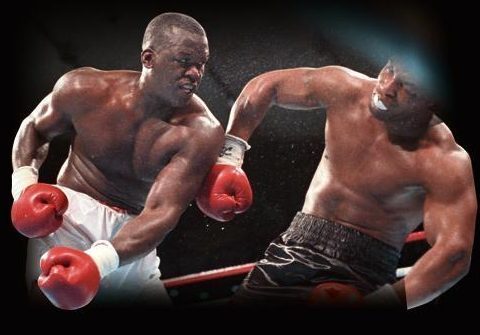 There are moments in life when you feel as if you somehow have been transported back to an event or an occasion that always will hold special meaning to the time traveler.
Watching ESPN's latest entry in its "30 for 30" documentary series, 42 to 1, was like that for me. Not that the 50-minute special, directed by Ben Houser and Jeremy Schaap, broke new ground or revealed much, if anything, I didn't already know. In fact, there was much behind-the-scenes stuff that might have been included and maybe even should have been, had the documentarians had more time to tell the familiar story of James "Buster" Douglas' epic upset of seemingly invincible heavyweight champion Mike Tyson on Feb. 11, 1990. But this particular stroll down memory lane is especially significant to me because, well, I was there. It wasn't the best prizefight or sporting event I ever covered live and in person, but it was the most compelling because it was arguably the biggest upset not only in boxing history, but maybe ever in the sports world. Being courtside for Villanova's shocker over Georgetown and Patrick Ewing in the 1985 NCAA championship basketball game pales by comparison.
"Forty-two to one stands right at the top," veteran Las Vegas oddsmaker Jimmy Vaccaro, who is an instrumental figure in the actual lead-up to Tyson-Douglas and throughout the documentary, said of the seemingly one-sided matchups he has made betting lines for during his long career and did not go as expected. "There's nothing even close to it. I'm tired of hearing about the `Miracle on Ice' (the 1980 U.S. Olympic hockey team, loaded with college kids, shocking the veteran Soviet Union squad in the semifinals en route to the gold medal in Lake Placid, N.Y.). Yes, we understand it was a big upset . But you know what? (The U.S.) was only a 3 to 1 underdog as opposed to a 42 to 1 favorite (Tyson). I think it's a little bit different.
"Forty-two to one? I'd lay 50 to one you'll never see it again."
Nobody with the possible exception of Douglas and a few fellow dreamers in his support crew thought that it might be possible for the often-unmotivated, frequently out-of-shape heavyweight from Columbus, Ohio, to cash the lottery ticket he had been given only because Tyson needed to fight somebody before he moved on to a scheduled June 1990 pairing with Evander Holyfield that both parties already had agreed to.
"Buster Douglas is a dog," Tyson's promoter, Don King, had dismissively said, not even attempting to throw a positive comment toward the designated victim who surely was about to become Iron Mike's 38th victim. "He's always been a quitter. Buster Douglas has a history of quitting. He quit with Tony Tucker in 1987. Really, that's why I chose him."
ESPN sports anchor Charley Steiner, on the evening the presumed massacre was to take place (which was actually the following day in Tokyo, 14 hours ahead of Eastern Standard Time), advised viewers that "Tonight's heavyweight championship fight might be best titled `30 seconds over Tokyo.'"
So why had I arrived in the Land of the Rising Sun eight full days before the first punch was thrown in earnest? Because my paper, the Philadelphia Daily News, was years away from having its travel budget slashed to the bone and because our then-executive sports editor, Mike Rathet, believed that there are certain athletes who were of such high interest that doing stories about them off TV simply would not suffice. Mike had dispatched another PDN writer, my colleague Elmer Smith, to Tokyo to report on Tyson's perfunctory second-round TKO of pudgy challenger Tony Tubbs on March 21, 1988. I figured my trip to Japan would end on a similarly quick and emphatic note, but then the beauty of sports is that nothing is ever absolutely certain.
The day before I headed to the airport, I attended, but did not cover, a fight card in Atlantic City where other reporters, including Robert Seltzer, my counterpart at the Philadelphia Inquirer, asked why the PDN was spending so much money to send me halfway around the world to witness a fight that seemed a foregone conclusion. "Because Tyson is Tyson," I replied, "and we want to be there if the mother of all upsets occurs."
In retrospect, maybe the mother of all upsets wasn't as long of a long shot as might have appeared at first glance. Tyson's personal life was unraveling; his marriage to actress Robin Givens was on the rocks, he had fired capable trainer Kevin Rooney nearly two years earlier and instead would have the Bobbsey twins, Aaron Snowell and Jay Bright, working his corner. He also, an inside source had advised several media members, was shuttling Japanese hookers in and out of his hotel suite at night as if they were a relay team passing the baton at an X-rated track meet. In a story authored by Eric Raskin for Playboy a couple of years ago, I was quoted as saying that, if sex really does sap a boxer's strength in the weeks before a bout, it was amazing that Tyson had enough energy to crawl into the ring before the opening bell.
Meanwhile, Douglas – whose potential never had been questioned, only his commitment to push himself in training – was in the best condition of his career, and his mind was right, too, having dedicated the victory he dared to believe he could get to his late mother, Lula Pearl Douglas, who had passed away less than three weeks earlier.
It was a jumble of circumstances that would have stamped Douglas as far less likely to have his butt kicked, had all information been available to the public. In addition to his litany of personal woes, an arrogant Tyson had made the same mistake that often brings down the luminously gifted. He figured he could just show up and win because, well, hadn't he always done that?
During a TV interview prior to squaring off against Douglas, a clearly bored Tyson dropped broad hints that he had not exactly punished himself into peak condition.
Q: Do you always go into the ring feeling like you're invincible?
A: Yeah.
Q: Let's get to Buster. What's you biggest concern going into this fight?
A: I got no concerns.
Q: What do you think Buster's …
A: I don't have any idea what he's thinking. I don't care. I'm a champion, you know what I mean?
So prohibitive a favorite was Tyson to continue his reign of terror that almost every sports book in Las Vegas didn't bother to post a line. That's where Vaccaro came in, unwittingly setting the stage and the now-legendary numbers for the title of the ESPN documentary.
"Well, almost none," Vaccaro said after an unseen voice mentions that every other sports book was taking a pass on Tyson-Douglas. "I did. Let me set the stage for you. In 1990, the biggest star in sports was Mike Tyson. `Iron Mike' was a knockout machine. In 37 fights he'd never been on the canvas. Never hurt, never challenged. Nobody thought James `Buster' Douglas would be any different. No one thought Buster could win.
"Back then I was at The Mirage and I decided we would take action on the fight. The favorite? Tyson, of course. The underdog, Douglas. The odds? Forty-two to one."
That where the steadily rising line stopped, in any case.
"Well, naturally everybody thought, including myself, that Tyson couldn't lose the fight," Vaccaro pointed out later in the program. "So the opening odds were set at 27 to 1. But I kept raising the odds to maybe get a bet  on James `Buster' Douglas. From 32 to 1 to 37 to 1, but we still couldn't get anyone to bet on the underdog until we got to the pinnacle – 42 to 1."
Even then, most of the bets that did come in were from well-heeled types who figured they'd put up a lot to get a little on what seemed to be a sure thing.
"We got a thousand, $1,500 here and there on Douglas," Vaccaro continued. "But, you know, we actually took about 10 bets on Mike Tyson at 42 to 1, meaning you'd have to bet $42,000 to win $1,000. One gentleman put up over $160,000 on one bet to win, like, $4,000. It was incredible."
Here's guessing that guy was looking for a tall building with a roof from which he could jump off after Douglas methodically beat up and finally stopped Tyson in the 10th round. The only time a window of opportunity opened for the soon-to-be former champ was when he connected with a ripping right uppercut that dropped Douglas for a nine count in round eight. Tyson supporters to this day insist that referee Octavio Meyran was slow with his count , but Douglas was looking straight at Meyran and knew he could get up before the toll reached 10. He then demonstrated he wasn't as hurt as he might have appeared by again seizing the upper hand with a dominant ninth round.
Alas, the mountaintop Douglas had just scaled proved to be a slippery slope. He had slain the most fearsome beast in the heavyweight jungle, all right, a feat that would bring him a $24 million payday for his first title defense, which came on Oct. 25, 1990, at The Mirage, against Holyfield. But the determined, in-shape Douglas had again slipped back into the shadows by then, and when he weighed in at a jiggly 246 pounds against Holyfield, 14½ more than he had for Tyson, there was a mad rush toward the betting windows by attendees hoping to get a hefty wager down on Holyfield before the odds shifted. The race belonged to the swift as Holyfield delivered a beautiful counter right to win by knockout in the third round.
At 58, Buster Douglas appears to be fat and happy these days. You can live a pretty good life if you are intent on making a $24 million windfall last, and the fighter previously known for wasted potential still is riding the high surf generated by one magical performance. He now serves as a boxing instructor to young kids in the same Columbus gym where his late father, a tough middleweight named Billy "Dynamite" Douglas, first dreamed of making his son into the world titlist he never got to be himself. It is a success story with only one undeniably positive chapter, but that sometimes is more than other people ever get a whiff at when the book of their lives is written.
I came back from Tokyo with the kind of memories that aren't easily erased. One of my sons received my souvenir program; he now lives out of state and I don't see him as often as I would like. I hope he held onto it because I suspect it might be worth something now.
Bernard Fernandez is the retired boxing writer for the Philadelphia Daily News. He is a five-term former president of the Boxing Writers Association of America, an inductee into the Pennsylvania, New Jersey and Atlantic City Boxing Halls of Fame and the recipient of the Nat Fleischer Award for Excellence in Boxing Journalism and the Barney Nagler Award for Long and Meritorious Service to Boxing.
Editor's Note: ESPN's "42 to 1" premiered Tuesday evening, Dec. 11, at 9:00 PM EST. The next showings are scheduled for 2:00 AM Wednesday morning, Dec. 12, on ESPN2, Sunday, Dec. 16, at 5 PM on ESPN2, and Sunday, Dec. 16, at 9:00 PM on ESPN. All times Eastern.
Check out more boxing news on video at The Boxing Channel
To comment on this article at The Fight Forum, CLICK HERE
Remembering 'Rocky Estafire,' One Tough Syrian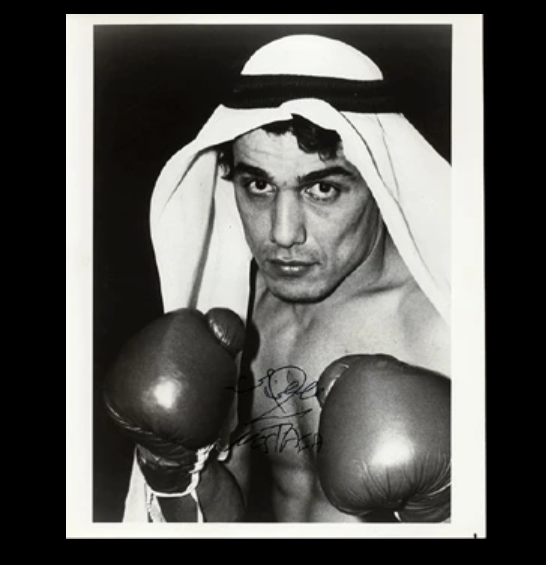 On Sept. 9, 1978, a Bayonne, New Jersey brawler who was billed as Rocky Estafire when he was first starting out, stopped slick Bobby "Boogaloo" Watts in Jersey City giving notice that he was becoming a force to be reckoned with in the middleweight division. Watts was no slouch having split a pair with Marvelous Marvin Hagler.
"Strictly LaMotta style," said Paddy Flood of his fighter who would come to be known by his real name, Mustafa Hamsho.
In 1980, he beat undefeated Wilford Scypion and followed that up with close wins over Curtis Parker and Alan Minter in 1981 leading to his first of two title clashes with Hagler. This bloody encounter, won by Hagler on an 11th-round TKO, left both fighters needing stiches.
"Throughout Hagler's nonstop, 11th-round barrage, Hamsho kept coming on. He didn't win a round, but he did take the battle of the stitches, 55-5," wrote Pat Putnam in Sports Illustrated. "I don't know what his corner was waiting for…The meat from his eyes was hanging down. But I can't let that bother me. I just have to think, better him than me," said Hagler.
More from Putnam: "When Hagler had left the hospital, the doctors were still working over Hamsho, who, until his trainer, Al Braverman, jumped into the ring to stop the fight, looked as though he would run out of blood before he ran out of heart. He was badly cut under both brows: Each wound was at least two inches long and half an inch wide. There was another slice under his left eye. He didn't win a round from any of the three officials."
Al Braverman, who co-managed Hamsho with the aforementioned Flood, once described the Syrian's style as follows: "…."He's got no style. He just wades in, throwing punches from any angle."  He also possessed great stamina, a granite chin and incredible courage, along with head and shoulder butts, elbows, low blows, shoves, holding, chops behind the head, and whatever he could get away with.
The Matinee Idol
Bobby Czyz was 20-0 when he met Hamsho at the Convention Center in Atlantic City on Nov. 20, 1982. The undefeated New Jersey lad with the somewhat strange moniker of "Matinee Idol" and the high IQ had solid wins over Danny Long, Teddy Mann, Oscar Albarado, Elisha Obed, and Robbie Sims. Against Hamsho he was stepping up in class but he was a solid opponent for the Syrian who was 34-2-2 coming in.
If Bobby won, he would position himself for a shot at Marvelous Marvin, but Hamsho mauled and mugged the future world light heavyweight champion over ten rounds and won a convincing UD. (The rest of the Bobby Czyz story is told in "The Boxer Who Became a Bagger," a remarkable and poignant article by sports columnist Steve Politi that first appeared in the Newark Star-Ledger.)
Wilfred Benitez
HIs UD victory over Wilfred Benitez (45-2-1) in 1883 was pure Hamsho featuring elbows, butts, and low blows. The third round was difficult to watch as the compact Syrian rendered a brutal beating on "El Radar," using accurate nonstop shots coming from all directions. Between slips and knockdowns, Wilfred hit the deck four times.
Clearly, Benitez had faded, but Hamsho hastened the process and helped point the legendary Puerto Rican in a downward direction. Wilfred looked sluggish and poorly conditioned; he was not the same Benitez who knocked out Maurice Hope in spectacular fashion or out-boxed Roberto Duran for 15 rounds. Something was wrong.
But even in top shape, Benitez would have struggled against Hamsho with his mauling, brawling, non-stop pressure. Hamsho could make anyone look bad.  (Wilfred Benitez would lose several more outings after the Hamsho beatdown. Matthew Hilton finished the job with a terrifying KO in 1986. Wilfred's story is a terribly sad one as he now requires constant care.)
Hamsho would lose another fight with Hagler—this time quickly and badly– and then go 6-2 before retiring in 1989 with a record of 44-5-2.
Those who were fortunate enough to see him fight remember a fan-pleasing, all-action combination of Vito Antuofermo, Michael Katsidis, Antonio Margarito, and Gene Fullmer.
Amir Khan and Prince Naseem Hamed are two very high profile, proud Muslim fighters. Mustafa Hamsho's name can be added.
Ted Sares can be reached at tedsares@roadrunner.com
Check out more boxing news on video at the Boxing Channel
To comment on this story in the Fight Forum CLICK HERE
Miguel Madueno Scores His 12th Straight Knockout at Ontario, Calif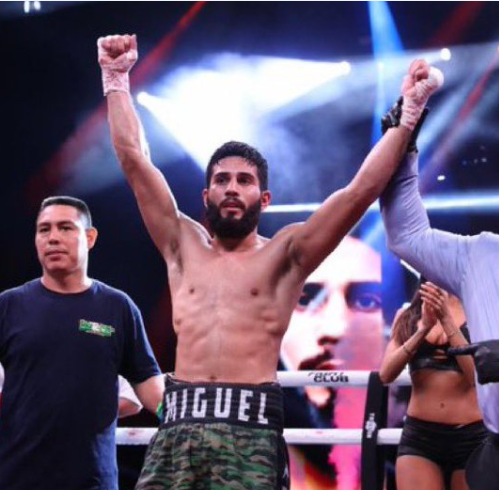 Ontario, CA — A return of fans to the Inland Empire saw Mexico's Miguel Madueno extend his consecutive knockout streak to a dozen at the Doubletree Hotel in Ontario, California on Friday.
It was the first fan-filled event for a Thompson Boxing card in the "I.E." in almost two years.
Lightweight contender Madueno (26-0, 24 KOs) of Culiacan powered his way to his 12th consecutive knockout and this came at the expense of fellow Mexican Jose Luis Rodriguez (25-15-1, 13 KOs) with a focused attack to the body.
Rodriguez was clever and tough and would not allow Madueno to overwhelm him during the first four rounds. But in the fifth he was not as lucky as a four-punch barrage to the body sent him to one knee. He beat the count but was overwhelmed by Madueno who forced referee Raul Caiz to end the fight at 2:46 of the fifth round.
"In reality I thought I would end it early," said Madueno about seeking an early knockout. "But he could take it."
In the co-main event Japan's Katsuma Akitsugi (7-0) outhustled Northern California's Eros Correa (10-1) after eight rounds in a bantamweight scrap to win by majority decision.
Akitsugi, a southpaw, and Correa both showed quick hands and good chins. But the Japanese fighter was always on attack and Correa resorted to holding from the second round on. He was never warned by the referee for excessive holding. It could have helped him get back in the fight.
Every time Akitsugi entered the danger zone Correa would grab ahold like an MMA fighter instead of fighting on the inside. While Correa held Akitsugi punched and that proved the difference as two judges scored it 78-74 for Akitsugi, while a third saw it 76-76.
"I could not box my style at all," said Akitsugi, 23. "I'm glad I brought the win home."
Other Bouts
San Bernardino's Esteban Munoz (5-1, 3 KOs) knocked out Tijuana's Manuel Martinez (6-5-4) with a body shot in the first round. He could not beat the count. Munoz had stunned Martinez earlier with a counter right. Then he found an opening to the body and delivered a right to the gut and down went Martinez. He was counted out at 1:50 of the first round.
Coachella's Lazaro Vargas (4-0) out-worked Ulises Rosales (0-5) over four rounds of a super bantamweight match to win by unanimous decision 40-36 on all three cards.
Check out more boxing news on video at the Boxing Channel
To comment on this story in the Fight Forum CLICK HERE
Oscar Rivas is Boxing's First Bridgerweight Champ; Tops Spunky Ryan Rozicki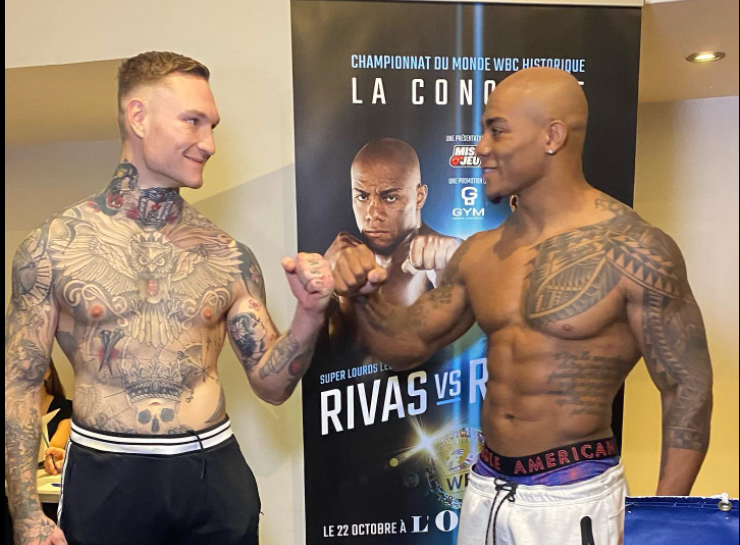 Back in January, the World Boxing Council announced that they were creating a new weight division. Tailored to boxers weighing between 200 and 224 pounds, they named it Bridgerweight. Tonight, at the Olympia Theatre in Montreal, the first WBC bridgerweight champion was crowned. Montreal-based Oscar Rivas, a 2008 Olympian representing his native Columbia, turned the trick with a unanimous 12-round decision over fellow Canadian Ryan Rozicki, advancing his record to 28-1 (19).
Rozicki, who is from Nova Scotia, out-performed expectations. Although he had knocked out all 13 of his opponents since turning pro in 2016, he hadn't defeated anyone of note and hadn't fought beyond six rounds. He drew the assignment when Rivas's original opponent Bryant Jennings was scratched because of his refusal to accept Canada's COVID protocols for unvaccinated foreigners. (A match between Rivas and Jennings would have been a rematch of their Jan. 18, 2019 contest in Verona, New York, a rather ho-hum match that had a dramatic ending when Rivas turned up the heat in the 12th round.)
Rivas, 34, was making his second start since suffering his lone defeat, a setback on points in a 12-round contest with Dillian Whyte in London. The heavier man by 19 pounds, he dominated the first two frames, rocking Rozicki in the opening stanza, but the Nova Scotian clawed his way back into the fight. Rivas had a strong penultimate round and although he had a point deducted for holding in the final stanza, it did not factor into the outcome. The judges had it 116-111 and 115-112.
What's next for Oscar Rivas? Logically a bout with Evgeny Romanov. A 36-year-old Russian with a 16-0 (11-0 mark), Romanov was ranked #2 behind Rivas in the WBC's latest set of bridgerweight rankings. Romanov's claim to fame is that he TKOed Deontay Wilder is in amateur days, but that was way back in 2008.
Another possibility, and one likely to attract more buzz, would be a bout with Alen Babic. A 30-year-old Brit by way of Croatia, the colorful, free-swinging Babic (8-0, 8 KOs) has a date later this month in London with Texas trial horse Eric Molina.
The best guess, however, is that Rivas will discard the belt and go back to competing as a heavyweight. The bridgerweight title, we suspect, like many of the lesser titles, will be perpetually vacant, which likely wouldn't trouble the WBC at all as they will gather up a sanctioning fee from a bridgerweight title fight whether there is an incumbent or not.
There were two 8-rounders offering chief support, but both were cancelled when the opponents failed to pass muster. Left in the lurch were "A side" Canadians Sebastien Bouchard, a welterweight, and Steve Rolls, a middleweight.
Check out more boxing news on video at the Boxing Channel
To comment on this story in the Fight Forum CLICK HERE