The ESPN special '42 to 1' Opened a Portal Back Into a Special Time For Me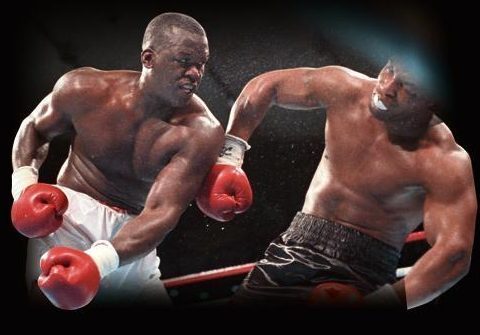 There are moments in life when you feel as if you somehow have been transported back to an event or an occasion that always will hold special meaning to the time traveler.
Watching ESPN's latest entry in its "30 for 30" documentary series, 42 to 1, was like that for me. Not that the 50-minute special, directed by Ben Houser and Jeremy Schaap, broke new ground or revealed much, if anything, I didn't already know. In fact, there was much behind-the-scenes stuff that might have been included and maybe even should have been, had the documentarians had more time to tell the familiar story of James "Buster" Douglas' epic upset of seemingly invincible heavyweight champion Mike Tyson on Feb. 11, 1990. But this particular stroll down memory lane is especially significant to me because, well, I was there. It wasn't the best prizefight or sporting event I ever covered live and in person, but it was the most compelling because it was arguably the biggest upset not only in boxing history, but maybe ever in the sports world. Being courtside for Villanova's shocker over Georgetown and Patrick Ewing in the 1985 NCAA championship basketball game pales by comparison.
"Forty-two to one stands right at the top," veteran Las Vegas oddsmaker Jimmy Vaccaro, who is an instrumental figure in the actual lead-up to Tyson-Douglas and throughout the documentary, said of the seemingly one-sided matchups he has made betting lines for during his long career and did not go as expected. "There's nothing even close to it. I'm tired of hearing about the `Miracle on Ice' (the 1980 U.S. Olympic hockey team, loaded with college kids, shocking the veteran Soviet Union squad in the semifinals en route to the gold medal in Lake Placid, N.Y.). Yes, we understand it was a big upset . But you know what? (The U.S.) was only a 3 to 1 underdog as opposed to a 42 to 1 favorite (Tyson). I think it's a little bit different.
"Forty-two to one? I'd lay 50 to one you'll never see it again."
Nobody with the possible exception of Douglas and a few fellow dreamers in his support crew thought that it might be possible for the often-unmotivated, frequently out-of-shape heavyweight from Columbus, Ohio, to cash the lottery ticket he had been given only because Tyson needed to fight somebody before he moved on to a scheduled June 1990 pairing with Evander Holyfield that both parties already had agreed to.
"Buster Douglas is a dog," Tyson's promoter, Don King, had dismissively said, not even attempting to throw a positive comment toward the designated victim who surely was about to become Iron Mike's 38th victim. "He's always been a quitter. Buster Douglas has a history of quitting. He quit with Tony Tucker in 1987. Really, that's why I chose him."
ESPN sports anchor Charley Steiner, on the evening the presumed massacre was to take place (which was actually the following day in Tokyo, 14 hours ahead of Eastern Standard Time), advised viewers that "Tonight's heavyweight championship fight might be best titled `30 seconds over Tokyo.'"
So why had I arrived in the Land of the Rising Sun eight full days before the first punch was thrown in earnest? Because my paper, the Philadelphia Daily News, was years away from having its travel budget slashed to the bone and because our then-executive sports editor, Mike Rathet, believed that there are certain athletes who were of such high interest that doing stories about them off TV simply would not suffice. Mike had dispatched another PDN writer, my colleague Elmer Smith, to Tokyo to report on Tyson's perfunctory second-round TKO of pudgy challenger Tony Tubbs on March 21, 1988. I figured my trip to Japan would end on a similarly quick and emphatic note, but then the beauty of sports is that nothing is ever absolutely certain.
The day before I headed to the airport, I attended, but did not cover, a fight card in Atlantic City where other reporters, including Robert Seltzer, my counterpart at the Philadelphia Inquirer, asked why the PDN was spending so much money to send me halfway around the world to witness a fight that seemed a foregone conclusion. "Because Tyson is Tyson," I replied, "and we want to be there if the mother of all upsets occurs."
In retrospect, maybe the mother of all upsets wasn't as long of a long shot as might have appeared at first glance. Tyson's personal life was unraveling; his marriage to actress Robin Givens was on the rocks, he had fired capable trainer Kevin Rooney nearly two years earlier and instead would have the Bobbsey twins, Aaron Snowell and Jay Bright, working his corner. He also, an inside source had advised several media members, was shuttling Japanese hookers in and out of his hotel suite at night as if they were a relay team passing the baton at an X-rated track meet. In a story authored by Eric Raskin for Playboy a couple of years ago, I was quoted as saying that, if sex really does sap a boxer's strength in the weeks before a bout, it was amazing that Tyson had enough energy to crawl into the ring before the opening bell.
Meanwhile, Douglas – whose potential never had been questioned, only his commitment to push himself in training – was in the best condition of his career, and his mind was right, too, having dedicated the victory he dared to believe he could get to his late mother, Lula Pearl Douglas, who had passed away less than three weeks earlier.
It was a jumble of circumstances that would have stamped Douglas as far less likely to have his butt kicked, had all information been available to the public. In addition to his litany of personal woes, an arrogant Tyson had made the same mistake that often brings down the luminously gifted. He figured he could just show up and win because, well, hadn't he always done that?
During a TV interview prior to squaring off against Douglas, a clearly bored Tyson dropped broad hints that he had not exactly punished himself into peak condition.
Q: Do you always go into the ring feeling like you're invincible?
A: Yeah.
Q: Let's get to Buster. What's you biggest concern going into this fight?
A: I got no concerns.
Q: What do you think Buster's …
A: I don't have any idea what he's thinking. I don't care. I'm a champion, you know what I mean?
So prohibitive a favorite was Tyson to continue his reign of terror that almost every sports book in Las Vegas didn't bother to post a line. That's where Vaccaro came in, unwittingly setting the stage and the now-legendary numbers for the title of the ESPN documentary.
"Well, almost none," Vaccaro said after an unseen voice mentions that every other sports book was taking a pass on Tyson-Douglas. "I did. Let me set the stage for you. In 1990, the biggest star in sports was Mike Tyson. `Iron Mike' was a knockout machine. In 37 fights he'd never been on the canvas. Never hurt, never challenged. Nobody thought James `Buster' Douglas would be any different. No one thought Buster could win.
"Back then I was at The Mirage and I decided we would take action on the fight. The favorite? Tyson, of course. The underdog, Douglas. The odds? Forty-two to one."
That where the steadily rising line stopped, in any case.
"Well, naturally everybody thought, including myself, that Tyson couldn't lose the fight," Vaccaro pointed out later in the program. "So the opening odds were set at 27 to 1. But I kept raising the odds to maybe get a bet  on James `Buster' Douglas. From 32 to 1 to 37 to 1, but we still couldn't get anyone to bet on the underdog until we got to the pinnacle – 42 to 1."
Even then, most of the bets that did come in were from well-heeled types who figured they'd put up a lot to get a little on what seemed to be a sure thing.
"We got a thousand, $1,500 here and there on Douglas," Vaccaro continued. "But, you know, we actually took about 10 bets on Mike Tyson at 42 to 1, meaning you'd have to bet $42,000 to win $1,000. One gentleman put up over $160,000 on one bet to win, like, $4,000. It was incredible."
Here's guessing that guy was looking for a tall building with a roof from which he could jump off after Douglas methodically beat up and finally stopped Tyson in the 10th round. The only time a window of opportunity opened for the soon-to-be former champ was when he connected with a ripping right uppercut that dropped Douglas for a nine count in round eight. Tyson supporters to this day insist that referee Octavio Meyran was slow with his count , but Douglas was looking straight at Meyran and knew he could get up before the toll reached 10. He then demonstrated he wasn't as hurt as he might have appeared by again seizing the upper hand with a dominant ninth round.
Alas, the mountaintop Douglas had just scaled proved to be a slippery slope. He had slain the most fearsome beast in the heavyweight jungle, all right, a feat that would bring him a $24 million payday for his first title defense, which came on Oct. 25, 1990, at The Mirage, against Holyfield. But the determined, in-shape Douglas had again slipped back into the shadows by then, and when he weighed in at a jiggly 246 pounds against Holyfield, 14½ more than he had for Tyson, there was a mad rush toward the betting windows by attendees hoping to get a hefty wager down on Holyfield before the odds shifted. The race belonged to the swift as Holyfield delivered a beautiful counter right to win by knockout in the third round.
At 58, Buster Douglas appears to be fat and happy these days. You can live a pretty good life if you are intent on making a $24 million windfall last, and the fighter previously known for wasted potential still is riding the high surf generated by one magical performance. He now serves as a boxing instructor to young kids in the same Columbus gym where his late father, a tough middleweight named Billy "Dynamite" Douglas, first dreamed of making his son into the world titlist he never got to be himself. It is a success story with only one undeniably positive chapter, but that sometimes is more than other people ever get a whiff at when the book of their lives is written.
I came back from Tokyo with the kind of memories that aren't easily erased. One of my sons received my souvenir program; he now lives out of state and I don't see him as often as I would like. I hope he held onto it because I suspect it might be worth something now.
Bernard Fernandez is the retired boxing writer for the Philadelphia Daily News. He is a five-term former president of the Boxing Writers Association of America, an inductee into the Pennsylvania, New Jersey and Atlantic City Boxing Halls of Fame and the recipient of the Nat Fleischer Award for Excellence in Boxing Journalism and the Barney Nagler Award for Long and Meritorious Service to Boxing.
Editor's Note: ESPN's "42 to 1" premiered Tuesday evening, Dec. 11, at 9:00 PM EST. The next showings are scheduled for 2:00 AM Wednesday morning, Dec. 12, on ESPN2, Sunday, Dec. 16, at 5 PM on ESPN2, and Sunday, Dec. 16, at 9:00 PM on ESPN. All times Eastern.
Check out more boxing news on video at The Boxing Channel
To comment on this article at The Fight Forum, CLICK HERE
The Official TSS Wilder-Ortiz 2 Prediction Page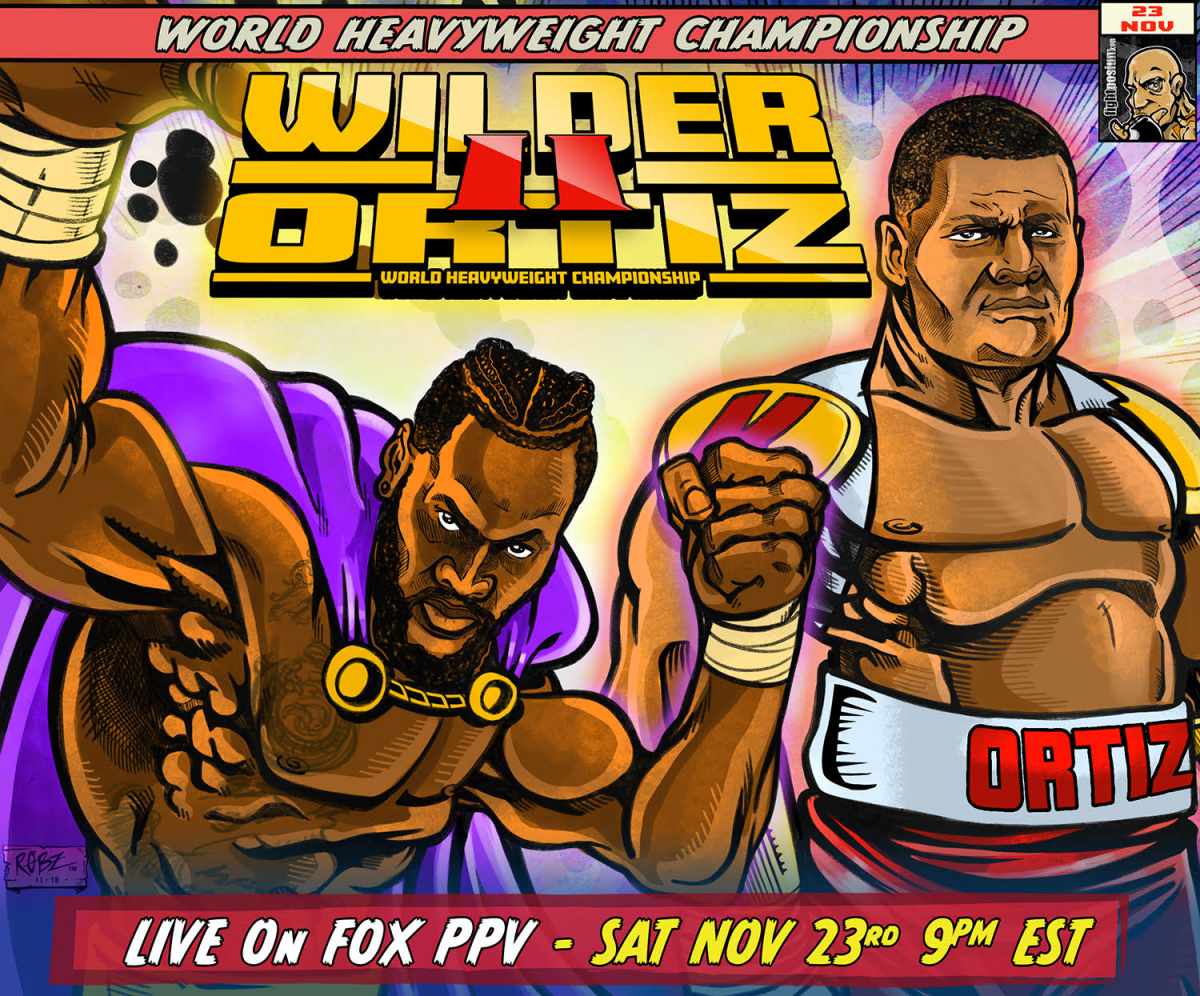 Deontay Wilder (41-0-1, 40 KOs) and Luis Ortiz (31-1, 26 KOs) renew acquaintances on Saturday at the MGM Grand in Las Vegas. They first met on March 3 of last year at Barclays Center in Brooklyn. Wilder won by TKO in the 10th round but was himself nearly stopped in the seventh when Ortiz hammered him from pillar to post.
In our survey of TSS writers prior to their first meeting, Wilder was the consensus choice with several of the respondents correctly picking the exact round in which Ortiz succumbed. But Ortiz had his supporters. Those that favored the big Cuban southpaw pointed out that he was more technically sound — unlike Wilder he didn't loop his punches – and that the Bronze Bomber hadn't yet been tested by a foe as formidable as Luis Ortiz.
Heading into their first confrontation, there was a sentiment that the fight wasn't on the level. Why would the Bronze Bomber take such a big risk when a unification fight with Anthony Joshua was percolating, a fight that figured to be the richest heavyweight fight in history provided that both remained undefeated? Those that bought into this theory expected the Wilder-Ortiz fight to end in an unsatisfactory manner, a routine occurrence when there is a gentlemen's agreement.
There are none of those insinuations attending the rematch, but yet Ortiz money is very scarce.
In our surveys, it's been our custom to list the panelists alphabetically. This time we are flipping the switch and listing them in reverse alphabetical order. The graphic is by Colorado comic book cover artist ROB AYALA whose specialty is combat sports. Check out more of his acclaimed drawings at his web site fight posium. Here's the link.
PREDICTIONS
Another anything can happen type matchup in a strong boxing season. There's an equal chance the bout is either as wild as Foreman-Lyle or as lackluster as Tyson-Bonecrusher. I'm thinking Wilder by overwhelming TKO, the question is whether that happens in the first or second half of the fight. – PHIL WOOLEVER
*
This time Ortiz may be too slow, too fat, and too old to do what he did last time, but his ring smarts and vicious uppercuts still make him very dangerous. Wilder, meanwhile, knows that he can do major damage to the Cuban, so mentally he has that edge going in. I see a short period of feeling out and then the boom and attendant KO will be lowered on Ortiz either via a straight right or a windmill shot. Kong will then amble off into the sunset with that juicy early retirement check and a reputation—like Chuvalo, Quarry, and Shavers– for having been one of the best fighters to have never won a world championship. – TED SARES
*
Luis Ortiz may have whipped himself into a career best shape for this fight and understandably so, given what is at stake. But at 40, one wonders if he has the reflexes and the legs to keep up with Deontay Wilder for 12 rounds, assuming the bout even goes that far. In his last bout against the lowly Christian Hammer, Ortiz looked every bit his age, sluggish and noticeably fatigued. Hammer employed his awkward, impish style to throw Ortiz off his game and, most tellingly, was able to land the straight right with surprising frequency. That is not a reassuring sign for Ortiz. Deontay Wilder is no one's idea of a textbook fighter, but that is also what makes him dangerous. As ungainly and coarse as his approach may be, Wilder is able to unload that right hand cannon without the slightest hitch. Ortiz may see it coming, but his legs won't likely let him move out of the way in time. As competitive as the first fight was, something tells me Ortiz already missed his window of opportunity. Wilder TKO 7 – SEAN NAM
*
Heavyweight punchers are fascinating in re-matches. Think of Joe Louis against Billy Conn, Arturo Godoy or Bob Pastor. Think of Rocky Marciano against Joe Walcott. In all of these examples, we have a puncher who was stretched in a first contest who won by savage knockout in the return. When punchers learn how boxers move the blinds are often closed on the boxer in the rematch. There are, of course, opposed examples – Jack Dempsey against Gene Tunney is perhaps the classic. Wilder-Ortiz is of course not a reasonable foil for these contests because Ortiz is no box-mover. But the result here should tell a tale. Will Wilder prove that his devastating rematch knockout of Bermane Stiverne was no isolated incident? Is he a fighter who can apply maximum gains from a first fight? There is intrigue here in decoding the possibilities for a rematch with Tyson Fury in February. Wilder will win; if he can turn the trick quickly we'll know a good deal more about him, I think. And that's my pick: I'll go for Deontay in the second round. – MATT McGRAIN
*
I like Wilder by stoppage somewhere around the sixth round. Ortiz is dangerous but only if he's able to turn back the clock a bit and keep Wilder guessing as much as he did during their first fight last year. The main problem Ortiz is facing in the return fight is that Wilder seems to have gotten better since then while Ortiz looks like he's regressed a bit. Those are some pretty big obstacles to overcome, especially when you consider that as solidly as Ortiz performed in their last meeting, he still got knocked down three times overall and stopped in the tenth round. – KELSEY McCARSON
*
One of the hallmarks of a great champion is that he is lethal in rematches. Joe Louis (Max Schmeling, Arturo Godoy, Buddy Baer, Billy Conn, Jersey Joe Walcott) is the classic example. Deontay Wilder has fought only one man twice, namely Bermane Stiverne who ended Wilder's 32-fight knockout streak in the first meeting and was annihilated in the sequel. No, I'm certainly not suggesting that Wilder is in the same league with Joe Louis. The Bronze Bomber is rough around the edges and has no inside game, but I want no part of the 40-something Cuban who is likely to fade again if this fight goes beyond the eighth round. Wilder by KO. – ARNE LANG
*
Wilder by knockout. Deontay is better than he was before and Ortiz is older. – THOMAS HAUSER
*
Deontay Wilder will improve upon his performance in the first fight against Luis Ortiz by scoring an early knockout. I don't suspect this rematch will be competitive. Ortiz gave Wilder his best the first time they fought and it wasn't even close enough to being good enough and he got knocked out. It happens again, sooner this time, within three rounds. – JEFFREY FREEMAN
*
The Year of the Upset is drawing near an end, and the temptation is to keep leaning toward another shocker, or at least a semi-shocker. But at some point, reason must prevail, right? Andy Ruiz Jr. spoiled all that anticipation for a matchup of undefeated champions Wilder and Joshua, but are we now to expect a less-anticipated showdown of Ruiz and Ortiz? Another spoiler of an outcome that throws Wilder-Fury II out the window? "King Kong" is still formidable, but he's got a lot of miles on his tires and has been knocked out by Wilder before. Make it twice. Wilder by KO around, say, the seventh round. – BERNARD FERNANDEZ
*
The first time Deontay Wilder faced Luis Ortiz in March 2018, Wilder prevailed via technical knockout in the 10th round. In the second go-around, Wilder will once again retain his World Boxing Council heavyweight title bcause of his superior punching power and relentless, piston-like jab. Ortiz is in tip-top shape, but will be stopped in the 11th round. – RICK ASSAD
*
Remember the first four rounds of Wilder-Ortiz I? They were tactical with very few punches being thrown by either man. Of course, the action did pick up but both men also now know they can be hurt by the other. As such, I see both being cautious throughout the contest and a very tactical listless twelve round fight with not much separating the two. With so many close, hard to score rounds, I ultimately see a split draw. – MATT ANDRZEJEWSKI
Check out more boxing news on video at The Boxing Channel 
To comment on this story in The Fight Forum CLICK HERE
Callum Smith, Britain's Best Boxer, Has a Date With a 'Gorilla' on Saturday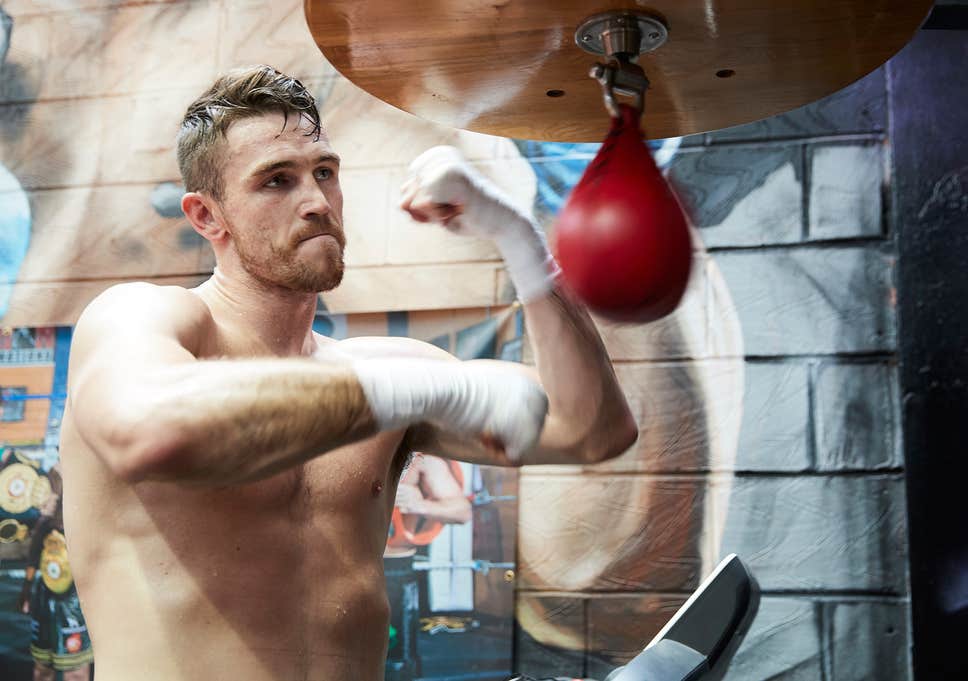 The best fighter in all of Great Britain will be in action on Saturday, defending his WBA 168-pound world title on his home turf in Liverpool. That's Callum Smith (26-0, 19 KOs) who isn't as well-known internationally as several other British boxers but has the highest placement of any U.K. boxer on a reputable pound-for-pound list.
There are five major pound-for-pound lists: The Ring, BWAA, Box Rec, ESPN, and TBRB (Transnational Boxing Rankings Board). Only Box Rec recognizes Smith on its PPV list. He clocks in at #7. But that's three places higher than the only other British boxer to make the cut, namely Scotland's Josh Taylor who moved into the #10 slot at TBRB following his defeat of Regis Prograis.
Callum Smith (pictured) certainly looked like a Top 10 PPV fighter in his last start when he blasted out Hassan N'Dam N'Jikam at Madison Square Garden. Smith had his French Cameroonian opponent on the deck in the first, second, and again in the third frame before the referee mercifully waived it off.
Granted, N'Dam N'Jikam wasn't the hardest guy to knock off his pins, but Smith's performance was yet spectacular. An orthodox fighter, Smith scored his first two knockdowns with left hooks and the third with an overhand right. These were short, compact punches delivered with tremendous torque.
Smith's showing became a mere footnote in the night's proceedings when the main event between Anthony Joshua and Andy Ruiz Jr produced an upset for the ages. So, what was a smashing performance was de-valued, lost in the shadow of a much bigger story.
Callum Smith, 29, is the youngest of four fighting brothers. The two oldest captured regional titles and Liam "Beefy" Smith did them one better, winning a world title in the 154-pound class in his twenty-second pro fight. But the feeling is that the accomplishments of his older brothers actually retarded the perception of Callum Smith as a potentially great champion. Paul, Stephen, and certainly Liam were very good, but not great, and Callum, by virtue of coming from the same biological stock, was thought to have an upside that would crest before reaching the level of greatness.
But make no mistake, Callum Smith is a horse of a different color. He stands six-foot-three (none of his brothers is taller than 5'11") and hits harder than any of his siblings, even when adjusted for the fact that he is the biggest. During one stretch as he was climbing the ladder, Smith stopped six straight opponents in the opening round. Thirteen of his 19 knockout victims were gone before the bell ending the third round. One who lasted longer was the highly capable George Groves who went down for the count in the seventh in the super middleweight final of the 2018 World Boxing Super Series tournament. Groves retired on that note.
The Gorilla
Smith's opponent on Saturday is John Ryder (28-4, 16 KOs). Nicknamed the Gorilla, Ryder, who is giving up six inches in height and six inches in reach, is a heavy underdog, but the view from here is that he is no pushover.
Akin to Callum Smith, Ryder looked sensational in his last start which was also his U.S. debut, but you will have to take our word for it as hardly anyone was paying attention.
Ryder fought Bilal Akkawy, an undefeated (20-0-1) fighter who was attracting a lot of buzz back home in Australia. After two rather tame rounds, Ryder took Akkawy apart, winning by TKO in the third.
Ryder was originally scheduled to fight David Lemieux in what would have been the co-feature underneath Canelo Alvarez vs. Daniel Jacobs. When Lemieux pulled out with a hand injury, Akkawy, who had been Canelo's chief sparring partner, filled the breach. That knocked Ryder out of the semi-main and the vast TV exposure that would have come with it. And for whatever reason, Ryder vs. Akkawy was buried deep on the card, going off early – way early before many of the ringside reporters had taken their seat.
The storyline of that fight was that Ryder exposed Akkawy, but that may not have been fair to Ryder. At age 30 (now 31) the Londoner appeared to be reaching his peak. He had won his previous three fights inside the distance against opponents who were collectively 69-2.
Callum Smith is really good. He would make a great opponent for Canelo and that fight may someday come to fruition. But first he must emerge from Saturday's bout unscathed and although the oddsmakers say that shouldn't be problem, don't be surprised if the Gorilla makes things interesting and that Smith vs. Ryder provides more action than the more ballyhooed heavyweight fight taking place later that day.
Check out more boxing news on video at The Boxing Channel 
To comment on this story in The Fight Forum CLICK HERE
GGG: The End Game for the Big Drama Show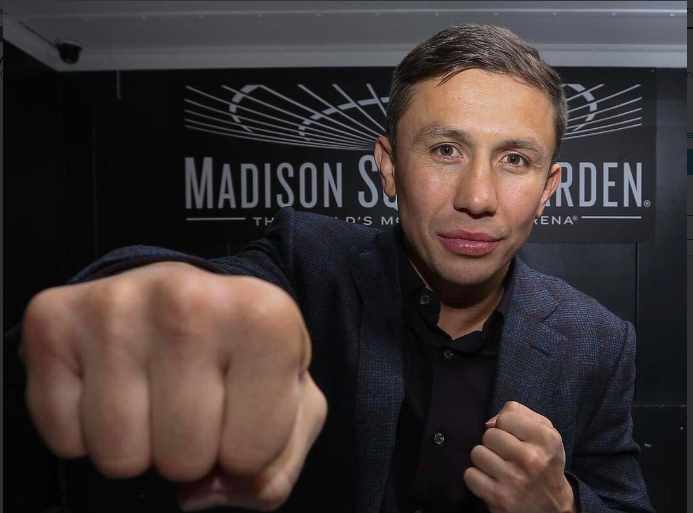 When serious fans discuss the Fighter of the Decade, Gennadiy Golovkin (more often referenced as "GGG" or "Triple G") must be part of the discussion as his record between 2010 and 2019 is 22-1-1, boosting his overall mark to 40-1-1.
Golovkin had a superb amateur career, reportedly finishing 345-5. He was a world amateur champion in 2003 and an Olympic silver medalist in 2004.
GGG first raised eyebrows in the pro ranks when he brutalized and stopped tough Kassim Ouma in 2011 in the first defense of his WBA middleweight title. He quickly projected like an Eastern Euro Pacquiao—humility, skills and mystique all wrapped up like a Kazakhstan dumpling. He was ready for a "Big Drama Show." Like the great Kostya Tszyu, GGG was (and still is) a charismatic figure, revered by his cult-like fans. And, oh yes, he was very, very marketable. He had become the "New Kid on the Block."
Watch out, middleweights. There's a new sheriff in town. As a matter of fact, junior middleweights and super-middleweights should also be on the alert. This heavy-hitting boss man is gunning for all of you – Jackie Kallen
This post from an April 4, 2013 article in Boxing.com nails it. "GGG is the quintessential boxer/puncher–the complete package; he is marvelous to watch because he combines so many attributes including great stamina, musculature with minimal body fat, well-honed technique, numbing KO power in either hand, superb footwork and balance, and the ability to use perfectly leveraged combinations that exact tremendous punishment. His propensity to close the ring and walk his opponent down means that he goes on the stalk as soon as the bell rings. A master at keeping the right separation, GGG quickly gets comfortable in an appropriate range, and begins using his crunching jackhammer jabs that set up his heavy artillery of hooks, straights, and the occasional jarring uppercut. The entire scenario is like the work of an artist, but instead of paint, this artist uses controlled violence."
The Streak
After the aforementioned slaughter of Ouma in 2011, Triple G continued working his way through a 23-fight KO streak utilizing numbing one-punch power. The streak has been well vetted but certain impressions remain indelible such as…
His KO of Nobuhiro Ishida with a vicious overhand right that was audible and left the Japanese fighter unconscious.
His KO of Matthew Macklin with a left hook body shot that left Macklin withering in verbal pain in the third round at Foxwoods.
Curtis Stevens' shocked expression after being knocked down by a left hook.
His exchange of rights with Daniel Geale and the Aussie "Real Deal" then going down like he had been sapped. Another short night of boxing for the Kazakhstan bomber who went on the stalk early, opened a cut with his punishing jabs, and finally caught his prey in what had become a familiar scenario.
His strategic use of a jackhammer jab to keep David Lemieux at bay before stopping him.
His victory over a game Kell Brook (36-0 going in) who moved up two weight classes to challenge for Golovkin's WBC and IBF middleweight titles and who gave GGG all he could handle until the Brit finally succumbed to an eye injury. It was the first time GGG had shown he could be tagged and even stunned.
The Jacobs Fight (March 2017)
The cracks that showed up for the first time in the Brook fight grew wider. Golovkin won, but he was not the normal GGG and settled for a close but unanimous decision as he retained his title for the 18th consecutive time. His then trainer Abel Sanchez said he was satisfied with how his charge performed. Judges Don Trella and Steve Weisfeld both scored the fight 115-112, and Max DeLuca had it 114-113 for Golovkin, who scored a knockdown of Danny in the fourth round. The 23-fight KO streak had ended.
(Golovkin weighed 159.6 lb. while Jacobs weighed 159.8 at the official weigh-in a day before their 2017 fight. However, by skipping a fight-day weight check and thereby declining to compete for the IBF title, Danny seemed to have gained significantly coming into the ring and looked to be around 180 pounds. Max Kellerman suggested he was utilizing a "strategic plan." Others thought he was also manipulating the system, thus causing the playing field to become uneven. Whatever the case, GGG had gone through a grueling 12 rounds of action with the operative word being "grueling.")
Canelo (September 2017)
Six months after outlasting Danny Jacobs, Golovkin, now 37-0, and Saul "Canelo" Alvarez (49-1-1) fought to a controversial draw at the T-Mobile Arena in Las Vegas in a long-awaited fight. Cenelo was coming off easy wins over Julio Cesar Chavez Jr, Liam Smith, and Amir Khan.
Canelo started fast and finished strong while GGG owned the middle rounds. Judge Adalaide Byrd turned in a mind-numbing scorecard, 118-110, in favor of Alvarez. Dave Moretti scored it 115-113 for Golovkin and Don Trella had it 114-114. The questionable scoring drew loud boos from the sellout crowd of 23,358. The general feeling was that GGG had won.
Again, the fight had been grueling.
Canelo (September 2018)
In the rematch, Alvarez claimed a majority decision in a thrilling fight in front of another sellout crowd of 21,965 at T-Mobile Arena to unify GGG's WBA and WBC titles with his own lineal championship. Judge Glenn Feldman scored it 114-114, while Steve Weisfeld and Dave Moretti had it 115-113 for Alvarez.
Again, this one could have gone either way or could easily have been another draw. To quote Brian Campbell, "A modern classic of a middleweight title bout revealed the same truism boxing fans knew all too well coming in: Death, taxes and Canelo Alvarez getting the benefit of the doubt."
Golovkin angrily and uncharacteristically left the ring after the decision and declined a post-fight interview. His face, however, was a pulpy mess and this may have been part of the reason.
The Rolls Fight (June 2019)
The Big Drama Show returned and Gennady delivered with a fourth-round knockout over previously undefeated (19-0) Canadian Steve Rolls at Madison Square Garden. This was Golovkin's first fight since his controversial loss to Canelo in 2018, a bout in which GGG surrendered all three of his middleweight belts.
"Everybody knows. Everybody knows," Golovkin said. "First guys, of course, I'm ready for Canelo in September. I'm ready to come out. Just ask him. … If you want a big drama show, please tell him."
The Derevyanchenko Fight (October 2019)
In still another grueling affair, Golovkin escaped with a unanimous decision — this time in a genuine "Big Drama Show" — by scores of 115-112, 115-112, and 114-113 to claim the IBF world middleweight title. "The Technician" gave GGG all that he could handle. Golovkin, now 37 years old, did not resemble the destroyer that he had once been.
The Future
Going the distance with Danny Jacobs in 2017 and the two fierce fights with Canelo followed by a battle with Sergey Derevyanchenko fought at a hellacious pace suggests GGG's end game may be at play and that his best days are behind him. Four of his last six fights have put heavy mileage on his tires.
He is still very good and still has a cult-like following, but with a three-year, six-fight deal with DAZN worth $100 million, he also has risky obligations to fulfill. He also has dumped Abel Sanchez and hired Johnathon Banks to tend his corner.
Sooner or later, the stars may become aligned for a third Canelo fight, but first it appears that GGG will defend his IBF belt against Poland's undefeated but feather-fisted Kamil Szeremeta (21-0). The fight, tentatively set for Feb. 29 in Chicago, could present Golovkin with easy work, something he badly needs.
Enjoy him while you can.
Ted Sares can be reached at tedsares@roadrunner.com
Check out more boxing news on video at The Boxing Channel 
To comment on this story in The Sweet Science CLICK HERE