Golden Boy Prospects and Contenders Stack DAZN Card in New York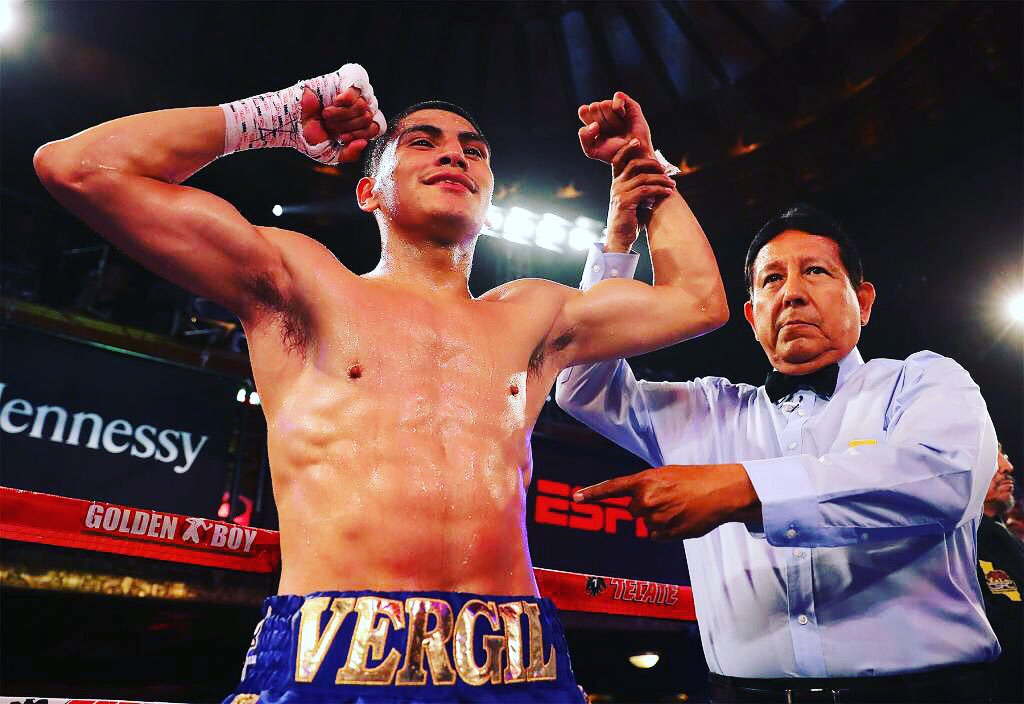 Saul "Canelo" Alvarez leads a wild and rowdy contingent of Golden Boy Promotions prospects and contenders into Madison Square Garden.
They're coming in with guns blazing.
Heavy-hitting youngsters Vergil Ortiz, Ryan Garcia and Lamont Roach are flanked by veteran contenders David Lemieux and Mauricio Herrera. There's also another world title fight on the card.
They represent the best of Oscar De La Hoya's shock troops.
Most fans in the east are familiar with the veterans; it's the youngsters that have not established a reputation that travels beyond the Mississippi River.
Super lightweight prospect Vergil Ortiz has never heard the final bell in any of his previous 11 professional bouts. But the Dallas, Texan faces Mexican fighter Omar Tienda who has only been stopped once in 24 pro bouts and that was almost six years ago.
Still, Ortiz is no ordinary puncher. He's one of those skinny Jack Palance-looking guys that if he touches someone it seems to send 10,000 volts through their body. Their eyes roll and the muscles become paralyzed.
He's a nice guy, but maybe that's how Mr. Death walks among us. It's simply his job. When not sending opponents into comas, Ortiz also plays guitar pretty well.
Don't expect a decision to be rendered in this fight either.
"My opponent (Omar Tienda) has a pretty good record. He's 19-5 with 12 knockouts. He has more knockouts than I have fights. He's only been stopped in one of the five losses. So, there's a pretty good chance he can go the distance, but I'm going to do what I do best," said Ortiz the knockout machine.
Next prospect, Ryan "The Flash" Garcia, hails out of Southern California and has that look of a star and the tools to match. Extremely quick and extremely confident, the super featherweight recently became part of Team Canelo and is training under the tutelage of Eddy Reynoso.
Defense has been the focus for Garcia and who better than Reynoso who prepared Canelo for his two clashes with knockout artist Gennady "Triple G" Golovkin?
The California speedster Garcia is matched against Dominican power hitter Braulio Rodriguez in a super featherweight contest set for 10 rounds.
"I went from fighting guys on a certain level you have to fight, where I was knocking everybody out. Then when you make another step in your career you need experience, you need somebody that's been there before and will teach you the ropes on how to handle things and what better trainer then Eddy Reynoso," said Garcia about his new trainer Reynoso. "He (Canelo) taught me a lot stuff about the business of the game and also stuff in the ring during sparring. I'm a very visual learner so it's what I see when he was sparring and training hard. That's my thing, that's my world."
The Contenders
Philly fighter Lamont Roach (17-0-1) returns to the east for this fight and defends a regional WBO title against Puerto Rico's Alberto Mercado (15-1) in another super featherweight clash.
"Right now I have the WBO international championship. After I defend it hopefully they bump me up into one of those mandatory spots that put me in line for a title eliminator title or a title," said Roach, 23, who fights out of Washington D.C. " My ideal fight, any champion."
Another who wants a title shot is veteran Mauricio "El Maestro" Herrera who was denied the title in a horrible decision four years ago when he fought then super lightweight champion Danny Garcia. Herrera returns to the ring after a year of rest and fights former super welterweight world champion Sadam Ali.
"My last fight was with Jesus Soto Karass. I went the distance. With him, I felt pretty good. Then I took some time off, I had to recover a little bit. I needed to feel the hunger with boxing, and I got it back," said Herrera who fights out of Riverside, Calif. "I got a chance with Sadam, so I'm here to prove something. I know I'm not old. I still feel good, I feel young. We'll see Saturday night how I look. Sadam Ali is a good fighter. He's slick. He's a boxer. He has all the basic skills. I'm going in there with a tough guy."
Ali, 30, is fighting at home against Herrera and returns to the ring for the first time since losing to Tijuana's Jaime Munguia last May.
"I feel like every fight moving forward is going to be a must-win. If you want to be great in your career, you're supposed to think like that. In life you know there's ups and downs, you just have to keep fighting," said Ali.
Canada's David Lemieux lost his middleweight world title in Madison Square Garden to Gennady Golovkin in a brave effort three years ago. He wants another crack and Tureano Johnson stands in his way.
"I have to look spectacular this weekend no matter who's in front of me, and Johnson is front of me," said former IBF middleweight titlist Lemieux. "I'm going to take good care of him."
World Title Fight
One other world champion, Tevin Farmer, performs on the card. He's not part of Golden Boy's troops but fights under the DiBella Entertainment umbrella. The IBF super featherweight titlist Farmer defends against Costa Rica's talented Francisco Fonseca.
Farmer is very confident of a quick victory.
"My goal is to stop him inside four rounds – it has nothing to do with Gervonta Davis (who beat him in eight rounds). This is about me. James Tennyson said he could KO me and I knocked him out in five, so now I want to do it in four," said Farmer who fights out of Philadelphia but likes to hit and run. "I am only competing against myself. The goal is to win the fight, but if I stop him in four rounds, then I've improved on the last fight. If I stop him quicker than Davis, oh well, I've knocked him out before him, it doesn't matter."
Fonseca, 24, lost to Gervonta Davis on August 2017 by stoppage due to several rabbit punches to the back of the neck. The referee did not call the fouls and Fonseca was declared the loser. The Costa Rican fighter's team appealed the referee's ruling but it was denied by the Nevada State Athletic Commission. Since that loss Fonseca has run up three consecutive wins by knockout.
Another on the Canelo-Fielding fight card is Ireland's Katie Taylor defending her lightweight world titles against Finland's Eva Wahlstrom. For more on this fight go to www.ThePrizefighters.com
Check out more boxing news on video at The Boxing Channel
To comment on this article in the Fight Forum Click Here
EDITOR'S UPDATE: On Friday morning, it was announced that David Lemieux and Vergil Ortiz were off the card. Lemieux suffered severe hydration as he attempted to scale down to 160 pounds and was hospitalized. Ortiz was axed because of a NYSAC rule that bars fighters that have had laser eye surgery.
Five Fights That Produced Controversial Decisions to be Replayed on ESPN2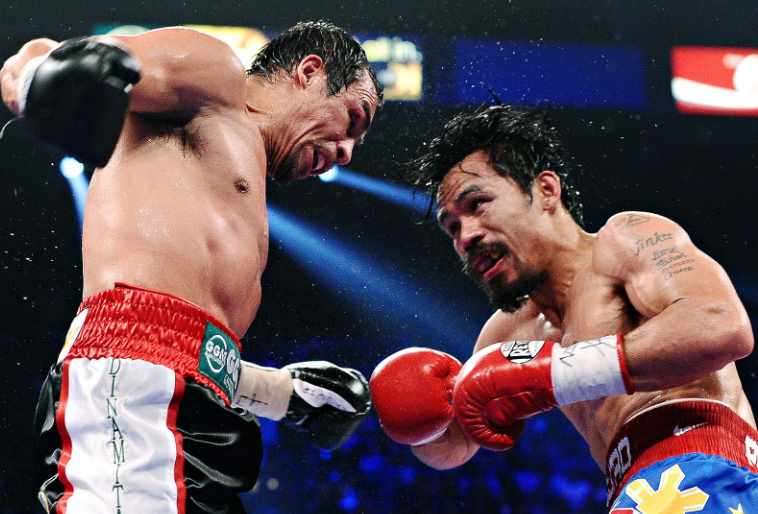 PRESS RELEASE – Wednesday, May 20, will be a night of boxing on ESPN2 when the network airs four consecutive hours of the sweet science featuring some of the sport's most debated decisions. The action will begin at 7 p.m. ET with Oscar De La Hoya vs. Felix Trinidad.
In addition to the linear telecast, all these fights are also available on ESPN+. Exclusively available to subscribers, ESPN+ features a library of hundreds of the most Important fights in boxing history.
THE LINEUP
Oscar De La Hoya vs. Felix Trinidad (7 P.M. ET)
The long-reigning welterweight champions and pound-for-pound greats met in the "Fight of the Millennium" on Sept. 18, 1999, with De La Hoya defending his WBC title and Trinidad defending his IBF title. De La Hoya landed 97 more punches (263 to 166) but after 12 tensely fought rounds, Trinidad was controversially scored the winner by majority decision. The bout set a pay-per-view record for a non-heavyweight fight with 1.4 million buys, a mark that stood until it was broken by De La Hoya-Mayweather on May 5, 2007.
Oscar De La Hoya vs. Shane Mosley II (8 P.M. ET)
In a rematch of their first bout in June 2000 — won by Mosley via split decision – De La Hoya put his WBA and WBC super welterweight world titles on the line against the former welterweight and lightweight world champion. According to CompuBox, De La Hoya landed more punches (221-127) and was the more accurate puncher (36%-26%). Despite De La Hoya winning in the eyes of most boxing experts, Mosley was declared the winner in a controversial unanimous decision.
Manny Pacquiao vs. Juan Manuel Marquez III (9 P.M. ET)
The only fight of the four between them not to feature a knockdown, Pacquiao and Marquez once again went to a decision in this WBO welterweight title fight. Pacquiao was making the third defense of the title and landed more punches (176-138), but Marquez was the more accurate of the two fighters, according to CompuBox (32%-30%). The bout generated 1.4 million pay-per-view buys in the United States which was Pacquiao's best pay-per-view total until his 2015 mega-fight with Floyd Mayweather.
Marvin Hagler vs. Sugar Ray Leonard (10 P.M. ET)
Longtime middleweight champion Hagler had made 12 successful defenses of his world title before facing the returning Sugar Ray Leonard who had not fought in almost three years. Leonard, who was attempting to win a world title in a third weight class, built an early lead but Hagler came on strong late. Ring Magazine named Hagler-Leonard the 1987 Fight of the Year, and the split decision victory for Leonard cemented a comeback for the ages.
Floyd Mayweather Jr. vs. Jose Luis Castillo I (11 P.M. ET)
After eight successful defenses of his super featherweight title, Mayweather moved up in weight for his lightweight debut against Castillo, who was making the fourth defense of his WBC title. According to CompuBox, Castillo outlanded Mayweather 203-157. HBO's ringside judge, the late Harold Lederman, scored the fight for Castillo by four points. The official judges, however, scored it unanimously in Mayweather's favor.
ESPN+ features a library of hundreds of the most important fights in boxing history, as well as recent Top Rank on ESPN cards for replay, all streaming on demand. The historic fights on ESPN+ include legendary heavyweight showdowns like Ali vs. Frazier III, Ali vs. George Foreman, Joe Louis vs. Billy Conn, Tyson vs. Holmes, Jack Dempsey vs. Gene Tunney, Max Baer vs. James J. Braddock, Ali vs. Sonny Liston I & II, Wilder vs. Fury II and many more.
Check out more boxing news on video at The Boxing Channel 
To comment on this story in The Fight Forum CLICK HERE
Remembering Dr. Ferdie Pacheco as he Remembered Muhammad Ali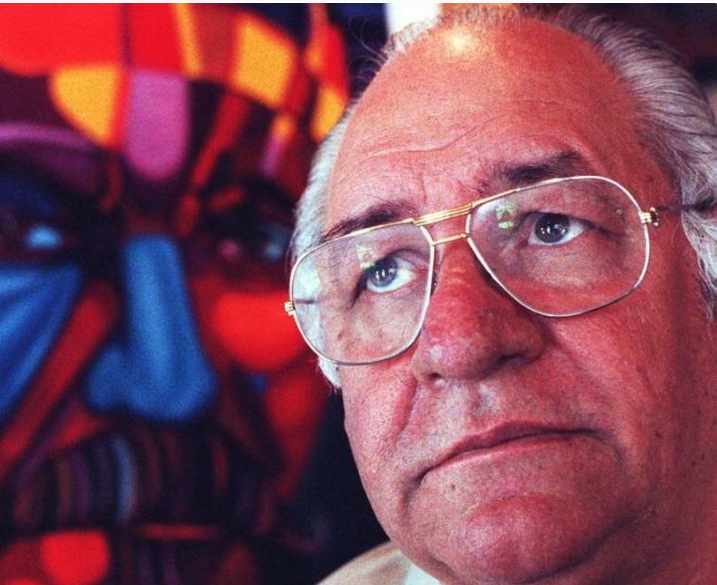 A TSS CLASSIC FROM THE THOMAS HAUSER ARCHIVE (2017) — Ferdie Pacheco, who died on November 16, was a doctor, author, artist, and television commentator. He's best known for having been Muhammad Ali's personal physician and cornerman from 1960 through 1977.
My own relationship with Pacheco began in 1989. I was researching the book that would eventually become Muhammad Ali: His Life and Times and had compiled a list of two hundred people I wanted to interview. Ferdie was among them.
During the course of my research, I encountered many people who had written or were contemplating writing about Ali. Some of them refused to talk with me about Ali, saying that we were competitors and they didn't want me to steal their thunder. Others were extraordinarily generous with their time and knowledge. Ferdie fit into the latter category. Even though he'd written one Ali book and was planning another, he sat with me for hours.
In the years that followed, Ferdie remained one of my "go-to" guys when I wrote about Ali. Rather than interpret what he told me, I'll let him speak for himself.
ON CASSIUS CLAY'S FORMATIVE YEARS IN MIAMI:
"Cassius was something in those days. He began training in Miami with Angelo Dundee. And Angelo put him in a den of iniquity called the Mary Elizabeth Hotel because Angelo is one of the most innocent men in the world and it was a cheap hotel. This place was full of pimps, thieves, and drug dealers. And here's Cassius, who comes from a good home, and all of a sudden he's involved with this circus of street people. At first, the hustlers thought he was just another guy to take to the cleaners, another guy to steal from, another guy to sell dope to, another guy to fix up with a girl. He had this incredible innocence about him, and usually that kind of person gets eaten alive in the ghetto. But then the hustlers all fell in love with him, like everybody does, and they started to feel protective of him. If someone tried to sell him a girl, the others would say, 'Leave him alone; he's not into that.' If a guy came around, saying, 'Have a drink,' it was, 'Shut up; he's in training.' But that's the story of Ali's life. He's always been like a little kid, climbing out onto tree limbs, sawing them off behind him, and coming out okay."
"When Ali was young, he was the best physical specimen I've ever seen. If God sat down to create the perfect body for a fighter, anatomically and physiologically, he'd have created Ali. Every test I did on him was a fine line of perfect. His blood pressure and pulse were like a snake. His speed and reflexes were unbelievable. His face was rounded, with no sharp edges to cut. And on top of that, his skin was tough. He could summon up enormous spurts of energy and recover quickly without the exhaustion that most fighters feel afterward. His peripheral vision was incredible. Up until the layoff, it was like a fraudulent representation to say I was Ali's doctor. I was his doctor in case something happened, but it never did. Being Ali's doctor meant I showed up at the gym once in a while and came to the fights."
ON CLAY-LISTON I:
"Things in the dressing room got pretty bizarre. The only people who were supposed to be there were Cassius, Angelo, Rahaman (Clay's brother), Bundini, myself, and Luis Sarria (Clay's masseur). A few more came and went, but basically we were alone. Then Cassius assigned Rahaman to watch his water bottle. The bottle was taped shut. No one went near it. But every time Rahaman took his eyes off it, Cassius would take the tape off, empty it out, refill it, and tape it closed again. He did that three or four times because he was worried that someone would try to drug him. And he was particularly suspicious of Angelo, because Angelo was Italian. In his mind, he'd begun to associate Angelo with the gangsters around Liston. Remember, the Muslims—and it was clear by then that Cassius was a Muslim—had never been in boxing before. All they had to go by were Hollywood movies where the mob fixed everything, and Liston was with the mob. It was crazy, but that's what Cassius thought."
"All those bullshit boxing stories people write; pretty soon, everyone starts believing them. Angelo cut the gloves in the first Cooper fight. Bullshit. Sit him down, and he'll tell you that the gloves were already split. He just helped them along a little. Angelo loosened the ropes for the Foreman fight in Zaire. Bullshit again. Angelo and Bobby Goodman tried to tighten the ropes right until the opening bell. Most of it's nonsense. But one thing that truly belongs in the legend category was what went on between the fourth and fifth rounds of the Liston fight. Cassius couldn't see. He was ready to quit. And it had nothing to do with lack of courage, because this was a kid who'd been fighting since he was twelve years old. He'd been poked and banged and busted and clobbered many times. He'd made his accommodation by then with the normal pains and blows of boxing. But this was something beyond what he'd experienced. I could see it. His eyes were aflame. And Angelo was spectacular. What he did between rounds was the best example I can give you of a cornerman seizing a situation and making it right. That moment belonged to Angelo. If Cassius had been with a corner of amateurs, there would never have been any Muhammad Ali."
"Just going out for the fifth round was an incredibly brave thing to do. Liston was considered as destructive as Mike Tyson before Tyson got beat. And Cassius was absolutely brilliant then. The things he did, staying out of range, reaching out with his left hand, touching Liston when he got close to break Sonny's concentration. It was an amazing, astonishing, breathtaking performance. Here's a fighter who's supposed to be Godzilla, who will reign for maybe a thousand years. Nobody can stand up to him in the ring. Cassius can't see, and still Liston couldn't do anything with him. What can I say? Beethoven wrote some of his greatest symphonies when he was deaf. Why couldn't Cassius Clay fight when he was blind?"
ON ALI'S RETURN FROM EXILE:
"In the early days, he fought as though he had a glass jaw and was afraid to get hit. He had the hyper reflexes of a frightened man. He was so fast that you had the feeling, 'This guy is scared to death; he can't be that fast normally.' Well, he wasn't scared. He was fast beyond belief and smart. Then he went into exile. And when he came back, he couldn't move like lightning anymore. Everyone wondered, 'What happens now when he gets hit?' That's when we learned something else about him. That sissy-looking, soft-looking, beautiful-looking child-man was one of the toughest guys who ever lived."
"The legs are the first thing to go in a fighter. And when Ali went into exile, he lost his legs. Before that, he'd been so fast, you couldn't catch him so he'd never taken punches. He'd been knocked down by Henry Cooper and Sonny Banks. But the truth is, he rarely got hit and he'd never taken a beating. Then, after the layoff, his legs weren't like they'd been before. And when he lost his legs, he lost his first line of defense. That was when he discovered something which was both very good and very bad. Very bad in that it led to the physical damage he suffered later in his career; very good in that it eventually got him back the championship. He discovered he could take a punch. Before the layoff, he wouldn't let anyone touch him in the gym. Workouts consisted of Ali running and saying, 'This guy can't hit me.' But afterward, when he couldn't run that way anymore, he found he could dog it. He could run for a round and rest for a round, and let himself get punched against the ropes while he thought he was toughening his body. I can't tell you how many times I told him and anyone else who'd listen, 'Hey, when you let guys pound on your kidneys, it's not doing the kidneys any good.' The kidneys aren't the best fighter in the world. They're just kidneys. After a while, they'll fall apart.' And of course, taking shots to the head didn't do much good either."
ON ALI-FRAZIER I:
"In round fifteen, Ali was tired. He was hurt, just trying to get through the last round. And Frazier hit him flush on the jaw with the hardest left hook he'd ever thrown. Ali went down, and it looked like he was out cold. I didn't think he could possibly get up. And not only did he get up; he was up almost as fast as he went down. It was incredible. Not only could he take a punch; that night, he was the most courageous fighter I've ever seen. He was going to get up if he was dead. If Frazier had killed him, he'd have gotten up."
"Some fighters can't handle defeat. They fly so high when they're on top that a loss brings them irrevocably crashing down. What was interesting to me after the loss to Frazier was we'd seen this undefeatable guy. Now how was he going to handle defeat? Was he going to be a cry-baby? Was he going to be crushed? Well, what we found out was, this guy takes defeat like he takes victory. All he said was, 'I'll beat him next time.'"
ON ALI-NORTON I:
"The jaw was broken in the second round. Ali could move the bone with his tongue and I felt the separation with my fingertips at the end of the second round. That's when winning took priority over proper medical care. It's sick. All of us – and I have to include myself in this – were consumed by the idea of winning that fight. When the bell rang, I was no longer a doctor; I was a second. My whole thing was to keep Ali fighting. As a doctor, I should have said, 'Stop the fight.' There's no disgrace in having a broken jaw. It goes down as a TKO; in six months you have a rematch and life goes on. But at that point in Ali's career, he couldn't afford a loss. And with Ali, there was always politics involved. We didn't fight in a sterile atmosphere. We didn't fight in a room closed off from the rest of the world. Everything had to do with Muslims and Vietnam and civil rights. If Ali lost, it was more than a fight. So you didn't just have a white guy say, 'Stop the fight.' Especially if Ali didn't want it stopped. And when we told Ali his jaw was probably broken, he said, 'I don't want it stopped.' He's an incredibly gritty son-of-a-bitch. The pain must have been awful. He couldn't fight his fight because he had to protect his jaw. And still, he fought the whole twelve rounds. God Almighty, was that guy tough. Sometimes people didn't realize it because of his soft generous ways. But underneath all that beauty, there was an ugly Teamsters Union trucker at work."
ON ZAIRE:
"What Ali did in the ring that night was truly inspired. The layoff had taken away his first set of gifts, so in Zaire he developed another. The man had the greatest chin in the history of the heavyweight division. He could think creatively and clearly with bombs flying around him. And he showed it all when it mattered most that night with the most amazing performance I've ever seen. Somehow, early in the fight, Ali figured out that the way to beat George Foreman was to let Foreman hit him. Now that's some game plan. Watching that fight, seeing Ali take punch after punch and knowing that, with his strength and courage, he wouldn't go down, a person could have been forgiven for thinking that sooner or later the referee would be forced to step in to save his life. But Ali took everything Foreman could offer. And at that most crucial moment in his career, instead of losing, which was what most people thought would happen, he knocked George out and embarked on another long wondrous championship ride."
ON ALI-FRAZIER III:
"You have to understand the premise behind that fight. The first fight was life and death, and Frazier won. Second fight; Ali figures him out, no problem, relatively easy victory for Ali. Then Ali beats Foreman and Frazier's sun sets. And I don't care what anyone says now; all of us thought that Joe Frazier was shot. We all thought that this was going to be an easy fight. Ali comes out, dances around, and knocks him out in eight or nine rounds. That's what we figured. And you know what happened in that fight. Ali took a beating like you'd never believe anyone could take. When he said afterward that it was the closest thing he'd ever known to death – let me tell you something; if dying is that hard, I'd hate to see it coming. But Frazier took the same beating. And in the fourteenth round, Ali just about took his head off. I was cringing. The heat was awesome. Both men were dehydrated. The place was like a time-bomb. I thought we were close to a fatality. It was a terrible moment. And then Joe Frazier's corner stopped it."
"It all progresses in a fighter's life. The legs go; his reflexes aren't what they used to be; he cuts more easily; the injuries accelerate. Ali at age twenty-three could have absorbed Frazier in Manila and shaken it off. But age thirty-three was another story. If I had to pick a spot to tell him, 'You've got all your marbles but don't go on anymore,' no question, it would have been after Manila. That's when it really started to fall apart. He began to take beatings, not just in fights but in the gym. Even sparring, he'd do the rope-a-dope because he couldn't avoid punches the way he did when he was young. And I don't care how good you are at rope-a-doping. If you block ninety-five punches out of a hundred, the other five are getting in."
ON ALI-SHAVERS:
"The Shavers fight was the final straw for me. After that fight, Dr. Nardiello, who was with the New York State Athletic Commission, gave me a laboratory report that showed Ali's kidneys were falling apart. Instead of filtering out blood and turning it to urine, pure blood was going through. That was bad news for the kidneys. And since everything in the body is interconnected, we were talking about the disintegration of Ali's health. So I went back to my office in Miami, sat down, and wrote Ali a letter saying his kidneys were falling apart. I attached a copy of Nardiello's report and mailed three extra copies, return receipt requested. One to Herbert, one to Angelo, and one to Veronica, who at the time was Ali's wife. I didn't get an answer from any of them; not one response. That's when I decided enough was enough. Whether or not they wanted me, I didn't want to be part of what was going on anymore. By then, they were talking about 'only easy fights.' But there was no such thing as an easy fight anymore."
ON ALI-HOLMES
"Just because a man can pass a physical examination doesn't mean he should be fighting in a prize ring. That shouldn't be a hard concept to grasp. Most trainers can tell you better than any neurologist in the world when a fighter is shot. You watch your fighter's career from the time he's a young man. You watch him develop into a champion. You watch him get great. Then all of a sudden, he doesn't have it anymore. Give him a neurological examination at that point and you'll find nothing wrong. Sugar Ray Robinson could pass every exam in the world at age forty-four, but he wasn't Sugar Ray Robinson anymore. It doesn't change, whether it's Ali, Joe Louis. Anybody in the gym can see it before the doctors can because the doctors, good doctors, are judging these fighters by the standards of ordinary people and the demands of ordinary jobs. And you can't do that because these are professional fighters.
AND IN SUMMARY:
"I look back at it all and consider myself a very lucky guy."
Thomas Hauser's email address is thomashauserwriter@gmail.com. His most recent book – A Dangerous Journey: Another Year Inside Boxing – was published by the University of Arkansas Press. In 2004, the Boxing Writers Association of America honored Hauser with the Nat Fleischer Award for career excellence in boxing journalism. He will be inducted into the International Boxing Hall of Fame with the Class of 2020.
Editor's Note: This article first appeared on these pages on Nov. 16, 2017, under the title "Dr. Ferdie Pacheco: December 8, 1927 – November 16, 2017." Reprinted with permission.
Check out more boxing news on video at The Boxing Channel 
To comment on this story in The Fight Forum CLICK HERE
What's Your Favorite Boxing Match? Rigby-Ayers Tops My List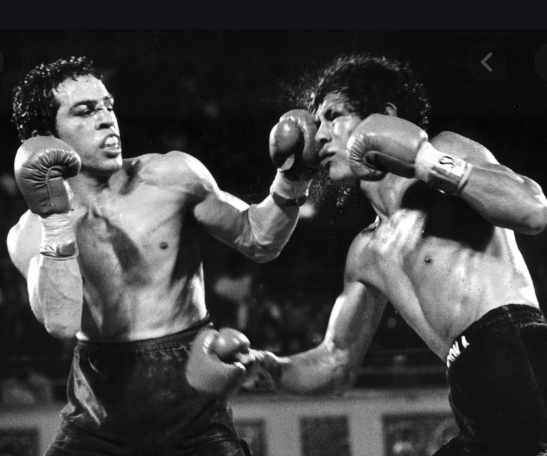 Many count Castillo vs. Corrales (2005) as their favorite. Fans of an earlier generation were partial to Graziano vs. Zale (1947), Pep vs. Saddler (1949), DeMarco vs. Basilio (1955), and Durelle vs. Moore (1958). The "War" between Hagler and Hearns (1985) rightfully tops many lists. When Hearns came out fast at the opening bell only to be met by a bald-headed monster, it was spine-tingling electricity at its best; it was anticipative mayhem.
Jorge Castro–John David Jackson (1994) was high drama. Morales-Barrera (2000) and Vazquez-Marquez (2008) showcased Mexican fighters who combined technique with a brawler's proclivity and that amounted to an atomic cocktail. Mancini vs. Frias was short but furious.
Bobby Chacon's 1982 battle with Rafael Limon, the most compelling and memorable of their four fights, was a classic and Chacon's battle the next year with Cornelius Boza-Edwards was legendary. The first Gatti vs. Ward is at the top end of many memory banks and, of course, Ali's bouts with Frazier and with Foreman are up there along with the frenzy of Pryor vs. Arguello (1982).
Lyle and Foreman exchanged bombs and knockdowns in 1976. Then in 1992, Michael Moorer and Bert Cooper did the same. These two brawls could easily be someone's favorite. However, the Nardico-Norkus eight knockdown Pier Six in 1954 was quintessentially old school and it is on many leaderboards. Under the radar Muriqi vs. Ahmad (2002) was new school but could be any school for its back-and-forth mayhem.
The Tommy Morrison vs. Joe Hipp slugfest in Reno in 1992 was "bone crunching." Morrison's jaw and both of his hands were broken, but Joe lost via a 9th round comeback stoppage by the "Duke." Not to be outdone, Hipp suffered a complete shattering of his cheekbones.
Bruce Curry and Monroe Brooks put on their own version of "To Live and Die in LA" in 1978 at the Olympic Auditorium. For those who witnessed the fifth round of the incredible Somsak Sithchatchawal vs. Mahyar "Little Tyson" Monshipour savagery in 2006, Brooks-Curry was like that for almost nine full rounds. Neither man died in L.A.; they both lived on, but in different ways.
Thus, it seems that every serious fan, aficionado, or writer has that One favorite fight, the one that is indelible and is locked into the memory like concrete. Here are several on my list:
Lee Roy "Solid Gold" Murphy vs. Chisanda Mutti (1985)
One of the most unique happenings in a boxing match occurred in Monte Carlo in 1985 when Chicagoan Lee Roy "Solid Gold" Murphy (the IBF cruiserweight titleholder) and rugged Zambian Chisanda Mutti simultaneously scored brutal knockdowns in the waning moments of the fight. A badly hurt Murphy barely beat referee Larry Hazzard's count while Mutti remained down and was counted out. The crowd was up and roaring in disbelief. Mutti had to be helped from the ring.
This was no Rocky movie; this was real and unforgettable and it came after an 11th round that had to be seen to be believed. In fact, the entire fight involved seesaw exchanges that were of the career-ending type.
Carl Thompson vs. Ezra Sellers (2001)
"Thompson looks to be hurt by every shot he takes, but then again so does Sellers."—Spencer Oliver
High up on my list is Carl "The Cat" Thompson vs. the late Ezra Sellers, a classic match in 2001 (with the somewhat recalcitrant but prime Steve Smoger refereeing) that involved at least six official knockdowns; Thompson hit the deck four times, Sellers twice. This was no boxing match but rather a no-holds-barred fight between two very exciting punchers.
Going into the third round, both men had been staggered and dropped hard; both were on the verge of being put to sleep. Finally, Sellers became the Sandman when he KOd The Cat in the fourth round with a crunching counter right hook, ending a winning streak that started after Thompson lost to Johnny Nelson in 1999. Thompson had been knocked down many times, but he always got up. This time he was separated from his senses and sent to Feline Dreamland. He finally rose from the canvas to the applause of the stunned and worried crowd.
My Number One: Michael Ayers vs. Wayne Rigby (July 1, 2000)
"Squinting at features even more battered than his own, Michael Ayers could tell from the look of resignation in Wayne Rigby's eyes that his opponent was finished. The fire which raged fiercely for 10 rounds had been doused. Then, with Rigby helpless and American referee Arthur Mercante Jr. hesitating, came a moment unique in boxing." — Mike Lewis, The Telegraph
…a credit to the sport f—– nearly brought me to tears i would've emptied my pockets and thrown it in the ring. — poster named Tony Stephenson
It was a shining example of the old fight game at its noble best. — Mike Casey
This bout, which occurred at the Bowler's Arena in Manchester, UK, had all the ingredients for a classic Brit dust-up and it didn't disappoint. And like Mutti-Murphy, it also involved unique happenings. The participants were late-substitute Wayne Rigby (17-5) from Manchester and Michael "Shaka" Ayers (28-3-1) from London. "Shaka" was the IBO lightweight titleholder.
On paper, Ayers, a stylist, looked to be the strong favorite. In fact, the accomplished Ayers had stopped the highly rated Colin Dunn in 1996. But the Mancunian challenger Rigby came to fight.
In the early going Rigby started fast showing surprisingly fast hand speed and a punishing right uppercut that he landed repeatedly. Things heated up in the third round as both men exchanged bruising shots, but Rigby was dictating the action to this point.
In the 4th round, Ayers fought back using a variety of punches behind a good jab and tightened things up. Then, in the 6th, "Shaka" put the lad from Manchester down with a beautiful straight right, but he failed to close matters.
Rigby came storming back in the 7th as both men engaged in mutual savagery, but Ayers managed to get in two crunching blows just before the bell that probably won the round for him. Rigby was fortunate the bell rang.
Again, showing great recuperative powers in the 8th round, Rigby drilled Shaka with every punch in the book and finally landed two hammering left hooks that sent the Londoner to the canvas like he had been hit with a Bobby's sap. Somehow, someway, the tough champion, who was in danger of being stopped for the first time in his long career, got up and signaled to Rigby at the bell that he had indeed been rocked. Mutual respect and uncommon sportsmanship was now in play. What else was in play was that Ayers was at risk of losing to a man, albeit a former British champion, who had taken the fight on short notice.
Ayers also showed his ability to recuperate as he came out fast in the 9th, but the round was Rigby's as he forced the action with straight rights, hooks and uppercuts to the rousing approval of his hometown fans. However, he expended valuable energy in the process. Both men continued to engage in malefic violence. Ayer's mouth was bleeding and Rigby's eyes were badly bruised.
The first half of the tenth round was even as both combatants continued to engage in what had become a closet classic. Ayers then began to use effective stinging right crosses and right leads. He took control with 1:26 left and accelerated his assault until the gallant Rigby found himself with an empty tank.
Then it Happened!
With only 29 seconds left, Ayers signaled to Mercante that the fight should be stopped, but for some inexplicable reason Mercante was not responsive. Ayers then pummeled his helpless and badly bloodied opponent until both men signaled that enough was enough, touched gloves, and headed back to their corners. This occurred with just 14 seconds left.
It was a rare moment of poignancy that made those who witnessed it feel chills run down their spines.
Mercante finally put his arms around Rigby to officially halt the fight, but the two noble warriors had already taken away that important responsibility from him. In fact, Mercante's potentially dangerous hesitation could well have resulted in Rigby taking career-altering punishment.
As Mike Lewis writes, "Dropping their hands, Ayers and Rigby decided there and then that this memorable bruising battle was over. They touched gloves, nodded at one another and headed back to their respective corners. [It was] an extraordinary finish to an extraordinary contest. Hardened Manchester ringsiders had never seen anything like it.
"Barry Hearn, my manager, said it was eerie," recalled the then 36-year-old Londoner Ayers of his remarkable victory which went into the books as a TKO. "It was almost as though Wayne and myself had communicated through telepathy. Somehow he got it across to me that he'd taken enough and I stopped."
But the very best quote came from Jerry Storey, Ayers' Irish trainer, when he said, "Those two guys showed boxing still had a soul."
Like most, I keep my own list of favorite fights. This one is at the top.
What's yours?
Ted Sares can be reached at tedsares@roadrunner.com
To comment on this story in The Fight Forum CLICK HERE