Fast Results From Corpus Christi: Ramirez Nips Hart to Retain his Title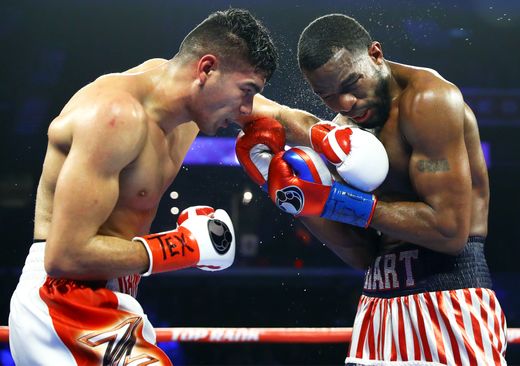 Gilberto "Zurdo" Ramirez put his undefeated record and his WBO world 168-pound title on the line tonight when he faced Jesse Hart at the American Bank Center in Corpus Christi, Texas, in a rematch of their 2016 encounter in Tucson. In that fight, Ramirez, a 27-year-old southpaw from Mazatlan, Mexico, won a unanimous, albeit narrow, decision.
This fight was similar in many respects. Ramirez started fast and was clearly ahead at the mid-point, but Hart, as in the first meeting, fought his way back into the fight. Somewhere around the eighth round, Zurdo appeared to injure his left elbow and it impacted his punch count. But in the final stanza, he reached down deep and turned the tide back in his favor. Two judges scored it 115-113 and the other had it a draw, meaning that Ramirez retained his title via a majority decision while improving his record to 39-0. He is the only fighter to beat Jesse Hart whose record now stands at 25-2.
Ramirez had his eye on a bout with Canelo Alvarez which would be a unification fight at 168 pounds if Canelo performs as expected against Rocky Fielding at Madison Square Garden, but after the bout Zurdo changed his tune and said he intended to move up to 175 pounds. Bob Arum had hinted that he would like to match Zurdo against Gennady Golovkin in a bout that would likely be contested at catchweight (165 pounds or thereabouts).
The semi-windup between junior welterweights Arnold Barboza Jr. of Los Angeles and Denver's Manuel Lopez was a monotonous, one-sided affair. Barboza (19-0, 7 KOs) won all 10 rounds on all three scorecards. Lopez (14-3-1) was game but outclassed. Barboza is highly skilled but doesn't have a high ceiling because his punches don't pack a wallop.
UNDERCARD RESULTS
Chicago super bantamweight Joshua Greer (19-1-1) had no trouble with Daniel Lozano (15-6), hurting Lozano repeatedly until Lozano had no more fight left in him. The contest, slated for 10 rounds, ended in the seventh. Greer has won 15 straight.
In a six-round contest, 18-year-old Gabriel Flores Jr. (11-0, 5 KOs) dominated Uganda's Edward Kakembo (10-6) en route to winning a lopsided decision (60-52 in all three cards). Flores had Kakembo down and hurt in the first round but couldn't finish him off. Bob Arum has big plans for Flores, but the precocious lightweight needs to improve his punching power. His last five starts have gone the distance.
In an all-Mexico affair between junior featherweights, Mazatlan's Jesus Arechiga (7-0) won a four round unanimous decision over Guerrero's David Martino (6-6). The 18-year old Arechiga had won his six previous pro fights by stoppage.
Former U.S. Olympian Mikaela Mayer improved to 9-0 with an eight round unanimous decision over Columbian journeywoman Calista Silgado (17-11-3).
In a lightweight contest, Jamel Herring (19-2) won a lopsided eight round decision over Adeilson Dos Santos. All three judges had it 80-70. Herring had Dos Santos on the deck in the second frame, but the Brazilian lasted the distance. A former U.S. Marine and the captain of the 2012 U.S. Olympic team, Herring, 33, left Al Haymon's PBC operation for Top Rank in January of this year and is currently a stablemate of Terence Crawford. It was the third straight loss for Dos Santos who declined to 19-6.
In a six round affair between super bantamweights, Ruben Vega (11-0-1) and Oscar Mojica (11-5-1) fought to a draw.
In the opening bout of the nine-bout card, a four-round welterweight match, Alcibiade Duran-Galvin (2-0, 2 KOs) needed only 55 seconds to dismiss Brownsville southpaw Leonardo Pena (0-3). Duran-Galvin, 30, who fights out of the Miami area, claims to be the son of Roberto Duran.
Photo credit: Mikey Williams / Top Rank
Check out more boxing news on video at The Boxing Channel
To comment on this article at The Fight Forum, CLICK HERE
Making Boxing Safer, A Call to Action: Part Two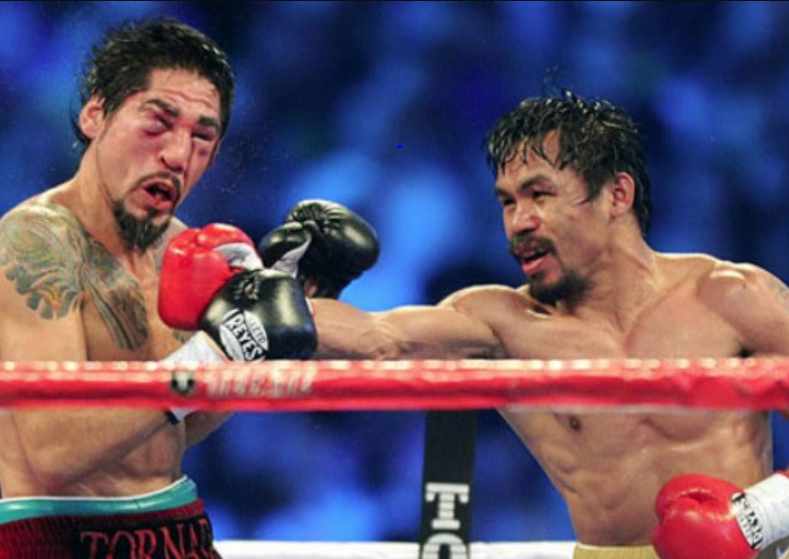 The tragic passing of Patrick Day emphasized once again that measures must be taken to make boxing a safer sport. I reached out to a mix of trainers, ex-boxers and writers for their suggestions.
Weigh-in reform (covered in Part One) was a common refrain. Others emphasized the need for more consistency in the standards of regulatory bodies. Brain scans and more responsible work by cornermen also received multiple mentions.
Dr. Margaret Goodman has been a long-time advocate for a federal boxing commission. In the meantime, says Dr. Goodman, "we need uniformity, uniformity, uniformity," and "all commissions must recognize that one of their most important roles is to deny a fighter a license when they are no longer safe to compete –AND ALL COMMISSIONS EITHER HONOR THAT DENIAL OR PERFORM DUE DILIGENCE BEFORE LICENSING THAT ATHLETE (if they disagree)."
"The 'medical' side of boxing is over-complicated by the variety of rules and regulations that exist across the multiple boxing organizations and is complicated further still by yet more differences across 'national' bodies (Nevada, NY, BBBofC etc.)," says Harry Otty, who notes that it will take a while to get everyone on the same page. "A short-term solution," says Otty, would be to insist on more thorough medicals prior to the fights. Said medicals should include scans for pre-existing brain bleeds (the technology for this now exists in the form of a hand-held scanner)…."An annual brain scan (for those organizations who insist on it) is only good for the day it was done, so a monitoring system needs to be introduced. The more cost (and time)-effective the better."
Boxing historian Henry Hascup is also bullish on brain scans. "Start when they first begin boxing as a pro and then have them annually," says Hascup. "They should also have them after a tough fight just to see where they stand! In the gyms, some of these fighters have wars against each other. I know it's entertaining, but it's not good for the fighters in the long term. There should be a medical person of some kind to oversee this!"
In this same vein, Dr. Goodman says all fighters should be required to undergo an MRI at least yearly and adds that all commissions should institute adequate PED testing using only accredited labs.
Cornermen and Ring Officials
 Henry Hascup believes that more education is needed for trainers. "Right now all you need is a few dollars and you can work the corner," says Hascup. "In the amateurs they have to go through a clinic every couple of years, why not in the pro's where it is so much more dangerous!? They should be educated on what to look for before working a corner!"
Boxing manager, advisor, and noted attorney Anthony Cardinale makes this observation: The corner is in the best position to see that the boxer is not performing and reacting properly- gets slower, doesn't execute combinations correctly, isn't avoiding punches he would normally avoid- and should be in the best position to realize that there is no way to win the fight but by some prayer of KO punch, and when that happens the corner must stop the fight."
Cardinale acknowledges that many trainers do stop the fight when this occurs, but says it doesn't happen often enough. "The cornerman/trainer has developed that drive and tends to believe that their boxer can come back, recover, and win in a fight even when it may not be reasonable to do so," says Cardinale. "So my humble suggestion is to have a neutral observer monitoring the fighter/corner who is able to call a halt to the fight or to at least have a doctor examine the fighter and consult in deciding if the fighter should not continue. Usually there is a commission representative in each corner – but they only enforce commission rules regarding the conduct of the bout. Why not engage someone that has the skill, background, training, and integrity to do both jobs?"
St. Olaf University philosophy professor, trainer, and writer Gordon Marino also emphasizes the importance of a responsible corner: "I think many if not most of the deaths of late could have been avoided if rather than risk the death of a fighter refs and corners would risk the wrath of the crowd and stop hopelessly one-sided fights, a la Eddie Futch in Ali-Frazier III."
Author John Raspanti, the lead writer/editor for MaxBoxing, recommends expanding the role of ringside physicians: "Most of boxing's serious injuries are caused by an accumulation of blows over the course of a fight. If a bout is a tough one, the ringside physician should start monitoring and physically checking the fighters as early as round three. Personally, I think ringside physicians should be able to call a fight in ALL states, not just some. Perhaps bring back the standing eight count, though some very zealous referees might interrupt the flow of fights."
A somewhat related recommendation comes from TSS writer Matt Andrzejewski: "…We strongly need to consider implementing a modified open scoring system where if a fighter is down by a certain number of rounds certain people are notified. This includes the referee, doctor, member of the commission and the fighter's corner. This may be cause for a fighter to not take further unnecessary punishment."
Other suggestions that have been tossed out over the years include mandatory headgear, reducing the length of championship fights from 12 to 10 rounds, and shortening rounds from three to two minutes. None of the respondents found merit in these proposals.
Reducing the number of rounds or the duration of rounds "fundamentally changes the sport in a way that could negatively affect the bottom line financially and aesthetically," says Lee Groves.
As for headgear, TSS mainstay and 2019 IBHOF nominee Bernard Fernandez and the noted trainer and former world title challenger John "Iceman" Scully both thought it would seriously erode fan interest, unquestionably killing the sport in the words of Scully. And Lee Groves questions whether headgear actually would make the sport safer. "….it may absorb the initial shock of the fist but the additional weight on one's head could cause an even more damaging swivel of the neck that would further jar the brain."
"One suggestion that would have potentially helped situations like Patrick Day's would have been a thicker and more forgiving canvas," continues Groves, "but making a canvas absorbent enough to minimize the shock of his head striking the floor would, in turn, make it disadvantageous to boxers who rely on movement and advantageous to the big punchers because they'd be able to better dig in their toes and generate maximum power. And if big punchers are better able to enhance their power, then they would, in turn, inflict more of the kind of life-threatening trauma we're trying to avoid."
While the aforementioned Scully is strongly opposed to headgear, he thinks improvements can be made with respect to gloves. "I do believe it would be safer if they would stop making gloves that are designed to transmit force," he says. "Everybody in the game knows that there are certain gloves that really hurt and do more damage than others. Cleto-Reyes, for example. Horsehair gloves should definitely not be in the mix. I believe that if you had professionals wear 12 oz or even 14 oz gloves with foam padding, you'd see a lot less injuries. And the fact is you would see better fights because guys wouldn't be so leery of the big punchers with the 10-ounce horsehair gloves on."
Author and boxing historian Mike Silver, covering familiar territory, points the finger at "clueless" boxing officials. "The level of incompetence of so-called ringside physicians, trainers, chief seconds, commission officials and of course horribly incompetent referees is breathtaking. Unless things are changed more fighters will die. In fact more are dying proportionally (number of active boxers) than ever before because boxing safety is all cosmetic and stupid and controlled by clueless officials. Everything needs to be reviewed and revised from length of bouts, structure of boxing gloves, too much tape on hands, drug use, especially the lack of defensive skills among today's fighters….."
Bernard Fernandez, who has studied this issue extensively, would remind us that there are pros and cons to many well-intentioned reforms: "More extensive pre-fight physical examinations? Some tests are cost-prohibitive, especially for small promoters….Referees instructed to more quickly stop bouts once a fighter gets in any kind of trouble? We would never have thrilled to the late-bout heroics of back-from-the-brink action heroes like Matthew Saad Muhammad and Arturo Gatti."
"Unless or until we are ready to throw out the baby with the bath water," says Fernandez, "we aficionados might just have to cope with occasional pangs of guilt that linger just a bit longer with each event that goes horribly wrong. The same might be said of ardent fans who follow the NFL (CTE is real), mixed martial arts, bull-riding in rodeos, race-car drivers, etc. All these sports have the fan bases they do because there is an element of risk involved for participants. Does that make those of us who watch or report enablers? Does it make highly paid athletes solely or mostly culpable for whatever injuries they incur?
"So many questions, so many opinions, but so few answers. I wish I had some that would have a positive effect, or any effect. Unless, of course, the heartfelt offering of prayers for the health and well-being of those who are bold enough to step inside the ropes actually do have an effect."
My own feelings regarding a call for action start with effective weight control and secondarily periodic brain scans. It's pretty plain that when the goal of weight-cutting is to have an ultimate size advantage over your opponent, something bad can occur. Reform in these two areas can be implemented without endangering fan interest in the sport.
It's something to ponder.
A hearty thank you to everyone who took the time to contribute to this story,
Postscript: Heaven just gained a new angel. Fly high Patrick Day; fly strong.
Ted Sares can be reached at tedsares@roadrunner.com
Check out more boxing news on video at The Boxing Channel 
To comment on this story in The Fight Forum CLICK HERE
Making Boxing Safer, A Call to Action: Part One, Weigh-in Reform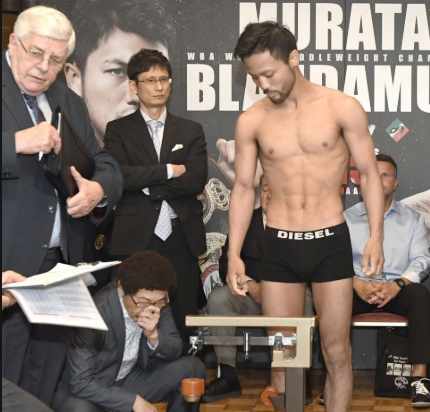 Promoters Lou DiBella and Eddie Hearn set the stage for this article with heartfelt and moving comments about the recent and tragic passing of Patrick Day.
It becomes very difficult to explain away or justify the dangers of boxing at a time like this…This is not a time where edicts or pronouncements are appropriate, or the answers are readily available. It is, however, a time for a call to action. While we don't have the answers, we certainly know many of the questions, have the means to answer them, and have the opportunity to respond responsibly and accordingly and make boxing safer for all who participate. — Lou DiBella
You can say 'it's boxing' but it's so hard to justify. We have to make sure as a sport we do better in this situation…We need to respect these fighters, we need to make sure that we make it as safe as possible for them and as fans of the business we've got to keep evolving. There's so much more we can do. — Eddie Hearn
In the spirit of the above, I reached out to a mix of trainers, ex-boxers, and writers for their suggestions, asking them what a call to action might include. The response was impressive. While the answers varied, there were several recurrent themes. Weigh-in reform was a common thread.
Weight Control Reforms
Las Vegas neurologist Dr. Margaret Goodman, the Founder, President, and Board Chairman of VADA (Voluntary Anti-Doping Association), offered up many suggestions but underlined weigh-in reform for added emphasis. "Move the weigh-in back to day of the fight or 24 hrs. before with the second weigh-in day of with percentage maximum weight gain," she wrote.
Max Kellerman of "Outside the Lions" concurs. "Weigh-ins should be the day of the fight," he says.
Hall of Famer Buddy McGirt, the noted trainer and former two-division world champion hit on this point in a recent conversation with Michael Rosenthal that ran in USA Today: "They should have the weigh-ins the day of the fight…listen, guys don't fight at their normal weight because they know they have 24 hours to put weight on. Make the weigh-ins the day of the fight. Then you would know that you can't really dry out and then have an IV and fight five, six hours later…I think you'd have less injuries. Say you're trying to make 140 when you should realistically be at 147. You weigh, say, 143 and think, 'I can get down to 140.' But you have to dehydrate yourself, and that's not good for your body or your brain. I'm not a doctor, but I'm not an idiot either."
Former world middleweight champion Dana Rosenblatt is in perfect accord: "Due to the fact that 100% of brain injuries in boxing being the result of dehydration from making weight, the most important thing that can be done to safeguard fighters is to make sure that our brothers in the ring never fight when they are not properly hydrated.
"Some of us can take punches better than others, this is obvious. None of us can take punches for too long when we are materially dehydrated without suffering in potentially life-threatening ways. If real care for the health of boxers is to be demonstrated, it will come in boxing commissions worldwide never allowing a fighter to enter the ring before being properly rehydrated after making weight. I am sure a hydration test can eventually be created and administered that would allow all boxers to compete in a healthy way."
Writer Paul Magno dealt with this issue brilliantly in a story that appeared in the Boxing Tribune back in 2013: "Fighters who routinely compete below their natural body weight are playing an ugly game with their insides, putting themselves at risk of serious injury by dehydrating themselves and then, in the day or so between weigh-in and the fight, quickly re-hydrating to a much higher weight. The primary danger to the fighter is in the increased vulnerability of the brain, slow to rebuild its jelly-like protective layer due to dehydration."
More recently, Magno made this observation: "Fighters fighting at artificially low weights may have short term advantages in strength and power, but weight manipulation drains life from fighters over the long haul. As a fighter ages, the less he has to battle at the scale, the fresher he'll enter the ring."
The Gatti Episode
We are reminded that Arturo Gatti nearly killed Joey Gamache in a 2000 junior welterweight bout when he entered the ring as a middleweight. He had gained 19 pounds between the weigh-in Friday afternoon and the fight on Saturday. Something was dangerously amiss and it resulted in altering Joey's life…
The Jacobs Episode
Similarly, but with a far better outcome, Gennady Golovkin weighed 159.6 lb. while his opponent, Danny Jacobs weighed 159.8 at the official weigh-in a day before their March 2017 fight. However, by skipping a fight-day weight check and thereby declining to compete for the IBF title, Danny seemed to have gained significantly coming into the ring and looked to be around 180 pounds. Max Kellerman suggested he was utilizing a "strategic plan." Others (myself included) thought he was also manipulating the system, thus causing the playing field to become uneven.
Historian and writer Harry Otty made an interesting point: "With boxers also trying to shoe-horn themselves into the 'closest' weight division it may be time to re-consider the 'Jnr' and/or 'super' weight divisions. While this may sound counter-intuitive as far as weight-making goes, it could make the difference between 1% or 5% dehydration."
"Travelin' Man" Lee Groves, author, writer and CompuBox punch counter, offered up a more nuanced point of view: "As far as returning to same-day weigh-ins, there are pros and cons. On the positive side, one can better control the dramatic rehydrations that now take place but on the negative side it would cause some fighters to drain themselves and be given less time to recover from the strain — the very reason today's protocols were adopted a generation ago. While reintroducing same-day weigh-ins could persuade some fighters to think twice about campaigning in a weight class too light for their bodies, others will choose to roll the dice and reap the benefits of scaling a certain weight for 30 seconds, then fighting at a much higher weight on fight night. In short, if a system can be gamed, it will be gamed."
And finally, let me throw out this point to ponder: Over the years, relatively fewer ring fatalities have occurred among the heavyweights. Whether that's because weight-cutting is, by definition, not as much an issue is something that warrants further study.
Ted Sares can be reached at tedsares@roadrunner.com
Check out more boxing news on video at The Boxing Channel 
To comment on this story in The Fight Forum CLICK HERE
Three Punch Combo: Two Under The Radar Fights on Saturday and More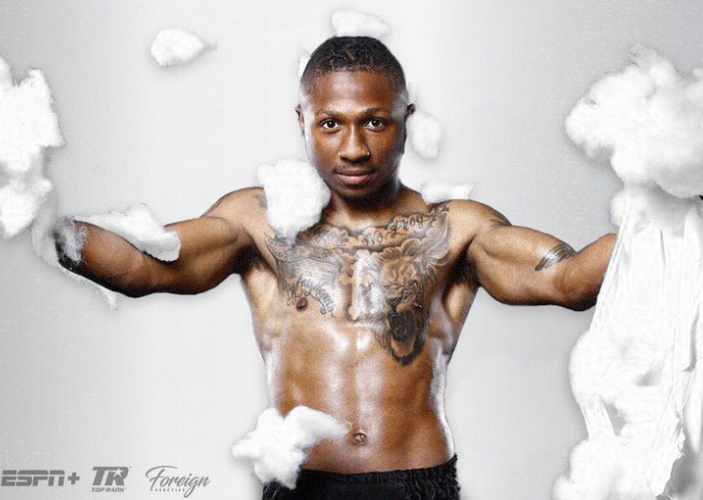 THREE PUNCH COMBO — We have another busy week in store with several events on the docket that will be available on various platforms. With so many fights on the schedule, some very intriguing contests inevitably fall under the radar.
On Saturday, ESPN+ will broadcast a card from Reno, NV that will be headlined by a contest between Shakur Stevenson (12-0, 7 KO's) and Joet Gonzalez (23-0, 14 KO's) for the vacant WBO featherweight title. While this main event is drawing almost all the press coverage, there is a very pivotal bantamweight bout on this card between Joshua Greer Jr. (21-1-1, 12 KO's) and Antonio Nieves (19-2-2, 11 KO's) that could very well steal the show.
Greer (pictured) exploded on the scene in March of 2017 with an electric knockout over James Smith in a bout televised on the popular ShoBox series. This was the beginning of a stretch of impressive outings for Greer in which he easily disposed of some very credible opponents. During this stretch, Greer landed a coveted promotional deal with Top Rank and seemed on the fast track toward big things in the bantamweight division.
However, in his last fight this past July, Greer's stock took a hit when he was fortunate to squeak out a close 12-round majority decision over Nikolai Potapov. In that fight, Greer appeared to be out-worked by Potapov in the majority of the rounds. Now to get his career back on track, Greer not only needs to win but bring back some of that explosiveness we saw in the past.
Similar to Greer, Nieves also finds himself at a career crossroads. In 2017, Nieves faced off against the aforementioned Potapov. In that fight, which was also shown on ShoBox, Nieves raised his game and got the better of Potapov, or so it appeared. But the judges saw things differently and Potapov won a controversial split decision.
Although he lost, Nieves parlayed that performance into a big fight with Naoya Inoue later that year. And though he fell short against Inoue, Nieves gave a good account of himself in defeat. Now after two knockout wins against lower level opponents, Nieves has a big chance to move up the rankings with a win over Greer.
These are just the type of crossroads fight I absolutely love in this sport. These two are evenly matched and stylistically should mesh well inside the ring.
Greer is a boxer-puncher with fast hands and possesses legitimate one-punch power in both fists. But he also has a tendency to fight in spots and not be very active with his hands.
Nieves is also a boxer-puncher. He lacks Greer's speed and power, but is a more active fighter and is technically proficient. He is a sharp accurate puncher and uses angles well to get in position to land clean shots.
We are going to see crisp back-and-forth action fight between these two on Saturday. This is a fight that should not be missed.
Under The Radar Fight, Part Two
Also on Saturday, Showtime will broadcast a tripleheader from the Santander Arena in Reading, PA. This card will be headlined by a fight between 154-pound contenders Erickson Lubin (21-1, 16 KO's) and Nathaniel Gallimore (21-3-1, 17 KO's). While I do like this main event and consider Gallimore a live underdog, the fight on this card that really piques my interest is the 140-pound co-feature between former lightweight champion Robert Easter Jr. (21-1-1, 14 KO's) and Adrian Granados (20-7-2, 14 KO's).
Easter, once a highly touted prospect, won his title in a rousing effort against current IBF lightweight champion Richard Commey in 2016. After three successful defenses, Easter found himself in a big unification fight against Mikey Garcia in 2018. While some thought Easter could rise to the occasion, he was underwhelming, dropping a wide 12-round decision.
In his bounce-back fight this past April, Easter fought former two-division champion Rances Barthelemy to a 12-round split draw. Anyone who unfortunately watched this fight knows that neither Easter nor Barthelemy put forth his best effort.
Granados was never a highly touted prospect. Instead, he was often the opponent. But he always gave an honest effort and occasionally would spring a surprise. And in 2015, he sprung a major surprise when he knocked out the then undefeated Amir Imam.
Following that win, Granados has had a mixed bag of results. He has tough competitive decision losses to Adrien Broner and Shawn Porter mixed in with some stay-busy knockout wins against overmatched foes.
And this past April, Granados was utterly out-classed by Danny Garcia and stopped for the first time in his career.
With both Easter and Granados coming off underwhelming performances, I understand why many are overlooking this fight. But the way I see it, both have a lot to prove and know they must make a statement in order to stay relevant in the sport. And in these instances, we sometimes get some really fun fights.
Easter is a classic boxer-puncher who likes to work combinations behind the left jab. He has quick hands and can be a sharp accurate puncher when unloading those combinations. Granados, for his part, is an aggressive pressure fighter. He will come forward and look to get inside the taller Easter. Granados, at his best, is a high volume puncher who is more than willing to eat some leather when pressing forward to create opportunities to do his own work.
Unlike Easter's last fight, this is not one to sleep on. Styles make fights and I am confident we see an entertaining and competitive fight.
Emanuel "Pinky" Colon
Most of the attention of the boxing community this past Friday was on the big light heavyweight title unification fight between Artur Beterbiev and Oleksandr Gvozdyk. But that wasn't the only televised show that night. Telemundo continued with its fall swing of events with a card from the Seneca Niagara Resort and Casino in Niagara Falls, NY. The card was headlined by a local fighter, Emanuel "Pinky" Colon (17-1-1, 16 KO's). And Colon, who fights at 140, did not disappoint in his national television debut as he dispatched his opponent, Richard Zamora (19-4, 12 KO's), in the very first round.
I recorded this show and watched it first thing Saturday morning. I hated not attending a live show in my backyard of upstate NY but could not miss Beterbiev-Gvozdyk. But I was very interested in seeing Colon as there wasn't much video available on him and he was getting a lot of local buzz (and from the look of the crowd, he sold quite a few tickets).
It is tough to handicap a fighter from about two and a half minutes of action. However, I really liked what I saw from Colon and think he can be a good local draw. Against Zamora, Colon came in clearly looking to put on a show and make a statement. And he certainly did just that.
Zamora had been stopped on three previous occasions, so the jury is still out on Colon's punching power, but he appears to put his punches together well and he appears to have heavy hands.
Can Colon become a top contender at 140? Maybe, but at the very least I think he has a chance with his offensive-minded style and his ability to sell tickets to revive the boxing scene somewhat up here in upstate New York.
Check out more boxing news on video at The Boxing Channel 
To comment on this story in The Fight Forum CLICK HERE