Transgender Boxer Patricio Manuel Breaks New Ground at Fantasy Springs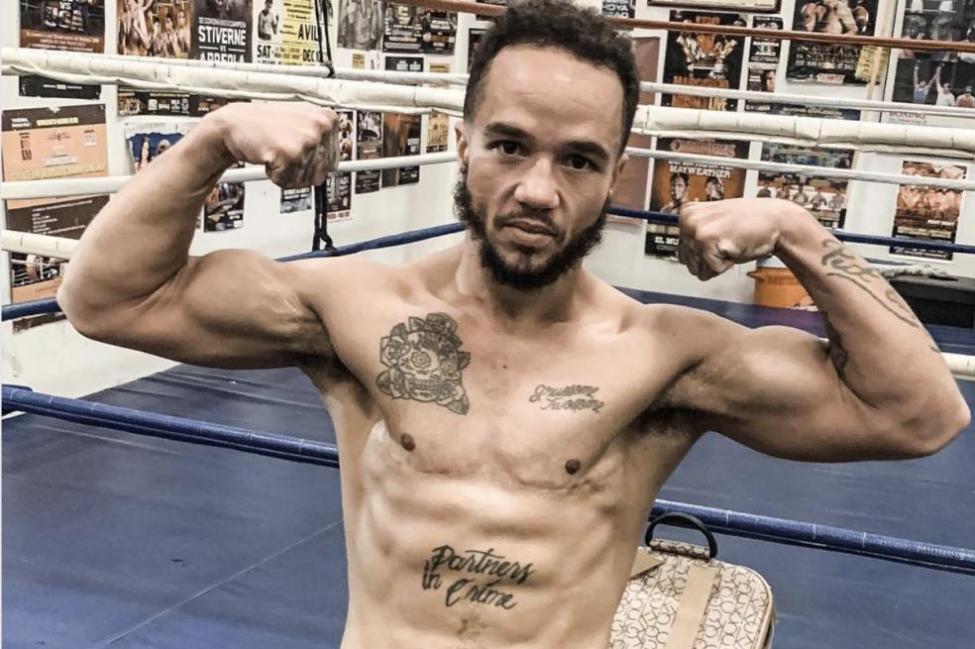 The continuing encroachment of something known as "political correctness" in American and global society sometimes comes as a jolt to stodgy traditionalists, like me. I just had to shake my head, incredulous, at a news report from 2014 I only recently came across that hinted at the radical changes that, for better or worse, are becoming more and more commonplace.
Four years ago the administrators who run the school system in Lincoln, Neb., launched a campaign to make their classrooms more "gender-inclusive," meaning teachers could no longer refer to boys and girls as, well, boys and girls. "We have kids who come to us with a whole variety of circumstances, and we need to equitably serve all kids," Brenda Leggiardo, the district's coordinator of social workers and counselors, told the Lincoln Journal Star. So instead of asking boys and girls to line up as boys and girls, teachers were encouraged to segregate the children by whether they prefer skateboards or bikes, or whether they like milk or juice. The memo also suggested that all transgender students be referred to as "purple penguins," presumably without regard for their preferences regarding liquid nourishment at lunchtime.
The Charlotte-Mecklenburg school district in North Carolina later adopted similar "gender-inclusive" guidelines, which caused me to wonder when this small snowball rolling downhill would become an avalanche, and when a portion of the PC-orchestrated new world order would branch off into the sports world. And then it occurred to me: it already has.
The latest example of athletic gender-bending came on Dec. 8 at the Fantasy Springs Resort Casino in Indio, Calif., when Patricio Manuel, a 33-year-old transgender male who had fought in the 2012 U.S. Olympic Trials as a woman, scored a four-round unanimous decision over Mexican super featherweight Hugo Aguilar. It was the first sanctioned professional boxing match involving a transgender participant, and Manuel (pictured) vowed it won't be the last.
"I wouldn't trade any of it. It was worth everything I went through to get to this point," Manuel, who underwent complex medical treatments, including surgery and hormone therapy, told the Los Angeles Times. "I'm a professional boxer now.
"I've got some naysayers out there – I need to prove that I deserve to be in there as well. I'm not in here for one show, one fight – this is something I love. I'm not done with this sport and I'll be back."
Well, maybe. But much will depend on the willingness of male-from-birth fighters in the "Me, Too" era –in which men who physically abuse women, or use positions of authority to take advantage of them sexually, are rightly chastised — to be paired with Manuel. Some men will reasonably believe that, if they defeat Manuel, and particularly by knockout, they would be criticized for beating up someone who used to be a woman. It is possible, and perhaps likely, that such criticism would arise; an online search I conducted produced a video of a female soldier in the U.S. Army who had bragged that she could whip any male Marine stationed at their joint base in a boxing match. Such a fight was arranged (it can be seen on YouTube) and the Marine pummeled the lady soldier from pillar to post in the first round, whereupon he was booed unmercifully, even by his fellow Marines.
I covered the flip side of such a transgender role reversal in the 1970s, when I authored a feature story on the opposition encountered by tennis player Renee Richards after her sex-reassignment surgery. Formerly known as Richard Raskind, in his earlier incarnation he was an excellent athlete, lettering in tennis, football, baseball and swimming in high school before going on to Yale, where he was captain of the men's tennis team. In the 1970s, however, Raskind came to the realization that he had long felt more female than male and began the process of transition. The transformation complete, the renamed Renee Richards competed as a woman in the 1976 U.S. Open, and shortly thereafter the United States Tennis Association, in apparent reaction to her arrival on the scene, began requiring genetic screening for female players. Richards challenged that policy and the New York Supreme Court ruled in her favor, a landmark case in transgender rights.
But her victory in the courts was not so warmly received by many women on the court, who complained that the 6-foot-1 Richards, despite being in her early 40s, had physical advantages, such as a booming lefthanded serve, that blurred the line between who she had been as a man and who she had become through the auspices of modern medicine.
The most famous male vs. female matchup, one that drew 30,000-plus on-site spectators to the Astrodome in Houston and a huge nationwide television audience on Sept. 21, 1973, pitted 55-year-old former Wimbledon champion Bobby Riggs against Billie Jean King, 29, arguably the top woman player of her era and an unabashed proponent of the feminist movement. The "Battle of the Sexes" was spurred by Riggs' 6-2, 6-1 victory over another standout female player, Margaret Court, and his constant chirping that, even at his advanced age, the chatty chauvinist could take down any of the sport's top women. King accepted the challenge and struck a blow for her cause with 6-4, 6-3, 6-3 victory. She accepted the $100,000 winner's check from, interestingly, smiling heavyweight champion George Foreman.
King's coronation eventually helped bring about parity with the men in purse money at major tournaments, which was significant, but what, really, had it proved? Was it merely an evening of the score for Riggs having embarrassed Court? That a great woman player in her prime could beat the shorts off a geezer of a guy who had not played competitive tournament tennis in 22 years?
With apologies to William Shakespeare, another male vs. female pairing that was full of sound and fury, signifying nothing, took place on Oct. 10, 1999, in Mercer Arena in Seattle, Wash., when boxer Margaret McGregor scored a four-round unanimous decision over fill-in opponent Loi Chow, a jockey by trade who was 0-2 in pro bouts, the most recent coming three years earlier. The then-36-year-old McGregor, who had an extensive kickboxing and boxing background and was 3-0 in pro boxing matches against women, towered over Chow and dominated him from the outset. Snarky commentators regarded the fight as a farce, maybe more than they might have had not McGregor's originally scheduled and more talented opponent, Hector Morales, dropped out.
There has not been a sanctioned boxing match between a man and a woman since, and, hopefully, there never will be another, not in an era when statistics indicate that every nine seconds a woman is facing domestic battery in America.
There is, admittedly, a curiosity element attached to these events. I was at Caesars Palace in Las Vegas on Sept. 25, 1992, for an exhibition match pitting 40-year-old tennis great Jimmy Connors against a female counterpart, 35-year-old Martina Navratilova, in what was billed as "Battle of the Sexes II." Rules aimed at leveling the playing field limited Connors to one serve and obliging him to cover half of each the doubles alleys, four additional feet in all. Despite those handicaps, Connors won, 7-5, 6-2, before a sellout crowd of 13,832 and a national pay-per-view TV audience.
Strangely enough, I have been portrayed as being on both sides of the philosophical divide concerning male/female issues. I strongly support the notion of equal pay for equal work for both genders, and I endorsed the creation of the Christy Martin Award that goes to the Female Fighter of the Year, which was presented by the Boxing Writers Association of America for the first time earlier this year to Cecilia Braekhus in New York. To one regular poster to the TSS site, who apparently is of the opinion that women are only good for baking cookies and bearing children, those positions stamped me as some sort of non-macho pansy. But I also oppose the notion of military women as combat troops, which some would say makes me as much of a hairy-knuckled Neanderthal as the now-deceased Riggs.
As the son of a wonderful mother, husband of a terrific wife, and father of two great daughters, I have always believed that anyone regardless of sexual orientation can achieve as much as their talent and ambition will take them. But whether the deep thinkers on the school boards in Lincoln and Charlotte care to admit it or not, there are some gaps, in an athletic sense, that political correctness cannot bridge. It is patently ridiculous to allow boys to compete in girls' interscholastic sports because their schools don't field boys' volleyball, field hockey or softball teams. Size, strength and testosterone almost always give the guys a winning edge in those instances.
Boxing, more so than in other sports, represents a Grand Canyonesque chasm of separation. Claressa Shields is a two-time Olympic gold medalist, but no one expects her to swap punches with Canelo Alvarez or Gennady Golovkin now or ever. Braekus is undefeated and the undisputed women's welterweight champion, but there is no groundswell to put her in the ring against Terence Crawford or Errol Spence Jr.
We should enjoy our sporting heroes, and heroines, for who and what they are. Let boys be boys and girls be girls and transgenders whatever the heck they choose to be. And a Merry Christmas to all, and to all a good night.
Bernard Fernandez is the retired boxing writer for the Philadelphia Daily News. He is a five-term former president of the Boxing Writers Association of America, an inductee into the Pennsylvania, New Jersey and Atlantic City Boxing Halls of Fame and the recipient of the Nat Fleischer Award for Excellence in Boxing Journalism and the Barney Nagler Award for Long and Meritorious Service to Boxing.
Check out more boxing news on video at The Boxing Channel
To comment on this article in the Fight Forum, CLICK HERE
The Hauser Report: Garcia-Redkach and More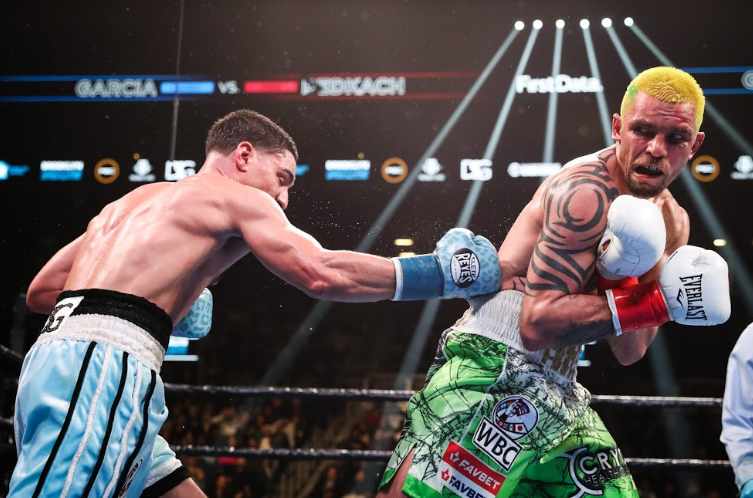 Boxing made its debut at Barclays Center on October 20, 2012, with a fight card headlined by four world title bouts. Danny Garcia, Erik Morales, Paulie Malignaggi, Peter Quillin, Devon Alexander, Danny Jacobs, and Luis Collazo were in the ring that night. The franchise grew nicely. Fans who went to Barclays saw good featured fights with solid undercard bouts. But as of late, the arena's fistic offerings have faded.
Barclays cast its lot with Premier Boxing Champions. And PBC has moved its prime content to greener pastures (green being the color of money). There were five fight cards at Barclays Center in 2019. Each one struggled to sell tickets.
January 25 marked the thirty-ninth fight card at Barclays. The arena was half empty. The announced attendance was 8,217 but that included a lot of freebies. There were six fights on the card. As expected, fighters coming out of the blue corner won all of them. That's what happens when 6-0 squares off against 2-10-1.
Three of the fights were televised by Showtime Championship Boxing, which has also been diminished as a consequence of a multi-year output deal with PBC.
In the first of these bouts, Stephen Fulton (17-0, 8 KOs) and Ukrainian-born Arnold Khegai (16-0, 10 KOs) met in a junior-featherweight bout. Each had fought the usual suspects en route to their confrontation. There was a lot of holding and rabbit-punching which referee Steve Willis ignored. Eventually, Fulton pulled away for a unanimous-decision triumph.
Next up, Jarrett Hurd (23-1, 16 KOs) took on Francisco Santana (25-7, 12 KOs).
Hurd is a big junior-middleweight who held the WBA and IBF 154-pound titles until losing to Julian Williams last year. Santana is a career welterweight who had lost three of his most recent four fights and had won only three times in the last five years.
Hurd was expected to walk through Santana. But he was strangely passive for much of the fight, which led to the strange spectacle of Santana (the noticeably smaller, lighter-punching man) walking Jarrett down for long stretches of time. Francisco is a one-dimensional fighter and was there to be hit. When Jarrett let his hands go, he hit him. But he fought like a man who didn't want to fight and didn't let his hands go often enough.
By round seven, the boos and jeers were raining down. Hurd won a unanimous decision but looked mediocre. That's the most honest way to put it. One wonder what tricks losing to Julian Williams last year played with his mind.
Also, it should be noted that, when the winning fighter thanks God in a post-fight interview and the crowd (which supported Jarrett at the start of the bout) boos at the mention of The Almighty, there's a problem.
"The crowd didn't love it," Hurd acknowledged afterward. "But you gotta understand; I got the unanimous decision and I did what I wanted to do."
The main event matched Danny Garcia (35-2, 21 KOs) against Ivan Redkach (23-4-1, 18 KOs).
Garcia had a nice run early in his career, winning belts at 140 and 147 pounds. But later, he came out on the losing end of decisions against Keith Thurman and Shawn Porter. Other than that, he has gone in soft for the past five years.
Redkach is a junior-welterweight who had won 5 of 10 fights during the same five-year time frame.
There was the usual pre-fight nonsense with Garcia telling reporters, "We picked Redkach because he's dangerous and we knew he'd be tough." But in truth, Redkach had been whitewashed by Tevin Farmer at 135 pounds and was knocked out at the same weight by John Molina Jr (who never won again).
Garcia, like Hurd, was a 30-to-1 betting favorite.
Redkach fought a safety-first fight. Also, safety second and third. There wasn't one second when it looked as though he had a realistic chance of winning the fight or fought like he did.
One of the few proactive things that Ivan did do was stick out his tongue from time to time when Garcia hit him. Then, at the end of round eight, he bit Danny on the shoulder while they were in a clinch. At that point, one might have expected referee Benjy Esteves to disqualify Redkach. But Esteves seemed to not notice.
Rather than go for the kill after the bite, Garcia eased up and cruised to a unanimous decision. Meanwhile, by round eleven, the crowd was streaming for the exits. Most of the fans were gone by the time the decision was announced.
Garcia and Hurd had set-up showcase fights scheduled for them. And neither man delivered the way he should have.
Meanwhile, a final thought . . . Sunday, January 26, would have been Harold Lederman's eightieth birthday.
Harold was the quintessential boxing fan and loved the sport more than anyone I've known. He never missed a fight at Barclays Center unless his health prevented him from coming or he was on the road for HBO. He died eight months ago.
As Saturday night's fight card unfolded, I imagined Harold sitting beside me. He would have had a kind word for everyone who came over to say hello and loved every minute of it. Harold Lederman at the fights was a happy man.
Photo credit: Amanda Westcott
Thomas Hauser's email address is thomashauserwriter@gmail.com. His most recent book — A Dangerous Journey: Another Year Inside Boxing — was published by the University of Arkansas Press. In 2004, the Boxing Writers Association of America honored Hauser with the Nat Fleischer Award for career excellence in boxing journalism. On June 14, 2020, he will be inducted into the International Boxing Hall of Fame.
Check out more boxing news on video at The Boxing Channel 
To comment on this article in The Fight Forum CLICK HERE
Fast Results from Brooklyn: No Surprises as Garcia and Hurd Win Lopsidedly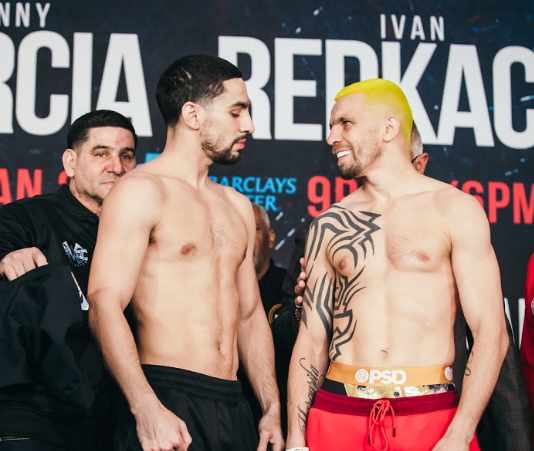 Tonight, Philadelphia's Danny Garcia made his eighth appearance at Barclays Center. Garcia's 2017 fight with Keith Thurman drew 16,533, the attendance high for a boxing show at the arena. A far smaller crowd was in attendance tonight to see Garcia take on Ivan Redkach in a non-title fight slated for 12 rounds.
Redkach, a 33-year-old LA-based Ukrainian, is a southpaw. That's no coincidence. Garcia hopes to land big-money fights with Errol Spence and/or Manny Pacquiao, both southpaws.
Redkach (23-4-1 coming in) turned his career around in his last fight with a career-best performance, a sixth-round stoppage of former two-division title-holder Devon Alexander, a 15-year pro who hadn't previously been stopped. But there was a class difference between he and Danny Garcia, a former WBA and WBC 140-pound world title-holder and former WBC 147-pound champion.
Garcia (35-2, 21 KOs) was simply sharper. His workrate slowed late in the fight, allowing the game Redkach to steal a few rounds, but at the final gun he was relatively unmarked whereas Redkach was conspicuously bruised. The scores were 118-110 and 117-111 twice. The crowd booed at intervals, understandable as they were subject to a drab 6-fight card that was even less interesting than it was on paper.
Co-Feature
In the 10-round co-feature, Jarrett Hurd, making his first start since losing his WBA/IBF super welterweight title to Julian Williams last May, went on cruise control from the opening bell and jabbed his way to a lopsided 10-round decision over Francisco Santana. Hurd, who improved to 24-1, finally let loose late in the 10th frame, putting Santana (25-8-1) on the canvas with a succession of left hooks, but by then many in the crowd had probably nodded off.
This was Hurd's first fight with new trainer Kay Koroma who has drawn raves for his work with America's elite amateurs. The scores were 97-92 and 99-90 twice. SoCal's Santana has now lost five of his last eight.
The opening bout on the main TV portion of the card was a 12-round super bantamweight contest between Philadelphia's Stephen Fulton and fellow unbeaten Arnold Khegai who currently trains in Philadelphia.
Fulton (18-0, 8 KOs) simply had too much class for Khegai (16-1-1), a Ukrainian of Korean heritage. Although Khegai frequently backed Fulton into the ropes, the Philadelphian had an air-tight defense and connected with many more punches. The fight went the full 12 with Fulton prevailing by scores of 116-112 and 117-111 twice.
If the WBO has its way, Fulton will proceed to a fight with Emanuel Navarrete, but don't hold your breath as Navarrete is promoted by Bob Arum who undoubtedly wants to extract more mileage from him before letting him risk his belt against a crafty fighter like Stephen Fulton.
Photo credit: Amanda Westcott / SHOWTIME
Check out more boxing news on video at The Boxing Channel 
To comment on this story in The Fight Forum CLICK HERE
Sacramento Honors Diego 'Chico' Corrales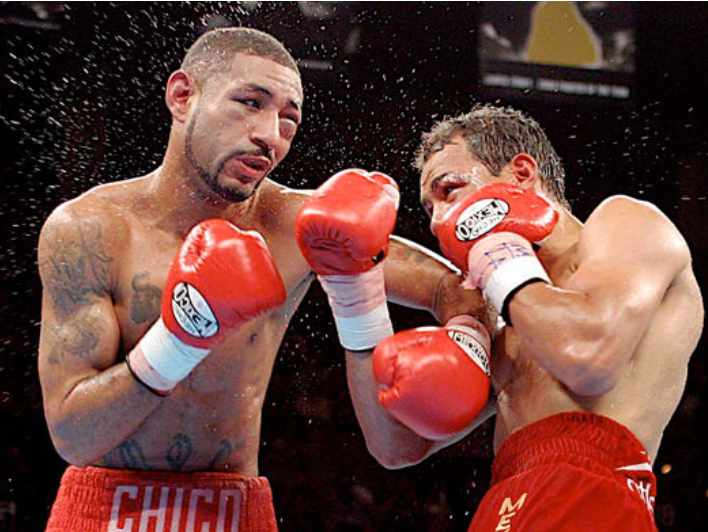 Tonight (Saturday, Jan. 25) former two-division world boxing champion Diego "Chico" Corrales will be posthumously inducted into the Sacramento Sports Hall of Fame at the organization's eighth annual induction ceremony at the Thunder Valley Casino Resort.
Corrales, who grew up in Sacramento, the son of a Columbian father and a Mexican mother, turned pro at age 18 and went on to compile a record of 40-5 (33 KOs). He won his first title in 1999 with a seventh-round stoppage of previously undefeated Robert Garcia. Now recognized as one of boxing's top trainers, Garcia was making the fourth defense of his IBF 130-pound title.
Five years later, Corrales won the WBO world lightweight title with a 10th-round stoppage of Brazil's previously undefeated Acelino Freitas. That set up a unification fight with the WBC belt-holder Jose Luis Castillo.
Corrales and Castillo met on May 7, 2005, at Mandalay Bay in Las Vegas. To say they put on a great fight would be an understatement. The boxing writers in attendance will tell you that this was the greatest fight of all time. It was named Fight of the Decade by The Ring magazine.
The final round, the 10th, was unbelievable. Heading into the round, Corrales was ahead on two of the three scorecards, but his left eye was swollen nearly shut and during the round he was knocked down twice. No one would have faulted referee Tony Weeks for stopping the fight after the second knockdown. But, somehow, Corrales was able to rally, pulling the fight out of the fire with a barrage of punches that had Castillo out on his feet when Weeks waived it off.
Two years to the very day of this iconic fight, Diego "Chico" Corrales died in a motorcycle accident in his adopted hometown of Las Vegas when he rear-ended a car while traveling at a high rate of speed. He was 29 years old.
Corrales was a thrill-seeker. In a 2006 profile, Las Vegas Review-Journal boxing writer Kevin Iole enumerated these among Castillo's hobbies: jumping out of planes from 14,000 feet, bungee jumping from 400 feet, snowboarding in treacherous terrain and scuba diving amid a school of sharks. "He lived his life the same way he fought," said his promoter Gary Shaw, "with reckless abandon."
It might seem odd that it took so long for Corrales to be recognized by the Sacramento Sports Hall of Fame, but there was a period when Corrales's name was mud in his hometown and perhaps the organization's founder, Las Vegas sports radio personality T.C. Martin, a Sacramento native, thought it appropriate to let old wounds heal.
In 2001, shortly after suffering his first pro loss at the hands of Floyd Mayweather, Corrales pled guilty to felony domestic violence in the beating of his first wife and would serve 14 months in prison. "The whole family has worn a black eye for it," Diego's brother Esteban Corrales told Sacramento Bee reporter Marcos Bretan.
For all his recklessness, the incident didn't jibe with his persona. In the company of Las Vegas sportswriters, the soft-spoken and well-spoken Corrales came across as polite and humble.
Corrales, one of five inductees in the 2020 class, joins three other boxers already installed in the Sacramento Hall: Pete Ranzany, Loreto Garza, and Tony "Tiger" Lopez.
Ranzany, a welterweight, fought four former or future world champions and was a fixture in Sacramento rings in the late 1970's. Garza wrested the WBA super lightweight title from Argentina's Juan Martin Coggi in France and successfully defended the belt here in Sacramento with a one-sided conquest of Vinny Pazienza. Lopez, Sacramento's most popular fighter ever, made the turnstiles hum at the city's largest arena where he fought eight of his 14 world title fights beginning with his 1988 humdinger with defending IBF 130-pound champion Rocky Lockridge.
Among the speakers at tonight's confab will be Kenny Adams. Perhaps best known as the head trainer for the 1988 U.S. Olympic team that won eight medals in Seoul, Adams currently trains Nonito Donaire. He was with Diego Corrales for 24 fights, during which Corrales was 23-1, avenging the lone defeat by Joel Casamayor. Festivities start at 7 pm.
Check out more boxing news on video at The Boxing Channel 
To comment on this story in The Fight Forum CLICK HERE