Transgender Boxer Patricio Manuel Breaks New Ground at Fantasy Springs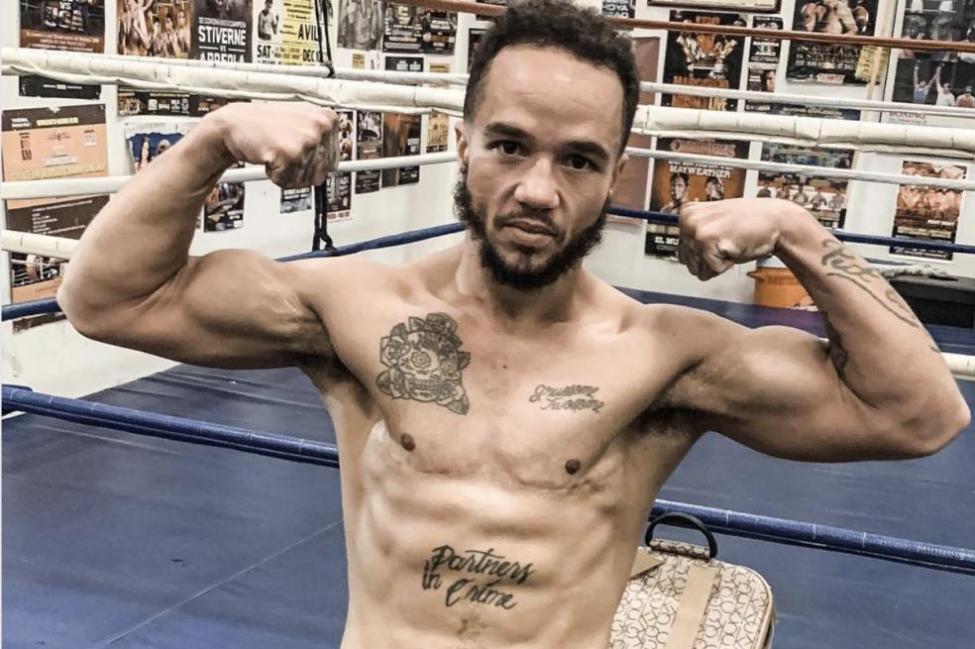 The continuing encroachment of something known as "political correctness" in American and global society sometimes comes as a jolt to stodgy traditionalists, like me. I just had to shake my head, incredulous, at a news report from 2014 I only recently came across that hinted at the radical changes that, for better or worse, are becoming more and more commonplace.
Four years ago the administrators who run the school system in Lincoln, Neb., launched a campaign to make their classrooms more "gender-inclusive," meaning teachers could no longer refer to boys and girls as, well, boys and girls. "We have kids who come to us with a whole variety of circumstances, and we need to equitably serve all kids," Brenda Leggiardo, the district's coordinator of social workers and counselors, told the Lincoln Journal Star. So instead of asking boys and girls to line up as boys and girls, teachers were encouraged to segregate the children by whether they prefer skateboards or bikes, or whether they like milk or juice. The memo also suggested that all transgender students be referred to as "purple penguins," presumably without regard for their preferences regarding liquid nourishment at lunchtime.
The Charlotte-Mecklenburg school district in North Carolina later adopted similar "gender-inclusive" guidelines, which caused me to wonder when this small snowball rolling downhill would become an avalanche, and when a portion of the PC-orchestrated new world order would branch off into the sports world. And then it occurred to me: it already has.
The latest example of athletic gender-bending came on Dec. 8 at the Fantasy Springs Resort Casino in Indio, Calif., when Patricio Manuel, a 33-year-old transgender male who had fought in the 2012 U.S. Olympic Trials as a woman, scored a four-round unanimous decision over Mexican super featherweight Hugo Aguilar. It was the first sanctioned professional boxing match involving a transgender participant, and Manuel (pictured) vowed it won't be the last.
"I wouldn't trade any of it. It was worth everything I went through to get to this point," Manuel, who underwent complex medical treatments, including surgery and hormone therapy, told the Los Angeles Times. "I'm a professional boxer now.
"I've got some naysayers out there – I need to prove that I deserve to be in there as well. I'm not in here for one show, one fight – this is something I love. I'm not done with this sport and I'll be back."
Well, maybe. But much will depend on the willingness of male-from-birth fighters in the "Me, Too" era –in which men who physically abuse women, or use positions of authority to take advantage of them sexually, are rightly chastised — to be paired with Manuel. Some men will reasonably believe that, if they defeat Manuel, and particularly by knockout, they would be criticized for beating up someone who used to be a woman. It is possible, and perhaps likely, that such criticism would arise; an online search I conducted produced a video of a female soldier in the U.S. Army who had bragged that she could whip any male Marine stationed at their joint base in a boxing match. Such a fight was arranged (it can be seen on YouTube) and the Marine pummeled the lady soldier from pillar to post in the first round, whereupon he was booed unmercifully, even by his fellow Marines.
I covered the flip side of such a transgender role reversal in the 1970s, when I authored a feature story on the opposition encountered by tennis player Renee Richards after her sex-reassignment surgery. Formerly known as Richard Raskind, in his earlier incarnation he was an excellent athlete, lettering in tennis, football, baseball and swimming in high school before going on to Yale, where he was captain of the men's tennis team. In the 1970s, however, Raskind came to the realization that he had long felt more female than male and began the process of transition. The transformation complete, the renamed Renee Richards competed as a woman in the 1976 U.S. Open, and shortly thereafter the United States Tennis Association, in apparent reaction to her arrival on the scene, began requiring genetic screening for female players. Richards challenged that policy and the New York Supreme Court ruled in her favor, a landmark case in transgender rights.
But her victory in the courts was not so warmly received by many women on the court, who complained that the 6-foot-1 Richards, despite being in her early 40s, had physical advantages, such as a booming lefthanded serve, that blurred the line between who she had been as a man and who she had become through the auspices of modern medicine.
The most famous male vs. female matchup, one that drew 30,000-plus on-site spectators to the Astrodome in Houston and a huge nationwide television audience on Sept. 21, 1973, pitted 55-year-old former Wimbledon champion Bobby Riggs against Billie Jean King, 29, arguably the top woman player of her era and an unabashed proponent of the feminist movement. The "Battle of the Sexes" was spurred by Riggs' 6-2, 6-1 victory over another standout female player, Margaret Court, and his constant chirping that, even at his advanced age, the chatty chauvinist could take down any of the sport's top women. King accepted the challenge and struck a blow for her cause with 6-4, 6-3, 6-3 victory. She accepted the $100,000 winner's check from, interestingly, smiling heavyweight champion George Foreman.
King's coronation eventually helped bring about parity with the men in purse money at major tournaments, which was significant, but what, really, had it proved? Was it merely an evening of the score for Riggs having embarrassed Court? That a great woman player in her prime could beat the shorts off a geezer of a guy who had not played competitive tournament tennis in 22 years?
With apologies to William Shakespeare, another male vs. female pairing that was full of sound and fury, signifying nothing, took place on Oct. 10, 1999, in Mercer Arena in Seattle, Wash., when boxer Margaret McGregor scored a four-round unanimous decision over fill-in opponent Loi Chow, a jockey by trade who was 0-2 in pro bouts, the most recent coming three years earlier. The then-36-year-old McGregor, who had an extensive kickboxing and boxing background and was 3-0 in pro boxing matches against women, towered over Chow and dominated him from the outset. Snarky commentators regarded the fight as a farce, maybe more than they might have had not McGregor's originally scheduled and more talented opponent, Hector Morales, dropped out.
There has not been a sanctioned boxing match between a man and a woman since, and, hopefully, there never will be another, not in an era when statistics indicate that every nine seconds a woman is facing domestic battery in America.
There is, admittedly, a curiosity element attached to these events. I was at Caesars Palace in Las Vegas on Sept. 25, 1992, for an exhibition match pitting 40-year-old tennis great Jimmy Connors against a female counterpart, 35-year-old Martina Navratilova, in what was billed as "Battle of the Sexes II." Rules aimed at leveling the playing field limited Connors to one serve and obliging him to cover half of each the doubles alleys, four additional feet in all. Despite those handicaps, Connors won, 7-5, 6-2, before a sellout crowd of 13,832 and a national pay-per-view TV audience.
Strangely enough, I have been portrayed as being on both sides of the philosophical divide concerning male/female issues. I strongly support the notion of equal pay for equal work for both genders, and I endorsed the creation of the Christy Martin Award that goes to the Female Fighter of the Year, which was presented by the Boxing Writers Association of America for the first time earlier this year to Cecilia Braekhus in New York. To one regular poster to the TSS site, who apparently is of the opinion that women are only good for baking cookies and bearing children, those positions stamped me as some sort of non-macho pansy. But I also oppose the notion of military women as combat troops, which some would say makes me as much of a hairy-knuckled Neanderthal as the now-deceased Riggs.
As the son of a wonderful mother, husband of a terrific wife, and father of two great daughters, I have always believed that anyone regardless of sexual orientation can achieve as much as their talent and ambition will take them. But whether the deep thinkers on the school boards in Lincoln and Charlotte care to admit it or not, there are some gaps, in an athletic sense, that political correctness cannot bridge. It is patently ridiculous to allow boys to compete in girls' interscholastic sports because their schools don't field boys' volleyball, field hockey or softball teams. Size, strength and testosterone almost always give the guys a winning edge in those instances.
Boxing, more so than in other sports, represents a Grand Canyonesque chasm of separation. Claressa Shields is a two-time Olympic gold medalist, but no one expects her to swap punches with Canelo Alvarez or Gennady Golovkin now or ever. Braekus is undefeated and the undisputed women's welterweight champion, but there is no groundswell to put her in the ring against Terence Crawford or Errol Spence Jr.
We should enjoy our sporting heroes, and heroines, for who and what they are. Let boys be boys and girls be girls and transgenders whatever the heck they choose to be. And a Merry Christmas to all, and to all a good night.
Bernard Fernandez is the retired boxing writer for the Philadelphia Daily News. He is a five-term former president of the Boxing Writers Association of America, an inductee into the Pennsylvania, New Jersey and Atlantic City Boxing Halls of Fame and the recipient of the Nat Fleischer Award for Excellence in Boxing Journalism and the Barney Nagler Award for Long and Meritorious Service to Boxing.
Check out more boxing news on video at The Boxing Channel
To comment on this article in the Fight Forum, CLICK HERE
In the Evening Hours After Joshua-Ruiz, There Was a Lot Going On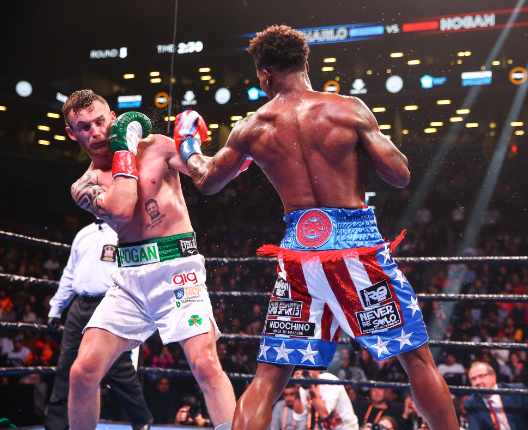 In the Evening Hours After Joshua-Ruiz, There Was a Lot Going On
Hindsight is 20-20, but pundits with an historical bent looking for clues as to how the Joshua-Ruiz fight would unfold were looking in the wrong place. They went back and looked at previous heavyweight title rematches when they should have been re-visiting the career of Buster Douglas.
Douglas's very next fight after his shocking upset of Mike Tyson came against Evander Holyfield. Douglas came in woefully out of shape and was stopped in the third round. And just like that, Buster went from a national hero to a bum in the blink of an eye.
Andy Ruiz went the distance with Anthony Joshua in Saudi Arabia, but his performance was reminiscent of Douglas-Holyfield in that he fell from grace in the court of public opinion with a loud thud. The good news for Ruiz and his kinfolk is that decades from now folks will remember his first meeting with Anthony Joshua and the rematch not so much.
– – –
In the main go of last night's SHOWTIME card at Barclays Center in Brooklyn, WBC world middleweight title-holder Jermall Charlo stopped Brisbane, Australia-based Dennis Hogan (28-3-1) in the seventh round. Charlo (30-0, 22 KOs) knocked Hogan down with a left uppercut early in the fourth stanza and closed the show three rounds later with a booming left that knocked Hogan (28-3-1) down and unable to continue when he arose in the eyes of the referee. Charlo who previously held a world title at 154 pounds, was making his third defense. Hogan, who was moving up from 154 pounds, hadn't previously been stopped.
The co-main between Chris Eubank Jr and veteran Matt Korobov was billed for the WBA "interim" world middleweight title. To the great dissatisfaction of the crowd, the contest was halted in the opening minute of the second round when Korobov was unable to continue after apparently dislocating his shoulder while throwing a punch. It goes into the books as a TKO 2 for Eubank.
Korobov (28-3-1) clearly had the best of it in the opening round, giving promise of a very interesting scrap. It was the U.S. debut for Eubank Jr (29-2, 22 KOs) who apparently will move forward into a match with Jermall Charlo.
In the best of the three TV fights, a battle of southpaws, Japan's Ryosuke Iwasa scored a mild upset with an 11th round stoppage of former WBO bantamweight champion Marlon Tapales to claim the IBF "interim 122-pound title.
Iwasa (27-3, 17 KOs) was three-and-a-half inches taller than Tapales and had a six-and-a-half-inch reach advantage. He started slowly but gradually assumed control with a higher workrate. In round 11, he brought the fight to a finish with a hard left that sent Tapales, now 33-3, down with his head falling under the lower strand of ropes. The Filipino beat the count but was in no condition to continue.
In a 10-round match fought at a catchweight of 164 pounds, Ronald Ellis (17-1-2) out-hustled Immanuwel Aleem (18-2-2) to win a well-deserved majority decision. The scores were 98-92, 97-93, and 95-95
Puebla
Emanuel Navarette's fourth defense of his WBO super bantamweight title was a soft defense against countryman Francisco Horta.
As anticipated, the 26-year-old Horta, who had defeated no one of note while building a 20-3-1 record, was out of his league. Navarette (30-1, 25 KOs) dominated from the get-go en route to a fourth-round stoppage.
The co-feature was equally one-sided. Jerwin Ancajas had little difficulty defending his title against Miguel Gonzalez, an obscure fighter from Chile. Perhaps the best of the current crop of Filipino fighters (no disrespect to Manny Pacquiao), Ancajas (32-1-2) took Gonzalez out in the sixth in what was the eighth successful defense of his IBF super flyweight title.
Montreal
David Lemieux's first foray into the 168-pound weight class nearly ended in disaster. Lemieux was knocked down in the opening round and again in the fifth by 35-year-old Ukrainian Max Bursak who wasn't known as a big puncher.
Lemieux scored a knockdown himself in round six and that ultimately saved him as he was given a split decision (94-93, 94-93, 93-94) that could have easily gone the other way. The narrow victory advanced Lemieux's record to 41-4 (34) while Bursak fell to 35-6-2.
In the featured undercard fight, rising heavyweight contender Arslanbek Makhmudov dismissed 39-year-old Samuel Peter in the opening round. It was Makhmudov's 11th win by stoppage in as many tries since leaving the amateur ranks.
It's sad to witness the demise of Samuel Peter. The former WBC title-holder, once ranked among the hardest heavyweight punchers of all time, currently resides in Palookaville. He has won only two of his last six fights, those coming in Tijuana against opponents who were a combined 4-33-2.
Photo credit: Stephanie Trapp / SHOWTIME
Check out more boxing news on video at The Boxing Channel 
To comment on this story in The Fight Forum CLICK HERE
The Hauser Report: Ruiz-Joshua 2 from Afar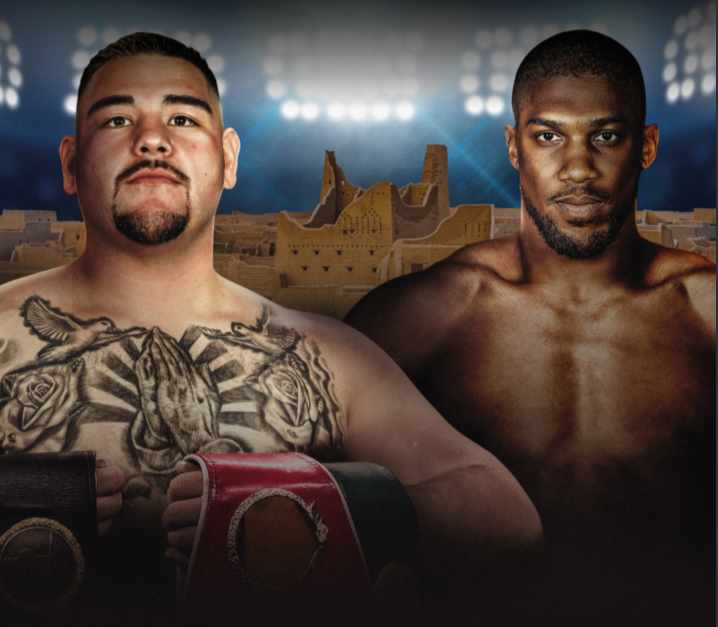 The Hauser Report: Ruiz-Joshua 2 from Afar
Humpty Dumpty is an English nursery rhyme, the origins of which are shrouded in the mist of history. It has been said at various times to have been written as an allegory for people and events as diverse as King Richard III (whose army was defeated in the last major battle of The War of the Roses in 1485) to the fall from grace of Cardinal Thomas Wolsey in 1529. In 1797, an English composer named Samuel Arnold published a work called Juvenile Amusements that included the following:
Humpty Dumpty sat on a wall,
Humpty Dumpty had a great fall.
Four-score Men and Four-score more,
Could not make Humpty Dumpty where he was before.
Since then, Humpty has appeared in creative works as diverse as Through The Looking Glass by Lewis Carroll and Finnegan's Wake by James Joyce. In its popularly-accepted current form, the rhyme reads:
Humpty Dumpty sat on a wall,
Humpty Dumpty had a great fall.
All the king's horses and all the king's men
Couldn't put Humpty together again.
That brings us to Anthony Joshua.
At the start of 2019, Joshua was King of the World. After winning a gold medal in the super-heavyweight division at the 2012 Olympics, he'd moved to the professional ranks and compiled a 22-0 (21 KOs) record en route to annexing the WBA, IBF, and WBO crowns. His most impressive performance during that time was an April 29, 2017, knockout of Wladimir Klitschko that saw "AJ" climb off the canvas in front of 90,000 screaming hometown fans at Wembley Stadium in London to stop Klitschko in the eleventh round.
"There has always been something regal about Joshua," Jimmy Tobin wrote. "A purple streak that went beyond his herculean dimensions, beyond the polish, beyond the grooming that long ago began preparing him to be not just a professional boxer but the heavyweight champion of the world."
Then came the fall.
On June 1, 2019, Joshua entered the ring at Madison Square Garden in what was billed as his "invasion of America." The opponent was Andy Ruiz, a substitute for Jarrell Miller who had been pulled from the fight after testing positive for banned performance enhancing drugs.
Ruiz had a good amateur pedigree. But he'd fought his first pro fight in 2009 at 297 pounds and evinced an aversion to serious conditioning throughout his ring career.
There's a reason why very few fat people succeed in boxing. And it has nothing to do with body-shaming. Boxing requires that a fighter turn his body into a finely-tuned instrument of destruction. Indeed, Top Rank (which promoted Ruiz for much of his ring career) grew so discouraged by Andy's eating habits and other lifestyle issues coupled with his financial demands that it let him buy his way out of his contract at the start of this year.
Joshua was a 20-to-1 betting favorite when the two men met in the ring on June 1. It was expected that Ruiz would be relegated to a place in boxing history alongside "Two-Ton" Tony Galento who was knocked out in the fourth round by Joe Louis eighty years ago. But once the bell rang, AJ's " invasion of America" evoked memories of England's performance against the colonies in the Revolutionary War.
After dropping Ruiz with a hellacious right-uppercut-left-hook combination in round three, Joshua was staggered by a counter left hook to the temple and pummeled around the ring. Four knockdowns later, Andy Ruiz was the WBA-IBF-WBO heavyweight champion of the world.
Within the hour, Deontay Wilder (Joshua's WBC rival) tweeted, "He [Joshua] wasn't a true champion. His whole career has consisted of lies, contradictions and gifts. Facts and now we know who was running from who!!!"
That earned a rejoinder at the post-fight press conference from Joshua's promoter, Eddie Hearn, who declared, "Deontay Wilder has zero class for kicking Joshua while he's down."
Tyson Fury, who styles himself as the "lineal" heavyweight king, was kinder on fight night, tweeting, "We have our back and forths but @anthonyfjoshua changed his stars through life. Heavyweight boxing, these things happen, rest up, recover, regroup and come again."
Then, two days later, Fury abandoned his gracious position and told ESPN Radio, "It was a little fat fella from California who chinned him. He'll never live it down. Can you imagine? You're built like an Adonis, you're six-foot-six, you're ripped, carved in stone. And a little fat guy who has eaten every Snickers and Mars bar in the whole of California comes in there and bladders you all over? What a disgrace. If that was me, I'd never show my face in public again."
Meanwhile; in a video released on his YouTube channel several days after the defeat, Joshua declared, "I took my first loss. How to explain that feeling? It hasn't really changed me, my work ethic, my mindset, what I stand for, the people I'm still loyal to. I'm a soldier and I have to take my ups and my downs. On Saturday, I took a loss and I have to take it like a man. I'm the one who went in there to perform, and my performance didn't go to plan. I'm the one who has to adjust, analyze, and do my best to correct it and get the job done in the rematch. Congratulations to Andy Ruiz. He has six months or so to be champion because the belts go in the air and he has to defend them against myself."
But it's never that simple. Recalling his own loss of the heavyweight title to Muhammad Ali in Zaire, George Foreman told boxing scribe Gareth Davies, "There is a process of grieving after a loss like this. When you are the heavyweight champion of the world, it's not like you have lost a fight. You have lost a part of yourself. You have got to find it again."
As for what might come next, Bob Arum weighed in on the subject just prior to the June 15 bout between Tyson Fury and Tom Schwartz. After saying that Fury (who he co-promotes) reminded him of Ali and Foreman, Arum declared that Team Joshua opting for an immediate rematch against Ruiz would be "the stupidest thing they can do." In response, it was noted that letting Ruiz buy his way out of his Top Rank promotional contract turned out to be not so smart either.
Meanwhile, Ruiz was spending money like it would lose its value by the end of the year. A mansion, a $450,000 Rolls Royce, lots of bling. In August, he hosted an elaborate thirtieth birthday party for himself that was notable for a bevy of buxom lingerie-clad waitresses, a naked sushi girl, a large ice sculpture with the initials "AR" carved into the ice, free-flowing champagne, a live performance by rapper Scotty Music, and more.
Soon after, trainer Manny Robles acknowledged that Ruiz had been slow to get back to the gym.
"We're working on getting back together this week," Robles told SB Nation on August 20. "I was hoping it would be yesterday but it wasn't, so we're definitely working on that right now. We're scheduled to start training this week. He's not in great shape. Let's hope we can get him back in the gym real soon and get him going again."
It soon became clear that a Joshua-Ruiz rematch would be the next fight for each man. The open issues were when and where. Ruiz wanted the fight in the United States. But Joshua wanted it in Cardiff and, by contract, his side of the promotion was entitled to the choice of venue. Ultimately, Hearn chose December 7 in Saudi Arabia because of lucrative financial incentives extended by the Saudi Kingdom.
A purse sweetener quickly overcame Ruiz's safety and humanitarian concerns, and the fight was on.
The morality of Ruiz-Joshua 2 being contested in Saudi Arabia has been discussed at length by this writer in a previous article. Suffice it to say here that boxing is not known for high moral standards, a point that was emphasized at the final pre-fight press conference in Diriyah on December 4 when Hearn introduced Prince Khalid bin Salman who spoke from the dais. Prince Khalid has been named in reliable intelligence reports as having been complicit in the murder of Washington Post journalist Jamal Khashoggi in the Saudi Arabian consulate in Istanbul on October 2, 2018.
Glossing over that history, Hearn advised the assembled media, "I can't tell you how glad and honored we are to be here in the Kingdom of Saudi Arabia to stage this event. There was a little bit of criticism. [But] I can tell you that, sitting here today, it was a wonderful, wonderful decision that we are so happy with. This is a new dawn for the sport of boxing. And we cannot thank the Kingdom of Saudi Arabia, Skill Challenge Entertainment [the Saudi Kingdom's official event partner], and the GSA [the Saudi Arabian General Sports Authority] enough for everything they have done."
Joshua had arrived in Saudi Arabia two weeks before the December 7 bout, Ruiz several days later. For the most part, the pre-fight exchanges between the boxers were pleasant.
"I respect him," Joshua said of Ruiz. "He came into the ring [in our first fight] and did what he had to do."
Ruiz responded in kind saying, "I have a lot of respect for Anthony. Outside the ring, he's a very good man."
There were the usual expressions of confidence.
"When I came to boxing," Joshua declared, "I didn't come to take part. I came to take over. I'm not here to put on a show. I'm here to win."
"I know he's gonna try to box me around," Ruiz countered. "But it's my job to prevent that. I'm ready to rock and roll."
Ruiz also shared the thought, "I'm still the same Andy Ruiz. I'm still the same chubby little fat kid with the big dream. But inside the ring, I'm the champion of the world. This journey now is what I've been dreaming about all my life. I don't want to give it away. I want a legacy, not just fifteen minutes of fame."
There had been other huge upsets in heavyweight championship history before Ruiz toppled Joshua. James Braddock decisioned Max Baer. Buster Douglas knocked out Mike Tyson. Hasim Rahman beat Lennox Lewis. In each of these instances, the upset winner lost in his first title defense. By contrast, Cassius Clay "shook up the world" when he dethroned Sonny Liston and had a long glorious reign as Muhammad Ali.
Within that framework, Ruiz-Joshua 2 was seen primarily as a referendum on Joshua.
"Now we find out who he is," Jimmy Tobin wrote. "Is he a better version of his countryman Frank Bruno? A physical specimen good enough to pick up some hardware but too psychologically fragile to persist at the top? Or is he closer to Lennox Lewis, an Olympic gold medalist who could be chinned but who never abandoned his malice despite the risk it introduced, whose multiple title reigns were a testament to his talent but also his ability to rebuild?"
The consensus was that Joshua should take a page from Wladimir Klitschko's playbook, use his advantage in height and reach over Ruiz, and fight a cautious fight. Klitschko was mocked after he lost by knockout to Ross Puritty, Corrie Sanders, and Lamon Brewster. But things turned out well for Wladimir once he retooled his defense and embarked on a 22-fight winning streak. Lennox Lewis met with similar success after knockout defeats at the hands of Oliver McCall and Hasim Rahman. When Lewis and Rahman readied for their rematch, most onlookers who had picked Lewis to win big the first time were on the fence. They questioned whether Lennox could take Rahman's punch any better in Las Vegas than he did in South Africa. He could and he did.
Joshua was a 2-to-1 betting favorite over Ruiz in the rematch. The odds reflected his superior physical assets and the belief that he would come into their second encounter in far better physical condition than Ruiz. But there was more to it than that.
"It's not just about coming in strong and fit," Joshua said at a September 5 press conference in New York. "This training camp will be based on being quicker. I've spent the last three months sharpening the tools in my box that I didn't use before."
Joshua's jab was widely viewed the key to his winning the rematch. He had to work it effectively as both an offensive and defensive weapon.
"If he knows how to use that lead hand to stop Ruiz from coming in," Virgil Hunter (who trained Andre Ward) said, "he can control that whole situation and use his follow-up punches at the right time. And he has to set a footwork pace on Ruiz. [In the first fight] he let Ruiz take the steps that he was comfortable with. He needs to set up a footwork pace to make Ruiz step quicker, move quicker, work harder to get in range, and test his conditioning."
Joshua weighed in at 237-1/2 pounds for Ruiz-Joshua 2, ten pounds lighter than for their first encounter. That bespoke of a decision on his part to trade muscle mass for speed and quickness
By contrast, Ruiz weighed in at 283-1/2, the most he'd weighed for a fight since his second pro outing more than ten years ago. Granted, Andy was wearing undershorts, a shirt, and sombrero when he stepped on the scale. But many observers thought that the 15-1/2 pounds he'd added since June bespoke of a lack of conditioning and commitment.
That said; when talk turned to Joshua winning the rematch with his jab, Ruiz's proponents noted that Andy had backed AJ up with his own jab in rounds one and two of their first encounter and was elusive when Joshua tried to find him with jabs of his own.
Asked what he thought would be the key to the rematch, Ruiz answered, "Me staying small. I don't think he likes fighting against that style. I don't think he's ever fought a short guy that pressures and is pretty slick. I felt like I was boxing him around even though I was the shorter guy."
"He'll try to box me and use his jab," Ruiz continued. "But how long can he keep me away from hunting him down? That's what we've been working on most of all heading into the fight. The main thing is pressure, throw combinations and use my speed. I can't let him grow balls in there. I want to impose myself in this fight."
Having grown tired of hearing that a "lucky punch" in round three led to Joshua's downfall, Ruiz cited his own trip to the canvas in round three and told Sky Sports, "That was a lucky shot for him, too."
When Joshua looked back on the defeat and said, "The first time I had him down, I could have been smarter. I got trigger happy and he landed," Ruiz countered by noting that he'd also made a stupid mistake and got whacked just as hard as Joshua. But he had gotten back up ready to fight and survived.
And there were the intangibles.
Joshua's victory over Wladimir Klitschko had been his greatest ring triumph. But in some ways, he seemed to be a lesser fighter after beating Wladimir. Rather than emerge from the Klitschko fight with increased self-belief and the idea that he could fight through all kinds of adversity to win, Joshua had seemed more tentative and vulnerable in fights since then, as though the Klitschko experience had scared and scarred him.
Confidence is a fragile thing for a fighter.
"Joshua says all the right things," Bart Barry wrote. "Back to basics, trust his intuition, go with what got him there, a brand new fitness regimen. None of these things fixes the technical flaws Ruiz brought to light, much less the mental weakness Ruiz amplified. Andy Ruiz knows exactly what he is when he looks in the mirror. Anthony Joshua does not any longer, if he ever did. He knows his career's greatest advocates either overestimated him or lied about it."
Frank Lotierzo concurred, writing, "The thing that will make Ruiz so tough to beat is this. He's coming to fight and is confident Joshua is coming to survive and box. Ruiz is certain he has the style to beat Joshua and shake off anything he might try to do. That's a great mindset to have going into a big fight: the total belief that the opponent fears you; that he doesn't want to trade; that he can't box as well; that he isn't as fast, tough, or confident. If Joshua can overcome that, he's a remarkable fighter. Ruiz is going to ask Joshua the same questions he had no answer for the last time."
And Deontay Wilder played on that theme, opining, "Joshua always had a weak mindset – always. And you can't train for a mindset. Either you've got it or you don't. Either you believe in yourself or you don't. Either you know you've got the goods or you don't. It ain't no guessing. It ain't asking no questions. No, f*** that! You got it or you don't. And if you don't have it, you don't belong in this sport. Who knows? Maybe he's got it together. Maybe he's gonna go in there and knock Ruiz out. There's a lot of maybes. I'm just going off of what I've seen in the first fight. And just a few months is not gonna correct what happened to him that night."
Joshua's mental state was the key imponderable. And no one would be able to measure that until the fight began. If the time came to walk through fire, would AJ be able the rekindle the toughness he showed when he climbed off the canvas to knock out Wladimir Klitschko? Or would he crumble?
With that in mind, AJ's supporters were discomforted by a statement that he made as the rematch neared: "Even though I lost, it was only in my quiet times, like going to bed or something like that, that I really thought about it. In a weird way, it was kind of like a relief."
Losing was a relief? Was the pressure that came with being King of the World that crushing? Which great heavyweight champion ever thought that losing was "kind of like a relief?"
It's hard to think of a fighter who was considered "elite" who fell as far and as fast as Joshua did after losing to Ruiz. Virtually no one had picked Ruiz to win the first fight. Now most boxing people were saying that it was hard to pick a winner. And most insiders who were picking were picking Ruiz.
"You roll the dice," commentator Paulie Malignaggi said of Joshua opting for an immediate rematch. "This is what boxing is, right?"
A stadium seating 15,000 fans had been built for the fight in Diriyah on the outskirts of Riyadh. The televised undercard was forgettable. Then came Ruiz-Joshua 2, the most anticipated fight of the year.
DAZN had told viewers that the fighter ring walks would begin at 3:45 PM eastern time and that round one would start at 4:00 PM. But a swing bout pushed the start of the walks past 4:00 PM and that was followed by three national anthems.
It was not an entertaining fight. Someday, if someone prepares a list of boxing oxymorons, "Ruiz-Joshua 2 highlights" will be on the list.
Ruiz looked like the last-place finisher in a wet T-shirt contest. He lumbered forward for most of the fight while Joshua circled away and jabbed. Before fighting Joshua earlier this year, Ruiz wasn't known as a puncher. Six of his previous ten fights had gone the distance. But Joshua kept his distance this time as though Andy was Mike Tyson in his prime.
Ruiz was cut above the left eye by a sharp right hand late in round one, but the cut wasn't a factor in the fight. And he landed a few solid blows, mostly in rounds eight and nine. But that was all. He evinced no understanding of how to cut off the ring to get to Joshua. When he did get inside, either AJ tied him up or referee Luis Pabon prematurely broke the fighters. On the few occasions when Andy managed to land solidly, Joshua immediately got back on his bike. By the late rounds, Ruiz had the look of a frustrated fighter who was just going through the motions.
The lack of action was reflected in the fact that, according to CompuBox, Ruiz landed only sixty punches over the course of twelve rounds while Joshua landed 107. The judges' scorecards correctly read 119-109, 118-110, 118-110 in AJ's favor.
"He won," Ruiz acknowledged afterward. "He boxed me around. I don't think I prepared as good as I should have. I gained too much weight. It kind of affected me a lot. I thought I would come in stronger and better. But you know what; next time I'm going to prepare better."
"Look, this is about boxing," Joshua said in a post-fight interview when asked about the tactical nature of the proceedings.
Or as Rocky Marciano, one of boxing's great warriors, once noted, "You're not in the ring to demonstrate your courage. You're in there to win the fight."
Give Joshua kudos for always carrying himself like a champion outside the ring.
And add on credit for his winning the rematch. A second loss to Ruiz would have been a devastating blow to his career. But despite what was said throughout the promotion, Ruiz-Joshua 2 was for some belts, not THE heavyweight championship of the world. The #1 heavyweight in the world right now is Deontay Wilder with Tyson Fury in second place.
After Lennox Lewis lost to Hasim Rahman, he came into their rematch determined to seek out and brutally destroy his conqueror. And he did. Joshua, on the other hand, looked almost fragile on Saturday night. He'd be an underdog against Wilder or Fury. And it's not a stretch to say that contenders like Jarrell Miller and Luis Ortiz could give him trouble.
As for Ruiz; the good paychecks should last for a while now. He'll always be a bit of a name, the guy who beat Anthony Joshua.
Thomas Hauser's email address is thomashauserwriter@gmail.com. His most recent book – A Dangerous Journey: Another Year Inside Boxing – was published by the University of Arkansas Press. In 2004, the Boxing Writers Association of America honored Hauser with the Nat Fleischer Award for career excellence in boxing journalism. In June 2020, he will be inducted into the International Boxing Hall of Fame.
Check out more boxing news on video at The Boxing Channel 
To comment on this story in The Fight Forum CLICK HERE
News Flash: Joshua Flummoxes Ruiz in a Monotonous Fight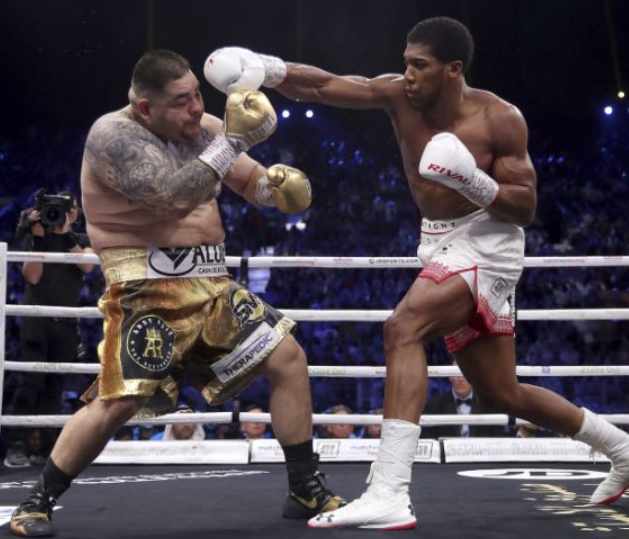 The first match between Anthony Joshua and Andy Ruiz Jr , staged this past June at Madison Square Garden, produced one of the biggest upsets ever in heavyweight boxing history. Did Ruiz, with his dough boy physique, have the blueprint to further erode AJ's legacy?
That question was answered today in Diriyah, Saudi Arabia, and the answer was "no." While AJ didn't emboss his legacy with a scintillating performance, Andy Ruiz, who had no "Plan B," did nothing to erode it.
Holding tight to his game plan, Joshua controlled the range, keeping Ruiz on the outside where his offense was blunted. Joshua was content to jab his way to victory. Re-acquiring his world title belts took priority over giving the fans a fan-friendly fight.
Ruiz looked a bit heavier than in their first meeting, consistent with the pre-fight weigh-in where the scale measured 283 pounds. He was cut over his left eye in the opening round and Joshua suffered a small cut over the same eye in the next frame, but the cuts did not factor into the storyline.
The scores were 119-109 and 118-110 twice. "It was his night. I didn't prepare how I should have," Ruiz told Sky Sports after the fight.
Other Heavyweight Bouts
Michael Hunter (18-1-1) and Alexander Povetkin (35-2-1) fought to a draw in a good action fight highlighted by an entertaining seventh round in which both combatants were staggered. The scores were 115-113, 113-115, 114-114.
Hunter started fast, but Povetkin quickly narrowed the gap and had somewhat the best of it in the final round. The 40-year-old Russian still has a lot of smoke in his chimney.
In a ho-hum fight, perennial WBC #1 heavyweight contender Dillian Whyte (27-1, 18 KOs) won a unanimous decision over Poland's 39-year-old Mariusz Wach (35-6). The scores were 98-93 and 97-93 twice.
Whyte, who was cleared by a British anti-doping agency on the eve of he fight, came in at 271 pounds, about 20 pounds above his best weight.
Filip Hrgovic, the fast-rising six-foot-six Croatian, dominated 37-year-old Tex-Mex Eric Molina (27-6) en route a third-round stoppage. Hrgovic, who improved to 10-0 (8) had Molina on the deck three. On his final trip, Molina was counted out.
Check back later for Thomas Hauser's post-fight story.
To comment on this story in The Fight Forum CLICK HERE