British Boxing 2018 In Review
BBC boxing correspondent Mike Costello this week called British boxing "the envy of the world" to the vocal approval of his sidekick Steve Bunce. A touch jingoistic, perhaps, but far from an unreasonable position for all that.
Britain currently boasts three of the five best heavyweights in the world, the best super middleweight, two of the five best featherweights and more than ten percent of the fighters currently ranked among the TBRB rankings.
Anthony Joshua has even crept on to one or two pound-for-pound lists.
It's been one hell of a year for the British fight game whichever way you cut it and that's been reflected in enormous paydays and even bigger crowds. Below, we look at the British scene specifically, naming the British Fighter of the Year, the British Fight of the Year and the British Trainer of the Year, among others. Making selections in every area was difficult. That's a sign of a sport in ruddy health and with many of the winners triumphing in performances they turned in at the very end of the year it is likely to get healthier in 2019.
That, as the man once said, is in the cut.
Here's what's in the book.
 British Fighter of the Year: Josh Warrington
"The problem with Josh Warringon," wrote Forbes.com in previewing his match with Lee Selby this past March, "is he fights like a guy with an 8.5 percent KO ratio…I have Lee Selby winning by unanimous decision and setting up a meeting with Carl Frampton later this year."
Warrington has stood as the underdog for as long as he can remember, only his rabid and unflinchingly loyal fanbase in Leeds, England seeming to consistently believe in him.
"Before I fought Joel Brunker people were saying "Brunker will have him out of their in five."  Then," he told Boxing News before this month's meeting with Frampton, "they said Hisashi Amagasa was going to blast me out.  Then they said Kiko Martinez was going to blast me out.  It didn't make me angry but…I just didn't understand why."
Selby was ranked the #4 featherweight in the world at the time of his meeting with Warrington, who was then ranked #9. The result of the fight was not debatable, despite the odd split-decision victory rendered for Warrington on the night. Selby did good work in the middle rounds with a sharp body-attack but Warrington continued to press.  Selby's vaunted jab was almost worthless, like throwing paper darts at a tiger.
Warrington had derailed a British superfight in Selby-Frampton but the British boxing press and public seemed satisfied that Warrington-Frampton would make for a reasonable substitution, a good fight that would see Frampton restore the natural order.
Warrington didn't get the memo.
Instead, he out-fought and out-thought a fighter who was supposed to be a level above him, too good to lose, a marked favorite. The first round was the fight in microcosm. Warrington stood ring center throwing punches which, if not quite wild, were uncontrolled, out-hitting Frampton, who stood his ground. But Warrington didn't just fly in and start swinging. He feinted, threatening right hand shots by coming square, before quickly moving back into an orthodox stance, scampered forwards on quick feet, led with a technically sound jab which helped partially neutralize Frampton's supposedly superior jab, and then, when he'd done all the hard work and forced a disorganized retreat, he let rip. It was thrilling, brilliant, and he had the chin and the engine to make it work.  He was faster, stronger, had a superior fight plan, and most of all, he was better. Given Frampton's pedigree and one-time pound-for-pound status, that is enormously impressive
When the referee lifted the underdog's hand once more at the end of twelve scintillating rounds, the argument as to who was the British fighter of the year was over.
British Fight of the Year: Dillian Whyte KO11 Dereck Chisora
On the same night as Warrington was anointed the best of British in Manchester, Dillian Whyte and Dereck Chisora were staging an even better fight in London.
It was the fight Chisora most wanted, a rematch of his desperately narrow and brutal points defeat in their fight of the year candidate from December 2016. The rematch broke the mold in that it was even better than the first.
Chisora, who defines his style of pressure and brawl as "rolling thunder" (though he also compared himself to laxative pills in the build-up), rolled out of his corner throwing meathook right hands to the body; Whyte dialed in his counter right-hand. Battle-lines were drawn in mere seconds and they would be savagely contested throughout.
The difference between this and their first fight was Chisora's conditioning. Happy to nestle on the ropes and duke it out in some of his recent contests, Chisora was pushing, pushing, pushing his man while Whyte looked to out-box and out-slug the man driving him back. Whyte's defensive deficiencies combined with Chisora's face-first pursuit saw each man swallow and hold bombs while they roughed each other up inside, heads, low-blows and two deducted points for Chisora.
But he took hardly a step back. Over and over again Whyte rattled him with a big punch but Chisora's force of will brought him straight back, armed with that thunder.
After every round it seemed the pace must slow or a man must wilt. Even when the end came it was no breach of heart or conviction but rather a sudden disconnection of Chisora from body by a single punch that left him under a deep blanket of darkness on the canvas. It was as dramatic an ending to a fight as can be imagined and it is the reason there is no separate knockout of the year category.
The brilliance of a fight can often be defined in the testimony of the winner for the loser. Despite a prickly personality and a tendency to speak the worst of his foes, victorious and defeated, Whyte was effusive.
"Chisora is a fighting man. He's not a boxer, he's not a technician he's a fighting man. He's a black Viking, he'll hit you with anything. The more you hit him, the more he keeps coming.
"Dereck's a tough dude, man."
British Breakthrough Fighter of the Year: Charlie Edwards
In September of 2016 English flyweight champion Charlie Edwards stepped up to take on the world's #2 at 112lbs, John Riel Casimero, then coming off a four round stoppage of Amnat Ruenroeng. It was an ambitious and a questionable move and most people expected to see him brutalized.  He was, in ten brave rounds.
Six fights later, having strung together consecutive wins against non-elite opposition and helped nurse his mother through a life threatening illness, Edwards landed another title shot this December against the best flyweight in the world: Cristofer Rosales.
The same Cristofer Rosales who looked so lethal in stopping Daigo Higa, who had knocked out every one of his fifteen opponents going into that fight; who looked outright frightening butchering a fighter who likely would have been a favorite over Edwards himself, elite prospect Paddy Barnes. Edwards was expected once again to show bravery while suffering pain before inevitably succumbing.
Instead, the 25 year old Surrey man turned in a performance of such high quality it took me some time to understand what it was I was seeing. His use of footwork to control the space was that of a much more seasoned fighter; his patience and understanding of the rhythm of the fight was a picture of maturity, his timing beautiful, his management of his punches – here quick and sharp, there more stinging – was quite extraordinary.
All of this against a man who has fought more top-ten ranked opposition than Edwards has been scheduled to fight ten rounds.
It was not an exciting fight, just a stunning one. Had Edwards eked out a narrow, disputed decision I would have been quite surprised; to see him out-box Rosales and win clearly was almost surreal.
Edwards put both the flyweights and the super-flyweights on notice and there are some challenging fights on his horizon for 2019, but win, lose or draw he has already exceed the expectations of everyone but himself, his team, and his family.
In other words, the only people who matter.
British Prospect of the Year: Dean Sutherland
My kilt may be showing a little with this selection but I've gone for twenty-year old Scotsman and light-welterweight Dean Sutherland as my British Prospect of the Year for 2019. Currently 4-0 as a professional fighter, Sutherland may seem a little premature but it's worth noting that he has the ambition to match my selection, talking openly of a British or European title shot by the end of the New Year. If this seems ridiculous it's worth noting that Sutherland brings a wealth of combat experience from the ranks of kickboxing, where he gained multiple titles including the 67kg ISKA Full Contact Title; this means little more to me than it probably does to you, but I'm told it's an impressive feat.
For decades, Muay Thai has been providing cross-over stars in the western discipline, men like Saensak Muangsurin who won a title in his fifth professional contest, Samart Payakaroon who  fought for one in his twelfth, or Yokthai Sithoar who managed it in his eleventh.  The point is, full contact ring experience counts for plenty across disciplines and for all that kick-boxing is less successful at providing champions in the professional boxing ranks, it has happened.
Whether or not that is Sutherland's destiny is a question that will only be answered at the end of a hundred miles of bad road; kickboxing is well and good but we all know the special questions posed of a chin by professional boxing. His heart, too, will no doubt be more tested than that of fighters with similar records.
What we do know is that he is a swift, assured and accurate puncher armed with speed and composure.  He's out twice before March; coming to a television near you by December.
British Trainer of the Year: Ben Davison
Ben Davison was no doubt somewhat bemused when an obese, alcoholic, suicidal and depressed Tyson Fury gate-crashed the workout he was holding for other fighters and, in his own inimitable style, took over.
Later, and inevitably, in a bar, Davison thought the huge heavyweight was joking when he told him:
"If you can get numbers of each one of those girls, I'll let you train me."
Game, Ben gave it a whirl and was astonished when, upon producing two phone numbers, Tyson stayed true to his word.
"It's all about confidence," Tyson would say breezily when recalling the selection process for the key member of his camp. "If he's not confident enough to approach them two girls, how can he handle me?"
For many, it was a bad joke. Davison had no experience at such a lofty level and was in no way qualified to handle such a brilliant yet delicate asset. But Davison unlocked the key to motivating Tyson in a matter of days. He kept it fun and non-adversarial. The fallout between Tyson and his uncle, Peter Fury, was unpleasant and apparently for keeps. The chemistry between Ben and Tyson was there for all to see from the very start.
But, press repeatedly asked anyone but Tyson and Ben, what was it that would happen when the crucial moment came in the corner of a big fight? How would Ben, with so little experience, find the answer much less the words? It was all well and good taking a series of weight loss classes and having a giggle but what about when it came to the crunch?
Those questions were answered much more quickly than we could have supposed. Tyson and Ben seemed to have jumped the shark when they took a fight with Deontay Wilder so soon after their return to action, but Fury didn't just look good; he seemed entirely to outclass his befuddled opponent. When Wilder eventually landed a meaningful punch and Tyson visited the canvas, we were treated to the sight of Ben Davison standing between hall of fame trainer Freddie Roach and first ballot hall of fame fighter Ricky Hatton, calmly dominating the corner with sage advice.
It has been suggested in one or two corners that he has done nothing but wax a Porsche; often the people doing the suggesting are the same ones who said that Tyson would look lost without former trainer Peter Fury.
The fact is that with Ben Davison in his corner, Tyson Fury has looked better.
Check out more boxing news on video at The Boxing Channel
To comment on this article in the Fight Forum, CLICK HERE
Mercito Gesta Victorious Over Jojo Diaz at the Long Beach Pyramid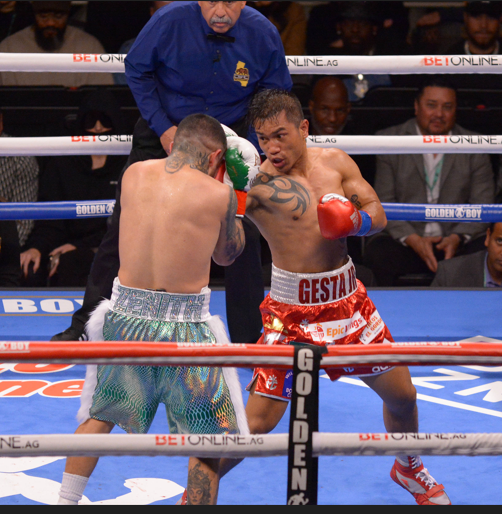 LONG BEACH, CA.-Those in the know knew Mercito Gesta and Jojo Diaz would be a fight to watch and they delivered.
Gesta emerged the winner in a super lightweight clash between southpaws that saw the judges favor his busier style over Diaz's body attack and bigger shots and win by split decision on Saturday.
Despite losing the main event because the star was overweight, Gesta (34-3-3, 17 KOs) used an outside method of tactic to edge past former world champion Diaz (32-4-1, 15 KOs) in front of more than 5,000 fans at the Pyramid.
The speedy Gesta opened up the fight with combination punching up and down against the peek-a-boo style of Diaz. For the first two rounds the San Diego fighter overwhelmed Diaz though none of the blows were impactful.
In the third round Diaz finally began unloading his own combinations and displaying the fast hands that helped him win world titles in two divisions. Gesta seemed stunned by the blows, but his chin held up. The counter right hook was Diaz's best weapon and snapped Gesta's head back several times.
Gesta regained control in the fifth round after absorbing big blows from Diaz. He seemed to get angry that he was hurt and opened up with even more blows to send Diaz backpedaling.
Diaz targeted his attack to Gesta's body and that seemed to slow down Gesta. But only for a round.
From the seventh until the 10th each fighter tried to impose their style with Gesta opening up with fast flurries and Diaz using right hooks to connect with solid shots. They continued their method of attack until the final bell. All that mattered was what the judges preferred.
After 10 rounds one judge saw Diaz the winner 97-93 but two others saw Gesta the winner 99-91, 98-92. It was a close and interesting fight.
"I was expecting nothing. I was the victor in this fight and we gave a good fight," said Gesta. "It's not an easy fight and Jojo gave his best."
Diaz was surprised by the outcome but accepted the verdict.
Everything was going good. I thought I was landing good body shots," said Diaz. "I was pretty comfortable."
Other Bouts
Mexico's Oscar Duarte (25-1-1, 20 KOs) knocked out Chicago's Alex Martin (18-5, 6 KOs) with a counter right hand after dropping him earlier in the fourth round. The super lightweight fight was stopped at 1:14 of the round.
A battle between undefeated super welterweights saw Florida's Eric Tudor (8-0, 6 KOs) emerge the winner by unanimous decision after eight rounds versus Oakland's Damoni Cato-Cain.
The taller Tudor showed polished skill and was not bothered by a large cut on his forehead caused by an accidental clash of heads. He used his jab and lead rights to defuse the attacks of the quick-fisted southpaw Cato-Cain. The judges scored the fight 80-72 and 78-74 twice for Tudor.
San Diego's Jorge Chavez (5-0, 4 KOs) needed less than one round to figure out Nicaragua's Bryan Perez (12-17-1, 11 KOs) and send him into dreamland with a three-punch combination. No need to count as referee Ray Corona waved the fight over. Perez shot a vicious right followed by another right and then a see-you-later left hook at 3.00 of the first round of the super featherweight match.
Photo credit: Al Applerose
Jojo Diaz's Slump Continues; Mercito Gesta Prevails on a Split Decision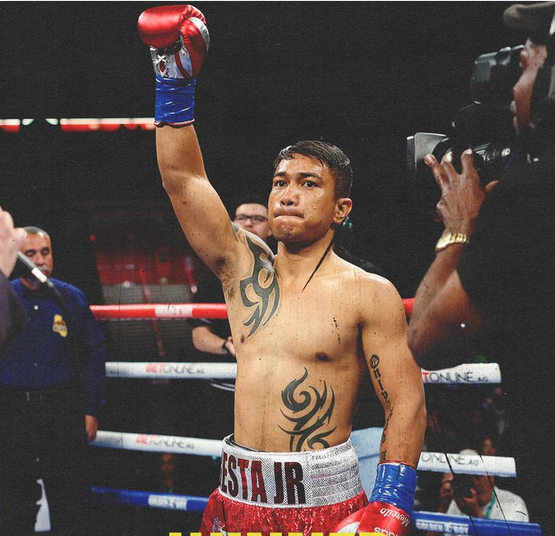 At age 30, Jojo Diaz's career is on the skids. The 2012 U.S. Olympian, a former world title holder at 126 and 130 pounds and an interim title holder at 135, Diaz suffered his third straight loss tonight, upset by Mercito Gesta who won a split decision at the Walter Pyramid in Long Beach, CA.. The scoring was strange with Gesta winning nine of the 10 rounds on one of the cards and only three rounds on another. The tie-breaker, as it were, was a 98-92 tally for Gesta and even that didn't capture the flavor of what was a closely-contested fight.
Originally listed as a 12-rounder, the match was reduced to 10 and that, it turned out, did Diaz no favors. However, it's hard to feel sorry for the former Olympian as he came in overweight once again, having lost his 130-pound title on the scales in February of 2021.
Diaz also has issues outside the ropes. Best elucidated by prominent boxing writer Jake Donovan, they include a cluster of legal problems stemming from an arrest for drunk driving on Feb. 27 in the LA suburb of Claremont.
With the defeat, Diaz's ledger declined to 32-4-1. His prior losses came at the hands of Gary Russell Jr, Devin Haney, and William Zepeda, boxers who are collectively 83-2. Mercito Gesta, a 35-year-old San Diego-based Filipino, improved to 34-3-3.
Co-Feature
Chihuahua, Mexico super lightweight Oscar Duarte has now won nine straight inside the distance after stopping 33-year-old Chicago southpaw Alex Martin in the eighth frame. Duarte, the busier fighter, had Martin on the deck twice in round eight before the fight was waived off.
Duarte improved to 25-1-1 (20). Martin, who reportedly won six national titles as an amateur and was once looked upon as a promising prospect, declined to 18-5.
Other Bouts of Note
New Golden Boy signee Eric Tudor, a 21-year-old super welterweight from Fort Lauderdale, overcame a bad laceration over his right eye, the result of an accidental clash of heads in round four, to stay unbeaten, advancing to 8-0 (6) with a hard-fought unanimous 8-round decision over Oakland's Damoni Cato-Cain. The judges had it 80-72 and 78-74 twice. It was the first pro loss for Cato-Cain (7-1-1) who had his first five fights in Tijuana.
In the DAZN opener, lanky Hawaian lightweight Dalis Kaleiopu went the distance for the first time in his young career, improving to 4-0 (3) with a unanimous decision over 36-year-old Colombian trial horse Jonathan Perez (40-35). The scores were 60-52 across the board. There were no knockdowns, but Perez, who gave up almost six inches in height, had a point deducted for a rabbit punch and another point for deducted for holding.
To comment on this story in the Fight Forum CLICK HERE
'Big Baby' Wins the Battle of Behemoths; TKOs 'Big Daddy' in 6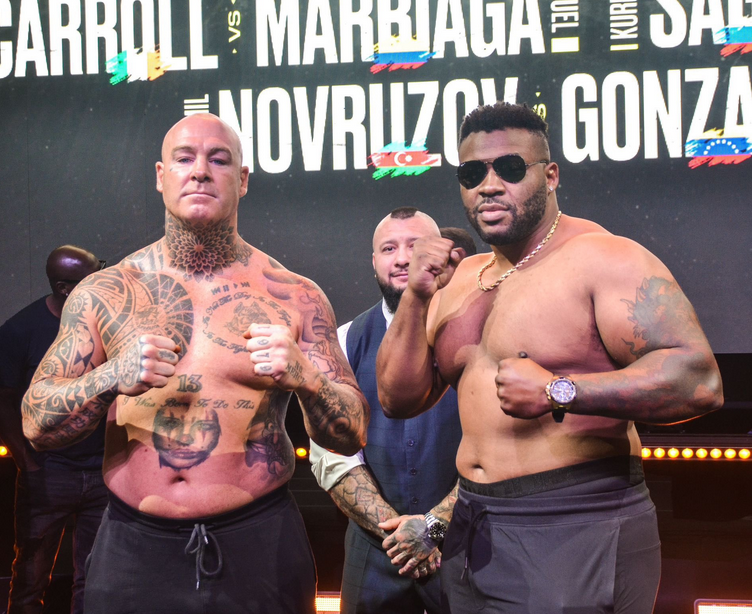 Lucas "Big Daddy" Browne weighed in at a career-high 277 pounds for today's battle in Dubai with Jarrell "Big Baby" Miller, but he was the lighter man by 56 pounds. It figured that one or both would gas out if the bout lasted more than a few stanzas.
It was a war of attrition with both men looking exhausted at times, and when the end came it was Miller, at age 34 the younger man by nine years, who had his hand raised.
Browne was the busier man, but Miller, whose physique invites comparison with a rhinoceros, hardly blinked as he was tattooed with an assortment of punches. He hurt 'Bid Daddy' in round four, but the Aussie held his own in the next frame, perhaps even forging ahead on the cards, but only postponing the inevitable.
In round six, a succession of right hands knocked Browne on the seat of his pants. He beat the count, but another barrage from Miller impelled the referee to intervene. The official time was 2:33. It was the 21st straight win for Miller (26-0-1, 22 KOs). Browne declined to 31-4 and, for his own sake, ought not fight again. All four of his losses have come inside the distance, some brutally.
The consensus of those that caught the livestream was that Floyd Mayweather Jr's commentary was an annoying distraction that marred what was otherwise an entertaining show.
As for what's next for "Big Baby" Miller, that's hard to decipher as he has burned his bridges with the sport's most powerful promoters. One possibility is Mahmoud Charr who, like Miller, has a big gap in his boxing timeline. Now 38 years old, Charr – who has a tenuous claim on a WBA world title (don't we all?) —  has reportedly taken up residence in Dubai.
Other Bouts of Note
In a 10-round cruiserweight affair, Suslan Asbarov, a 30-year-old Russian, advanced to 4-0 (1) with a hard-fought majority decision over Brandon Glanton. The judges had it 98-92, 97-93, and a more reasonable 95-95.
Asbarov was 12-9 in documented amateur fights and 1-0 in a sanctioned bare-knuckle fight, all in Moscow, entering this match. He bears watching, however, as Glanton (18-2) would be a tough out for almost anyone in his weight class. In his previous fight, at Plant City, Florida, Glanton lost a controversial decision to David Light, an undefeated Australian who challenges WBO world title-holder Lawrence Okolie at Manchester, England next week.
A 10-round super featherweight match between former world title challengers Jono Carroll and Miguel Marriaga preceded the semi-windup. Carroll, a 30-year-old Dublin southpaw, overcame a cut over his left eye suffered in the second round to win a wide unanimous decision in a fairly entertaining fight.
It was the sixth straight win for Carroll (24-2-1, 7 KOs) who elevated his game after serving as a sparring partner for Devin Haney. Marriaga, a 36-year-old Colombian, lost for the fourth time in his last five outings, declining to 30-7.
To comment on this story in the Fight Forum CLICK HERE