British Boxing 2018 In Review
BBC boxing correspondent Mike Costello this week called British boxing "the envy of the world" to the vocal approval of his sidekick Steve Bunce. A touch jingoistic, perhaps, but far from an unreasonable position for all that.
Britain currently boasts three of the five best heavyweights in the world, the best super middleweight, two of the five best featherweights and more than ten percent of the fighters currently ranked among the TBRB rankings.
Anthony Joshua has even crept on to one or two pound-for-pound lists.
It's been one hell of a year for the British fight game whichever way you cut it and that's been reflected in enormous paydays and even bigger crowds. Below, we look at the British scene specifically, naming the British Fighter of the Year, the British Fight of the Year and the British Trainer of the Year, among others. Making selections in every area was difficult. That's a sign of a sport in ruddy health and with many of the winners triumphing in performances they turned in at the very end of the year it is likely to get healthier in 2019.
That, as the man once said, is in the cut.
Here's what's in the book.
 British Fighter of the Year: Josh Warrington
"The problem with Josh Warringon," wrote Forbes.com in previewing his match with Lee Selby this past March, "is he fights like a guy with an 8.5 percent KO ratio…I have Lee Selby winning by unanimous decision and setting up a meeting with Carl Frampton later this year."
Warrington has stood as the underdog for as long as he can remember, only his rabid and unflinchingly loyal fanbase in Leeds, England seeming to consistently believe in him.
"Before I fought Joel Brunker people were saying "Brunker will have him out of their in five."  Then," he told Boxing News before this month's meeting with Frampton, "they said Hisashi Amagasa was going to blast me out.  Then they said Kiko Martinez was going to blast me out.  It didn't make me angry but…I just didn't understand why."
Selby was ranked the #4 featherweight in the world at the time of his meeting with Warrington, who was then ranked #9. The result of the fight was not debatable, despite the odd split-decision victory rendered for Warrington on the night. Selby did good work in the middle rounds with a sharp body-attack but Warrington continued to press.  Selby's vaunted jab was almost worthless, like throwing paper darts at a tiger.
Warrington had derailed a British superfight in Selby-Frampton but the British boxing press and public seemed satisfied that Warrington-Frampton would make for a reasonable substitution, a good fight that would see Frampton restore the natural order.
Warrington didn't get the memo.
Instead, he out-fought and out-thought a fighter who was supposed to be a level above him, too good to lose, a marked favorite. The first round was the fight in microcosm. Warrington stood ring center throwing punches which, if not quite wild, were uncontrolled, out-hitting Frampton, who stood his ground. But Warrington didn't just fly in and start swinging. He feinted, threatening right hand shots by coming square, before quickly moving back into an orthodox stance, scampered forwards on quick feet, led with a technically sound jab which helped partially neutralize Frampton's supposedly superior jab, and then, when he'd done all the hard work and forced a disorganized retreat, he let rip. It was thrilling, brilliant, and he had the chin and the engine to make it work.  He was faster, stronger, had a superior fight plan, and most of all, he was better. Given Frampton's pedigree and one-time pound-for-pound status, that is enormously impressive
When the referee lifted the underdog's hand once more at the end of twelve scintillating rounds, the argument as to who was the British fighter of the year was over.
British Fight of the Year: Dillian Whyte KO11 Dereck Chisora
On the same night as Warrington was anointed the best of British in Manchester, Dillian Whyte and Dereck Chisora were staging an even better fight in London.
It was the fight Chisora most wanted, a rematch of his desperately narrow and brutal points defeat in their fight of the year candidate from December 2016. The rematch broke the mold in that it was even better than the first.
Chisora, who defines his style of pressure and brawl as "rolling thunder" (though he also compared himself to laxative pills in the build-up), rolled out of his corner throwing meathook right hands to the body; Whyte dialed in his counter right-hand. Battle-lines were drawn in mere seconds and they would be savagely contested throughout.
The difference between this and their first fight was Chisora's conditioning. Happy to nestle on the ropes and duke it out in some of his recent contests, Chisora was pushing, pushing, pushing his man while Whyte looked to out-box and out-slug the man driving him back. Whyte's defensive deficiencies combined with Chisora's face-first pursuit saw each man swallow and hold bombs while they roughed each other up inside, heads, low-blows and two deducted points for Chisora.
But he took hardly a step back. Over and over again Whyte rattled him with a big punch but Chisora's force of will brought him straight back, armed with that thunder.
After every round it seemed the pace must slow or a man must wilt. Even when the end came it was no breach of heart or conviction but rather a sudden disconnection of Chisora from body by a single punch that left him under a deep blanket of darkness on the canvas. It was as dramatic an ending to a fight as can be imagined and it is the reason there is no separate knockout of the year category.
The brilliance of a fight can often be defined in the testimony of the winner for the loser. Despite a prickly personality and a tendency to speak the worst of his foes, victorious and defeated, Whyte was effusive.
"Chisora is a fighting man. He's not a boxer, he's not a technician he's a fighting man. He's a black Viking, he'll hit you with anything. The more you hit him, the more he keeps coming.
"Dereck's a tough dude, man."
British Breakthrough Fighter of the Year: Charlie Edwards
In September of 2016 English flyweight champion Charlie Edwards stepped up to take on the world's #2 at 112lbs, John Riel Casimero, then coming off a four round stoppage of Amnat Ruenroeng. It was an ambitious and a questionable move and most people expected to see him brutalized.  He was, in ten brave rounds.
Six fights later, having strung together consecutive wins against non-elite opposition and helped nurse his mother through a life threatening illness, Edwards landed another title shot this December against the best flyweight in the world: Cristofer Rosales.
The same Cristofer Rosales who looked so lethal in stopping Daigo Higa, who had knocked out every one of his fifteen opponents going into that fight; who looked outright frightening butchering a fighter who likely would have been a favorite over Edwards himself, elite prospect Paddy Barnes. Edwards was expected once again to show bravery while suffering pain before inevitably succumbing.
Instead, the 25 year old Surrey man turned in a performance of such high quality it took me some time to understand what it was I was seeing. His use of footwork to control the space was that of a much more seasoned fighter; his patience and understanding of the rhythm of the fight was a picture of maturity, his timing beautiful, his management of his punches – here quick and sharp, there more stinging – was quite extraordinary.
All of this against a man who has fought more top-ten ranked opposition than Edwards has been scheduled to fight ten rounds.
It was not an exciting fight, just a stunning one. Had Edwards eked out a narrow, disputed decision I would have been quite surprised; to see him out-box Rosales and win clearly was almost surreal.
Edwards put both the flyweights and the super-flyweights on notice and there are some challenging fights on his horizon for 2019, but win, lose or draw he has already exceed the expectations of everyone but himself, his team, and his family.
In other words, the only people who matter.
British Prospect of the Year: Dean Sutherland
My kilt may be showing a little with this selection but I've gone for twenty-year old Scotsman and light-welterweight Dean Sutherland as my British Prospect of the Year for 2019. Currently 4-0 as a professional fighter, Sutherland may seem a little premature but it's worth noting that he has the ambition to match my selection, talking openly of a British or European title shot by the end of the New Year. If this seems ridiculous it's worth noting that Sutherland brings a wealth of combat experience from the ranks of kickboxing, where he gained multiple titles including the 67kg ISKA Full Contact Title; this means little more to me than it probably does to you, but I'm told it's an impressive feat.
For decades, Muay Thai has been providing cross-over stars in the western discipline, men like Saensak Muangsurin who won a title in his fifth professional contest, Samart Payakaroon who  fought for one in his twelfth, or Yokthai Sithoar who managed it in his eleventh.  The point is, full contact ring experience counts for plenty across disciplines and for all that kick-boxing is less successful at providing champions in the professional boxing ranks, it has happened.
Whether or not that is Sutherland's destiny is a question that will only be answered at the end of a hundred miles of bad road; kickboxing is well and good but we all know the special questions posed of a chin by professional boxing. His heart, too, will no doubt be more tested than that of fighters with similar records.
What we do know is that he is a swift, assured and accurate puncher armed with speed and composure.  He's out twice before March; coming to a television near you by December.
British Trainer of the Year: Ben Davison
Ben Davison was no doubt somewhat bemused when an obese, alcoholic, suicidal and depressed Tyson Fury gate-crashed the workout he was holding for other fighters and, in his own inimitable style, took over.
Later, and inevitably, in a bar, Davison thought the huge heavyweight was joking when he told him:
"If you can get numbers of each one of those girls, I'll let you train me."
Game, Ben gave it a whirl and was astonished when, upon producing two phone numbers, Tyson stayed true to his word.
"It's all about confidence," Tyson would say breezily when recalling the selection process for the key member of his camp. "If he's not confident enough to approach them two girls, how can he handle me?"
For many, it was a bad joke. Davison had no experience at such a lofty level and was in no way qualified to handle such a brilliant yet delicate asset. But Davison unlocked the key to motivating Tyson in a matter of days. He kept it fun and non-adversarial. The fallout between Tyson and his uncle, Peter Fury, was unpleasant and apparently for keeps. The chemistry between Ben and Tyson was there for all to see from the very start.
But, press repeatedly asked anyone but Tyson and Ben, what was it that would happen when the crucial moment came in the corner of a big fight? How would Ben, with so little experience, find the answer much less the words? It was all well and good taking a series of weight loss classes and having a giggle but what about when it came to the crunch?
Those questions were answered much more quickly than we could have supposed. Tyson and Ben seemed to have jumped the shark when they took a fight with Deontay Wilder so soon after their return to action, but Fury didn't just look good; he seemed entirely to outclass his befuddled opponent. When Wilder eventually landed a meaningful punch and Tyson visited the canvas, we were treated to the sight of Ben Davison standing between hall of fame trainer Freddie Roach and first ballot hall of fame fighter Ricky Hatton, calmly dominating the corner with sage advice.
It has been suggested in one or two corners that he has done nothing but wax a Porsche; often the people doing the suggesting are the same ones who said that Tyson would look lost without former trainer Peter Fury.
The fact is that with Ben Davison in his corner, Tyson Fury has looked better.
Check out more boxing news on video at The Boxing Channel
To comment on this article in the Fight Forum, CLICK HERE
PBC in Bakersfield: Angulo Upsets Quillin: Colbert and Ramos Sizzle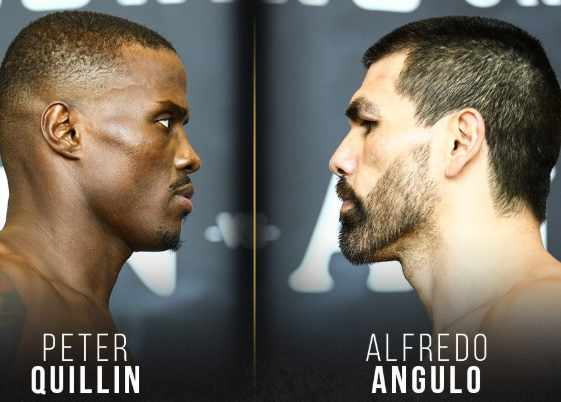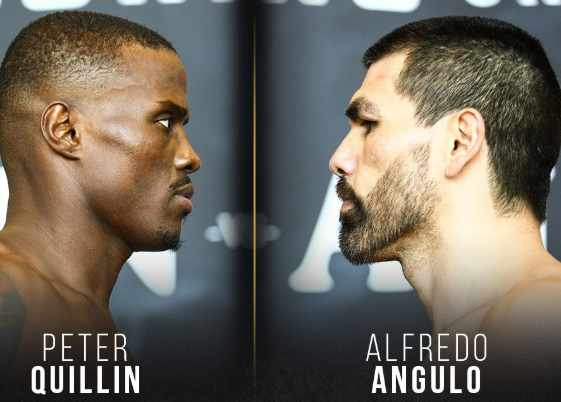 Al Haymon's Premier Boxing Champions was in Bakersfield, California tonight with a 14-bout card featuring veterans Peter Quillin and Alfredo Angulo in the main go. The 36-year-old Quillin, a former WBO world middleweight title-holder now competing as a super middleweight, was a solid favorite over Angulo who had lost five of his last eight coming in and was presumed to be shopworn. But Angulo, with the help of his new trainer Abel Sanchez, turned back the clock and won a well-deserved split decision. Two of the judges favored him (97-93 and 96-94) with the dissenter giving the nod to Quillin by a 96-94 tally.
A 2004 Olympian for Mexico, Angulo, 37, kept up the pressure and had Quillin fighting off his back foot all 10 rounds. There were no knockdowns, but the methodical Angulo hurt Quillin on several occasions.
Angulo improved to 26-7.  The Brooklyn-based Quillin, a former WBO middleweight champion, lost for only the second time in 37 starts.
In the co-feature, rising lightweight contender Chris Colbert, a stablemate of Peter Quillin, scored his most impressive win to date with a one-punch knockout of Mexico's Miguel Beltran Jr. A 22-year-old southpaw making his fifth start of 2019, Colbert (13-0, 5 KOs) followed a probing left jab with an overhand right that knocked Beltran out cold, landing him face first on the canvas. Beltran, who fell to 33-8, needs to retire. Forty months have elapsed since he last defeated an opponent with a winning record.
Other Bouts of Note
In a 10-round welterweight fight, Puerto Rico's Thomas Dulorme (25-3-1) won a unanimous decision over LA's previously undefeated Terrel Williams (18-1).  Dulorme, coming off a 12-round draw with Jessie Vargas in his last fight, applied consistent pressure and had the heavier hands, but Williams had his moments in what was a very entertaining fight.
Dulorme, who suffered a bad cut over his left eye from an accidental clash of heads in round eight, finished strong, scoring the bout's lone knockdown with a left hook with a minute remaining in the final round. Williams was hurt, but made it to the finish. The scores were 96-93 and 98-91 twice.
Hot prospect Jesus Ramos, a lanky 18-year-old welterweight from Casa Grande, Arizona, scored a smashing one-punch, third-round knockout of Rickey Edwards. A southpaw, Ramos (11-0, 10 KOs) has his first eight fights in Mexico. Edwards, from Paterson, New Jersey, falls to 12-4.
2016 Olympian Gary Antuanne Russell, 23-year-old southpaw from Capitol Heights, MD, needed just 32 seconds to score his 11th knockout in as many opportunities. His hapless opponent, 20-year old  Luis Ronaldo Castillo of Mexico,  has now been knocked out in the opening round of consecutive fights spaced four weeks apart.
Gary Antuanne Russell's older brother Gary Antonio Russell, an undefeated bantamweight, was slated to appear but his opponent fell out.
Check out more boxing news on video at The Boxing Channel  
To comment on this story in The Fight Forum CLICK HERE
The Fifty Greatest Flyweights of All Time: Part One 50-41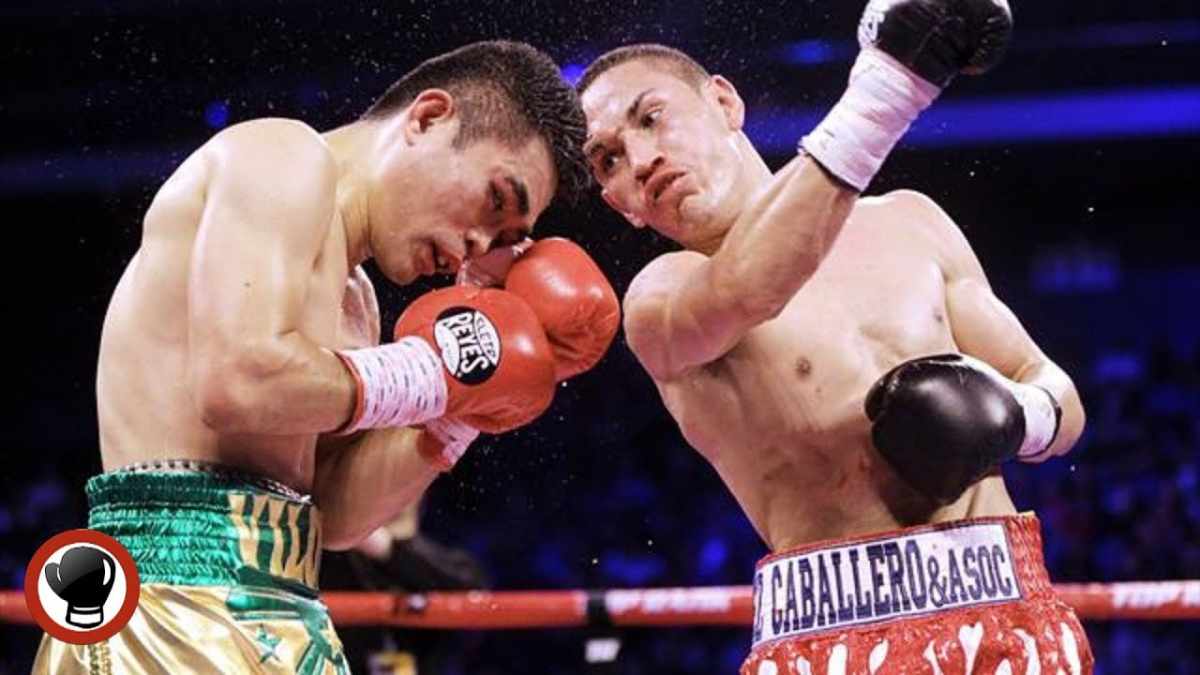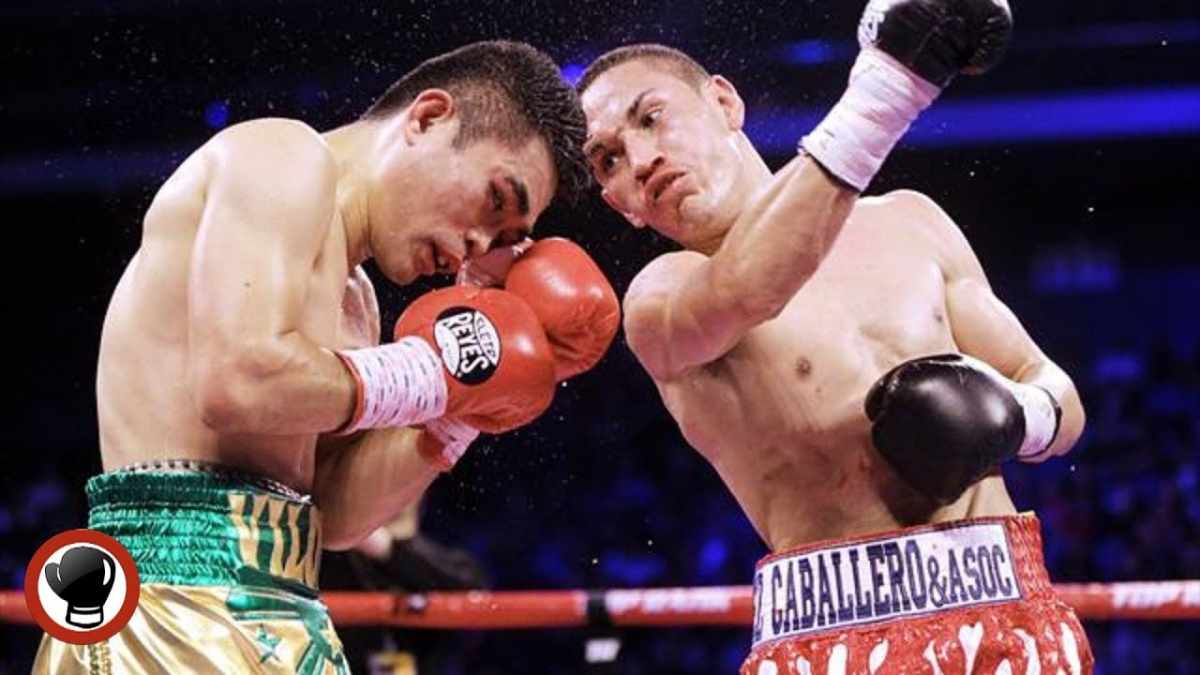 The Fifty Greatest Flyweights of All Time: Part One 50-41
Research on the greatest heavyweights of all time was easy. Fire up YouTube or Dailymotion, watch the career-defining fights of a given contender, compare and contrast, order and write-up, delivered.
By lightweight, things were considerably more difficult.
This is to do with a diminishing interest in boxers by size. It is literally the case that available information is reduced coextensively with the poundage of the fighters in question. By the time I was involved with the bantamweights, things had become extremely difficult, unwholesomely greedy of my time and actually rather expensive.
Needless to say, the flyweights have been even more demanding.
The temptation to cut corners was, at times, enormous, but I allowed myself only one of meaning: this list is cognitive only of flyweights who fought from the Jimmy Wilde title reign to the present day. While every one of these projects has had a cut-off, flyweight's is the most recent, the World War I era.  Partly, this is due to the absurd difficulty in researching 1900 contenders of this size but it is in the main due to uncertainty surrounding the poundage. Flyweight was paperweight for a long time and paperweight was never better than partially established globally. Tough on Johnny Coulon, but there it is.
Otherwise, the flyweight list has been put together under the same rules as governed the others. First and foremost, it should be stated the list considers only fights that took place at flyweight or just above.  So a 108lb fighter boxing in 2017 is a light-fly but a 108lb fighter boxing in 1925 was a flyweight, because light-fly did not then exist. This is an appraisal of flyweight in the truest sense, as it existed in boxing history.
Most important in conducting these appraisals: who a fighter beat and how he beat them. Secondarily, what was a fighter's status in his own era? Was he a lineal champion? A belt-holder? Or just a brilliant contender who amassed a wonderful body of work in his forlorn hunt for the title?
Lastly, skillset as it appears on film and head-to-head considerations, the most speculative of criteria, are taken into account.
With that out of the way, here we go, for the last time a divisional top fifty, this one more obscure, unexpected and mysterious than any that has gone before.
The flyweights; this is how I have them:
#50 – Corporal Izzy Schwartz (1921-1932)
Izzy Schwartz lost thirty-two fights.  The good news: many of these were above flyweight.  The bad news: many of them were not and he was as likely to drop a decision to an unheard-of novice as he was an all-time great monster.
What gets Schwartz over the line despite this litany of losses is two things.  First, he took some really, really impressive names in his career; secondly, flyweight rather bizarrely drops off a cliff after #49 leaving me with about twenty good candidates for #50 and no outstanding ones.
But if you're going to compromise on your gatekeeper to greatness, it might as well be for a fighter who defeated old-time legends like Black Bill and Willie Davies, men you have either heard of or will in the course of this series. Supplementary wins over future bantamweight beast Newsboy Brown and ranked men John McCoy and Ernie Jarvis do him absolutely no harm either.
It's worth noting, of course, that Bill and Davies both avenged themselves on the Corporal four times over but also that he was a man who never shirked a challenge.
An air of respectability rather than true wonder purveys a career that was carried out between the two world wars and saw him share the ring with a generation of great flyweights. Noteworthy for his speed, he is also a fighter who completely lacked power, scoring a mere handful of knockouts.  A powerful Schwartz would have been a wonderful thing.
49 – Little Pancho (1927-1942)
 The younger half-brother of the immortal Pancho Villa, Eulogio Villaruel Tingson was bequeathed the catchier moniker "Little Pancho" in a nod to his much more powerful, much more brilliant relation.
But Pancho, for all that he is not the best fighter in his family, was one of the best flyweights of his era.  He lost twice to the great Midget Wolgast in 1932 and a decade later was beaten by the deadly bantamweight Manuel Ortiz. In between he drifted to and from flyweight and the poundage that would become superfly, which left a rather confounded shade to his legacy – but Pancho did good work while he flitted to and from.
He also managed to meet and defeat a boxer once in the class of Wolgast, the shadow of the fighter once known as Frankie Genaro. Pressuring, harassing, and finally cutting the old man he forced him to quit after the eighth.
Genaro makes the bedrock of a fine resume, but he was unranked and basically washed up at the time of his defeat. Pancho though, picked off several other good fighters in the course of his prolonged career, including Joe Mendiola (who he bested no fewer than three times), Jackie Jurich (who holds a precious victory over Manuel Ortiz) and the colorfully named Small Montana, also a ranked fighter.
A failed single tilt at a strap underlined his limitations, a ten-round draw with Little Dado in 1940 the closest he came to that glory.
#48 – Brian Viloria (2001-Active)
Brian Viloria, now a shell of his former self, still trades on the name that once bought a sigh of contentment from your hardcore purist.
Never the lineal flyweight champion, he was nevertheless arguably the best flyweight in the world for a brief period in 2012, before Juan Francisco Estrada sent him back on his heels and Roman Gonzalez finished the job by way of ninth round stoppage.
So never better than the third most impressive flyweight of his era, Viloria nevertheless did enough to creep in to the fifty, preferred to old timers like Sid Smith and Jackie Brown and near-peers like Donnie Nietes and Akira Yaegashi. Based upon his high level of operations in 2011-2012, this is justified.
Julio Cesar Miranda, a storm of pressure and gloves, represented the beginning of Viloria's summit as he out-manned and out-fought his highly ranked Mexican opponent in a glorious slugfest. 108lb champion and pound-for-pounder Giovani Segura was dispatched that December by fast handed bunches of punches that cut and broke him before he was stopped in eight.
The jewel in the crown of his resume, however, is his 2012 destruction of Hernan Marquez. Marquez, himself a brief contender for this Top Fifty, was the world's #1 contender when Viloria, one of America's most underrated pugilists, ushered him from that spot via tenth round technical knockout.
Viloria is easy to hit for an elite flyweight and this cost him against the best but a combination of fast hands, great punch selection and unerring accuracy certainly forms an impressive first line of defence; quick feet spares his often poor spatial awareness; he could hit and he could certainly box.
Unlucky to run into two monsters in Estrada and Gonzalez, another era may have been kinder to him, and seen him earn a higher berth here.
#47 – Juan Francisco Estrada (2008-Active)
Juan Francisco Estrada nips in ahead of Brian Viloria by virtue of the most old-fashioned and perhaps best of reasons: he beat him.
The two met in April of 2013 in what was, for eight rounds, one of the great flyweight contests of this decade. Estrada, beautifully compact, the less expansive of the two despite his being the rangier, was a little spooked by Viloria's layers early. The more experienced Hawaiian gave ground and countered to dangerous effect, rounding the relatively inexperienced Estrada up with virtual threats and feints.  Estrada screwed the nut and by the ninth, having split, on my card, the first eight with his opponent, began to dominate. It was a glorious combination of will and skill, burnished by one of the beautiful left hands of our time; a great jab and a honeyed uppercut that makes me blink every time I see it landed.
Estrada (pictured on the right) drove Viloria to the very edge and only heart and experience got him to the final bell in a borderline great fight.
Giovani Segura and Milan Milendo were the other major scalps of a truncated flyweight career. Estrada has spent time at both 108 and 115lbs making his flyweight career too short to rank him any higher here but it should be noted that he emerged from his three year stay at flyweight undefeated.
#46 – Gabriel Bernal (1974-1992)
Gabriel Bernal, a southpaw out of Guerrero, is one of the least heralded Mexican champions and in many ways it is not difficult to see why. Bernal was something of a soft-touch as a championship opponent, having lost eight fights before getting his shot at Koji Kobayashi in 1984. He made only a single successful defense before running into the punching machine Sot Chitalada. His final paper record of 43-14-3 perhaps does not lend itself to the hero worship reserved for Mexico's more admired kings.
Bernal did do two things so worthy of note, however, that his inclusion here cannot be seen as controversial. First, in 1981, he scraped past the immortal Miguel Canto over ten rounds to go 1-1 in a two fight series with the living legend. The truth is, I can't tell you whether or not Canto inhabits the number one spot at this time, because I don't know, but if he isn't #1 he will be close. True, Canto had faded from the shining brilliance of his prime, but he was still a ranked fighter in the early 1980s and one that had only been defeated by two men, both champions, since 1970.
Secondly, when he did get that shot at Kobayashi and the title, he knocked the champion out in just two rounds. Nobody had done that to the Japanese since the wonderful Jiro Watanabe turned the trick in Kobayashi's ninth fight. Bernal's free-swinging, full-hearted attack prostrated him quite literally face-first into the canvas for the first knockdown before depositing him neatly into the prayer position for the stoppage. It was one of the most stunning knockouts of the eighties.
#45 – Dado Marino (1941-1952)
Dado Marino was another wonderful but flawed fighter out of Hawaii; he retired thirty years before Brian Viloria was born. He ruled as the flyweight champion of the world between 1950 and 1952.
An inconsistent and frequent visitor at bantamweight, when he showed the discipline to make the 112lb limit he morphed into a different animal, one that was impossible to stop and difficult even to dent, one who threw a confused and frothy tide of punches inside and out, as direct and aggressive a fighter who has appeared at the weight.
Nevertheless, he requires that juicy three calendar-year title reign in order to make the fifty. His legacy rests heavily upon two wins over Terry Allen, the Brit he wrenched the championship from in 1950 with some vicious right-handed punching in the middle rounds.
Apart from his two impressive defeats of Allen, his resume is underwhelming, a dubious disqualification win over Rinty Monaghan probably his next best. The loss of his title to Yoshio Shirai followed by a failed attempt to reclaim it mirrored his own conquest of Allen and sent Marino into retirement.
There will be more of Yoshio Shirai in coming weeks.
#44 – Sid Smith (1907-1919)
Sid Smith is most famous, if he is famous at all, for being one of Jimmy Wilde's many victims, but that is a little unfair. Smith was a centurion of pioneer boxing, taking part in more than a hundred contests and winning eighty-five of them.
Wilde crushed him three times between 1914 and 1916, but that aside, Smith's results against the best of his era was more than respectable. First among them are his 1913 victory over French idol Eugene Criqui, who he defeated by twenty round decision in Paris in April, and his victory, less than forty days later, over Englishman Joe Symonds, who he defeated over fifteen in his hometown of Plymouth. Smith, a Londoner, reached his beautiful peak with these two fights.
"Since the Americans have not yet seen fit to recognise [a flyweight champion]," wrote Boxing of Smith's fight victory over Criqui, "Smith now has every right to the…championship of the world."
Wilde would have plenty to say about that, of course, but Smith scored wins over the cream of European competition, and as intimated by Boxing, Europe was then the world as far as flyweights were concerned.
Smith deserves wider recognition than as a footnote to the career of Jimmy Wilde.
#43 – Joe Symonds (1910-1924)
Joe Symonds, as detailed above, was beaten by Sid Smith, but avenged himself eighteen months later; no rubber match was made and so the head-to-head question remains unanswered.
Neither did Symonds have more meaningful success against Jimmy Wilde, the bane of a talented batch of European flyweights, although he did make the fifteen-round distance with Jimmy, something Smith never did manage.
Symonds struggled with the brutal Percy Jones, losing a series to him on the eve of World War I, but Smith never met with Jones, making any comparison impossible.
What sets Symonds apart is his 1915 victory over Tancy Lee.
Lee was the best of Wilde's flyweight foes, but Symonds got him out of there in the first of their two contests, staged in 1915. 5'1", Symonds was nevertheless physical enough to find himself boxing at featherweight before his career was over and it was above 120lbs that most of his 29 recorded losses were suffered, so it perhaps shouldn't be surprising that once he got Lee on the hook he didn't let him off. Pressure and volume brought him a priceless stoppage win over a man who had scored a stoppage against Jimmy Wilde nine months earlier.
Lee scored his revenge, but not at the flyweight limit.
It is a win that buys Symonds several spots on this list, and more importantly separates him from his old enemy Smith.
#42 – Lorenzo Parra (1999-Active)
One of the saddest sights the ring brought us in 2018 was that of Lorenzo Parra, gut spilling over his trunks, a twenty-year professional campaign behind him, seeking desperately for the spark of timing that made him memorable in the 1990s. He buckled in three rounds for a 0-0 prospect named Arsen Garibian.
Parra's career above 112lbs has been a bad joke. When he departed the flyweight division in 2005 his record was 28-0.  His record now reads 32-18-2. He hasn't so much tarnished his legacy as filled it with gunpowder and set it on fire.
Between 1999 and 2005, however, this was a man to be reckoned with.
Venezuelan by birth, Parra stayed home until he was 21-0, fattening his record on soft opposition, but when he landed in Puerto Rico in December of 2003, he made his mark. Eric Morel, then 33-0, himself a contender for this list, was favored to turn back the young pretender despite his burgeoning reputation as a puncher.
Parra did land a knock-down quality punch, in the third round, but through the tenth it was his boxing that marked him. Fleet and fast-handed, he out-skilled, out-moved and in the final two rounds when his engine betrayed him, out-gutted his bigger and more experienced foe.
It was a consummate strap-winning performance that marked him one of the best in the world. It was also his high-water mark. A desperately close call followed with contender Takefumi Sakata; a rematch produced an equally close result. Parra and Sakata aside, a domination of Olympian Brahim Asloum is probably his best result, another unbeaten scalp belonging to a highly ranked fighter.
After that, flyweight lost him and Parra lost the essence of what made him great. A genuinely special fighter for a two-year spell, he is neither the first nor the last to be found out by a higher weight class.
#41 – Luis Ibarra (1975-1990)
 Luis Ibarra was a rather strange and beautiful fighter, styling elements of the Panamanian but very much as a part of his own idiom. At first, his approach seems insensible; tall for a flyweight he adopted a relatively deep stance, narrowed himself over his front leg and presented his jab. He then neglected to throw his jab despite a slick moving style and instead preferred power punches to body and head, leaving himself at risk despite all that innate mobility, to the attentions of his opponent's hook, especially to the body. His own hook was a strange punch, thrown long and short, all the while using the same fist to stir and feint and paw and prod with what surely should have been a stiff jab.
But whatever the detail, Ibarra came together in the ring as a strange and frightening proposition for some excellent fighters. Lacking power, he nevertheless threw with absolute commitment leading to a split pair with feared puncher and future world champion Prudencio Cardona when both were still serving their respective apprenticeships. Clearly, his eventual victory over Cardona seemed something of a graduation for Ibarra, for later that same year, 1979, he took to the ring with the superb Betulio Gonzalez (more of whom in part three) and over fifteen sizzling rounds he dominated the little Venezuelan and lifted an alphabet strap in the process. It was a masterful performance.
It was inevitable a fighter of his type would be found out but when the limited Tae-Shik Kim obliterated him in just two rounds in his very next defense, it was seen as something of a shock. Ibarra, too, believed there was more, and he proved it when he battled back to edge out a fighter even more special than Gonzalez when he sprang another surprise, this time over the Argentine legend Santos Laciar in Argentina. It made him a strapholder for a second time, and although the true title evaded him, Gonzalez and Laciar are two wins special enough to hang a strong top fifty ranking upon.
Check out more boxing news on video at The Boxing Channel  
To comment on this story in The Fight Forum CLICK HERE
Petr Petrov Wins by KO on the Thompson Promotions Card in Ontario, CA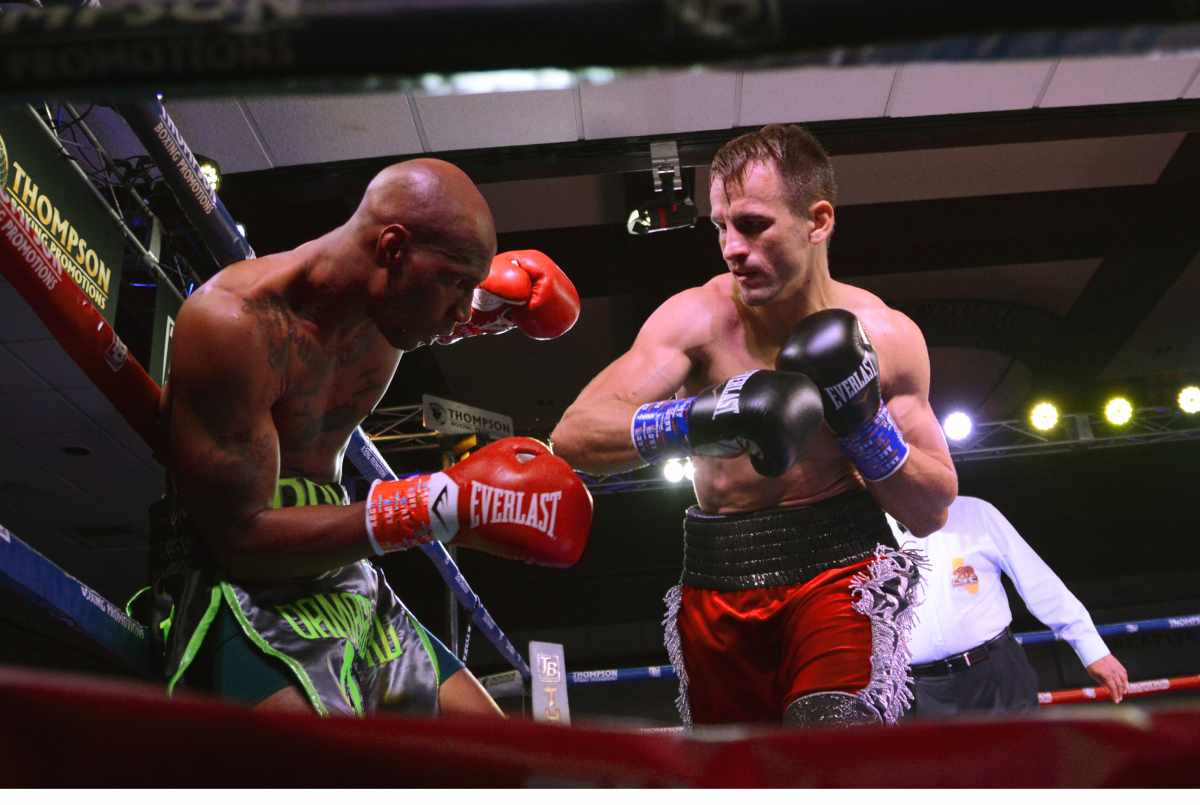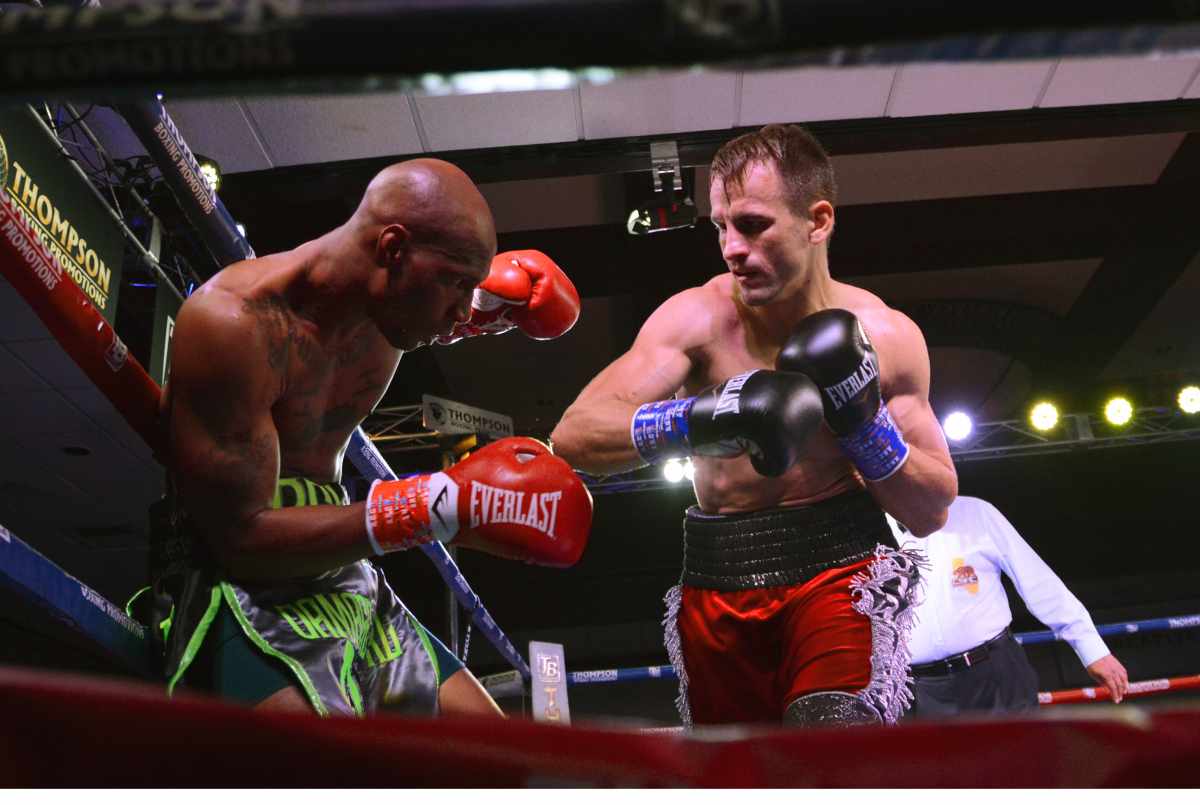 ONTARIO, Calif.-Lightweight contender Petr Petrov shred through veteran Dedrick Bell's defense with ease to win by knockout on Friday evening.
Petrov (41-6-2, 22 KOs) of Russia showed the crowd of more than 500 at the Doubletree Hotel that Bell's (23-31, 11 KOs) experience and five consecutive wins was not enough against an elite fighter. The Thompson Boxing Promotions main event was not a long affair.
Bell could only last two rounds against the muscular Petrov who fired combinations to the head and body that Bell was powerless to stop. A left hook to the body at 2:48 of the second round was all that Bell could withstand. Petrov was deemed the winner by knockout.
This could be the start of another run toward a lightweight world title bid for Petrov whose last attempt fell short against Terry Flanagan for the WBO lightweight title in 2017. He had previously fought for the WBA super lightweight world title in 2011 against Marcos Maidana and lost by knockout.
At 36 years old does he have enough time?
Other Bouts
Santa Ana's Mario Hernandez bulled his way to victory as usual over the taller Jesus Ruiz from Phoenix who took four rounds before figuring out the remedy. It was simply too late. No knockdowns were scored but Hernandez lowered his head and rammed through Ruiz's guard to win all six rounds on three judges score cards and win by 60-54 in the super flyweight bout.
Isaac Zarate (16-5-4, 2 KOs) and Roberto Meza (12-2-1, 6 KOs) fought six very close rounds with neither able to pull away in their featherweight clash. Zarate, a southpaw, needed a few rounds to figure out the aggressive style of Temecula's Meza who was able to connect early with rights to the body. San Pedro's Zarate lowered his target and began punching to the body and that seemed to turn things around. But neither fighter was able to dominate. After six stanzas one judge saw it 60-54 for Zarate, another 58-56 to Meza and a third 57-57 to make the fight a split draw.
A featherweight clash saw Aleem Jumakhonov (8-2-2, 4 KOs) hand San Bernardino's Anthony Chavez (8-1, 3 KOs) his first loss as a professional with a win by unanimous decision after six rounds. A knockdown was scored by Jumakhonov when he landed an overhand right that dropped Chavez in the second round. He also hit him when he was down but was not deducted a point for the infraction by referee Ray Corona.
Jumakhonov was able to neutralize Chavez's speed advantage and managed to steal a few rounds by simply out-punching Chavez in the last seconds of several rounds. Chavez tried to rally but was too far behind to catch Jumakhonov. The judges scored the fight 59-54, 58-55, 57-56 for Jumakhonov who fights out of Reseda, Calif.
Hawaii's Arnold Dinong (6-0, 1 KO) used his speedy light combinations to outscore Texas super featherweight Prisco Marquez (4-2-1) by unanimous decision after six rounds. No knockdowns were scored but Dinong was the busier fighter. Two judges scored it 60-54 and a third saw it 59-55 for Dinong.
Photo credit: Al Applerose
Check out more boxing news on video at The Boxing Channel  
To comment on this story in The Fight Forum CLICK HERE