33 Boxing Notables Name Their Top 'Must-See-TV' Fighters: A New TSS Survey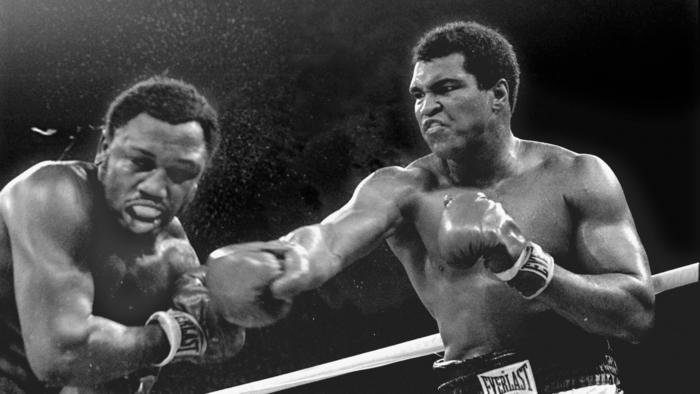 Welcome to the first Quarterly TSS Survey of 2019. The following questions were asked: In the past, what ONE fighter did you most look forward to watching on week-end TV? How about today? Who is that ONE fighter that makes work go by faster on Friday in anticipation? As always, the respondents are listed alphabetically.
JIM AMATO — author, writer, historian and collector: Whenever Roberto Duran was on TV I would try to find time to watch him. Even in the 90s when he was fighting on the USA Network. He was such a clever technician. A true master of fisticuffs. Today I enjoy watching Mikey Garcia. He's a real throwback to yesterday's boxers. I respect the fact that he is willing to meet the talented and bigger Errol Spence Jr. A supreme challenge. Like Duran, Arguello, Basilio, Olivares, etc…Mikey is ready to take on the very best.
RUSS ANBER — trainer, elite cornerman, and owner of Rival Boxing Equipment: The one name that popped into my head above all others was Danny "Little Red" Lopez. I believe I watched every fight he had on mainstream television, and was thrilled every time. I also remember how heartbroken I was when he lost to the great Salvador Sanchez. I loved Little Red!
MATT ANDRZEJEWSKI — TSS boxing writer: In the past it was Arturo Gatti. What can I say about Gatti that has not already been said? His fights were almost always fan friendly, high contact affairs with plenty of drama. Even his tune-up fights, like the one against Calvin Grove in 1997, turned out to be wars. Today, it is Srisaket Sor Rungvisai. He sure is exciting to watch. Just comes forward, abandoning defense, and only thinking about landing his own shots. Like Gatti, even Sor Rungvisai's tune-up fights turn out to be exciting.
DAVID AVILA — TSS West Coast Bureau Chief: In the past Muhammad Ali was that fighter I would plan ahead to make time to watch. Even when he was suspended I read about anything he had to say. When he returned to boxing against Jerry Quarry, I celebrated. Today, I would say Canelo Alvarez. I saw his first fight in America and I'm amazed at his career.
BOB BENOIT — former pro fighter and current referee: Archie Moore was my favorite to look forward to in the past.  Presently, I don't have one.
JOE BRUNO — former New York City sportswriter; prolific author: I would wait in anticipation to see any Joe Frazier fight. He gave it his all and never cheated the public. Same with Arturo Gatti. As for today, nobody comes to mind. Most of the potential great fighters are now fighting MMA which, to me, is unwatchable.
STEVE CANTON – author and President of the Florida Boxing Hall of Fame: I don't think that I can say that there was just one fighter I looked forward to seeing on week-end TV. Growing up, I always looked forward to the Gillette Cavalcade of Sports Friday Night Fights with Don Dunphy. The fighters who appeared regularly were always a treat to watch, like Emile Griffith, Gaspar Ortega, Chico Vejar, Vince Martinez, Luis Rodriguez, Dick Tiger, Carlos Ortiz, Joe Brown, etc. etc. etc.
CHARLIE DWYER — former professional referee and member of U.S. Marine Corps Boxing Hall of Fame: Micky Ward. Win, lose or draw it was going to be a good one to watch. Today, Gennady Golovkin, a disciplined, consistent, no-nonsense fighter.
STEVE FARHOOD — Showtime announcer, former editor of The Ring magazine and 2017 IBHOF inductee: In the days of weekend network TV, the fighter I most looked forward to seeing in action was Matthew Saad Muhammad. Fortunately, he fought often in Atlantic City, so I was usually able to attend his fights. I was never surprised by the twists and turns in Saad's fights; after half a dozen times, I came to expect them. He was thrilling–and at a very high level. And I'd put Marvin Johnson up there, too, largely because he twice fought Saad. Today, that fighter would be John Molina. While Molina is, of course, defensively weak, and hasn't proven to be championship caliber, his fights have been as consistently entertaining–and as consistently unpredictable–as those of any fighter you can name. He may not lead the league in home runs, but nobody has hit more eight-run homers than Molina.
BERNARD FERNANDEZ — TSS mainstay and lifetime Member of the BWAA:  As a grade-school kid, I put Carmen Basilio right up there with my other sports heroes, Billy Cannon (LSU's only Heisman Trophy winner), Bob Pettit (the NBA great and also an LSU product) and Stan Musial, who had nothing at all to do with LSU. The "Upstate Onion Farmer" was my dad's favorite fighter, so he became mine, but I probably would have liked him anyway because he was in The Ring's Fight of the Year five years running, from 1955-59. Later on, I was drawn to Roberto Duran and Sugar Ray Leonard, who were so alike in some ways and so different in others.
Now? I admit to having a natural affinity for Regis Prograis, partly because he is a native New Orleanian, as I am, but also because he's an action fighter with a big punch. Other southpaws whose bouts I never want to miss are Errol Spence Jr. and, of course, Vasiliy Lomachenko, who does stuff like nobody else can.
JEFFREY FREEMAN (aka KO Digest) — TSS boxing writer: Mike Tyson was my weekend warrior back in the good old days of cable television. I'd plan my busy work schedule around Tyson's fights, always requesting those Saturday nights off. These days, I'm most excited about Anthony Joshua's world heavyweight title bouts. With the DAZN app loaded onto my iPhone, I never have to miss any AJ action even if I'm at a wedding in Provincetown, Massachusetts like I was when he knocked out Alexander Povetkin. Joshua's fights are global events and I will go out of my way not to miss the flagship fighter of boxing's resurgent flagship division.
RANDY GORDON — writer, editor, radio show host and former head of the New York State Athletic Commission: When I was in college, Joe Frazier was the man! Today, I can't get enough of Vasiliy Lomachenko, Regis Prograis and Deontay Wilder (I just can't pick one!).
LEE GROVES – author, writer and Wizard of CompuBox: When I first began watching boxing, the fighter I looked most forward to seeing was Danny "Little Red" Lopez because he was an incredibly exciting fighter who often had to overcome adversity before securing victory. I also admired his humility and sportsmanship, assets that stood in contrast to the destruction he had just completed inside the ring. I soon learned that was the case for many big hitters, but he was among the first I saw that demonstrated that dynamic. As for today, I can only speak as a punch-counter, so, in that vein, I look forward to counting Leo Santa Cruz because he throws a lot of punches and those punches are easy for me to see and discern. Also, because he maintains his rhythm, it makes it easier for me to maintain my rhythm.
HENRY HASCUP – historian; President of the New Jersey Boxing Hall of Fame:  That's a tough one. I know most people would say Tyson or Pacquiao and I would agree with them, but I also liked Matthew Saad Muhammad and Arturo Gatti. They didn't win all the time but they sure gave us our money's worth. Regarding today, I have several but none gives me the excitement of the ones I listed above!  I love watching guys like Crawford, Spence, Alvarez,  Lomachenko, Triple G, and the Garcias, but I just can't pick just one!
JACK HIRSCH– former President and now lifetime member of the BWAA: There is no one particular fighter I can name. If absolutely forced to, I would say Ali and Frazier for the great drama they gave to the heavyweight division in the 60's and 70's.
BRUCE KIELTY — boxing matchmaker, manager, and historian: Whether you liked him or hated him, Mike Tyson had the type of menacing charisma that compelled you to watch. Apparently many people felt the same way because it was once reported that Mike was responsible for 30% of HBO subscribers. Today, Errol Spence captures my attention. He has consistent excellence and poise beyond his years. More importantly, he carries himself with class, unlike so many of boxing's ignorant buffoons.
STUART KIRSCHENBAUM – boxing commissioner emeritus, State of Michigan: Thomas Hearns fighting on national TV would have me and all of Motown watching. Without so many networks having boxing you do not have the same fan base until they reach Pay Per View, so I haven't felt that same anticipation in years. Even a Floyd Mayweather fight you would have to mortgage your house to watch…then it would be like eating Chinese food. One hour after the fight you would feel hungry again for some action.
 JIM LAMPLEY– linchpin of the HBO announcing team; 2015 IBHOF inductee: In my youth, long before I could have envisioned working in boxing media, it was of course Muhammad Ali. Once I arrived in the sport, 1986, it was of course Mike Tyson. And regardless of recent results, among the current crop of great fighters, there are a flock of them but if you force me to choose one it is Triple G. "Big Drama Show" still applies. But as I hope my work demonstrated, for the most part I loved and appreciated them all. Collectively, they taught me about life. Their instruction in that regard is irreplaceable for me.
ARNE LANG — TSS editor-in-chief, author, historian: I really can't think of any fighters who were "must-see TV" for me other than those I knew personally. But I became smitten with the stumpy Avtandil Khurtsidze while watching him dismantle Antoine Douglas and was very much looking forward to seeing Khurtsidze fight Billy Joe Saunders. That would have been a great style matchup. Unfortunately, Khurtsidze got swept up by U.S. federal prosecutors in a sweep of the Russian Mafia and it's likely we will never see him again.
RON LIPTON — former fighter, retired police officer, pro referee: Back in the early 60's after seeing Rubin Carter knock out Florentino Fernandez and Emile Griffith in one round each, he was the one I looked forward to seeing in his next fight on the Gillette Cavalcade of Sports the most. Then it became Ali and Mike Tyson that generated the most anticipation for me. As to today, I have to pass on that one as an active referee.
ADEYINKA MAKINDE – UK barrister, author, and contributor to the forthcoming Cambridge Companion to Boxing: I always looked forward to watching Hogan Jimoh, a lightweight, and Eddie Ndukwu, a featherweight, on Nigerian TV in the late 1970's. They were the best that Nigeria could offer in the post-Dick Tiger era and attracted sizeable crowds to the National Stadium. As for today, I can't pick one fighter as it invariably depends on the quality of opposition they are facing. So it could be the exceedingly skillful Terence Crawford one week or the very resourceful Oleksandr Usyk on the other.
JOE PASQUALE — elite boxing judge:  I can only respond to the question as it pertains to retired boxers to avoid any conflict of interest perceptions on fighters I may be judging in the future. That said, Sugar Ray Leonard in his prime probably stands out as the one fighter I looked forward to watching on TV. His boxing IQ combined with his explosive abilities, heart and charisma always made Leonard a fighter full of intrigue for me. I am still thrilled when I watch the videos of his bouts.
J. RUSSELL PELTZ — venerable Philadelphia boxing promoter and 2004 IBHOF inductee: As a kid, Dick Tiger because there always was a chance for a knockout.  Also Sonny Liston but when I began watching late in 1959 I only saw him once with Eddie Machen. Henry Hank also was a pleasure due to his style. Emile Griffith because of his great back and shoulders. Also, Bennie Briscoe. Today, no one gets my juices going. Wilder is interesting because he can crack you at any moment in the fight.
CLIFF ROLD — boxing writer; founding member of the Transnational Boxing Rankings Board: Mike Tyson in the past, today Naoya Inoue.
FRED ROMANO — author and former ESPN researcher:  There were so many great weekend warriors from the late seventies into the 90s. I particularly looked forward to the Mancini fights, such as those against Arguello, Frias and Espana. You were always guaranteed to get a good action fight. Today, I enjoy watching Lomachenko for his unique style and excellent technique and skill. If Tuesdays were included, my throwback choice would be Foreman and his comeback fights on the USA Network.
LEE SAMUELS — Top Rank publicist and 2019 IBHOF Inductee: Years ago seeing Muhammad Ali in action was awesome – a tremendous all-action bigger-than -life champion. As a writer with the Philadelphia Bulletin we covered two of Ali's fights – his first fight with Leon Spinks, then in his finale against Trevor Berbick. Ali was a dynamic athlete, full of life and mischief in media rooms and always had something unique to say about his opponents. As far as today's champions, Bob Arum said it best when he noted "Vasiliy  Lomachenko reminds me of Muhammad  Ali." Loma, the greatest amateur of our time, is an unpredictable force who attacks from a variety of angles and is unquestionably the most exciting athlete in the ring today. Which brings us to Terence Crawford who amazingly takes time, rhythm and space to figure out his challenger and – while facing hard punching – finds a route to where he can take out his opponent in spectacular fashion. He is a must-see champion in the game of boxing right now."
 ICEMAN JOHN SCULLY — former boxer; manager, trainer, TV commentator, writer, historian: When I was coming up as a kid watching weekend TV fights I never missed an Aaron Pryor fight. I remember him getting knocked down once and before the referee could even start an eight count he had done sort of a somersault while on the canvas and lifted himself off the canvas and started punching at his opponent before the guy could even get his hands back up. Never missed his fights after that.
Today I'm not as drawn to as many guys because they aren't as visible as they were back when the three major networks along with USA and ESPN were showing fights on a weekly basis but I'd say in terms of action and watching someone who you know is going to produce or at least try as hard as he can to produce some fireworks every time he steps in there, Id' say that Deontay Wilder is a must-watch type of guy.
 TED SARES — TSS writer: In the past it was Bobby Chacon. I watched him fight Olivares, Little Red, then two with Boza Edwards and three with Limon. It was scotch and cigar time each time. Today, it's a tie between Loma simply because he does things I have never seen before, and Wilder because the concussive end can come at any time in the fight.
PETER SILKOV — boxing writer: In the past, (80s/90s) there was a whole host of fighters who would make me look forward to Friday and Saturdays, unfortunately, that isn't the case now. If I had to pick one fighter from recent years who I have followed avidly it would be Roman Gonzalez, closely followed by GGG and Kovalev. Unfortunately, all three now seem to be at the end of their careers. If I had to pick a fighter for right now it would be Usyk, followed by Tyson Fury.
ALAN SWYER — filmmaker, writer, and producer of the acclaimed El Boxeo: As a very young kid, I couldn't wait to see Sugar Ray Robinson, especially when he was scheduled to fight Basilio. Today, the guy I most look forward to seeing is Terence Crawford. For an in-depth interview with Alan Swyer about "El Boxeo" please CLICK HERE
GARY "DIGITAL" WILLIAMS –the voice of "Boxing on the Beltway":  For me in the 80's, it was Hector "Macho" Camacho. It was a lot of fun watching him during that time. He seemed to be a very cool character and someone fresh for that time.
BEAU WILLIFORD – former trainer and manager and Mr. Boxing in Louisiana's Cajun Country: When I was a very young boy, my father took me to Lee Field House at Fort Bragg to see Rocky Marciano vs. Archie Moore. I became a huge fan of both. My favorite weekend boxer was Gaspar Ortega. Today I get excited when "Canelo" Alvarez is boxing.
 PETER WOOD — former boxer and author of several books including The Boy Who Hit Back — There was once a wild heavyweight–a large human-shaped piece of muscle. He was dripping in id and marinated in pure ego. He was the only fighter who bested Muhammad Ali in a pre-fight press conference, calling Ali a "chicken…cheep! cheep! cheep!" and "a black kangaroo". He was the only fighter who was ever able to knock Joe Frazier down twice in one round. He was the only fighter to be disqualified in the Pan-American Games for biting Lee Carr's shoulder, and the only fighter to be shot dead at the Mustang whorehouse in Nevada–Oscar Bonavena. RIP … Today? Tyson Fury is an interesting character. He is cut out of the same maniacal cloth–id and ego.
Observations:
A very wide range of answers with Ali, Frazier, and Tyson being mentioned the most. As for today, Lomachenko, Spence, Crawford and Wilder get the nod but not by much.
Peter Wood's contribution was especially enjoyable because it reflected his special way of writing. And Jim Lampley's was as poignant as they get.
Many thanks to all the contributors.
P.S. How about you? Is there one particular fighter — past or present – who has you waiting for Saturday with bated breath?
Ted Sares is one of the world's oldest active power lifters and Strongman competitors. He is a lifetime member of Ring 10, and a member of Ring 4 and its Boxing Hall of Fame. He also is an Auxiliary Member of the Boxing Writers Association of America (BWAA).
Check out more boxing news on video at The Boxing Channel
To comment on this article in The Fight Forum, CLICK HERE
Usyk vs. Chisora Sets the Table for a Strong Night of Boxing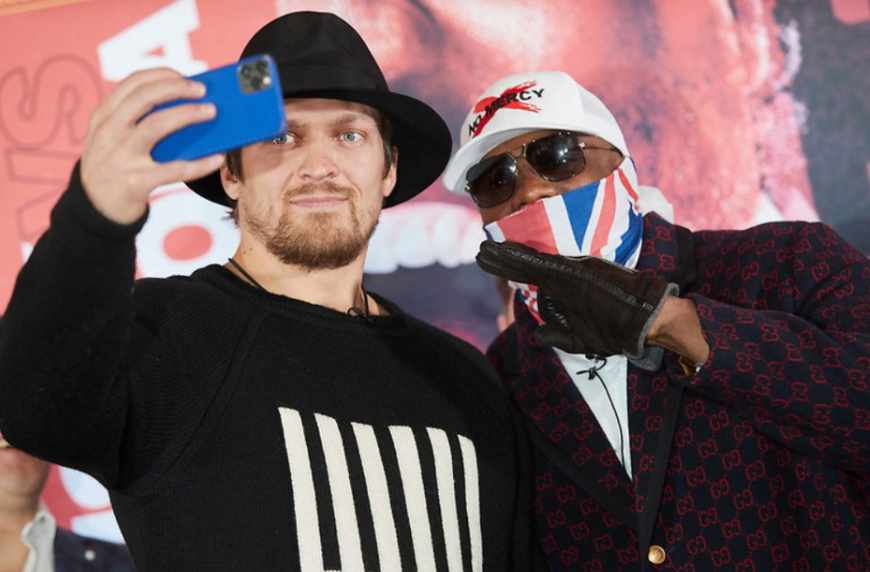 It's been largely lost in the ragout, at least on this side of the pond, but Saturday's busy fight docket includes the return of Oleksandr Usyk, the former Olympic gold medalist who left the cruiserweight ranks as a legitimate four-belt champion. The 33-year-old Usyk (17-0, 13 KOs), opposes tough but erratic Dereck Chisora, a 36-year old Londoner by way of Zimbabwe. Chisora (32-9, 23 KOs), has won five of his last six, the setback occurring in his second encounter with arch-rival Dillian Whyte.
Usyk vs. Chisora, a Matchroom promotion, will play out at Wembley Arena with no fans in attendance. The Ukrainian southpaw is ranked among the top three heavyweight contenders by all four major sanctioning bodies although he has fought only once as a heavyweight, turning away under-trained late sub Chazz Witherspoon who was all in after seven frames. Usyk weighed 215 for that contest and is expected to come in about 230 for Chisora.
Usyk, who has anglicized his first name to Alexander on his English-language twitter feed, is a big favorite, but this is a tricky fight for him. The consensus 2018 Fighter of the Year, Usyk has fought only twice since unifying the cruiserweight title with a lopsided decision over Murat Gassiev in July of that year and 55 weeks have elapsed since his last start. If he needs the early rounds to shake off ring rust, he could find himself clawing out of a hole, and sometimes the hole is too deep as Usyk's stablemate Vasiliy Lomachenko can attest. Moreover, Usyk has yet to face a naturally bigger man who can bang as hard as "Del Boy."
The Usyk-Chisora card will air in North America on DAZN with the main event ring walks anticipated about 6 pm ET.
The tiff is hitched to an interesting undercard. Once-beaten Welshman Lee Selby, briefly the IBF featherweight champion, tangles with Australia's undefeated (18-0) George Kambosos Jr. Savannah Marshall, who saddled Claressa Shields with her only amateur loss, meets former Shields opponent Hannah Rankin with a vacant world middleweight title at stake, Belfast's Tommy McCarthy opposes Belgium's Bilal Laggoune for a domestic cruiserweight title, and then there's the heavyweight fight attracting buzz between popular Yorkshireman David Allen and Christopher Lovejoy.
The buzz surrounds the mysterious 36-year-old Lovejoy who is 19-0 as a pro with all but two of those KOs coming in the opening round.
All of Lovejoy's fights were staged in Tijuana. Only one of his opponents brought a winning record. For a certain stripe of fighter, Tijuana is the equivalent of a feed lot, a place where livestock go to get fattened up before they are sent off to the slaughterhouse. David Allen is limited, but the most likely scenario in this fight is that it ends with Lovejoy sitting on his stool.
Check out more boxing news on video at the Boxing Channel 
To comment on this post in the Fight Forum CLICK HERE
Diego Magdaleno is Locked and Loaded for Saturday's Fray in San Antonio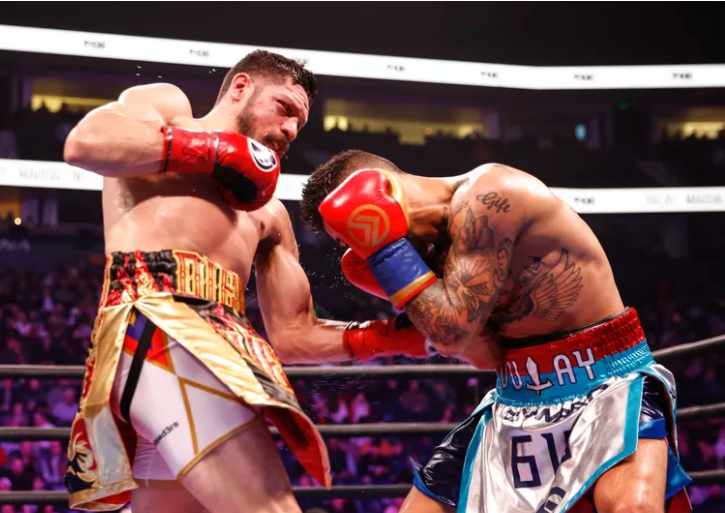 Diego Armando Magdaleno, the son of a former semi-pro soccer player, was named for Argentine soccer star Diego Armando Maradona. But Diego's father Jesus is hardly disappointed that his son devoted his energies to a different sport than soccer as Diego, the oldest of Jesus's three boys, has carved out a nice career as a boxer. On Saturday, he faces Isaac Cruz at the San Antonio Alamodome and a win could thrust him into a third crack at a world lightweight title. Magdaleno vs. Cruz will be televised as part of a SHOWTIME PPV event anchored by a battle between title-holders Gervonta "Tank" Davis and Leo Santa Cruz.
The bookies don't know what to do with the Magdaleno-Cruz matchup. One can find odds on fights of lesser importance, but with the fight only four days away the pricemakers were in quandary. Team Magdaleno, however, is approaching the fight as if they are the "B" side. Mexico City's Isaac Cruz, who boasts a 19-1-1 record and is undefeated in his last 15 starts, has a fan-friendly style and is only 22 years old. In theory, he has more value to the promoter going forward than Magdaleno (32-3, 13 KOs) who turns 34 this week.
Magdaleno relishes the underdog role. He was the "B" side in his most recent fight when he opposed Austin Dulay in Dulay's hometown of Nashville, Tennessee, and he carved out a clear-cut 10-round decision. Dulay, the younger man by nine years and less experienced at the pro level, was in over his head. Their fight was nationally televised on FOX.
Diego Magdaleno was born in Beverly Hills, California, but unlike many folks born there wasn't born with a silver spoon in his mouth. "We were more like the Beverly Hillbillies," says Diego, a reference to the popular sitcom that ran on CBS from 1962 to 1971.
For many years, Diego's father, an immigrant from Sahuayo in the Mexican state of Michoacan, worked at the flagship West LA branch of an iconic Greater Los Angeles hamburger chain. Diego's parents now manage a 7-11 in Las Vegas.
When Magdaleno first laced on the gloves it was at the Brooklyn Avenue boxing gym in the gritty Boyle Heights section of Los Angeles, the same gym where Oscar De La Hoya trained for the Olympic Trials. He continued with the sport after his family – he has three older sisters – moved to Las Vegas.
Diego influenced both of his younger brothers to become boxers. Jessie Magdaleno surpassed him in name recognition when he upset Nonito Nonaire in November of 2016, earning him the WBO world super bantamweight title. Jessie lost the belt in his second defense, succumbing to Isaac Dogboe, but has won three straight since that mishap, advancing his record to 28-1. The youngest Magdaleno brother, Marco, was 4-0 as a pro when he abandoned the sport, having secured a job with good pay and benefits in the construction field.
Diego has applied some of his ring earnings toward a real estate investment in Scipio, Utah, where he owns a parcel of land adjacent to a pioneer home. Scipio is a four-hour drive from Las Vegas and figuratively a million miles away. What does one do for fun in Scipio, pop. 288? The first thing that popped up in our internet search was to go grab a sandwich at the Burger Barn.
There's a back story there. The pioneer home, built in 1886, was recently purchased by Diego's fiancée Shannon Torres, a descendent of one of Scipio's founding families. She and Diego are restoring it. Diego professes to be amazed at the craftsmanship. "When we pulled up the carpets," he said, "the original hardwood floors were still in great condition."
Shannon Torres has a boxing background, having fought as an amateur and having sparred with the likes of Mia St. John. She is also a nutritionist. Diego confesses to having a sweet tooth, being fond of cheesecake and anything with peanut butter. "She knows how to make those things for me so they are not as unhealthy," he says.
Magdaleno's first loss came in April of 2013 when he lost a split decision to Ramon Martinez in Macao. Diego thought he won the fight, but only one of the judges concurred. At stake was Martinez's WBO 130-pound world title. His second world title opportunity came against WBO lightweight champ Terry Flanagan on Flanagan's turf in Manchester, England. That didn't go well.
"When I got in the ring, it felt like there was sand under my shoes," said Diego. "My right foot was sliding underneath me. I overcompensated and that caused me trouble." Magdaleno loaded up on his punches, a fatal mistake, and was knocked out in the second round.
Top Rank dropped Magdaleno after that fight but would eventually bring him back to fight their rising star Teofimo Lopez. His fight with Austin Dulay was his first fight back after his loss to Lopez (TKO by 7) and his first with new trainer Bones Adams (pictured on the left) in his corner.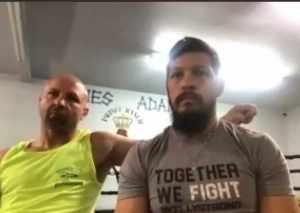 Isaac Cruz poses a different threat than Dulay partly because Cruz, who stands only 5'4 ½", is a lot shorter. But Magdaleno is confident the result will be the same.
"His style is attack, attack, attack; it's one-dimensional," says Diego. "I have been in there and done things that this kid has never seen. I am a big step up for him."
Unlike many prizefighters, Diego Magdaleno knows where he is heading after his career is finished; he is already a licensed real estate salesman with one listing to his credit. He's bi-lingual despite having spent only three months living in Mexico, that as a first-grader, and his linguistic versatility will come in handy in his second career. "I know just enough Spanish to get by," he says, but having heard him speak in his parents' native tongue we can attest that he's being much too modest.
For the time being, however, Diego isn't looking past Saturday night. Magdaleno vs. Cruz is expected to go first on the four-fight PPV portion of the card which kicks off at 9:00 p.m. ET/6:00 p.m. PT.
Magdaleno/Dulay photo credit: Stephanie Trapp
Check out more boxing news on video at the Boxing Channel 
To comment on this story in the Fight Forum CLICK HERE
Will Leo Santa Cruz's High Volume Punching Stymie Big Hitter 'Tank' Davis?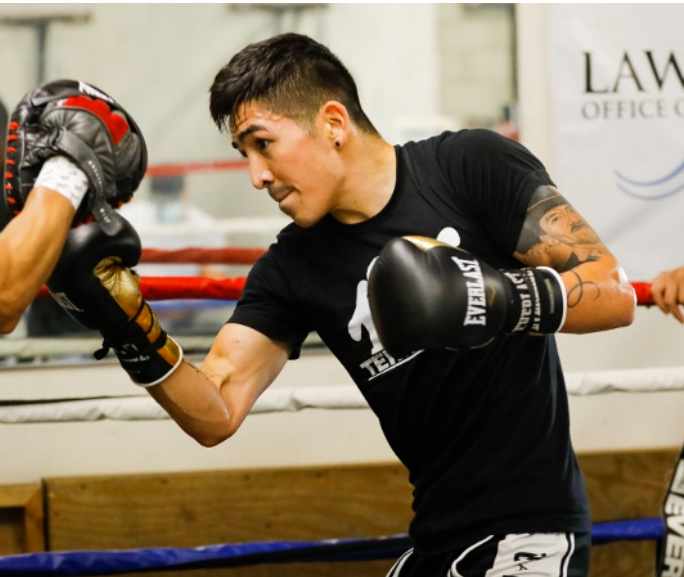 WBA "super" 130-pound champion Gervonta "Tank" Davis, short (5'5½"), short-armed (a 67½-inch reach) and powerful, has been described by some as a miniature Mike Tyson, which seems reasonable for an undefeated fighter who has won all but one of his 23 professional bouts inside the distance, more than a few of those knockouts of the spectacular variety. And if Davis' comparisons to "Iron Mike" weren't enough to stamp him as an emerging superstar, there is also the fact that he is a protégé of Floyd Mayweather Jr., the vainglorious owner of a 50-0 record and distinction as the richest prizefighter ever to lace up a pair of padded gloves. "Money" bills himself as TBE, "The Best Ever," and he goes so far as to suggest that the big-hitting southpaw from Baltimore for whom he has such high hopes might someday approach his status as a cash-cow and true icon of the ring.
"The ultimate goal is to get him to surpass me," the 43-year-old and ostensibly retired Mayweather said of the financial and fistic potential of Davis, who turns 26 on Nov. 7 and arguably is in the early stages of his prime. "I've been his age. Where he's trying to go to, and what he's trying to accomplish, I've already accomplished."
Although Davis has appeared on the undercard of two Pay-Per-View shows headlined by his famous and fabulously wealthy mentor, both he and Mayweather consider his watershed Halloween night confrontation with WBA "super" featherweight titlist Leo Santa Cruz (37-1-1, 19 KOs), in San Antonio's Alamodome, as Tank's real coming-out party. It is, after all, Davis' first time atop his own Showtime PPV event, perhaps the first of several such marquee appearances if the level of public interest in him continues to spike. Ascending to PPV status is a rite of passage both men consider to be a significant key to all the boxing kingdom has to offer, an exclusive club to which many aspire but only a chosen few are allowed to join. The tariff to boxing fans is a $74.95 subscription fee.
"I said, `Tank, you under Mayweather Promotions. So, it's May-Per-View," Mayweather told the kid who would be he during the first episode of Showtime's "All-Access," the infomercial whose purpose is to help convince pandemic-strapped fight fans to open their wallets.
"I'm grateful for what Floyd did for me, as far as opening doors," said Davis, who signed with Mayweather Promotions in 2015. "If it wasn't for Floyd, I wouldn't have been a champion at 22. He gave me a chance to fight on his Pay-Per-View card. Now I'm here, on my own Pay-Per-View."
To hear Mayweather and Davis tell it, it is Tank's singular, reputation-boosting turn in the spotlight, with Santa Cruz more or less along for the ride. The Vegas sports books seemingly are complicit in that perception, with Tank anywhere from a -$350 to a whopping -$710 favorite, odds which could fluctuate throughout the rest of the week as more and larger wagers are placed. Despite his being a four-division world champion, Santa Cruz, the 32-year-old, Mexican-born resident of Rosemead, Calif., whose current title is that of WBA "super" super feather ruler, also considers this particular bout to be historic as it is also his first PPV appearance. And, no, he isn't bothered by the long odds against him (which range from +260 to +475) or Davis' reputation as a compact instrument of pugilistic destruction.
"Nobody believes in me," he said, almost reveling in his rare role as an underdog. "They think I'm this other guy. But I asked for this fight for a reason 'cause I want to prove myself. I'm going to compete and give my all. I'm not scared.
"Gervonta Davis is a great fighter with great skills, great power. I think he's the most dangerous fighter in the division. Why not go after him? To prove to the people that I'm not scared of nobody."
Santa Cruz might not pack as much power as Davis, but his forte is high-volume punching. When he defeated Vusi Malinga via 12-round unanimous decision for the vacant IBF bantamweight strap on June 2, 2012, in Carson, Calif., CompuBox statistics revealed he had unfurled a remarkable 1,350 punches, an average of just under 113 per round. Nor were those numbers an aberration for the human perpetual motion machine; in his two confrontations with Abner Mares, both of which were won on points by Santa Cruz, the read-out showed Leo connecting on a combined 730 of 2,115. Many opponents scarcely have time to think, much less react, when Santa Cruz is firing shots with machine-gun rapidity. No wonder he dares to believe Davis will be similarly flustered.
"I think so," Santa Cruz said when asked if the quantity of his fusillade will more than offset Davis' superior quality in terms of power. "When you have a fighter on top of you, throwing punches, he's not letting you think; he's frustrating you. He's not letting you do nothing.
"If I do that, it could be dangerous 'cause he'll be waiting to counterpunch me, to land those big shots, the uppercuts and hooks. So, I got to do a very smart fight, a perfect fight, to beat him."
For TV purposes, the storyline outside the ropes sometimes is nearly as important in selling the product as what takes place inside them. In that regard Davis and Santa Cruz, so seemingly different in some regards, are strikingly similar in that they were children of poverty, hardly unusual for a sport where years of deprivation can stoke a burning desire to succeed. Santa Cruz's motivation might even be hiked a bit higher because of the ongoing medical circumstances of his trainer-father, Jose Santa Cruz Sr.
Jose Sr. could be the star of his own medical reality series, the most recent episode being his near-death brush with COVID-19. But the patriarch of a boxing family (brothers Jose Jr., Antonio and Roberto are also involved in Leo's career) had previously survived a bout with sepsis, a potentially life-threatening infection, and, in 2016, the diagnosis of Stage 3 myeloma, a blood cancer, that invaded his bones. The father had to undergo weeks of radiation and chemotherapy, and although he pulled through Leo cited concerns for his dad's health as a contributing factor in his sole pro defeat, in which he relinquished his WBA super featherweight title, by 12-round majority decision, to England's Carl Frampton on July 30, 2016. Santa Cruz avenged that setback, also by majority decision, six months later.
Jose Sr. continues to serve as Leo's trainer, but so many medical crises have been met and overcome by the father that the son has learned, as best he can, to cope.
And the COVID-19 which again could have brought Jose Sr. the eternal 10-count?
"When he went (into the hospital), they gave us little hope," Leo said of his dad's most recent downward plunge on an emotional roller-coaster on which the entire family has been obliged to have seats. "They said he was going to pass away, that he wasn't going to last the night. We were all depressed and crying. His lungs were failing, his heart was failing. He coded two times; he died and they brought him back to life.
"I had memories of when he used to go on the bus with me, pushing me in the gym, telling me what to do. All those memories were playing in my mind. I really didn't think he was going to make it. I thought they were going to call us and say, `Hey, your dad passed away.' But we prayed, we had hope. Thank God, the next day we were told our dad was still in critical condition, but he was doing a little bit better. Day by day he improved. God listened. He made a miracle. My dad survived. Even the doctors were saying that they didn't know how that happened."
As was the case with Santa Cruz, who recalls the occasions when the family's electricity was shut off because of unpaid bills, Davis' childhood also was hardly a real-life version of Leave It To Beaver. In 1999, while his father was in prison and his mom was battling drug addition, he was placed into child protective services at the age of five. For the next several years he shuttled between foster homes and shelters. But then, at seven, he found his way into the boxing gym run by Calvin Grove, who knew the pitfalls of life on the streets (he had served 10 years behind bars on drug offenses) as well as the need throw-away children such as Gervonta Davis had to finding someone and something to believe in. Ford, now 56, is so much more than Tank's trainer now; he also is his father-figure and inspiration not to become another faceless, nameless crime statistic.
"Boxing, I would say, saved my life," Davis said. "All the guys I came up with that were older than me, they got killed. If you got one foot in the street and one foot in the gym, it's not going to work. You got to be all the way committed with something.
"When I came to the gym, I felt the love that I needed as a child. Calvin basically raised me. What I been through and what I seen coming up, I knew I don't want to go backwards in life. I know what that brings."
In addition to Davis-Santa Cruz, the PPV portion of the undercard features the return, after a layoff of 13 months, of former WBA and WBC Diamond super lightweight champion Regis "Rougaroo" Prograis (24-1, 20 KOs), in a 10-rounder against Juan Heraldez (16-0-1, 10 KOs); the WBA junior welterweight title matchup of San Antonio's Mario Barrios (25-0, 16 KOs) vs. Ryan Karl (18-2, 12 KOs), and a lightweight scrap pitting Diego Magdaleno (32-3, 13 KOs) against Isaac Cruz Gonzalez (19-1-1, 14 KOs).
Photo credit: Esther Lin / Mayweather Promotions
Check out more boxing news on video at the Boxing Channel 
To comment on this story in the Fight Forum CLICK HERE