Lew Jenkins: An Improbable Story of Redemption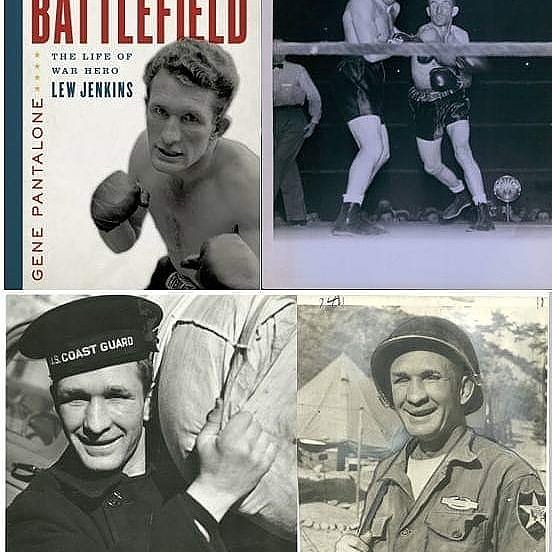 In the early 2000's Nicaraguan brawler Ricardo Mayorga took the welterweight and middleweight divisions by storm with his circus like nature out of the ring, his in-ring antics, and devastating power punching. Some of these crazy antics included showing up to press conferences drinking beer and smoking cigarettes, arriving at weigh-ins eating all types of junk food, and shouting every derogatory term under the sun at his opponent. His persona took the boxing world by storm and Mayorga had his moment in the sun. Despite not having pure boxing talent or a high in-ring I.Q., he was able to ride the wave of both his steel chin and power punch to multimillion dollar paydays against some of the best fighters of his generation.
While Mayorga seemed to be a fighter from out of this world, an aberration from the sport's elite athletes, what he turned out to be was a fighter that harkened back to a time when those types of antics were not just viewed as something done to help give fights a promotional boost. No, they were the type of carefree antics that a certain lightweight champion of the world, who himself was an anomaly, found solace in during his reign at the top. Enter Lew Jenkins who took New York City and the lightweight division by storm in the late 30's and early 40's while becoming one of the sport's most popular champions.
Lew Jenkins life story is full of anecdotes that not even the best Hollywood screenwriters could come up with. During the height of his popularity, he was the toast of the town as he hobnobbed with some of the biggest names in entertainment, like becoming one of Humphrey Bogart's drinking buddies. However, unlike the aforementioned Mayorga, it would be what Jenkins did after his career in the ring that would define him not only as a man, but as a true American Hero.
Author Gene Pantalone delves into the life of Lew Jenkins in his latest book: From Boxing Ring to Battlefield: The Life of War Hero Lew Jenkins. In just two-hundred pages Pantalone tells the incredible story of Jenkins' life. "I was doing research for my first book (Madame Bey's: Home to Boxing Legends)," said Pantalone, when his name kept coming up, since Lew was one of the fighters that trained at that legendary training camp. After finishing the first book I started gathering more and more information about Jenkins. He just seemed to be a fascinating character, his dirt-poor upbringing, how he couldn't hold on to his riches, and how he eventually found meaning in his life in the most unlikely of places."
Lew Jenkins was born and raised in Texas during the Great Depression and quickly found himself traveling around the state fighting in carnivals for cash prizes. Utilizing boxcar trains to travel free of cost, it was during his countless fights in the traveling circus and barrooms where Jenkins both gained fighting experience and developed his deadly right hand. "It wasn't long before he found his way to New York City. Boxers can train all they want, and this is an opinion that's shared by many, but you have to be born with that kind of punch, the type that Lew had. When I interviewed Lew's son he told me that his father mentioned to him that when he was fighting his opponents appeared to be moving in slow motion. That actually helped him find the openings to throw the punch."
What Pantalone is describing is the fact that Lew Jenkins would come to be recognized as one of the strongest punchers in the history of boxing. In fact, Jenkins was listed at number sixty-two on the list of the top one hundred hardest punchers in boxing history by The Ring magazine. It would indeed be his punching power, especially with the right hand, that would take Jenkins to the top of the lightweight division when he blew away Lou Ambers to capture the title.
"When I was collecting my research on Jenkins, I focused on information not just about Jenkins, but also about his fights," said Pantalone. That's where I got a lot of quality stuff, especially from the work of W.C. Heinz. It was as if his fascination with Jenkins became mine." Through all the research conducted by Pantalone and all the crazy stories regarding Jenkins' antics during his rise through the ranks in New York City, it was what Jenkins did after his boxing career was over that truly captured Pantalone's imagination.
"I read an article on Boxing.com written by Clarence George and Lew Jenkins grandson made a comment in the section below the article. So, I obtained his e-mail and was able to speak with the son through the grandson." At first the Jenkins family was reluctant to participate in the project since their father and grandfather had been portrayed as the "playboy champion that fought drunk," or the champion that squandered his ring earnings on the nightclub scene in New York. "I turned over pages of notes and the first draft, about a hundred pages, to the son and since I also focused on what Jenkins did during his life away from the ring, they agreed to participate with the telling of his story," states Pantalone.
After Lew Jenkins finished his career in the ring he was still in what today would be considered a fighter's physical prime, even though burning the proverbial candle at both ends had taken its toll on his natural abilities. Jenkins was able to refocus his life and dedicated it to serving his country when he joined the Armed Forces to serve in War World II.  It would be his experiences as a soldier, in World War II and then in Korea, that would reshape Lew Jenkins at his core. "He completely stopped drinking and after his horrific and subsequent heroic efforts in the Korean War he stopped smoking cigarettes," notes Pantalone.
Anything that he did inside of the ring came naturally to Jenkins. However, it was the amount of hard work and dedication as a soldier that unlike boxing didn't come naturally to him. As a result, all his accomplishments and the courage he displayed during his military career, (which included being awarded the Silver Star) is what truly defined the man that was Lew Jenkins.
From Boxing Ring to Battlefield is a must-read for all boxing fans. Throughout the two-hundred pages, Gene Pantalone does a terrific job at engaging the reader and making him become invested in the development of Jenkins as if it was a life story being played out in real time. Pantalone also does a great job telling the stories of the people that played different roles in Jenkins life. He covers his two complex marriages (including his first marriage to Katie Taylor, one of boxing's first female managers, who is a fascinating person in her own right), as well as the intriguing relationships with managers, fellow fighters, celebrities, and the military men with whom he served and would eventually help to rescue from a hell on earth.
"There aren't many pictures of Jenkins. The funny thing is he said he felt more relaxed during war time.  If you look at the pictures of him during his military career he is smiling, while the pictures you see of him during his boxing days he tends to have a stoic expression," says Pantalone. Historians of both boxing and the military are treated to a tale of one man's spectacular life journey to redemption.
If not for Pantalone this is the type of story that may have been lost in the annals of time. Lew Jenkins may have been viewed as just another lightweight champion from years past. Instead readers are now able to connect with an intriguing character who finds purpose in the most unlikely of places during a period of time that is becoming more and more distant.
Luis A. Cortes writes from Philadelphia. He can be reached at Luisacortes83@gmail.com  His twitter handle is @LC3Boxing
Check out more boxing news on video at The Boxing Channel
To comment on this story in The Fight Forum, CLICK HERE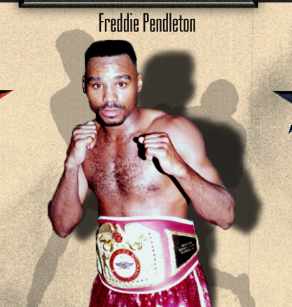 Some fighters launch and sustain long winning streaks; others engage long losing streaks. Some, like Mexican cult legend Quirino Garcia (40-28-4) and the late Saoul Mamby (45-34-6), did both.
And some, like Joey Olivera (21-13-1), Rogers Mtagwa (27-17-2), Manning Galloway (63-19-1) and Emanuel Augustus (38-34-6) mixed things up in spurts. Another, Darnell Boone (24-25-5), is still fighting and is very unpredictable as Andre Ward, Adonis Stevenson, and Sergey Kovalev discovered. When these men are on their game, their opponents can be on the dangerous side of things
For those who like to go back in time, Teddy "Red Top" Davis (71-75-6) provided early TV fans with many shockers as did Holly Mims (68-28-6). The names from back then go on and on.
A favorite was the very active, old schoolish "Fearless" Freddie Pendleton (47-26-6) who fought a remarkable 25 times in Atlantic City but also duked frequently in California and Nevada. And get this, the Philadelphian went in with 17 world champions!
The Record
With only a handful of amateur fights, Freddie lost four of his first six including his debut on November 5, 1981. But he was naturally talented, a combination boxer-puncher with a bazooka for a right hand.
In just his sixth pro fight, he was put in against the very skilled, undefeated and streaking Jerome Coffee and dropped a UD. He then reeled off four quick wins  before losing to Gerald Hayes (20-18-4) in October 1982 and to Bobby Johnson (16-0) in March of the following year. After beating one Jose Rodriguez, he stepped up against Anthony Fletcher (13-0 at the time) and lost a 10-rounder but not before decking "Two Guns" in the fifth round, signaling that he could be a dangerous opponent for anyone.
After a draw and three wins in a row, he lost to former world champion Hilmer Kenty by UD at Cobo Hall in Detroit—but many thought Freddie had been stiffed: "That was highway robbery. I beat him from pillar to post…Everybody expected me to get knocked out, and when I beat him up like that, I pissed off a lot of people in Detroit," he told Anson Wainwright for a story in The Ring magazine.
Two months later in Detroit and again at Cobo Hall, "Fearless" took the fight away from the judges and shocked undefeated Tyrone Trice (12-0) by flooring him three times in the first round for a big TKO. People now knew who Pendleton was and what he was capable of. (As an aside and reflecting the significance of this win, multiple title challenger Trice subsequently won 16 straight.)
"You could see the confidence that he (Trice) was going to just walk in there and destroy me. I expected a tough fight, and then the first shot I caught him with he's down. I knew I was the outsider, so I went after him and put him away. That was one of the biggest wins early in my career."
Unlike Trice, however, Freddie lost four of his next seven though against very tough opposition including Adolfo Medal (21-1), Joe Manley (20-2), Frankie Randall (21-0), Jimmy Paul (23-1), and a very slick and underrated Darryl Martin (9-2) whom he beat for a regional title,
In March 1986, Pendleton (14-13 at the time) took on Roger Mayweather (23-3) in Las Vegas and amazingly knocked out Roger in the 6th round with a lightning fast right that put Roger to sleep in frightening fashion.
Freddie then drew with Frankie Randall in July 1086 and also with Livingstone Bramble (24-2-1) almost a year later. Then, amidst a 6-fight win steak, he ambushed and stopped Bramble in a rematch in July 1988. After being KOd by John Montes (38-4) in a slugfest, he extended Pernell Whitaker (20-1) for 12 rounds before losing a close UD with the WBC and IBF world lightweight title belts at stake.
Even though his record was a most deceptive 24-16-3, his reputation was growing fast and it only seemed a matter of time for the big show.
His time was NOW!
Fearless launched a 12-fight undefeated streak after his loss to Whitaker that included a draw with Tracy "Slam Bam" Spann and wins over the likes of Eric Podolak, Felix Dubray, and Spann in a rematch. This later win in January 1993 in Atlantic City earned Freddie the IBF world lightweight title. His record at the time was just 32-17-4.
"Fearless" successfully defended it against the dangerous Jorge Paez (46-6-4) in July 1993 but then lost three controversial fights in a row. The one against Rafael Ruelas (39-1) was especially questionable as Rafael hit the deck twice in the first round. This loss cost Freddie his title, and he would never regain a major belt.
Freddie launched still another win-streak in late 1994 by knocking out Steve Larrimore in the tenth round. He stopped Darryl Tyson (45-6-1) in 1995 and then he outslugged and stopped Tony Lopez (45-5-1) by decking him four times in Las Vegas in what can only be termed an under-the-radar-classic. Lopez (whose level of opposition was equally off the charts) had decked Freddie twice. These were big wins, especially the one against Lopez.
Pendleton would then win some and lose some including three unsuccessful title attempts against Felix Trinidad (28-0), Vince Phillips (37-3), and James Page (24-3).
After stopping one Horatio Garcia (12-3-1) for something called the IBA Americas Welterweight Title, he met Ricky Hatton (25-0) in Manchester, England, on October 27,2001 for the World Boxing Union Super Lightweight title. Freddie was knocked out early by the prime Hatton and that ended his remarkable career.
Freddie Pendleton, now 57 and a trainer, was inducted into the Florida Boxing Hall of Fame in June 2011.
If any fighter lived up to his nickname, it was "Fearless" Freddie Pendleton.
Ted Sares can be reached at tedsares@roadrunner.com
Check out more boxing news on video at The Boxing Channel 
To comment on this story in The Fight Forum CLICK HERE
Heavyweight Hopeful Agit Kabayel Wins as Expected in Magdeburg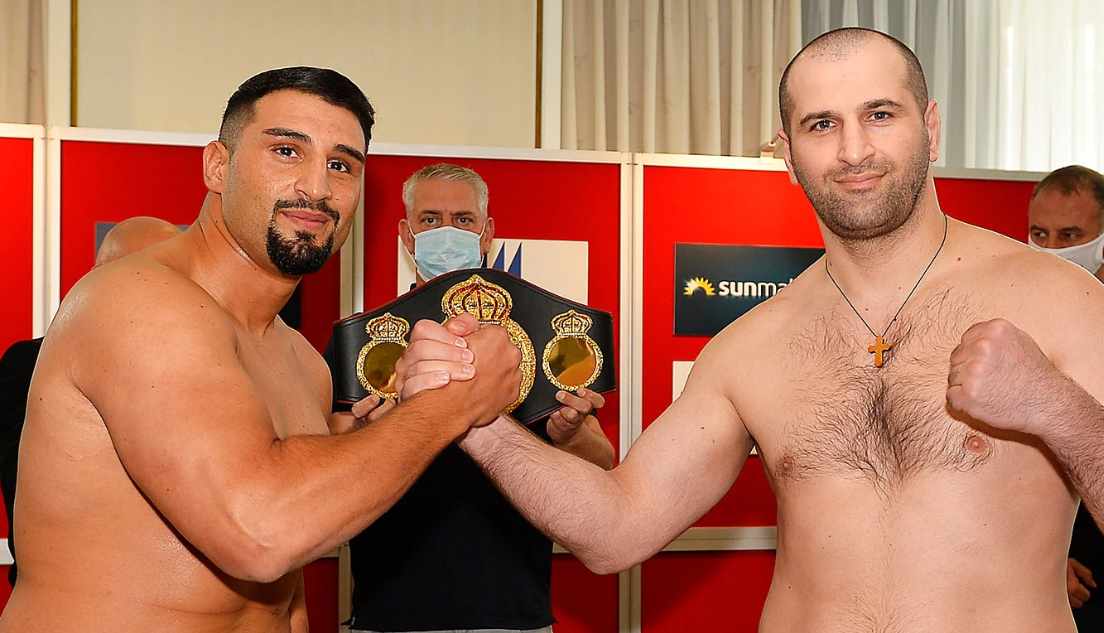 Heavyweight Hopeful Agit Kabayel Wins as Expected in Magdeburg
There was live boxing in Germany today (July 18) for the second straight Saturday. Last week's event was at a drive-in movie theater on the outskirts of Dusseldorf. Today there were actually four shows scattered around Deutschland, the most high-profile an outdoor show at a public park in Magdeburg where the ring was pitched on a floating stage. Attendance was limited to one thousand and the show was reportedly a fast sellout.
The draw was undefeated heavyweight Agit Kabayel, a native German of Kurdish extraction who improved to 20-0 (13) with a lopsided decision over paunchy six-foot-six Evgenios Lazaridis, a Germany-based fighter from Athens, Greece. With the nickname Achilles, it figured that Lazaridis, 32, would be vulnerable to a punch in the heel, but the six-foot-three Kabayel (pictured on the left; Lazaridis on the right) couldn't get down that low and was content to punch him in his upper parts.
Lazaridis had some good moments early in the fight, but his workrate slowed by round five and the better-conditioned Kabayel gradually put more distance between them before dominating the 10th. The judges had it 100-90, 99-91, and 98-92.
This was Kabayel's third fight in Magdeburg where he won the European heavyweight title with a unanimous decision over Belgium's Herve Hubeaux and successfully defended it with a unanimous decision over veteran Andriy Rudenko of the Ukraine. Kabayel vacated the title after his management signed a co-promotional deal with Top Rank in September of last year. He entered the bout ranked #11 by both the WBA and IBF.
When Kabayel signed with Top Rank, it was noted that he had several good attributes but lacked one-punch knockout power. Following his effort today, he was dismissed as "European level" on social media. However, this was his first fight in 16 months so he likely had some ring rust and he had only five amateur fights before turning pro (he has a kickboxing background) and so, at age 27, he likely hasn't reached his full potential.
In an undercard bout of note, 23-year-old heavyweight prospect Peter Kadiru improved to 8-0 (4) at the expense of 39-year-old late sub Eugen Buchmueller (16-7) who quit on his stool after three frames with an apparent shoulder injury. Kadiru is managed by Bernd Boente who was previously involved with the Klitschko brothers.
Check out more boxing news on video at The Boxing Channel 
To comment on this story in the Fight Forum CLICK HERE
Avila Perspective, Chap. 99: Re-Opening in California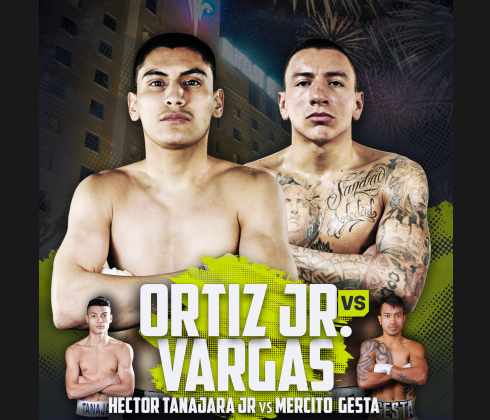 Now revving its promotional engine Golden Boy Promotions returns next week for a two-stint summer show in Southern California and the possibility of Saul "Canelo" Alvarez capping the end of the season.
"He is open to fight in September," said Eric Gomez, president of Golden Boy. "Right now, we are going through details with him and whether he wants to fight or not."
Canelo has become one of DAZN's lead attractions and during these "stop and go" times of worldwide pandemic, the sport of professional boxing remains one of the few able to continue. But rigid restrictions are necessary and no guarantees any fight takes place.
"Right now, we are going through all the details and what's important for us and for him first and foremost is the safety," said Gomez. "God forbid he gets sick but things happen. Look at what happened to Top Rank; they have fights fall out. Accidents are going to happen."
Top Rank Promotions has filled the void for the past two months with twice-weekly shows that have included fighters from the Golden Boy stable. Two weeks ago, one of the Golden Boy fighters Joshua Franco grabbed the WBA super fly title during one of the boxing cards in Las Vegas.
Now, Golden Boy opens its own shows at Fantasy Springs Casino in Indio on Friday, July 24. Everything is in place to showcase their fighters in California, a state that usually leads the country in staging prizefighting cards. It might even lead the world, but not this year.
"For these two shows we have to do at Fantasy Springs, we have protocols we have to follow, just a little more preparation and planning. We tested everybody, all came back negative. We will have to test again the week of the fight. That's the price of doing business nowadays during the pandemic," said Gomez.
First up will be Vergil Ortiz Jr. the welterweight from the Dallas, Texas area who trains in nearby Riverside, California at Robert Garcia Boxing Academy. Both the training facility and casino are located in Riverside County which stretches all the way to the Arizona border at Blythe.
Ortiz (15-0, 15 KOs) will be facing Sam Vargas (31-5-2, 14 KOs) who fights out of Las Vegas, Nevada. It's a four-hour drive to Fantasy Springs. Anything can happen and anyone can be carrying the coronavirus that has contaminated whole cities. DAZN will stream the boxing card.
If this fight holds, Ortiz looks to propel himself into a world title fight in the loaded welterweight division. Premier Boxing Champions has champion Errol Spence Jr. and Top Rank has champion Terence Crawford. Either will suffice for Ortiz, he says. Now he is working to get into position for those kind of fights.
Ortiz has been sparring with WBC and WBA super lightweight world titlist Jose Carlos Ramirez and with four-division world champion Mikey Garcia. That's plenty of experience and tutelage for the tall 22-year-old guitar-playing welterweight out of Dallas with 15 knockouts in 15 fights.
"I never stopped training camp," Ortiz told Golden Boy's Jessica Rosales. "I'm more than ready for this fight especially since its going to be against the same opponent."
But is he ready for the big guns?
Recently on social media Ortiz has mentioned that challenges against Spence, Crawford or whoever heads the welterweight division are desired.
"I wanna fight the best at 147 like Danny Garcia and Errol Spence and people call me stupid," said Ortiz on social media. "In due time these great fights will happen. I just wanna fight the best."
Tuesday Fights
Former featherweight world titlist Oscar Valdez (27-0, 21 KOs) moves up to the super featherweight division and meets Jayson Velez (29-6-1, 21 KOs) in a 10 round main event at the MGM Grand bubble in Las Vegas. ESPN will televise the fight on Tuesday, July 21.
Valdez was having trouble making the 126-pound weight limit and feels confident in making the move to 130 pounds. It's one of the toughest divisions in prizefighting.
Puerto Rico's Velez has always been a tough foe for anyone he meets in the prize ring. He has never been stopped and almost every loss was a close decision. It's a solid match and a good test.
More Friday Fights
Lightweight contender Mercito Gesta (32-3-3, 17 KOs) tangles with San Antonio's Hector Tanajara (19-0, 5 KOs) in a lightweight bout at Fantasy Springs. It's a classic match between experience and youth and guaranteed worth watching on DAZN.
Gesta, 32, has competed for the world title against Jorge Linares and Miguel Vazquez but was unable to walk off with the world lightweight championship. He did pick up the WBO NABO title in a riveting battle against Roberto Manzanarez in June 2018. His last fight ended in a technical draw due to a cut suffered by his foe Carlos Morales.
Tanajara, 23, has height and length to go along with his growing boxing skills learned under trainer Robert Garcia's guidance. He has picked up tricks of the trade along the way and proved his toughness in wins over Juan Carlos Burgos and Ivan Delgado. Can he out-tough and out-smart Gesta?
Both fighters are class acts.
Seniesa Defends
East L.A.'s Seniesa Estrada (18-0, 7 KOs) defends the WBC Silver light flyweight title against Miranda Adkins (5-0, 5 KOs) in a 10-round bout on the Friday July 24, card at Fantasy Springs Casino.
Estrada wanted a world title bout but it is extremely difficult to find opposition under 112 pounds inside of the USA. Most of the fighters below 112 are located in Mexico or Japan. Few people are being allowed into the country during the pandemic.
Adkins is allegedly a former kickboxer and MMA fighter out of Kansas. Estrada has become a crowd favorite and eager to perform.
"We're excited to have Seniesa back. She is starting to develop a really big following now," said Eric Gomez. "She is a real good fighter and does things that most girls can't do."
Now that California has re-opened maybe a feeling of normalcy will follow.
Check out more boxing news on video at The Boxing Channel 
To comment on this story in the Fight Forum CLICK HERE