Springs Toledo's eBook Excerpt: "The Uncanny" (Chapter 3)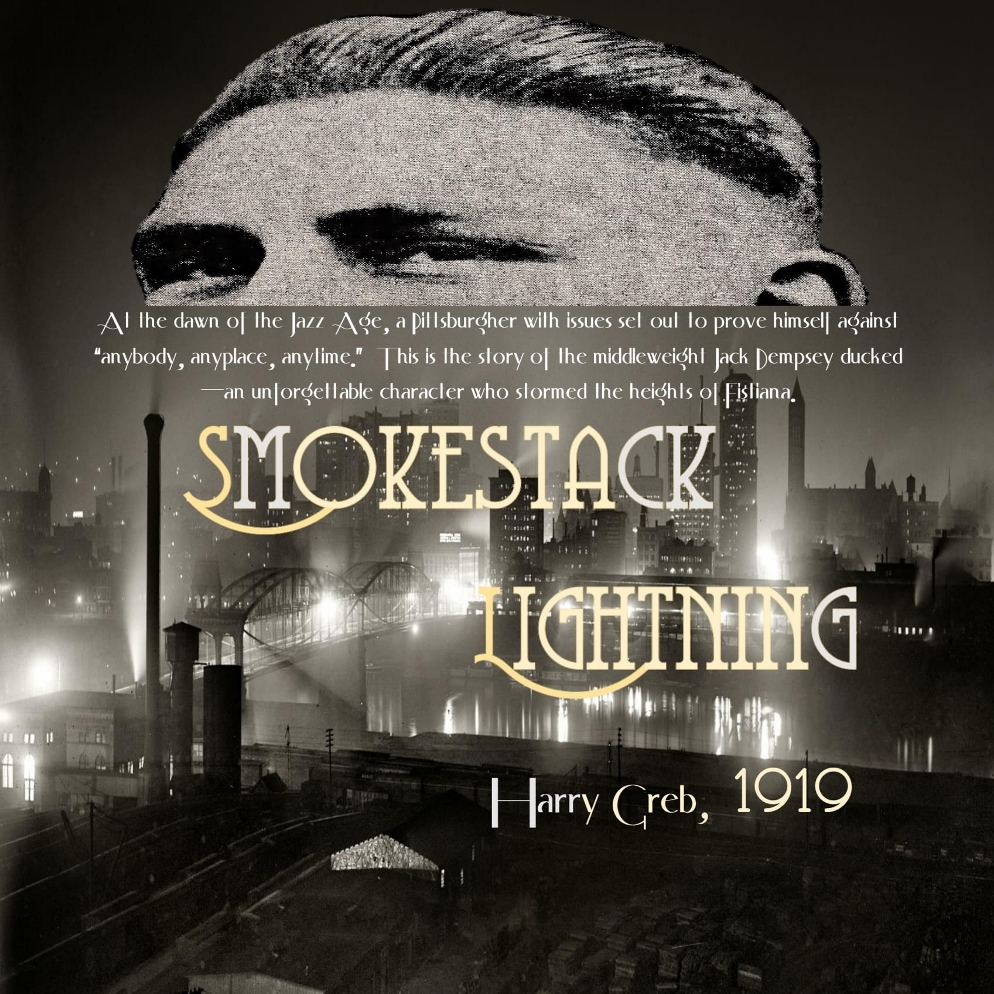 It ain't business. It's personal. 
Roy McHugh was a sports editor and columnist-at-large for the Pittsburgh Press until he retired in 1983. He's a hundred and three now; still living in the Smoky City with a treasure trove of memories. He told me he shook one of the dukes of the St. Paul Phantom himself in 1924, only five years after those dukes were flying at the head of Harry Greb.
McHugh spent his childhood in Cedar Rapids, Iowa. He was nine and in his pediatrician's waiting room when he picked up a copy of the Boxing Blade "and got hooked." His pediatrician was a friend of Mike Gibbons, who had a gym in St. Paul and was managing fighters at the time. When the once-great middleweight came to town, the good doctor introduced McHugh and his brother to him. A week later a set of boxing gloves arrived at the boys' address. A note was attached:
 Put on these gloves and do your stuff,
 Prepare for the days when roads are rough;
 You'll get a little groggy, but just give bad luck an uppercut.
Greb-Gibbons II was scheduled for June 23, 1919. Ringside seats sold for $10, $7.50 and $5. Grandstand seats were $3 and $2 plus war tax. Requests for reserved seats were coming in from towns and cities across Ohio, Indiana, and West Virginia, particularly those Greb had invaded. A contingent hanging around the training camps of heavyweight champion Jess Willard and challenger Jack Dempsey arrived in from Toledo.
Seven thousand streamed into Forbes Field to see what a master boxer could do against an avowed anarchist the second time around. Gibbons had gotten the better of him back in 1917 and figured he'd do it again. Greb, favored to win and with bravado on display, knew Gibbons was the goods. George A. Barton, sports editor of the Minneapolis Tribune did too. "A toss of the head, a slight twist of the body, and an intended kayo punch will finish in a foolish wave to the fans in the gallery," he said. Gibbons spent a novitiate sparring with luminaries like Joe Gans and knew all the tricks that leave a "frustrated battler steaming about in fury."
That was exactly Greb's plan—steaming about in fury.
Jim Jab liked Mike. "Fistic class puzzles many mortals," he wrote in the first line of the next morning's Pittsburgh Press. "They fail to understand its fine points, its timing, feinting, and foiling. Among the hundreds of Pittsburgh fans…scores belonged to this clan." In his estimation, which was a lonely one, anarchy won no more than two of the ten rounds. The Daily Post and the AP gave Greb six to Gibbons' three with one even. The Gazette Times had Greb up six to two with two even.
Greb, avenged, took home $5,514.50 and continued on with the big get-even. In July, he caught up with Joe Chip in Youngstown, Ohio. Chip was and remains the only fighter to ever lay him out for the count. "It was funny how it all happened," said Greb about the 1913 match. "Everything was going along smoothly until Chip started a long swing… instead of ducking the swing, I ran flush into it." For days afterward, Greb said there were "sweetly caroling birds" in his head.
But he was a novice then. This time, he won all but one round. He toyed with Chip and laughed when his friends tried to spur him on. Hissed by the crowd and warned by the referee for using his head in close and for hitting in the clinches, he dropped his defense to let Chip do what he could in the last round. It wasn't much. Chip, under siege in the final seconds, was forced into a corner and turned his back.
Avenged again, Greb headed home and cooled his jets for a week. Mildred accompanied him to Conneaut Lake in the northern part of Pennsylvania. "Great guns!" blared a headline. "Greb Loafs for a While!" To Greb it was "a summer's rest." A friend wondered at that.
"Rest? Why you haven't rested at all!"
"Any time I'm not fighting three times a week," said Greb, "it's a vacation for me.
*****
Columnists tended to present Greb as a clean-living young man who never bragged and always credited his opponents. That image was a half-truth at best. Greb was as much a tangle of contradictions as anyone else, more so even, though his personality traits—the virtues and the vices—stirred up something that is off by itself in boxing history.
Those who knew him said he needed to fight often, that he thrived on "his marathon plan of meeting them all, one after the other." He typically asked for two things—"fair terms" and "the hardest guy" and as a result, negotiations were rarely much more than an offer on one side and a shrug and a signature on the other.
Throughout his thirteen-year career, he was lionized for his "gameness" more than anything else. Exceptional even during an era overrun with folk heroes and iron men, he glowers across a century at celebrity boxers who dilly-dally until a rival ages or breaks down and then swoop in like scavengers, picking at the remains and claiming it as something it is not.
But Greb was too willing.
He went so far as to issue a public challenge to Jess Willard and said he'd donate his purse to the Red Cross. When Fred Fulton fought at Madison Square Garden, Greb was moving with every punch and murmuring that he'd pay $5,000 to fight Fulton that night. He opened negotiations with Luis Firpo, and said he'd fight Harry Wills in an arena or a gym just to prove that the best African-American heavyweight in the world wasn't much. All of them towered over him and outweighed him by at least fifty pounds, which suggests that Greb either had screws loose or was a misanthrope raging against all men, including himself.
He was moody, surprisingly vain, and quick to take offense. If he lost a fight, he was known to call it a frame-up and at times announced his suspicions as facts. If he failed to dominate an opponent, he'd insist on another match and sometimes another and another to make sure his supremacy was understood.
When a bulletin was posted outside the Pittsburgh Press announcing Jim Jab's opinion that he'd lost a fight the night before, Greb happened by and saw it. He ripped it off the board and threw it on the street. Then he went looking for Jim Jab.
In March 1919, he read about Ed Tremblay's contention that he made Greb quit in the King's Tournament and added Greb's name to his record with a "KO 2 rounds" beside it. Greb promised "the beating of his young life for his presumption." Tremblay wouldn't fight him.
After one of his bouts in New York City he went to an all-night joint in Greenwich Village. The morning paper came in and he flipped to the sports section. Westbrook Pegler was there with Red Mason, watching him. "Harry read the stories, moving his lips, then pushed the papers away and sat with his face in his hands." Mason leaned over to Pegler. "His wife's sick," he said. "He's all busted up about it."
"Hey," Greb looked up. "Them bums say I blew a coupla rounds to that guy tonight. What do them bums know?"
In October 1919, the old "White Hope" heavyweight Frank Moran said Greb got a boxing lesson in a recent match, and Greb headed for the telephone. "Now listen," he told the Daily Post. "You put a piece in the paper telling Frank Moran that if he really wants to fight, he's looked far enough. I'm his man. What I mean is that he's mine. Size doesn't impress me." Greb posted a grand for a forfeit and his manager was ready to bet that Moran would not only lose big, he would "break ground" when Greb engaged him toe-to-toe. Moran went quiet.
At times he seemed to target siblings—the Chips, the Gibbons—as if on a blood campaign. In the summer of 1912, we can place him in Wheeling, West Virginia for what looks like a spur-of-the-moment professional debut against Young Stoney Ritz. What happened in that fight is a mystery, but he returned to Wheeling twelve years later to fight Stoney's younger brother. In the second round, Greb hit Frankie Ritz with a triple right hand combination that landed Ritz on his back with his feet "tangled grotesquely" up in the ropes. Ritz had to be carried to his corner; Greb walked off "without having disturbed his slicked and glossy hair."
He rarely went down, but if he did, you were in for it. Soldier Buck claimed he knocked Greb down with a right hand and didn't think he'd get up. "But he did—at the count of four. He then proceeded to beat me to death," he recalled. "For two days after the fight, friends had to lead me around. Both of my eyes were closed." There are reports of crowds howling at the referee to stop the carnage when Greb was in one of his sadistic moods, when he sought to prolong punishment out of "pure meanness."
He was just as mean during sparring sessions. While Greb was training for a bout in a New York gym, Mason invited Jack Sharkey to spar with him. Sharkey, who went on to become the world heavyweight champion in 1932, sent a light heavyweight over instead. Greb felt slighted, got mad, knocked the light heavyweight out, and started taunting Sharkey—"Come on over!"
Roy McHugh described his fighting style as "an uprising of nature." Clouds of rosin dust were kicked up as he tore after any and all, blitzing them to the body and the head, mauling, head-butting, yanking them off balance, ramming them through the ropes, and grinning the whole time. One of his favorite moves was to curl his left glove around the back of a neck and whale away with his right. And he'd laugh off criticism.
In the summer of 1919, he faced a parade of fighters who had no affinity for him, nor he for them. He relentlessly mocked Big Bill Brennan. Battling Levinsky couldn't bring himself to tip his hat to Greb after yet another decisive loss. Knockout Brown and he were "enemies of long standing." There was "bad blood" between him and Mike Gibbons and "the feeling is real," said the Press. "Harry and Mike detest each other." Jeff Smith shared a ring with him seven times, which exponentially increased their mutual antipathy. "They hate each other," said the Daily Post.
Kid Norfolk can speak for all of them. "That Greb was mean," he said in 1938, and opening his shirt, pointed near his sternum. "See that lump, big as an egg? Greb gave me that with his head. Still sore."
What was driving him? There is evidence of disturbance in the historical record, in the little deaths a fat, crooked-eyed, grammar-school dropout they called "Icky" could be expected to suffer daily; in the choice of a confirmation name that promised violence, in the "wild rage" his father recalled—wild rage that thousands would buy tickets to witness.
Greb became famous for forcing his adversaries—those who would hurt him—backward and on their heels to put himself, the former victim, in control. In other words, his fighting style reflected his psyche. So did his nom de guerre. The name "Harry" was adopted at the onset of his career and is assumed to be a loving tribute to a dead brother, but it's more than that. Icky Greb was a frog who imagined himself into a king, and the king had a name. "Harry Greb" was his reconstructed self, the man he aspired to become—fearless, ferocious, and covered in glory.
Memories of his ferocity wouldn't fade for decades. Red Smith couldn't bring up Gene Tunney's name without shuddering at what was done to him by the "bloodthirsty Harry Greb," he said in 1968; by the "carnivorous Harry Greb," he said in 1973.
And yet Greb was always genial toward those who meant no harm. His neighbors on Gross Street liked him for "his sunny disposition." He'd greet civilians with a smile and a warm handshake, and often shared stories filled with Jazz-era slang and devoid of proper grammar. He doled out tickets and whatever else he had in his pockets to the Pittsburgh newsboys who followed him around like his own personal cheering section. When he learned that one of their counterparts in Omaha scaled the wall of an auditorium to watch him fight and fell to his death, Greb sent his parents a check.
He counted many priests among his friends. Father Cox never had to ask twice if he needed him to volunteer at the Lyceum. The late-night knock on the rectory door at Immaculate Conception never startled Father Bonaventure; he knew it was Greb, back from out of town and stopping by with a donation. On Sundays, Greb went to Mass and limited his training to a long walk. He prayed novenas. Before a fight, he would seek out a priest for a blessing on his efforts. "He made quiet little visits to Our Lord in the Blessed Sacrament, asking for aid," said Father Cox, who believed those prayers were answered—"He fought with the courage of a David. He never knew fear and was never tired."
If he lost his temper or wronged someone who didn't deserve it, he would apologize immediately and mean it. He didn't always beat up on opponents. At times he would take it easy on substitutes who couldn't hang with him, and when faced with a situation that would give him an unfair advantage, he'd behave as if a nun from St. Joseph's was watching.
His loyalty is a favorite theme of half-forgotten folk tales. One of them begins with a frantic phone call from Youngstown where a friend had stopped for a drink and was being treated roughly. "Stay right there," Greb said, then sped seventy-four miles north and barged into the saloon. He was still tossing the brute around when the bartender appealed to his friend to make him lay off. "I can't afford to replace this whole joint," he said.
In November 1919, young Jack Henry showed up at Greb's training camp in Beaver Falls and was stopped at the entrance. The boy's accent was familiar to Greb. "Are you a Limey, kid?"
"Yes," Jack replied. "And in England they say you're the greatest fighter in the world."
"Let the kid in."
A few nights later, Greb was beating up on Zulu Kid at the Nonpareil A.C. and there's Jack in his corner, in charge of the bucket and sponge.
****
By the time Greb took Mildred and his contradictions to Conneaut Lake in July 1919 he was at the very least the greatest boxer in his division. But the only thing atop his head was a straw boater hat. He wanted a crown, and Mildred couldn't buy one at The Rosenbaum Company at Sixth, Liberty, and Penn. It wasn't like today—if you were a name-fighter back then the Five Points Gang didn't dangle a belt and a random opponent in front of you for a percentage. And if they did, that era's sports writers would have spotted the sham and shamed it into extinction. Greb had to find a way to get an official shot at the middleweight champion, and that was Mike O'Dowd.
Greb had already defeated two of O'Dowd's predecessors in unofficial bouts, and in 1918 came damn close to defeating O'Dowd himself in what the Minneapolis Journal called "one of the most sensational bouts ever fought in the twin cities."
Mason had a master plan for 1919. "Now what I intend to do is have Greb fight every man anywhere near his weight," he said, "and really show who is the best fighter in the middleweight class." He would force O'Dowd to the table.
Things were finally beginning to simmer in July when O'Dowd told the Gazette Times he'd be "tickled to death to get a crack at Harry Greb in a bout in Pittsburgh." Other cities were also vying to match them. The Tulsa World mentioned that O'Dowd's manager agreed to give Greb a shot at the title and O'Dowd "gave his word." A week after that, a promoter in Tulsa said he signed O'Dowd to defend his title against Greb. At the end of July, an athletic association in Toledo said O'Dowd and Greb were set to meet on Labor Day. The New York Daily News was among those carrying the story. The problem was no one told Mason, who by then was wringing his hands over O'Dowd's refusal to meet Greb.
On August 5, a matchmaker with the Keystone Club in Pittsburgh was trying to make the fight and flew to New York to meet with the champion and talk him down from the $7500 guarantee he was insisting on. On the 18th there was still talk of Toledo until O'Dowd put the nix on it—"positively refusing" to meet Greb before late in the fall.  On the 27th, Greb stepped off the train in New York to meet man-to-man with O'Dowd, who said that he would accept Greb's challenge for September 29 in Pittsburgh if his take was $5,000 with a better than 25% of the gate. It fell through. A promoter in Cincinnati signed Greb to "meet the best opponent he could get on the night of the opening game of the World Series" (later remembered as the Black Sox Scandal of 1919) and tried for O'Dowd. He figured he could do better than the flat fee of $5,000 Pittsburgh offered, but he couldn't, and it fell through.
And so it went. From July through September 1919, promoters in Tulsa, Toledo, Pittsburgh, and Cincinnati all tried and failed to sign O'Dowd to face Greb.
The middleweight king had his defenders though, even in Pittsburgh. Sergeant O'Dowd, after all, was said to be knee-deep in grime in the forest of Argonne during the war while Greb was stationed on a training battleship with a dummy smokestack and wooden guns in Union Square.
"Mr. O'Dowd is quite a man—to be explicit—all man," said the Evening Tribune. But Greb made him nervous.
Ed Smith, a Chicago fight critic who refereed Greb-Gibbons II may be the reason why. A story was making the rounds that said Smith spoke with the champion in Toledo just before Jess Willard fought Jack Dempsey, and "solemnly warned Mike that 'if he cared anything for his title, stay away from this fellow Greb.'" In November, O'Dowd faced Mike Gibbons five months after Gibbons lost to Greb. In December, he planned on touring Europe.
Had O'Dowd risked his crown against Greb in 1919, it is very likely Greb would have taken it a year earlier than his wife's deadline, and, given his easy defeat of then-champion Al McCoy, about two years later than he could have. As it happened, Greb's middleweight reign would not begin until 1923—after O'Dowd's successor Johnny Wilson continued the tradition of eluding him for three years plus.
****
Greb was the bête noire of the light heavyweights and his ambitions were unsurprisingly blocked there as well. Gene Tunney, among the greatest boxers the division ever produced, learned early on that there was something of an abyss behind Greb's dark and deadpan eyes. "He is not a normal fighter," he was told. "He will kill you."
In March 1919, Mason was arguing that Greb was the rightful middleweight and light heavyweight champion of the world. He justified it by pointing out victories over Jack "The Giant Killer" Dillon and his successor Battling Levinsky. At the end of the month, Greb boosted the argument further by beating Billy Miske, another star in the division. The claim was only hype, but many considered the title lapsed as Levinsky rarely defended it.
In September 1919, Greb demanded a chance and nearly got it.
The Miami A.C. in Dayton, Ohio had signatures from Levinsky and Greb to fight to a decision on the 8th. Greb wired them and insisted that Levinsky make a hundred seventy-five pounds ringside to make sure the crown was up for grabs. The date was switched to the 12th, the 8th, and then back to the 12th before it was postponed until the 15th because Greb was reportedly in a Pittsburgh hospital with boils on the back of his neck. Levinsky, in Dayton on the 12th, headed back to New York. The bout was called off altogether when the promoters couldn't get in touch with him. Did he go on the lam? He never went near Greb again.
Levinsky was, of course, ready to accept a lesser challenge for more money. In October 1920, he defended against "Gorgeous" Georges Carpentier at Jersey City for 20% of the gate minus state taxes. The gate was $350,000 which means Levinsky's take was $65,000. Carpentier had his way with him, knocked him out in the fourth round, and did his part to look like something promoter Tex Rickard could market as a credible opponent for heavyweight champion Jack Dempsey. In July 1921, Dempsey did his part and knocked Carpentier out in the fourth round, also at Jersey City. It was boxing's first million-dollar gate. Carpentier earned a $300,000 purse—over four million today.
Greb could only hang his head.
He'd been trying for a fight with Carpentier since he went overseas during the war. In June 1919 there was talk of a $15,000 purse to meet him in France and in December 1919 Mason was still campaigning for a match in London or Paris.
Greb turned up at Carpentier's training camp in Manhasset, Long Island before the Dempsey fight. Columnist Robert Edgren asked Greb if he'd like to take him on. "Any time," Greb said, "on a day's notice." Later that day the two were introduced and Carpentier, who stood near six feet tall, laughed when he saw Greb, who stood no more than five eight. He'd heard all about this berserker running riot in three weight classes and said he expected a much bigger man. Greb muttered that he was "big enough" and asked him for a match.
Carpentier was friendly, but he wasn't eager. He'd heard too much.
About a week before Dempsey-Carpentier, Greb was rolling his eyes at the French champion's depiction by the press as "a man of destiny" and the so-called secret punch he was supposedly working on at his conveniently closed camp.
He was rolling his eyes again in Billy Lahiff's tavern in New York City when the sports writers' talk turned to Carpentier's chances. Greb broke in. He asked them if they would like to know how good Carpentier was and then invited them to go with him to crash his training camp the next day. "If they let me box him I'll prove to you he doesn't stand a ghost of a chance," he told them. "He can't beat me, much less Dempsey." A huge delegation went with him. Carpentier's manager had a conniption fit. "No! No! No!" he said.
When Greb made Tunney look like a murder scene and took the second-rate American light heavyweight title in May 1922 at Madison Square Garden, Rickard strolled toward the ring as Tunney, "a bloody ruin," was assisted out of it. Rickard told press row that he would offer Carpentier $150,000 to fight Greb for the light heavyweight championship of the world in July. Carpentier's answer? Mieux vaut prévenir que guérir.
In June 1922, the AP reported the Frenchman's "unexplained annoyance when the Pittsburgh fighter's name was mentioned." It can be explained now. He saw Greb around every corner, under the bed, in the closet; he saw his shadow on the terrace sipping noisette.
In September 1922, promoter Jack Curley was said to be in Paris securing Carpentier's signature to defend his crown against Greb. That was just days before Carpentier met Battling Siki. Fate knocked Greb out of the frame when Siki knocked Carpentier out of his shoes.
Greb could do nothing about fate, though he could do something about Siki. "I will meet Siki anywhere in the world," he said. "Anytime, anywhere." Three offers came in. Greb was revving up when Siki inexplicably agreed to defend against Mike McTigue in Dublin on St. Patrick's Day of all days.
Siki was robbed, McTigue was handed the crown, and Greb was sidetracked again. McTigue, he knew, would keep that crown in a locked box. He had faced McTigue twice already, and McTigue was lucky if he'd won one round in twenty. The first time they met, McTigue's manager was hollering "Hold him, Mike!" from the first through the tenth rounds. "I think McTigue hit Greb once," said the matchmaker. "'Hold him' Mike McTigue is in a class by himself when it comes to holding."
McTigue was tentatively scheduled for a no-decision bout against Greb in June 1923 as a tune-up before facing Carpentier in July. McTigue was set to collect $100,000 to let him try to reclaim the crown and everyone was smiling until Carpentier hurt his hand and the date was postponed. McTigue's manager by then was Joe Jacobs, who surprised him by elevating the Greb no-decision match to a championship match. McTigue made a noble statement about how willing he was to give anyone a shot and then priced himself out of reach.
McTigue lost the crown to Paul Berlenbach in 1925. Greb, middleweight king since 1923, told the Pittsburgh Courier that he preferred to face the plodding Berlenbach and become a double champion but was obligated to accept a greater challenge in Tiger Flowers instead.
Two years before Jack Delaney won the light heavyweight crown from Berlenbach, Greb signed to face him and was training hard when Delaney came down with appendicitis and cancelled.
Three years before Jimmy Slattery won the light heavyweight crown from Delaney, Greb beat him in his hometown.
Between 1922 and 1924, Greb went 4-1-1 against Tommy Loughran, Slattery's successor.
In 1925, five years before Slapsie Maxie Rosenbloom beat Slattery to become Loughran's successor, Greb did as he pleased with him and then reportedly returned to the night club where his unfinished highball waited on a table.
Had Battling Levinsky risked his light heavyweight crown against Greb in 1919, Greb almost certainly would have taken it. As it was, he proved himself a master of the division—barreling out of Pittsburgh to face six of the ten light heavyweight champions who reigned from 1914 through 1934. As the smoke cleared, his record against them stood at 16-1-1. Those he didn't face, he chased.
The smoke is still clearing. What comes into view is startling: the greatest light heavyweight who ever lived may have been a middleweight.
__________________________
Smokestack Lightning: Harry Greb, 1919 is available now for only $7.99 at Amazon. Please CLICK HERE
Check out more boxing news on video at The Boxing Channel
To comment on this article (Part 1) at The Fight Forum CLICK HERE
To comment on this article (Part 2) at The Fight Forum, CLICK HERE
The Friends of Tony Veranis: Part One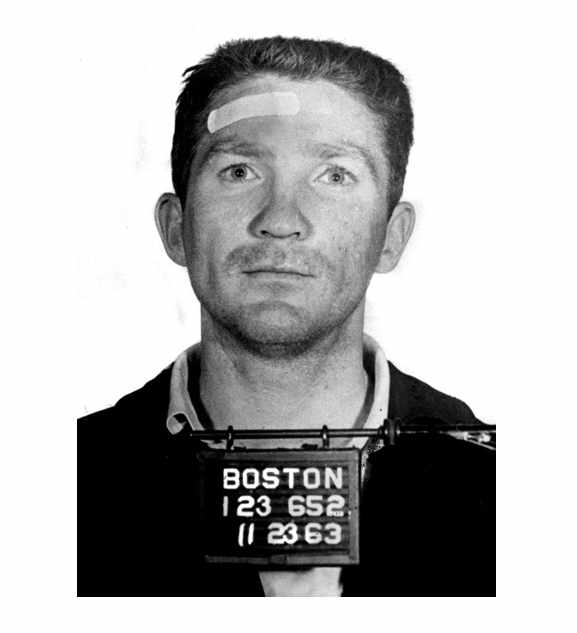 The Friends of Tony Veranis: Part One
I suspect that every writer at one time or another wished that some playwright or film maker took a liking to one of his or her articles and ran with it. Unlikely for sure, but hope springs eternal. The following piece is one that carries that hope—that one in a million chance. And even if it makes the cut, it's kind of moot at my age.
Now this is not about Frankie Carbo who was an underworld force in boxing in the late 1930s and who became the czar of the fight racket ten years later when he controlled the International Boxing Club behind the scenes.  Nor is it about Frank Palermo. This is about a slice of dark boxing-related history in and around Boston between 1966 and 1976. Let's get at it.
If edgy and nourish crime is your thing, the short and violent lives of Boston boxer Anthony "Tony" Veranis and his friends just might fill the bill. Veranis was a tough Dorchester (Dorchester is known as "The Dot"), Massachusetts kid who was born in 1938 to first generation Italian immigrants from Sardinia. Tony was in and out of trouble for most of his short life as he alternated between professional boxing and low-level crime. He had "Tony" tattooed on the fingers of one hand and "Luck" tattooed on the other, but he didn't have much of the latter—nor did most of his star-crossed friends.
Labeled a "persistent delinquent," Tony was incarcerated in 1950 at the infamous Lyman Correctional School for Boys in Westborough, a grim hellhole 30 miles west of Boston. It was the first reform school in the United States and it was where he was anonymously involved in the Unraveling Juvenile Delinquency (UJD) study conducted by Harvard University professors in an effort to discover the causes of juvenile delinquency and assess the overall effectiveness of correctional treatment in controlling criminal careers. If the study led to any positive results, Tony clearly was not included in the academic largess.
While at Lyman, Tony joined the school's boxing team, and after being spotted by the savvy and acclaimed Boston fight trainer Clem Crowley, he began fighting as an amateur. Tony's amateur career culminated when he won the Massachusetts State Amateur Welterweight Title in 1956. That same year, at age 18, Veranis turned professional in Portland, Maine under the alias "Mickey White" and won his first pro bout with a fifth round TKO over one Al Pepin. Tony then launched an astounding run of victories, but I'm getting ahead of myself.
Tony often sparred with Joe "The Baron" Barboza, Eddie "Bulldog" Connors, Jimmy Connors (Eddie's brother), Rocco "Rocky" DiSeglio, George Holden, and Americo "Rico" Sacramone. Southie's Tommy Sullivan also found his way into this mix. The thing about these guys was that in addition to being well-known Boston area boxers, each was brutally murdered between 1966 and 1976.
Joe Barboza (1932-1976)
"[Joe was] one of the worst men on the face of the earth."– Joe's lawyer, F. Lee Bailey
"The Baron" was his boxing moniker and he learned the rudiments of boxing well at Lyman Reform School. He usually doled out far more beatings than he absorbed. However, a fellow psychopath, Bobby "Dorchester" Quinn, sparred with him and repeatedly beat him until his hands hurt. An accomplished boxer, Quinn was an early opponent of Rocky Marciano. Joe ran up a modest record of 8-5 before taking on a far more lucrative and violent line of work.
It was once rumored that a sparring mate, journeyman Cardell Farmos (12-5-1), had done a number on Joe. Reportedly, the plug-ugly Baron responded by grabbing a gun out of his locker and chasing the pug out of the gym and down the street. When he saw The Baron coming, Farmos jumped over the ropes, ran down the stairs three at a time on to Friend Street, and headed for North Station with the grotesque caveman giving chase.
Barboza also reportedly sparred with Patriarca crime family associate Americo "Rico" Sacramone (who would be murdered), heavy-handed middleweight Edward Connors (machine gunned almost in half in a Boston phone booth), the aforementioned Tony Veranis, who would later be murdered by infamous James Bulger hit man John "The Basin Street Butcher" Martorano (20 confirmed hits), and world class middleweight Joe DeNucci, the future State Auditor for the Commonwealth of Massachusetts, who lived clean and stayed clean.
Joe would later assume other nicknames like "The Animal" and "The Wild Thing," as he became one of the most feared and vicious hit men of his era. He dreamed of becoming the first Portuguese-American inducted into La Cosa Nostra, but the heads of the families were not about to let that happen. Fact is, LCR members called him derogatory names — but always, of course, behind his back.
Employed by the Patriarca crime family of Providence, Rhode Island, Barboza, while operating out of East Boston, allegedly murdered between seven and 26 victims, depending on different sources, but given his methodologies and the amount of fear he generated, it's clearly safe to err on the higher side.
Notwithstanding his Neanderthal appearance, he was instinctively cunning and did not lack for innate intellect–he reportedly had a high IQ. It was Joe's unpredictable and deadly disposition rather than his appearance that just about everyone in the Boston area feared the most. Reportedly, even some Boston police would walk away rather than intercede in one of Joe's street scuffles.
Eventually, Barboza flipped and would become the "Joe Valachi" (aka snitch) of the New England Mafia. The circumstances leading up to that eventuality are grist for a lengthy and intriguing tale featuring, among other sordid elements, corruption, deception, triple-crosses, murder, false imprisonment, and the worse scandal in FBI history. Suffice to say that his testimony helped change the criminal landscape in Boston.
For his reward, there was nothing a grateful FBI would not do, so Joe became the first man in the Witness Protection Program and was sent to Santa Rosa, California, but he soon reverted to form and killed one Clay Wilson for which he served only five years. Upon his release and using the name Joe Donali, he was resettled to San Francisco, but the LCN rarely forgets or gives up, and Joe was soon murdered by four shotgun blasts in 1976. The hit was reputedly carried out by the bespectacled and professorial-looking Mafia captain, Joseph "J.R." Russo.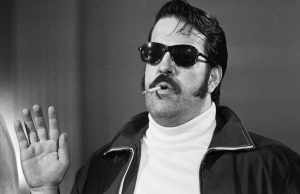 Joe had completed his regression from "The Baron" to "The Animal" to "The Rat."
Joe Barboza was a complex individual whose violent life story begged for a book to be written-and it was by crime author Hank Messick. Titled "Barboza," it is difficult, if not impossible to find, but is as compelling a true crime story as you could imagine — and if you are a boxing fan, all the better.
See: https://tss.ib.tv/boxing/featured-boxing-articles-boxing-news-videos-rankings-and-results/43501-joe-barboza-boxer-morphed-baron-animal
Tommy Sullivan (1922-1957)
Irish Tommy, as he was known in South Boston, may have been the best boxer of the bunch as he finished with a 20-2 (14 KOs) mark. Tommy went undefeated in his first 17 pro outings until he lost to Al Priest (25-1) in 1946 and then again in 1947 when Priest was 33-2. Among Sullivan's victims were Eddie Boden (18-0-1), Coley Welch (106-22-6) and "Mad Anthony" Jones who Tommy stopped twice (Jones finished 43-13-4). Fighting before monster crowds of up to 13,000 customers, Sullivan engaged in a number of ""savage brawls" that are still talked about by Boston area aficionados. They include his brutal beatings of John Henry Eskew and George Kochan. Tommy had a knack of coming back after he had been dropped and snatching victory from apparent defeat with a "hurricane attack" in the style of later warriors Danny "Little Red" Lopez and Arturo Gatti. Boston fans loved him for the excitement he brought to the ring.
In January 1949, his relatively brief professional boxing career inexplicitly ended and he began working as a longshoreman at Boston Harbor. While at the docks, he struck up friendly relationships with fellow-longshoremen Thomas J. Ballou Jr. (barroom brawler extraordinaire) and the more infamous Barboza. According to author Howie Carr, Ballou had an unusual style of fighting. It seems he always carried a grappling hook and a $100 bill. If Ballou wanted to attack someone, he'd throw the $100 dollar bill on the ground. The unsuspecting and greedy adversary would bend over to grab it, and then Tommy would plunge the grappling hook into the guy's back.
Tommy resented gang leader George McLaughlin of Charlestown who had attempted to extort money from one of Tommy's close friends. For the record, the famous Boston Irish Gang War started in 1961 and lasted until 1967. It was fought between the McLaughlin Gang of Charlestown and the Winter Hill Gang of Somerville led by James "Buddy" McLean, but that's another long and violent story for another day.
Sullivan made the strategic error of getting into a vicious barroom brawl with Edward "Punchy" McLaughlin and proceeded to give McLaughlin, also an ex-boxer, a vicious beating that could not possibly have been duplicated in Hollywood. Beginning in a bar and then moving outside into the street, the two went at each other on reasonably even terms until McLaughlin finally could take no more punishment and rolled under a parked car to escape. But Sullivan, the enraged Southie native, wanted more and he lifted up one end of the car and propped one of the wheels up on the curb allowing him to get at McLaughlin so that he could continue the beatdown. The throng of onlookers, including Barboza, was amazed at this feat of adrenalized strength that would have made a Hollywood stuntman blink.
Deadly payback was swift in coming. Two weeks later, Tommy was called to the side of a car that was idling in the street near his East Fifth Street home and he was promptly shot five times. Seven years later in 1965, Sullivan's brawling foe, McLaughlin, was shot nine times at a West Roxbury bus stop. Some suspected Barboza as the triggerman for this execution.
Although he was never put under serious scrutiny for criminal activity, many viewed Tommy within the context of where there is smoke, there likely must be fire.
Rocco DiSiglio (1939-1966)
This former Newton welterweight with a modest record was found shot to death in 1966. Before he turned professional, he trained and/or spared with Veranis, Barboza, Eddie Connors, Sacramone, George Holden, Tom Sullivan, and the legendary Joe DeNucci. He was also a criminal associate of Barboza and Joe would later lead police to the site of Rocky's corpse in Danvers. It was believed that Rocky was murdered by the mob for sticking up their dice and card games, most of which were overseen by Gennaro Angiulo, the feared gambling czar for the Patriarca crime family.
In retaliation for his brazen, maverick, and foolhardy action, DiSiglio was set up in a Machiavellian-like scheme and eventually shot to death in the driver's seat of his Thunderbird by the same men with whom he had robbed the card games. He was hit three times at close range with one bullet reportedly tearing off part of his face and another going through his head and out an eye socket. His two killers were later murdered at different times as more loose ends were tied. The entire affair had about it the foul stench of the North End's Angiulo, and further enraged Rocky's friend, Joe Barboza, who soon would turn stool pigeon against the LCR.
Still another of Tony Veranis's friends had died a violent death at a young age.
To be continued…..
To comment on this story in The Fight Forum CLICK HERE
Ted Sares can be reached at tedsares@roadrunner.com
Teddy Atlas: Trainer, Ringside Analyst, and now a Podcaster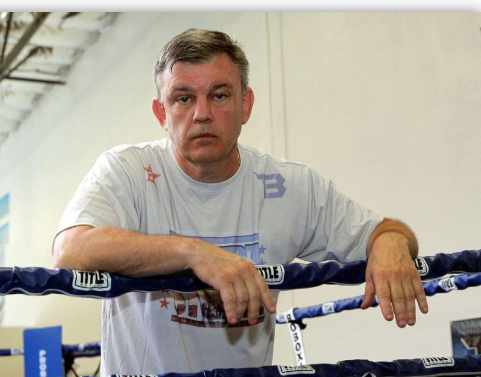 As a teenager, Teddy Atlas was a troublemaker. One could have predicted that he would grow into a man who would get thrown out of places. And that has proved true. He's been thrown out of London and thrown out of Australia.
Ah, but we are getting ahead of ourselves.
Atlas needs no introduction. During a 21-year-career as a ringside analyst with ESPN, his face and distinctive voice became synonymous with boxing. Since leaving that role with the network – not of his own volition – he has transitioned into a podcaster while continuing to bob up now and then as the trainer of an important boxer seeking to elevate his game.
Atlas didn't quite know what a podcast was when he was approached to do the audio program. Anything "high tech" was never his bag. He still doesn't e-mail.
Rob Mohr, the founder and partner of a public relations firm called Hit Hard Media, pitched the idea to Teddy. "He said to me, 'Listen Teddy, I think you have a voice that should be heard and I think there's an audience out there,'" recalled Atlas. But Teddy would not have come on board if his daughter Nicole, an attorney, hadn't pushed him to give it a try. (Atlas also has a son, Teddy III, who is the assistant director of college scouting for the Las Vegas Raiders with aspirations of someday becoming an NFL GM).
Mohr serves as the producer of the podcast which is done in a studio in New York. Mohr's friend Ken Rideout is Teddy's sidekick on the podcast which is called "THE FIGHT with Teddy Atlas." Mohr and Rideout, who reside on opposite coasts, New York and California, have a Massachusetts tie and a shared passion for long-distance running. Mohr is one of the world's top amateur triathletes.
Rideout is a financial advisor. He had no previous connection to boxing, unless one were to count the time that he was a prison guard working alongside Micky Ward. But he has always been a big fan of the sport. "Commenting on boxing is like my dream job," he says. On the air, Atlas, who has a tendency to ramble, does most of the talking.
Mohr's assumption was prophetic; there is indeed an audience out there. The podcast has been running a little over a year. As of last week, the episodes had attracted over 10 million views, one million downloads, and 800,000 subscriptions. Atlas's unfiltered take on all things pugilistic is a welcome respite in a sport saturated with hyperbole and chicanery. Teddy doesn't care if some of his opinions rile the fat cats at the top of the boxing food chain. We suspect he rather enjoys it.
Before he started talking into a microphone, Teddy Atlas attracted notice as a trainer. A disciple of the late Cus D'Amato, who molded Floyd Patterson and Mike Tyson into world heavyweight champions, Atlas has been associated with 18 world title-holders. He gave up training several years ago, but teaching is in his blood and he would be lured back on several occasions. Most recently, he handled Oleksandr Gvozdyk for three fights beginning with Gvozdyk's upset of Adonis Stevenson, an 11th round stoppage that earned the Ukrainian the lineal light heavyweight title.
Atlas didn't reach out to Gvozdyk. Egis Klimas, Gvozdyk's promoter, reached out to him. But Atlas wouldn't give his consent until he got to know the fighter a little better.
"My only qualification was that he had to be a decent person; a person I would like to be around," says Atlas who had previously applied the same yardstick to Tim Bradley. Before taking on Bradley, who reached out to him, Teddy spent three days with Bradley in Bradley's hometown of Palm Springs.
Teddy Atlas is a no-nonsense trainer, a hard taskmaster. He concedes that his style isn't for everyone. But a trainer of Atlas's stripe would seem to be an especially good fit for a boxer with a reputation for being a slacker. It was inevitable that his name would be linked with former heavyweight champion Andy Ruiz who weighed an ungainly 283 ½ pounds for his rematch with Anthony Joshua.
We broached the subject of him possibly training Ruiz during a long telephone conversation with Atlas on Sunday. He told us what he then told his listeners the next day. Yes, Ruiz's people had reached out to him and there was one follow-up call, but that was it; they never called back. And he told them that if they wished to explore it further, then Ruiz would have to come to New York so that they could get further acquainted, "so I could see how comfortable I am with the fighter and if he and his team would be comfortable with me."
Atlas did not reveal that he had these conversations until someone at the other end let the cat out of the bag. However, on Monday's podcast, he came with a meticulous list of things that Andy Ruiz could do to improve, both inside and outside the ropes. The list had the scent of a job application.
In addition to being a noted trainer and broadcaster, Teddy Atlas is also known as a great philanthropist.
He started the Dr. Theodore A. Atlas Foundation, named for his late father who practiced medicine in Staten Island for 55 years, doing house calls until he was 80 years old, and built two hospitals, the first a 22-bed unit that was eventually purchased by the city and torn down to make way for the Verrazano Bridge and the second a unit roughly three times as large that lasted for 35 years. At these facilities, Dr. Atlas administered to the poor, performing tonsillectomies and delivering babies and such, for free. (There were no HMOs in those days, notes Atlas.)
The Dr. Atlas Foundation, in a nutshell, helps people in need, covering the cost of hospital care, building ramps for the handicapped, and whatnot. Thanksgiving means free turkeys for the poor and Christmas means free toys for the kids. The foundation, notes the well-known New York sportswriter Wallace Matthews, "raises money and puts it directly into the hands of the people who need it, without being funneled through the hands of highly paid fundraisers and publicists."
The foundation holds an annual dinner. The most recent edition was the twenty-third. At the dinner, sportscaster Bob Ley, the longest tenured employee at ESPN when he retired last June, was presented an award named for the late investigative reporter Jack Newfield. "He was my friend, a gutsy writer who didn't care about the repercussions," says Atlas of the man who wrote "Only in America: The Life and Crimes of Don King." The foundation also honors Newfield by helping to subsidize a scholarship for a journalism student at Hunter College, Jack Newfield's alma mater.
The annual Dr. Theodore A. Atlas Foundation dinner is held on the Thursday before Thanksgiving. "For whatever reason," says Atlas, "my dad always took off on Thursdays. In my mind, it was the only day of the week that he could join us (in spirit)."
The foundation also supports youth programs which until recently included three boxing gyms, two on Staten Island and one in Brooklyn. The gyms were formerly run by the Police Athletic League which backed out under pressure from "reformers" who thought that the instructors were teaching kids how to fight rather than how to box.
Teddy balked at keeping the gyms afloat, but reconsidered. "I came to see them as havens," he says, "as shelters." But he insisted that certain rules had to be followed.  Among them, a boy had to bring his report card to stay enrolled and he had to pull up his pants.
By one measure, these gyms — The Dr. Atlas Cops & Kids Gyms — were enormously successful. Atlas guesses that they produced 100 Golden Gloves champions. Alumni include U.S. Olympian and future light heavyweight champion Marcus Browne, Chris Colbert, currently ranked #1 at 130 pounds by the WBA, and two hot young prospects who were lured out of the amateur ranks by Eddie Hearn: middleweight Nikita "White Chocolate" Abibay and welterweight Reshat Mati.
As these gyms were becoming powerhouses, they lost track of their mission, says Atlas, with the result that Dr. Atlas's name is no longer attached to them. Asked if he was particularly proud of one of the former attendees, Atlas cited a girl from Brooklyn who was living in a car with her mother when she started attending the Flatbush gym. She is now serving in the U.S. Navy.
Okay, about those instances when Teddy Atlas was 86ed, kicked out the door as if he were toxic:
The first occurred in London at the 2012 Olympics, his fourth for NBC. Some of the scores turned in by the judges were head-scratchers which was nothing new for Olympic boxing. "Corruption was happening right before my eyes," says Atlas. Referencing a bus that brought Olympic officials to London, he said on the air "they should turn that into a Department of Corrections bus and get them out of here."
Dr. Ching-Kuo Wu, the Taiwanese architect who was the president of AIBA, the international governing body of amateur boxing, had Atlas and his broadcast partner Bob Papa physically removed from the arena.
The second incident occurred in July of 2017 in Brisbane, Australia, where Atlas worked the welterweight title fight between Manny Pacquiao and Brisbane-native Jeff Horn. The title changed hands when Horn, a massive underdog, won a unanimous decision. The decision didn't sit well with Atlas whose commentary during the fight was deemed by the locals and others to be very biased toward Horn.
After the fight, there was talk of a rematch with speculation that the fight would go back to Australia. Dean Lonergan, Jeff Horn's promoter, said that if that were to be the case, then he would demand that ESPN remove Atlas from the broadcasting team. And barring that, he told reporters, "I will lobby the Immigration Minister to not allow Teddy Atlas through our border."
Ever the cynic, Atlas still believes that the decision favoring Jeff Horn was a "business decision." And as for being persona non grata in Australia, Atlas quips, "I don't know if I have been thrown out of better places, but I have never been thrown out of a bigger place."
"Telling it like it is" was the self-styled catchphrase of the abrasive sportscaster Howard Cosell, a catchphrase that invited a lot of derision. Teddy Atlas tells it like it is and that catchphrase fits him a lot better than it fitted Cosell. You may not always agree with him, but you know the man is genuine.
P.S. – A new podcast normally goes up on Mondays. Check it out.
Check out more boxing news on video at The Boxing Channel 
To comment on this story in The Fight Forum CLICK HERE
Art of Boxing Series – Tim "Desert Storm" Bradley (Part Two)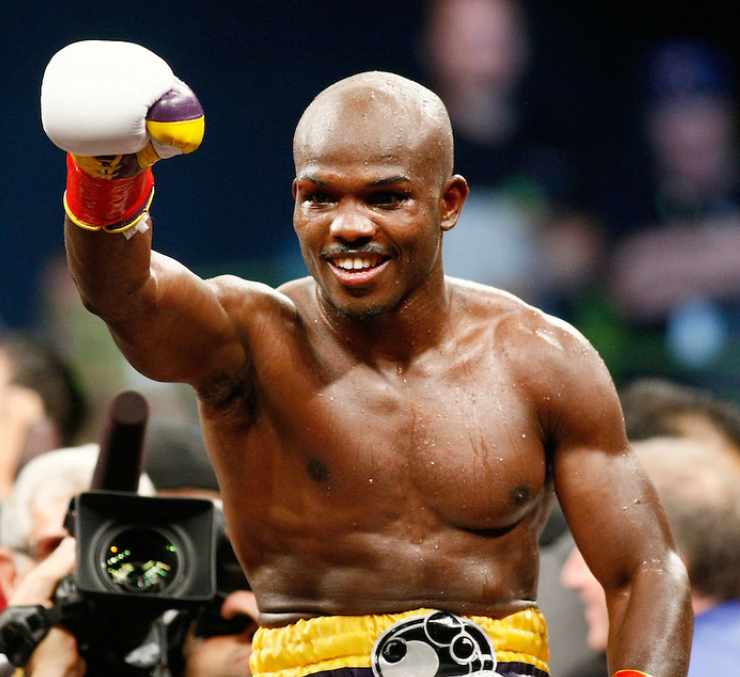 Tim Bradley appeared on the professional boxing circuit like an unpinned grenade and exploded on the Southern California scene.
When Bradley began fighting regularly under the Thompson Boxing banner and defeating veterans and fellow prospects with ease, the biggest questions were how far can he go and where did he come from?
Thompson Boxing Promotions was barely in its fourth year of existence and suddenly and surprisingly had a fighter with amazing fighting skills and an aptitude to match. The matchmaker and head of operations Alex Camponovo was handed the duty of guiding the early career of Bradley.
It was quite an experience to see Bradley perform on club shows in Ontario and see him electrify audiences with his abundance of talent. It was simply no-contest as he buzz-sawed through the competition with his speed and quick reflexes.
I remember wondering how the bigger boxing promotion companies missed signing Bradley. At the time, Top Rank and Don King Productions were at the top of the heap and Main Events had some pretty good fighters too. Golden Boy Promotions had started a few years earlier but was in its infant stage.
So how did every one of these companies miss Bradley?
One thing that did seem apparent was his size. He was small at 140 pounds and too muscular to drop down to 135-pound lightweight. Though he showed outstanding speed, his power was not what other fighters at the super lightweight class were able to do and that's to deliver eye-popping knockouts.
But Bradley could out-box almost anyone's socks off and not by running.
Thompson Boxing's matchmaker Camponovo, who was also brand new to the boxing world, realized he needed to move Bradley quickly. Both Camponovo and Bradley were relatively unknown to the boxing powers and that was an advantage early.
Conversely, being new to the game caused unexpected problems.
The first time Thompson Boxing staged a Bradley fight outside of his power base in the Inland Empire, problems arose. A fight card was held at the L.A. Athletic Club in downtown Los Angeles and Bradley was set to face a Brazilian fighter named Marcos Andre Rocha Costa.
According to his record he had one fight and one loss. But no way to verify if that was indeed Rocha Costa. When he appeared in the boxing ring, the Brazilian was about seven inches taller and a southpaw.
Bradley walked into the ring on July 21, 2005 eager to please the crowded venue that had people hanging over the side of an elevated running track that surrounded the ring. Everyone was excited.
Immediately both fighters engaged in high volume punching and it was apparent that the taller Brazilian was extremely talented. Around the third or fourth round, Rocha Costa connected solidly and buzzed Bradley who teetered a bit. It could have been the end. Instead, Bradley erupted in the next round and slipped into another gear that Rocha Costa could not match. Referee Pat Russell stopped the fight as Bradley had battered his way to victory by knockout.
It was an impressive turnaround.
After the fight, the Brazilian fighter surprisingly said he had seven wins and one loss. Both Bradley and Camponovo had dodged a tremendous bullet.
Bradley returned to the Inland Empire and racked up more wins at the Doubletree Hotel and Omega Products International, including a victory that handed him the WBC Youth title that ranked him in the top 20. Those wins also led to a co-promotional deal with Gary Shaw Productions who had a television deal with Showtime.
But first, he needed to beat Africa's Nasser Athumani who had 24 pro fights and 17 wins by knockout when they met on April 13, 2007.
"I fought a guy named Athumani, an African guy, and he hit hard like a son-of-a-gun. That guy could punch," said Bradley about the southpaw slugger from Kenya. "He had more knockouts than I had fights and he hit me with an uppercut in the first round. I ended up stopping him but I don't remember anything about the fight. I was out man."
Another big moment arrived a few months later on July 27, 2007 when he met Mexico's rising star Miguel "El Titere" Vazquez who had only one loss. That single Vazquez loss was on his pro debut against a youngster named Saul "Canelo" Alvarez. He had not lost another fight since when he stepped in the outdoor boxing ring at Omega Products International in Corona, California.
"He broke my rib, man. I fought from the second round on with a broken rib," said Bradley of his confrontation with Vazquez who would later become a world champion in the lightweight division.
Bradley was promised a world title shot if he could defeat Vazquez. When he suffered the broken rib early in the fight, his trainer Joel Diaz asked him if he wanted to stop the fight and lose his place in line for the world title
"I had to bite the bullet or the title and everything we worked for was down the drain if I quit. I had to fight. I had to bite down and go through the pain and it hurt every time I threw a punch. Vazquez had no clue he hurt my ribs. I didn't show it. We were taught that. He was extremely tough," said Bradley of that fight against the future lightweight world champion.
Bradley won the fight by unanimous decision using primarily a jab.
World Titles or Bust
Junior Witter was a clever switch-hitting speedster in the mold of Prince Naseem Hamed and grabbed the WBC super lightweight title with a unanimous decision over DeMarcus "Chop, Chop" Corley. He was coming off back-to-back knockout wins over Arturo Morua and Vivian Harris when he met Bradley in Nottingham, England on May 10, 2008.
Bradley and his team arrived early and immediately discovered that being the challenger was indeed a challenge.
First, his corner man Samuel Jackson was denied entry into the country because of his name. The actor Samuel Jackson had been banned from returning to the United Kingdom for an earlier incident. So, when Bradley's corner man of the same name arrived, he was blocked at the airport for a long while until the mix-up was cleared. Then, when they arrived for their room, they discovered it was too small for everyone to fit.
No problem, they just found more rooms.
Bradley confessed to being totally prepared for Witter. He also knew that he was unknown to the champion and the crowds expecting to see Witter blow out the American called "Desert Storm."
"It was one of those things. They didn't know me. When you fight guys from other countries you don't know what they have," said Bradley who had prepared diligently for Witter for more than a year studying film.
As an amateur Bradley was taught by Hall of Fame trainer Al Mitchell to study film of prospective opponents. He had sat with the trainer many times as an amateur in Marquette, Wisconsin looking at tapes of other fighters and breaking down their strengths and assets.
Bradley retained the habit of studying opponents and used it as a weapon. When he faced Witter he was more than prepared for battle despite the crowd.
"I would study him every night for at least an hour and a half. I would just try to come up with a game plan," said Bradley. "He was so awkward there wasn't one thing I could do. But he made mistakes pulling back. I had to set things up. I knew I had a bigger gas tank. He would fade in the second half and I had to come out stronger in the second half."
Witter was also open for an overhand right and Bradley connected in the sixth round to change the momentum drastically and push the fight in his own favor. After 12 rounds Bradley was declared the winner by split decision.
"I caught him by surprise," said Bradley. "He didn't know anything about me."
Neither did American fans at the moment, when Bradley returned to his own country with the WBC title wrapped around his waist. But that would change quickly as he faced a murderer's row in the super lightweight division.
Beginning in September 2008, Bradley faced Edner Cherry, WBO titlist Kendall Holt, Nate Campbell, undefeated Lamont Peterson, undefeated Luis Abregu, undefeated Devon Alexander and then Joel Casamayor in succession and emerged without a defeat.
In two of the fights against Peterson and Alexander, the Palm Springs area fighter was the underdog and passed each foe with dominating performances.
It was hefty stuff but, after Casamayor, his next fight would be the test of all tests when he met Manny Pacquiao at the MGM Grand in Las Vegas on June 9, 2012.
Pacman and Marquez
Pacquiao had just defeated Mexico's masterful counter-puncher Juan Manuel Marquez by majority decision in yet another close fight in their third meeting. The speedy southpaw was looking for someone other than Marquez and signed to fight Bradley on June 2012.
In a match that featured two speedy and under-sized welterweights, Bradley seemed more energetic throughout the 12-round fight while Pacquiao seemed to take his foot off the pedal for two minutes each round. Then the Filipino superstar would increase the intensity in the last minute or so and attempt to basically steal the round.
It worked with one judge, but two others saw Bradley the more dominant fighter and he won the WBO welterweight title by split decision. Pacquiao and his fans were incensed and to this day Bradley gets attacked through social media by the keyboard minions whenever the subject arises.
"The first fight was the biggest disappointment and that changed me. It was actually a blessing and a curse at the same time. I got my opportunity to fight Manny Pacquiao and be able to make big time money," said Bradley about the after-effects. "But after the fight I was ridiculed and demonized. But now there is nothing that can faze me. It's turned me into a man that can accept any kind of criticism. It doesn't matter what anybody says to me. The curse is I would never have that victory. It would never be fulfilling to me."
But it's in the record books. Forever.
That fight changed Bradley and also might have changed Pacquiao too. Right after the Bradley loss, he signed to fight Marquez a fourth time six months later. Pacquiao exchanged knockdowns with the Mexican fighter and then ran into a Marquez right cross that knocked him out. It was the most decisive win between the two.
Pacquiao would fight Bradley again in two rematches but not before the Palm Springs fighter defeated Marquez by split decision on October 2013. It remains Bradley's most satisfying win of his career.
"I beat Marquez after he knocked Manny out," said Bradley of his fight with Marquez that took place at the Thomas & Mack Center in Las Vegas on October 2013. "That was my most fun fight."
Bradley said he had always studied Marquez, especially in his fights against Pacquiao; and he picked up a few clues about the Mexican counter-puncher that he calls "the perfect fighter" and one of the best in boxing.
"I countered the counter. Fighters at the top level, every time your hand leaves your face you got to expect something to come back. They have a high IQ and are quick on the trigger," said Bradley about fighting top opposition. "Marquez is probably the second- best counter puncher. Floyd (Mayweather) is the best. I knew something was going to come back. I knew I had to finish and I had to be first and I had to be last."
The plan worked smoothly and Bradley won by split decision.
"I fought the game plan I wanted to fight. I had fun. It was the easiest $4 and half million I ever made in a fight. It was so easy," said Bradley.
After Marquez came Pacquiao in the rematch. In fact, he would fight Pacquiao a third time too and lose both by decision.
"He beat me fair and square," said Bradley about the two losses to Pacquiao.
Bradley lost only two fights in his entire pro career and both were to Pacquiao. That's a pretty incredible career feat and proves his mastery of the art of boxing. He was never known as a knockout puncher nor did he have size or long arms. He simply used tools he was born with to the umpteenth degree.
Still Studying
Today, Bradley is part of ESPN's team of boxing commentators alongside Joe Tessitore, Bernardo Osuna, Mark Kriegel, and fellow boxer Andre Ward.
Just as he did as a fighter, Bradley prepares like a demon when it comes to analyzing upcoming fights. He finds it strange that many active prizefighters do not study their opponents.
"You have to be a student of the game. I don't understand how you don't do that. None of these guys study opponents or study boxing. I don't understand how you don't watch your sport. I don't get it," said Bradley of those who don't study film of old fights or prospective foes.
Studying upcoming match ups is what he still does when at home.
"I still watch boxing today. I just love the craft of it. I love the sweet science of it. I love where the underdog learns to beat the favorite," said Bradley on the preparation through film study.
As part of the ESPN television commentating team he's developed a reputation for being straight up.
"They call me the Charles Barkley of boxing," jibes Bradley of former basketball's star Barkley's reputation doing basketball analysis for TNT. "I make my opinion based on my knowledge of the sport. I'm not one of those guys that say all the Top Rank guys are going to win. I thought Deontay Wilder was going to win. I'm not one of those biased types."
Like fans, fighters and everyone who loves the sport of professional boxing, he looks forward to the return of prizefighting when this worldwide epidemic ends.
"I love my job. I love being around the guys and the game. Being around Andre Ward, Bernardo Osuna, Tessitore and Mark Kriegel, honestly, I think we are the best," said Bradley, 36. "I'm the crazy one."
Crazy about boxing.
Check out more boxing news on video at The Boxing Channel 
To comment on this story in The Fight Forum CLICK HERE